Last Updated on April 22, 2023 by Ewen Finser
Today we are taking a different route with our Ontraport review since the service is seemingly like no other marketing software we've reviewed so far.
What do I mean?
Well, here's the interesting thing about Ontraport. While it understandably touts itself as an email marketing service, Ontraport doesn't operate like a typical email marketing solution.
It, instead, feels like a CRM software that happens to offer email marketing tool capabilities. Hence, I like to think of it as a CRM platform first, and then marketing automation comes second.
Ok, I know what you might be wondering at this point. Haven't we already reviewed an array of other automation software solutions that combine email marketing with CRM? How's Ontraport any different?
Turns out you're right. We've indeed tried out a host of tools that supplement marketing automation with CRM. In fact, there are numerous options on the market. Mailchimp happens to be one of the most popular ones, along with ActiveCampaign plus SendinBlue. And yes, each of them is capable of both email marketing automation and CRM.
But, here's the kicker. While their email marketing features are pretty solid, the accompanying CRM functionalities are comparatively weak. In other words, they can't possibly match up to dedicated CRM solutions. The best most of them can do is basic CRM.
Ontraport, on the other hand, has been praised for combining advanced CRM with marketing automation. It's the type of tool you'd consider when you need to build complex CRM workflows that are aligned with your marketing strategies.
But then again, how reliable is the entire platform when it comes to that?
Let's find out by comprehensively reviewing its primary functionalities. This Ontraport review provides all the insights you might need about the software. So, stay with me as I walk you through an overview of Ontraport's capabilities, as well as the features that stand out when it comes to user experience, contact management, campaign building, automation, plus CRM.
And since I'm all about the details, this Ontraport review analyzes even the level of customer support, as well as Ontraport's pricing schedule.
So, without further ado, let's dive in!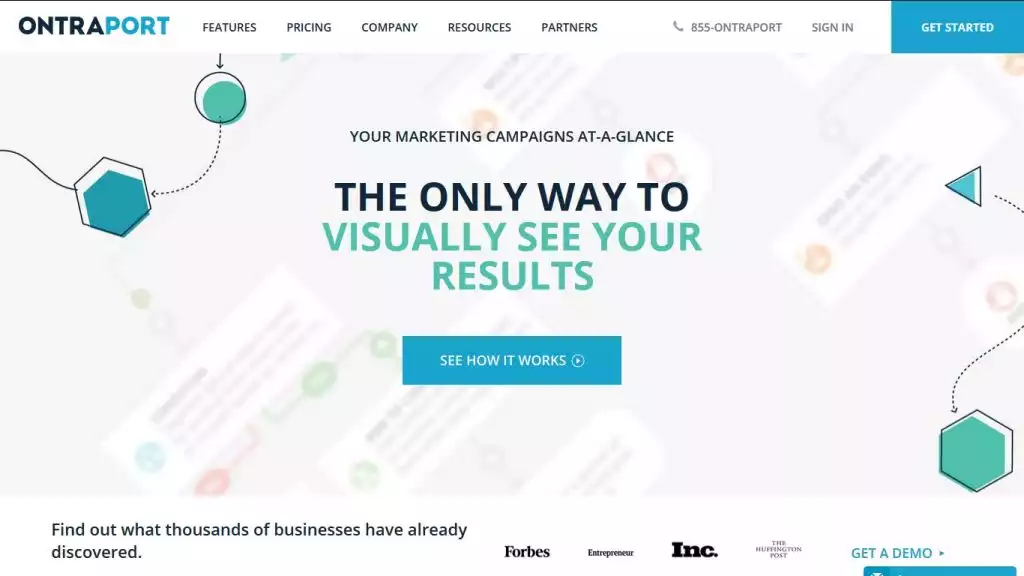 Why Go With Ontraport Here?
A more robust full-scale CRM solution (integrates with everything), visual data analytics, and deep automation and tagging. You can start with a more basic CRM, but eventually you'll need something like Ontraport to continue scaling.
Try Ontraport Free
We earn a commission if you click this link and make a purchase at no additional cost to you.
Ontraport Review – Overview
As you've probably guessed already, Ontraport was developed by a team that principally focuses on CRM. In fact, the story is that Ontraport's founder and CEO Landon Ray had tried in vain to find comprehensive CRM software. He was apparently frustrated by the fact that he had been forced to run his small business on multiple tools at the same time.
And so, in 2006, he came up with the idea of building an all-in-one platform for CRM and marketing automation. Ontraport was then released in 2008 to offer businesses what the company called "the best of both worlds".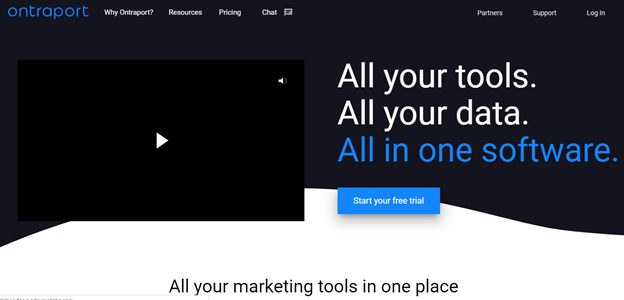 Well, that approach seemingly resonated with a section of the e-commerce market. And as a result, Ontraport managed to grow quite tremendously in just 10 years. It attracted users at such a high rate that its initial team of three developers has now expanded to a workforce of over 120 employees. They currently work together to support thousands of businesses across the globe.
And what do the businesses get in return?
Well, to be precise, Ontraport describes itself as an "all in one automation software" that provides "all your tools" and "all your data" in one place. Although it primarily sells itself as an email marketing solution, Ontraport fundamentally offers a complete-cycle customer relationship management system with graphical campaign maps for planning and tracking your customer interactions.
In essence, it goes beyond email marketing to provide additional tools for membership site creation (unique for a CRM to have specific membership site functionality), payment management, event management, affiliate management, task management, lead generation, leads nurturing, leads scoring, and much more.
Such capabilities, of course, make Ontraport an asset to both marketing and sales teams.
Make no mistake though. While you might have noticed that email is the core focus here, it turns out that's not the only marketing channel supported by Ontraport. Rather, the marketing side of Ontraport is optimized for emails, SMS texts, landing pages, and website forms.
Now, when you combine all these provisions, Ontraport transforms into one heck of a powerful marketing and CRM platform. Imagine the possibilities that come with that.
But then again, if we're honest about this approach, bundling all these functionalities in one autoamtion software has one major downside. You risk comprising the overall user experience because of the complex framework involved.
How so?
Ok, take a second and think about it. Admittedly, quite a number of the "all-in-one" solutions we've reviewed here at The Digital Merchant come with a relatively steep learning curve. They give beginners a hard time piecing together their multiple tools.
Interestingly, the team at Ontraport understands that, and they claim they've tweaked the entire platform to make it as simple as possible.
How true is that though? Can Ontraport possibly cater to your email marketing, automation, and CRM needs in a pleasant, systematic manner? What type of capabilities should you expect from each of these core functionalities?
Ontraport Review – Main Marketing Automation Tool Features
Ease of Use and Learning Curve
Come to think of it, free plans are fairly common with email marketing solutions. I might not know how the trend started, but I figure it makes a huge difference when you're comparing your options. That's partly why MailChimp, for your information, is still growing at an exponential rate.
Sadly, you won't find that here. Ontraport squarely loses out to competitors like MailChimp when it comes to package generosity. The farthest it goes is a free trial, which surprisingly, stretches only 14 days.
On the bright side though, at least Ontraport won't ask for your credit card details. You're free to try out its features for two weeks without committing yourself for the long haul.
Beyond that, however, the lowest Ontraport goes is $79 per month for the basic plan. So, it might lock you out if you're on a budget.
Now, when you sign up and log in, the first impression you get of Ontraport's system might be confusing. Considering it reportedly focuses on email marketing, you'd probably expect to find options like "Automation" or "Campaigns" on the menu bar. But, surprisingly, that's not the case here.
Only three of its six main menu options are consistent with email marketing solutions- "Dashboard", "Campaigns", and "Contacts". The rest ("Pages", "Tasks", and "Sales") are more commonly associated with CRM tools as opposed to email marketing. Hence, Ontraport might come off as a CRM solution when you first land on its dashboard.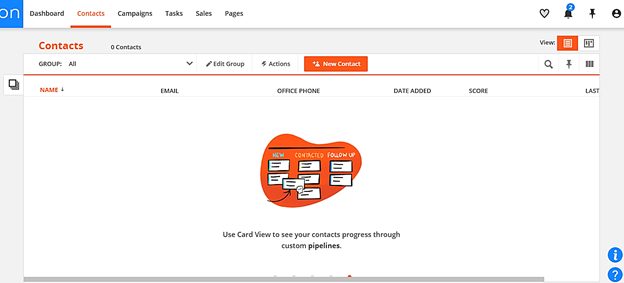 That said, you'll notice the company has made a good attempt at building a clean interface. I like the fact that Ontraport comes with a minimalistic design, which makes it easier to navigate around the platform.
The main dashboard, however, might feel a bit cluttered because of the numerous default figures. You get to view all sorts of performance analytics generated from your campaigns.
On the bright side though, at least Ontraport allows you to customize the dashboard. It essentially provides a drag and drop editor for organizing your dashboard layout, as well as specifying the type of reports you'd want to view.
Now, as you start navigating around the platform, it becomes apparent that things might not be as simple as you might have previously imagined. Ontraport is a pretty extensive automation software with numerous tools and features that could overwhelm you.
As a matter of fact, even experienced marketers might need some time to learn the ropes here. The only group that might have it easy are salespeople who've used advanced CRM tools before, while beginners are bound to face a steep learning curve.
All in all, give yourself about a week to a month to grasp how every single tool works.
Contact Management
The best thing about comprehensively-provisioned CRM systems is, they always come with powerful contact management features. And Ontraport is no different. Since all its CRM operations are directly linked with the corresponding contact database, you can bet you'll get all the critical management privileges.
The process of adding contacts, for instance, is incredibly flexible. If you're trying to create a contact base from scratch, you could leverage Ontraport's landing pages, SMS, and forms. Otherwise, users with pre-existing lists can proceed to import their contacts manually or through direct import.
Also, the type of contact information you can save here is unrestricted. Ontraport gives you the power to customize your contact fields based on the information you'd want on your profiles.
Then to help you target the right contacts in your campaigns, Ontraport goes ahead and provides supplementary details like appointment history, account activity, engagement history, lead score, purchase history, etc. You should be able to follow up on such parameters from each contact's profile.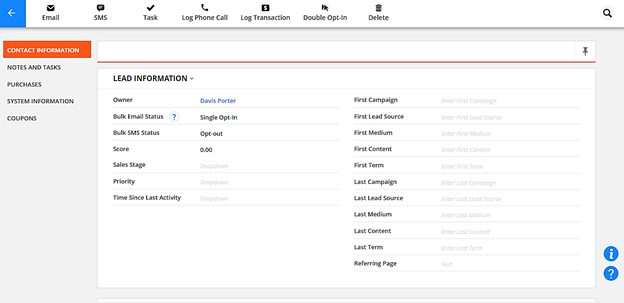 You shouldn't leave it at that though. For the best campaign results, consider grouping and segmenting your contacts based on shared parameters.
Thankfully, Ontraport comes with just the right tools for that. It gives you the power to set up dynamic groups using custom rules.
You could, for example, define lists that automatically qualify and disqualify leads based on their behaviour, interests, or demographics. And, of course, how you choose to group your contacts is entirely up to you.
But, if you're dealing with a large number of contacts, you might need help from your team members. This is the point where you could take advantage of Ontraport's Lead Router automation tool, which assigns leads evenly to team members.
Well, if you don't have a team, worry not because Ontraport will still have your back. You can tweak it to automatically apply contacts to email campaigns. The entire framework is flexible enough to accommodate any qualification criteria you might choose.
Designing Emails, Landing Pages, and Opt-In Forms
Apart from emails, you can use Ontraport to create landing pages and signup forms. But then get this – they don't use different editors. Although these are varying types of marketing channels, Ontraport has consolidated their respective customization tools into one central editor.
Consequently, the editing process for your emails is essentially the same one you end up using on your landing pages, as well as the accompanying website forms. That should save you the trouble of training yourself over and over again whenever you switch between the three.
Now, when it comes to the actual creation process, Ontraport's block-based editor allows you to begin from scratch, or proceed with one of its pre-built templates.
Well, I guess you wouldn't go for the first option because it sounds more tedious. Fair enough. But then again, Ontraport offers a host of building blocks to make your work easier.
Starting from scratch, therefore, doesn't necessarily mean building every single thing from the ground up. You just need to pick the appropriate blocks, arrange them systematically, and then customize their appearance accordingly. It really is that simple.
And speaking of simplicity, working with templates is easier and much faster. Thankfully, Ontraport offers a decent array of well-designed options to choose from based on your marketing campaign objectives. Every single one of them is free, adequately responsive, and extensively customizable.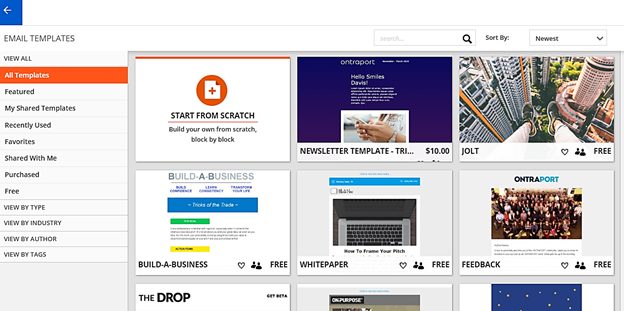 Once you've selected a good email, landing page, or form template, you can start working on it directly from the editor. There are numerous customization options here, thanks to the editor's flexibility.
More specifically, you can adjust the layout, introduce additional blocks, as well as tweak the finer details like shape, colour, and font.
Building Campaigns and Automation
After designing forms, emails, or landing pages for your campaigns, you should switch to Ontraport's campaign builder.
Now, the campaign builder happens to be the primary tool on the platform. Without it, Ontraport would be totally worthless. And since everything revolves around it, the campaign builder is the one tool you'll possibly spend most of your time on.
That said, the builder essentially combines marketing automation and CRM via an intuitive visual flow. You can think of it as a regular automation builder with built-in CRM functions. It tries to simplify an otherwise sophisticated campaign framework by providing a birds-eye overview of the entire strategy.
In simple terms, therefore, the campaign builder comes with tools for creating visual automation workflows. The resultant chart should then provide a graphical representation of the relationships between all the segments, rules, tags, as well as the corresponding campaign messages. That means you get to view your campaign roadmap plus its progress statistics in real-time.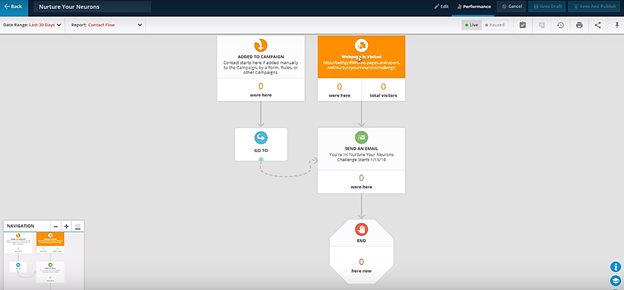 And speaking of which, there are different types of views offered by Ontraport. Campaign building, to begin with, occurs in the editing mode. Otherwise, you could switch to its live view to track the workflow in real-time. Then "projection" and "performance" modes come in handy when you need a contextual view.
But how do you even create your own workflow?
Well, the good thing about Ontraport when it comes to campaign automation is its dynamic approach. The campaign builder is capable of accommodating not only the simple linear workflows but also extensively complex ones involving multiple layers of rules.
As a beginner, I'd advise you to start off with the simple ones and then advance when you learn all the basic tricks.
Now, on Ontraport, simple workflow follows a linear roadmap with multiple stages without applying dynamic conditions. A contact simply progresses from one stage to another while maintaining the same path from start to finish. So, in essence, the visual layout of such a workflow doesn't branch at any point.
A good example of a simple workflow is one where your site visitor triggers the system by joining the mailing list, after which Ontraport follows up with welcome emails, or possibly even onboarding guides. The whole process is straightforward.
And you know what? Although it doesn't take much to create such a workflow from scratch, Ontraport saves you the trouble by providing a set of pre-built templates. They even come with customizable goal tracking capabilities, which help you specify the actions that would push your contacts to the next stages. Simple stuff such as replying to an email or SMS message, scrolling through a landing page, or clicking on an email link could form the basis of your simple workflow automation.
And in case you fail to find a perfect template for your campaign, it turns out there's an alternative trick. Ontraport has a workflow sharing feature that allows other users to share their workflows with you. After this, you can then proceed to implement them in your campaigns.
Sadly, the problem with simple workflows is the restrictions that come with linear pathways. There's only so much you can cover in one campaign. So, ultimately, you end up building numerous workflows to cover all the possible outcomes.
And that brings us to the second option – complex workflows.
Now, unlike the former, complex workflows combine multiple paths to make one dynamic automation roadmap. In simple terms, they apply multiple triggers to cover various possible conditions that different targets might find themselves in at a specific point along with the flow.
To create such a flow, you essentially need to come up with a logical framework of conditions, which then set off triggers in response to specific actions taken by different targets. The conditions themselves are defined using "if, then" statements, which ultimately create qualification branches at different points.
That said, it just so happens that apart from the campaign builder, Ontraport allows users to set up automation sequences from the contacts menu. In essence, you get to build new autoresponder sequences by combining messages, times, and steps.
Customer Relationship Management
Based on the features we've discussed so far, it's pretty evident that Ontraport is more of a CRM platform than a marketing solution. It provides a well-optimized customer relationship management system that helps both salespeople and marketers maintain favorable engagements with their customers over the long haul.
Using various tools, you should be able to personalize the messages you send to customers, address your customer's concerns, compile your past and present customer interactions, track the progress of your customers from their respective workflows, import and update your customer information, monitor your customers' behaviors, create sales workflows, etc.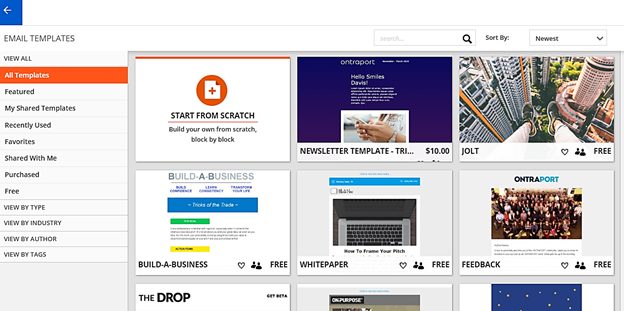 Then in its campaign workflows, Ontraport displays your customers in organized cards for easy tracking. The system further organizes them based on their progress along with the sales funnel, consequently allowing you to identify your core priorities.
In addition to that, salespeople can take advantage of the drag and drop layout to not only create simple and complex pipelines but also manage their leads as they sail through different stages. Ontraport further gives them tools for writing conversation notes, setting up email sequences, creating tasks, etc.
Ontraport Review – Pricing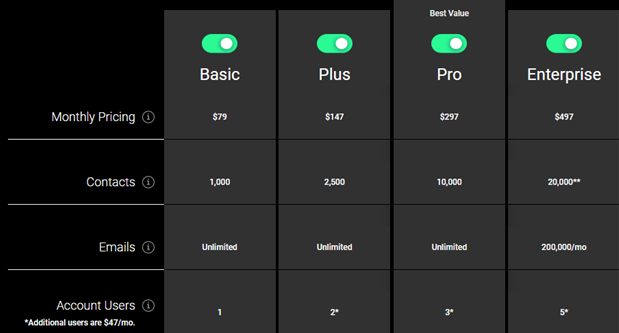 Basic – For $79 a month, this plan offers:
Contact segmentation
Lead capture
Lead nurturing
Automated follow-up
Landing page personalization
Goal-based automation
Automated re-engagement
It provides 1,000 contacts and unlimited email sends. For a full list of what this package includes look here.
Plus – The Plus plan costs $179 per month.
Custom metrics dashboard
Lead routing and scoring
Automated partner payments
Free WordPress hosting
Cart Abandonment automation
Payment gateway integration
It offers 2,500 contacts and unlimited emails. For a full list of what this package includes look here.
Pro – The Pro plan will cost you $297 per month. It combines all Plus plan features.
Custom Objects
Campaign performance projection
First and last-click attribution tracking
UTM link generator
UTM tracking
Lead source tracking
Marketing ROI tracker
Free email consultation
The number of contacts you can save on the Pro Plan is 10,000, while the email sends are still unlimited. For a full list of what this package includes look here.
Enterprise – Ontraport's enterprise plan will have you paying $497 a month for all the Pro plan features plus a dedicated account representative. You can save up to 20,000 contacts but the corresponding email sends are not unlimited. Rather, Ontraport restricts Enterprise plan users to 200,000 emails per month.
Ontraport Review – Pros and Cons
Unlike most of the other email marketing solutions, Ontraport offers full CRM capabilities. Hence, the platform can be an asset to both the marketing and sales teams.

Ontraport comes with a host of features for enhancing e-commerce sales.

Ontraport offers great customer support. Although it doesn't p

rovide support 24/7, it currently enjoys positive reviews from a wide range of happy users. They praise Ontraport's representatives for their responsiveness and professionalism when it comes to handling user queries.

Ontraport generates accurate campaign

performance reports and then proceeds to segment the figures extensively for quick interpretation. Consequently, you should have an easy time establishing your customers' lifetime values, the corresponding CPA, your best performing campaigns, etc.

All

emails sent from Ontraport use dedicated IP addresses. This boosts overall email deliverability while minimizing the possibility of your messages ending up in the spam folder.

Ontraport supplements email marketing with SMS message marketing, plus landing

pages and forms. Hence, you can create automation sequences that engage customers across multiple channels for maximum effect.

The CRM functionalities on Ontraport are not only highly scalable but also extensively customizable.
The main dashboard comes with a drag and drops editor. Hence, you can configure its layout to display the most important statistics while hiding the rest.
If you're unsure about your campaigns, you could use Ontraport's A/B testing tools and split testing tools for accurate insights into how your audience responds to various approaches.
Ontraport's block-based editor handles not only emails but also landing pages, and forms. The

customization process is the same for all of them.

Ontraport provides a decent array of professionally designed email, form, and landing page templates. Plus, they are all responsive and customizable.
The campaign builder is flexible enough to support co

mplex automation involving a wide range of variables and parameters.

You can sign up for a free trial without submitting your credit card information.
Ontraport can be costly for startups and small businesses on a budget. The cheapest plan costs $76 a month and it's not very scalable.

Although Ontraport provides a number of integrations, the range of supported apps is fairly limited.

While the dashboard is neatly organized and it comes with a minimalistic design, it's not very intuitive. It looks bland and uninviting.
Ontraport has a fairly steep learning curve. Because of its unique approach, plus the fact that it bundles multiple advanced tools into one platform, it might take you quite some time to learn everything about it.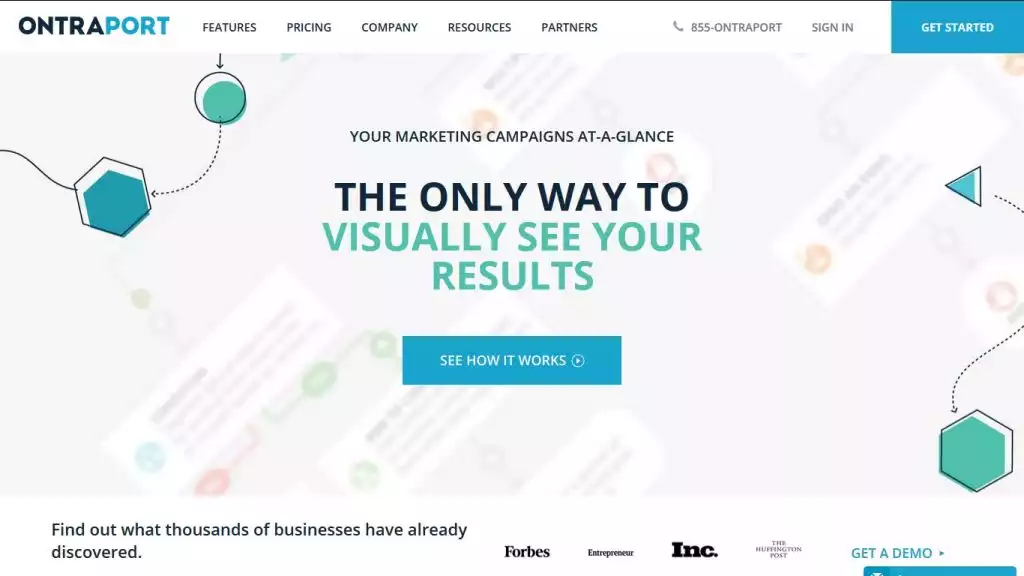 Why Go With Ontraport Here?
A more robust full-scale CRM solution (integrates with everything), visual data analytics, and deep automation and tagging. You can start with a more basic CRM, but eventually you'll need something like Ontraport to continue scaling.
Try Ontraport Free
We earn a commission if you click this link and make a purchase at no additional cost to you.
Frequently Asked Questions
Will I be charged when my free trial ends?
At the beginning of your journey with Ontraport, you can enjoy of a free trial, once this test is over, you won't be charged automatically, it will only happen if you update your account.
What industries/business types does Ontraport serve?
Ontraport is compatible with almost any type of business, from customer services providers to bloggers, coaches, and much more. You can always take a look at some of their reviews to learn more about the customer experience of Ontraport
What if I want to cancel my account later?

It is very easy to cancel your account and if you cancel in the first 30 days of your membership, Ontraport will refund your payment.
Ontraport Review – The Bottom Line
While Ontraport is flexible enough to accommodate almost all types of business, it's specially configured for education-based organizations and membership-based sites (membership site). So, if your business falls into any of these categories, you might want to give Ontraport a try.
Don't get me wrong though. The platform doesn't lock out other types of users. Businesses in other sectors can still go ahead and leverage Ontraport's features. As a matter of fact, marketers and salespeople across more than 63 countries continue to use Ontraport to drive smart automation plus customer relationship management.
That said, the thing that's currently holding Ontraport back is the pricing. While it's understandable that developing and maintaining its advanced tools is a costly affair, Ontraport should consider revising its pricing schedule. I guess a cheaper package for beginners and startups would be a good start. Besides, I bet it wouldn't hurt the company's bottom line.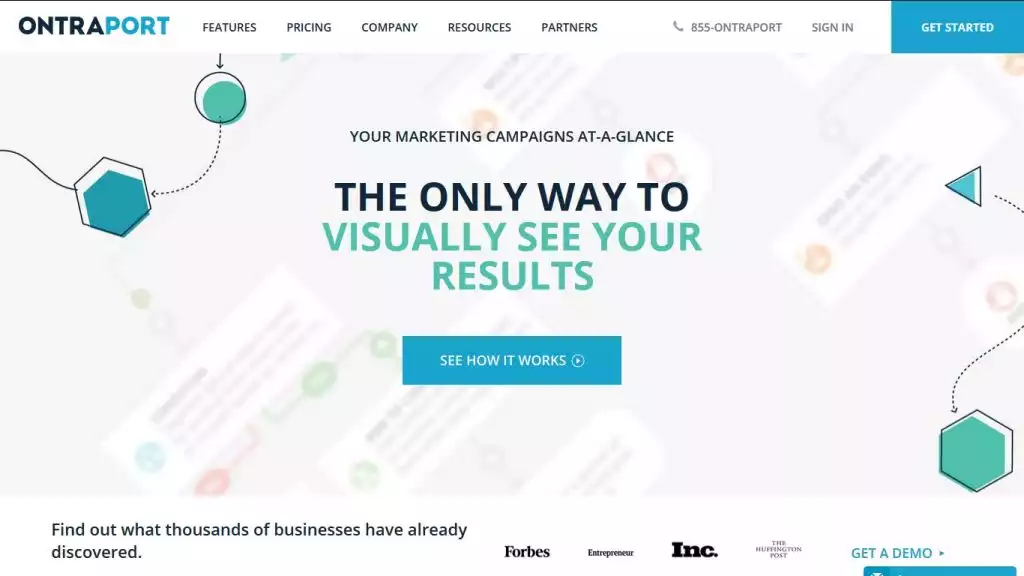 Why Go With Ontraport Here?
A more robust full-scale CRM solution (integrates with everything), visual data analytics, and deep automation and tagging. You can start with a more basic CRM, but eventually you'll need something like Ontraport to continue scaling.
Try Ontraport Free
We earn a commission if you click this link and make a purchase at no additional cost to you.
What do you think? Feel free to share your thoughts below.
Further reads: