Last Updated on April 22, 2023 by Ewen Finser
Email marketing is probably the first thing that comes to mind when someone tries to compare SendinBlue vs GetResponse.
By now, most digital marketers and entrepreneurs recognize each of these tools for their e-mail marketing capabilities.
Fair enough. But, here's the thing about SendinBlue vs GetResponse – it goes way beyond email marketing.
Bottom Line Up Front Summary: I lean towards the easier to use and cost-effective Sendinblue here in MOST cases. That said, if you do webinar marketing or require finely tuned data analytics, GetResponse is likely the better option here.
Here are some main differences to consider:
Main Differences Between SendinBlue vs GetResponse
The main differences between SendinBlue and GetResponse are:
SendinBlue allows supplementing campaigns with SMS marketing, whereas GetResponse happens to be the premier webinar marketing solution
SendinBlue uses its smart transaction emailing tool as one of its principal selling points, whereas GetResponse focuses on its powerful autoresponder
Sendinble offers permanently free package, whereas GetResponse only offers a 30-day trial
Sendinblue has an optional pay-as-you-go model, whereas GetResponse is a strict monthly pricing plan
GetResponse has been around longer since 1998, whereas Sendinblue was more recently founded in 2012

Our Pick

I Personally Prefer Sendinblue

You might not have heard about Sendinblue, but you SHOULD. It has the big box API tools of a SendGrid, the sales automation of an ActiveCampaign, but the user-friendliness of a ConvertKit. Plus, it's relatively cheap in comparison to each.

Try Sendinblue Here Save 50% for Black Friday!

We earn a commission if you click this link and make a purchase at no additional cost to you.
You see, while they are both renowned as cost-effective marketing services, SendinBlue and GetResponse offer much more than that. They are the type of tools you'd turn to when you're looking for an all-in-one solution.
What do I mean?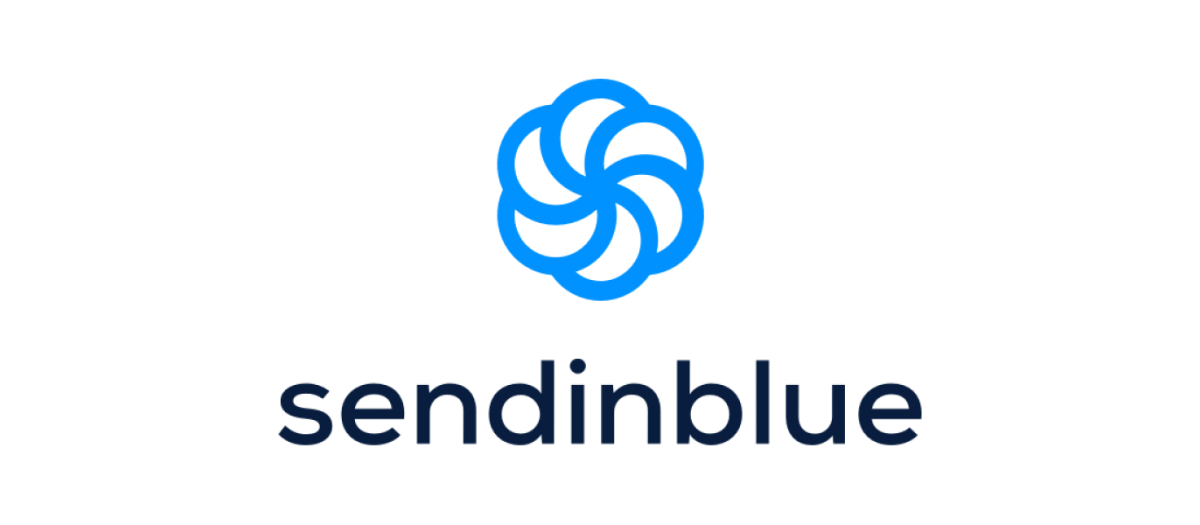 Well, for starters, if you scanned through SendinBlue's list of features, you'd notice right off the bat that it's certainly not one of those basic email marketing solutions. In fact, it's nowhere close to being "basic". Not by a long shot.
It combines email marketing with SMS marketing, landing pages, social media marketing, and CRM. Then GetResponse, on the other hand, specializes in email marketing along with landing pages, webinars, CRM, and much more.
They seemingly target online businesses and digital marketers who'd be interested in a holistic approach to not only marketing and lead engagement, but also lead conversion (click-through rates). In essence, SendingBlue and GetResponse have seemingly been optimized for both marketing campaigns and sales funnel management.
Sounds exciting. But, which of the two is better?
That's precisely what we're unraveling in this SendinBlue vs GetResponse comparison review. Both tools come with a myriad of features that are bound to affect your business in a wide range of ways.
So, of course, this is one area you cannot afford to make a mistake. You either pick the best for your campaigns or risk compromising not only your marketing efforts but also the corresponding CRM strategies.
Hence, this SendinBlue vs GetResponse review addresses all the primary concerns you might have regarding their functionalities, reliability, pricing, overall strengths, and possible weaknesses. I'll even let you in on stuff you won't find on other SendinBlue reviews, GetResponse reviews, as well as their respective company websites.
And to start us off, let's get their main differences clear…
SendinBlue vs GetResponse Comparison Chart
Features

Permanently free plan with up to 300 emails per day Advanced customer support Heat map reports E-commerce integrations GDPR-compliant email templates Time-optimized email sends Statistics and reports Transactional emails Transactional SMSs Dedicated IP Custom domain Mobile app Contacts management Dedicated account manager (Enterprise plans) Landing page builder Subscription forms Lead scoring 70+ responsive ready-to-use email templates Drag and drop email editor Email A/B testing Email marketing automation Autoresponders Customer Relationship Management

Free 30 days trial with all the features included Advanced customer support Mobile app Dedicated IP A/B testing Customer Relationship Management E-commerce integrations Stock images to use in your designs Lead scoring GDPR fields Dedicated account manager (Enterprise plans) Analytics and statistics 500+ responsive email templates Time-optimized emails Custom domain List building and management Drag and Drop email editor Webinars Landing page builder, form builder and surveys Email marketing and email automation

Pricing

Basic Plan –

Ranges between $10.50 per month for 1,000 contacts and $450 per month for 100,000 contacts.

Plus Plan

Ranges between $34.30 per month for 1,000 contacts and $499 per month for 100,000 contacts.

Professional Plan

Ranges between $69.30 per month for 1,000 contacts and $580 per month for 100,000 contacts.

Enterprise Plan

Starts at $719 per month for 100,000 or more contacts.
Our Pick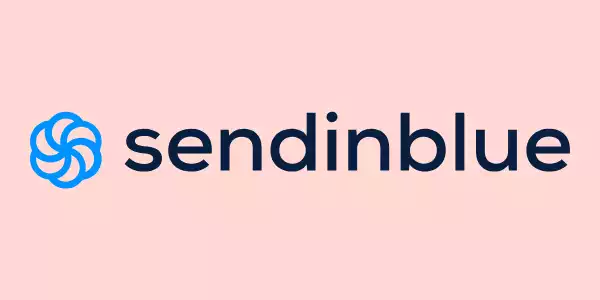 I Personally Prefer Sendinblue
You might not have heard about Sendinblue, but you SHOULD. It has the big box API tools of a SendGrid, the sales automation of an ActiveCampaign, but the user-friendliness of a ConvertKit. Plus, it's relatively cheap in comparison to each.
Try Sendinblue Here
Save 50% for Black Friday!
We earn a commission if you click this link and make a purchase at no additional cost to you.
SendinBlue vs GetResponse – Overview
SendinBlue came into the scene in 2012, at a time the email marketing scene was already booming with activity. We had already gotten used to running campaigns with tools such as MailChimp, AWeber, ActiveCampaign, and even GetResponse.
So, of course, the market must have seemed like it would be a tough one for a new tool with an unconventional name. I bet SendinBlue probably looked like it stood no chance, at least in the foreseeable future.
But, surprisingly, SendinBlue hit the ground running and managed to rise to the top in only a couple of years. All primarily because, unlike most of its competitors, SendinBlue has always focused on providing budget email automation.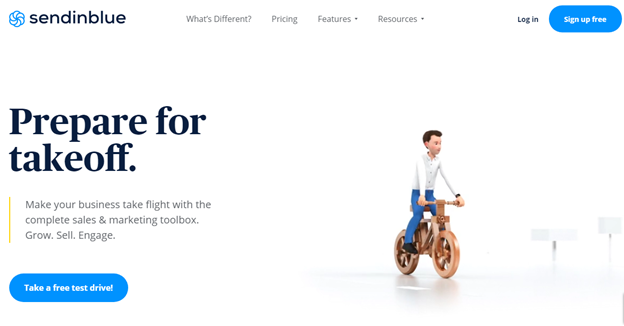 Yes, that's right. It turns out that getting decent automation capabilities on a budget has always been a challenge for business owners and SendinBlue found a way to capitalize on it.
Today, SendinBlue is considered to be one of the cheapest comprehensive digital marketing tool suites. Apart from its free email marketing plan, it offers SMS marketing, live chats, CRM, lead retargeting, Facebook Ad management, signup forms (single or double opt-in), and landing pages.
So far, more than 80,000 users across 160 countries have tried them out and, as a result, SendinBlue continues to enjoy numerous positive reviews on the web and excellent customer support ratings. In fact, the number of emails sent through its platform every day exceeds 100 million.
But, can it possibly outshine GetResponse?
If there's one thing GetResponse has over SendinBlue, then it's age and experience. By the time SendinBlue started, GetResponse had handled automated campaigns for over a decade.
Now, according to the company, GetResponse began back in 1998, after a Polish teenager decided to develop an email marketing solution that would make a lasting impact in the online marketing scene.
The platform has developed considerably in two decades and it now sells itself as the "world's easiest email marketing software to use". More specifically, GetResponse promises you a simplified but effective system of sending emails, online surveys, list building, newsletters, plus autoresponders.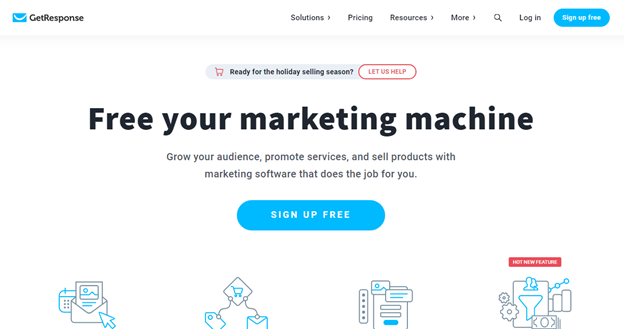 And that's not all. It turns out GetResponse has established itself as an all-in-one marketing solution that's capable of managing not only email marketing, but also CRM, automated sales funnels, landing pages, and webinar hosting. Therefore, in short, you can think of it as a blend of email marketing and CRM.
Well, progress has been great for the company because so far, GetResponse has managed to serve over 350,000 premium users. They're spread out across 182 countries, from where they run campaigns that attract over 1 billion new list subscribers every month.
Quite impressive, I must admit. But, does GetResponse have what it takes to outdo SendinBlue?
Let's find out….
SendinBlue vs GetResponse – Main Features
Ease of Use
SendinBlue
Admittedly, the best thing about SendinBlue is its permanently free send plan. That means you won't be paying anything to try out the stand-alone software. Well, at least until you persistently exceed 300 email sends a day, because that's the point where it's premium plans begin.
In the meantime, however, you'll get to keep an unlimited number of contacts on the free package. SendinBlue further allows you to manage them using its advanced segmentation tools, as well as bring in additional list subscribers via its customizable signup forms.
Then when it comes to the subsequent marketing campaigns, free users can only use basic automation features.
Now, whichever pricing option you pick during signup, the consequent user experience is bound to be smooth and enjoyable. SendinBlue comes with an elegant easy-to-use interface whose campaign management flow is well-streamlined.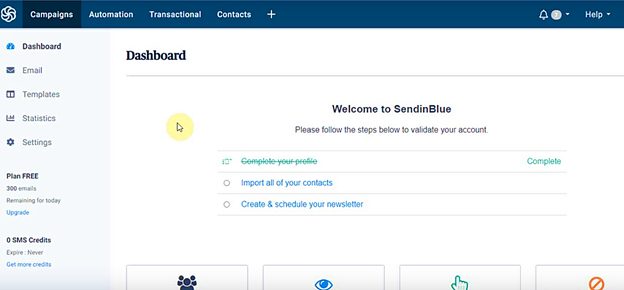 While the platform combines a myriad of marketing tools on one dashboard, it found a way to simplify the whole layout for all types of users, including beginners. As a matter of fact, beginners should have an easy time getting used to how things work around here. SendinBlue's navigation is straightforward and its corresponding menu options are self-explanatory.
The system isn't restrictive though. SendinBlue allows you to customize the main navigation based on your preference. You could, for instance, turn off the functions you don't need while adding any critical ones that might be missing.
And speaking of which, you can further customize your system by integrating third-party plugins. SendinBlue happens to support a decent number of them, ranging from e-commerce tools to analytics services, as well as CRM.
GetResponse
Sadly, GetResponse doesn't match up to SendinBlue when it comes to freebies. Sorry to say, but you won't be getting a free plan here. Instead, the most you could have from GetResponse is a free trial period of 30 days. Otherwise, it costs at least $10.50 to use GetResponse for longer.
Now, in addition to being free, the only other good thing about the trial period is the full feature set it comes with. Yes, that's right, GetResponse allows you to try out all the tools before proceeding.
And while you're at it, one of the things you'll appreciate is GetResponse's well-designed interface. The whole layout is considerably neat and uncluttered. Then its accompanying tools are quite intuitive and flexible, especially when it comes to personalized campaigns.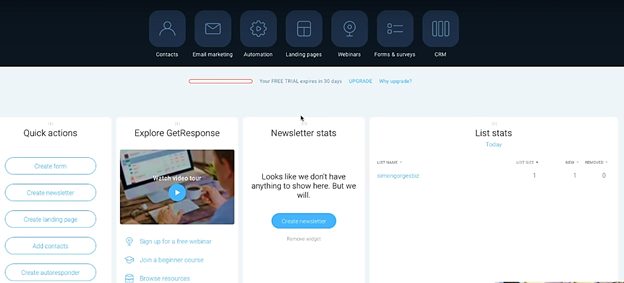 Overall, you won't have any problems with the basic stuff. You can easily import contacts, build campaigns, set up autoresponders, plus track their corresponding analytics.
However, the automation tools can be complicated and you might need some time to get used to them.
Templates and Design
SendinBlue
SendinBlue offers an intuitive drag-and-drop email editor for building and customizing your emails. The whole design process is admirably smooth, with a wide array of tweaks you can possibly use to align the designs with your campaign strategy, as well as the business brand.
You don't have to start from scratch though. SendinBlue makes the job much easier by providing over 70 professionally-designed templates. Consequently, most users prefer using the editor to simply customize the templates as opposed to rebuilding everything from the ground up.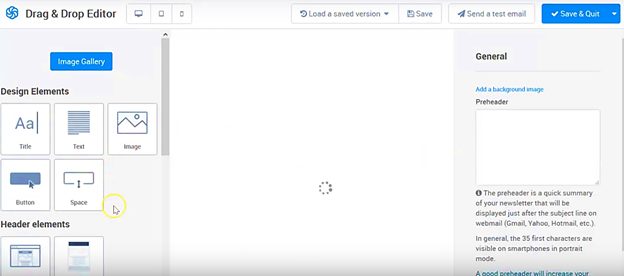 The customization process entails dragging and dropping elements, adjusting element settings, uploading media files, plus resizing the elements within your email body and layout. The whole design process should take you less than five minutes if you're working on a typical email.
GetResponse
GetResponse uses pretty much the same approach as SendinBlue. It combines an email editor with a collection of templates to help you build your emails quickly and seamlessly.
However, unlike SendinBlue, GetResponse offers more than 500 responsive email templates. Every single one of them comes with an attractive design that can automatically adapt to different devices- PC, smartphone, tablet, you name it.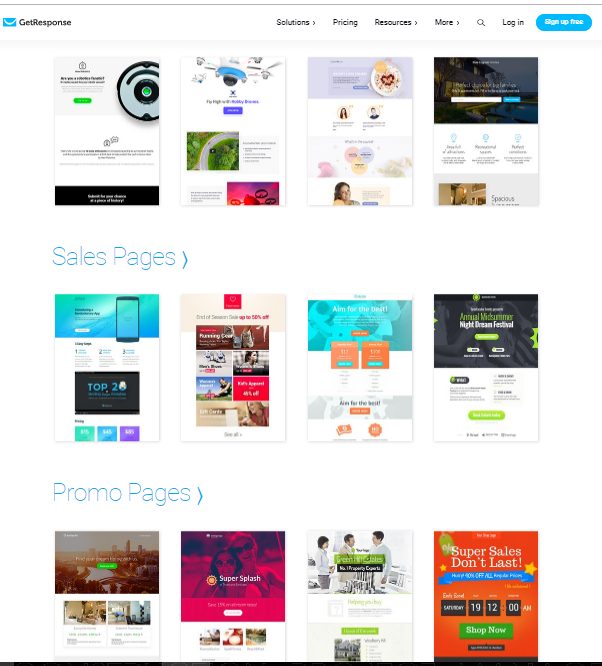 With such an extensive array of templates, the possibilities here are endless. You could keep your audience engaged by coming up with a different email design for each campaign.
Customizing every single one of them will only take you a couple of minutes on GetResponse's email creator. It gives you unrestricted editing capabilities, which you can capitalize on to build exceptional emails.
You can, for instance, rearrange the whole email layout, introduce social sharing buttons, adjust layout colours and fonts, plus upload and edit media. All that without touching a single line of code.
Don't get me wrong though. It's not entirely code-less. If you have the skills, you can proceed to customize your email further by editing its HTML code. But, to be honest, I guess that won't be necessary at all since the drag-and-drop editor offers a decent amount of editing options.
Other notable tools you could use here include a spam checker for spam-proofing your emails, as well as A/B testing for analyzing the performance potential of different email customizations.
Email Marketing Campaigns
SendinBlue
Come to think of it, every single tool included in this software is built on a foundation that's driven by email marketing. In other words, the one functionality you should expect SendinBlue to perfect is email marketing since it forms the core of everything.
Speaking of which, SendinBlue does indeed go beyond the basic functionalities offered by standard email marketing solutions. The platform comes with a range of advanced capabilities for enhancing your targeting precision, customization options, email engagement, and overall campaign efficacy.
One of the smart features you could take advantage of dynamic content, especially if you're dealing with a large audience base. The trick here is to have SendinBlue automatically altering the body of an email while sending, based on the specific conditions you set out for different types of receivers.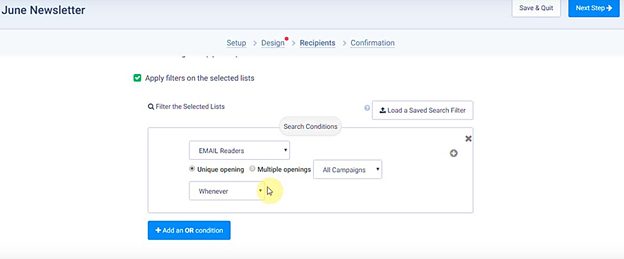 As a result, you should be able to send comprehensively-personalized emails to each group of contacts without recreating the content over and over again. Then for increased accuracy, you're free to set the conditions according to SendinBlue's contact insights.
Another thing that SendinBlue takes pretty seriously is campaign timing. So, it allows you to schedule the emails depending on what you think is the optimal time for the best response rates. The system will then proceed to automatically deliver the emails at precisely the right moments.
But then again, how do you even discover the optimal timing for your emails?
Well, while you could get insights from digital marketing experts, the most accurate ones come from the recipients themselves. And thankfully, SendinBlue comes with a perfect A/B testing feature for such tests.
That said, SendinBlue is also quite reliable in sending plus managing transactional emails. You can set up and personalize emails for order confirmation, payment confirmation, receipts and invoices, shipping updates, order fulfillment, refund processing, and much more. SendinBlue will go ahead and send them automatically as soon as customers perform the specified actions.
GetResponse is equally as flexible when it comes to email marketing. Although its campaign building procedure can be complicated to beginners, it's quite handy at comprehensively running and managing email marketing strategies.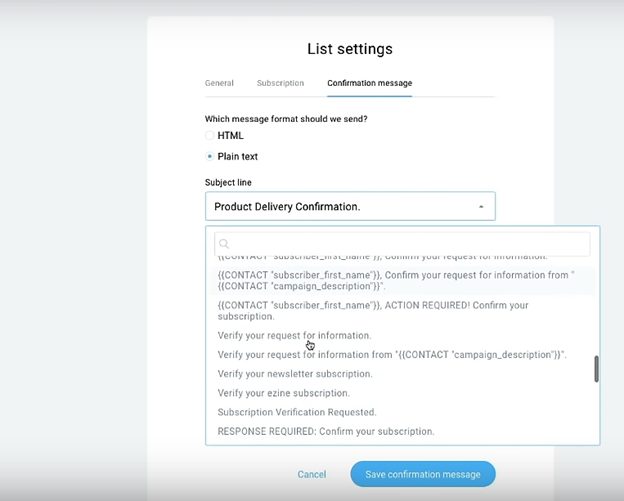 Once you learn the ropes, you can leverage it for more than just generic emails. GetResponse gives you the tools for setting up welcome emails, transaction emails, abandoned cart emails, email newsletters, as well as responders. You could apply stuff like advanced segmentation, dynamic content, and A/B testing to any of these email types depending on your campaign goals.
Automation
After grouping your contacts using SendinBlue's advanced segmentation tools, the corresponding automation workflows are built directly from the marketing automation editor.
The tool itself is pleasantly straightforward for both beginners and experienced marketers. SendinBlue has designed it to help you get your automation workflows up and running in the least amount of steps possible.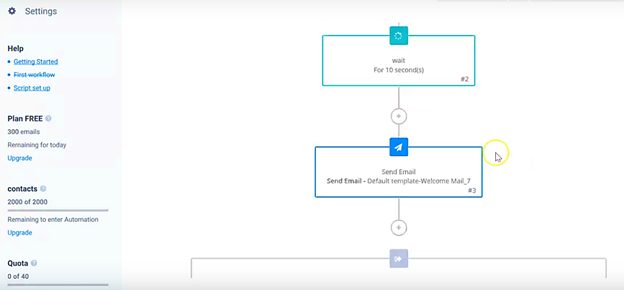 The entire process is particularly easy for users who choose to set up basic sequences. That's because SendinBlue provides eight pre-built workflow templates.
So, you just need to pick an appropriate one and then make a few adjustments here and there. Ultimately, you'll have a complete workflow in just a matter of minutes.
Sadly, things are not that simple for extensively dynamic workflows.
SendinBlue allows you to dive deep into its automation tool and create your own workflow from scratch. The whole process basically entails creating sequences of actions and conditions, some of which might require a bit of programming.
Attributable conditions with "Else", "Then", or "If" logic, for instance, are applied using basic programming that resembles "IF" rules in Excel.
That said, some of the important features SendinBlue has left out of its marketing automation include drag-and-drop editing, search marketing, and A/B testing.
GetResponse
Unlike SendinBlue, GetResponse provides a drag-and-drop editor for managing marketing automation workflows.
With it, you can build powerful sequences using conditions, actions, and filters. The conditions specify user behaviours that should trigger automation, while actions subsequently define the automation tasks that the system should complete. Filters, on the other hand, systematically segment contacts based on the parameters your layout.

In the end, you can create an automation that responds to things like message engagements, page visits, subscriptions, abandoned carts, completed transactions, etc.
And when you compare this automation system to SendinBlue's, GetResponse is undoubtedly more intuitive and flexible.
SendinBlue vs GetResponse – Pricing

Free Plan – $0 per month.
300 emails per day
Lite Plan – $25 per month billed monthly or $22.50 per month billed annually.
No daily sending limit
All Free Plan features
40,000 emails per month
Essential Plan – $39 per month billed monthly or $35.10 per month billed annually.
Advanced statistics
No SendinBlue logo in emails
All Lite Plan features
60,000 emails per month
Premium Plan – $66 per month billed monthly or $59.40 per month billed annually.
Chat
Marketing automation
Landing pages
Facebook ads
All Essential Plan features
120,000 emails per month
Enterprise Plan – Custom quote
Priority support
Dedicated account manager
All Premium features
GetResponse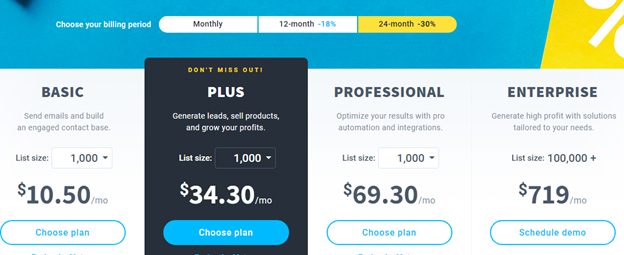 Basic Plan – Costs between $10.50 per month for 1,000 contacts and $450 per month for 100,000 contacts.
Sell e-products
Facebook Ads
Unlimited lead funnels
Sales funnels (1 funnel)
Unlimited automation templates
Unlimited landing pages
Autoresponders
Email marketing
Plus Plan – Costs between $34.30 per month for 1,000 contacts and $499 per month for 100,000 contacts.
All the features in the Basic Plan
Webinar funnels (5 funnels)
Work together (3 users)
Sales funnels (5 funnels)
Contact scoring and tagging
Simple CRM
Webinars (max 100 attendees)
Automation builder (5 workflows)
Professional Plan – Costs between $69.30 per month for 1,000 contacts and $580 per month for 100,000 contacts.
All features in the Plus Plan
Work together (5 users)
Unlimited webinar funnels
Unlimited sales funnels
Webinars (max 300 attendees)
Unlimited automation builder
Paid webinars
Enterprise Plan – Starts at $719 per month for 100,000 or more contacts.
All features in the Professional Plan
Email campaign consulting
Webinars (max 500 attendees)
Single sign-on (SSO)
Deliverability consulting
Dedicated IP address
Account manager
Transactional emails (paid add-on
Frequently Asked Questions:

What is the GetResponse Digital Marketing Certification Program?

With this certification, you can prepare yourself to become a certified digital marketing expert. This program consists of video lessons with a variety of topics that includes all you need to know about Digital Marketing, and at the end, you present a test or certification exam.

Can I retake the final exam in a given course?

Sadly, you can only present your test one time. to receive the certification.

SendinBlue vs GetResponse – The Ultimate Verdict

Our Pick

I Personally Prefer Sendinblue

You might not have heard about Sendinblue, but you SHOULD. It has the big box API tools of a SendGrid, the sales automation of an ActiveCampaign, but the user-friendliness of a ConvertKit. Plus, it's relatively cheap in comparison to each.

Try Sendinblue Here Save 50% for Black Friday!

We earn a commission if you click this link and make a purchase at no additional cost to you.

All in all, SendinBlue is seemingly the better option if you're a beginner in the world of email automation, or you happen to run a startup, or maybe a small to medium-sized business. Such users would certainly have an easy time with SendinBlue's user-friendly system and excellent customer support.
The platform admittedly outshines GetResponse when it comes to user experience, ease of use, and overall simplicity. Plus, online stores would find SendinBlue's transactional emails to be quite handy.
GetResponse, on the other hand, is a sophisticated platform for advanced digital marketers. This is what you choose if you understand the intricacies of personalization and automation. The platform is fine-tuned for high-level analytics and dynamic email marketing automation workflows.
Bottom Line: I lean towards the easier to use and cost-effective Sendinblue here in MOST cases. That said, if you do webinar marketing or require finely tuned data analytics, GetResponse is likely the better option here.
Now, over to you. Where do you belong- with SendinBlue or GetResponse? Learn more about these email platforms and the main differences between the two.
Further Reading on Marketing Campaign Builders with Automated Emails: