Last Updated on April 22, 2023 by Ewen Finser
This post contains affiliate links. We may earn a commission if you click this link and make a purchase at no additional cost to you
This Incfile review has been requested by numerous entrepreneurs who understand the pain of running a business. If you haven't experienced it yet, then you're probably just getting started.
I'm talking about the cumbersome processes of managing the legal requirements that come with handling a company. Marketing your business and chasing customers around is hectic enough already.
So, of course, you'd probably need help with the administration of legal processes such as filing taxes and annual reports, forming an LLC or corporation, plus acquiring all the necessary licenses.
Now that's where companies like Incfile come in. While it's widely recognized as a registered agent service, Incfile is much more than that. It essentially handles all the legal obligations on your behalf.
And what does that entail?
Well, that's the question here. And this Incfile review provides all the important details you need. It methodically examines Incfile to reveal the type of services you should expect, the corresponding costs, as well as the possible weaknesses you might encounter along the way.
More specifically, this Incfile review covers the following areas:
The company's overview
Incfile LLC formation and corporation business formation services
Incfile business license research services
Incfile business EIN number application services
Incfile registered agent services
Incfile Certificate of Good Standing filing services
Incfile annual report filing services
Incfile's customer support
Incfile's pricing
Pros and cons of using Incfile
Incfile Review – Overview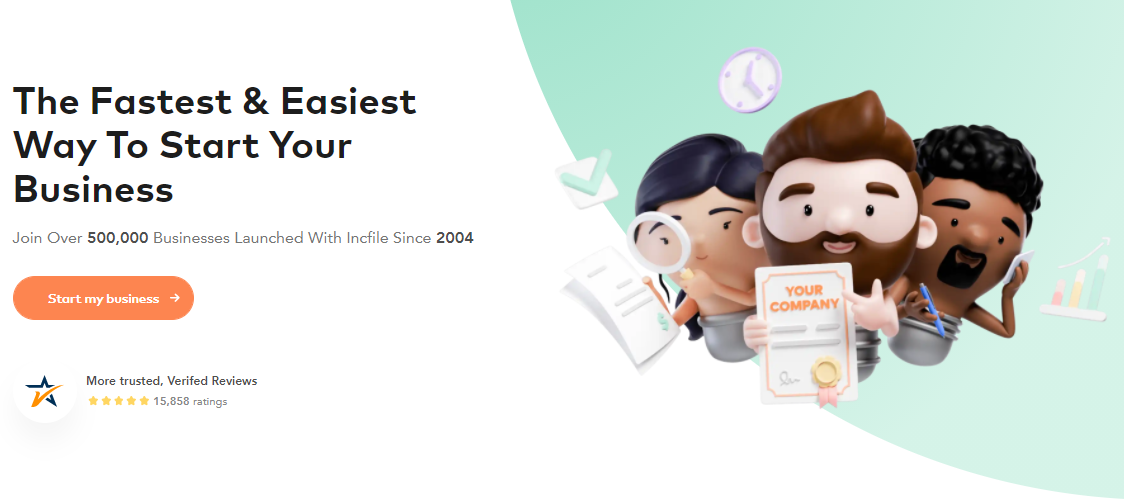 Incfile, for starters, is the type of company you go to when you're trying to incorporate a business. It helps you transform a basic name into a registered business entity. That means you could settle for either a C-Corp, an S-Corp, an LLC (LLC formation), or a Nonprofit organization.
It doesn't end there though. Incfile goes ahead and provides additional services that could help you not only maintain the business but also grow it over the long haul. In essence, it's capable of handling all the federal and state filing requirements while you run the business.
To be more specific, Incfile specializes in registered agent services, foreign qualifications, S-Corp tax elections filing, EIN applications, annual report filings, amendments to business filings, company dissolution filings, fictitious business name filings, business tax filings, business license research, and Certificate of Good Standing Filings.
So, in short, Incfile is a comprehensive service suite for all the types of legal obligations related to LLCs and corporations. The goal here is to make the process of running a business easier and less cumbersome.
It has been doing this since 2004 and has so far served more than 250,000 businesses. As a matter of fact, Incfile is currently one of the most prominent names when it comes to business formation and registered agent services.
Incfile Review – Main Services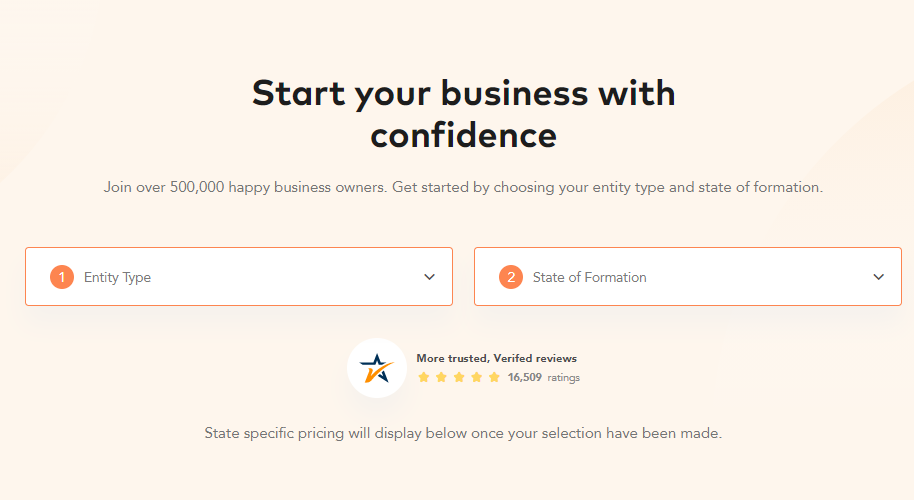 Business Formation
There are three types of businesses that Incfile could help you form – LLC formation service, S-Corps, and C-Corps.
An LLC, or a Limited Liability Company in full, is a favorite for small businesses because of its flexibility. The requirements here are not as strict as S-Corp and C-Corp formations. Plus, the ownership options are fairly dynamic.
In the end, an LLC should provide your business with limited liability protection. This subsequently separates your personal assets from the company's. Hence, the business runs as a distinct entity with its own assets and liabilities.
C-Corps, or C Corporations in full, happen to also benefit from limited liabilities, but at a different level. While LLC formation is ideal for basic startups and small businesses, C Corporations accommodate way more owners per entity. Therefore, this type of incorporation service perfectly suits large enterprises seeking to trade their shares publicly.
But, here's the kicker. Unlike LLCs, C-Corps come with their own tax liabilities. Every single company is expected to file corporate tax based on its corresponding income.
S-Corps, however, helps you avoid that by flowing the company's income through to its shareholder's personal tax returns. S Corporations operate like LLCs (and can use an LLC formation service, but then "elect" S-Corp tax treatment), but with more flexibility when it comes to transferring ownership. The individual shareholders are free to sell their shares without seeking approvals from other shareholders.
If you choose to use Incfile to form any of these businesses, the company will grant you the privilege of conducting an unlimited number of name availability searches. Then when you find a perfect unique name for your business, comes the most important part of filing the relevant formation articles, which Infcfile will also help you prepare.
In case you're forming an LLC business, for instance, Incfile will assist you to file its Articles of Organization. Then when it comes to S-Corps and C-Corps, Incfile proceeds with the Articles of Incorporation instead.
The whole process should take one business day at most. Incfile will grant you access to its online dashboard, from where you can track the status of each order, plus scan through the accompanying incorporation documents.
Other than that, purchasing business formation services from Incfile qualifies you for one year of free registered agent services. You'll also get lifetime customer support, as well as free business tax consultation.
Incfile can also optionally help with auto-drafting an operating agreement in addition to the formation service and agent service.
Business License Research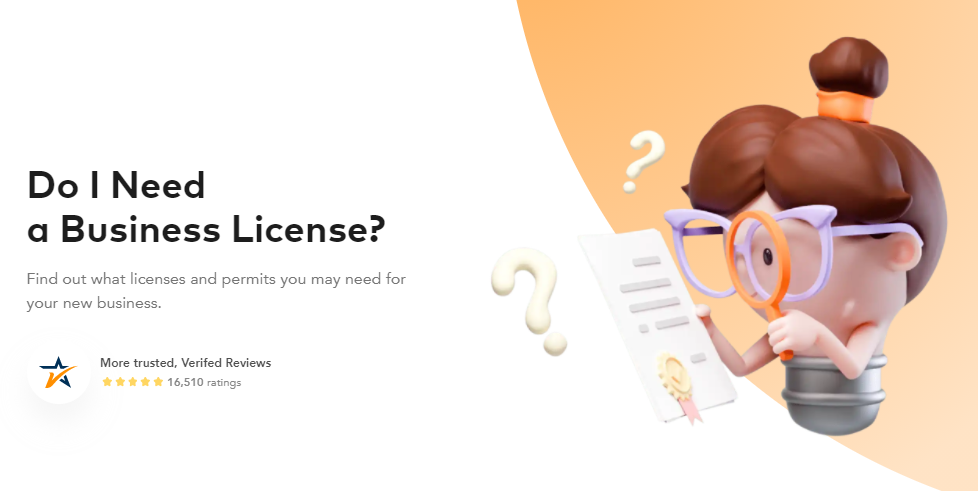 Incorporation is just the first step to starting a business. When it's done and the accompanying formation documents are in order, there are still a couple of requirements to fulfill before kickstarting your operations.
That said, a business license should be one of the main priorities before proceeding to set up the business. The problem with the license application, however, is that it's not a straightforward process.
There's no standard license that covers all businesses across every single state. Rather, there's a wide range of federal plus state licenses and permits for each locality as well as business type.
So, make no mistake. While some businesses are allowed to operate with one license or permit, establishments typically require two or more different types of licenses.
Well, you can bet searching through all the licensing documents is not easy at all. It would probably take you ages to sort through everything. But thankfully, Incfile saves you the trouble by conducting the business license research for you.
And that's not all. Incfile offers business license research through a comprehensive package that goes beyond research to help you with the subsequent filing process. After determining all the federal, state, and local licenses plus permits you need for your business, Incfile takes care of the paperwork.
Then get this. Incfile further promises to send you all the license application forms within five business days of your business being incorporated by the state. Its in-house licensing experts will even include supporting documents as well as filing instructions to guide you through the whole process.
Federal Employer Identification Number (EIN) / Tax ID Number Application
Another critically important legal requirement is the federal Employer Identification Number, which is also known as the "EIN" or "Tax ID number".
As the name suggests, the number is fundamentally used for filing tax. You can think of it as the social security number for businesses.
Without one, therefore, you won't be able to open a bank account for your business. And that would only complicate your accounting and payroll processes.
Now, to avoid such issues, Incfile goes ahead and applies for your EIN number electronically. You just need to make an order and its support agents will get back to you for additional company details. Ultimately, the waiting time will only be one business day, within which Incfile should email you the federal tax ID number.
Registered Agent Service Features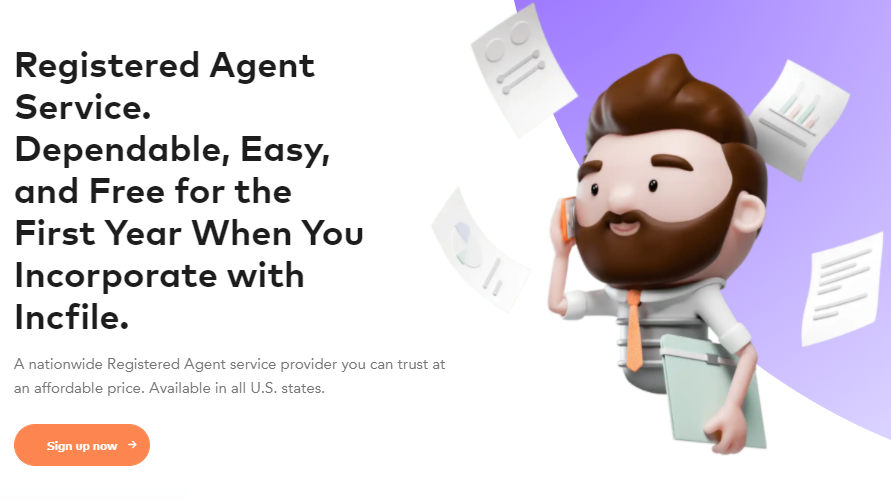 As long as your business is based in the U.S, you're required to maintain a registered agent in every single state you operate from.
The agent, on the other hand, is expected to provide an address that will act as the primary correspondence point between the government and your business. In other words, the federal and state governments will contact you through the registered agent, especially when it comes to legal and tax documents like annual reports, litigation notices, tax forms, etc.
That said, you're allowed to act as your own registered agent. But since this option would expose your personal address, it's always advisable to rely on a reputable registered agent service like Incfile.
Now, one of the registered agent privileges you can expect from Incfile is, of course, a favorable business address. You essentially get to keep all the business correspondences away from your private home address.
And speaking of which, every single document received by Incfile is immediately forwarded to you. The company receives all the tax, legal, and official documents sent from your state and proceeds to process them accordingly. As a result, Incfile further helps you keep the business in good standing by filing all the documents in due time.
Don't get me wrong though. Although Incfile's registered agent services provide a correspondence address, you should not use it for random communication mails. Incfile will only process legal and tax documents from the state. Any other mail, including official correspondence from other businesses, is rejected and redirected to the sender.
In the meantime, you should be able to monitor everything from your online account. Incfile uploads all the documents it receives and then notifies the respective business recipients via email. This allows you to read and respond at your convenience but in good time.
Filing Certificate of Good Standing
Certificates of Good Standing come into play in special circumstances that require you to prove our company is fully compliant with all the relevant regulations and laws. You'll need one when you apply for a business loan, or perhaps a license renewal. It's also common for business tax filings to be accompanied by a Certificate of Good Standing.
So, in short, a Certificate of Good Standing is just as important as a personal ID or driver's license. It generally shows that your business is appropriately registered and authorized to run by the specific state.
Such certificates are obtained directly from the secretary of state office in every state. And as you've probably guessed already, Incfile will handle the paperwork for you.
Its agents begin by checking and confirming that your business is indeed compliant with all your state's requirements.
Apart from filing all the required annual or biennial reports, the state expects you to have paid all the relevant business fees (state fee) and taxes. But beyond that, the regulations differ from state to state.
Fortunately, even when the requirements are many, you can rely on Incfile to go through every single one of them.
Filing Annual LLC Service or Corporate Report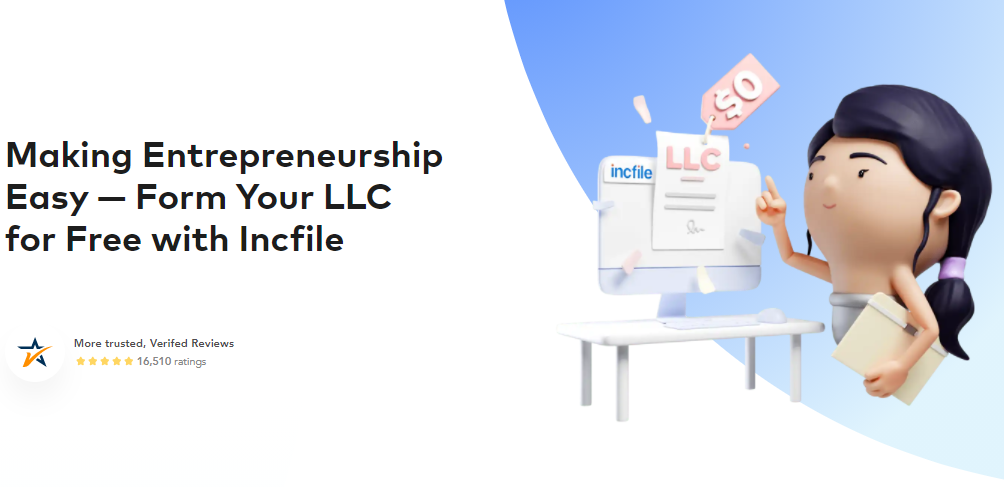 Filing annual reports is one of the primary responsibilities that come with running a business in the US. That means it applies to all LLCs, C-Corps, and S-Corps. As long as you've incorporated a company, your state's secretary of state expects you to submit an annual report every year.
And in case you're wondering, even startups are required to file their reports. In fact, it encompasses both small and large businesses, as well as enterprises. Only partnerships and sole proprietors are excluded.
Now, the principal purpose of annual reports is to provide information about your business. The state essentially wants to find out how your company is progressing every year.
Therefore, in addition to the names and addresses of all the directors and stakeholders, your annual report should contain details about the number of stock or shares of stock issued by the business, the authorized signatories and registered agents, the purpose of the business, the business tax identification numbers, the location of the company's head office, etc.
The precise information depends on the type of business you're running as well as the state it's registered in. Incfile will research about all that and then help you with the whole filing process.
Generally, LLC and corporate annual reports are filed every 12 months after business formation, specifically on the anniversary dates. In some states, however, all the registered companies are given specific dates for submitting their reports. And yes- Incfile will give you those details too.
Incfile Review – Customer Service
One outstanding thing you'll notice about Incfile right off the bat is its comprehensive learning center. Incfile has seemingly taken the time to compile all the resources you might need to understand the basics about registered agent services, business formation, business licenses, tax filing, annual reports, and state regulations.
Overall, you should be able to make service orders as well as coordinate the subsequent processes from the dashboard. But, if you ever need additional help, you can get in touch with Incfile's support staff through live chat, email, or phone.
Phone support, however, is only available from Monday to Friday, between 9 AM and 5 PM CST. I wouldn't advise you to try it though, because the waiting times can be exhausting.
Incfile Review – Pricing
Silver Package – $0 plus your standard state fee.
Filed documents are available online.
Standard state filing time
Online access to incorporation documents
Lifetime company alerts via text messages and email
Next business day processing
Business tax consultation
Online order status tracking
Unlimited phone and email support
Statement and resignation of the organizer filing
Free registered agent service for 1 full year
Unlimited name availability searches
Prepare and file the articles of organization/articles of incorporation
Gold Package – $149 plus your standard state fee.
Free express shipping of documents
Documents tracking number
Electronic documents delivery
Standard state filing time
Gold business formation kit (with a value of $99)
Banking resolution
Corporation organizational meeting minutes
Corporation bylaws
Free Employer Identification Number/ Tax ID filing
Online access to incorporation documents
Lifetime company alerts via text messages and email
Next business day processing
Business tax consultation
Online order status tracking

Unlimited phone and email support
Statement and resignation of the organizer filing
Free registered agent service for 1 full year
Unlimited name availability searches
Prepare and file the articles of organization/articles of incorporation
Platinum Package – $299 plus your standard state fees.
Free domain name and email service (business website)
Free business contract templates
Free express shipping of documents
Documents tracking number
Electronic documents delivery
Standard state filing time
Platinum business formation kit (with a value of $149)
Banking resolution
Corporation organizational meeting minutes
Corporation bylaws
Free Employer Identification Number/ Tax ID filing
Online access to incorporation documents
Lifetime company alerts via text messages and email
Next business day processing
Business tax consultation
Online order status tracking
Unlimited phone and email support
Statement and resignation of the organizer filing
Free registered agent service for 1 full year
Unlimited name availability searches
Prepare and file the articles of organization/articles of incorporation
In addition to that, the yearly registered agent fee is $119. Then annual report filing, on the other hand, costs $88 plus your state's fees, while filing for a Certificate of Good Standing will set you back $49. Other than that, the business license package is priced at $99, Tax ID/EIN number filing at $70, while business dissolution costs $149 plus the applicable state filing fees.
Incfile Pros and Cons
Pros of Incfile
Incfile has one of the lowest pricing rates for business formation. The Silver package, for example, will only cost you the standard state fees. And in addition to business formation, Incfile throws in free registered agent services and business tax consultation.
Purchasing one of the three packages offered by Incfile qualifies you for free registered agent services for one year. Then after that one year, the registered agent services will only cost you $119 annually, which is still a fair rate if you ask me.
Incfile allows you to track orders and documents directly from your dashboard.
Incfile's customer support agents are available across all the major channels. You can get in touch with them via email, phone, and live chat.
Incfile is a comprehensive services provider, with pretty much all the supplementary solutions your business might need along the way. Apart from business formation and registered agent services, you could use Incfile for business license research, business dissolution, EIN application, Certificate of Good Standing application, etc.
Incfile comes with free business tax consultation, which is ultimately conducted by a certified tax professional.
It's possible to purchase supplementary services as add-ons without necessarily upgrading to a different plan. So, in a way, Incfile allows you to set up your own custom package.
Cons of Incfile
Getting in touch with Incfile's customer support team via phone can be hectic at times.
FAQs about Our I
ncfile Review
How can I Become an Affiliate with Incfile?
To become an official Incfile affiliate, just follow this link into their official website, and follow all the instructions provided to start your membership.
When will I receive my Incfile License Research Package?
The Business License Research Package provided by License Logix will start when your company is filed and completed. This might take between 7 to 10 business days and once it's done you will receive an email with all the results and in your account.
How can I change my company name in Incfile?
To change the name of your company just log in into this link and go to the "STATE & IRS Filings" section of the website to order an Amendment for the Secretary of State. To use this option you need to have your company into an account with us, if not, you can still use our services by getting into this link.
Conclusion – Who Uses Incfile?
All in all, the type of people who'd possibly consider leveraging Incfile are:
Entrepreneurs seeking comprehensive business formation and registered agent services on a budget.
Business owners who could use notifications to help them beat their filings deadlines.
Business owners who are too busy to keep up with all their state and federal company regulations. Incfile takes care of everything for them.
Overall, I find Incfile to be a solid business services provider. All the basic stuff you'd need is squeezed under one roof, and at very competitive rates. Hence, it certainly makes sense why Incfile remains one of the most dominant registered agent services on the market.
That said, what would you rate Incfile? Feel free to share your thoughts on the comment section.
Further Reading on Online Legal Service, Legal Advice, and Business Formation Service Options: