Last Updated on July 31, 2022 by DMEditor
We are going to be looking at Incfile vs Swyft Filings to see which of these LLC service providers are better, and to help you decide which one would be the best option for your business.
If you're ready to form an LLC (LLC formation), but not feeling confident enough to do it all on your own, a company formation service provider is a great option for you. They can handle everything for you, taking away the stress and leaving you free to focus on the parts of your business you love.
Bottom Line Up Front Summary: Although these are both excellent companies, Incfile simply offers better value for money and is my preferred pick here for it's easier to use interface and lowest industry pricing. Be sure to check out the current seasonal promo offer here. The ONE case where I'd actually go with Swyft is if you are looking to set up a DBA, as Incfile doesn't really offer this.
There are many benefits to forming a Limited Liability Company over other business types, including:
Flexibility with Ownership
Flexible Profit Distribution Options
Limited Personal Liability for Owners and Managers
Flexibility with Management
Privacy Protection for Owners
Less Paperwork than a C-Corp or S-Corp
So for these reasons an LLC is a great option for many small business and medium-sized businesses.
In this comparison review we are going to be looking at exactly what services Incfile and Swyft Filings offer to small businesses, as well as their pros and cons, customer service and reviews, and of course, the pricing, so that you can decide which one is right for you.
Let's take a look.
Main Differences Between Incfile vs Swyft Filings
The main differences between Incfile vs Swyft FIlings are:
Incfile includes the first year or Registered Agent Service for free with all business formation packages, whereas Swyft Filings does not include this service within its packages, so it needs to be purchased as an extra
Incfile renews at $119/year after the first year of free Registered Agent service, whereas Swyft Filings' Registered Agent service costs $149/year from the start
Incfile offers a starting $0 (plus state fees), whereas Swyft Filings' Basic package starts at $49 (plus State fees)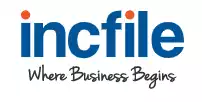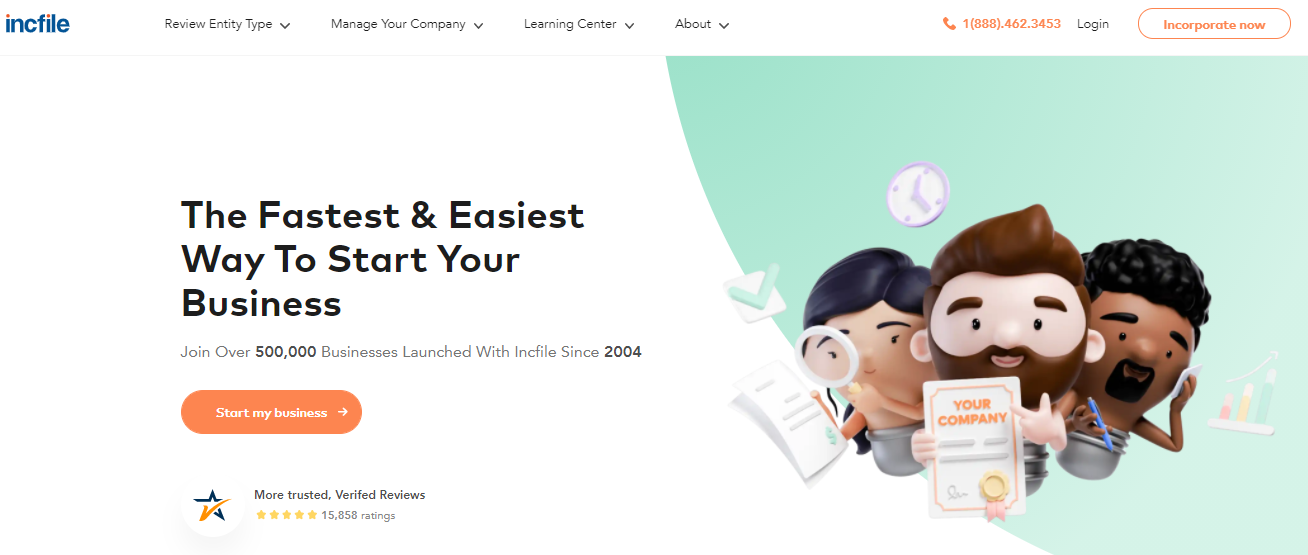 Incfile is an online company that helps entrepreneurs start their new business quickly and easily. They handle all of the paperwork and filing of documents with the state, allowing business owners more time to focus on the other areas of their business.
Incfile was founded in 2004, and since then it has helped over 250,000 entrepreneurs form their businesses.
With a reputation for excellent customer service, and providing good value for money, they were awarded the prestigious Entrepreneur 360 award which lists Entrepreneur magazines 360 most entrepreneurial companies in America.
The Main Services Offered by Incfile
Verification of company name
Preparation and filing of articles (whether a traditional corporation or for LLC formation)
Next Business Day processing
First-year of Registered Agent service FREE
Lifetime company filing date alerts (LLC filing, S-Corp, C-Corp)
Online order status tracking
Free business tax consultation
Lifetime customer support
Online dashboard with access to all of your business documents
Incfile's main service is company formation, and the online order process makes the whole process quick and painless. You can choose from four different business entity types, depending on your needs, including:
Online LLC formation service
Online Corporation formation (C Corp)
Online S-Corporation formation
Online Non-Profit
How Incfile Works
Once you have decided to go ahead and form your LLC, you need to select the state you want to register your business in. This is usually the state you live in and operate your business in. Each state has it's own filling fees (state fee rates), so remember to take this into account for your costs.
Incfile offers three different business formation packages, so you need to select the one which would be best for your business needs. Next, you will receive an online form to fill in with all of the details of your business. The form is easy to understand, and after this has been filled in, Incfile will take care of everything else for you.
Once you have completed the payment for your order, Incfile will check your chosen business name against the database to make sure that it's available. If it is available, Incfile will draft the required legal document items and put together the paperwork for filing, and then send them to the state.
After the articles have been filed with the state, your business is now official (congratulations!) and the State will send your incorporation documents back to Incfile, who will upload them online for you to access whenever you need to.
What other legal services does Incfile offer?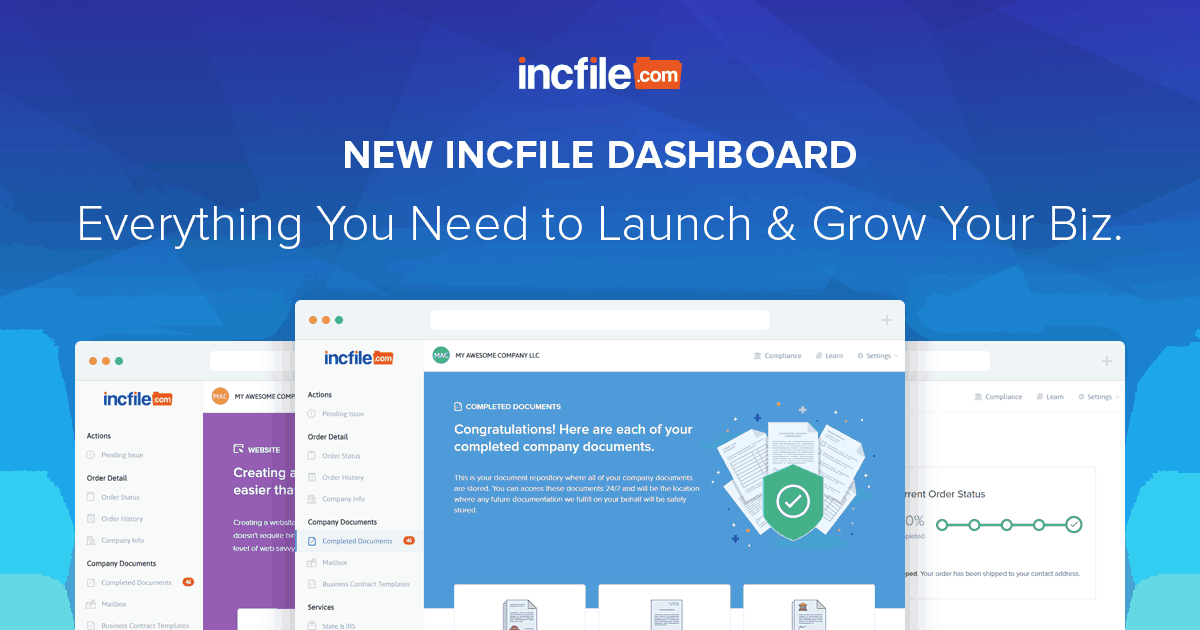 As well as business and LLC formation services, Incfile also offers a range of other services to help you keep your business running smoothly, including:
Annual reporting
Foreign qualification
EIN/Tax ID number
Certificate of good standing
Change of registered agent
Trademark name search
DBA/Fictitious business name
Registered agent
Amendment/ Name change
Dissolution
Corporate/LLC Kit
Business licence research
File Business Taxes
File S Corp Tax Election
Together these services will help you to run your business smoothly, with as little stress as possible. There is no obligation to purchase these services once you have formed your LLC, however, they are very good value, and for the amount of time and stress they will save you, we think they are worth the expense.
One of the most popular services is the Registered Agent service. It is a legal requirement in the US for all businesses to have a registered agent, and although you can serve as your own registered agent, this service is very affordable, so as we said before, it's definitely something worth paying for.
The registered agent service will provide you with an address that is used for legal and Tax correspondence for your business, so there is no need to give out your personal details when doing business.
Having a separate address for your business protects your personal privacy, and ensures that no important documents go undelivered, as there will always be someone available during business hours to accept your mail.
This is a great option for anyone who travels a lot or works in different locations frequently, as it means you can instantly access any mail or documents you have received from your online dashboard.
One of the first things you will want to do when you have started your business is open a business bank account. To do this you will need an Employer Identification Number (EIN) which will work as a social security number for your business, and allow you to hire and pay employees. This number is assigned to your business by the IRS, and Incfile can handle the application for you.
Incfile can also help with any changes you may need to make to your company, such as the name or dissolving the company so that you can be sure everything is done correctly and quickly by experts.
Incfile does not typically offer any legal advice beyond their set packages and services.
Incfile Customer Service and Customer Reviews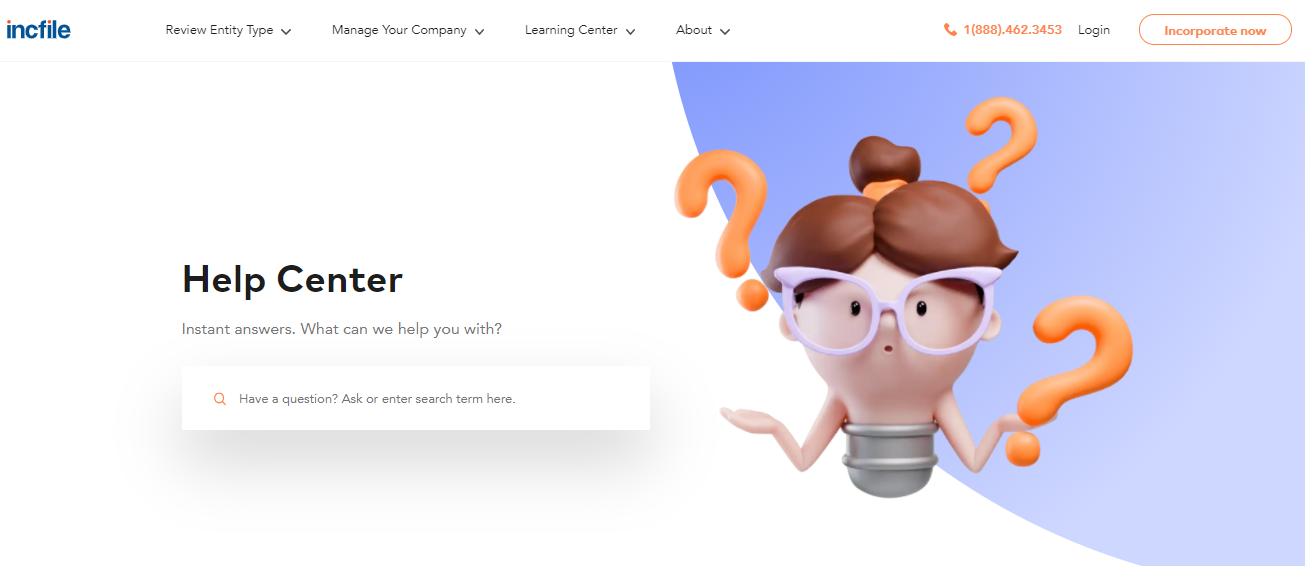 Customer support is available by phone from Monday – Friday from 9 am – 6 pm CST. If you need support outside of these hours you can submit a support request online and someone will get back to you as soon as possible. There is also a help center on their website where you can ask questions, view frequently asked questions and find solutions to common problems.
Incfile is rated A+ with the Better Business Bureau (BBB) and have an impressive 4.5 stars out of 5 for their reviews on BBB too. They also received 4.8 out of 5 on Shopper Approved out of 12,158 ratings, which again is very impressive!
The Benefits of using Incfile
Incfile offer lifetime support to all its customers, so if you have any problems you can contact the support team who will resolve your problem as quickly as possible.
Incfile has an A+ rating with BBB and has excellent customer reviews with an average of over 4.6 out of 5 stars on BBB. They are also rated 4.8 out of 5 stars on Shopper Approved.
Incfile provides you with a Registered Agent free of charge for the first year.
You will automatically receive lifetime company alerts so you will never miss a filing deadline.
You can access all of your business documents securely online.
Incfile provides a very affordable service.
They have a great reputation, with over 250,000 businesses formed since they were founded in 2004.
The Downsides to using Incfile
There aren't really any downsides to using Incfile. The only thing we could say is that occasionally customer support response times can be slower than usual, depending on customer demand.
Incfile Pricing
Incfile has three packages available. I have selected the state of New York for this price check, but bear in mind that if you register in a different state, your state fee will be slightly different.
The three packages available are Silver, Gold, and Platinum. The Silver package is the most basic option, and there are no fees to pay for this package apart from the state fee, so this is the perfect option for anyone starting a business on a shoestring budget.
The Gold and Platinum packages include extras that you will find useful when running a business, such as an operating agreement, EIN, and more.
The Silver package includes:
Preparation and filing the articles of your organization
Unlimited name availability searches
FREE Registered Agent services for one year
Setup of a business banking account with Bank of America ($450 value)
Statement and resignation of the organizer
Unlimited phone and email support
Online order status tracking
Business tax consultation
Next business day processing
Lifetime company alerts via email and SMS
Online access to Incorporation Documents
Electronic mail delivery
Next up is the Gold package, which includes everything from the Silver Package, as well as:
Employer Identification Number/ Tax ID
Preparation and filing of IRS form 2553
Operating Agreement
Corporation Bylaws
Corporation Organizational Meeting Minutes
Banking resolution
Gold Business formation kit
Express shipping for mail delivery
And last not least, is the Platinum Package. This package includes everything from the Silver and Gold Packages, as well as:
Business contract templates
The free domain name and email services
Platinum business formation kit
Expedited state filing time [expedited filing]
If you would like to find out more about Incfile, you can visit their website here.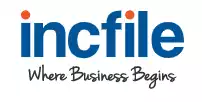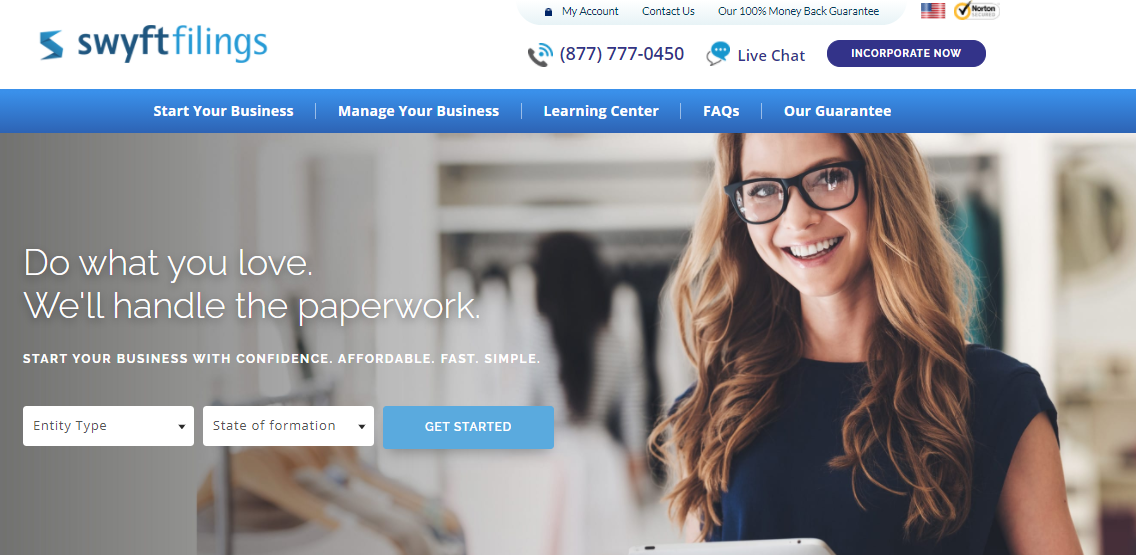 Swyft Filings is an online business formation service that specializes in helping small and medium-sized businesses become incorporated at an affordable price, as well as offering a number of other ongoing services to help small businesses run smoothly.
The company is owned by an experienced lawyer whose mission is to make it easier for entrepreneurs to launch their businesses without having to pay overpriced legal fees.
They are able to offer their services at such an affordable price by automating the filing service alongside working with experienced staff to ensure that everything runs as quickly and as efficiently as possible.
The Main Services Offered By Swyft Filings
The main Swyft Filing service is company formation. The packages offered include:
Verifying Company Name Availability
Preparation of Documents for Incorporation
Document Filing with Secretary of State
Online Access to all of your LLC Documents (LLC Formation Service)
Certificate of Incorporation
Lifetime Customer Support
Delivery of Documents
How Swyft Filings Works
It's easy to form your new business with Swyft filings. Once you have decided which state you want to register your business in, there are just a couple of steps to go through before your business is up and running.
Once you have selected the company formation package that suits you best, there is a form for you to fill in with the details of your business. This shouldn't take longer than 10 minutes, and it's all done and submitted online.
After Swyft filings have received your details, they will begin to prepare your documents, and when they are ready they will be sent off to be filed with the State. Once everything has been approved you will receive your LLC package in the mail and your business will be official.
What other online legal service options does Swyft Filings offer?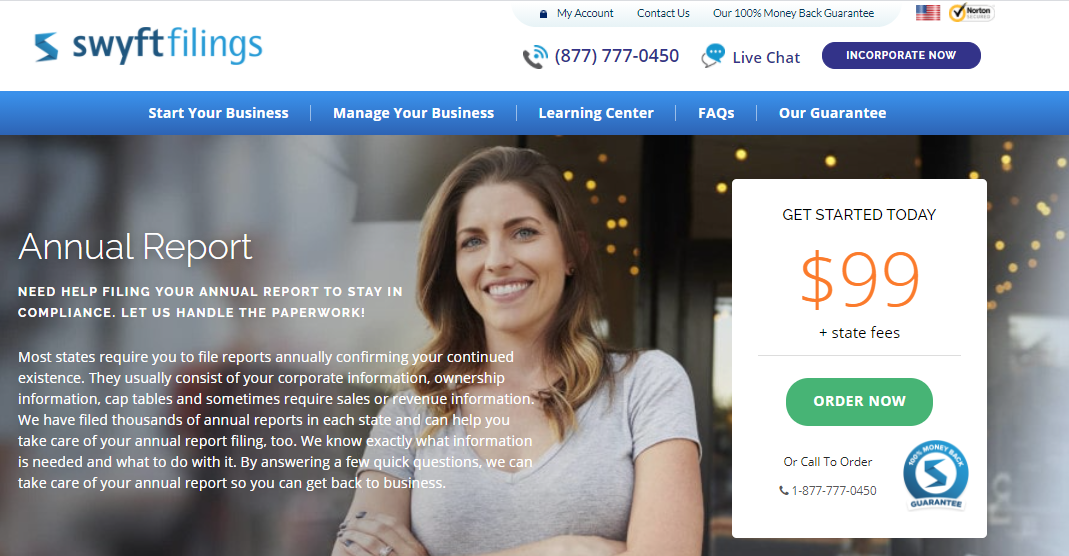 As well as offering company formation services, Swyft Filings offers a range of other ongoing business services in addition to their formation service that will help your new business to run smoothly, and ensure you never miss any deadlines.
Swyft Filings' additional services include:
Digital Corporate Kits
Business Licenses and Research
Seller's Permit (Sales Tax ID)
Registered Agents Service
LLC Operating Agreement
Corporate Bylaws and Resolutions
Minutes Manager
Annual Report
Initial Report
EIN/Federal Tax ID (EIN registration)
Amendments & Name Changes
Conversion
Foreign Qualification
Change of Registered Agent
Withdrawal
501(c)(3) Application
Apostille
Dissolution (Closing a Business)
Swyft Filings' Registered Agent formation service is available in all 50 states, and it is very easy to set up and use. This service has many benefits, including providing a dedicated address for your business, so that you don't need to use your personal address for business purposes.
The Registered Agent will accept all incoming mail and legal documents on behalf of your business, and upload them to a secure online dashboard which you can access at any time, ensuring your documents are always safe and can never be lost or destroyed.
Using a Registered Agent also has the added benefit of protecting your personal privacy should your business ever get sued, and save you from receiving any embarrassing legal documents in front of friends or family.
The Swyft Filings service can help you to apply for licences and permits for your business if they are required in your state. They will do all the research to find out exactly which permits and licences your business will need so that you can be sure you're not missing anything you need.
Additionally, Swyft Filings can help you obtain an EIN/Federal Tax ID for your business so that you can set up a business bank account, collect revenue, and hire and pay employees.
When you form an LLC, one of the most important things you should do is create an operating agreement. Swyft filings can help draft your operating agreement for a one-off fee of $35.
They will send you a questionnaire to fill out with some important information on how you want your business to run, and once they have this information they will put the document together for you using their attorney-prepared template.
Once the document is ready it will be uploaded to your online account for you and your business partners to view at any time.
Swyft Filings Customer Service and Customer Reviews
If you need to get in touch with the customer services team at Swyft Filings, you can contact them by phone during their business hours, 9 am – 6 pm CST from Monday to Friday. You can also contact them by email or by sending a message through their website.
It's clear from the reviews that customers are very happy with the service provided by Swift Fillings. They have received a rating of 4.5 stars out of 5 on Shopper Approved, out of massive 26.016 reviews.
They also measure up pretty well with TrustPilot reviews, with an overall rating of "Excellent" and 4.5 stars out of 5 from over 1,642 reviews, so it's clear to see that they are doing something right.
The Benefits of Using Swyft Filings Incorporation Service
Swift Filings offer a very quick service at an affordable price. They can get you up and running in a matter of hours.
They send out automatic reminders for all of your deadlines so you will never receive any penalties for late filing, and your business will always remain in good standing.
SwiftFilings can provide a registered agent service at any affordable price.
They offer a very good price compared to most of their competitors.
They offer good customer support overall with a majority of excellent customer reviews on popular review websites. You can easily contact them by phone, email, or live chat.
They offer a 100% money-back guarantee if you are not satisfied with the service
The Downsides to Using Swyft Filings
None of the business formation packages includes Registered agent services, so you would need to add this on separately.
Swyft Filings has three different business formation packages available: Basic, Standard, and Premium Plan.
All packages include lifetime customer support, real-time online order status tracking, a dedicated online account where you can view all of your documents, free shipping on all orders, and a 100% money-back guarantee if you are not happy with the service.
The Basic package costs just $49 (plus State fees) and includes the above, as well as: verification of company name, preparation of articles, free statement of the organizer, and document filing with the Secretary of state. Available for LLC formation package options, S-Corp, C-Corp, etc…
Next up is the Standard package, which starts at $149 (plus state fees). This package includes everything from the Basic package, as well as a Custom LLC operating agreement, obtain Federal Tax ID (EIN), custom banking resolution, and custom organizational minutes.
Finally, there is the Premium package, which starts at $299 (plus State fees) and includes everything from the Basic and Standard Packages, as well as electronic delivery of state documents, customized digital corporate kit, free business website and web hosting, and FedEx shipping with tracking.
If you would like to use Swyft Filings or find out more about what they have to offer, you can visit their website here.
FAQs:
Question: Does Swyft Filings ship to PO Box addresses?
Answer: Swyft Filings offers a mail and shipping delivery to PO Box Addresses.
Question: Can a non-US citizen form an American Company?
Answer: As a non-citizen, you can still for a company with just a few limitations. To learn more about this, just contact Swyft Filings at 877-777-0450 or email them to find more help and start the process.
Question: How do I contact IncFile?
Answer: To contact Incfile, the best way to do it is by phone. You can contact them at 844-830-8267 or at 855-829-9090 between Monday and Friday, from 9 am and 5 pm CST.
Incfile vs Swyft Filings: Which one is the better service?
Incfile vs Swyft Filings, two of the best LLC formation companies around, so it's tricky to choose between the two. They both provide a fast service, and they both have excellent customer reviews online (far exceeding many of their competitors).
So who is the winner out of these two?
It's Incfile!
Bottom Line Summary: Although these are both excellent companies, and either would be a great choice for starting your business Incfile simply offers better value for money. The ONE case where I'd actually go with Swyft is if you are looking to set up a DBA, as Incfile doesn't really offer this.
Incfile offers the first year of Registered Agent service for free with all its business formation packages and renews at just $119/year, which is cheaper than Swyft Filings who charge $149/year for the same service.
Incfiles Silver package starts at just $0 plus State fees, compared to Swyft Filings' Basic package which costs $49 plus state fees, so it's just a better offer for almost exactly the same service.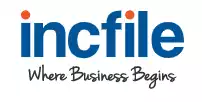 If you're still not ready to make a decision, you might find our article on The Best Registered Agent Service useful. We also reviewed Incfile vs Northwest Registered agent side by side, if you want to look at other similar options.
Additional Incfile and Swyft Filings Alternatives: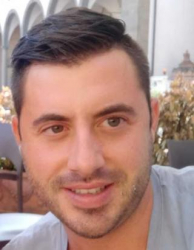 Latest posts by David Borgogni
(see all)
Get 40% OFF for 3 Months