Last Updated on November 29, 2022 by DMEditor
Come to think of it, we rarely do pieces like this ZenBusiness Review. Most of our reviews feature dominant well-experienced solutions and services that have been around for a long time.
But, it turns out that's not the case with ZenBusiness. Unlike the rest of the bulk of the business formation and registered agent services we've reviewed, ZenBusiness is a pretty young company. In fact, it's yet to earn five candles on its birthday cake (at the time of this publication).
Make no mistake though. While ZenBusiness is admittedly a newcomer, it's not the type of service you'd write off. Barely four years have passed since the company was founded and it's already making a huge impact across all the states.
As a matter of fact, you can tell the company is growing quite increasingly just by browsing through established user review platforms for registered agent services. There are now thousands of ZenBusiness reviews from satisfied users who continue to praise its reasonable pricing, excellent customer support, as well as overall service reliability.
Now, that's a heck of a lot of reviews for a registered agent service provider that has only been around since 2015. So, of course, we were bound to pick up the buzz at some point. And yes, you can bet we've since been busy trying out all the services offered by ZenBusiness to get a good feel for the whole company.
Well, I could give you a summarized version of the resultant verdict but that would be unfair to not only you but also ZenBusiness. If you want to assess the suitability of a registered agent service provider, it's only right to consider all the critical parameters.
Hence, we've taken the time to compile the ultimate unbiased ZenBusiness review. It comprehensively explores all the principal products and services, their corresponding pricing packages, customer support, as well as the pros and cons of relying on ZenBusiness.
And more specifically, we've covered its business formation services, registered agent services, annual report filing (annual filing), worry-free compliance guarantee, plus worry-free CPA assessment.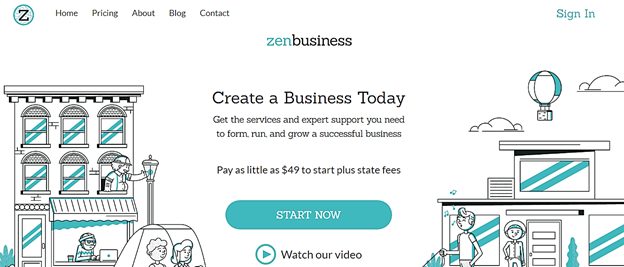 Founded in 2015, ZenBusiness is a growing public benefit corporation that deals with business formation and registered agent services, wither you are seeking LLC formation or a full on incorporation service. It's fundamentally based in Texas, from where it has managed to expand to other states.
That said, some of the primary products and services you can expect from ZenBusiness include business filing, Employer Identification Number application, annual report filing, registered agent services, worry free compliance guarantee, plus operating agreements.
In short, therefore, ZenBusiness is a company that helps you not only incorporate a business entity but also maintain state and federal compliance over the long haul. It handles all your essential compliance filing while you run the business.
Fair enough. That sounds great. But, if there's something we've noticed about this industry, it's the wide range of service providers. Every state is now served by numerous business formation and registered agent service providers. What's more, quite a substantial number of them have been doing this for far much longer than ZenBusiness.
So, you might be wondering, what exactly do the likes of ZenBusiness offer to crack such an extremely competitive industry?
Well, I can tell you for a fact that the trick here goes beyond pricing. While ZenBusiness partly relies on its competitive pricing schedule to attract clients, the primary secret to its success lies within the platform's architecture.
ZenBusiness, in essence, offers its services through a well-automated web-based system. It combines several technologies to seamlessly automate a wide range of business processes.
And the subsequent result is increased efficiency, all-rounded personalization, and customized experience. Plus, you get to minimize the time and costs of business formation along with the corresponding compliance operations.
The company's business website itself mentions that ZenBusiness is the only personalized business formation service. It particularly targets entrepreneurs and small businesses that would be interested in leveraging tech for increased user-friendliness.
Clients essentially access all the basic services through a fully-integrated online dashboard. And in addition to helping you follow up on the status of various business filings, the ZenBusiness platform is built to alert you accordingly, as well as store compliance documents for your business.
It also happens to go beyond business formation by providing an array of tools intended to help you establish your company. You could, for instance, use it to set up a business site, complete with a custom domain name and an accompanying business email address.
All in all, therefore, ZenBusiness is seemingly not your typical business formation service. Rather, it claims to be more of a business partner that facilitates the formation, management, protection, and growth of your company.
How accurate is that though?
Let's find out by assessing all the principal service features…
ZenBusiness Review – Main Features
Ease of Use
Considering the bulk of business service providers serve their clients in highly disconnected environments, it's refreshing to see that ZenBusiness approaches things differently. Each of its processes has been embedded onto a specialized platform to help you streamline and manage everything accordingly.
The official term for this system is the ZenBusiness Platform, and it comes as a free supplementary tool when you purchase a ZenBusiness product. It's accessible via the company's main site, from where you get to coordinate every single business, keeps tabs on all your important business documentation, as well as monitor the status of each filing order.
That said, the login process is pretty straightforward and it'll direct you to a neatly designed dashboard. Then as you proceed to navigate the core functions, you'll notice that the ZenBusiness platform is admirably simple and user-friendly.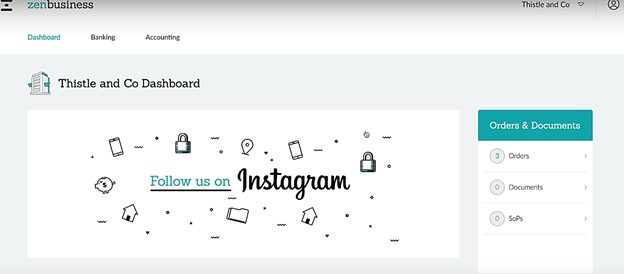 The overall layout here is not only minimalistic, but also quite responsive. And since all its functionalities are clear and understandable, it shouldn't take you long to learn the ropes. Even beginners who've never worked with an automated business service system are bound to have an easy time adapting to the ZenBusiness platform.
And speaking of which, the automated features make the business formation process conveniently easy and fast. You just need to pick an ideal package, and the system will proceed to request your business details.
Ultimately, filling out the ZenBusiness formation service order form will only take you a couple of minutes and that's all. ZenBusiness will then handle the rest for you. It really is that simple.
Business Formation Services
Business formation services are the foundation of the entire ZenBusiness platform. This is where you start when you need to set up a Limited Liability Company (LLC) or corporation.
ZenBusiness will search and confirm that your business name is available, compile all the necessary documentation, countercheck the corresponding details, and finally submit all the documents to your state for processing and filing.
Now, the process itself begins with package selection. You're required to purchase an ideal business formation plan before proceeding.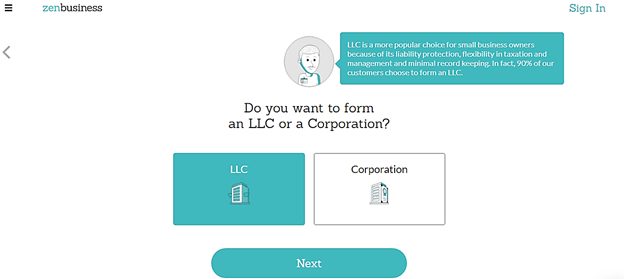 And once you do, it's worth noting that although ZenBusiness attempts to expedite the process, the turnaround time could, in the end, partly depend on your state's filing framework.
Yes, that's right. It turns out that every state has its own unique structures for processing business formation documents.
But then get this. The subsequent time variations per state are not that significant on this platform. While state delay is usually a huge factor for other business formation service providers, ZenBusiness has an effective way of mitigating the issue.
And as you've probably guessed already, the company relies on its automated system to minimize inefficiencies while maximizing processing speeds. Consequently, the turnaround time variations between different states are usually slight.
But, don't get me wrong. Turnaround isn't exactly uniform for all ZenBusiness platform users. Rather, it largely depends on the package you settle for.
ZenBusiness' Starter package, for instance, takes about 2-3 weeks to form a business. But, if you want to expedite the process, the Pro package should reduce the turnaround time range to about 5-8 business days.
That's not the shortest time though. Turns out you could further cut it down to 2-4 business days by purchasing the premium plan.
That notwithstanding, it's always advisable to get in touch with the customer support team before selecting a package. They'll subsequently give you a more precise time estimate for your business formation process.
Another thing that varies from one state to another is the filing charge. Each state has its own business formation fee, which ZenBusiness always adds to its base package pricing.
And once you've paid the subsequent total amount, your business formation package comes with a name search, verified filing, as well as expert support.
EIN Number Application
Having formed your business, you might want to move on to the next critical step. And for most people, getting an Employer Identification Number (EIN) should be the main focus at this point.
Now, for the sake of clarity, you can think of the EIN Number as the social security number for your business. So, in other words, it's basically a Tax ID number you'll be using to file your business taxes.
However, it's not relevant to only the IRS. A business EIN number is also required when it comes to hiring employees and opening a bank account. Without the digits, therefore, your business is essentially as good as dead.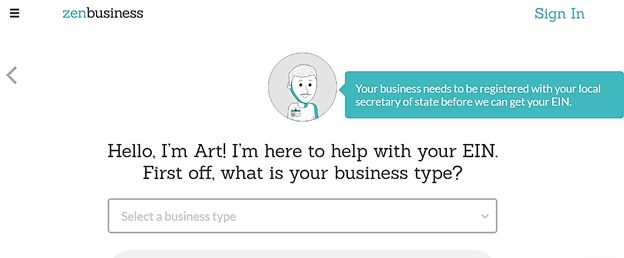 So, to help you get your business up and running, ZenBusiness helps you obtain an EIN number directly from the IRS.
Registered Agent Services
By now, it's a well-known fact that appointing and maintaining a registered agent is one of the chief state compliance requirements that come with forming a business.
Your registered agent is expected to give you an official business address, which then becomes the central correspondence point between your business, the Secretary of State, plus other federal and state departments. This is where they'll send all your legal notices, compliance documentation, as well as anything related to the service of process.
That said, ZenBusiness saves you the trouble of searching for a third-party registered agent by supplementing its business formation with registered agent services. It's capable of serving as your dedicated official address for state and federal notices.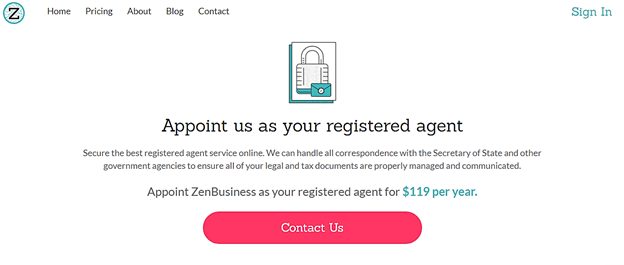 Now, one of the privileges of appointing ZenBusiness as your registered agent is privacy protection. Instead of using your private personal address, your company gets to ride on a third-party address. That translates to less risk and increased personal privacy.
Then considering all your legal documents will pass through its premises, ZenBusiness uses the opportunity to help you remain compliant. Every single notice is processed immediately after it's received, and then ZenBusiness proceeds to upload it to your dashboard.
So, you should be able to track all the documents from your end, and possibly even avoid penalties by responding accordingly. The ZenBusiness platform further allows you to download or print the documents whenever you want.
Worry-Free Compliance Guarantee
Turns out, you don't have to handle your business compliance filings. ZenBusiness understands it can be overwhelming for a business owner to keep up with every single state and federal compliance filing, especially when you're dealing with a fast-growing company.
So, it gives you the chance to have real experts managing your compliance issues for you. The Worry-Free Compliance Guarantee service hands your compliance filings over to ZenBusiness, which then proceeds to manage everything on your behalf.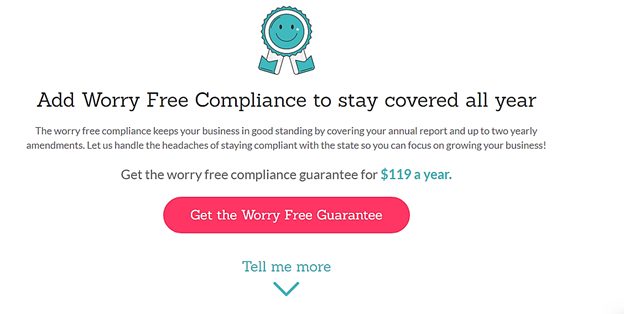 The company will, for instance, take care of your annual report filing plus two yearly amendments. This saves you the trouble of preparing your annual report, which can be a cumbersome process. Then to avoid potentially costly fines, ZenBusiness accommodates up to two report alterations every year.
And since you might want to keep tabs on the progress, ZenBusiness includes compliance alerts in its Worry-Free service. The goal here is to notify you about all your filings' deadlines, while ZenBusiness continues to track your compliance status.
Now, in the unlikely event, ZenBusiness misses a filing deadline or fails to meet your state compliance requirements, it'll take full responsibility. This entails resolving all the resultant problems plus covering the corresponding costs of restoring your compliance status.
Worry-Free CPA Assessment
While the Worry-Free Compliance Guarantee is all about compliance filing, the corresponding Worry-Free CPA Assessment service seeks to help you with your business finances.
More specifically, ZenBusiness comprehensively analyzes your company accounts, after which it recommends a qualified CPA professional who could help you sort out your finance issues.
The Worry-Free CPA Assessment, therefore, is a thoughtful way of keeping your business accounts well-organized.
Annual Report Filing
After incorporating your business, your state will require you to file detailed status reports every year. This is one of the ways states get to track the progress of companies within their jurisdiction, plus ensure compliance.
Now, failing to file your annual reports accordingly usually attracts heavy penalties and fines. It can be costly, I admit, but that's not all. In some cases, non-compliant companies end up having their business licenses revoked by the state. That essentially blocks them from further business activities within the state.
ZenBusiness tries to help businesses avoid such dire consequences by filing annual reports for them. Every single required file is filed on time to maintain your company's compliance status.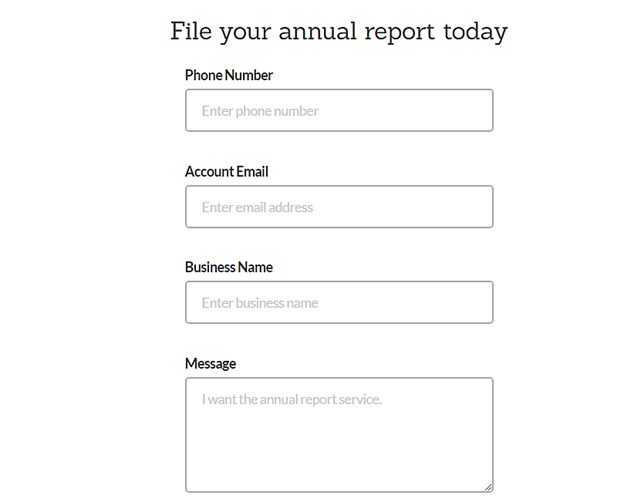 It's worth noting, however, that annual reports are not the same for all businesses. The precise types of files tend to vary based on the company's structure and state legislation.
This shouldn't worry you though. ZenBusiness has specialized in all the filings your state could possibly request. Some of its commonly filed compliance reports include:
Articles of Amendment – These are usually filed after you've made changes to key business elements like membership, shares, name, address, etc.
Franchise Tax – Some of the states require LLCs and corporations running businesses within their jurisdiction areas to pay franchise taxes. And, as a matter of fact, the companies are consequently expected to file their franchise taxes with the state every year.
Annual Report or Biennial Statement – Annual reports are typically filed once every year while biennial statements are prepared and submitted twice per year. States use them to assess each company's status, composition, structure, and compliance.
Initial Reports – Initial reports are filed right after forming a business. They typically provide insights into a company's structure, composition, and activities.
ZenBusiness Review – Customer Support
Customer support on the ZenBusiness platform is available on a range of channels. Live chat is the primary option, and it's supplemented by email, and phone support.
Going by various user reviews on the web, the customer support team has proven to be extensively resourceful on numerous occasions. They are pretty responsive and very knowledgeable when it comes to business formation services, registered agent services, plus many other related fields.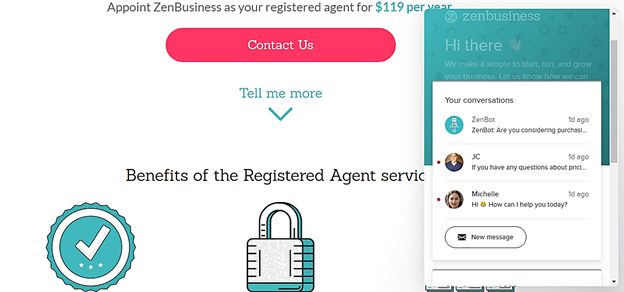 However, the only problem is, they are not accessible 24/7. You can only get in touch with them from Monday to Friday between 8 AM and 7 PM Central Time.
The only other support option is the ZenBusiness Help Center, which is essentially a knowledge base that provides various articles about its services. Although this is a nice touch, the knowledge base is not as comprehensive as you might hope. In fact, it's far from being a complete resource centre.
Editor note [Update Nov 2022]:
In its goal to help more businesses, ZenBusiness has updated its Starter Packages and pricing. Now Starter Packages start at $0 plus state fees.
Starter – Starting at $0 + state fees
The Starter package now includes these features [Nov 2022 update]:
Standard filing service with the state
Standard filing speed (varies on each state)
Expense and deduction tracking
100% accuracy guarantee (while rare, they will fix any errors that may occur)
Starter Plan (Basic Package) – $49 billed annually plus formation state fees.
Standard filing speed
Worry-free CPA assessment
Operating Agreement
Registered agent services
Online document access
Phone and email support
Name availability search
Prepare and file LLC (LLC service)
Business formation in 2-3 weeks
Pro Plan – $179 billed annually plus formation state fees.
Worry-free guarantee
Employer ID number
Banking resolution
Expedite filing speed
Standard filing speed
Worry-free CPA assessment
Operating Agreement
Registered agent services
Online document access
Phone and email support
Name availability search
Prepare and file LLC (LLC formation)
Business formation in 5-8 business days
Premium Plan – $299 billed yearly plus business formation state fees
Business email address
Domain name privacy
Business domain name
Business webpage
Worry-free guarantee
Employer ID number
Banking resolution
Expedite filing speed
Standard filing speed
Worry-free CPA assessment
Operating Agreement
Registered agent services
Online document access
Phone and email support
Name availability search
Prepare and file LLC (LLC formation)
Business formation in 2-4 business days
ZenBusiness Review – Pros and Cons
Pros of ZenBusiness
The customer support team at ZenBusines is very responsive and extremely knowledgeable.
Business formation packages on ZenBusiness are reasonably priced.
ZenBusiness supplements business formation with a wide range of compliance services like registered agent services, EIN application, annual report filing, etc.
ZenBusiness comes with a free operating agreement on every package.
ZenBusiness offers its business services across every state in the U.S.
Cons or ZenBusiness
The ZenBusiness knowledge base doesn't offer comprehensive information.
The business formation turnaround time differs from one package to another.
ZenBusiness is not as experienced as some of its dominant competitors.
Frequently Asked Questions
What is the ZenBusiness refund policy?
ZenBusiness manage a 100% refund policy expect for the expenses made when starting your formation.
How long until my order is complete?
You can be sure Zen Business will do its best to make the process of formation as soon as possible, but the State of other circumstances can slow down the process. It is not possible to schedule an amount of time.
What do I need to do for ongoing state compliance?
ZenBusiness will take care of your annual filling through their Worry-Free Compliance Guarantee. This covers 2 years amendments and keeping you up to date with the State. If you want to be responsible for this process, the full responsibility of ongoing state compliance will be up to you.
ZenBusiness Review – The Bottom Line
There you have it. This ultimate ZenBusiness review has featured all the important elements of the company.
And from the things we've discussed so far, it's now clear why ZenBusiness is exceedingly expanding. There are multiple important business services built right into its automated web-based platform. Plus, I like the fact that everything is personalized accordingly to help you form a business, as well as maintain its state and federal compliance over the long haul.
Then when it comes to pricing, I guess the $49 Starter package should be just adequate for most businesses. It provides all the services you'd need to get your small business up and running.
But all in all, whichever package you end up choosing, ZenBusiness should serve you well. Although it's a newcomer, the benefits here far outweigh the drawbacks.
Your thoughts?
Further Reading on LLC Formation Service Options, Incorporation & Legal Advice Services: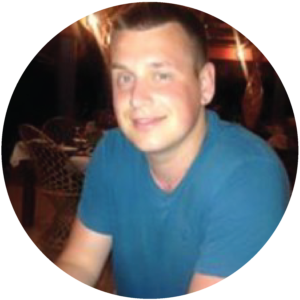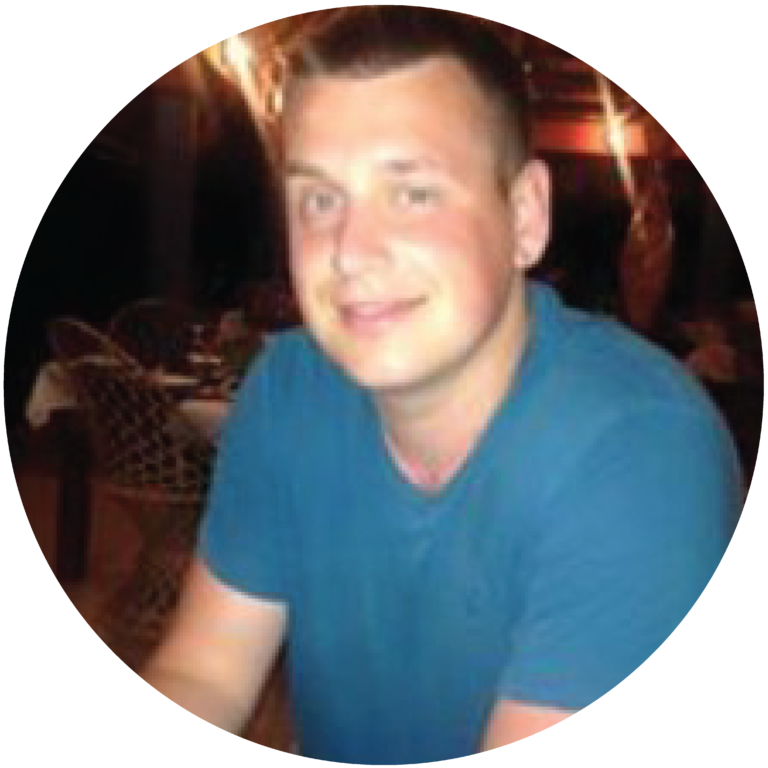 Latest posts by Ewen Finser
(see all)
Get 40% OFF for 3 Months