Last Updated on May 19, 2022 by DMEditor
Today we are going to be looking at Filenow, an online service that can help you with the process of registering your new business as an LLC, Corporation, or S Corporation.
This Filenow review will explore all the services that Filenow offers, as well as the pros and cons of the service, the customer service, and reviews, and the pricing, so that you can decide for yourself if it's the right choice for you.
Although you can register your business by yourself, the paperwork can be time-consuming, not to mention daunting. Using a company formation service can take all the stress out of starting a business by handling everything for you.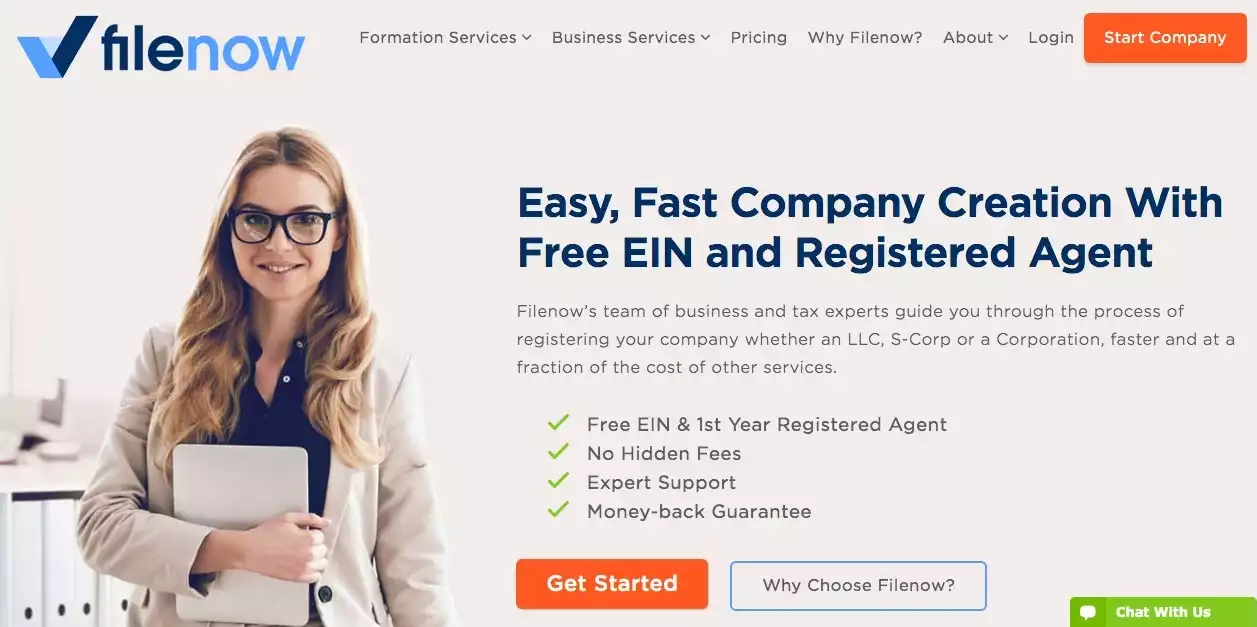 Most companies also offer a range of ongoing business services to ensure your company always remains compliant, such as a Registered Agent service and Tax services.
As well as giving you peace of mind, Company formation services are also usually very affordable and easy to use, so it's definitely something worth paying for!
Let's take a look…
Filenow Review – In Depth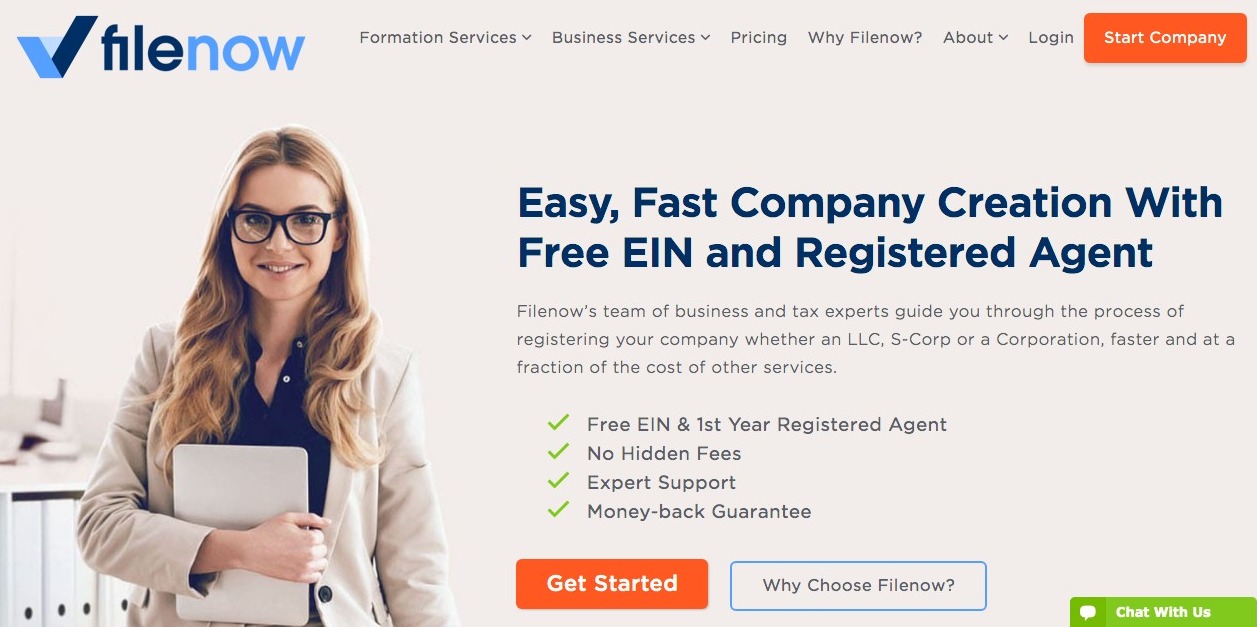 Filenow is a Company formation service which enables you to legally register your new business as an LLC, Corporation, or S Corporation. As well as providing company formation services, File now also offers a range of ongoing services to help you keep your business running smoothly, leaving you free with more time to focus on other areas of your business.
Filenow's main aim is to make it easier for entrepreneurs to start a new business, and they have created a seamless process to make this as quick and painless as possible. The team at Filenow consists of lawyers, entrepreneurs, and tax professionals, who all have years of experience in creating new companies, so you can be sure your new business is in safe hands.
Filenow Review: How Filenow Works
Filenow has a very quick and easy four-step process to help you start your new business. It takes around 15 minutes to fill out the forms in total, and Filenow will handle everything else for you.

Step 1: Complete the Company Formation Wizard
This is where you provide the basic information about your new business. If you aren't sure which type of entity will work best for your business, the company formation wizard has got you covered. Just fill in a few quick questions and the company formation wizard will tell you which entity type will work best for you and have the most benefits for your business.
Step 2: Expert Review and Document Preparation
The Experts at Filenow will review all the details you have provided about your new business. They will check that the Company name you have chosen is available, and make sure there are no errors in your application. Then they will prepare all of the documents required to register your business.
Step 3: Your Company is Filed with State
Your full application is prepared and will be sent for approval with the state.
Step 4: Receive your Corporation Package
Once Filenow receives approval from the state, your business is now official, and you will receive your corporation package in the mail, as well as electronically.
Filenow has a turnaround time of just 24 hours, at no extra cost. There is also an option to have your filing expedited to for a small additional fee, so you can have your company up and running as quickly as possible
All company formation packages include a money-back guarantee, so if you're not happy with the service you have received you can contact customer support and receive a refund. The packages also include free Registered Agent service for the first year, a free EIN/Tax ID, free express shipping and online delivery, phone and email support, online order status tracking, electronic delivery, and Fedex Shipping with tracking.
You will also receive free electronic company alerts, to alert you to any important dates relating to your business such as filing deadlines, so your company always remains complaint within your state.
Filenow Review: What Other Services Does Filenow Offer?
As well as offering Company formation services, Filenow also has a range of ongoing services to help your business run smoothly. The additional services they offer are:
Federal Tax ID/EIN
Application for Authority
Registered Agent Service
Certificate of Good Standing
Doing Business As (DBA)
Reservation of Business Name
These services can each be purchased separately, although some of them are included in the company formation packages, which offer very good value overall.
Federal Tax ID/ EIN
Filenow can help you to obtain an EIN Number for your business. The EIN Number is a unique 9 digit number that works like a social security number for your business, allowing you to start a business bank account, accept payments, and hire and pay employees for your business. The EIN number never expires, so you can register for it when starting your company, and it will belong to the company as long as the company exists.
When you register your company as an LLC, C Corp or S Corp, you are separating yourself as a person from your business entity, so your personal assets will be fully protected, even if something should happen to your company, such as being sued. Having an EIN Number is an important way to separate your personal assets from your business assets, as it means you won't need to use your own personal details to set up a bank account for your business.
Although you can apply for the EIN Number on your own, Filenow can make this process quick and easy for you so you can focus on other things. Filenow will obtain your Federal Tax ID/ EIN Number electronically and have it sent to you by email within one business day, so you can open your business bank account as soon as possible and start trading.
The EIN Number also gives your business more credibility, allowing you to build up a credit score as well as enabling you to apply for business loans and another financing in the future.
Application for Authority
As your business grows, you may wish to do business in other states than the state you originally registered in, such as opening franchises or other offices, for example, making your business a 'foreign entity' in the other states. An Application for Authority is the document you must complete for permission to operate in any other state than the state you are registered in.
Filenow can handle the application process for you, with a full money-back guarantee if you are not happy with the service. They offer the fastest filing service as standard, with free express shipping, online document delivery, and expert support, allowing you to get your business operational in other states as soon as possible.
Registered Agent Service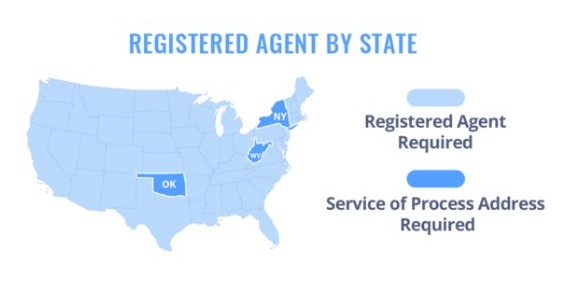 A Registered Agent is an official address for your business, where all your tax documents go during tax season (tax return / tax refund, notices, filings), as well as any legal documents for your business, will be sent. If you do decide to do business in other states, you can use a registered agent service to accept all incoming mail and documents which will then be uploaded immediately for you to view online, so you never miss anything important.
Although you can be your company's own registered agent for incorporation, using a dedicated service can make life much easier for you as they are guaranteed to always be available during business hours, and will handle all of your documents securely, ensuring that everything is stored safely and no time-sensitive information such as court summons get missed. It's also a great option for anyone who travels a lot for business since your documents will be uploaded online and you can view them from anywhere in the world.
Another benefit of using a registered agent is that it will ensure that your business always remains in good standing with the state. It can be difficult when you are running a business (especially if you are operating in several states) to remember when all your filing deadlines are. Filenow's registered agent service can take care of this for you, ensuring you never miss any filing deadlines and therefore you never receive any late filing penalties or fines.
Certificate of Good Standing
A Certificate of Good Standing, also known as a 'Certificate of Authorization' or 'Certificate of Existence' is a certificate provided by the state that you are registered in which proves that your business has met all legal reporting and filing requirements, and has permission to do business.
There are a few reasons why you might need a Certificate of Good Standing for your business, including applying for business loans and other finance, renewing licenses and permits, making an Application for Authority in another state, proving your company's legitimacy for when it comes to marketing or promotional activities, and filing your business taxes.
If you ever want to sell your business one day, then you may also require a Certificate of Good Standing so that you can prove your company's history of compliance and good standing to whoever is purchasing your company.
Filenow can handle the application process for a Certificate of Good Standing for you. The fees will vary depending on what type of business you are running, and there may also be a state fee to pay as well, depending on where you are registered. A Certificate of Good Standing is generally valid for three months from the time you receive it.
Doing Business As (DBA)
If you would like to use a fictitious name or a trading name for your business rather than using your own name, or the name your business is officially registered under, then some states may require you to register for a DBA. Doing this enables a consumer to research exactly who owns the business before they decide whether or not to make a purchase.
There are advantages for the business owner too, including being able to choose another name as a brand for your business. Good branding can be an extremely powerful way to market your business, as a good brand name can stick in consumers' minds for years to come. It also provides psychological benefits for business owners, as it creates a degree of separation between the person who owns the business, and the brand itself.
All states except Alabama, Alaska, Arizona, Delaware, Florida, Hawaii, Kansas, Maryland, Mississippi, Nebraska, Ohio, Wisconsin, and Wyoming, require companies to file a DBA. So if you are registered in any other state then you will need to file for a DBA if you wish to do business under another name. The laws are strict, and you can't do business under another name until it has been officially registered.
Once you have decided on a great name for your business, you should register it as soon as possible. Filenow can assist you with the process for just $75, plus state fees which vary depending on which state you register in. You should also purchase the matching domain name and stake your claim on the relevant social media handles as soon as possible so that you can start building an online presence for your business.
Company Name Reservation
If you have chosen your business name, but aren't quite ready to form an LLC, then you can ensure no one else uses your name by reserving it in advance to be used at a later date when you form an LLC or Corporation. This is a good option if your business has a long launch process too.
It's very easy to reserve your business name with Filenow, and just it just involves a simple two-step process. The Application for reservation of name will reserve your chosen business name for 60 days, and you may also be eligible for tw extensions of 60 days each if required.
Filenow Customer Service and Reviews
If you need to get in touch with Filenow, their office address, email address and contact number are all listed clearly on their website. Their operational hours are Monday-Friday from 9 am-7 pm Eastern Time.
Customers of Filenow have access to unlimited phone and email support, so if you ever have any questions or issues you can rest assured that someone will be happy to help you. You can also receive support through live chat, where you can chat with a customer service assistant online for quick answers to your questions.
Filenow has been accredited with the BBB (Better Business Bureau) since 2019 and has a rating of 'A'. Unfortunately, they have not received any reviews on BBB yet, either good or bad, however, on their own website they have received a rating of 4.9 out of 5, with a majority of the reviews saying that the service was very quick, easy to use, and dependable.

Filenow also has great customer reviews on Shopper Approved, with an overall rating of 4.9 stars out of 5 out of a total of 48 reviews.
The Benefits of Using Filenow
Filenow offers an affordable way for small businesses to register as an LLC or Corporation.
All business formation packages include one year of registered agent service completely free.
The registration process with Filenow is very quick and easy and can be done in around 15 minutes.
A Federal Tax ID/EIN Number is included with business formation packages, free of charge.
You can view all of your business documents securely online at any time, so none of your documents can ever be lost or accidentally destroyed, and you can view them from anywhere in the world.
Unlimited email, phone and chat support is provided at no extra cost.
Filenow offers 24-hour order processing at no extra cost so you can get your business up and running as soon as possible.
They offer a 100% money-back guarantee if you are not happy with the service provided.
The Downsides to Using Filenow
The main downside to Filenow is that they don't include as many additional services as some of their competitors. They don't have any annual reporting or tax services on offer.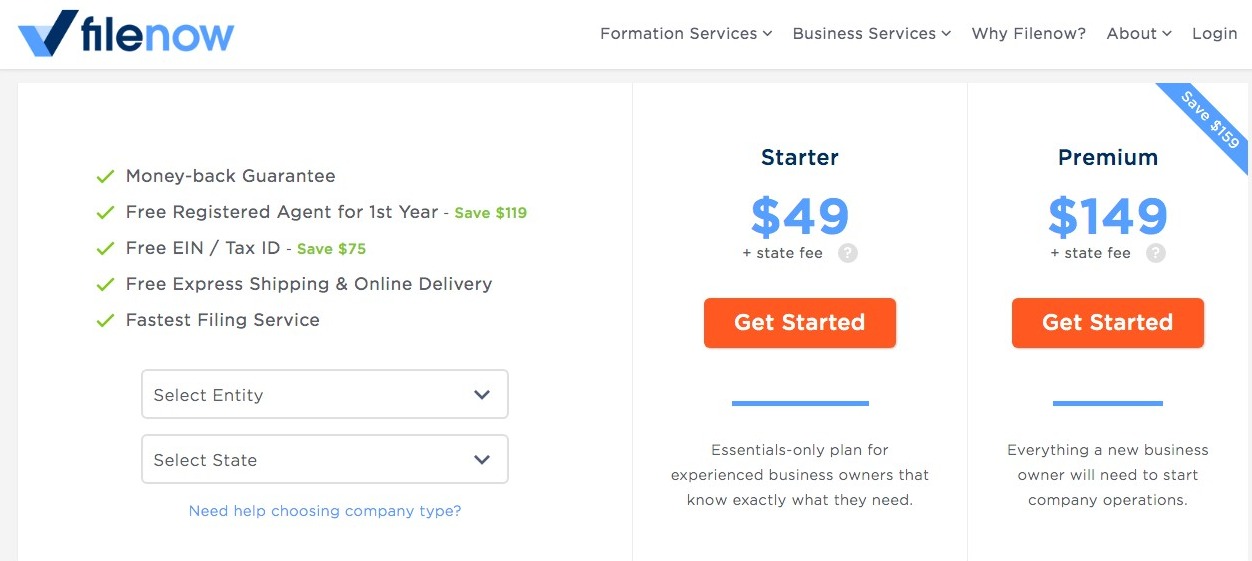 Filenow has two company formation packages available, the Starter Package, and the Premium Package.
The Starter Package costs just $49, plus State fees. This package includes 24-hour processing, error-free guarantee, Free EIN/ Federal Tax ID, 1 year of registered agent service, company alerts, unlimited phone, and email support, online order status tracking, electronic delivery, and Fedex shipping with tracking.
The Premium Package costs $149, plus State Fees, and includes everything from the Starter Package, as well as a premium quality made-to-order company kit with binder and seal, as well as a banking resolution document which will allow you to open a business bank account in the company name.
If you would like to continue with the Registered Agent service after the first year, there is a renewal fee of $119/per year.
The other services which can be purchased on their own are charged separately:
If you would like to see the plans in more detail and find out more about what Filenow has to offer, you can visit their website here.
Filenow Review Verdict: Is Filenow the Best Company Formation Service Provider?
After taking an in-depth look at Filenow and all of the services it offers, we are very impressed. Filenow offers a very affordable company formation service, with one of the quickest and easiest processes around, so if time is of the essence, then Filenow is a great choice for you.
Filenow's Company formation packages offer incredible value starting at just $49 plus state fees, and including not only a free year of Registered Agent service but also a free EIN Number/Federal Tax ID.
They have great reviews from their customers, but since the company hasn't been operating as long as some of its main competitors such as Incfile and Swyft Filings they haven't yet built up quite as many reviews on independent review sites.
Overall we would highly recommend Filenow if you are looking for an affordable way to register your new LLC or Corporation, as they are great value, extremely fast, and reliable. If for any reason you are not happy with the service you can rest assured that they offer a money-back guarantee, so you won't be out of pocket.
If you would like to find out more about what Filenow has to offer, head over to their website here.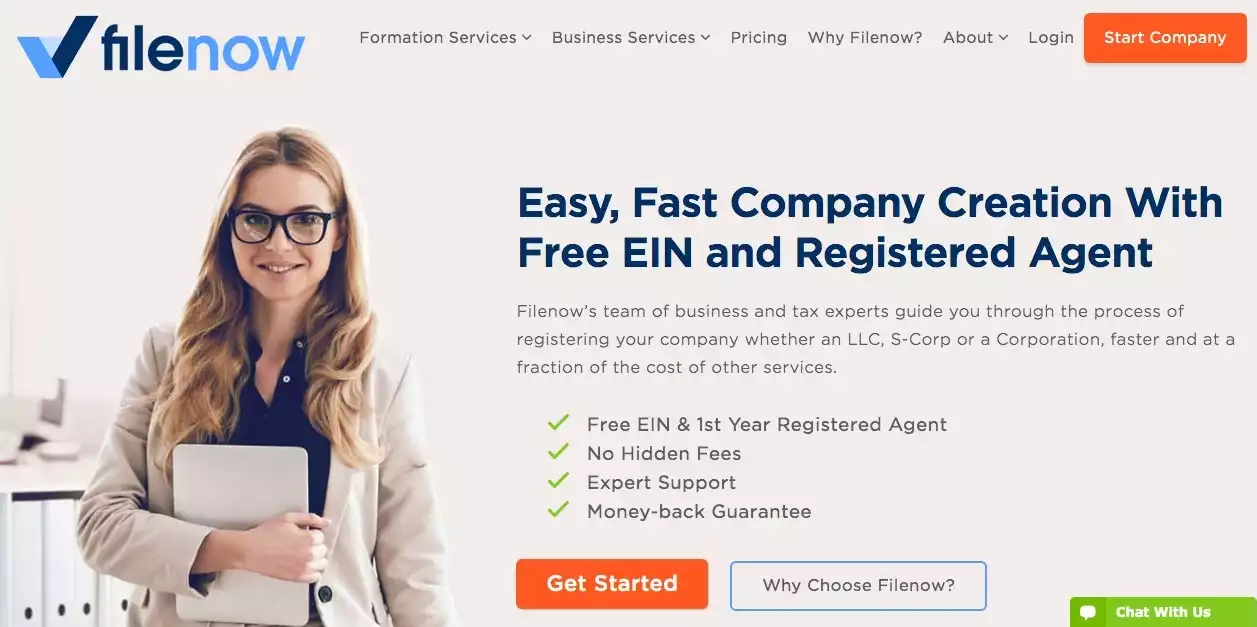 Alternatives to Filenow
If you're still unsure of which company formation service is right for you, then you might want to check out Incfile. Incfile offers one of the most affordable company formation services around, with their packages starting from $0, plus state fees. Check out our full Incfile Review to see exactly what they offer.
We also compared 10 of the best-registered agent services, to give you a good overview of the best services available in the United States.
Filenow Review Frequently Asked Questions
How much does it cost to register my company with Filenow?
Filenow's company formation packages start from just $49 plus state fees, making them one of the most affordable options around. This fee also includes your first year of Registered Agent Service, as well as an EIN Number for your business.
What Happens if the name I have chosen for my company is unavailable?
In case the name you have chosen for your business is unavailable, Filenow recommends that you provide up to 3 name choices with your application. If none of these names are available you will be contacted and informed so you can make another name choice. If you decide on a company name before you are ready to register your business, you should take advantage of the Company Name Reservation service offered by Filenow, which will reserve your chosen name until you are ready to incorporate it.
What happens if I need to make any amendments to my information after my order is complete?
If you need to make any changes after the process is complete, you will need to file for an amendment with the state you are registered in, who will update your official company records. If you need to do this you can contact Filenow's customer service team for help and advice.
How long does the order processing take?
Filenow offers one of the fastest order processing times around, with a turnaround time of just 24 hours. They also offer free express shipping for your documents.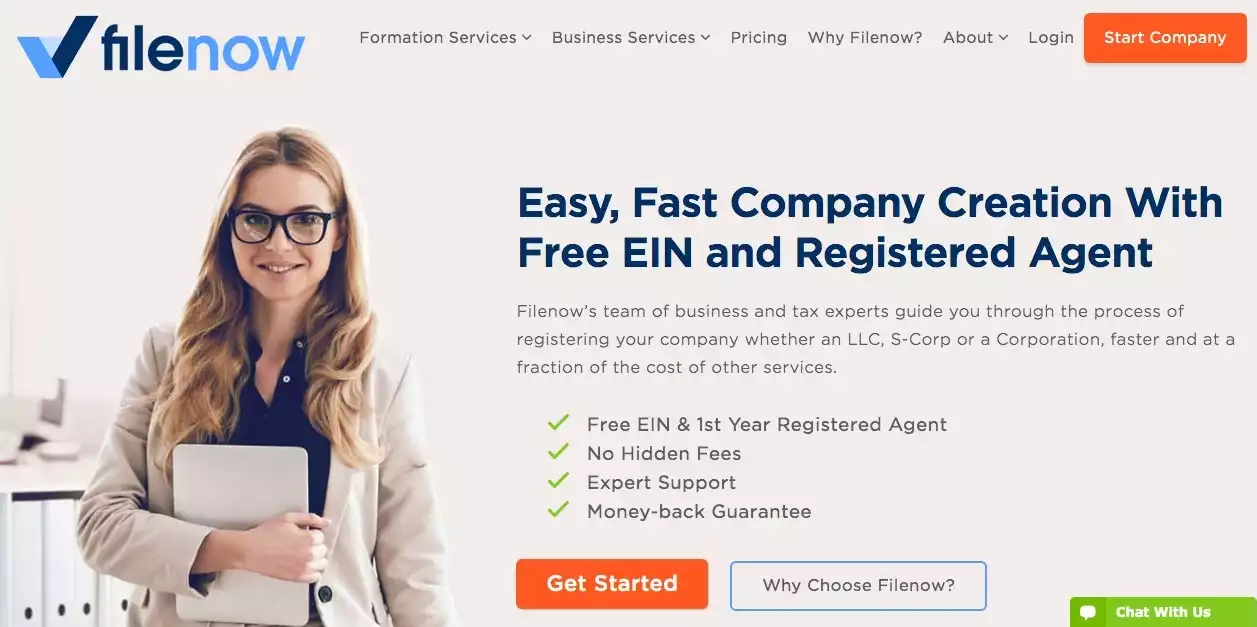 Further Reading on Incorporation Legal Advice: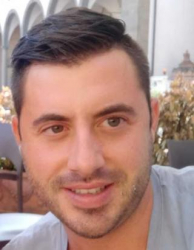 Latest posts by David Borgogni
(see all)
Get 40% OFF for 3 Months