Last Updated on November 9, 2023 by Ewen Finser
Today we are going to be looking at Helium 10 vs Viral Launch, two powerful web app tools that can help you find and source the most profitable products to sell on Amazon.
In 2019 Amazon was the most popular online shopping app in the United States, with 150.6 million monthly users, with none of its competitors (eBay and Walmart) even coming close. That's a huge number of people ready and waiting to buy from you.
Main Differences Between Helium 10 vs Viral Launch
Helium 10 offers a free plan, whereas Viral Launch does not have a free plan.
Helium 10 has an Inventory Protector tool to protect your products from coupon stackers and malicious competitors, whereas Viral Launch does not have this feature.
Viral Launch has a free split testing tool available, which anyone can use to split test and optimize their listings, whereas Helium 10 does not have any split testing software.
Helium 10 has a tool called Refund Genie, to calculate how much you are due in refunds from lots of damaged stock through FBA, whereas Viral Launch doesn't have any tools for this purpose.
There are many benefits to selling on Amazon rather than just selling on your own ecommerce platform, including:
Trust. Buyers trust Amazon and feel safe handing over their card details, as it's known for being reliable and trustworthy.
A huge audience who are ready to buy now. When people are looking on Amazon it's usually with a product already in mind, and when they find what they are looking for they can check out at the click of a button.
It can save money on marketing. Since Amazon already has so many users, there's no need to spend money building huge marketing campaigns and sales funnels to sell your products.
FBA (Fulfilled by Amazon) can do the hard work for you. For a small fee per item you can ship your products in bulk directly to the Amazon warehouse, and when a product is sold, Amazon will pack and ship the product for you.
Amazon provides everything you need. Amazon has a powerful back end infrastructure that allows you to sell your products worldwide. You don't need to worry about paying for hosting for a separate website (unless you want to of course), or payment processing, and inventory tracking is included too.
So if you have been thinking of selling on Amazon, now is a great time to get started. In this review, we are going to be comparing Helium 10 and Viral Launch side by side to see exactly what features they each offer, as well as their pros and cons, and the pricing, so you can decide which option is best for you.
Let's have a look.
Helium 10 vs Viral Launch – Overview
Helium 10 Overview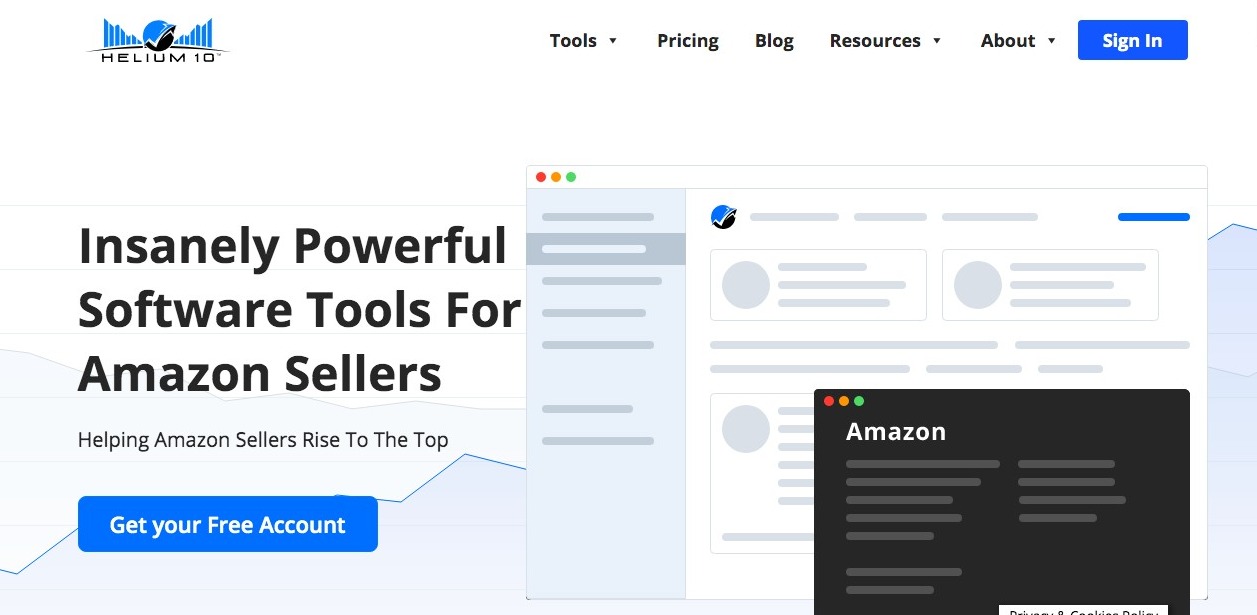 Helium 10 is a powerful suite of software tools for Amazon sellers, designed to help them find the most profitable products to sell on Amazon. It provides you with everything you need to research and find the best products to sell, optimize your listings, product tracker, find suppliers (supplier database and product database), understand your profits, and even help protect you from scammers.
The founder of Helium 10, Manny Coates, started as an Amazon seller himself, and it was there that he saw a gap in the market for software to help Amazon sellers grow their businesses. Manny partnered with Guillermo Puyol, a digital marketing expert, to create 'Scribbles', an Amazon listing optimization tool, and since then they have grown the business to include a huge array of keyword research, keyword tracker and optimization tools designed to save you both time and money in your Amazon business.
Helium 10 vs Viral Launch: The Main Features of Helium 10
Product Research
Browser Extension
Listing Optimizer
Reverse ASIN Search
Inventory Reimbursement Finder
Inventory Protector
Trendster – Trends Finder
Amazon Seller Training
Keyword Processor
Keyword Index Checker
Product Rank Tracking
Listing Monitoring and Alerts
Financial Analytics Dashboard
Email Automation Tool
How Helium 10 Works
Helium 10 gives you all the tools you need to optimize every step of your process when selling on Amazon.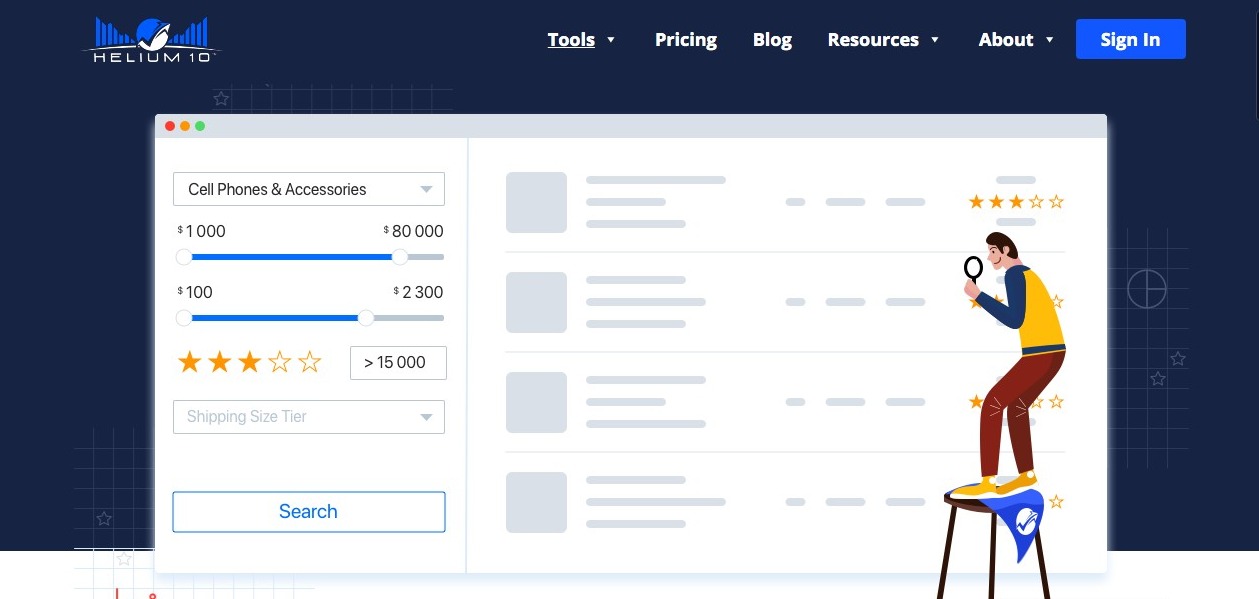 Black Box is a product finder and product research tool which helps you find profitable opportunities from a database of over 450 million products. You can filter and search through products by estimates monthly sales revenue, product type, number of images, review ratings and more to find exactly what you are looking for, with results in seconds.
As well as Black Box, there is a Chrome browser extension called Xray which you can download and use to do product research as you browse Amazon on your Chrome browser. Xray allows you to validate potential product opportunities, giving you all the information you need such as price, revenue and sales estimates, sales trends, analytics, and more.
It includes a profitability calculator which factors in all costs and fees to calculate the profit margins of the products you are looking at.

There is also an ASIN grabber which enables you to quickly create targeted ads and find hot selling products for next season or any upcoming holidays, and a Review Downloader to allows you to gain valuable insights and see customers pain points early on.
The Trendster trends finder allows you to visualize seasonal trends to help you plan for the future and generate more profits overall. You can quickly and easily see how prices and sales have fluctuated over a time period , and take advantage of this data to grow your business.
The Scribbles listing optimizer enables you to optimize all areas of your listings. It will help to ensure that you have used all the correct keywords in both the front end and the back end of your listing, as well as ensuring that you use the correct number of keywords based on the length of your text.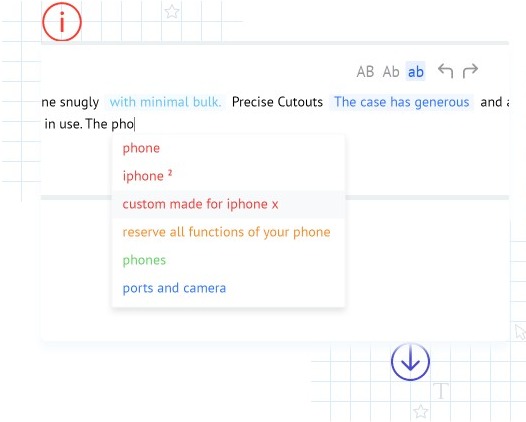 Cerebro is Helium 10's reverse ASIN search tool which allows you to learn by reverse engineering your competitor's keyword strategy. You can use the tool to see which keywords your competitors are ranking for, as well as allowing you to calculate how many units per keyword are needed to rank on page one of Amazon.
If you use FBA to sell your products, then the Refund Genie tool could be particularly useful to you. The Refund Genie allows you quickly and easily calculate how much you are owed in refunds from Amazon for lost or damaged inventory. Normally this process would take hours to calculate, but this tool can calculate your estimated refund amount in seconds.
It creates reports for different market places at the same time, as well as auto-checking 5 different reasons for refunds.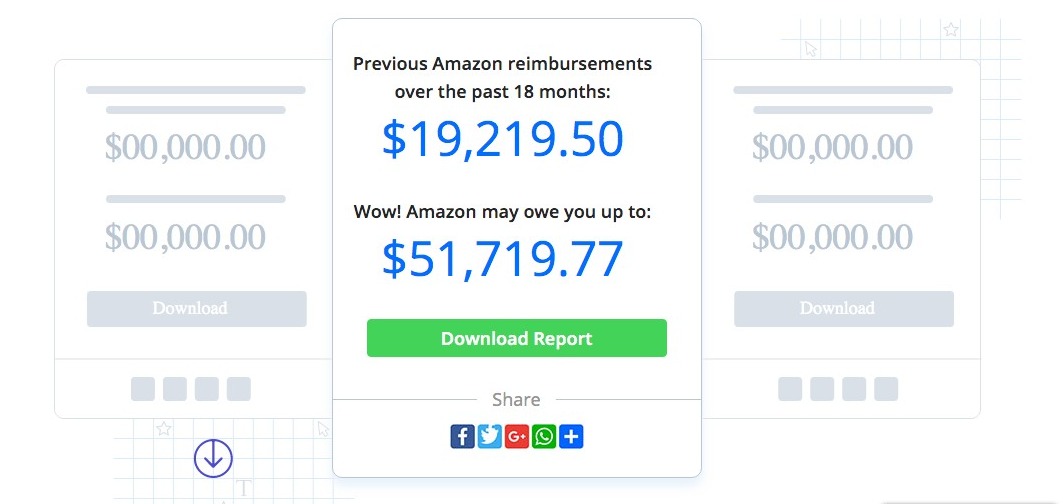 To protect you from malicious competitors when you are launching your products Helium 10 has an Inventory Protector feature.
The Inventory protector will allow you to set a maximum order quantity for your products so that shoppers can't wipe out large quantities of your stock when you have a special offer or coupon running during a promotion. This also stops your competitors from adding high quantities of your product to their baskets to see if you can handle the demand.
Helium 10 includes a fully automated email tool called 'Follow Up' which allows you to provide a great experience to your customers by following up with them after they have made a purchase and giving the opportunity to provide personal feedback. You can easily create emails using Helium 10's templates, or write your own from scratch, as well as creating automation that is triggered by an event such as a purchase.
The Benefits of Using Helium 10
Helium 10 provides you with all the tools you need to get ahead as an Amazon seller in one place.
There is a completely free plan available, so you can try almost all of the features before committing to a paid plan.
The tool is very user-friendly, so anyone can use it regardless of whether they are an experienced seller or a complete novice.
The data provided is accurate and easy to sort through.
There is a Chrome browser extension included in all plans which can give you valuable data and insights as you browse Amazon on your Chrome browser.
Helium 10 allows you to do competitor research and see what keywords your competitors are ranking for you so you can outsmart them and get ahead.
As well as the main plans, there is also an 'A la Carte' plan which allows you to choose exactly the features you find most useful, so you don't have to pay extra for any of the tools you don't use.
There is a vast 'help centre' available where you can submit support tickets and find answers to any questions you might have.
The Downsides of Using Helium 10
Although there is a free plan available, it has low usage limits on almost all features, so if you want to get the most of the tools you would need to go for one of the paid plans which are quite expensive.
Helium 10 Pricing

Helium 10 has a free plan, an A la Carte plan where you can pick and choose the features you want, and three paid plans: Platinum, Diamond, and Elite.
The free plan includes 30 days use of the Trendster, Frankenstein, Scribbles, and Profits tools. It also includes 20 uses of Black Box, 2 uses per day of Magnet and Cerebro, 6 uses of the Index Checker, up to 20 tracked keywords, and 50 uses of the Xray tool.
The Platinum Plan includes the 'Freedom Ticket' Amazon training, as well as unlimited use of Black Box, Trendster, Magnet, Cerebro, Frankenstien, Scribbles, Inventory Protector, Refund Genie, Xray, and Profits. It also includes 150 uses per month of the Index Checker, 2,500 tracked keywords, up to 300 ASINs and 5,000 follow up emails per month.
The Diamond Plan includes everything from the Platinum plan, as well as 300 uses per month of the Index Checker, 5000 tracked keywords, up to 600 ASINs and 15,000 follow up emails per month.
The Elite Plan includes everything from the Diamond and Platinum plans, as well as 500 uses per month of the Index Checker, 5000 tracked keywords, up to 1,000 ASINs and 50,000 follow up emails per month.
If you would like to try Helium 10 and find out more about the features available with a 10% off discount code every month (TDM10 at checkout).
Viral Launch Overview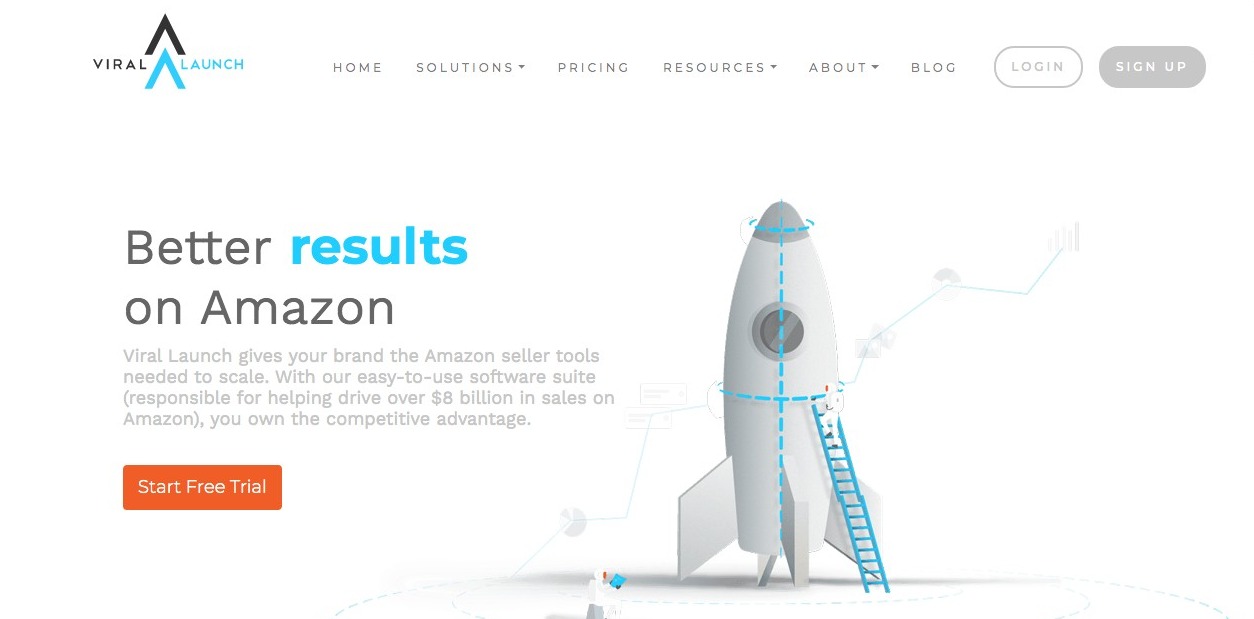 Viral Launch is a suite of Amazon seller tools that you can use to help you launch and scale your business. They have worked with thousands of brands within the Amazon platform, and performed over 17,000 product launches, and have helped drive over $8 billion in sales!
As well as providing these valuable tools for sellers, Viral Launch also offers a wealth of resources including free courses and e-books to help you learn and grow as a business.
Helium 10 vs Viral Launch: Main Features of Viral Launch
Find product ideas
Validate product ideas
Track top-selling products
Search for relevant keywords
Automate your keyword research
Write your listing's description for SEO
Analyze your ASIN's listing
Track keyword rankings daily
Track keyword rankings hourly
View PPC data and insights
Automate your PPC strategy
Split testing
How Viral Launch Works
Viral Launch helps you to discover the best products to sell on Amazon with its product discovery tool. You can easily find profitable untapped niche markets using the thousands of unique filter combinations as a niche hunter. The data you are provided with is highly accurate and is built on both real-time and historical data from Amazon.
You can enter your ideal sales and revenue metrics, and the product discovery tool will provide you with a list of products that match your needs, and you can even use advanced filter to get even more specific, saving you hours of time on manual product research.
Market Intelligence software enables you to validate your product ideas by providing you with accurate data and trends so that you can really understand the product niche and predict future sales. The tool also enables you to calculate all of your costs and your overall profit for each product, so you know before investing what your returns will be.
Once you have discovered the right products to sell, you can use the Keyword Research tool to improve the SEO of your listings. All of the data comes directly from Amazon, so you can be sure that it will be accurate, and you can use the relevancy filter to find hundreds of relevant keyword phrase variations in seconds. You can use the tools to find hidden keywords that your competitors are missing from their own listings, and take advantage of the free listing builder to build the perfect listing descriptions at the click of a button.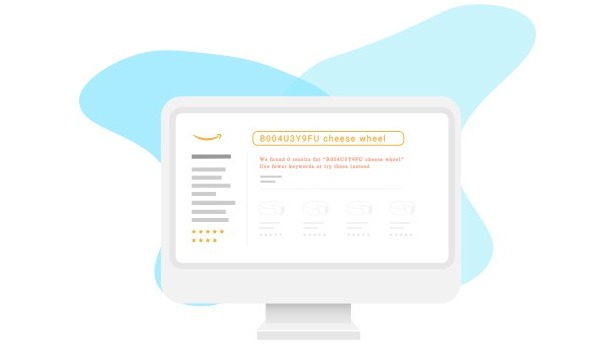 Each keyword is provided with a search volume and an opportunity score. The search volume trends allow you to see which words are gaining or losing popularity, and see the potential impact of the keywords you will be using. The Opportunity Score ranks each keyword on a scale of 1 to 1,000.
This shows you the keywords with the highest volume that may have a low amount of products with ranking listings on Amazon. These listings are also lower quality, so it's here that you have the opportunity to outrank the other listings by using better photography and keywords.
You can also use this tool to optimize your sponsored ads, as it gives you the opportunity to see bid costs within the keyword research tool. This helps you to understand the competition for each keyword in your list, as well as save your keyword lists to your clipboard or download them as a .csv file.
When it comes to competitor intelligence, Viral Launch can help you get ahead of the game by reverse engineering your competitors' success. The Competitor Intelligence tool is essentially a reverse ASIN lookup tool that allows you to gain valuable insights into your competitor's performance.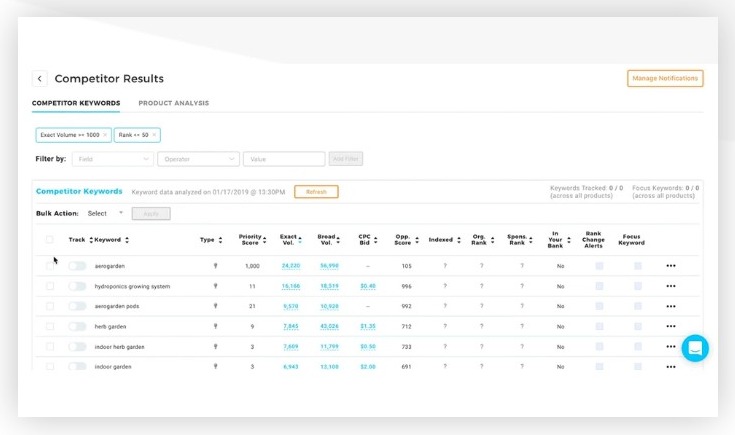 Simply enter a product ASIN, and the tool will instantly provide you with a list of both the top-performing and underutilized keywords, as well as analyzing and tracking indexation, sales volume, price, keyword and sponsored ad ranks, reviews, and more.
Listing Dojo is Viral Launch's completely free split testing tool, which you can use to split test and optimize all areas of your product listings including the title, price point, images, and description to help you determine which version brings in more money! The tool is very easy to use and shows you how sometimes minor tweaks to your listings can increase your sales dramatically.
Kinetic PPC is designed to help you get the most out of your PPC campaigns on Amazon. It works by allowing you to see product performance, manage your campaigns, monitor keywords, create automation, and track any changes. The automation will ensure that you never overspend on your ads, and you can add rules and recurring actions to ensure your ads remain profitable.
The data provided shows you how each product is performing across all campaigns, keywords, and search terms. It also lets you view PPC vs Organic sales so you know exactly how much your PPC campaign is contributing to the success of your business.

As well as providing software to help you get ahead as an Amazon seller, Viral Launch also sells services to Amazon FBA users, including:
Launch 2.0. This is a product launch service that helps you quickly rank your products in Amazon, and run promotional campaigns to increase your sales and exposure.
Product Photography. The professional product photographers at Viral Launch will take professional photos of your products for you to drive clicks and increase conversions on your listings.
Listing Optimization Services. The Copywriting team at the Viral Launch launch service will write your listings for you to make sure that it sounds amazing and includes all the right keywords to rank in Amazon and increase your conversions.
Kinetic Managed Services. Your PPC campaigns will be fully managed by the team of experts at Viral Launch to ensure maximum success. A PPC expert will constantly review and make constant rule-based adjustments to optimize your results.
The Benefits of Using Viral Launch
Viral Launch contains all of the tools you need to find profitable products to sell on Amazon.
The software is user-friendly and easy to navigate. The dashboard is clearly presented and easy to understand.
Viral Launch has a free split testing software called listing Dojo which allows you to easily split test all areas of your product listings so that you can optimize your conversion rates.
Real-time PPC data enables you to optimize your PPC listings and make informed decisions based on the results.
There are courses and other educational tools available for free to help you grow your business and become successful on Amazon.
The product discovery tool has advanced filters to help you find profitable untapped markets.
There is an easy to use Chrome extension that allows you to perform product research whilst you are browsing Amazon.
They have an excellent customer service team that you can contact by email.
The Downsides to Using Viral Launch
There is no free plan available with Viral Launch. There are also no customizable packages as there are with Helium 10, so you can't just pay for one feature, you will need to purchase an entire package even if you don't need all the features.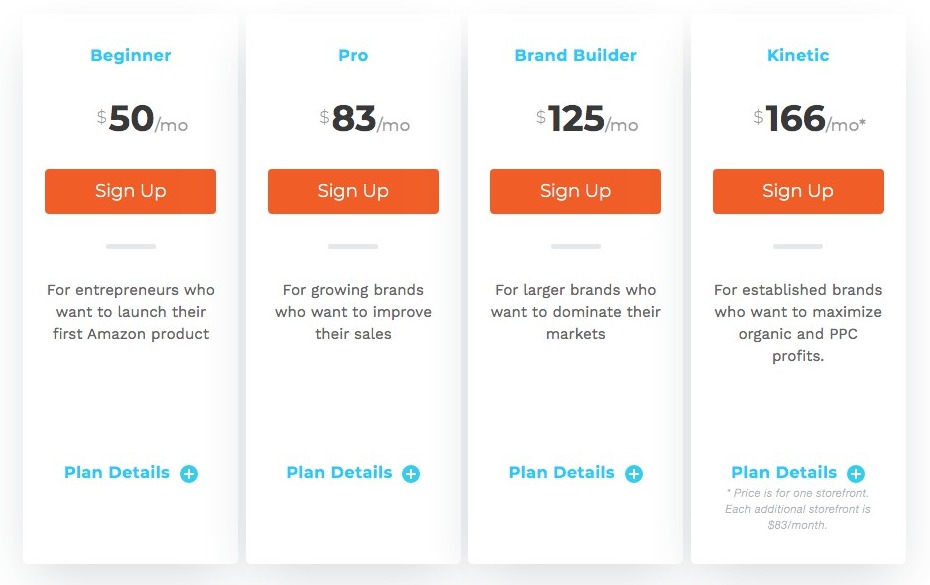 There are four different pricing plans for Viral Launch; Beginner, Pro, Brand Builder, and Kinetic.
The Beginner plan costs $50/month and enables you to find product ideas, validate product ideas, and track up to 3 best selling products.
The Pro plan costs $83/month and includes everything from the Beginner plan, as well as allowing you to search for relevant keywords, automate your keyword research, write your listing's copy for SEO, analyze 50 ASIN listings, track up to 2,000 keywords daily, and track up to 30 keyword rankings hourly.
The Brand Builder plan includes everything from the Pro plan, as well as track 100 best selling products, analyze 100 ASIN listings, track up to 5,000 keywords daily, and track up to 100 keyword rankings hourly.
The Kinetic plan includes everything from the Brand Builder plan, as well as track a total of 250 best selling products, view more data and PPC insights and automate your PPC strategy.
Helium 10 vs Viral Launch – Which One is Better?
So…The verdict: Helium 10 vs Viral Launch – which one is actually better?
Overall, Helium 10 is the winner here!
Helium 10 is extremely powerful, with accurate data that will enable you to quickly and easily find profitable products to sell on Amazon, as well as optimize the keywords in your listings to ensure you stay at the top of the game, ahead of your competitors. Helium 10 also has features to help you through the selling process, such as the inventory protector and the refund genie, to minimize any losses you might make whilst running your Amazon business. Helium 10 also comes with a Chrome browser extension which you can use for product research whilst you are browsing Amazon.
As well as having a free plan, Helium 10 also has an 'A la Carte' plan, so you can build your own plan with the exact features you need. This flexibility is particularly useful, especially for anyone who is getting started on a budget or has specific needs, as you won't be wasting any money paying for tools that aren't being used just because they are included in a plan.
Although overall Helium 10 is better, there are some benefits to Viral Launch, in particular the Listing-Dojo tool which allows you to split test your listings so you can optimize your listings by split testing the various elements of each of your listings to ensure maximum profitability for your business. This tool is separate from the plans and completely free, so you can use it regardless of which software you choose for your product and keyword research.
If you want to try Helium 10, you can start with the free plan to see if you get on with the software, and then if you love it as much as we do you can always upgrade to a paid plan later.
Although Viral Launch doesn't have a free plan available, they do offer a free trial, so you can check out the features and see how everything works before you make a decision.
Helium 10 vs Viral Launch Frequently Asked Questions:
What is helium 10 used for?
Helium 10 is a software product that includes a suite of tools to help Amazon sellers find product ideas, evaluate the competition, and ultimately track their success in terms of keyword ranking.
What is magnet IQ score?
The Magnet IQ Score rating is determined by calculating the Exact Phrase Search Volume of Amazon keywords displayed and the number of Competing Products that are also targeting each keyword.
What is viral launch market intelligence?
Viral Launch Market Intelligence helps you find profitable products that you can source and sell on Amazon. It also provides reporting on historical trends, monthly sales, monthly revenue, number of sales for the past 12 months, and more.
If you're still undecided, check out our article on the best Jungle Scout alternatives for more Amazon seller tools.