Last Updated on November 9, 2023 by Ewen Finser
In this Helium 10 review, you'll learn everything about the Helium 10 tool and how you can become a successful Amazon seller.
Amazon is a giant in the world of eCommerce. Try as you might, you can't ignore this platform! Each month, over 197 million people visit the online marketplace – and with over 12 million products on offer, it's clear why.
In fact, in 2017 alone, Amazon shipped over 5 billion products worldwide!
With so many users and products, it's easy for new sellers to get lost in Amazon's sea of merchants and offers.
But don't let that deter you.
Are you looking to start a thriving Amazon-based business? Or, are you already an Amazon seller, but you're struggling to access its full potential?

Either way, there are dozens of tools that could help you – from product research to marketing and selling, there are tons of services on the market. So in this article, we're going to review one such software, Helium 10, the all-in-one platform for Amazon sellers looking to push their business to new horizons.
Intrigued? Good. Let's dive in!
Helium 10 Review: What's Helium 10?
Helium 10 calls itself the industry's first all-in-one Amazon software. It offers a variety of features that help merchants improve their Amazon-based business, including product and keyword research tools, assistance with product listings, and business management, analytics, and marketing functions.
All in all, Helium 10 boasts over 20 powers tools that empower sellers to take their business further, catering to entrepreneurs, start-ups, and fortune 500 companies alike.
Trusted by over 250,000 users across the globe, Helium 10 has been used to track over 450 million products and has processed a whopping $1,4 billion in monthly sales!
Founded back in 2016, Helium 10 started life with 'Scribbles,' an Amazon listing optimization tool. Fast forward to today, they now have a team of over 60 staff that work all around the world.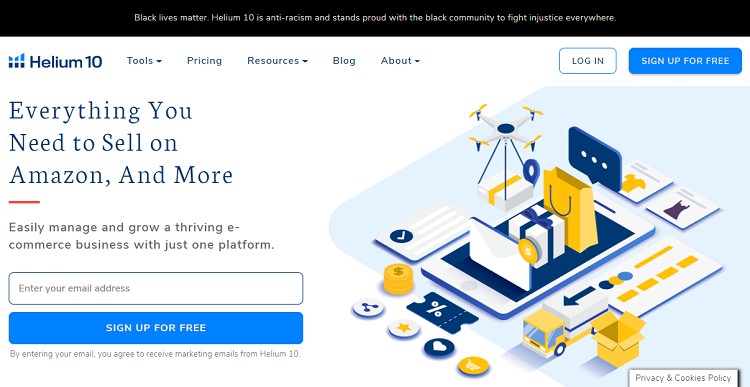 Features
Now we've covered the basics, let's explore the nitty-gritty of what Helium 10 has to offer…
Product Research
Helium 10 provides everything you need to quickly find high-converting products, using powerful analytics and smart filters to do so.
These tools have names: Black Box, Trendster, and X-Ray. Below, we look at each in turn:
Black Box: Black Box enables you to search through over 450 million products within seconds.
Trendster: Here, you can

view potential products, and analyze sales trends, demand, and seasonal effects all from the convenience of one intelligent dashboard.

X-Ray:

This provides revenue estimates, sales trends, and prices so you can make an educated decision as to whether a product's worth selling on Amazon.
In addition to all that, Helium 10 also calculates the profitability of potential products using product metrics like dimensions, FBA fees, and freight costs.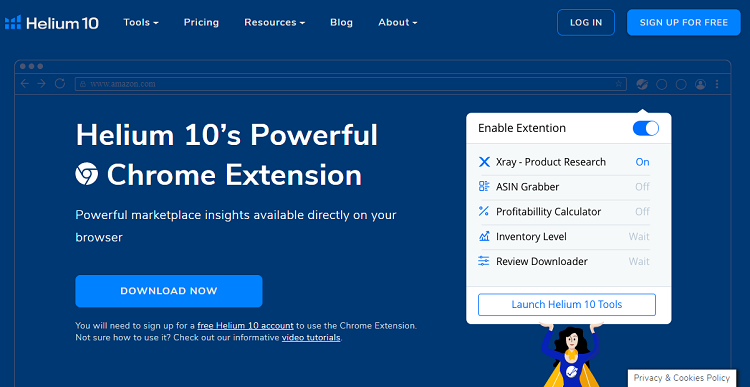 Keyword Research
Helium 10's keyword research tools make finding high-ranking search terms easy. Once you know which keywords your audience is searching for, you can then optimize your content so that, over time, you appear higher in search engine results.
Needless to say, this is where Helium 10's advanced keyword aggregation and sophisticated competitor research tools come into their own:
Cerebro: This

tool reveals your competitors' keyword strategy in just a click. Cerebro reverse-engineers successful listings and highlights why they're doing so well. You can then mimic the same blueprint and improve upon it to outrank your competition.

Magnet: You can use Magnet to source

thousands of high-ranking keywords. Just plug in a single search term, and Magnet will generate a list of relevant related and actionable keywords within seconds. This includes high-volume phrases, competing products, and so on.

Misspellinator: This tool

checks for frequently misspelled searches and compiles ready-to-use 'misspelled terms lists.' These are full of incorrectly spelled keywords you could use to your benefit.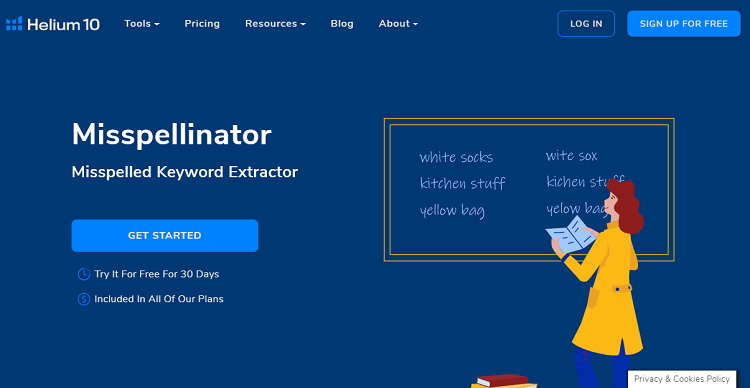 To see how Helium10 features compare to comparative tools check these relevant posts out Helium 10 vs Viral Launch: Which Tool is Better for Amazon? and Helium 10 vs Jungle Scout : Which is Better?
Listing Optimization
Helium 10 offers writing tools and guides to help improve the quality of your product listings. By 'improve' – we mean, both in terms of ranking higher, and so they better engage and appeal to potential customers.
Frankenstein: This

tool helps you to organize and process your keywords into ready-to-use lists. This is a massive time-saver!

Scribbles: Use 'Scribbles' to

automatically track the keywords you want to include in your product listings. As you go about writing your copy, every time you enter a suggested keyword, it'll disappear from your 'keyword to-do list.' This makes hitting all those must-have keywords so much more manageable!

The Index Checker: This double-checks

you're visible in Amazon searches, by ensuring you hit all the keywords in your product listing. This helps to ensure you show up Amazon's index for when customers search for your products. The Index Checker also enables you to see which keywords your competitors are using, so you can model and enhance this blueprint.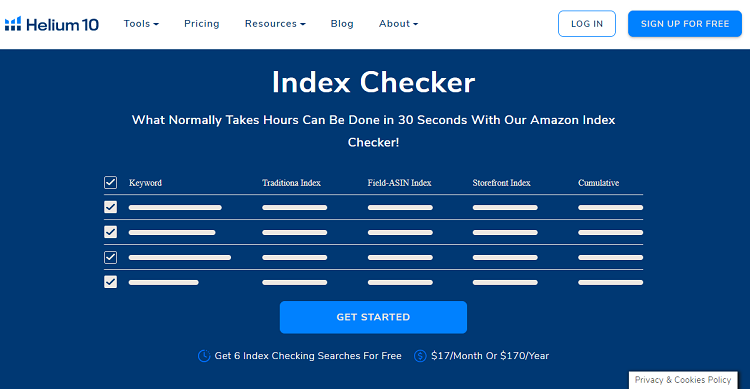 Manage Operations
Helium 10's business management tools are explicitly designed to simplify your daily operations and maximize your time. It does so by offering seamless automation, reminders, and real-time data so that you can run your Amazon business at its most efficient.

The Refund Genie: R

eceive refunds from Amazon customers faster with automatic seller reimbursement requests. Typically, the refunding process is complicated and tedious, but Refund Genie automates these tasks from reporting a refund all the way through to opening a case with Amazon.

The Inventory Protector: This

shields your inventory by limiting the number of units customers can purchase per order. That way, you have full control over what's in stock.

Alerts: These 'alerts' bring to your attention

any suspicious activity on your account.

Follow-Up Emails: These

encourage organic reviews, which, over time, will increase your rankings. Also, using the data collected from your follow-up emails, you'll be in a better position to enhance the quality of your customer experience and keep buyers engaged longer-term.

Helium 10's Mobile App: From the convenience of your mobile device, you can

keep an eye on your Amazon business and receive alerts no matter where you are. You'll receive instant notifications if there's any suspicious activity on your account, and can you view earnings with just a glance. Handy, right?
Analytics
Analytics and reporting tools are crucial for making educated, data-driven decisions. So, you'll be pleased to hear; Helium 10 provides vital insights into the metrics that matter most to the profitability and growth of your Amazon business.
The Profits Tool: This provides a clear picture of

your real-time financial health by analyzing your income, expenses, and cash-flow.

The Market Tracker: Using

smart suggestions, you can create customized markets that give you a greater understanding of where you and your competitors stand. The Market Tracker provides daily updates, so you'll always stay one step ahead of the curve.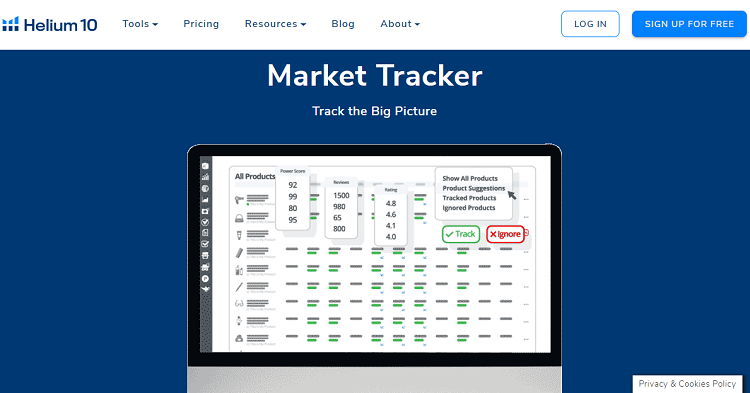 Marketing
Last but not least, we'll look at some of the marketing tools Helium 10 has to offer. You can streamline your ad campaigns with intelligent search terms, analytics, and predictive bid suggestions.
With Helium 10, you can also create high-converting landing pages using their drag-and-drop landing page builder, called 'Portals.' Portals make it easy for you to drive traffic from anywhere directly to your product pages.
Helium 10 provides conversion-optimized templates and tools explicitly designed to meet the needs of Amazon sellers. For instance, you can quickly customize and populate your pages with product info directly from your Amazon listings – how handy is that? Gone are the days where you had to waste your precious time and energy copying and pasting everything over!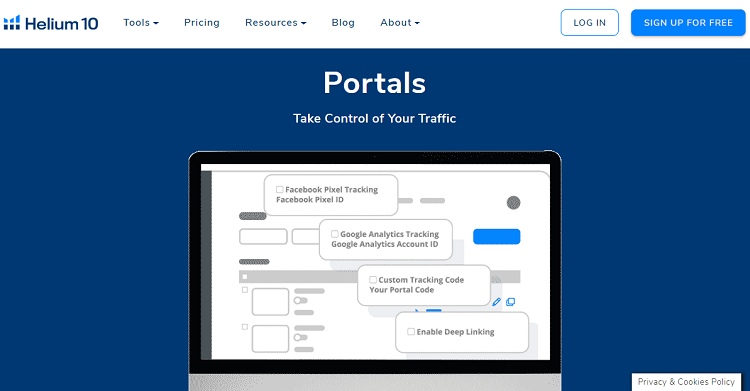 The Amazon Freedom Ticket
On all of Helium 10's paid-for plans, you'll get access to the 'Amazon Freedom Ticket.' Allegedly, this is the most comprehensive Amazon FBA training on the web, with all the latest info on how to sell on Amazon.
The course offers eight weeks of training across 60 videos, providing insightful walkthroughs, review slides, and written notes to accompany each module. Taught by Kevin Kin, the Amazon Freedom Ticket is valued at $997.
It aims to provide students with a holistic eCommerce education, including private label strategies, and a comprehensive roadmap on how to put into action everything taught in the course.
Pricing
There are four Helium 10 pricing tiers. All premium plans come with a 30-day money-back guarantee, and unlimited access to product research and listing optimization tools like Trendster, Black Box, XRay, Frankenstein, and Scribbles.
The Free Plan
The Free plan comes with basic features and limited access to the Helium 10 tool suite. Should you outgrow this package, rest assured, you can upgrade at any time. You'll also enjoy single-user access and a free 30 day trial for Frankenstein, Scribbles, and Profits. You'll also get access to 50,000-lifetime emails for follow-ups.
The Platinum Plan
Available at $97 a month, the Platinum plan is a must-have solution for growing businesses – according to Helium, it's their most popular plan.

You'll get:
Single user access

150 monthly uses of the Index Checker

You can track 2,500 keywords a month, and track up to three markets.

300 alerts per month

5,000 follow-up emails per month

Access to Freedom Ticket Amazon Training

A landing page builder for up to three portals
The Diamond Plan
At $197 a month, this plan suits expert sellers and teams looking to grow. On top of all the Platinum plan features, this includes a multi-user login, and:
300 monthly uses of the Index Checker

You can track 5,000 keywords per month, and track up to 10 markets.

600 Alerts/ASINS a month

15,000 follow-up emails a month

Access to a landing page builder for up to six portals
The Elite Plan
Priced at $397 a month, this tier's tailored to meet the needs of advanced Amazon sellers who intend to scale rapidly.
In addition to all the above features, you'll also enjoy quarterly in-person workshops and live monthly online training from industry experts.
That's as well as:
Access to the private Elite Facebook group.

500 monthly uses of the Index Checker

Up to 1000 ASINS per month

50,000 follow-up emails per month

You can track up to 5,000 keywords across 15 markets.

Access to a landing page builder for up to nine portals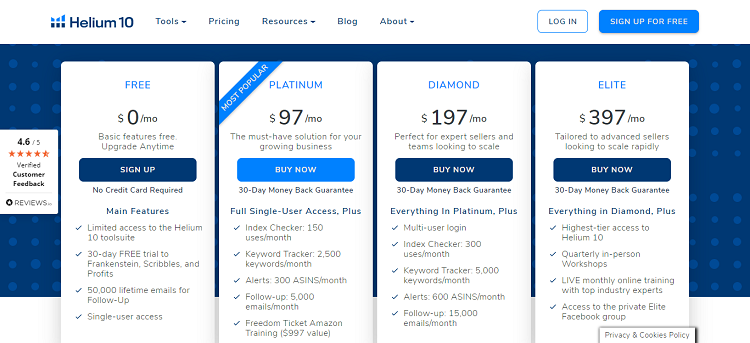 Helium 10 Review: Customer Service
You can get in touch with Helium 10's support team by submitting a request on their website. There, you'll also find a getting-started video guide, as well as several other training videos.
There's also a user community built into their website, but from what we can see, this community is seldom used and mostly inactive, with only a few discussions between users. As a result, it's unlikely you could rely on the Helium 10 community for a speedy response should an issue arise.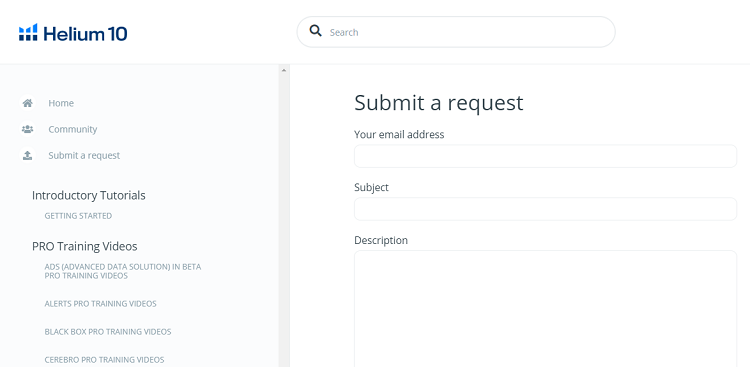 Helium 10 Review: Pros and Cons
Let's start with the perks…
The Pros
Helium 10's paid-for plans come with the Amazon Freedom Ticket – which is a fantastic resource for anyone wanting to get their hands on high-value training.

Helium 10 provides 20 different tools that help with a variety of tasks, including product and keyword research, selling, and marketing.

You get access to free resources like the Chrome extension, which analyzes Amazon data, and the URL builder, which enables you to build reliable-looking URLs for your promotions.

There's a free plan available – this is a fantastic option for anyone just starting out selling on Amazon.

Helium 10's comprehensive suite of tools helps you to grow and scale your Amazon business. Helium 10 covers a whole host of functionalities, whereas the majority of its competitors often focus on just product selection.

With Helium 10's most expensive tier, you'll get access to high-quality workshops.
The Cons
Even Helium 10's cheapest pricing plan is a significant investment for new Amazon sellers, and therefore, is only likely to appeal to businesses already generating healthy profits.

You only unlock access to a multi-user login with the Diamond plan, which sets you back nearly $200 a month!

Customer support is limited to support tickets. There's no active community, phone line, or live chat widget to inquire with.

Because of Helium 10's vast array of features, there's somewhat of a steep learning curve. You'll need to spend some time and effort familiarizing yourself with the platform before you're able to make the most out of everything Helium 10 has to offer.
Helium 10 Review: FAQ
Can I access Helium 10's tools separately?
In short, yes! You can purchase many of Helium 10's tools individually. You may want to explore this option if you're after a specific functionality. Black Box Product Research, Magnet, Cerebro, Alerts, and Profit are all available separately at $37 a month each.
Conversely, Refund Genie costs $97 a month, the Keyword Tracker is $57 a month, and both the Index Checker and X-Ray cost $17 a month.
Whereas, other tools, like Frankenstein, Scribbles, and Trendster, are only available with a Helium 10 premium plan.
What's Amazon FBA?
Amazon FBA stands for 'Fulfillment-by-Amazon.' This is where Amazon ships your products and handles order fulfillment for you. Sellers send their products to Amazon, where they're stored in a warehouse. Then when a customer places an order, Amazon then packs and ships it directly to them on your behalf.
Helium 10 helps you navigate the product research and listing optimization side of things. The Amazon Freedom Ticket also provides training on how to make the most out of the Amazon FBA process.
Does Helium 10 have a refund policy?
Helium 10 has a 30-day money-back guarantee on all of its premium plans. There's also a free package that allows you to test its basic features. If you're happy with the freemium version and want more, you can upgrade at any time.
Is Helium 10 worth the money?
Helium 10 comes with a significant price tag – especially if you're just starting out, and you're on a tight budget.
But, as this tool's designed for businesses that are serious about growing at a substantial pace, in theory, you should make back your investment. Helium 10 provides a comprehensive set of features that otherwise you'd have to purchase separately from several different companies.
Potentially, this would cost more – so in that sense, and in terms of convenience, Helium 10 is certainly worth the money. This is especially true when you consider each Helium 10 tool competes well (or even better) than similar tools on the market.
But having said that, if you only need a product research tool, Helium 10 might not be for you. You'll pay for tons of extras that your business won't need (yet). Conversely, if you're ready to invest in growth, Helium 10 is an excellent choice.

Is Helium 10 the Right Tool to Expand Your Amazon Business?
To summarize, Helium 10 offers Amazon sellers an extensive suite of tools for rapid growth. The software provides everything you need to research the right products, stay on top of the competition, and market yourself to your target audience.
With an intuitive landing page builder and tools to optimize your product listings and find high-converting keywords, you'll soon make the most out of every item you sell.
While Helium 10 might not be suited to those on a budget or anyone that just wants a product research tool, it's a powerful kit for those that wish to expand their Amazon business. If that's what you're after, the investment might be well worth it, as it could be cheaper in comparison to purchasing similar tools separately.
If you're unsure whether this software's for you, you can test Helium 10's free program to get a feel for its basic features. As we've said, you can upgrade to a paid plan anytime, so you have nothing to lose by giving it a try!
Have you got experience with Helium 10 or any other Amazon selling software? If so, tell us all about it in the comments box below!
Further reading: