Last Updated on June 21, 2023 by Ewen Finser
Fact is- CRM apps can help boost productivity by up to 34%, and the corresponding sales by up to 29%. Then in case you're not quite sure about the numbers you should expect in the near future, CRM apps have got your back. Their average sales forecast accuracy rate stands at 42%.
Seemingly impressive, I must say. But then again, it all depends on your app's actual functionalities. And this is one thing that, of course, you cannot afford to compromise. You're better off with the best or nothing. Well, many small businesses, at some point, find themselves now torn between premium options like Capsule CRM software and Insightly.
Now, from the look of things, these two are super aggressive competitors. And come to think of it, that partly explains why the reviews out there are mostly paid biased pieces. So, let's finally get to the bottom of this once and for all. Which one is better for you- Capsule CRM or Insightly CRM software?
Bottom Line Up Front: While I was intrigued by both of these platforms, we actually ended up going with Pipedrive CRM here for our needs. That said, if I was FORCED to pick between these two I would lean towards the easier to use Capsule CRM functionality here. Insightly, is just a bit too unapproachable to be useful in my opinion.
Main Differences Between Capsule vs Insightly
The main differences between Capsule CRM vs Insightly are:
Insightly offers scalability up to enterprise-level, whereas Capsule is suitable for small to mid-sized businesses.
Insightly offers more customization and complexity, whereas Capsule CRM offers an easier to use simplified interface.
Insightly costs $24 a month, whereas Capsule CRM costs $34 a month.
Our Pick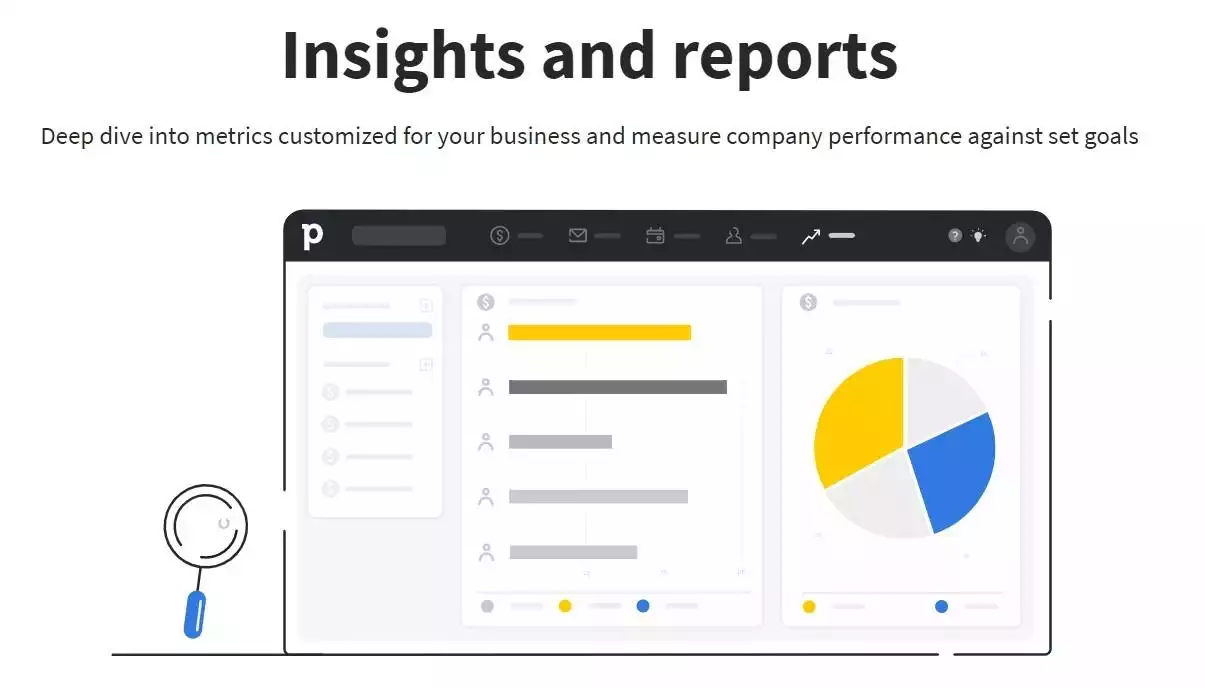 Why I Prefer Pipedrive
Pipedrive has mastered the art of a CLEAN INTERFACE while still having DEEP FUNCTIONALITY. For a pure CRM, I personally went with Pipedrive here.
Try Now
We earn a commission if you click this link and make a purchase at no additional cost to you.
Capsule CRM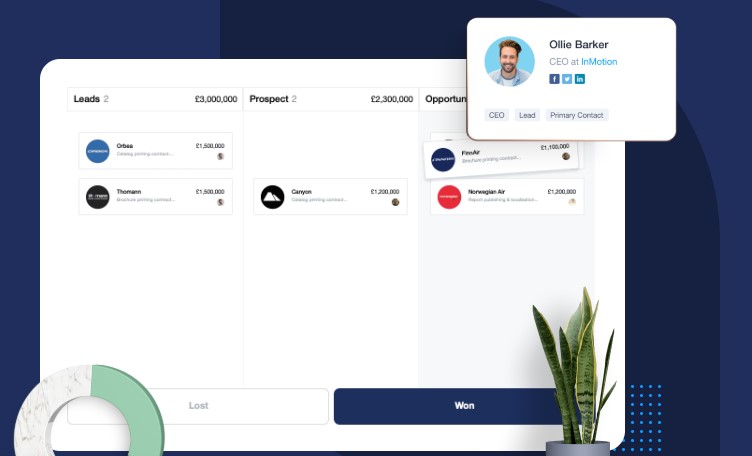 Before Capsule was even a thing, its founders had reportedly had a hard time coping with existing web-based CRM solution choices. They found many of them to be too complicated for the bulk of users. Then the ones that had been developed to be user-friendly, on the other hand, turned out to be far too simplistic for effective delivery.
And so Capsule CRM was born in 2009 to offer a balance of both worlds. It's built to be not only simple and user-friendly but also versatile and holistically effective.
The web-based solution is essentially renowned for keeping tabs on both B2B and B2C leads, managing the resultant contact records, plus coordinating the overall correspondence to convert sales opportunities. Although it's principally recognized as a Customer Relationship Management tool, Capsule actually goes beyond that. It also comes with necessary provisions for managing vendors, lead contacts, plus the sales pipeline.
Well, the target here is small businesses. But make no mistake. Their sales pipelines can be as dynamic and expansive as large enterprises'. Consequently, Capsule CRM seeks to help users track the whole thing- their opportunities, tasks, proposals, bids, and deals.
Then to help you follow up accordingly, the system is designed to provide you with tools for organizing related files. Hence, you get to access a lead's entire history, including documents, conversations, notes, and emails.
Now, since it typically takes a team of salespeople and marketing professionals to take a lead through all the stages of the conversion funnel, Capsule CRM is developed with multi-user support. Apart from sharing stuff with team members, you should be able to set up and assign tasks to various individuals, then keep tabs on the subsequent progress, plus regulate milestones and deadlines.
Thankfully, users can even leverage the service remotely and on-the-go. Capsule CRM is not only available on PC, but also on smartphones and tablets.
Overall, all these features combined have seen the solution expand exponentially beyond its Manchester headquarters, to serve thousands of businesses spread across more than 170 countries.
Insightly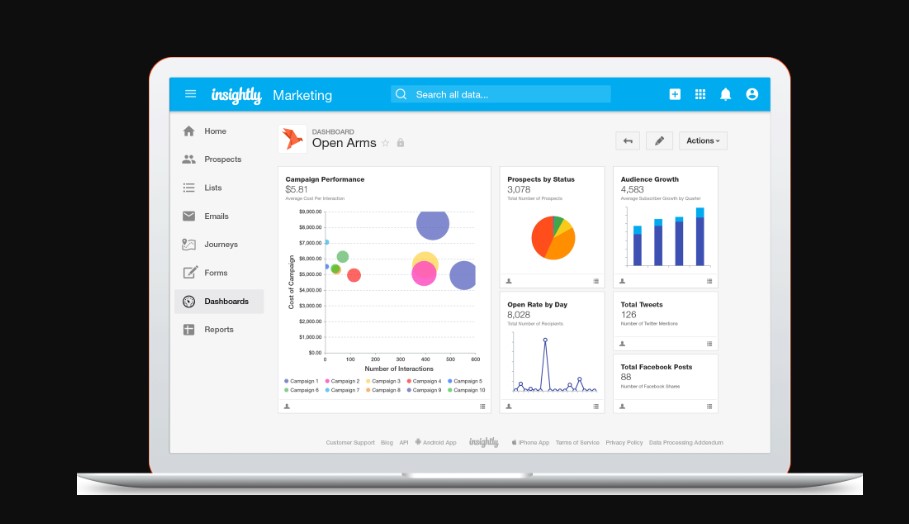 Interestingly, Insightly happens to share the same birth year with Capsule CRM. It's also a renowned CRM solution that was founded in 2009 to provide small businesses with a comprehensive set of sales management tools.
And what does this mean?
Well, for starters, you get contact management functionalities. Then to help you coordinate the subsequent conversion funnel, the system offers pipeline management tools, which are further complemented with task management provisions.
Cumulatively, these elements seek to enhance your vision into the whole sales process and facilitate consistent holistic tracking. As a result, you should be able to streamline collaboration between team members, communicate with leads and customers accordingly, monitor all the relevant deliverables, plus of course, boost overall lead conversion efficacy.
With customer management being a continuous process, Insightly is also built to be compatible with mobile systems like Android, Kindle, and iOS. So, of course, you'll be able track all the critical pipeline tasks from anywhere.
Thanks to these and many other features, the platform has grown quite immensely over the past couple of years. It now boasts of a user-base that stretches beyond 1.5 million individuals and 25,000 businesses spread across the globe.
Verdict
From the overview alone, it's evident that we're dealing with pretty much the same range of solutions here. Capsule CRM and Insightly are both systems that are designed to offer small businesses with a simple customer and sales coordination features.
Apart from contact management, they come with pipeline management, task management, communication handling, plus team management functionalities.
And to facilitate all that effectively, Capsule CRM and Insightly are both based on the web. Then in addition to PCs, users can access them through their mobile platforms.
Now, considering they've been around for about a decade now, Capsule CRM and Insightly are presumably well-seasoned CRM applications with a host of advanced features. And that's basically the recipe for a super interesting comparative review.
So, let's see how the showdown of features and pricing goes…
Features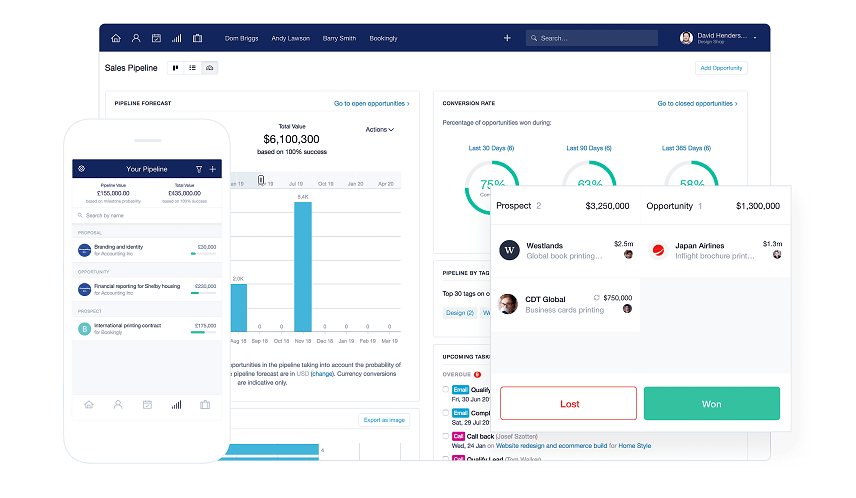 User Interface
Capsule CRM
Capsule CRM is undeniably simple and user-friendly. As a matter of fact, its well-organized and minimalistic layout places it among the simplest CRM interfaces we've seen so far.
Ok, fair enough. But what exactly are we talking about here?
Well, right off the bat, Capsule greets you with a clean and refreshingly straightforward dashboard. You'll then notice that the entire system is fundamentally organized into five modules.
The first icon here is the home module, which is basically an overview dashboard. It provides insights into your overall pipeline by summarizing the crucial information you need as you start off.
Apart from pending tasks, you can track your sales forecasting, all task changes, and recently added contacts. Then in case, you'd like to find something specific, the system allows you to scan through everything using item and contact filters.
The best part, however, has got to be the fact that you can set up additional opportunities and tasks without navigating past the dashboard. This alone should save you a lot of time and effort.
Now, when you start moving away from the dashboard, the next place you'll land is the people and organizations module- which is simply a page displaying your contacts' details. In essence, you get to explore individuals and other companies that you've saved as leads or customers.
Moving on, the third icon in the calendar and tasks module, which is all about your scheduled timings. Capsule CRM neatly lays out the tasks on a graphical calendar to give you a clear picture of what lies ahead. So, you should be able to assess your team members' overall engagement patterns.
That said, the most important part of the system interface is certainly the sales pipeline module. Most of your time will be spent on this page- since it serves as the cockpit for managing and coordinating your sales opportunities.
Then closely related to that is the case module, which basically facilitates the management of open cases. And that's it. All functionalities offered by Capsule CRM have been systematically bundled into these five basic sections. Therefore, all in all, you shouldn't expect much of a learning curve here.
Insightly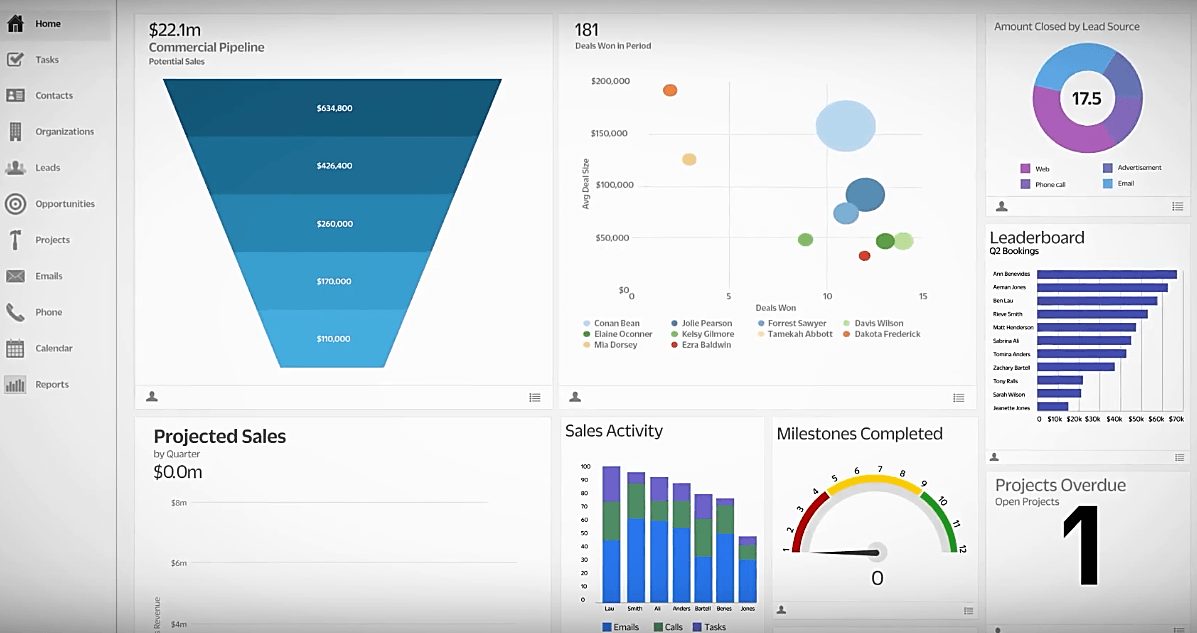 The user interface on Insightly is not bad either. It's seemingly planned well with an uncluttered minimalistic layout. But, there's a slight problem. You see, while providing several channels of CRM services is commendable, it sort of complicates the whole system layout. You may find all those options to be overwhelming at first, especially since they don't go by their traditional names on Insightly.
Thankfully, Insightly has taken this into consideration. They've consequently built a support system that will methodically walk you through all the major functionalities immediately you log into your account. And everything is simplified to ensure the message is passed across appropriately.
Now, the dashboard here is set up a bit differently than what we've seen on Capsule CRM. While the latter's chief functionalities are laid out horizontally as icons, Insightly decided to use a vertical approach.
Therefore, right below the Home tab, you'll see Tasks, Contacts, Organizations, Leads, Opportunities, Projects (project management), Emails, Phone, Calendar, and Reports menu options.
The main feed, of course, is the dashboard, and it displays crucial information about your tasks and sales opportunities. You can skim through everything to quickly understand how your entire team has been performing, the corresponding deals won top sales sources, etc.
In case you're having trouble tracking such metrics, Insightly allows you to design your own dashboard in a way that suits your business. The procedure only takes a couple of drags and drops to align each chart accordingly, plus proceed to share with your team members if you intend to streamline the whole monitoring process.
All in all, I found Insightly to be considerably flexible. It replicates such customization options across the entire system to give you increased control over your CRM framework. Lists, for example, can be tweaked to appear in a pipeline or grid structure.
Verdict
On one hand, Capsule CRM comes with an extremely straightforward user interface, whose functionalities have been simplified and grouped into five icons. Then on the other, Insightly chooses to hit you with numerous functionalities which might seem a bit confusing as you get started.
Now, when we compare the two, it's fairly clear that Capsule CRM takes a much shorter time to learn than Insightly. However, the latter offers more flexibility and customization options, allowing you to properly align each CRM component with your company's framework.
Therefore, with both layouts being admirably minimalistic, detailed and intuitive, we can call this a tie. Capsule CRM's user interface is simpler, while Insightly's is more dynamic.
Contact Management
Capsule CRM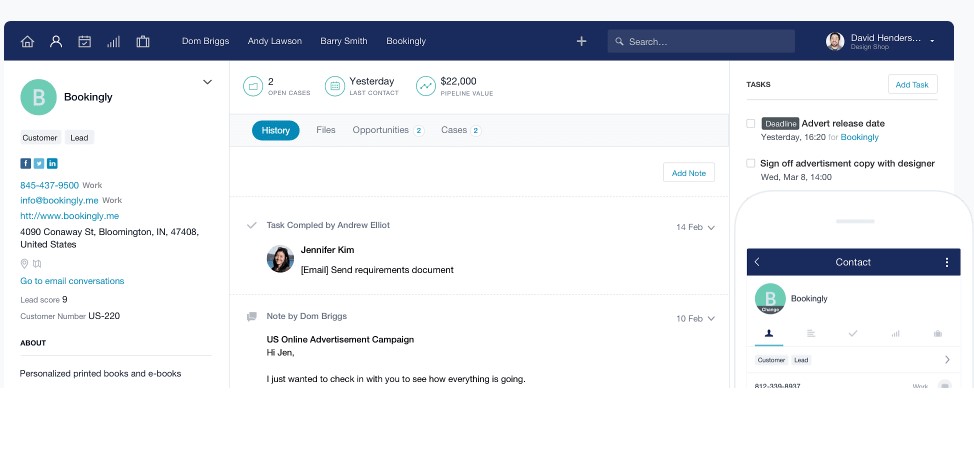 The contact management function on Capsule CRM is basically structured to grant you comprehensive information access at a glance. In other words, you get to explore pretty much every detail about organizations, companies, and individuals you're targeting.
Well, apart from viewing their basic information, you can track each individual's history from their contact page. Capsule even allows you to make some notes for future reference. And if you want to attach past emails, you can forward them directly from your email client to the CRM system.
Another critical piece of information here is the contact's files. And Capsule, fortunately, supports a wide range of them. From the Files tab on a contact page, you can attach stuff like proposals, contracts, invoices, etc.
Most importantly, however, the same page facilitates the management of CRM tasks. You can introduce and edit various tasks associated with a specific contact right from their profile page. Then to ensure all the affected parties get the memo, you can as well share the updated contacts with team members.
Now, allow me to take you back to one important principle in the conversion process. That to engage a lead effectively, you need to understand their needs broadly. And this, of course, requires a lot of research plus recon. So, I was quite pleased to discover that the Capsule has integrated social media into its contact management (among many other integrations).
As a result, you can easily follow your leads to learn more about them. And when you do so, Capsule automatically populates the lead contact page (marketing automation) with their social media display photo plus accompanying profile. You can even enhance that further by embedding your contact's Twitter feed.
So far, that only covers what you get on each contact's profile. When you zoom out to focus on multiple individuals collectively, contact management subsequently changes to become a whole new different thing altogether. So, to make things much simpler, Capsule CRM supports the simultaneous addition of numerous contacts. You can import them through either CSV files, spreadsheets, vCards, Gmail, or Outlook.
Then to help you organize the resultant expansive collection of contacts, the system offers an array of categorization methods. You could choose to classify them using searchable tags or custom fields. Additionally, it's possible to set up contact lists based on lead tags, their locations, or perhaps registration dates.
Well, it doesn't end there. How you leverage the lists is entirely up to you since the Capsule is quite versatile at this. You could, for instance, introduce more tags to sub-categorize the contacts. Or send varying custom messages to different lists via email. Then when you need to transfer their information to another system, you can take advantage of the export list function.
Insightly
Insightly is also quite reliable when it comes to lead and contact information management.
Now, to help you comprehend how various components are related, Insightly uses its record-linking feature. It systematically maps out the relationships between your leads and other elements in a way that gives you a clear view of the overall interaction web.
In essence, you get to link contacts with relevant records, emails, customers and other components in you CRM system to form a well-detailed network of related entities and interactions. Subsequently, you'll be able to strategize accordingly on the best possible approach channels for converting leads.
Speaking of which, introducing leads into your database is a fairly straightforward process. Just go to the Leads option on the menu bar, and then click on the New Lead button.
Alternatively, you could also add leads from a web form- thanks to Insightly's HTML tool. It generates a valid code that you can embed into your site to transfer details entered by your visitors straight to your leads or contact lists.
But, here's the kicker. Unfortunately, that is not possible for WordPress users. They are forced to rely on manual methods.
Now, something worth noting as you expand your list of leads is that each new database entry is called a record- and that includes leads, contacts, opportunities, projects etc. Then Insightly comes with a dynamic privacy framework that allows you to determine who sees each record that you introduce. You can set it to feature specific colleagues or keep the new lead info to yourself.
The software then goes ahead to accommodate a wide range of variables as you enter the lead info. Apart from typical profile details, you could specify stuff like the lead source, status, and much more.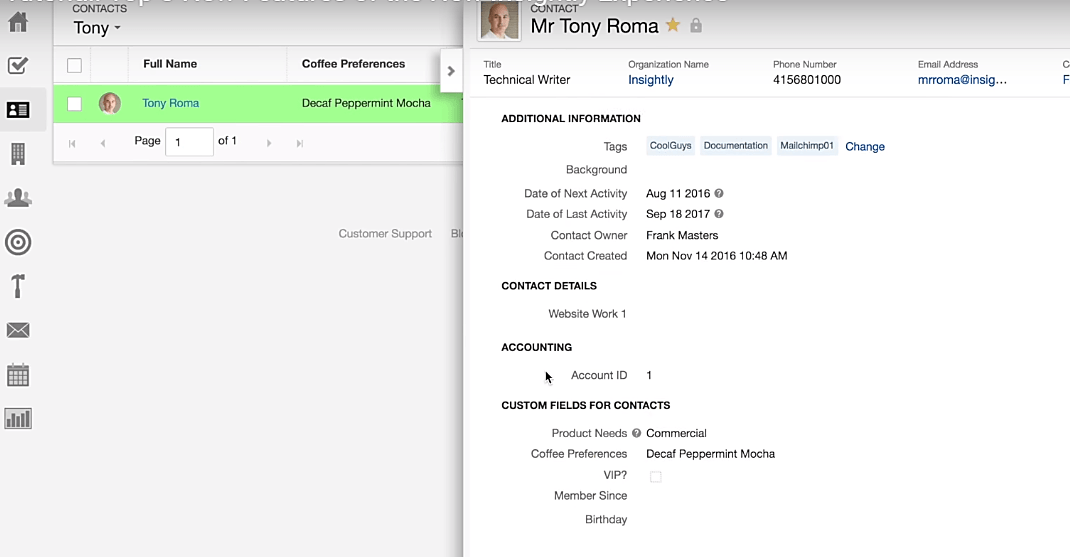 Ok, but what separates leads from contacts? Are they one and the same thing?
Actually, the answer is no, they're not. And the interesting thing is this- Insightly usually channels leads and places them among Opportunities the moment they qualify as prospective customers. They then cease being leads and convert into contacts.
That said, you'll be able to track everything about your leads and contacts from their respective pages. The system presents you with organized tab options to help you conveniently shift between events, tasks, attached files, and the history of each lead.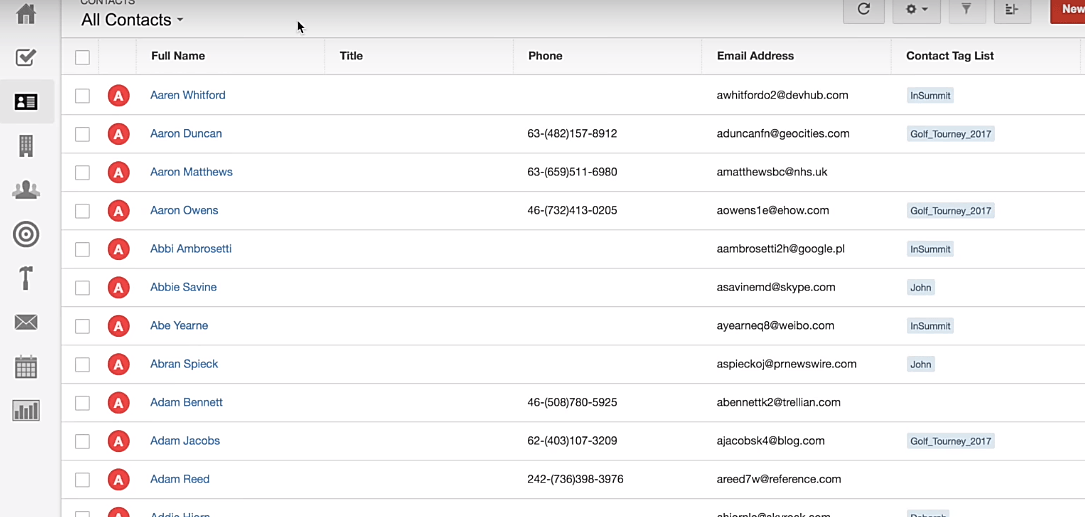 Insightly also provides a wide range of lead management rules, which are typically handy when you're applying an action to multiple entries at the same time. You can, for example, automate assigning of leads, import leads directly from job fairs or conferences, or assign them to your team members based on factors like location.
Verdict
Although they are structured differently, there are many similarities between Capsule CRM's contact management and Insightly's contact management. For starters, they both support single entries as well as importing of numerous contacts at the same time. The subsequent contact information page is also well-detailed on both systems. Apart from history, you get to view each contact's files, tasks, plus basic profile information.
Insightly and Capsule also attempt to reveal the customer relationship between the contacts and various entities. You can monitor how each contact is connected to various tasks and emails from their respective pages.
Then when it comes to management of contact lists, both Capsule CRM and Insightly offer an array of powerful grouping and filtering tools.
So, of course, it's evident that this is one heck of a tight race between the two. But, Capsule CRM emerges the winner because of a much more intuitive contact management framework. Insightly feels rather bland with functionalities that might take some time to get used to.
Pipeline Management
Capsule CRM
The Capsule CRM sales pipeline is essentially built to offer a detailed summary of all your sales opportunities. And that typically entails insights about upcoming tasks, the positions of various opportunities, the possible sales values, and much more.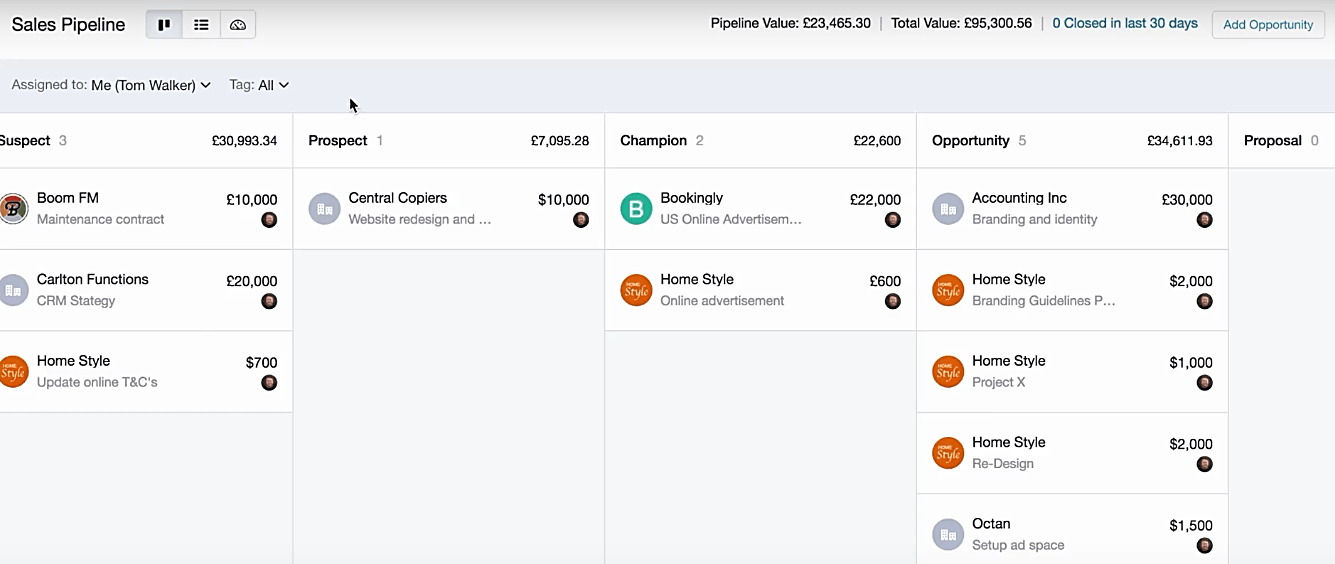 One thing you're bound to enjoy here is the whole visual approach. The statistics part, for instance, is quite intuitive with relevant charts showing all the critical sales information. You should be able to judge your overall progress accurately from the corresponding conversation rate, pipeline task, and milestone summary charts.
Then going by the performance of your opportunities combined with the pipeline's cumulative value, Insightly generates a rather fascinating pipeline forecast graph. It lays out and compares the combined sales values expected in various periods.
Now, the most important element in the pipeline dashboard page is the dashboard itself. It basically organizes all the sales opportunities within a single page for easy management. And to help you get a clear understanding of the relationships, the sales opportunities are grouped according to their respective milestones.
But, don't get me wrong. It's not an entirely rigid system. You can shift any opportunity between different milestone columns by simply dragging and dropping it. Then when you need to record a successfully converted opportunity, just drop it to the bottom of the display.
Ensuring each sales opportunity is laid out accordingly in the pipeline helps team members keep tabs on the whole sales process. They get to view how their colleagues are handling their tasks after filtering the whole pipeline based on individual members. This also helps them identify any sales opportunities that are lagging behind.
Capsule then goes beyond the overall pipeline level to provide visibility into the individual sales opportunities. It is at this point that you get to understand the whole concept behind the opportunities. They simply represent possible customer conversations, including proposals, deals, and bids.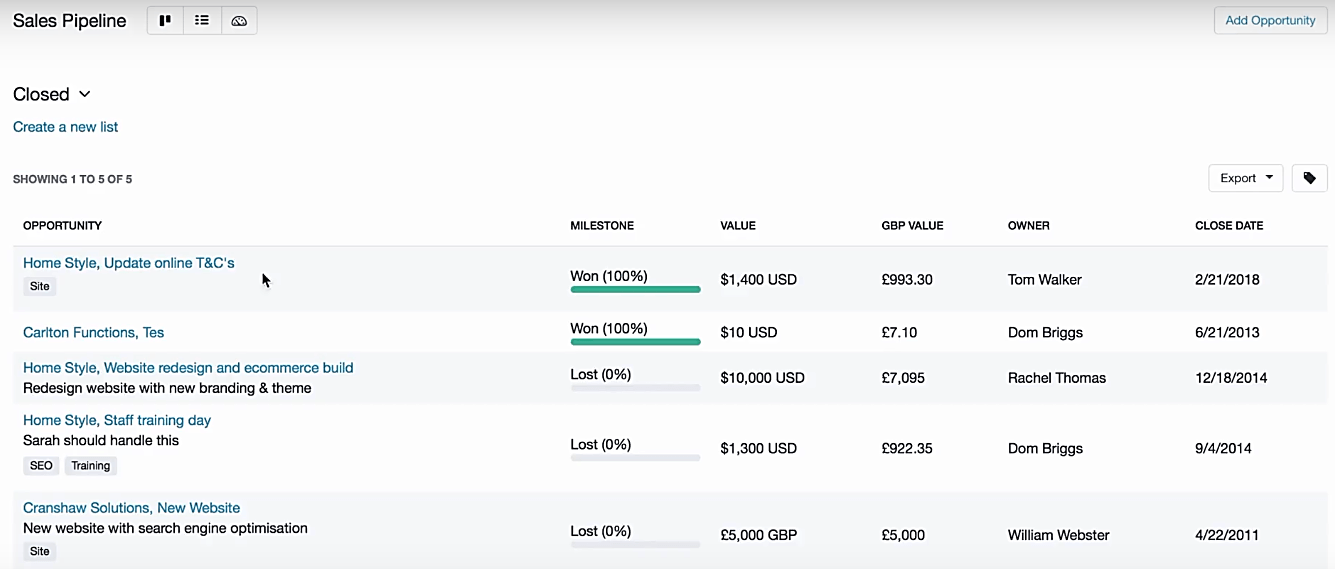 Apart from the milestone, you can specify the value of a new sales opportunities to help Capsule generate accurate reports. And one of the subsequent insights you'll be interested in, of course, is each opportunity's expected value. Capsule CRM gives an indicative forecast after factoring in the probability plus the total opportunity value.
As you continue exploring various opportunities, you'll notice that Capsule also allows you to track their individual histories. You can even introduce additional documents, emails, and notes.
Then to help you collaborate effectively, the system offers a share functionality for distributing sales opportunities to specific co-workers.
Ultimately, Capsule CRM generates accurate reports about all the principal pipeline elements. In addition to sales performance reports, you get detailed sales pipeline reports plus the corresponding activity reports.
Insightly
Insightly also happens to support creation and management of pipelines. But, instead of viewing the entire thing from a "Pipeline" page, Insightly is structured to allow users to follow up from its "Opportunities" tab.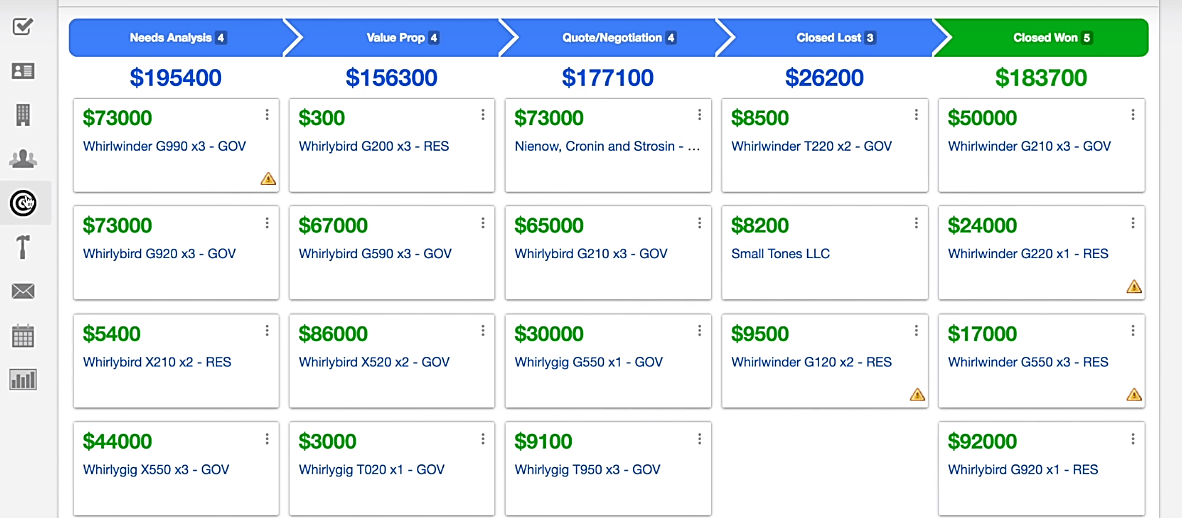 Now, remember establishing that leads only move to the opportunities stage after possible conversion? Well, interestingly, it turns out Insightly extends this rule to its pipeline. Hence, the pipeline opportunities here can only be set up for converted leads. But, thankfully, it doesn't end there. You can also create pipelines for projects.
From the system settings, you could then create multiple opportunity or project stages to adopt into their corresponding pipelines. Each stage should be configured with its own variables, including a unique collective probability value. Ultimately, you'll be able to achieve an organized layout by grouping the opportunities by their respective stages.
If you need to transfer opportunities from one stage to another, you can take advantage of what is known as the "Kanban" pipeline view. It's a visual-based intuitive pipeline management framework (relationship management) that allows you to freely drag and drop the opportunities across different stages.
All things considered, the biggest defining factor when it comes to pipeline stages here is the activity set. Quite simply, an activity set is basically a collection of tasks set up for each stage.
And this is where leads come in because contrary to what we've seen with pipelines, activity sets can accommodate leads, as well as projects, organizations, contacts, plus opportunities. As a matter of fact, they are flexible enough to be adjusted in a way that facilitates multiple leads.
Now, when it comes to tracking pipelines, Insightly provides a dynamic view of every single element. You can assess the entire layout to comprehend the overall sales progress, then go beyond that to focus on each opportunity individually.
In the end, Insightly produces detailed reports based on pretty much all the main elements, including pipeline stage, category, organization, user, etc. You can even tell how each team member has been performing all along.
Verdict
From the look of things, both Capsule CRM and Insightly come with holistic pipelines that systematically outline not only the opportunities, but also the contacts involved, team members, values, and conversion probabilities, among others. Then thanks to the "Kanban" view on Insightly and the default view on Capsule CRM, the pipeline is displayed in a visual customizable format.
That said, it's worth noting that each of these systems offers powerful and responsive pipelines functionalities. You can track each element individually or review their entire pipelines to assess overall progress. Then finally, both Capsule CRM and Insightly are capable of generating accurate reports on users, activities, sales performance, conversion rates, etc.
Well, this round would have ended in a tie as well. But, upon closer scrutiny, the principal difference between the two systems becomes clear. Capsule CRM's pipeline is simpler and more intuitive than Insightly. Then Insightly's strength lies in its extensively customizable pipeline framework. Although it's not as straightforward as Capsule, you can rework its elements quite dynamically.
Therefore, Insightly emerges the winner by a small margin.
Pricing

Free CRM Plan – $0
Unlimited cases
Unlimited opportunities
250 contacts
10MB storage
Serves 2 users
Professional Plan – $18 per user per month
Premium integrations
Unlimited cases
Unlimited opportunities
50,000 contacts
10GB storage per user
Teams Plan – $36 per user per month
Premium integrations
Unlimited cases
Unlimited opportunities
100,000 contacts
20GB storage per user
Insightly

Free CRM – $0
2,500 record limit
2 custom fields per record type
10 mass emails per day
up to 2 users
Plus- $29 per user per month billed yearly
100,000 record limit
50 custom fields per record type
2,500 mass emails per day
Professional- $49 per user per month billed yearly
250,000 record limit
100 custom fields per record type
5,000 mass emails per day
Enterprise- $99 per user per month billed yearly
Unlimited records
200 custom fields per record type
10,000 mass emails per day
Summary: Insightly or Capsule CRM Platform?
Bottom Line Summary: While I was intrigued by both of these platforms, we actually ended up going with Pipedrive CRM here for our needs. That said, if I was FORCED to pick between these two I would lean towards the easier to use Capsule CRM functionality here. Insightly, is just a bit too unapproachable to be useful in my opinion.
Overview

Capsule CRM and Insightly are both software developed to provide small businesses with straightforward customer and sales pipeline management functionalities.


Both systems focus on contact management, pipeline management, task management, communication handling, plus team management features.


Capsule CRM and Insightly are both cloud-based solutions built on the web. Apart from standard PC applications, they are available via mobile apps.



User Interface

Capsule CRM and Insightly come with simple, minimalistic and straightforward user interfaces that are responsive.



Contact Management

You can import many contacts simultaneously or enter them individually on both Capsule CRM and Insightly.


Capsule CRM and Insightly offer detailed contact management pages.


On both systems, you can establish links between contacts and various sales elements.


Insightly and Capsule CRM provide multiple contact filters.


Contact management on Capsule CRM is simpler and more straightforward- making it the winner.



Pipeline Management

Capsule CRM and Insightly offer comprehensive pipelines showing opportunities, contacts, team members, values, and conversion probabilities, etc.


Both systems provide a visual customizable pipeline.


You can monitor their entire pipelines or focus on particular elements.


Reports on Capsule CRM and Insightly are fairly detailed when it comes to users, activities, sales performance, conversion rates, etc.


While the Insightly Pipeline is not as intuitive as Capsule's, it's dynamically customizable- making it the winner of this contest.


Our Pick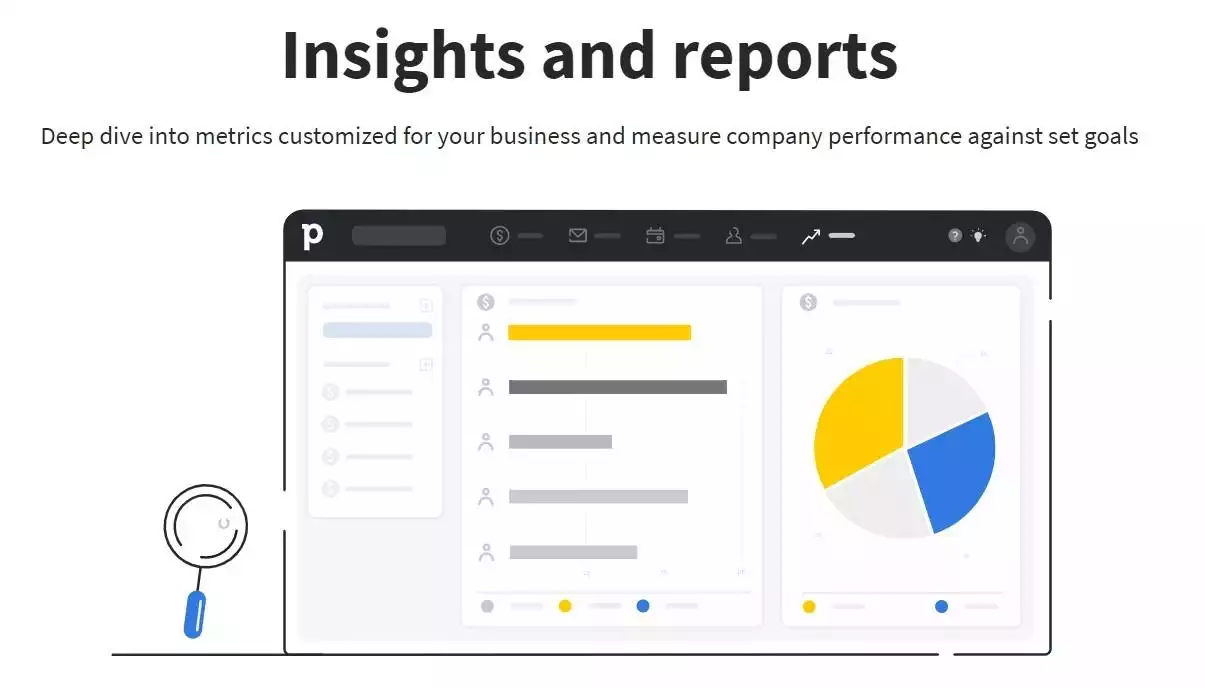 Why I Prefer Pipedrive
Pipedrive has mastered the art of a CLEAN INTERFACE while still having DEEP FUNCTIONALITY. For a pure CRM, I personally went with Pipedrive here.
Try Now
We earn a commission if you click this link and make a purchase at no additional cost to you.
Your thoughts? Which of these two do you think would suit your company better, and why?
Here are some other related articles you may be interested in: