Last Updated on January 15, 2023 by Ewen Finser
Today, we're going to be taking a look at Netsuite vs Quickbooks. We'll be going over:
What Netsuite is
What Quickbooks is
Who NetSuite is for
Who Quickbooks is for
Accounting Software Features
Pricing
Pros and Cons
FAQs
To top it all off, we'll be providing a clear buying decision at the end. If you don't want to learn about the bells and whistles, then skip to the end of this article.
Bottom Line Up Front Summary: If you are on a tight budget and just need a simple bookkeeping solution, go with Quickbooks here. However, if you are a rapidly growing or large enterprise business that needs multiple functions filled (ERP, Accounting, Financials, CRM), grow with Netsuite here instead.
Main Differences Between Netsuite vs Quickbooks
The main differences between Netsuite vs Quickbooks are:
Netsuite is best suited to enterprises in need of an all-in-one cloud-based business suite, whereas Quickbooks is best suited to smaller businesses solely in need of accounting software and finance software.
Netsuite charges as per product configuration users and much more, whereas Quickbooks charges per monthly license and functionality.
Netsuite request payment as per license only, whereas Quickbooks accept payment per license and per month.
Netsuite provides you with a Price Architect to help you arrange a price and equip your account with relevant features, whereas Quickbooks does not.
Netsuite does not let you pay for your license on a monthly basis, whereas Quickbooks does.
What is Netsuite?
Netsuite was created by Oracle and is the number 1 cloud-based ERP in the world. Netsuite's functionality is catered toward startups to enterprises and even complex manufacturing or retail integration, although its robust and powerful nature means it's better suited to these Enterprises.
Netsuite prides itself on being a top-notch business management suite, with elements of project management mixed into their accounting system.
Its tools provide you with everything you'll need to oversee the day-to-day running of your business. Netsuite is built to scale, meaning it lets you grow or downsize your business with relative easy. The tool enables you to create a high-quality customer experience using its ERP and CRM.
It also lets you integrate seamlessly with other apps and make use of automation to benefit your business system. Globally, over 20,000 people use Netsuite.
Further Read: Netsuite Integration Options Guide.
What is Quickbooks?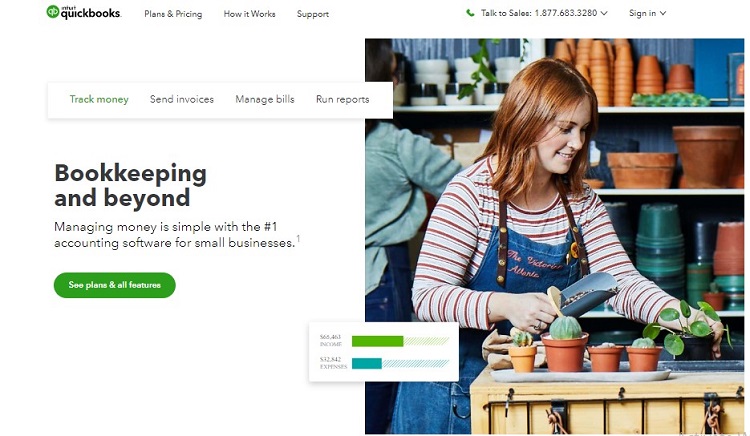 Quickbooks software is built around the concept that they're going to prosper from helping others manage their finances in the everchanging world of work. The tool does so by providing functionality for small businesses to grow and change with global working trends.
Quickbooks online helps you send invoices, keep a record of receipts, count expenses, and analyze data reports. The tool essentially operates as an online hub that lets you manage your business's finances from anywhere provided you've got an internet connection.
Like, Oracle Netsuite software, it integrates with different apps, including your bank, so that you save time and can work more efficiently. Currently, there are over 7+ million people around the world who use Quickbooks to manage their finances online. If you want to compare Quickbooks with some more alternatives, check Aplos, Sage (Sage Intacct) and Wave and make your decision.
Who is Netsuite for?
Netsuite software is great for enterprises or established organizations that require a robust online business management solution (financial management).
If you're looking for software to aid in Enterprise Resource Planning (ERP), inventory tracking (inventory management), accounting software, and customer relationship management, and lots more, then you should consider purchasing a NetSuite ERP license.
Who is Quickbooks for?
Quickbooks online is ideal for start-ups that just want something affordable and easy to use to track and manage their books. If you're a solopreneur business owner, or just looking for something affordable and effective to manage your books virtually, then you should consider buying a Quickbooks license.
Netsuite vs Quickbooks – Accounting Features Comparison
Netsuite – General Ledger
Netsuite's general ledger can be customized to suit the needs of your business. Such flexibility is a must with modern commerce being such a dynamic discourse. A great example of the flexibility offered by Netsuite is the ability to categorize and label your financial data using the description and type columns.
Netsuite's general ledger keeps all your data on one system, meaning you save time by not having to fumble through excel files and ledgers looking for accounts. A great feature that's key to enhancing the financial and accounting software's time-saving capabilities, is limitless general ledger data segmentation.
Finally, you'll profit from Netsuite enabling you to use not only your typical data columns like your location and class but the ability to segment using program and profit line as well.
Netsuite – Accounts Receiveable
Netsuite aims to automate and simplify your Accounts Receivable (AR) experiences. To do so, it enables you to automate the exchange and subsequent usage of financial information. It lets you manage your subscriptions via recurring invoice generation (invoicing). Order transactions can be sent automatically to relevant ledgers.
Netsuite's accounting software provides access to real-time analytics. You'll have access to orders (order management) and payment data as it rolls in, so you'll constantly be up to date with what's happening in your AR.
If you need more financial reporting functionality, you can make use of the reports, KPIs, and dashboards provided by Netsuite that inform you about customer behavior, invoicing, revenue, and so on.
Netsuite – Accounts Payable
Netsuite's software enables you to automate invoicing payments from other businesses. You'll not have to worry about entering data manually or contending with discounts and whatnot. If there's a problem, say an invoice doesn't correspond correctly with a receipt, you can put in place an automatic response system to highlight and resolve the issue.
Netsuite's Accounts Payable (AP) also lets you check for discrepancies with payment documents so that you're not out of pocket. You can take advantage of this feature thanks to Netsuite's real-time reporting providing enhanced reporting visibility.
Netsuite provides you with metrics such as vendor contracts and item receipts unique to each vendor to help you manage your accounts better.
Quickbooks – General Ledger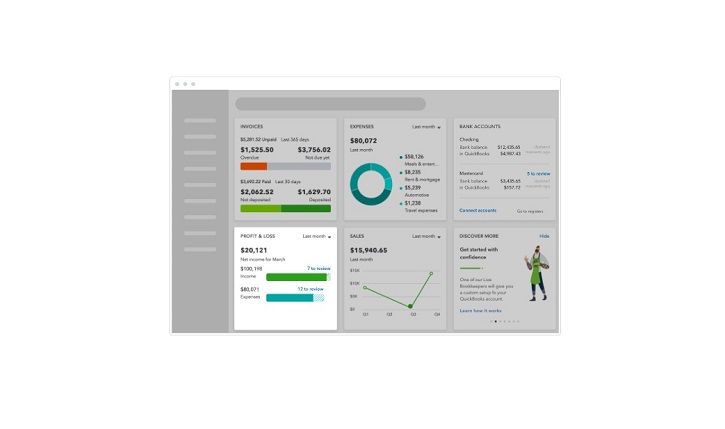 A General Ledger should contain every single packet of your relevant financial data transactions. Quickbooks General Ledger provides such capability, hence it can be used to record invoices, deposits, sales receipts, credit memos. expenses, cash expenses, and more.
It's worth noting the use of "relevant data transactions" above. This phrase was coined because not every transaction belongs in the general ledger. Transactions that don't belong in General Ledger are referred to as "non-posting" by Quickbooks. Purchase orders and statements are prime examples of such transactions.
Quickbooks – Accounts Payable
Quickbooks online helps you manage your Accounts Payable (AP) by enabling you to store all your data in one location. However, you must be subscribed to Quickbooks Online Plus to avail of the proper functionality. Online Plus allows you to set due dates for payments, pay bills, and manage when bills are due to be paid.
Once you pay a bill with Quickbooks, it'll be automatically noted within the system. This feature ensures you're not wasting time checking things twice.
Quickbooks Online Plus is the third most expensive plan out of four. Whether Online Plus is worth the extra cash for its accounts payable solution is up to you. If you do decide its worth the price, however, you'll benefit from Unpaid Vendors Reports, the A/P Aging Report and the Vendor Detail Reports.
Check out Quickbooks free trial to see if its accounting software is right for you.
Quickbooks – Accounts Receivable
Quickbooks helps you manage your invoices and payments as well as aiding in the process of finding delinquent accounts. You'll have the option to send reminders to customers who paid for your products or services but never got round to paying you.
Quickbooks AR is built around the premise that they'll help you get paid quicker by providing functionality to invoice customers regularly and offering early payment discounts. On top of that, Quickbooks offers A/R ageing reports.
These reports make it easy for you to identify who has and hasn't paid you for your services. Also, the cash flow statement is an excellent Quickbooks tool to ensure you've always got enough money in your account to pay your bills. The cash flow statement comes as part of the aging report.
Netsuite vs Quickbooks – Pricing
Netsuite has no Pricing Page – Quickbooks Does
One thing I'll say about researching and reviewing these two tools is that it was tough to find Netsuite's pricing.
In contrast, it was extremely easy to find Quickbooks' pricing. This quirk aggravated me a little bit until I released Netsuite's pricing is based on the user license you choose, the number of monthly users, and the functionality you require.
That's a lot of variables, hence Netsuite doesn't have a generic pricing page on its website. You've got to reach out and ask for a "free consultation" instead.
Personally, this requirement didn't bother me per se, I just prefer traditional tiered pricing pages like Quickbooks offers on its website. It's much more transparent and makes things a lot easier.
Pricing Structures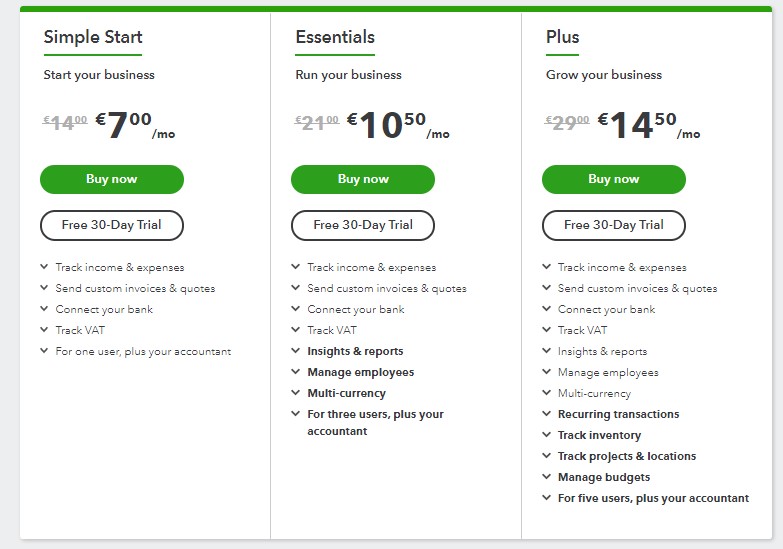 Quick books offer three payment plans that increase in price by more advanced functionality. "The Simple Start" is the cheapest option at $7.50 per month and offers the most basic features." Essentials" is the next tier up and offers all the same features as the previous plan as well as new features such as the ability to manage and pay bills. "Essentials" costs $11.50 per month.
The final pricing is the most robust and in the spirit of things also the most expensive. It costs $15.50 per month and offers all the features of the other plans and more.
Quickbooks gives you the option to pay for its services both monthly and annually. Should you choose to pay annually, you stand to profit from a sizable discount. Netsuite also enables you to pay annually with the shortest subscription spanning 1 year. Unlike Quickbooks, Netsuite does not enable you to pay on a monthly basis (from what I can gather!).
Paying for a Plan with Netsuite
With Netsuite, you'll have to pay for a plan based on some of the following variables:
Duration
License
Users
Functionality
Configuration
To help you through the process of buying a license with Netsuite, they pair you with a consultant. This individual is referred to as a "price architect" by Netsuite.
Their job is to help guide you on what plan to buy based on the information you provide them. It's certainly a helpful resource, although it may be worth getting a second opinion just to be sure you don't end up paying extra for features you don't need.
Netsuite vs Quickbooks – Pros and Cons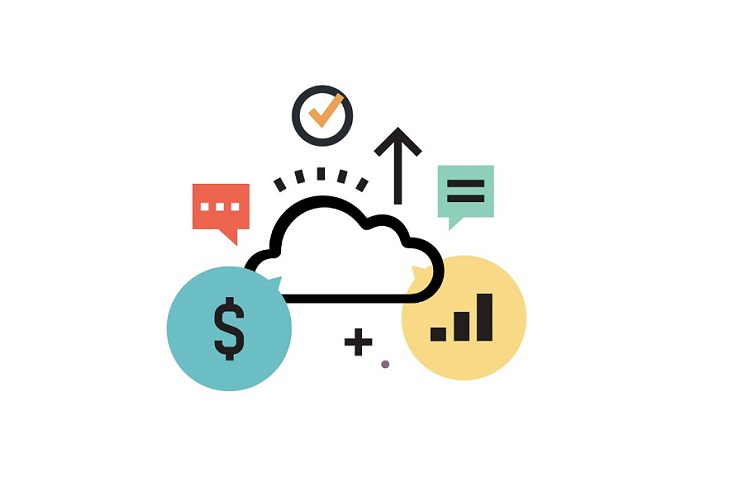 Netsuite Pros
A robust online financial management suite.
Ability to store all your data in one system.
Offers a CRM system.
Offers an award-winning Netsuite ERP system.
Netsuite Cons
Pricing is not set in stone, meaning you've to organize a free consultation with a "price architect" to decide cost based on the functionality you require (among other variables).
Does not offer a free trial, only a demo tour.
You need to be careful during the setup phase to ensure that you're not paying for more features than you need.
Quickbooks Pros
Cheap.
Easy-to-use.
Reliable.
Excellent accounting software.
Quickbooks Cons
Nowhere near as powerful as something like Netsuite.
Not an all-in-one solution.
Lower tiered plans offer basic functionality.
FAQs About Netsuite vs Quickbooks
Final Thoughts: NetSuite or Quickbooks?
Whether you go with a powerful all-in-one solution like Oracle NetSuite, or something affordable and effective like Quickbooks should be decided based on your business needs and budget.
If you're an enterprise with a budget that can afford an all-in-one business and financial management suite suitable for ERP (Netsuite ERP), CRM, and accounting tools then go with the Netsuite solution.
Conversely, if you're just looking for a simple solution that you're a small business or start-up can afford, go with Quickbooks. Quickbooks tailors its accounting platform to small businesses and startups, so you'll have all the functionality you need at an affordable price.
Further Reading on Accounting Tools & Accounting Software:
Further Reading on Quickbooks Pro & Quickbooks Enterprise:

Further Reading on Netsuite Financials & ERP: