Last Updated on November 28, 2021 by DMEditor
With the growing number of online legal documentation companies, it can be hard to know where to turn when you need help starting your business. As such, you need to consider many factors before making this decision – pricing, services offered, convenience – to name a few.
Online legal documentation services provide an excellent way to save money and help you prepare the legal paperwork required to start a business.
This article will compare BetterLegal vs Incfile, two of the most popular online legal documentation services, to help you find the best one based on your needs.
Main Differences Between BetterLegal vs Incfile
The main differences between BetterLegal vs Incfile are:
BetterLegal has a faster turnaround with a same-day filing of your documents, whereas Incfile takes up to two business days for Gold and Platinum packages.

BetterLegal's starting price for its packages is high at $299 plus State fees, whereas Incfile is affordable, with its barebone Silver package starting at $0 plus state fees.

Overall, BetterLegal enjoys excellent customer reviews, whereas Incfile has mixed reviews.

BetterLegal does not offer free registered agent services, whereas Incfile offers its clients free registered agent services for the first year.

BetterLegal does not provide some essential services like business contract templates, whereas Incfile provides the templates to its clients at a small fee.
BetterLegal vs IncFile: A Comparison of Services Offered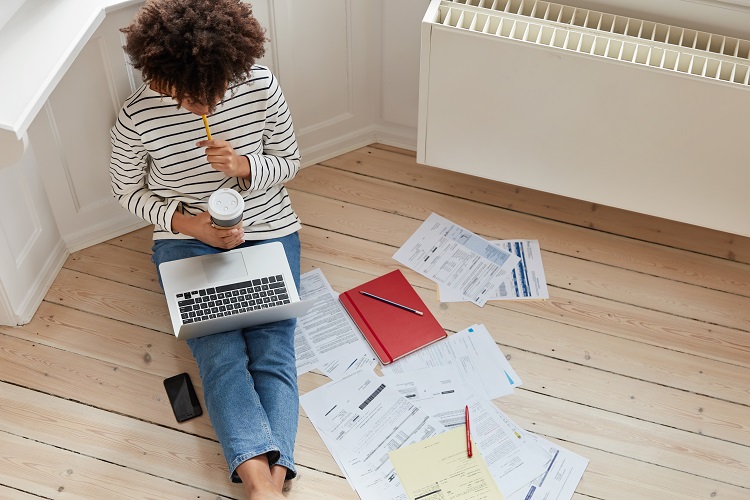 While both these companies provide similar services, each has its unique method for providing clients with what they need to incorporate into their business. From price to customer service, here is how these two legal document services compare.
| | | |
| --- | --- | --- |
| Feature / Service | BetterLegal | Incfile |
| Starting Price for Services offered | | |
| | | Next day (for Gold and Platinum packages only) |
| | | Available at an additional cost |
| Employer Identification Number | | Available at an additional cost |
| | | |
| | | |
| Registered agent services | Available at an additional cost | Available at no charge for the first year |
Main Features of BetterLegal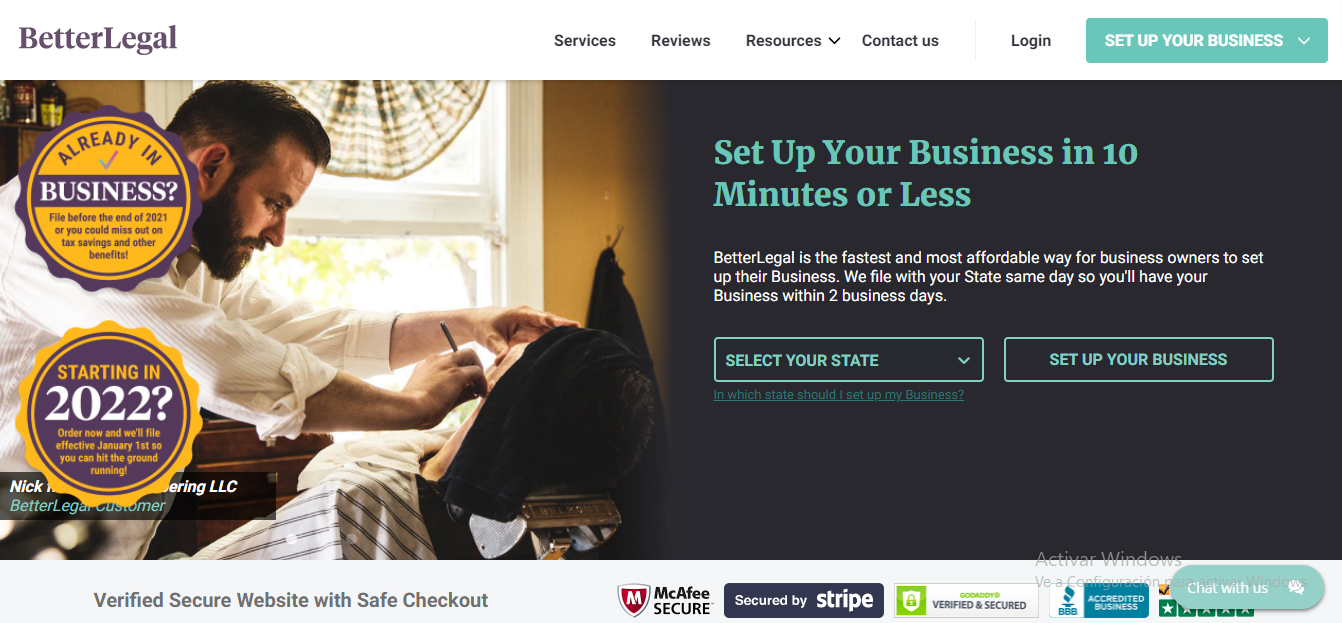 Quick Turnaround
When forming a business, you may want the process expedited or done within a given timeframe. Once you submit your documents to BetterLegal, they forward them to the State authorities on the same day they receive them, provided that everything is in order.
Once the State has processed your documents, you will receive the files within two business days. While other companies may take days or weeks to file your papers, BetterLegal has remained ahead of their competitors with their expedited services.
Real-time Assistance
BetterLegal provides its clients with real-time assistance via a live dashboard. You can have your queries answered through the interactive platform and change your LLC or provide additional information.
After raising your issues through the dashboard, you will immediately receive feedback showing you the paperwork you need to provide, the cost of the service, and the turnaround time.
Registered Agent Services
You will not get registered agent services directly from BetterLegal. However, they can hook you up with a third-party registered agent for an annual fee of $90 or $10 per month. This fee presents a considerable saving as compared to other service providers who charge more.
The registered agents will assist you by scanning your documents and uploading them to your online account. If your LLC operates in several States, you will need a registered agent in each one of them.
Additional Free Services
To sweeten your business relationship, BetterLegal offers several services for free, including a new website, business checking, tax analysis, and insurance valuation. Note that they offer a free website when starting your business and remain so until it grows.
If you need more features or customization on the website, BetterLegal can provide the services for a fee. BetterLegal does not charge set up fees for business checking feature, a minimum deposit of balance, and overdraft fees.
Main Features of Incfile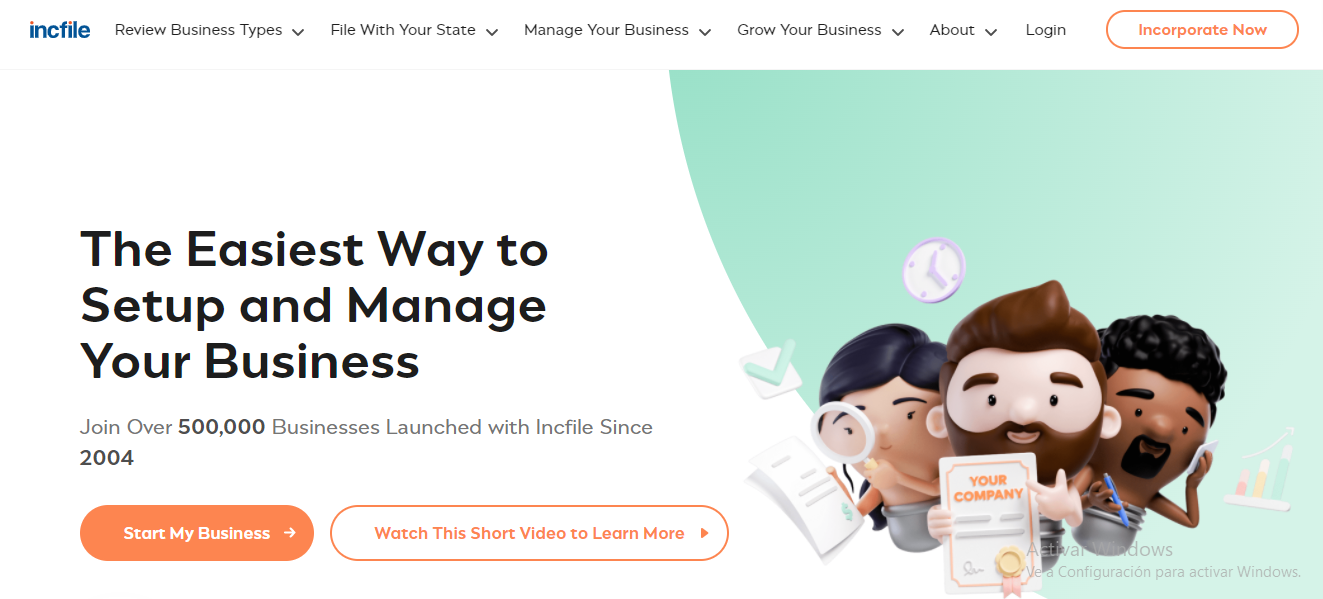 Client Dashboard
Incfile has a client dashboard to manage your company, make relevant changes, complete annual reports, file paperwork, and check your compliance forms renewal dates. The dashboard also stores records of previously submitted documents so that you can access them anytime you want.
Through the dashboard, you receive email alerts and notifications on your compliance forms renewal dates. The reminders are crucial since they may help you avoid penalties for late payment of renewal fees.
Fast Turnaround Time
Incfile guarantees that your documents will be filed with the relevant State agency within one business day, no matter which pays package you choose. Once filed, the processing speed depends on the State. Alternatively, you can check how long it will take your State to process on the Incfile website. In addition, you can check how much you need to pay if you want expedited service in your State and how long it will take before approval.
Affordable Pricing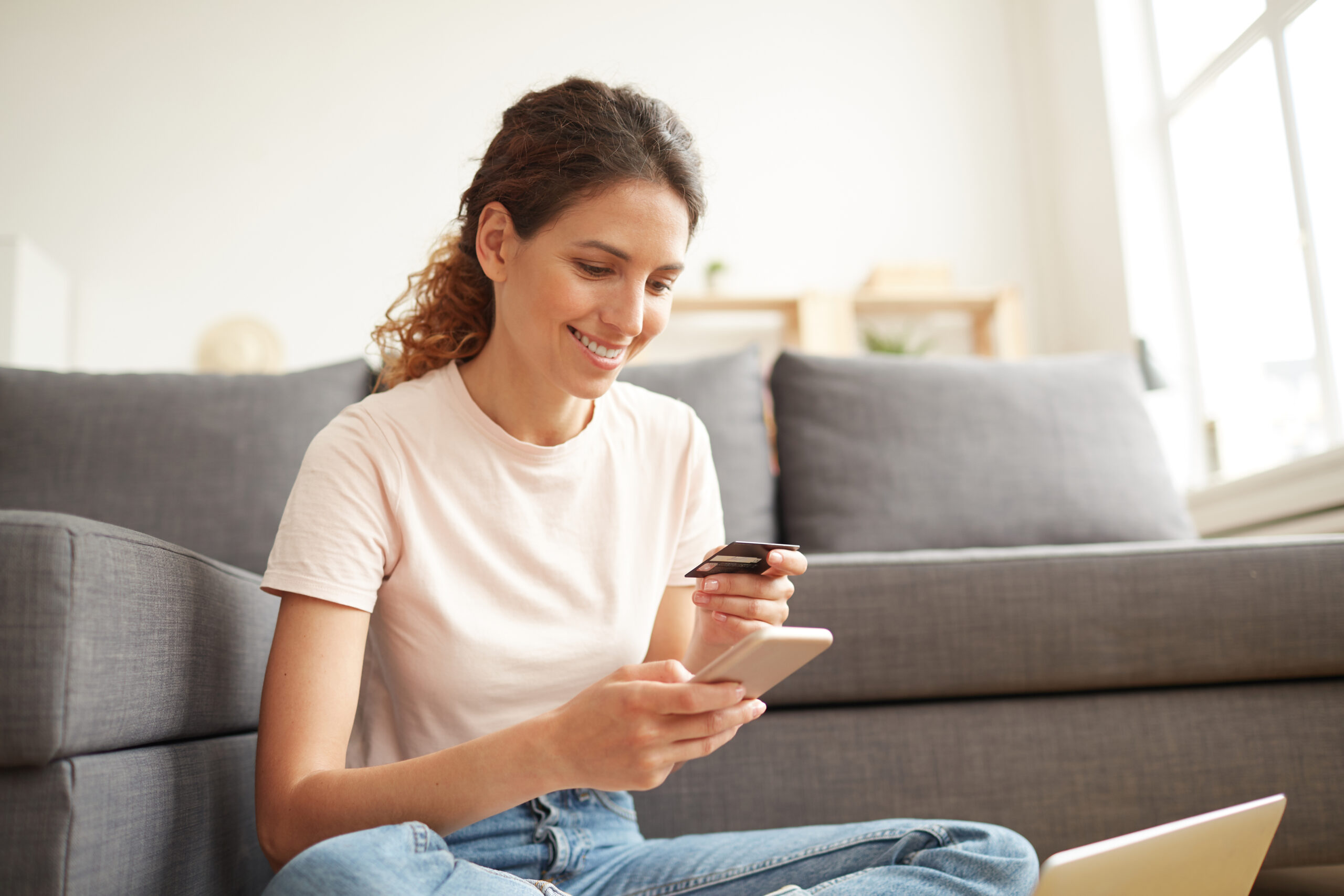 Incfile does not charge you any filing fees when you are forming your LLC. You only need to pay the State fees and are good to go. This is in sharp contrast to BetterLegal, which charges a $299 filing fee on top of the State fee.
You can also choose between any of the three payment plans offered by Incfile – Platinum, Gold, and Silver. Incfile also provides additional business formation services such as DBA/Fictitious Business Name, Business research services, and Certificate of Authority as part of the pay packages. These payment plans are pretty affordable when compared to what their competitors charge for the same services.
Foreign Qualification
If you want to expand your business operations to other States, Incfile can help you obtain a Certificate of Authority. To obtain this foreign qualification, Incfile enables you to get a Certificate of Good Standing from your State of origin, pay relevant State fees, and file the required documents.
A Certificate of Good standing shows that you are compliant in paying your taxes, loans, and renewing business licenses. To obtain a Certificate of Authority, Incfile will charge you $149 plus State fees.
BetterLegal vs Incfile: A Comparison of the Price Packages
To determine which online legal service provider you will use for your business filing, you need to make sure they fit your needs, financially and otherwise. Here are the price comparisons of BetterLegal vs Incfile to help you make an informed decision about which company suits your financial needs best.
BetterLegal Pricing Plans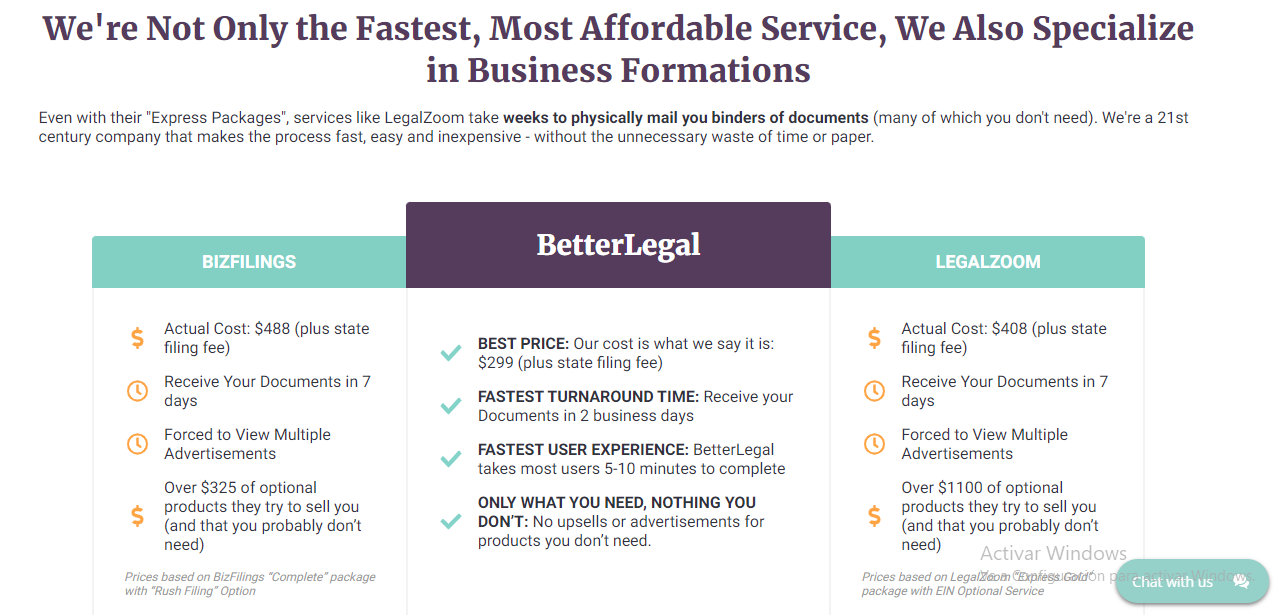 Formation of an LLC
If you need LLC formation services, BetterLegal will charge you $299 plus relevant State fees. BetterLegal offers several services in this plan, including filing documents, EIN registration, banking resolution, and drafting an operating agreement.
The plan is quite comprehensive, and it also includes a free website, tax analysis, insurance valuation, and a business checking account which BetterLegal's partners offer. In addition, they can recommend where to get payroll, benefits, and HR services for your business.
Formation of a Corporation
In this plan, when you pay $299 plus State fees, you will get all the services offered in the LLC formation plan and get assistance in drafting your company's bylaws. The turnaround time depends on the state you are filing in, meaning that you can start your operations as soon as your application is approved.
BetterLegal's Additional Services
Registered Agent Services: Although BetterLegal does not offer these services themselves, they can connect you with a registered agent at the cost of $90 per year or $10 per month.
Permit and License Search: Through this service, you do not have to go through the hassles of trying to find a suitable business license for you. For $125, BetterLegal will assist you with searching your license and permits and send the forms to you with instructions on how to fill them.
State Compliance Services: Ensuring that you comply with all the State requirements can be a tedious process. BetterLegal will assist you in filing your paperwork, such as the annual report for $90 annually or $10 per month.
Filing services: Charged from $25 plus State fees
Amendment and research of documents: The service is offered free to all formation customers
Incfile's Pricing Plans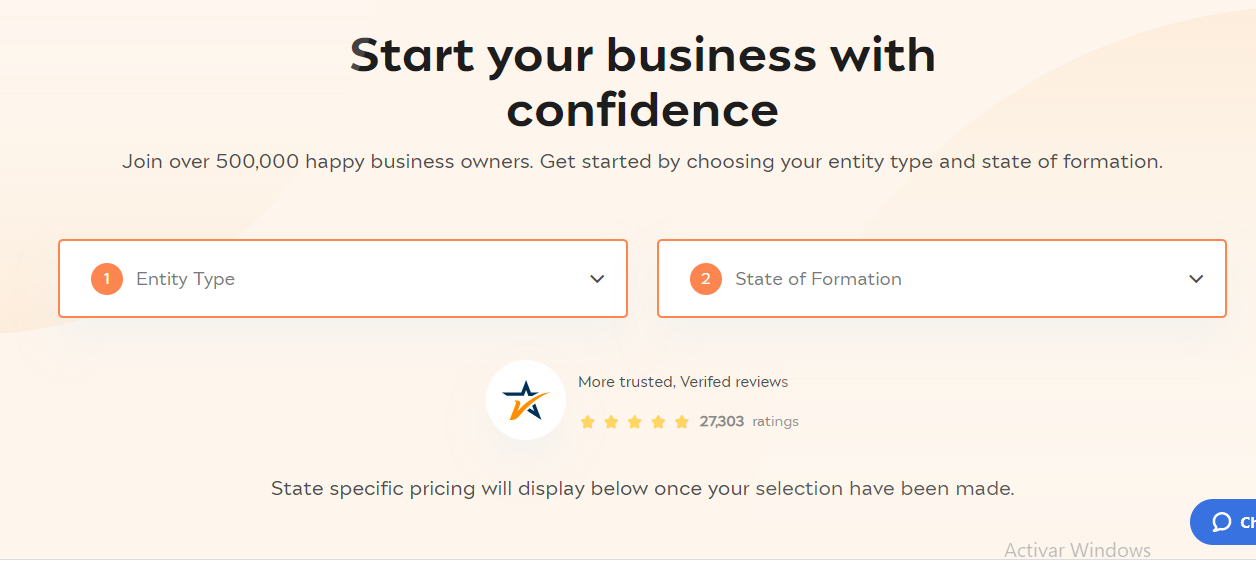 Incfile offers a choice of three payment plans, with the final charges for each package depending on your State fees. Here is how the pricing packages compare.
Silver Plan: ($0 Plus Applicable State Fees)
This plan is Incfile's most affordable package. They offer standard services such as business tax consultation, filing your Articles of Organization, name availability searches, and accessing your online documents. In addition, you get to enjoy the services of Incfile's registered agent for free for one year.
Gold Plan: ($149 Plus Applicable State Fees)
The Gold plan is Incfile's most popular plan and is perfect for new business owners. Under this plan, you get all the services offered in the Silver package and a host of other services, which include;
Drafting of an operating agreement

Filing of your

Employer Identification Number

(EIN)

Drafting your banking resolutions

Business tax consultation

Setting up a business banking account

Filing of IRS form 2553 (for those forming an S-corporation)

Offering unlimited support through email or the phone

Access to an online dashboard

Receiving lifetime company alerts – such as your license renewal dates and filing dates
Platinum Plan: ($299 Plus Applicable State Fees)
Although this plan is costly compared to Gold and Silver plans, it presents the best value regarding its services. In this plan, you will get all services provided under the Gold package plus a few extras such as;
A free domain name and email services

Free business contract templates

Express shipping

Expedited filing
Incfile's Additional Services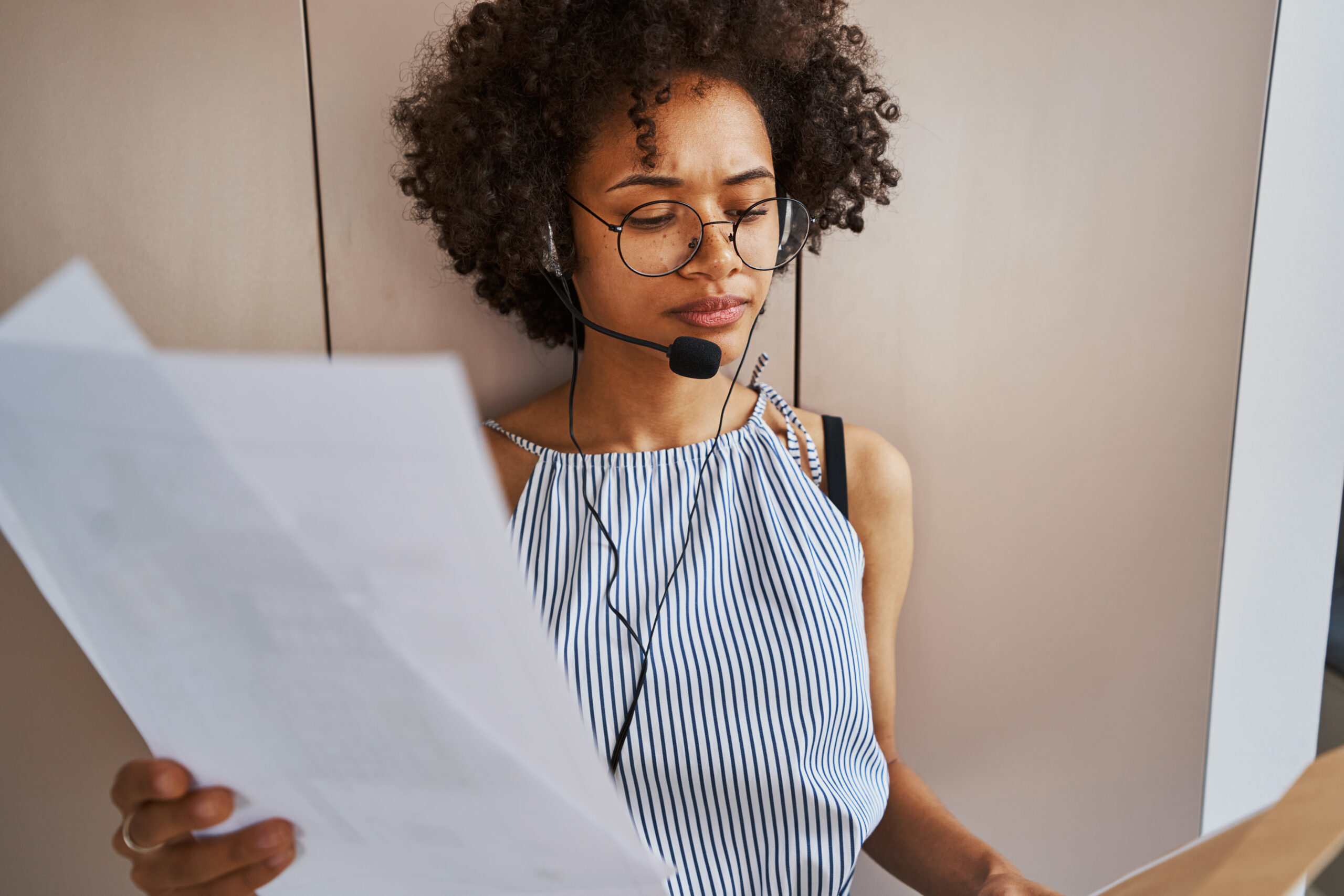 Besides the LLC formation plans discussed above, Incfile offers you formation services for nonprofit organizations, C corporations, and S corporations. Below are some of the additional services and their charges.
Registered agent services: $119 per annum (No charges for the first year)
Registration of EIN: $70
Change of registered agent: $49 plus State fees
Amendments in your LLC: $99 plus State fees
Dissolution: $149 plus State fees
Doing Business As (DBA)/Fictitious Business Name: Charges depend on the State
Filing annual report: $99 plus State fees
Foreign qualification: $149 plus State fees
Certificate of Good Standing: $49 plus State fees
Business license research: $99
Trademark name searching: $199 plus $275 federal fees
Corporate/Limited Liability Company kit: $99 per kit
Filing your business taxes: $599
Better Legal vs. Incfile: Pros and Cons
BetterLegal Pros
Affordable registered agent services

Fast turnaround time

Excellent user experience on the website

Enjoys a lot of positive reviews from previous users

Offers one-shot pricing for the formation of LLC or Corporation

Have a straightforward website – No upselling of services on their site

They have an online resource center that provides you with helpful information about your business

Customers enjoy convenience through BetterLegal's partnership with other service providers

Offers free business name search
BetterLegal's Cons
Their website lacks an "about us" page and contact information

There is no refund policy

BetterLegal's name may mislead clients because they don't offer legal services

Tends to charge higher fees compared to Incfile
Incfile's Pros
You can use Incfile to incorporate several business entities such as LLCs, Corporations, and nonprofits

Provides excellent customer support through their online dashboard

Offers free registered agent services for one year

You can choose between their three price plans according to your needs and budget

They provide lifetime support to their customers

Online documents are easily accessible
Incfile's Cons
There are few customer support platforms

Some charges for a number of their additional services are pretty high

Do not have clear refund and cancellation policies

Mixed customer reviews compared to BetterLegal, which enjoys excellent reviews

Provide free services for one year only.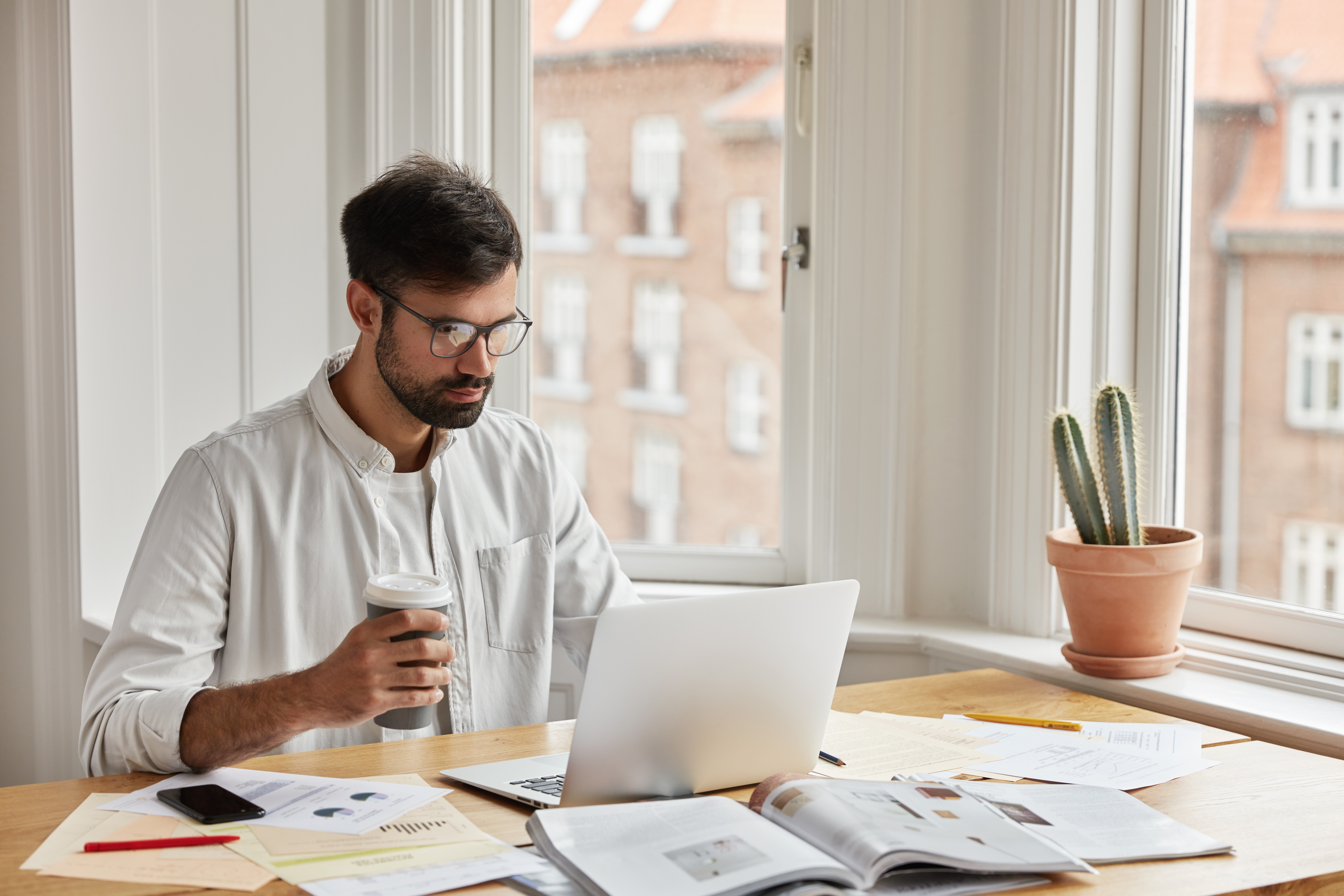 FAQs
Question: How much does BetterLegal charge for LLC formation services?
Answer: LLC formation through BetterLegal costs a fixed $299, plus the state filing fees. You will get Articles of Organization and an Operating Agreement in the package, but the company does not provide registered agent services.
Question: What are the advantages of using Incfile?
Answer: Incfile's main strengths are competitive pricing and ease of use. Incfile's services and website are very intuitive, making it easy to find the information you need. Its business formation, registered agent, and other related services are relatively cost-effective for individuals or small businesses.
Question: Which services does BetterLegal offer?
Answer: BetterLegal offers a variety of corporate, formation, and compliance services. In addition to LLC formations and incorporations, the company also provides registered agent service, business license searches, and amendment filing services.
Question: What is Incfile's refund policy?
Answer: If you need to make a cancellation, you will be required to email Incfile as they do not accept cancellation instructions via the phone. However, you must cancel your order before payment is sent to the State to receive a refund. In this case, you will pay a $30 cancellation fee plus any other expenses Incfile may have incurred while processing your order. Incfile will not process your cancellation order if your payment is already with the State.
Question: Does BetterLegal offer legal advice?
Answer: BetterLegal facilitates your business needs with a particular focus on helping you form a company, but they do not offer legal advice, options, recommendations, and opinions about your business.
BetterLegal vs Incfile Conclusion
When you need to hire an online legal document provider, BetterLegal vs Incfile are the two most popular choices. But which one is the better option?
BetterLegal LLC's formation service is renowned for its friendly prices and fast turnaround – making it ideal for someone who wants to start their business immediately. Customers rate it highly for its superior services and customer satisfaction.
On the other hand, Incfile offers one of the most affordable online legal documents services. Their prices are hard to beat, and they offer their clients a full year of free registered agent service with any of their three package plans.
After comparing the services offered, turnaround time, and overall customer satisfaction and rating, BetterLegal is my choice for business formation services.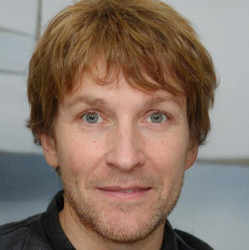 Latest posts by John Hughes
(see all)
Get 40% OFF for 3 Months