Last Updated on April 22, 2023 by Ewen Finser
Semrush is one of the most well-known SEO and digital marketing platforms in the world. Currently, 7 million people have already tried Semrush.
If you're running your own SEO campaign, you understand it's difficult to measure everything that goes into reaching the top spot on Google.
That's why Semrush consists of multiple SEO tools that can help businesses achieve better search engine rankings.
These tools can assist with keyword research, measure your domain ranking, analyze your backlinks, track your search engine rankings, and more.
But is Semrush worth it? Are their tools some of the most advanced in the industry? Who should use Semrush?
In this review, we will answer these questions and more. Continue reading our unbiased review of Semrush to learn more.
Semrush Pros
Touches on a myriad of SEO factors with their extensive tools (all-in-one suite)
Offers comprehensive search engine data and results
Includes tools to make competitor research easy
In-depth traffic analytics tools (competitor advertiser research)
Semrush Cons
Some tools aren't rated as highly, such as their social media tools
Plans only allow one user
Some users may find the interface and tools confusing to use
Not as robust for local SEO
Semrush was founded in 2008 by Oleg Shchegolev and Dmitry Melnikov. Their main office is located in Boston, MA, though they have seven office locations across five countries.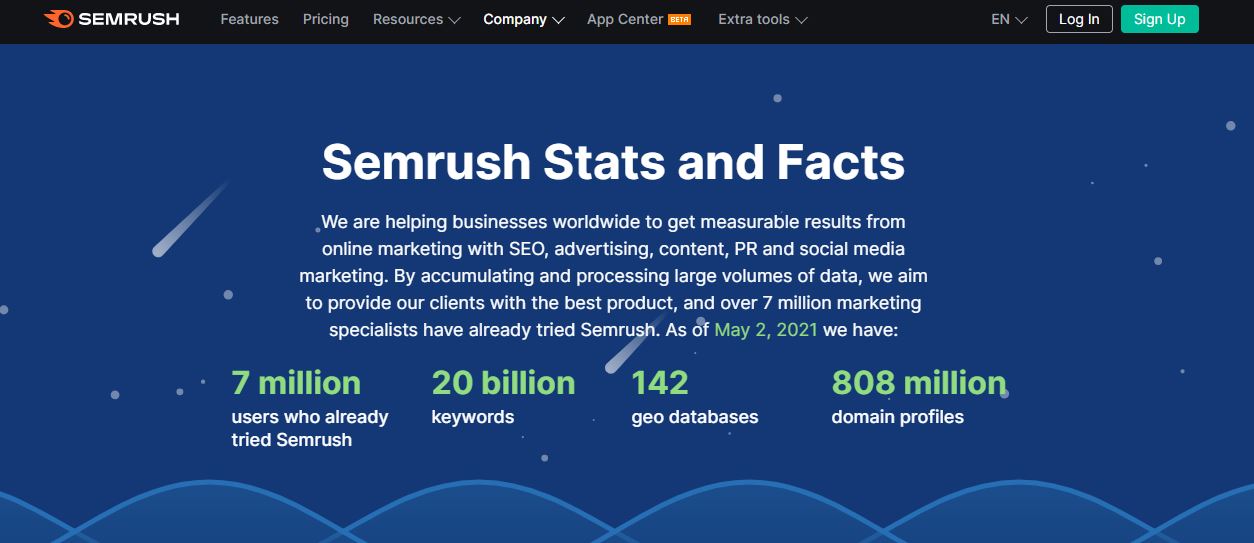 Semrush offers a myriad of tools that offer insight into your SEO performance and campaign.
Businesses can use this information to identify new opportunities for organic and paid search (Google ad campaign, etc…), create better content, and know the technical aspects of their website that are causing bad search engine performance.
Semrush is popular for many reasons. They offer a variety of Semrush features and tools to aid your SEO campaign. However, they have many pros and cons that businesses should consider before signing up for their services.
Semrush Tools and Modules
As we've been stating in this review, Semrush is best known for its powerful SEO tools. They offer limitless tools, so we'll just break down the most used tools.
Keyword Research
Keyword research is a category of keyword tools. These keyword research tools include:
Keyword Overview
Keyword Magic Tool
Organic Traffic Insights
Keyword Manager
These tools offer a variety of benefits. You'll not only know what search performance is like for a keyword but how difficult it is to rank for them as well as which websites are ranking for them.
These keyword research tools can also offer suggestions for similar or related keyword targets. You can also use these suggested keywords as secondary keywords.

Let's start with the Keyword Overview tool.
Simply enter a keyword.
You'll be able to see the number of searches per month, the websites that rank for it, and the keyword difficulty score. You can also see these rankings for different countries.
However, if you're new to keyword research, these metrics may confuse you.
Monthly search volume is pretty standard — the higher the number, the more traffic a specific keyword receives. If a keyword receives more than 100 searches per month, it's considered a good keyword to use.
Keyword difficulty is expressed by a percentage. This percentage ranges from 0-100%. Semrush breaks down these percentages into three categories:
Below 60%: low difficulty
60%-80%: medium difficulty
Over 80%: high difficulty
You'll also see other metrics, such as cost-per-click (CPC). This is helpful if you're running a PPC keyword campaign beyond just organic keyword research.
The Keyword Magic tool is also a great in that it offers keyword suggestions, cutting out a lot of the legwork to keyword research.
Organic keyword insights is a great way to understand and optimize EXISTING keyword ranking positions.
By hooking up your dashboard to Google Analytics, you can get a highly accurate report of where you are, what's changing, and where you can go.
While other tools offering Google Analytics integration, Semrush leads the pack with useful insights generated from the highly accurate Google Analytics data pipe.
The main downside to Semrush's Keyword Magic tool is it only uses results for Google, not other search engines. Let's say you want to host a Bing SEO campaign or analysis the keyword gap on DuckDuckGo. You'll have to use a competitor analysis tool, such as Microsoft webmaster tools. Ahrefs and Moz also provide data for Bing and even YouTube.
Domain Analysis
Domain analysis tools judge your SEO results based on your website. This is a great way to start your campaign; measure your current results and set future growth goals.
The domain analysis tool also has another purpose. You can put your competitor's URLs in this tool to see how well they're performing. It's an easy way to get in some great competitive research.
If you host backlinking campaigns, you can use the domain analysis tool to measure the SEO results of different blogs. This will help ensure you only choose high-quality backlinks.

To use the domain analysis tool, simply paste the URL you're searching and you'll see a myriad of metrics. These metrics include:
Monthly visitors
Authority score
Keywords the website ranks for
Top-performing keywords
Number of backlinks pointing to the website
Anchor text(s) commonly used
Competing websites
Display advertising statistics (paid search, Google Adwords data)
All of these metrics are easy to understand, though those new to SEO typically have difficulty with the authority score. Authority score measures a website's organic search data, backlink data, and website traffic data to deliver a traffic analytics score. The higher the score, the better the website is performing.
The only downside with this tool is these metrics aren't always 100%. But they do offer a convenient way for businesses to track these essential metrics to use toward your campaign.
Rank Tracking
Over time, you'll want to measure your SEO results. Semrush offers a simple solution to tracking the website traffic you receive from your keywords (traffic analytics). The Rank Tracking tool provides this assistance.
Simply start by going to the Position Tracker section. Enter your domain name and the keywords you're tracking. You'll receive a report showing you how your website is ranking for the keywords.
It's recommended you do this regularly to ensure your SEO efforts are giving you success. Semrush can send you emails that inform you of your rank tracking process.
Many websites also use the Rank Tracking tool for competitor research. This way, you'll know if your competitors are ranking better or worse for the same keywords (e.g. competitor analysis).
Content Marketing Tools
The content marketing toolkit is almost essential for bloggers. There are various tools here that aim to accomplish certain goals, such as:
SEO Audit your existing content to rank better in search engine results
Find topic ideas
Monitor brand mentions
Identify keywords your competitors are using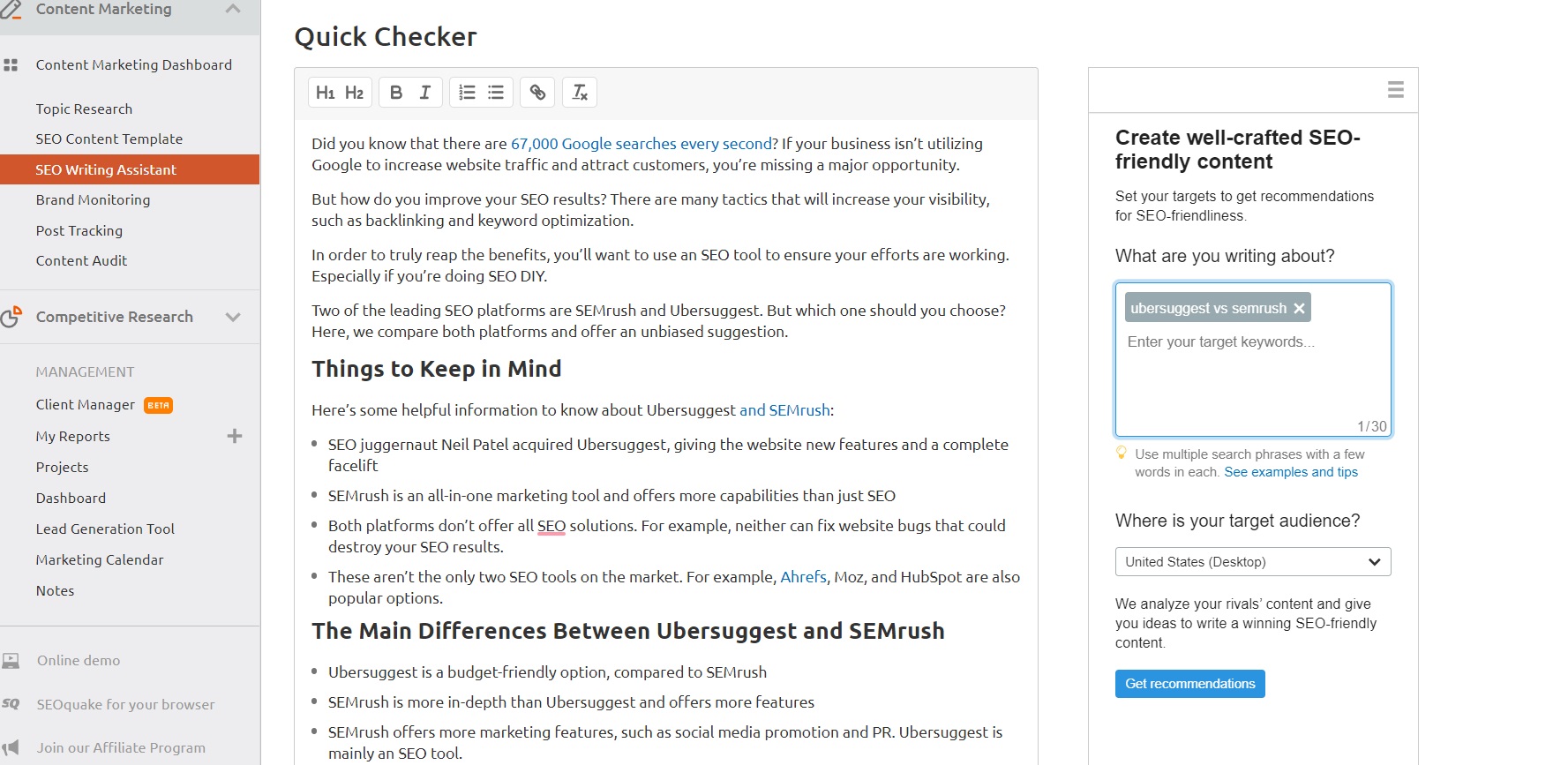 The tools in the toolkit include:
SEO Writing Assistant
SEO Content Template
Topic Research
Brand Monitoring
Marketing Calendar
Content Analyzer
One of the biggest benefits of these tools is how they offer suggestions. For example, they auto-recommend keywords to add, offer insights about factors such as word count, and even warn you if your content is too similar to other websites.
The only downside is you have to write in or paste your whole text into these tools. But as long as you don't mind this, bloggers will get a huge benefit from these tools.
Backlink Analysis and Audits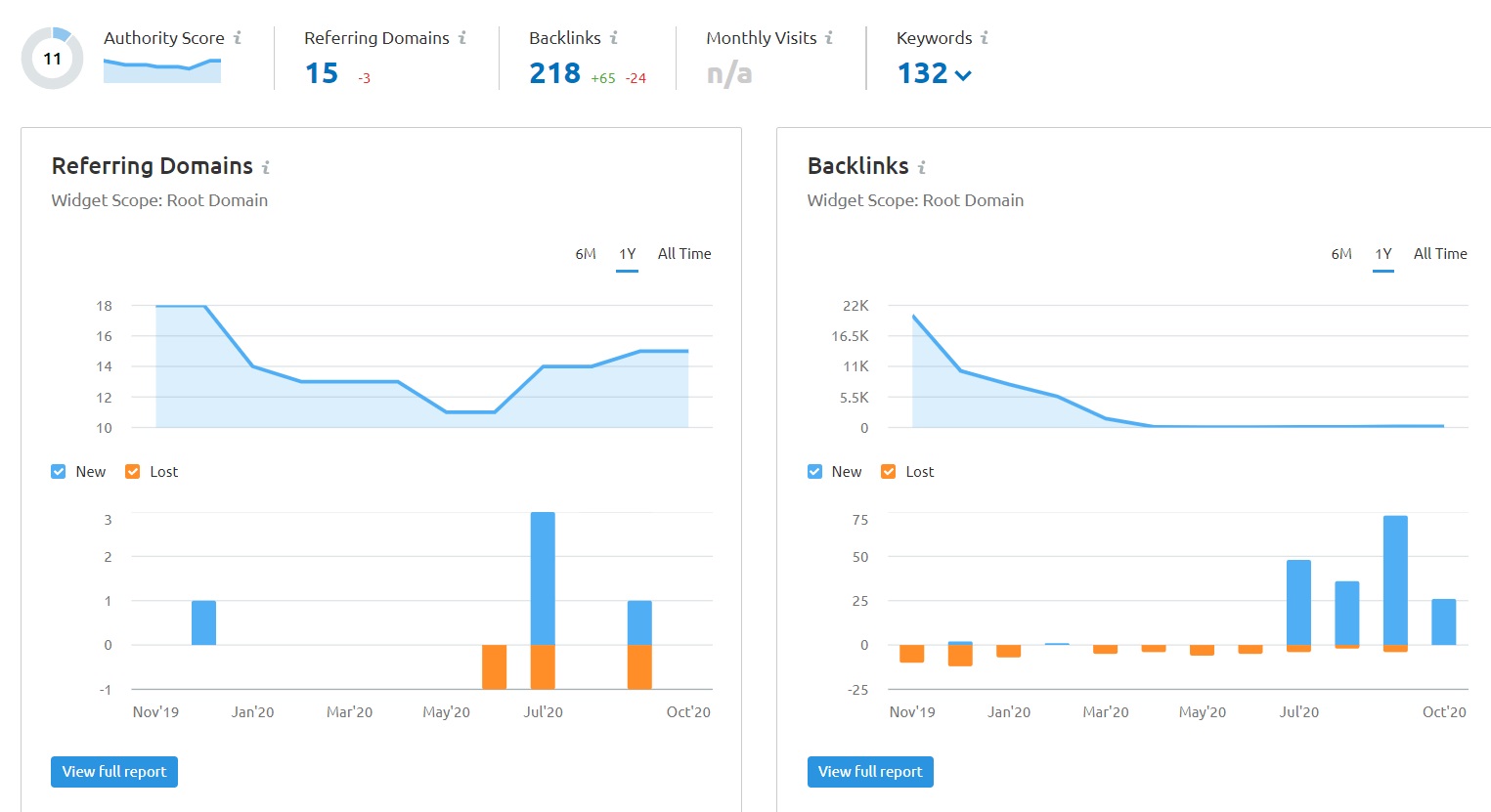 Backlinks are a huge influence on your SEO results. This is why Semrush offers powerful backlink tools, specifically the analysis and audit ones.
For the Backlink Analysis, all you have to do is enter your URL and the tool will auto-recommend different links for your link building. Semrush has one of the biggest link databases of any SEO tool, so you'll be satisfied if you're focused on backlinking. You'll be able to view individual websites that show the quality of their links, whether or not they gain or lose links, and more.
You'll also want to regularly conduct backlink audits. These show if any backlinks pointing to your website are toxic. If any spammy websites are linking to your site, you can report them to Google directly through Semrush.
You do this by uploading them as "disavow" files, which tells Google to ignore the backlinks. Google has specific requirements for uploading disavow files, so make sure you read them first.
Semrush Site Audit
A site audit identifies any issues with your website that could cause poor search engine results. These factors include:
Duplicate content
Slow-loading website
Crawl errors
SSL problems
Keyword overuse
Missing headers
Broken links
When you conduct a site audit, Semrush will give you a list of things to correct. This way, you don't need to seek third-party assistance when you want to conduct a site audit.
Similarly, Semrush offers an On-Page SEO Checker. This crawls your pages and suggests any changes that can improve your SEO results. This may include:
Making your page appear as a "Google Snippet"
Keywords to add
Websites to approach for backlinks
Improving your body copy and meta descriptions
Internal linking strategies
Content length
One benefit that makes Semrush stand out is they offer you education. If the Site Audit or On-Page SEO Checker tools identify an issue, they will explain why making those changes will improve your SEO results.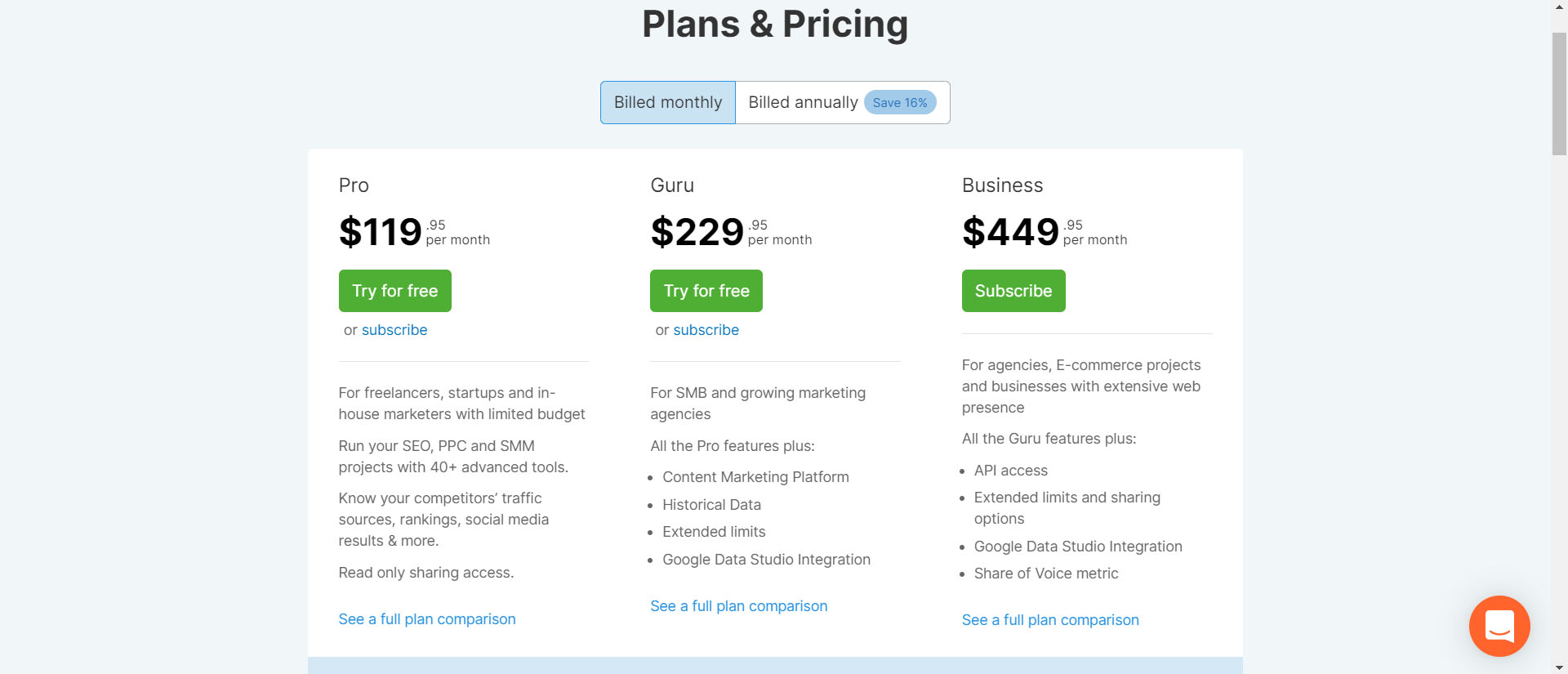 All of these tools sound amazing. However, Semrush also sounds expensive. How much should businesses expect to pay for Semrush?
Semrush offers three plans:
Semrush Pro: $119.95/month ($99.95/month when billed annually)
Semrush Guru: $229.95/month ($191.62/month when billed annually)
Semrush Business: $449.95/month ($374.95/month when billed annually)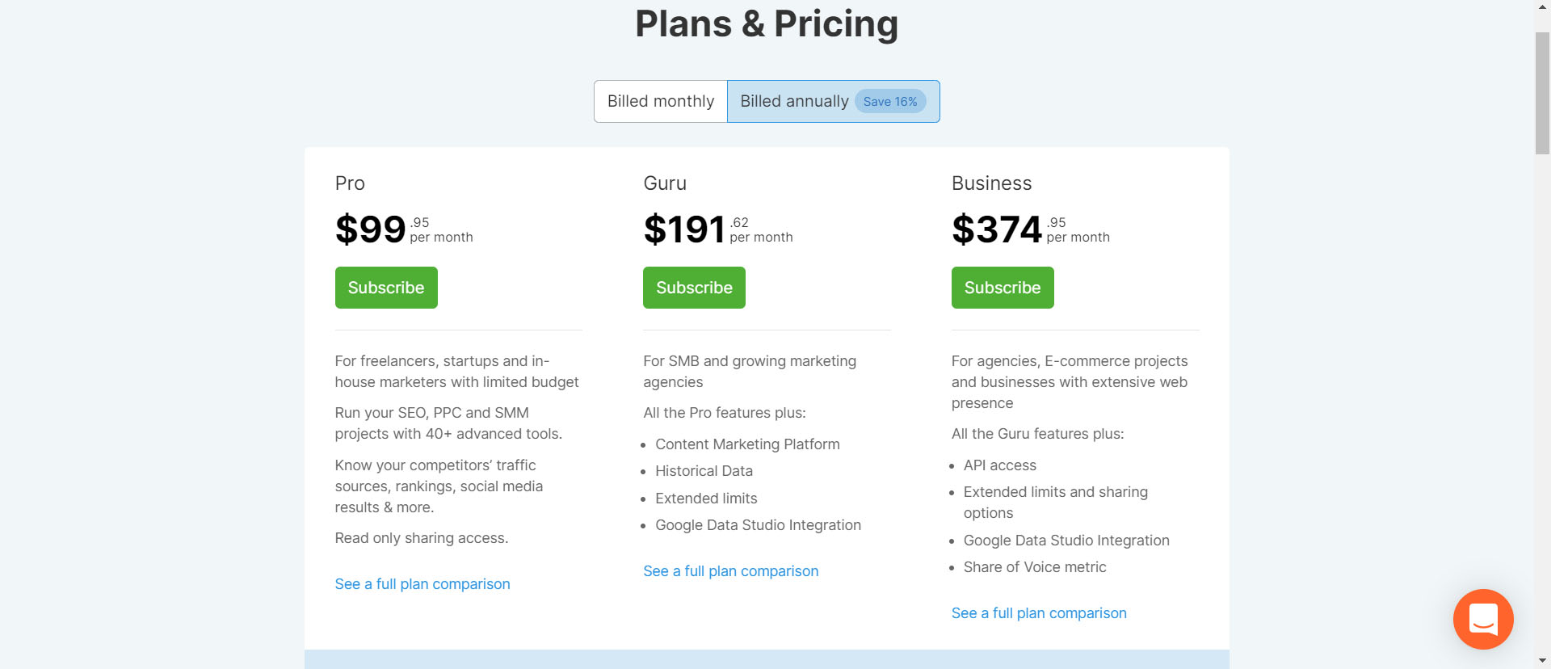 In addition, Semrush offers custom plans. This is ideal for large corporations if the offerings from these plans aren't enough.
All of these plans differ in various ways, such as:
Number of keywords you can track per month
Number of reports you can run per day
Historical data
Content marketing tools
It's also important to note that the prices are only for one user. If you have a large digital marketing or SEO team, you'll likely need more users to access the program. That's why many businesses choose the custom plan. Some tools are also only available as an add-on.
The currency is in US dollars. Semrush also offers a 7-day free trial. The main downside is you have to enter your credit card details to access the free trial. Make sure you cancel if you don't like Semrush before the trial ends.
User-Friendliness
Semrush has a very user-friendly interface. Even though users may experience information overload, their design is straightforward and intuitive enough to defeat any learning curve.
It has a similar interface to competitors. The menu is on the left and the functionality is on the right. When you click different menu items, such as Content Marketing Toolkit, the individual tools will appear under the tool category on the menu.
The one issue that new users experience is data overload. And it's understandable — Semrush offers a lot of functionality and that can overwhelm users easily. Fortunately, Semrush does offer visuals to identify and group data in an easy manner.
Semrush also offers a mobile app for businesses on the go. This way, you can keep up with your campaign if you're not near your desktop.
Customer Service
What if you need to contact customer service for any reason? They have three customer support channels: email, phone, and chat. This is more than what a lot of competitors offer. They also make their customer support visible on their website and don't force you to go through obstacles to reach a representative.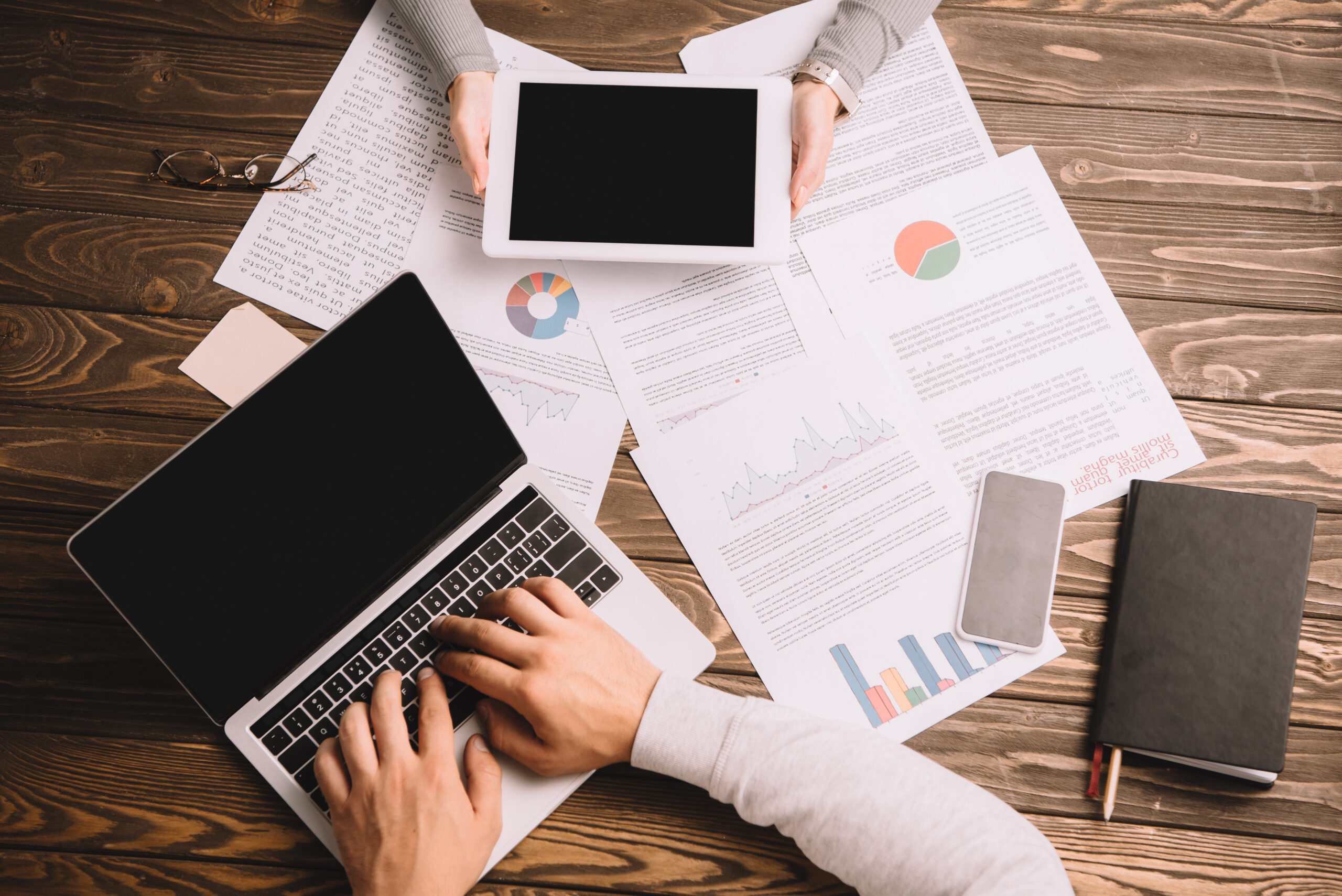 Alternatives & Competitors to Semrush
Want to consider other companies and SEO tool options for your SEO efforts? Semrush has many high-quality competitors, including:
Definitely look into these companies and see if they can offer something else for your SEO campaign.
FAQs about our SEMrush Review
Semrush Review: The Final Verdict
If you're looking at SEO software for your business, you likely stumbled upon Semrush. But is Semrush worth it? This software offers many benefits, such as extensive tools, versatility, comprehensive data, and they offer an easy way to research competitors and audit your website.
However, Semrush isn't perfect. First, they're expensive and their plans only allow one user (unless you sign up for a custom plan). Not all of their tools are good quality or necessary. Semrush is also not a good solution if you're new to SEO. Lastly, there are reports that Semrush isn't as reliable as we assume.
We recommend you use Semrush if you need a solution that touches on all aspects of your marketing campaign. Semrush is also popular for marketers who want to focus on keyword research and backlink analysis. Otherwise, we recommend finding an alternative.
Still not sure how to find the best SEO tools? Here are some other SEO tool comparisons and guides to aid in your search: