Last Updated on January 11, 2023 by Ewen Finser
Just like ConvertKit is an email marketing tool loved by bloggers because it was specifically built for bloggers, Sendlane hopes to achieve the same thing for digital marketers.
If you've found that other email marketing automation platforms have unnecessary features, dated user interfaces, or lack marketing automation functionality, Sendlane may be the best choice for you.
Bottom Line Up Front (TL;DR): It's not the cheapest, and it's a decent amount of work to get started on Sendlane. To me, it's still a work in progess. For something similar – but with a proven track record – stick with something like ActiveCampaign here instead.

I've put together this in-depth review to help you decide if Sendlane is or isn't right for you before you commit a ton of time testing it out for yourself.
It covers, among other things:
The main features of Sendlane.
How to use the core functionality of the platform.
How it's price compares to competitors.
A look at the quality of support.
At the end, I've wrapped everything up with a pros and cons list, and a few other email marketing tools to consider if Sendlane doesn't seem like the right fit for you.

Skip Sendlane, Go With Sendinblue
Initially I was intrigued by Sendlane. After some digging, they just aren't quite ready for prime time. You can get more features, more integrations, and a cheaper prices with Sendinblue instead. Just a better VALUE overall.
Check Sendinblue Prices
We earn a commission if you click this link and make a purchase at no additional cost to you.
Where Did Sendlane Come From?
Sendlane is a baby compared to established email marketing companies like Aweber and GetResponse.
Sendlane was founded in 2013 by 3 co-founders: Jimmy Kim, Zakariah Meftah, and Anik Singal. They were all digital marketers who weren't quite satisfied by what existing email marketing software tools had to offer for marketers.
In 2015, they got their first customer, and from there Sendlane has rapidly grown to over 40,000 users as of 2017.
In my personal experience, I haven't seen any significantly negative comments about Sendlane in marketing communities. They seem to have a solid reputation online.
Sendlane Pricing and Plans
There are a few things about Sendlane's plans that stick out right away:
There's no free plan –

But there is a 14 day free trial

. You will need a credit card to sign up.
All plans have the same Sendlane features – You only pay more if you need a greater number of contacts.
Only unique contacts count – Putting the same contact on multiple lists still only counts as 1 contact towards your limit.
Here's a summary table of how much Sendlane charges based on a maximum number of contacts. Not surprisingly, the Sendlane price per contact goes down as you go up through the plans.
| | | |
| --- | --- | --- |
| Number of Contacts | Price per month | Price per 100 contacts |
| 1,000 | $25 | $2.50 |
| 2,500 | $49 | $1.96 |
| 5,000 | $89 | $1.78 |
| 10,000 | $139 | $1.39 |
| 25,000 | $219 | $0.88 |
| 50,000 | $349 | $0.70 |
| 75,000 | $489 | $0.65 |
| 100,000 | $599 | $0.60 |
Since all the plans have the full feature set, it's easy to compare them like this.
I've also put together a comparison table that has the pricing of 2 close competitors, Aweber and GetResponse.
GetResponse is a bit tricky to compare, because the features they include on each plan differ. I chose the "Pro" plan because that's the most similar to Sendlane, although not the exact same.
| | | | |
| --- | --- | --- | --- |
| Number of Contacts | | | |
| 1,000 | $25 | N/A | N/A |
| 2,500 | $49 | $29 | N/A |
| 5,000 | $89 | $49 | $49 |
| 10,000 | $139 | $69 | $75 |
| 25,000 | $219 | $149 | $165 |
| 50,000 | $349 | N/A | $280 |
| 75,000 | $489 | N/A | N/A |
| 100,000 | $599 | N/A | $490 |
Two things should be noted from this.
First, Sendlane is the most expensive marketing automation option at all levels of all 3 competitors.
Second, each email marketing platform offers different features and functionality. Sendlane costs more, but maybe it's worth it.
That's what the rest of this review is all about.
Features of Sendlane
On top of email broadcasts or autoresponders, Sendlane has a few features designed to make your life easier. I'll go over them quickly in this section.
Drag and Drop Email Editor
Sendlane has one of the most polished drag and drop email editors that I've use.
It's smooth, and there's no weird layout issues or input lag.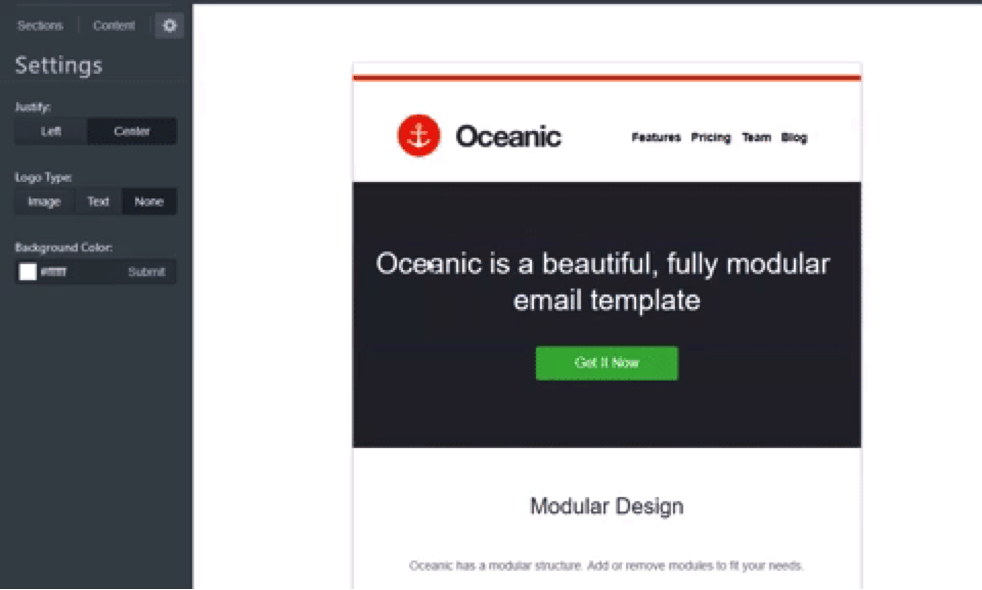 All the email elements in the Sendlane email marketing tool are available from the left side menu, and you have control over every aspect of the layout.
The big weakness is that there's only a few dozen email templates to choose from. The overall quality is good, but not any better than competitors.
Landing Page Creator
Some companies like GetResponse have a huge range of products they bundle together on top of their basic email marketing platform: Webinars, CRM, Landing pages, Forms, and more. It gets difficult to tell where the line is between an email marketing tool and a general marketing tool CRM.
Sendlane only really offers one additional tool, a landing page creator. It comes included in all plans.
For you this might be a good or bad thing. Some marketers need those extra automation tools, while others don't and find they add bloat to the core tool that they want.
There are over 50 landing page templates to choose from, with a decent variety of designs.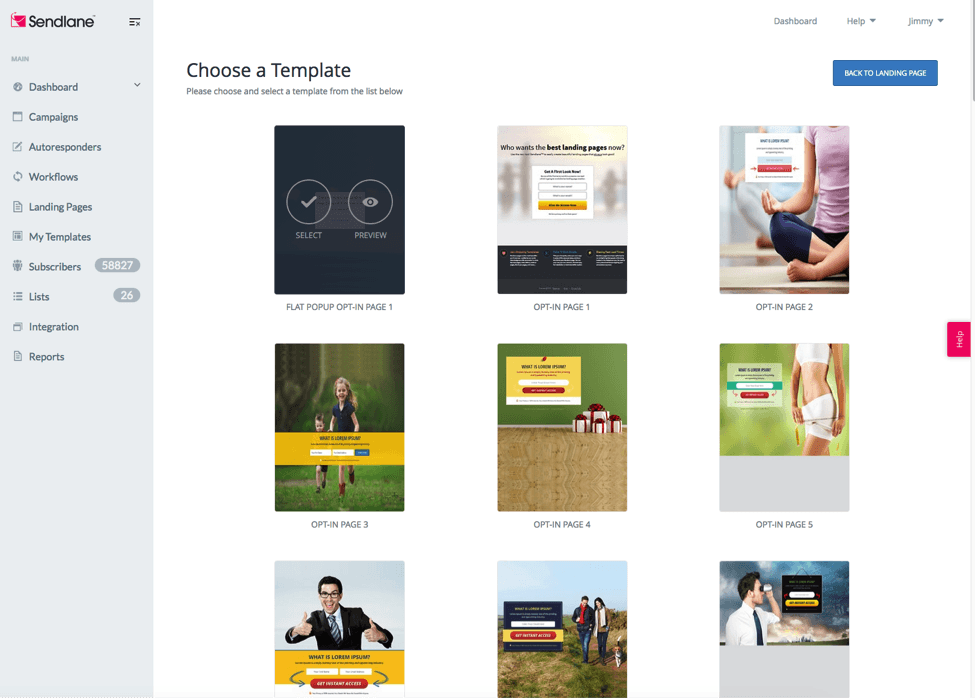 Once you're done, you can upload the code to your website or host it on Sendlane's domain.
There are a few interesting features included in certain landing page templates:
Countdown timers
Video
Pop-ups and retargeting
And your landing page has built-in analytics to measure performance.
Advanced Contact Tagging and Automation
This is the area that makes Sendlane stand out from competitors for me.
To start with, you can create workflows to modify your email marketing solution funnel and behavior based on your subscribers actions.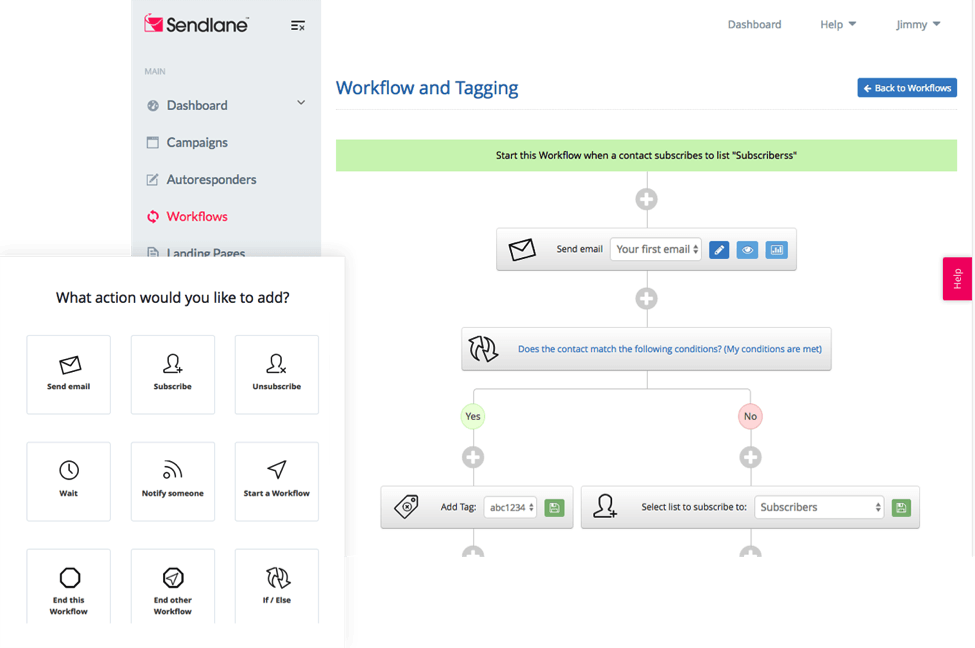 If a subscriber does or does not meet some condition that you specify (click a link, live in a certain area, etc.), you can automatically take an action like adding a tag, or adding them to a specific list.
Of course, you can also run manual queries on a list and create a segment that way if you don't have a workflow set-up already: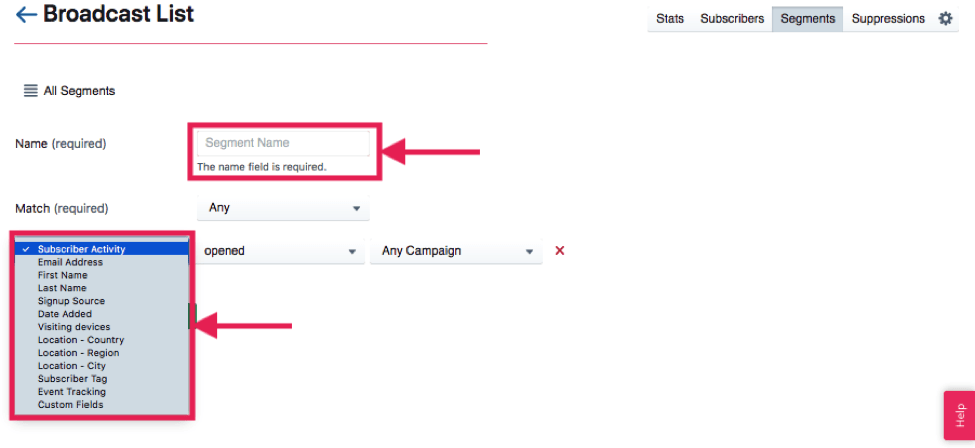 Compared to other tools that offer similar sorts of functionality, I found Sendlane to be as or more powerful, and very simple to use.
I'll dig into the specifics a bit later.
Standard Reporting and Analytics
Like any email marketing tool should have, there is a basic level of real-time analytics and and real-time reporting for your emails:
It covers all the basics in a nice marketing automation dashboard:
Open rates
Click rates
Bounces
Unsubscribes
Link clicks
Most active subscribers
Nothing really stands out either positively or negatively here, but there's a manageable level of real-time event tracking without being overwhelming.
Automatically Optimized Send Times
A final neat feature that Sendlane includes is the optimized timing features that you can enable or disable on each individual email.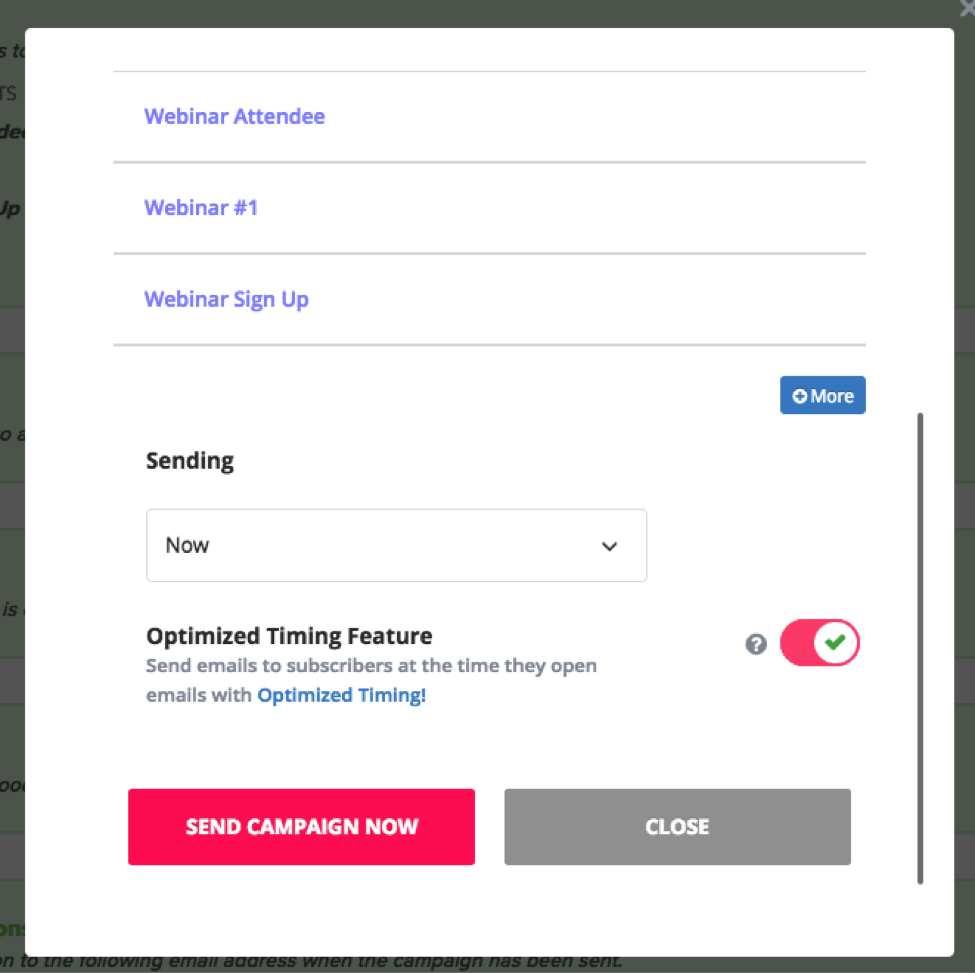 With it enabled, Sendlane automatically tracks the open habits of your subscribers and delivers emails at the best times to individual contacts. Obviously, this gets better over time as you collect more deep data.
That's it for features, now let's move onto the actual functionality and how Sendlane works.
Creating a List of Contacts
You'll find all your lists in the "lists" section of your account (shocking, I know).
The set-up is smooth for each list, with just a few form fields to fill out for each: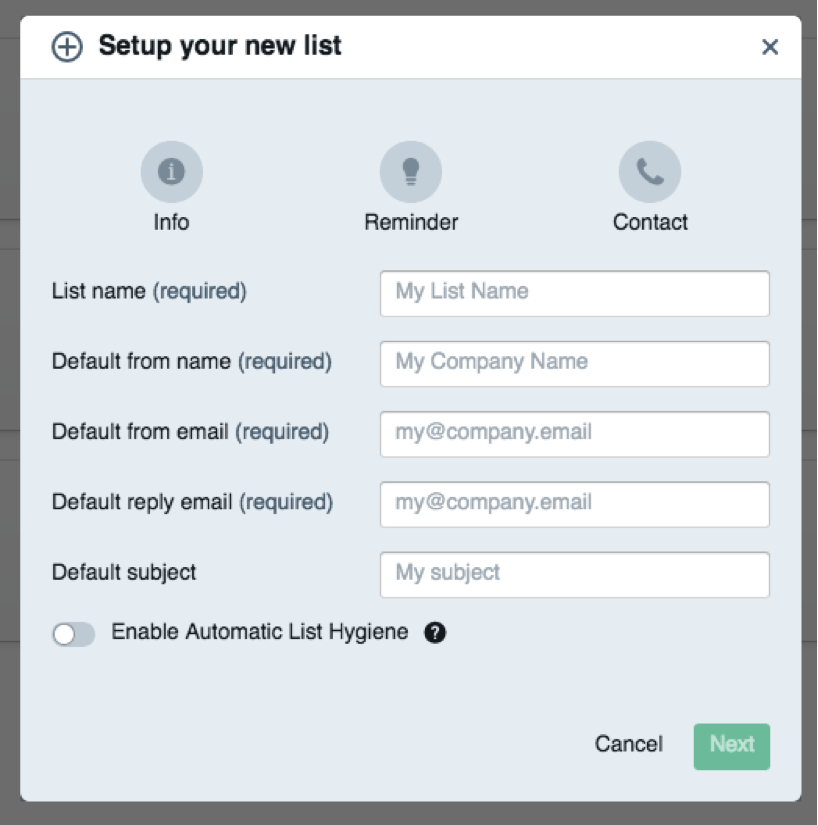 You can set-up as many lists as you'd like. Remember that adding an existing contact to a new list does not count towards your contact limit.
Once you have a list, you have a few options to add subscribers to it.
You can add them one-by-one as they sign up on your website through the API or a form you make with Sendlane.
You can add them manually one-by-one. Not very convenient, but there may be rare cases where you need to.
Finally, you can import subscribers from other email marketing platforms.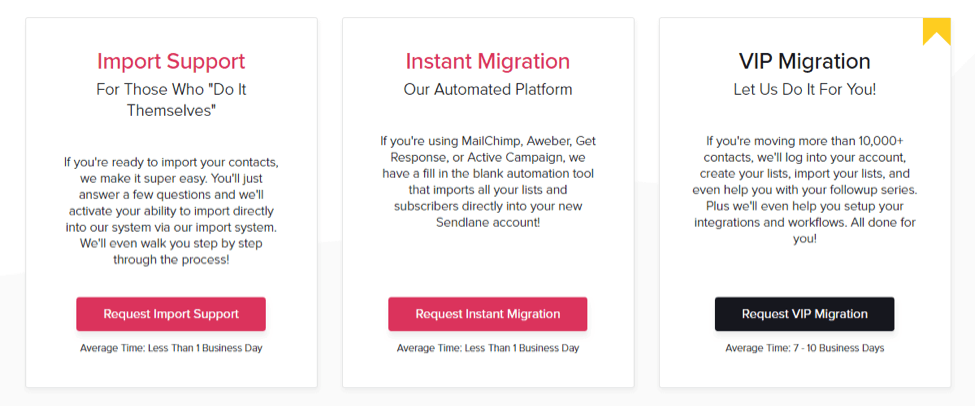 Honestly, this process is a huge pain.
If you do get approved, you'll be allowed you to upload spreadsheets or paste in contact information to bulk add subscribers.
The first 2 options are essentially the same, but the second is a bit simpler if you come from one of the other major email marketing tools (MailChimp, Aweber, GetResponse, Active Campaign).
For each, you'll need to fill out a form with several questions: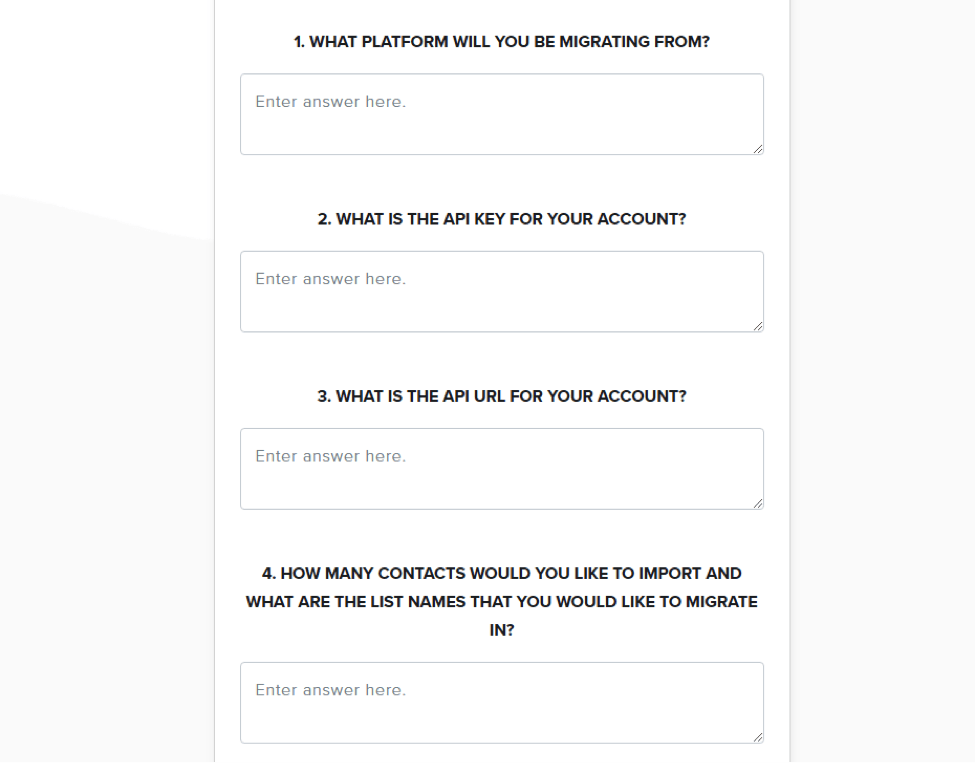 Then wait for up to a business day to actually get your information imported.
On top of that, there are additional conditions on this. Sendlane won't import all of your contacts, but only active contacts on lists that have open rates of greater than 10%.
I'm sure this weeds out spammers really well, and helps keeps their deliverability rates high, but just be aware the migrating over to Sendlane will take some time and hassle.
Email Broadcasts in Sendlane
All email marketing tools allow you to send a broadcast, and it's a good place to start when looking at a tool.
Sendlane's process is simple, and streamlined. You start by creating marketing campaigns and new email campaigns, and choosing which list(s) or tag(s) to send it to.
Then, you pick a template.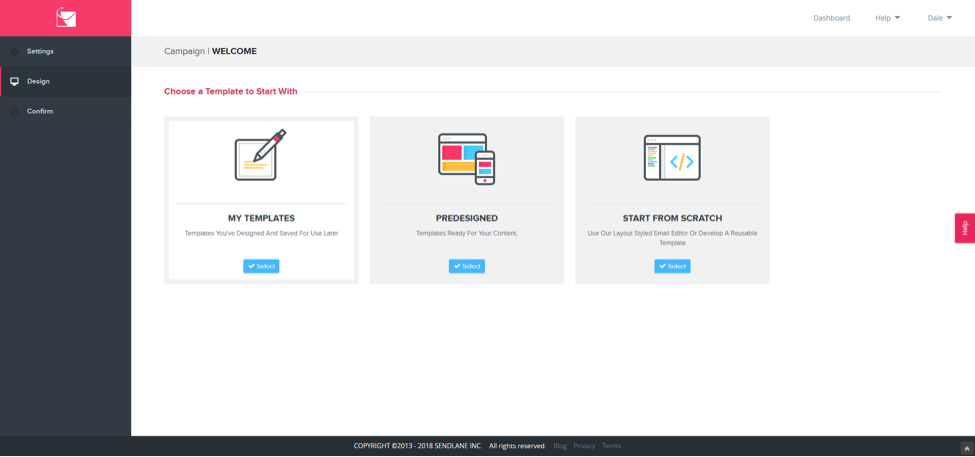 There are just over 20 marketing templates to choose from right now, with quite a bit of variety.

They're all responsive and have reasonably good designs.
That will take you to the email editor, which as I mentioned before, is very smooth and intuitive to use.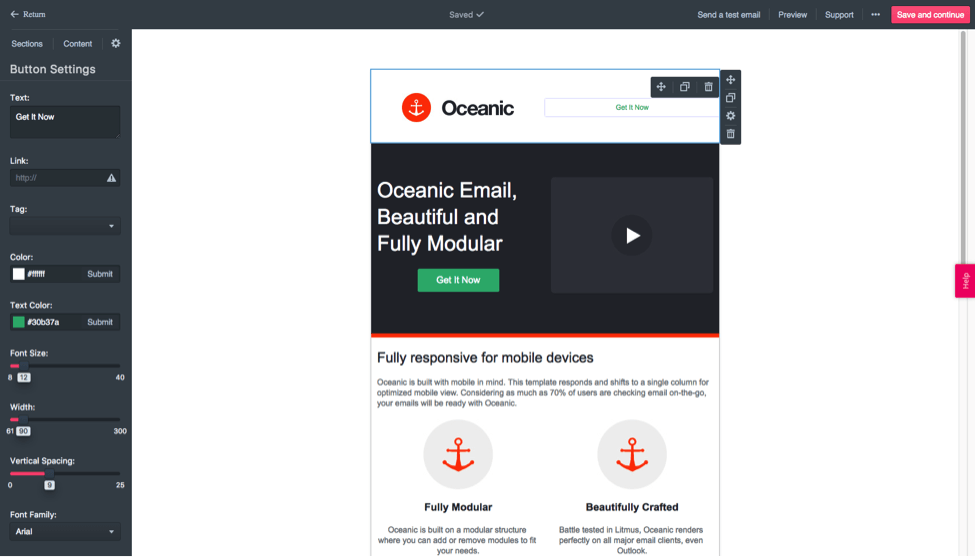 Clicking an element will let you change the text if applicable, and edit its appearance on the left menu panel. You can drag around or delete existing elements, and add them from the left side menu.
Once you've finalized everything, you'll get to choose when to send out the email: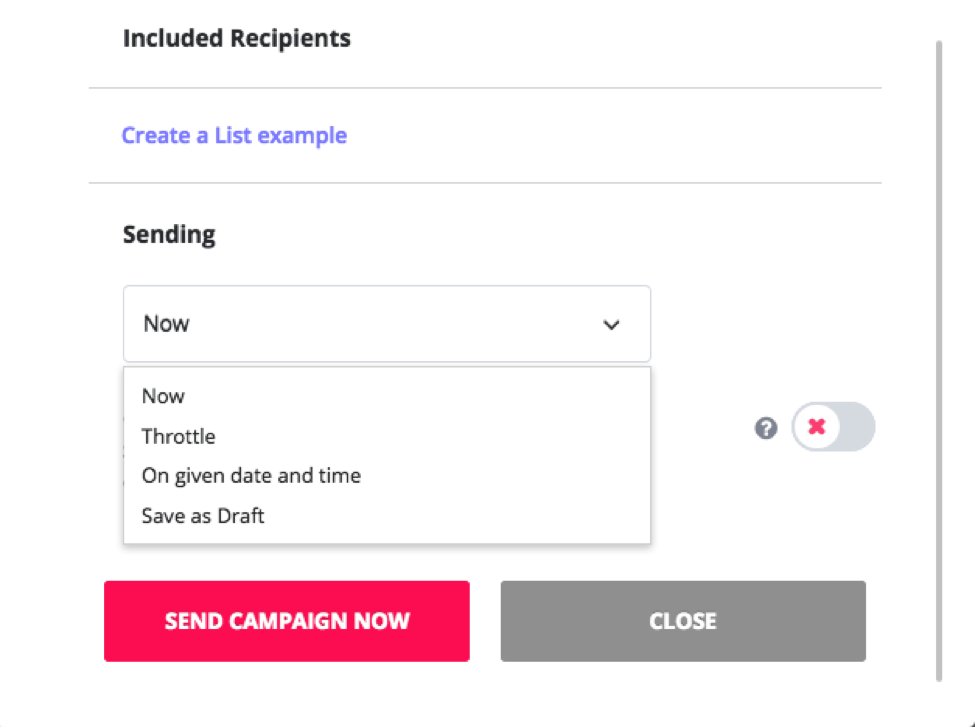 You can send it right away, or some time in the future. You can also save it as a draft and edit it later.
Overall, Sendlane gets email broadcasts just about perfect.
Email Automation in Sendlane
This is arguably the most important part of Sendlane.
The big thing that other tools are lacking for marketers is advanced automation, and Sendlane aims to fill that marketing gap.
There's 2 options for automation: Autoresponders and workflows.
Autoresponders are your classic email sequences where you specify the time between emails, while workflows are a lot more advanced and offer more customizability.
When you click "add automation" in your automations tab, you can click "start from scratch" if you want to create an autoresponder.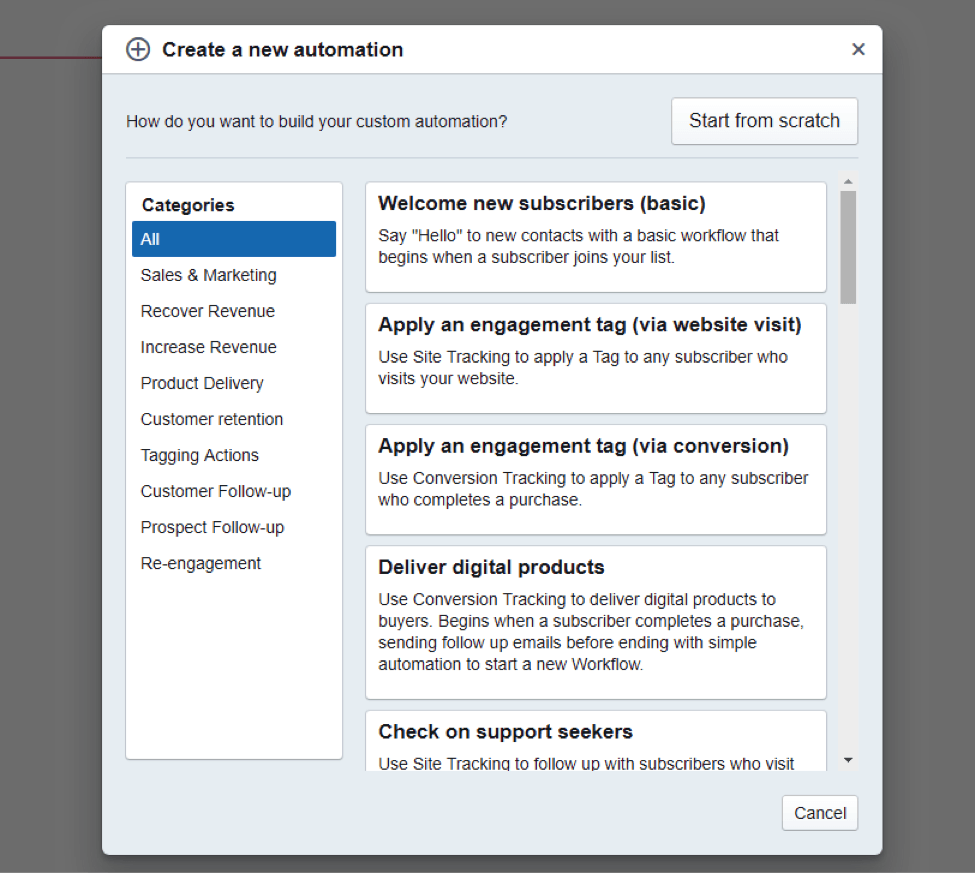 Not exactly obvious, but I guess Sendlane assumes that you'll mainly be using workflows.
From there you can add as many emails as you'd like, it has a pretty standard user interface: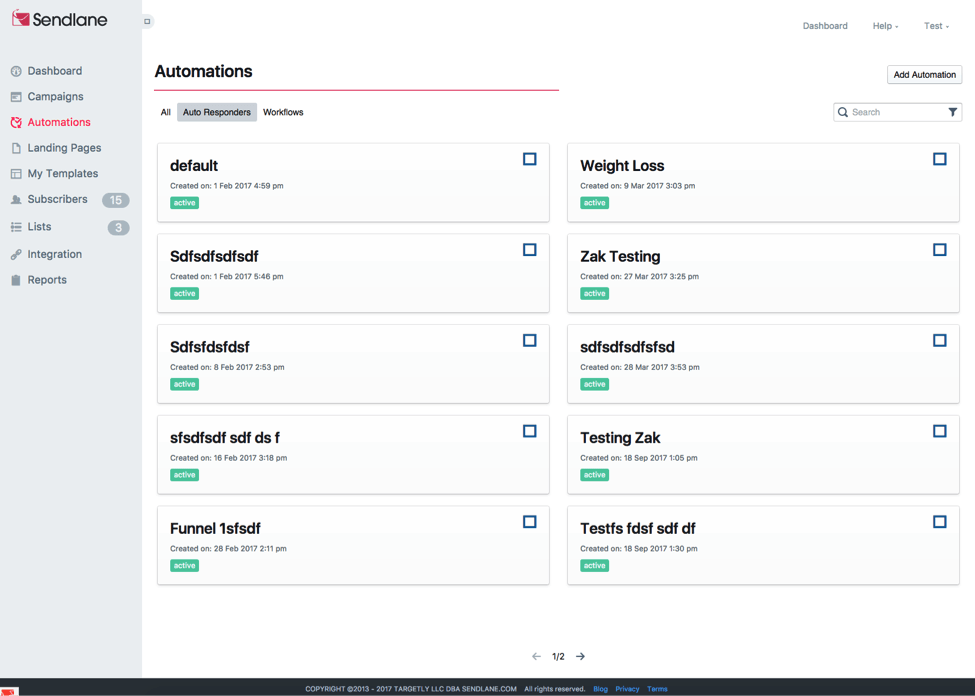 The workflows are more interesting to most marketers.
You can choose from several templates for workflows, or more likely, start from scratch and build your own funnel.
To create a workflow, there needs to be an initial trigger: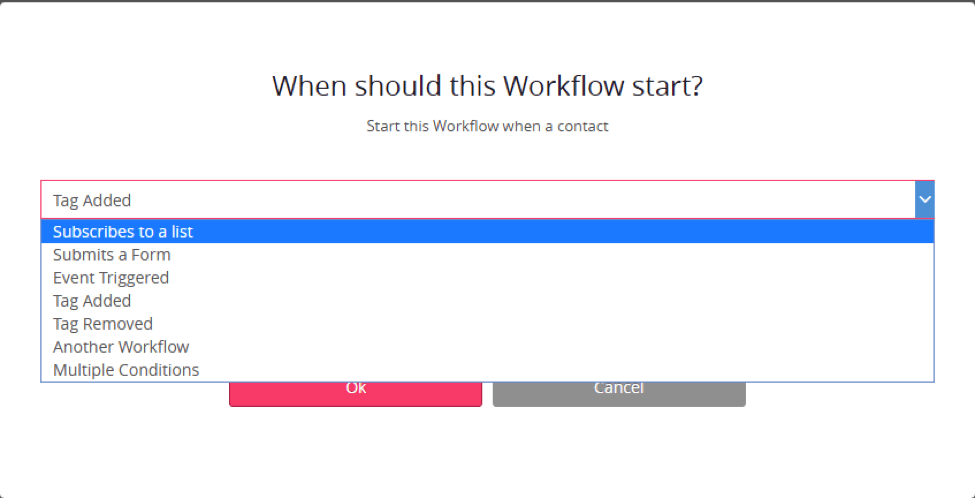 This could be someone subscribing to an email list, or when you add a tag to them.
For example, if someone opens an email where you mention a new product, you could add them to a workflow that takes them down a sales funnel.
Workflows consist of 2 things: triggers and actions.
Actions occur automatically after a trigger occurs.
For the actions, you have several options.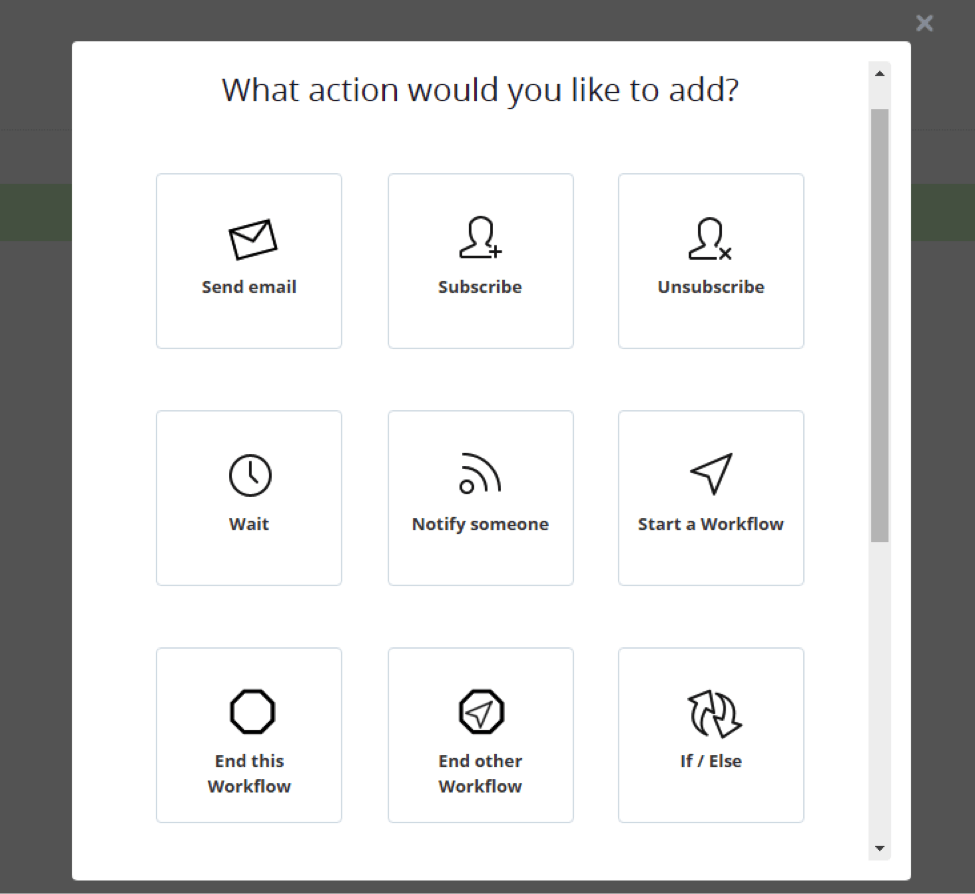 You can send a specific email, subscribe or unsubscribe them to a list, or even start a new workflow.
The most common one for marketers is the "If / Else" action.
You can make an if-statement that divides contacts in the workflow into a "yes" and "no" branch, where they receive different emails.
If-statement conditions can be based on several factors, including subscriber activity, signup source, location, and signup date.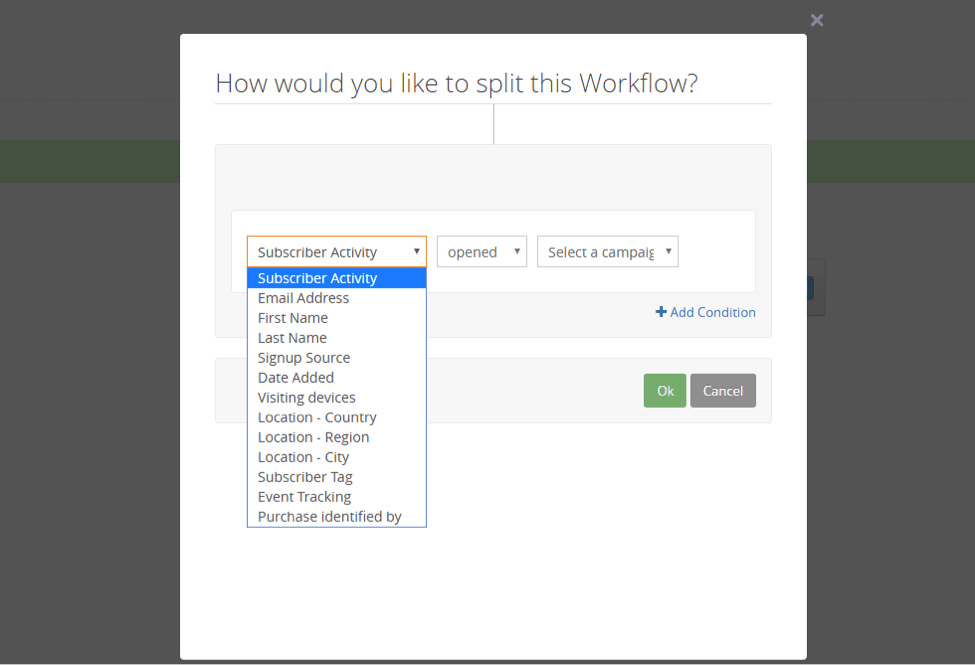 For example, if you choose subscriber activity, you can make a condition that checks if a contact opened or did not open a specific email, or if they clicked a link in it.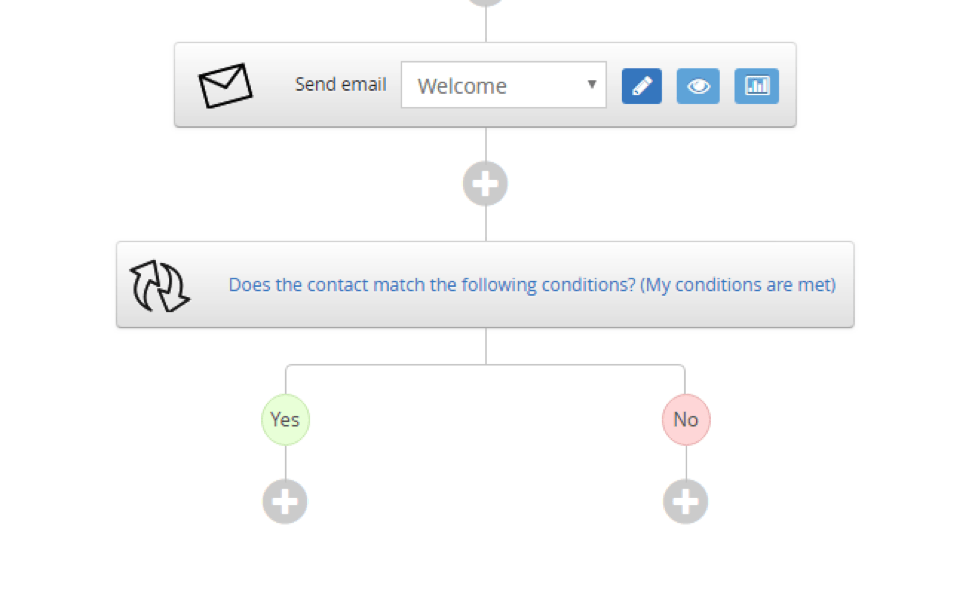 It's a powerful feature, and the process to use it is simple.
The way this automation is implemented is better for digital marketers than almost all competing email marketing platforms.
Creating a Landing Page
The only additional tool Sendlane provides is a landing page creator that can help you collect subscribers.
I already mentioned that there are 50+ templates to choose from with some advanced features like timer countdowns, so let's take a quick look at the editor here.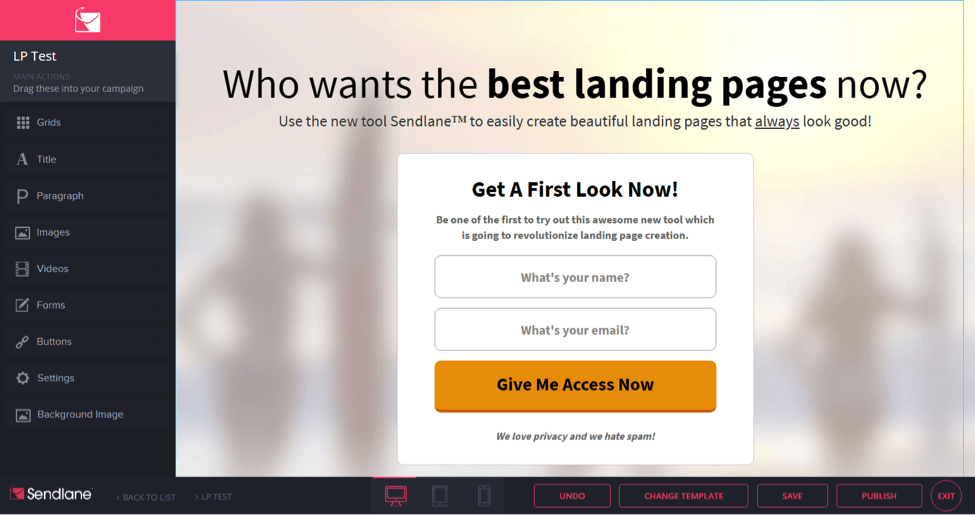 It's very similar to the email builder, which makes the time to learn how to use it essentially zero.
Again, you can drag and drop elements like images, videos, forms, and buttons as you please. You also have nearly full control of the style of the page.
The bottom menu bar lets you preview the page on mobile or desktop devices.
When you're done, you have the option to copy the code and paste it on your website.
Overall, it's a smooth landing page creator with no clunkiness or input lag. It's on par with most dedicated landing page creator tools, which says a lot.
API and Integrations
The last major part of functionality to look at is how you'll actually integrate Sendlane with your site(s).
Sendlane does have a well documented API. If you are a developer, or have one that works for you, the API should have everything you need.
Note that if you add subscribers through the API, the default is double opt in. You can change it to single opt in by contacting customer support, but I'd assume there is a screening process to ensure you're not up to no good.
Sendlane does have a handful of Sendlane integration partners. When you go to your "integration" tab of your account, you'll see options for Shopify, WooCommerce, Zapier, and ClickBank.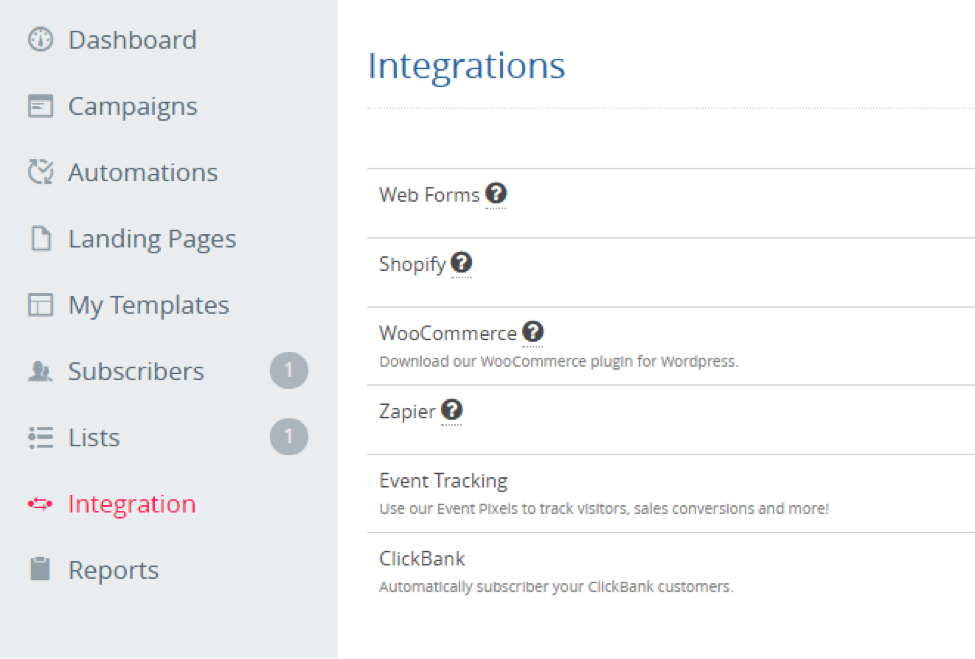 But they could definitely use more. There's no WordPress plugin, which is a bit surprising.
For most sites, you'll want to either use the landing page creator, or create a sign-up form for your website.
To create a sign-up form, select "web forms" from the integration options. That will bring up the one-page form editor: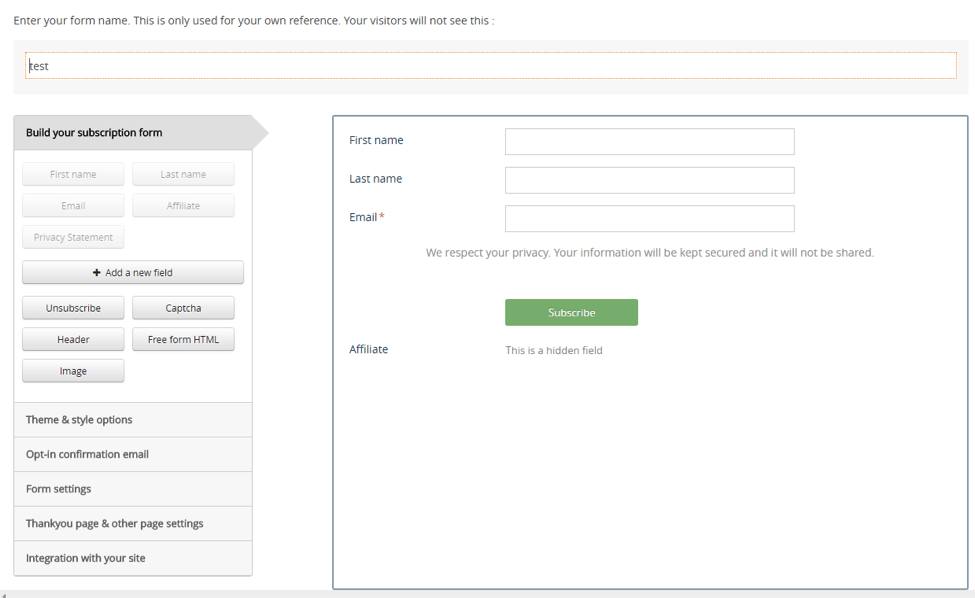 There are 4 basic minimalistic styling options, but customizing the look further can't be done from this editor.
You can add all basic form fields like first name, last name, email, and even an image. Forms also support Captcha to weed out some spam.
When you're done, the editor spits out the HTML and CSS that you can copy and paste to somewhere on your site.
Overall, Sendlane is reasonably easy to integrate with your website, but could use more integration partners and more in-depth form customization.
A Closer Look at Sendlane's User Experience and Interface
Overall, Sendlane has a modern, clean design, and is intuitive to use for the most part.
But I'd like to go over a few parts of the user experience that may not have been obvious from the other sections in the review so far.
Onboarding
There is essentially no onboarding process when you sign up. It's basically "here's your dashboard, you'll figure it out."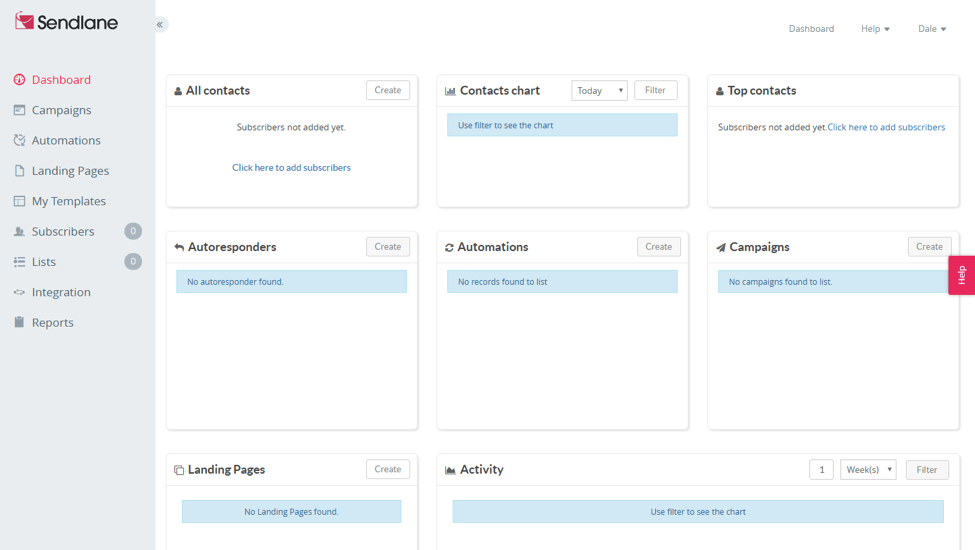 To Sendlane's credit, most of it is intuitive and you don't need much help, especially if you've used other email marketing tools in the past.
There's also a clear red help button that leads you to customer support resources.
Technically, there is some sort of onboarding process. You'll get daily emails when you sign-up that each focus on one aspect of functionality in Sendlane.

I'm not sure how useful that is, since if someone wanted to do a particular task, they would have to contact customer support or figure it out by themselves before this point.
Marketing Automation Platform Clarity
There's a few other UX elements that I'd like to point out.
For one, most instructions and labels are clear, but there are a few unclear instructions.
For example, go to the "add subscribers" section of a list, and it has a line at the top in bold saying "Want to subscribe more than one person at a time?"

The problem is that the rest of the text is completely unrelated to that question, and that question isn't a link to a support document.
It's either missing a link or was mistakenly left in after changing this page, but it's one of a few similar things that I came across.
Straightforwardness
Sendlane is not an email marketing tool that you can get started with right away. We already looked at the difficulty in importing subscribers from another tool.
But there's another delay: getting approved. After you've imported subscribers, your emails will not be sent out right away. Instead, the first 3-5 emails will be manually checked and approved by Sendlane's Compliance Team.
It's a formality in most cases, but expect to spend a week or so before you really get your email funnels and marketing funnels up and running.
Again, Sendlane does it to reduce spam senders, but it's annoying if you're motivated to work and can't.
Support Resources
Sendlane does a good job tying in their support resources with the actual email platform.
The support is all done through a ticketing system, but you can view and reply to messages through a chat window while logged in (or email).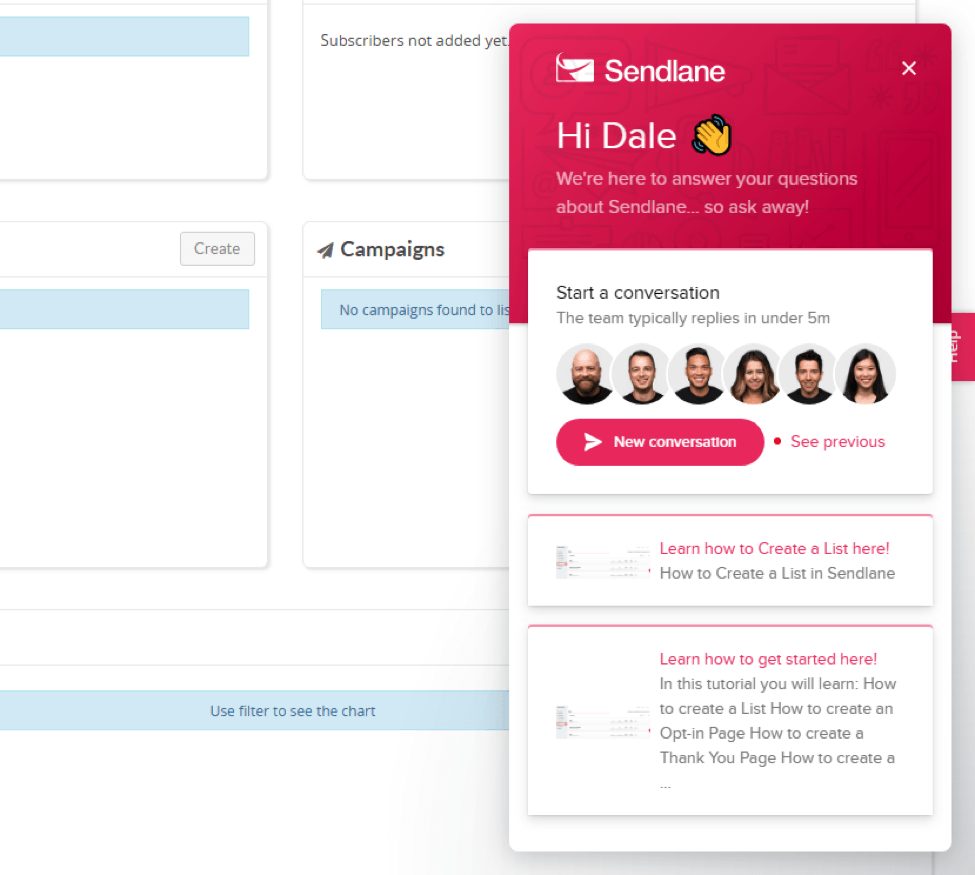 Clicking the bright red help button on every page will slide out a small dashboard for the help center.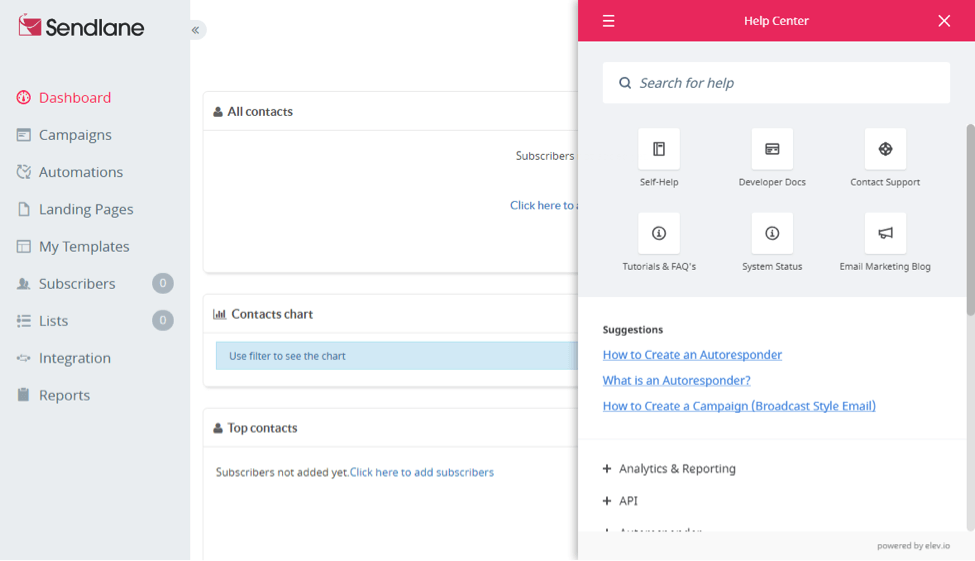 It has a quick search feature, and relevant suggestions to the page that you're on.
You can also click the "contact" support button here to initiate a ticket through chat.
Support is available 24/7/365, and although it's not technically live chat, the responses are typically within 5 minutes. At least that's what Sendlane claims, and it's held up in the few times I've needed to contact them.
Finally, there's the knowledge base. It has hundreds of articles and tutorials that show you how to use certain Sendlane functionality.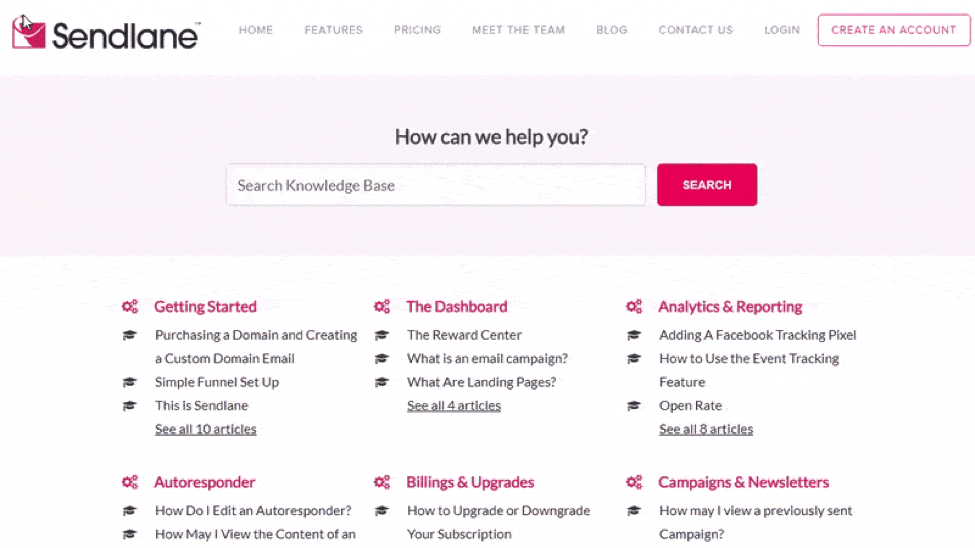 What About Quality?
Sendlane's help team is all located in San Diego in the United States. So at least you can be sure that help isn't being outsourced to a cheap support company.
As a writer, the knowledge base quality impressed me. The articles are all very clear, with annotated images. They knowledge base is also well organized and the search function is effective.
Pros and Cons of Sendlane
We've looked at a lot up until this point, so I'd like to try and summarize the biggest strengths and weaknesses of Sendlane here.
Pros
Advanced automation (workflows) – Gives you the ability to send emails based on a wide variety of subscriber actions (triggers).
Intuitive, modern design – Every part of the tool is well designed and easy to use.
Smooth landing page and email editors – The drag and drop editors are easy to use, and aren't clunky at all.
Great support documentation – The knowledge base is full of well-written tutorials with clear images.
Cons
Cost – Sendlane is more expensive than most competitors.
No instant migration process – You will need to be manually approved to import subscribers from somewhere else, and then your first emails will also have to be manually reviewed.
Lack of integrations – There are some integrations, but not to the same level as leading competitors. I'm sure this will improve over time.
Other Email Marketing Tools to Consider

Skip Sendlane, Go With Sendinblue
Initially I was intrigued by Sendlane. After some digging, they just aren't quite ready for prime time. You can get more features, more integrations, and a cheaper prices with Sendinblue instead. Just a better VALUE overall.
Check Sendinblue Prices
We earn a commission if you click this link and make a purchase at no additional cost to you.
If those strengths mean a lot to you, Sendlane is probably a great choice.
But if those cons leave you unsure of who to go with, here are a few other solid email marketing tools that you should at least consider.
TL:DR: I would personally recommend Sendinblue here as the TOP alternative to Sendlane (most similar features, but but better cost scalability).
| | | |
| --- | --- | --- |
| If you want… | Tool to consider | Explanation |
| Cheaper prices | | Has a generous free plan, and paid plans are among the cheapest you'll find. |
| Instant migration and setup | | You can import contacts in bulk as soon as you sign up. |
| More integrations | | |
Sendlane Review Summary: Is Sendlane Worth it?

Skip Sendlane, Go With Sendinblue
Initially I was intrigued by Sendlane. After some digging, they just aren't quite ready for prime time. You can get more features, more integrations, and a cheaper prices with Sendinblue instead. Just a better VALUE overall.
Check Sendinblue Prices
We earn a commission if you click this link and make a purchase at no additional cost to you.
Sendlane was built to be a email marketing tool and email marketing service specifically for digital marketers and ecommerce store owners (specifically, shopify store operators – great Shopify integration).
It attempts to do this by providing a simple-to-use interface, and features like a landing page builder and advanced email automation through workflows.
In my opinion, it's achieved its been successful in achieving its marketing platform goal. Despite being relatively new, Sendlane is growing its user base fast, and I expect that it will keep growing as marketers learn about it.
It's also too early to get a good read on Sendlane deliverability rates, although there's no reason to doubt it as worse than industry standard.
Bottom Line: It's not the cheapest, and it's a decent amount of work to get started with a Sendlane account. It's still a bit risky to take a chance on, although it's promising. Stick with something better known for autoresponder automations like ActiveCampaign here instead.
Further Reading on E-mail Marketing Tools