Last Updated on June 1, 2023 by Ewen Finser
One thing I've learned in a year of running an online beauty store is that marketing is the backbone of success. However, as a sole business owner, creating and launching a successful digital marketing campaign can be taxing. Enter GetResponse vs AWeber. These platforms offer email and web marketing tools for small, medium-sized, and large businesses. What's more, they offer assistance so you can run marketing campaigns like an expert.
I put both platforms to the test using my store, and this article provides a rundown of what I think about each one. Read on to see which one you should choose for your business.
My Bottom Line Up Front: GetResponse vs. AWeber
GetResponse vs AWeber are relatively similar in functionality and capabilities. Both platforms are small-business friendly and have a very intuitive interface. However, GetResponse comes out on top based on the number of features it offers. It offers full e-commerce management functionality and can be used in over 20 languages.
AWeber is a good platform with a small business focus. The marketing capabilities it offers are fit for any freelancer or entrepreneur business.
Main Differences Between GetResponse vs AWeber
The main differences between GetResponse vs AWeber are:
GetResponse offers pricing plans for each feature, whereas AWeber bundles all features into one priced plan.
AWeber has over 1,000 integrations, whereas GetResponse features around 130 native integrations.
GetResponse has a dedicated webinar function, whereas AWeber needs a 3rd party tool for webinars.
GetResponse can be translated into 26 languages, whereas AWeber is only available in English
What Is GetResponse?
GetResponse is a platform that offers marketing and customer engagement tools. The platform helps e-commerce businesses generate over 1 million leads every month and engage over 700 million contacts through emails and SMS. GetResponse has been in the market for over 25 years. It has a global reach, operating in over 180 countries. The platform can also be translated into over 26 languages.
What Is AWeber?
AWeber was founded over 20 years ago and provides businesses with a variety of customer engagement tools. It also helps companies generate leads and provide swift customer support services. The platform offers email marketing services to over 1 million businesses. AWeber is geared toward small businesses, so it's suitable for freelancers, sole proprietors, and startups.
GetResponse Main Features
Website Builder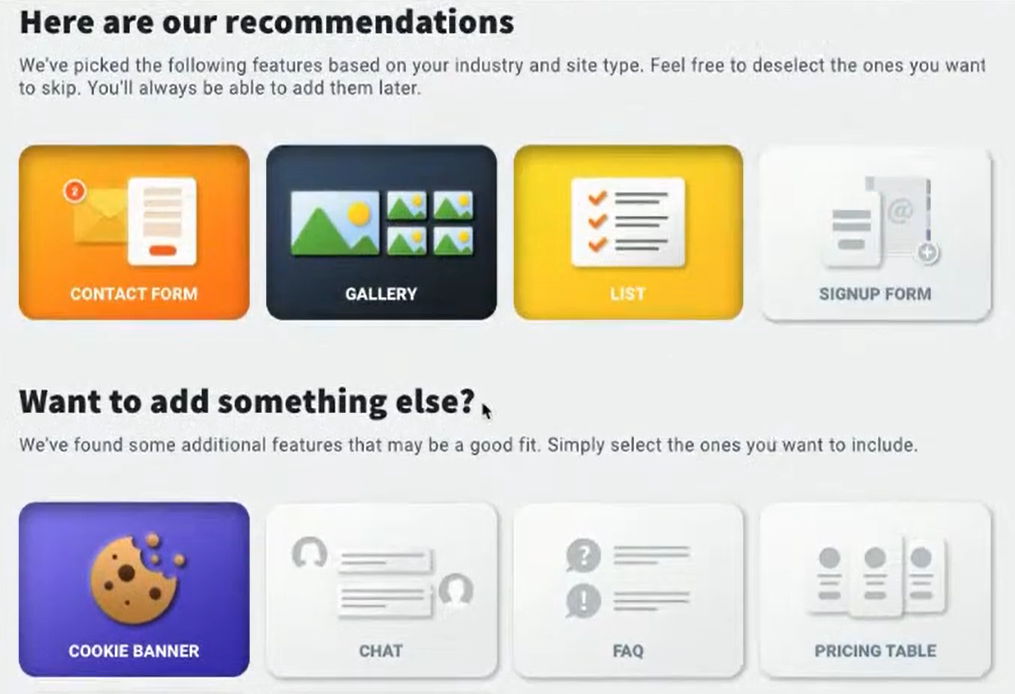 You don't need coding knowledge to create a website on GetResponse. The platform provides an AI Wizard that assists you in creating an intuitive, responsive website for your business. The AI assistant will ask you a few questions to understand what type of website you need. There is a drop-down list where you can select your business type based on the industry and products or services you provide.
Once I selected beauty products, the AI assistant led me to another drop-down list to select a type of site. Some choices include e-commerce, business, affiliate, and non-profit websites. You also get to choose additional features to add to the site. Since I run an e-commerce business, I added sign-up forms, client testimonial pages, an FAQ page, and live chat functionality.
The AI assistant also leads you through creating a color palette for your site. It lets you pick the type of 'vibe' you want to achieve. And if you don't find any options appealing, you can import your designs and logo. You can also choose a template from which to build your website. GetResponse provides multiple customizable templates to which you can add graphics and pictures to build a good site.
Landing Pages
Once you create a website, you can add landing pages to convert site visitors to paying customers. Like with the website, GetResponse allows you to create landing pages from scratch or use customizable templates. I'm not an expert graphic designer, so I liked the ability to add my business information to prebuilt templates. You can create a landing page to drive engagement and sales for any products and services, including digital ones.
GetResponse provides a drag-and-drop builder to make creating a functional landing page easier. I was impressed by their A/B testing feature that lets you test out different page designs to see which one generates higher conversions. Once your pages are done, you can launch them on your domain or one of the three domains provided by GetResponse. A personalized domain gives your business legitimacy even if it's still new to the market.
Conversion Funnels

GetResponse has conversion funnels that help you create a path that you can use to convert a browser's interest into purchases. The platform has three types of funnels: opt-in, lead magnet, and sales funnels. Each conversion funnel has features to help you promote your products online, find potential buyers, build your current contacts list, increase sales, and retain clients.
GetResponse's list-building funnel helps you create a contact list to which you can broadcast your marketing messages. You can create visitor capture pages to urge people to leave their contact details.
The platform also provides signup forms so you can collect information to increase your subscriber list. You can create custom signup forms using one of the templates provided. You can embed a signup form on any page on your site.
The platform's lead magnets help you provide visitors with incentives to leave their email addresses. Once you have a sizable contact list, you can launch marketing campaigns to motivate them to make purchases. I used the funnel to create a 'Welcome' message for anyone who left their contact details. I also found the funnels useful for tracking the people to who I sent emails and SMSes.
The funnels also automate reminders that urge people to return to your website. You can easily notify subscribers when you add new products to your store or provide discounts to motivate them to make purchases.
Email Marketing

Email marketing is a crucial GetResponse feature. The platform makes it easy for you to send targeted emails to contacts on your list. You can even create an automated workflow that sends emails when triggered. GetResponse avails you with multiple pre-made workflows that determine the kinds of emails your subscribers will get. You can also customize your email flow from the available templates.
Each email you create on GetResponse is optimized for both desktop and mobile. The platform has a drag-and-drop email builder that helps you create visually appealing emails that subscribers will enjoy reading. You can even set up autoresponders to common email replies to ensure your customers always feel heard. I found it easy to set up an out-of-office message that told subscribers when I'd respond to their messages.
GetResponse also has timing tools that launch your marketing emails at the desired time. You can set up emails in advance and have them dispatched to customers when they're more likely to check and act on them. The platform's contact list segmentation features make it easy to send targeted emails. I created three criteria for customers: new subscribers, people browsing my store without purchasing, and people who've purchased in the past.
Creating and automating email workflows for each segment helps you engage subscribers based on their unique needs. It also makes it easy to move each person down the most relevant funnel for their status.
SMS Marketing
Over 66% of the world's population owns a phone, so SMS marketing is one of the most effective marketing methods you can use. GetResponse has various SMS marketing features that make launching and managing marketing campaigns easy.
To build your SMS contact list, use GetResponse to make signup forms that you can embed on any web page. Once customers opt-in to SMSes, you can send them standard 160-character messages or up to 1530-character texts.
Just like with emails, GetResponse has SMS automation features that make it easy to manage SMS campaigns. I like to reward my customers during special occasions, so automated workflows are useful for sending discount links during birthdays and anniversaries.
I liked that the SMS feature isn't linked to the email one, so you can reach people via their phones even if they're not subscribed to your emailing list. GetResponse has tools that include each recipient's name in the SMS to make it more personal.
Web Marketing
Deploying GetResponse's web marketing tools helps you generate leads even from first-time visitors. The platform provides various popups and banners that you can put on any page to capture visitors. Editing the popups is easy using the drag-and-drop editor. The platform provides different types of popups, from the regular full-screen and bar popups to a slide-in box that displays a message without interrupting a visitor's browsing.
Like with other marketing features, you can automate the popups to show up based on the action a visitor takes. A popup can show up after a site visitor scrolls for a while or if they're inactive on the page. I prefer popups that show up when a visitor tries to navigate away from a page. You can set the duration of a popup's display so that a different popup goes live once the time expires.
Push notifications are another of GetResponse's web marketing tools. Anyone who opts in will receive a notification on their phone or desktop featuring a relevant marketing message.
I liked that I could edit the push notifications to feature custom colors, fonts, and logos to reflect my brand. Push notifications are useful for creators since they let subscribers know when you upload new content or when your merch goes live.
Webinars

Webinars offer you a unique chance to connect with your audience. You can use them to show visitors how to navigate your site and promote your products and services. GetResponse lets you host unlimited websites with an audience of over 1,000 people. You can co-host a webinar, record the live sessions and send them to people on your email list.
All the other GetResponse features help you optimize your webinar experience. You can create a landing page and embed signup forms where people can register in advance for the webinar. You can even share the webinar on social media pages.
After the webinar airs, you can use the registration details to follow up with people who attended the live session. This capability makes it easy to promote products and services to them based on the content of your webinar.
AWeber Main Features
Page Builder

A landing page is essential in generating more subscribers and conversions. Creating one that is optimized is necessary for your online store. AWeber provides a web page builder, so you can create as many landing pages as you need.
The platform avails numerous landing page templates that you can customize to reflect your brand. Editing is possible through drag-and-drop so that anyone without coding knowledge can create effective landing pages.
AWeber's connection to Canva helps you take landing page design to the next level. You can add custom colors, fonts, and graphics to give the pages a personal touch. Each page is mobile-ready, so customers can easily access it on their phones.
AWeber lets you take customization to the next level by allowing personalized domains. If you already have custom domains, you can attach them to the landing pages you create to make them easier for customers to access.
Web Marketing
A landing page can be invaluable in growing your subscriber base. AWeber lets you take advantage of this unique marketing opportunity by providing a squeeze page builder.
A squeeze page is a web page where visitors can leave their email addresses. You can create an optimized squeeze page that motivates people to leave their details. Add these addresses to your contact list to expand your email marketing audience.
I liked that AWeber integrates with social media platforms so you can collect subscribers from there too. You can embed a sign-up form on your business's Facebook page, so customers don't have to use a browser to leave their details.
The beauty of AWeber's sign-up forms is you don't need a website to use them. The platform lets you customize the different sign-up form templates and share their links on your social media pages. Anyone who sells exclusively on social platforms can create an emailing list without designing a website or optimized landing pages. You can even use contact segmentation to send targeted emails to your subscribers.
Email Marketing

AWeber cut its teeth in the market as an email marketing platform, and these features are still impressive today. The platform's features let you design and automate your email marketing campaigns for easier management. AWeber gives you access to an impressive array of email templates. As with the page builder, you can customize these templates using drag-and-drop. You, therefore, don't need to be an expert designer to create impressive emails.
You can filter through the templates to find designs fit for specific purposes. I created multiple welcome emails to be sent out to people who leave their email addresses on the sign-up forms. AWeber even has a Smart Designer that creates a custom template based on your needs. If you put your website's URL, the Designer scans through it to determine which email templates suit your business.
Once you settle on the right templates and fully customize them, you can use automation features to launch them. AWeber lets you set up automation rules determining when certain emails are sent out to subscribers. For example, you can automate emails to be sent out when a customer completes an order or if they abandon their shopping cart. Moreover, each email will feature the subscriber's name, making them feel you care about them.
The platform provides A/B testing to help you determine which type of marketing messages work for your audience.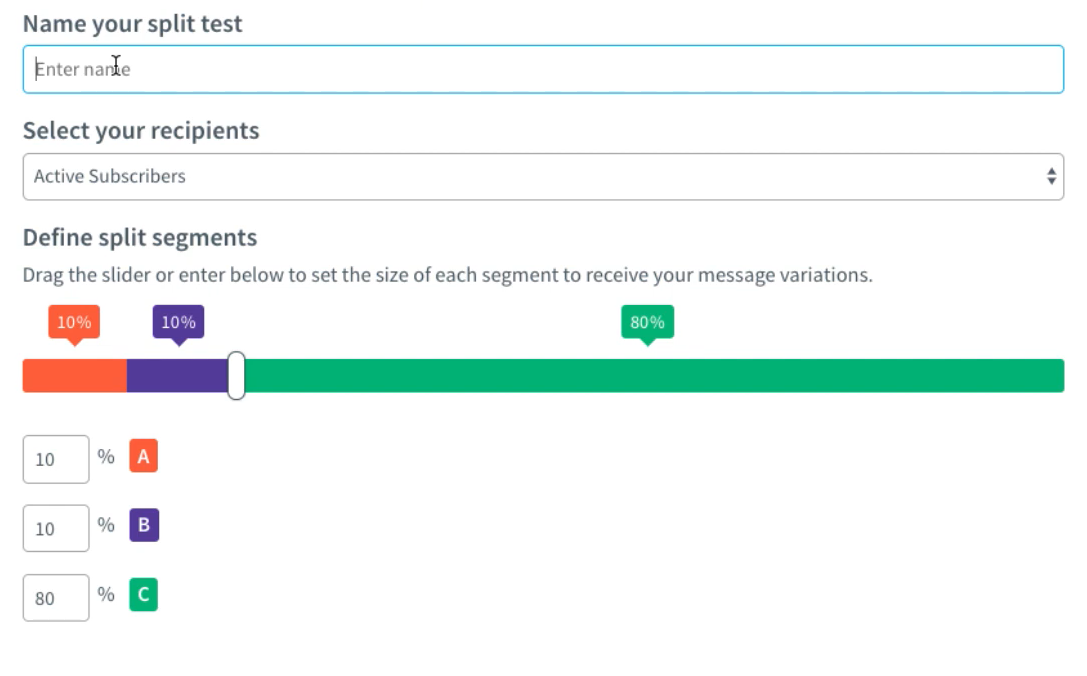 AWeber can also help you launch a regular newsletter to update your subscribers on your business's latest products and features. The newsletters are especially useful if you're a content creator.
Automated notifications will be sent out whenever you post new content, whether a YouTube video, a new podcast episode, or a blog post. Your subscribers can quickly engage with the new uploads, so the algorithm pushes your content to other users.
You only have to set up the newsletter once then the platform handles the automatic sending. The feature integrates with other content tools to arrange content to reflect the most recent changes and uploads. As a content creator, I loved how AWeber's push notifications feature makes it easy to promote content to subscribers. The notifications appear on their browsers to tell them when I've posted a new blog topic.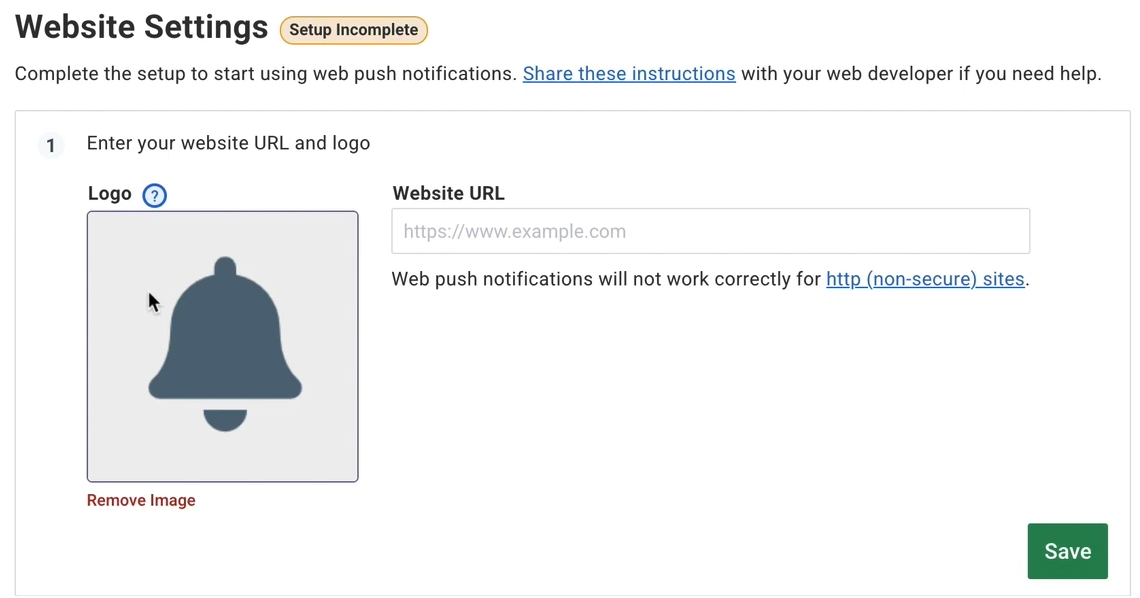 Web push notifications can be very effective when paired with emails. If any of your subscribers miss an email update, the notifications will let them know when you add new products to your store or new uploads to your content platforms.
E-Commerce Management
You can get full e-commerce store functionality using AWeber's management tools. The platform's features let you create an online shop where you can sell any product or service and even manage donations if you run a non-profit.
AWeber lets you create sales pages that convert. You can add detailed product descriptions alongside pictures and videos to convince shoppers to buy. Adding tags to the pages helps you target people looking for the specific products you sell.
As with other builders, the e-commerce page builder uses a drag-and-drop feature. You can easily modify the templates provided and create highly professional pages without any coding knowledge. You can integrate multiple payment gateways into your online store and provide customers with different payment methods. These integrations allow you to sell in over 100 currencies, so your store can grow and reach worldwide.
GetResponse vs AWeber Integrations
GetResponse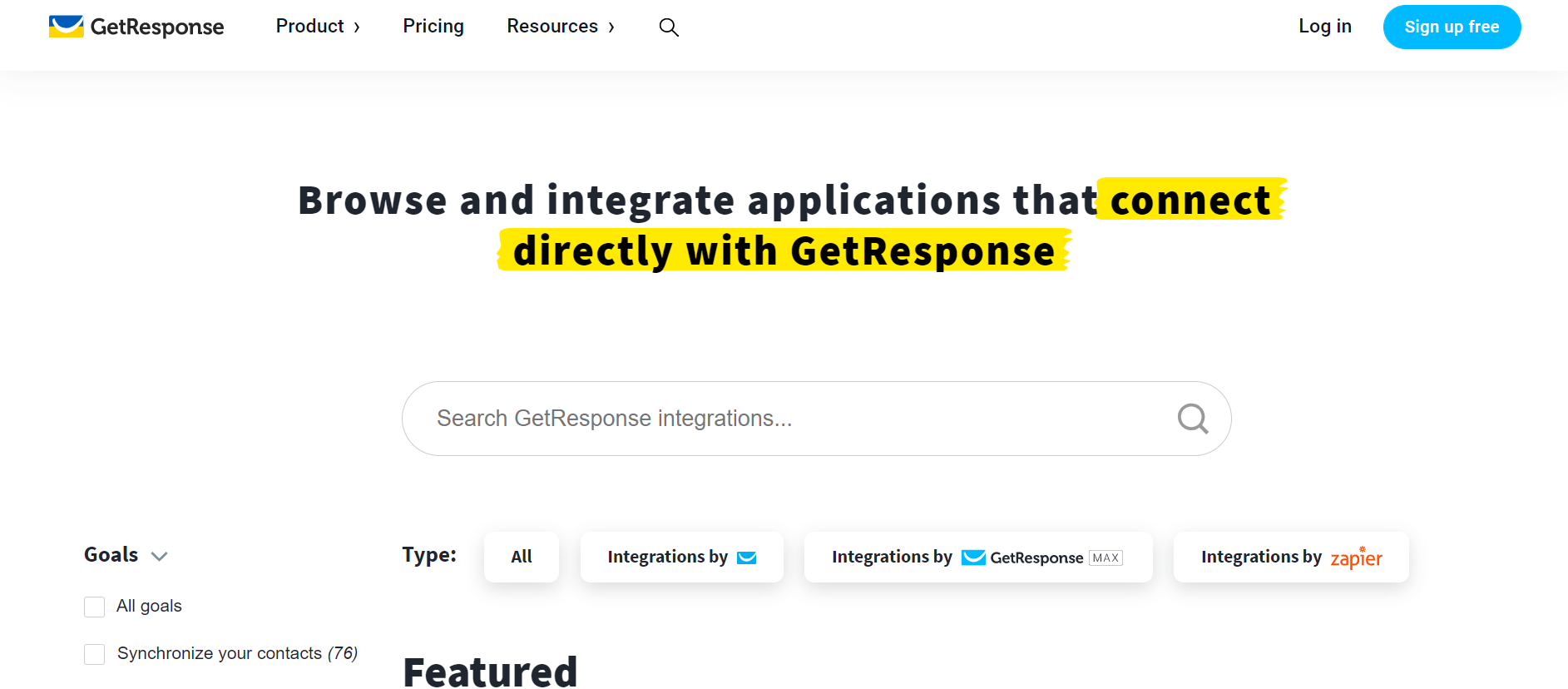 GetResponse has more than 100 native integrations with platforms that make managing an online business more seamless. You can connect an e-commerce store hosted on Shopify, BigCommerce, Magento, SamCart, and other platforms.
GetResponse also integrates with payment getaways like Qiwi, PayPal, and Stripe. You can also connect it to your preferred CRM, including Salesforce, Zoho, and Zendesk. The platform can suggest different integrations based on your business needs. You can see a full list of GetResponse integrations here.
AWeber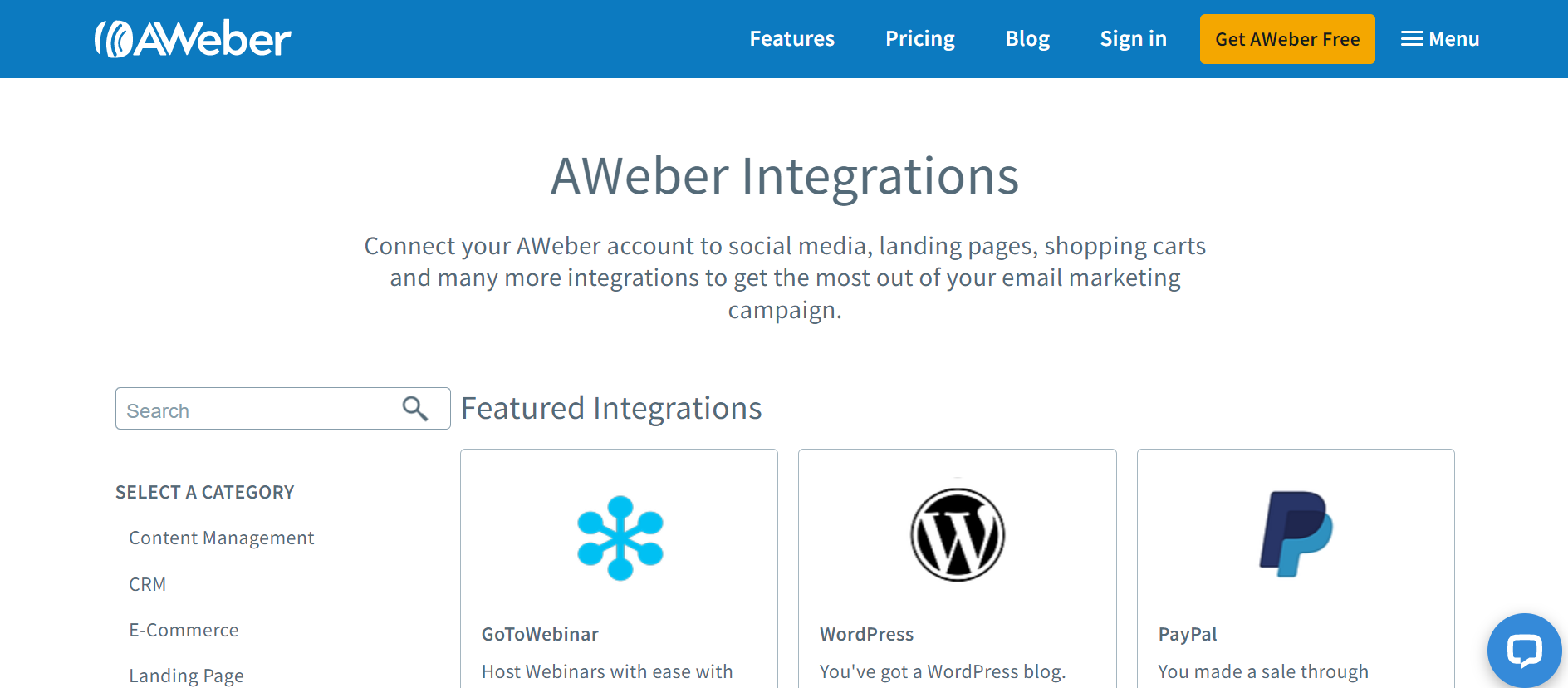 AWeber connects to multiple other platforms, including website hosts like WordPress. I found it easy to integrate my Shopify store into my AWeber account, but you can also use it with BigCommerce, 3dcart, and CloudCart. The platform has native integrations with CRM like 17hats and Agile, CMS like Blogger and Elementor, and shopping carts like FoxyCart and OpenCart.
Some of AWeber's most popular payment gateway integrations include PayPal, Global Payments WebPay, and Paystack. You can view a full list of AWeber's integrations here.
GetResponse vs AWeber Analytics
GetResponse
You can access your account's analytics right from the dashboard. GetResponse provides analytics and reports for each feature you use. The data for each feature is presented in visually appealing graphs and charts so you can easily tell how your business is doing.
The platform tracks marketing performance and will tell you how many people open your emails and SMSes, how many click the attached links, and how many make purchases.
You can also see which pages cause visitors to navigate away from your site or unsubscribe from your contact list. I liked that I could see the side-by-side performance of different emails and SMSes to capitalize on the ones with better metrics.
GetResponse can email you spreadsheets with all the data you need, which makes sharing the information with your partners and employees during meetings easier.
AWeber
AWeber provides tracking capabilities to each feature so you can know how well your shop performs. For email marketing, you'll be able to tell which type of emails many customers open and which end up in the spam folder so you can improve them. You can also see how many sales your store makes based on product links subscribers open.
The platform's real-time sales tracking shows you how much revenue you earn. It also provides visual graphs to show how many sales you've made over a particular period.
You can further optimize how you reach new customers by adding tracking features to your landing and sales pages. The platform uses Google Analytics and Facebook pixel to show how your business fares on search engines and social media.
GetResponse vs AWeber Customer Support
GetResponse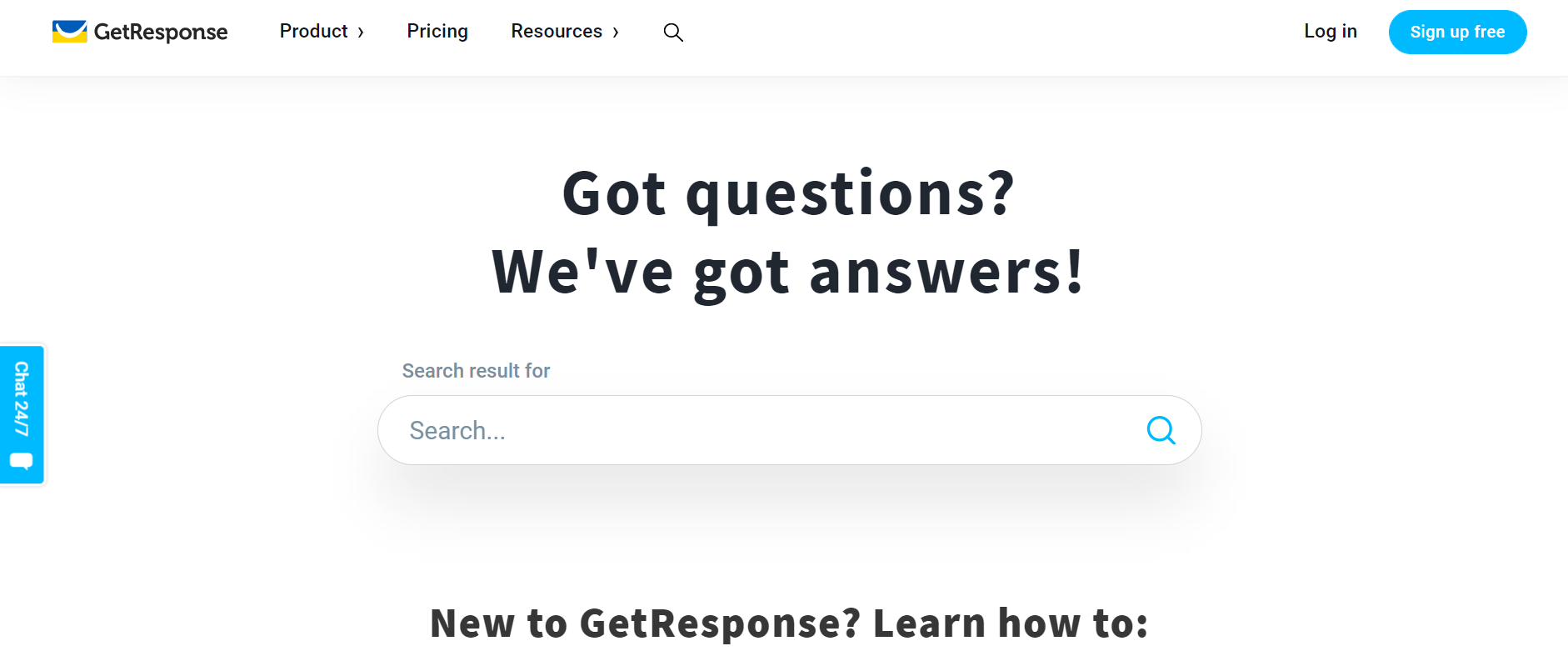 GetResponse has several types of customer support, including multiple self-diagnostic troubleshooting options. The platform offers 24/7 email and live chat support in over 8 languages. You can sort through the different helpful resources provided in the Help Center. The platform's searchable resource center has blogs, infographics, videos, and webinars.
AWeber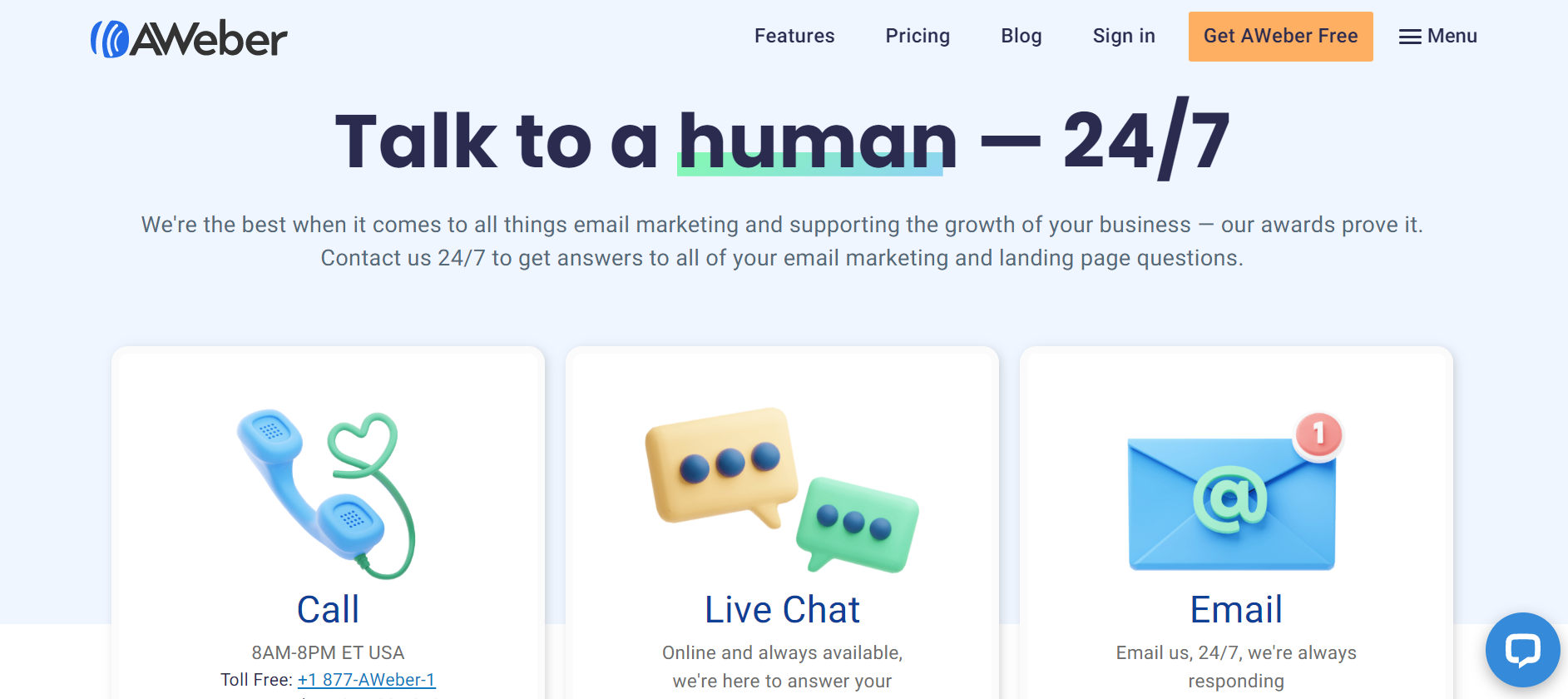 AWeber's customer support is available 24/7 to help you troubleshoot problems with any of the features you use. You can talk to an agent through the phone from 8 AM to 8 PM every day. I found AWeber agents responsive via Live Chat and email.
The platform also has a knowledge base with blogs and how-to guides to help you figure out the site. You can even ask questions to get useful tips from other account holders. And if you're anything like me, you'll find the visuals on AWeber's YouTube channel more useful in guiding you as you use the platform.
GetResponse vs AWeber Pricing
GetResponse
GetResponse doesn't offer a bundle offer for all its features. Instead, you can purchase the features you want and pay depending on the number of contacts on your subscriber's list. You can also purchase plans for freelance or small businesses and get customized plans for mid- and large businesses. Each paid plan on GetResponse offers a 30-day free trial.
Let's take a closer look at each GetResponse plan.
Free Plan
The Free plan allows you up to 500 contacts on your list. It also offers these free lifetime features:
Website Builder
One landing page
Visitor capture forms and popups
Limitless email newsletters
Email Marketing Plan
You can pay for this plan monthly, annually, and biannually.
For 1,000 contacts, it costs:
$19 per month
$15.58 per month paid annually
$13.30 per month paid every 2 years
For 100,000 contacts, the email marketing plan costs:
$539 per month
$441.98 per month paid annually
$377.30 per month paid bi-annually
Some of the plan's features include:
Basic contact segmentation
Email autoresponders
Email Scheduling
GetResponse integrations
API Documentation
Marketing Automation Plan
For 1,000 contacts, the plan costs:
$59 per month
$48.40 per month paid annually
$41.3 per month paid bi-annually
For 100,000 contacts, the plan costs:
$599 per month
$491.18 per month paid annually
$419.3 per month paid annually
The plan offers:
Marketing automation
Advanced customer segmentation
Sales funnels
E-Commerce Marketing Plan
For 1,000 contacts, the plan costs:
$119 per month
$97.58 per month paid annually
$83.3 per month paid bi-annually
For 100,000 contacts, the plan costs:
$699 per month
$573.18 per month paid annually
$489.3 per month paid bi-annually
The e-commerce plan offers:
Customer segmentation
Cart recovery
Push notifications
AWeber
AWeber provides two plans, including a lifetime free account. Let's take a closer look at what each plan offers.
Free Plan
The free plan is suitable for anyone trying their hand at email marketing and site-building. Some of the plan's features include:
Contact list with up to 500 email addresses
Up to 3000 emails per month
1 email marketing automated workflow
1 free landing page
Push notifications
Pro Plan
The cost of the Pro plan depends on how many subscribers you have on your contact list. You can also choose between monthly and annual billing.
Up to 500 subscribers: $19.99/mo or $16.15/mo billed annually
Up to 2,500 subscribers: $29.99/mo or $26.15/mo billed annually
Up to 5,000 subscribers: $49.99/mo or $46.15/mo billed annually
Up to 10,000 subscribers: $69.99/mo or $66.15/mo billed annually
Up to 25,000 subscribers: $149.99/mo or $146.15/mo billed annually
Regardless of the size of your subscriber list, the Pro plan offers these benefits:
Unlimited emails, automations, and landing pages
Customizable templates
Tracking and reports
Marketing A/B tests
Unlimited account users
Priority customer support
GetResponse vs AWeber Alternatives

MailChimp is one of the most widely known platforms for managing email marketing campaigns. The platform has numerous native integrations, which makes using it with any business software easier. This MailChimp vs GetResponse comparison article can help you decide which platform is better for your business.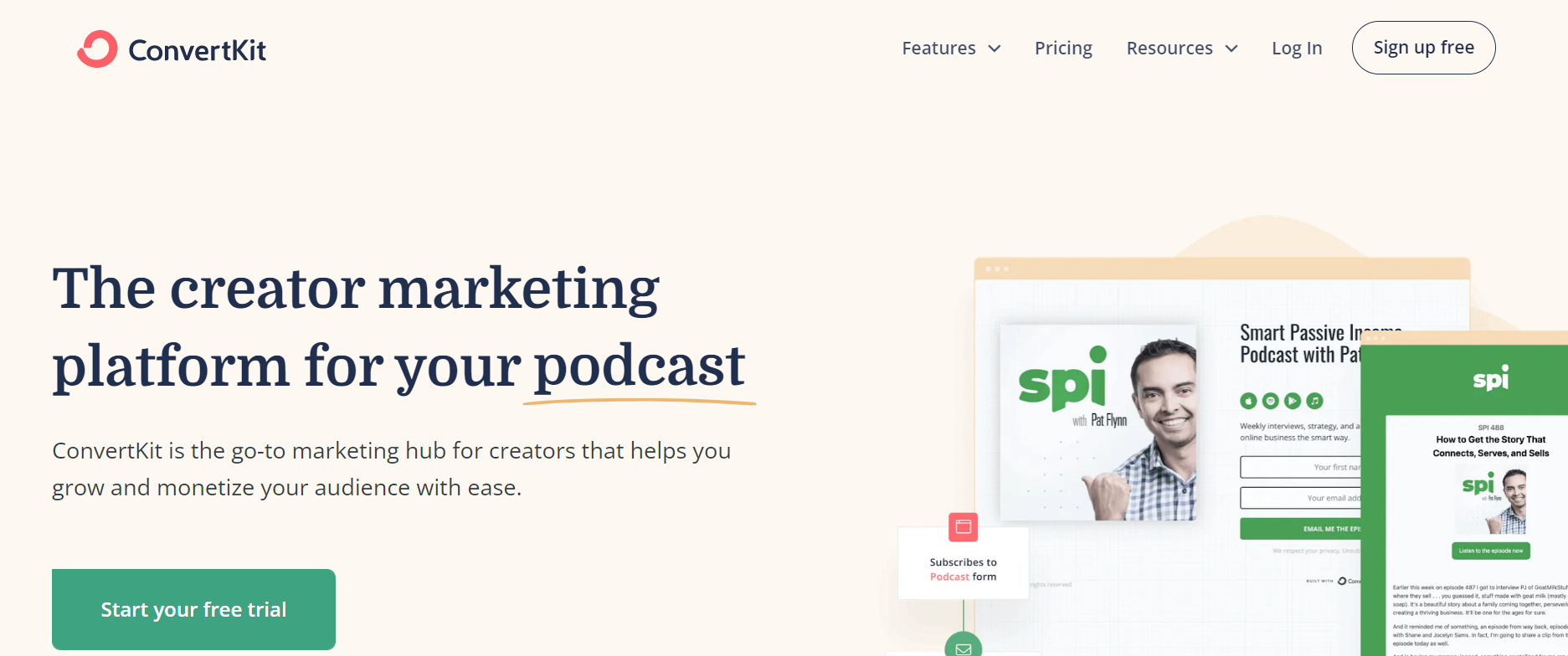 ConvertKit is a marketing and customer-engagement platform designed for creators. It provides tools for you to grow your subscriber list, automate your marketing efforts, and sell digital products and services. This ConvertKit vs AWeber comparison article provides an in-depth look into the capabilities of each platform.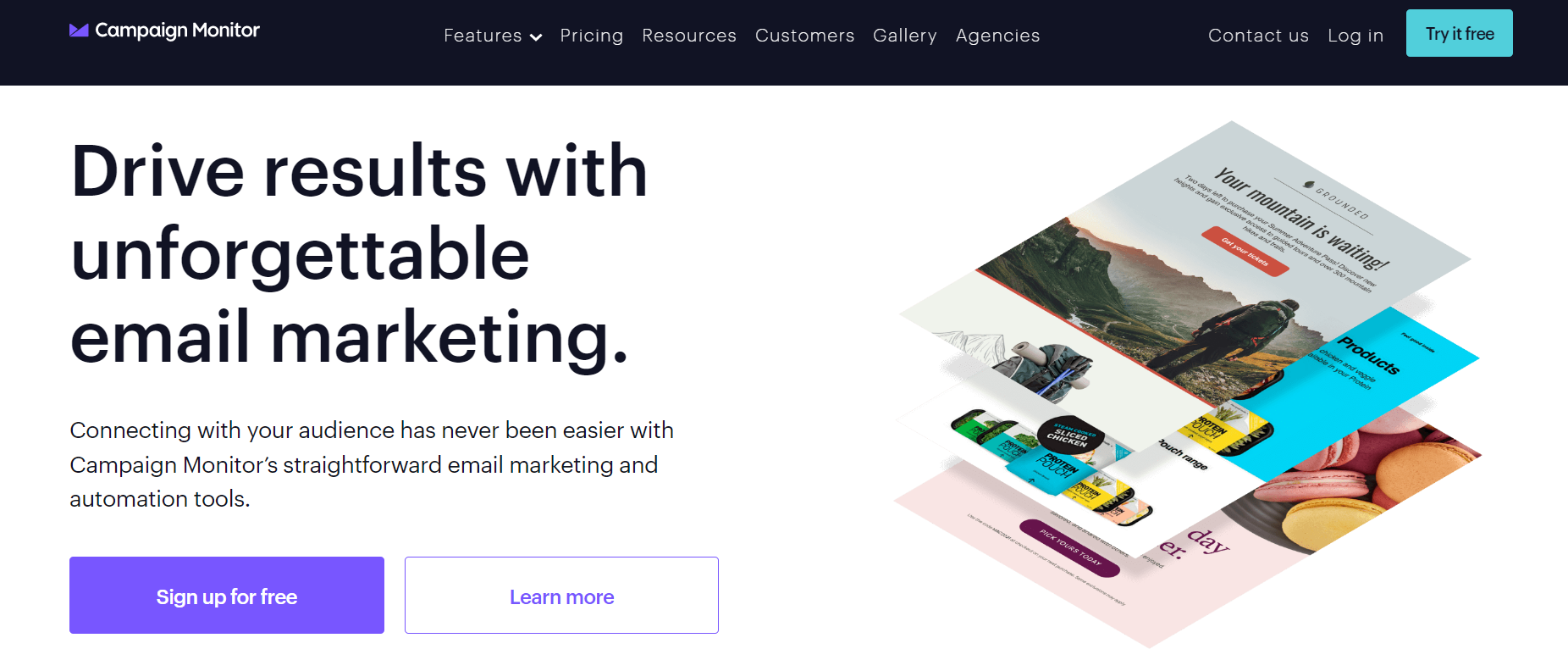 Campaign Monitor is a marketing automation platform that offers email and SMS automation to businesses. The platform also provides numerous templates to help you optimize your marketing campaigns. Some of its functionalities are similar to GetResponse, so we've pitted the platforms against each other in this Campaign Monitor vs GetResponse comparison.
FAQs
Question: Do GetResponse and AWeber have APIs?
Answer: Yes, both GetResponse and AWeber offer full-featured APIs so you can connect your account on each platform to non-native software. You can get the API for AWeber through the Developer site and for GetResponse here.
Question: Which mobile apps can I use to manage my GetResponse or AWeber account?
Answer: AWeber has multiple Android and iOS apps to help you manage different features. AWeber Stats lets you check the analytics for your email campaigns and the Atom App lets you create signup forms to add emails to your contact list.
AWeber's full suite of mobile apps is available here.
GetResponse has an app that offers you full control over the different features of the platform. The app is available for both Android and iOS.
Question: How do I cancel my GetResponse or AWeber account?
Answer: You can easily cancel your paid GetResponse account from the Billings section of your dashboard. Cancelling an account means you permanently lose access to any contacts and marketing analytics. GetResponse also doesn't issue refunds for any cancellations. The platform lets you downgrade to the Free account so you can maintain access to your details.
The same process applies in GetResponse. Cancellation means you lose access to any information you've generated over the duration when your account was active.
Verdict: GetResponse vs AWeber
GetResponse and AWeber are good marketing and customer engagement platforms. GetResponse offers an AI website builder that lets you create an engaging and functional website. The platform also provides multiple marketing options, from web popups and banners to email and SMS marketing. I enjoyed using GetResponse and would recommend it to small businesses with massive growth potential.
AWeber is also a good platform with solid email and web marketing tools. I liked the platform because of its simple pricing plan that lets you access all its features. AWeber is a good option if you have a new and growing e-commerce business.