Last Updated on January 11, 2023 by Ewen Finser
E-mail marketing has for long been critical for online marketers. If well implemented, it can help build loyal relationships and increase sales. They say that the money is on the list. Email lists are priceless online assets.
A growing online business or blog that needs to keep in close contact with its customers requires an email marketing tool. As your emailing list hits the five-figure level, you will fail if you have do not have good email automation in place to assist you to email your customers efficiently.
Handling multitudes of these addresses can be a hassle without top-notch email marketing tools. These tools can a long way in making 'bulk' email campaigns a breeze and some of the best in the market today include Aweber and ConvertKit.
Each has its own benefits and challenges so let us review each and find out which of the two offers the best platform today.
Main Differences Between ConvertKit vs Aweber
The main differences between ConvertKit and Aweber are:
ConvertKit is primarily subscriber-centric, whereas Aweber is more list-centric
ConvertKit is specifically tailored to bloggers, whereas Aweber targets a wider audience of digital commerce
ConvertKit is slightly easier to use, whereas Aweber has a more complicated user interface
Aweber is generally less expensive starting at $19/month, whereas ConvertKit starts at $29/month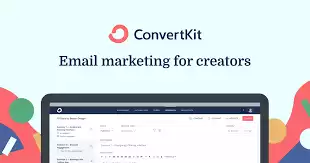 I Personally Prefer ConvertKit
ConvertKit was built for content marketers. That's me! Advanced email automation, sleek pre-built templates, and a dead simple user interface. Because of these factors, I highly recommend ConvertKit for MOST readers here.
Try ConvertKit First
Save 30% for Black Friday!
We earn a commission if you click this link and make a purchase at no additional cost to you.
ConvertKit Marketing Service
ConvertKit is hands down a leader in the autoresponder email tools segment, providing email list marketing automation affordably. It will enable you to grow your email list, and then either send a blast email whenever it suits you or send emails to new subscribers over time.
Compared to Aweber, ConvertKit is relatively a new entrant to the market, and it targets professional bloggers. Its target is to make your email processes easier by infusing them with robust features for not just bloggers distributing a blog post, but YouTubers, course creators, and podcasters.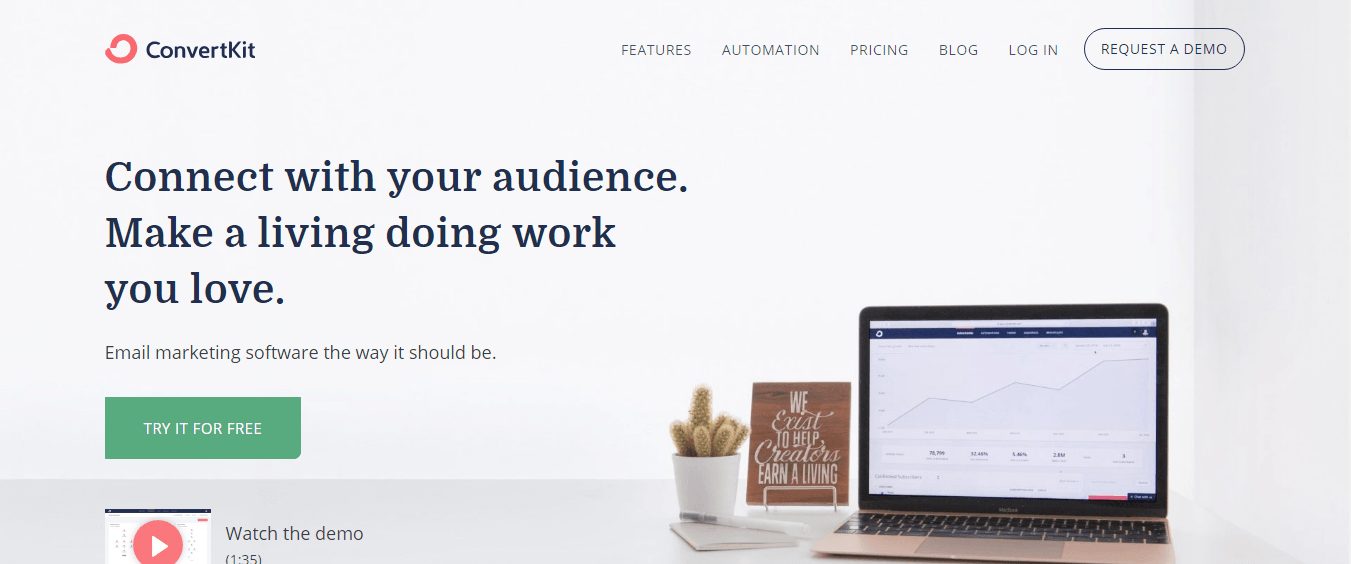 ConvertKit's strongest selling points are its ease of use. It has a straightforward, intuitive and clean design and a process that makes it easy to navigate their platform.
It has a simple five options instead of tons of menu items like most tools have, so you really won't waste much time learning about unnecessary features before you are busy using it in your business. Its design also makes it very easy on the eye since it is calm and not distracting.
Tag-based segmentation prowess
This email automation's tool other strong point is its segmentation process. It is a tag-based system that manages subscribers more efficiently and runs automation better too. With it, you can apply tags to your subscribers based on their personalized information.
With personalization becoming one of the most powerful marketing tool functionalities in online marketing, this feature can help you build brand loyalty amongst your customers quite quickly.
If for example, you have sent out an email with a few links to your subscribers, ConvertKit gives you the ability to target those readers who click specific links for personalized marketing (optimizing click-through rates).
The tools can also merge tags, creating fantastic dynamic emails. The merge tags feature will allow you to send an email that has information as per the tags applied to a specific subscriber.
Its new ConvertKit plugin for WordPress will go a mile further and help you to track your blog's or website's visitors while applying the necessary tags. This handy feature allows for the very effective use of behavior based tags in response to how users interact with a website.
Marketing Automation Magnificence
ConvertKit's automation manager is an ultra-simple easy to use the tool. It actually is ConvertKit's strongest buy point. It presents its automation rules in lists which can get pretty messy, but its visual automation builder will step in to save the day.
It streamlines the whole process with its marketing automation default view that displays workflows into the context of your desired business outcomes.
With the new builder, all the action happens inline, directly on your workflow; everything from adding sign-up forms and entire emails. This feature brings on speed and simplicity to the email automation process that makes ConvertKit a stand up tool.
Unfortunately, ConvertKit's prowess at A/B testing which is an integral part of a business is next to none. It will allow you to test different subject lines with one-off emails, but it has no split-testing capability.
It also does not let you examine on delivery times, email content or automation. This can make it pretty hard to run massive campaigns on it especially if you require split-testing input to forge the best results.
Unimpressive Default Templates
ConvertKit also allows you to use slide in forms, modal or inline embeddable forms to assist you to collect emails. Its form's designs though are a bit unimpressive, and their editor only allows a color change.
If you need another unique design, you will need to use custom CSS. This case also applies for its landing page builder and its email templates too. If fancy email templates are your thing, this tool's default templates may come off as dull. You can design and code your own, but for most users, this could be a hassle unless you have prior knowledge of CSS and HTML.
Its other downside is that it also supports fewer integrations than other email marketing tool competitors. It does integrate with some of the most popular third-party apps out there so for most users the integrations available are sufficient. If you are into the more obscure programs, then you will be a little uncomfortable with ConvertKit.
This email automation tool has a tracking and reporting feature that gives simple analytics of your email campaigns. It is not in-depth analytics, but it does offer a quick view of your business's email list growth. It also displays your 30 days subscriber acquisition on its dashboard, and it allows you to do a filter based on time frames.
ConvertKit has a very robust support team. Every new user gets a custom welcome video made them for them signaling a commitment to support. They respond admirably to customer queries and have live chat support as well. They also are very focused on community-based support, and you can rest assured that with ConvertKit, you will never walk alone.
ConvertKit: The Good
It offers unlimited offers for a campaign allowing you to provide as many freebies or downloads as you wish.
They offer free migration services from your previous tool
They allow headline A/B testing to help improve open rates and impact your bottom line positively.
They allow for simple landing age designs
The tool works well for social media campaigns
Its management of user subscription is very flexible
A responsive support team
Optional double opt-in sign up forms
ConvertKit: The Bad
Its pricey and has no free trial period [UPDATE for 2020: Convertkit JUST released a 100% free plan (ConvertKit free) for up to 1000 sends per month!]
Its default design options are not impressive
They have no in-depth analytics to boost email marketing campaign knowledge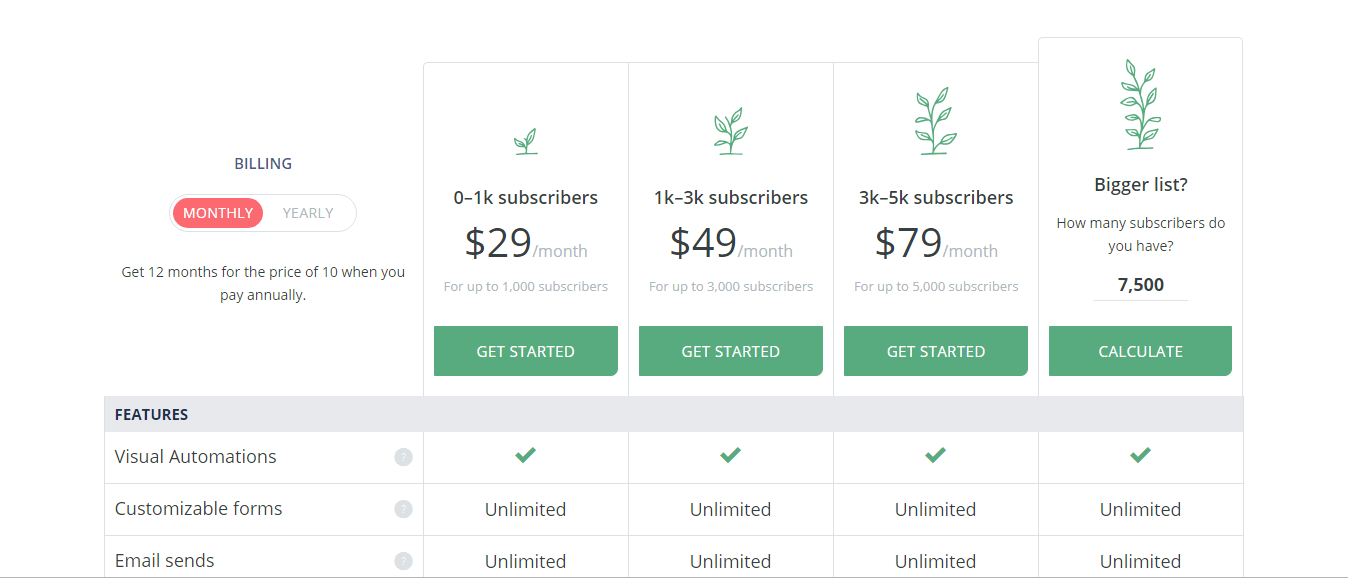 AWeber Marketing Service
Once upon a time AWeber did rule the email autoresponder blogger focused market. It has been a very popular solution for sending and designing HTML e-newsletters. Many of its current and past users though complain of a lack of development and significant updates, which have made it lag behind the newer and sleeker tools in its class.
AWeber has been the to go tool in the email marketing world for quite a long time. It is still a solid choice for the job, but it has lost quite a huge market because it seems to have stagnated in growth. Launched in 1998, many of its competitors are quickly outpacing it. It has over 115,000 users and is very highly rated in regards to their reliability in email delivery and customer support.

Fantastic Pricing Plans
AWeber has attractive five pricing plans, with all the features available on all plans in spite of price differences. You do not have to pay exorbitant rates for a small business to enjoy all of AWeber's functionality as is the norm with some platforms in this niche.
This platform has out of this world helpful customer support team who are available 12 hours of the day, 5 days a week. You can reach them via phone or live chat during their works hours and send them an email with guaranteed answers in less than a day. Their staff is also very knowledgeable on things AWeber and common email automation problems helping you enjoy a hassle-free experience on their platform.
Another handy feature of this tool is their easy to use drag and drop builder for campaigns that make automation very easy. You can use it to design automated flow up steps on its interface. With it you can easily add or remove tags, add tags to subscribers who will open your emails or click on individual links within your emails. It then allows you to create better targeted follow-up emails and sequences based on the tags created.
Archaic List Based Segmentation
AWeber makes it very easy to create a content upgrade to grow your email list. Content upgrades are more like a cheat sheet; bonus content that is closely related to one of your successful blog posts. Once your customers access that content, they are asked to provide their email addresses. While AWeber's list based system is a bit archaic, it assists in the creation of multiple forms for each list.
With AWeber, the creation of tags based on link clicks is easy too. You can tag your customers based on if they have clicked a specific link for personalized marketing. Aweber offers two ways to automate email marketing. Customer subscription or the application of tags.
Other platforms enable automation from purchases, email replies or changes in custom fields. AWeber also does sequential emails. It does not allow the running of various automation or branching. This platform lacks so much versatility in the area of automation as compared to its competitors, limiting the type of email funnels you can create for your marketing.
Archaic Design Templates
AWeber also has ancient email templates which do not do much for their image nor yours. And while it has a lot of templates for email and form creation you might to design your own or use a third party tool to get fresher looking designs.
On AWeber, every subscriber on your lists contributes to your subscriber quote. Unfortunately, customers who have already unsubscribed to your emails still count in the costing on this platform. AWeber will also at times charge duplicate subscribers so unless you are very keen on pruning and updating your lists, you will end up forking more in costs than necessary.
As part of its functions, AWeber makes it very easy to send an email to an entire subscriber list or to a specific subscriber group. It only allows broadcasts to be sent to built-in segment lists, but it does not allow the segmenting of broadcasts by tags.
Campaigns assist in the sending of emails at specific times. This 'dripping' of content keeps you visible to your customers and can be done under AWeber 's create a campaign button.
While AWeber as over 700 form builder templates and email templates, as mentioned, they are outdated. The platform's drag and drop editor assists you to drag fields you require onto the forms (specifically, opt-in forms), but your customization of these forms will be limited to fonts, color choices and positions only.
On the bright side, if you are looking for an email automation platform that integrates with a high number of 3rd party apps, AWeber is it. It also has a member's only active social media support group.
AWeber Email Service Provider: The Good
Excellent integration with a host of other related programs
Great customer support
Easy to use email autoresponder creation user interface
The platform supports tagging by clicks
AWeber: The Bad
Charges for duplicate and unsubscribed email addresses
Archaic for an email template design
Limited social media integrations
Does not allow email split testing

ConvertKit vs AWeber Compared
ConvertKit has one significant advantage to AWeber It does organize your subscriber lists in a better and more hassle-free method that AWeber does. AWeber focuses on separate lists while ConvertKit mostly makes tag lists (a more automated marketing tool and trigger).
With ConvertKit all you need is tag your subscribers without the need to do the hard work of creating a brand new list for every product or webinar you want to invite them to. ConvertKit, therefore, will not charge you for duplicate subscribers.
AWeber has many useful features but has been left behind by the innovation happening in email marketing. Their list-centric focus, as opposed to ConvertKit's subscriber-centric focus, leaves very little room for personalized or customized email marketing.
With AWeber, it is challenging to track down your customers' interaction with your brand at a user level, because all the platform offers is list based segmentation. You could end up spamming your customer to death with repetitive or unfocused emails if their address is listed on different lists.
Because ConvertKit does not segmented customers to "silo-ed" lists, its tag or trigger based segmentation simplifies email customization.
Your subscribers for example only need to subscribe to your content with a single click in your email. This way they will receive all necessary and relevant information using simple triggers to drive actions. No need to build tons of lists. Just one master list and defined tags are sufficient! If you are sending an email to specific tags then the chances of spamming your customers through overlapping lists become a thing of the past.
AWeber's pricing is excellent for small businesses, beginner bloggers or affiliate marketers experimenting with email marketing. It begins with at $19/month for 500 subscribers. ConvertKit pricing structure starts with a higher $29/mo for 1000 subscribers.
AWeber has been in the market for a long time and boasts of at least 120,000 users and has a host of mobile apps to assist with email marketing. It also has a 30 day trial for anyone looking to dip their toes in first, something ConvertKit does not allow.
AWeber also integrates with over 150 other useful programs, but ConvertKit has less than a hundred so far. Both email marketing tool platforms integrate with the leading industry players like WordPress, Shopify store or Facebook, so the advantage AWeber has here may be just minor.
The Final Word: Aweber or ConvertKit Email Service Provider?
Bottom Line: When all is said and done, ConvertKit wins this race thanks to innovation and its ability to keep up with the market's expectations for the latest email marketing software trends.
With it, for example, you can click on one button and resend your broadcast email to every subscriber who hasn't opened theirs yet.
However, for anyone starting out in the field of automation, AWeber allows you to experiment without incurring high costs (and I still consider Aweber to be a better option in a head-to-head matchup of Mailchimp or Aweber automation and market tool features, including the free Mailchimp model).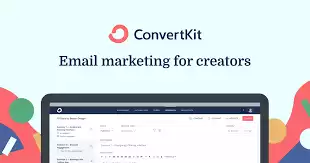 I Personally Prefer ConvertKit
ConvertKit was built for content marketers. That's me! Advanced email automation, sleek pre-built templates, and a dead simple user interface. Because of these factors, I highly recommend ConvertKit for MOST readers here.
Try ConvertKit First
Save 30% for Black Friday!
We earn a commission if you click this link and make a purchase at no additional cost to you.
Here are related marketing software and email automation articles you may be interested in: