Last Updated on April 22, 2023 by Ewen Finser
No matter how great your product or service is, the secret to scaling your revenue is to get the word out about your venture to the right people at the right time.
In a nutshell: Marketing is a vital discipline for all entrepreneurs.
Done right, it brings new customers to your door and convinces existing ones to stick around. In addition, marketing solidifies your brand, enabling the world to understand what you're all about. In short, without a decent marketing plan, your business would scrape by on limited word of mouth.
Most businesses, therefore, have an in-house marketing team or person. However, in an evolving digital age, marketing is no longer as straightforward as putting up posters or publishing ads in a newspaper. Instead, marketers need several aces up their sleeves, from video and content marketing to understanding the intricate details of SEO.
So, what are your options if you don't boast that expertise?
This is where Mayple comes in. Mayple is a marketing hiring solution that helps businesses collaborate with marketers across different disciplines. Mayple empowers you to quickly fill your marketing-related skills gaps without shelling out for a permanent employee.
As someone with over four years of experience writing in both the digital marketing and HR space, I was intrigued to learn more about this service and its benefits. So, without further ado, let's explore what Mayple offers…
Bottom Line Upfront
In a nutshell, I think Mayple is a marketer hiring solution suited for established businesses looking to get the best possible value for money for their marketing budget. It's an AI-driven platform that finds a match for your needs in four days. After that, you'll receive continued support from Mayple, including growth and strategy recommendations.
A thorough vetting process ensures only top-performing marketers make the cut. However, because of the high price tag, Mayple is unlikely to suit smaller businesses.
How Does Mayple Work?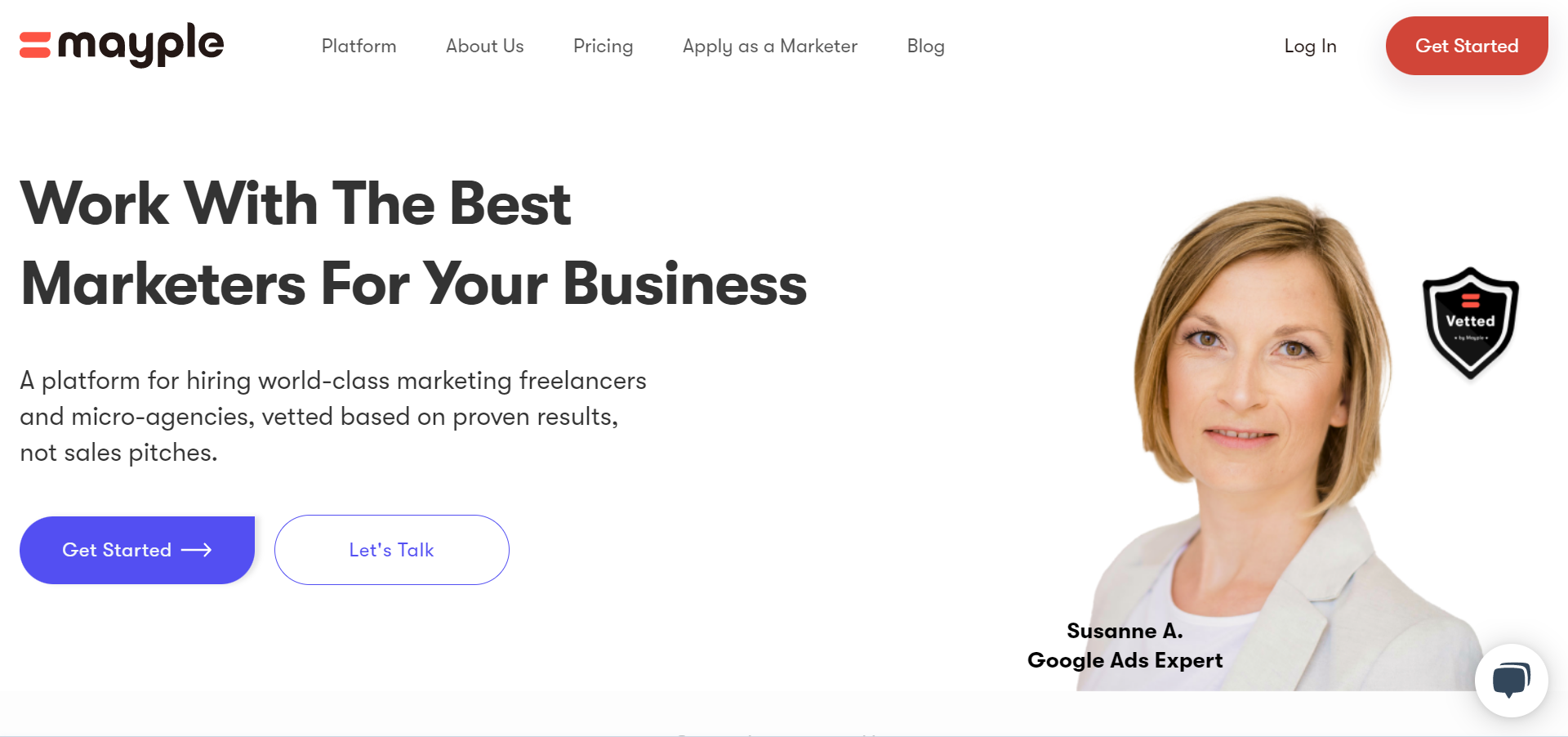 Mayple is a platform that connects businesses of various types with marketers from multiple backgrounds.To do this effectively, the platform uses heaps of data to streamline and optimize the hiring process, starting by pairing you with the right experts for the marketing campaigns you wish to run.
Mayple unlocks access to over 600 marketers, all of which are exhaustively vetted by their past performance. Over 25 success factors determine whether Mayple considers a marketer a good match for your brand.
Once you start a collaboration, Mayple uses unbiased monitoring to monitor the marketer's performance. On top of that, you can also receive strategic recommendations from your assigned growth strategist to help you take your marketing strategy to the next level.
For businesses, Mayple provides excellent flexibility. Not least because companies get access to the marketing talent they require on a short-term, as-needed basis.
What Does Mayple Do?
As I've already mentioned, Mayple's core service matches you with marketers suitable for your project and monitors the collaboration. But, on top of that, the platform boasts a range of other valuable features. With that said, let's look at what Mayple has to offer…
Data-based Vetting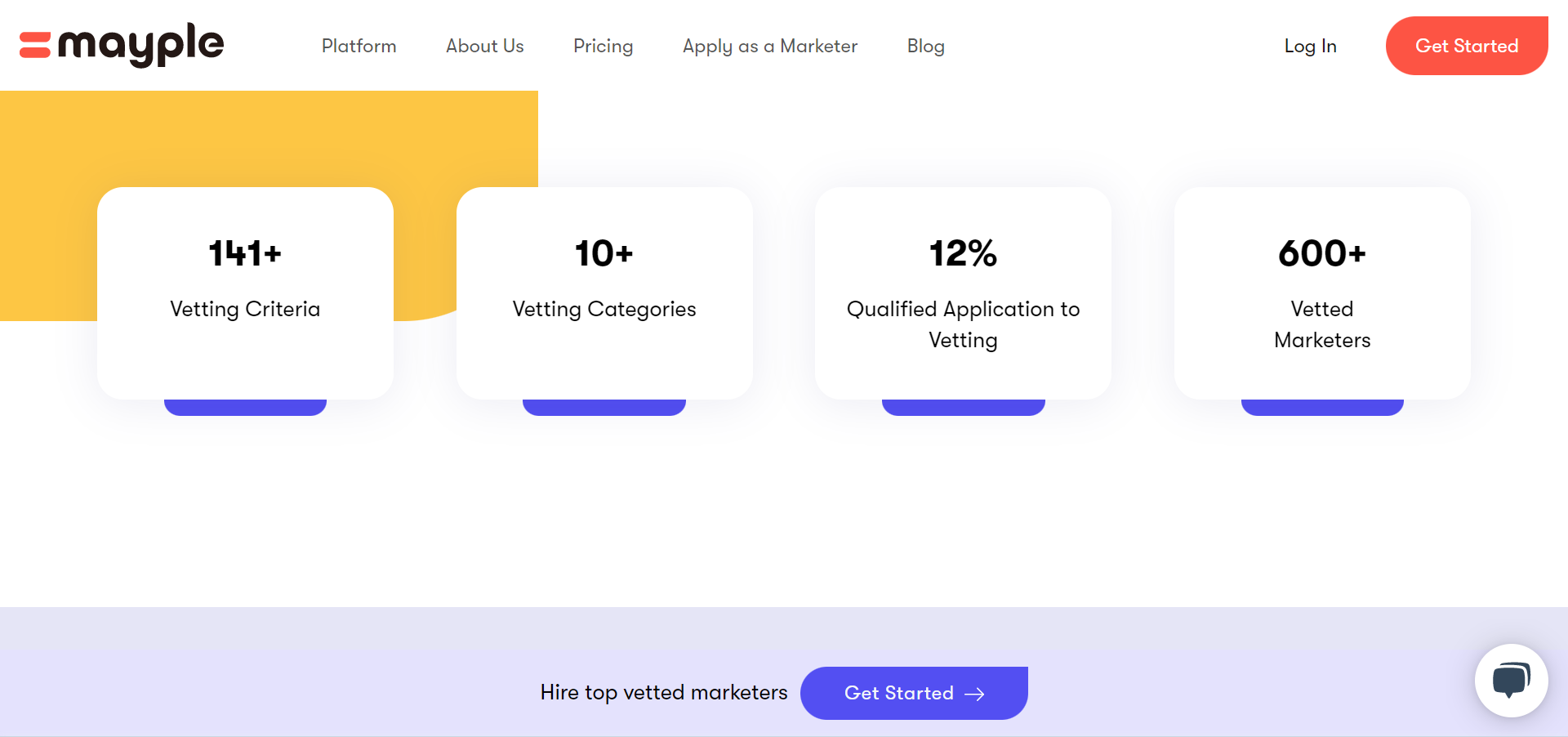 Mayple's vetting process ensures you only work with marketers who can demonstrate their expertise. Marketers are tested across over 141 points across ten vetting categories. In fact, the vetting procedure is so intense that only 12% of marketers who apply qualify.
Some criteria include
A proven track record of results

. Mayple requests view-only access to marketers' accounts to review their results for different brands in their niches. Only those that achieve above-benchmark results can qualify to become a Mayple marketer.

Mayple checks a list of

best practices per skill

to determine the candidate's professionalism. They compare their past work against over 100 criteria, like their A/B testing methodologies or account structure.

Mayple conducts an in-depth

face-to-face interview

with every expert.
AI-Powered Matching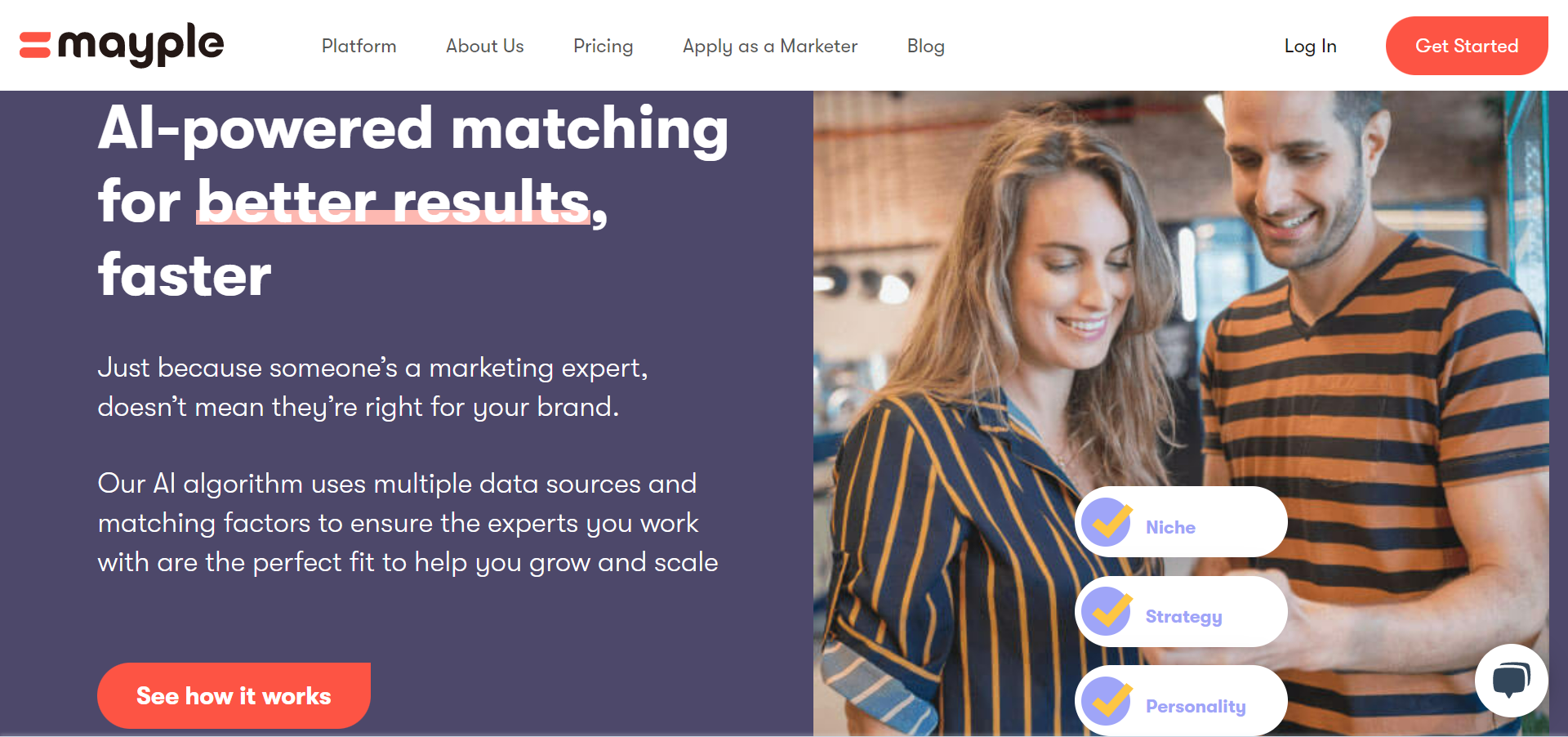 Just as Mayple's vetting process is data-driven, so is its matching. procedure
Mayple matches brands and marketers based on over 25 factors, including:
Niche

Strategy

Personality

Target audience

Business stage

Budget

Channels
The average matching time is three days, and the average success rate of a match is over 92%. However, checks continue to run in the background once you start work with a Mayple expert. This ensures that if your priorities change, you can start looking for a new expert to further your growth.
The actual matching process happens in five steps:
Mayple analyzes and identifies 25-50 matching factors based on your brief

During a growth strategy meeting, you and your Mayple strategist fill in any further info.

The AI-powered algorithm compares success factors with Mayple's database of marketers.

Three to five top marketers matching your criteria are identified, and the team approaches them for final verification.

You and Mayple choose the perfect match, and they immediately start to create a marketing plan for your brief.
Performance Monitoring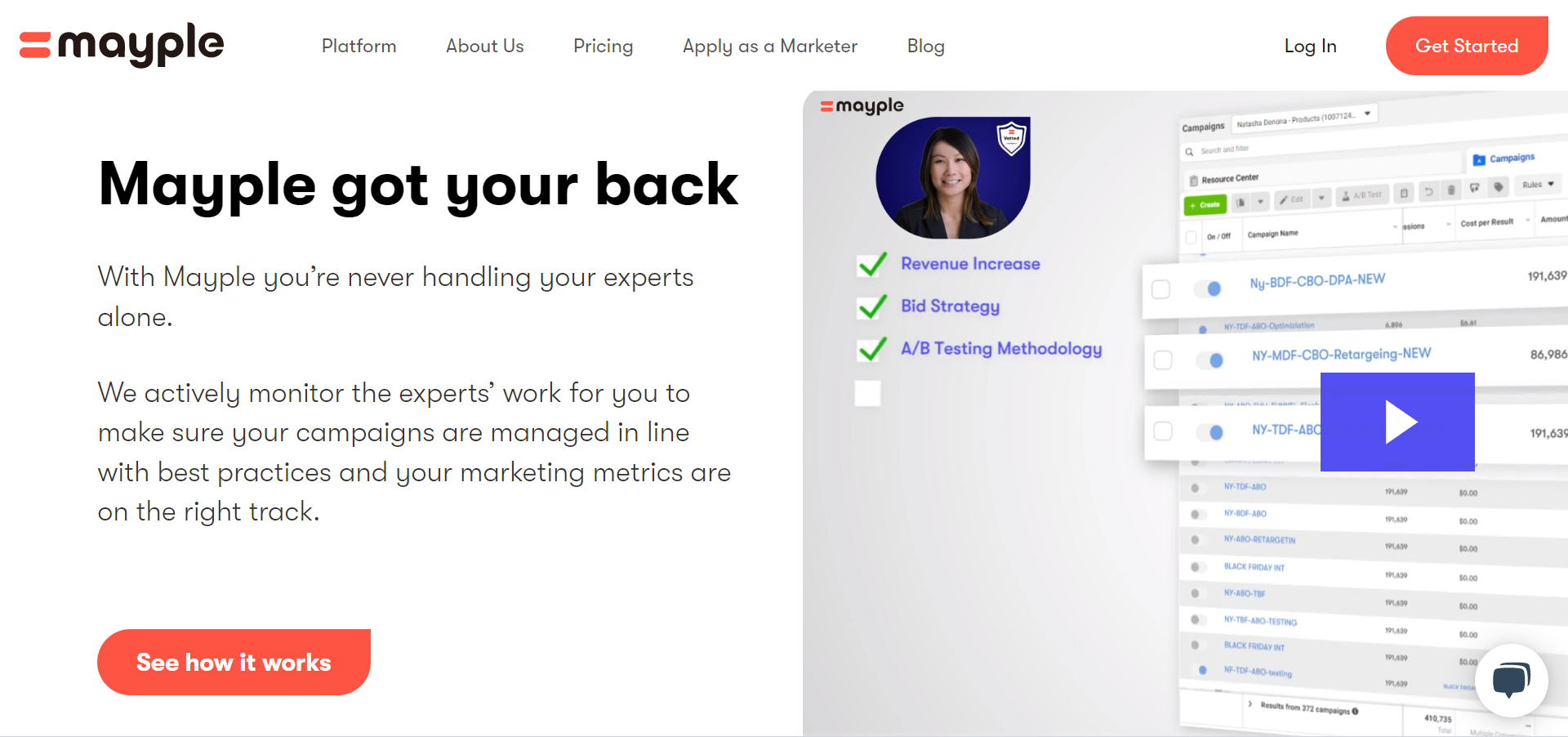 I've already said that Mayple will continue monitoring your collaboration to ensure your best interests are always met. This unbiased process is, yet again, data-driven. It utilizes 180 parameters, taking over 50 factors into consideration.
Below I've listed just a few examples:
A/B testing methodology

Account structure

Naming conventions

Targeting approach

Shopping ads methodology

Attribution models

Revenue and ROAS

KPI's

The project change log

Funnel conversion rates
However, for Mayple's monitoring to be effective, you must share access to your accounts and make Mayple aware of your marketing goals in the initial brief and meeting. Then, Mayple will endeavor to ensure their expert's work aligns with best practices. They'll also track key metrics to make sure your budget is being put to good use.
Suppose any of the best-practice parameters are broken. In that case, Mayplpe contacts the marketer to investigate and takes action to fix it if needed. If there are any changes, Mayple notifies you through your dashboard. So you'll always know what's happening in real-time.
Dedicated Growth Strategists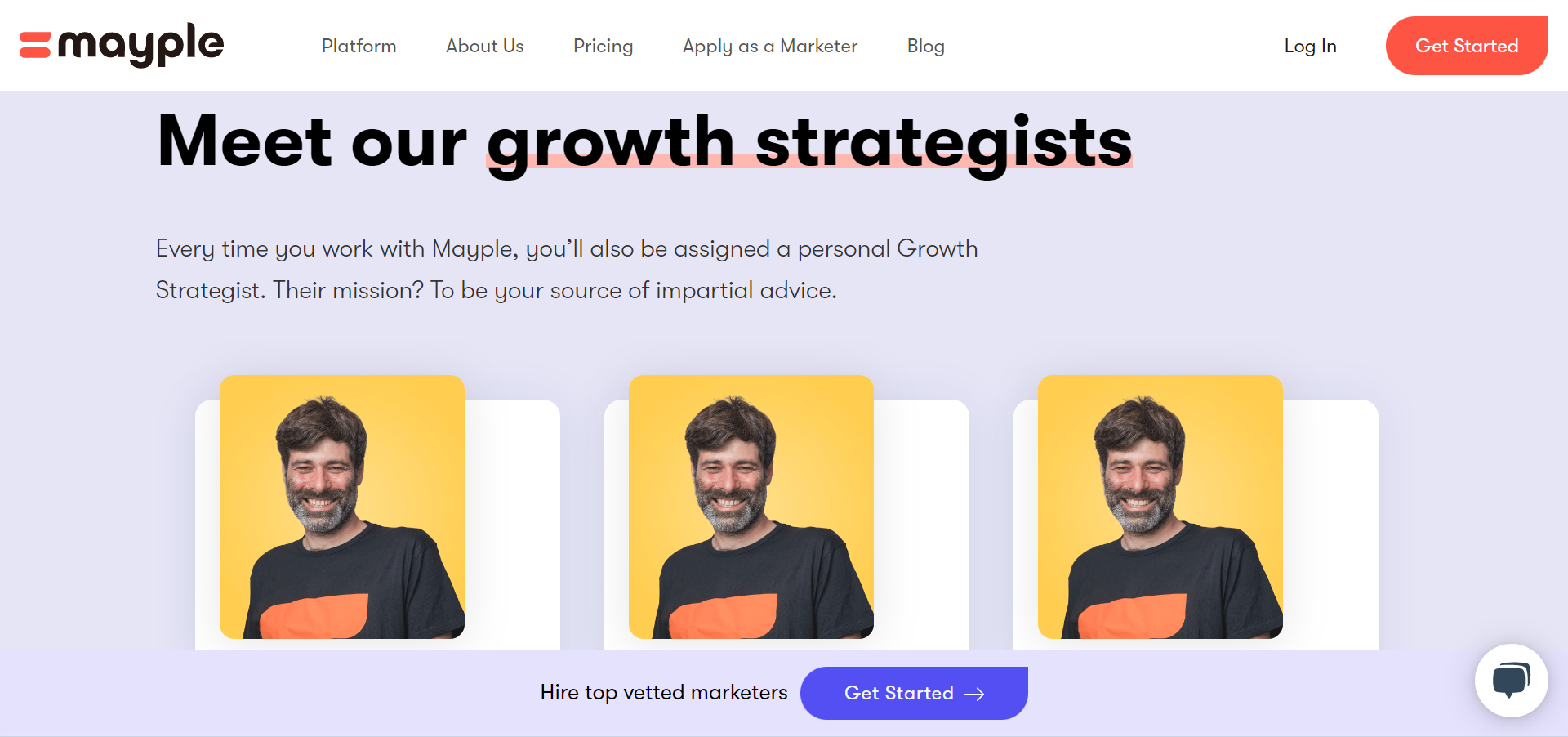 Anytime you work with Mayple, the platform also provides you with a dedicated growth strategist from their own team. This strategist helps you identify marketing opportunities, objectives, and KPIs. Predominantly, they recommend opportunities for growth by continuously combing through your business metrics and marketing activities to identify what you can do to enhance your campaigns.
Meetings with your growth strategist occur monthly, so you can quickly re-align your strategies as the year progresses. During said meetings, your specialist will:
Look for possible gaps in your funnels

Conduct opportunity analysis

Prepare action items and homework

Provide growth recommendations
Mayple's Pricing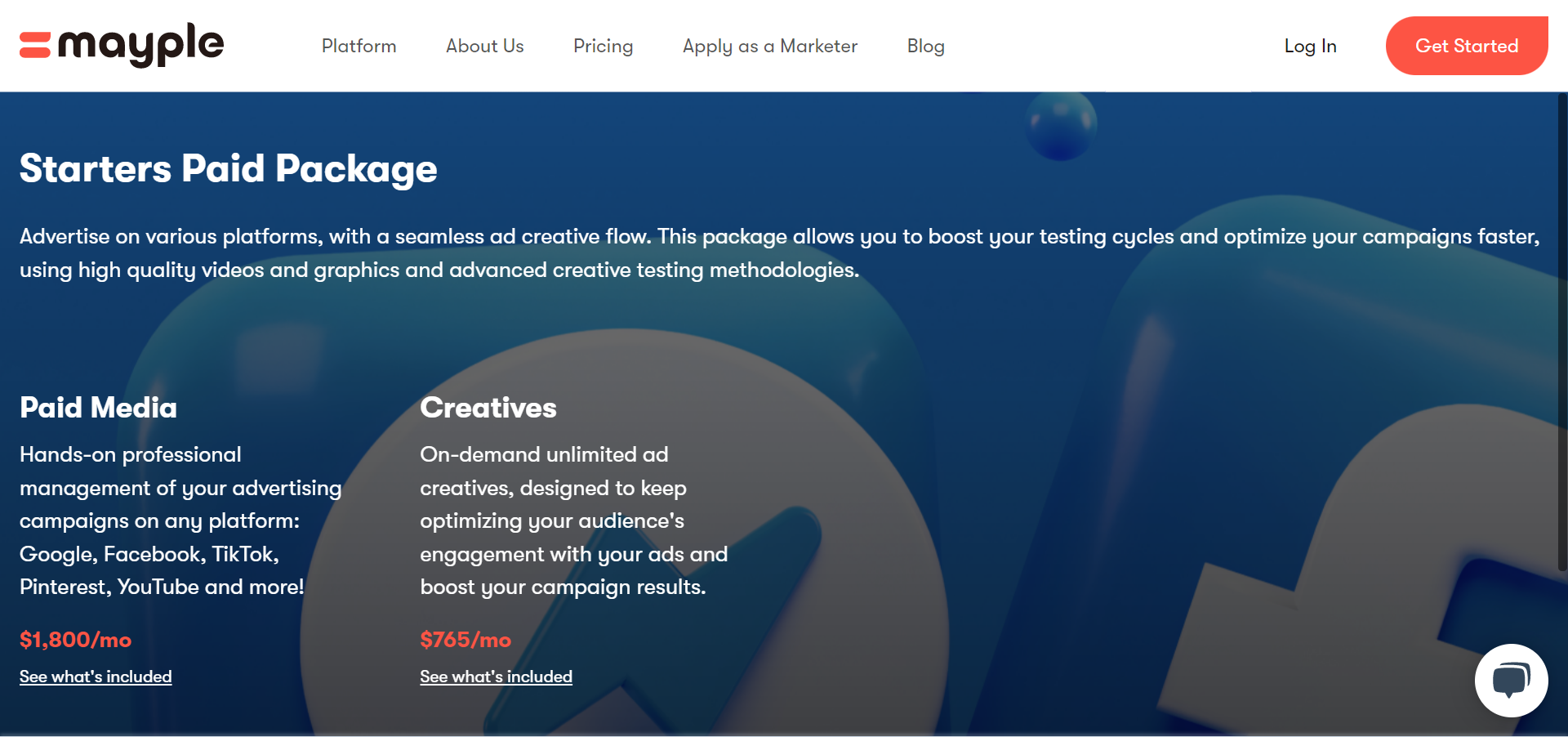 Mayple's pricing is complex as it depends on your monthly budget, the channels you want to market on, and the marketing disciplines you're interested in utilizing.
Marketing with Mayple is a considerable investment. In light of that, I recommend visiting Mayple's pricing page and even getting in touch with the team to obtain an accurate quote based on your needs. The initial form to get a quote takes about two minutes to fill out.
That said, every package has its own guaranteed services and limitations, defining what's included and what might cost extra. You pay monthly once you have approved your expert, and there are no set-up fees.
With all that in mind, here's a quick overview of Mayple's different packages and their starting prices:
Paid Media:

Drive quality traffic using paid advertising. This package starts at $2,000 per month and suits those with a monthly budget of $5K – $10K.

Email Marketing:

Find an expert to analyze your current email content, write and design new emails, and create lead capture forms on your site. Pricing starts at four emails per month for $463 per email.

Social Media:

Choose from three different social media plans, depending on how many channels and pages you want an expert to manage and how many posts, stories, or reels you want to post each week. Prices range from $2,313- $4,938 per month.

Influencer Marketing:

An expert will identify brand ambassadors to promote your business. This includes auditing your audience and creating a campaign plan. Pricing starts at $2,781 per month for outreach to 10-20 influencers to produce up to five estimated agreements.

Amazon:

Find an expert to optimize your listings, audit reviews, set up ads, and more. Prices start at $3,687 per month for 1-10 ASINs.

Marketing Strategy:

Get a top marketing expert to plan your marketing strategy with a clear, step-by-step strategic plan for the next six months. Starting at $6,000.

Creatives:

Get custom graphics for your ads, including unlimited requests and revisions. Pricing depends on whether you need only images, video, or both. Costs start at $449 per month for graphics and $549 per month for video.

SEO:

SEO services are available across three plans ranging from $3,575 per month to $9,000 per month and include page optimization, keyword optimization, site audits, competitor analysis, and more.

CRO:

Optimize your conversion rate. A single-page audit costs $1,813, and a website audit costs $3,950. You can also opt for ongoing optimization.

Consultations:

Get flexible consultation hours with top experts to receive strategic advice or obtain a mentor for one of your employees. Prices start at eight hours per month for $200 per hour.
You can also book a bundle including some of the above services if you're just starting out and want to begin advertising on various platforms. The Starters Paid Package includes paid media services for Google, Facebook, TikTok, and more. You'll also get access to on-demand unlimited ad creatives designed with your audience in mind. The bundle costs $2,565 per month.
The Social Media Winner bundle includes paid media, social media management, and marketing creatives for $4,415 per month.
A Full Funnel Growth bundle comes with paid media, marketing creatives, email marketing, and CRO (Conversion Rate Optimization) for $8,365 per month.
For more information about Mayple's bundles and packages, click here.
Mayple's Customer Support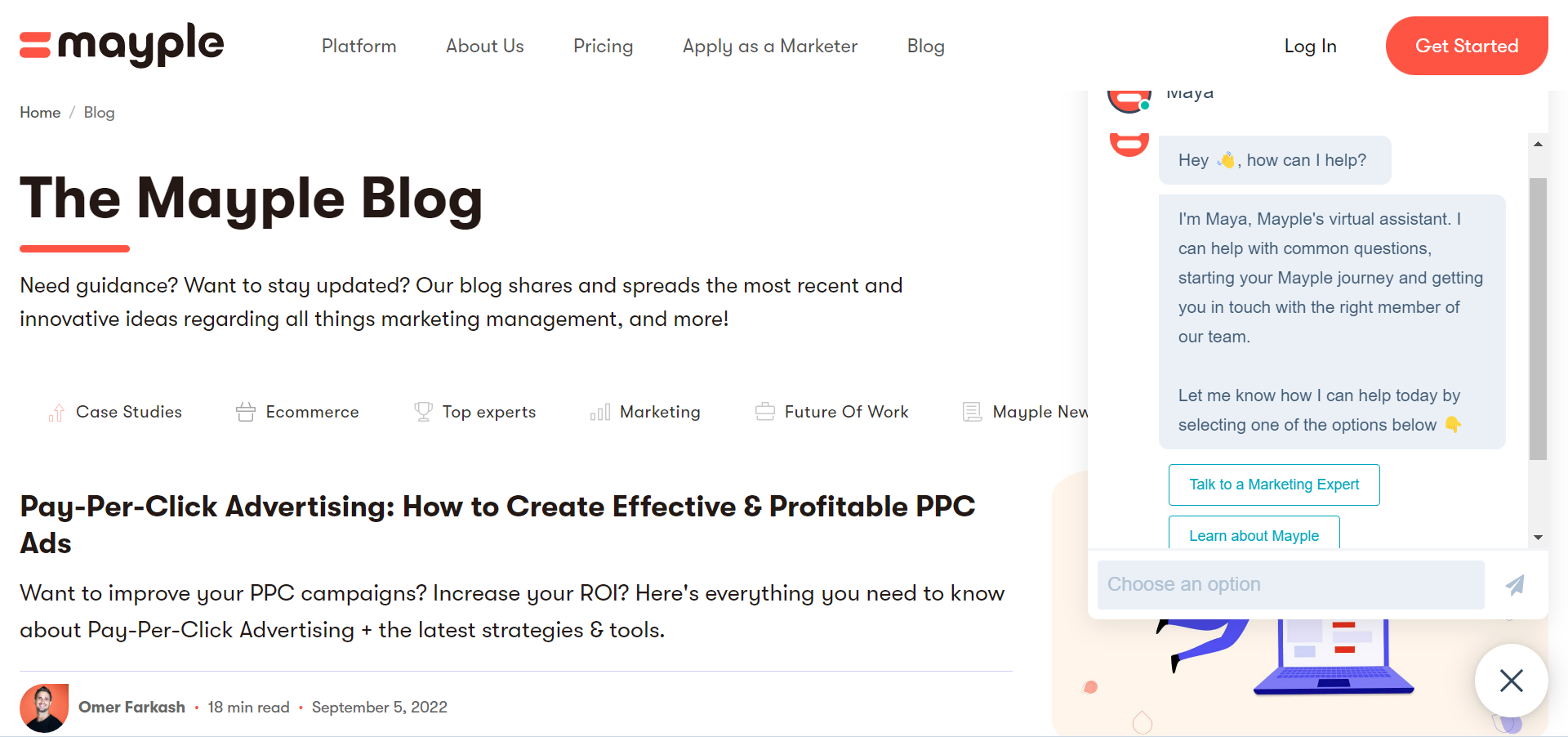 With access to a dedicated growth specialist, Mayple's customer support is astoundingly involved. Meetings with your specialist happen once a month and can be used to address any concerns and plan strategies for more growth. In between these meetings, Mayple's ongoing monitoring ensures any issues are flagged and addressed quickly. Of course, you can contact your specialist via email throughout the collaboration if an urgent question arises.
On top of this, there's an impressive range of self-help resources, including a blog brimming with helpful marketing guides, tips and tricks, and best practices. You can also download a marketing plan template, complete a CRO audit and checklist to score your website, get up-to-date information on marketing best practices, and more.
Mayple's Pros and Cons
Before we wrap up below, I've listed Mayple's most notable advantages and disadvantages:
Mayple's Pros:
Mayple keeps a singular focus on marketing, which ensures all of its services are geared towards providing you with high-quality marketing expertise.

You can find an expert in nearly any marketing discipline.

Ongoing monitoring ensures you benefit from best practices and your money is put to good use to grow your business.

Every Mayple expert is thoroughly vetted, so you'll only work with top performers.

Mayple takes the guesswork out of hiring a freelancer, as they're well-versed in matching people with the right experts.

The monthly meetings with your dedicated growth strategist will help you get more out of your marketing.

Customer support is excellent, as is the range of self-help resources available.
Mayple's Cons:
The initial brief you have to fill out is quite elaborate and can take some time. However, this ensures you get the most out of the experience.

Adding extra marketing channels into the mix quickly amounts to high additional costs.

Many of their packages are quite pricey, making Mayple a problematic option for smaller brands that need to watch their budget.

You don't get to be very involved in the vetting and matching process. The data chooses for you, and then Mayple presents you with their best-matched expert.

Mayple isn't ideal for small projects as most packages cater towards long-term campaigns and collaborations.

A positive ROI can take some time compared to the investment price. Again, only established businesses can take this risk and pay a marketer for a few months without immediate return.

All plans for which you're billed each month require a minimum 3-month commitment.
Mayple Alternatives
If, after reading this review, you're unsure if Mayple's for you, you might be interested in seeing what else is out there. So I've listed a few alternatives that enable you to hire and collaborate with marketers across various disciplines: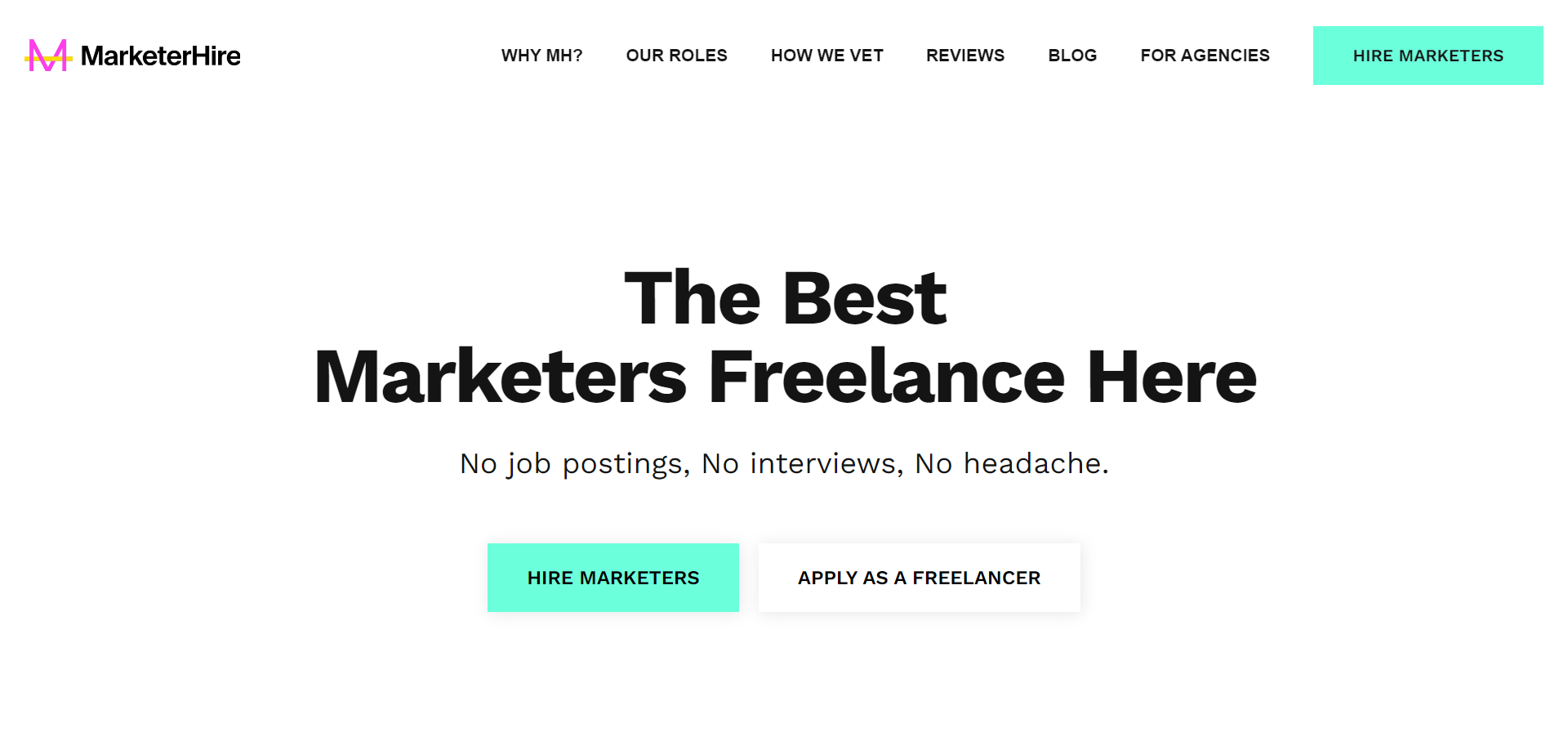 Marketerhire actively headhunts skilled marketers to join their platform, or freelancers can apply. Each applicant goes through an in-depth skill review, including work samples and client feedback, and undergoes a video interview. Finally, each candidate is assigned a test project to complete the application.
You can use MarkterHire to find email, content growth, brand, SEO, and social media marketers, amongst many other disciplines. Hiring usually takes three to five days, and there are no termination fees. In addition, the platform checks in with clients every two weeks to see how projects are progressing.
The platform is trusted by big brands like Netflix, Buzzfeed, and HelloFresh.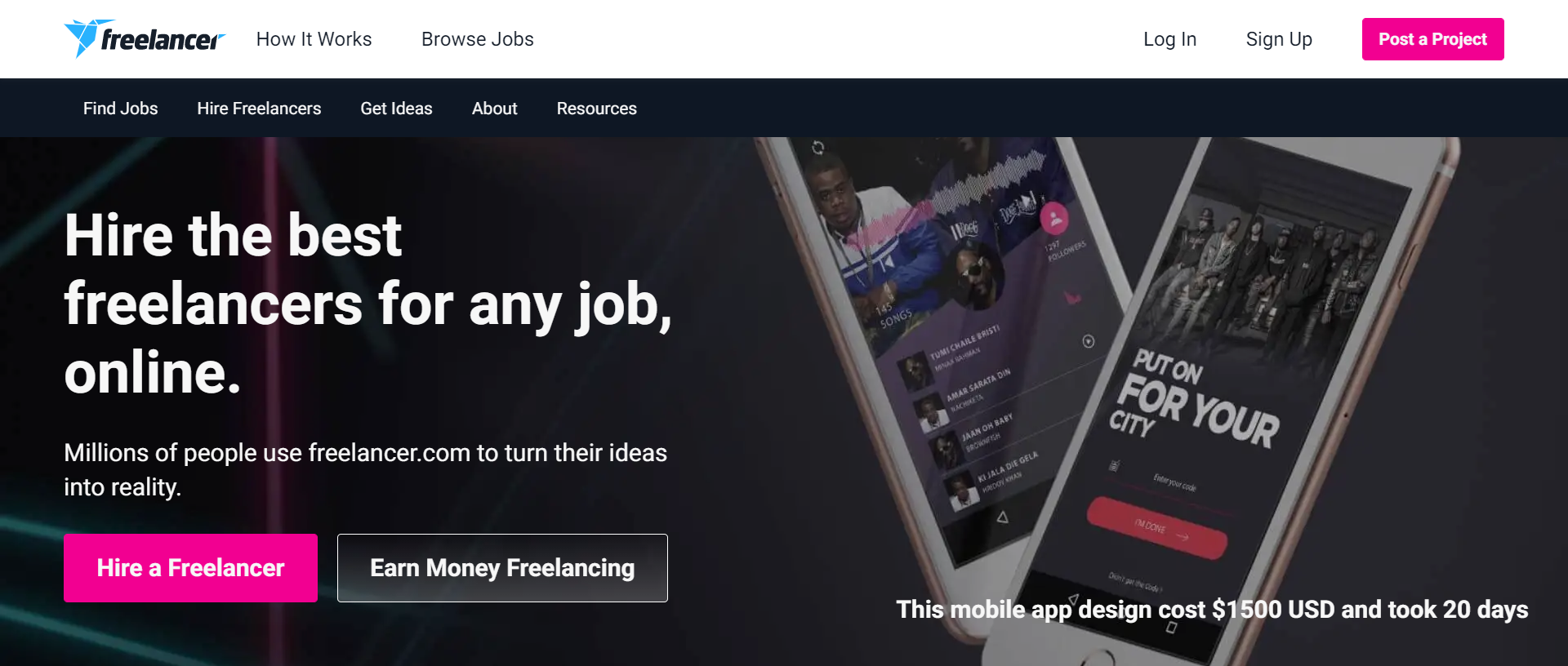 Freelancer is a broader freelancer platform. Here you'll find freelancers for virtually any job. However, compared to Mayple, Freelancer is better for shorter, less expensive projects.
You can search for freelancers by skill or location. Alternatively, you can post a job with a title, description, and budget, and freelancers can apply. However, this means you must choose the best option and design your own vetting process. While Freelancer ensures secure payment and is there to help manage projects, the platform doesn't collaborate too closely with you or the freelancer.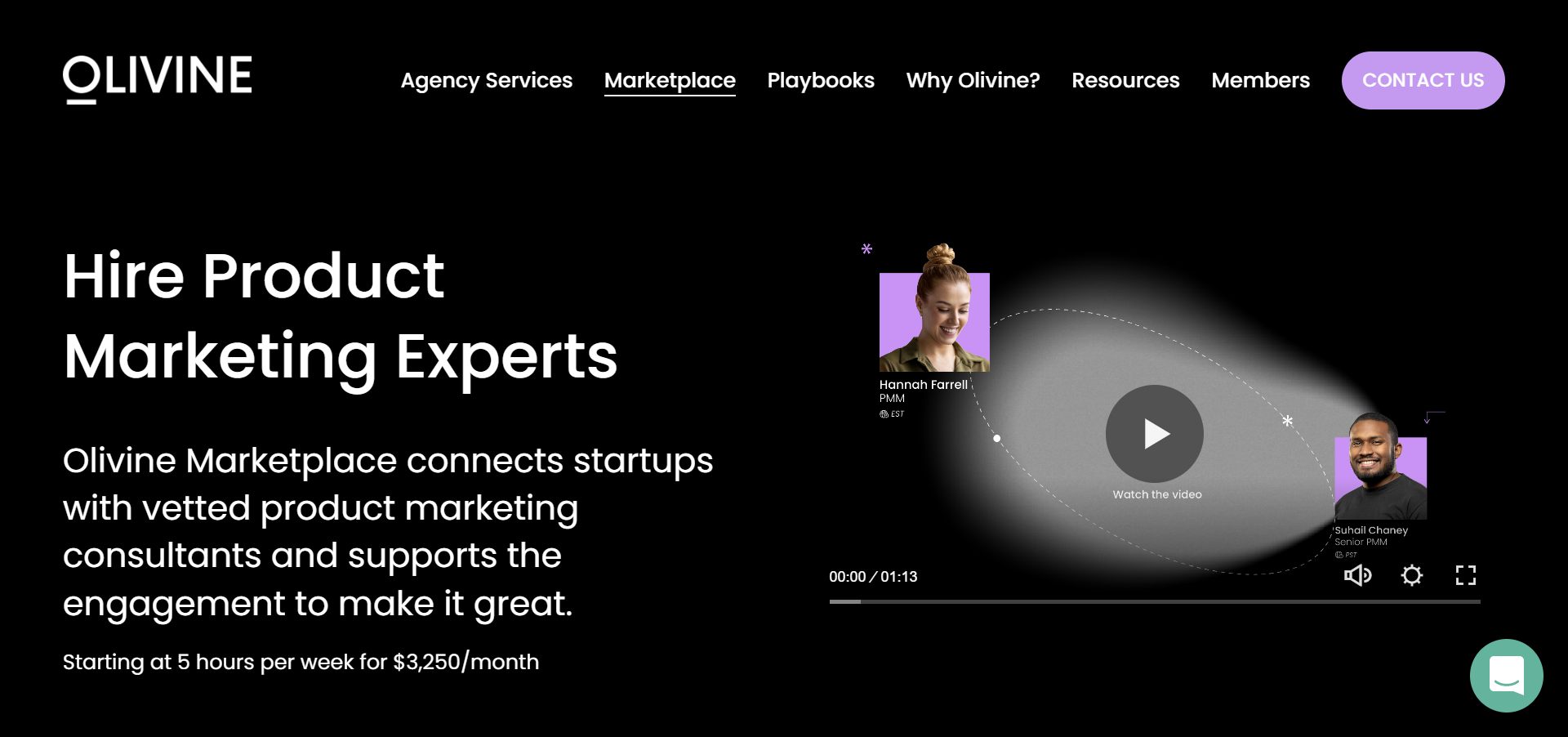 Olivine is a place for hiring product marketing experts. The platform connects startups with vetted product marketing consultants. Prices start at five hours per week for $3,250 per month.
Olivine's experts are vetted through a training course, a positioning and messaging test project, and one-on-one interviews. Once connected with your consultant, the platform provides ongoing support for both parties, including the invoicing and administrative side of things.
Olivine's product marketing experts can help with product positioning and messaging, product launches, website content, sales pitch decks, and more. Its price point and ongoing support place it on a similar playing field to Mayple. However, Mayple employs marketers across a much broader range of disciplines.
FAQs
Question: Do I get to choose my own expert on Mayple?
Answer: Mayple's platform uses AI to determine the best match for your business based on a thorough brief created in collaboration with you. This process usually generates 3-5 experts, from which Mayplel chooses the best match to introduce to you. As such, you don't usually get a choice in which expert you collaborate with.
That said, if you don't like the expert Mayple has chosen, they'll recommend another based on your preferences. However, the current match success rate is 92%, so there's a good chance you'll be happy the first time around!
Question: Does Mayple's monitoring service cost extra?
Answer: No! Mayple monitors each and every collaboration. This continuous and unbiased service is included with your package at no extra fee.
Question: Is there a minimum time commitment to Mayple's plans?
Answer: You must commit for at least three months to sign up for any of Mayple's recurring monthly plans. This is because it takes time and resources to get your marketing campaigns rolling. As a result, you won't always see desired results after just one month. You can cancel after three months at any time. However, Mayple protects its expert by requiring 30 days cancellation notice.
Question: How does Mayple compare to marketing agencies?
Answer: Agencies are a great choice if you need someone to help you grow from the start and build campaigns from scratch. However, you're rarely their first priority as they have other clients to attend to. Not to mention, results can be a gamble, and agencies are often slower and more expensive.
Mayple differs by providing you with ongoing quality monitoring, an impartial growth strategist, experts in your niche, and data-driven vetting. Your experts will also handle fewer clients, so you remain a top priority.
Most importantly, there's no conflict of interest with Mayple. An agency might not want to tell you if your campaigns aren't performing well because it wants to keep you as a client. Mayple ensures that every expert you work with achieves results for you and recommends you move on when things aren't working out.
Question: How does Mayple compare to freelance marketplaces?
Answer: The difficulty with freelancer marketplaces like Upwork and Fiverr is that they welcome self-proclaimed experts. Unfortunately, professionals aren't always vetted, so you must be careful about who you work with. Consequently, you'll spend more time vetting experts and enjoy much fewer protections than you would with Mayple.
However, the benefit of freelance marketplaces in comparison is that they're often a much cheaper option. They're also often better suited to shorter-term projects than Mayple.
Mayple Review: My Final Thoughts
All in all, I think Mayple is a fantastic alternative to marketing agencies and freelancer platforms, so long as you have the budget to spend on your long-term marketing strategy. In addition, the service offers first-rate support with its monthly growth specialist meetings. I'm also a big fan of the unbiased monitoring that ensures your expert keeps performing at a high level, so your money isn't wasted.
In light of this, I think Mayple is a credible and effective option for businesses looking for top marketing talent. This is especially true at the moment; given the tight US labor market and a potential recession on the horizon, the flexibility this offers is vital.
However, considering alternatives like Upwork or Freelancer might be worthwhile if you're on a tighter budget. Just be prepared to put in the extra time to find the right expert and vet their past performance and experience. That's all, folks! Let us know in the comments below if you'll try Mayple to meet your next marketing collaborator.