Last Updated on June 1, 2023 by Ewen Finser
Analyzing your website's statistics is one of the best ways to understand your audience better. Within minutes you can see where customers come from, what content they engage with, and what makes them leave your site. All that to say, in an increasingly data-driven world, keeping a close eye on your site's metrics is now a basic essential for any online business.
However, obtaining analytics across the board is a cumbersome task, and the data can sometimes be challenging to reconcile.
Fortunately, this is where marketing analytics software like Similarweb vs Comscore come into play. Both tools allow you to better understand your and your competitor's performance. With an array of data at your fingertips, you'll be equipped to improve your business, focus on the most effective channels, and cater to new audiences.
Sounds good, right? That's why, as someone who's been writing in the digital marketing space for over four years, I'm intrigued to learn more about what Similarweb vs Comscore offer.
Let's take a look…
Bottom Line Up Front Summary: If you need detailed industry level metrics and reporting, ComScore is a good option for big media. For pretty much everyone else on the execution side of digital marketing, SimilarWeb offers a more useful and applicable toolset to analyze traffic & competition. It's also about 3-4X cheaper. This is why I personally lean towards SimilarWeb here.
In a nutshell, I think Comscore and Similarweb have the power to demystify your digital landscape. With analytic insights into every aspect of your online presence and marketing, you'll better understand your audience and the impact of your campaigns.
That said, Comscore and Similarweb tend to work with established global companies and tailor their services accordingly to provide in-depth insights. As such, they're not suited to small businesses, not least because investment in a partnership is significant.
Similarweb vs. Comscore: Their Key Similarities and Differences
Before I delve into the meat and potatoes of what both platforms offer, here's a quick overview of where Similarweb and Comscore compare and differ:
The Similarities
Comscore and Similarweb serve large, global companies looking to establish extensive analytics insights networks.

Both tools usually only offer pricing as a quote, so you need to get in touch to learn how much these platforms will set you back.

Neither tool is suited to small businesses or individual users.

Both offer a demo of their features upon request.
The Differences
Comscore has more of a film and media company focus, allowing you to gain insights into movies and television, whereas Similarweb doesn't offer this. Instead, it provides valuable information for investors.

Similarweb is closer to a SaaS, offering software that provides access to custom reports, dashboards, and a knowledge base on their website. Some of their plans are available for monthly or annual billing, whereas Comscore is a business partner, and how it provides its services is much more elusive.

While both tools aren't ideal for smaller brands, Similarweb has a singular free plan to provide basic insights for one user, whereas Comscore doesn't have an equivalent.

Similarweb provides a knowledge center that anyone can browse, whereas Comscore's documentation is only available for paying users.

Similarweb is a younger company than Comscore. Comscore was founded in 1999, whereas Similarweb only dates back to 2007.
Reverse Engineer What Works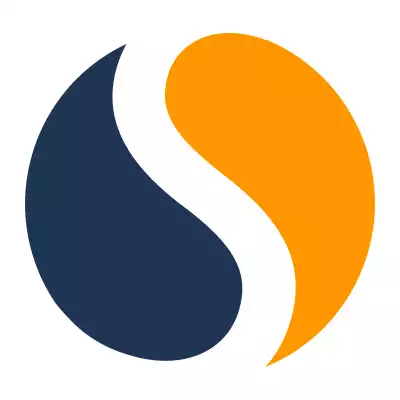 Why Go with Similarweb?
I love Similarweb for it's ability to provide deep market research insights, reverse engineering almost ANY digital footprint to find out what's actually working. Great for competitive research. Particularly if you are an affiliate or brand manager, ad buyer, or SEO operator. Yes, it's pricey & it won't replace other tools, but it will supercharge market insights (in my experience).
Try Free for 7-Days
We earn a commission if you click this link and make a purchase at no additional cost to you.
About Similarweb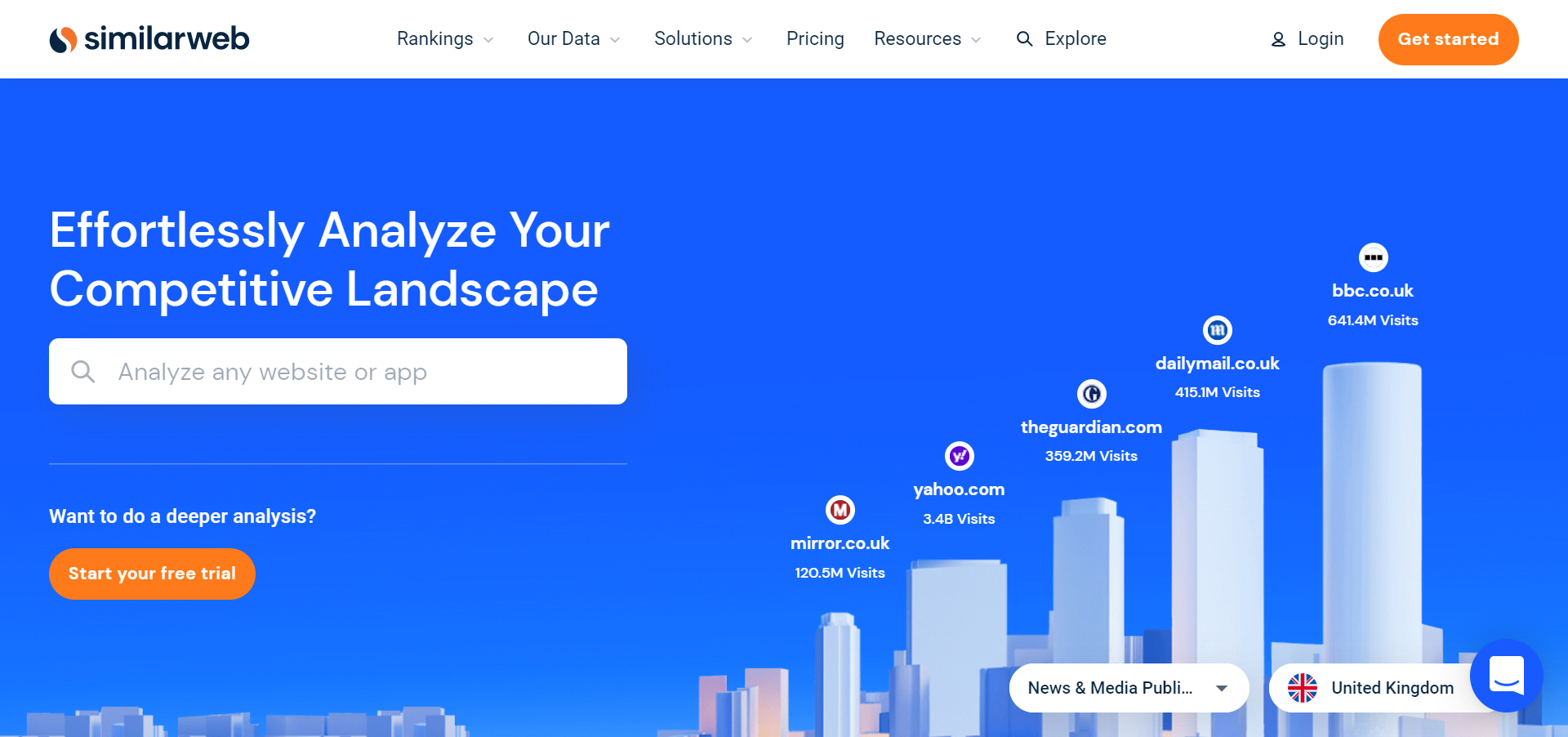 That's enough preamble; now, let's take a closer look at who Similarweb and Comscore are, starting with Similarweb:
Similarweb is a thriving analytics platform with offices on six continents and a team of more than 1,000 workers. Their specialty lies in analyzing websites and digital media, but they also provide insights into businesses for investors.
The software allows you to observe trends, review future predictions, and understand your customers' behaviors with detailed historical data. Similarweb analyzes over one billion search terms across more than 210 industries and has data on over three million brands.
On its website, Similarweb also offers a quick and free tool for checking your website analytics. This provides insights into just a fraction of the information Similarweb provides with its full software– such as total visits, average visit duration, page clicks per visit, similarly ranked sites, and much more.
About Comscore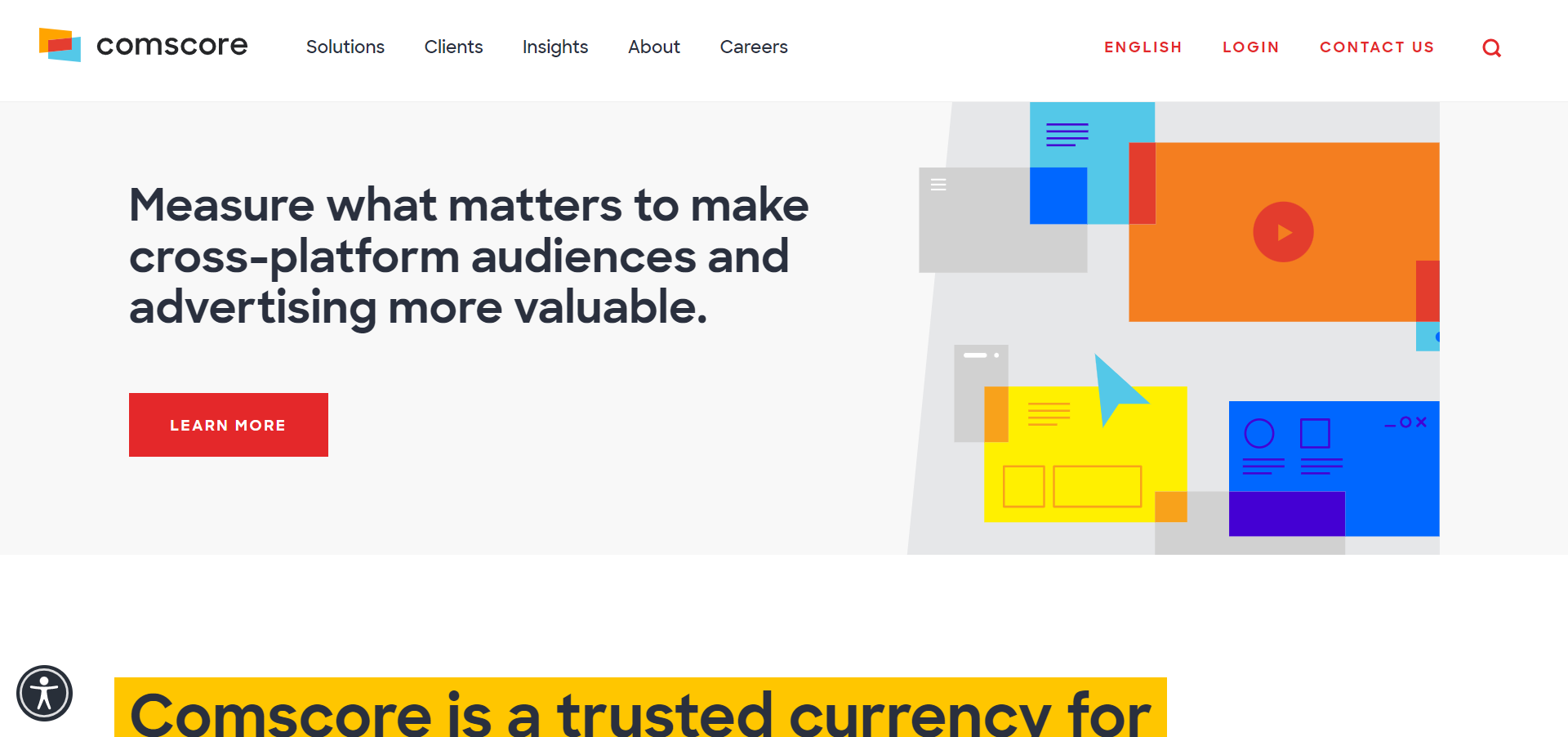 Comscore calls itself an "Audience measurement company" and was founded in the hopes of demystifying the evolving disruptions in media. It partners with giants in the industry, including television networks, digital media properties, agencies, and film studios. The company has over 1,700 employees and is based in the USA, with offices worldwide.
In short, Comscore is an analytics partner for planning, transacting, and evaluating media across many different channels. They provide transformative data science and audience insights across categories such as linear TV, over-the-top (OTT), digital, and theatrical viewership for cinema.
Businesses that cater to cross-platform audiences can also rely on Comscore to help them optimize their distribution and understand the best strategies for their advertising (or advertising agencies).
Similarweb vs. Comscore: Their Key Features and Pricing Compared
Similarweb and Comscore offer an overwhelming list of features, offering insights into almost every aspect of your business with custom reports and analytics to optimize your processes. As I've already mentioned, both platforms work primarily with large, established firms looking for long-term partners. As such, pricing is often only available as a custom quote.
Similarweb's Pricing and Features
Similarweb offers six core services. These are provided separately. However, you can discuss your requirements with the team to find a solution that meets all your needs. I'll do my best to give a holistic overview here. But, as there's so much info to cover, I recommend visiting their website to review each feature and plan in more detail to ensure you have the complete picture.
Digital Research Intelligence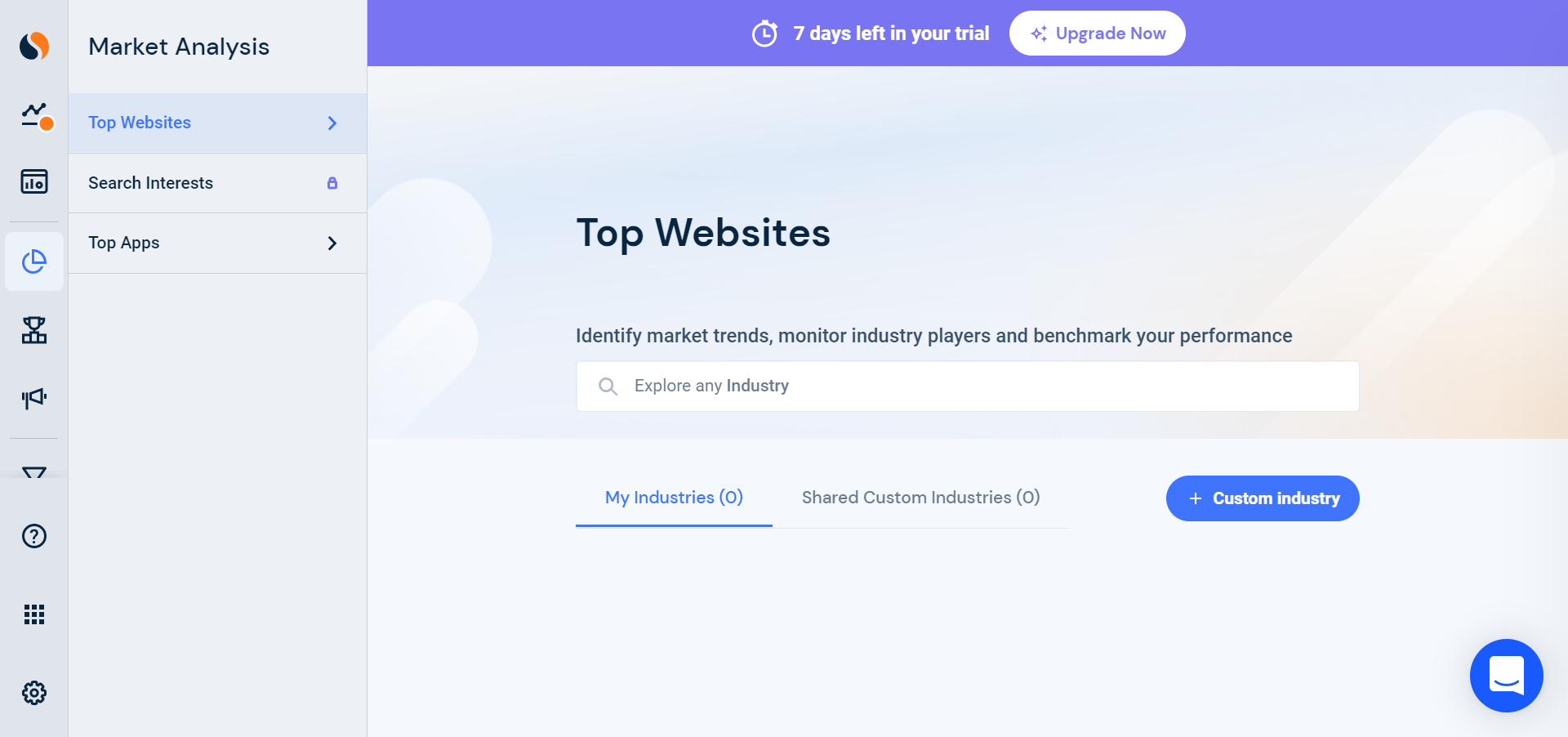 Similarweb's market intelligence platform provides a 360-degree view of global market trends, competitive insights, and audience behavior. You can zoom in on any web domain, subdomain, folder, or page to obtain analytics with customizable reports. You can access data in real-time on a daily, weekly, or monthly basis and track seasonal and yearly changes in the market.
Similarweb provides insights on over 100 million websites and 4.7 million apps across 210 industries and 190 countries.
Key analytics features include:
Benchmarking:

Benchmark your digital presence to see how you compare to your competition and market leaders (by market share).

Market research:

Analyze industries and identify trends in real time.

Company research:

Gain an edge by familiarizing yourself with your competitor's digital strategies

Audience research:

Analyze your audience's online behaviors, and identify new audience segments to expand your reach.

Consumer journey:

Better understand your customers and what moves purchases along to boost conversions.
A free plan includes limited insights for a single user and limited historical data. After that, the premium plan includes:
Multiple users

Up to three years of recorded data

Global and country-level data

Industry and company analysis

Audience analysis

App analysis

Conversion analysis

Segments analysis

API Access

Excel exports and access to dashboards to review reports
For more info on pricing, get in touch with Similarweb for a quote.
Digital Marketing Intelligence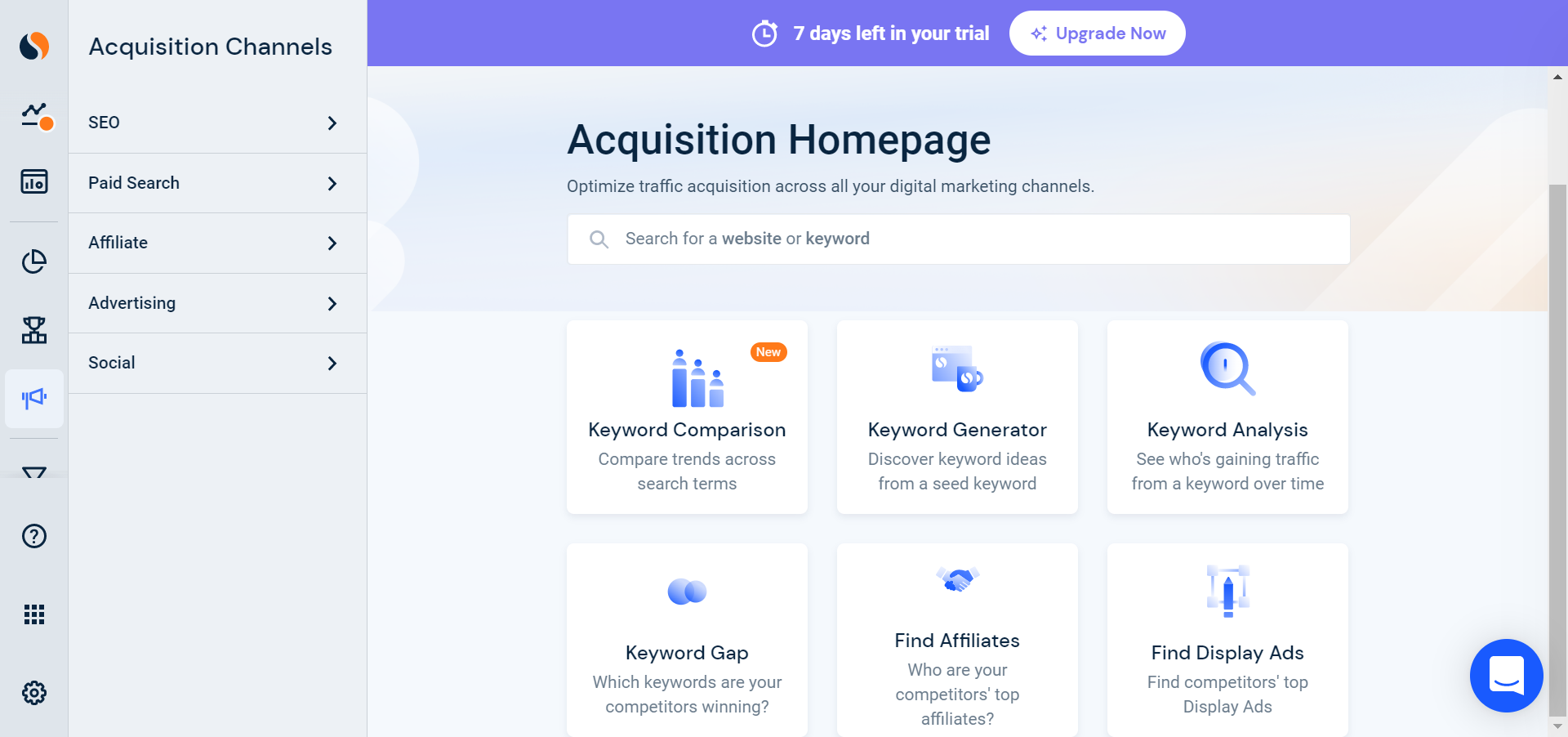 Here, you gain a complete toolkit for optimizing your digital marketing. This is the closest thing Similarweb offers to a traditional SaaS solution. In addition, it comes with two premium pricing plans and a custom plan for enterprises.
Each plan comes with the following features:
Competitive analysis:

Access real-time competitor insights to keep up with shifts in their traffic (estimated unique visitors) and engagement across various channels. Use this data to decide whether to adopt or challenge trends with your channel campaigns and optimize your marketing accordingly.

Keyword research:

Receive fresh keyword insights to improve your search engine traffic. You can capitalize on keyword trends in real time, utilize competitive keywords you might have missed, and see which keywords competitors are ranking for.

Affiliate:

Identify the best referral sources (traffic source) and build stronger affiliate partnerships. You can also see which affiliate sources work with your competitors and your niche. Plus, you can monitor and optimize the performance of your affiliate programs- for example, by tracking the performance of your referral partnerships and spotting new partners and sources across your industry.

Media buying:

Learn which publishers and ad networks are best for your media outlet campaigns to spend your marketing budget wisely.

Advertising:

Learn which competitor ads are successful so you can build effective campaigns based on their example. For instance, you can uncover top-performing video, display ads, search ads, and product ads. Then, you can choose ad formats that fit your message and strategies. On top of that, you can learn how much your competition is spending on ads to help you better budget your own campaigns.
You get access to three months of historical data with the premium plans. However, you can only sort your GEO data on a worldwide scale. This means you can't take a more specific look at countries or cities that might be more relevant to you.
In addition, each plan limits how much information you can request each month. I.e., you can only obtain website, page, keyword, and ad creative insights up to a specific limit.
One result refers to one website/page/keyword, or ad checked, with all the insights this entails.
On the Essential plan for $167 per month (price based on annual billing), you get: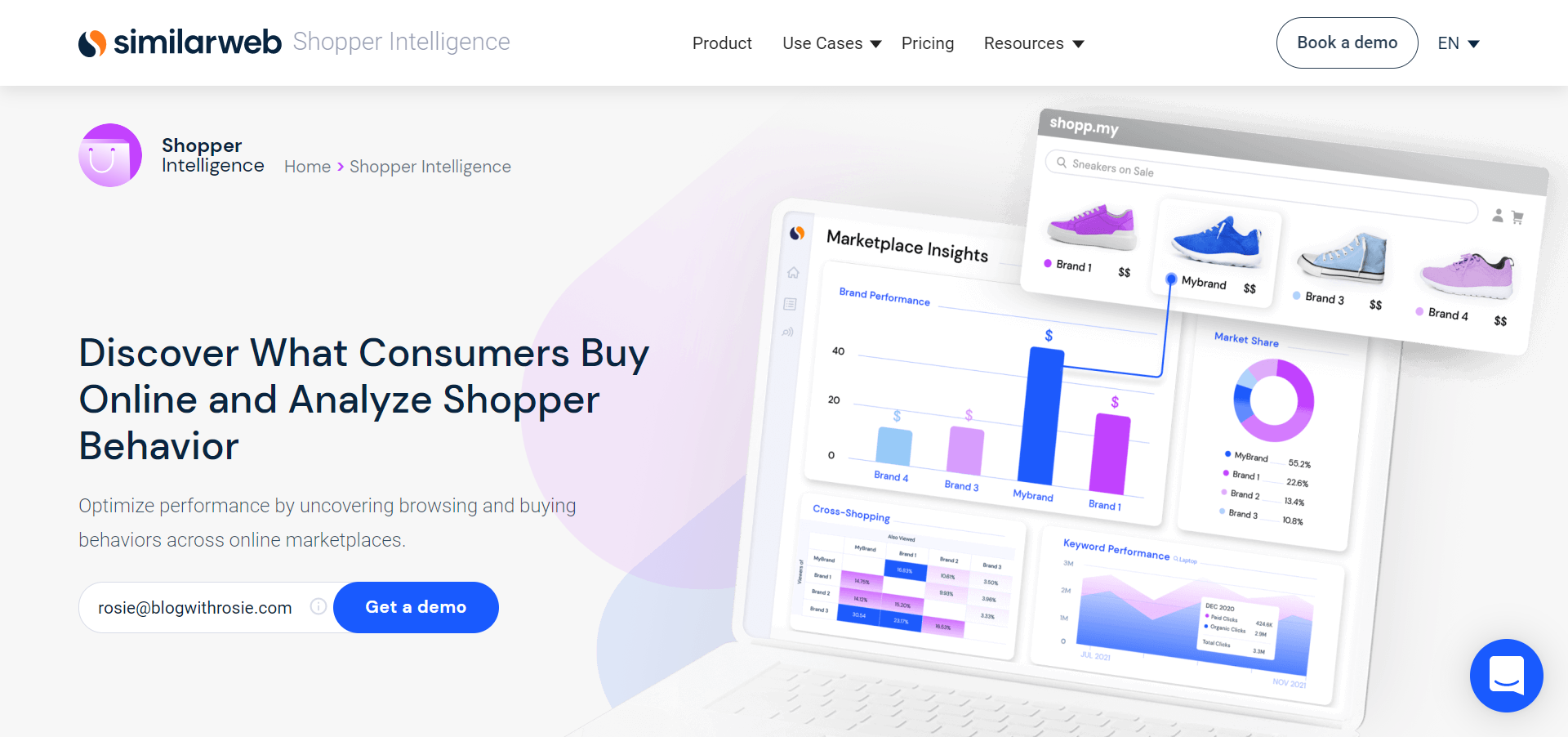 50 website results

100 website page results

1000 keyword results

100 ad creatives
On the advanced plan for $292 per month (price based on annual billing), the above increases to:
100 website results

500 website page results

5000 keyword results

500 ad creatives
The custom plan allows you to install add-ons like user licenses, country filters, historical data, conversion analysis, and more. It also extends your historical data to 12 months and comes with unlimited data results.
Shopper Intelligence
The shopper intelligence tools provide insight into your customer's online buying behaviors. With this info to hand, you can better optimize your customer journey.
More specifically, this service comes with the following features:
Monitor consumer demand:

Track brands, product categories, and product performance to stay on top of what customers like buying.

Analyze shopper behavior:

Monitor cross-shopping habits and the frequency at which customers buy. Learn how loyal customers are to you and other brands, and identify growth opportunities and emerging threats.

Optimize retail strategies:

Improve your marketplace SEO and paid campaigns.
Again, you'll need to contact the team for a quote for this service.
Sales Intelligence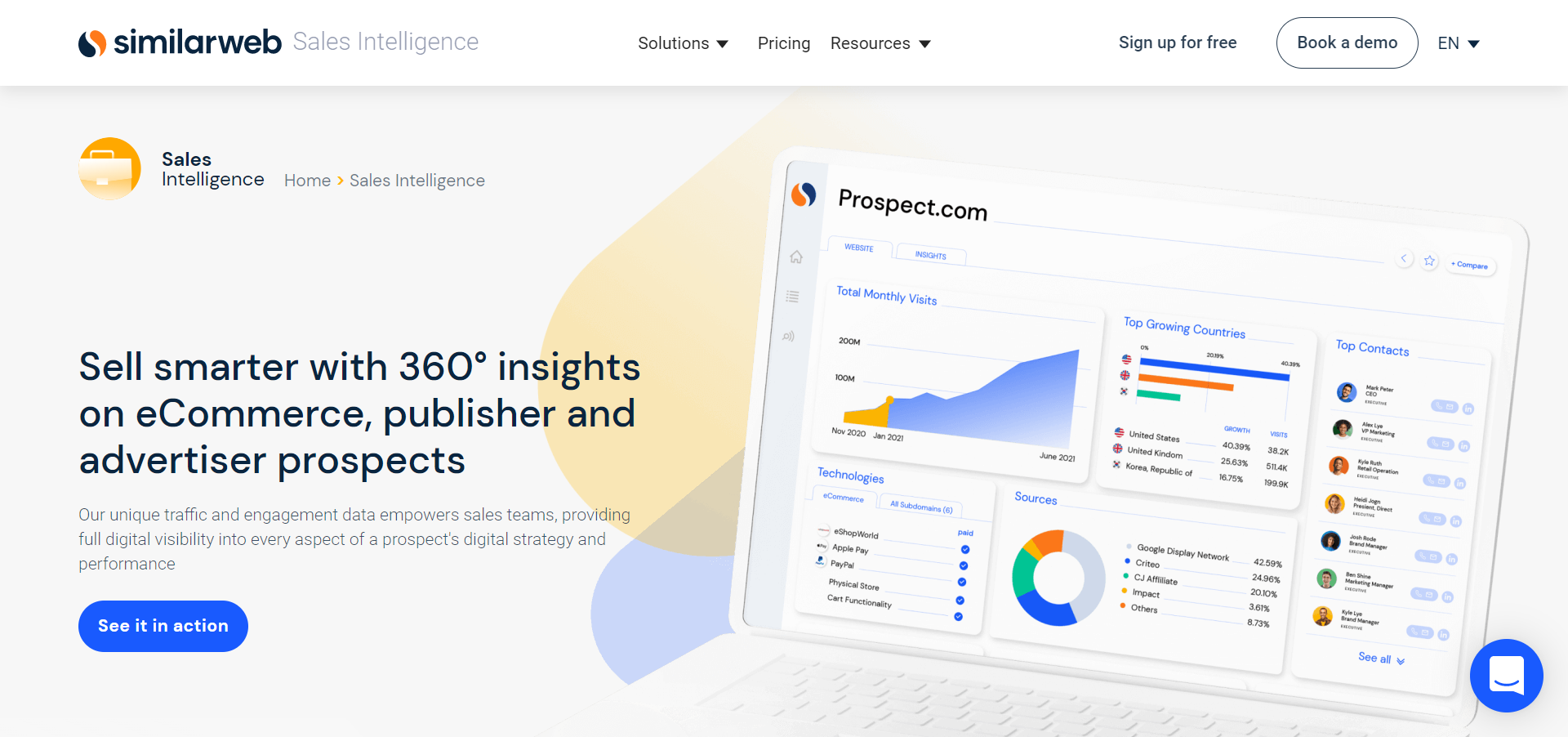 Learn how to sell smarter with info from eCommerce merchants, publishers, and advertisers. The platform boasts a dataset of over 30 million eCommerce websites and 100 million publishers and advertisers.
These are analyzed for over 50 attributes, including their:
Revenue

Traffic volume and trends

Engagement rates

eCommerce technologies used

Demographics

Ad networks

Affiliates

Keywords

Geographic distribution

Shipping providers and payment options
…and much more.
Here Similarweb empowers you to identify your prospect's challenges and growth opportunities to better enable you to formulate the perfect sales pitch. You'll also obtain firmographics, such as info about the company's industry, headcount, revenue, and HQ location.
In addition, you'll also receive over 400 million decision-maker contacts (phone and email), enabling you to reach out directly to those with authority to purchase your product/service.
You can also connect Similarweb with Salesforce to neatly store all this info in your CRM.
Again, you'll have to contact the team for a quote.
Investor Intelligence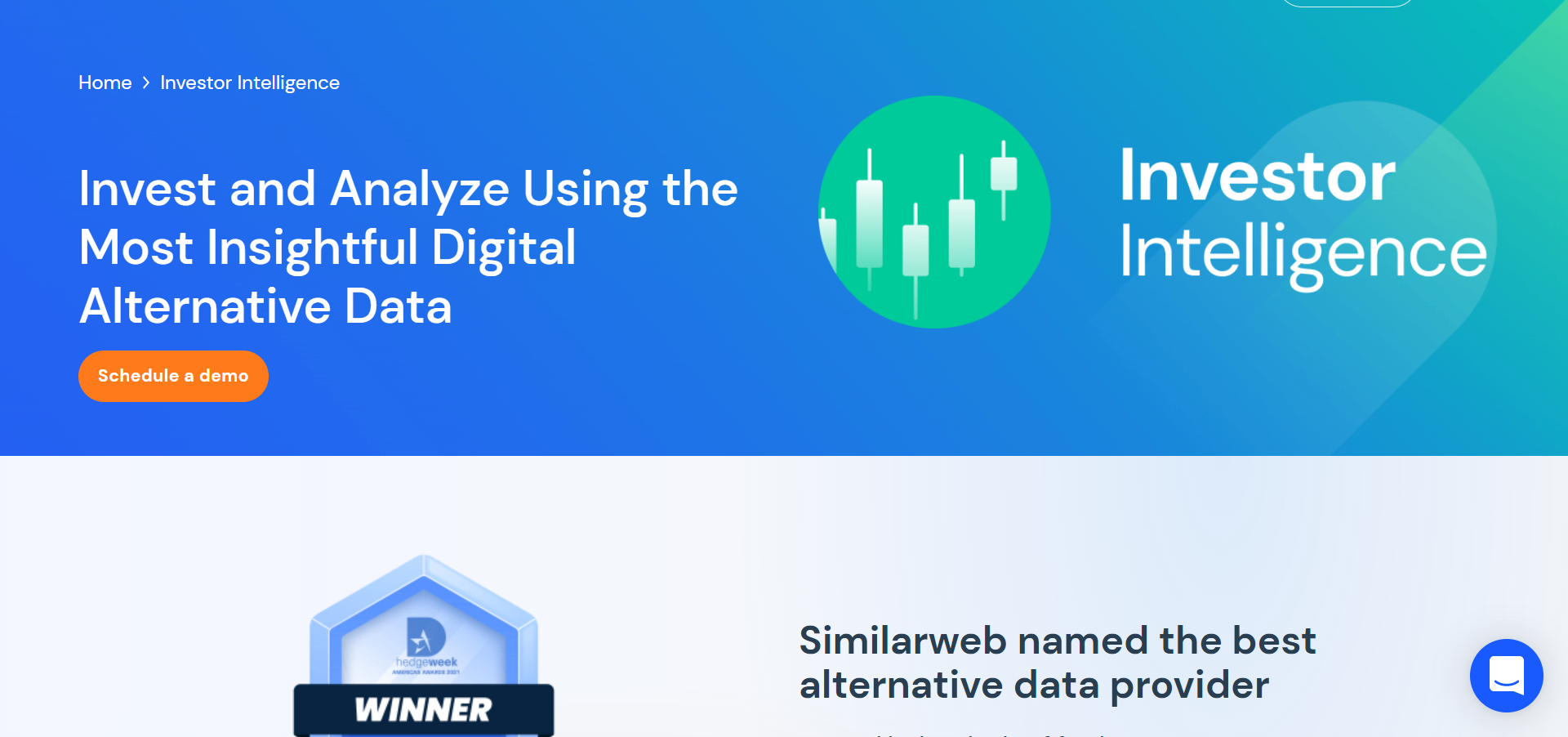 Last but not least, there's the Investigator Intelligence plan, again available for a custom quote. It includes features like:
A watchlist

to track your investments. You'll also be notified of any significant changes

A deal source engine

to spot emerging players and trends

An evaluation dashboard

to understand the trajectory and strength of a company

Comparative benchmarking

to obtain context concerning a company's performance

Sector analysis
App analysis,

including traffic sources, engagement, retention rates, and access rank
Comscore's Features and Pricing
Comscore Inc doesn't display any of its pricing online. For each plan and service, you'll need to get in touch to discuss your requirements. You can also request a demo on their website. That said, Comscore's services are extensive packages that cover a wide range of web analytics and reports.
In 2010, its pricing started at $799 per month for unified digital measurement reports. Still, prices are likely to have increased significantly since then.
Advertising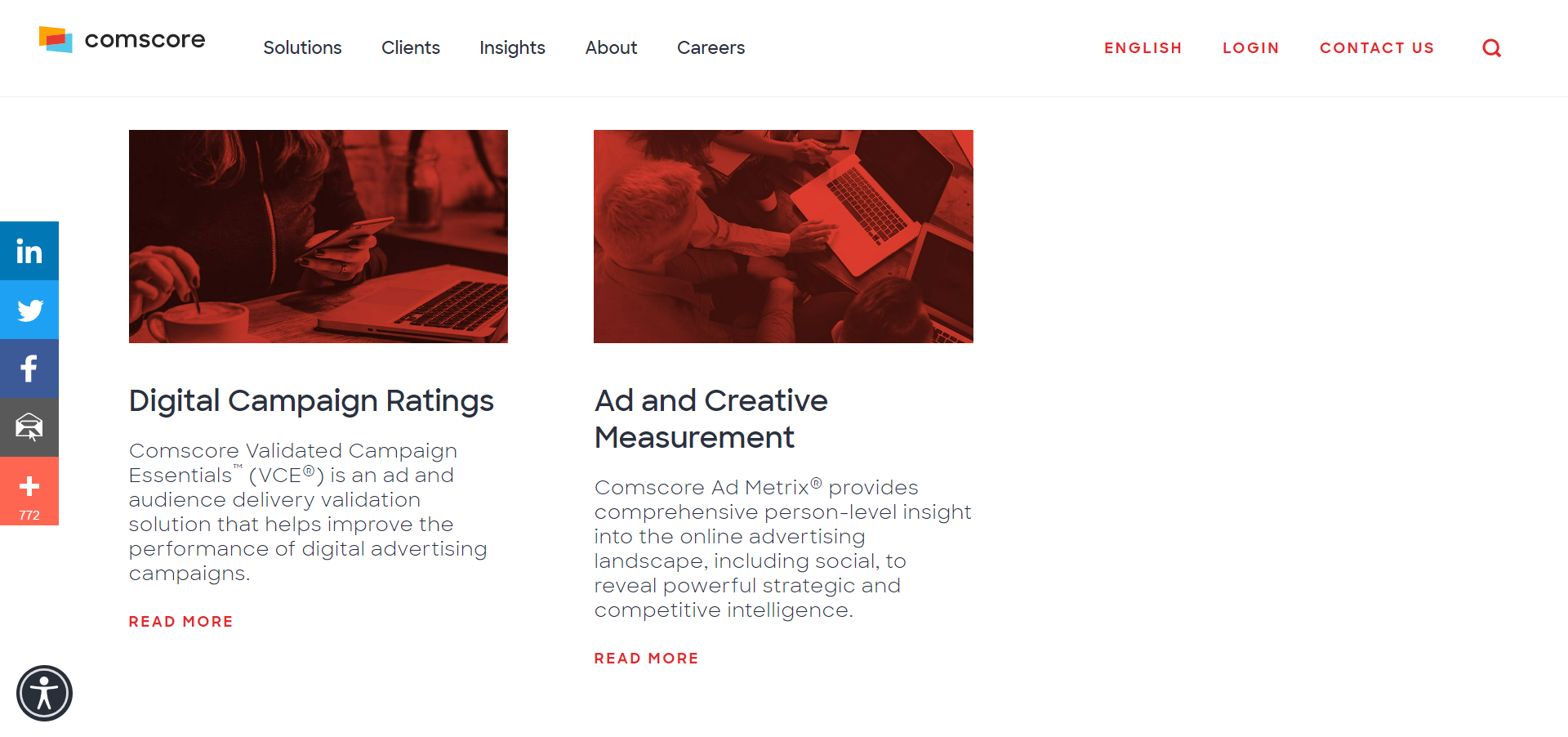 Measure and evaluate the impact of your advertising campaigns across various platforms. Comscore's advertising products and services include:
Digital Campaign Ratings

Ad and Creative Measurement
Digital Campaign Ratings validate campaign essentials to help you improve the effectiveness of your ad campaigns. You'll also get sophisticated traffic filtration and the ability to analyze your reach, frequency, and GRP to see whether your ad reached its intended audience.
In contrast, Ad and Creative Measurement enables you to compare your ads and displays against other advertisers' strategies. I.e., you can evaluate other brand creatives to better understand your competitor's marketing strategy. You can conduct this analysis by product, publisher, ad type, or ad size.
Marketing Impact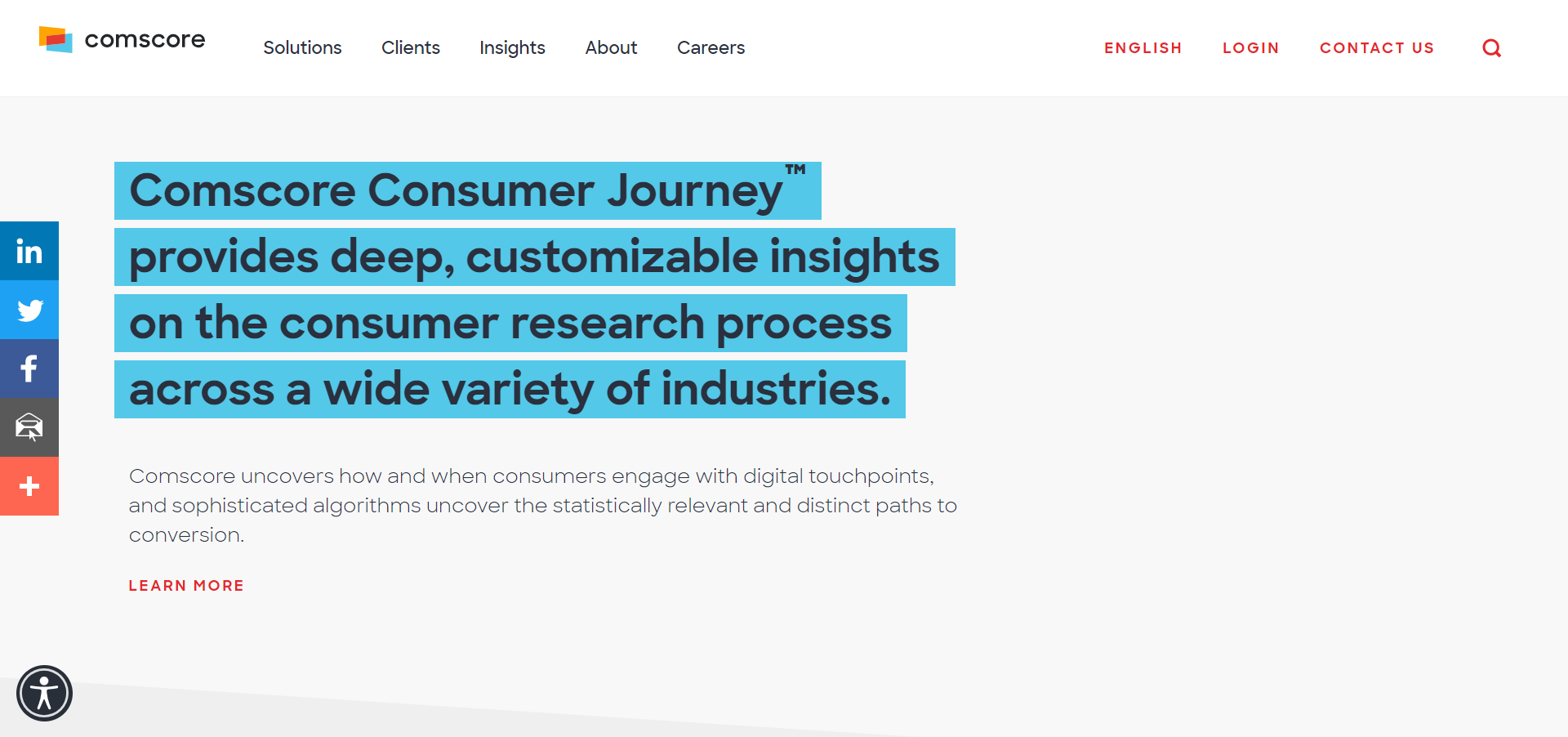 You can improve and measure the impact of your marketing with Comscore's "Path to Purchase" service. This uncovers when customers come into contact with your brand, products, and services across multiple digital touchpoints. Comscore's sophisticated algorithm also reveals all the statistically relevant conversion paths.
Best of all, you can customize these parameters and metrics to enable you to take deep-dive views into the touchpoints especially relevant to you.
Digital Audiences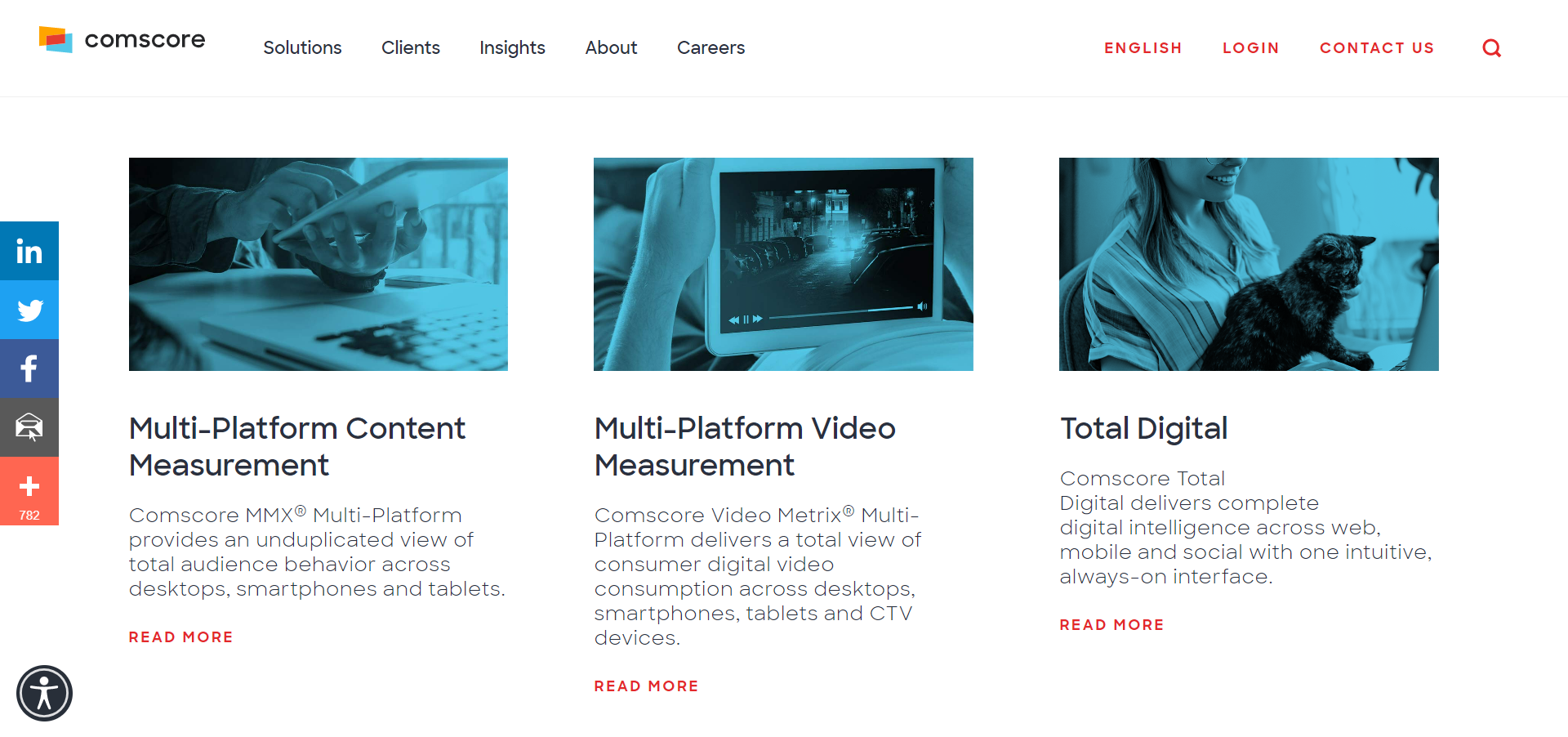 You'll receive insights into how your content performs across multiple digital platforms and devices. For instance, you'll gain analytics on how your audience engages with your content on their desktops, smartphones, and tablets.
You can also build holistic media plans by evaluating display media, video, and app content properties. Then, you can simulate demographic targeting ahead of time to assess the cost and impact of your campaigns in the digital ecosystem. This is like a test drive for your campaign. The computer simulates how your target demographic will likely react to the campaign based on the customer data you've collected and their previous engagement scores.
Furthermore, you can customize your dashboards to display the information you need the most. For example, persona profiles and interests, digital reach, etc.
Movies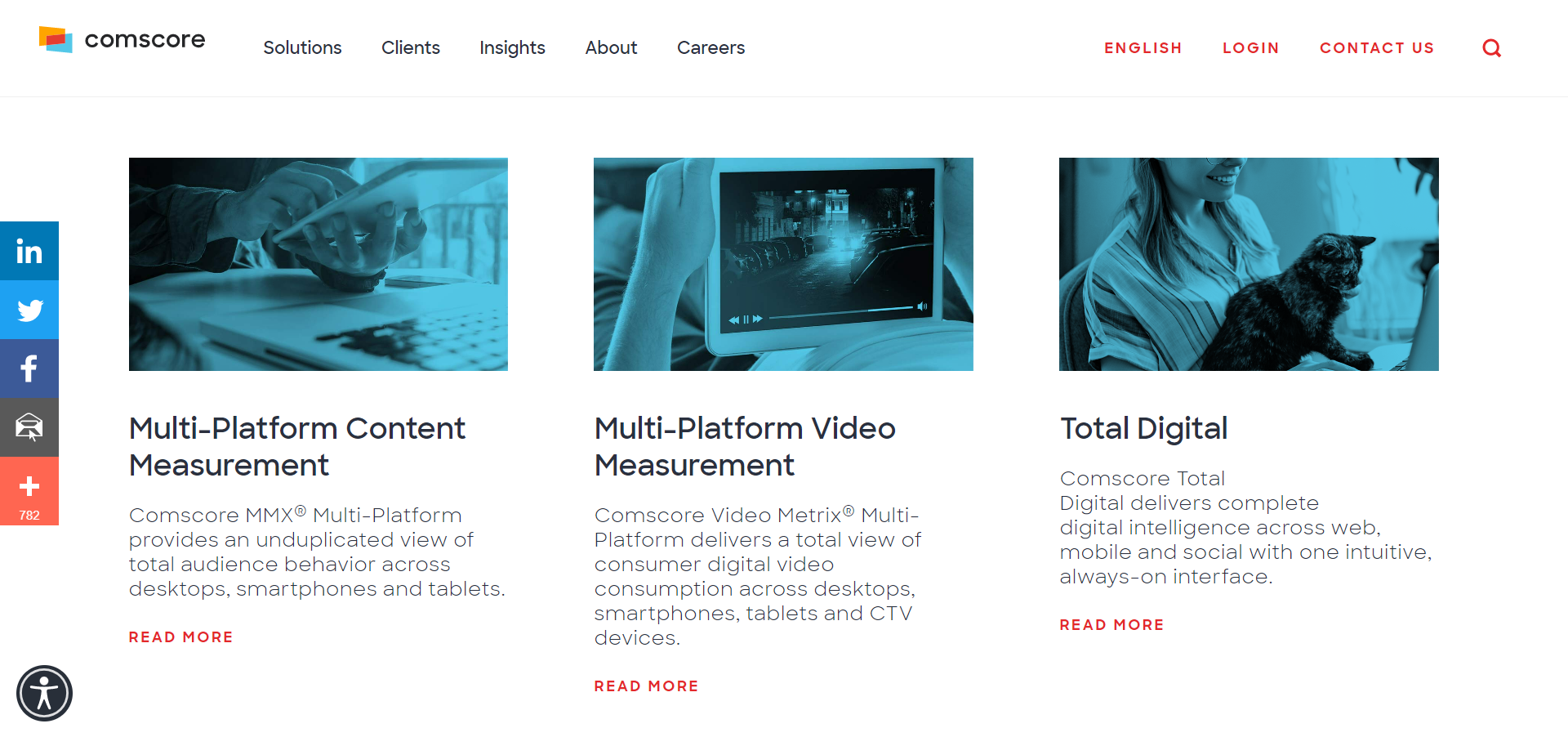 With its advanced distribution software, Comscore can distribute movies to box offices globally and within the US. You can also manage distribution across multiple territories worldwide or release films to state theatres. Beyond distribution, Comscore allows you to track the success of any theatric release. For instance, film performance data can report on international box offices.
You can also streamline the theatrical invoicing process. Comscore lets you create an efficient electronic box office that reconciles theater-level ticket transactions. This empowers you to completely automate all invoicing and billing and gain intelligent insights into your film's performance and ticket sales.
Plus, with Comscore's exit polling service, you'll gain insights into audience demographics and learn what about the film's title sparked interest and attendance. These polls are conducted in the first two weekends of release and provide competitive intelligence to see how your film measures up against a library of prior movies.
Comscore's exhibitor management system also provides virtual staff to assist with bookings and book-keeping to help:
Consolidate sales data

Compute film rental liabilities

Manage payments
…and more.
Television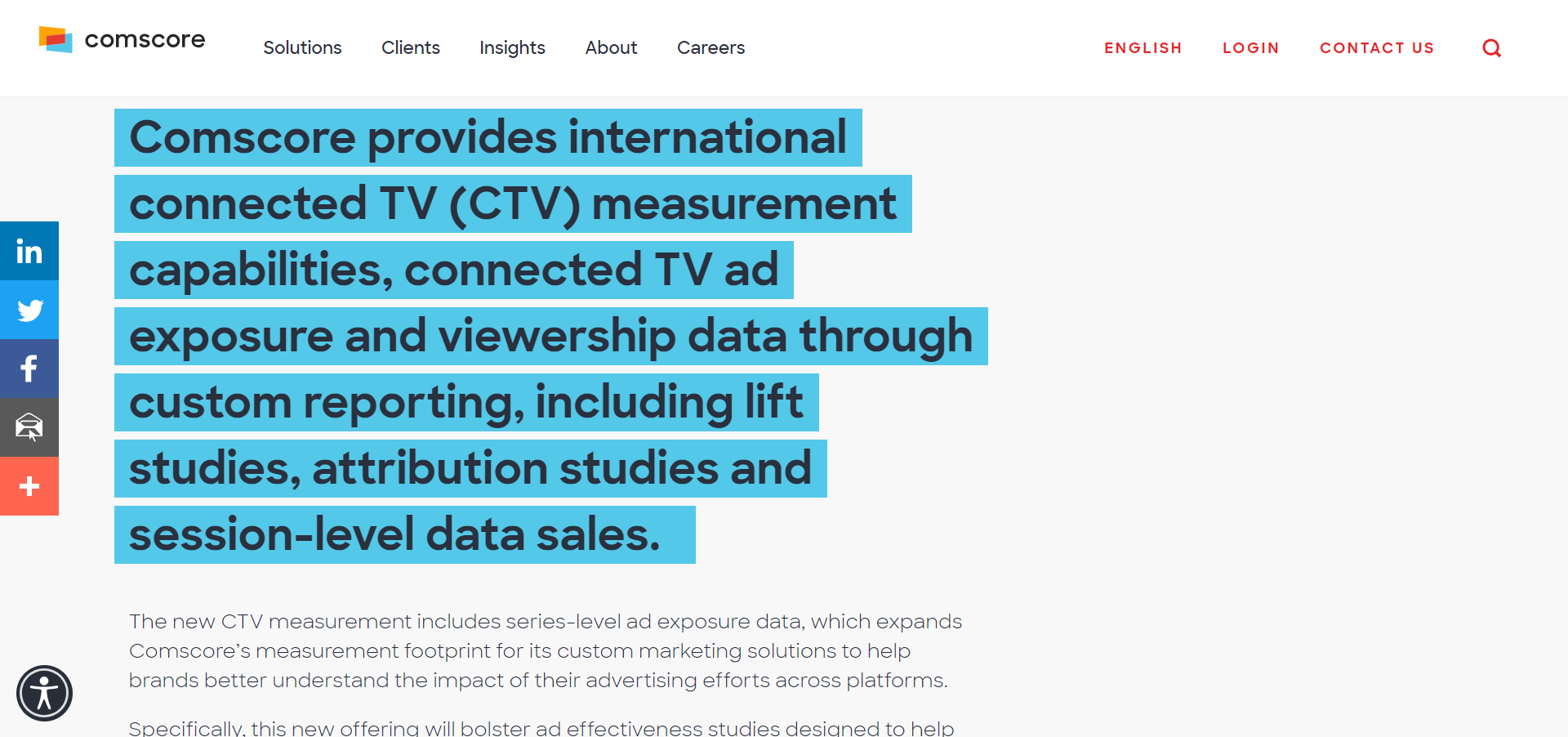 Learn how to reach valuable audiences through a connected TV. Comscore measures international connected TV (CTV), providing information on ad exposure and viewership. This includes lift studies, attribution studies, and session-level data sales. You'll also gain advanced audience insights into your customers based on the following:
Programming they watch

The lifestyles they lead

The products they buy

The topics they care about.
Lastly, you can also measure the cross-screen impact of your TV ad across various devices to ensure a holistic view of the success of your TV campaign.
Social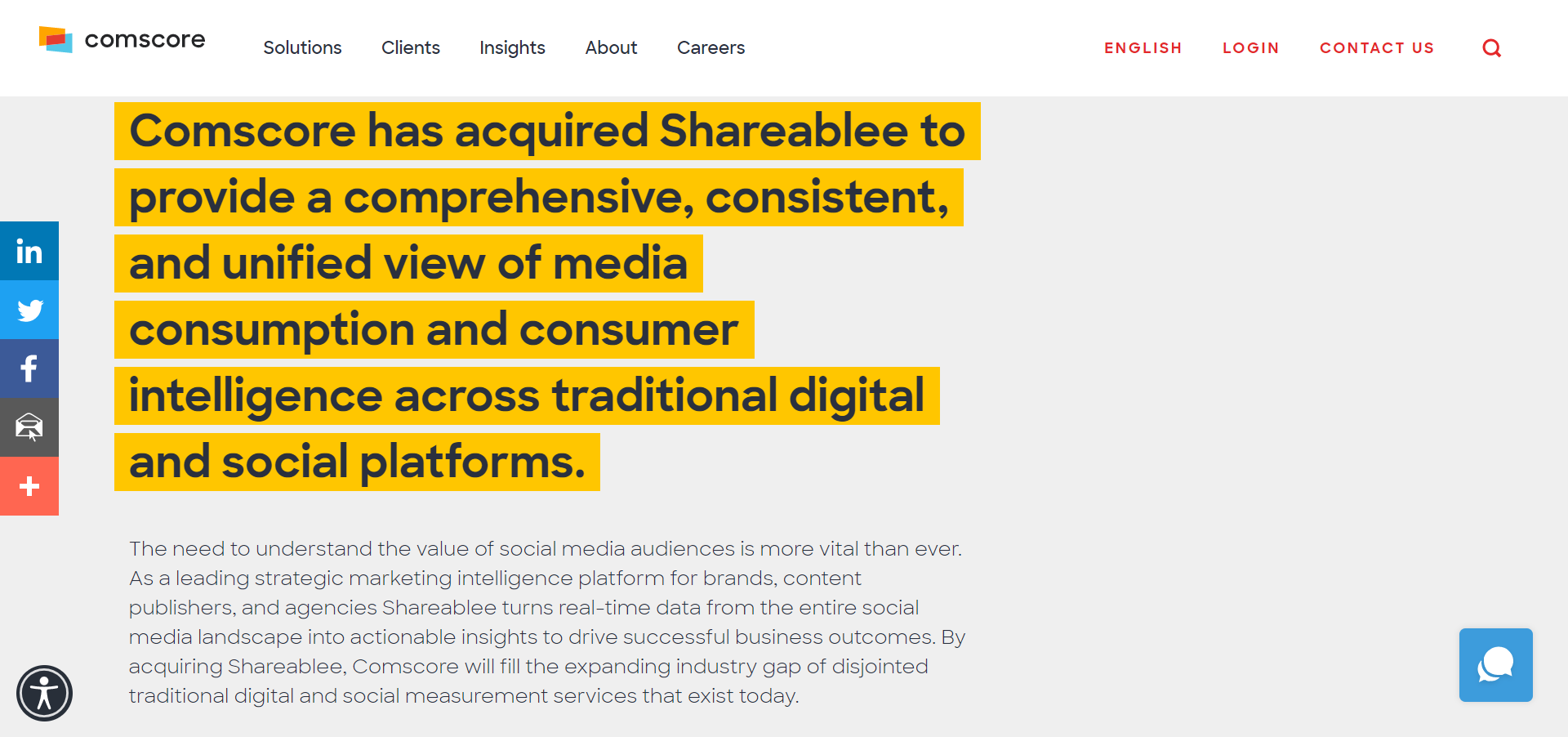 Comscore acquired Shareablee to provide its clients with a comprehensive view of their audience's media consumption and consumer intelligence across social platforms and traditional digital mediums.
The Content Pulse by Shareablee provides an end-to-end tool to measure and optimize your social content strategy. This includes the ability to search for and review the best content across social media by applying numerous filters or conducting a boolean search.
You can also measure your social reach on any topic using flexible keyword searches and monitor trending social media topics at a glance.
The Data Explorer helps you create more effective pitches and shows your ROI. You can also benchmark your social campaigns against competitors and learn what your audience cares about by deeply diving into audience behaviors across social platforms.
Programmatic Targeting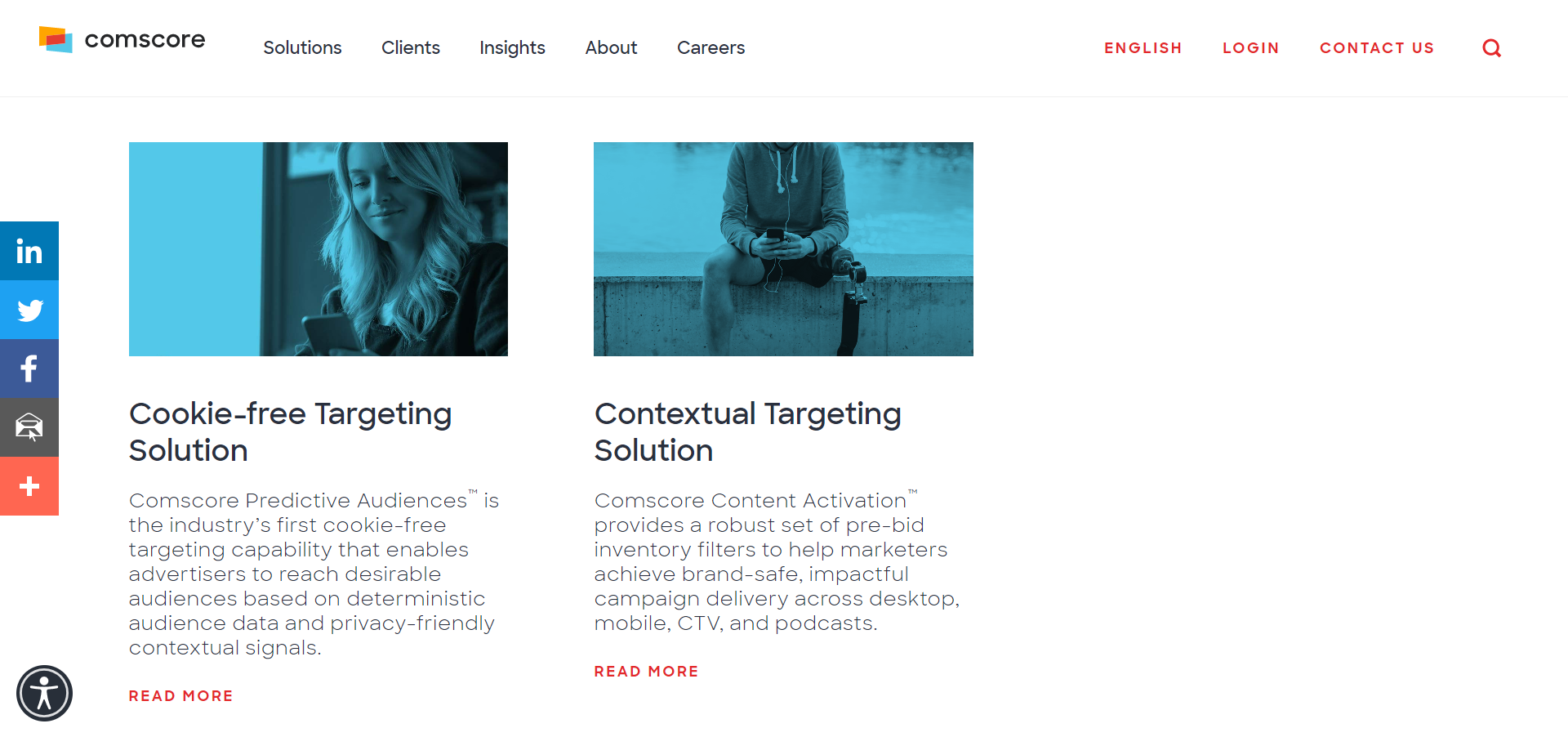 Comscore can help you target desirable audiences based on audience data and privacy-friendly contextual signals without using cookies. Comscore achieves this by creating predictive audiences based on granular consumer behavior.
They gain cross-platform data from panels across digital, mobile, TV, and wifi and intelligently categorize the context of every piece of content. This enables Comscore to transform valuable audiences into contextual targets while adhering to evolving privacy laws.
Similarweb vs. Comscore: Pros and Cons
Before I wrap up this comparison review, let's condense some of what we've learned into a quick pro-cons list:
Similarweb's Pros
As extensive analytics platforms go, this is one of the easier-to-use solutions.

Its interface is incredibly clean.

Similarweb provides a few useful tools for free, like checking website URLs on their homepage for site traffic, similar sites, global ranking, bounce rate, and more. There's also a single-user plan that generates limited data research intelligence.

It comes with a wide range of self-help resources, for instance,

a knowledge center, webinars, insights, and more.

Similarweb is well-reviewed across the web, achieving high user ratings from its customers.

It provides data for investors, making it an attractive solution for financial institutions.
Similarweb's Cons
Similarweb data often focus on desktop more than mobile or tablets, which means its insights aren't always as holistic as some users would like

On some plans, you don't get granular control over which locations you can review data for. Instead, you only get insights into worldwide data by default.

Similarweb isn't suited to small businesses.
Comscore's Pros
Comscore provides a wide range of detailed analytics across devices

It's useful for businesses with TV and theatric releases

You'll receive an insight into the entire user journey – at every touchpoint

It's a highly customizable service with many features to choose from.
Comscore's Cons
Pricing isn't transparent.

Users report that the platform is challenging and doesn't always provide sufficient resources to explain the available tools.

There's no free plan or free features.

It's not suited to smaller or even mid-sized businesses.

At $799 per month, its starting price is costly – as such, it's an investment that requires more consideration.
FAQs
Question: Does Similarweb or Comscore offer a free plan?
Answer: Similarweb offers basic free features via its website. That as well as a free Digital Research Intelligence plan. You can search URLs to quickly populate various website statistics on its website. This is a valuable tool to be aware of.
But, it only scratches the surface of what Similarweb offers.
In contrast, the Digital Research Intelligence plan is suitable for one user. However, it comes with limited data insights and limited historical data. In most cases, a paid plan is the only way to make the most out of Similarweb. In contrast, Comscore doesn't offer free features, but you can get in touch with the team for a demo.
Question: What customer support do Similarweb and Comscore provide?
Answer: With either Similarweb or Comscore, you can directly talk with the team to plan and quote the support you'll need.
Similarweb functions a little more like a SaaS. It has an online knowledge base amongst its resources. Here you'll find answers to frequently asked questions, billing information, and in-depth explorations of every feature. There are also reports and webinars on the website for your review. If you have further questions for SImilarweb, you can get in touch via phone or send a ticket.
With Comscore, you can contact the team via their inquiry form or call directly. In addition, you can find phone numbers for their different headquarters worldwide on their website. There's also a blog and a range of insights they've published that might be useful to your industry.
However, self-help knowledge documentation is only available to existing users. You can only access account-related FAQs on their website.
Question: What do people say about Similarweb and Comscore on the web?
Answer: There aren't too many customer reviews about Comscore online. On G2, the company achieves a 4-star rating from just 57 reviewers. Users praise its compelling features – especially for its reach, delivery frequency, and general analytics.
However, many complain about how challenging is to learn. Other users grumble that it doesn't provide sufficient insights into their competitors.
In contrast, Similarweb is more frequently reviewed on G2 with 499 reviews, achieving 4.5 stars on average. Users praise its ease of use, clean interface, and wide range of functions and data. Even though the platform is daunting for newcomers, they may find it more straightforward to use than others. However, some have pointed out that its social traffic insights are a little lacking and provide more insights into desktop traffic than other devices.
Similarweb vs Comscore: My Final Thoughts
In summary, I think it's safe to say that both Comscore and Similarweb are effective and powerful partners for global enterprises looking to gain deeper insights into the digital landscape. With either tool, you'll better understand your customer's journey, enabling you to optimize your conversion funnels and make more of your ad spending.
However, as both platforms come with a colossal price tag, there's no way to fully appreciate their usefulness without getting in touch with their respective teams. Therefore, I urge you to take the time to review their demos and speak to a sales assistant about which features you'll require to meet your goals.
With that said, overall, I can only make a few recommendations:
Similarweb is the more transparent platform with a sleeker and easier-to-use interface, making it simpler to learn and navigate. Competitive intelligence and website insights are its focus. As a result, it's a valuable tool for major eCommerce brands.
In contrast, Comscore is the better option if data relating to mobile and tablet users is vastly important to you. It's also a good solution if your business is trying to reach TV or cinema audiences. It provides distribution features for film and TV that Similarweb doesn't. However, Comscore is more difficult to use overall and doesn't provide as many online resources to aid your consideration.
Reverse Engineer What Works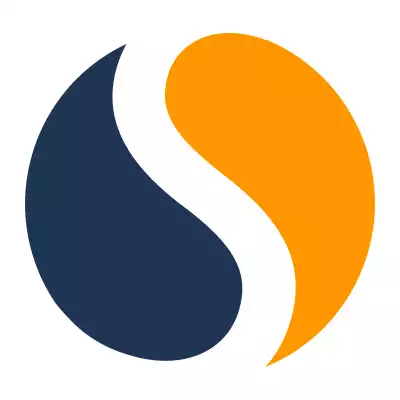 Why Go with Similarweb?
I love Similarweb for it's ability to provide deep market research insights, reverse engineering almost ANY digital footprint to find out what's actually working. Great for competitive research. Particularly if you are an affiliate or brand manager, ad buyer, or SEO operator. Yes, it's pricey & it won't replace other tools, but it will supercharge market insights (in my experience).
Try Free for 7-Days
We earn a commission if you click this link and make a purchase at no additional cost to you.
That's all, folks! If you've worked with either Comscore or Similarweb in the past or are thinking of reaching out to these businesses soon, let us know in the comments below! We'd love to hear what you think.
What About the Competition?
Our editorial team has compared some other popular Similarweb competitors. Check these out if you are still undecided: