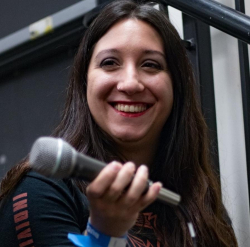 Latest posts by Stephanie Jensen
(see all)
Last Updated on May 16, 2022 by DMEditor
If you recently started a company and want to gauge your success, your competitors should be the first place you should look. That's why competitor analysis is an integral tool for businesses of all sizes.
Fortunately, there are a variety of tools that can offer a thorough competitive analysis. Two of the biggest players are SimilarWeb and Alexa. While Alexa has been the go-to for most business owners and marketers, SimilarWeb is also making its rounds.
Which one should you use? We offer an in-depth review of both of these platforms. Here, we will look into the accuracy of these platforms as well as other factors such as user-friendliness.
Main Differences Between SimilarWeb and Alexa
SimilarWeb is a freemium service, whereas Alexa only offers paid plans
SimilarWeb offers more SEO features, whereas Alexa is better for Amazon users
SimilarWeb has more accurate reporting, whereas Alexa is reported to have more inaccuracies
SimilarWeb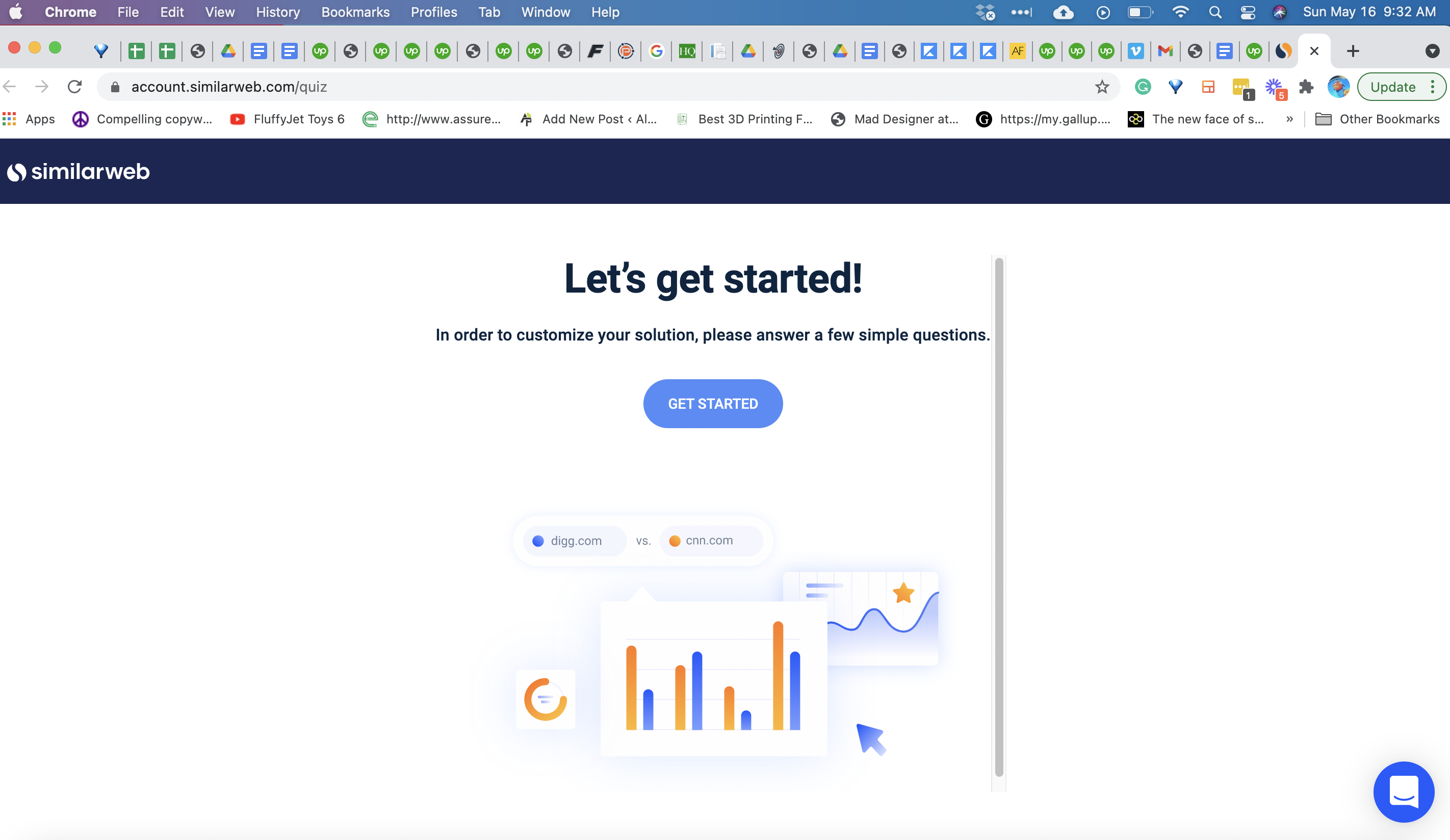 First, let's look into SimilarWeb to test their user-friendliness and accuracy. Here are a few of the tools you can access.
Pros
User-friendly platform
Able to view multiple website traffic statistics
Various SEO tools
Cons
Few plan and upgrade options
The features can be confusing if you don't have previous experience
Arena
Before we go into the features, let's discuss the Arena. When you first enter your website details, you'll also have to choose at least one competitor. If you don't have a competitor or don't know of any, SimilarWeb will suggest competitors for you.
Your websites plus the competitors will show up as your "Arena." Your Arena will appear on all of these tools automatically, though you can add any competitors whenever you want.
Traffic Overview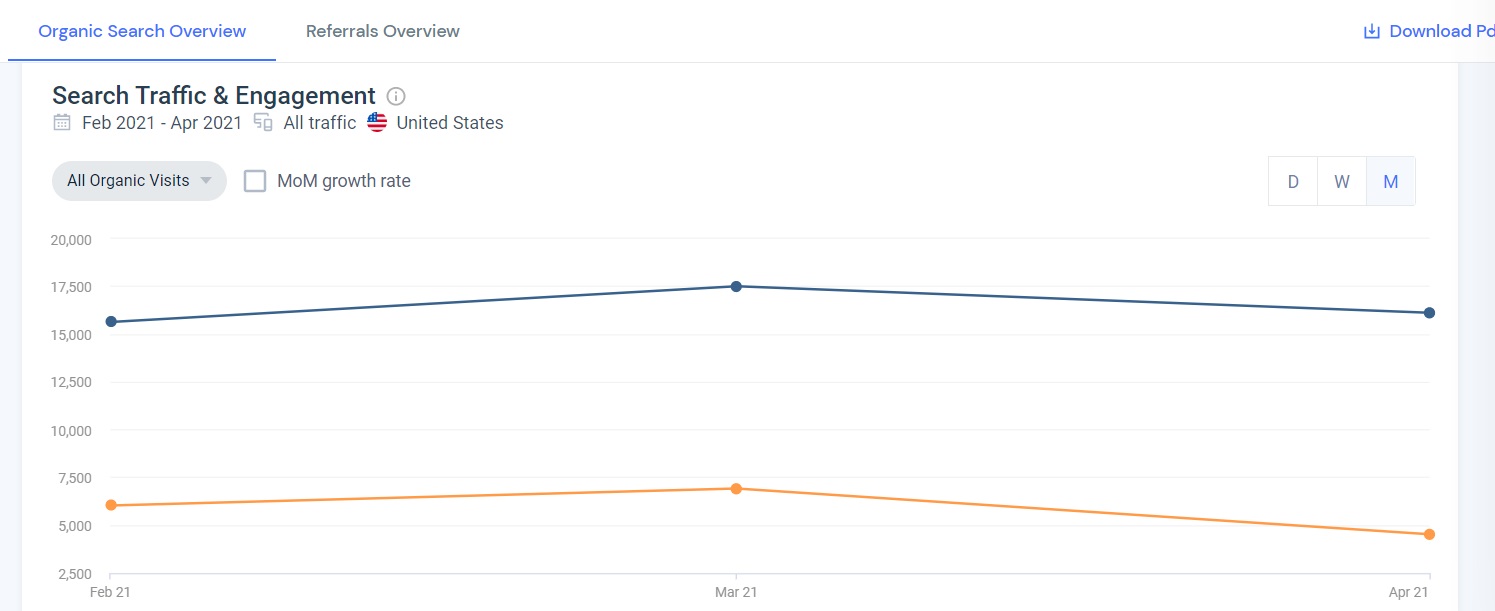 The Traffic Overview tool takes a deep look into a domain's traffic. It does this by measuring these metrics:
Traffic Volumes by Source: monthly traffic volume from each source
Traffic Share: breakdown of traffic by source
Organic vs Paid Traffic: traffic generated by organic and paid marketing methods
Audience Overview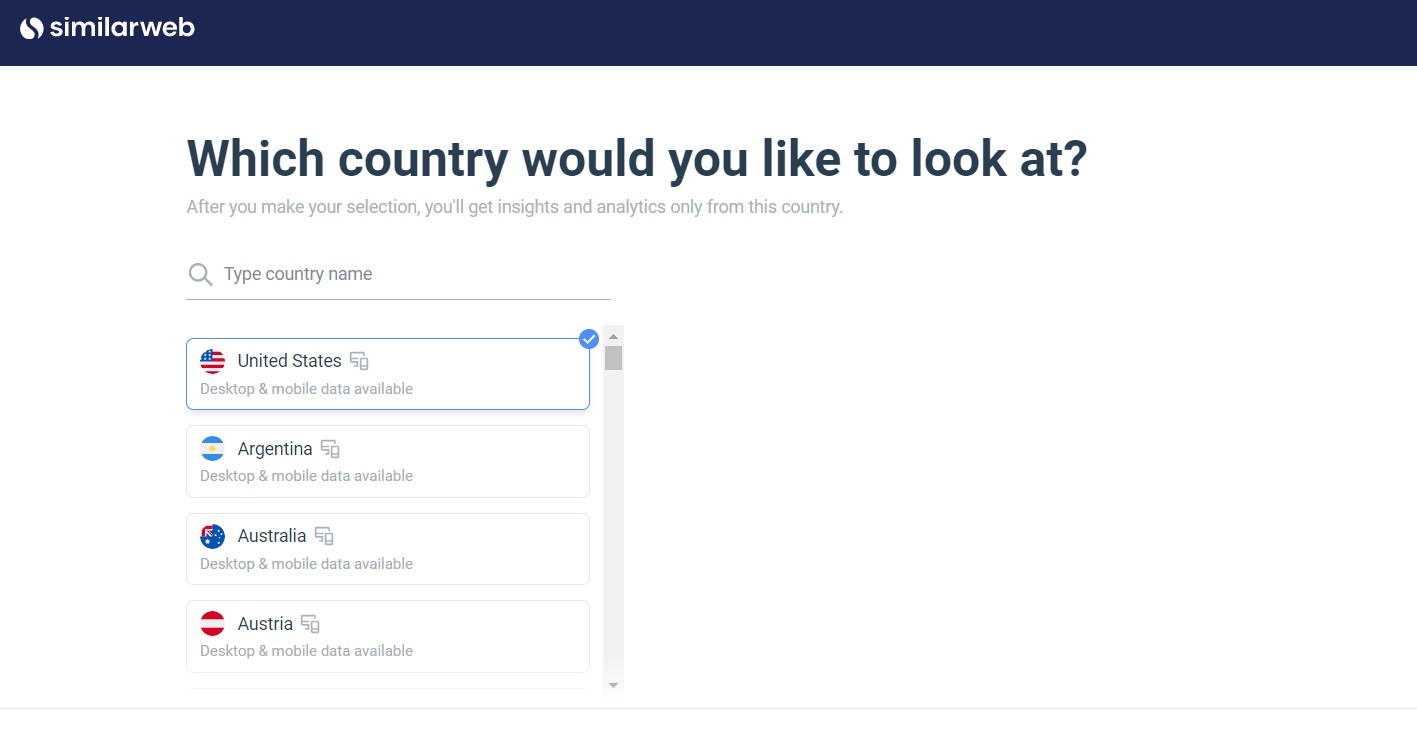 Audience Overview offers a clear look into your competitor's audience metrics. These metrics include:
Website Ranks (by global and country comparisons)
Total Visits
Traffic Sources
Traffic Per Country (you can select the countries you want to track when you sign up)
While you don't see demographics, you do see other key metrics such as pages per visit, visit duration, and bounce rate.
Search
SimilarWeb offers in-depth SEO metrics to gauge search engine performance. These statistics include:
Organic/paid traffic
Total visits
Search terms and popular words within those terms
Search ads
These metrics not only help you see what you're doing correctly but also show any areas where your competitors may be ranking above you.
Keywords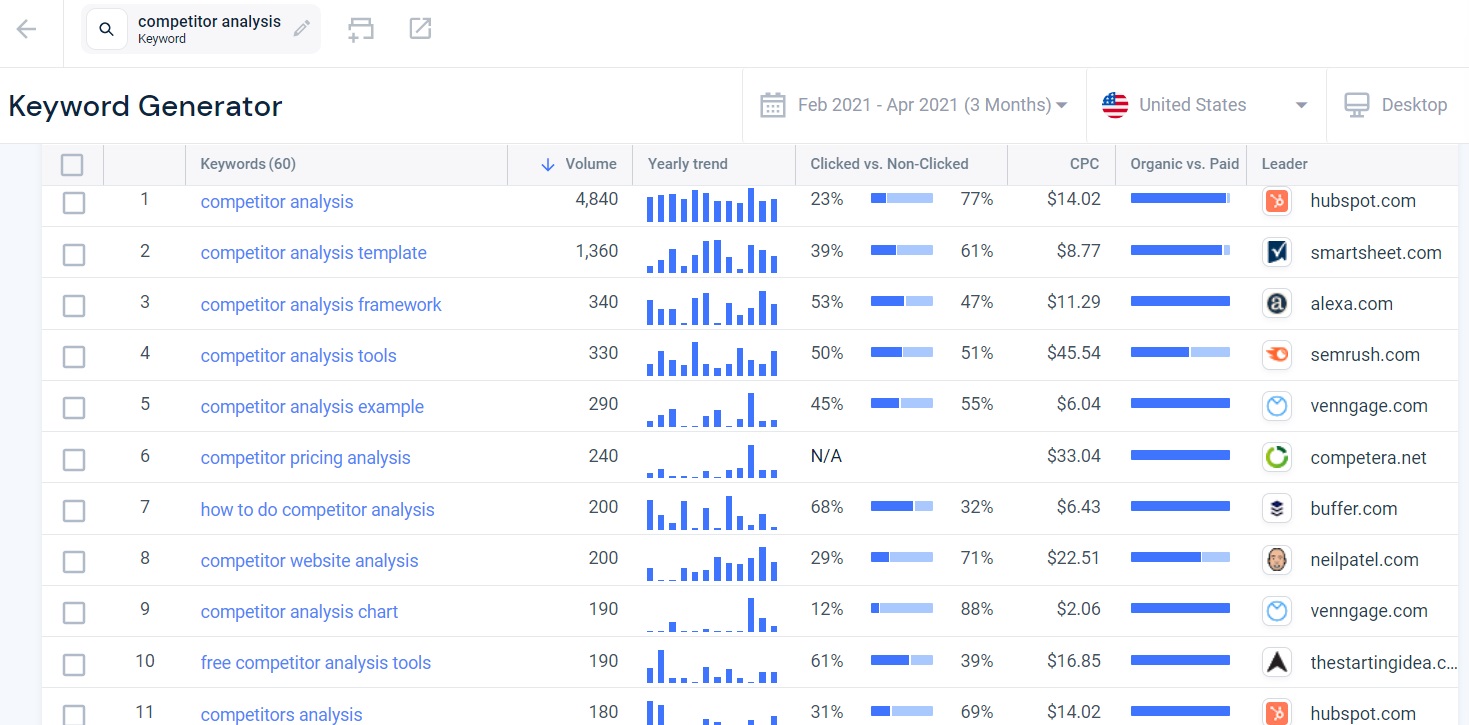 While you can get a more in-depth keyword competitor analysis from SEO platforms, SimilarWeb does offer some good keyword tools.
If you're not sure which keywords to use for your content, you can search a keyword in the Keyword Generator tool to see dozens of suggestions. They also show the website that ranks top for the specific keywords.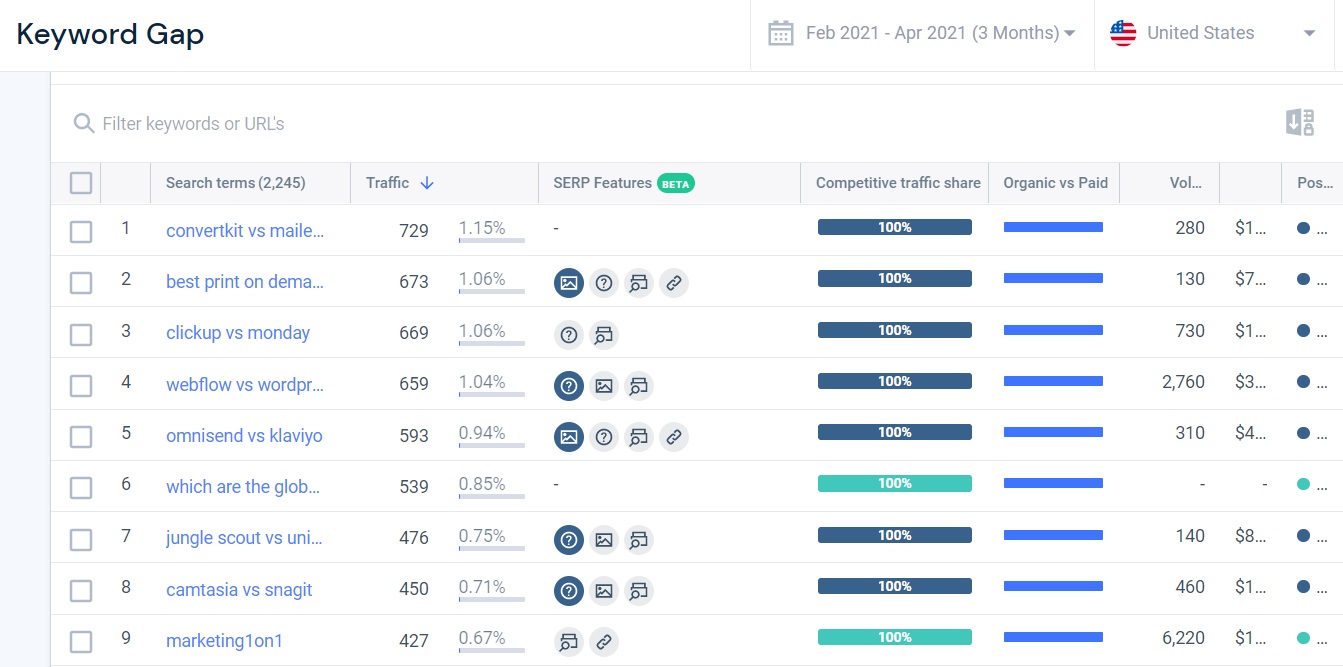 Their Keyword Gap tool is also impressive. The Keyword Gap tool compares the keywords you and the websites in your Arena rank for and any keyword opportunities you may be missing out on. You can also add any websites to see how your keyword rankings compare.
Compare
SimilarWeb offers a user-friendly way to monitor your traffic compared to competitors. Their Compare tool offers a convenient graph that separates your various websites in different colors.
You can play around with this tool to look at different country ranks, category ranks, and more. You can add various competitor domains, making this tool extremely useful.
Mobile Data
We're only relying more on mobile traffic, which is why SimilarWeb offers a Mobile Data tool. This tool tracks your mobile performance and compares it to competitors.
User-Friendliness
SimilarWeb's platform is concise and their information is clear. While it may be difficult to know how to track these metrics at first, SimilarWeb displays them in a convenient way.
How Can You Use This Data?
While this data is effective, how can you use it for your marketing campaign?
First, you should look at both traffic and audience statistics. Specifically, look at where your competitors are receiving their traffic as well as other traffic trends. Look and see if any of these could be opportunities for your website.
On the contrary, you'll want to see where your competitors are performing poorly. Poor metrics could happen for many reasons, such as poor user engagement. You'll want to see how you can use these pitfalls to improve your website in these areas.
Overall, SimilarWeb offers essential traffic and audience metrics that you can use to improve your rankings. Their platform is very user-friendly, even for newbies.
Alexa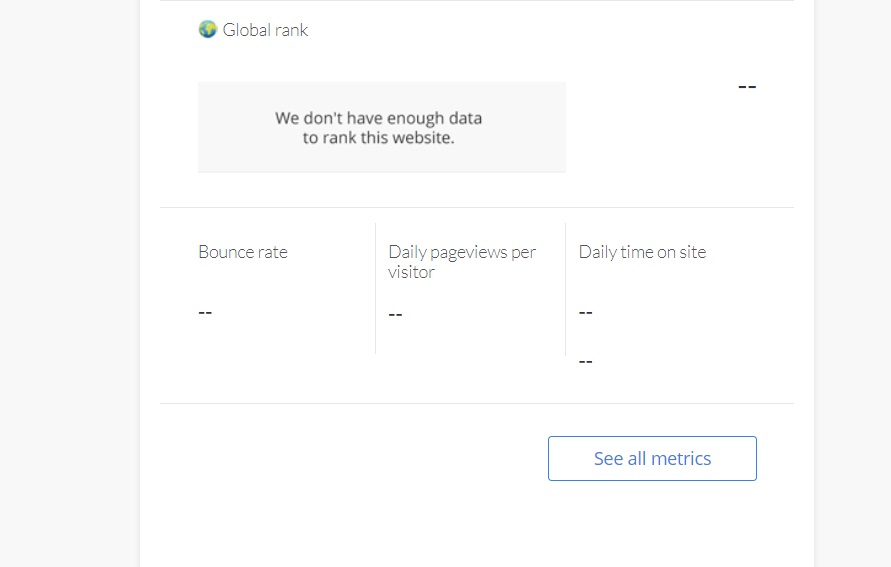 In all honesty, I couldn't view many metrics on my Basic plan. So keep that in mind while reading this review.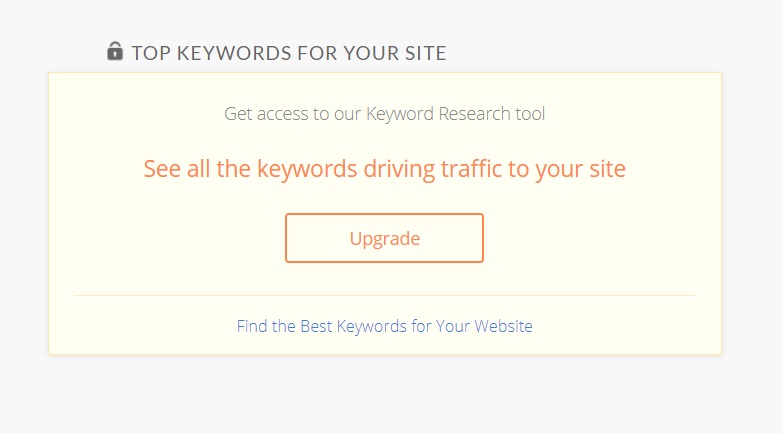 Pros
Get traffic estimates for you and competitors
Offers more plans for different sized websites
Website performance insights
SEO features
Cons
Many report their stats aren't reliable
Very few features are available to those on basic plans; only worth it if you upgrade
Some have reported issues reporting traffic for subdomains
Metrics
From looking around online, it seems like Alexa offers these metrics:
Monthly Unique Visitors
Alexa Traffic Rank
Engagement Metrics
Audience Geography
Page Load Time
Company Info
Audience Demographics
Something I found interesting is Alexa automatically sets you up with websites that share a similar audience as you and your main competitor. When you create your account, you enter your URL as well as the main competitor you're tracking. From there, you'll see more detailed audience metrics.
Alexa also offers SEO information on the Advanced plan. This includes how visitors arrive from your site, top keywords, organic and paid search engine results, backlinks and more. This brings us to our next point.
Site Keywords
Alexa offers three keyword categories:
Paid keywords
Organic keywords
Opportunities
This shows the paid and organic keywords you rank for, as well as keywords that Amazon and your competitors rank for.
Site Comparisons
Like SimilarWeb, Alexa offers the Site Comparisons feature where you can measure the performance of up to 10 websites. Some of the metrics the tool tracks include:
Monthly Unique Visitors
Historical Traffic Trends and Traffic Metrics
Traffic Sources
Engagement Metrics
Demographics
Reputation Metrics
While not as customizable and colorful as SimilarWeb's, Alex's Site Comparison tool offers more useful metrics.
How to Use This Data
It seems like Alexa offers more opportunities to track your metrics and compare your results to your main competitor. Not only that, but you can see metrics from additional websites automatically.
You'll also see visitor demographics so you can better understand your audience as well as new potential target markets. The SEO and backlink data will offer more ways to rank in search engine results.
It seems like Alexa has more in-depth analysis opportunities compared to SimilarWeb. Unfortunately, you need to sign up for one of their more expensive plans to view this data.
Data Accuracy
With any type of analysis platform, you'll need to ensure that each platform has accurate data. How do SimilarWeb and Alexa compare?
SimilarWeb
SimilarWeb has a powerful crawler that crawls 2 billion web pages per month. They also have over 200 million monitored devices in over 190 countries. They achieve this with their partnership with local service providers in these countries.
This means there are hundreds of thousands of websites connected to SimilarWeb's databases. They also carefully check their data to ensure it's statistically unbiased. Their data is similar to what appears in Google Analytics and is overall trustworthy.
Alexa
Alexa monitors user online behavior via their browser extensions. They also collect data from websites that have the Alexa script installed. All of this data is compiled to create what's called an Alexa Rank. This is why many believe Alexa's data isn't as accurate.
Overall, SimilarWeb has more in-depth data collection and review methods, making them a more accurate source compared to Alexa. However, Alexa is a better platform if you're analyzing Alexa Rank.
Pricing
SimilarWeb and Alexa have different pricing, mainly because SimilarWeb offers a free trial and Alexa doesn't. Here's what you need to know.
SimilarWeb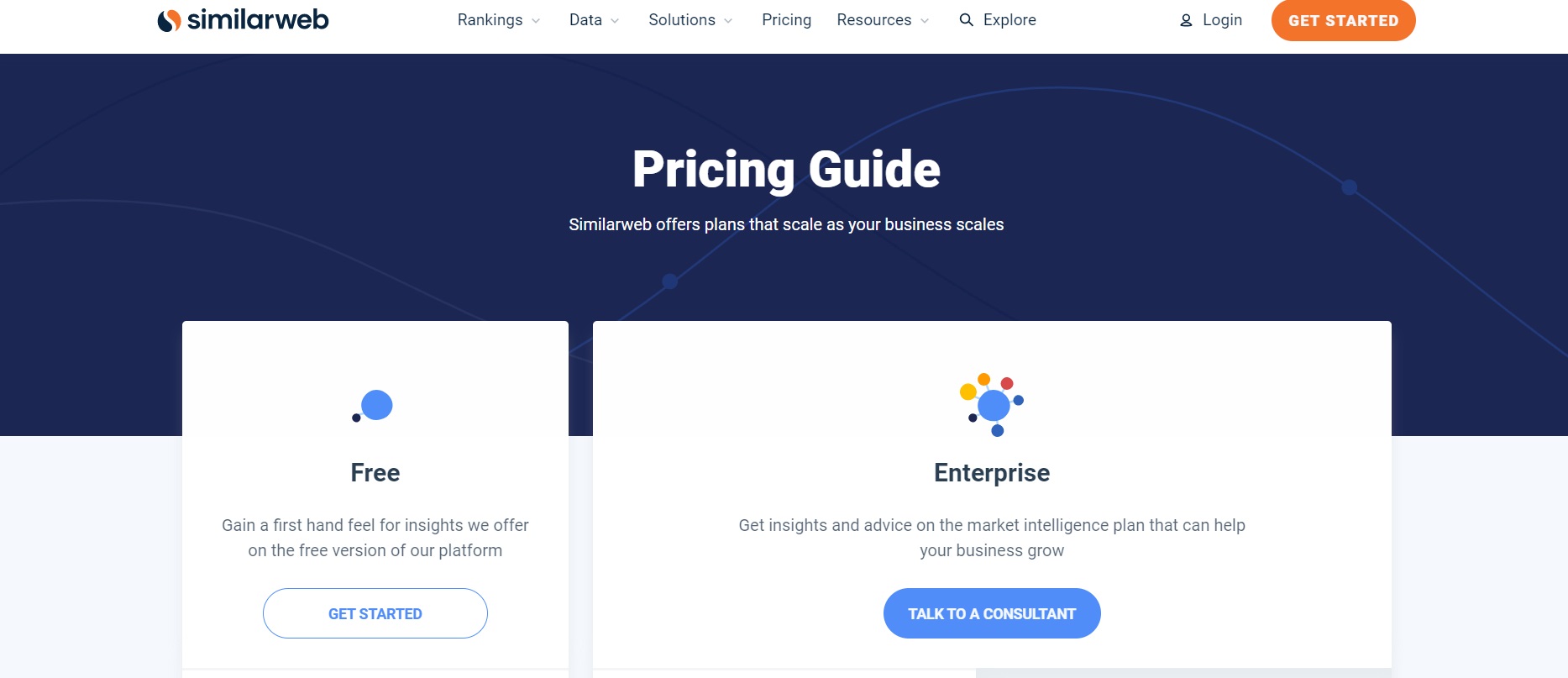 You have two options with SimilarWeb: their free plan or Enterprise plan. Their Enterprise plan goes over features, but not pricing. Those interested will have to speak to sales in order to receive a quote.
Alexa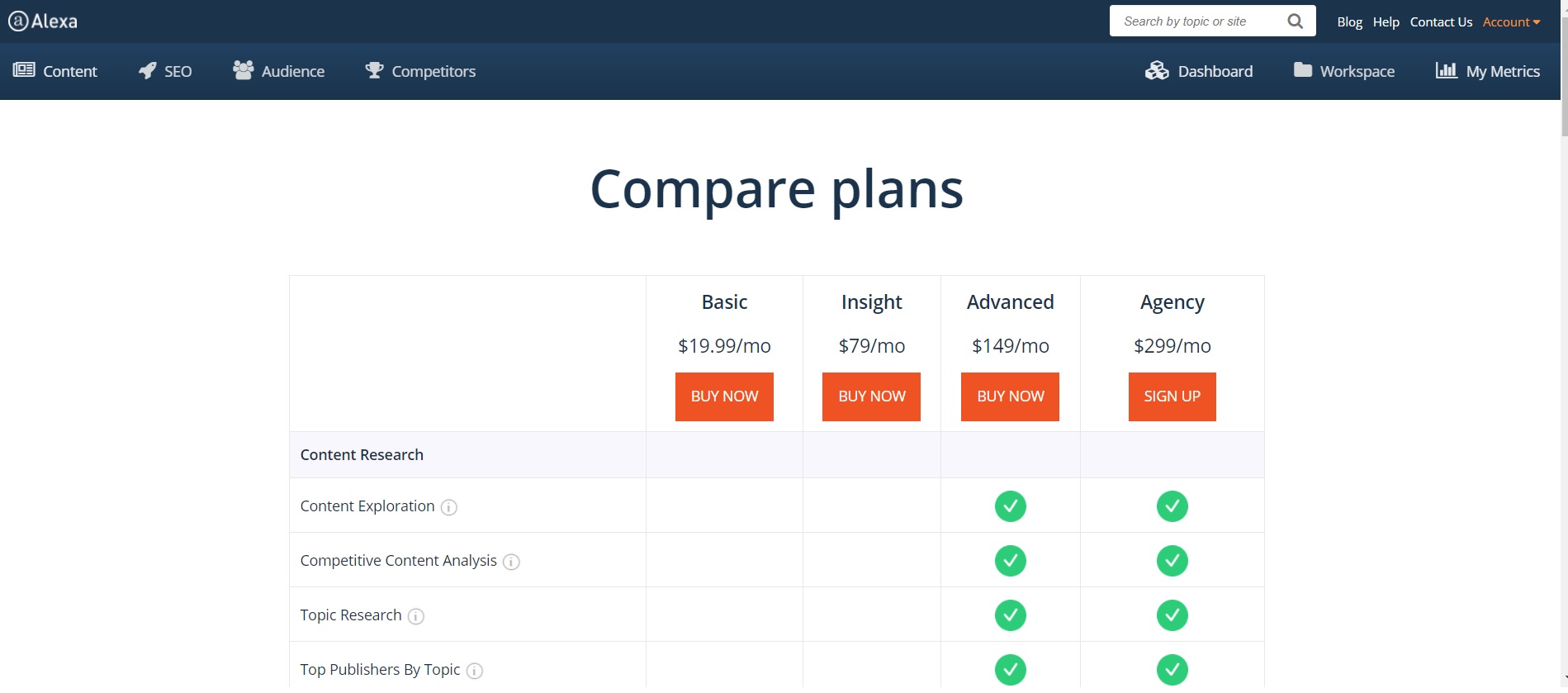 Basic: $19.99/month
Insight: $79/month
Advanced: $149/month
Agency: $299/month
As stated previously, Alexa isn't worth it unless you choose the Advanced plan. I chose the Basic plan and I was barely able to access anything.
SimilarWeb and Alexa are very different in pricing. SimilarWeb is better if you either need basic competitor analysis or a more advanced plan, but nothing in-between. While Alexa offers in-between plans, you'll only waste money unless you choose the Advanced plan. Both the Enterprise plan and Advanced plan have similar and different features, so it's best to visit their pricing pages and see which one you need.
FAQs
Question: Will You Get Different Results When Putting the Same Website in SimilarWeb versus Alexa?
Answer: Many website users say yes, you'll have different metrics when putting the same website in SimilarWeb and Alexa. That's because both platforms collect data differently. While SimilarWeb seems to be the most accurate, Alexa is better if you care about the Alexa Rank.
Question: Can I Cancel My Subscription to Either Platform?
Answer: You can cancel both your Alexa and SimilarWeb accounts.

On Alexa, you do this by going to your Account Manager. The "Cancel Subscription" button should appear on the page. The Agency subscription is slightly different. You go through your Project Hub first to Account Settings. From here, you'll see the Cancel Plan link.

If you pay for SimilarWeb, you have to cancel by contacting their billing department.
Question: Do You Need to Cancel the Free Trial?
Answer: SimilarWeb offers a free plan, so there's no need to cancel. However, you'll need to cancel your Alexa free trial to avoid being charged.
SimilarWeb vs Alexa: The Final Verdict
If you ask me, I say SimilarWeb is the better platform. They have more accurate data and they have a pretty powerful free plan. But SimilarWeb isn't perfect. I personally don't like how they don't offer medium-sized plans.
Alexa is ideal if you care about Alexa Rank. Otherwise, I wouldn't recommend them. They're not worth it unless you subscribe to their Advanced plan. If you don't need in-depth competitor analysis, it's best to stick with SimilarWeb's free plan.
If you're conducting a competitor analysis for SEO, we also recommend Semrush. Click here to read our in-depth review.
Our Recommendation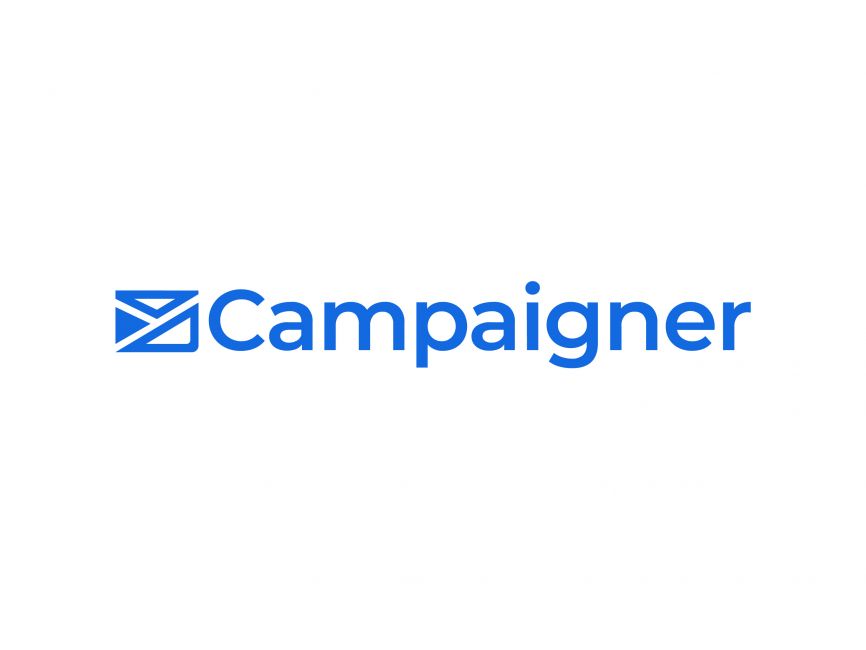 Have Your Heard of Campaigner?
Drive sales and revenue using advanced marketing automation, intuitive reporting and powerful personalization through email and SMS. Try Campaigner for free!
Start Your FREE Trial
We earn a commission if you click this link and make a purchase at no additional cost to you.