Last Updated on April 22, 2023 by Ewen Finser
As a freelance writer, practically every area of my business takes priority. Without handling routine administrative tasks, I can't stay on top of deadlines or emails.
Without customer service skills, I won't have any clients who trust me enough to return. And without writing skills, I wouldn't have a career in the first place.
Here's what most freelancers and any small business owner have trouble saying out loud, though: the money is the most important part.
Isn't it? Maybe you're not in your career or are a business owner solely for the money, but if you want to keep a business of any type afloat, you need cash flow. For many professionals, decisions begin and end with money – you can be passionate about a project, but if you can't pay your bills or work expenses (expense tracking) while doing it, you're going to sink your business.
Accounting and invoicing software is a cornerstone of business. It saves you from diluting your hourly rate. It ensures you have the write-offs you deserve during tax season. Most importantly, it's the vessel for invoicing clients and bringing money in.
Bottom Line Up Front: I personally prefer the more user-friendly and feature-rich Freshbooks software here. Having excellent syncing between mobile and desktop devices is KEY for my business, which is another point for Freshbooks.
Main Differences Between Wave vs FreshBooks
The main differences between Wave and FreshBooks are:
Wave offers a 100% Free accounting platform, whereas FreshBooks is Paid beyond free trial
Wave offers payroll services, whereas FreshBooks does not
FreshBooks offers full invoicing and expense reporting, whereas Wave does not
FreshBooks has better mobile access compared to Wave
FreshBooks offers time tracking services, whereas Wave does not
FreshBooks offers more training and support comapred to Wave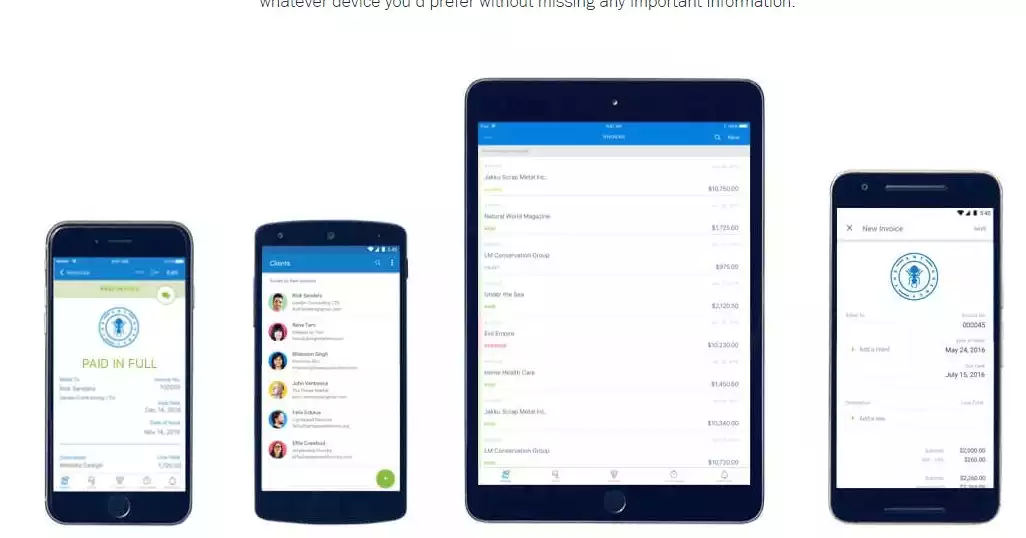 I Personally Prefer Freshbooks
I personally prefer the more user-friendly, feature-rich, and mobile-ready software suite offered by Freshbooks. You get what you pay for and Freshbooks is well worth it, IMO.
Try Freshbooks Free
We earn a commission if you click this link and make a purchase at no additional cost to you.
In this article, we'll introduce you to Wave and FreshBooks, two accounting software tools geared toward small businesses.
For each tool, we'll start with a brief overview of what it is, then move on to talk about its most important features.
Then, we'll tell you about our firsthand experience using the tool.
Next, we'll compare the pros and cons of the tool, go over pricing and tell you our final thoughts.
At the end of the article, we'll give you our verdict about which one to use and how to use each one best.
What is Wave?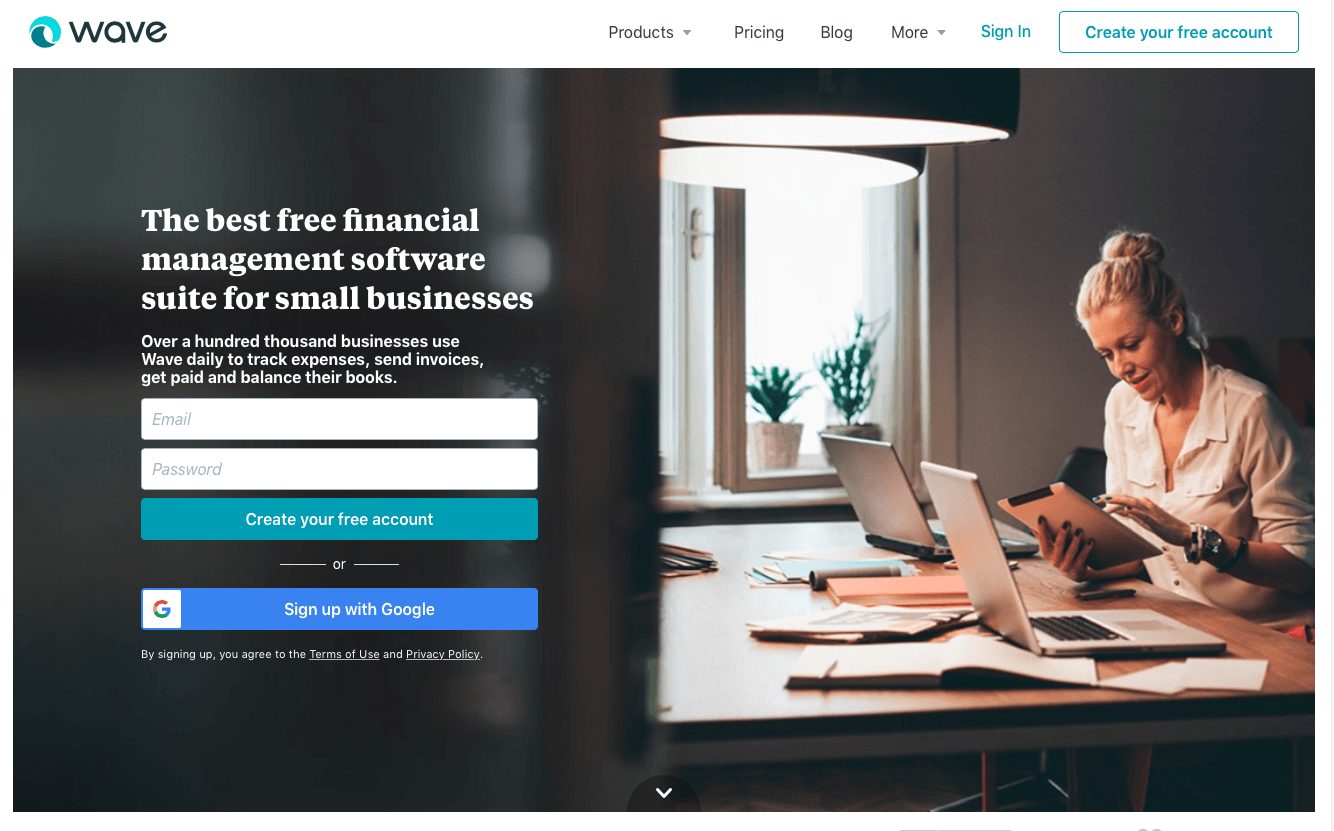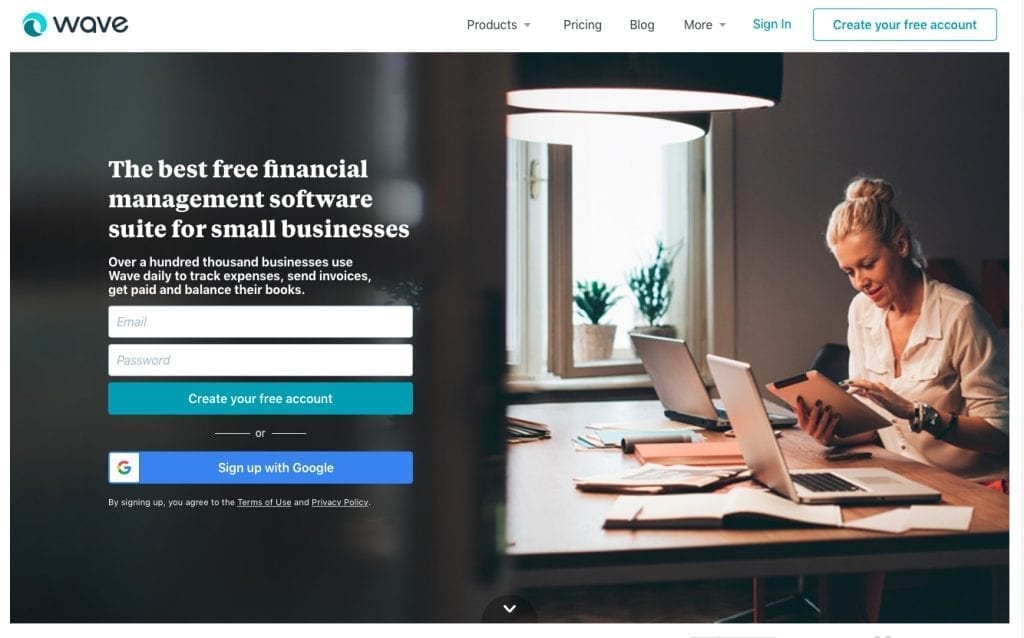 Wave is an online accounting and invoicing tool specifically geared toward small, and very small, businesses. You can do just the basics with Wave, like track cash flow, or you can handle more advanced responsibilities like invoicing clients, collecting payments and managing payroll.
Wave Features
The vertical menu on the left side of the screen shows you all of your options, which include:
Launchpad
Dashboard
Sales
Purchases
Accounting
Banking
Payroll
Reports
Each option has a list of sub-options to choose from.
Getting Paid
The most important part of my accounting software is getting paid, period. Small businesses, especially entrepreneurs and freelancers, often have different agreements with different customers. For example, one customer may pay in full upfront, while another may have to be on a payment plan. You may have to send recurring invoices to a client every month, or there may be a client who always seems to pay late no matter what. Wave's features help you with all of this.
What I like most about Wave is that there are tools that help the professional – you – get paid on time and on a reliable basis. You can also create products or services and then easily choose from them when creating your invoice so that you don't have to enter the item manually every single time.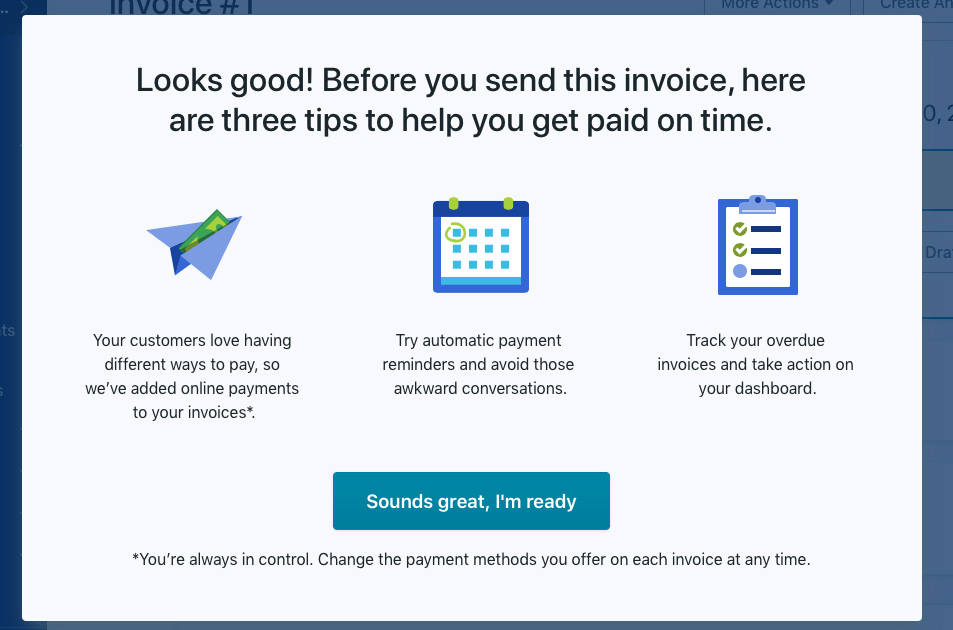 Bookkeeping
There's also a host of bookkeeping features, including connecting your banks, adding customers and updating settings for sales tax. You don't need separate accounting software to track your personal accounts, either – Wave lets you download transactions for both business and your personal life, and you'll keep them separate for bookkeeping purposes. You can also import customer, client or vendor data from your email provider into Wave via a CSV file.
More Features
ACH payments
Cash Flow Report
Integrations (limited)


Multicurrency
Payroll
Recurring invoices
Reporting
Wave User Experience
Setup was incredibly simple. I entered my login information and then told them a little about my business. I love that "Writer" is an option, along with other under-represented careers. Most of the time, I have to choose something like "Media" or "Communications" when filling out information about my job.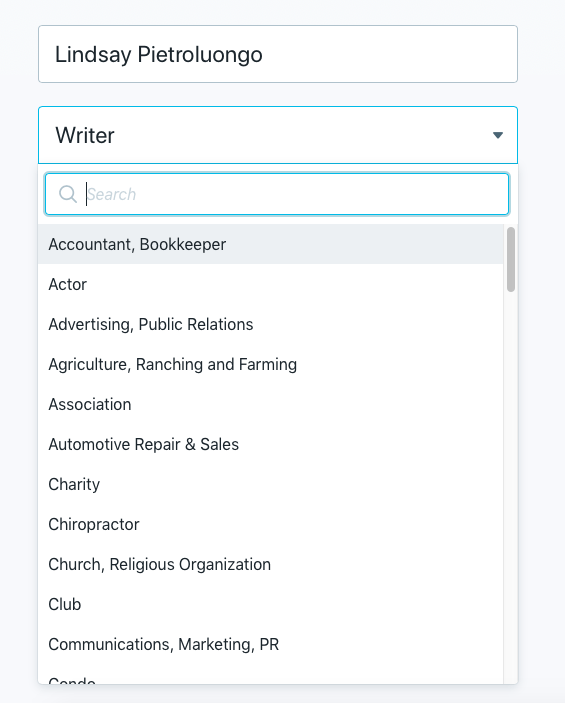 I love a business tool that tells me how to use it. This is the first thing I saw when I signed up.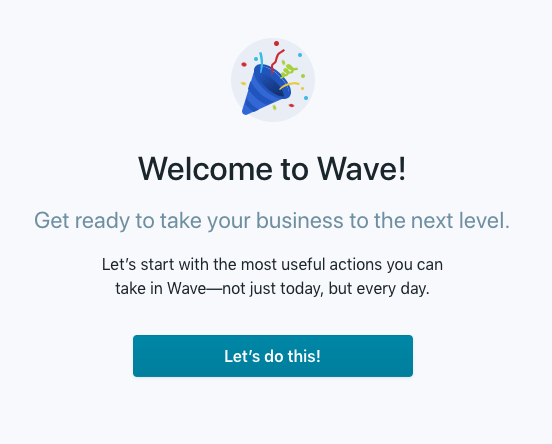 I was given a choice of three commonly-used options. I chose "Professional Invoicing."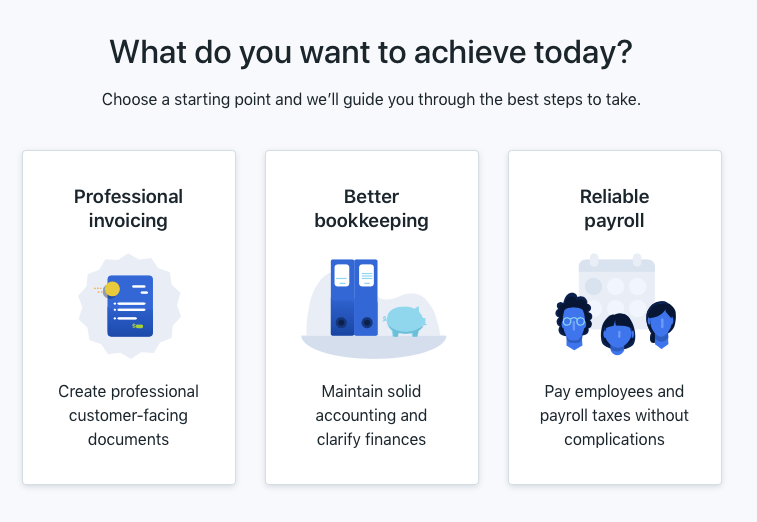 Then I narrowed down my invoicing needs. I chose "Create invoice."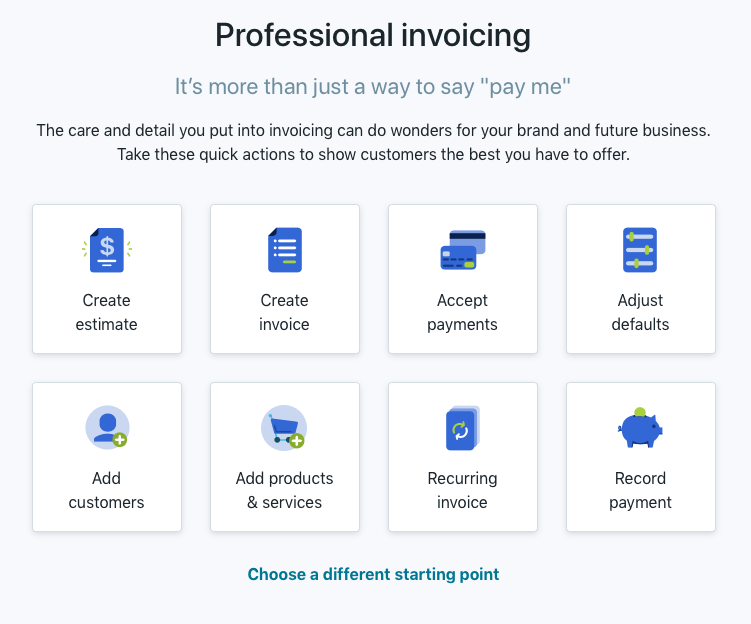 It gave me a little explainer so I knew what I was about to do.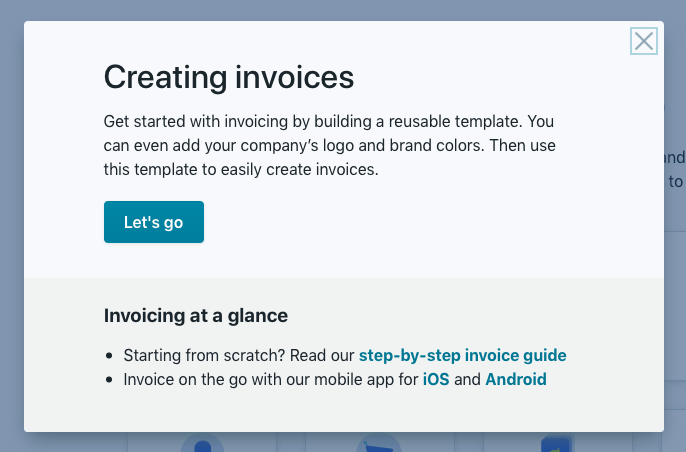 This is what the invoice template looked like before I made any changes: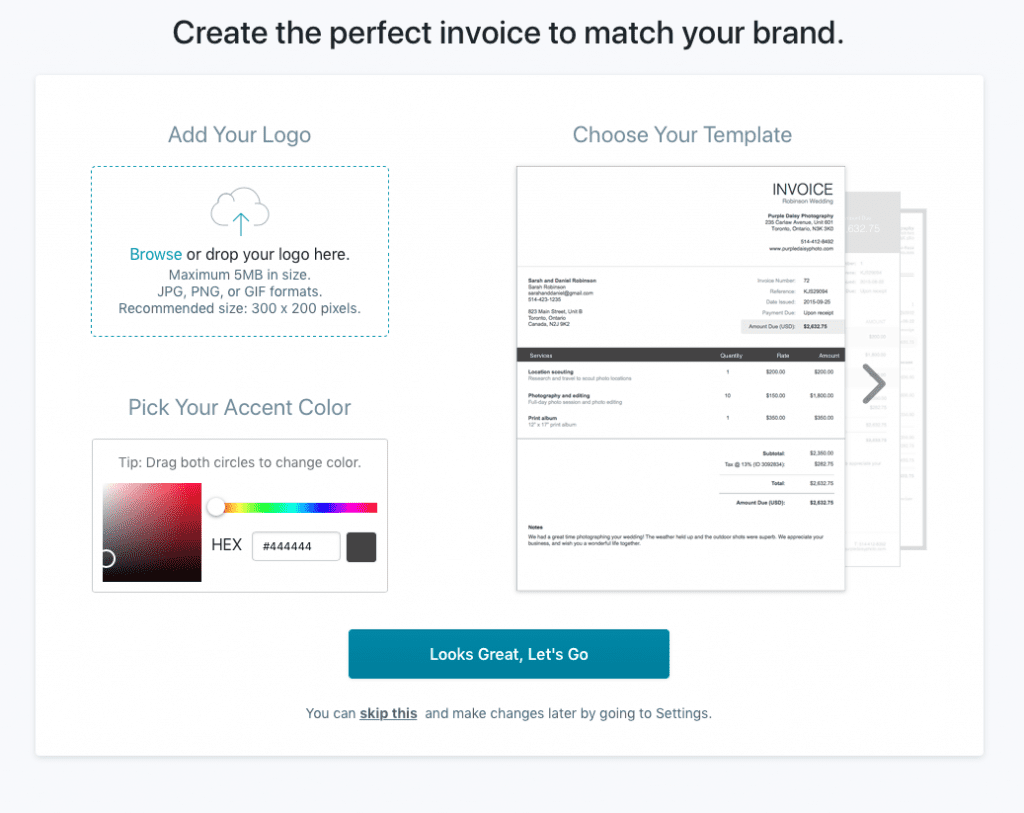 As soon as I added my logo, it updated the preview. It also chose an accent color that coordinated with the image I uploaded.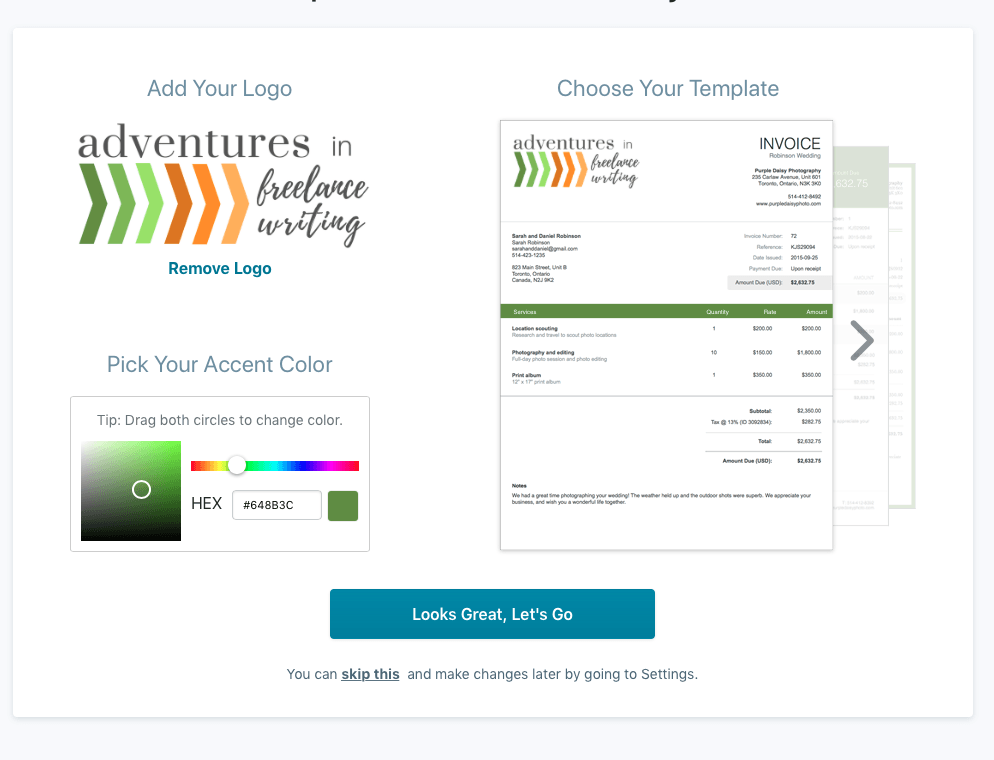 There are a few templates to choose from. I clicked through to see my options, but ended up using the first one it showed me.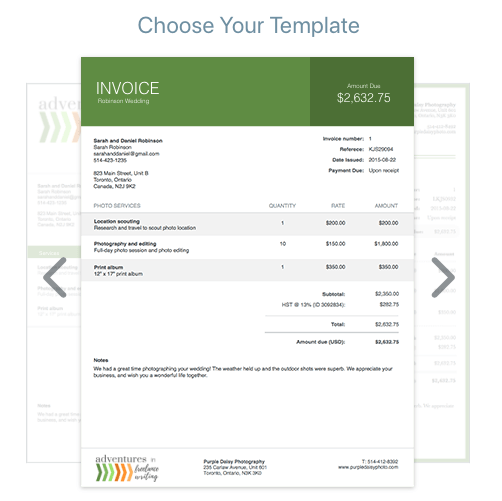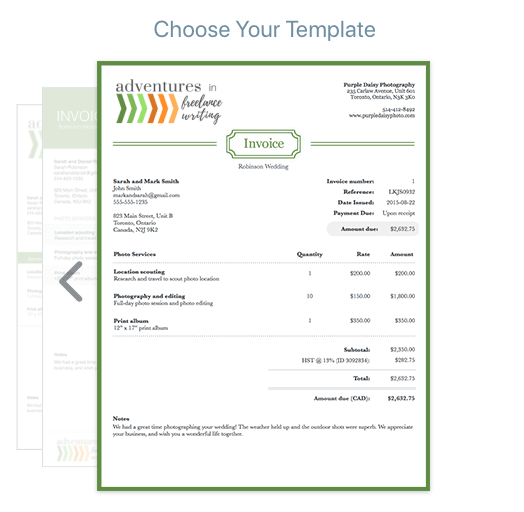 The next screen is where I customized the invoice details.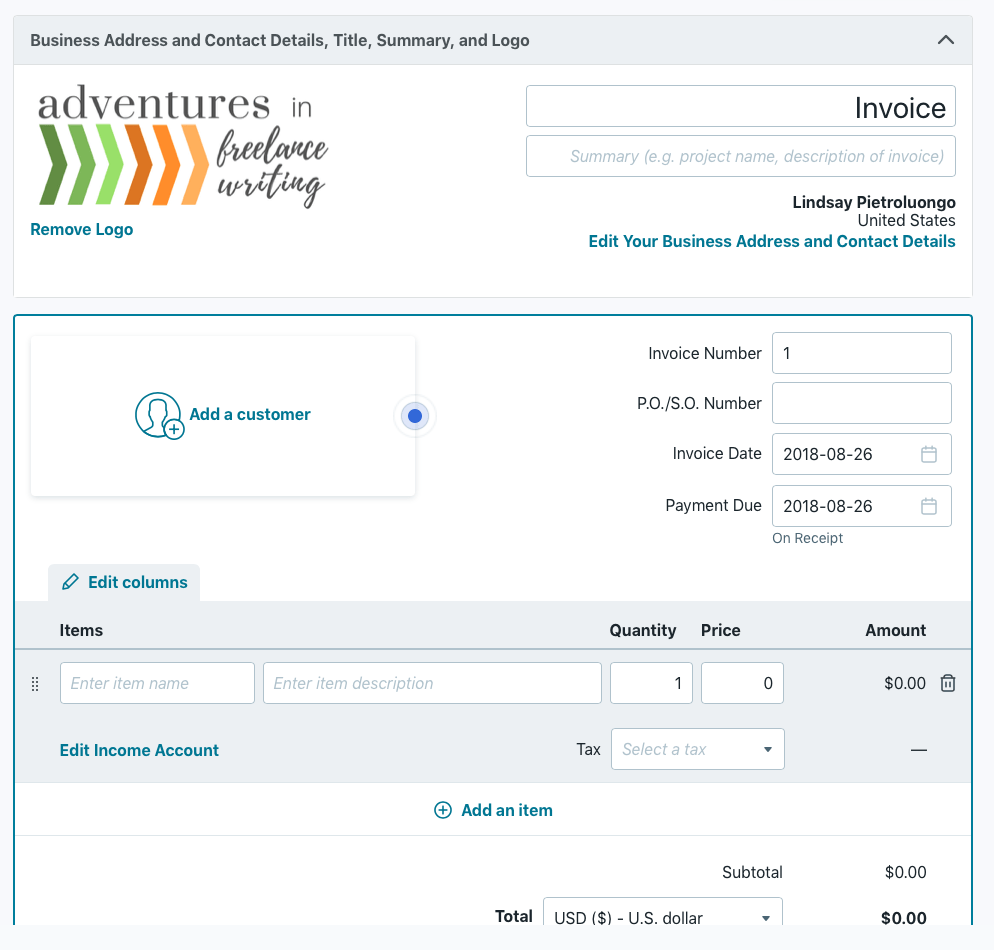 It's a basic invoice, but with all of the fields you'd need to clarify things like payment due date, quantity and price, tax information, notes, and footer info. You also have to add a customer, and you can flesh out their contact card with details.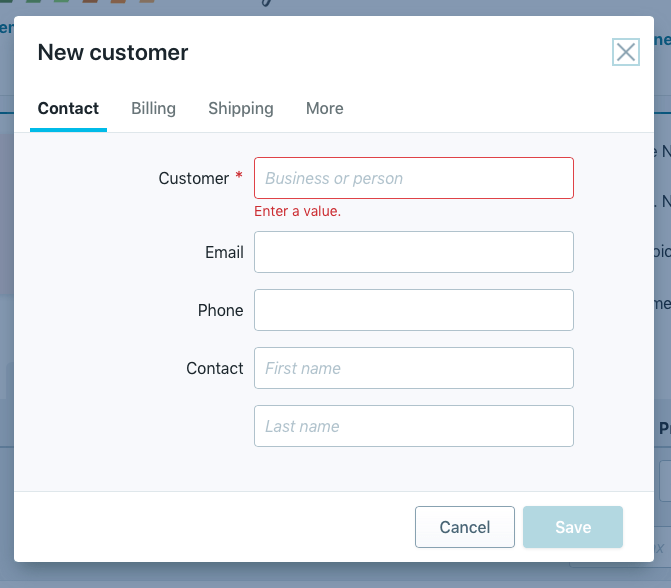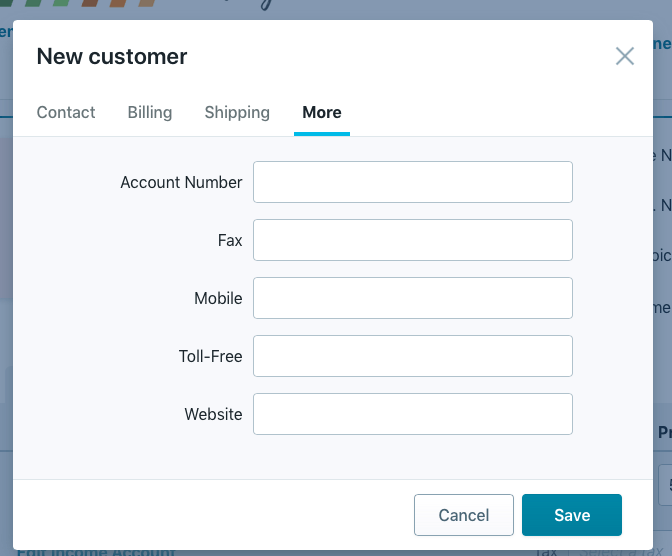 Once the invoice was finished, the next page let me finalize and send it. I approved it, which meant it was ready to go, and then I had the option to either send it or to skip sending it for now.
When I opted to send the invoice, I had a few details to fill out: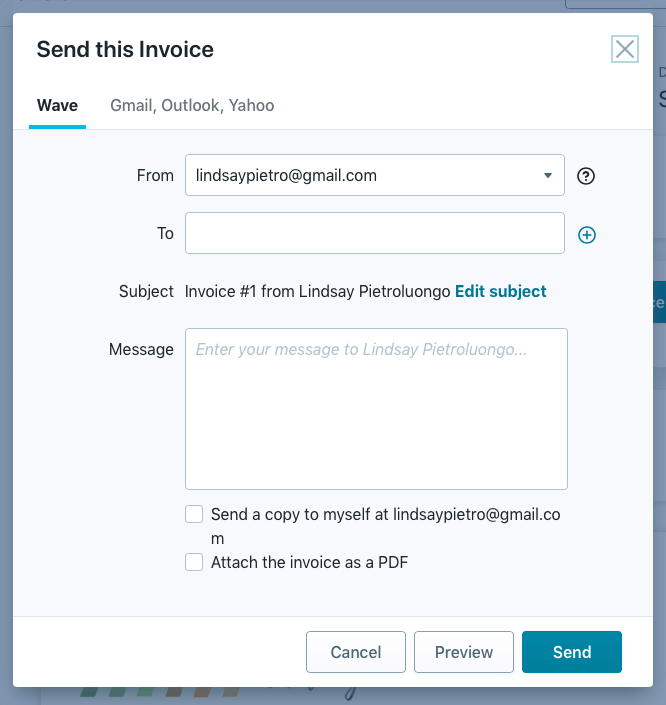 I sent the invoice to myself, and this is what it looked like in my inbox: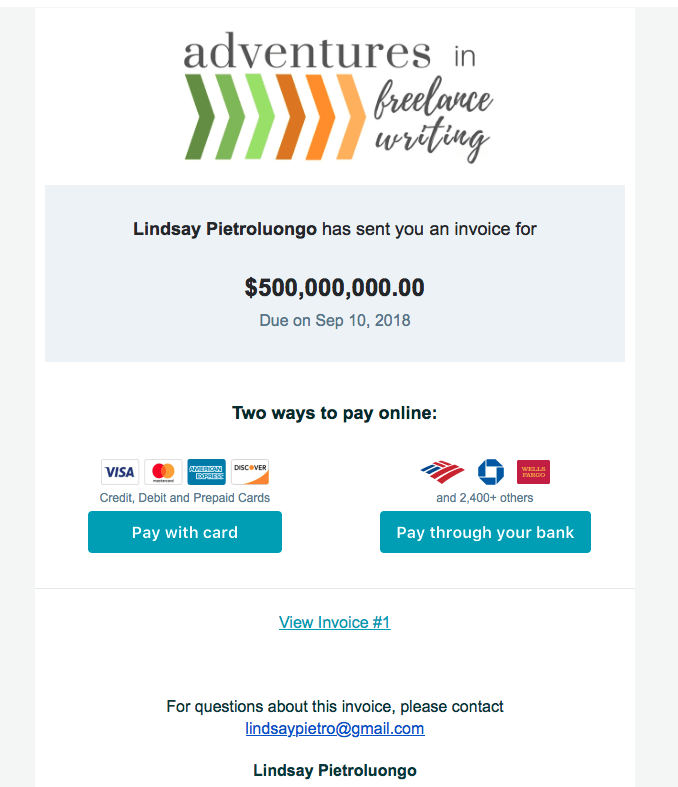 I love this. Looking at it from the client's point of view, I know exactly what to do next. I can either pay using a credit card or via a bank transfer. I usually use PayPal to send invoices, and clients don't always realize that they can pay using a credit card if they don't have a PayPal account.
Overall, the user experience of creating an invoice was a dream. It was easy to figure out, gave me all of the options I needed, and looked professional.
Wave Pros and Cons
Pros
It's free to use a basic account. If you're not going to process payments through Wave, it's an excellent free service for accounting and invoicing tools.
There's a great selection of clever tools specifically for small businesses, even if you're a business of one.
The tools for managing invoices and transactions are fantastic.
The user interface and navigation tools are attractive, intuitive and easy to use.
Wave regularly has updates, both small and large, to make your accounting and invoicing workflows that much more efficient.
Cons
Wave doesn't have features for project tracking or time-tracking. If you want a one-stop-shop for accounting, online invoicing and tracking your projects and how much time you spend on them, you won't get it with Wave.
Wave doesn't have a comprehensive mobile app, which is a must for any professional who does business on-the-go. They have two separate apps, which can become clunky to use if you need them both. Even for someone who works primarily out of a home office, I always need my accounting and invoicing software at my fingertips for when last-minute orders come through or I need to update an invoice on-the-fly.
While Wave does let you create records for products and services, you can't track inventory stock (inventory tracking), and you can't integrate Wave with another inventory management system, either. However, since this tool is geared toward small businesses, that may not be an issue, though it could cause a problem if you start to scale.
One of the biggest drawbacks of Wave is that you can't estimate quarterly taxes or keep a record of mileage. Since Wave caters so much to contractors and freelancers, this is a big gap they haven't filled. Web-based accounting software should make preparing your taxes easier.
Wave Pricing
Wave pats itself on the back for being free, which is it, but only in the way that some other accounting and invoicing tools are "free" – you can do a lot with Wave for no cost, but actually getting paid by customers or clients will cost you money. (That said, some of those freebie services don't have nearly as many complementary features as Wave does, so you're still getting more here than you would elsewhere.)
Here's what you get for free:
Accounting software that lets you do things like connect your bank and credit cards, and track your expenses (expense tracking).
Invoicing software that lets you send estimates and invoices.
Receipt scanning with mobile apps.
Here are more details about what's included in a free account: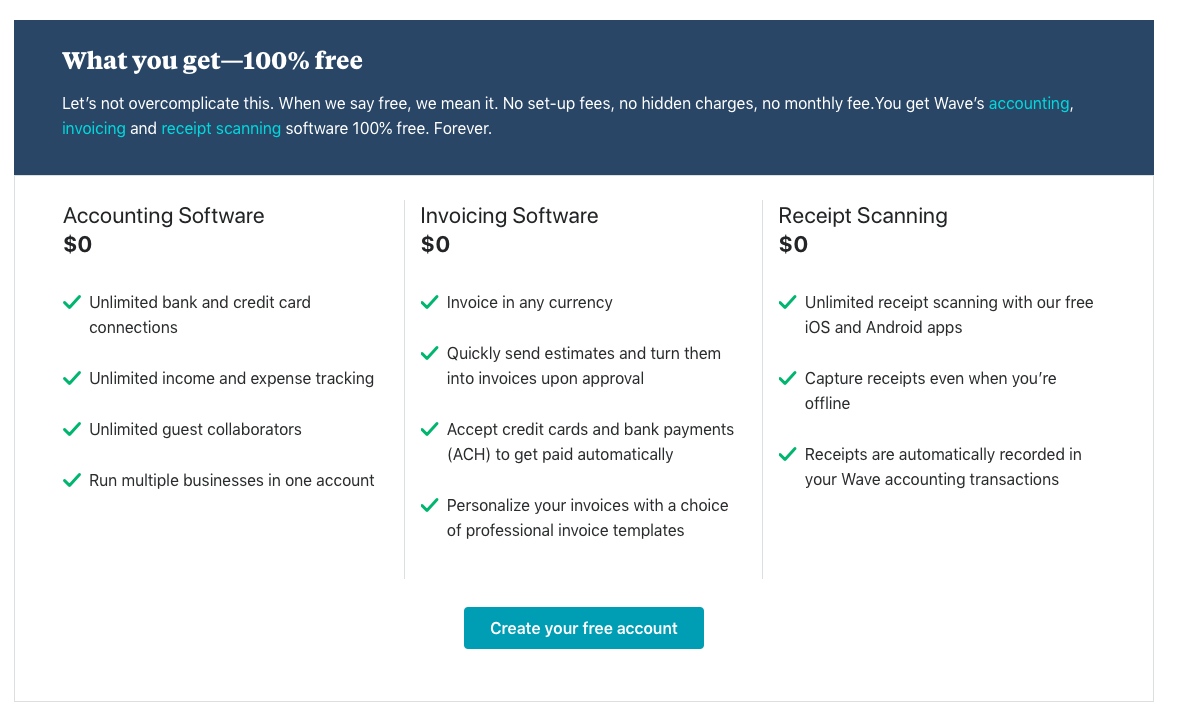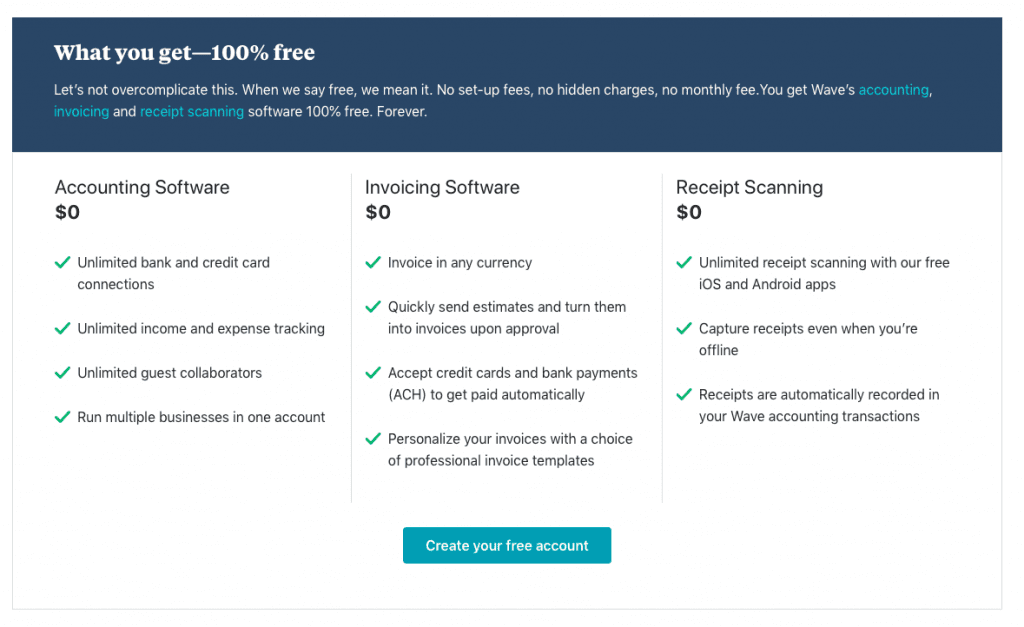 Now, you may have noticed that under "Invoicing Software" it seems to say you can accept payments for free. This is misleading, though, because while you can setup the account for free, you'll pay a fee for transactions (these fees are pretty similar to what I've seen from other invoicing software).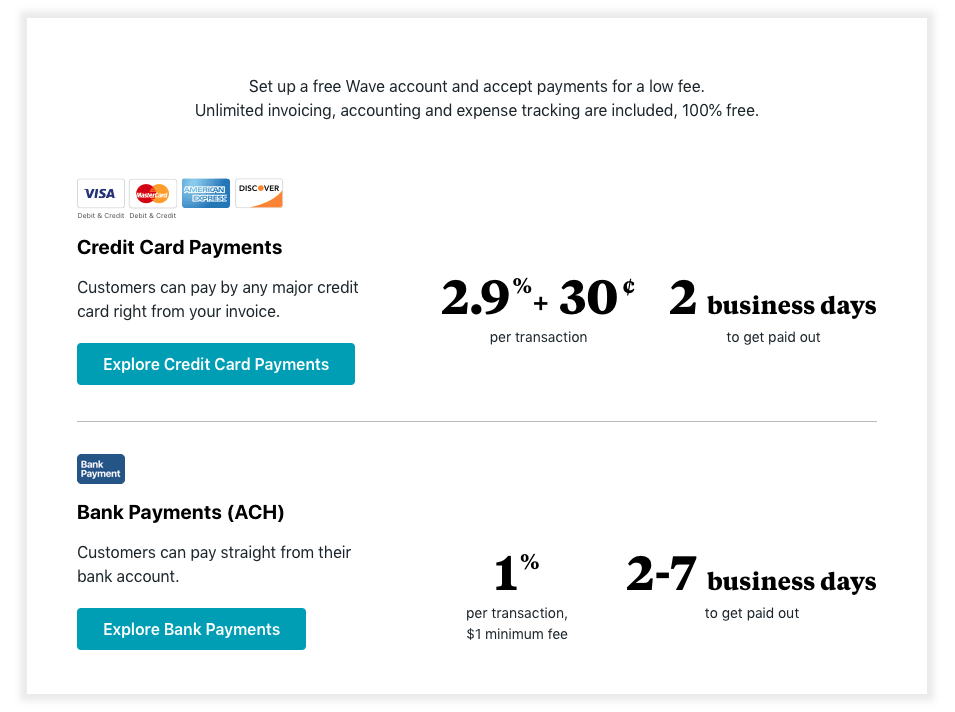 However, you do have the option to connect a payment processor, which would, of course, mean you won't have to pay Wave's fees.
Here's more about their paid services: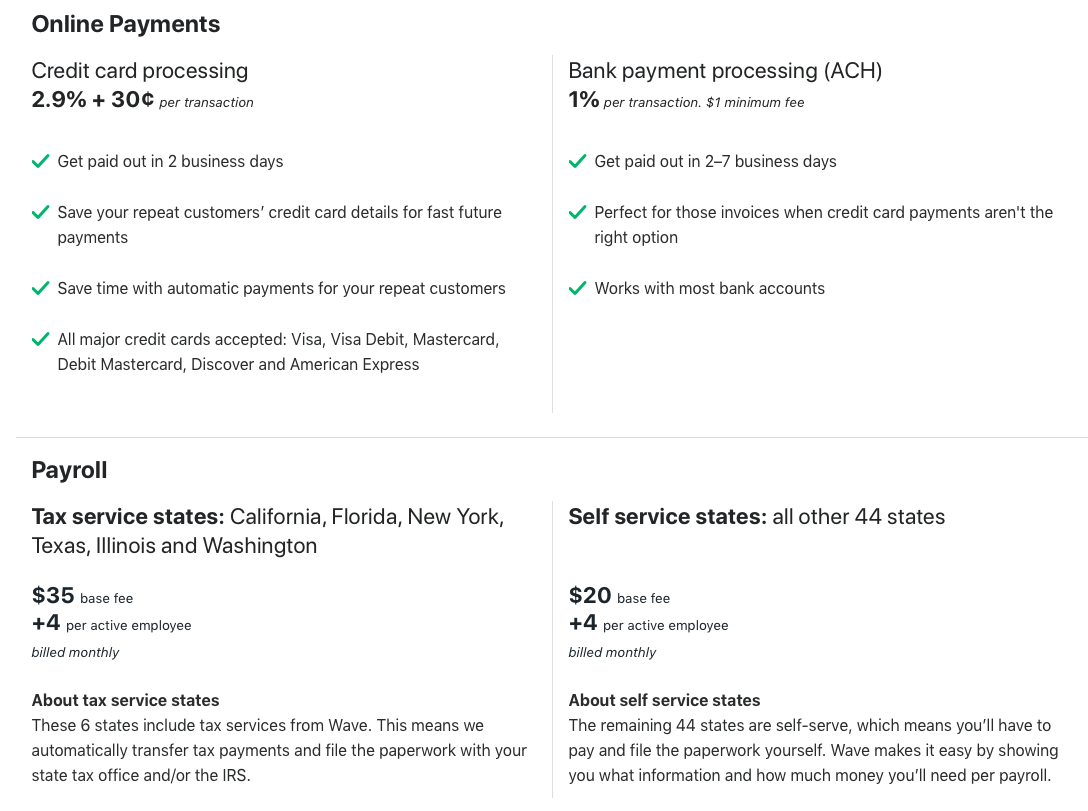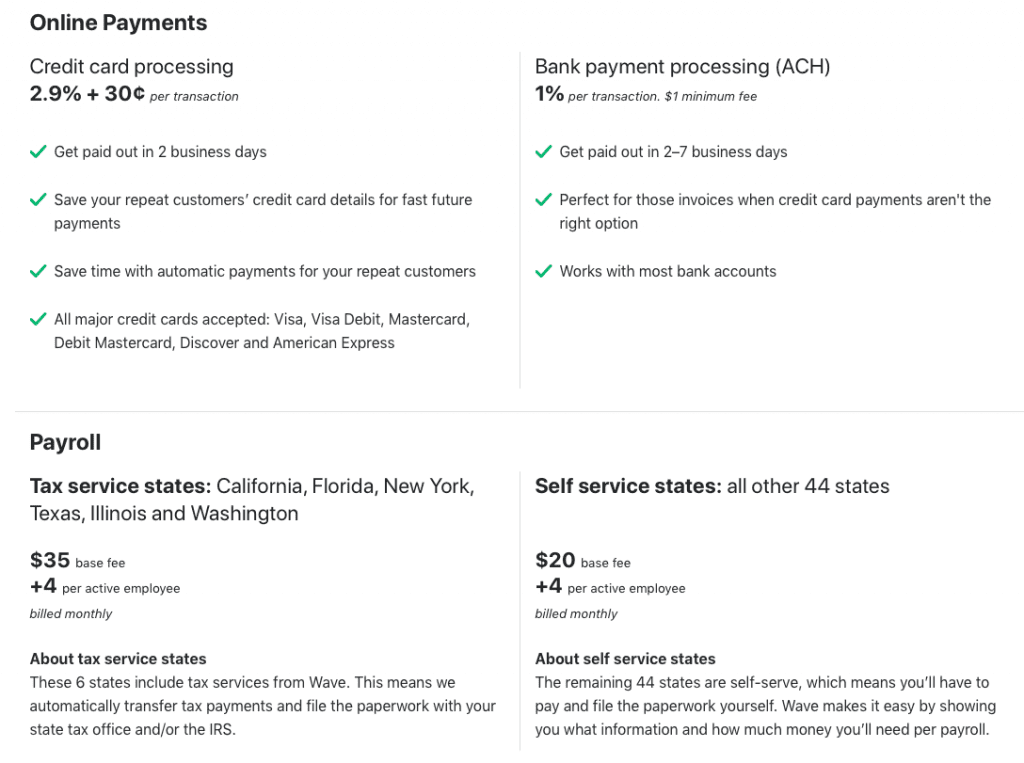 Learn more about pricing here.
Wave: The Bottom Line
For the most part, Wave is a great service for solo-preneurs and small businesses. It's inexpensive (even free, in a lot of cases), incredibly user-friendly and aesthetically appealing, and it lets even a beginner freelancer look like a pro thanks to high quality, customizable invoices.
However, it seems to lack much-needed freelance and small business tools, like mileage recording, while having other features that most small businesses aren't going to need at all, like payroll.
Let's move on to FreshBooks to see how it compares to Wave.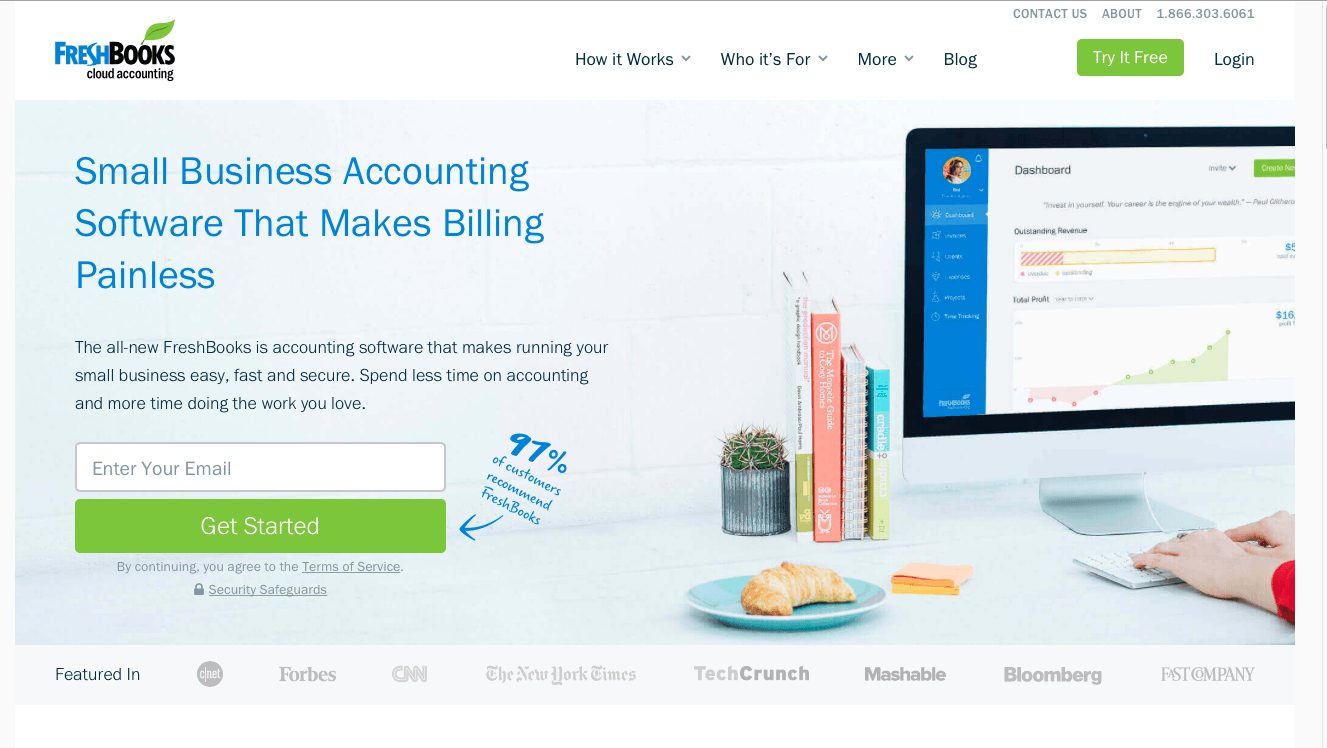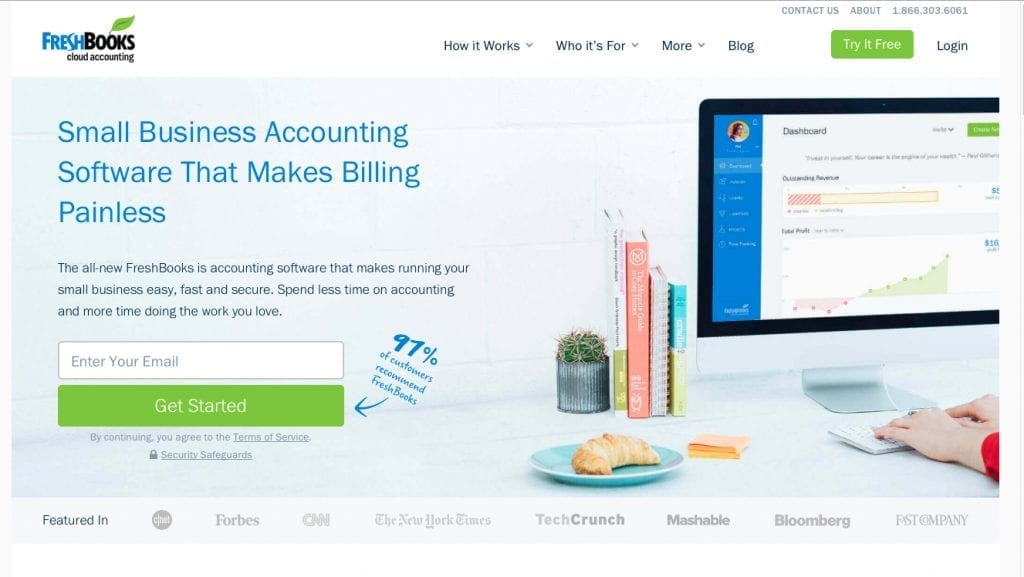 FreshBooks is also an online accounting and invoicing tool, like Wave, and while it's geared toward small businesses, it's definitely capable of handling medium-sized businesses, too, and upwards of that thanks to its different pricing plans. FreshBooks also doubles as a project management tool.
FreshBooks Features
The vertical menu on the left side shows you your options, which include:
Invoices
Estimates
Clients
Expenses
Projects
Time Tracking
Accounting, Expenses and Payment Processing
By entering your login information for your financial institutions, FreshBooks will connect your accounts and import your transactions. While FreshBooks will automatically create categories, like Supplies or Meals and Entertainment, look at this closely, especially in the beginning – the categories aren't always correct, but as you fix them, FreshBooks will learn and be more accurate in the future.
If you sign up for either FreshBooks Payments or Stripe, you can accept credit card payments.
Contacts and History
The contact cards in FreshBooks are pretty basic, including just the contact's name and contact information. When you create a record, though, you can click on it to see a history of transactions and communication. By digging a little deeper, you can see original forms.
Estimates and Proposals
In addition to creating estimates, FreshBooks lets you create proposals. What's the difference? An estimate is like a rough draft of an invoice. Once you're ready, you can just convert the estimate into an invoice. A proposal, though, is a detailed narrative that can be one or more pages, and it covers everything that you and the client should know regarding a project. Some professionals also ask for the proposal to be signed, which essentially makes it a contract.
Expenses
Import expenses or enter them manually, then modify them as you need to. You can include information like date, supplier, item, category, price and tax. You can also attach files, like a scanned receipt; update currency; and mark an expense as billable to a client.
Project Management
With FreshBooks' project management functionality, you can create a project, assign it to a client as well as to your team, set a rate and pick an end date. You can bill either hourly or by flat rate, and if you choose hourly, you can specify which rate based on the service or team member. To track time spent on a project, you can use the timer, enter time manually or create a timed task so you don't go over hours charged.
More Features
Bank reconciliation
Item and service records
Partner integrations
Team support
Reporting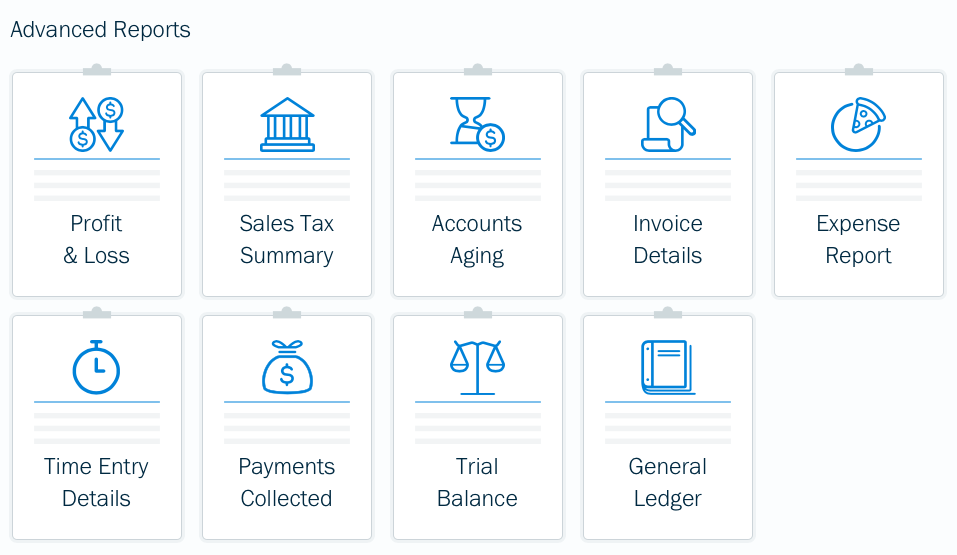 FreshBooks User Experience
I got started with FreshBooks just as fast as with Wave, with just one extra step of clicking an email verification link. They also walked me through the process right from the start.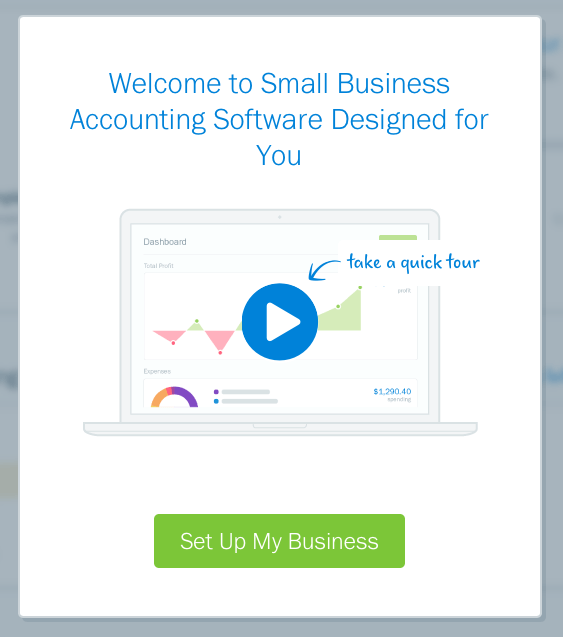 You start by entering some business info.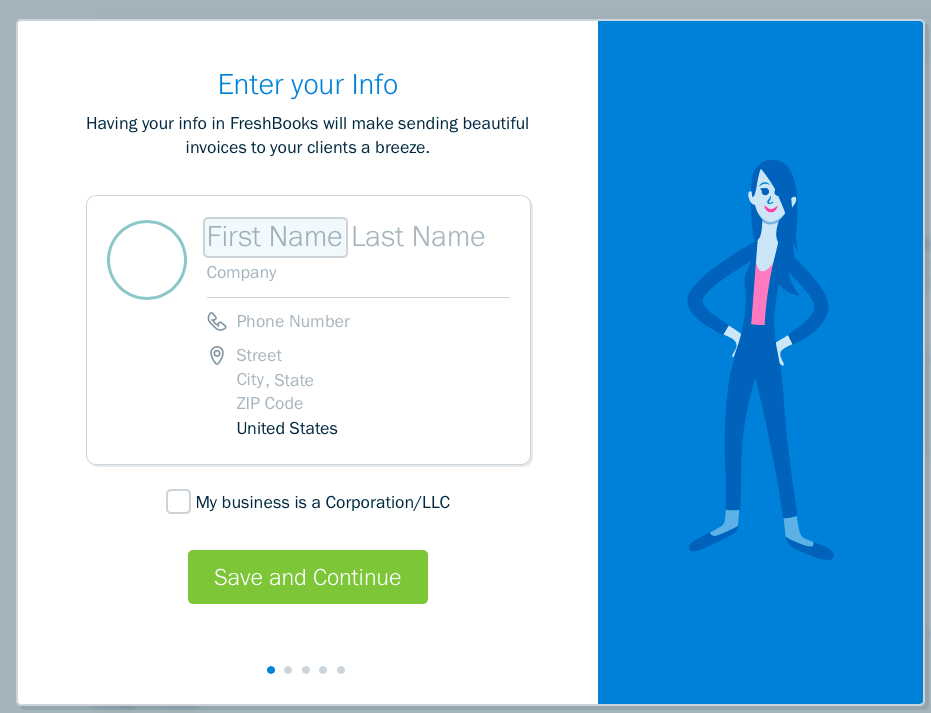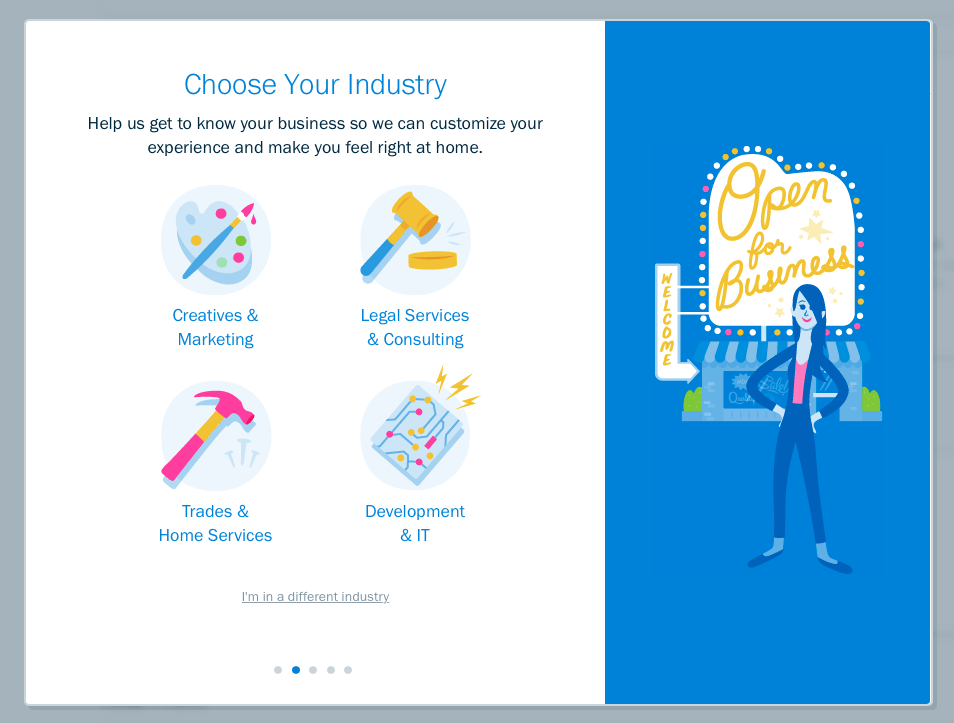 As with Wave, you can tell that FreshBooks caters to creatives and small businesses, because there are insightful options when it comes to how you help your customers or clients.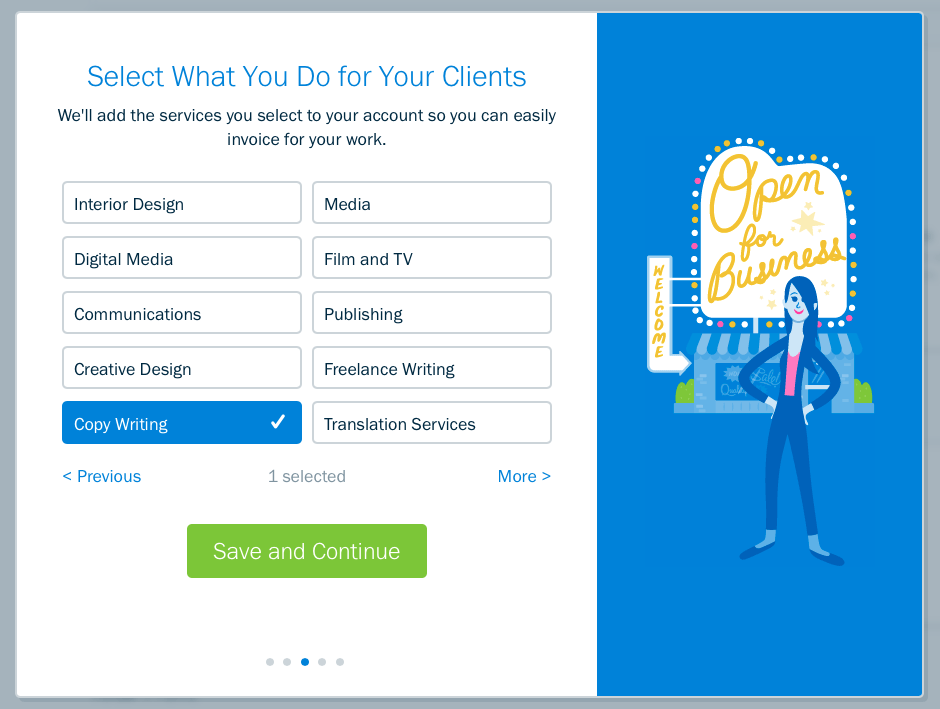 This is also where you let FreshBooks know how you'll be using their tools. I especially love that they have an option for tracking time and projects, which for many freelancers goes hand-in-hand with invoicing.
Next, I went to the dashboard, which is where all of your accounting and invoicing information lives.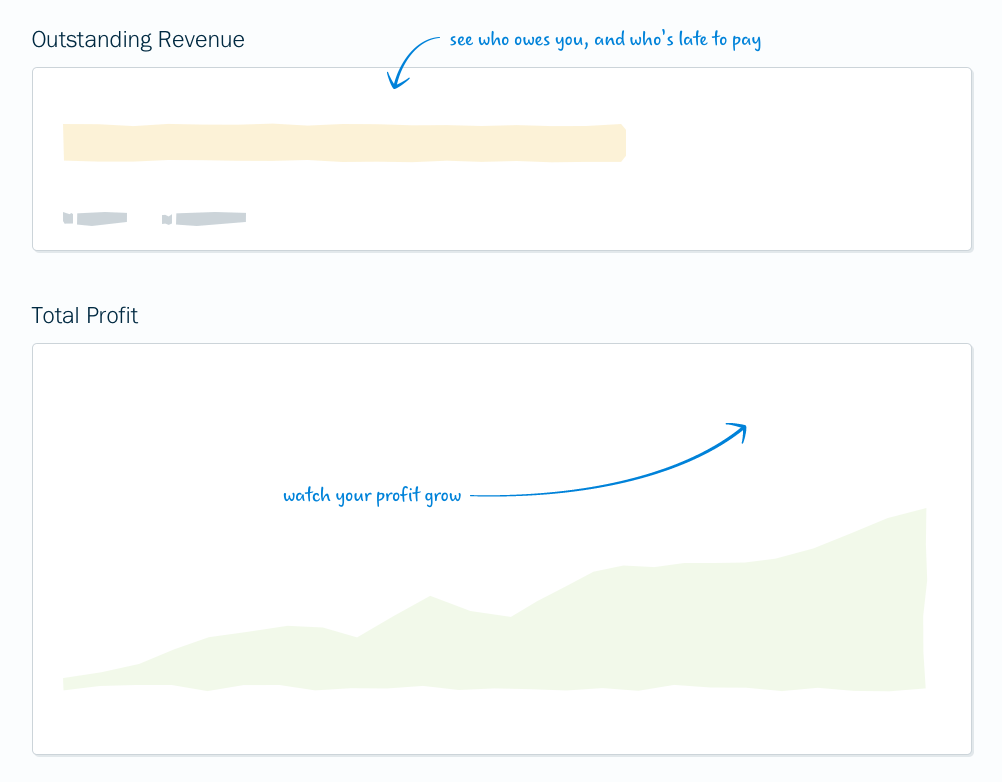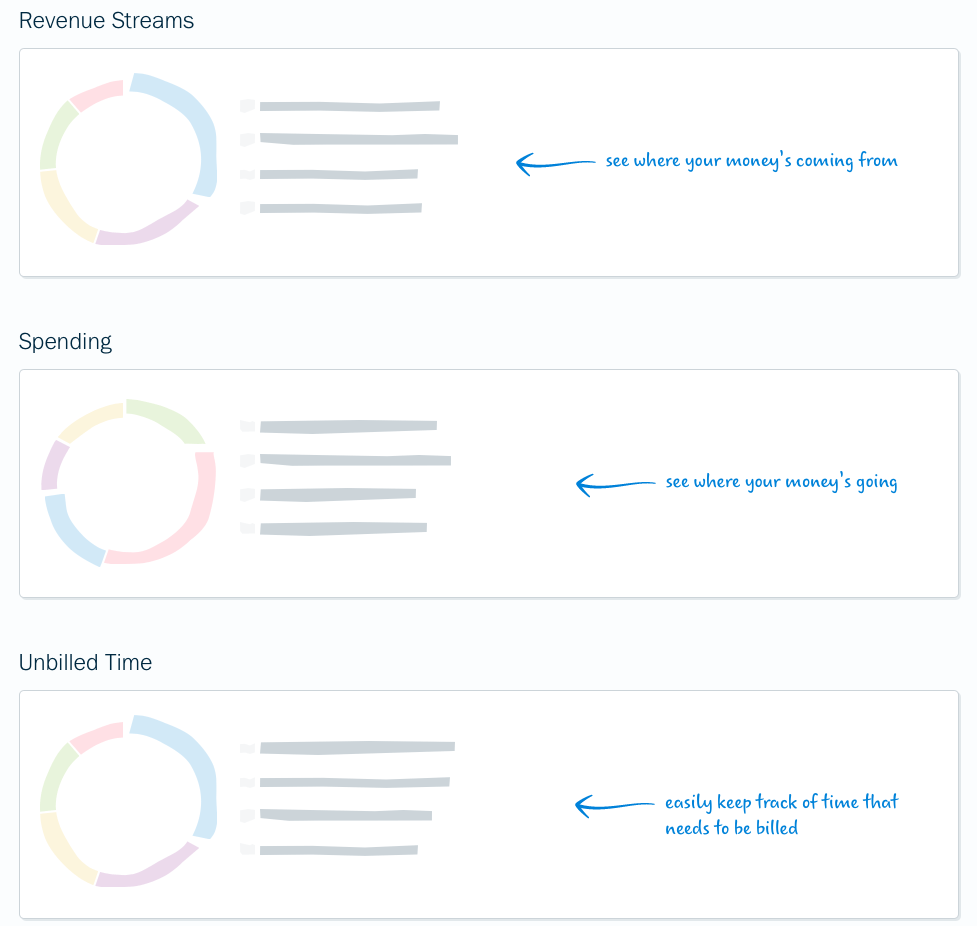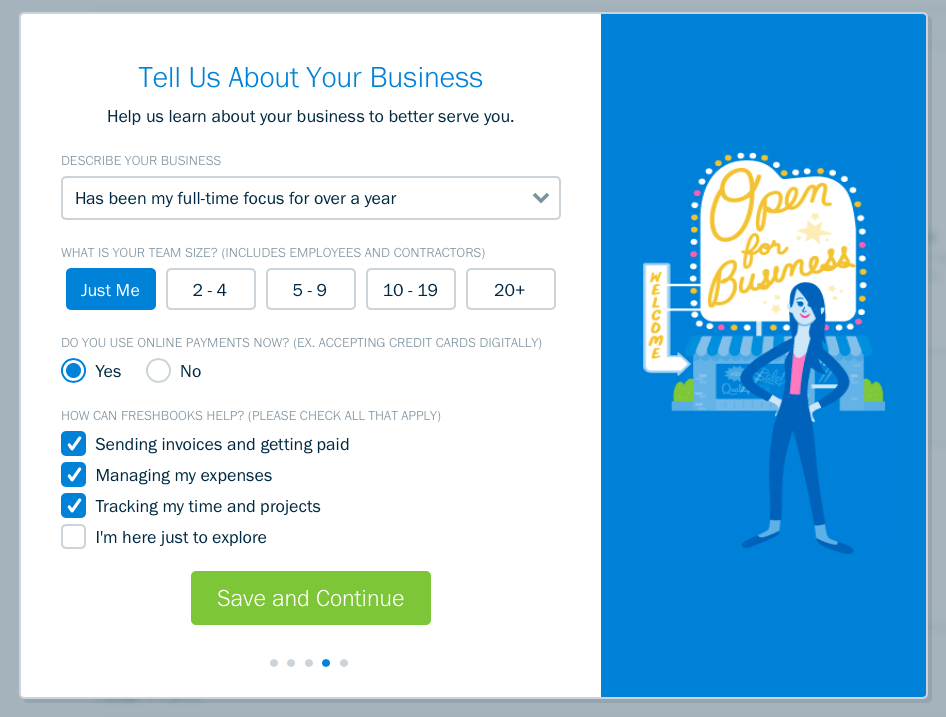 I decided to create an invoice here to see how the experience compares with Wave.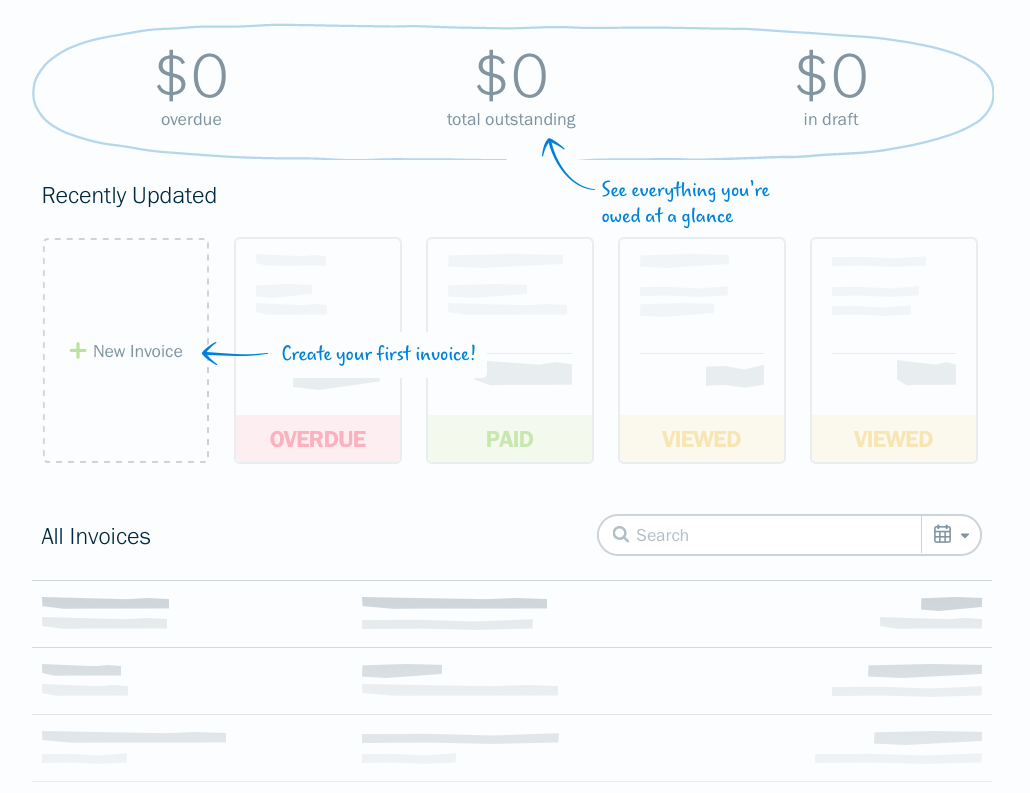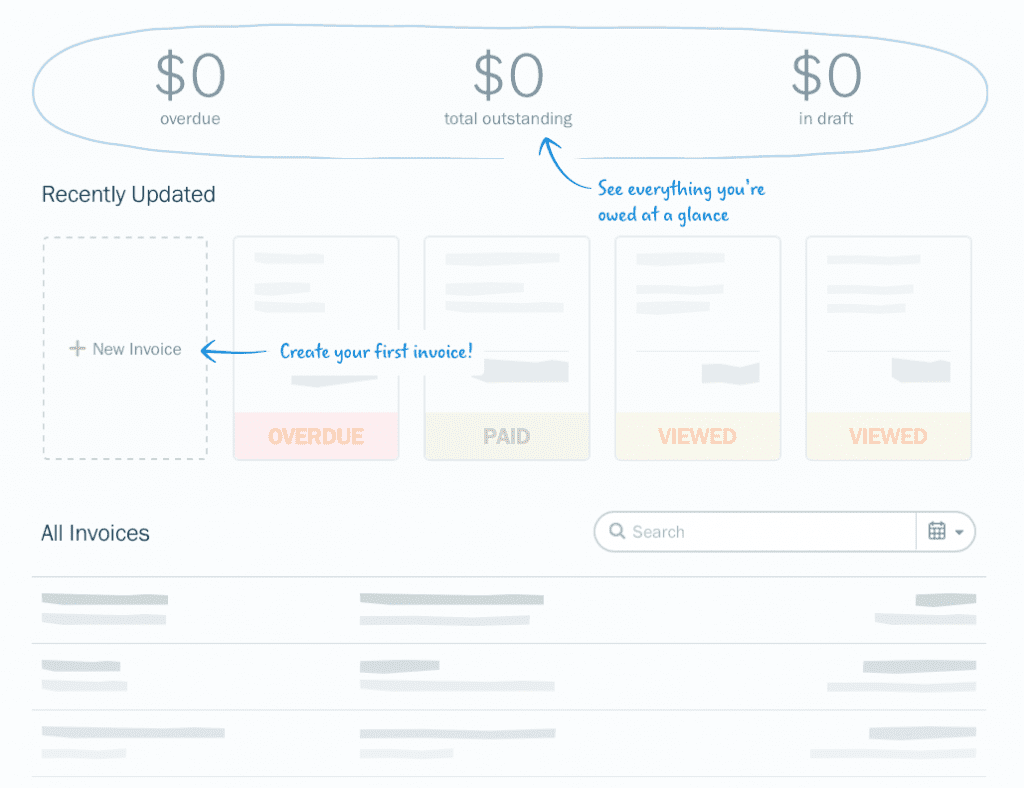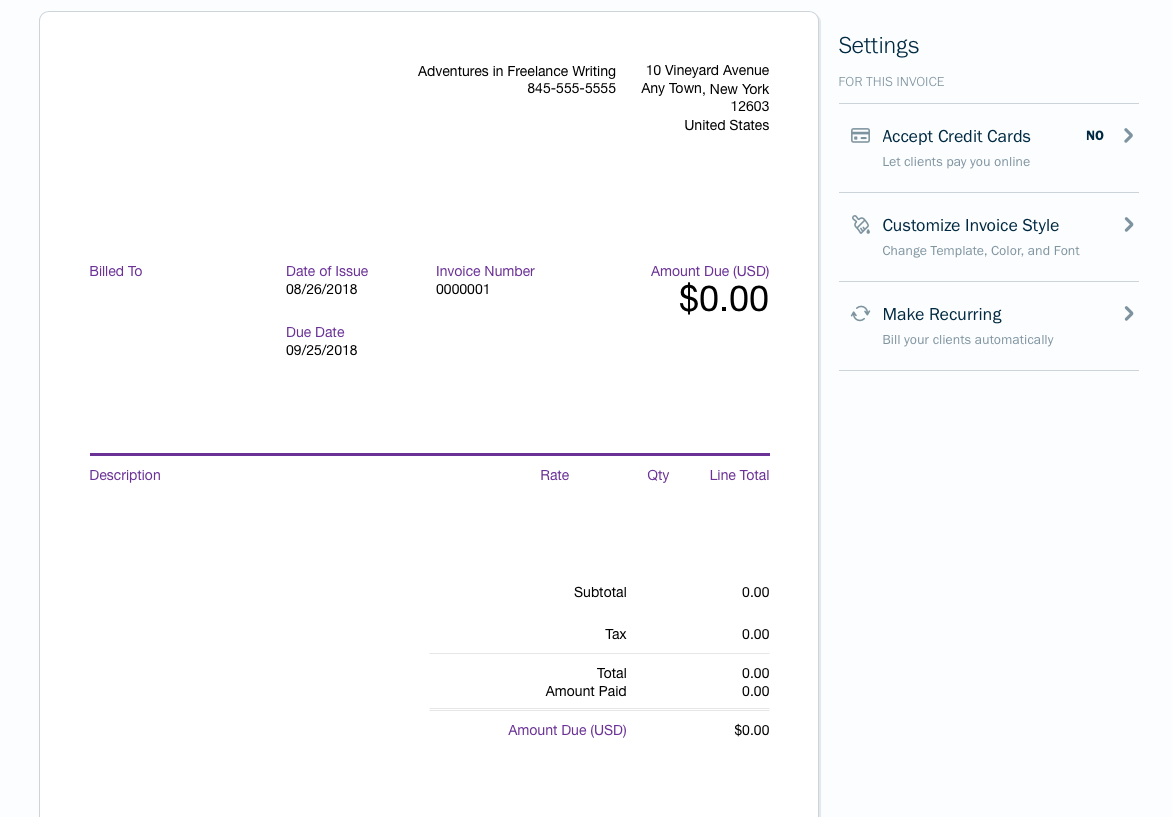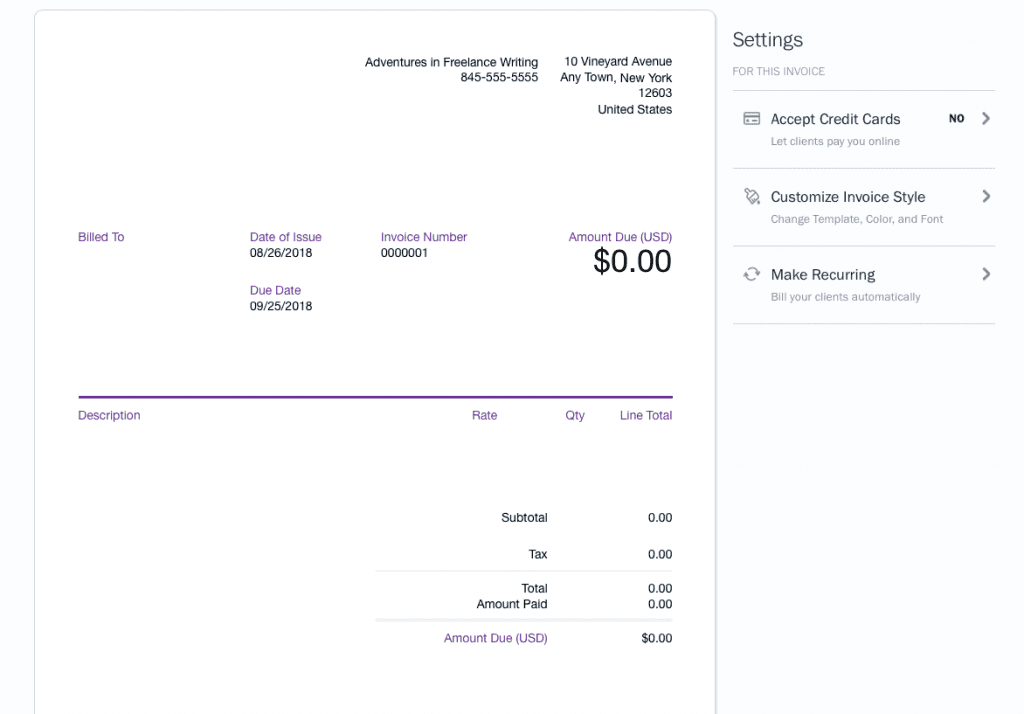 The invoice is slightly less user friendly than Wave's, but not so much that it would make or break your decision to use FreshBooks.
You can customize the invoice with colors and fonts, and you can add a logo to the top left corner.
This is what the invoice looked like when I emailed it to myself: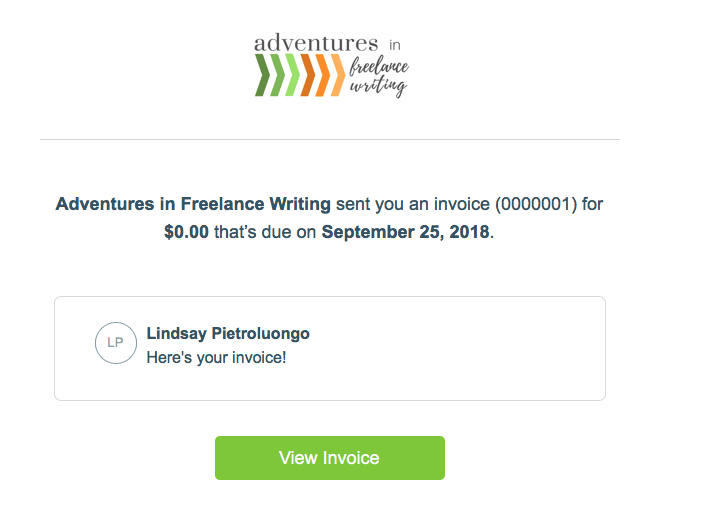 This is what it looked like when I clicked "View Invoice" in my email: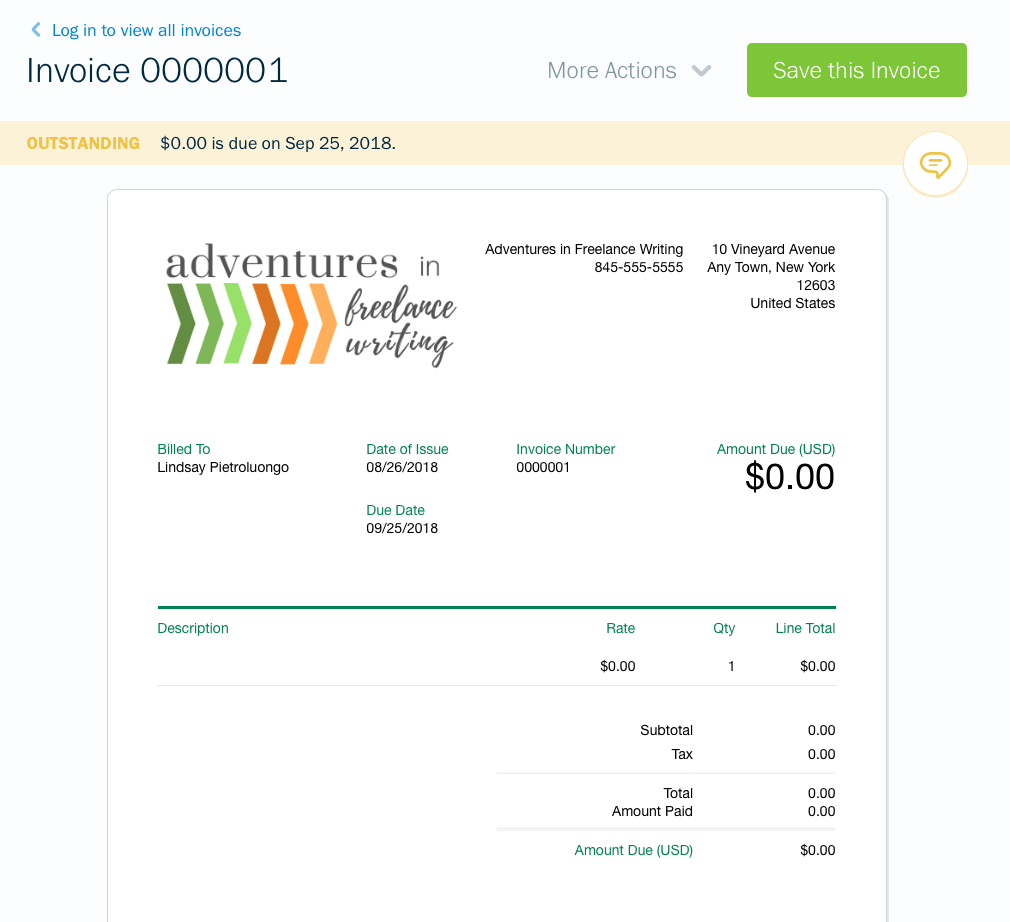 I especially like the yellow bar at the top that says how much of the invoice is outstanding. If you click the message bubble on the top right, the client can send a message to you that'll go right to your email.


FreshBooks Pros and Cons
Pros
The user experience for FreshBooks is great.
There are tools for team collaboration, making this ideal for businesses that may be larger than small-sized (or for small businesses that have to collaborate with freelancers).
One of the best invoicing features is that you can see if a customer has viewed an invoice. That's helpful when it comes to wondering why a client hasn't paid yet – if they haven't viewed the invoice, it's possible they missed it and you can follow-up to make sure they received it.
The accounting features in FreshBooks are excellent, too, especially when it comes to keeping track of your expenses, a must for any contractor, freelancer or gig worker.
Wave falls very short when it comes to their mobile apps, but FreshBooks has a great app for both Android and iOS. With the mobile app, you can use a variety of tools, including Expenses and Time Tracking; see if a customer has viewed or paid an invoice; and communicate with customers.
More in depth Freshbooks customer service and support for users
Cons
Invoice customization options for FreshBooks users are very limited. This could be an issue if branding is important to you or if you're in a creative field and want every visual aspect of your business to be personalized.
FreshBooks Pricing
FreshBooks doesn't have a free version for users, but you can try out a plan free for 30 days to see if you like it. No credit card is required to sign up for a free trial.
There are three plans ranging from $15 to $50 per month. You'll save 10% by subscribing to an annual plan.
Each plan gives you unlimited estimates and invoices, but you can only add five clients with the smallest plan. That means five active clients, but it can still pose a problem, especially if you add a sixth active client without realizing it, which will cause you to be billed at the next tier.
Here are more details about the plans: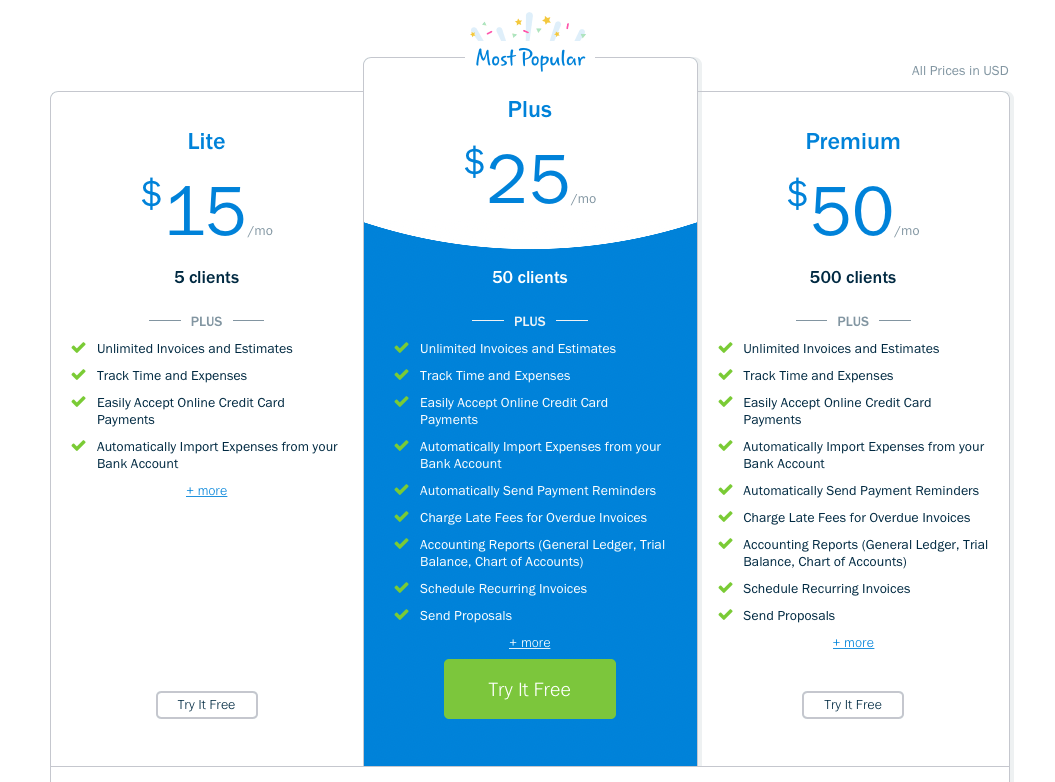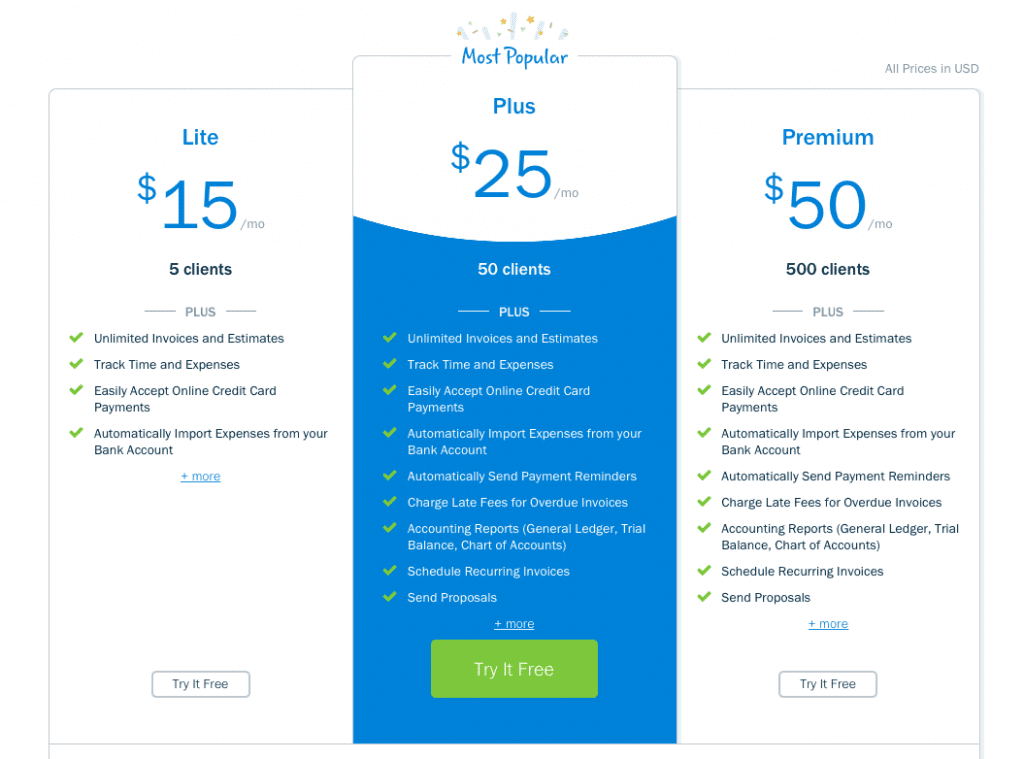 For big businesses with 500 or more clients or over $150k in annual billings, there's FreshBooks Select.
If you use the FreshBooks payment processor, you'll pay 2.9% plus 30 cents per transaction.
Find out more about pricing here.
FreshBooks: The Bottom Line
FreshBooks may have slightly less customization than Wave, but it more than makes up for it with its excellent suite of business tools.
It's important to note that if you've been a FreshBooks user for a while and you still have the Classic plan, switching over to the newest FreshBooks could mean you lose some of the features you depend on. Many of those features have been or will be rolled out with the new version, but it's still something to consider.
Frequently Asked Questions
Is my information secure with Wave accounting system?
As a business owner, one of the main worries you might naturally have is the security of your bank account information. With Wave, you might be sure your information will be secure based on three items: Encryption, password and account protection, and read-only security.
Does FreshBooks track mileage?
With FreshBooks accounting system, you can save time and even money by tracking and capturing any business mile.
Can FreshBooks process credit cards?
FreshBooks is a small business accounting tool that enables you to accept online payments like credit cards, ACH, and even Apple Pay.
Final Verdict: Waver or Freshbooks?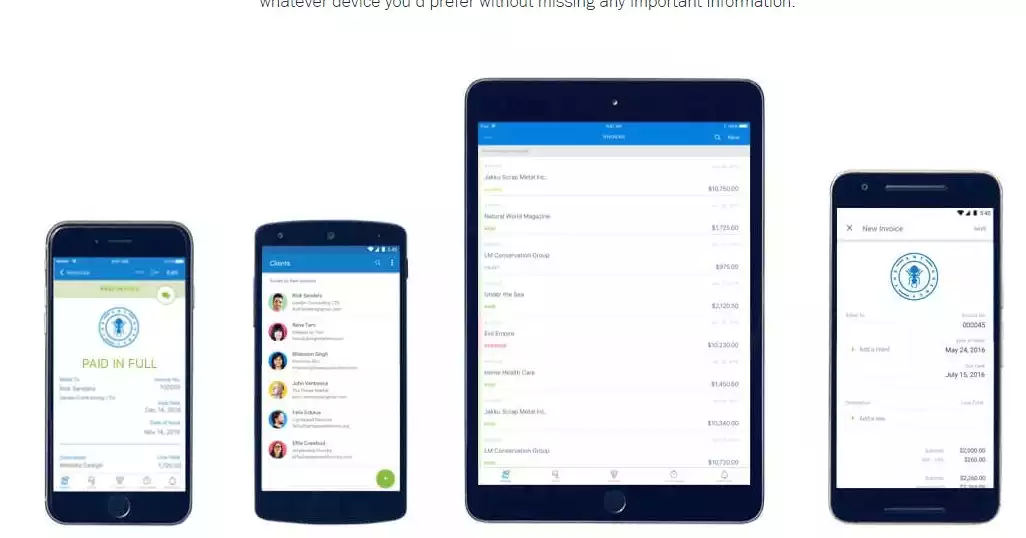 I Personally Prefer Freshbooks
I personally prefer the more user-friendly, feature-rich, and mobile-ready software suite offered by Freshbooks. You get what you pay for and Freshbooks is well worth it, IMO.
Try Freshbooks Free
We earn a commission if you click this link and make a purchase at no additional cost to you.
I really like the appeal of having my time- and project-tracking in the same space as my accounting and invoicing, since every time I charge a client it's somehow connected to how much time I will spend or have spent working for them. If this is what matters most to you in an accounting app and invoicing software, you'll want to go with FreshBooks.
It's unavoidable that FreshBooks has the fullest range of features and tools that matter most to freelancers, like expense tracking and time tracking software. Also, being able to access a comprehensive mobile app on-the-go is an absolute necessity for some professionals.
However, the major perk of Wave is that it doesn't cost anything to use a number of its features. I love the invoicing tool and presentation here so much that it's hugely tempting to depend on Wave for everything it can do, and then to use a separate time tracker or project management system for other tasks.
Ultimately, Wave and FreshBooks are both so great that the choice boils down to exactly what it is you need out of accounting software, factoring in whatever you're already getting from another tool that you don't need to repeat here. For example, I have need a system in place for tracking time, so as beneficial as an accounting solution with time tracking makes a BIG differences.
Bottom Line: I personally prefer the more user-friendly and feature-rich Freshbooks software here. Having excellent syncing between mobile and desktop devices is KEY for my business, which is another point for Freshbooks.
My suggestion? Make a list of your must-haves and then choose the tool that meets them. You're not going to go wrong either way.
Still Stuck? Here are some guides to help…