Last Updated on November 28, 2021 by DMEditor
https://thedigitalmerchant.com/website/wix-vs-google-sites/Collecting information about your website visitors is a top reason to integrate one of the best form builders into your Wix Website. The information you collect can be used in your email marketing campaigns to help you generate leads, communicate with your potential and existing customers, and so much more.
Moreover, these form-building software options save you time, money, and effort since you don't have to pay for specific web designs for this part of your business website. Once you've set up the form and your landing page is ready, you can pretty much sit back and wait for the information to come to your inbox (or wherever these details are collected).
Obviously, you want the best form builder that works with your website builder. You are at the right place. I look at the best form builders you can find in the Wix App Market, as well as other alternatives that can help Wix users.
The 7 Best Form Builders for Wix – Apps From the Wix App Market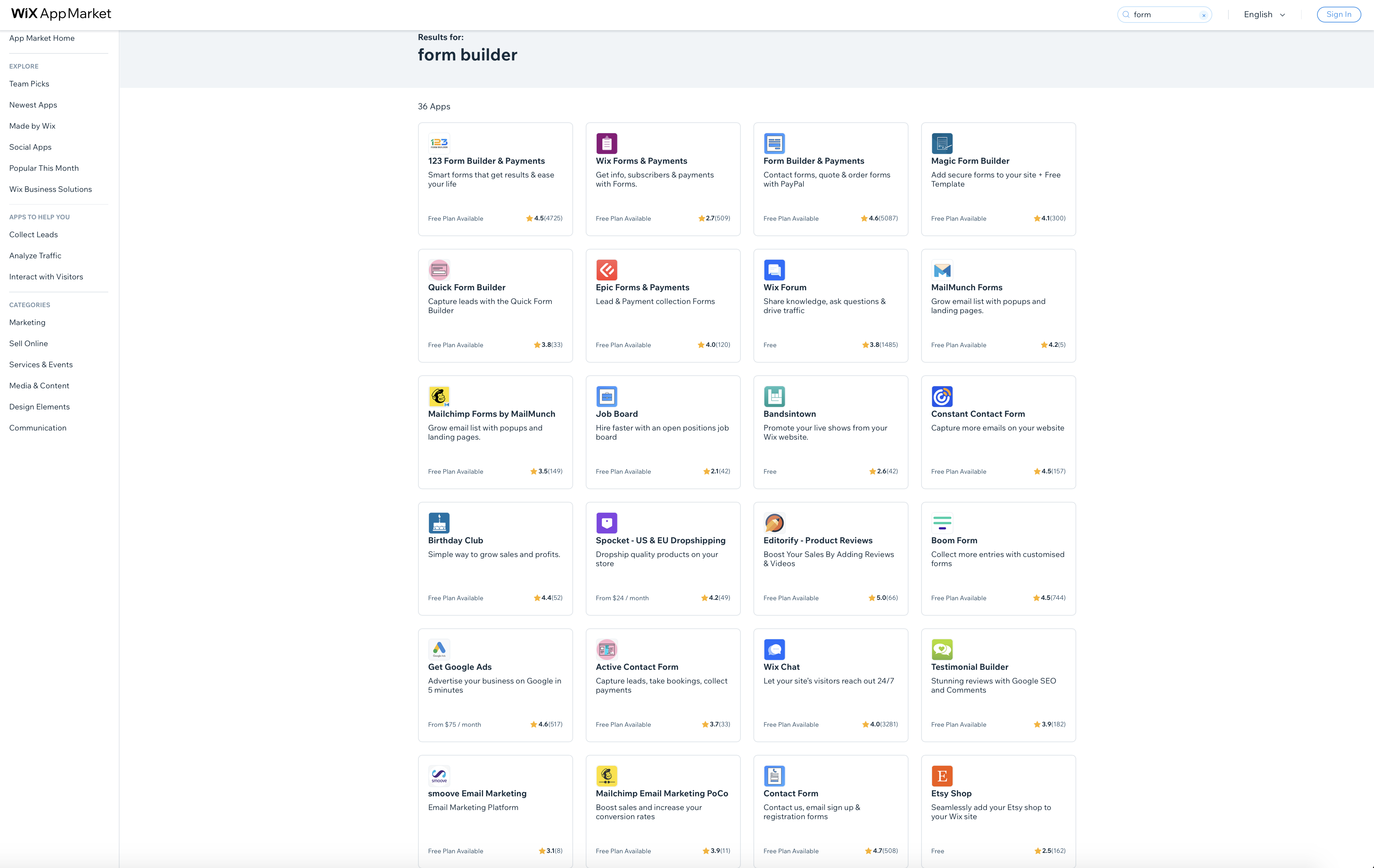 One way to create a form in Wix is to install an app from the Wix App Market and use this to build your form. There are a few form builder apps on Wix, so let's see what they are, what they do, and how good they are.
In the screenshot above, you can see some of the apps on offer on the Wix App Market. I simply typed in "forms builder" in the search bar at the top right, and these results appeared. If you already know what the best app is, then click on it. A new tab opens in your internet browser; click on Add to Site. You can find the form builder app in the Wix Editor for your site.
1. Form Builder & Payments by POWR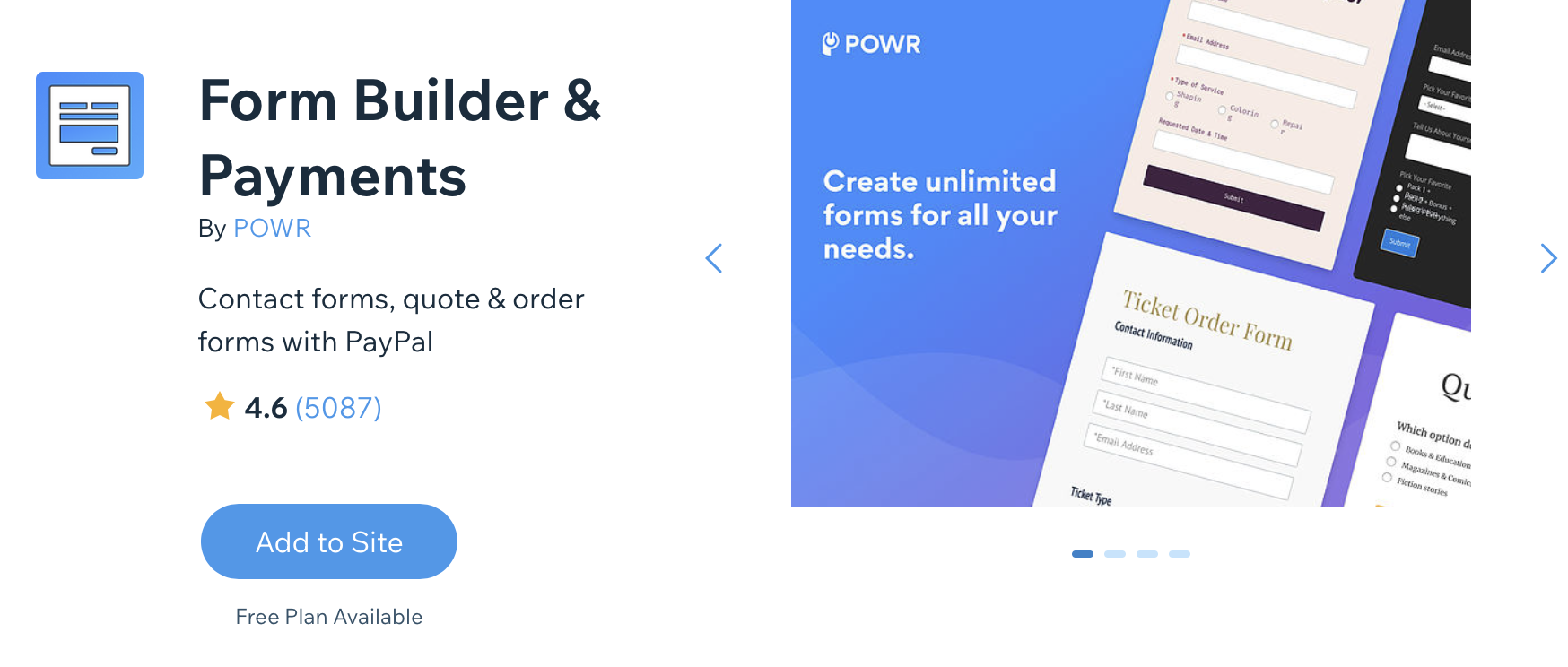 The POWR Form Builder and Payments is an easy app to use to create your online form for your Wix website.
With a 4.6 average rating, a lot of users are satisfied with how well this app works, the features on offer, and the flexibility it offers.
Key Features
Create as many forms as you want

Get email notifications that sync with Wix Contacts and Wix Inbox each time there's a form submission

Zapier, Google Sheets, and MailChimp integrations

Receive payments via PayPal and Stripe

Can split your form into pages or various steps

Set rules like limiting when responders can fill out the form
Wix Pricing
There are 4 plans available:
The Basic Pricing Plan:
The Starter Plan:
$3.33 per month on the yearly subscription

Removal of POWR logo

6 form elements

25 form submissions per month
The Pro Plan:
$6.99 per month on the yearly subscription

Set conditional rules on your form

No POWR logo

20 form fields

1,000 form submissions per month
The Business Plan:
$12.44 per month on the yearly subscription

Receive payments

Get a Business upgrade for all your POWR apps
2. 123 Form Builder & Payments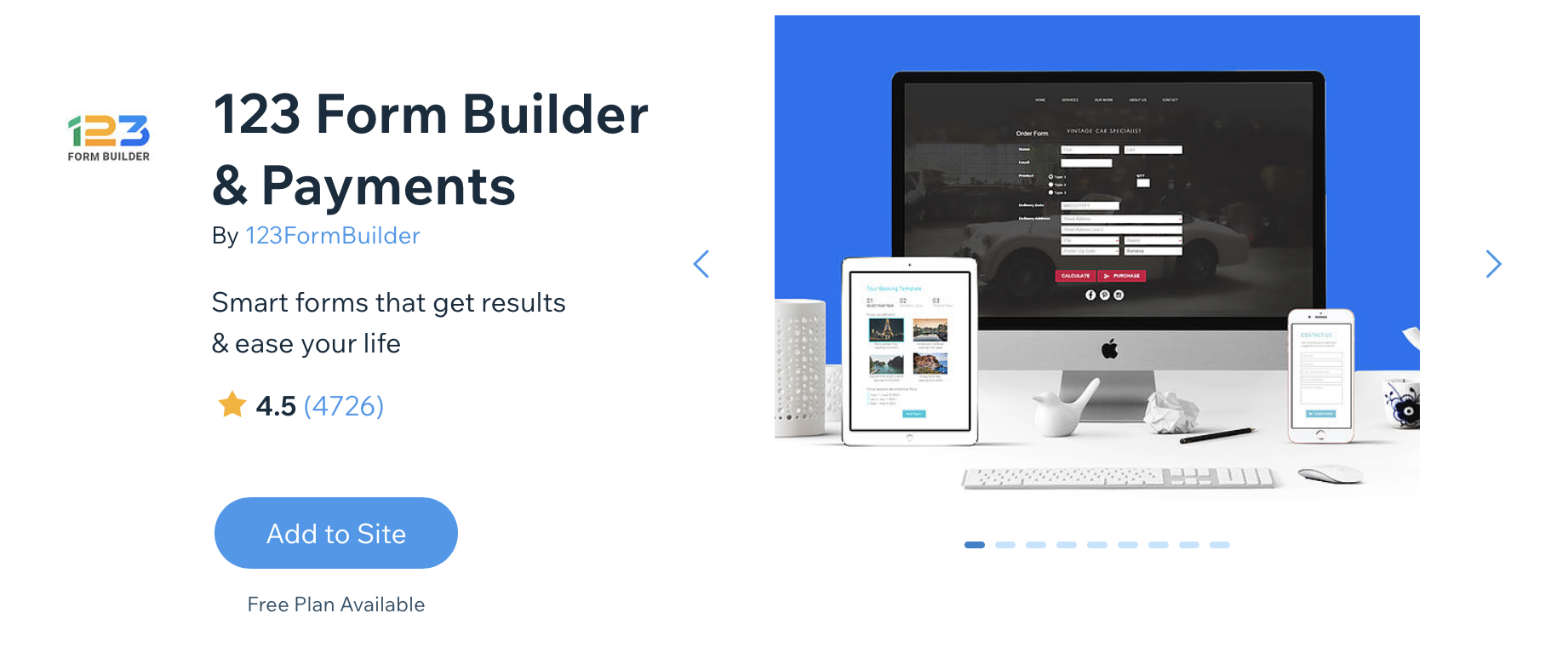 A popular option to create online forms is the 123 Form Builder. The app lets you easily create forms, and you can customize the form's design to suit your needs.
On Wix, the app has a 4.5 average rating, with the majority of users being really happy with how this app performs.
Key Features
1,000+ templates to match your brand

Integrates with Wix Contacts, Google Drive, Dropbox, and more

Collect payment via PayPal, Stripe, SquareUp, and more

Customize how you want to receive notifications

Create file upload fields for one or more files as well as for folders
Pricing
There is a free plan and a starter plan available.
The Free Plan:
5 forms with 10 information fields each

Can receive only 100 submissions per month

Custom design your form
The Starter Plan:
$3.99 per month on a yearly plan; $4.99 per month on a month-to-month plan

8 forms with 30 information fields each (per site)

Can receive 1,000 submissions per month

Set rules for your forms and integrate your form with 30+ third-party apps

No 123 Form Builder backlink
3. Boom Form

Another easy-to-use form builder on Wix is Boom Form. There are ready-made templates you can choose from. From there, modify the form to fit your needs, and then click publish.
With an average rating of 4.5 stars, mostly all users that have rated the app are over the moon with the responsive service and the great functionality of the form builder.
Key Features
Lots of integrations – Google Sheets, MailChimp, and more

Receive payments via Stripe and PayPal

Create custom forms

Get notifications when there's a form submission

Analytical tools for data management

Data is encrypted and protected

Set form rules
Pricing
Four plans are available from Boom Form.
The Basic Plan:
Free

1 admin

5 forms with 10 entry fields each

100 form submissions
The Starter Plan:
$3.99 per month on the yearly subscription

3 admins

1,000 monthly form submissions
The Pro Plan:
$7.99 per month on the yearly subscription

7 admins

10,000 monthly form submissions

Receive payments
The Business Plan:
$15.99 per month on the yearly subscription

Unlimited admins, forms, submissions, and more

JavaScript customization
4. Magic Form Builder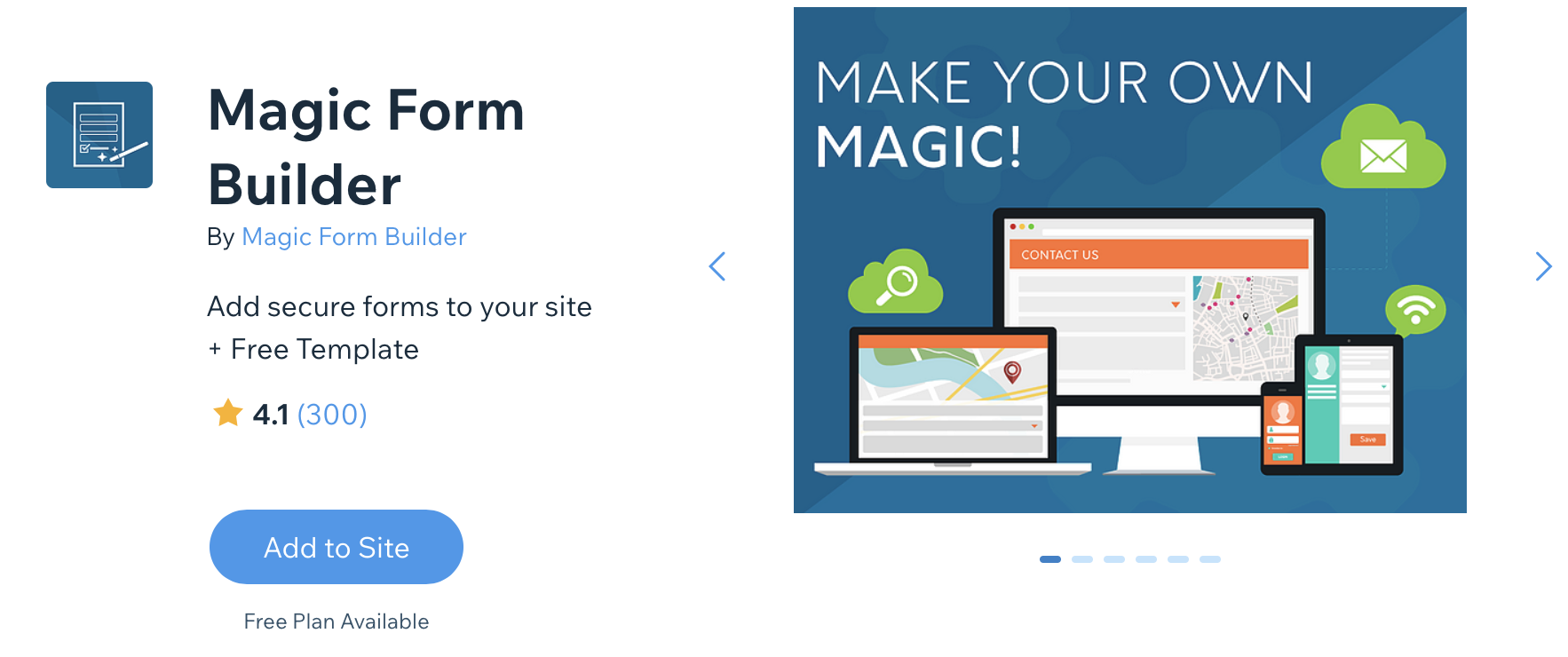 Another app on the Wix App Market, the Magic Form Builder lets you make your own form magic. Once you add the Magic Form Builder app to your website on Wix, you can start creating forms, surveys, polls, quizzes, and more. With a 4.1 average rating, most users like this app, saying the app has a great customer support and is easy to use.
Key Features
Get unlimited forms and submissions

Receive form submissions via email

Responders can share 100 MB of files on your form

Export your submission data to an Excel spreadsheet

Customize your forms with a custom HTML, code snippet, map, and more

Data reports
Pricing
There are 2 plans:
The Free Plan
The Premium Plan
$3 per month if you pay yearly
5. Epic Forms & Payments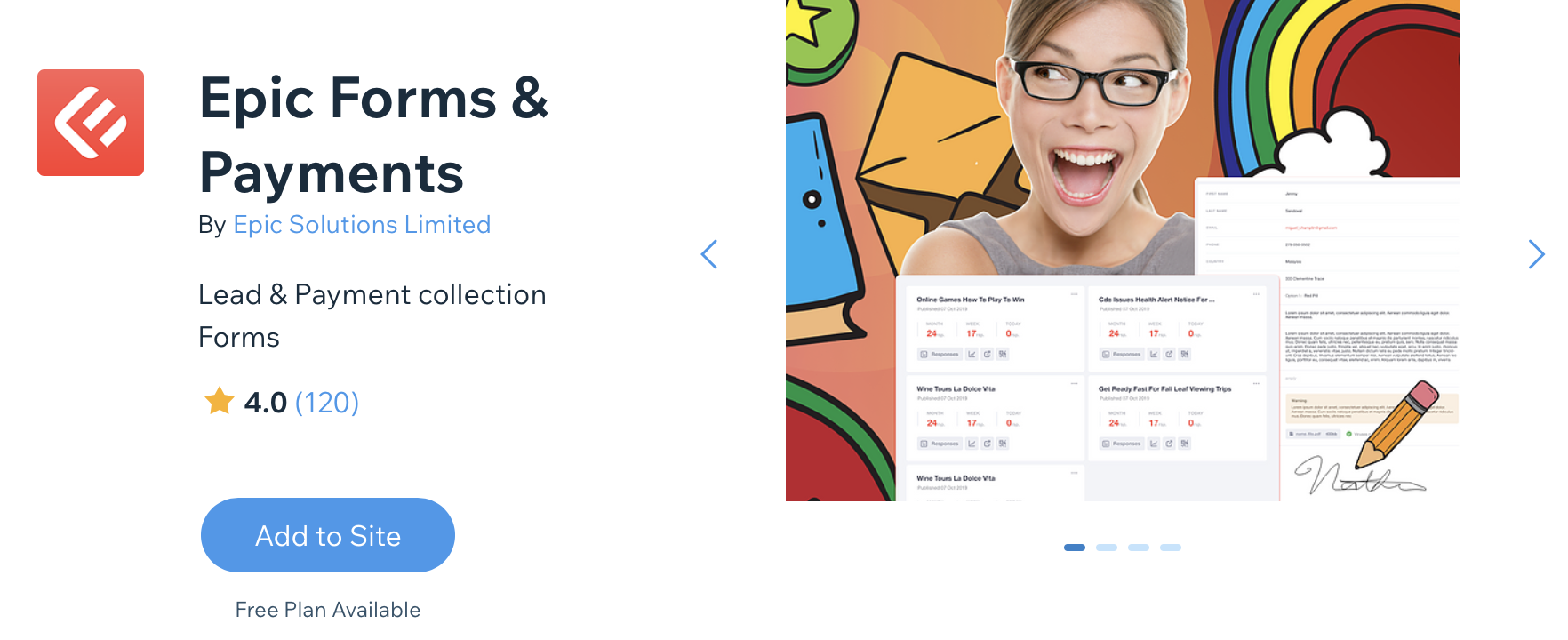 Epic Forms & Payments has been on the Wix App Market since 2015. Users have created more than 1 million forms using this app.
With a 4.0 star rating, users like form builder since it's easy to use offers a multi-column feature for more custom options, and has good customer service.
Key Features
No limit on the form fields

Layout options include a multi-column feature

Receive payments from your responders
Pricing
Two plans are available:
The Free Plan:
3 forms

Receive 20 monthly form submissions

Use unlimited fields
The Premium Plan:
Unlimited forms and submissions

No backlink to Epic Forms

Can use tags and autoresponders and more
6. Quick Form Builder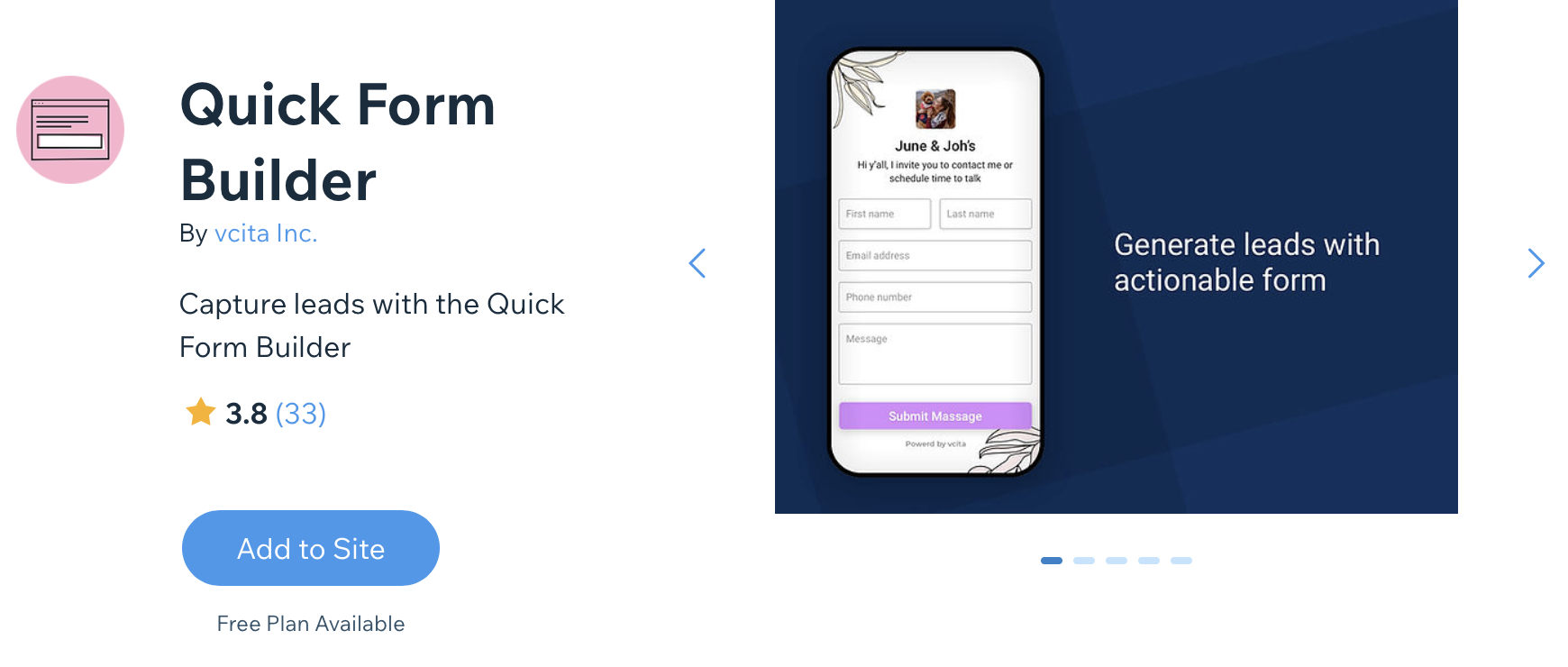 The Quick Form Builder also helps you capture leads by collecting email addresses.
This app has a 3.8 average rating, with the majority of users liking the app and finding it useful while others found it slow and weren't fans of the customer support.
Key Features
Can schedule auto follow-ups

Send responses

Manage leads by tagging and labeling them

Get reports in a CRM (customer relationship management) hub

Fully customizable forms and unlimited submissions
Pricing
Two pricing plans are available.
The Free Plan:
The Lead Generation and Contacts Plan:
$12.25 per month if you pay yearly
7. Wix Forms & Payments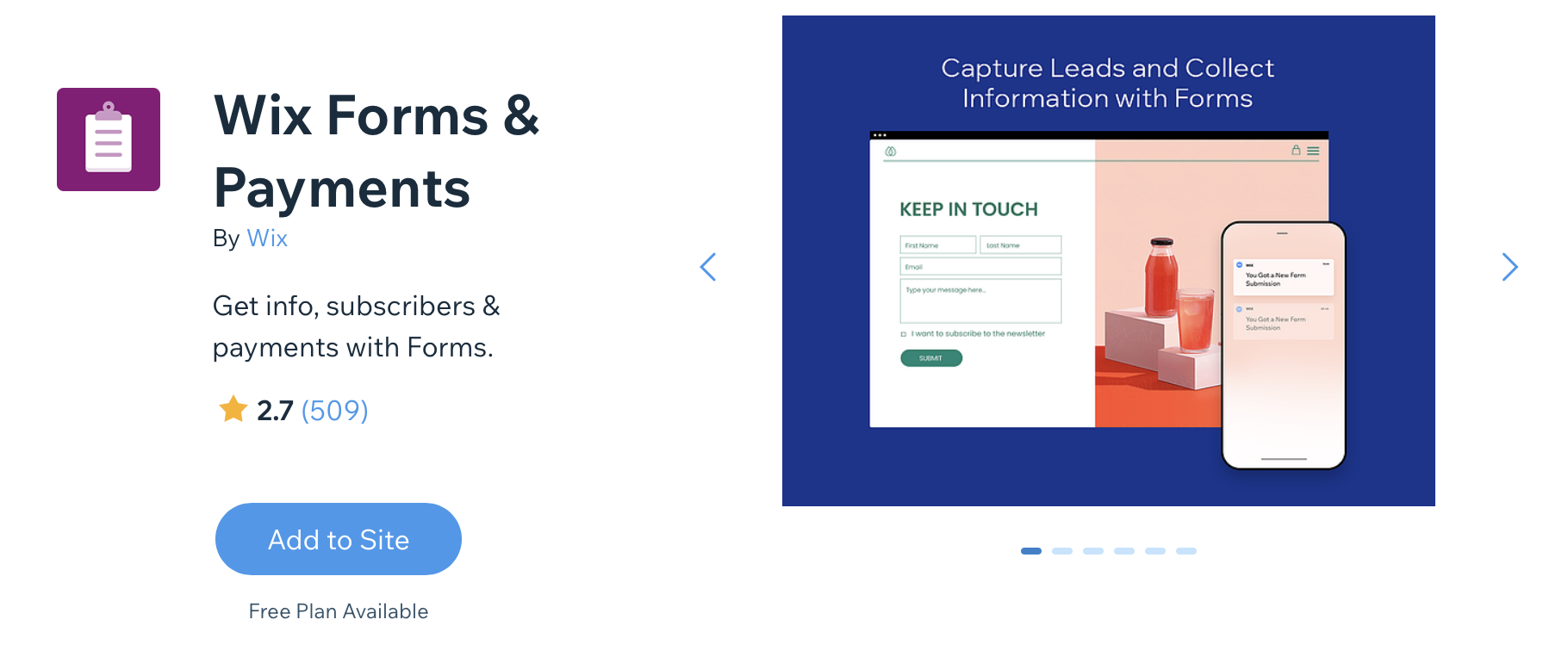 Wix's native form builder is called Wix Forms & Payments. It lets you easily add a form that is fully customizable to your website so you can capture information and turn visitors into leads.
This app has a 2.7 average rating, with an almost 50-50 split between those who love the app and those who don't.
Key Features
Integrates with Wix's Dashboard and Contact List so you can manage your submissions and create reports

A variety of templates to choose from

Visitors can make payment when they fill out the form
Pricing
There are 4 plans:
The Limited Plan:
The Ascend Basic Plan:
$10 per month on a yearly subscription
The Ascend Professional Plan:
$24 per month on a yearly subscription
The Ascend Unlimited Plan:
$49 per month on a yearly subscription
Other Ways to Use Form Builders for Wix
Even though some form builders don't have apps on Wix, you can still use an alternative form builder service to create the forms you need for your Wix website. The only con is that not everything is in your Wix Contacts or Dashboard, but if you don't mind toggling between Wix and the other form builder app, then read on.
Creating forms in this form-building software is easy, and it is just as easy to add your form to Wix. Simply go to Add > More > Embed a Site or HTML iframe. Then paste the link or code, and click Apply. Resize your form to fit your web page and viola. Easy, right?
7 Top Alternative Non-App Integrated Form Builders for Wix
If you a looking for other great form builders that don't have a native Wix app and your website is created using the Wix content management system, then these are great options:
1. JotForm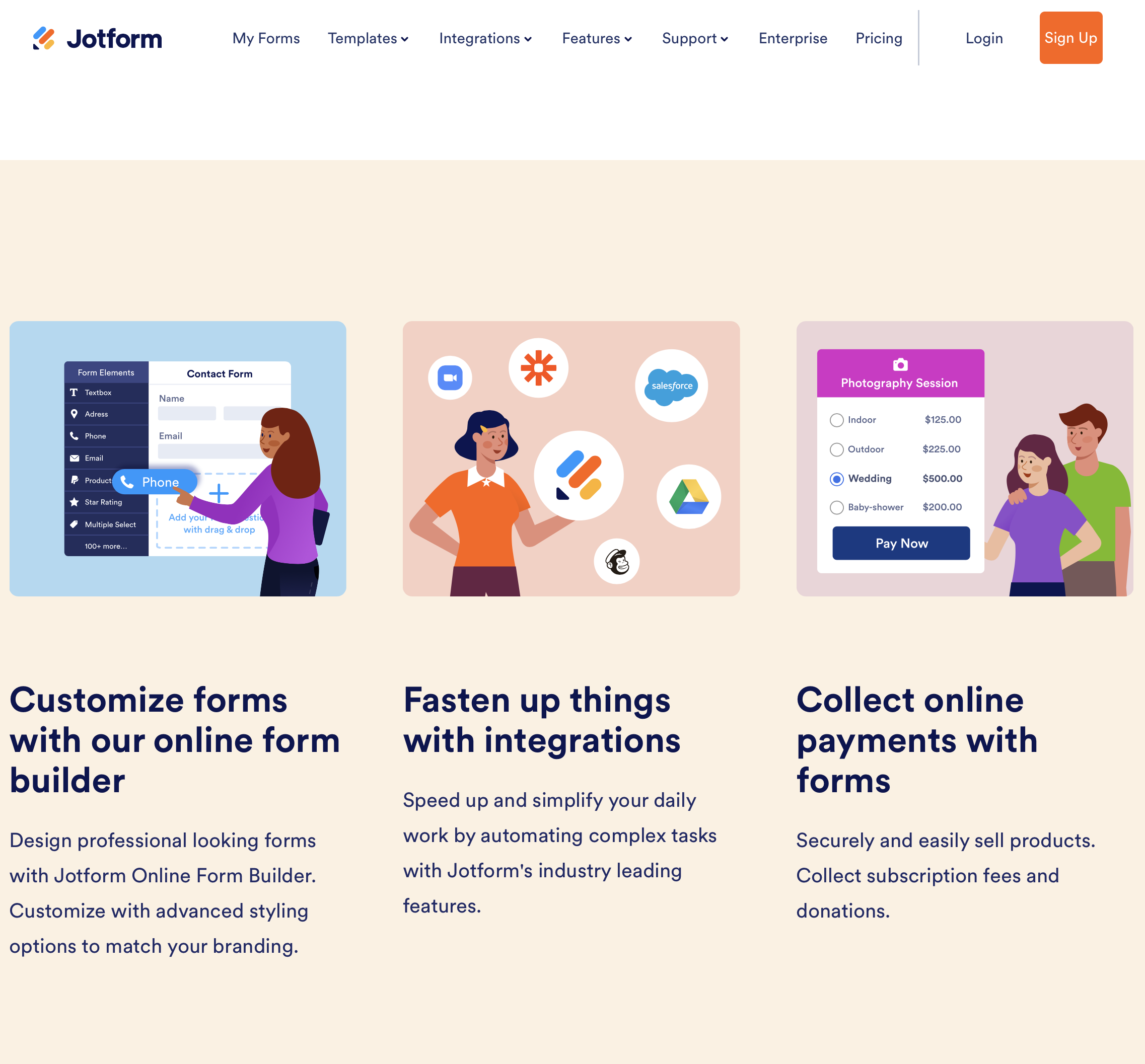 JotForm is an easy-to-use online form builder. It has more than 10,000 templates to get you started, and from there, you can customize a professional-looking form to fit your brand. There are also 100+ integrations, from PayPal, Zoom, and Google Sheets to HubSpot, Slack, and more to simplify your work processes and automate daily repetitive tasks.
You can also create PDF forms, assign forms to your teams, and make mobile-friendly forms.
There are 4 subscription plans to choose from. The Starter plan is free with a 5 form and 100 monthly submission limits. The best value Silver plan, billed annually, costs $29 per month, and you have 100 form creation and 10,000 submissions per month limits.
Check out their User Guide if you are keen to give this form builder a try.
2. Google Forms

Of course, Google also has a form builder. Simply called Google Forms, you can use the software for personal purposes for free and for your business with Google Workspace, which comes with added team control and security.
Use Google Forms to set up a poll, manage registration for an event, create a quiz, collect email addresses for your marketing campaign, and more. Fully customizable, your form can seem like it is part of your brand, and you can add various types of questions and answer boxes.
If you opt for the Google Workspace subscription, a Business Starter plan starts at $4.80 per user per month, whereas Business Standard – the most popular option – costs $9.60 per user per month.
3. Typeform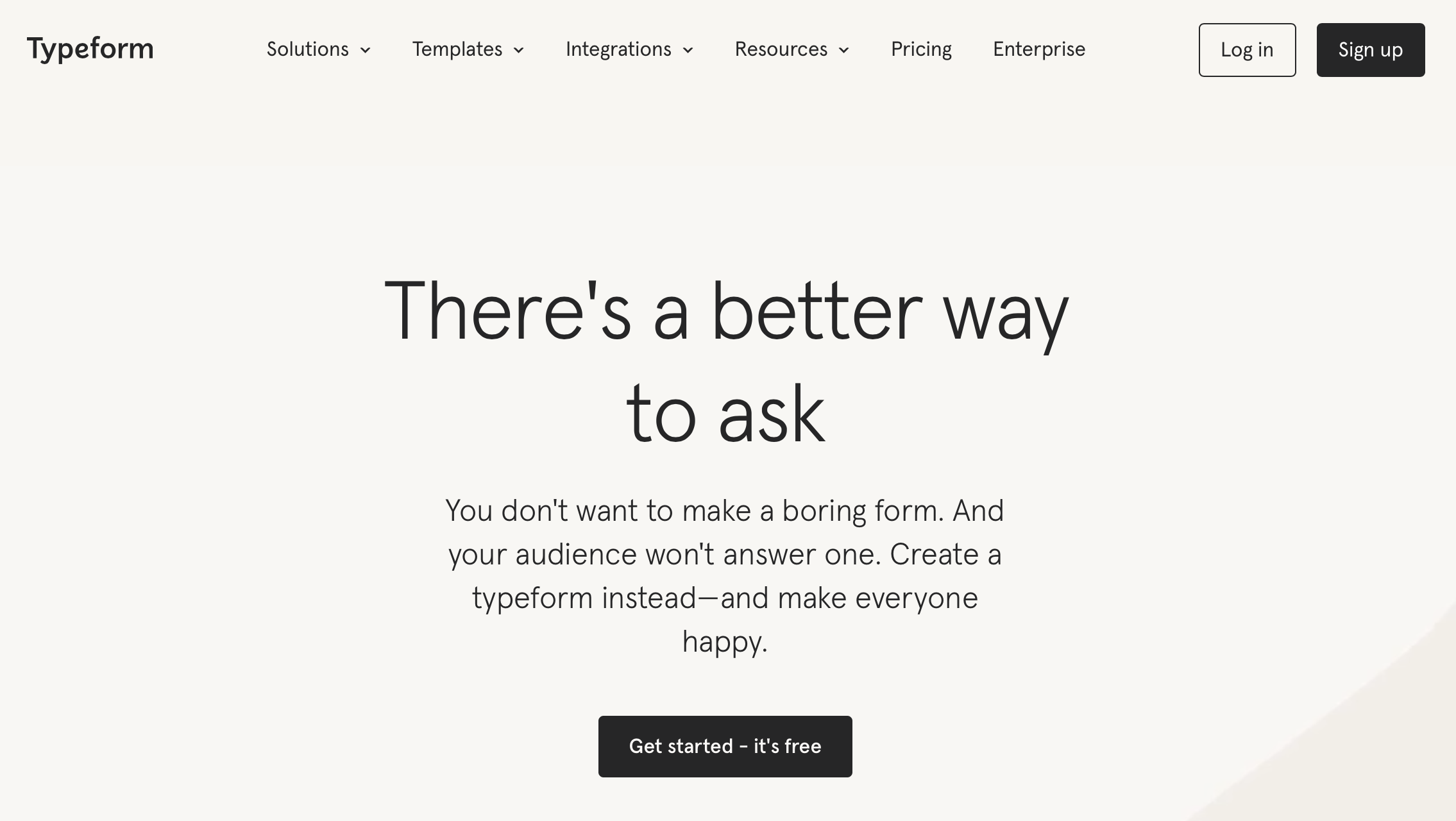 Typeform helps you create one question at a time that's more like a conversation. It helps keep your audience engaged, which results in more responses and a higher completion rate.
There are custom layouts and themes you can choose from, and the built-in video and photo libraries bring a livelier element to your form. Typeform also has various integrations to make your life easy. Choose Slack, Google Analytics, MailChimp, Google Sheets, and more.
There is a free plan, but Typeform isn't very upfront about what you get other than a taste of what Typeform is all about. The least expensive paid plan is the Basic plan at $25 per month if you are billed yearly. You get 100 responses per month, unlimited questions and forms, notifications, and more.
4. Free Online Form Builder by HubSpot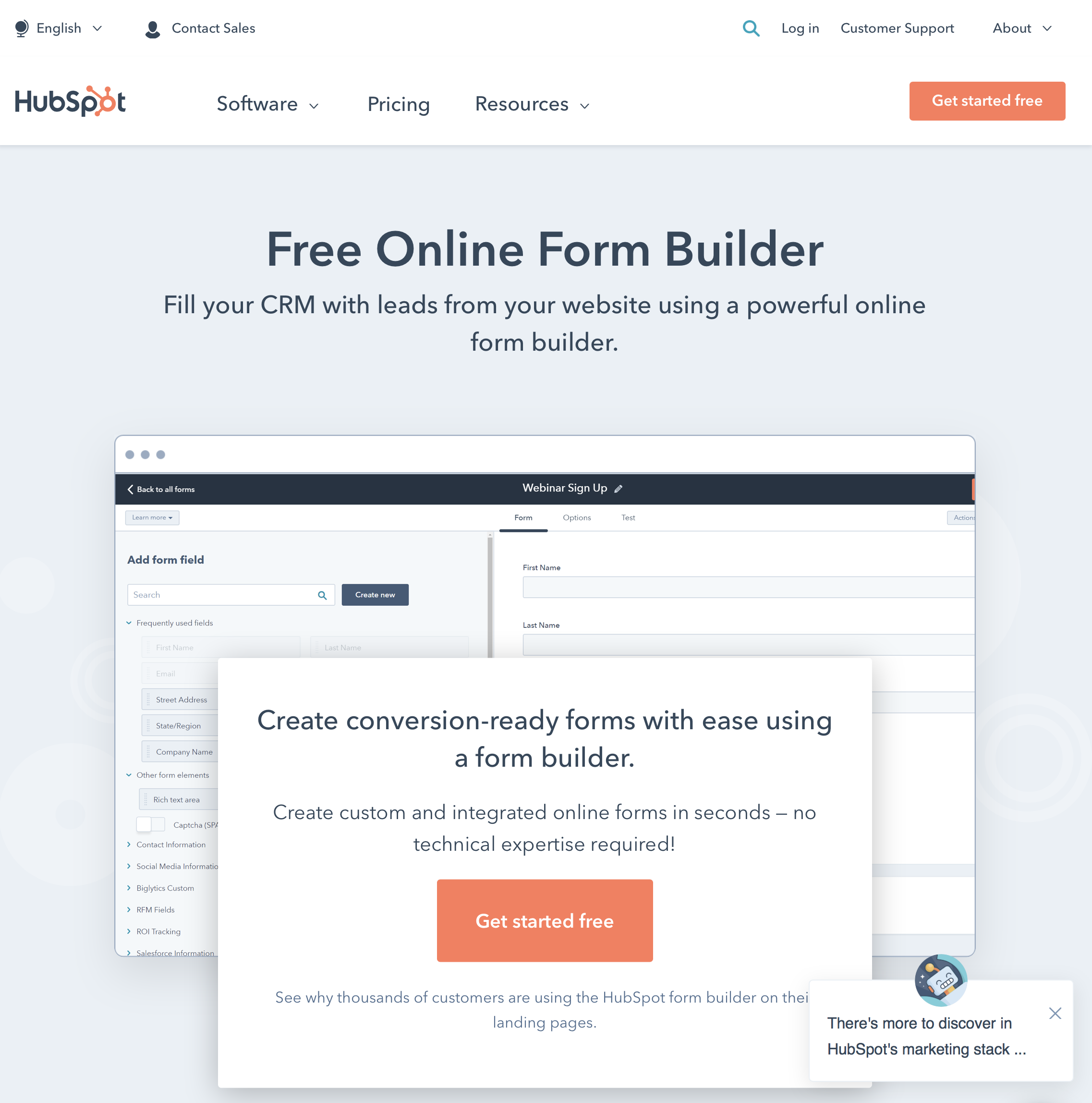 HubSpot's Free Online Form Builder uses a drag and drop interface so you can create your form as easily as you can say 1, 2, 3. You can either embed the form into your web page or share it as a standalone with others.
There are different answer field types, and you can create a 1,000-field form if you really want to. If you sign up for HubSpot, you get an all-rounder marketing software package to help you with blogging, landing page creation, analytics, marketing automation, and more. The Starter plan kicks off at $45 per month, billed yearly.
5. Wufoo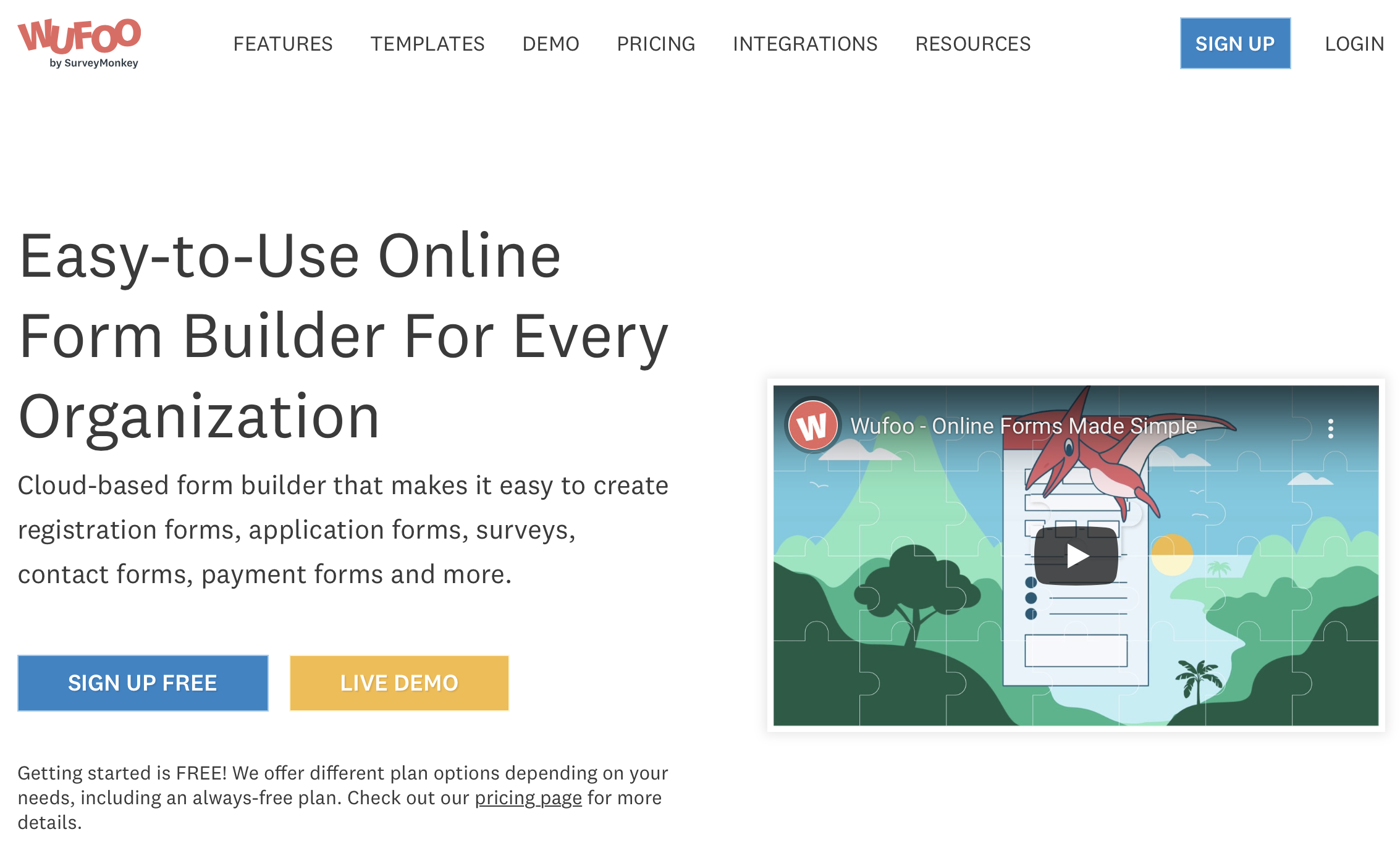 Created by SurveyMonkey, Wufoo is a cloud-based online form builder. Use Wufoo to create payment forms, surveys, application forms, contact forms, and more. You can customize forms to your heart's content, accept online payments, and automate your workflows.
There is an "Always Free" Plan available. Then there is a Starter plan for $14.08 per month on a yearly subscription that includes customized branding, automated workflows, and email notifications. The most popular plan is the Professional at $29.09 per month if billed annually and you get what's included in the Starter plan, plus the ability to collect payments, add more users, secure your forms, and create as many forms as you'd like.
6. Formstack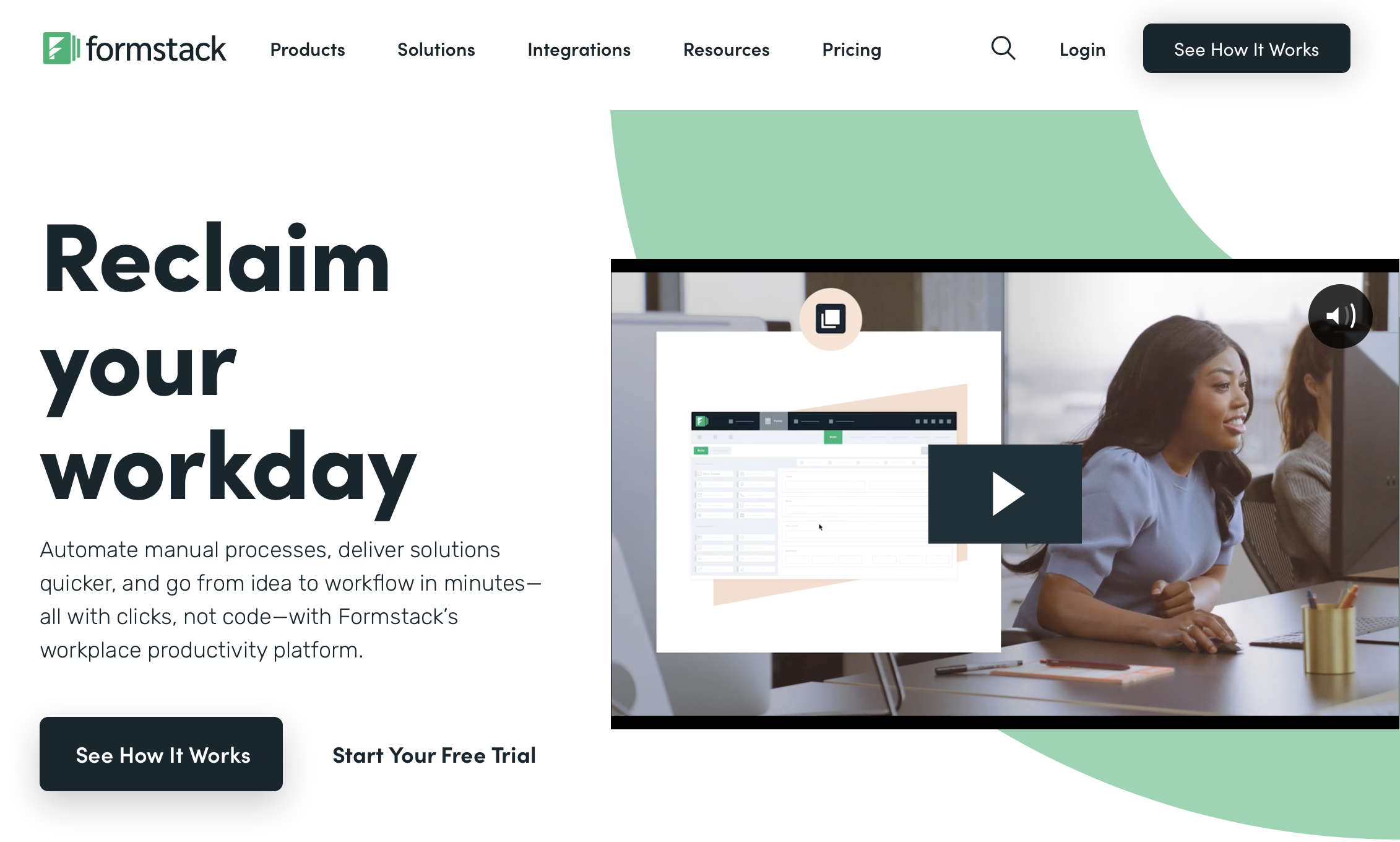 Formstack Forms lets you simplify how you collect data from your website visitors. With no need to learn code, you can try this easy-to-use form builder to collect and manage data.
There's the option to create mobile-friendly forms, look at insights from the Analytics feature, add SSO-powered field pre-fill, and drag and drop your questions into the form.
With a 14-day free trial, you can see whether Formstack Forms is for you. If you know this is the best form builder, then choose their Starter plan that costs you $50 per month if billed annually. You can create 20 forms, receive 1,000 submissions, and choose from 5 themes. Other subscription plans with more advanced features are also available.
7. Paperform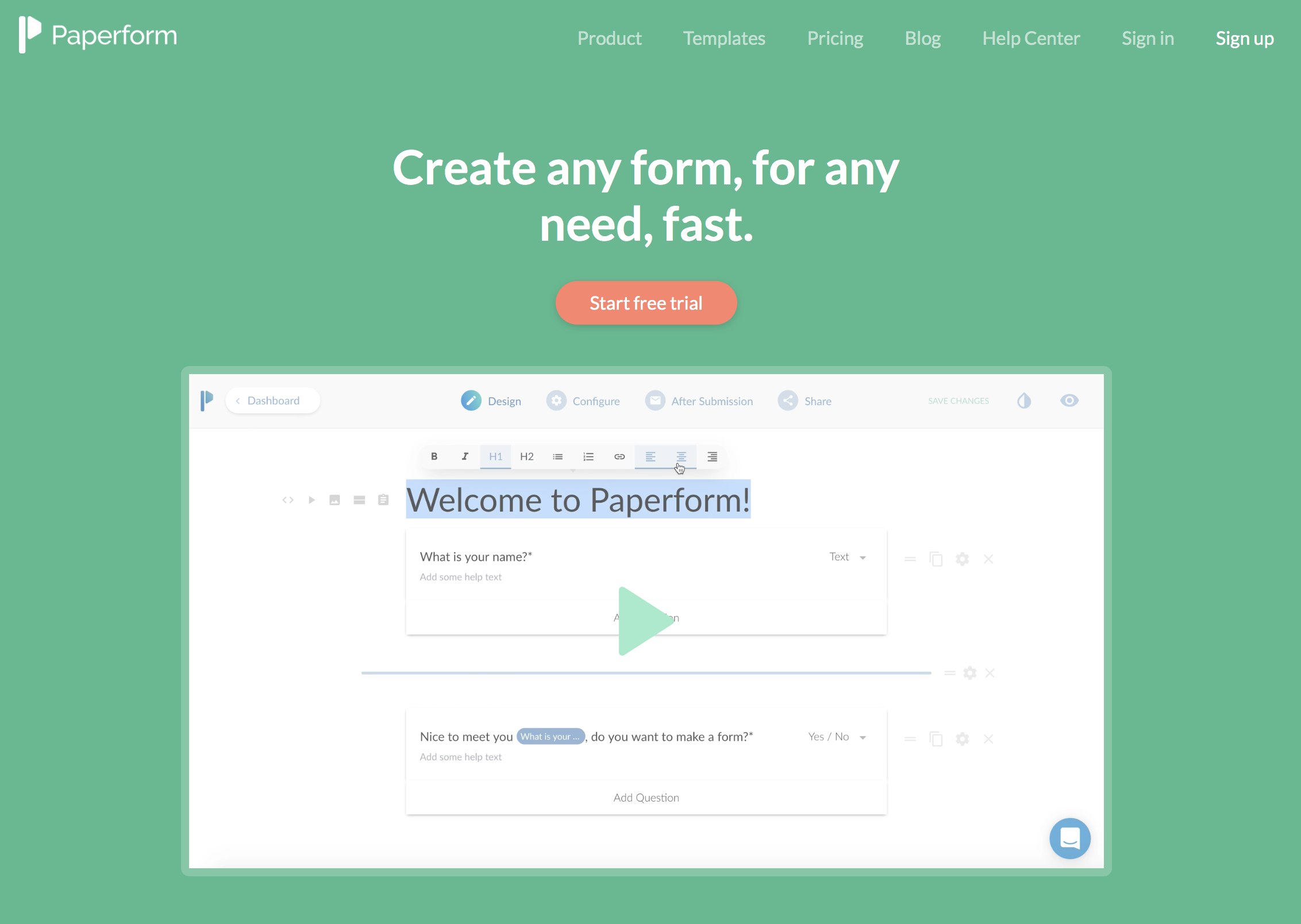 Paperform lets you create forms easily and without any technical knowledge. Called a landing form, it is a landing page and online form combined. There are questions and answers, videos, pictures, and styled text to customize your page to make it fit your brand and engage your audience.
With more than 22 question types, embed, share, and analyze features, as well as the ability to integrate with Google Drive, Trello, and more, you can set up great forms with Paperform.
There's a 14-day free trial, as well as 3 paid-for subscription options. The least expensive one is called Essentials and starts at $20 per month, billed annually. You can create an unlimited number of forms, receive 1,000 form submissions per month, and add one payment account.
How Do You Choose the Best Form Builder for Your Wix Website?
Choosing the best form builder for your Wix site depends on a few factors:
Pricing
Always a key consideration, right? Yes, your budget limits you to an extent as you can only choose a form builder that you can afford. There are free options available, such as Google Forms for personal use. Most form builders are paid-for subscriptions with more advanced features at higher price points.
If you aren't sure which form builder is the best, then try the free plans, if available, or sign up for the 14-day trial to get the lay of the land.
Functionality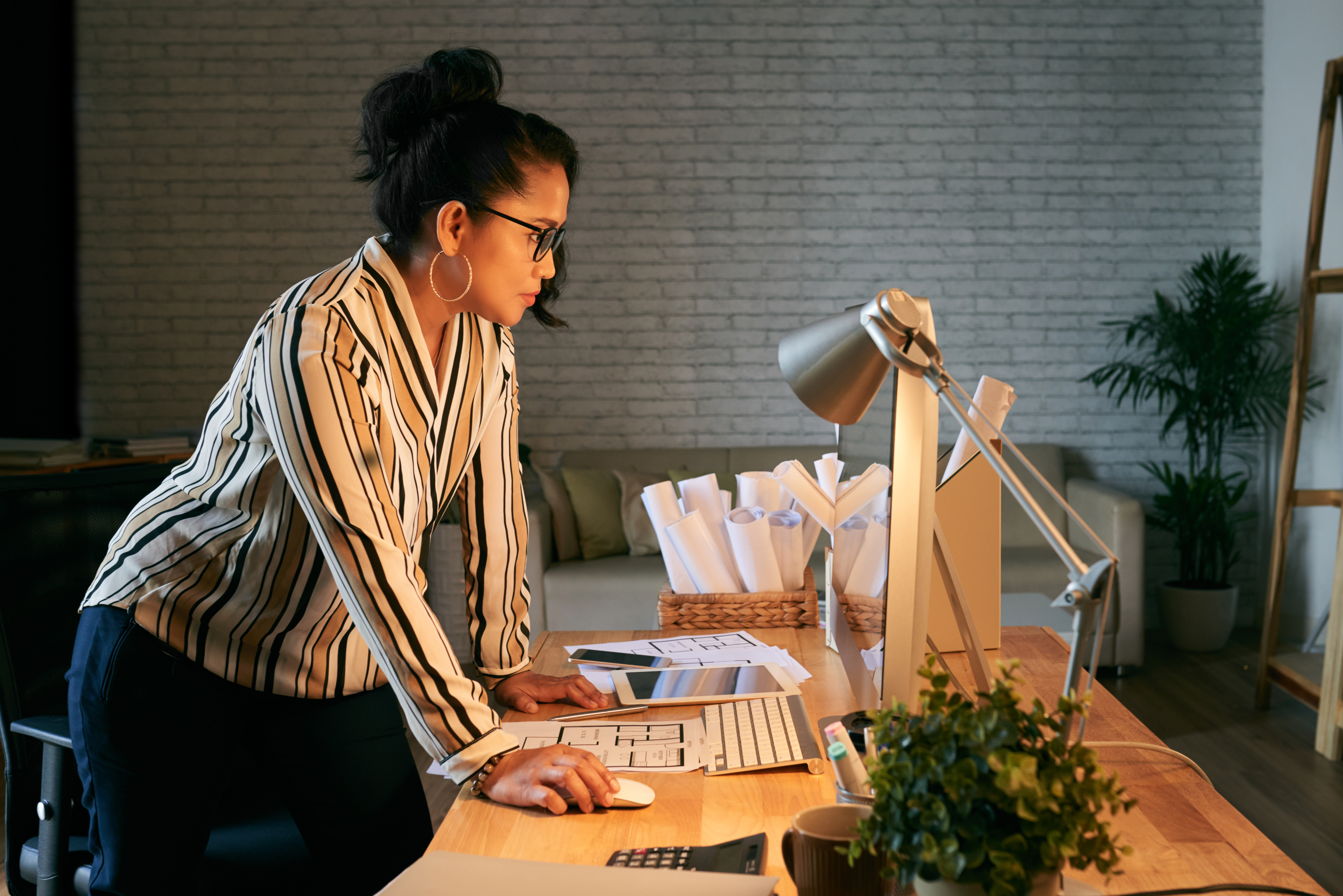 Not all form builders are created equal. They all share most of the same basic functions – build a form with questions and answer fields. How much you can customize your form depends on the functionality of the form builder as well as the subscription plan you choose.
To see what you need, test out the form builders and also look at each service's website.
How You Want to Use the Form Builder With Wix
As mentioned, there are two main ways you can use a form builder with Wix. You can either choose a form builder app from the Wix App Market store or you can use one of the other form builder options and then simply embed the code or URL in your Wix web page.
Another key consideration here is whether you prefer to have everything in one place. If a form builder has a native Wix app, then you will use the Wix Dashboard to edit the form and get analytics if available. The contact info from the form submissions (if you asked for a name and email address, for example) will be added to your Wix Contacts.
If a central place for information and access isn't important for you, then you can use any other form builder and simply embed the form in your web page once the form is ready.
Ease of Use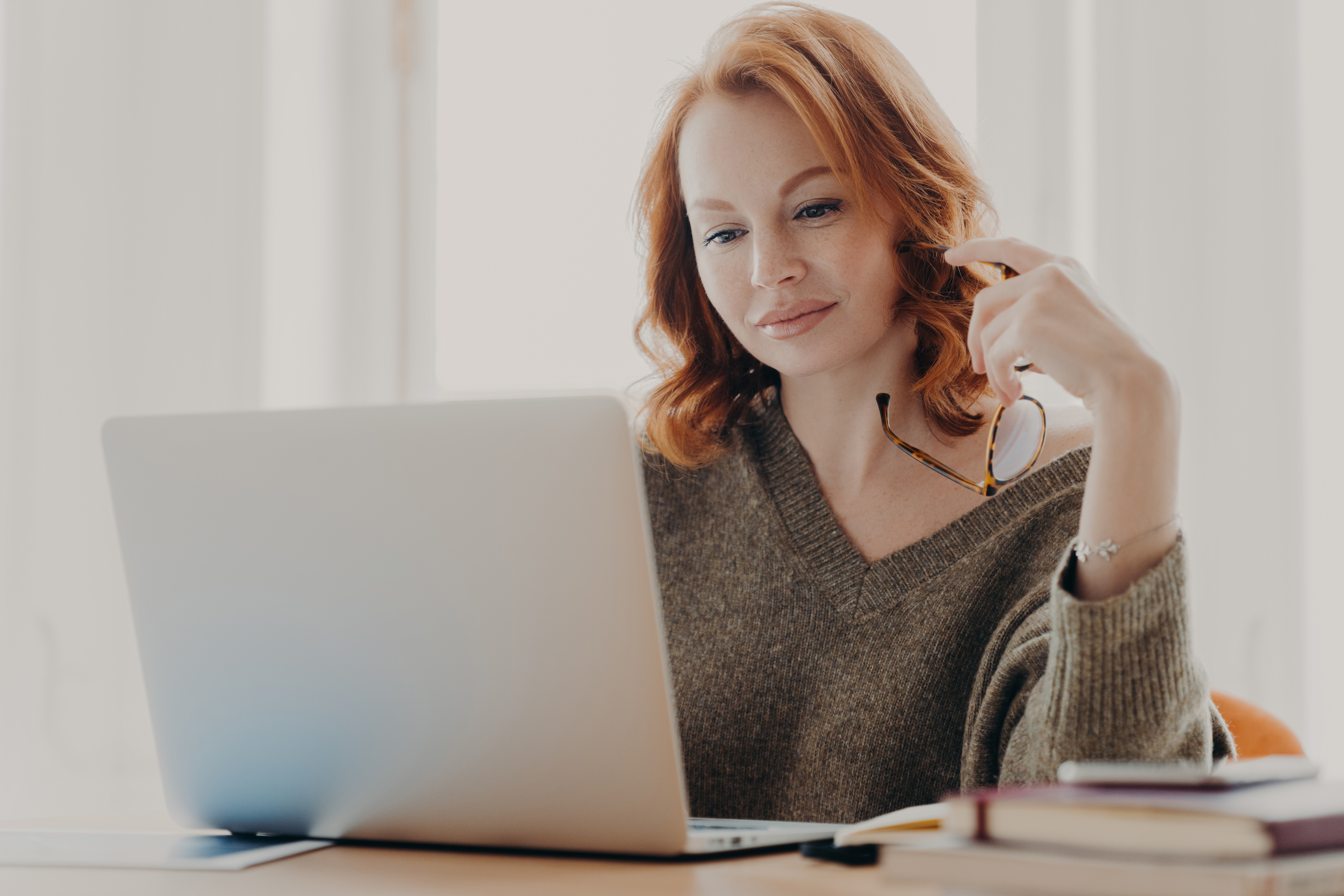 All of the form builders on the list are easy to use. Many of them use drag and drop features, which, if you are building your site on Wix, you already know how it works.
But easy is also a relative term, and what I find easy may not be easy for you. Thus, try out a form builder. See if you like it and can easily create the forms of your dreams. And go from there.
FAQs
Question: What is a form builder?
Answer: A form builder is a digital application that helps you create fully customizable forms. This means you can set up a form to meet your specific needs. For example, if you only want a website visitor's name and email address in exchange for a helpful guide on how to do X, then you can create a short form with only those fields your potential lead needs to fill in.

On the other hand, you may require something more elaborate and use the form as a pre-event registration form. In this case, you may need to collect a lot of information that is more than simply a name and email address. So you can set up your form to have more fields and ask for the information you need.

Form builders also have the option to make answers mandatory. This means that the person filling in the form can't submit the online form unless they have filled out those mandatory informational fields. Form builders are easy to use, and as the administrator, you can add more information fields to your form, edit it, and delete it.

When people start filling in your form, you can opt to get a notification and view the results or the details. This information is sometimes downloadable to an Excel file (or as a .cvs extension) so you can work with the data and export it to your mailing list, for example.
Question: Does Wix have a form builder?
Answer: Yes, Wix has its own form builder called Wix Forms. It can be found in the Wix App Market store.
Question: How do I add the 123 Form Builder to Wix?
Answer: 123 Forms Builder has an integrative app for Wix. To add the 123 Form Builder to your website, make sure you are on the web page where you want to add your online form. From there, click on Add, go to Add apps, and look for the 123 Form Builder. There will be a new pop-up window; select Add to Site. Now you can custom-create your form using the 123 Form Builder.
Question: Can you use Google Forms with Wix?
Answer: To use Google Forms with Wix, go to the Wix Editor for the site you want to add the form to. Click + or Add, then scroll down to More. Choose between the HTML iframe or the Embed a Site under Embeds.

For the HTML iframe:

• Drag and drop this onto your web page.
• Click on Enter Code, and copy and paste the code of your Google Form into the box where it says HTTPS only.
• Click Apply.
• Your form doesn't show perfectly yet, so drag the box until your form fits within the margins of your page.

For the Embed a Site:
• Copy the URL of your Google Form.
• Once you've clicked on Embed a Site under the Add button in the Wix Editor, drag it to your page.
• Click on Enter Website Address.
• In the text field under What's the website address? paste your form's URL.
• Click Apply.
• Like with the HTML iframe, the form doesn't fully show on your web page, so drag the edges until it fits perfectly.
Question: How do you create a form on Wix?
Answer: There are three main ways in which you can add an online form to your Wix website. One, you can use any free or paid-for service (Google Forms or 123 Forms Builder) and embed the link to the form on your web page. Two, you can use Wix Forms or one of the apps that creates forms in the Wix App Market and set up your form from there. The benefit of this option is that the form is fully integrated with your Wix site, and the data from the form (such as submissions) can be managed all from one place – Wix.

To create a form with Wix Forms, go to the Wix Editor for your site and click on the + or Add button. From there, choose Contact and then narrow your search and select the best-suited form for your purposes. Use the drag and drop function and place the form where you need it on your page. Now you can customize the form in terms of design, text, etc.

A third option is worth it but time-consuming. From the Wix Editor, choose the relevant components you need to create your form from scratch.

Hint: Explore the User Input function under Add to get form-specific features, like radio buttons, various text boxes, address bars, and more.
Question: Where do Wix forms go?
Answer: You can access your Wix forms from your Dashboard, which will show you all the standalone forms you have created and the forms you set up for every website you own. On your Dashboard, you can only see forms that have been published to a live site. Under Your Website Forms, you can see your form, add to and edit it, delete a form, and also see submissions.

You have the same action options under Your Standalone Forms, which are not forms that are linked to one of your websites. Wix has a great support article on how to manage your forms from your Dashboard if you need more help.
The Final Form Builder for Wix Verdict
A form builder is a must for any website if you want to collect information or have people register for an event or more. Most of the form builders are easy to use, but not all of them are free. And what you get on the free plan isn't all-inclusive.
The final verdict for the best form builder that has a native app for Wix is Form Builder by POWR, followed very closely by a tie between 123 Form Builder and Boom Form.
If you don't want to use an app from the Wix App Market to build a form and prefer to simply embed it, then Jotform is the winner, followed by the free version of Google Forms.