Last Updated on July 19, 2023 by Ewen Finser
When you want to design a website, there are so many website builder options to choose from these days.
You can go with a professional web design agency. This is, however, often very costly unless you have the budget for it (and need very tailored functions for your website). Then there's the option to hire a freelancer who specializes in creating websites, but how do you know the person is reputable and will understand your vision?
A third option is to do it in-house or create the website yourself. Luckily, there are so many user-friendly content management systems (CMSs) or website builders these days so that you can build your website yourself. You don't even necessarily need to know how to code!
So I dived into Wix vs Google Sites. You may think that Google Sites will just automatically win in this comparison because, well, it's a product from Google, right? I could spoil all and tell you who the winner is now and why, but I won't, so stick around. Doing so will make it easier for you to decide which website builder between Wix vs Google Sites will work for you.
Bottom Line Up Front Summary: Unless you have zero budget for a website, the winner is clearly Wix here. Google Sites just doesn't have many features and doesn't seem to be a core focus for the company.
Wix vs Google Sites – The Main Differences
Here are the main differences between Wix and Google Sites:
Google Sites is free for anyone with a Google account; Wix has paid subscription plans and a 14-day free trial

Wix has 1,000+ features you can choose from, while Google Sites has limited features

Wix has hundreds of templates compared to the 12 or so from Google Sites

You can create a better-customized website on Wix with all the options compared to the basic site you can build on Google Sites

Wix has an App Market, but there are no extensions or plugins you can add for Google Sites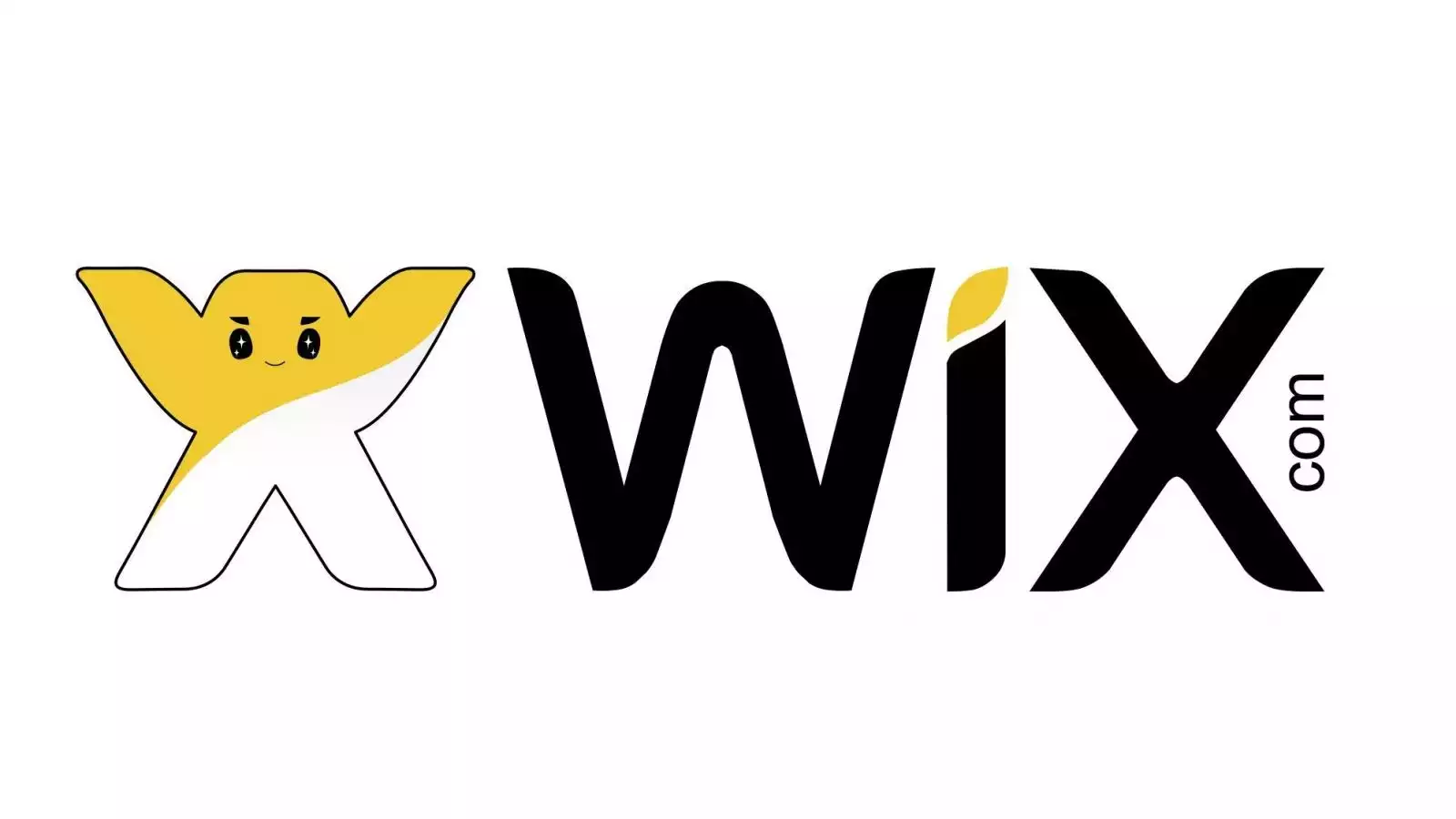 I Would Start with Wix
Wix is incredibly easy to get started with. You can launch with an elegant design and they have functionality (and plans) for every business model. Start with Wix. You can always graduate to something more advanced, later.
View Wix Plans
We earn a commission if you click this link and make a purchase at no additional cost to you.
These main differences may be enough for you to decide which is the best website builder for you. Still, I'll dive into the nitty-gritty to give you more information.
Wix vs Google Sites: Wix Overview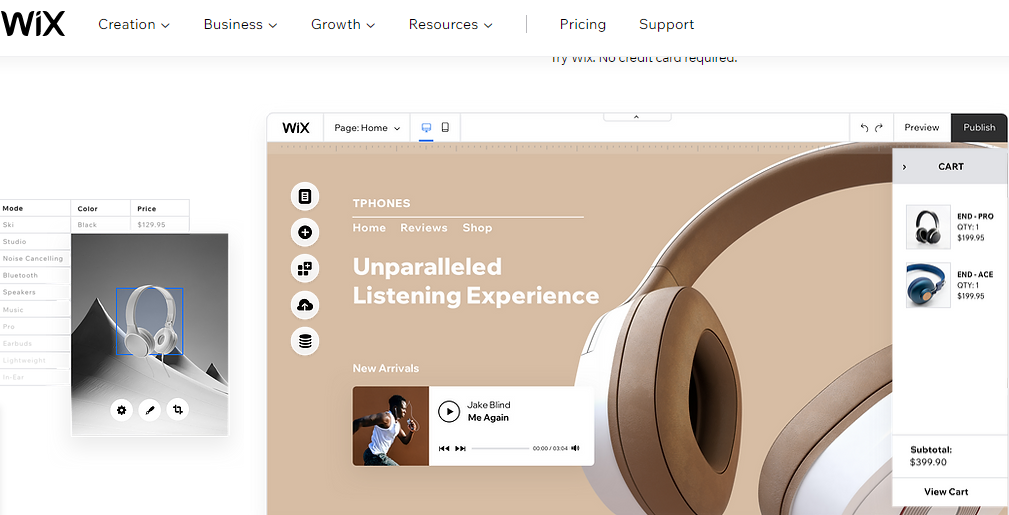 As a freemium website builder, Wix has become increasingly popular since it was founded in 2006. Ideal for both newbies and professionals, more than 200 million users worldwide currently use Wix for their website-building needs. More than 3.8 million websites are powered by Wix.
As a "what you see is what you get" website builder, users are guided by the intuitive Wix design to create their sites. With no coding knowledge needed, anyone can create a professional-looking website that works and looks great.
Pros
Uses a drag-and-drop interface whereby you simply drag and drop your website elements onto the page

800+ templates to choose from

Beginner-friendly

Loads of apps on the App Market to improve the functionality of your site

Many subscription options so you can find the plan that works for you (and your budget)

Wix ADI gives you a website option after you've answered some questions

Wix Wizard helps you with your site's SEO
Cons
Uses an unstructured editor, so if you don't have design-savvy, your page can look messy

With so many templates, making a choice can be overwhelming

May need to edit your site twice: once for the desktop version and another time for the mobile version

Can't choose a different template once you've published your website
Google Sites vs Wix: Google Sites Overview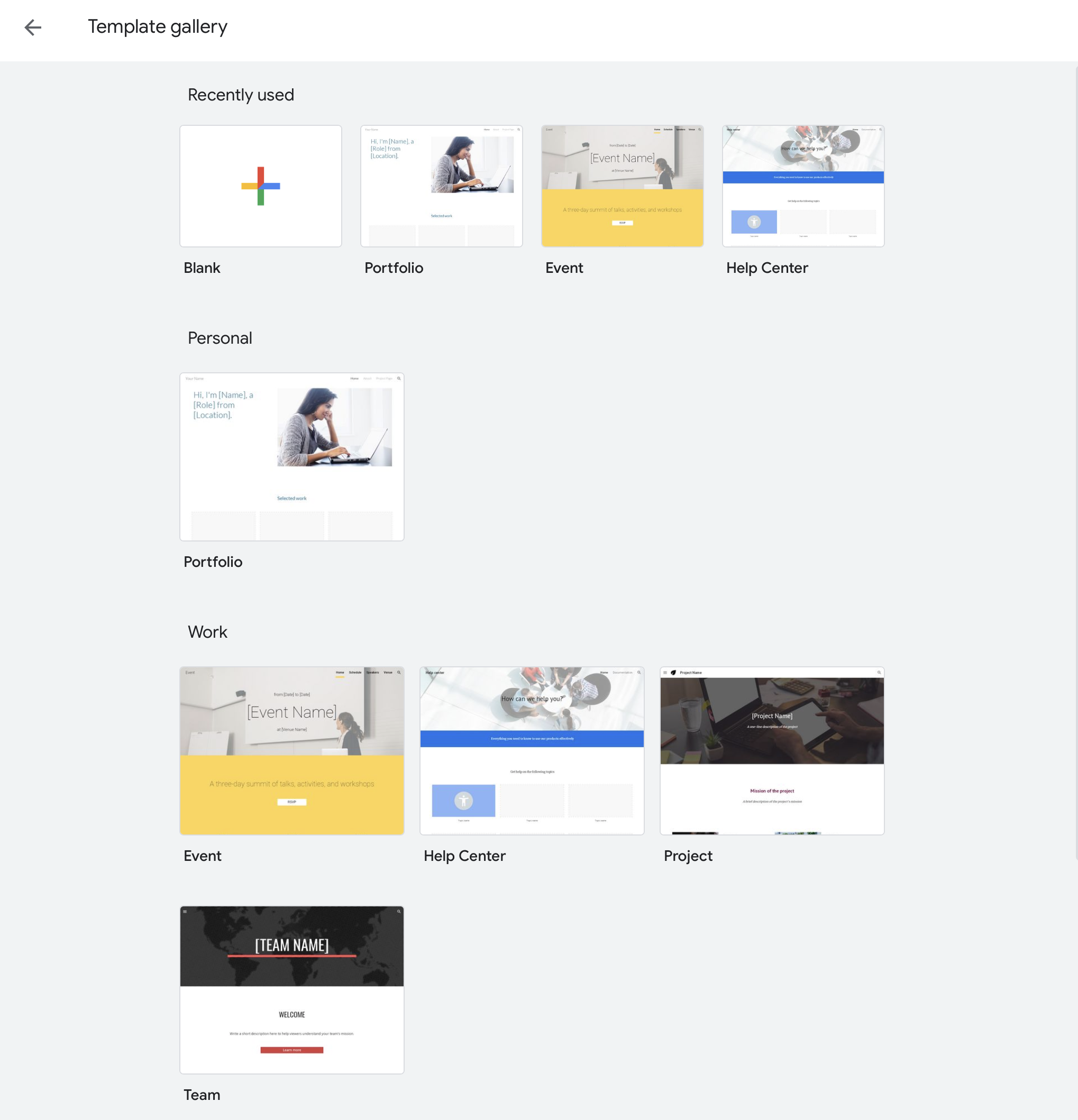 Google Sites was initially launched in 2008. Over the years, there were numerous upgrades, and in 2017, the new version of Google Sites (the old version was classic Sites) was launched. Classic Sites is shutting down in 2021, but users can convert, delete, or archive their classic Sites account.
As a do-it-yourself cloud-based website builder, you can create basic websites on Google Sites.
Pros
12 templates

Beginner-friendly

Uses a drag-and-drop interface with a more structured editor so your web designs look neat

Free

Integrates with Google applications, like Google Maps, Google Drive, Google Forms, etc.
Cons
Not a lot of features to create fancy or feature-laden sites

Ideal for small projects/websites only

Limited customization with each template

No third-party plugins
Is Wix vs Google Sites Easier to Use?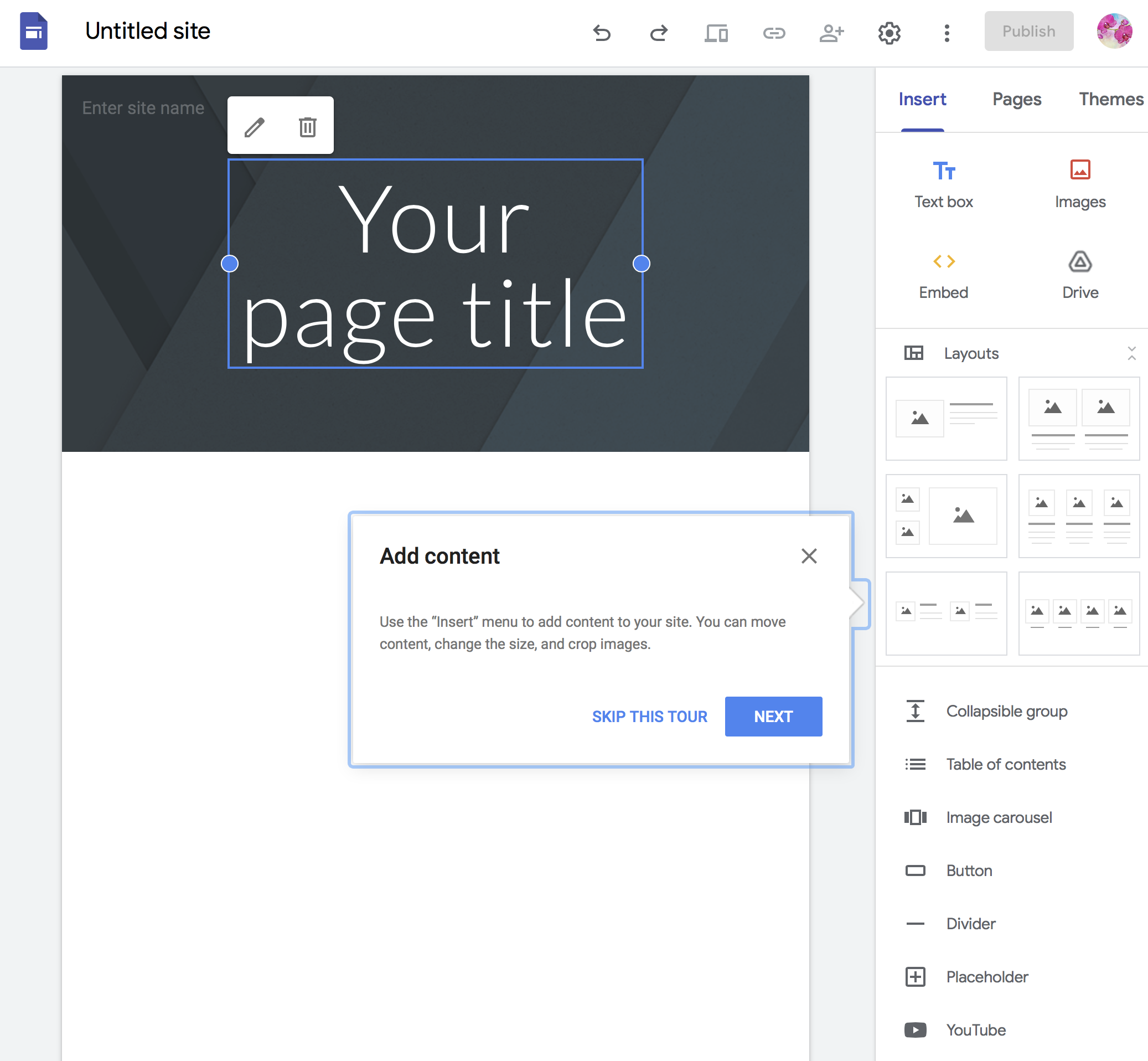 Both Wix and Google Sites are easy to use. Both make use of drag-and-drop interfaces. The main difference is the editor. Wix uses an unstructured editor, so you can literally place your logo, photos, and text wherever you want on the page. If you have a sense of design, this is ideal as you aren't restricted in any way.
With Wix, use the Dashboard to make major website changes. The editor is where you actually create your web pages.
Wix ADI utilized artificial design intelligence, and it simplifies the process of creating a website. After a series of questions and answers, the ADI automatically presents a website to you. If you are happy, you can go with this, and if not, you can choose a template and design your website this way.
There is also a comprehensive knowledge base that can help you if you aren't sure how something works or needs troubleshooting. In addition, customer support is available via email or live chat. In contrast, Google has a more structured editor. You pick a template and get a document to work in. You can also opt to start with a blank canvas so to speak.
On the right, there are three main options: Insert, Pages, and Themes. Under Insert and Layouts, you get "preset" blocks with images and text you populate with your own images and content. There aren't a lot of features, so if you take an hour or so to poke around and see what's available, you can easily design your website from that.
If you want to learn more about Google Sites, you can look at the Help Center and view the how-to articles and tutorials. You can also take a screenshot of your issue and send feedback to Google Sites.
All in all, both platforms are easy to use. Wix just has a lot more options, which is excellent if you need them.
Wix vs Google Sites: Which Website Builder Makes the Most Professional-Looking Website?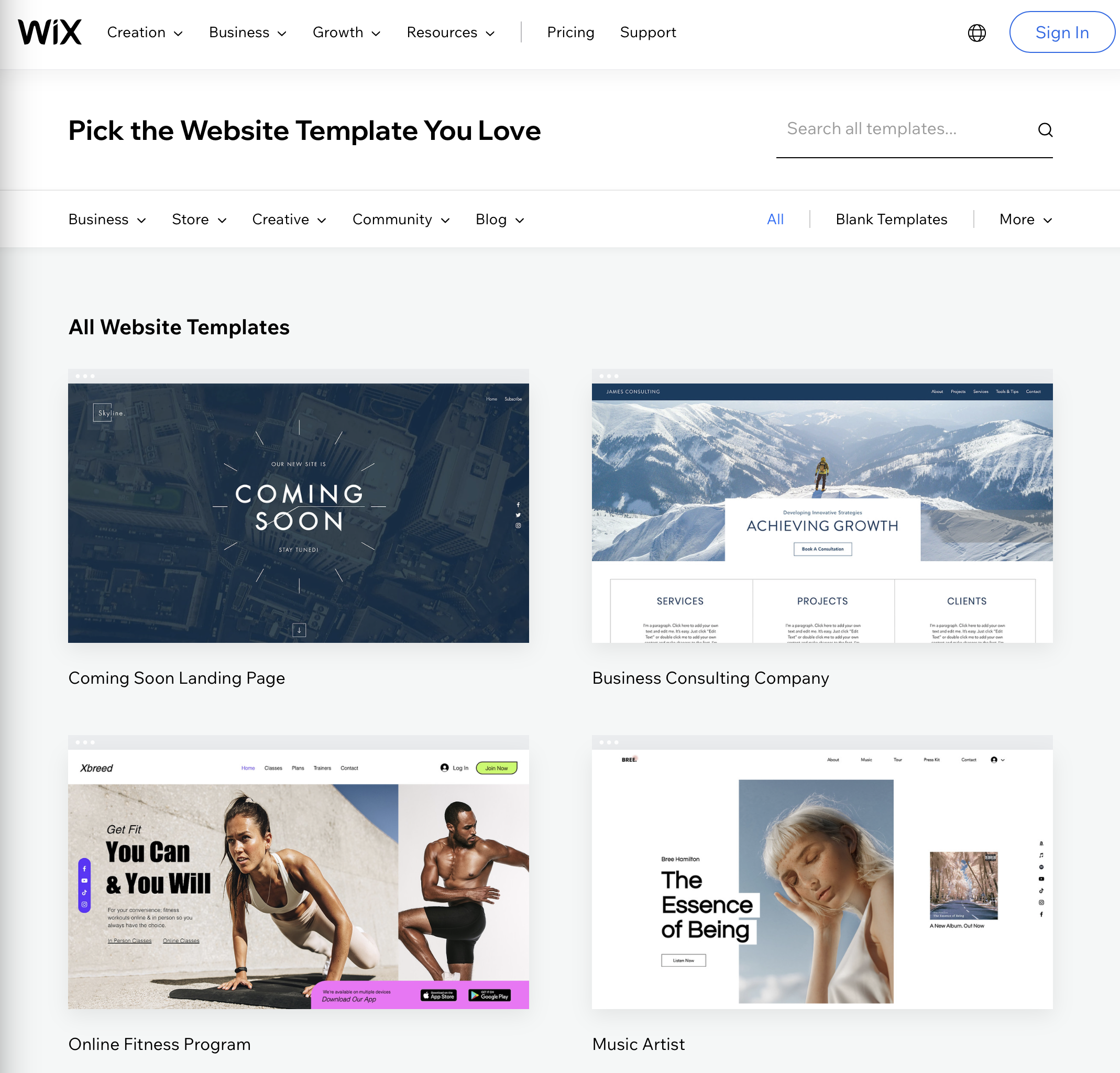 You probably already know the answer, right? It's got to be Wix. Simply because of the more feature options that allow you to fully customize your website, plus all the options you have from the App Market. There are also many more templates on Wix, which means more possibilities to make a unique website that doesn't look cookie-cutter-ish.
With Google Sites, you can create a site that looks professional, but it'll be simple professional if you get my drift. And this is ok – it may be all you need.
Google Sites vs Wix: Other Notable Features
There are a few other notable features I'd like to include in my Google Sites vs Wix comparison:
Apps and Addons
Wix is the winner here. With in-house and third-party apps you can choose from in the App Market, there are plenty of options for you to increase the functionality of your site. For example, you can sell tickets, grow communities who share the same passions, add a blog, and access social media tools. You can also integrate QuickBooks, accept online bookings, and so much more!
Google Sites only provides you access to the in-house applications from Google. You can add Google Charts, Maps, Docs, Sheets, Calendar, Forms, and Slides.
Blogging and eCommerce

Google Sites allows you to create very basic websites. However, suppose you want to blog or run an eCommerce store. In that case, your only option is to consider Wix or another website builder.
Wix is a good option as an eCommerce platform, especially if you look at their Small Business and eCommerce subscription plans. Or opt for the less expensive Personal subscription plans and add some eCommerce functionality to your site via an app from the App Market.
If you want to add a blog to your site, Wix has a blogging editor to create and edit blog content. You can also add social media and set up SEO for your blog.
Mobile Optimization
When you create your website with Wix, you have access to a mobile editor. This editor lets you edit your website to be viewable on mobile devices, thus making your site mobile-friendly too. Unfortunately, you may have to edit some of your content twice as the mobile editor isn't perfect.
A website created on Google Sites will be desktop-friendly. While no mobile editor helps you optimize your content for smart devices, you can manually choose for your site to display in mobile format.
Customer Support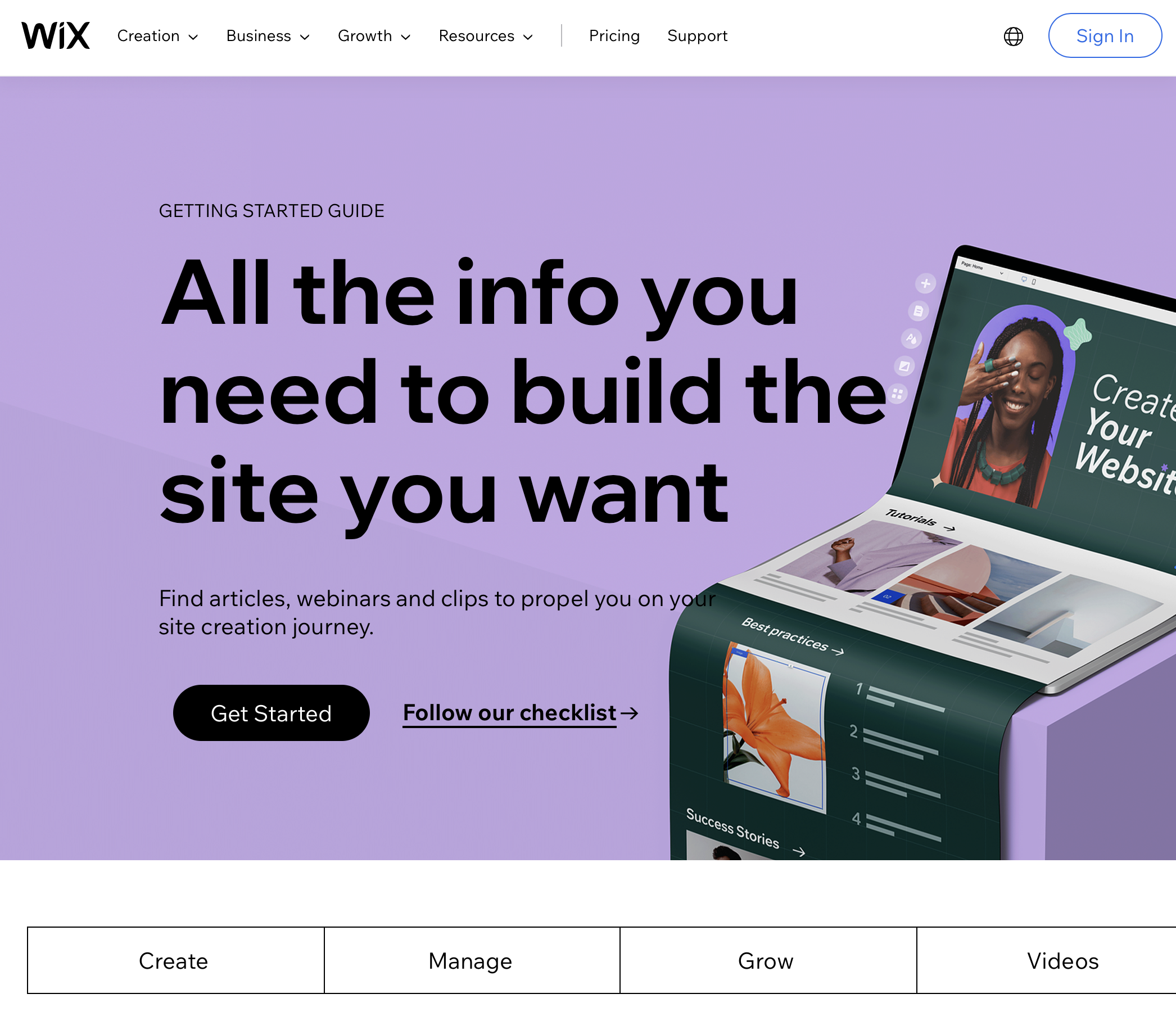 Google Sites doesn't offer as much in terms of customer support. There are how-tos about common issues you may experience while building your website, and that's kinda it. No contact person, live chat feature, or email address.
On the other hand, Wix features a helpful knowledge base with loads of tutorial-like articles that show you exactly how to use the platform. Plus, you can find helpful videos on YouTube too. If you need more help, reach out to Wix via email or live chat, and someone will get in touch.
Pricing for Google Sites vs Wix
Let's have a look at how much Wix vs Google Sites charge for their website building services.
Wix Pricing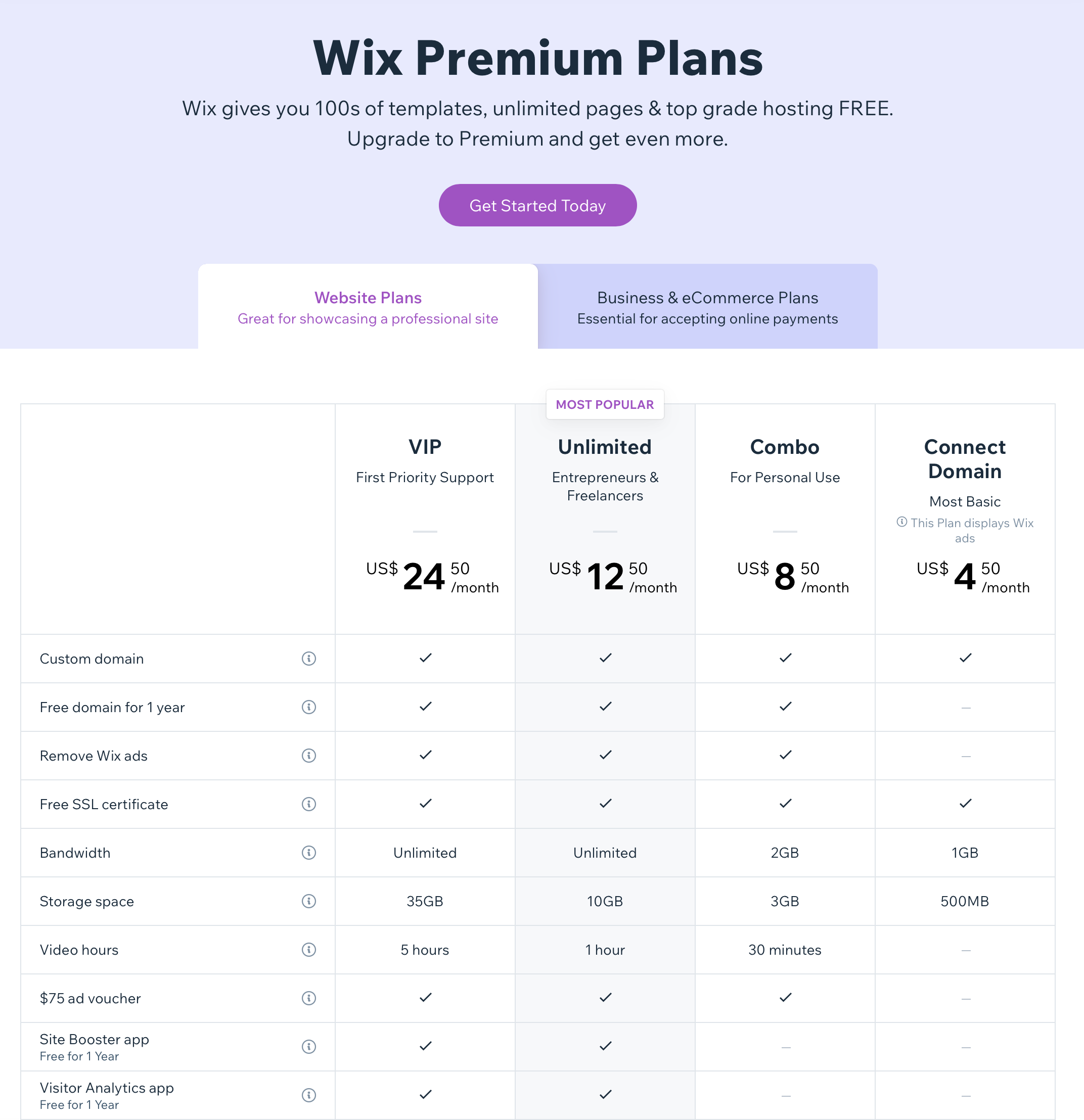 Wix offers several subscription plans to choose from. It also provides a 14-day money-back guarantee, so you have 2 weeks to try Wix and see if this is the website builder for you.
Wix premium plans are divided into 2 categories:
Website plans

Business and eCommerce plans
The Website plans are great to showcase your professional website. There are 4 subscription plans to choose from here:
| | | | | |
| --- | --- | --- | --- | --- |
| | Connect Domain | Combo | Unlimited | VIP |
| Ideal For | | | Freelancers and entrepreneurs | |
| Price | | | | |
| Main Features | Custom domain, free SSL certificate, 1 GB bandwidth, 500 MB storage | Everything in Custom Domain + free domain for a year, no Wix ads, 2 GB bandwidth, 3 GB storage space, 30 minutes of video, $75 ad voucher | Everything in Combo + unlimited bandwidth, 10 GB storage, 1 hour of video, site booster app, visitor analytics app | Everything in Unlimited + 35 GB storage, 5 hours of video, professional logo, social media logo files |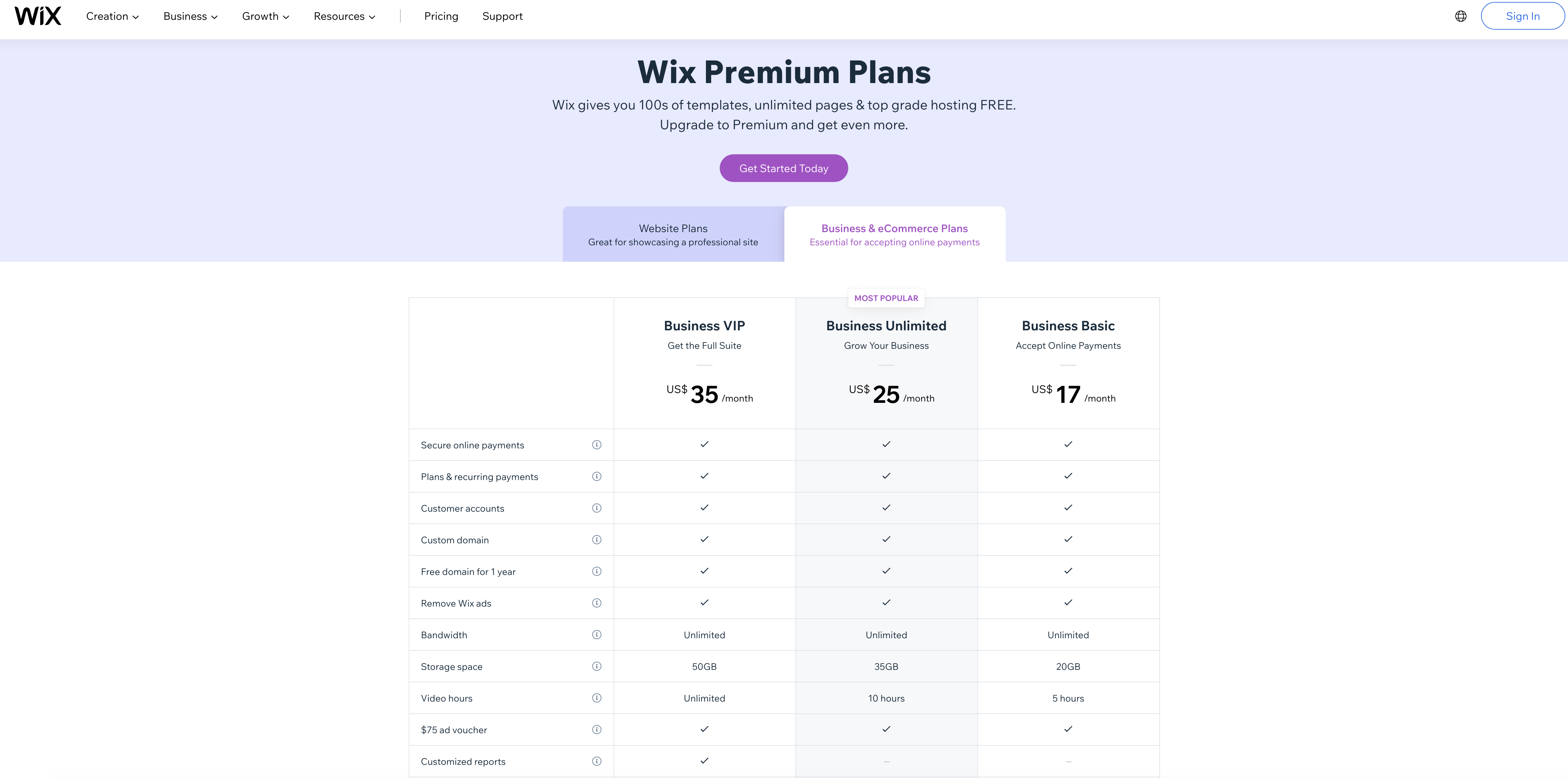 The Small Business and eCommerce plans are a good option if you have an online store and/or need to accept online payments. There are 3 subscription plans here:
| | | | |
| --- | --- | --- | --- |
| | Business Basic | Business Unlimited | Business VIP |
| Ideal For | To accept online payments | | |
| Price | | | |
| Main Features | Secure online payments, customer accounts, custom domain, no Wix ads, unlimited bandwidth, 20 GB storage, 5 video hours, $75 ad voucher, unlimited products, abandoned cart recovery, notifications and online bookings platform, unlimited tickets and event management, and more | Everything on Business Basic + 35 GB storage, 10 video hours, subscriptions, multiple currencies, 100 transactions/month for automated sales tax, 250 dropshipped products, 1,000 reviews, and more | Everything on Business Unlimited + 50 GB storage, unlimited video hours, customized reports, priority customer care, more automated sales tax transactions, unlimited dropshipping, 3,000 reviews, loyalty program option, and more |
Google Sites Pricing
Google Sites is free (although you still have to pay to register a Google domain). You simply create a personal or business Google account (Google Workspace), and that's it. Google Sites is part of the Google applications you have access to.
Other Popular Website Builders
If you aren't sure whether Wix or Google Sites meet your needs, then you can consider these alternatives:
SquareSpace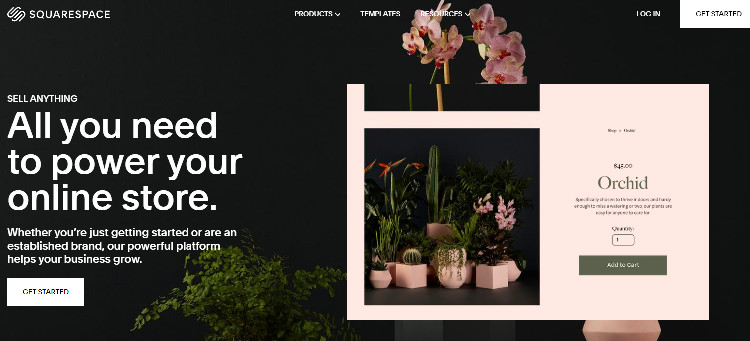 If you want a website builder with a structured editor that is best suited for creatives (if you want to create a photography, artist, or designer site). Squarespace also has some great subscription plans if you want to set up an eCommerce store. Plus, they are a great blogging platform!
WordPress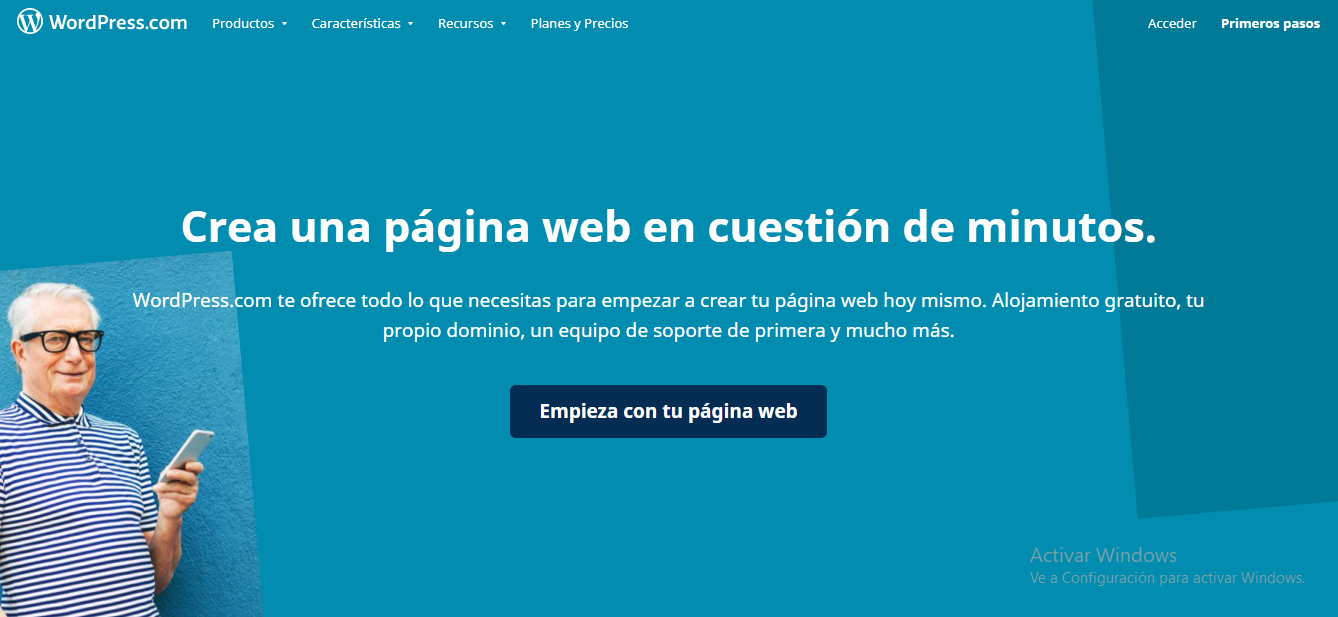 For blogging and if you like to have a ton of third-party extensions, plugins, or add ons to choose from to really customize and optimize your website. However, WordPress isn't ideal for beginners. It may take some time to find your way around the website builder and know which extensions are the best.
GoDaddy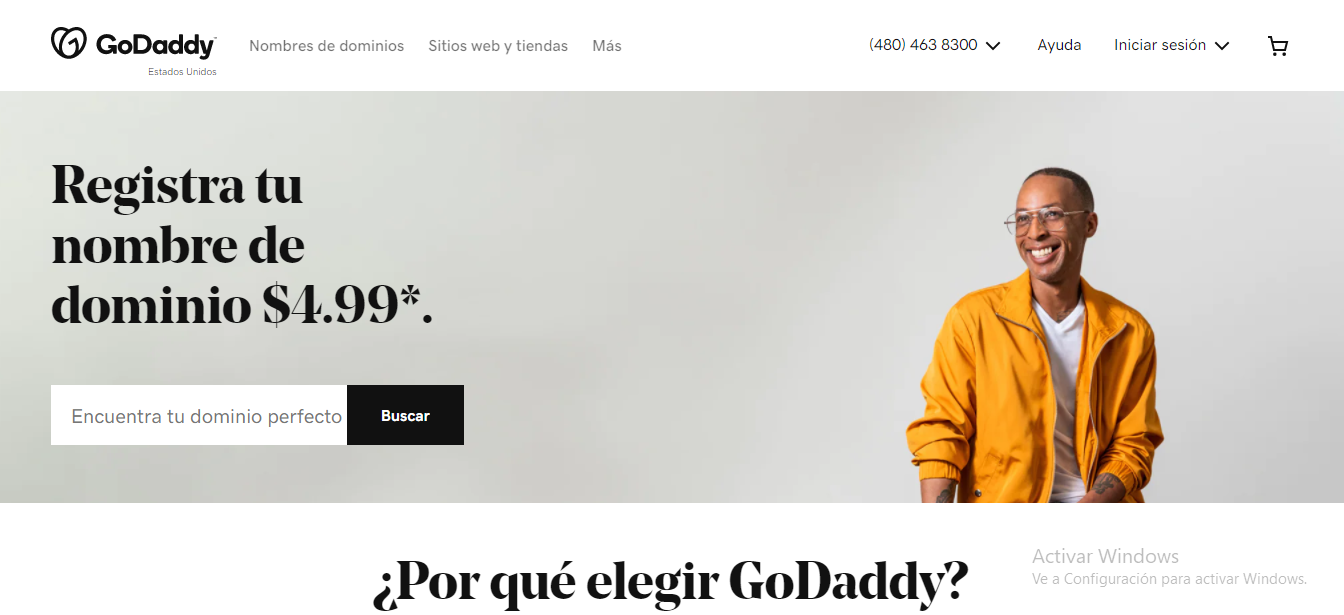 Is another popular option. Plus, they offer custom domain names and web hosting services, so it's like a 3-in-1 deal. With the templates GoDaddy offers, you can have your website set up and ready to go in as little as an hour.
FAQs
Question: What questions should I ask when I want to design my own website?
Answer: When embarking on a website designing journey, there are a few essential questions you should ask yourself (or your web designer should ask you):
• What is the main objective of your website?
• What is the primary goal of each web page?
• What is your target audience?
• What stage of the sales funnel (if applicable) does the page fall into?
• What pain points (if any) are you addressing with your content? What solutions are you offering?
• What benefits will your audience receive (intrinsic or extrinsic) when visiting your website?
• What are the calls-to-action your audience should take?
• What is your search engine optimization strategy? Are there specific long-tail keywords you want to rank for? Are you focusing on local SEO?
Question: Do I need to know coding to make a website?
Answer: You don't need to know how to code to create a website. Website builders, like Wix, Weebly, or SquareSpace, take care of the coding for you. So you can simply add your logo, images and photos, and content and build your web pages.
If you do have coding know-how, you can create unique websites with more sophisticated features. These kinds of sites are mostly needed for large corporations. So you don't have to know how to code to build a website.
Question: Is it worth having a website?
Answer: These days, you need a website since more people are online – researching products and services, reading reviews to help them make a decision, and more. I always say, if you aren't online, you don't exist. And this is pretty true, but it all depends on why you want a website.
If you are a freelancer, a website is a handy tool to showcase your portfolio or passion projects.
If you have a business, a website lets your potential and existing customers know who you are. A website also shares how you can help them, what products and services you offer, and more. For example, suppose you have an eCommerce business. In that case, your customers can directly buy from you online (instead of traveling to your brick-and-mortar shop).
For individuals, if you have a message to share or are passionate about something, a website allows you to easily share. But in this case, a website isn't a must. It's more of a nice-to-have.
Question: How do I start a website from scratch?
Answer: If you start a website from scratch, you need to consider:
• What is the goal of your website? Why do you want a website?
• Establish a brand identity if you don't have one.
• Find out who your audience is or will be.
• Decide what website builder you want to use or if you're going to approach a professional website designer/agency.
• Choose a web service hosting company.
• Decide on a domain name.
• Create your website and web pages. Make sure it is user-friendly and easy to navigate.
• Add your logo and content.
• Optimize your site so it will rank on the search engines, like Google.
Question: How long does it take to build a website from scratch?
Answer: If you have an easy-to-create site, you can set up your website within a day or two. This is especially true if you already have a domain name registered and signed up for a web hosting service.
If your site is a bit more intricate or you can only work on it when you have free time, your site can take you anywhere from a few weeks to a few months or even longer. Working with a professional agency specializing in creating websites or even a freelance web designer takes between 2-4 months.
Wix Vs Google Sites – The Final Verdict:
Choosing the right website builder for your needs is essential. However, if you choose a site builder that isn't easy to use, you waste valuable time you could spend doing something way more important.
A good website builder helps your business grow. It also needs to help you with your SEO, ensure there is at least 99% uptime for your business, and provide security.
In the Wix vs Google Sites battle, there can only be one winner. And while some may think that Google Sites will win because Google is the king of all, it doesn't even come close.
Wix is the best website builder in this comparison between Google Sites vs Wix. With Wix, you can create a custom website that looks professional. And with all the apps and plugin options, you can increase the performance and functionality of your site ten-fold. Wix gets brownie points for Wix Wizard and Wix ADI. And sure, you have to pay to use the features you need on Wix, but paying is worth it.
If you just need a basic website and don't want to pay for extra features, Google Sites is a good free option to consider.
Bottom Line Summary: Unless you have zero budget for a website, the winner is clearly Wix here. Google Sites just doesn't have many features and doesn't seem to be a core focus for the company.
If you are keen to read more comparisons about Wix, why not check out our Wix vs Duda battle or, if you want to create landing pages, Unbounce vs Wix?