Last Updated on April 22, 2023 by Ewen Finser
The search for the perfect website builder can be a daunting task. With so many options available, it's easy to get lost in all the different features, tools, and price points. Two website builders, Duda vs Squarespace, stand out when narrowing down the field.
Duda vs Squarespace aren't as popular as Wix or Weebly, but they're just as good, if not better, in many ways. Both are cloud and web-based platforms that allow users to create responsive websites without code. They have drag and drop tools, advanced themes and templates, and other features.
However, they also have differences that set them apart. It calls for a detailed and informative Duda vs Squarespace comparison to help you decide which platform better suits your needs and budget. Read on to discover how they differ in features, ease of use, pricing, integrations, etc.
Bottom Line Up Front
The main difference between Squarespace and Duda is that Duda tailors its services to agencies, professional developers, and freelance designers, whereas Squarespace is an excellent choice for individuals and small businesses. Both platforms offer excellent features that allow users to design beautiful and responsive websites and come with 14-day free trial periods.
Main Differences Between Duda vs Squarespace
The main differences between Duda vs Squarespace are:
Duda's interface and editor tools are more intuitive and user-friendly, whereas Squarespace's editor has a steeper learning curve.

Duda tailors its services to agencies, freelancers, small businesses, and developers, whereas Squarespace focuses on individuals, creative professionals, and small businesses.

Duda offers better customization capabilities with its comprehensive editor, whereas Squarespace's templates are less editable but still look good.

Duda's pricing is more convoluted than Squarespace's, with e-commerce functionality being offered as add-ons, whereas Squarespace's pricing is simple and straightforward with integrated e-commerce functionality.
Duda Overview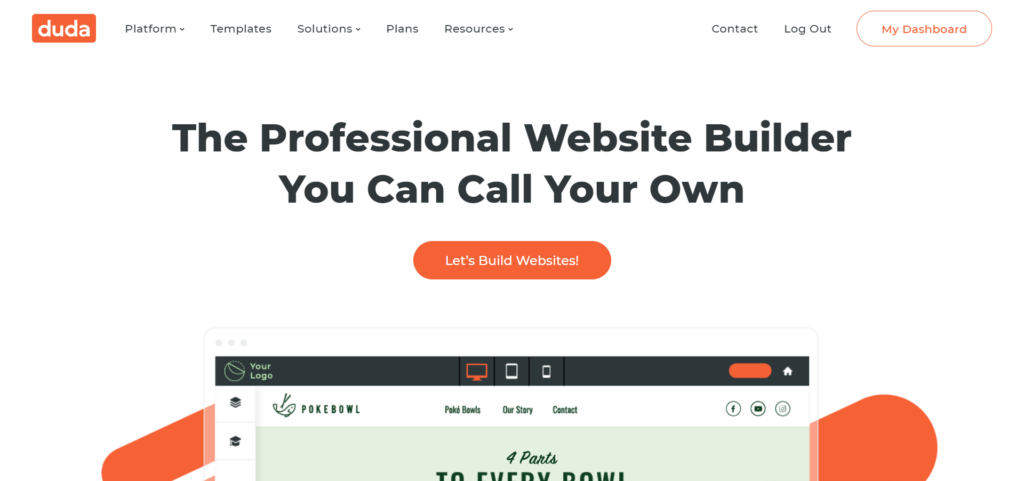 Duda is a cloud-based website builder that helps businesses and agencies create custom, responsive websites without code. Launched in 2010, Duda brands itself as a professional website builder you can call your own. It allows users to build dynamic websites with advanced features, such as custom logos, colors, fonts, and other design elements.
Duda's primary focus is delivering creative and simple ways to design custom responsive websites without coding. It's an excellent platform for small businesses, freelancers, and agencies that want an all-in-one solution for their website needs.
The platform comes with a range of customizable templates, adding flexibility and consistency to your website. Plus, it's easy to edit, update, and add additional elements. However, pushing the builder too far with complex designs can result in a loss of responsiveness.
If you are an agency, perhaps you want to eliminate the 'oops' factor and have greater control over your work environment. The client management tools in Duda will let you do just that, helping to streamline your workflows. Getting started with Duda isn't pricey because, for $14/month, you can create an AWS-hosted website that comes with email support.
Duda Features and Tools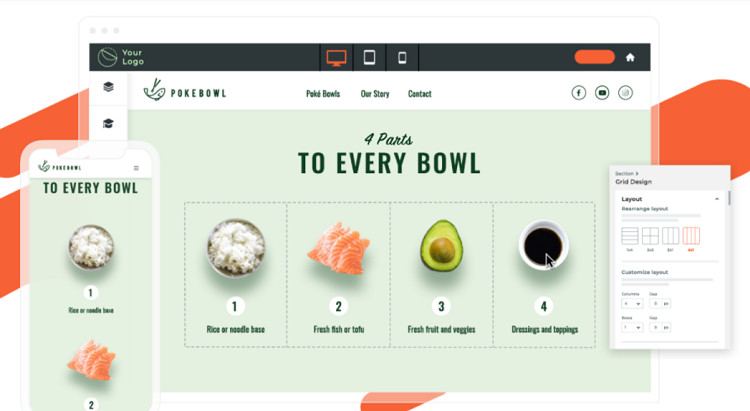 Duda boasts features that make it easy to create responsive websites without code. It's also got several handy tools to help you build, manage, and maintain your project.
Below are some of its main features:
Design Control
Duda gives designers ultimate control over the design process. With its pixel-perfect design editor, you can change your website's layouts and designs with complete precision. The developer mode lets you access responsive HTML and CSS and make adjustments to your code.
Drag & Drop Site Builder
This feature empowers you to create custom layouts, mobile-responsive designs, and other creative elements by dragging and dropping. It also helps you determine where widgets appear on any page and how they behave when resized or viewed on different devices.
e-Commerce
Duda has a built-in website builder that lets you create product pages and start selling right away. The visual editor is easy to use with drag-and-drop elements enabled by the platform's sections tool.
It integrates seamlessly with more than 40 payment providers, including PayPal, Square, and Stripe.
As an agency-focused platform, Duda also helps you manage client billing, track inventory, and generate shipping labels. Its white-label features make sure that users have ultimate control over their e-commerce website's branding.
Client Management
Duda has a suite of agency-specific features to help you manage your clients' websites more efficiently. You can customize the website to receive client feedback, track site activity, and manage user permissions.
The platform also gives you the ability to generate proposals, invoices, and time-tracking reports. Duda also provides agencies with valuable insights into their clients' website traffic by integrating with Google Analytics.
Team Collaboration
Duda's team collaboration features let you add and manage an unlimited number of team members.
The platform's project management tool also helps you keep track of deadlines, assigned tasks, and progress reports. You can receive team member feedback directly from the website builder and make changes in real-time.
Search Engine Optimization (SEO)
Duda supports IndexNow, a unique feature that allows you to quickly submit your website's sitemap to Google for faster indexing. The platform gives users a free SSL certificate, which helps improve websites' security and search engine rankings.
Moreover, it automatically includes Robots.txt files to make sure that search engines can access and crawl your website's pages. You can further improve your website's SEO by customizing page URLs, Meta tags, and title tags.
Duda Pros
Extensive feature set

Easy to create a website

Responsive designs

Optimization for mobile devices

Automatic updates and backups

Global CDN support

You can use custom CSS and HTML code
Duda Cons
Inability to switch templates

SEO functionality could be better
Squarespace Overview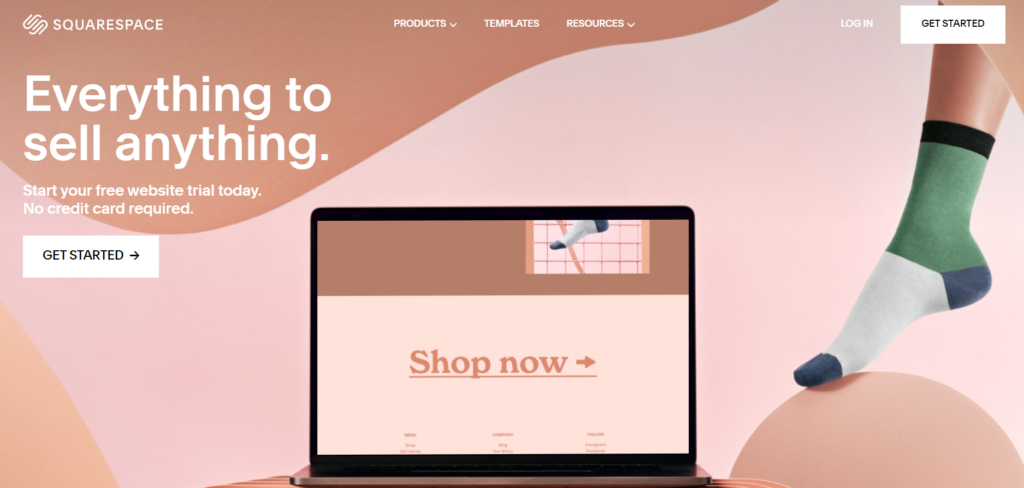 Squarespace is a website builder that lets you grow your business with e-commerce, marketing, and branding tools. An initial overview of the website revealed a complicated UX with overwhelming elements. However, the recent revamp streamlined the builder, making it more user-friendly.
The Squarespace platform comes with everything you need to create a beautiful website without code. The designs are modern and sleek, and the templates are optimized for all devices. Whether you have a business or a blog, Squarespace gives you the tools to create and manage content with ease.
Its focus on building your brand is one of its key selling points. Plus, you can take advantage of its SEO tools, social media integrations, and email marketing features to help you grow your business. Squarespace plans start at $14/month, giving you basic website metrics and 24/7 customer support through Email.
Squarespace Features and Tools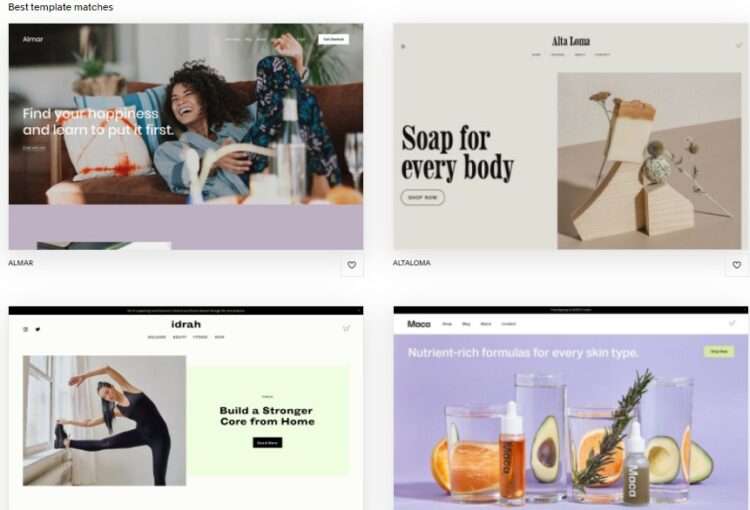 Squarespace also has a range of built-in features and tools to help you manage every aspect of your business. Some of these include:
Customizable Templates
Each Squarespace template is fully customizable. To suit your brand, you can change the fonts, colors, layouts, and content blocks.
By categorizing templates using industry-specific themes, this website builder makes it easy to find a suitable template for your business. Its simplicity makes it easy to create a website that matches your brand.
E-commerce and Blogging Tools
Squarespace's e-commerce and blogging tools give you the power to sell products, engage with your target audience, and tell a story. These features can help increase your traffic, brand awareness, and sales. Its built-in e-commerce features include inventory tracking and secure checkout options.
Customizable Navigation
Squarespace lets you build a custom navigation menu to improve your user experience on any website. It also allows users to create multiple layouts and add content blocks in the exact location for different pages.
This feature gives you more control over your e-commerce site's design and makes it easier for customers to find what they need.
Marketing and Branding Tools
Squarespace is complete with marketing and branding tools to help you grow your business. Unlike traditional website builders, Squarespace includes email marketing, social media integrations, and Google Ads. These features can help you reach a wider audience, build customer relationships, and grow your brand.
Search Engine Optimization
Like Duda, Squarespace gives users a free SSL certificate and includes Robots.txt files to make sure that search engines can access and crawl your website's pages.
It facilitates on-page SEO with customizable page URLs, Meta tags, and title tags. The automatic markup also makes it easier for search engines to understand your website's content.
Website Analytics
The Squarespace platform comes with built-in website analytics so you can track your website's performance. This feature lets you see how people find your site, what they're doing on it, and where they're coming from. Commerce analytics take it a step further by tracking your sales, conversion rates, and product performance.
Squarespace Pros
Responsive design templates

Allows custom CSS and HTML code

Integrated e-commerce platform

Free SSL certificate and domain privacy

24/7 customer support

Excellent analytics tools
Squarespace Cons
It doesn't allow users to switch templates

The editor tool can be overwhelming for new users

Phone support isn't available
Duda vs Squarespace: How Do They Compare?
Here's a detailed breakdown of how Duda and Squarespace compare in design and templates, UX and usability, customer support, pricing, and more:
1. Design & Templates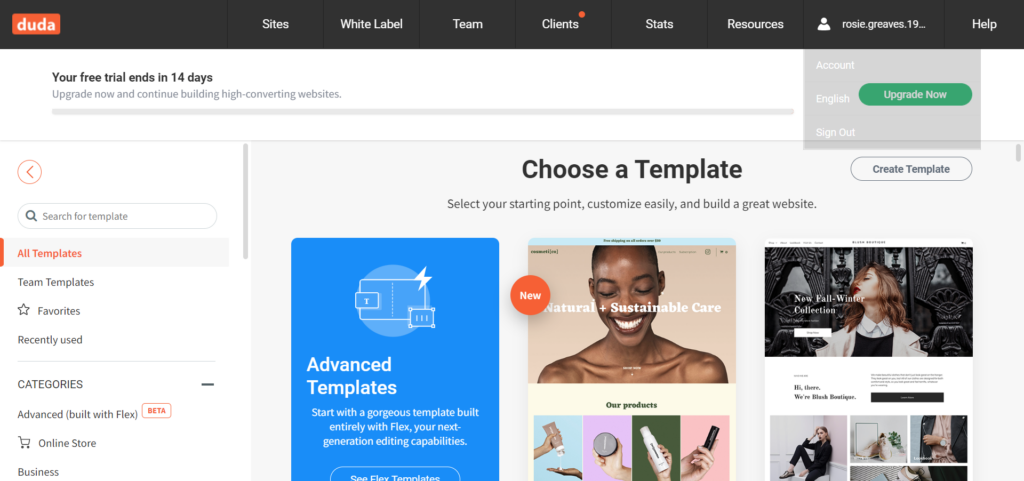 When testing the platforms, it was clear we were in for a treat. Both platforms have a great selection of fully customizable templates and designs, from simple to complex.
Duda has more than 100 site and section templates giving users a broad range of options. These templates are responsive and go beyond basic mobile responsiveness. You can design websites that load fast, even on the slowest mobile connection.
Squarespace boasts award-winning designs that look good on all devices. The platform takes a minimalist approach to web design, giving you a clean slate to work with. Before you start your design process, Squarespace suggests a few templates that match your niche. From there, you can easily customize your site's layout, fonts, and colors.
Unfortunately, for both platforms, you can't transfer your changes once you start with a particular template. Changing to another template will mean starting over with your website.
Winner: Duda-The platform has a better selection of templates and designs than Squarespace.
2. UX & Usability
The user experience is excellent for both platforms. The editing interface is clean and straightforward, with all the features you need within easy reach.
Duda's editing interface is based on a What-You-See-Is-What-You-Get (WYSIWYG) system that makes editing your site's layout and content easy. Duda uses a tabbed interface that gives you quick access to elements like navigation, text, images, pages, and more.
You can drag and drop any element on the page to move or delete it. However, be careful not to overly push the builder with extremely complex websites as it may slow down the system.
Squarespace also has a WYSIWYG editor as easy to use as Duda's. The editor interface is uncluttered and gives you quick access to all the features you need while editing your pages. You can also drag and drop elements on the page to rearrange or delete them.
While using the Squarespace editor, we didn't experience any slowdowns or lags. However, the platform has a slightly steep learning curve, especially if you're unfamiliar with web design and development.
Winner: Duda-Both platforms were easy to use, but Squarespace's steep learning curve gives the edge to Duda.
3. Customer Support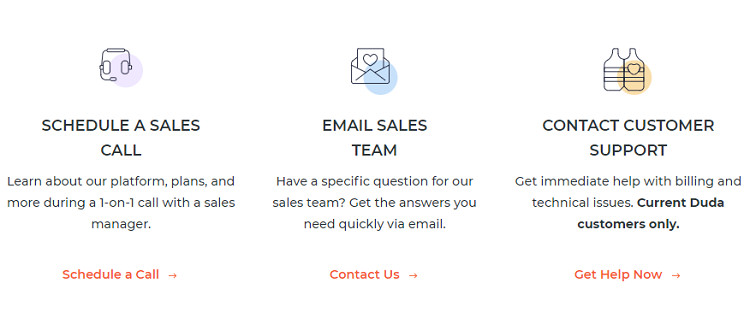 Customer support is as vital as the platform itself. If you run into any problems while using the platform, you'll want to be able to reach out to customer support for help. Duda's customer support is excellent. The company has a detailed knowledge base covering all platform aspects, from design to development.
If you can't find what you're looking for in the knowledge base, you can reach out to customer support through an online ticketing system. Duda also offers email, chat, and phone support. Custom Plan users get 24/7 dedicated support.
Squarespace offers quick and easy access to customer support. Its email support is available 24/7 alongside a chatbot and live chat for business days (4:00 am to 8:00 pm EST).
While it doesn't have phone support, it has a comprehensive resource center with everything from articles to tutorials to help articles. You can also reach support through their official Twitter page and help page.
Winner: Duda-The platform offers better customer support than Squarespace.
4. Apps and Extensions
Duda facilitates integration with other apps and services to enhance user experience. For instance, you can use the platform's app store to add features like appointment scheduling, live chat, and social media integration. It also has an API based on REST that developers can use to create custom integrations.
Squarespace also allows users to add third-party apps and extensions. The extension prices vary depending on the app and service. While it lists the extensions as available, some may not be available in certain countries. It also has a developer platform with tools and modules to help developers create custom integrations.
Winner: Tie-I found both platforms equally convenient for apps and extensions.
5. Pricing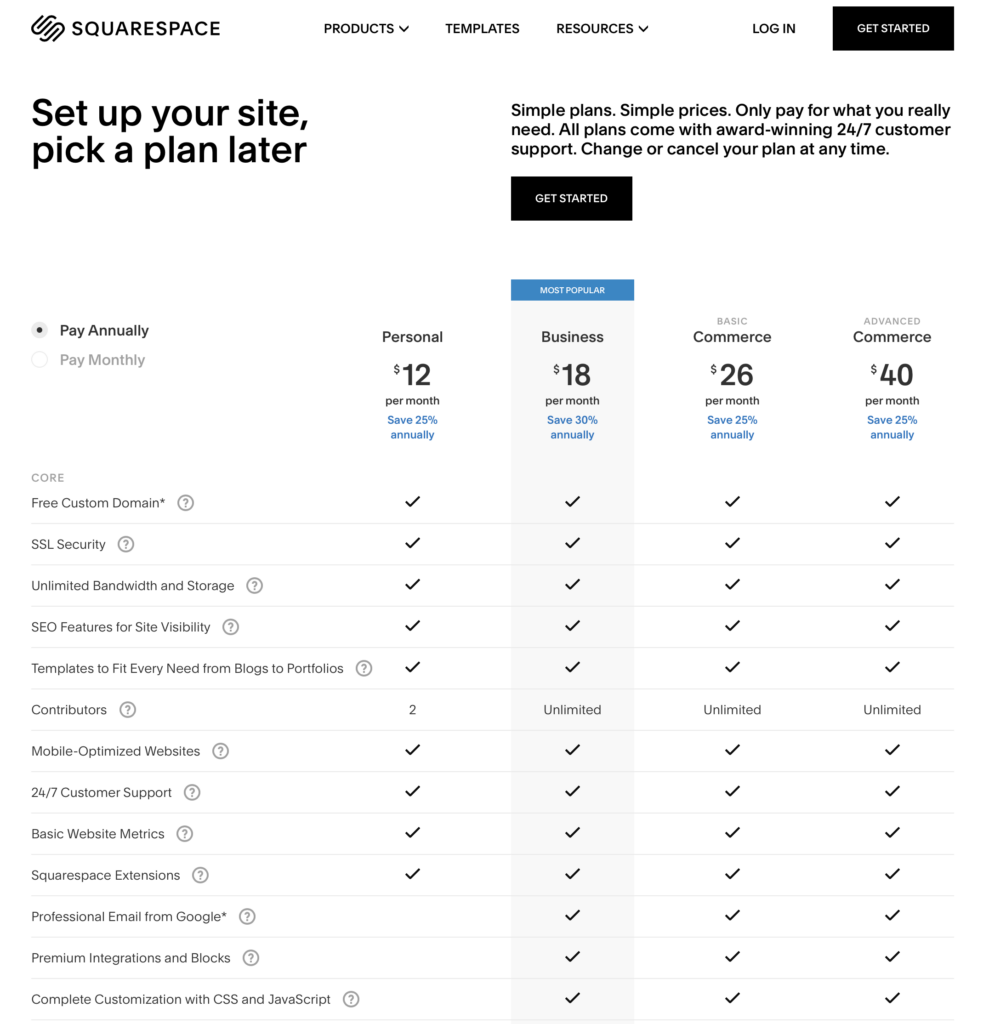 Duda has four pricing plans billed either monthly or annually.
Basic

: $14/month

Team

: $22/month

Agency

: $44/month

Custom

: (Contact Support)
Duda prices its e-commerce functionality as add-ons. It bases its prices on the products offered. Below is a listing of the pricing based on e-commerce functionality.
Standard

: $7.25/month for 100 products

Advanced:

$19.25/month for 2500 products

Unlimited

: $39/month for infinite products
From our research, there's an additional $19/month for any additional website you add to the Basic Plan. Team Plan members have to part with $22/month for any additional website. Duda also offers a 14-day trial for all its paid plans with access to features. Visit the Duda pricing page for more details on pricing.
Like Duda, Squarespace also has four pricing plans.
Personal

: $14/month

Business:

$23/month

Basic commerce:

$27/month

Advanced commerce

: $49/month
The business and advanced commerce plans include more customization options and e-commerce functionality. The latter also supports abandoned cart recovery, unlimited contributors, and real-time carrier shipping rates.
You can learn more about Squarespace's pricing on its pricing page. Visit the Squarespace pricing page for an update and more details on their plans.
Pricing Winner: Squarespace-I found Squarespace's pricing more straightforward than Duda's.
Duda vs Squarespace Alternatives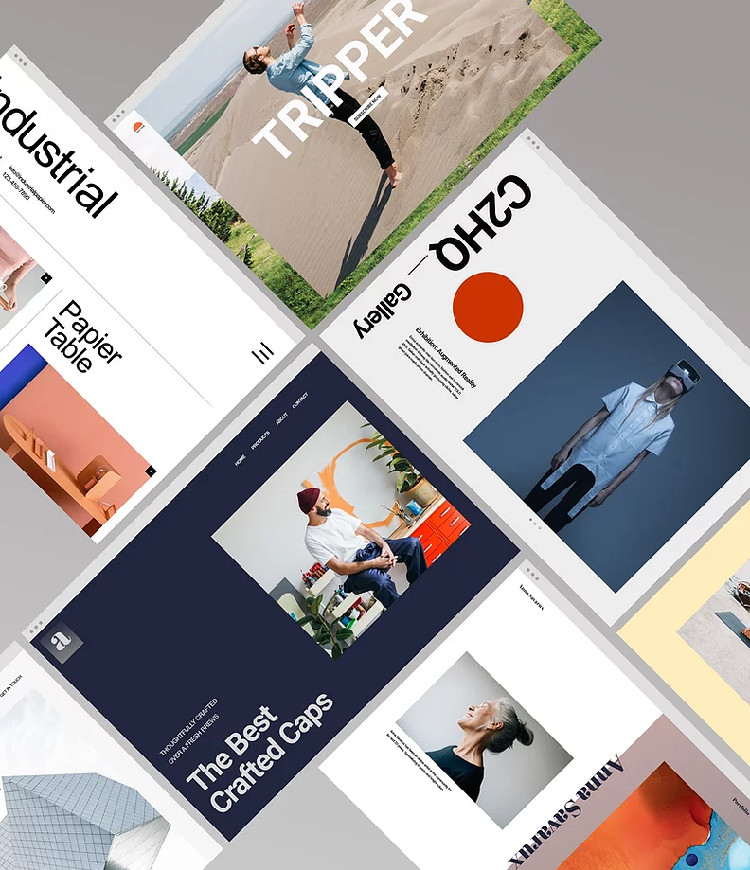 Suppose you're not satisfied with either Duda or Squarespace. In that case, you can consider the below-listed alternatives.
FAQs
Question: Do I Need to Know How to Code to Use Duda?
Answer: You don't need to know how to code. Duda offers a drag-and-drop interface that makes it easy for anyone to create a website. It also has an extensive range of templates with different customization options.
Question: Is Duda Good for e-Commerce?
Answer: Duda is an excellent platform for building e-commerce websites. It offers holistic e-commerce functionality, including product management, inventory management, and payments. Its SEO features are also excellent, which help improve your site's ranking on search engines.
Question: Which is Better, Duda or Squarespace?
Answer: Both platforms offer excellent functionality for building websites. However, Duda is more of an agency-focused option, while Squarespace is geared toward small businesses or individuals. Ultimately, it depends on your needs and what you're looking for in a website builder.
Conclusion
Comparing Duda and Squarespace side-by-side, it's clear that both are excellent options for building websites. Duda offers more features and is better suited for agencies or large businesses. On the other hand, Squarespace is a better fit for smaller businesses or individuals.
Ultimately, the right platform will depend on your specific needs and goals. However, I recommend using Duda because you can still use it for small businesses or individual websites.