Last Updated on April 22, 2023 by Ewen Finser
Fact: People use their mobile devices all the time. You can't walk down the street, go to a cafe, pop into a shop, etc., without seeing someone glued to their phone.
In fact, according to one study, a whopping 83.72% of people use a smartphone globally, equating to about 6.64 billion people. It's also forecasted that by 2025, 72.6% of web access will come via mobile devices rather than desktops.
Not to mention that, on average, we spend 4.8 hours a day on our smartphones, and the average American checks their phone 262 times per day.
The moral of the story for entrepreneurs? For businesses wanting to stay relevant in an increasingly mobile world, having a mobile app could make all the difference. Done well, a mobile app can work wonders to maintain customer relationships, facilitate more effective communication, and boost engagement.
But, this begs the question, how do you create an effective mobile app?
Cue, Moxtra
Let's see how you can use this platform to help you meet customers where they're at. We have lots to cover, so let's get started.
The Bottom Line Up Front
Moxtra is a one-stop client hub accessible on mobile. It allows your collaborative business to meet clients where they are. It combines the features of several apps into one to streamline multi-step client interactions while keeping them engaged.
At the same time, Moxtra acts as a business management tool for you and your team. For instance, you can schedule tasks and meetings, measure performance, and automate workflows.
What's Moxtra?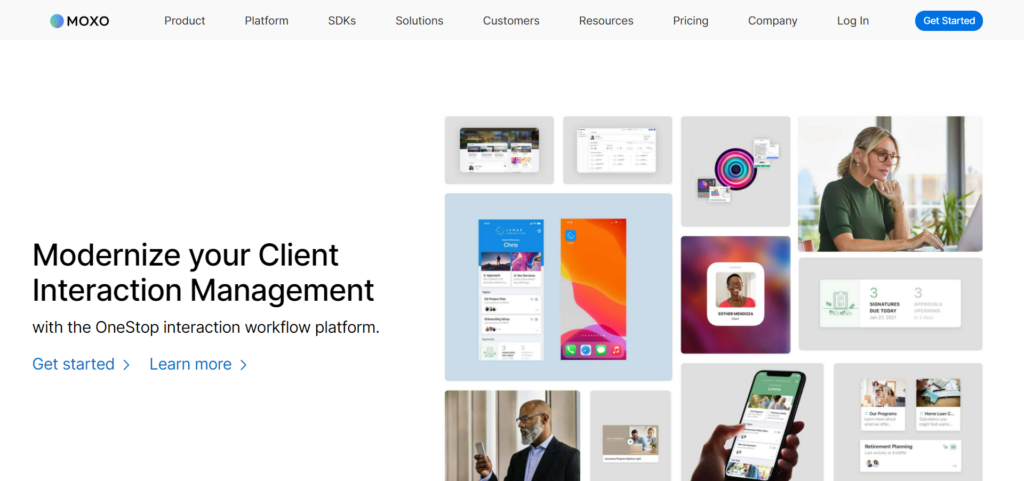 According to research, 42% of small US businesses already offer a mobile app to streamline and improve their customer service and/or payment process. However, many firms provide multiple apps that do the same thing and often use a variety of disparate channels to provide services to their customers.
This is where Moxtra can help. It offers a one-stop app that allows client-focused businesses to better connect with consumers through engaging content and real-time communication. In addition, the app facilitates end-to-end client collaboration via its easy-to-navigate UI (including interactive meetings and media sharing).
Moxtra is suitable for businesses of all sizes. However, as we've already said, it's mainly aimed at client-focused companies with lots of client touch-points. Moxtra supports Android and iOS devices. You can view Moxtra via a desktop but only through specific web browsers – its full functionality is reserved for mobile devices.
Where Moxtra Stands Out
According to Moxtra's head of marketing, Leena Ivar, Moxtra believes that a successful mobile application strategy has three parts. Arguably, it's this that makes Moxtra stand out from its competitors:
Brand application:

Moxtra believes your company needs a fully branded app. I.e., your mobile app must reflect your brand and business personality…not theirs.

A

one-stop destination for clients:

Moxtra provides the tools to ensure your app offers a one-stop-shop for clients, focusing on ease of use. This equips clients with everything they need to do business with you from the convenience of one place.

On-demand assistance:

Clients want to be able to reach you when they need you. This could be to update you on business matters, talk through an issue, or simply maintain a good business relationship. Providing an app that allows clients to engage and contact you in real-time is essential.
Moxtra's Features: A One-Stop-Hub for Client Interactions
This section explores Moxtra's key features and establishes how it could help you consolidate and streamline client collaborations. In a nutshell, Moxtra offers excellent, easy-to-use collaboration features with the mobile user in mind. The app acts as a hub where information can be stored, shared, and organized into projects so that everyone can remain updated from the convenience of one place.
It saves lots of time, expense, and the tedium of switching between apps to access different functionalities.
All of the below is accessible from one app, making operations easier for both you and your clients:
Sales assistance:

The software automatically reminds you when a task is due, when to prepare for reviews and approvals, and when to expect transactions. So, you'll never miss a deadline. Basic transactions are also automated, so you don't have to send invoices or payment requests manually.

Secure messaging:

You can send and receive voice, video, or text messages via their secure messaging center. More specifically, where cybersecurity is concerned, you can set granular access controls, review audit logs and benefit from bank-grade security and compliance.

Digital signatures:

Through the app, you can share contracts, documents, and necessary paperwork. These documents can then be signed and returned digitally, allowing for streamlined, secure service.

Task management

: Projects and teams can be organized into a binder that includes a complete history of conversations, content, annotations, and tasks. You can also manage and create schedules that allow detailed project and progress tracking. These can also include to-do lists and designated binders.

Workflows:

Moxtra's workflow builder allows you to automate routine tasks. For example, approval and review processes, onboarding, payment reminders, etc. Needless to say, this could save you and your team tons of time.

Visuals:

You can easily annotate files with illustrative visuals, audio recordings, and video annotations and then share all files securely via the app.

Screensharing

: To maintain effective communication, Moxtra facilitates screen sharing, co-browsing, and even a virtual whiteboard for a more synchronized experience for your team and clients.

Video meetings

: Host and attend real-time video meetings that you can record for future reference.

Hands-free recording:

Record video screen clippings using your voice to quickly explain something on your screen. This hands-free feature allows you to comment and edit easily and gives you the option to share these clips with your team. This is also a great feature in terms of accessibility and inclusion, as it provides both clients and team members with a hands-free recording, commenting, editing, and sharing system.

Virtual data rooms:

Maintain, organize, and categorize all files shared virtually.

Status updates and notifications:

You can receive notifications when a deadline is approaching, payment is sent, when feedback is provided, etc.

Coworker Status:

See at a glance which coworkers are online and ready to engage with customers. All conversations across the app are automatically synced so that team members have access to the most up-to-date info on client conversations.

Calendar:

Maintain a calendar within your app where your team's deadlines, appointments, meetings, and other important dates are recorded.

Reporting:

Gain visibility into client accounts, preferences, transaction volume, interaction history, etc. You can also assess staff performance regarding your business goals and send out client surveys to request feedback.
Integrations
Moxtra integrates with the following platforms:
iCloud drive

Dropbox

MailChimp

Zapier

Salesforce

Google drive

Box

Formstack

Zoho

Zendesk

Intercom

Evernote

Hubspot

JIRA

PayPal

QuickBooks

GitHub

PivotalTracker
Moxtra Customer Support
There's very little information available on the Moxtra website about the type of support it offers its customers. However, you can contact Moxtra by clicking the "Contact Us" section of the website, and this takes you to their email address, [email protected]. However, we could see no phone or live chat options.
In addition, Moxtra invites customers and interested parties to follow them on LinkedIn, Twitter, Facebook, and Instagram. However, again, we could see no evidence of customer interaction.
That said, Moxtra provides users with an online self-help resource library. Here you'll find a range of guides, articles, and other resources that shed light on how to improve your client interactions and make the most out of Moxtra's tools.
You can also visit the Newsroom, which is essentially a blog full of interesting and valuable articles. Or you can participate in upcoming Events where you can observe discussions with industry professionals and get a chance to chat with the experts.
Pricing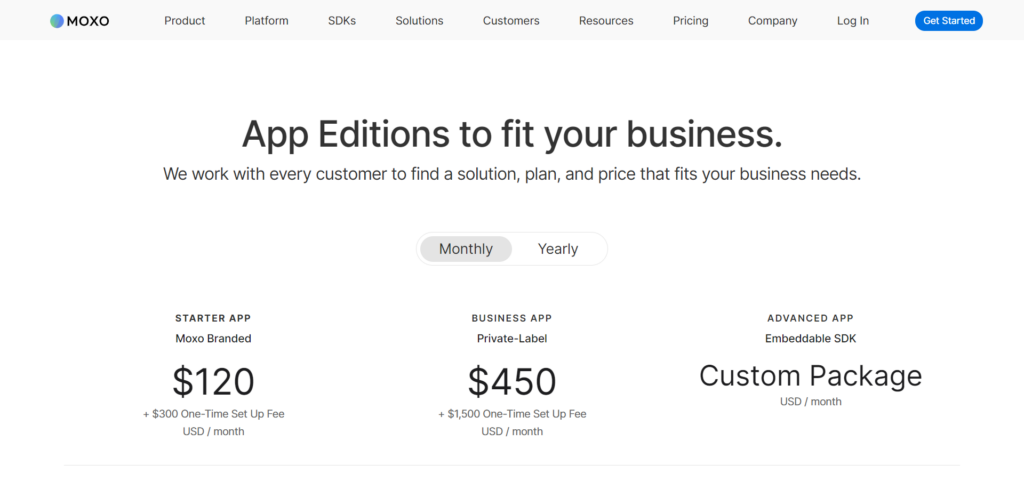 Moxtra has three pricing plans:
Starter

Business

Advanced
Each comes with a monthly and yearly contract price, so you can choose whichever suits your pricing bracket. One of the nice things about Moxtra's pricing is that it isn't set per user, per month, like many of its competitors. Instead, you pay a flat monthly or yearly fee (plus an initial set-up fee).
Let's take a look at each pricing plan in turn:
Starter
This option is suitable for small organizations and includes up to ten users and Moxtra's Branding. This package will set you back:
$120 per month + $300 one-time set-up fee
OR
$1,200 a year + $300 one-time set-up fee.
Features included:
Collaboration tools – including document exchange, video meetings, messaging features, task management, digital signatures, etc.

You can set up basic (i.e., non-customizable) customer interaction workflows.
Business
This is a more scalable solution suitable for organizations of all sizes. In addition, you can register up to 50 users.
This plan costs:
$450 per month + $1,500 one-time set-up fee.
OR
$4,800 a year + $1,500 USD one-time set-up fee.
Features include everything in the Starter plan, plus:
Scalable user-based capacity

Integrations (CRM connectors, Zapier, and more)

Reporting and audit trails on all interactions

Customizable customer interaction workflows
There are also options for on-premises and private cloud solutions with this plan.
Advanced
This requires a custom quote, so you'll need to contact Moxtra's team directly.
Features include everything in the above plans, plus…
SAML (Security Assertion Markup Language)

SSO (Single Sign-On) so users can log into Moxtra without needing to remember or renew their password, type in credentials, or use weak passwords.

API access (Application Programming Interface)

SDK (Software Development Kit) Access.

Social Connectors
Moxtra's Competitors
So now we've finished examining Moxtra under our microscope, let's explore a few Moxtra alternatives to help you decide on the right fit for your business:
Microsoft Teams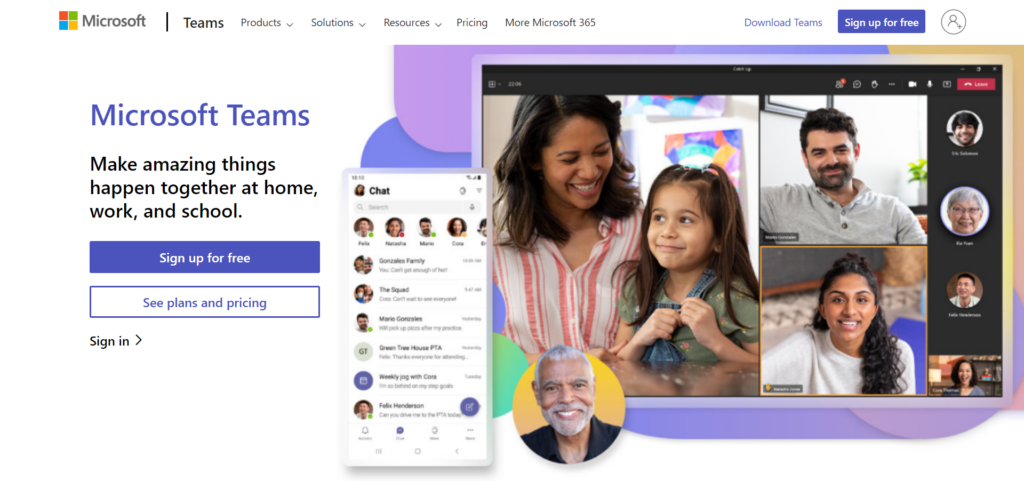 Debatably, this is Moxtra's most serious competitor and one we've all undoubtedly heard of. Microsoft Teams is a chat-based collaboration platform that allows you to host online meetings and share documents.
Here are some of Microsoft Teams' most notable features:
Breakout rooms:

This allows smaller meetings to occur within a larger meeting. Each breakout room benefits from standard meeting features: participant audio, a chat panel, video feeds, and screen sharing capabilities.

Microsoft's whiteboard integration:

Participants can collaborate using a shared, virtual whiteboard in real-time. Here you can add images, diagrams, text, notes, sketches, etc. Thanks to recent updates, an additional 40 whiteboard templates are now available. Plus, you can insert documents and reaction icons and use various inking tool enhancements.

Spotlighting:

Aptly named, this feature enables the host to "spotlight" certain participants so that their video is displayed prominently on the screen, while others are smaller images. However, if your meeting is being recorded, the spotlighted participant's video won't appear as spotlighted in the final recording.

Live transcription:

You can generate a text transcription of recorded meetings once the meetings are over.

Text captioning:

Al-driven text captioning shows what participants are saying in real-time.

Powerpoint sharing:

You can share PowerPoint slides during a meeting.
The list goes on…
Pricing
There are five pricing plans
Free

Microsoft Teams Essentials at $4 per user/per month

Microsoft 365 Business Basic at $6 per user/per month

Microsoft 365 Business Standard at $12.50 per user/per month

Microsoft 365 Business Premium at $22 per user/per month
All are charged on a per-user, per month basis. For more info on what's included with each pricing package, click here.
Who's Microsoft Teams Best for?
Microsoft Teams is available via desktop app, web browser, and mobile app. It's supported on all major operating systems, including Windows, macOS, Android, and iOS.
Microsoft Teams is a good option for those that work predominantly from desktops or laptops. Its suite of features is impressive, and if you opt for one of the higher-priced plans, you get access to Microsoft 365 options too.
Its similarities to Moxtra include its instant messaging and video conferencing features. However, some Microsoft Teams users complain that sharing documents with people outside their organization is quite tricky. Namely, because they need a Microsoft Teams login and license (which is very costly and complicated) to access the file. Furthermore, even when external users have a Microsoft Teams license, they may not have access to the same features. So, again, when it comes to sharing and accessing files, this can cause problems.
Suitedash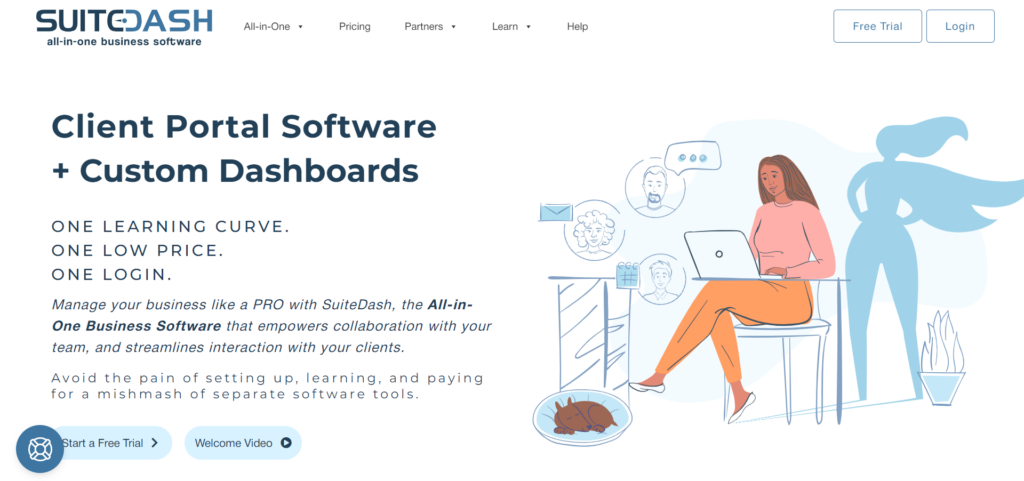 Suitedash provides a somewhat similar client hub function to Moxtra and offers a desktop and mobile-friendly solution for small to medium-sized businesses that integrate with popular platforms like WordPress, Zoom, PayPal, Zapier, and more.
Below we've listed some of Suitedash's most notable features:
Clients and team members can upload and download files.

CRM functionality

You can send payments, invoices, and estimates.

Staff time tracking

Staff time management tools

Schedule staff and client calendars and events

You can set client and team tasks and reminders.

You can send surveys and collect feedback for both clients and team members.

Collaboration tools – for example, live chat with team members and clients throughout projects, Kanban project view, and a project overview on the dashboard.
Marketing – including the ability to send email marketing campaigns

Digital signatures

A white Label mobile app for iOS and Android
Looking more into their mobile app functionality, you can access the following:
A fully branded custom URL:

You can bring clients into a custom portal, complete with a branded URL and a free SSL certificate.

Clients can install the app on their Android and iOS devices

.

A customizable app:

You can match your app to your company branding, including your company name, logo, and color scheme.
Pricing
Suitedash offers three plans:
You can opt for either monthly or yearly billing or a one-off fee for each plan for lifetime access. There's also a 14-day free trial, and like Moxtra, Suitedash doesn't base its pricing on a per-user basis.
Prices for each plan are as follows:
Start
$19 per month

$180 per year

$720 for life
Thrive
$49 per month

$480 per year

$1,920 for life
Pinnacle
$99 per month

$960 per year

$3,840 for life
For more info on what you get with each pricing plan, click here.
Who's Suitedash Best for?
Like Moxtra, Suitedash offers businesses a client portal and a mobile app. That said, Suitedash is best suited to startups and medium-sized companies looking for a low-priced value-for-money solution. In contrast, for those who really want to stand out with a mobile-friendly app, Moxtra has the edge.
Quip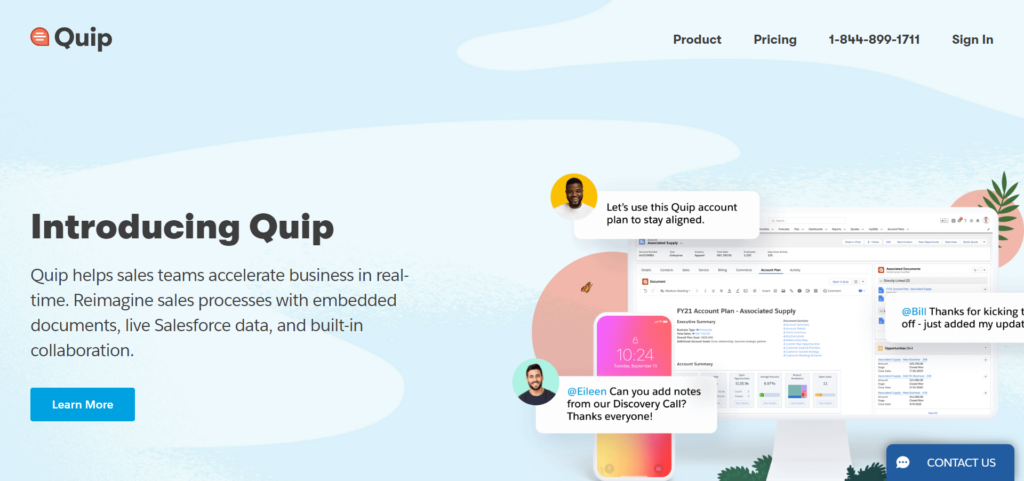 Quip is another team collaboration solution. Salesforce created it to allow Salesforce customers to combine documents, spreadsheets, and chat in one place. Quip provides teams with everything they need to communicate on projects and tasks in real-time in one place.
For example, it's easy for users to track document changes and add annotations to documents and spreadsheets. Additionally, finished tasks can be ticked off checklists to help keep your team up to date.
Some of Quip's most notable features include:
CRM data can be embedded into documents and spreadsheets

You can comment, edit, and share files in real-time

Via the mobile app, you can access all your documents on the go, even when you're offline.
Pricing
Quip has three pricing plans:
Quip Starter

Quip Plus

Quip Advanced
The Quip Starter Plan comes with a free trial. However, if you're interested in either of the other two plans, you need to contact their sales team directly.
Prices are as follows:
Quip Starter costs $10 per user/per month if you pay annually, or $12 per user per month otherwise

Quip Plus can only be paid for annually and costs $25 per user per month

Quip Advance can only be paid for annually and costs $100 per user per month
For more information on what you get with each pricing plan, click here.
Who's Quip Best for?
Quip is a good option for businesses looking for a tool that focuses on document and spreadsheet sharing and collaboration – online and offline. Its main difference from Moxtra is that it allows version control when editing documents, which isn't something Moxtra offers.
FAQs
Question: What Languages does Moxtra Support?
Answer: You can set your preferred language from the following options:
• English
• French
• German
• Italian
• Japanese
• Korean
• Portuguese
• Spanish
• Bosnian
• Bulgarian
• Suomi
• Indonesian
• Croatian
• Hungarian
• Dutch
• Romania
• Russian
• Chinese simplified
• Chinese traditional
Question: Can you Change Your Status on the App, for Example, to 'Away'?
Answer: Absolutely, you can change your status by selecting "view profile" and toggling the out-of-office switch. You can even set a date and time range for when you're away. Then click "save."
Question: Can I Access Moxtra on a Desktop?
Answer: Yes, though Moxtra is mobile-first, you can access Moxta via supported web browsers; these include:
• Chrome 72+
• Firefox 59+
• Microsoft Edge (Chromium) 80+
• Safari 12.2+
• IE 11+
Question: What Mobile Devices does Moxtra Support?
Answer: Moxtra is suitable for Android, iPhones (iOS), and iPads.
Is Moxtra The Right Choice for You?
Ultimately, Moxtra wants to enable businesses to reach clients where they are- which is on their mobile devices. Research shows that 88% of mobile time is spent on apps- that's a massive chunk of time! This being the case, businesses with an accessible, sleek, and professional app that facilitates seamless communication between team members and clients are essential.
Of course, there are many platforms out there that offer collaborative features. However, few have nailed the exclusive mobile-friendly strategy that Moxtra provides. So, there you have it; we're at the end of our Moxtra review – Is Moxtra for you? Only you can decide. Let us know which way you're swaying in the comments box below!