Last Updated on April 22, 2023 by Ewen Finser
If you want to sell products online, you may be looking to build a website. There are tons of website-building platforms out there, all offering different features. Webflow vs ClickFunnels are two great choices, but they are very different from each other, so which one you go for will depend on what you're looking to sell.
I've tried many web-building platforms in my time, and I can tell you that getting the right one will save you a lot of headaches. There's nothing worse than wasting precious time trying to deal with a cluttered, unfriendly interface or working out a software problem with little tech experience.
Luckily, both Webflow vs ClickFunnels are pretty user-friendly. I've tested each one, so you can see for yourself which one you prefer. If you're in a rush, check out the next section for the bottom line up front. If not, keep reading to find out more about how each one works!
The Bottom Line Up Front
It's hard to choose because they're so different, but my preferred platform in terms of user-friendliness has to be Webflow. It's the more creative platform, and it allows for greater customization while still being pretty beginner-friendly. It has some excellent tools for content-driven sites, too.
Having said that, ClickFunnels is great. If you're selling one or two digital products, for example, and you want to build a landing page with excellent funnels behind it, it's well worth checking out.
Main Differences Between Webflow vs ClickFunnels
The main differences between Webflow vs ClickFunnels are:
Webflow offers more advanced customization, whereas ClickFunnel's web builder is pretty simple
Webflow doesn't have as many marketing tools, whereas ClickFunnels has some great marketing tools like upselling and abandoned cart recovery.
Webflow allows you to design custom animations, whereas ClickFunnels doesn't
Webflow has some good CMS tools, whereas ClickFunnels isn't suited for content-driven sites.
Webflow has a few workflows, whereas ClickFunnels has a ton of powerful funnels to choose from
Webflow doesn't have affiliate marketing tools, whereas ClickFunnels does
What is Webflow?
Webflow is an easy-to-use web builder that allows users to build membership sites, eCommerce stores, blogs, and websites. It's highly customizable and will enable users to create custom animations.
I'd recommend Webflow for anyone looking to build a website, mainly a content-driven site.
What is ClickFunnels?
ClickFunnels is a sales funnel and website builder. It's easy to use and beginner-friendly, and has some great templates for improving conversion rates.
ClickFunnels is ideal for any sized business but is particularly good for beginners and smaller companies.
The Main Features of Webflow
Let's take a look at how Webflow works.
UX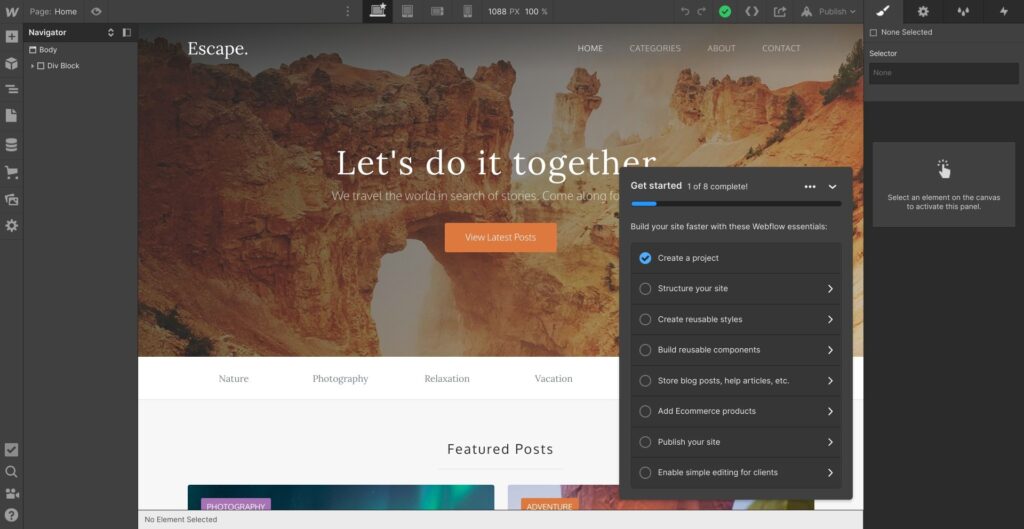 I like the interface of Webflow. It's intuitive and feels easy to navigate. Everything you need is on the left-hand side, and some tutorials will pop up when you first sign up, so you can quickly figure out the basics.
Web Builder
The templates included in Webflow are very good. There are some free templates, but the more stylish-looking templates can cost upwards of $80. Having said that, the free templates do look good, and they're customizable.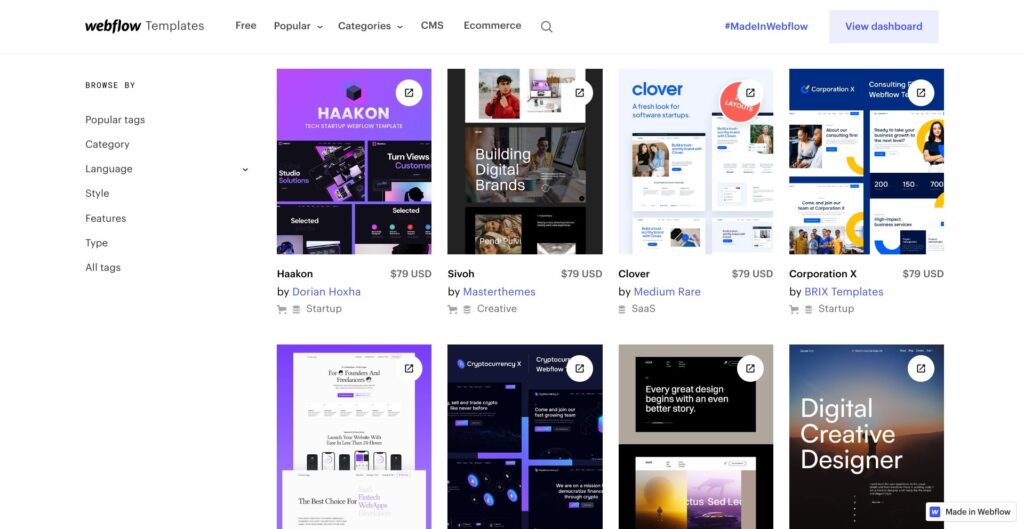 There is a range of template categories to choose from, including the following:
Design
Business
Technology
Blog
Marketing
Photography & Video
Entertainment
Food & Drink
Travel
Education
Sports
Medical
Nonprofit
Beauty & Wellness
Fashion
Moving onto the drag-and-drop website builder. It's pretty straightforward. You can build a website structure using layout blocks (grids, columns, containers, sections, and so on). Then you can fill those blocks with content, like images, text, headings, video, eCommerce elements, and social media elements.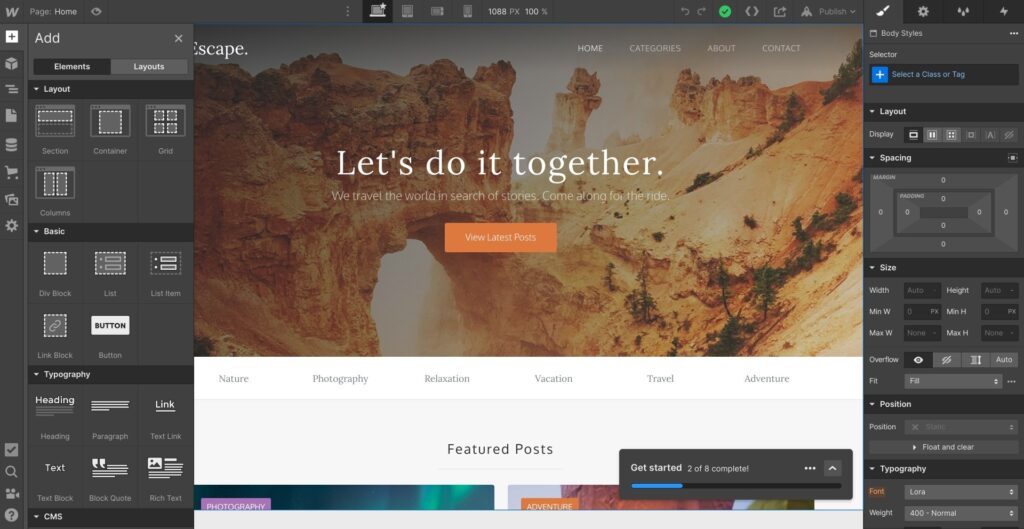 Each section can be customized, so you can spend a long time playing around with your website until you're 100% happy with it. Then, at any stage, you can get a preview of what your website will look like on different devices. Overall, it's a good website builder: it has a decent balance of ease of use and depth of customization.
I also like that you can make custom animations in Webflow. If you can visualize it, chances are you may be able to build it with Webflow (if you're willing to put the work in to learn, of course). It's a nice extra feature, which you can ignore if you're a beginner, but it may be appreciated by more advanced users.
eCommerce
Let's talk about eCommerce features. Customers can pay using Stripe, Apple Pay, Google Pay, and PayPal.
Custom checkout flows allow you to set up specific processes to trigger at key points, for example, automatically sending out an email to your customers when an order is made without having to set this up with your email marketing service.
You can make product variants, too. I will say that I think Webflow is better suited to those selling a few products, rather than those with a massive, varied inventory. There are other services out there (for example, Shopify) that make inventory management a little easier, whereas Webflow works for a broader range of websites, rather than just being a straightforward eCommerce platform.
If you like, you can create a membership site with Webflow. This allows you to lock content behind price tiers, giving paid customers access using a password or similar.
CMS Tools
One strength of Webflow is the CMS tools. If you need to manage content, this is the platform to go for. You can invite guests in, allow users to create accounts, and give some people editing access. It also just makes sense: for example, if you change the title of a blog post, it will update across the whole website, making site-wide changes less of a hassle.
Analytics
There's not much to say in terms of analytics. Webflow relies on Google Analytics to provide data. As a result, it's not as in-depth as other platforms out there, but the good news is, it's easy to get started with Google Analytics.
The Main Features of ClickFunnels
ClickFunnels is pretty different from Webflow. Let's check out the main features:
UX
I like the user experience of ClickFunnels. It's super easy to navigate, and the web builder itself is easy to use. In addition, I like the clean, bright interface, and it's not cluttered, which makes it nicer to use.
Page Builder
The page builder is pretty good. You can rearrange elements on a page and add new ones (including buttons, text boxes, headings, bullet point lists, social media features, and so on).
You can create forms, too, which is suitable for capturing data (and this will be handy when you take into account the funnel builder, but more on that in a moment).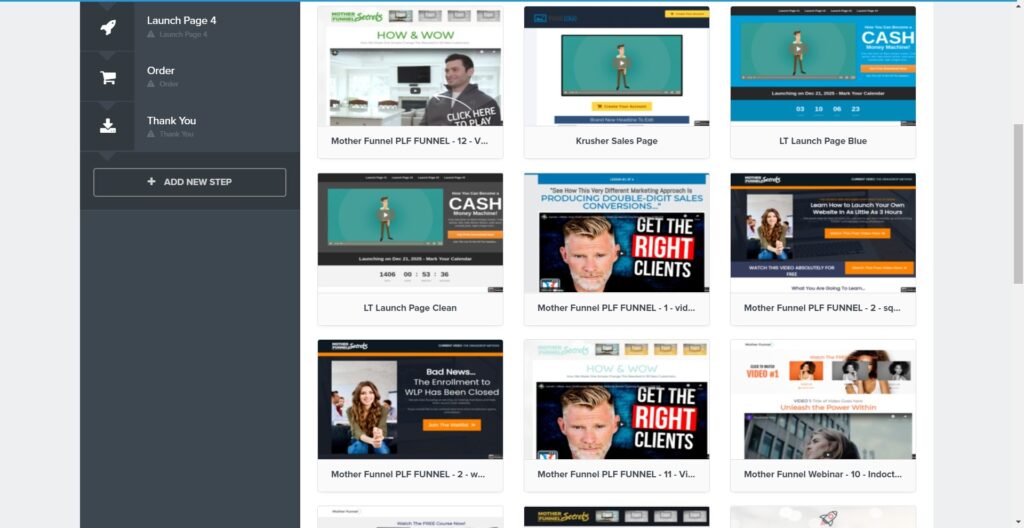 It's pretty easy to use. For beginners, it's great. However, you won't get the same level of customization as you will get with Webflow. The templates are good, but they all look pretty similar. If you want a basic landing page for a digital product, it works incredibly well. If you want something more creative, you'd be better off looking at Webflow.
eCommerce
The cart provided with ClickFunnels is powerful and secure. The checkout pages are easy to set up, too. It is compatible with PayPal and Stripe. There are fewer options for your customers to choose from than Webflow, which is a downside, but having PayPal as a choice is great in terms of fast checkout times.
Marketing Tools
One thing that sets ClickFunnels apart from Webflow is the marketing tools. You can make it super easy for customers to add items to their cart, for example. You can also add discount codes and coupons, and set up an abandoned cart workflow, which automatically emails customers to remind them to check out.
Funnels
Speaking of workflows, there are some powerful options available with ClickFunnels. If you're entirely new to building funnels, you can use one of their templates. These are well-designed and easy to set up.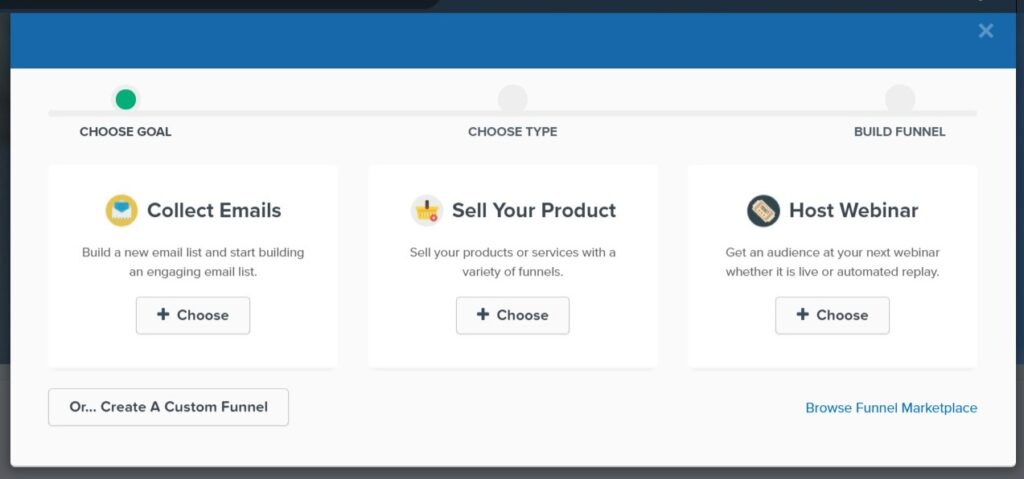 The basic process of building a funnel is as the picture above states: first, you choose a goal, then you choose a product type, and then you build the funnel. The three basic templates are Collect Emails, Sell Your Product, and Host Webinar. If none of these options suit you, or they're not quite right, you can edit them or build your own from scratch.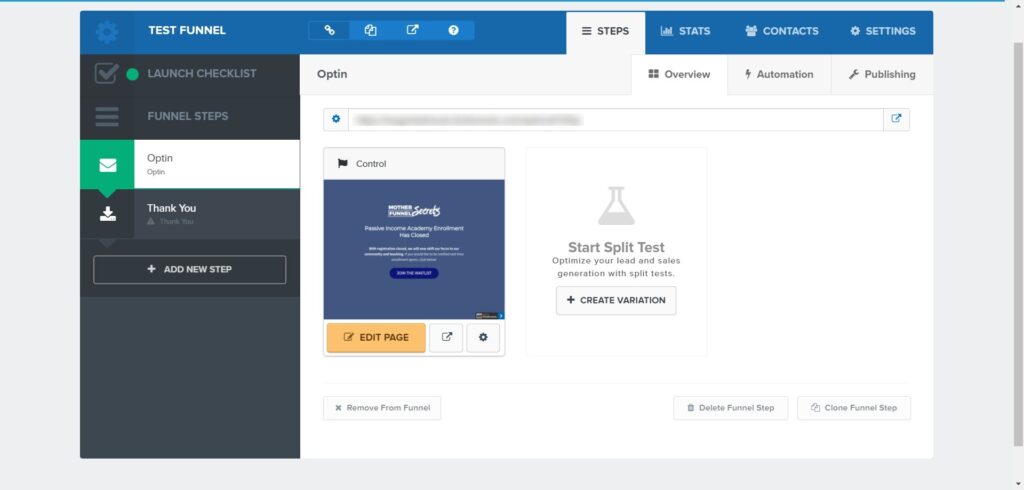 I've used a few funnel builders before and they can be pretty complicated. ClickFunnels is one of the easier platforms I've used. It's not too daunting for beginners. They have many funnel templates to choose from, ranging in price from free to hundreds of dollars. Some of the more expensive funnels are powerful, but they may be out of your range if you're just starting.
Affiliates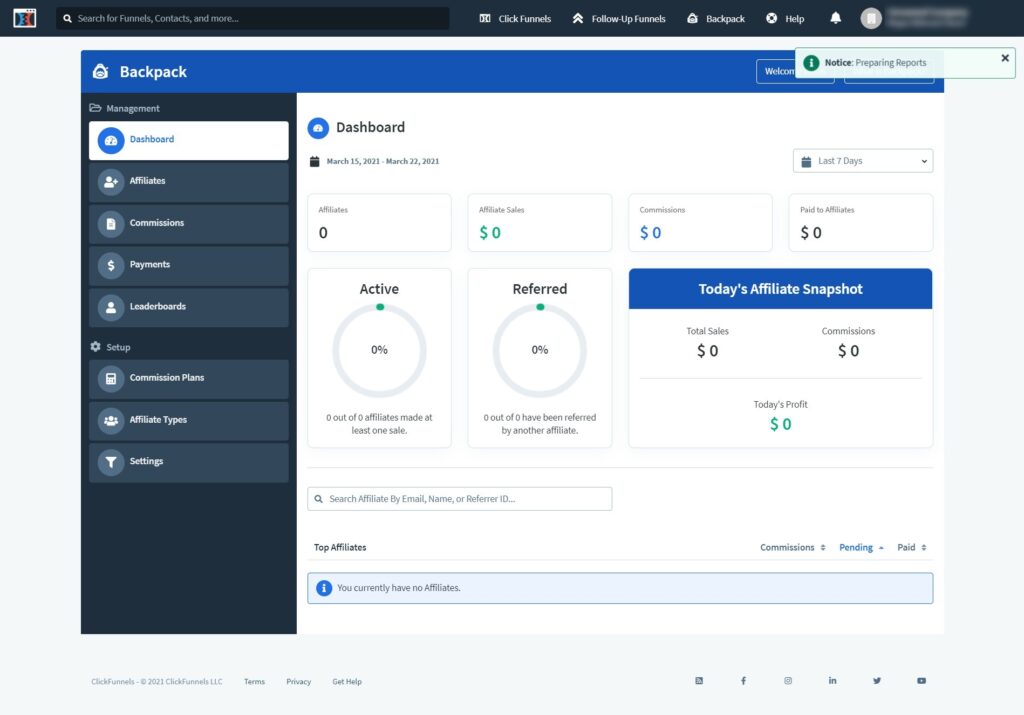 One more feature I want to talk about is affiliate marketing. If you want to set up affiliates, you'll want to go for ClickFunnels over Webflow.
Then, you can manage their performance, edit discounts and products, and so on. The home screen will give you a quick view of total sales, commissions, and profit, and the Affiliate Leaderboard will help you to see which affiliates are performing best.
Webflow vs ClickFunnels – Integrations
Let's check out the integrations on offer with Webflow and ClickFunnels:
Webflow
Webflow has some good integrations, including the following:
Zapier
Shopify
Twitter
Instagram
Facebook
Gmail
ClickFunnels
Now, let's take a look at the integrations for ClickFunnels:
ActiveCampaign
Aweber
Constant Contact
ConvertKit
Drip
GetResponse
MailChimp
Ontraport
Salesforce
Sendlane
Shopify
Webflow vs ClickFunnels – Customer Support
How do they compare in terms of customer support and tutorials for new users?
Webflow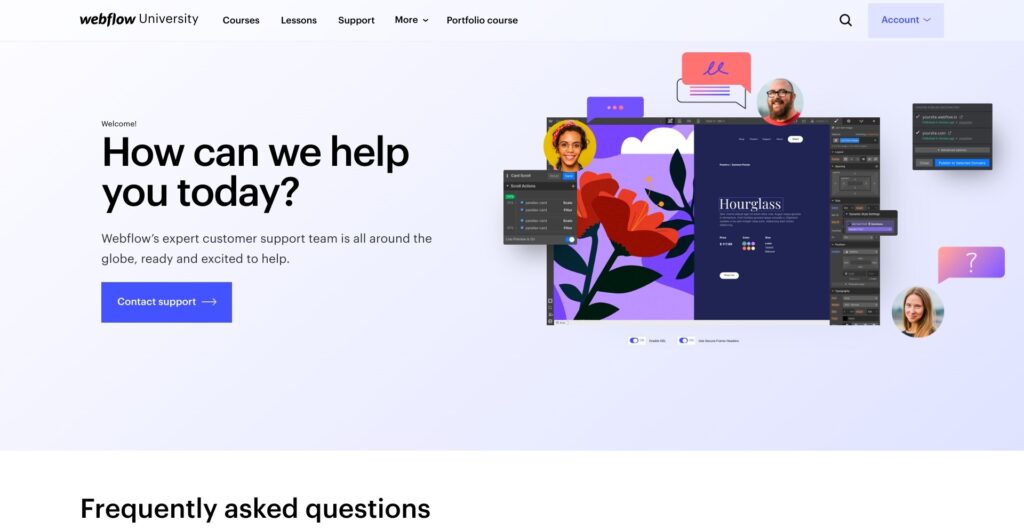 Webflow University is excellent for new users. However, if you're looking at the platform feeling a little overwhelmed, you can use their step-by-step guides to help you to navigate it. The customer support is good, too. Their support team can be reached by email, and they're pretty fast in terms of response time. The user forum is helpful, too.
ClickFunnels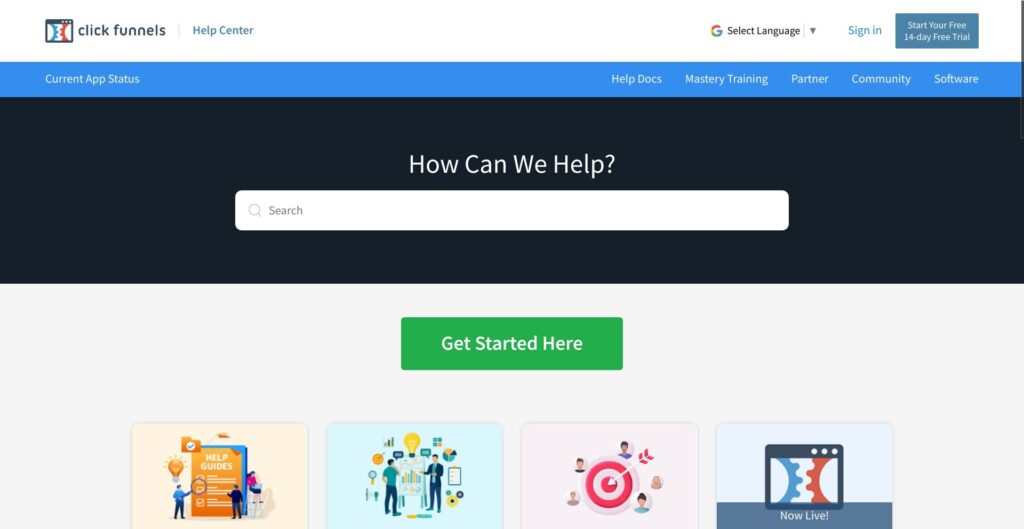 The knowledge base for ClickFunnels is good, and it's packed with tutorials for new users. The help articles are good, and the online community is great, too. ClickFunnels uses a ticketing system for support. As a result, they're pretty quick at responding.
Pricing
So, how do they compare in terms of pricing?
Webflow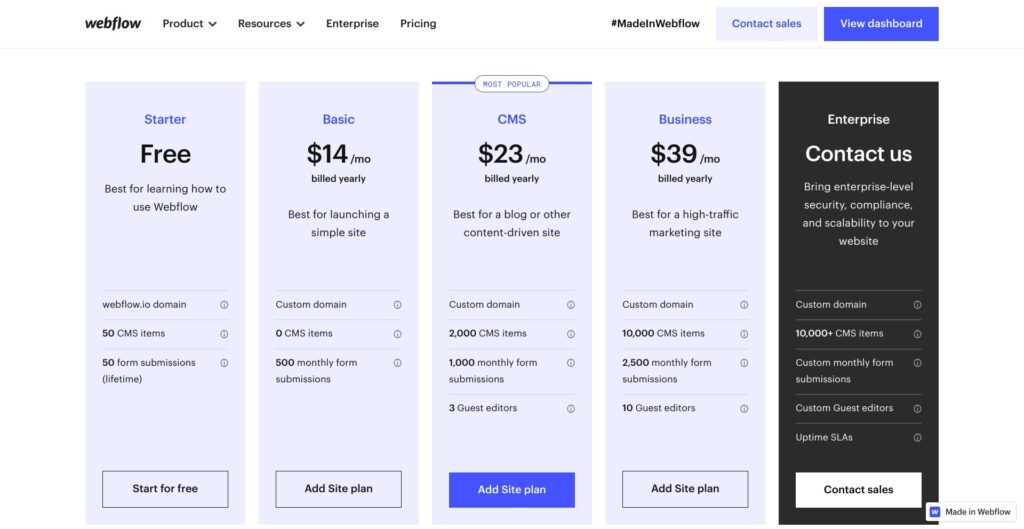 There are five price plans on Webflow:
Starter – $0 per month
Webflow.io domain
50 CMS items
50 form submissions
Basic – from $14 per month
Custom domain
0 CMS items
500 monthly form submissions
CMS – from $23 per month
Custom domain
2,000 CMS items
1,000 monthly form submissions
3 guest editors
Business – from $39 per month
Custom domain
10,000 CMS items
2,500 monthly form submissions
10 guest editors
Enterprise – Price on request
Custom domain
10,000+ CMS items
Custom monthly form submissions
Custom guest editors
Uptime SLAs
I like the choices on offer here, particularly for their CMS features. You can find out on their pricing page.
ClickFunnels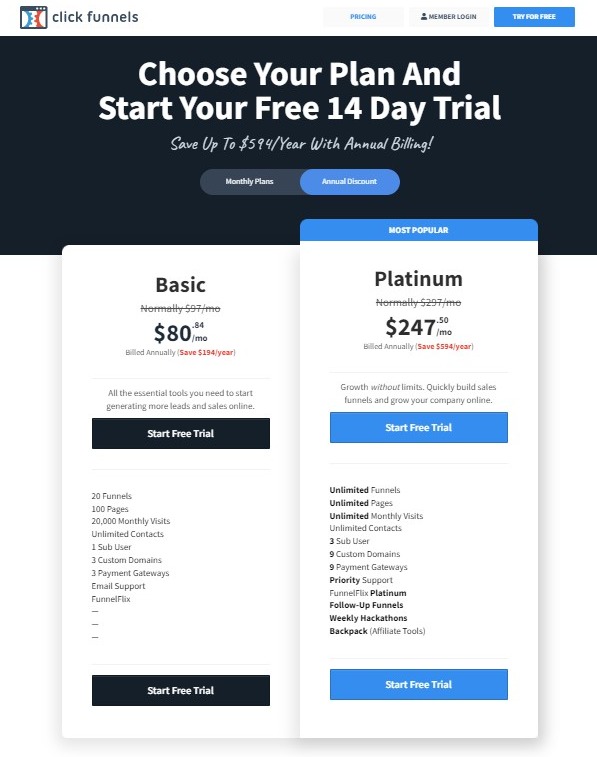 There is two price tiers on ClickFunnels.
ClickFunnels – $97 per month
This is their basic plan, which includes:
20 Funnels
100 Pages
1 S the followingub User
3 Payment Gateways
ClickFunnels Platinum – $297 per month
This is better for larger businesses, and it includes:
Unlimited Funnels
Unlimited Pages
3 Sub Users
9 Payment Gateways
Unlimited Follow Up Funnels
Comparing the pricing to Webflow is tricky as they're so different, but I do think ClickFunnels is decently priced for the features you get. You can find out more on their pricing page (and give their free trial a go).
Webflow vs ClickFunnels – Pros and Cons
Here are the highlights of each platform, as well as some features that could be improved.
Webflow Pros
Good UI
Easy-to-use web builder
Very customizable
Good CMS features
Lots of price options are available
Webflow Cons
Lacks the powerful funnels that you can enjoy on ClickFunnels
ClickFunnels Pros
Clean, uncluttered UI
Web builder is easy to use
Powerful funnels available
Good for affiliate marketing
Decent range of marketing tools
ClickFunnels Cons
Not as customizable as Webflow
Webflow vs ClickFunnels – Alternatives To Try
If you don't want to try either of these, there are some alternatives out there that I would recommend:
Cartflows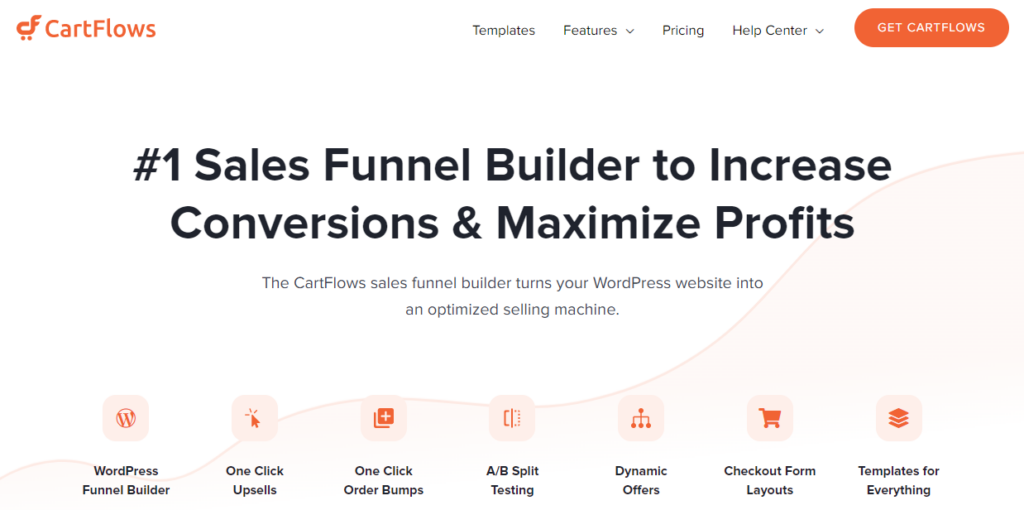 Cartflows can transform your WordPress site into a store. It's pretty popular with WordPress users and offers some excellent marketing tools and analytics. You can read more about it in our Cartflows vs ThriveCart comparison.
SamCart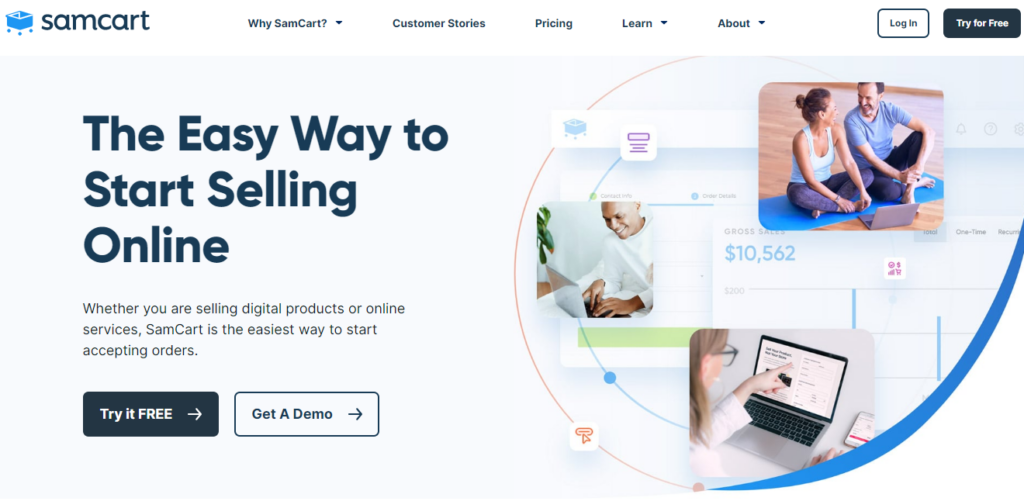 SamCart is another good choice, allowing you to create enticing landing pages. It has some robust marketing features too. You can read more about it in our SamCart vs Leadpages comparison.
Kartra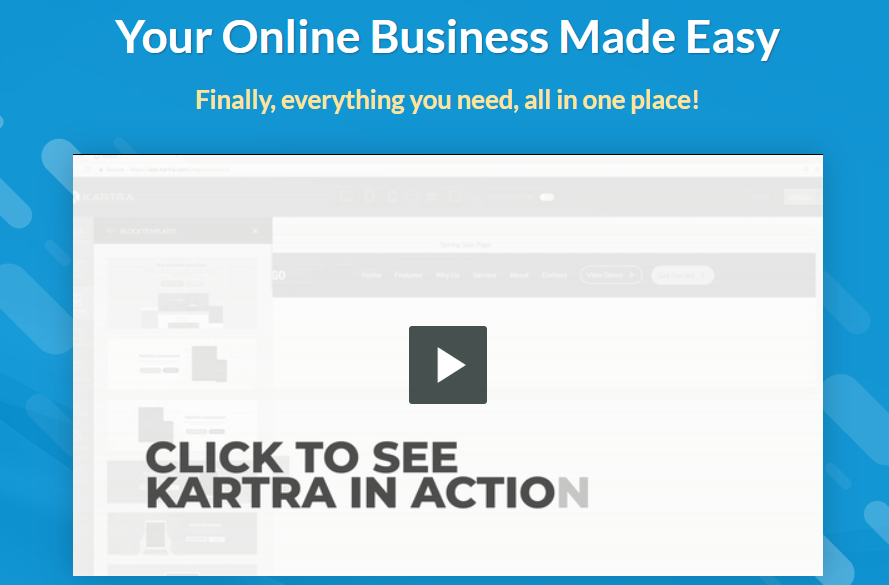 Kartra is a popular platform, and it's easy to use for beginners. It has some excellent tools, and it's a pretty intuitive platform. You can read more about it in our SamCart vs Kartra comparison.
FAQs
Question: First, do Webflow and ClickFunnels have a mobile app?
Answer: ClickFunnels has an app called 'ClickFunnels Stats' which gives you a quick overview of how your business is performing but doesn't allow you to make any changes. Webflow has a mobile app that will enable you to build and edit pages on the go. Both are available for iOS and Android.
Question: Can I cancel ClickFunnels or Webflow easily?
Answer: Yes, you can easily cancel both, and you can do so during your free trial period without being charged.
Question: Can I have different currencies on the same page in Webflow or ClickFunnels?
Answer: At the time of writing, Webflow and ClickFunnels only support one currency at a time.
To Sum Up …
I do think that both Webflow and ClickFunnels are great, just for very different reasons. If you want customization, you have a lot of content to publish, or you want to build a membership site, it's worth checking out Webflow. It gives you a ton of options to get creative, but it also feels intuitive even if you've never used a website builder before.
However! Don't write off ClickFunnels just yet.
If you've got a product (for example, a digital product) to sell, and you really want to build the most effective landing page possible, ClickFunnels will help you by giving you access to some powerful funnels that will make upselling and abandoned cart recovery much easier.
ClickFunnels is great if you want to get into affiliate marketing, too. I hope this has helped you to figure out which one works best for your business!