Last Updated on April 22, 2023 by Ewen Finser
Web development evolution is fascinating. In the past, you needed to be a coding guru to build a website. Then platforms like WordPress made it possible for anyone with basic technical skills to create a website. Now, we're in the era of website builders. These platforms enable you to create a website without any coding whatsoever.
Zyro sits on the cutting edge of this website builder evolution. It incorporates artificial intelligence with drag-and-drop functionality to make website creation easy for everyone. Unlike other builders like Wix, the Zyro platform hasn't been in the market for long, but it's already making waves. The platform has excellent ratings and user reviews, with most people lauding its ease of use. But does it live up to the hype?
In this Zyro website builder review and guide, I'll take an in-depth look at the features and functionality of the platform. I'll also provide a detailed guide on how to use Zyro to create your website.
Bottom Line Up Front
Zyro offers a DIY website builder with features and tools, perfect for small businesses and individuals. The platform is easy to use, with a drag-and-drop editor and an AI assistant to help you create a professional website in minutes. However, Zyro isn't as flexible as some other website builders on the market. While it lacks a free plan, it offers a 30-day money-back guarantee for all its plans.
A Quick Overview Of The Zyro Website Builder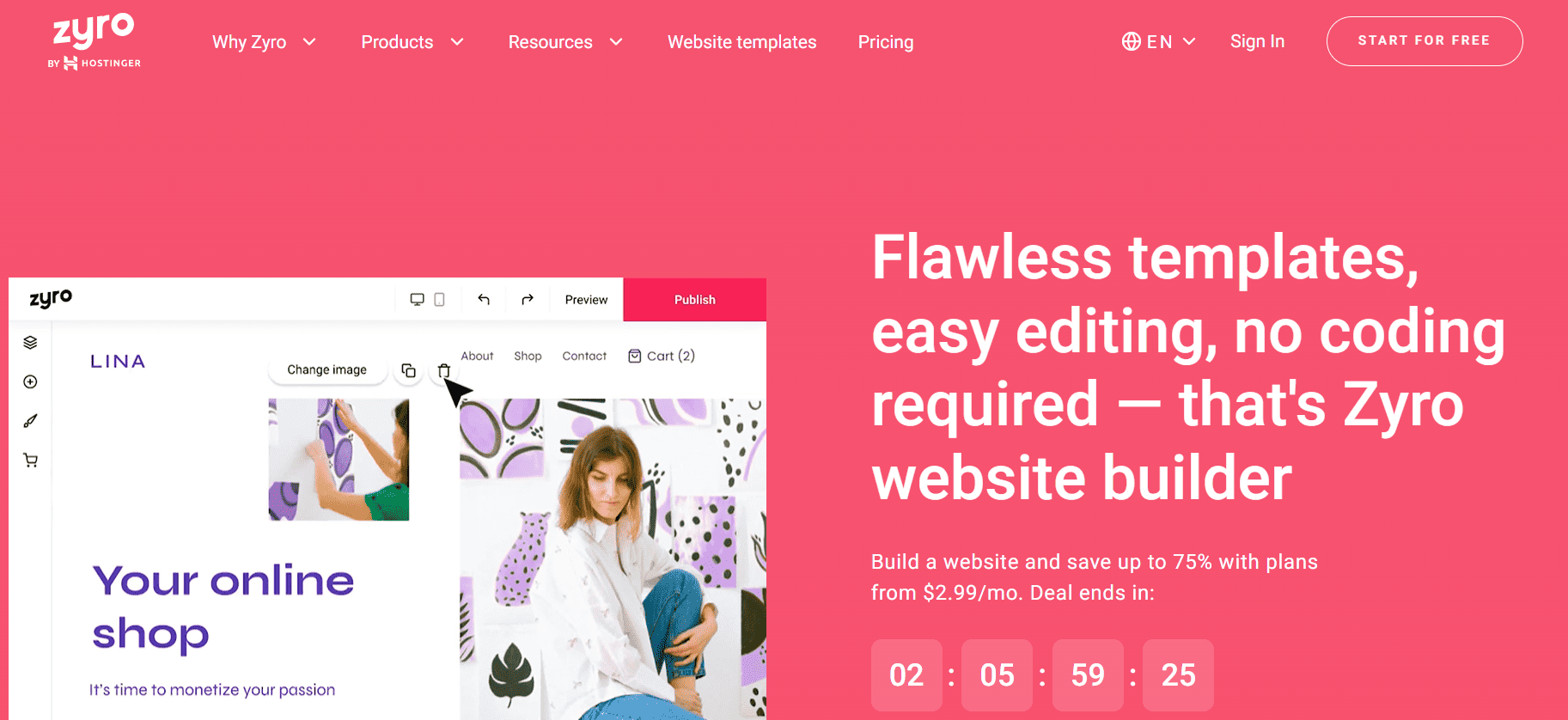 Zyro is a website builder that enables users to create and design a website without prior coding knowledge. The platform offers exciting features with a simple drag-and-drop interface. It's a complete website builder solution that covers everything from web hosting and domain name registration to website design and e-commerce.
While it's not as feature-rich as some other website builders on the market, Zyro offers everything that most small businesses and entrepreneurs need to create a professional website. Among the many features that make it a top-tier web builder for small businesses include the following:
Lightweight templates for fast loading times

AI tools that help improve the functionality of the website

A/B Testing to help improve website conversions

Out-of-the-box SEO tools

Social media integration

Integrated e-commerce features
Zyro's drag-and-drop editor offers the WYSIWYG (what you see is what you get) interface that's become the standard for website builders. Users can edit directly on the page and see their changes in real time. Although some other platforms offer the same interface, Zyro's editor comes with a grid overlay that makes it easy to align elements on the page.
What separates Zyro from other website builders is their use of artificial intelligence (AI) in the platform. Users can access an AI heatmap that shows how people interact with the website. The heatmap provides valuable insights on where to place call-to-action buttons or other vital elements on the page. Zyro also offers an AI writer that can automatically generate content for the website.
Zyro's Pros and Cons
Below are some pros and cons I've compiled based on my experience with Zyro:
Pros
Excellent page loading speeds

Free SSL certificate included

User-friendly interface and drag-and-drop builder

Artificial intelligence features

Quick and straightforward signup process

30-day money-back guarantee

Excellent customer support

Unlimited bandwidth and storage in all plans
Cons
Zyro relies on Hostinger for website hosting. If you don't like Hostinger for some reason, you're stuck with them.

The platform doesn't have as many features as other website builders on the market.

You can't take your content to WordPress, an open platform. You're locked into Zyro.

Zyro lacks the flexibility of a custom-built website
In-Depth Overview of Zyro's Features and Functions
Zyro offers an impressive set of features, even for a website builder that's new to the market. In this section of our Zyro review and guide, we'll take an in-depth look at each feature.
1. Ecommerce Features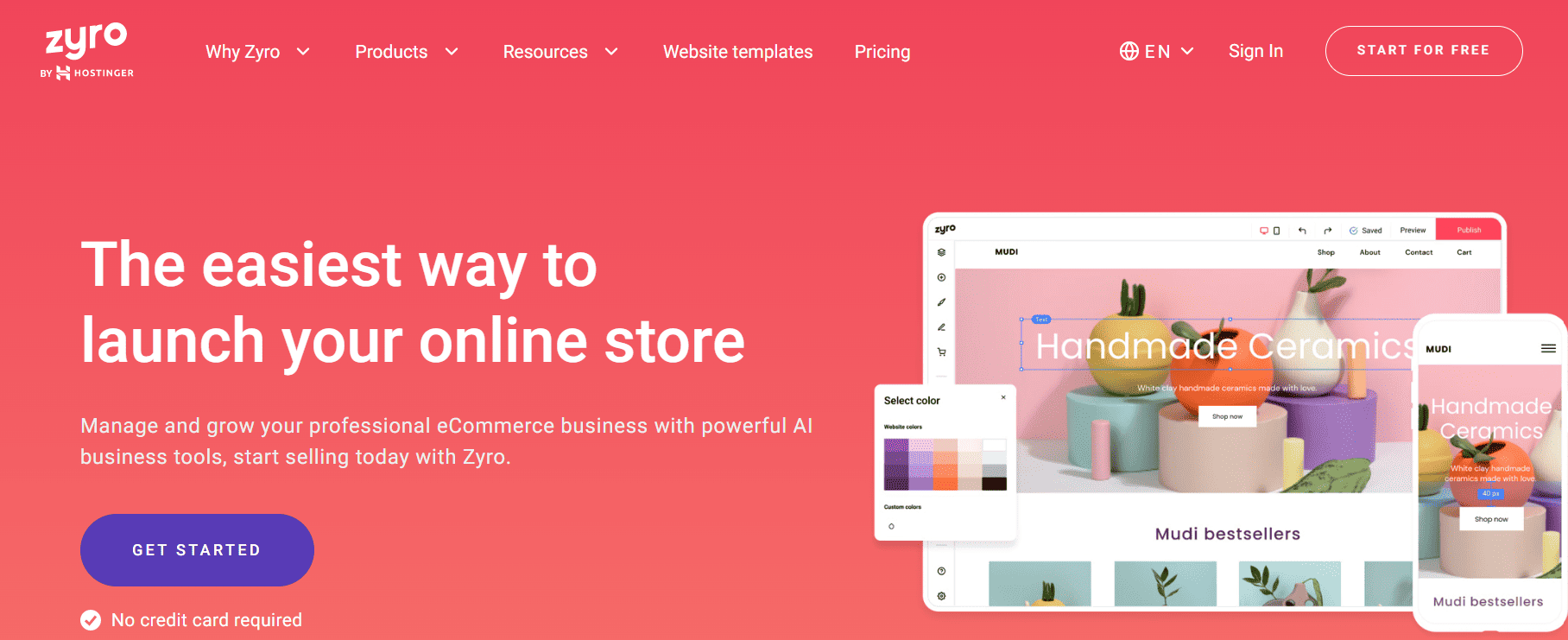 E-commerce is a big part of the Zyro platform. The builder offers all the features that small businesses need to create and manage an online store. Through the catalog manager, businesses can add unlimited products and product categories. The product page builder lets you easily design professional product pages with the option to include high-resolution images, videos, and product descriptions.
Accepting payments on Zyro is easy with the integrated payment gateway. The platform supports all major credit cards and payment processors, such as PayPal and Stripe. Zyro also offers an integrated shipping solution that lets businesses offer multiple shipping options to their customers.
While you can't sell paid subscriptions or memberships on Zyro, soon, users will be able to book appointments and take reservations directly on the website.
Other e-commerce marketing features offered by Zyro include the following:
Abandoned cart recovery

Product filters

Storefront customization

All-in-one marketing features, i.e., discount coupons, Facebook Ads, gift cards, and Google shopping.
2. Drag and Drop Editor
The simplicity of the drag-and-drop editor is one of the most significant selling points of Zyro. The platform's WYSIWYG editor makes adding, editing, and deleting elements like titles, text, images, and videos on the web page a breeze. The Zyro editor also comes with an overlay grid that makes it easy to align elements, reposition them, or change their order for a balanced layout.
The menu bar is on the left side of the screen, giving you access to all the elements you can add to your web page. You'll find tabs for pages and navigation, add elements, website style, blog, online store, and AI tools.
Overall, the editor is very intuitive and easy to use. The only downside is that it doesn't offer as much flexibility as other platforms we've reviewed.
3. Artificial Intelligence Tools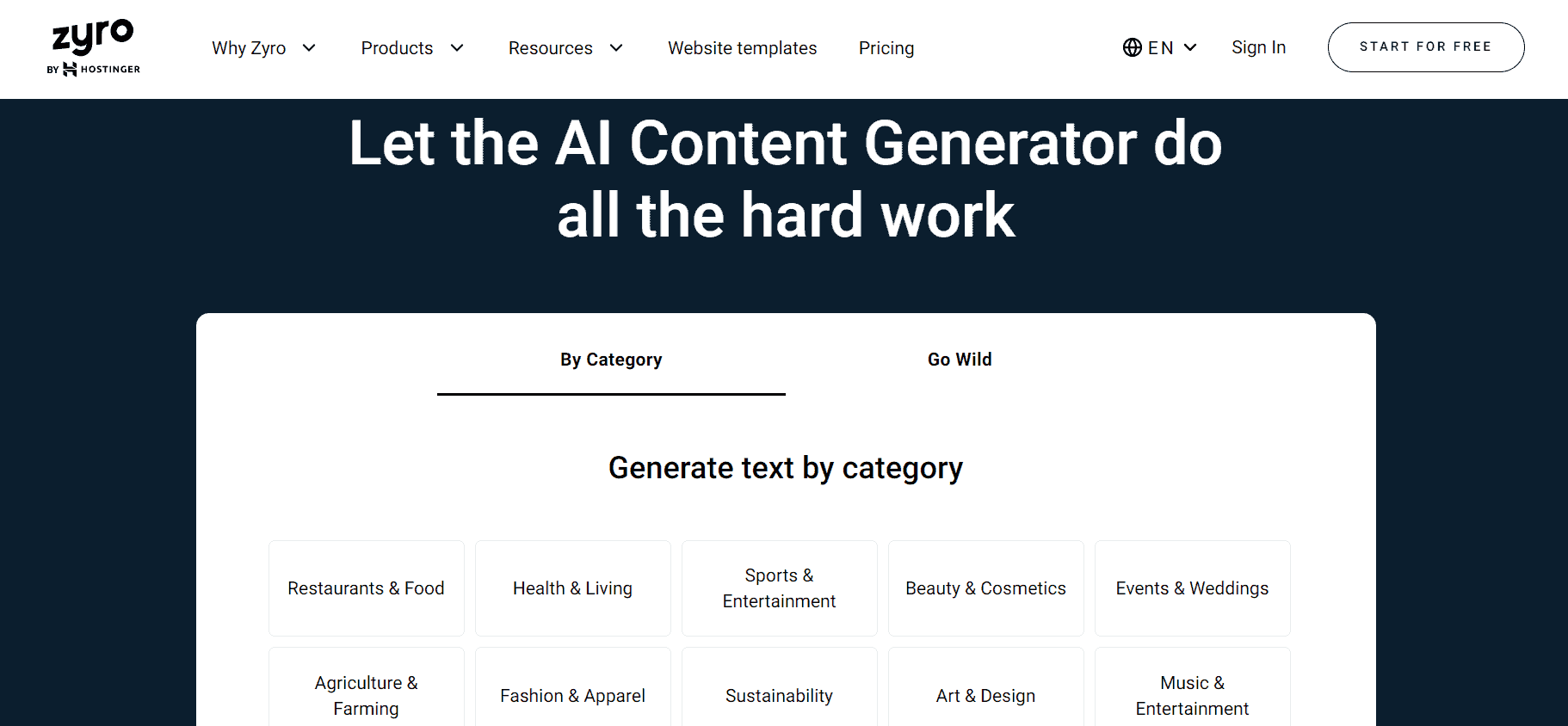 Zyro is one of the few website builders that offer artificial intelligence (AI) tools. The platform's AI Business Name Generator can help you find the perfect name for your business. All you need to do is enter some keywords related to your business, and the AI tool will generate a list of names for you to choose one that best suits your business.
The AI Logo Maker is another AI tool that can help you create a professional logo for your business. The tool offers a wide range of logo templates for choosing the best for your business. You can customize the logos by changing the colors, fonts, and icons. Once you're happy with the results, you can download the logo in high resolution for print or web use.
Using the AI writer, you can create high-quality content for your website. Moreover, it's available in 11 languages meaning you can create content in your preferred language. Users can also use the AI slogan generator to brainstorm catchy phrases and taglines for their businesses.
Zyro also comes with an AI Heatmap tool that lets you track user engagement on your website in real time. The heatmap tool helps you understand which areas of your website are getting the most attention and where users are clicking. You can use this information to optimize your website for better user engagement.
Other AI tools offered by Zyro include the following:
Background remover

AI blog title generator

Favicon generator

Photo resizer

AI website generator
Through the Zyro API, you can integrate the AI tools into your existing workflow. We tested the AI tools and found them accurate and easy to use. However, we recommend that you proofread the content generated by the AI writer to avoid any grammar or spelling errors.
4. Templates
Zyro offers over 100 templates across various categories, including business, e-commerce, photography, services, blog, and portfolio. While the selection is not as large as other platforms we've reviewed, all the templates are high-quality and free to use. The responsive templates easily adjust to fit any screen size, ensuring your website looks great on all devices.
The templates are also fully customizable, giving you the freedom to change the colors, fonts, images, and layout of your website. You can add your own HTML and CSS code if you want to customize your website further.
5. SEO and Marketing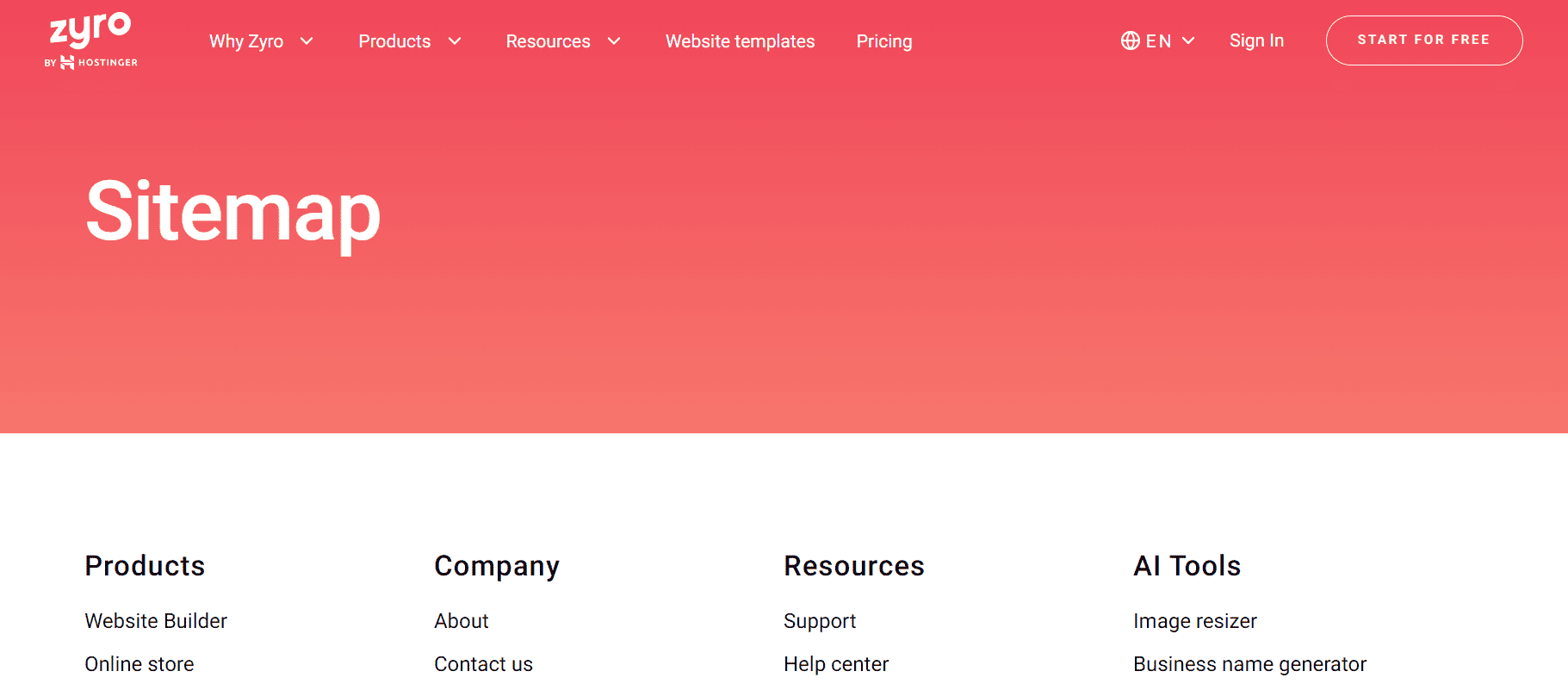 From the moment you create your website, Zyro takes care of the SEO for you. The platform automatically generates an XML sitemap and submits it to Google Search Console. The sitemap helps Google index your website to appear in search results. It also integrates with Google Analytics; thus, you can track your website's traffic and performance.
Secure cloud hosting means your website will load quickly, a key ranking factor for Google. Zyro also offers a free SSL certificate to all users, further improving your website's security and search ranking. Creating Meta descriptions and titles for your website pages from within the platform is also easy.
Zyro's marketing features help you promote your website and grow your business. With the email marketing tool, you can easily create and send newsletters, announcement emails, and promotional campaigns to your subscribers. The platform also offers a discount coupon feature that allows you to create coupons for special offers and promotions.
6. Domain and Hosting
Every plan offered by Zyro includes free web hosting and a one-year free domain name. The hosting is fast, reliable, and secure. Your website will also benefit from regular backups to prevent data loss. As the website grows, you can scale up the hosting plan to accommodate the increased traffic.
The domain name is registered under your name, giving you complete control over it. You can also transfer an existing domain name to Zyro. The platform easily connects your domain name to your website with a few clicks. Zyro offers a 99.9% uptime guarantee, meaning your website will be up and running most of the time.
7. Security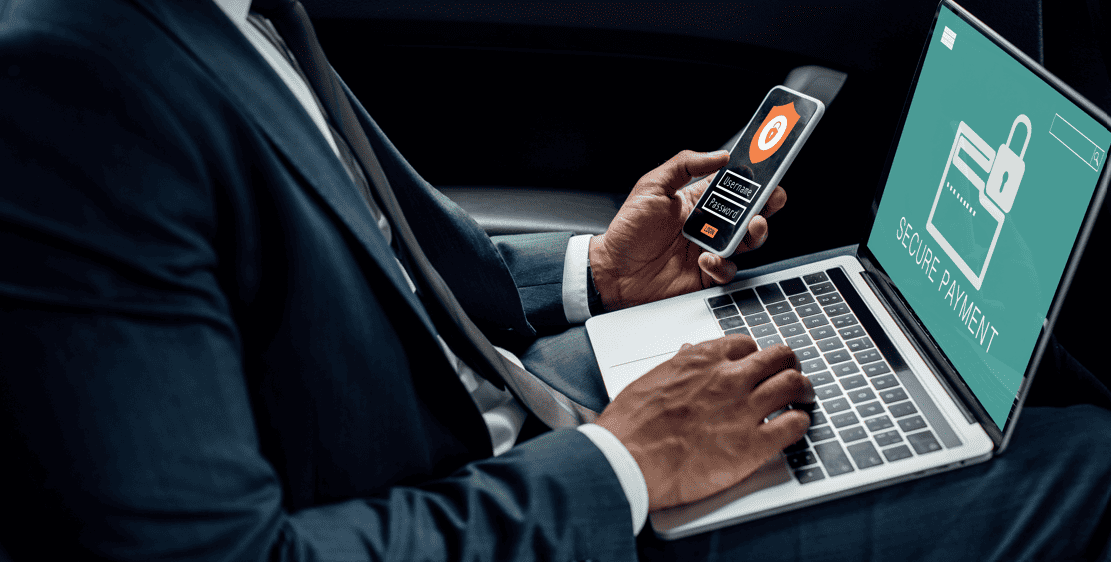 Zyro takes website security seriously and offers free SSL certificates to all users. The platform also uses advanced security measures, such as firewalls and DDoS protection, to protect your website from attacks.
Zyro Website Builder Pricing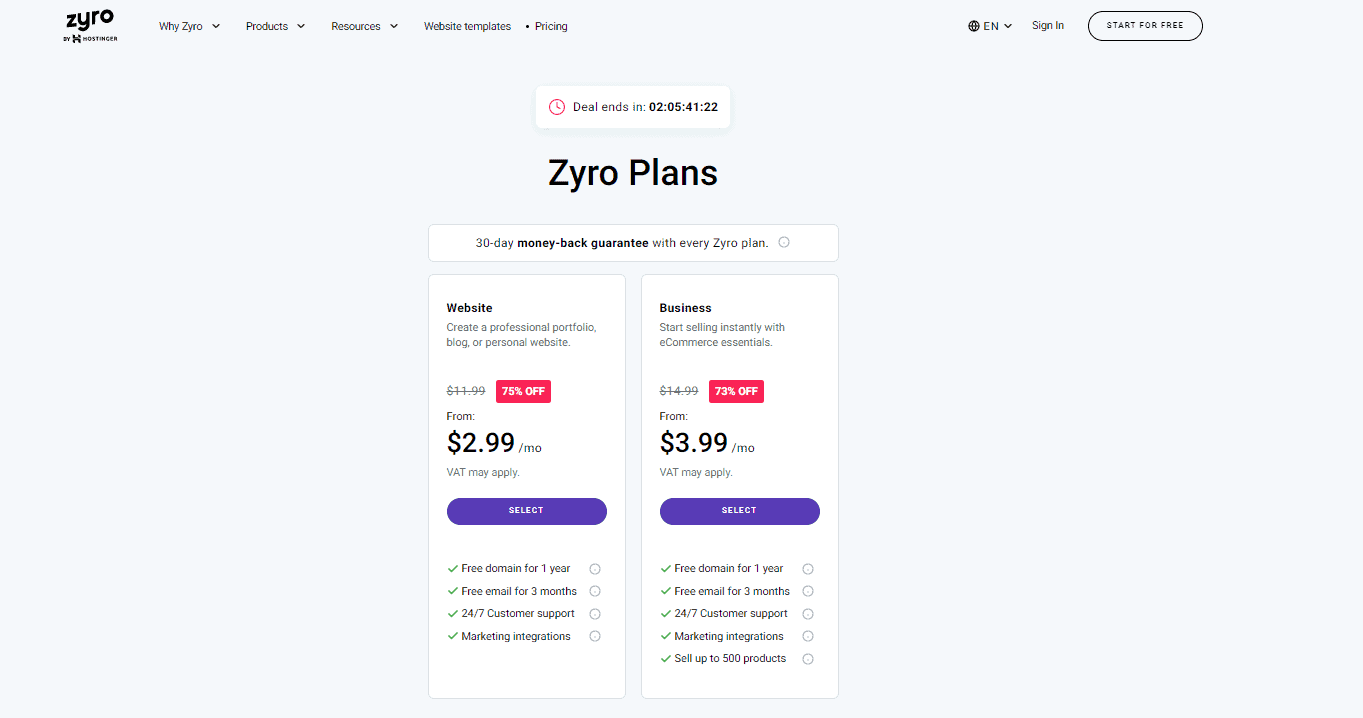 Zyro's pricing is quite competitive. The platform offers two tiers:
Website: $2.99/month

Business: $3.99/month
Prices may change depending on available offers and discounts. However, you can check their pricing page for the most up-to-date information.
The Website plan is ideal for a professional blog or personal website. You can also use it to create a portfolio, resume, or CV. This plan offers all the necessary features to create a fully functional website. It provides a free email for three months and a free domain name for one year.
The business plan is best for small businesses and online stores. In addition to the features offered in the Website plan, it allows you to sell up to 500 products and includes more than 20 payment methods. Zyro pricing is affordable for most users. The company also offers a 30-day money-back guarantee, meaning you can try the platform risk-free.
Zyro Website Builder Customer Support
Zyro offers its customers 24/7 customer support via live chat and email. The platform has an extensive knowledge base where you can find answers to common questions. Users can also submit an online form to request support without logging in to their accounts.
We tried to reach the customer support team via live chat and received a response within an hour. The customer service agent was friendly and knowledgeable. However, we noticed Zyro doesn't offer phone support, which may be an issue for some users.
An additional $1.99/month gives you access to the Priority Support feature. With this feature, you can get immediate assistance via live chat and email. The Zyro blog is also an excellent resource for tips, tutorials, and news about the platform.
How To Use Zyro Website Builder (In-Depth Guide)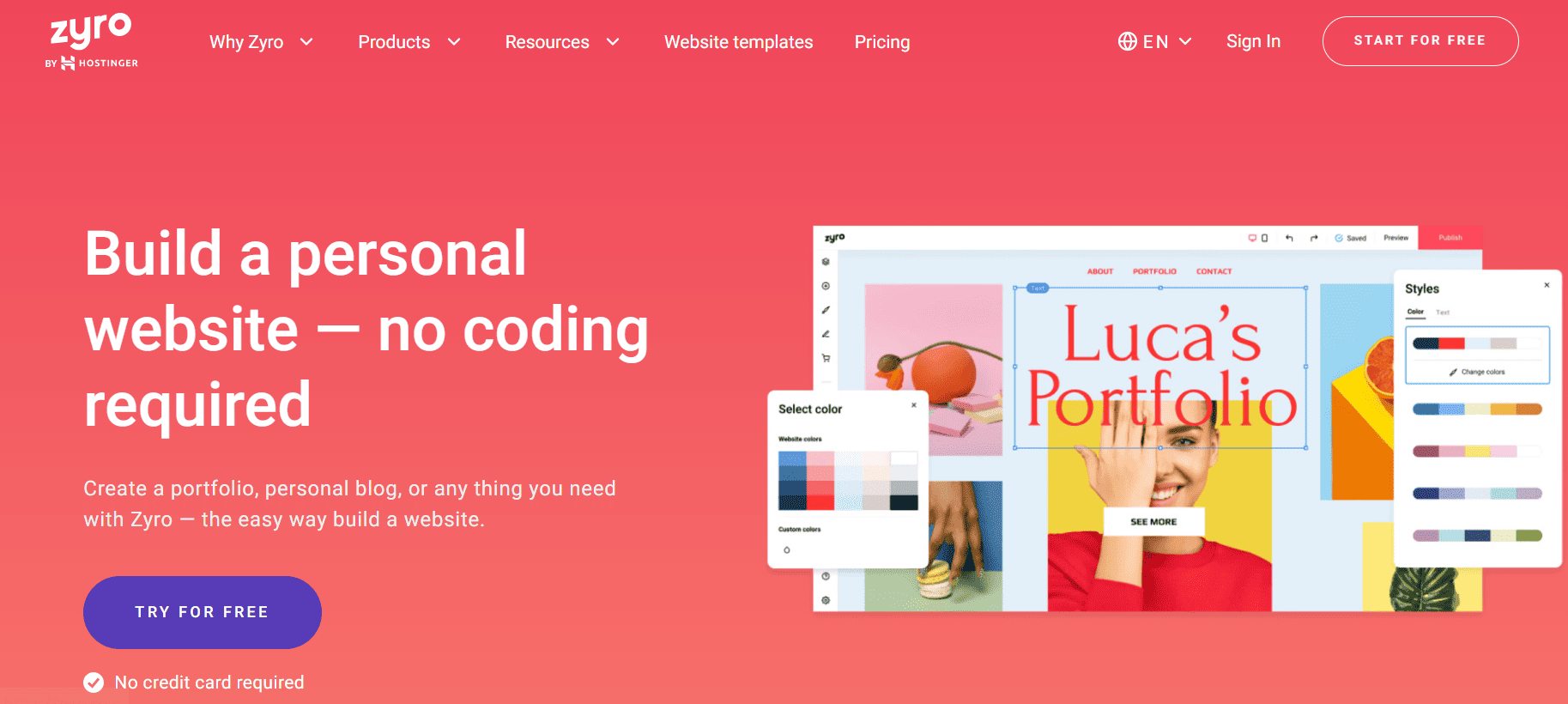 Creating a website with Zyro is easy, even if you've never built a website before. The platform has an intuitive drag-and-drop editor that makes website creation simple and fun. You can also use the pre-built templates and themes to save time.
In this section, we'll show you how to create a website with Zyro step-by-step.
Select the type of website you want to create: It can be an e-commerce store, a portfolio site, a blog, or a simple website. Zyro has several themes and templates for each type of website.
Design the home page: The home page is the first place visitors will see when they arrive at your website. So it's vital to make an excellent first impression. You can use the drag-and-drop editor to add and customize elements on the page.
Add pages and content: Once the home page is complete, you can add other pages to your website. Zyro makes it easy to add pages and create navigation menus. You can also add blog posts and other forms of content to your website.
Add a header, footer, logo, and favicon: A header is the top area of your website where you can add a logo, contact information, and social media icons. The footer is the bottom area of your website where you can add copyright information and links to other pages. Ensure that your website has a logo and favicon (the small icon that appears in the browser tab).
Optimize for SEO: Search engine optimization (SEO) ensures that your website appears in the search results when people are looking for keywords related to your business. Use Meta tags, page titles, and descriptions to optimize your site for SEO.
Add images, videos, maps, contact forms, gallery, slide show, and other elements: If you want to add pictures, videos, maps, contact forms, or other elements to your website, Zyro makes it easy to do so.
Add e-commerce functionality: You can use Zyro's built-in e-commerce tools to add products, create coupons, and set up shipping and payment options.
Choose a domain name:

A domain name is the address of your website (e.g., www.example.com). Choosing a domain name that is easy to remember and brandable is important. Ideally, use the name of your business as the domain name.

Save, publish and market your website:

Once you're happy with how your website looks, save your work and publish it. Then start marketing your website to drive traffic and convert visitors into customers.
FAQs
Question: Is Zyro safe to use?
Answer: Zyro is one of the safest website builders on the market. The platform is PCI DSS compliant, which means it meets all the security requirements for online businesses. Zyro also offers a free SSL certificate to all its users. The platform is regularly updated with new features and security patches.
Question: Is Zyro good for small businesses?
Answer: Zyro offers the best features for small businesses, such as e-commerce functionality, SEO optimization, and a wide range of templates and themes. The platform is also easy to use, so you don't need technical skills to create a website. Moreover, it's one of the cheapest website builders on the market.
Question: Can you use Zyro for free?
Answer: Zyro doesn't offer a free plan. However, each of its plans comes with a 30-day money-back guarantee. So if you're unhappy with the platform, you can always get a refund. Moreover, web hosting with Zyro is free and scalable, so you can upgrade your plan as your business grows.
Conclusion: Is Zyro Worth The Hype?
Zyro is a perfect example of a user-friendly website builder. The platform is easy to use, even for complete beginners. Yet, it's powerful enough to create a professional website for your business. Zyro also offers all the features you need to grow your business online, such as e-commerce tools, SEO optimization, and a wide range of templates.
Overall, I think Zyro is definitely worth the hype. But if you intend to create a large website or online store, you might consider using a more robust platform such as Shopify or WordPress. If you need more control over the design of your website, you can always hire a web designer or developer to create a custom site for you.