Last Updated on April 22, 2023 by Ewen Finser
Similarweb vs Ahrefs are the two arguably most effective tools for webmasters. However, they were developed for quite distinct purposes. While Similarweb's core purpose is Competitive Research, Ahrefs covers extended SEO audits.
In some teams, using one of the sites, or even both of them is part of the daily performance checkup. While they serve different functions, they also share commonalities and traits that frequently provide a "second view" in decision-making. Overall, you can utilize Similarweb and Ahrefs as services to properly understand the state of your project and evaluate it against its closest rivals.
Similarweb vs Ahrefs have unpaid basic features, so you can benefit from the services without paying anything.
Main Differences Between Similarweb vs Ahrefs
The main differences between Similarweb vs Ahrefs are:
Similarweb is a marketing and business tool, whereas Ahrefs' primary focus is

to be an

and data analytics.
Similarweb shows an overview of a website and its marketing performance, whereas Ahrefs grasps all essential points for traffic acquisition and search engine optimization.
While Similarweb is widely used for competitor analysis, Ahrefs reports insights on your business and suggests competitors based on shared keywords.
Similarweb is a monolith product with a single dashboard, whereas Ahrefs provides stand-alone services and tools: from the Site Audit and the Rank Tracker to the Site Explorer. However, neither of the services allows access to only one or several tools; you need to subscribe to get the package.
Considering the features that Similarweb has, Ahrefs offers Site Explorer, a service comparable to Similarweb.
Similarweb offers a 7-day trial to nearly all its features in a limited volume. At the same time, Ahrefs provides trial access to Site Explorer and Site Audit to those who signed up for Ahrefs Webmaster Tools.
What is Similarweb Best For?
Similarweb is best for checking the website's analytics even if it doesn't belong to you. No verification of the domain is required. In general, Similarweb allows you to view someone's Google Analytics without interfering with their privacy.
The Metrics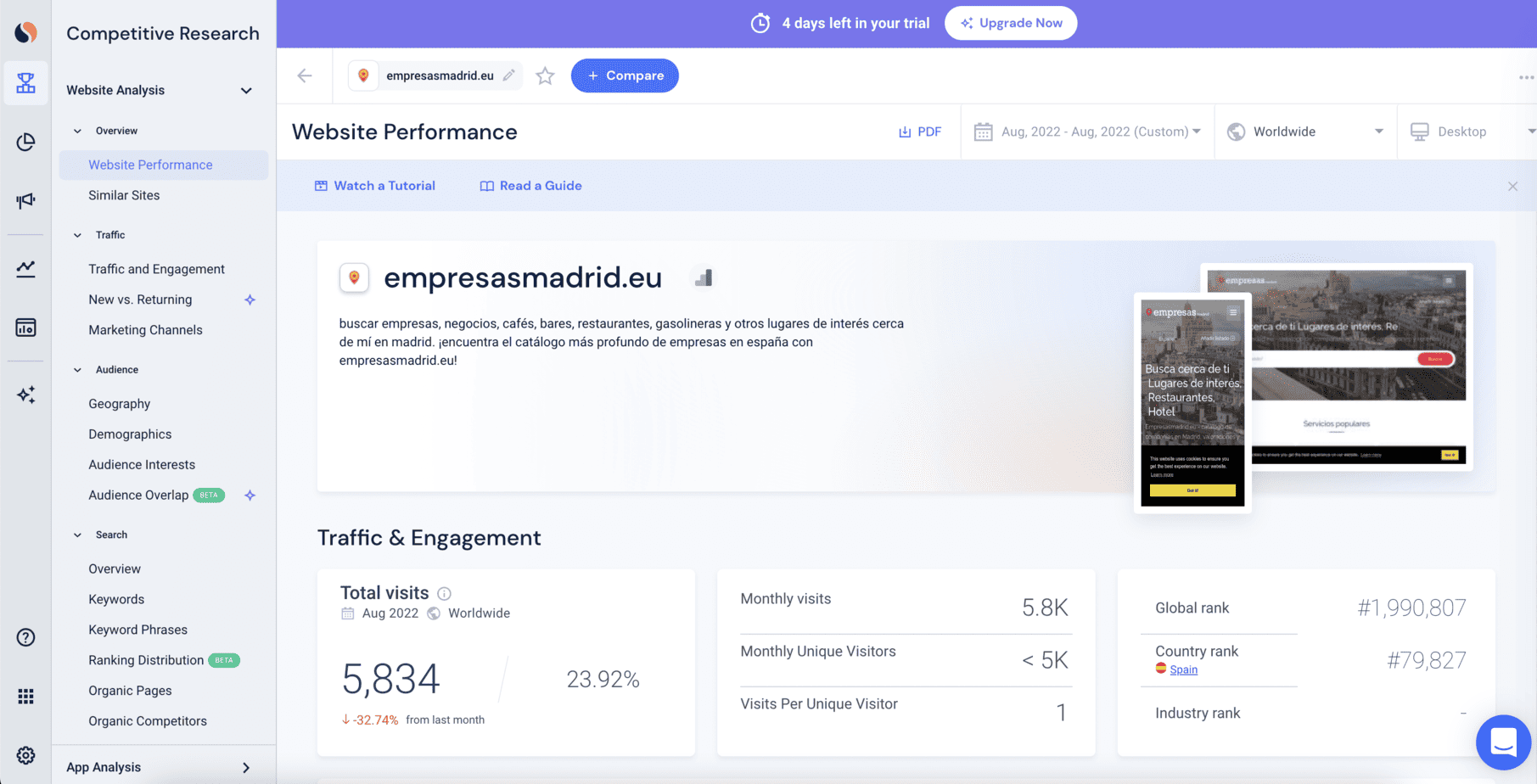 The metrics include the traffic overview and sources, audience geography and demographics, and other convenient tools. What I find most interesting is the site's ranking out of accumulated data within a category and country. Thus, you can check the place and the best-performing competitors of a website in a given category, for example, marketplace or movie streaming.
You can also learn statistics on the most visited websites per country, which is an excellent tool for international marketers. Similarweb offers access to as many as 50 positions without upgrading.
Competitor Analysis
Another great feature offered by Similarweb is to see your website's most relevant competitors and whether they show Google Adsense for monetization. Up to 25 competitors are shown in the dashboard for the trial version, and the first ten are available as a free feature even if you browse as a guest.
Similarweb makes it easy to understand your competitors' main parameters, audiences and demographics, and top-ranked keywords. This information would be necessary for you as a company to create marketing campaigns, content plans, and SEO strategies.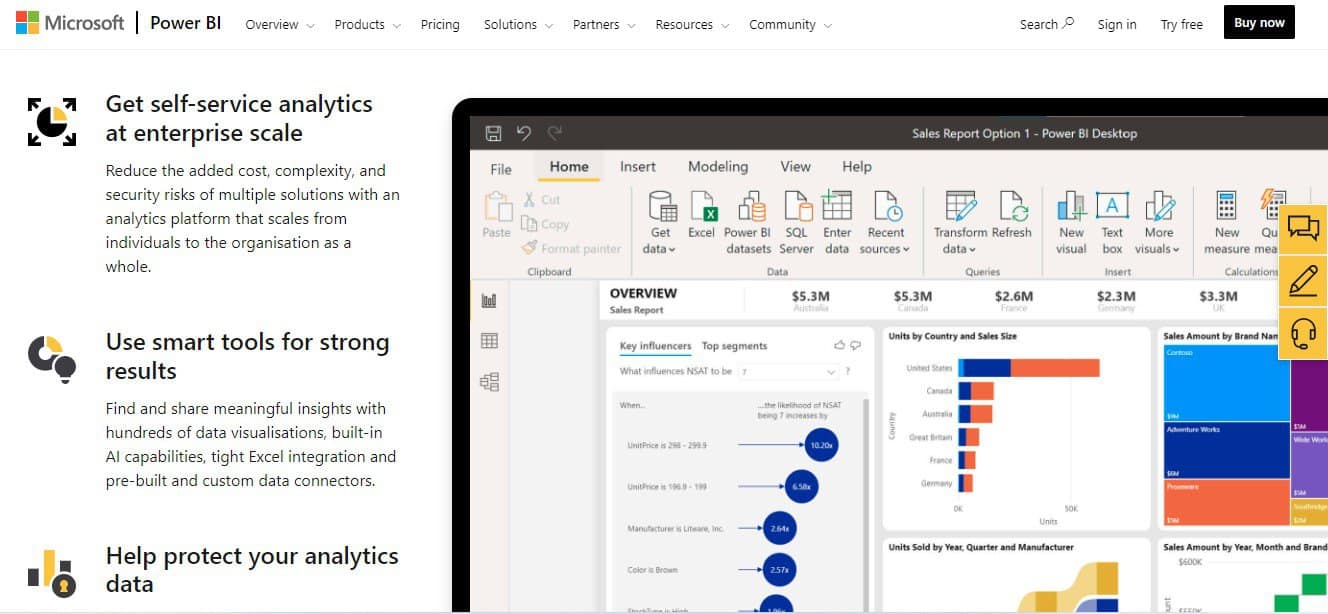 For competitor analysis, there is no better, faster, and friendlier service than Similarweb. The dashboard allows the building of beautiful and informative reports like Power BI and other significant data visualization tools. The free version of the software gives you an excellent overview to outline the strengths and weaknesses of practically any web project. Similarweb does not analyze websites that have low traffic or insufficient historical data.
SEO Analysis
Although SEO is not the primary purpose of Similarweb as a service, its tools for understanding the acquisition channels are powerful. A keyword analysis is just one of them. It might not be as optimized as in Ahrefs, but it includes all settings of the latter and also shows the "intent," an estimation of what people searching for this keyword intend to achieve. This allows you to filter the keywords according to your website's conversion funnels.
Paid Channel Observation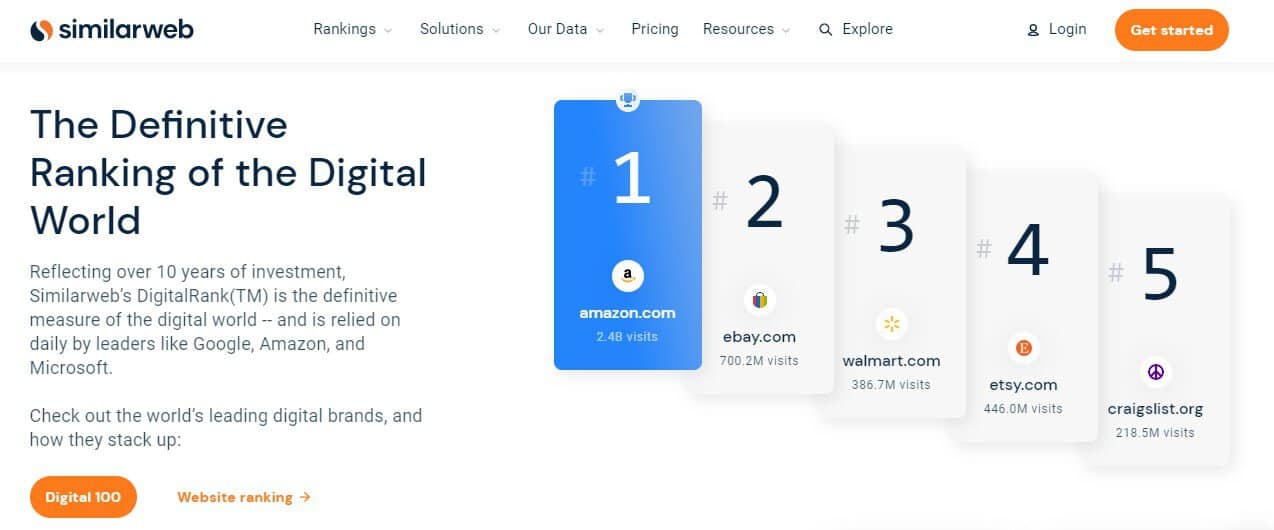 Observing the website's paid channels can help you learn about its business strategies and contribute to the plans for scaling. It is also a helpful tool for product hunters: analyzing the site's paid channels may review how healthy the business is and help you decide whether to buy it or compete with it.
There were many cases in my work when our actual ad-placing partners reached out to us, finding the website in Similarweb's rankings and seeing potential in the charts it provided. We also call upon the service often when considering topics and markets.
What are the cons of Similarweb?
Similarweb is a digital marketing tool. The subscription plan's features go above and beyond the practical set of tools one might require to study their project's competition, the market, or the performance. You will hardly ever find a cause to use the admin panel if you are not a digital marketing agency.
If you are, you might find the Historical Data just three months old and insufficient for accurate market analysis. Although SEO features are included, they are fundamental from an SEO analyst's perspective and designed to report within the marketing campaign.
Does Similarweb offer a trial?
Yes, there is a 7-day trial to Similarweb's dashboard for a limited volume of data and practically all features. Advanced business tools like company and website segment analysis are unavailable for the trial. Data export is not available. Query results, be they the keywords or the websites' competitors, show up in a limited volume.
You can get a precise summary of the audiences, including information on the demographics and interests. The trial allows you to build a comprehensive understanding of the service and decide whether you are safe with just the free features or would like to use the complete resources of Similarweb.
Pros:
Comprehensive competitor analysis without interfering with their privacy.
Informative ranking lists by country and category, helping to discover tendencies and interests and similar projects without even knowing their names.
Acquisition channels study and overview is a powerful tool for digital marketers and many other features. Similarweb offers a paid subscription, as well.
The free version of Similarweb gives enough fun to deal with for any digital business owner, marketer, webmaster, or SEO manager.
Cons:
Paid plans are geared for businesses, therefore the pricing.
The paid features of Similarweb act like Google Analytics from the backdoor; however, in terms of competitor analysis, this information can be excessive or useless.
In case of a required SEO audit, Similarweb is not your chosen companion, although it gives a brief and accurate overview of your SEO scores.
What is Ahrefs Best For?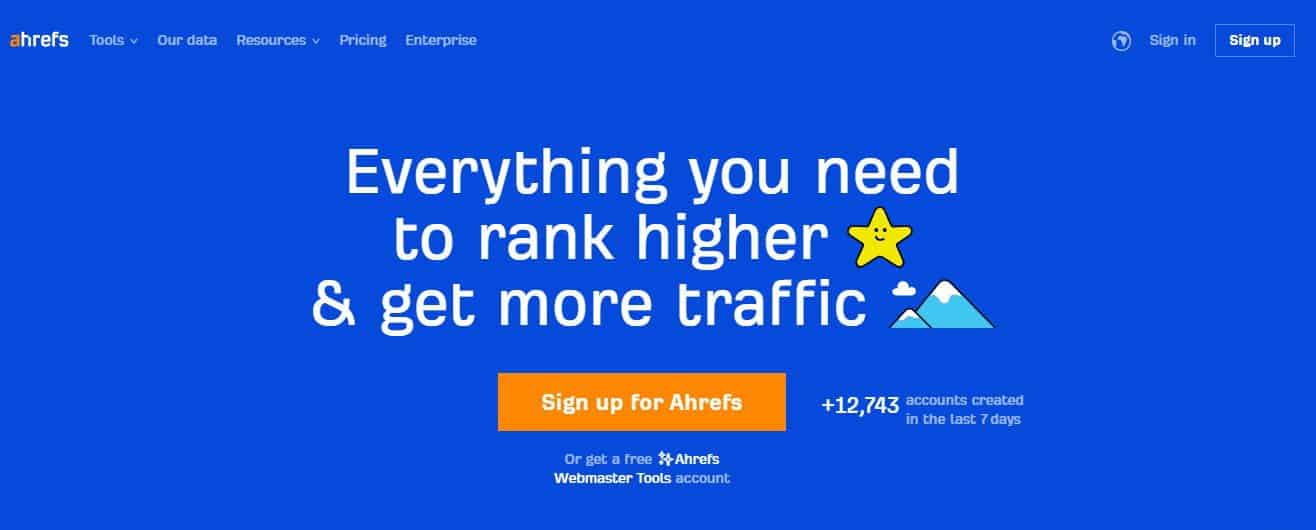 Ahrefs is a powerful all-SEO service, indispensable software for various SEO tasks and necessities. I love Ahrefs for providing an extraordinary library of tutorials and articles to put hands-on search engine ranking even without previous experience.
The Dashboard
Ahrefs dashboard is an onset of lists and graphics for those obsessed with numbers to understand how well your website performs. It is entirely informative on its own and covers the idea of how a search engine robot, or an organic user, sees your website.
SEO audit is a significant part of the marketing development of a digital project. Without being seen in search engines, all your other efforts in traffic acquisition may be worthless. And the basics of SEO are not just the meta tags; it is a checklist of measures that Ahrefs analyses for you.
Website Crawling

Apart from showing the domain authority score, which is essential in practically any part of internet marketing, the service crawls your entire website and spots any weak points that produce underperformance. For instance, Ahrefs can discover pages with broken links or URLs, orphan pages (with no incoming internal links), pages that miss tags or keywords, slow pages, and many other things.
Core Updates
Major search engines constantly improve their algorithm, and core updates may become a nightmare for SEO managers and marketers. Ahrefs monitors the most recent trends and updates descriptions, making it possible to identify the causes of decreased traffic or filtering.
However, that is just a tiny segment of Ahrefs' powers. Other standalone services provided by Ahrefs are widely used for competitor analysis.
Keyword and Content Explorers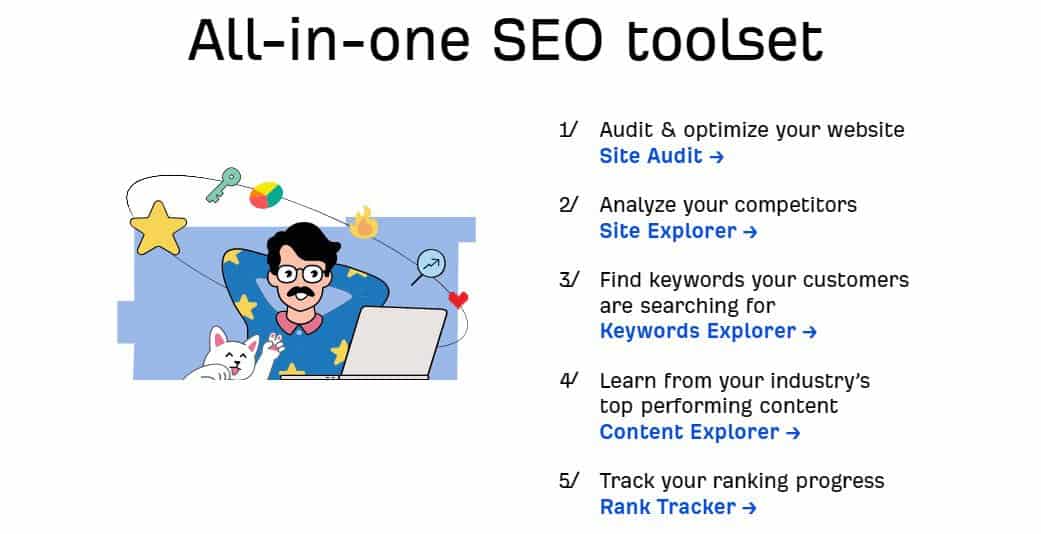 Keywords Explorer would be an addictive playground for SEO managers. In contrast, marketing managers would benefit from Content Explorer, a service that parses the internet to discover low-competition and link-generating topics and assembles a report for you to plan the guest blogging ideas and sources. The Content Explorer comes with a Standard paid subscription and above, but a free demo is available.
Does Ahrefs offer a trial?
Ahrefs does not offer trials or discounts. Nevertheless, you can access the Webmaster Dashboard upon registering for limited access. Within 24 hours after adding and verifying your website, Ahrefs will crawl your property (limited to 5k URLs) and send you the SEO audit.
You can execute optimization planning, align your marketing campaigns, and go through points that require attention. The limitation only affects the crawling depth, so websites with less than 5k pages will be fully covered. The audit is exportable; however, you should subscribe to get a CSV file with the global results.
Pros:
Ahrefs is a powerful SEO audit tool where most processes are automated once you verify your property.
The program itself can replace an SEO agency in terms of analysis.
Basic marketing features are also covered.
The service shares a library of articles and video tutorials in SEO basics.
Cons:
Ahrefs does require some knowledge of SEO. Otherwise, the service's many capabilities and advantages are pointless.
Ahrefs provides minimal access to its features for free.
Competitor analysis is available only for paid subscribers, as you cannot peek into the statistics of an unverified domain.
Which Paid Plan is More Advantageous, that of Similarweb or Ahrefs?
Similarweb, as a paid service, starts at $199/month.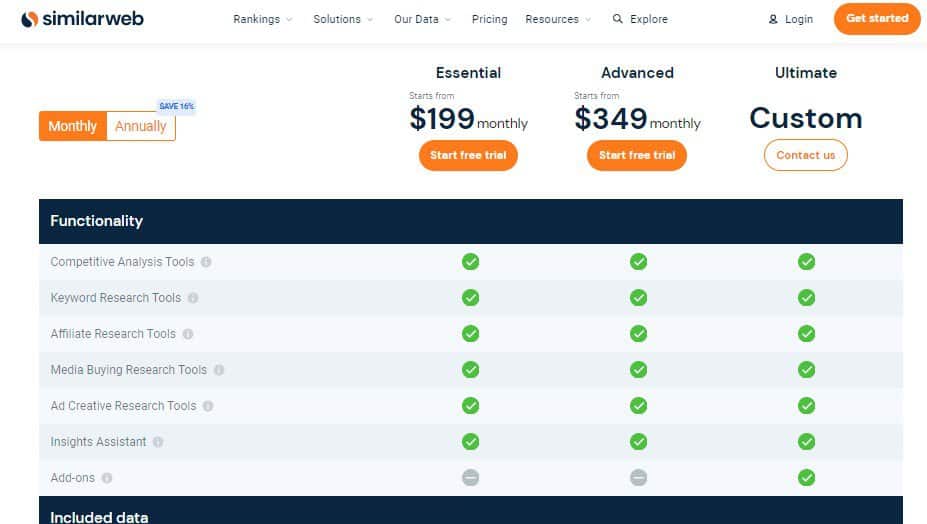 There are few limitations to the Essential (Basic) plan compared to the advanced one, and most of the limits are set on – no wonder – the SEO data like the keywords lists and number of page results. This won't be a show-stopper for small and midsize marketing firms.
Moreover, if conducting an in-depth competitor analysis, learning their acquisition channels and monetization strategies is not your purpose, the basic unpaid report offered by Similarweb can also give you plenty of insights to build ad campaigns, email outreaches, or decide whether to start a business in a given segment of a market.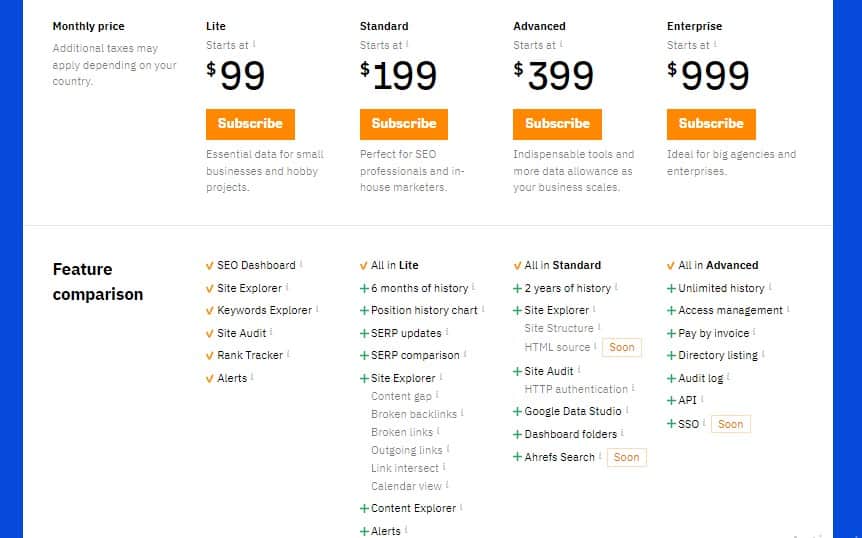 While Ahrefs subscription plan starts at $99/month, it includes all the essential features you will need as a medium-sized business to execute an in-depth SEO audit.
Paid monthly, the subscription can be canceled anytime, giving you enough possibilities to run your project through the crawler and the Rank Tracker. An agency-ordered SEO audit may cost five times as much but provide the same results.
This Lite plan also includes access to Site Explorer, a tool almost identical to Similarweb's dashboard, and offers thorough competition analysis. So it would help if you considered that partially Similarweb's features are included in the Ahrefs paid plan.
If your budgets are limited, or if you don't put emphasized importance on social marketing, I recommend you to go with it until you understand that your specific needs are not fully covered.
FAQs
Question: What is better than Ahrefs?
Answer: Ahrefs is a top-rated software for search engine optimization. It includes all essential features required for a thorough SEO audit, including the domain rating, keyword explorer, ranking history, and much more.
There are few services like Ahrefs, and the most quoted rival is Semrush. While similar features are designed for the exact needs, the services have a slightly different dashboard interface and use different algorithms for their audit results.
Question: Is Ahrefs better than Semrush?
Answer: Ahrefs and Semrush are comparable in terms of accuracy, but Semrush has a minor advantage due to its frequent refreshes. Semrush will give you visibility into changes occurring instantly and sometimes more sharp results by avoiding the blocks created by manipulating the robots file.
Question: What is best, Similarweb or Aherfs?
Answer: Both services are known for their accuracy and for being a helpful tool for marketers and SEO managers. However, Ahrefs is much more SEO orientated than Similarweb, while the latter is suitable for marketing teams of all sizes.
Question: What companies use Ahrefs?
Answer: Meta, Tripadvisor, ebay, Netflix and Uber are among the biggest companies to known to use Ahrefs.
Similarweb vs Ahrefs, What to Choose?
Examining the two from the views of a marketer and an SEO manager would be necessary to discover which service best meets your demands.
If your area does not involve high SEO competition, sticking to Similarweb could be sufficient even for SEO purposes. It's a user-friendly, infographic-orientated service for digital marketers that you can use for multiple tasks. I recommend choosing Similarweb if you are a small eCommerce, Edtech platform, news agency, blog, or B2C SaaS.
If you are into hardcore web mastering, Ahrefs is your navigation gadget. It gives you all tools and spells to capture the most organic traffic possible. Unfortunately, Ahrefs will not do the link-building for you, but it will draw suggestions on where and how to do it.
For mid and large eCommerce websites, SaaS, and content-based sources, Ahrefs is a great tool to accompany you in steady scaling. It can also keep your seatbelts fastened during the turbulence of search engine core updates.
As a webmaster and a digital marketer, I can attest to the value of both services in your day-to-day activities. You can use the free versions of Similarweb and Ahrefs, and you should only choose to join a subscription plan once you are sure which one meets your specific needs for managing and promoting your website.
Nevertheless, I consider Ahrefs a little more technical and thus an effective service compared to Similarweb, which is an excellent resource for marketing and business insights. Therefore, being an advanced Ahrefs user requires more data analysis and SEO knowledge.