Last Updated on January 16, 2023 by Ewen Finser
We're going to take a look at two giants Airtable vs Monday.com.
In the productivity niche: Airtable – a spreadsheet system, that's more than your average Google file, and Monday.com, a top-notch project management tool.
Bottom Line Up Front Summary: Airtable is a great data management extension, but if you need project management the tool we trust as the "hub" is definitely monday.com here. That said, you can still use Airtable AND monday.com integrated together.
But first, here's a rundown of the core similarities and differences between the two:
Main Differences Between Airtable vs Monday.com
The main differences between Airtable vs Monday.com are:
Airtable focuses more on data gathering, whereas Monday.com is better geared towards tracking the completion of tasks.
Airtable supports limited team interactions, whereas Monday.com has a well-developed project-oriented chat system.
Airtable provides fewer features for handling projects, whereas Monday.com provides more
Airtable's payment plans are aimed towards individual users, whereas Monday.com's are better designed for groups.
Airtable only provides email support with their cheaper programs, whereas Monday.com offers 24/7 support with each of their packages.
Airtable integrates with lots of different tools and apps, whereas Monday.com has fewer integrations.
Airtable offers a 3D model option, whereas Monday.com only provides a board view.
Editor's Choice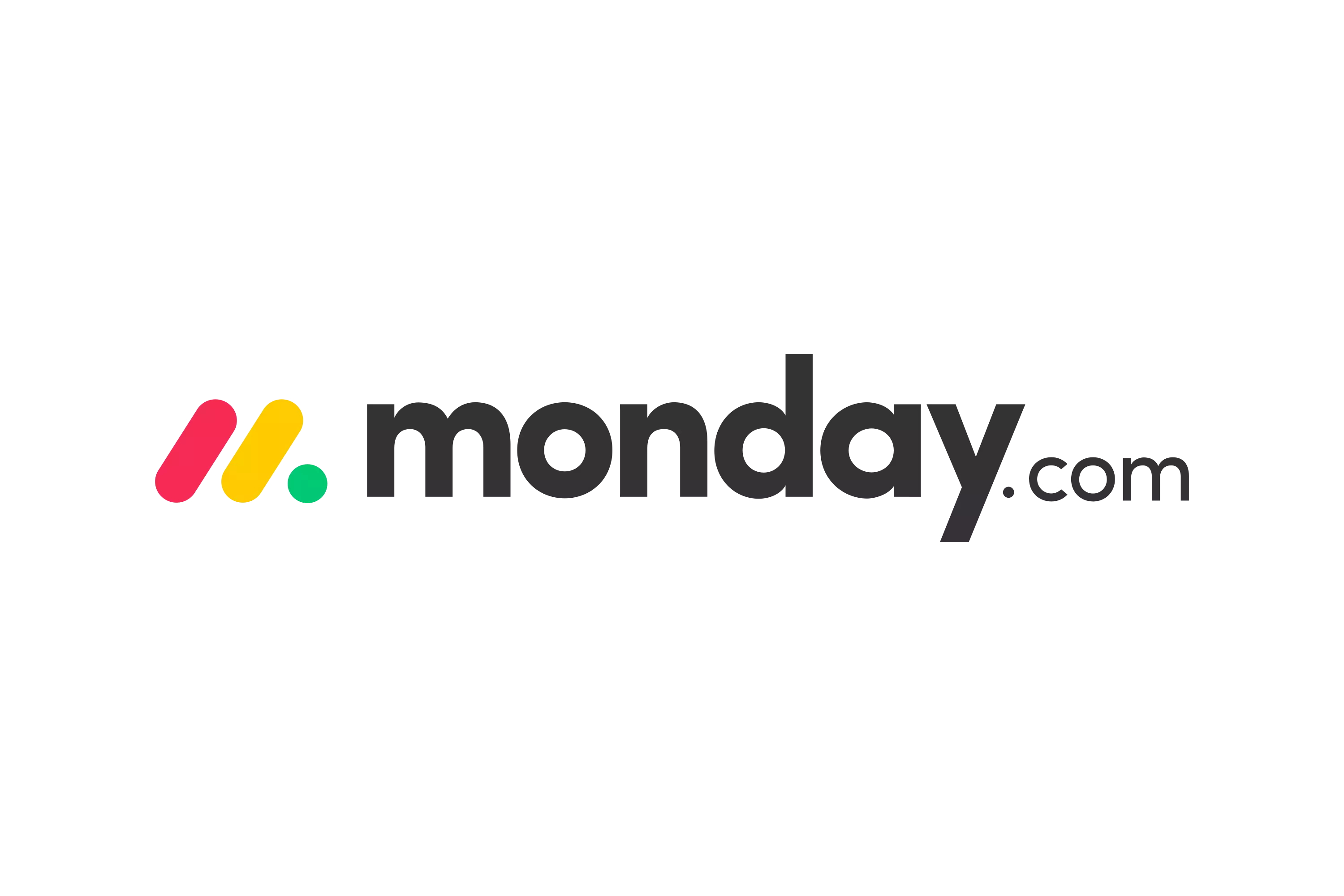 Why Go with monday.com?
Make tasks satisfying to finish! monday.com is quickly disrupting the old guard with a sleek interface, hundreds of integrations, and dozens of workviews for visually imagining and tracking your projects. More than just project management.
Start Managing Your Team Better
We earn a commission at no cost to you which helps keep this blog running!
Similarities Between Airtable vs Monday.com Project Management Software
The similarities Between Airtable vs Monday.com are:
Both Airtable and Monday.com offer mobile app versions of their tools.
Both Airtable and Monday.com have different payment plans to pick from, with specific features locked behind a paywall.
Both Airtable and Monday.com provide users with self-help knowledge bases, tutorials, and how-to videos.
Both Airtable and Monday.com promote transparency among your team, provide record-keeping tools, and highlight any changes made to your tasks and projects
Amidst the uncertainty brought about by COVID-19, it's all the more critical that business owners and managers communicate as clearly and effectively as possible.
With the majority of people working from home and tensions running higher than usual, decent communication between you and your team will make or break the success of your projects.
In light of that, more and more entrepreneurs and searching for tools to help them streamline their comms.
After all, who wants (or has the time) to jump between emails, spreadsheets, Google Docs (Google Sheet), etc., when you can access all this info from the convenience of one place?
Not only does this save your precious time and energy, but it also increases transparency and cloud collaboration amongst you and your team.
You don't need us to tell you that when everyone's on the same page, fewer mistakes are made along the way. So, with the right productivity tools, you can expect better results…it really is that simple.
Airtable's Most Notable Project Management Features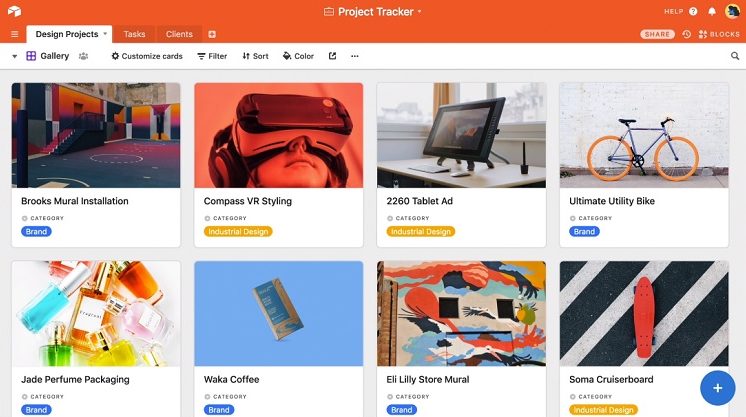 Airtable is more than just a spreadsheet.
In comparison to Excel and Google Sheets, Airtable offers users more in the way of customization. These features are specifically designed to help you run and manage your projects.
For instance, you can add tons of different columns, tables, comments, formulas, and filters to store and display your files as clearly as possible.
Trust us; your team will breathe a collective sigh of relief when you provide them with a more convenient method of finding the info they need to get their jobs done.
But, we digress… let's get back to Airtable's core feature set. This section of the review wouldn't be complete without looking at 'the base.' This is the cornerstone of the platform.
For the initiated, the 'base' is a central spreadsheet where you display all your info. You can use your 'base' to store and track virtually any data you want. Be it your business's revenue or your network of freelancers – Airtable's tool has you covered.
Let's take the freelancer example as a 'for instance.' Say, you wanted to use Airtable to keep track of your network of freelancers, you can use your 'base' to include tables that highlight their earnings, how much you owe them, what work they do, which department they supply, etc.
You can manage your work by creating separate bases for each project you're running. Then inside of that base, you can build different tables.
For instance, if you're planning an event, you could create a base for it and then have separate tables for various aspects of the event, say, guests, venues, speakers, etc.
If you're unsure where to begin, never fear, there are plenty of templates to pick from as you start creating your spreadsheets – from event planning to sales to HR management, you're bound to find a template to meet your needs. But, if you have a specific vision in mind, you also have the freedom to start from scratch.
Airtable also lets you configure views through filtering, sorting, and grouping tasks so you can rearrange your work the way you like. It offers Kanban, calendar, gallery, and grid views that you can chop and change between. You can then save these 'views' to reaccess them easily.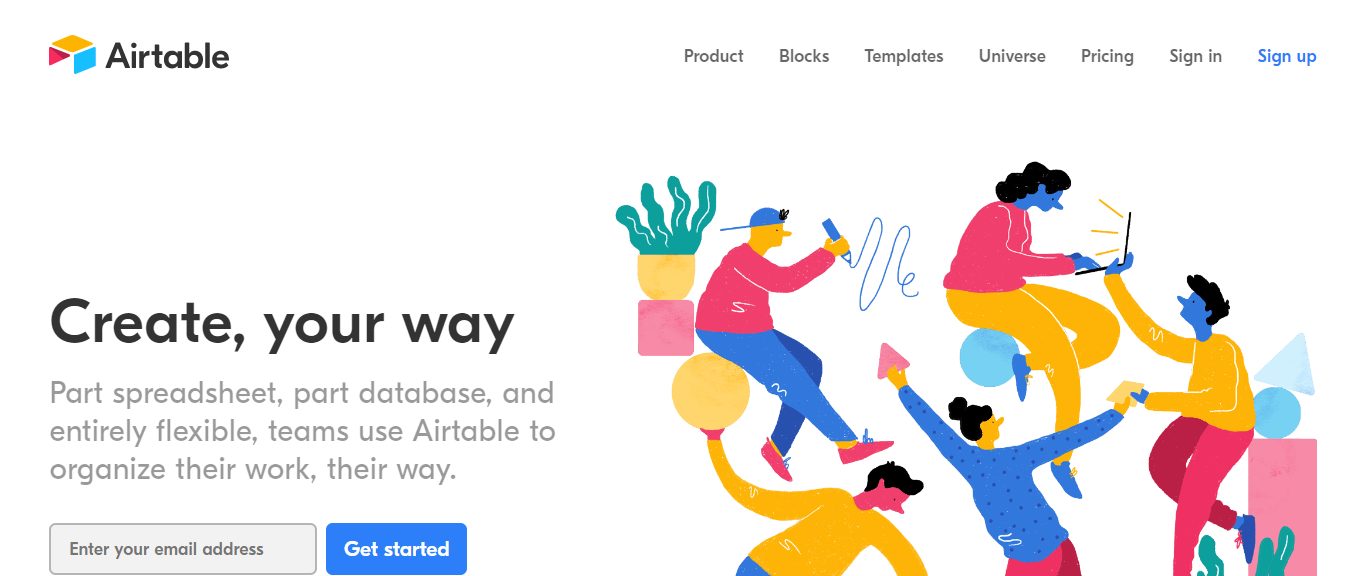 You can also jump between different tables. So, let's say you suddenly need to see something from another listing.
Usually, you'd have to hunt down the necessary spreadsheet and open it in a separate window. Instead, Airtable allows you to link two relevant tables, so you can enjoy easy access to all the info you need.
It's also easy to rearrange your tables – you can add new fields, modify existing ones, add filters, and formulas (Airtable formula functions), etc. You just drag and drop what you want, where you want, simple right? You can attach files to specific fields and color code elements to your heart's content.
For those who like to use visuals, you can use 3D blocks to form a 3D model. Be it to showcase an idea or provide a visual representation of a future design; this feature comes in handy.
For example, say, you're working on house renovations, next to all your info about contractors, prices, etc., you can utilize 3D blocks to display (roughly) what your restorations will look like. Simply attach your 3D renders to the project (file attachment space), and Airtable will transform them into objects you can manipulate – how neat is that?!
Super Spreadsheets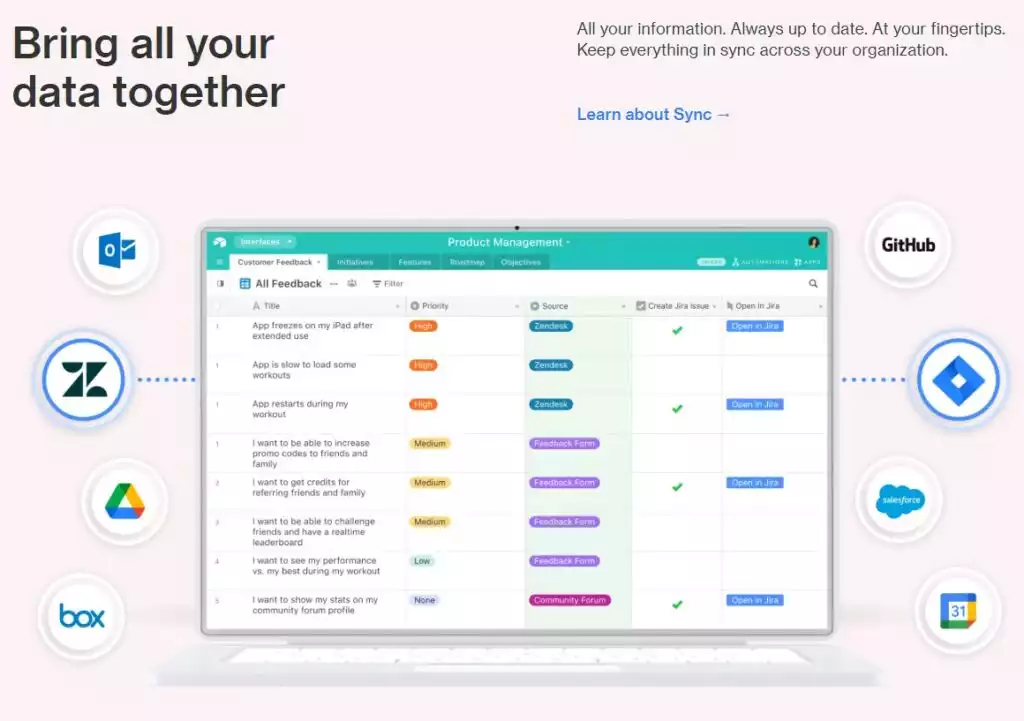 Why Go With Airtable?
Airtable is an easy to use, flexible, database management tool. If you love spreadsheets (or even just the idea of them), Airtable is the best user experience on the market. Airtable also plays well with others! And integrates!
Try Airtable Free
We earn a commission if you click this link and make a purchase at no additional cost to you.
How Much Will Airtable Set You Back?
Airtable offers a free plan you can use forever – there's no expiration date! But as you may have already guessed, with the free package, you can't access Airtable's full suite of features.
You'll get an unlimited number of bases where each base can hold up to 1,200 records. You'll also get up to 2 GB of storage and two weeks of record-keeping.
Their more sophisticated tools are reserved for Airtable's paid-for plans. The free program's ideal for testing Airtable's interface and core functionality, but if you're taking the organization of your business seriously, you'll have to upgrade to one of Airtable's four paid-for plans:
Airtable Plus: $10 per user – This entitles you to 5,000 records per base with 5 GB space, and you can store your records for six months
The Pro Plan $20 per user – Here, you'll get priority support and custom branded forms (you can edit the logo, background colour, add a cover image, and get rid of Airtable's branding on your forms). You'll also get personal views (these allow users to create view configurations to keep their information in order – only the creator can make them, and they're hidden from other collaborators by default). You'll also get even more in the way of colours and styling options.
The Enterprise Plan: Contact Airtable to get a customized quote – This package is ideal for organizing larger projects. You'll get dedicated customer service, as well as advanced security features, custom API limits, early access to new features, and more team collaboration features.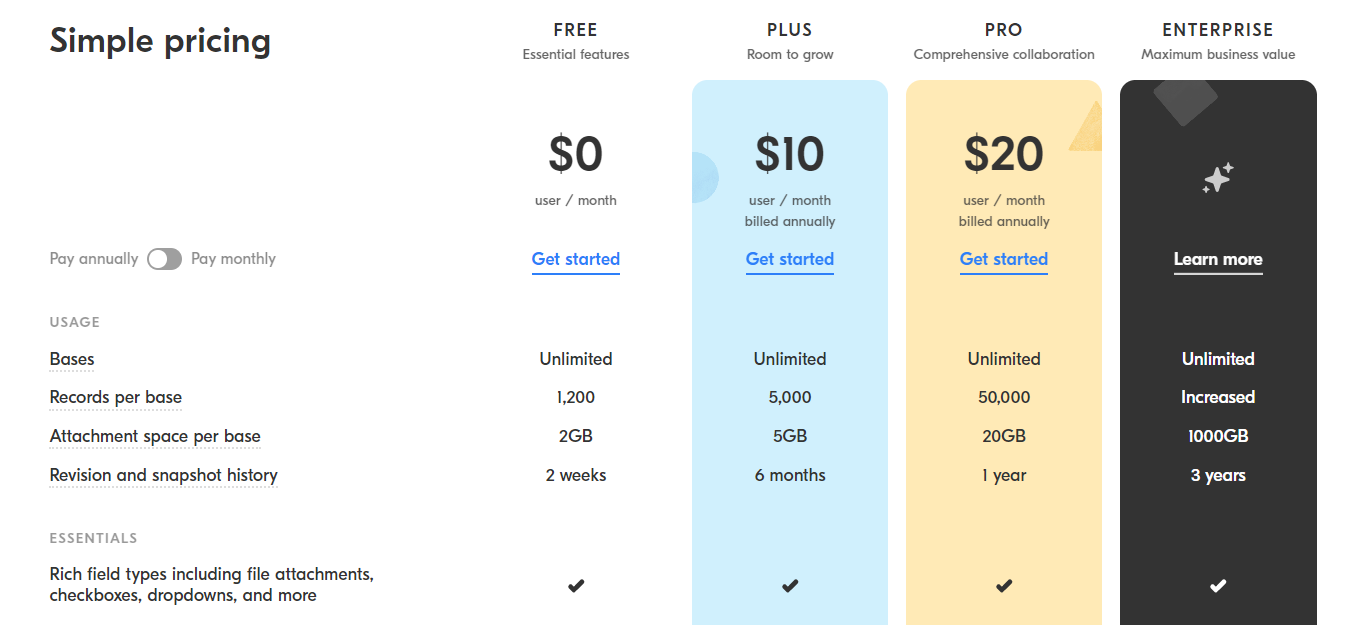 Airtable integrates with a variety of different programs and tools, among them are Dropbox, Slack, and MailChimp. So, if you have data on these third-party solutions, transferring it over to Airtable is a breeze. From there, you can readjust and remake the fields you desire while keeping the core info intact.
You can also set up surveys inside of your tables (surveys or questionnaires are called forms). Once you're happy with your form, you can create a link and send it out or embed it to your website for easy access. You don't have to dive between separate tools and systems to develop, launch, and analyze your questionnaires – you can do all that inside of Airtable.
Users love how easy it is to change how your Airtable data is displayed, and no, we're not only talking about adjusting specific fields. The learning curve is approachable for anyone (gentlest learning curve we've experienced).
With Airtable, you can post your info as a calendar to reflect one-time and recurring tasks according to their due dates. If you have a team full of visual learners, they're bound to appreciate being able to see at a glance all their impending due dates.
For the more 'visual' among us, you'll be pleased to hear you can display data as 'a gallery view.' This works best if your spreadsheet contains lots of images that need resourceful managing, and can serve as a makeshift portfolio. This is especially handy if your project relies on visual displays.
Airtable's 'Profiles' feature is also worth noting- it goes a bit deeper than traditional user profiles for your employees. Instead, the profiles of team member display the following data:
How long they've been working
Their total engagement/how many words or articles they've written
How much you've paid them
Airtable compiles all this info for you, so you don't have to track it manually.
Airtable users also love that it's relatively easy to use. You don't need any specific know-how or experience to get going, although a basic understanding of Airtable spreadsheets will undoubtedly help.
We also like that with Airtable, you can instantly communicate with others working on the same project. Simply tag them and send a message via the built-in chat. You can also integrate with third-party communication tools like Slack. So, should you wish, you can send notifications to your team via Slack whenever changes are made to the Airtable project.
As we've already hinted at, Airtable is a fabulous choice for any project manager (or really any manager of anything) looking to boost accountability among their team. How? This is, namely, achieved by the fact Airtable tracks any and all changes made to the spreadsheet. This ensures all entries and edits inside of your table is well-catalogued, including who made what change. Needless to say, this increases both accountability and transparency amidst your team.
Not only that, but Airtable instantly syncs all changes and edits across every device. This goes a long way to ensure everyone stays on the same page. So, when you couple a clear account of the document's history and the fact employees can instantly respond to any adjustments made to your table, group projects have everything they need to move at a faster rate.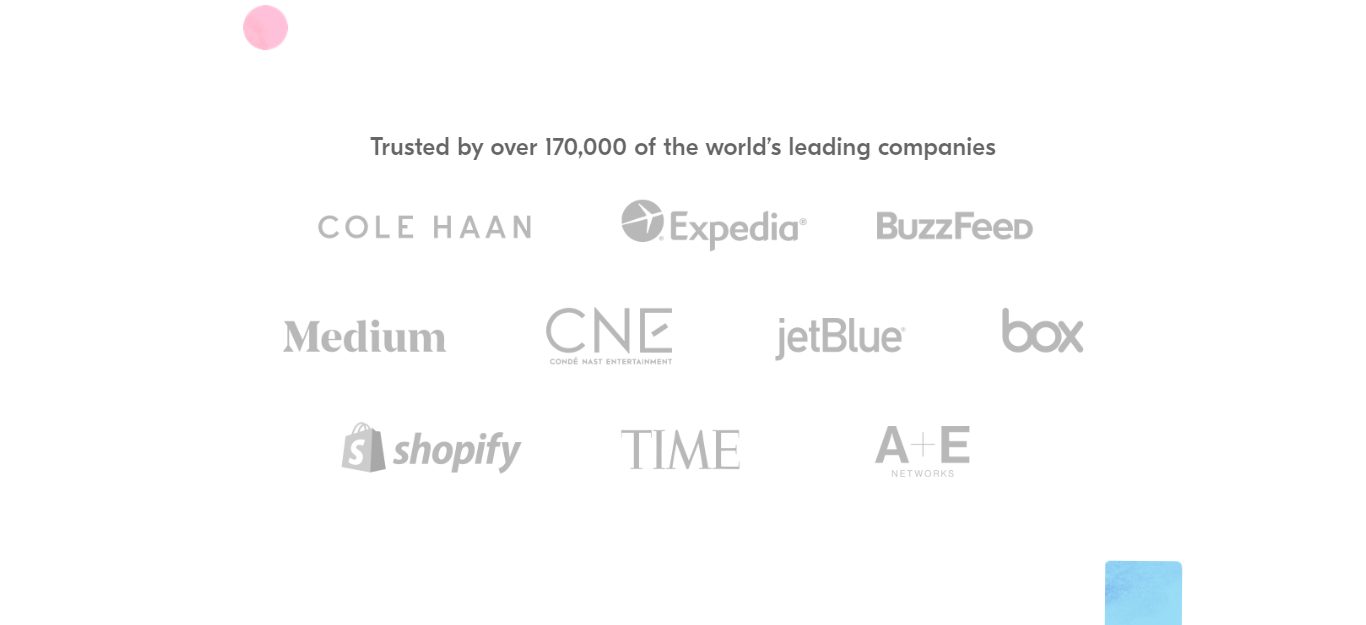 Airtable: The Cons
One of Airtable's most significant drawbacks is that it's only available in English. While similar tools suffer the same language barrier, some alternatives offer a broader selection of languages. As such, if you boast an international and multilingual team, Airtable isn't the solution for you.
While Airtable's customization tools are advanced (especially when compared to its competitors), Airtable doesn't permit fully customized grouping. Consequently, you're forced to place your data in the column first, where the system can manage it for you.
Some users report a lack of flexibility, i.e., you can't simply drag and drop different elements and lines to make a unique table view.
Other users complain Airtable doesn't meet the bar where project management tools are concerned – namely, that they'd like to see a more extensive messaging system, task tracking tools, etc. While Airtable is excellent in many ways, if you're looking for a tool dedicated to project management, Airtable isn't the solution for you.
As with most online tools and apps, Airtable's more sophisticated features are locked behind its more expensive plans. This may be an issue if you're working to a stricter budget, and you need more than two weeks or six months to save your data.
It's also worth bearing in mind that although you can contact Airtable's customer support via email or live web chat, you can't talk to them on the phone. So, if that's your preferred method of communication, look elsewhere.
Last but not least, some users complain there's no easy way to communicate with your team inside of Airtable. While you can communicate with teammates attached to the same project as you by tagging them, there's no additional or wider spread messaging system that allows you to instant message your colleagues.
For some, this is detrimental. This is especially so if you need info from other departments, and no one from that department is involved in your project. Instead, you'll have to use a third-party communication tool, which is a pain!
Monday.com's Most Notable Project Management Features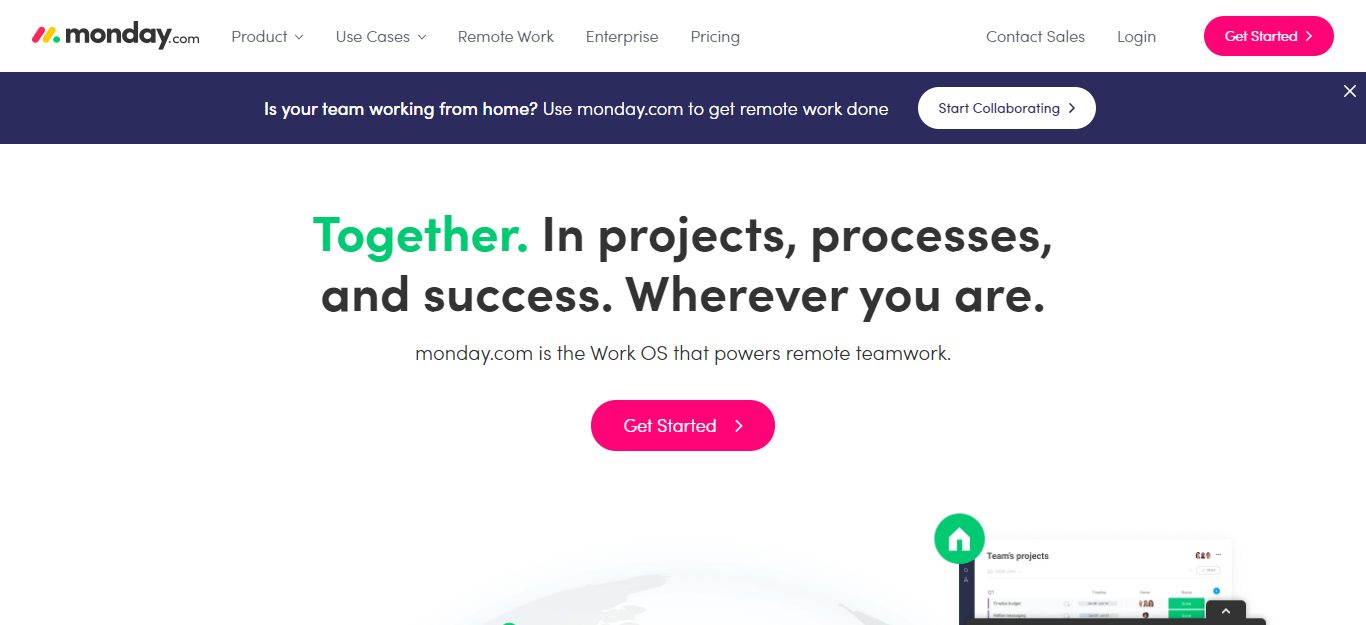 So, that's it for Airtable, now let's explore how the monday app compares as full suite project management software. We'll start by taking an in-depth look at Monday.com's most notable features…
As we've already alluded to, Monday.com is a project management system. It provides plenty of work management tools, as well as an integrated communication system. Monday.com is ideal for managing projects of all sizes.
This is how it works.
Boards are the basis of the tool – these are where you can set up and check off tasks and communicate with colleagues. To get started, you can use one of Monday.com's many templates to help structure your board. There are tons to choose from, including a 'daily task tracker,' 'event planning steps,' 'content planning' – just to name a few!
Alternatively, you can create boards from scratch. Below we've listed some of the elements you can add to help communicate your project's details:
Some calculations: This is a column with formulas in it, so you don't have to input and calculate things like expenses manually
Employee names
Due dates for tasks
The project's status
Tasks within the board can be grouped and given their own name. So, say, for example, you have a board for 'event planning,' you might then have groups for 'venues,' 'suppliers,' 'guests,' etc. It's also worth noting that for each task you set, you can attach multiple columns too. Columns contain info about the job – this could be anything from names to numbers to locations.
You can designate tasks to specific people. When you do this, the relevant team member will receive a notification. All notifications and mentions appear in your Monday.com inbox – which is a convenient hub for catching up on any message or activity you've missed.
Monday.com makes it easy for you to share data, which ensures better transparency and productivity amidst your team. If several people are working on a project, Monday.com highlights the progress they've made. Tasks can be marked as 'done,' 'stuck,' or 'in progress,' to reflect how they're getting on with their assignment(s).
You can also hide or display specific pieces of information on your board – so, if you're handling sensitive data, say, your worker's salaries, you can ensure that only individual team members are privy to this info.
Monday.com lets you view your boards as separate tiles inside of the main dashboard. Alternatively, you can view boards in a calendar, Kanban, workload, or timeline view.
The Calendar view is useful for tracking when projects are due, and the timeline shows how projects overlap. Best of all, with the workload view, you can see who's working on the most tasks and who's free to take on more.

How Much Will Monday.com Set You Back?
Monday.com offers four different pricing plans based on a per user per month basis. On their website, you can select how many users you'll need, and Monday.com will calculate a quote based on your chosen plan.
They also offer a 14-day free trial with the Pro plan, and if you opt for annual billing, you'll save 18% on the prices below. All plans come with 24/7 customer support and access to the self-serve knowledge base. The iOS/Android app is also available with each tier.
Basic Plan ($10 per user, per month)
The Basic plan unlocks essential functionality for small teams. You can build as many boards as you want (with over 20 column types), and anyone can view them. File storage space is limited to 5GB, and your activity log only goes one week back.
You also gain access to:
Whiteboard and Zoom integrations

The ability to embed documents and edit them in real-time

The Kanban board view

Embedded forms

Two-factor authentication

One board per dashboard
This increases your storage to up to 50GB and unlocks an unlimited activity log.
You also get:
The timeline and calendar view

The ability to share boards with guests (4 guests are billed as one user)

Advanced search (for finding files, documents, and images within your account)

Form customization (you can add your branding and change the background colour of your forms)

Three boards per dashboard

250 actions per month for both integrations and automation
Pro Plan ($20 per user, per month)
With the Pro plan, you'll enjoy unlimited file storage, as well as:
Unlimited guest access (unlimited users effectively)

Time tracking

The Chart view (here you display data as graphs and charts – similar to a Gantt chart)

Add formula columns to your tasks to perform dynamic calculations

Add custom tags to items

Set boards to private

Access to 25,000 integrations and automation a month

Ten boards per dashboard

Google authentication
Enterprise Plan (Contact Monday.com's sales team for a quote)
This custom priced plan is intended for larger organizations managing several teams and projects, or really complex projects. You gain access to all the advanced features above, plus tailored onboarding and security features, including HIPAA compliance, advanced account permissions, the audit log, and session management.
You're also guaranteed a 99.99% uptime and can use single sign-on with Okta, One Login, Azure AD, or a custom SAML. This is a really important feature that sets monday.com apart as a software vendor for enterprise clients.
Integrations and automation actions are also increased to 250,000 actions per month, and you can use 25 boards per dashboard.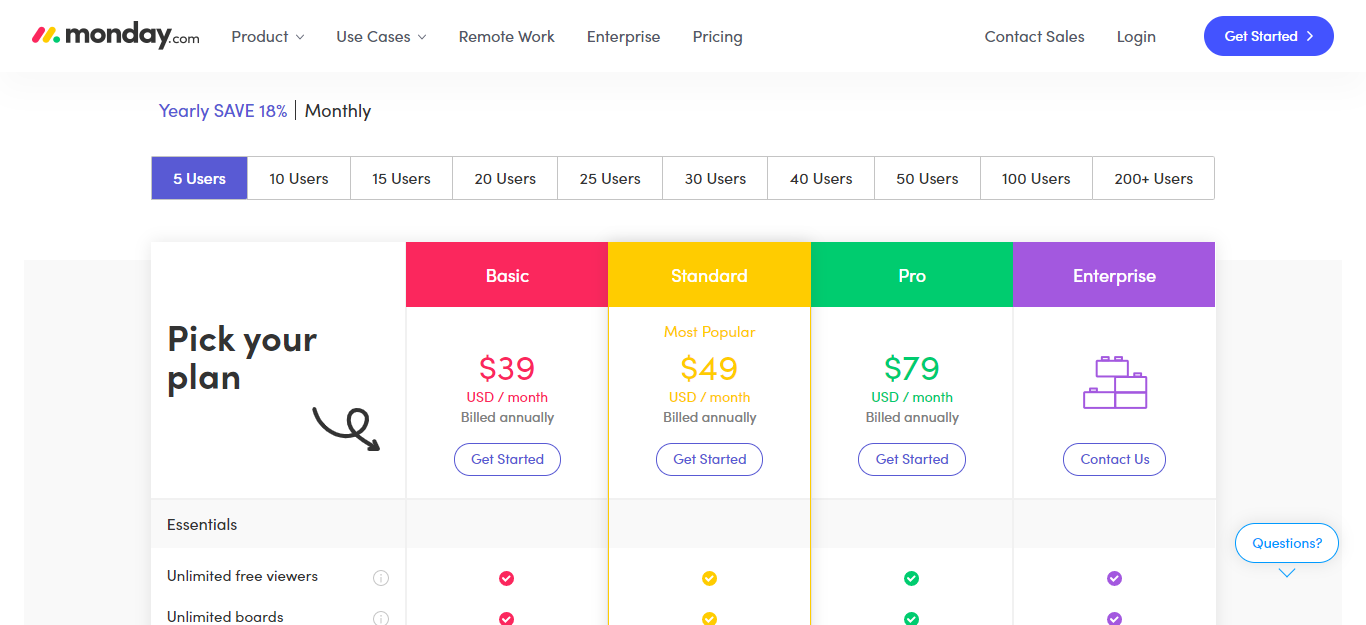 One of the best things about Monday.com is its 'status' option. This allows you and your team to mark tasks as complete, ongoing, or cancelled, so everyone can see who's working on what assignment, and get a feel for the progress being made.
Gone are the days where you had to call a meeting or send dozens of emails too and from to communicate the status of your projects – instead, all it takes is a glance.
We also love that Monday.com offers an impressive list of native integrations – including Slack, Github, Gmail, and Zendesk. We want to hone in on Zendesk for a sec because if you're already using this software when you integrate with Monday.com, any new ticket in Zendesk automatically creates a new task in Monday.com. This makes tracking and delegating customer support tasks so much easier.
Monday.com also allows you to add code-free automation to your tasks. Status changes, for example, enable you to set custom tags that trigger a response upon activation.
For example, if you change a project's status to 'ready for approval,' you can also set up an automation that sends a reminder to the supervisor.
Monday.com also lets you set rules that define the correct processes and workflow your staff need to take to ensure everyone's taking a consistent approach to their work.
Users also love that you can talk with teammates inside of the task. Let's say you're working on something related to design. Once you come up with an initial concept, you can kick off discussions with all the relevant parties, ask for opinions and feedback, and get an action plan together for the next phase of the project. These messages don't spill over into email chains or hard-to-track IMs – they remain inside of the task. All you have to do to catch someone's attention is to tag them.
Lastly, Monday.com's systems are hosted on Amazon AWS infrastructure and therefore benefits from these server protections. The site undergoes independent evaluation in the form of SOC 2 audits, and their protocols are based on international standards and industry best practices.
Firewalls are also in place to shield you from cyber-attacks and prevent loss of customer data. There's also a dedicated DDoS mitigation service to prevent malicious activity. Monday.com consistently backs up their customer's data. In fact, critical data is backed up every five minutes, and non-critical data is backed up daily – all backups are retained for 25 days.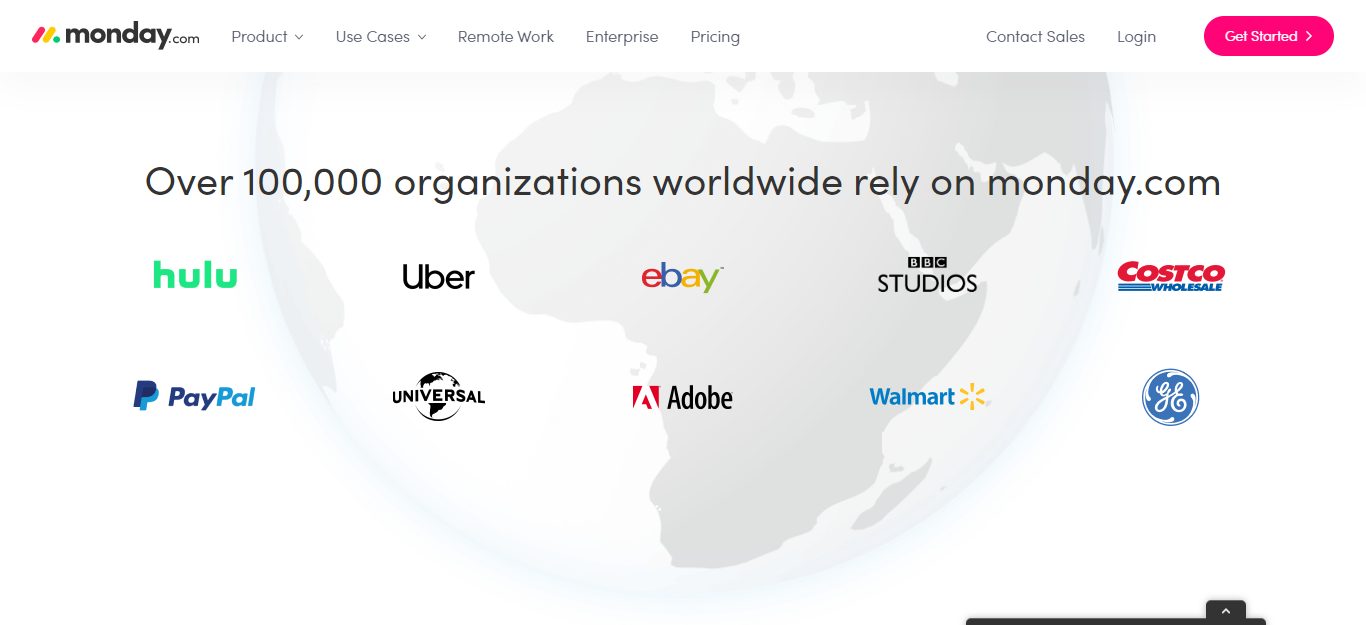 Monday.com: The Cons
Unfortunately, Monday.com only supports the English language. So, if you're managing a multilingual team, there are better solutions out there.
Also, Monday.com's pricing for smaller businesses (particularly freelancers) can be a turn-off. As we've already mentioned, Monday.com requires you to pay for five users at a time – so if you're a solopreneur who's only hiring the occasional freelancer here and there, Monday.com isn't a cost-effective choice. For the same reasons, Monday.com isn't an excellent choice for companies that are gradually expanding – small brands typically hire new team members one at a time…not in batches of five.
Monday.com doesn't support Linux OS – so if that's the operating system you're relying on, you'll have to look elsewhere.
We've also seen complaints about the single tab system you're forced to utilize when using Monday.com inside an internet browser. This makes jumping between two separate projects a bit of a hassle.
Some users report that Monday.com's interface takes some getting used to – primarily if you're operating more than one board across several projects. Not only that but as there are so many features, it takes a while to familiarize yourself with all the tools.
Editor's Choice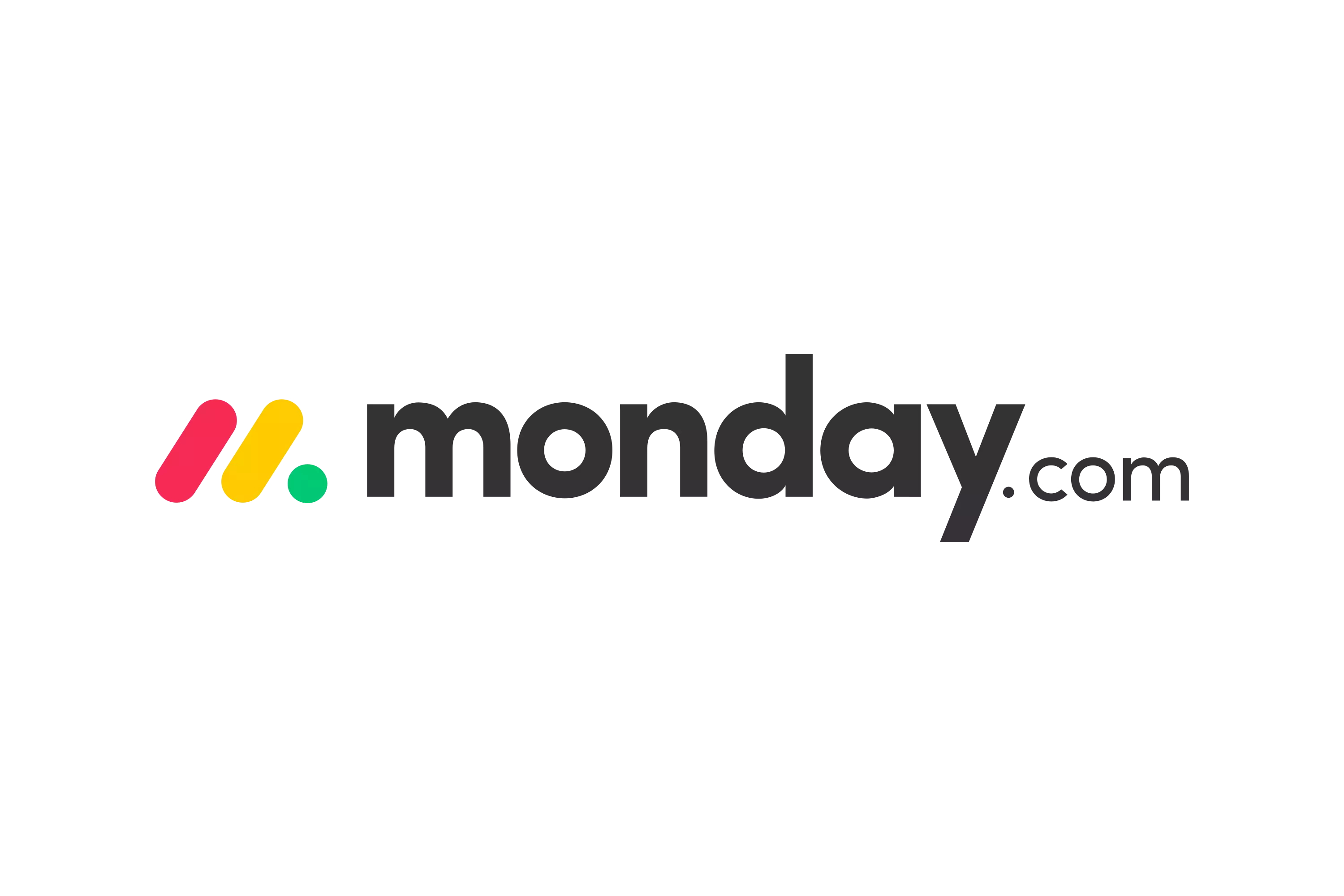 Why Go with monday.com?
Make tasks satisfying to finish! monday.com is quickly disrupting the old guard with a sleek interface, hundreds of integrations, and dozens of workviews for visually imagining and tracking your projects. More than just project management.
Start Managing Your Team Better
We earn a commission at no cost to you which helps keep this blog running!
Airtable + monday.com Integration
Can you have both? The short answer is, yes!
There are definitely use cases where the Airtable universe is more functional for in-depth project tacking and record keeping.
While neither platform has a native integration, there are a couple different "connectors" you can use to integrate specific functions.
Airtable vs Monday.com: FAQs
Does Monday.com Offer Non-Profit Discounts?
Monday.com provides discounted pricing for non-profits. To apply for a discount, you need to fill out a form on their website to get in touch; they'll then get back to you with any applicable reductions.
Does Airtable Offer Non-Profit Discounts?
Airtable offers up to 50% off their Plus and Pro plans for qualifying non-profit organizations. To receive this discount, you'll have to apply.
How Secure is Airtable?
Privacy and security are a priority for Airtable. So, it enables a range of sensitive and mission-critical use cases. They are SOC 2 compliant and use AWS hosting infrastructure for added security and protection. They also run automated application-level security scans daily, and endpoint scans monthly. Airtable even regularly commissions external penetration tests. This excellent tool is fully GDPR compliant, and users can safely export their data to a CSV file at any time.
What's Airtable's Refund Policy?
Airtable may provide refunds if you live in a region where businesses must have a refund policy. In the European Union, for example, this means you can cancel a paid plan within 14 days and receive a refund if you contact support and specify your location.
What's Monday.com's Refund Policy?
Monday.com provides a full refund should you change your mind during the first 30 days after purchasing a yearly account. Simply cancel the account and get in touch with support, explaining the reason for your cancellation. After 30 days, you're no longer entitled to a refund. You can use the features you paid for until the billing period runs out.
Which To Go With: monday.com or Airtable?
If you're a freelancer and want a tool to help manage your portfolio, workflows, and store all your info in one place,
Airtable is a better bet. It offers a fantastic suite of distinct feature sets and is single-user friendly (especially in comparison to Monday.com).
Not to mention, it's cheaper and focuses more on storing and organizing tasks and providing real-time team collaboration tool functionality.
Are you a Freelancer? The better bet here is to go with the single-user friendly Airtable here.
But, if you're running a more extensive operation, Monday.com might be a better choice, as you can set up automated responses and integrate with Slack. With its versatile features and functionality, the tool scales to suit the needs of multi-department companies.
Do you have a team? This is where the more versatile functionality of monday.com stands out. Take a free trial run here to see exactly how monday.com is a superior airtable alternative.
If you're still unsure which to opt for, you can try both of them out for free, so why not give them a try to see which interface you're more comfortable using?
Bottom Line Up Front Summary: Airtable is a great data management extension, but if you need project management the tool we trust as the "hub" is definitely monday.com here. That said, you can still use Airtable AND monday.com integrated together.
Either way, tell us in the comments box below which solution you go for and whether you have any thoughts or feelings about these two productivity tools you think our readers should hear. Speak soon!
Editor's Choice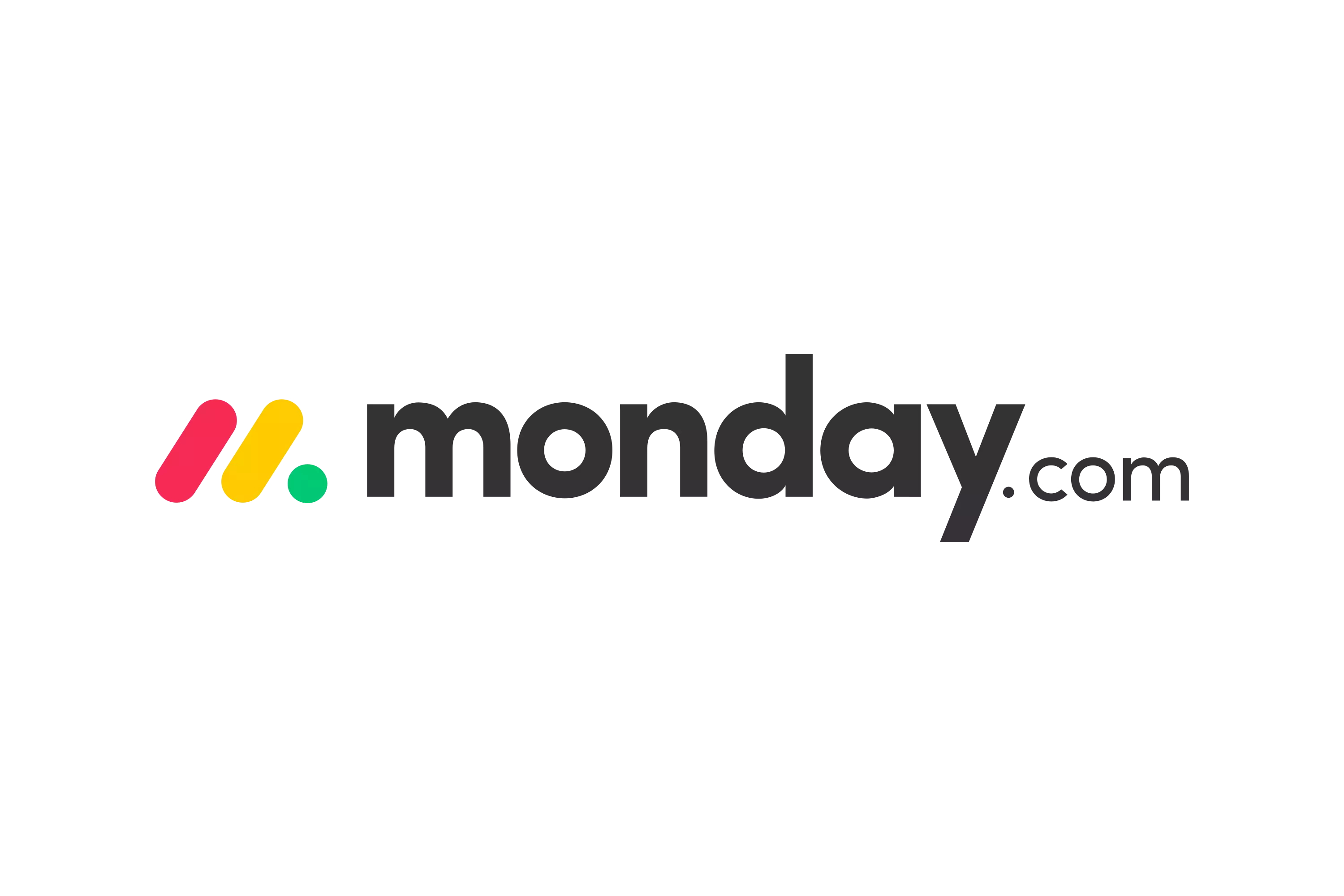 Why Go with monday.com?
Make tasks satisfying to finish! monday.com is quickly disrupting the old guard with a sleek interface, hundreds of integrations, and dozens of workviews for visually imagining and tracking your projects. More than just project management.
Start Managing Your Team Better
We earn a commission at no cost to you which helps keep this blog running!
Further Reading on Project Management Software and Task Management Solutions
If you still can't quite decide between Airtable and monday.com, we've compared both head to head with some other popular tools below.
Other Airtable Alternatives and Solutions