Last Updated on April 28, 2022 by Ewen Finser
Coding isn't just for developers anymore.
All sorts of people need to learn coding. Business owners who need to tweak their website. Students who have to get through a course in order to complete their education. Beginner or advanced programmers who need help pushing through a topic that's giving them trouble.
Codementor offers these people – anyone who needs help with a coding issue – real-time support from a pro, and without having to hire an in-house developer or a semi-permanent contractor.
Programming issues can be pressing even when they're super small. Sometimes a full-time employee or an in-depth training course isn't necessary.
With Codementor, clients can access experts to get answers and solutions to their coding problems, and they can use the service for one-off issues or to develop a rapport and ongoing relationship with a developer.
In this article, we'll talk about Codementor, including:
Company information and how it works for both the mentor and the client.
The signup process for mentors.
The process of finding clients to mentor and agreeing to work together.
How you get paid, including Codementor commissions and the client's money-back guarantee.
Codementor is a platform that lets freelance programmers earn money by helping other developers, students, business owners, or anyone who needs programming guidance or support. Over 8,000 mentors cover more than 800 topics, offering advice, freelance work and training to both beginners and experts. Mentors connect with clients through text chat, video chat and screen sharing.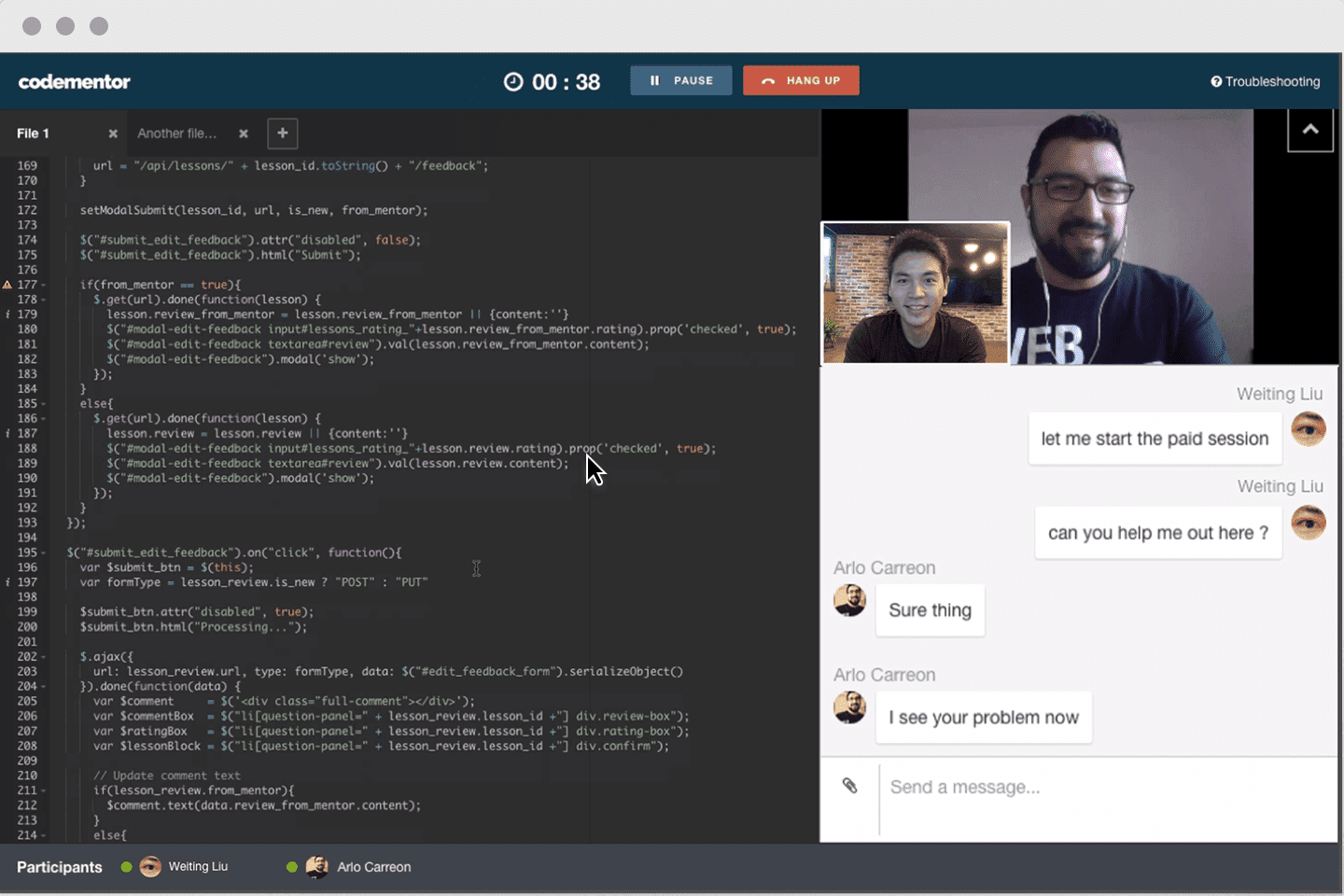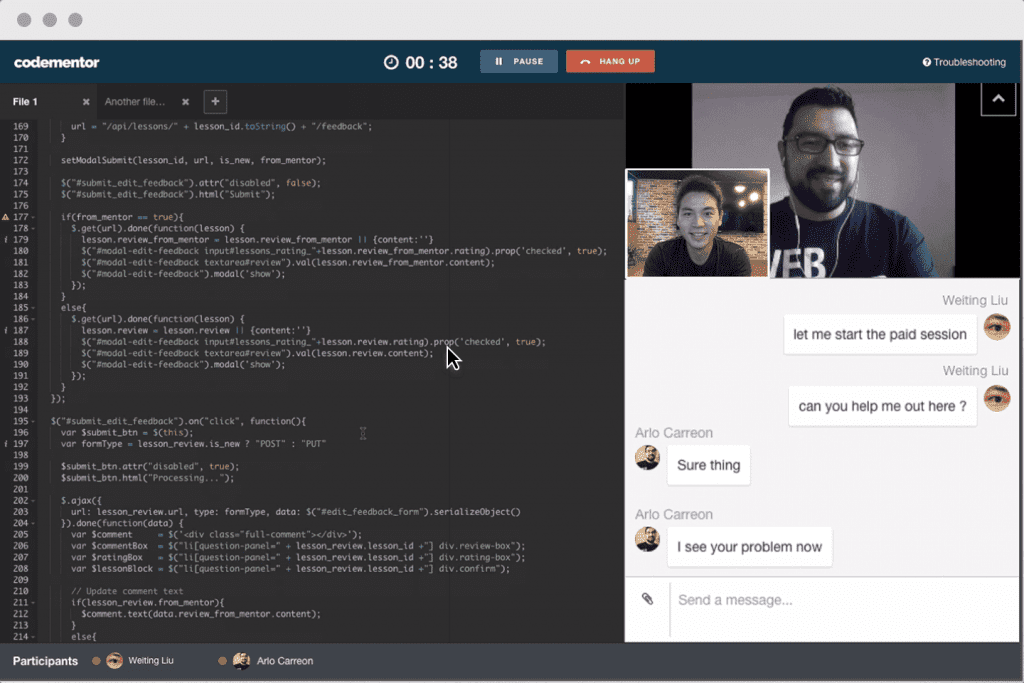 Codementor is an online freelancing platform, similar to Freelancer or Upwork, but intended primarily for programmers. Clients can find developers to either answer questions and get help with live programming, or to handle actual freelance programming jobs. For the mentor, there's a good supply of different opportunities for using your knowledge to earn supplementary income.
About Codementor
Codementor is based in San Francisco and Taiwan, and their mentors come from all around the world.
The company was funded by 500 Startups and Techstars, along with other investors, and it's run by CEO Weiting Liu.
The original Codementor was launched in 2014, and in 2018 Codementor 2.0 was launched. The new-and-improved Codementor 2.0 has changes to benefit both the client and the mentor, including:
New, streamlined onboarding processes for both the client and the mentor.
Mentor search tool for clients to find, evaluate and compare mentors.
Updated, easier-to-use mentor application form.
Codementor is also planning to introduce a gig marketplace for fixed-price projects, similar to Fiverr. Gigs don't have to be cheap, though – they can cost as much as $2,000 or more.
How Codementor Works
The client creates a request with details about what they need help with. They can either get live help immediately, schedule a session for a later time, or look for a long-term mentor they plan on working with now and in the future.
Clients typically get a response within 10 minutes to half an hour, based on the time of day and how complex the request is.
Codementor offers a lot of support for clients to help them find the right mentor from the start. For example, there's a help guide about writing a good request and a quick guide to starting a session with a mentor.
We'll dive more into this topic in the "Finding Clients" section, but basically the mentor searches for requests they feel they can help with and then they reach out to the customer to see if they're a good match. There's no commitment the mentor has to make in order to work on Codementor – you can choose your own schedule and maintain whatever type of availability you prefer.
Mentor Signup Process for Codementor
In order to become a mentor on Codementor, the applicant has to fill out an application that's then vetted by staff members to decide whether or not you have the right qualifications.
It's important to note that the Codementor application process used to be quite lengthy, but it's been streamlined with Codementor 2.0 and now takes a short amount of time to complete. However, it's still important to have actual expertise in order to be accepted, and the more detail you're able to include, the better.
If you have a LinkedIn account, you may find the sign up and profile process on Codementor similar to LinkedIn. You'll start by clarifying your area(s) of expertise.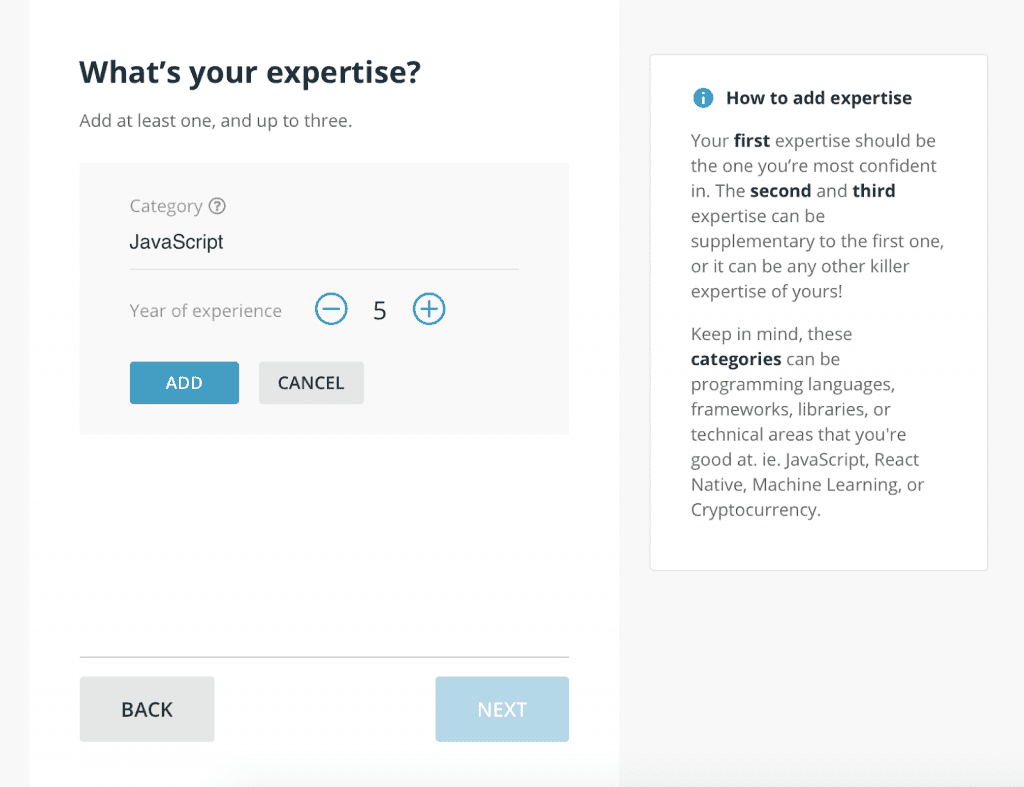 If you have social profiles on platforms like GitHub and Stack Overflow, you'll be encouraged to include links in order to verify your background and skill level.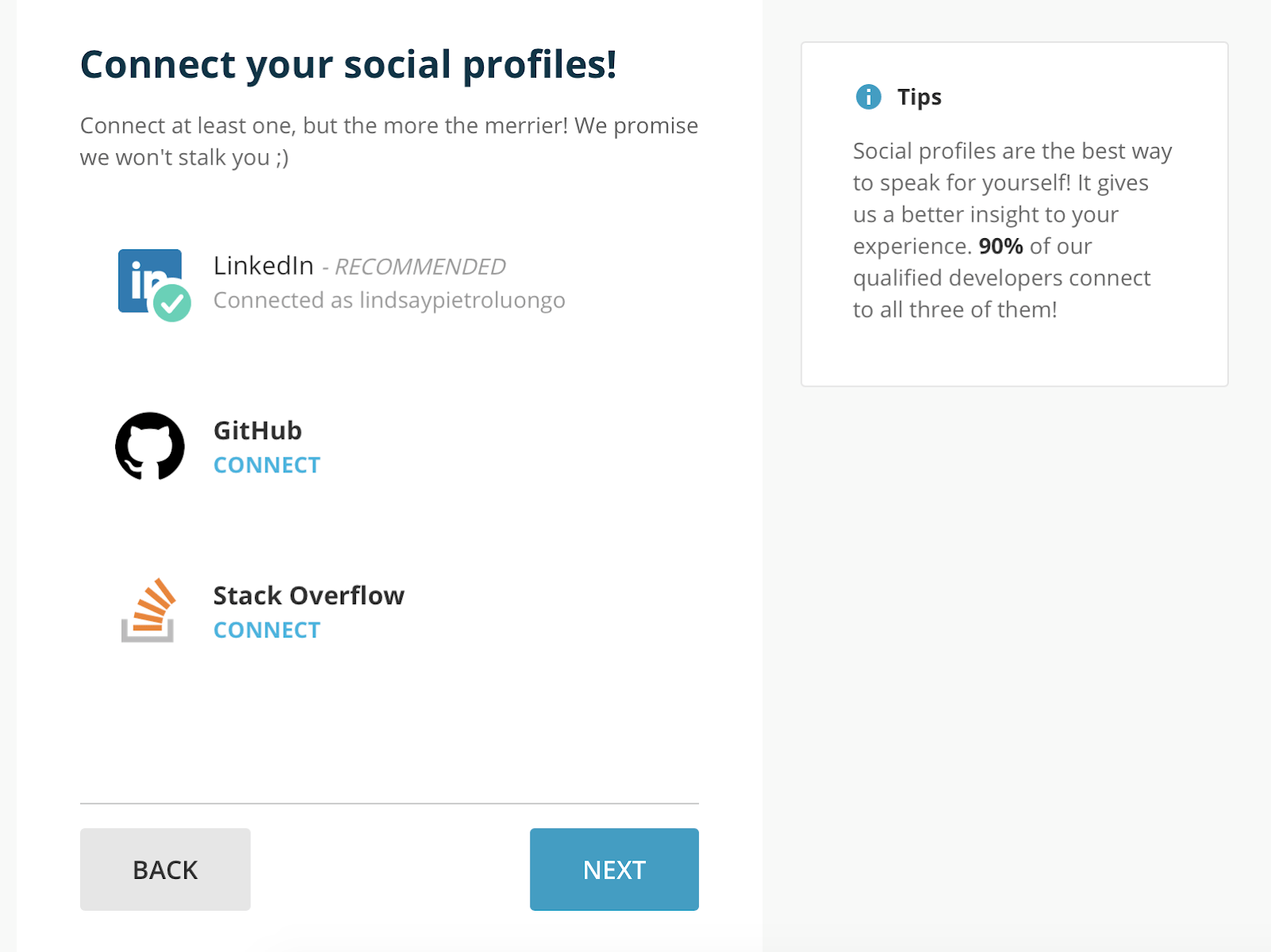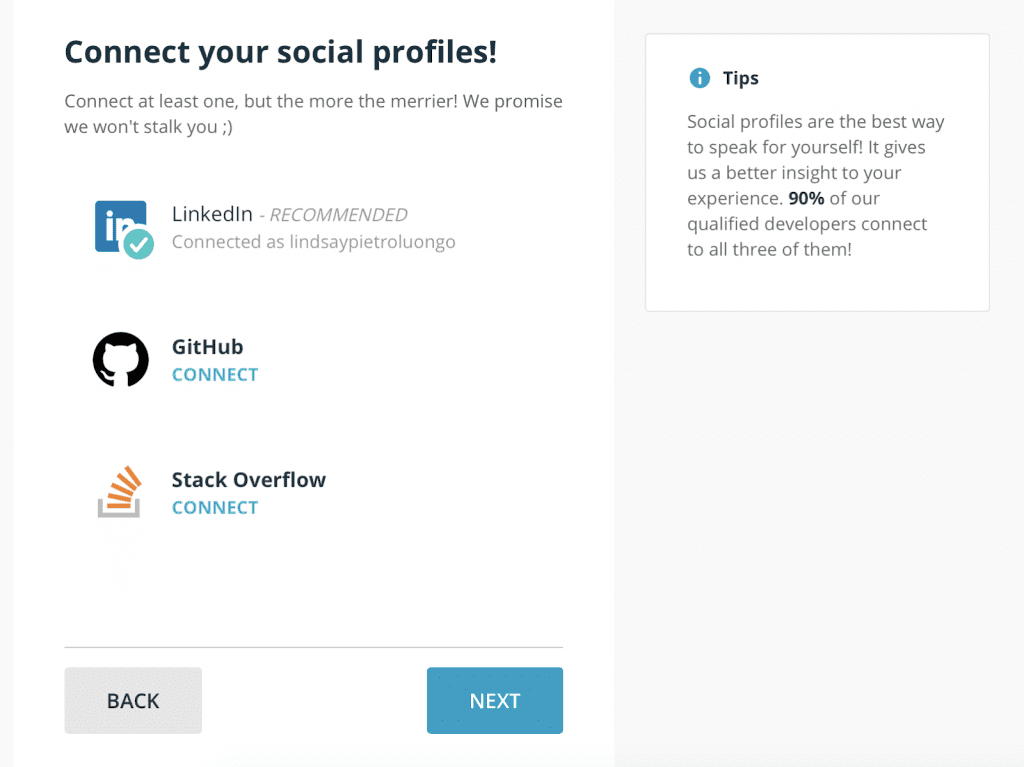 You'll then be asked to explain, in 800 words or less (I wrote a single sentence and it went through), why you want to be part of Codementor.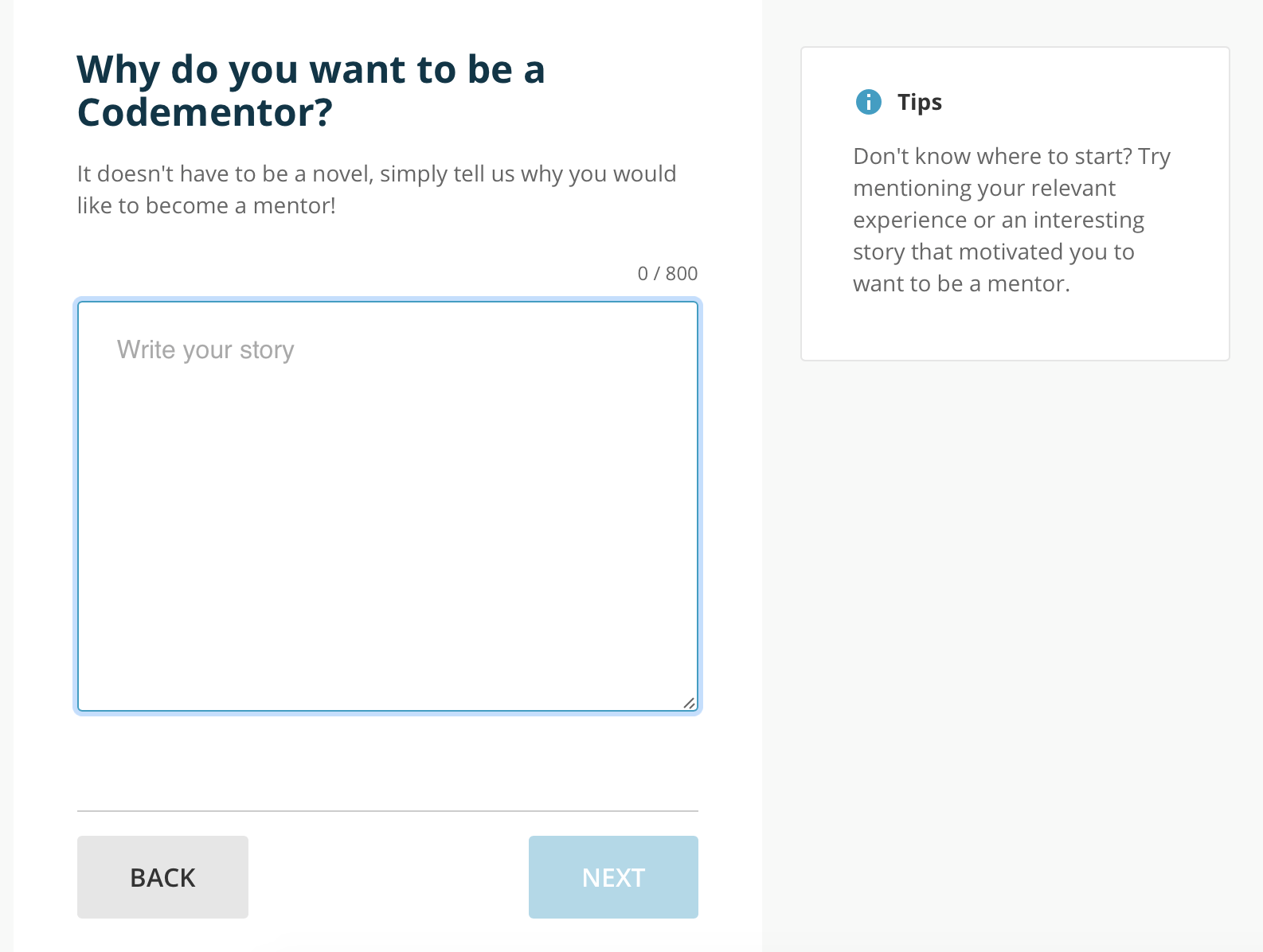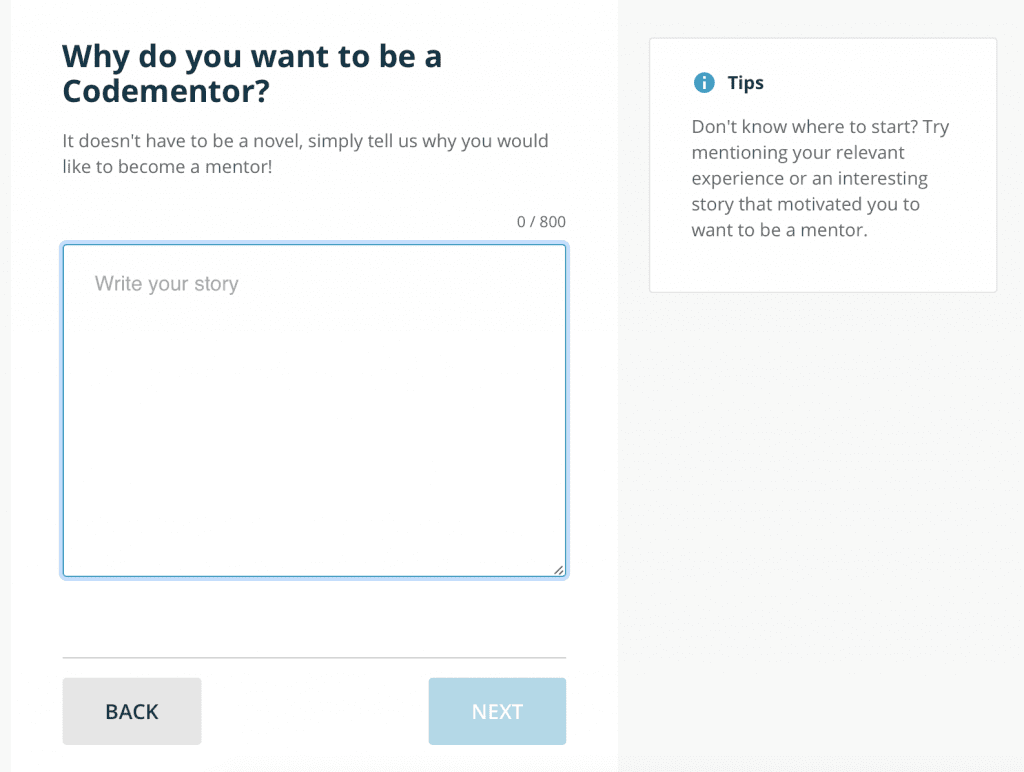 The last step of the application process is submitting a profile photo, which auto-populated right from my LinkedIn profile that I'd connected.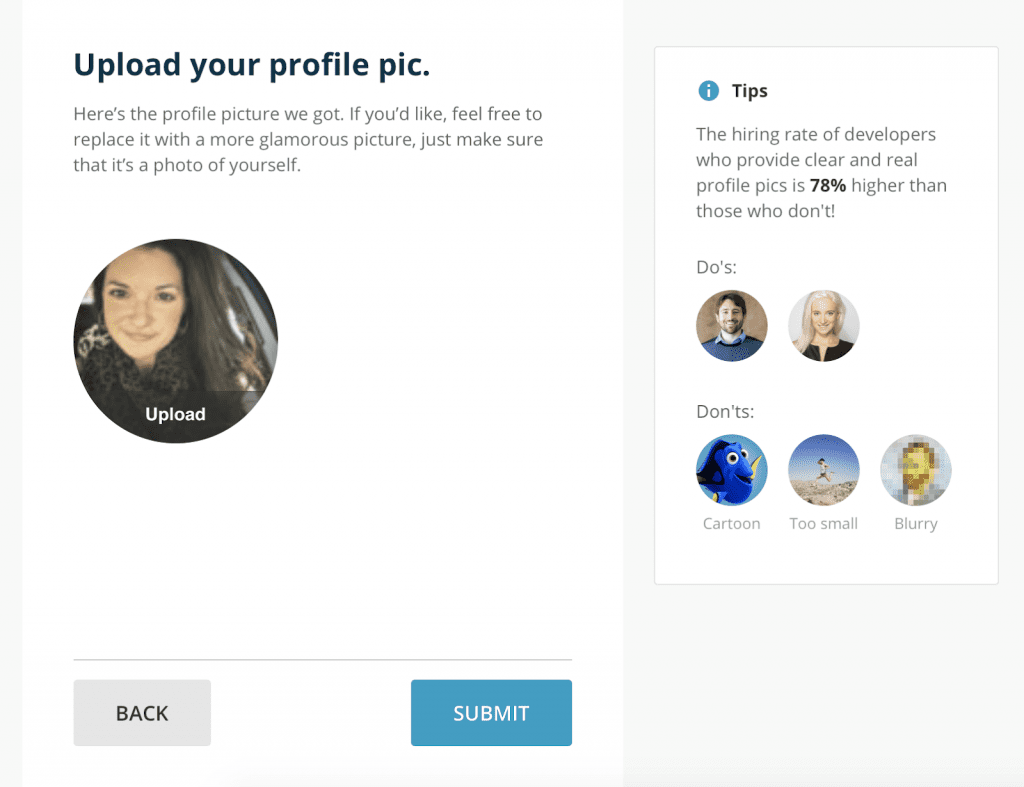 Once you've filled out and submitted the application, you'll wait to be approved, which can take a few days. Once approved, you'll be notified by Codementor. It's possible that you won't be notified at all, which likely means you haven't been approved. However, if you aren't approved, you can make changes to your application to see if that improves your chances of acceptance. After a few days, I was contacted to finish filling out my profile.
Finding Clients to Mentor with Codementor
Once you're accepted to Codementor, you'll have access to the open requests section, which is where you'll search for a job. While there are filters you can choose from to narrow down requests, it may be a better idea, especially when starting out, to turn off the filters so that you see all available requests, including news ones that have just been added. This will give you an idea of the type of help that's needed, and you may be able to help people with queries you hadn't considered at first.
Click the Open Requests button to show the different clients available for mentoring. You can then message people based on their available budget and the problem they're having.
When looking for a job with Codementor, it's best to be proactive – don't hesitate to reach out to people who could use your advice.
For the most part, mentors don't actually handle the work for the client, although many will perform quick fixes and tweaks if needed. Mostly, though, Codementor is used for clients to get advice and help on an issue so that they can solve it on their own. However, there are opportunities through CodementorX to take on larger and ongoing freelance projects, if that's what you're looking for.
Once you've connected with a client, whether you've reached out to them or they've contacted you first, you can use Codementor's in-session software in order to manage your session. Once both you and the client agree to start the session, a timer will start. Some mentors will offer a free introductory period (of 10 minutes, for example) to chat with the client before moving forward and charging for the session.
You have the option to either use the Zoom meeting software or to conduct the meeting via the browser. Zoom allows the client to record their session and review it again later on.
Note that it's important to make sure your clients accept the session so that it officially begins. Otherwise, you'll be mentoring for free without even realizing it, and you can't backtrack and charge the client for un-timed work.
Codementor also allows you to reject reviews and refund money if you feel that's the best decision. This is a good choice for some programmers who feel that it's more important to protect their reputation than to keep a client's money if they're unhappy. Also, Codementor offers a money-back guarantee.
What is CodementorX?
You'll probably start being pushed to apply to CodementorX as soon as you get onto the platform. CodementorX is a separate section of Codementor that requires an interview and asks you to complete a take-home project. If you pass this stage, you'll be able to access premium projects, like the ones mentioned before that are large-scale or long-term.
The clients on CodementorX have been vetted, and they include well-funded tech companies and Fortune 500 companies. You also may find a more diverse project selection here.


CodementorX handles things like invoicing and other paperwork, meaning you can focus more on the project at hand and less on administrative tasks.
The application process for CodementorX is similar to that of regular Codementor.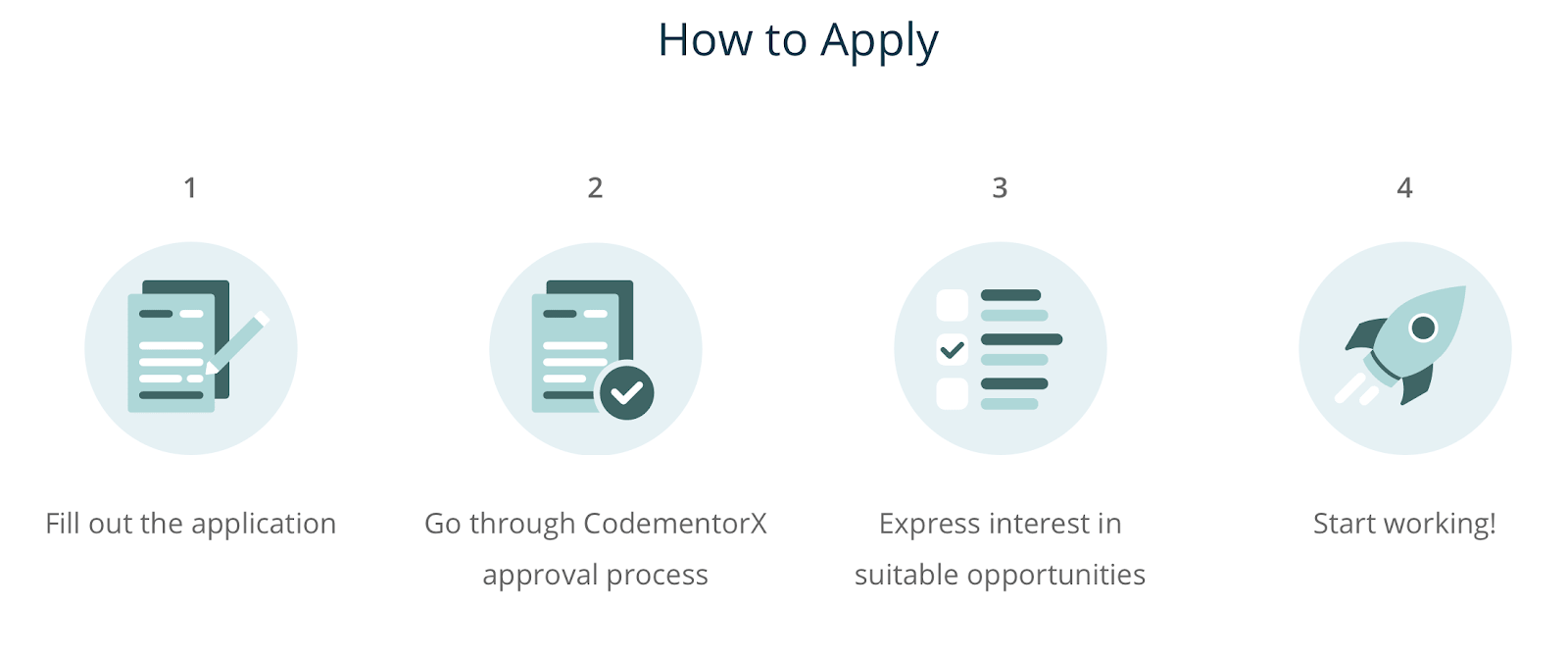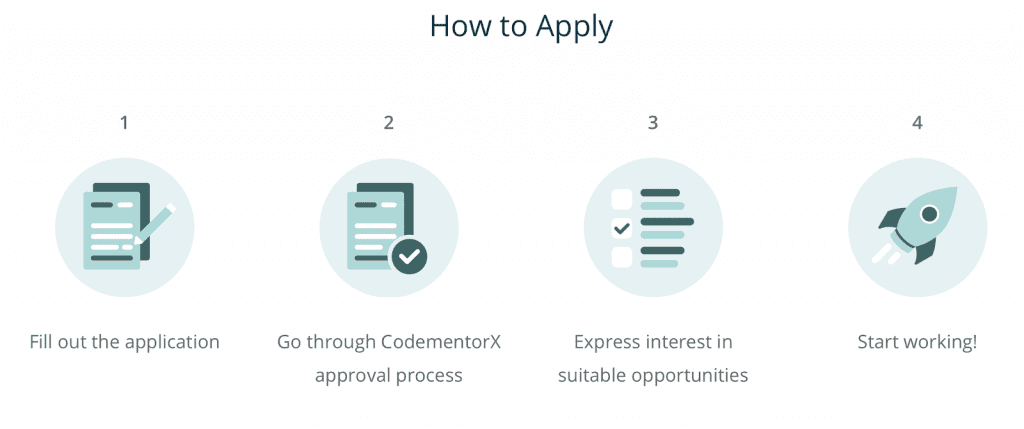 These are just some of the tasks that CodementorX experts take on.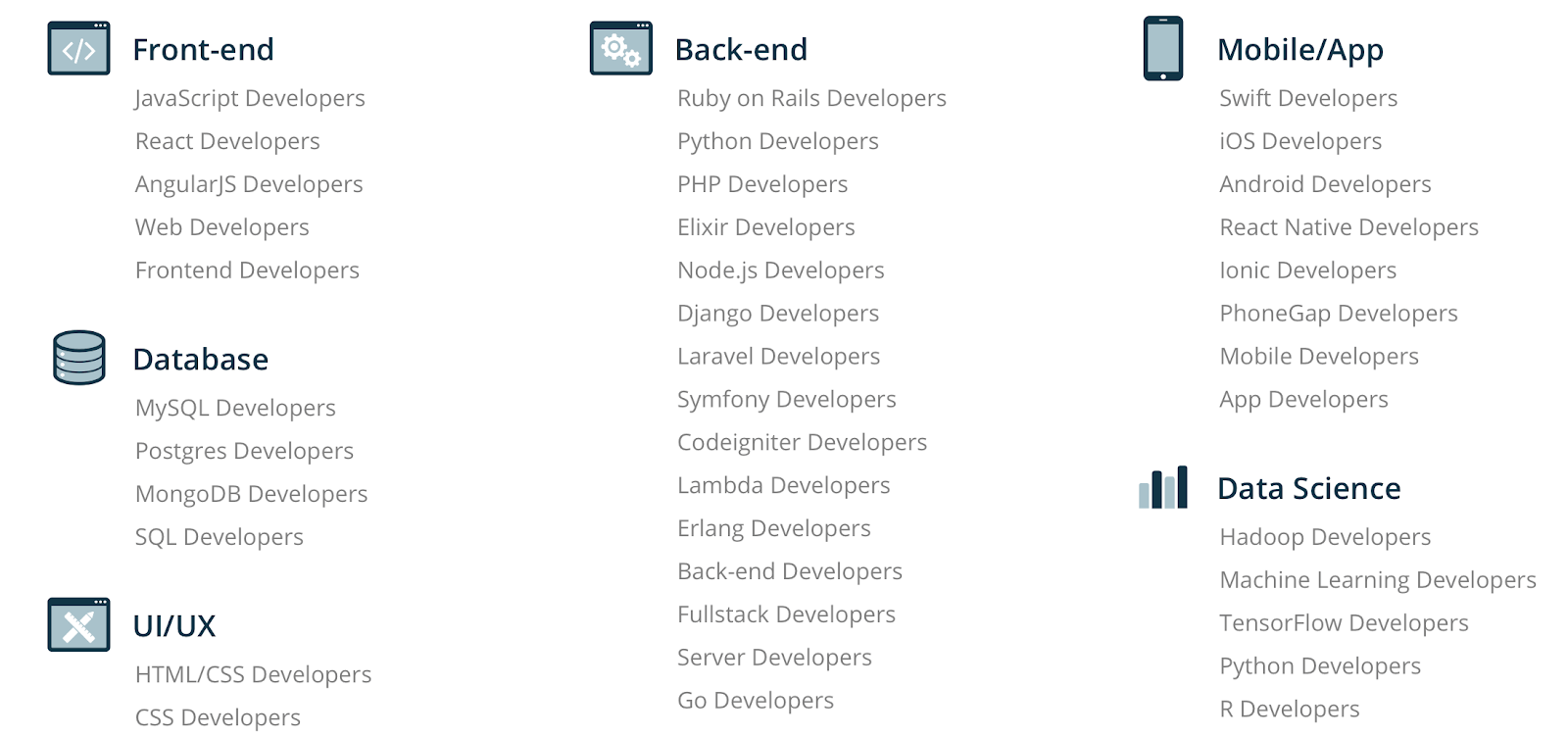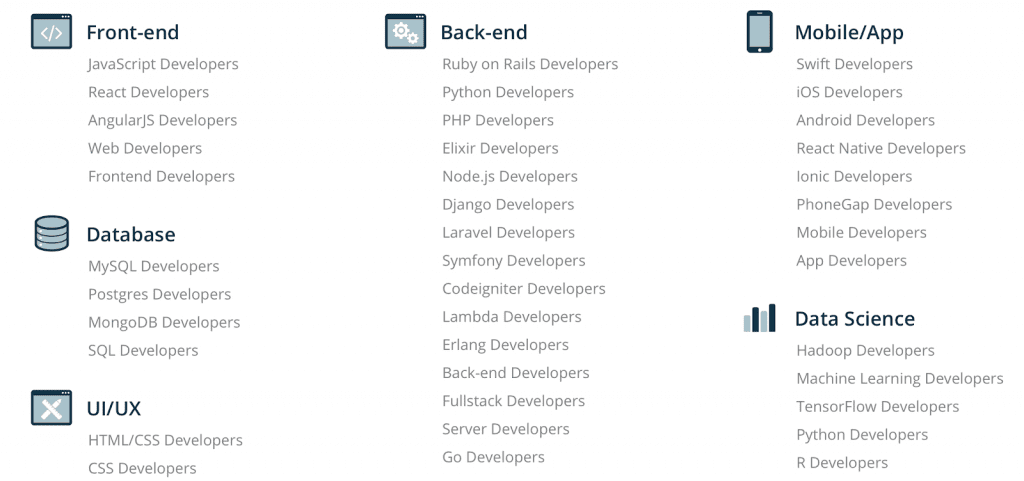 If you have good luck on regular Codementor and want to start earning more, CodementorX may be a good upward move.
Getting Paid on Codementor
Programmers can set their rate and increase it as needed (like as they gain more experience on the platform and feel their time and advice is worth more). As the mentor, you set your own rates, and you can set a rate for as short as a quarter-hour. Many developers charge $10 to $15 for 15 minutes.
If you're having trouble setting a rate, you can check out the rate explorer tool, which is intended for clients to estimate the cost of their project, but is also very helpful for mentors who want to price competitively. This is also a good tool to check out if you're having trouble defining your experience and want to know exactly which areas mentors are skilled in.
There are several categories to choose from to start your research.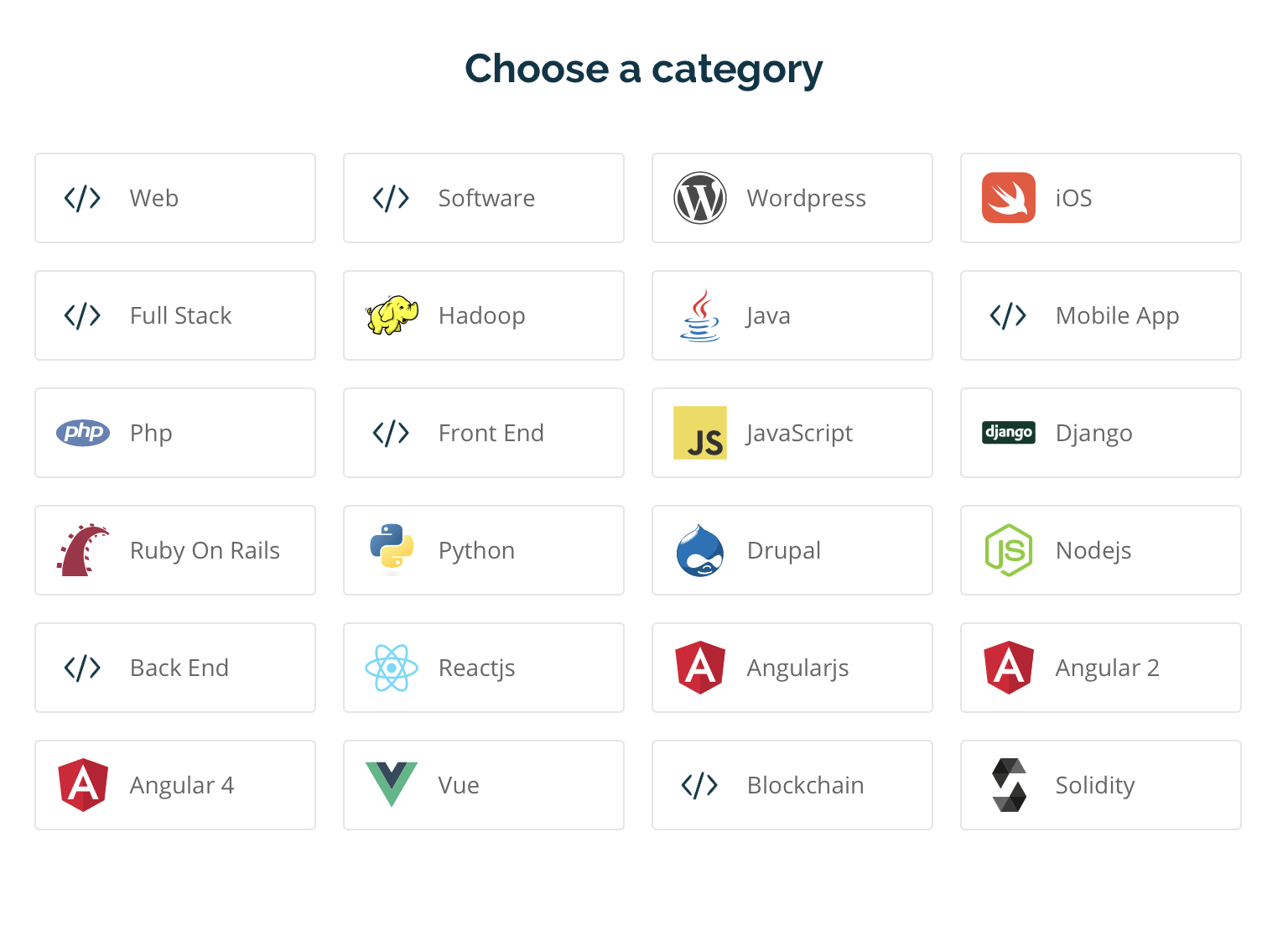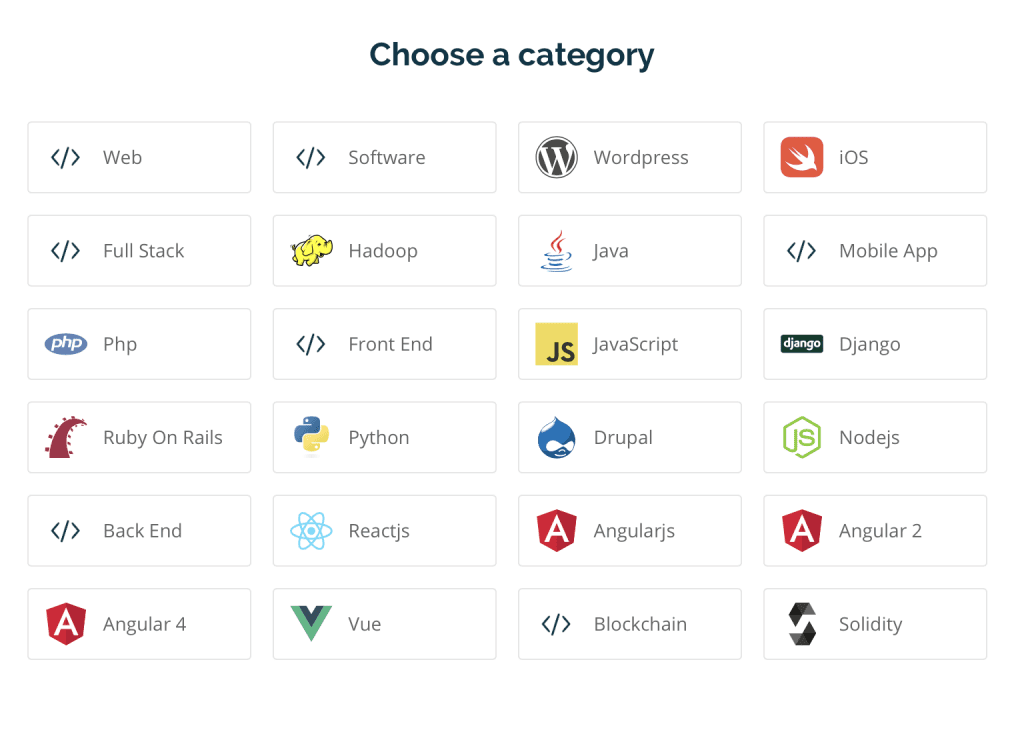 You can then get an idea of what other developers are charging for a specific type of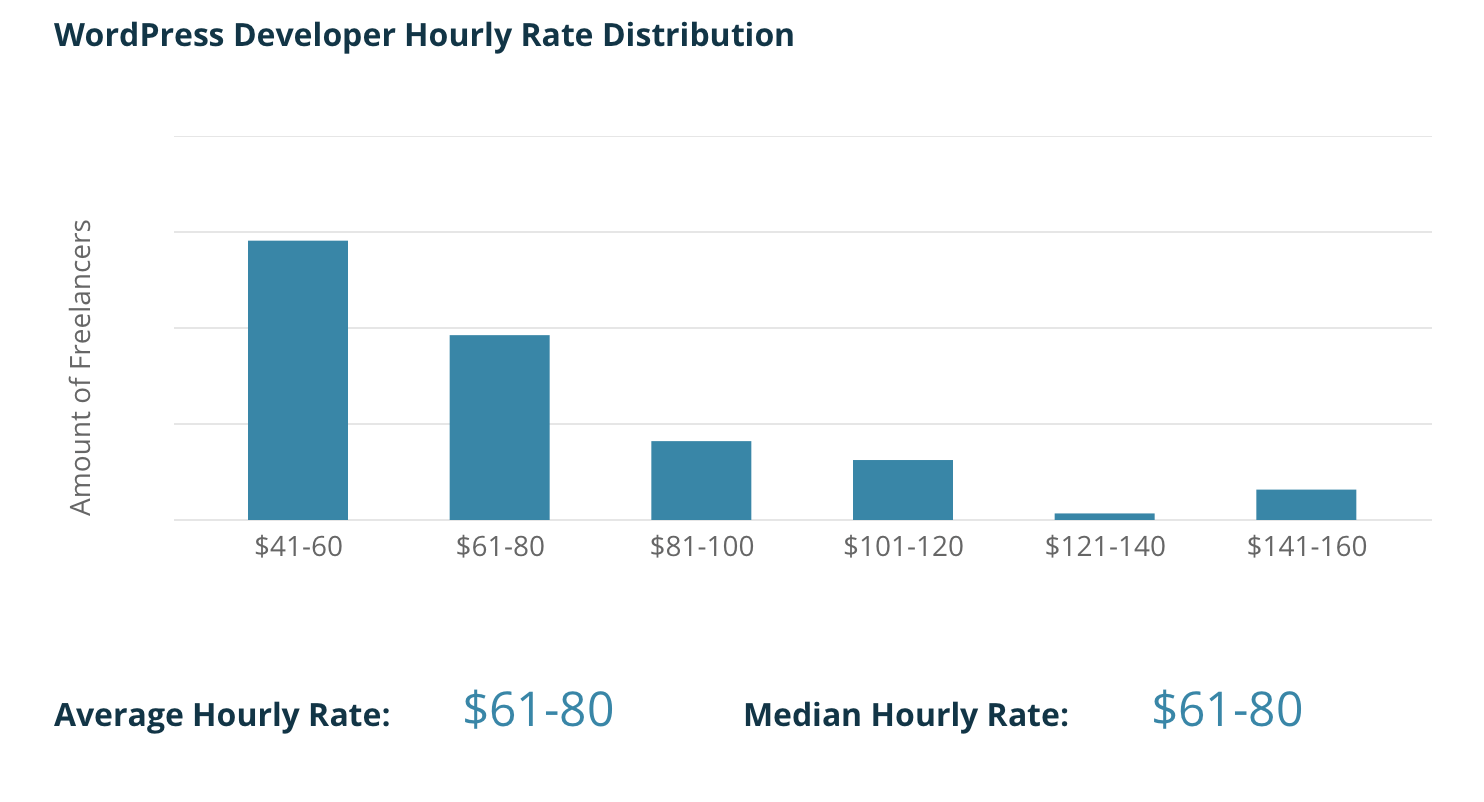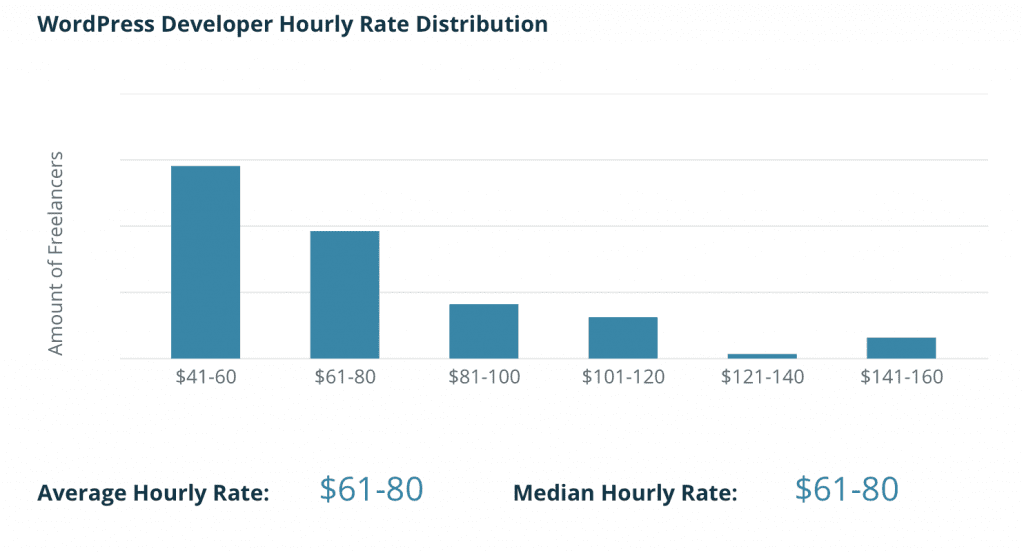 work.
Codementor requires a minimum charge for the first 15 minutes of the session, and then after that the mentor's rate kicks in.
The amount you'll be paid is based on how long the session is. You can pause the session, but if you do, make sure to start the timer again once you begin working again – otherwise, it'll remain paused and affect how much you make.
Once the session has ended, Codementor will let you know how much money you've earned and the client's credit card will be charged. Payouts occur every week.
Note that Codementor takes a 20% commission. However, if you do a high number of sessions per week you can decrease the commission percentage they take from your earnings. The better your work ethic, the lower commission rates you'll have to pay, so long as you keep your ratings high. It's possible to pay as little as 13% in commissions.
Things that can affect ratings include sending personalized messages instead of automated ones or using generic templates to respond to a potential client. Also, don't agree to be a mentor on a topic that you're not actually familiar with.
Clients have a money-back guarantee from Codementor and they can request a refund within the first hour if they're unhappy with the support.
Additional Codementor Services
There are a few extra things that Codementor offers:
Blockchain Learning Center: Codementor offers a selection of resources to teach blockchain programming and to help the client or the mentor – whoever needs the guidance – stay on top of the latest blockchain tech developments.
Codementor for Business: Businesses that need more than one-off support but aren't ready to hire a full-time developer will use Codementor's many business solutions, like faster help from mentors and code review.
Pair Programming: Sometimes a client wants to team up with a programmer in order to tackle a project. Codementor will help a client find a developer for remote pair programming.
Team Training: Codementor offers live workshops for teams who need to learn about programming technologies.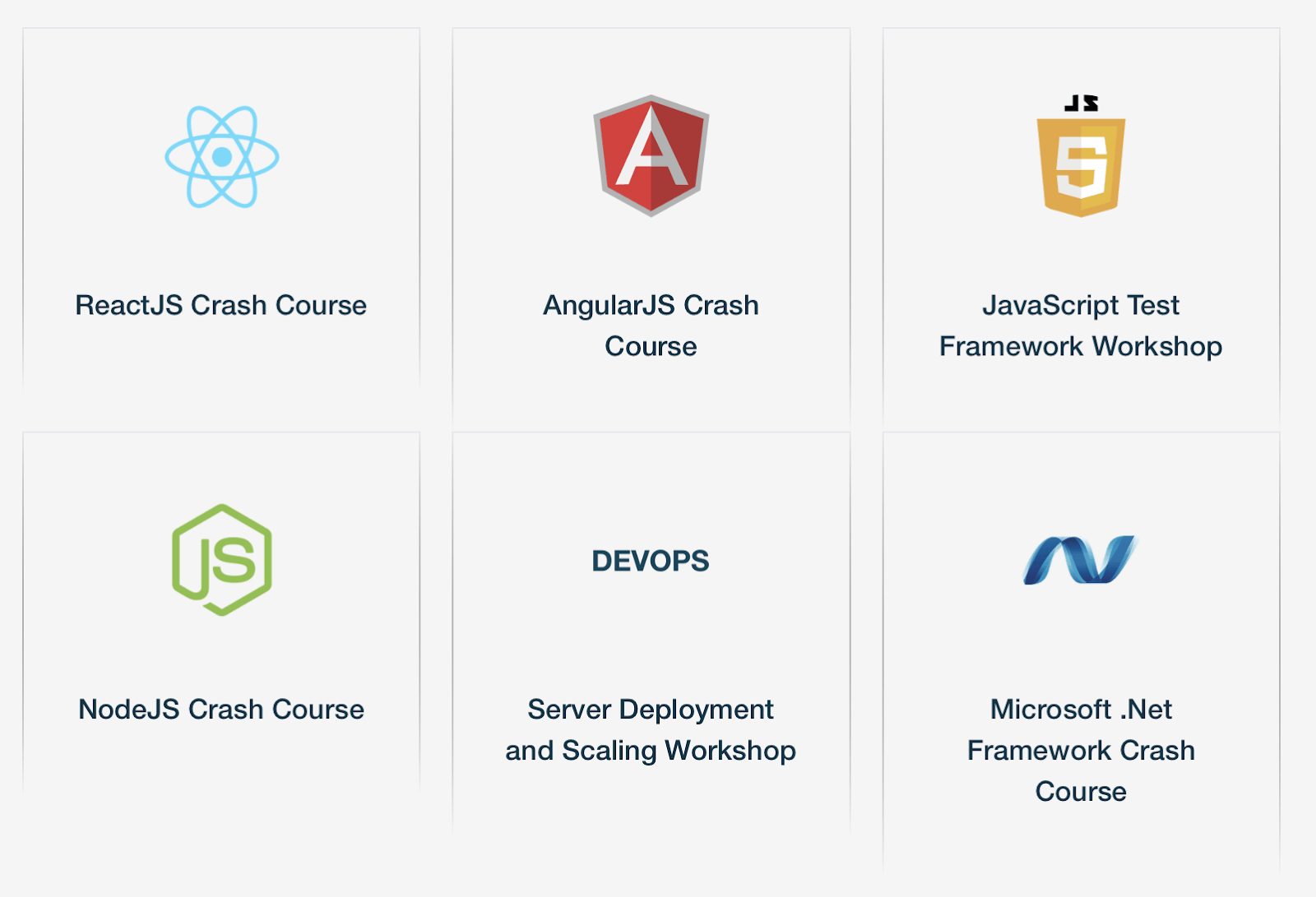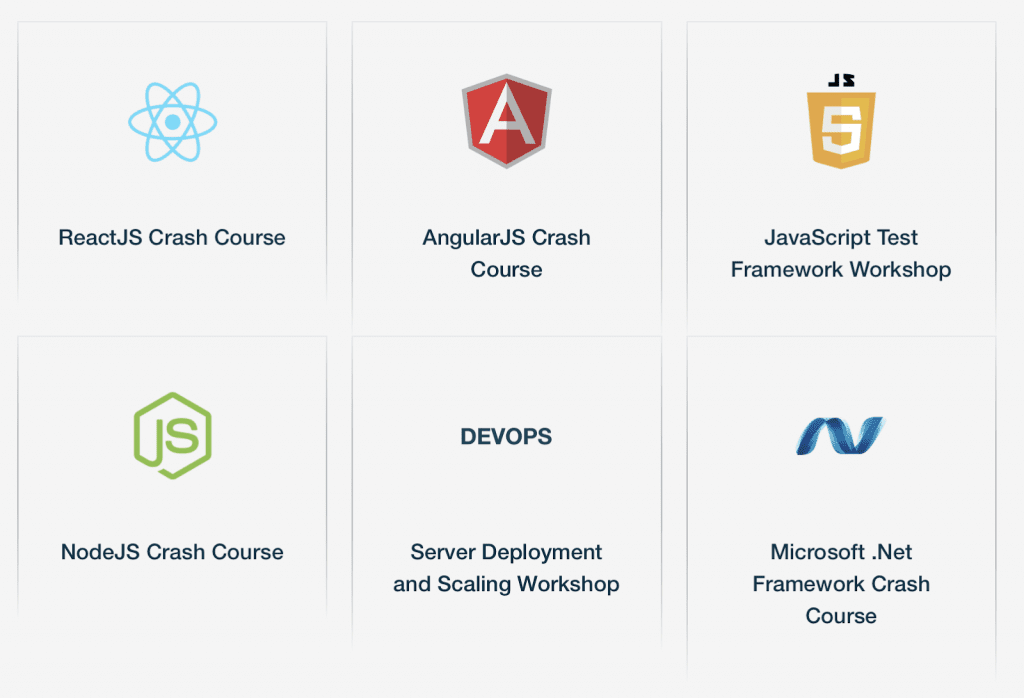 Codementor Customer Service
If you face any trouble using Codementor or working with a client, you can contact customer service for help.
There's also a broad community of developers so that mentors can chat with one another. This is where you can share insights and ideas, ask questions, and expand your own knowledge.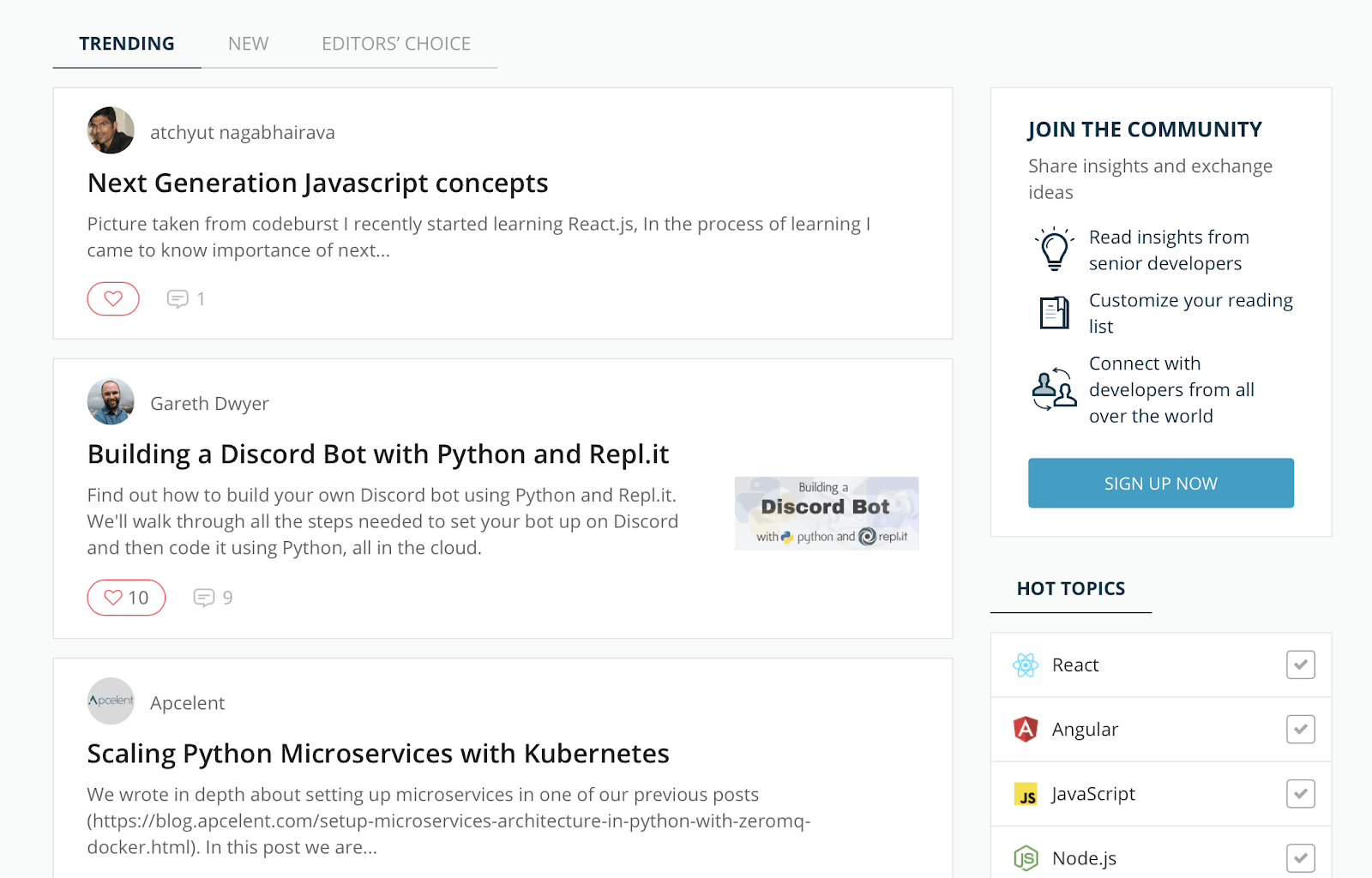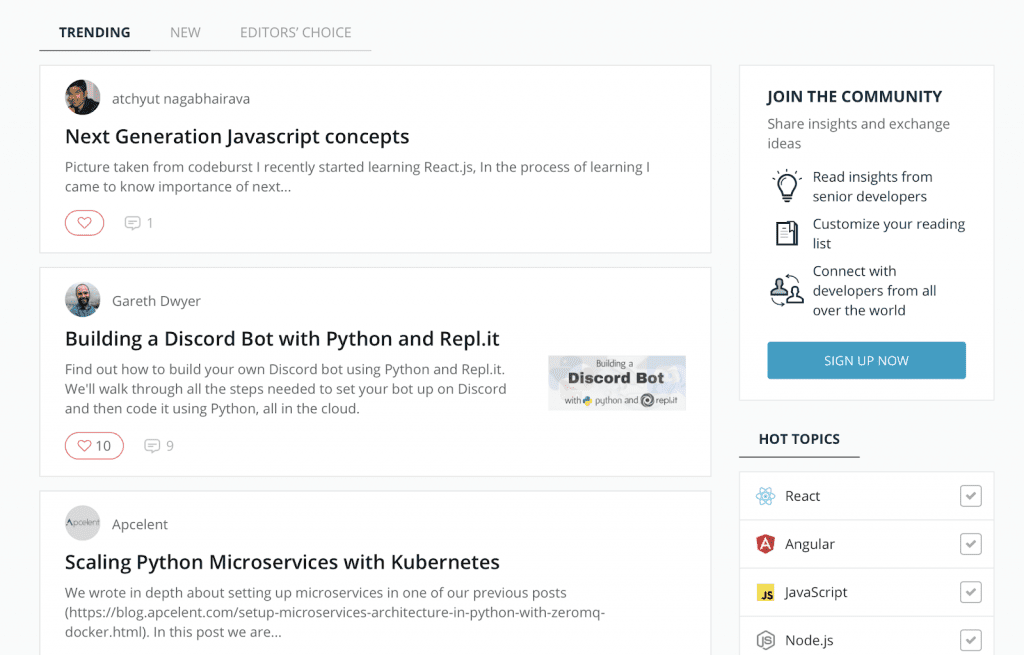 Summary
To sum it up Codementor is a great resource for developers, students, business professionals or anyone for that matter who find themselves in need of coding help and are looking for credible assistance.
Codementor provides an open marketplace where they can ask experts for one-on-one programming and design help. It can also be used for general questions or urgent issues.
This platform also wants to help coders train with developers who are experts in certain programming languages, giving them in-depth mentoring and live help. Now that you know the basics on how it works, what to expect, how to get paid, and support available – try it out and let us know what you think.