Last Updated on January 16, 2023 by Ewen Finser
Before we dive deep into the Template Monster review, it's worth noting that almost anyone can now design and create a fully functional website, thanks to graphical user-friendly site builders.
Admittedly, it was a long time coming but finally, we are here. You don't need coding skills anymore to set up an online store, complete with e-commerce management, and secure payment processing functionalities.
At the center of this web design revolution are site templates. While there's a good number of people who still build sites from scratch, most of us simply go for templates when working with site builders.
As long as you choose a perfect one, all you need to worry about is the subsequent customization process. In essence, your tweaking privileges, site features, and the final design outlook depend substantially on the specific template you pick.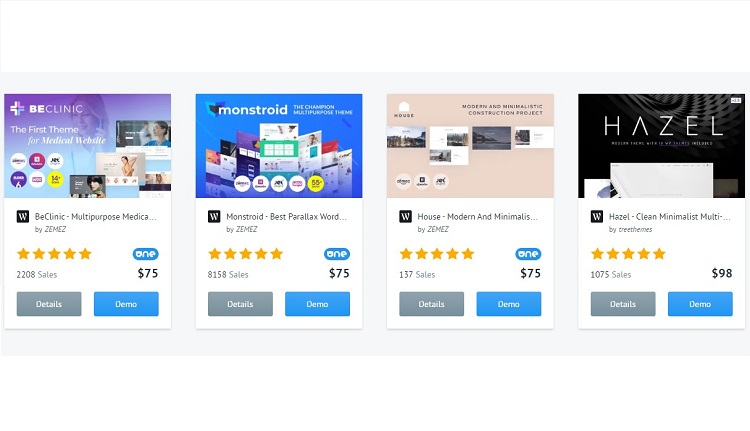 Ok, fair enough. But, come to think of it, how do you even select an exceptional template in the first place? Well, thankfully, most of the dominant content management systems and e-commerce platforms come with a range of pre-designed template options. The only problem is- most of their templates are not that unique anymore.
Now, you might argue that customizing them further will ultimately give you a unique site. But, let's be honest here- there's only so much you can do. When numerous sites adopt the same template, there's a significant chance that some of them might end up with strikingly similar designs.
And that's one of the reasons why we hunt for alternative templates on third-party platforms like Template Monster. It turns out some of the CMS and hosting platforms have a versatile ecosystem that can integrate templates from such external sources.
If you've tried taking advantage of third-party sources before, then you've possibly heard about Template Monster a couple of times already. It's undeniably one of the leading marketplaces for not only website templates, but also Facebook layouts, WordPress themes (and child themes, e.g. for the Genesis Framework), Flash templates, and a whole lot more.
As a matter of fact, Template Monster has, so far, managed to bag an array of awards- including Website of the Year's "Most Popular Site" and "Best Site" accolades, plus the prestigious American Association of Webmasters "Webmaster of the Year" award.
Going by that alone, you can bet this is bound to be a very interesting review piece. This Template Monster review is a collection of all the element reviews.
And more specifically, it examines the features provided by Template Monster templates, the corresponding web design processes, overall template pricing, plus extras you probably had no idea you could get. And then to sum it all up, we have helpful pointers for prospective template buyers.
TemplateMonster Reviews: Overview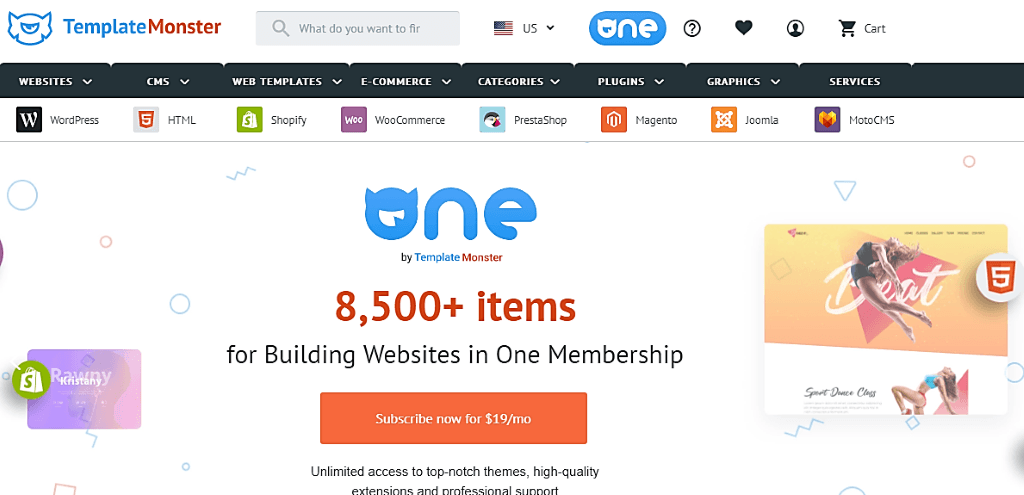 Template Monster's journey can be traced as far back as 2002 when it only offered templates that were developed in-house. Well, a lot has changed since then, and Template Monster has grown into a reputable theme and template marketplace that supports a wide range of creations by external designers and contributors.
For about two years now, various template providers have been able to leverage Template Monster to sell their works. In actual numbers, the products available on the Template Monster marketplace add up to more than 30,000 and rising.
While you can get different types of digital stuff, the main thing here is website templates. Template Monster continues to offer exclusive and non-exclusive website template designs and theme designs for renowned Content Management System (CMS) platforms, website builders, and e-commerce platforms (e-commerce templates).
More specifically, you'll find numerous options for MotoCMS, WooCommerce, PrestaShop themes, Magento theme collections, BigCommerce, Shopify, WordPress, plus design templates for other major players.
Now, at first glance, the diverse templates available here seem to be decent and elegant. However, it also looks like each one of them comes at a price.
So, what should you expect after buying a template from Template Monster? Do the themes provide quality website design templates? And how do you even buy templates from Template Monster? How does TemplateMonster work? Is Template Monster safe in the first place?
Well, let's find out…
Template Monster Reviews: Main Features
Web Templates and Themes Options
Right off the bat, the Template Monster marketplace feels like an Amazon of sorts. Almost every type of website template and theme you can think of is available here- ecommerce site templates, CMS-based templates and themes, standard HTML templates for complete sites, you name it.
In fact, they don't just come as plain templates. Apart from the principal source files, each template and theme is built to offer a host of solid functionalities.
Now, to help you get a rough idea of the diversity we're talking about here, the sheer number of templates for each platform is:
BigCommerce– More than 5.
X-Cart- More than 15.
VirtueMart- More than 200.
ZenCart- More than 200.
Drupal- More than 300.
Magento- More than 400.
Shopify- More than 500.
WooCommerce- More than 500.
OpenCart- More than 600.
PrestaShop- More than 600.
Moto CMS 3- More than 700.
Joomla- More than 1,000.
WordPress- More than 2,000.
From that alone, it's evident that CMS users and e-commerce merchants are the primary target audiences on Template Monster. Thankfully, it has even gone ahead and categorized the templates to save you time as you explore the design options.
Some of the resultant categories include:
Sports, Outdoors & Travel
Society & People
Real Estate
Medical (Healthcare)
Home & Family
Holidays, Gifts & Flowers
Food & Restaurant
Fashion & Beauty
Entertainment, Games & Nightlife
Electronics
Education & Books
Design & Photography
Computers & Internet
Cars & Motorcycles
Businesses & Services
Animals & Pets
Arts & Culture
Interestingly, you get the option of buying more than just a template or theme. As you assess various options, you should be able to see an array of supplementary add-ons that you could purchase along with your selected template. While some of them are offered by the template designer, others come from Template Monster, or possibly even an external entity.
That said, one common question among prospective buyers is- how many times can you use a template you've purchased from Template Monster?
Well, it depends. Because, as it turns out, there are different types of theme licenses you could pay for. Most individuals, I bet, go for the "Single Site" license- which basically limits you to one site installation per theme. If you want more flexibility, however, you might want to consider the "Developer's" or "Buyout/Exclusive" licenses.
And in case you'd prefer to have a template all to yourself, Template Monster provides an additional "Zero Download" license option. This is where you get the exceptional templates that have never been acquired by any other user.
That notwithstanding, each template is built with an open-source framework. In other words, you should be able to dive deep into the accompanying source code for extensive tweaks.
How Does TemplateMonster Work?
Admittedly, Template Monster is not exactly the prettiest site on the web. But, it does come with a smooth, straightforward layout that you should be able to figure out right away.
Since it displays the templates even on the homepage, you can start shopping as soon as you land on the site. Or alternatively, just proceed to one of the platform categories on the top menu bar.

Clicking on WordPress, for instance, immediately launches a host of recently submitted template options. You could scan the entire page for a well-designed template or use the categories section to zero-in on your specific site category.
Apart from that, Template Monster also allows you to sort through the listings based on template aspects like colors, submission date range, styles, popularity, and compatibility.
Going by these filters, therefore, you should be able to find yourself a couple of solid options in no time. And when you need to compare the templates, simply open their listings and review the corresponding customer support options, user reviews, software requirements, plus features.
Then to cap it off, Template Monster even offers live demos of its website templates. This will certainly give you a general idea of the final design outlook of your site.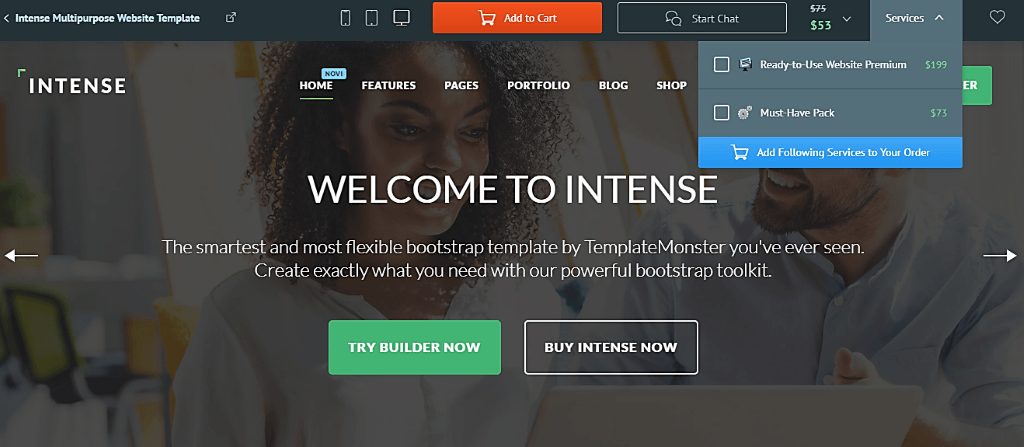 Now, I'm not the type to spend much when it comes to testing out products. So, I was glad to stumble upon a couple of free templates, and I picked one that was compatible with my WordPress version.
Finally, on downloading, it came in a .zip folder with various WordPress files. And that's it- the whole process of acquiring a Template Monster template is that simple.
Unfortunately, the subsequent installation procedure can get a bit complicated if you're working with a self-hosted open-source system like WordPress. And to make matters worse, a free website template on Template Monster doesn't come with live chat support. Instead, you have to rely entirely on an installation guide provided by the template designer.
If you want a much smoother WordPress installation process, therefore, I'd advise you to stick with the premium template options. At least then, you're bound to get live chat support. Otherwise, you're better off with a cloud-hosted platform like Shopify, whose templates don't take as many steps to install.
Web Design and Customization Capabilities
The whole point of getting yourself pre-designed website templates, for starters, is simplifying your web design process. You'd probably presume that Template Monster is entirely a non-coding affair, especially since many of its template listings mention supplementary visual editors.
Although some of the templates here indeed provide an additional visual editor by default, the editing process might not be entirely friendly to non-coders.
Instead, your customization capabilities depend on the specific features built into the template. While many templates can be comfortably tweaked without any coding, there are some whose elements tend to favor experienced coders.
Come to think of it, I guess that explains why Template Monster and its template providers offer additional editing services at an extra cost.
Don't get me wrong though. You might not need them at all. There are many theme options whose framework has been optimized accordingly for non-coders.
Take, for instance, themes that offer in-built editing dashboards. They can embed seamlessly with your platform's web design system to facilitate a range of element customizations.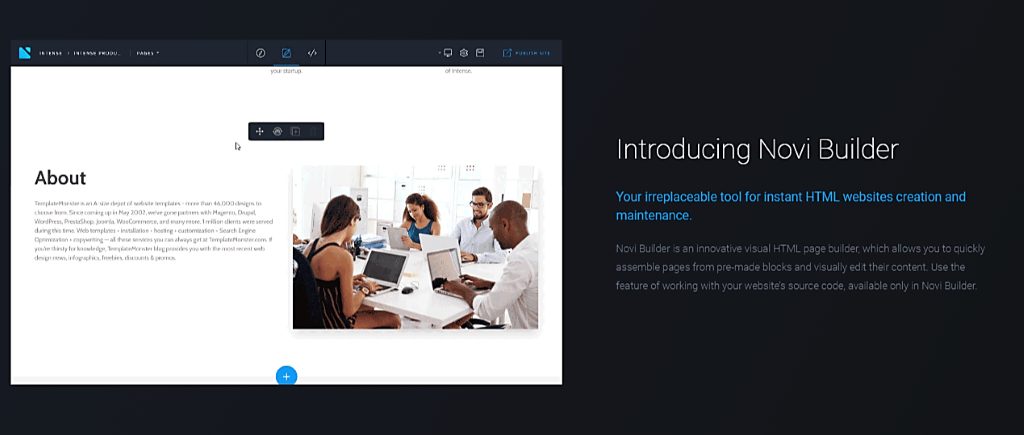 For some templates, however, you have to pay extra for such editing capabilities. Instead of providing the dashboard by default, various vendors tend to offer it as an add-on option.
Therefore, all in all, you might want to assess each template's features very keenly before making your final decision. Only advanced coders have the freedom of choosing their templates freely. In fact, they have the privilege of customizing even the underlying code, since all the templates on Template Monster are open-sourse.
Template Monster WordPress Themes
Although the Template Monster marketplace features stuff for an array of platforms, the site is particularly popular in the WordPress community. By now, I bet you can guess the reason why.
It goes without saying that Template Monster has particularly prioritized on WordPress themes. With over 2,000 themes to choose from, it almost feels like you've landed on a WordPress affiliate website.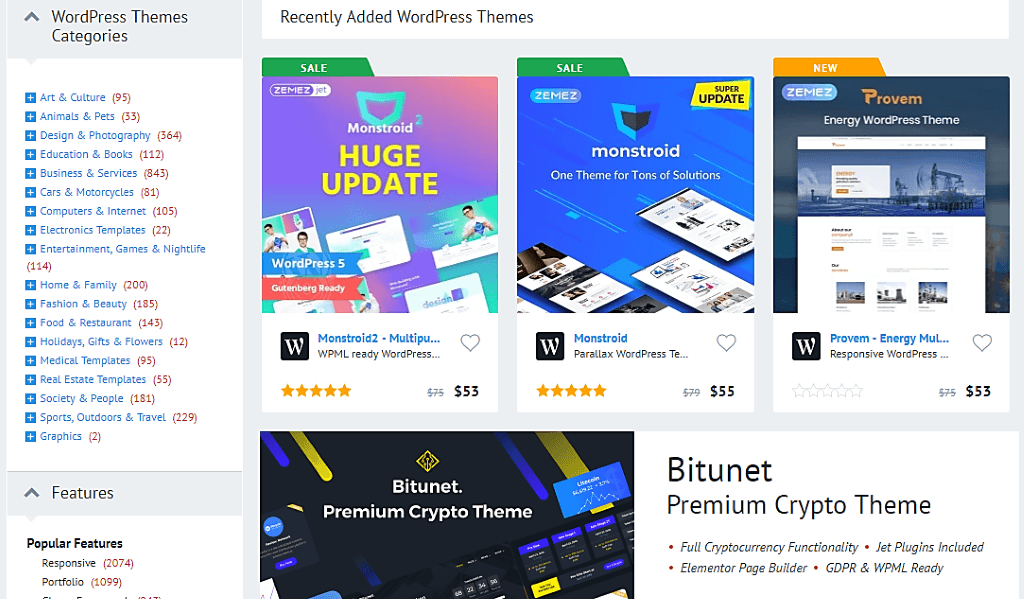 The best thing about that is this- you're almost certain you can get templates for pretty much any website category, including e-commerce. As a matter of fact, the WordPress themes on Template Monster are not only diverse in type, but also style, design, and structure.
The features they come packed with are basically meant to help you set up a secure, robust and versatile WordPress site, complete with modern layout design. And in case you face any issues during installation, Template Monster provides extra setup documentation with each template.
That said, here are some of the primary features you should expect on your Template Monster WordPress themes:
Installation documentation
24/7 customer tech support for premium themes
SEO friendly structure
Compatible with all types of browsers
Mobile responsive design
Custom widgets and shortcodes for embedding your own site elements
Custom post formats and content types
Numerous customization settings
Page builders like Power Builder, Visual Composer, and Elementor
Cherry Framework architecture that offers added WordPress functionalities.
Comparing Template Monster Theme Features
If there's one thing you're bound to find on Template Monster, it's loads of features on each template. While this is a great thing altogether, it admittedly makes the selection process overwhelmingly difficult. Comparing the features here is no walk in the park, especially for non-coders.
Now, I presume the first aspect you'll probably assess is each template's overall design impression. But, of course, that wouldn't be enough to make an informed decision. You have to dive deeper into the little technical details that make the difference.
So, what's the best approach when you need to analyze Template Monster template features?
Well, if you don't have the technical skills of a professional web designer, I'd advise you to get one to guide you through all the complex terms. Otherwise, you could alternatively seek help from Template Monster's marketplace tech support team.
When it comes to the actual search process, you can start off by highlighting the features you'd want through the side menu of your specific platform page. This will filter the template listings to leave you with the ones that match your feature criteria.
Now, at this point, you have to click on the individual templates to analyze their features. It's worth noting, however, that vendors use varying systems to highlight their template features. While some simply list them on the feature tabs of their templates, others prefer showcasing the elements purely through their template's' live demos.
Therefore, it's always advisable to check both the template's feature page plus the corresponding live demo.
And while you're at it, you might also want to check out the "Details" tab of each template. You'll find it within the "Properties" section, and it usually provides extra information about the template features.
Sadly, this doesn't apply to every single template. Only a handful of template vendors are keen enough to provide a detailed list of all the critical specs. So, you might have better luck if you seek additional clarifications from the Template Monster support team. They could reveal features that the vendors might have left out of their template listings.
That said, here's are some of the main factors you should pay keen attention to as you compare the template features on Template Monster:
Web Forms- They come in handy when you need to build mailing lists, register users, and so forth.
Media Integration- Explains the type of media (video, audio, images, etc) you can embed into a template.
Predesigned Pages/Sections/Widgets- A collection of the specific page elements offered by default. This includes image displays, maps, schedules, commenting systems, testimonials, menus, full internal pages, etc.
Animation- This describes the visual page components that move in not only the template's foreground but also its page's backgrounds.
Currency and Language Support- If you plan to deal with international buyers, you should consider the types of currency and languages that the templates offer.
Plugin Package- Some of the templates come with extra plugins by default.
Theme Editor- This indicates the specific customization editor that the template provides. If you're searching for a Shopify theme or template, for example, you might notice that some themes come preloaded with the Sections editor.
Template Monster Add-On Features
While the Template Monster templates offer numerous preloaded elements and functionalities, it just so happens that you can also purchase a host of add-on features and services. The whole point of providing supplementary stuff is to help you further personalize your website.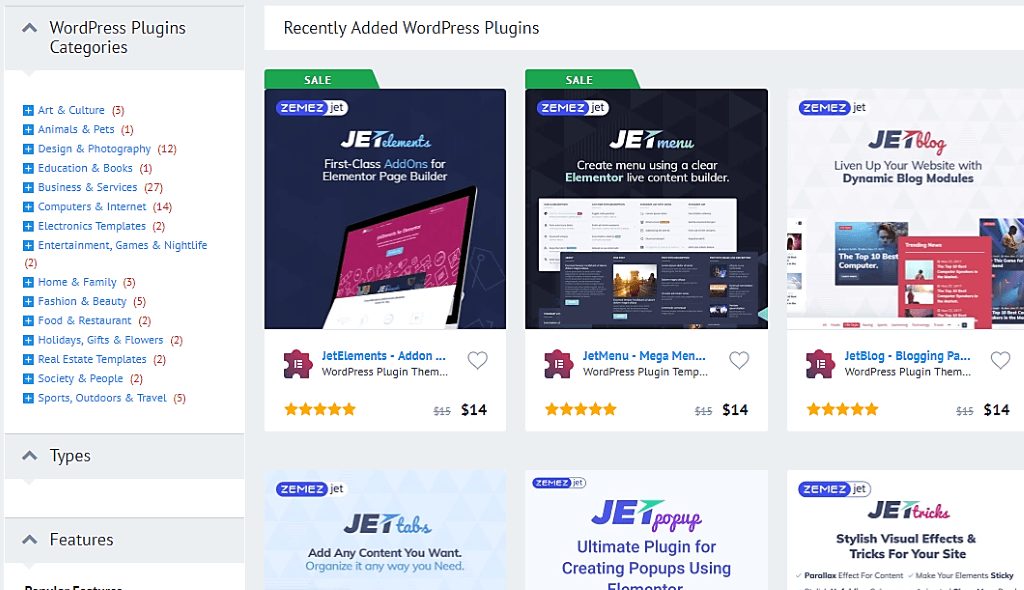 All in all, some of the add-on products and services offered include:
SEO Boost
Multi-Language Package
SSL Certificate
Year Of Hosting
Hacker and Spam Protection Pack
Must-Have Plugins
Ready-To-Use Website Premium
Online Store Integration
GDPR Compliance
Premium Store Setup
Quick Store Setup
Add Your Logo
Change Color Scheme
Template Installation
Template Monster Reviews: Customer Support
Like we've said already, Temple Monster is essentially a marketplace. That means its live chat, phone, and email customer support is principally intended to address pre-sales issues. I'm talking about things like general assistance, plus inquiries on delivery and order status.

Fair enough. What about post-sales support?
Well, after you've purchased a template, providing technical assistance becomes the vendor's problem. Template Monster only deals with the underlying support infrastructure.
Submitting web tickets, for instance, requires you to use the Template Monster help desk section to access the ticketing area. But, if you have a Template Monster account already, you can simply launch one directly from your dashboard.
Now, web tickets are just one of several support channels available on Template Monster. The precise number of options you get depends on your selected vendor.
Therefore, as you assess templates by their features, you should also establish the specific support channels plus the quality of technical assistance offered by the respective vendors. You can do this right from the template's page by proceeding to the support tab, and then check the vendor's support avenues plus their corresponding wait times.
In case you're worried that you might end up with an unresponsive vendor, Template Monster has implemented strict terms and conditions to manage post-sales customer support. While you're advised to allow a maximum ticket response wait time of 24 hours, vendors are required to provide support 24/7/365 for at least six months post-sales.
Customer support doesn't end there though. If you need technical assistance for longer, you might have to purchase it as an add-on service.
Personally, I was able to judge the quality of service I should expect from the "Support Quality Index" score of various vendors. It's generated directly from quality review ratings left by different customers after receiving technical assistance.
Sadly, even when you choose a vendor with a perfect score, you won't be able to take advantage of their support system if you proceed with a free template.
In essence, free products on Template Monster don't come with post-sales customer support. Your only hope will be their accompanying documentation.
All things considered, however, I'd say the customer support system on Template Monster is fairly reliable. If you purchase your template from a well-rated vendor, you're bound to receive all the technical assistance that you might need to learn the ropes.
Template Monster Reviews: Pricing
Interestingly, it turns out product pricing is heavily regulated by Template Monster to keep the marketplace within a reasonable cost range.
How does it work?
Well, a vendor essentially submits their template, and then Template Monster suggests an ideal price bracket going by the accompanying customer service system, plus the template's quality and compatibility. Premium Shopify templates, for instance, cost about $140-$180, while WordPress options are cheaper- with most of them costing less than $100.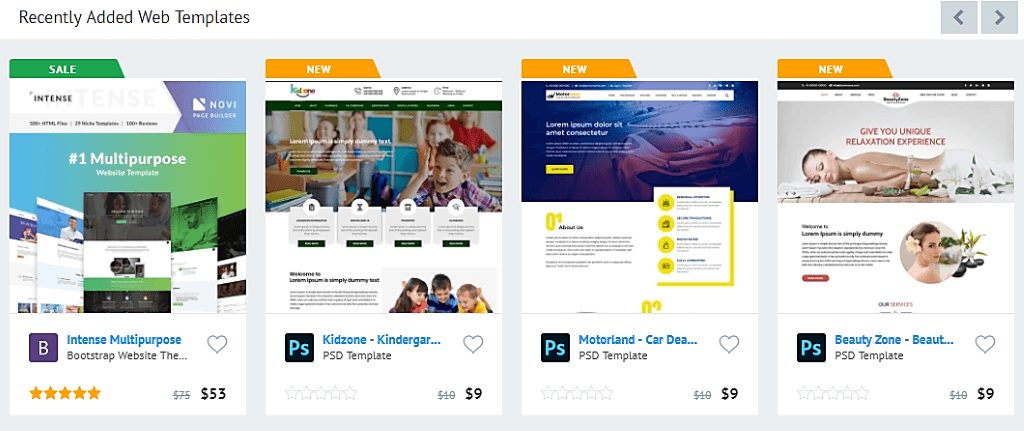 From the resultant stipulated range, the vendor subsequently sets a preferred price, then sits back and waits for their share of each successful sale.
Now, at this point, the rate of the commission itself is pretty diverse, since it's based on multiple factors. All in all, it's the vendors who provide exclusive products that end up with the highest commission rates.
That said, you're going to find at least 100 free template options on Template Monster. Unfortunately, they offer limited functionalities along with zero personalized support. But then again, technical assistance shouldn't be much of a problem since they come with detailed documentation.
Well, if you're thinking about getting a premium template, you'll notice that the accompanying license fee forms the bulk of their purchase prices.
"Single Site License" templates are the cheapest, considering each purchase instance translates to usage on one website. Expect to pay a couple of dollars to about $200, depending on the specific product, vendor, plus compatible platform.
Web designers seeking to use one template on several sites, on the other hand, are better off with the "Developer's License" option. It allows you to leverage a template on up to five websites, at a cheaper price than paying for individual Single Site licenses.
Finally, the costliest option is the "Exclusive/Buyout License", which usually goes for thousands of dollars. And the reason is simple- you get your own unique template that has never been used before for an unlimited number of installs.
Summary: Is Template Monster Worth it?
| | |
| --- | --- |
| Overview | Template Monster is one of the most popular marketplaces for site templates, Facebook layouts, WordPress themes, Flash templates, etc. Previously, Template Monster only handled in-house templates. There are more than 30,000 products available on the Template Monster marketplace. Template Monster provides website templates for Content Management System (CMS) platforms, website builders, and ecommerce platforms. Some of the supported platforms include MotoCMS, WooCommerce, PrestaShop, Magento, BigCommerce, Shopify, and WordPress. |
| Web Templates & Themes Options | The Template Monster marketplace groups templates based on their compatible platforms plus industry categories. There's a host of extra add-ons you could buy along with the templates. Every single template comes with an open-source structure. |
| How Template Monster Works | The Template Monster marketplace is built with a simple, neat and straightforward layout. The homepage displays menu options of various platforms that support the templates. Template Monster provides template filters for colors, submission date range, styles, popularity, and compatibility. Template Monster provides live demos of its site themes. The site templates are downloaded as .zip folders. |
| Web Design and Customization | Customizing some of the Template Monster templates might require additional coding. Your design options depend on the elements and functionalities supported by the template. Template vendors provide customization as an add-on service. Some templates come with friendly editing dashboards that integrate with the underlying platform. Some vendors offer additional editing features at a price. Skilled coders can tweak the underlying template code. |
| WordPress Themes | Template Monster offers over 2,000 WordPress themes. WordPress templates for all site categories are available, including ecommerce. The Template Monster WordPress themes differ in type, style, design, and structure. The WordPress theme options are optimized for security, speed, and versatility. Template Monster offers supplementary installation documentation with every single WordPress template. |
| Comparing Template Features | Non-coders might experience technical difficulties while comparing template features. You should go beyond the general appearance to analyze the technical features on each template. The Template Monster marketplace support team provides technical assistance as you explore template options. Vendors use different systems to specify their template features. To explore all the features, go through the template's feature page, live demo, plus the technical detail's section. You can buy additional features as add-ons. |
| Customer Support | Template Monster offers pre-sale live chat, phone, and email customer support. Post-sale technical customer support is provided by the template vendors. Vendors are expected to maintain 24/7/365 technical assistance for at least six months post-sales. |
| Pricing | The marketplace product pricing ranges are controlled directly by Template Monster. A template's price depends on the accompanying license, the vendor's customer support, plus the template's features and compatible platforms. Single Site License themes are meant for one site. The Developers License covers up to 5 sites per template. The most expensive license option is the Exclusive/Buyout License. |
Bottom Line: I think Template Monster is a really good option to consider. Like any marketplace, it might not have exactly what you are looking for, but chances are they will. The unique licensing system seems like an appropriate compromise between hiring a developer and paying $5000+ for a customer them and the myriad "paid" themes that aren't particularly unique.
Now, over to you. Have you tried looking for a template or any other product on Template Monster? How did you find it? And what other reputable platforms can you recommend to an ecommerce merchant seeking an ideal online store template?
Here are other related articles you may be interested in: