Last Updated on June 1, 2023 by Ewen Finser
With so many different payment processors out there, finding one that's right for your business and doesn't cost the earth can seem like a difficult and often daunting challenge. If you're wondering where you should even start, wonder no more – this Adyen vs Stripe comparison is exactly what you need!
Adyen and Stripe are two well-known and secure payment processors – in fact, they're two of the best on the market – but there are also some differences between them that it's important to be aware of.
How can you tell which one is best?
The bottom line up front: It's a close call, but Stripe is my favorite platform thanks to its effortless integration, excellent customer service, and wide range of payment options. The pricing is upfront, and Stripe also accepts more currencies in more countries throughout the world, so it's the best option for international business transactions.
I'll take a look at each payment processor a little more closely later on, but for the time being, let's discuss what the key differences are between the two.
Alternatively, if you're looking for an eCommerce platform rather than a payment processor, we have a guide to help you find the best one for your business.
Main Differences Between Adyen vs Stripe
The main differences between Adyen vs Stripe are:
Adyen accepts payments in 120 currencies and over 20 countries, whereas Stripe accepts payments in 135 currencies and 25 countries
Adyen requires an application for all business accounts to receive a merchant account, whereas Stripe does not require an individual merchant account for businesses.
Adyen has over 60 partners, including NetSuite, whereas Stripe has hundreds of partners, including Xero, Zoho Product Suite, and Shopify.
Adyen offers support via email, whereas Stripe offers 24/7 support via phone, email, or chat.
Adyen always charges a processing fee plus payment method fee per transaction, whereas Stripe offers the ability to design a custom package for your business.
Adyen's fees are more complicated because they vary based on the payment method, whereas Stripe's fees are clear and upfront.
Adyen is more complicated to sign up for, whereas Stripe is pretty straightforward and fast to get started.
Both payment processors seem very similar on the surface – they provide multiple payment methods, have limited fees, and are both safe and compliant – but they actually serve slightly different purposes.
Adyen is a merchant account provider, whereas Stripe is a payment service provider. This means it's much easier to sign up for Stripe and get started quickly. The platform is well-designed and easy to navigate, and, in addition to this, it is constantly evolving to improve the services on offer and the overall user experience.
That being said, there are some account stability issues associated with payment processors like Stripe and PayPal, which do not exist for Adyen.
Adyen vs Stripe – The Similarities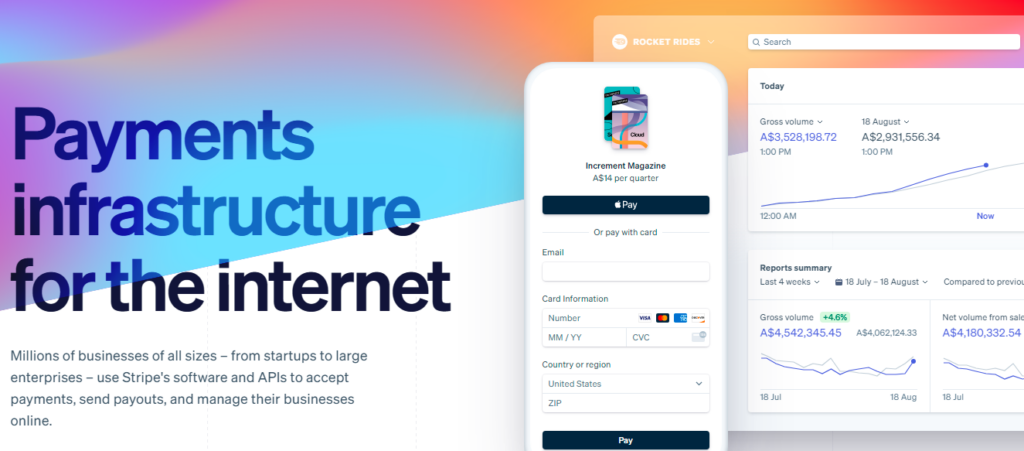 Despite their differences, there are a number of similarities between them:
They both accept a variety of payment methods
They both allow you to pay as and when you use the service
They both offer many integrations
They're both fairly easy to use
Next, let's look at the two platforms in more detail.
What is Adyen?
Adyen provides a single payment platform that's designed to be used globally, allowing businesses to accept payments and grow their revenue online, through cell phones, and at the point of sale. In addition, it offers a range of features to merchants, including revenue protection, risk management, one-click recurring payments, and analytics.
What is Stripe?
Stripe offers a suite of payment APIs (application programming interfaces) that are suitable for businesses of all sizes. It facilitates payments via credit cards, mobile wallets, and buy now, pay later services in more than 135 currencies.
You can sell physical, subscription-based, or virtual products using Stripe, as well as draw in new customers with vouchers and coupons. It is most suitable for low-risk small businesses and those with solid developer skills.
Adyen – The Main Features
First of all, we're going to explore Adyen.
UX/Dashboard
Adyen is considerably more difficult to sign up to than many other payment processors because it requires you to fill out a form providing the details of your business and then wait until a member of the Adyen team gets back to you regarding the information you provided.
The user dashboard is structured in a clear and cohesive manner, making it easy to navigate even if you are unfamiliar with the platform.
Payment Processor
Not only is Adyen widely regarded as a safe and reputable payment processor, but it also allows merchants to add any payment method to their checkout. The most popular methods are:
Visa
Mastercard
American Express
iDeal
Sofort
Alipay
Helpfully, Adyen also provides documentation showing the most popular ways to pay in different parts of the world. The most difficult part of using Adyen is getting started. Once you are signed up and ready to go, all you have to do is request a new payment method in the Customer Area.
Billing and Accounting/Subscriptions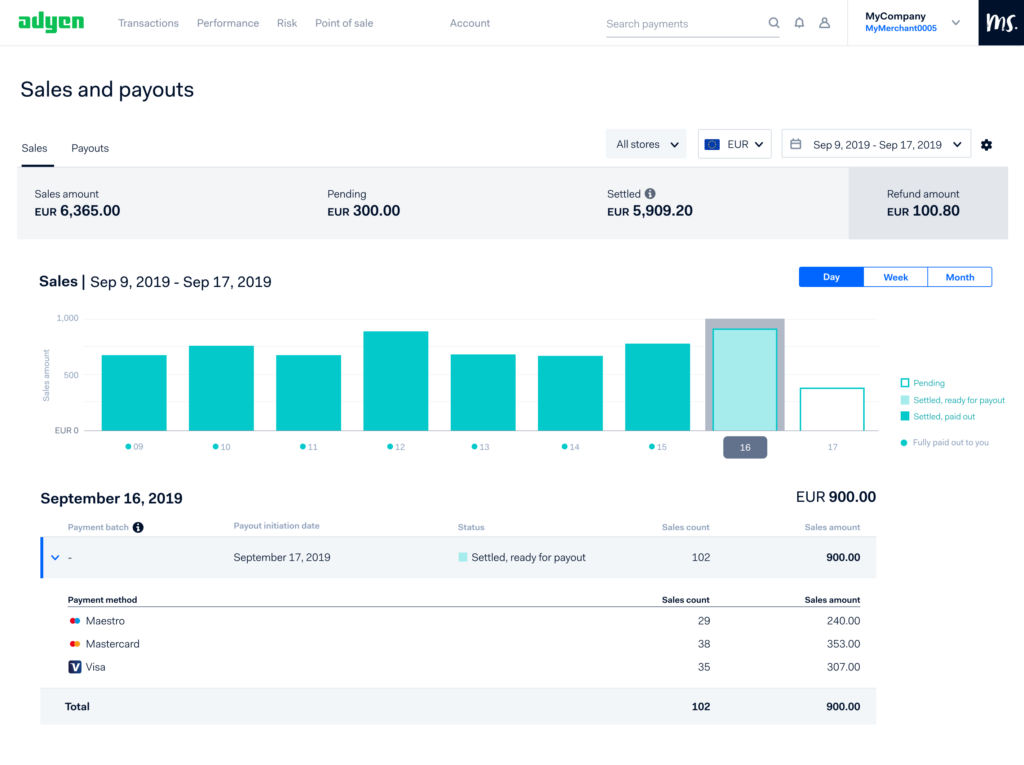 Adyen allows you to set up subscription plans online. In fact, their technology is designed specifically for a recurring payment model, though it can also be used for one-off payments.
One of the biggest benefits of using Adyen is that it's built with security in mind. Subscription payments are particularly susceptible to fraud, which is why the platform has a built-in risk management system, RevenueProtect.
It's easy to keep track of all your transactions and sales in one place.
With Adyen, there's no setup fee; the platform charges a processing fee plus payment method fee per transaction. The payment method fee can vary considerably, so it's worth looking at the methods your customers use most frequently before picking a payment processor.
Security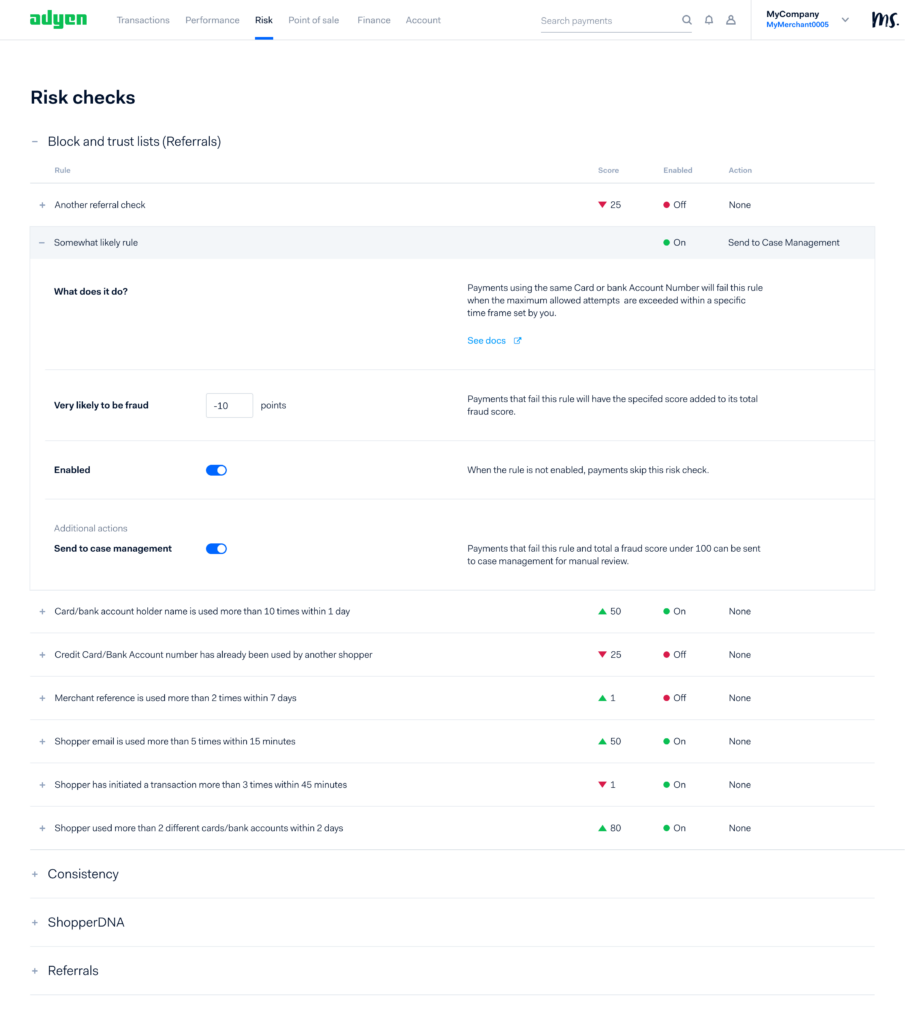 As previously mentioned, Adyen is an extremely safe platform that puts security first. It is fully PCI DSS compliant and has a built-in risk management system. RevenueProtect is used to block fraud, prevent disputes, and stay ahead of current fraud trends using advanced technology.
In-person Payments
In 2021, Adyen partnered with Slice to make point of service (POS) payments easier than ever. This is excellent news for bricks-and-mortar businesses that rely on in-person payments.
Adyen's POS solution is easily integratable with traditional payment terminals or through the Cloud. Additionally, it is certified for contactless payments, giving customers to choose the payment method and process that works best for them.
Analytics/Reporting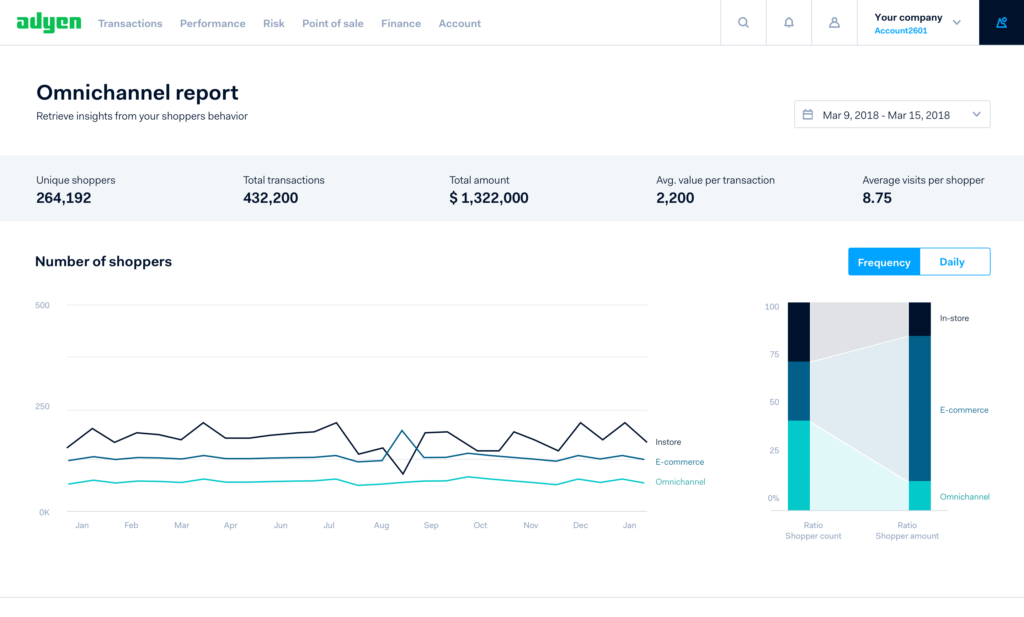 Adyen really lets you get to know your customers by providing unified data from all your different sales channels. All data is real-time, and you can use Adyen-generated reports for your bookkeeping and reconciliation processes. These reports include:
Settlement details
Payment accounting
Monthly and daily finance
Dispute transactions
External settlement details
Received payments
Mobile App
Adyen offers an international mobile app that is available on iOS and Android. The app is free and makes it quick and simple to process payments.
Integrations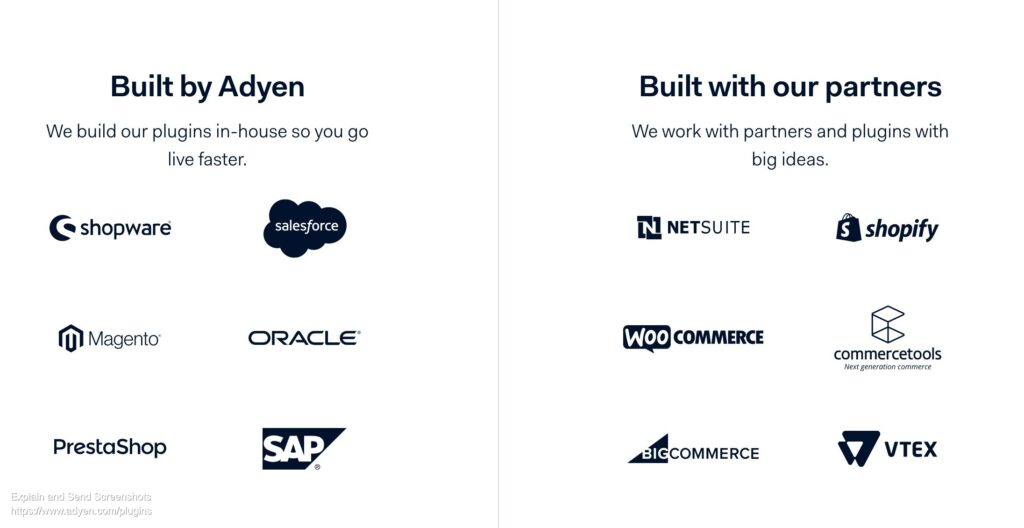 Integrating Adyen plugins is a straightforward process. The plugins sit within whatever software you're already using, so there's no need to spend time learning about new processes.
Essentially, Adyen can be integrated anywhere – in your web store, in your physical store, or on your app.
Stripe – The Main Features
Let's explore Stripe.
UX/Dashboard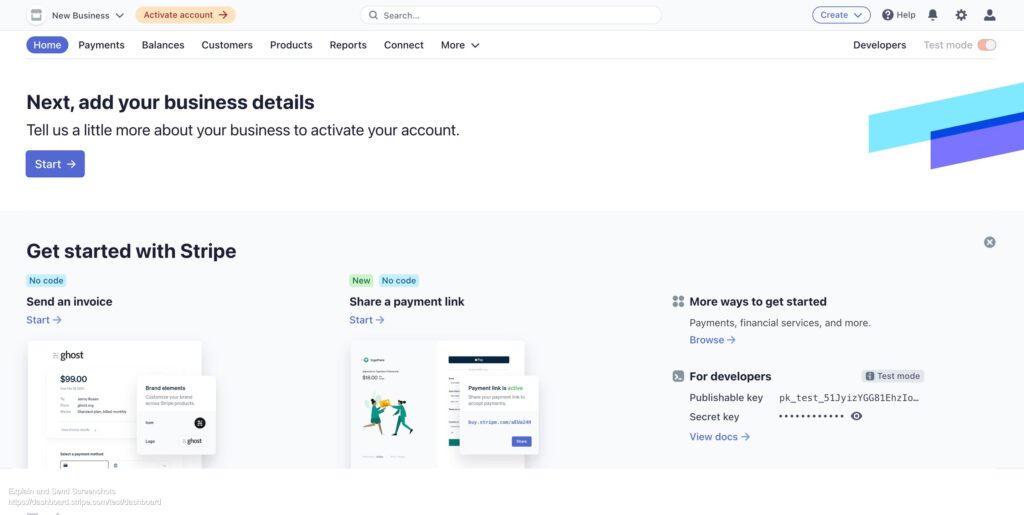 It only takes a couple of minutes to sign up to Stripe, unlike Adyen, and once you're in, it doesn't take much longer to get to grips with the dashboard, either.
Thankfully, there's no need to input any payment information as soon as you sign up, and you don't have to enter your business details to make an account. This means you can familiarize yourself with the layout and features before deciding whether or not to commit.
There's a handy 'getting started' guide that takes you through the basics, but it's all pretty self-explanatory.
Payment Processor
You can use a wide range of methods to pay on Stripe, including:
AliPay
WeChat Pay
Credit/Debit Card
Apple Pay
Click to Pay
Google Pay
Bank debits and transfers
Klarna
Bank redirects
OXXO
It's both surprising and slightly disappointing that PayPal isn't on the list of payment options, mainly since it's such a widely used and well-trusted platform, but there are still plenty of options.
With Stripe, you can sell in over 135 countries, though there are different charges for different areas. It also allows you to split payments, provide payouts, send money, and transfer funds. Plus, it will automatically update expired cards, which makes life easier for everyone.
Billing and Accounting/Subscriptions
Stripe allows you to create highly customizable subscription plans, keeping you in control of your business.
The option to provide custom email receipts is another way that Stripe helps you to build a strong customer base. Likewise, you can create landing pages and invoices that are totally unique and tailored to your needs.
Setting up products is a quick process, as is linking them to a subscription plan. It's also possible to offer coupons, discounts, and free trials to your customers – a rare feature for payment processors and a thoughtful one, too – as well as physical cards for an extra fee.
Security
It's well known that Stripe is a secure and reliable payment processor, but if you're looking for an extra bit of reassurance – and who could blame you, after all, the security of your business is tantamount – then it's worth checking out Radar.
Radar is a separate security service operated by Stripe, and when used in conjunction with the platform, it has many benefits. One of the most significant problems faced by PayPal – arguably the biggest and most well-known payment processor – when legitimate user accounts get blocked due to false 'safety' concerns is tackled by Radar.
In-Person Payments
Stripe's app, Terminal, allows you to take in-person payments. Both your physical and eCommerce business can be run from the same platform, and you can also get hardware – though you have to pay separately for it. By doing so, you can accept card and contactless payments.
Analytics/Reporting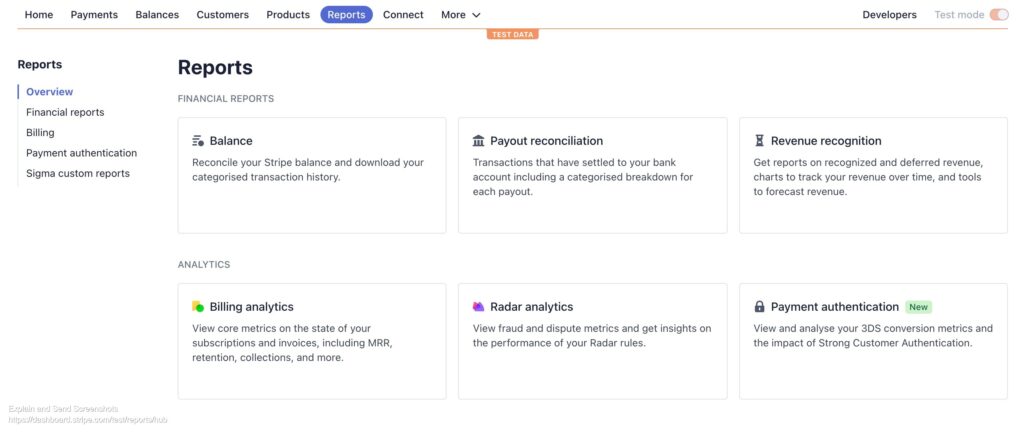 If you only need access to basic reporting, Stripe has you covered – you can view invoices, growth, net volume, and new subscribers. However, if your reporting needs are more extensive than this, you also have the option to sign up for Stripe Sigma.
Sigma's pricing depends on how many charges you make each month – for between 0-500, for example, you pay 2 cents per charge. It is designed to provide faster insights and is an extremely powerful analytics tool.
Within Sigma, you can gather all sorts of data – such as which region brings in the most revenue – then create customizable reports that can be sent to other team members.
Mobile App
The free mobile app offered by Stripe (available on iOS and Android) is simplistic, but this isn't a bad thing. It provides easy access to your dashboard, payouts, and payments, so you can keep track of everything wherever you are.
Integrations
Stripe integrates with a number of well-known eCommerce platforms, including:
Shopify
Magneto
Squarespace
WooCommerce
Adyen vs. Stripe – Support
One of the most important things to compare between these two payment processors is their customers' support. Naturally, you'll want to know your business is in good hands, so let's see how they both shape up in this respect.
Adyen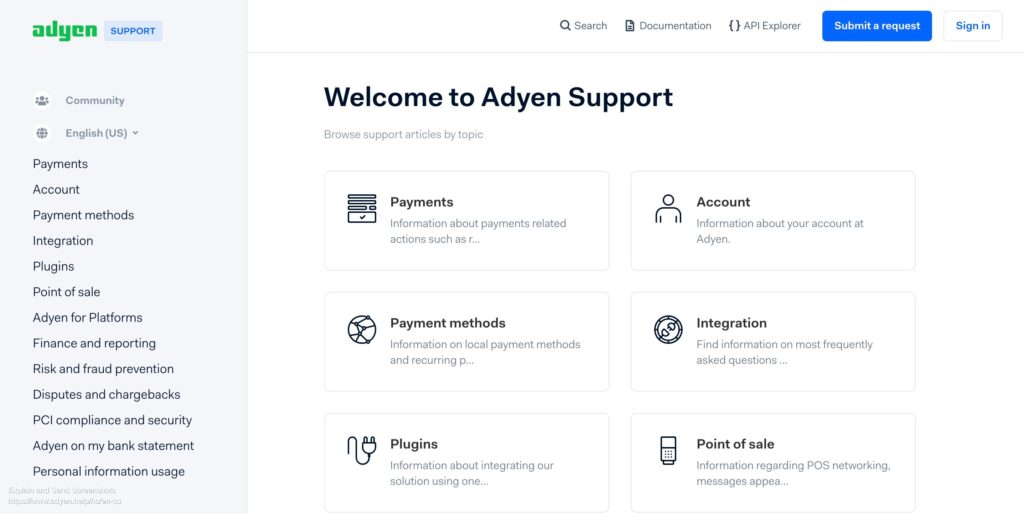 Adyen offers plenty of support. You can browse common help topics and promoted articles and access the community area where Adyen users post and respond to queries. It's likely that any questions or concerns you have will be answered in a satisfactory way somewhere in the support section.
However, if you can't find the information you're looking for, you can submit a request, and a member of the team will get back to you.
Stripe
Stripe's support section is a little bit more comprehensive than Adyen thanks to the 24/7 help that's on offer. Overall, the advice and information provided in the form of popular articles and topics is extremely helpful and wide ranging, but it's good to know you can get in touch with an expert instantly if you need to.
Adyen vs Stripe – Pricing
Let's take a look at how they compare for pricing.
Adyen
There are no monthly fees, set-up fees, integration fees, or closure fees, which is good to know. There is, however, a minimum invoice of 100 euros (120 USD) per month, depending on transaction volume and region.
Adyen charges a processing fee plus payment method fee for every transaction. For American Express, for example, the processing fee is ten cents, and the payment method fee is 3.95%.
You can find out more on Adyen's pricing page.
Stripe
Stripe charges 2.9% + $0.30 per transaction. This gives you access to global payments, security and compliance, optimized checkouts, reporting, and fast payouts.
For in-person payments, they charge 2.7% plus $0.05 per processed transaction. Card readers are priced from $59.
If you choose to use Stripe's in-depth reporting tool, Sigma, you're faced with a more complex pricing strategy which you can find out more about by visiting their Understanding Stripe Sigma Pricing page.
It's important to note that rates can vary depending on where you're selling if you want to sell internationally. Visit the pricing page for more information.
Adyen vs. Stripe – Pros and Cons
Finally, before I decide which payment processor is best, I'm going to cover their most important pros and cons.
Adyen Pros
Accept payments from all major providers, including Apple Pay and Google Pay
Secure and PCI compliant
One click payments
Offers point-of-sale solution
RevenueProtect system makes all transactions secure
Adyen Cons
Difficult & slow process to sign up
Quite expensive to use
Not as secure as other payment processors
Stripe Pros
Quick and easy to get started
Highly customizable
Secure and trustworthy
Sigma reporting is excellent
Great features like coupons
Stripe Cons
Charges vary between countries
Some features are only accessible through different payment plans
FAQs
Question: Are there Any Alternatives to Adyen and Stripe I Could Try?
Answer: Absolutely – in fact, there are loads of different payment processors out there for you to try! Some of the most popular ones are:
• PayPal – Easily the most well-known and trusted payment processor, PayPal is available in over 200 countries and suits smaller to medium-sized businesses. You can find out more in our Stripe vs PayPal comparison.
• Recurly – As you might expect from the name, this platform specializes in subscription-based payments. It's highly customizable and definitely worth checking out. Read more about it in our Recurly vs Stripe comparison.
• Moolah – Partnering with Authorize.net, Moolah allows you to sell physical, virtual, and subscription-based products. If you want to know more, check out our Stripe vs Moolah comparison.
Question: How can I Cancel my Adyen or Stripe Accounts?
Answer: Both platforms allow you to delete your account by visiting the 'accounts' section of the website.
Question: Are There Any Well-Known Businesses Using Adyen or Stripe?
Answer: Stripe counts Facebook, Shopify, and Amazon amongst its clients. Likewise, Adyen works with some big name businesses like Spotify and Uber.
To Sum Up – Which is Better, Adyen or Stripe?
It's a difficult call to make since both payment processors are appropriate for different kinds of businesses – Adyen is more suitable for smaller businesses with less transactions, while Stripe can successfully help businesses of all sizes to grow their revenue – if I had to choose between them, I'd go for the latter.
Stripe makes everything easy. It's quick to sign up, simple to get started, and there's plenty of documentation in case you get stuck. Plus, the 24/7 helpline is an added bonus. Sigma might come at an extra cost, but the analytics it offers is unparalleled.
That being said, it's good to know that Adyen offers free analytics, which provides valuable business insights – great for smaller businesses just starting out who can't necessarily afford Stripe's Sigma tools.
If you enjoyed this payment processor comparison and want to read about other ways you can streamline your business with online solutions, check out the following guides: