Last Updated on June 1, 2023 by Ewen Finser
If you want to offer subscription plans for your customers, you might be wondering which is the better solution between Recurly vs Stripe.
Both payment processors will allow you to set up subscription plans, manage payments from around the world, and offer excellent security for both you and your customers. The question is, which one is better?
The bottom line up-front: We prefer Stripe, but only for those who are willing to put in the extra leg work that may come with the set-up process. We like the flexibility that it offers. However, if you want to keep it simple and only offer Recurly, it's a great option.
We've tested them both, so we'll give you the full rundown of what they have to offer. Let's start by looking at the main differences between the two.
Main Differences Between Recurly vs Stripe
There are some big differences between Recurly and Stripe:
Recurly is aimed at subscription-based businesses, whereas Stripe can accommodate all kinds of businesses including subscription, eCommerce, and in-person payments
Recurly makes adding upsells to subscriptions easy, whereas it's not as easy to do this with Stripe
Recurly is a bit more limited in terms of business types, whereas Stripe is very flexible
Recurly has a lower learning curve, whereas Stripe is a bit more complex and may require developer expertise
Recurly doesn't have a separate platform to learn when it comes to analytics, whereas Stripe does
Recurly doesn't have a mobile app, whereas Stripe does have a basic mobile app
Recurly has monthly charges, whereas Stripe doesn't
Essentially: if you want to run a subscription-based business with ease, Recurly is going to be the best choice. You can very easily set up multiple plans for your customers, add one-off or recurring upsells, and more.
Stripe does work for subscription-based businesses but is more flexible. If you're a regular eCommerce store and you want to have the option of adding in-person payments or subscriptions, then Stripe will suit you better.
Then the other big difference is in the pricing. It's quite difficult to compare them because you have to get a quote for two of Recurly's monthly plans, and Stripe's fees vary depending on a few different factors. But Recurly does have a pretty big charge even on the basic plan, so if you're a very small business with a small start-up budget, this is something to think about.
The Similarities
There are some similarities between the two SaaS solutions:
Both have good analytics
Both offer multiple payment methods for customers
Both have excellent security credentials
They both make it easy to sign up
Now, let's look at them both in more detail.
What is Recurly?
Recurly is a SaaS platform designed to provide recurring billing for subscription-based businesses. Launched in 2009, it is a popular platform for payment processing, with great security features.
What is Stripe?
Stripe is a payment processor that provides a variety of payment methods for businesses, including credit and debit cards, bank debits, transfers, Apple Pay, Google Pay, and 'buy now pay later' options. It was launched in 2010 and is used by many eCommerce businesses.
Recurly – the Main Features
We tested Recurly, so we can show you the main SaaS features.
Ease of Use/Dashboard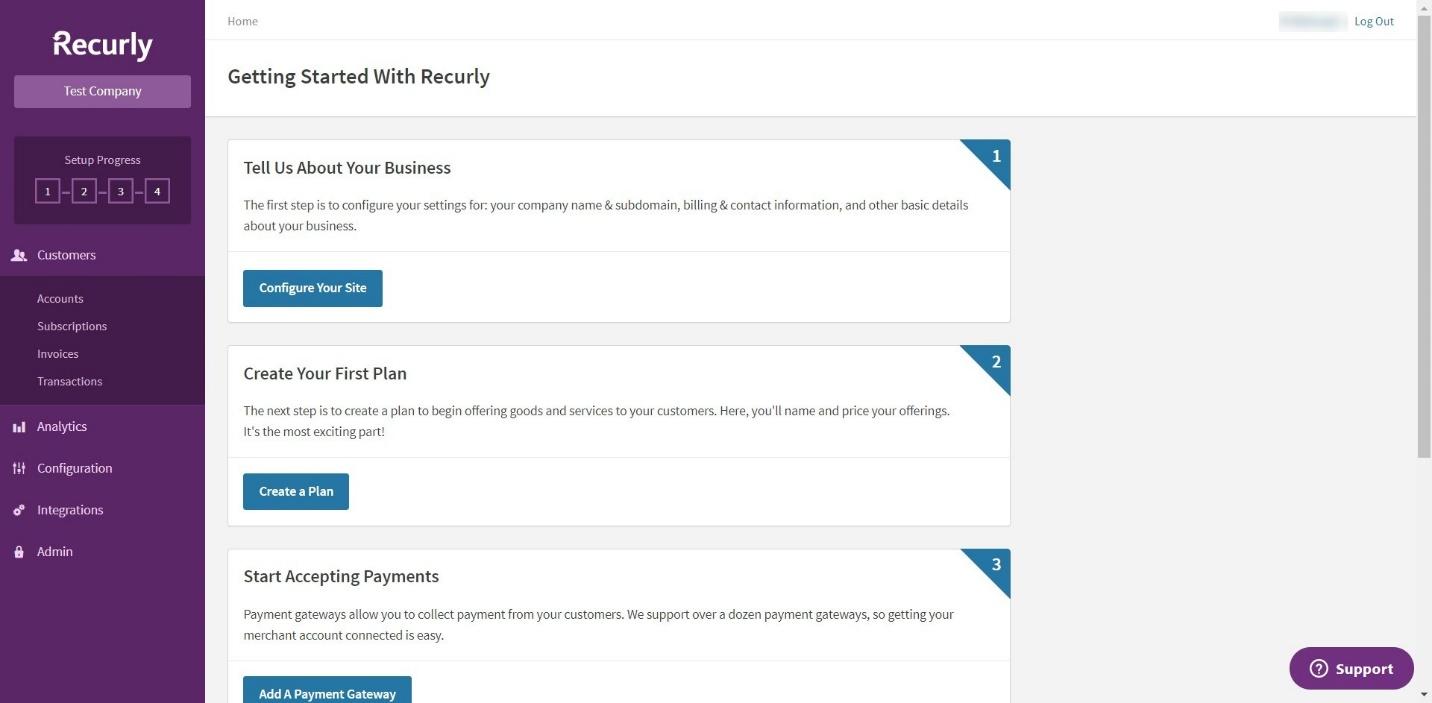 You can easily sign up for a free trial of Recurly without having to submit any payment details. It takes minutes to set up an account.
It's a simple platform to navigate. Everything you need is on the left-hand side, and they offer helpful pop-ups to help you get set up quickly.
Payment
Recurly is focused on providing payment options for subscription-based businesses. Your customers can pay using a variety of methods:
Credit cards
ACH
Invoicing
PayPal
Amazon Pay
Apple Pay
Payment methods are easy to configure using the 'Configuration' section.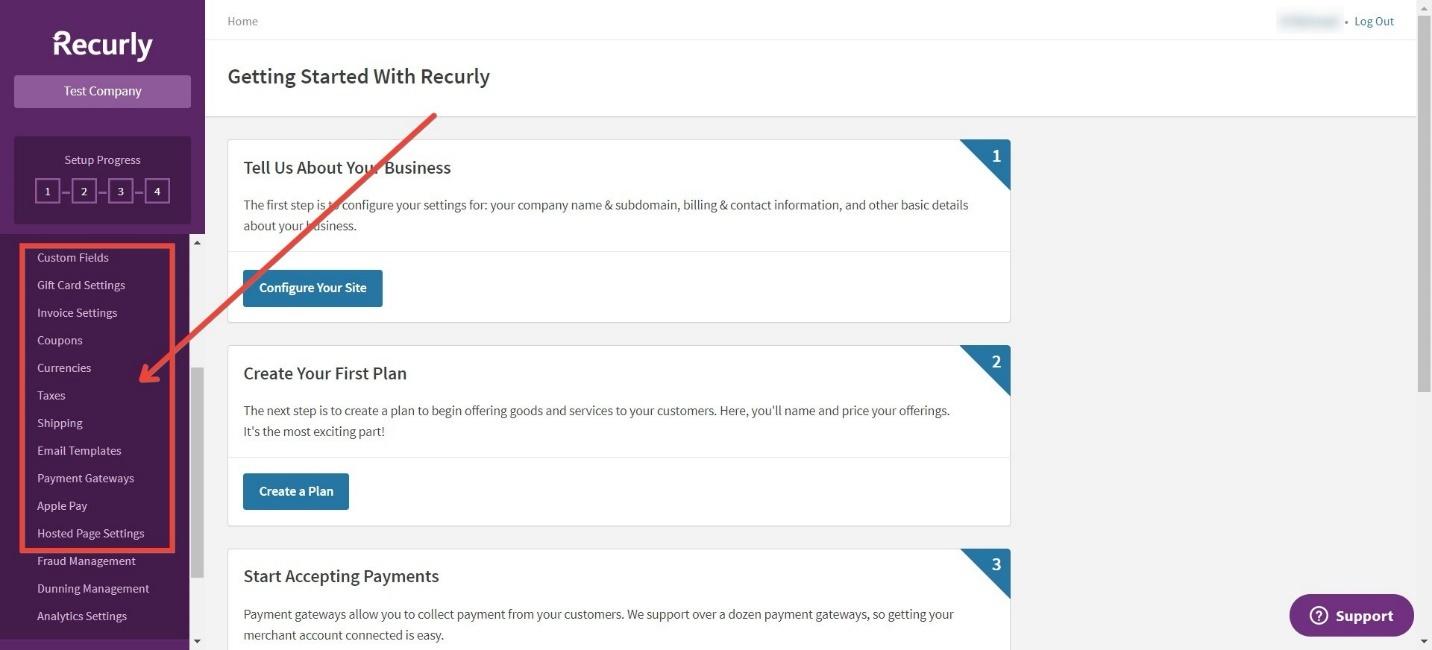 Recurly supports over twenty payment gateways worldwide. You can also have a backup gateway using their Gateway Failover services, which means that if your chosen payment gateway goes down, your customers can still safely pay – potentially saving you from losing out on new subscribers.
Subscription Management
Setting up individual subscription plans is very simple with Recurly. It can handle multiple subscription plans, which is useful if you want to offer different tiers or products to your customers.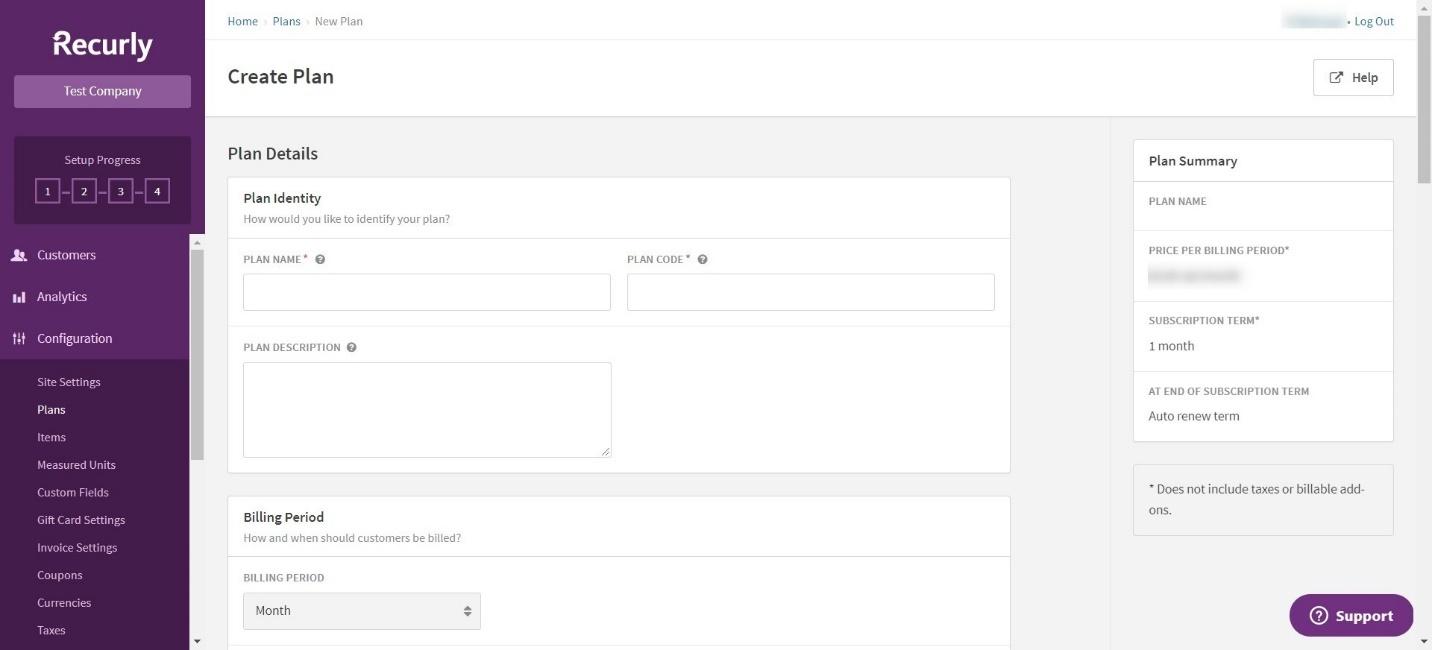 The plan creation plays allows you to give your plan a name, a code, and a basic description, as well as pricing and billing options, plan add-ons, and set-up fees. You can also set how often you will email your customers (for example, upon creating a new subscription, or if the subscription expires). You can also set up a return URL after a customer completes the checkout process.
You can offer fixed plans or usage-based plans.
The other thing you can do with Recurly is set up and item catalog. This is a basic system that allows you to create individual items, which you will offer as part of your subscription plans. You can give them a name, description, SKU, item code, and accounting code. These will then be linked to your subscription plans.
Recurly has some tools to decrease churn (losing customers due to subscriptions expiring). They have put a significant amount of research into their Revenue Optimization Engine, which helps to recover an average of 70% of failed subscription renewals. Essentially, it makes the process easier for you and your customers by automatically updating accounts belonging to subscribers.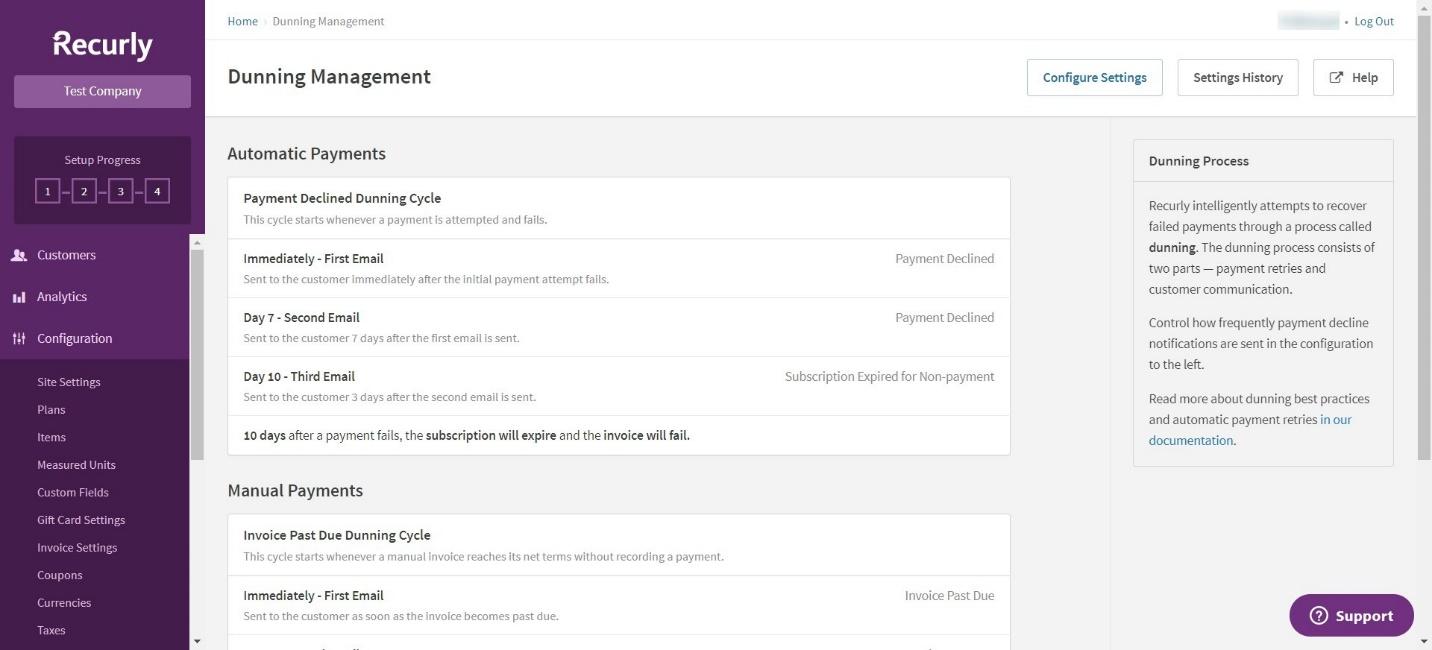 The Dunning Management area allows you to set up a plan if payments are declined. For example, you can set up notification emails to your customers, with repeat emails after a certain amount of days.
Marketing Tools
Recurly offers marketing tools to help encourage new subscribers. For example, you can set up trial periods, which will allow people to try your products or services before committing to a full subscription plan.
You can also offer gift cards and coupons. These are simple to set up, and you can have thousands of unique discount codes: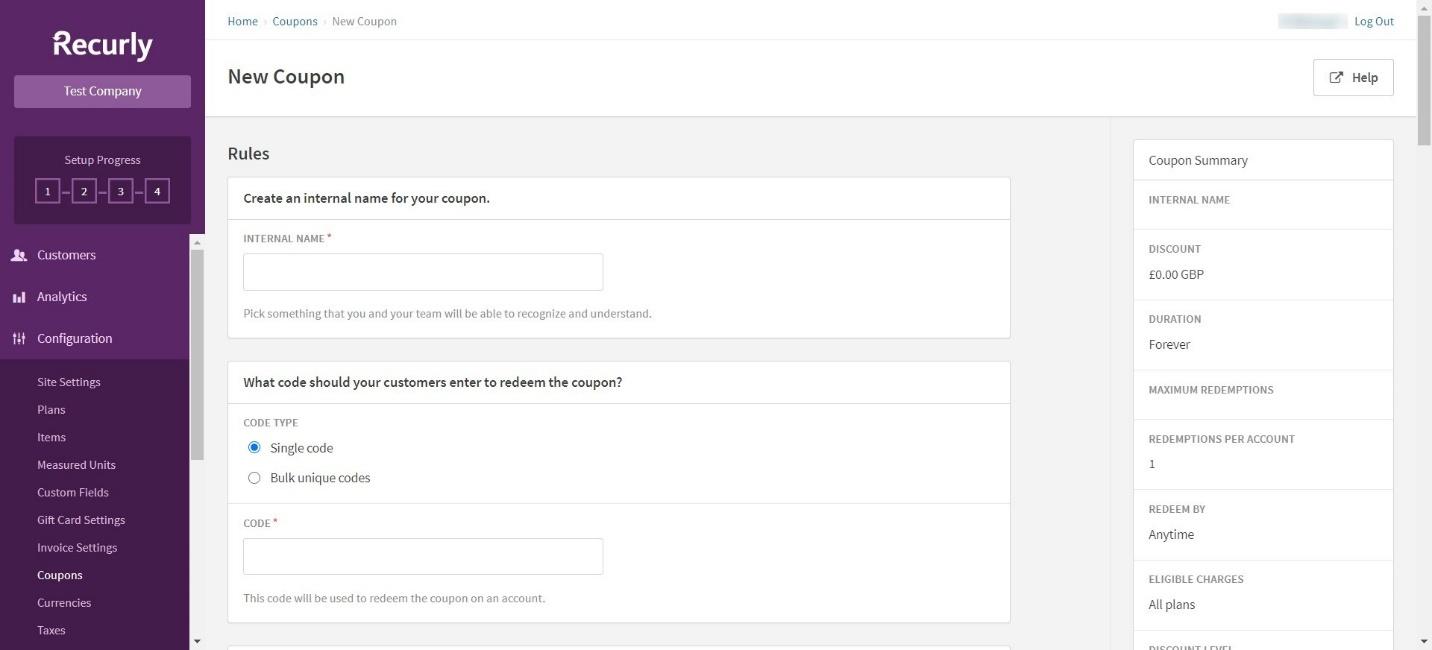 You can also offer add-ons, which can be recurring each month. You can offer one-time products and services with your subscription plans, too.
Email Templates
While Recurly doesn't have a full-blown email marketing service, they do send emails out to customers at certain moments (for example, upon subscription, or if a payment method fails). You can set these up in the Email Template area.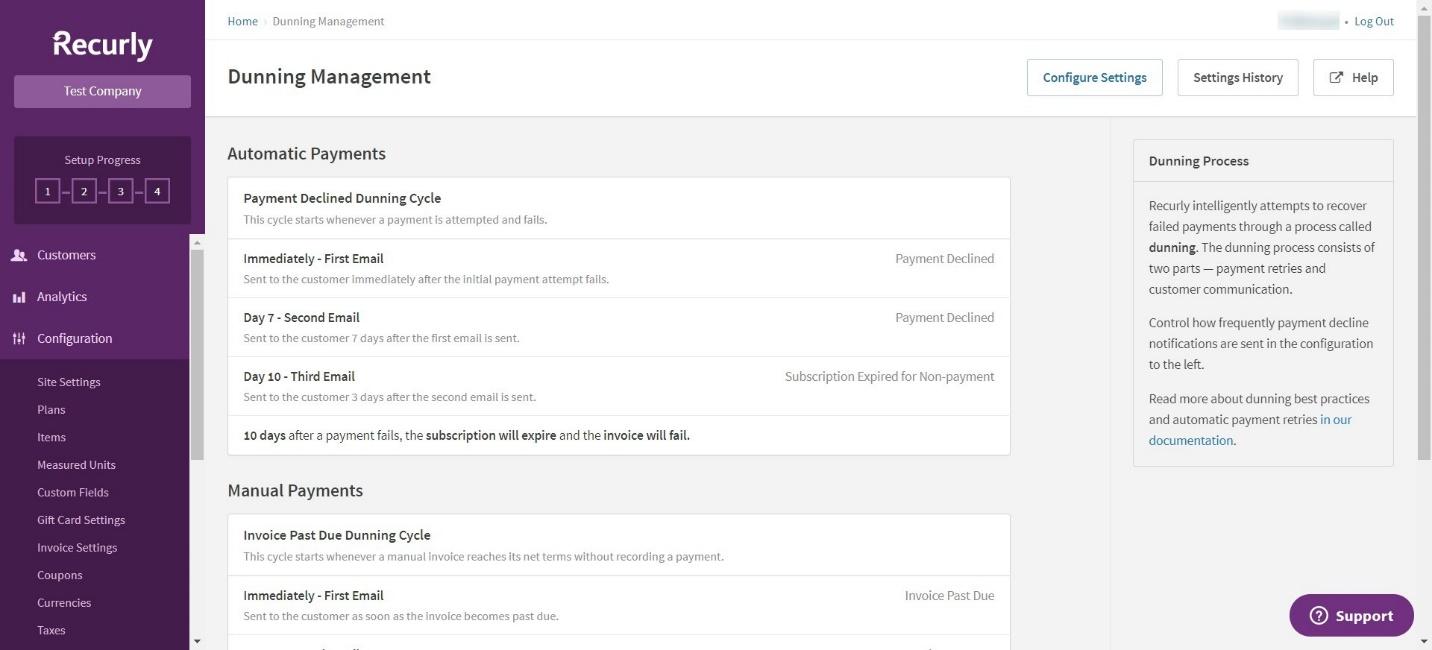 Each email can be customized to suit your business, with the option of HTML or plain-text editing.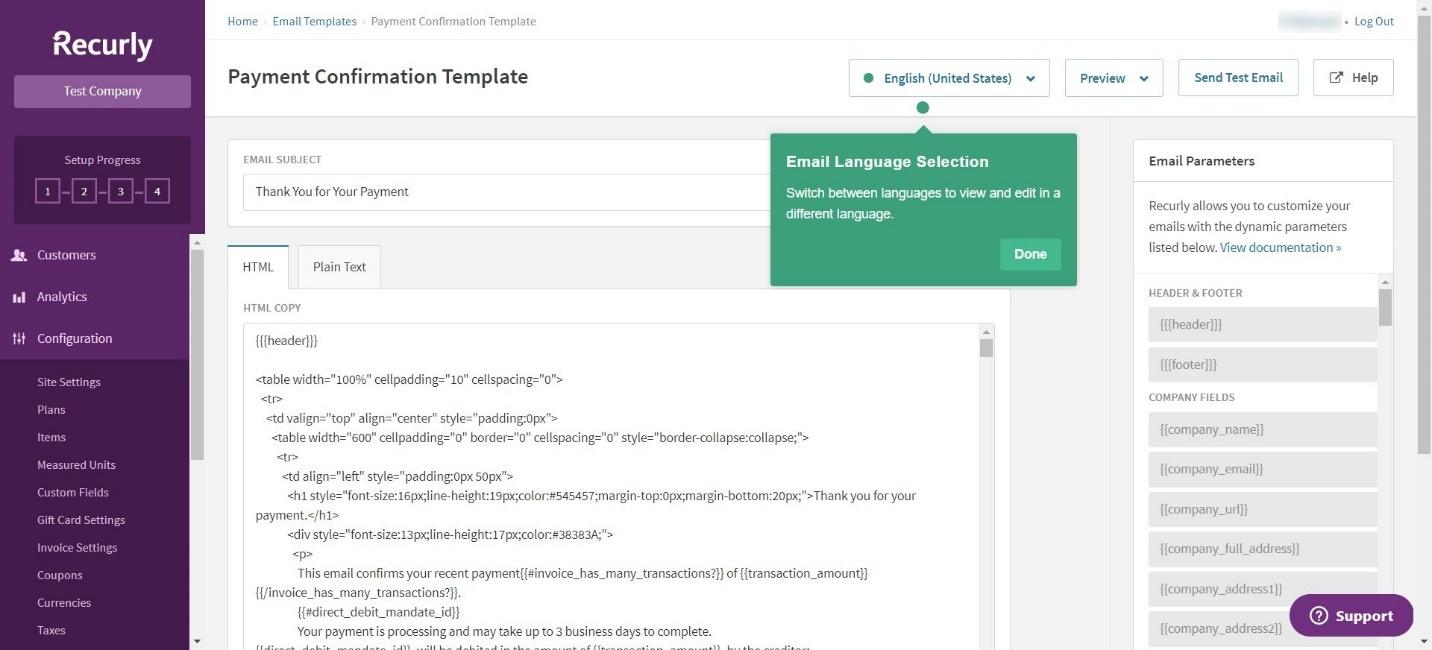 It won't offer you beautiful email templates like other providers (like Mailchimp, for example), but it does allow you to customize them. If you know HTML, you'll be able to play around with this to your heart's content.
Billing and Accounting
One of Recurly's key strengths is the flexibility that they can offer for your customers. Different payment methods and subscription types mean that you'll always be able to find something that works for you and your customer base.
They also offer automatic invoicing, which is especially helpful if you have to handle several different subscription plans. Recurly will create an invoice for billing, charges refunds, credits, shipping fees, and taxes. These can be emailed directly to your subscribers.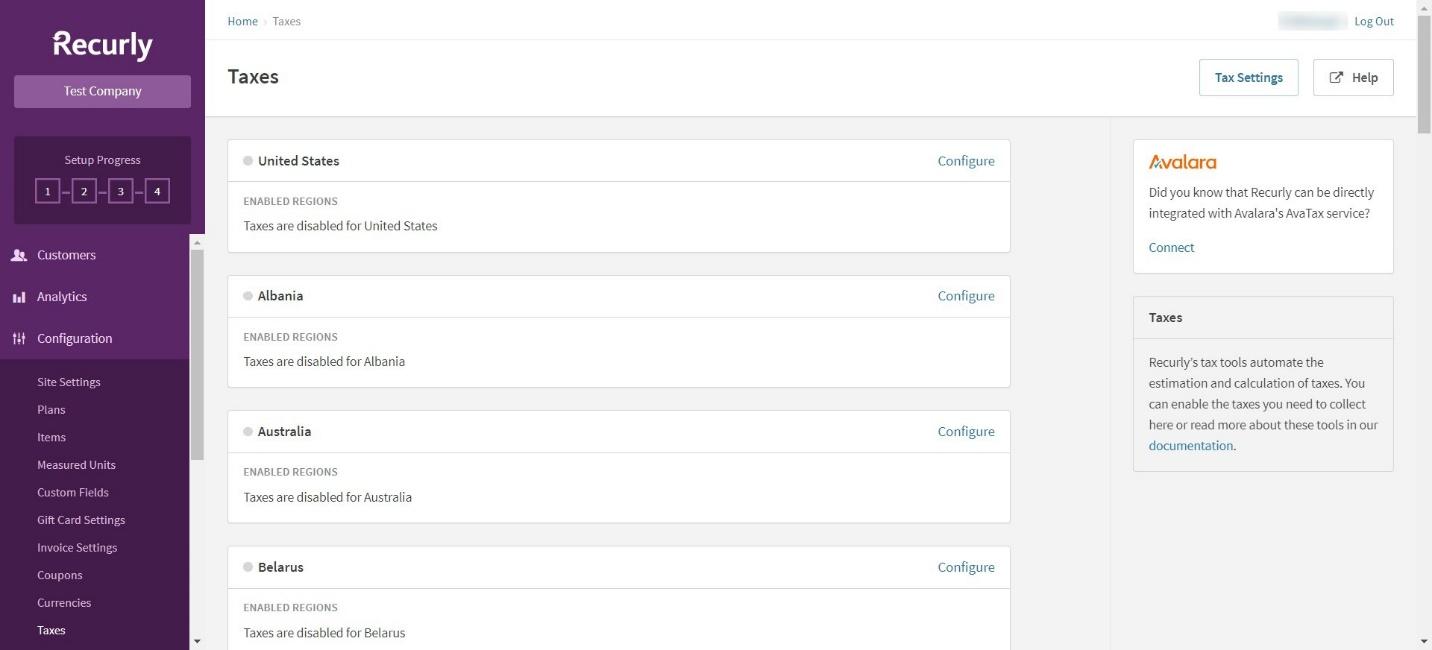 It will also help you to stay compliant, by calculating sales, VAT, or GST tax for any charge managed by them. Their basic tax support covers the US, Canada, Europe, New Zealand, Australia, Israel, and South Africa.
They will also help you to stay compliant with digital tax laws, which is useful if you're offering digital services.
Security
Recurly is great from a security perspective. Recurly is PCI-DSS Level 1 Compliant, which is the highest level of security you can offer. They meet or exceed all industry-standard security practices when it comes to payment security, offering data encryption, web application security, and physical and network security.
Analytics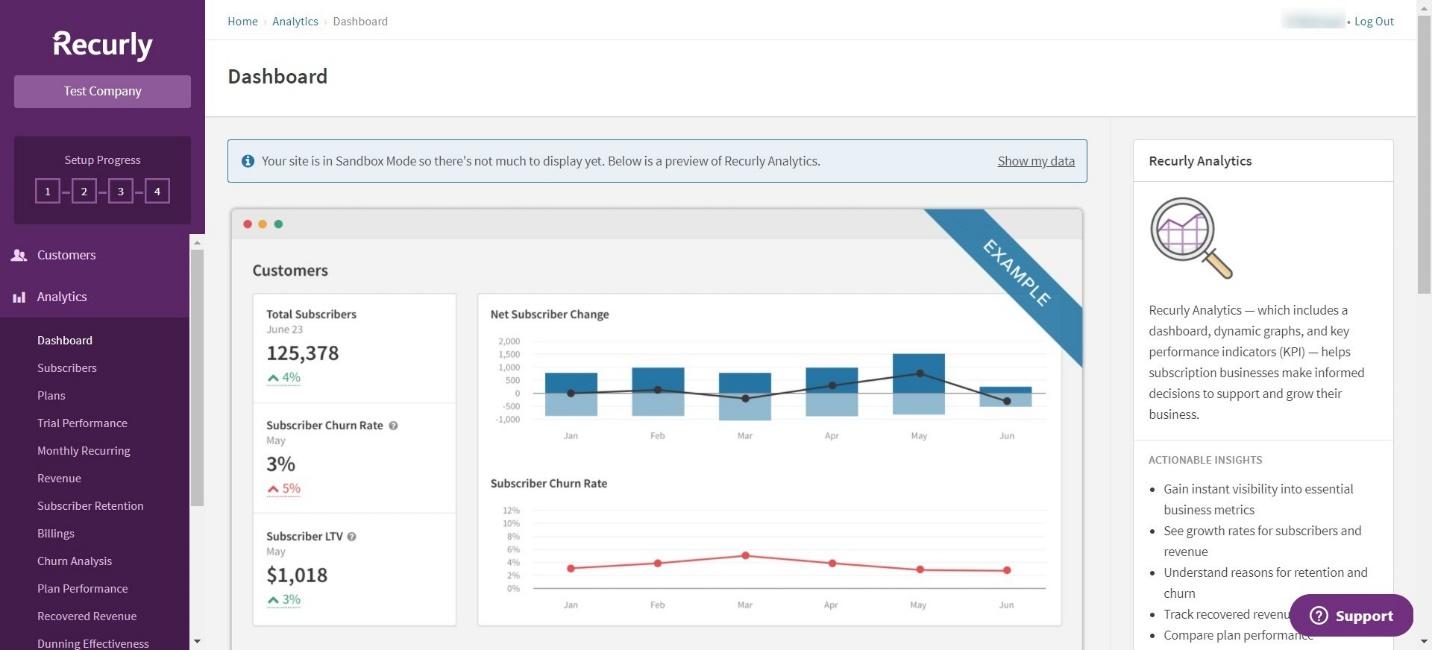 Recurly offers great analytics. The dashboard will give you a basic overview of some key stats (like net subscriber change and subscriber churn rate), and you can run reports on the following:
Subscribers
Subscriber Growth
Plans
Trial Performance
Monthly Recurring Revenue
Monthly Recurring Revenue Growth
Subscriber Retention
Billings
Churn Analysis
Recovered Revenue
Plan Performance
Some of these reports are locked in higher pricing tiers, which is something to keep in mind. Sometimes, there can be a bit of a delay in showing new subscribers or income, so you may have to wait to see any new activity.
Integrations
Recurly offers integrations with the following services:
Salesforce
MailChimp
Zendesk
NetSuite
Zapier
Stripe – the Main Features
We tested Stripe, so we can show you the basics of how the platform works.
Ease of Use/Dashboard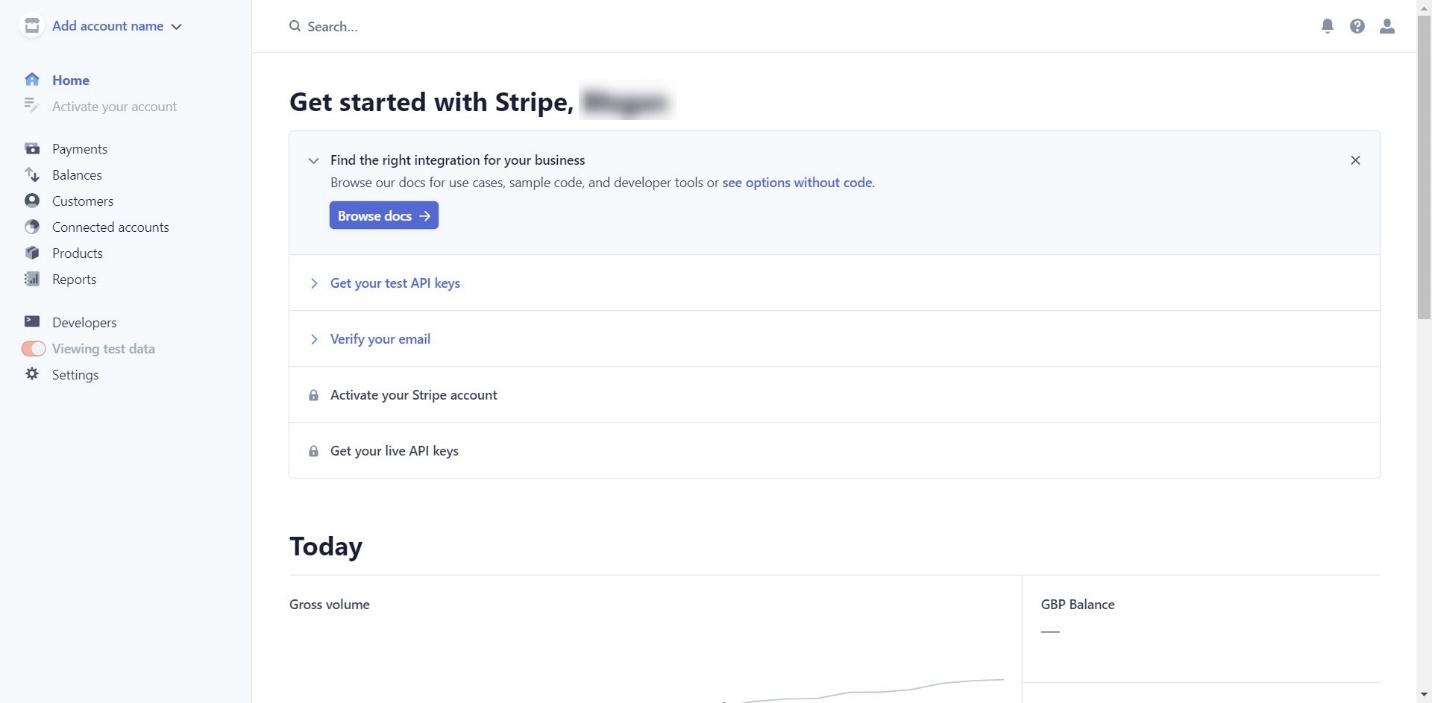 Signing up for an account with Stripe is easy – you don't have to input any payment details. The platform itself is easy to navigate, with everything you need on the left-hand side, and a helpful 'getting started' checklist of tasks to help you get going quickly.
Payments
Stripe is a popular payment processor for a reason – it's powerful, secure, and allows you to offer a range of payment options for your customers or clients:
Credit/debit card
Alipay
Apple Pay
Google Pay
Microsoft Pay
WeChat Pay
Click to Pay
Bank debits and transfers
Bank redirects
Klarna
OXXO
With Stripe, you can accept payments from 135+ countries worldwide, although charges may vary for this. If you want to go global, Stripe is a good choice.
Subscription Management
Like Recurly, you can offer subscription payments. These are pretty simple to set up. You can offer free trials for your potential new customers. Customers can pay with any of the payment options that you want to offer, and you can easily customize each plan, add discounts and coupons, and more. It lacks the option of upselling, unlike Recurly.
Also similarly to Recurly, you can create products. These products can then be linked to your subscription plans, which helps you to stay on top of things.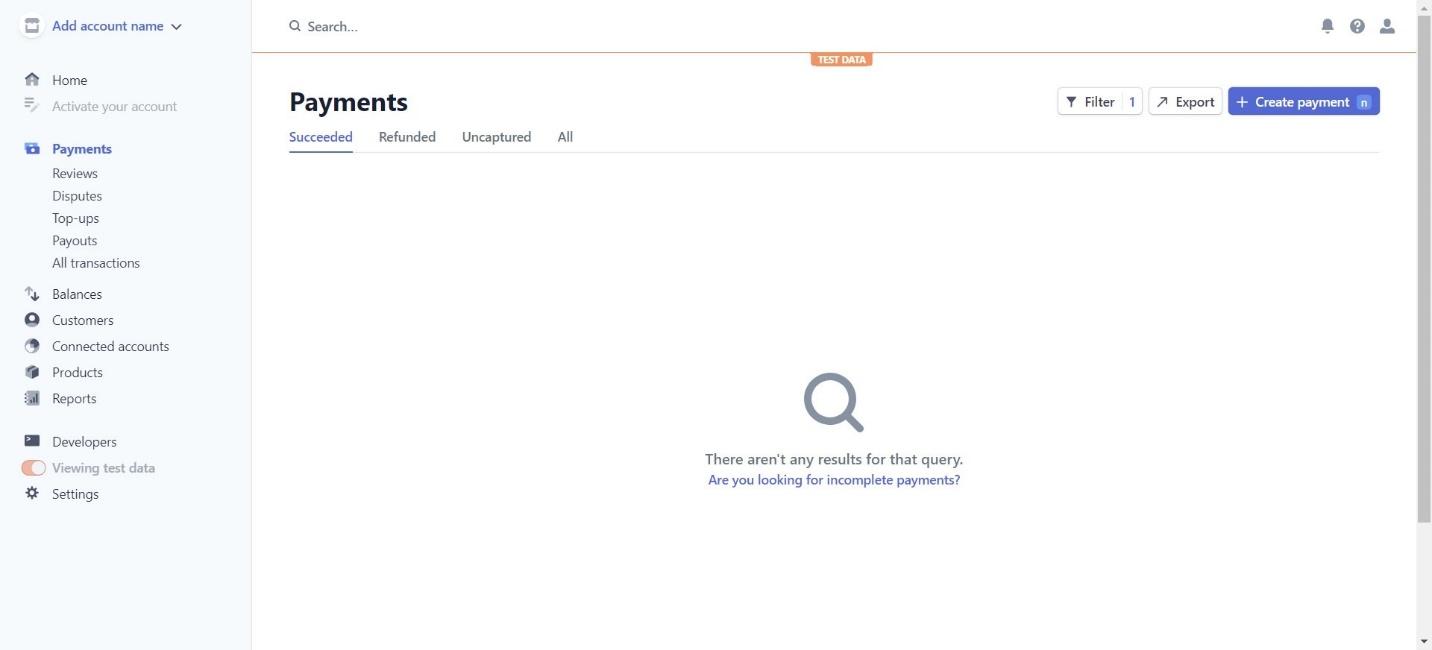 Stripe allows for automatic updates of expired cards. It also speeds up the process for your customers if they have to retry failed payments, which is useful, as the quicker this process is, the less likely you are to lose a customer.
What is great about Stripe is that you can offer in-store payments using their Terminal app. If you have a physical store and you want to offer payments without having to invest in hardware, this is useful. It integrates with the Stripe platform nicely.
They also offer hardware for physical sales, which provide end-to-end encryption and allow chip cards and contactless payment.
You can also provide payouts using Stripe. They have an onboarding service for new users, and you can accept payments on your users' behalf, split payments, send money, and transfer funds. You can quickly send out payments to contractors or freelancers, and it's all done within the same platform, making it much easier to manage.
Marketing Tools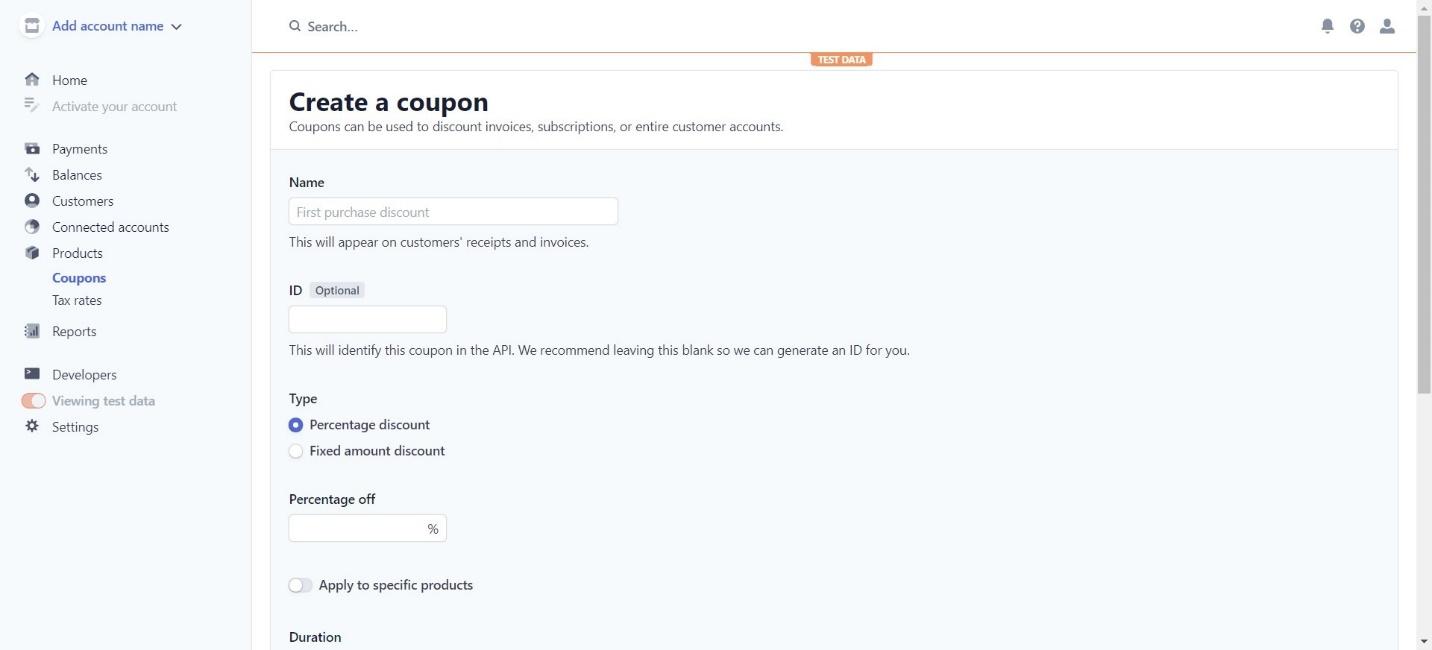 There's a lot of flexibility with Stripe in terms of what you can offer customers. You can offer coupons and even create and distribute physical cards for customers (although this comes at an extra cost). While it does lack the upsells that Recurly offers, you can get around this if you have a developer on your team. The programmable APIs and tools are extensive, so if you do have a developer, you can take advantage of this.
Billing and Accounting
Stripe offers flexible billing, with multiple options for customers. If you have several subscription plans or products, and you want to offer different types of payments for each one, Stripe can handle this with no problems.
You can also send personalized email receipts and create landing pages and invoices, all of which can match your company's branding. This is great for keeping things consistent and adding a personal touch for your customers.
Security
There are robust security procedures in place with Stripe. They offer a separate fraud prevention service called Radar, which has a suite of tools to help increase security for your business. It can detect or block fraud, using algorithms that adapt over time to new fraud patterns without accidentally blocking genuine customers or payments. Again, if you do have a developer on your team, you can set custom rules for your security settings.
Analytics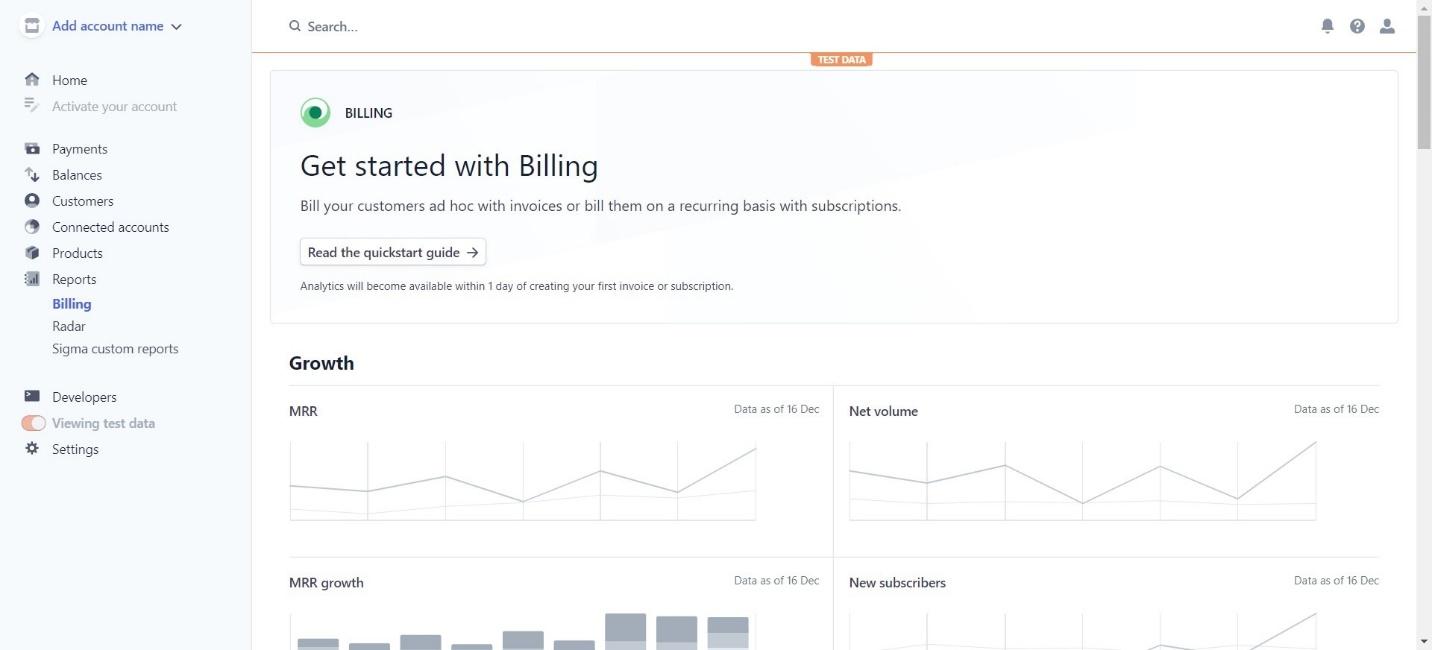 On the basic Stripe plan, you have access to some reporting. On the reporting dashboard, you'll see an overview including your invoices, net volume, new subscribers, and growth. You can also take advantage of their quick start guide, which will help guide you through reporting on Stripe.
They also have Stripe Sigma. This is much more in-depth and highly customizable, with reports that allow you to go right into the nitty-gritty of how your business is running. With Sigma, you can identify patterns in churn, look at which regions will offer you the most revenue, analyze your most and least popular products, and more. All of this can be very easily shared with other team members. To get into Sigma, you'll have to learn how to use it, and it does come with a separate learning curve.
Mobile App
Stripe has a basic mobile app that gives you access to tools like your dashboard, payments, and payouts. It is available on iOS and Android.
Integrations
Stripe has a good number of integrations, including with popular platforms like:
Mailchimp
Squarespace
Magento
Recurly vs Stripe – Support
How do they compare when it comes to support?
Recurly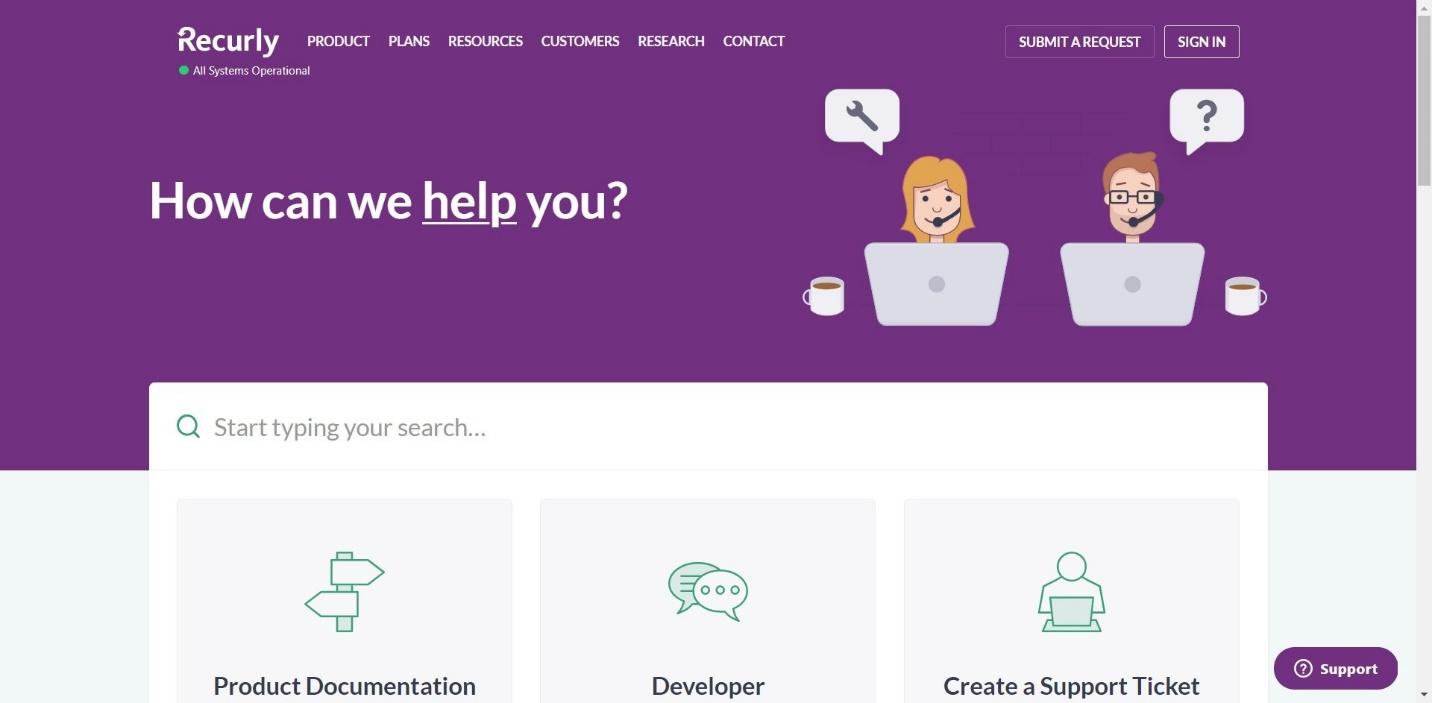 Recurly has a knowledge base with articles and information on how to use the platform.
If you need support, you can create a support ticket. The customer service team is friendly, helpful, and quick to respond. On the Professional or Elite plans, you can access other forms of support (including phone support).
Stripe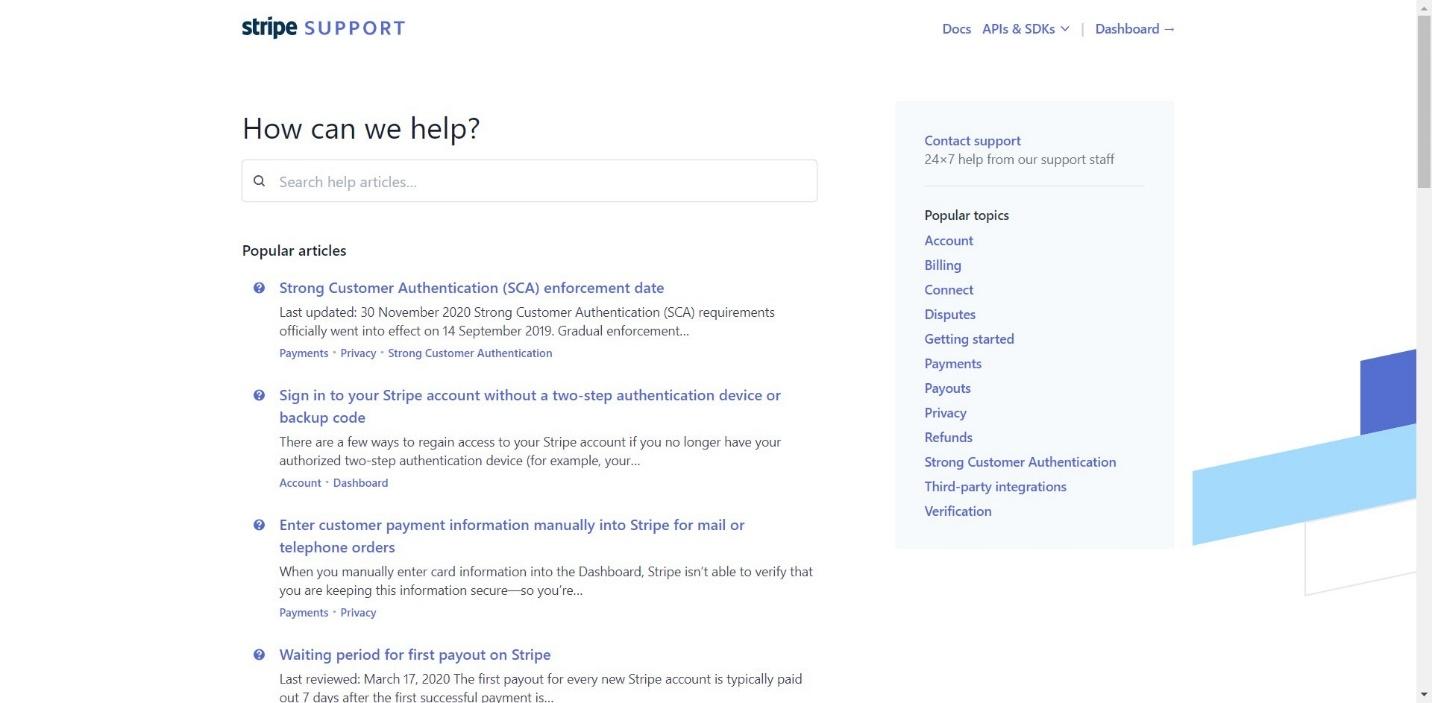 Like Recurly, Stripe has a knowledge base with articles, tutorials, and guides on how to use the platform. You can contact them via live chat, phone, or email if you need further support, and their customer service team is responsive and friendly.
Recurly vs Stripe – Pricing
How do they compare in terms of pricing? It's hard to directly compare them, as they're both quite different, but let's take a look:
Recurly
Recurly has three plans to choose from:
Core – $149/month + 0.9% of revenue – this gives you up to 5 users and 1 payment gateway
Professional – price on request – this gives you up to 20 users, 2 payment gateways, 5 custom fields, and can handle up to $10 million in annual subscription billing
Elite – price on request – this gives you 20+ users, access to any of the 20 available payment gateways, and can handle over $10 million in annual subscription billing
There are a few things that are locked behind the Professional plan, like the smart dunning/churn reduction tools and proactive credit card updates. The Elite plan unlocks more plans for large businesses, including a dedicated account manager. You can find out more about the differences between each plan on their pricing page.
Stripe
Stripe's basic pricing plan is 2.9% + $0.30 per transaction. This gives you:
Global payouts
Security and compliance
Tools to build optimized checkouts
Fast payouts
Real-time reporting
24/7 phone, chat, and email support
There are some extra charges involved. For example, if you want to sell your products or subscriptions globally, there will be extra charges involved. If you want to offer in-person payments, this will involve extra charges, too.
Although this is standard for most payment gateways, it does make it difficult to truly get a grasp on how much you'll be paying Stripe for their services, and some people have been caught out with extra charges. You can find out more about it on their pricing page.
Recurly vs Stripe – Pros and Cons
Now, let's take a look at their pros and cons.
Recurly
Pros
Great tools for subscription-based businesses
Easy to navigate the platform itself
The churn reduction tools are so useful
Offers flexible payment methods for customers
Cons
Pricing is a bit steep
There can be a delay in new activity when looking at analytics
Stripe
Pros
Highly customizable if you have developer knowledge
Flexible options for payments
Easy to try out
Reporting is in real-time and very in-depth
There is a mobile app available
Cons
Slightly higher learning curve
Charges can be unclear/confusing
Alternatives to Try
There are some alternatives to try if you don't think Recurly or Stripe is quite right for you:
Square – if you're a multi-channel seller, Square could work well for you, as it can handle complex businesses with lots of payment options. You can read about it in our Stripe vs Square comparison.
Authorize.net is a solid choice with excellent fraud prevention tools. It offers multiple payment types for your customers. Find out more about it in our Stripe vs Authorize.net comparison.
PayPal – this is a popular platform with millions of users worldwide. It offers super-fast, easy checkout for your customers.
Frequently Asked Questions
Here are the most frequently asked questions about Recurly and Stripe:
Question: Does Recurly have a mobile app?
Answer: Not at the time of writing.
Question: What companies use Stripe?
Answer: Some well-known companies using Stripe include Reddit, Lyft, Stack, Udemy, and Kickstarter
Question: Which companies use Recurly?
Answer: Some of the most well-known companies that use Recurly include Lootcrate, Accuweather, Adobe, Twitch, and Pipedrive.
Question: Does Stripe charge monthly fees?
Answer: No, they don't have a set of monthly fees.
Our Final Thoughts – Which is Better?
We like Recurly for subscription-based businesses. It's a little easier to use than Stripe, and it works well for subscriptions. We can see why so many companies like to use Recurly – it makes the process simple, and the security features are great. We also think the focus on preventing churn is excellent.
However, we do think that Stripe has more flexibility and potential for growth. If you have a developer on your team, you have a lot more possibilities with Stripe. Even if you don't have any developer knowledge, Stripe will work with regular eCommerce, subscription-based businesses, and face-to-face transactions. We think it's worth looking into if you want something more customizable.
It's hard to compare them in terms of pricing, but you will have to pay a monthly charge right away with Recurly. With Stripe, your charges accrue as your business grows. What you choose may depend on the budget you have to work with.
Both platforms are great, and we think either would be a good choice. If you've used Recurly or Stripe as your billing system, we'd love to hear your thoughts about them!
Further Reading on Recurring Payment & Other Billing Solution Merchant Account Options: