Last Updated on June 1, 2023 by Ewen Finser
Stripe stands out as one of the most popular online payment processors globally. The recent boom in online businesses has increased the demand for Stripe-like payment processing solutions. While Stripe is a great option, it's not the only one available. Other online payment solutions offer better or different features at varying price points.
When looking for a Stripe alternative, merchants should first consider their business needs. For instance, Stripe boasts many customizable features and payment processing options. It performs all the security and fraud prevention for you, making it a good choice for businesses that need to grow their customer base.
However, Stripe also features developer-first architecture, which might be difficult for some merchants to use. Other payment processors might have more user-friendly features or advanced solutions for specific business niches. In addition, some processors have exclusive payment features or unique pricing models.
Read on to find out some of the top Stripe alternatives you should consider.
What is Stripe?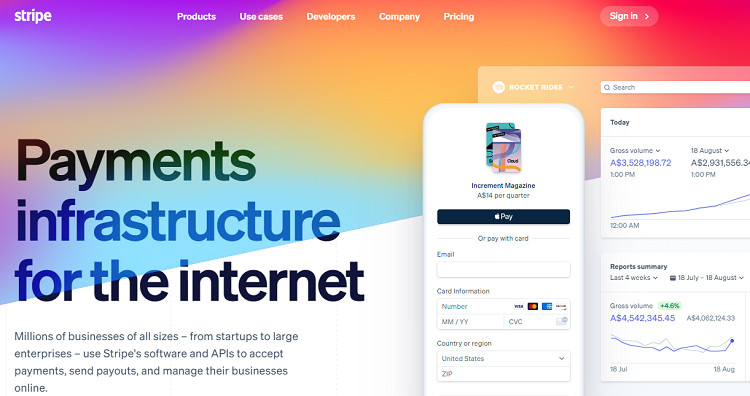 Stripe is a popular online payment processing solution that enables businesses to accept payments over the internet. It features a suite of APIs and tools that make it easy to integrate payment processing into websites and mobile apps. Stripe also offers built-in fraud prevention and security measures.
As one of the best payment gateway providers, Stripe enables merchants to accept cards of all kinds, including Visa, MasterCard, American Express, and JCB. It also allows business owners to process transactions in over 135 currencies worldwide.
Launched in 2011, Stripe has quickly become a significant player in the online payment processing arena. Stripe is not the only viable option available to business owners despite its global popularity. Other payment processors have different capabilities, features, and pricing options that might better fit some businesses.
Advantages of Using Stripe for Payment Processing
Below are some of the key advantages of using Stripe for online payment processing:
Informative graphs and charts

Effective reminder system

Seamless checkout process

Supports a wide range of currencies

No contracts to hold you down

The application process is fast and easy

Accepts payment instantly

Native mobile app

Invoice closing, opening, and processing

Credit card support
With these advantages, Stripe is a great payment processing solution for many businesses.
Why Businesses Should Consider Stripe Alternatives
As a digital merchant, you want to provide the best payment processing solutions you can to your customers and clients. Stripe is a good choice for many businesses, but it might not be the best option for all merchants. Here are some reasons:
Uses Open APIs
While Stripe has a developer-first approach and uses open APIs, some business owners might find it challenging to use. They might prefer a payment solution that is more user-friendly or one that is easier to integrate into their website or mobile app.
Limited In-person Functionalities
If you run retail businesses such as restaurants, bars, and cafes where you might want to accept in-person payments using a mobile device or tablet, then Stripe might not be the best choice. That's because it's primarily an online payment processor that lacks specific in-person capabilities.
Premium Customer Support Comes at a Cost
Some merchants also feel that Stripe's customer support is lacking. While Stripe has a wealth of knowledge on its website, high-level customer service might not be available to them at all times.
That's why it might make sense for some business owners to look for alternative payment processors with comprehensive customer support options.
Competitive Pricing
Stripe is cheaper than some other online processors, but it might not be the most affordable solution for every business.
Some merchants want the most inexpensive payment processing solutions they can find, even if it means sacrificing certain features. Stripe offers a middle-of-the-road approach, and its pricing might not be suitable for such businesses.
Limited Availability in Some Countries
The Stripe website states that the company is available for business in 46 countries. Despite the ability to transact with over 135 currencies, there are several countries that Stripe doesn't support. It has a limited presence in most Asian and Middle Eastern Countries but extensive reach in North America.
The Best Stripe Alternatives to Consider
Here are some of the top alternative payment gateways you should consider:
PayPal Here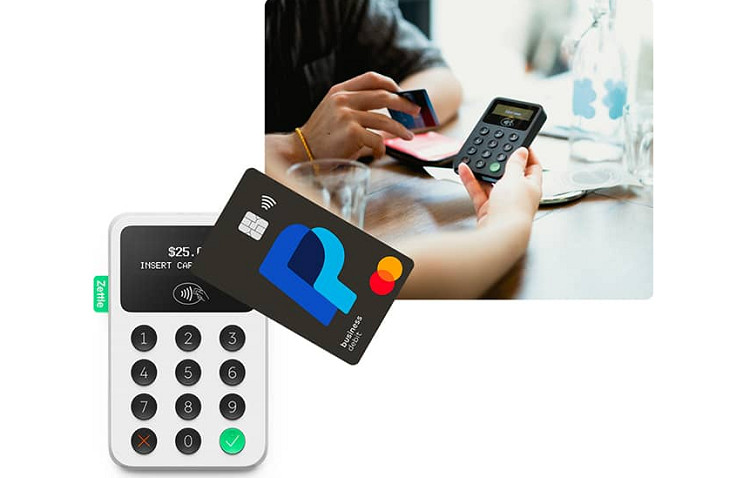 PayPal is one of the most trusted online payment processing services globally. Many merchants prefer PayPal because it's a household name with a strong brand presence.
PayPal Here allows you to process in-person payments quickly and easily using mobile devices, tablets, or computers. Some of its key features include invoicing, processing orders, card reader support, PayPal's anti-fraud tools, and more.
While both PayPal and Stripe work best in online payment processing, PayPal is more suited for small and growing businesses that want to expand their online payment processing abilities. Stripe is ideal for larger companies because it provides better customization, reporting, and support options.
PayPal Pricing
Cost of POS: $29 for the first device and an additional $75 for each other device

Transaction fees: 1.90% and 3.50%

Swipe/chip transactions: 2.9% plus 0.30 per transaction
PayPal Pros
Many features, plugins, and integrations

Excellent customer support

Global presence

Accepts Venmo, and cryptocurrency

Options for +200 countries
PayPal Cons
International credit cards get additional charges

A chargeback fee of $20
The most significant difference between PayPal Here and Stripe is that Stripe is ideal when creating a point of sale system that is easily customizable. On the flip side, PayPal is easy to set up and use with pre-made themes and plugins.
Square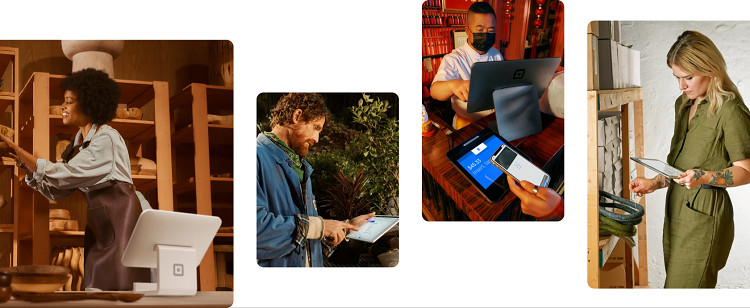 Square is another popular payment processing service known for its simplicity and ease of use. It offers industry-leading services using advanced technology to provide your business with a fast and secure payment processing system.
Square beats Stripe in its in-person POS capabilities with custom buttons, triggers, and branding. It also works best for those companies that want a fast and seamless setup with limited customization. Square also offers many features such as invoicing, customer profiles, and detailed reporting.
Businesses using Square attest to a quick ACH transfer, real-time reporting, and easy integration with other platforms. It also has several built-in features to help you increase sales, such as simple e-commerce integrations and customer management tools.
Square Pricing
2.9% plus $0.3 for each transaction
Square Pros
Flat rate pricing

No monthly fees

Easy to use

Cheaper chip card readers

Excellent customer support
Square Cons
Stability issues

Bigger businesses pay more

Not ideal for companies in high-risk industries
Square boasts an intuitive interface with flexible features. You can keep your client's credit cards and process payments before in-person visits. It also allows your clients to book appointments, view invoices, make deposits and check their balance online.
Braintree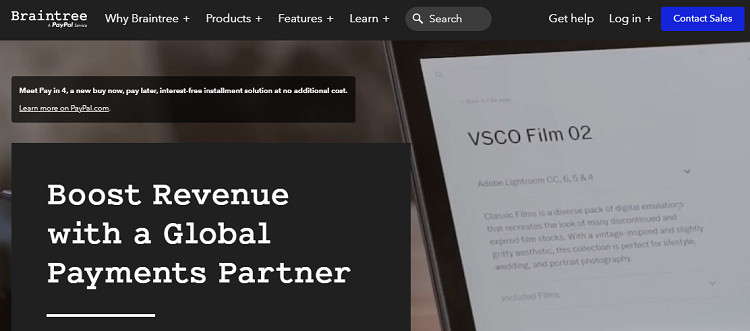 Braintree is a tech company that provides payment gateways and merchant accounts for low-volume businesses. Paypal acquired Braintree in 2013 for $800 million, which gives you a good idea of the quality of its services. Despite competing with Paypal for market share and offering similar services, it still relies on Paypal's integration to support its traditional features.
Braintree boasts a strong developer support network and an easy-to-use API. It also offers a wide range of features, such as recurring billing, subscription management, payout, and fraud prevention. If Braintree were to go through some drawbacks in features and integrations, it could always rely on Paypal for backup.
One of the main differences between Braintree and Stripe is that Braintree bundles up all of its core features into one package and includes more complex tools, such as recurring billing. On the other hand, Stripe offers more options for customization and uses a' la carte pricing for additional features.
Braintree Pricing
Online credit cards: 2.59%+$0.49

ACH Payments: 0.75% (Max $5)

In-person transaction: 2.29%+$0.09

Chargebacks: $15
Braintree Pros
Supports dedicated merchant accounts

Includes PayPal

Wide range of features

Good developer support

Braintree cons

Drop-in UI

Advanced fraud protection

Supports more than 40 countries

Easy to use

Customizable
Braintree Cons
It doesn't accept American Express

Relies on PayPal integrations
Braintree has more straightforward pricing plans than Stripe, making it ideal for businesses starting and wanting to keep things simple. It also offers a wide range of features, making it an attractive choice for companies that want more control over their payment processing.
2Checkout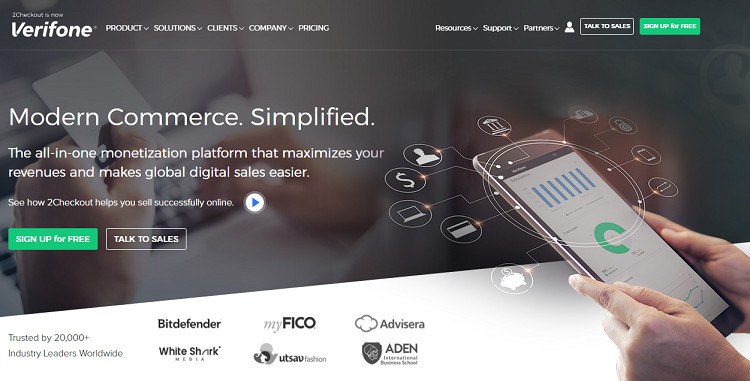 2Checkout is a popular global payment platform that helps businesses accept online and mobile payments. It boasts an intuitive interface with extensive features for different industries. 2Checkout also offers payment analytics, transaction data management, 87 currencies, and 15 languages support.
It also integrates with various shopping carts, such as Shopify, Magento, Volusion, and BigCommerce. Its ease of use and user-friendliness make it one of the best alternatives to Stripe. You can use a currency and a language appropriate for your customers through the localization settings. It uses PCI data security compliance for all transactions, protecting your customers' information.
2Checkout Pricing
2Sell: 3.5% plus $0.35 per sell

2Subscribe: 4.5%+ $0.45 per sell

2Monetize: 6.0%+ $0.60 per sell
2Checkout Pros
Supports multiple payments

Secure transactions

Multi language support

Customized checkout options

Robust integrations
2Checkout Cons
It doesn't have a free trial
2Checkout stands out for its wide range of features, which cater to various businesses. The standard inline checkout options ensure a smooth experience for customers.
The company recognizes the importance of customer satisfaction and strives to make its services as straightforward as possible, whether you're a business or just a regular customer.
Amazon Pay

Amazon Pay is a top-of-the-line payments processing service offered by Amazon. It has a vast global presence and has built a strong reputation over the years. Amazon payments allow you to customize checkout experiences for customers in local currencies. It features sophisticated fraud protection and is PCI compliant.
You can use it to accept payments on your website, through email, or on the go with a mobile app. Amazon Payments is best suited for businesses with existing Amazon customers.
Amazon Pay Pricing
Amazon Pay Pros
Extensive global reach

Allows POS integration

Uses AI and ML for fraud detection and prevention

Scalable

Ease of use and fast transaction times
Amazon Pay Cons
It doesn't support PayPal

Need for Amazon account to use the services
Amazon Pay allows integration with other applications for increased convenience. Amazon has a long-standing reputation for being a reliable and secure payments processor. The company's focus on AI and machine learning helps prevent fraudulent activities.
Authorize.net

With more than 20 years in the business, Authorize.net is a market leader in online payment processing. The service offers a full suite of e-commerce solutions for companies going digital. Noteworthy, Authorize.net doesn't deal with merchant accounts and will need an infrastructure to process payments. The service also offers extensive customer support and sophisticated fraud management tools.
Authorize.net's interface is intuitive and easy to navigate, making it a good choice for businesses without much technical expertise. While Authorize.net is a cheap and good alternative to Stripe, it's only available in the USA, Australia, and Canada.
Authorize.net Pricing
Monthly gateway: $25,

Per transaction: 2.9% plus $0.30
Authorize.net Pros
Intuitive and user-friendly interface

Extensive customer support

Sophisticated fraud management tools

Invoicing

Simple checkout
Authorize.net Cons
Requires additional infrastructure to function properly

Only available in select countries
Authorize.net is an excellent all-rounder, providing a vast array of features for businesses of all sizes. If your business processes more than $500,000 in transactions a year, then you'll have access to tailored features with interchange plus options.
Adyen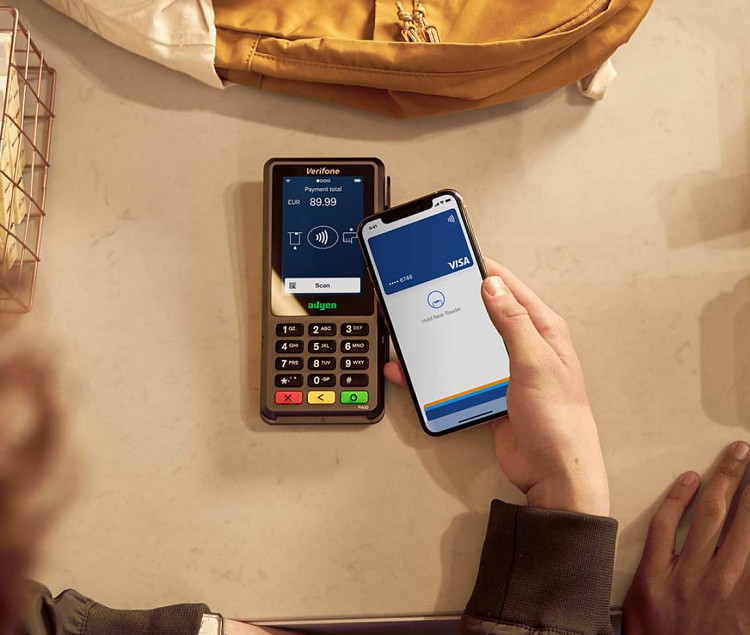 Adyen is a global payments company that provides businesses with a single platform to accept payments from anywhere in the world. It offers advanced risk management for businesses and a wide range of payment methods.
Adyen accepts payments in more than 120 currencies, operating in 20 countries. To create a merchant account, you need to go through a two-stage verification process. It also offers e-commerce plugins and tools that help create customized checkout experiences for your customers.
Adyen allows for integration with other applications, making it easy to manage all your payments in one place. It's an excellent choice for midsize to large businesses with high transaction volumes.
Adyen Pricing
0.6% + $0.12(MasterCard), $0.12 (Amex)

Contact vendor

for a clear quote
Adyen Pros
No setup fees

24/7 support

Multiple bank accounts

Accepts mobile payments such as M-Pesa

Flexible returns

Low price
Adyen Cons
It doesn't support desktop

No free trial
Adyen stands out as an option for businesses looking to reach a global audience. It's ideal for businesses looking to reach Africa and Asia, supporting payments in local currencies. Adyen also has excellent risk management features, which is important for businesses with a high rate of chargebacks.
FAQs
Question: Who is Stripe's Biggest Competitor?
Answer: Stripe's biggest competitors include PayPal, Authorize.net, and Adyen. Stripe is one of the biggest players in the industry with a wide range of features, competitive prices, and an easy-to-understand interface. It's no wonder that so many businesses choose Stripe as their payment processing solution.
Question: Is Stripe the Best Option?
Answer: Stripe is an excellent choice for businesses of all sizes. It's perfect for companies that want quick and easy access to features, the ability to scale as needed, and affordable pricing. Stripe also offers more customization options than many of its competitors.
Question: What is Better, Stripe or PayPal?
Answer: Both Stripe and PayPal are excellent payment processing solutions. They both have a wide range of features, and they're both easy to use. However, Stripe is better suited for larger businesses, while PayPal offers more features that suit smaller businesses.
Question: Does Stripe use Visa or MasterCard?
Answer: Stripe accepts both Visa and MasterCard and a range of other payment methods. You can also integrate Stripe with several different applications, making it easy to manage payments in one place.
Question: Can I Use PayPal with Stripe?
Answer: You cannot use PayPal with Stripe. A Stripe and PayPal integration is not available at this time. However, you can integrate other payment processing solutions such as MasterCard or Visa with Stripe.
Conclusion
In conclusion, the best stripe alternative to try is PayPal. It provides a convenient way to manage payments from your customers.
As an all-rounder, you can use it to accept payments from anywhere in the world, and it also offers a range of features. I recommend using PayPal because of its broad compatibility and simple pricing structure.
Other payment alternatives you should consider are Adyen, Authorize.net, Square, Braintree, and Worldpay. All of these options have their strengths and weaknesses, so be sure to do your research before selecting the payment processing solution that's right for your business.