Last Updated on April 22, 2023 by Ewen Finser
If you've been struggling to choose just one of the best Walmart inventory management apps to help you run your eCommerce business on Walmart Marketplace, the following guide is just for you.
There are countless tools out there that promise to make it easy to track, monitor, and manage your stock levels, but having tried a number of them myself, I understand all too well that working out which one of those tools is the right one to use is rarely an easy process.
As such, I put scores of the most popular apps through their paces to determine the five absolute best Walmart inventory management tools currently on the market. You'll find my top picks below, along with all the information you could need to help you choose which app is right for you.
Bottom Line Up Front Summary: I tried out dozens of inventory management apps, and I'd recommend Veeqo for an initial user-friendly experience, then graduating to Eseller Inventory Management if you need something more custom.
My Top Picks at a Glance
Veeqo — Keep it simple. This is the best beginner-friendly app for managing Walmart inventory.
Eseller Walmart Inventory Management — Best for those who only integrate between Amazon, Walmart, and Shopify and want to keep costs at a minimum. More of a bespoke & custom setup.
AmaZone Dropshipper + Walmart — Great value option, originally for Amazon dropshipping but now includes Walmart.
EcomDash — An easy choice, sleek design and intuitive interface but come with a lot of powerful options. Integrations are not as smooth though.
Walmart Integration for Shopify — Reputable alternative worth trying for a Shopify store.
Selection Criteria
Before we talk about the apps themselves, I feel it's important to make it clear that no developers paid me to include their Walmart inventory app in this guide.
Instead, the only thing influencing my decision-making process was the apps themselves and how they scored according to the following key criteria.
Features and Functionality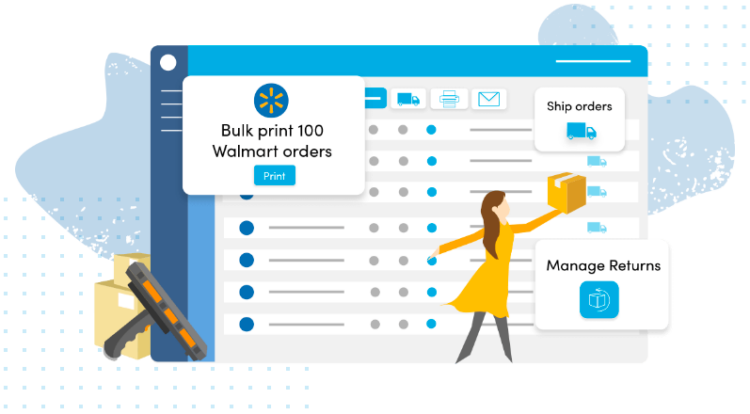 Just as I mentioned in my recent guide to the best Square inventory management apps, one of the most important things to look for in tools of this type is the kind of functionality they offer. The more useful features an app has and the more ways it really helps you to take control of your inventory, the higher it scored with me.
Integrations
Of course, it's fairly obvious that a good Walmart Inventory app should integrate flawlessly with Walmart marketplace. After all, it's no use picking an app that may be great for managing inventory on Shopify or for monitoring the stock levels on your Etsy store, but if that app doesn't work with Walmart, then it's automatically out of the running.
That said, I looked at much more than just standard Walmart marketplace integration. I also considered how well each app integrates with other eCommerce platforms to allow you to streamline stock management across multiple platforms into one device, as well as how effective each tool was at integrating with other useful tools such as QuickBooks Online.
Ease of Use
Running a successful eCommerce business can be a time-consuming process, so the last thing you want to be doing is wasting precious hours trying to figure out how to get a new app to do exactly what you want. With that in mind, those apps which were the easiest to use scored far higher than those which were a complete hassle to get to grips with.
Value for Money
Finally, value for money was also an important factor to consider. While I didn't always necessarily go for the cheapest Walmart inventory apps, I definitely gave a higher score to those that offered the all-around best value for money.
Top 5 Best Walmart Inventory Management Apps
Veeqo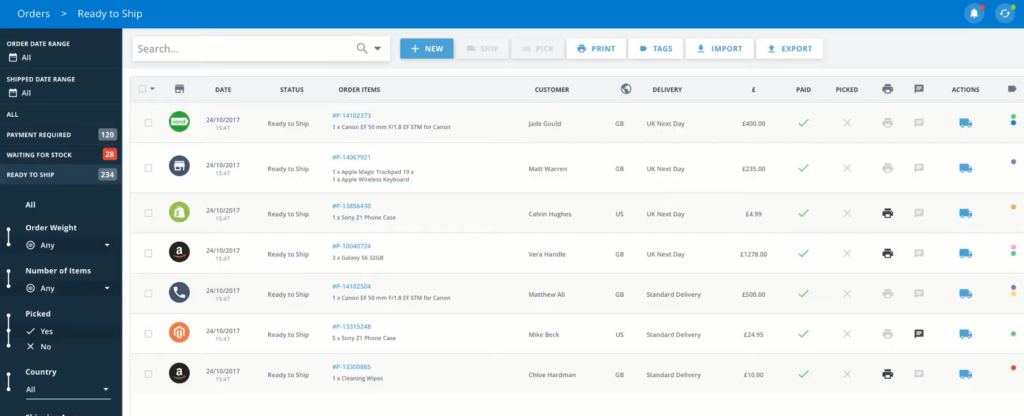 Veeqo is a feature-rich Walmart inventory app that offers an impressive array of integrations, meaning no matter which popular platforms you chose to use alongside Walmart Marketplace, you can sync up your inventory in real-time.
The thing I like best about Veeqo is how well-designed it is. Boasting an intuitive interface and navigation, you'll have no problem finding the exact features you need, even if technology isn't your strong point.
Speaking of features, product forecasting so that you can ensure you always have the right stock when you need it, comprehensive shipping and fulfillment features, and the ability to sync brick-and-mortar inventory with eCommerce stock all make one of the best tools out there for growing online retail businesses.
Pricing
Veeqo offers three pricing plans to suit businesses of different sizes.
These include:
Accelerator – $120 p/m
Includes:
Inventory syncing across 10+ sales channels
Picking, packing, and shipping features
Integration with 20+ shipping carriers
Use by 2 users.
High Growth – $156 p/m
Includes everything in the Accelerator plan as well as:
Purchasing and forecasting tools
Returns management features
Use by 4 users
Ability to manage user permissions.
Premium – $200 p/m
Includes everything in the High Growth plan plus:
Advanced warehouse control features
Advanced digital and batch picking features
Warehouse productivity reporting
Use by up to 5 users.
All plans come with processing for 500 orders included, and you can also access a 14-day free trial to test whether Veeqo is the best option for you.
Pros
Best beginner-friendly platform
Syncs with Amazon FBA (Fulfilment by Amazon) and other Third-Party Logistics companies for easier order fulfillment
Excellent support with fast response times.
Cons
Limited support for multiple currencies
Requires manual product inputting, which can be time-consuming
Doesn't integrate well with Xero.
Eseller Walmart Inventory Management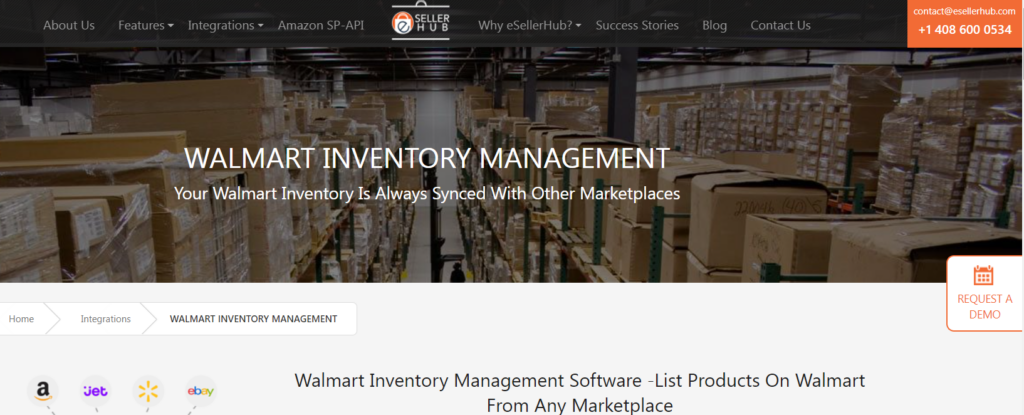 I tried out dozens of inventory management apps for this guide, but even though there were some great options out there, none came close to topping the Walmart Inventory Management system from Eseller.
Using the Walmart API to offer effortless integration with Marketplace, the app allows you to sell the same products on Walmart as you do on other platforms such as Shopify, eBay, Etsy, and more, all with centralized, real-time inventory tracking.
It doesn't end there either. Thanks to the platform's own E-Seller Hub, you can simplify the pick, pack, and ship process by automatically printing shipping labels and barcodes once an order comes in and using Eseller's partnerships with an extensive range of carriers to get the best shipping prices.
Finally, I'm a big fan of Eseller's analytics tools which provide you with comprehensive real-time information on your best and least selling products, customer demographics, and more so that you can quickly make effective decisions on the best way to optimize your eCommerce business.
Pricing
Eseller is unique among the apps in this guide in that it is a completely bespoke solution with custom pricing quoted according to your needs. While that does, unfortunately, mean that I can't give you much in the way of pricing details, I can tell you that this does mean that you only ever pay for exactly what you need.
I can also tell you can also book a demo with Eseller to see if it's the right solution for you.
Pros
Bespoke software tailored to your exact needs
Integrates with Shopify POS so that you can manage inventory and orders from brick-and-mortar stores
In-built dropshipping features.
Cons
Quote-based plans make it difficult to compare costs with other apps
Only suitable for medium to large enterprises, smaller businesses may find it too much
Available in English only with no multilingual support.
AmaZone Dropshipper + Walmart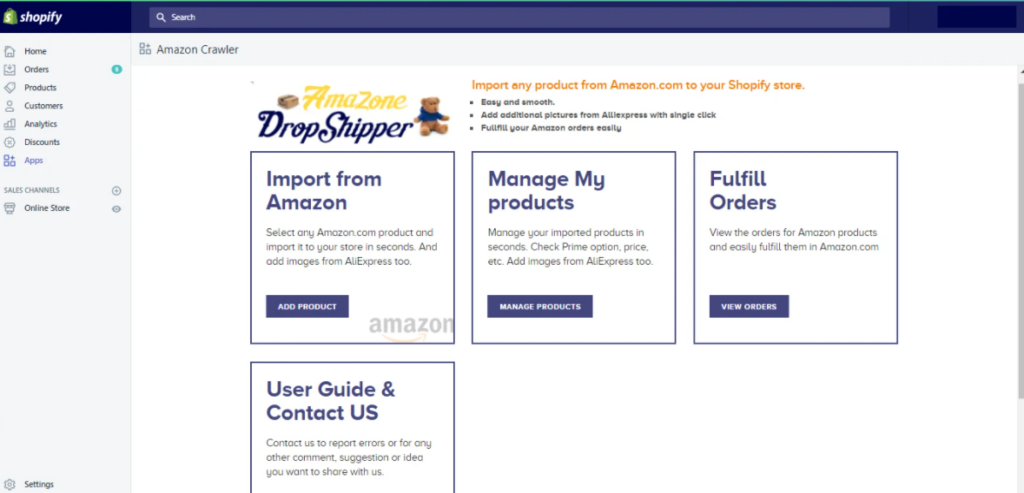 If your only concern is syncing inventory across Walmart, Shopify, and/or Amazon, then the AmaZone DropShipper + Walmart app may be the one for you. The tool comes in the form of a Shopify app and was originally designed purely to make it easy to dropship products from Amazon via Shopify but has since been updated to integrate with Walmart Marketplace.
While that may mean that Amazone Dropshipper + Walmart is a little light in features compared to some of the more all-inclusive platforms out there, it still has a lot to offer to help you take care of inventory and order management with ease.
Order processing and fulfilment features are fully accounted for, as is the ability to bulk-add products and create variations, while the cross-platform inventory tracking features allow you to monitor and manage stock levels in real-time.
As I'll discuss in a moment, the best part is the pricing. Make no mistake about it, this is one of the most affordable Walmart inventory management apps on the market right now, making it an ideal choice for anyone just beginning to grow their dropshipping business who has neither the money nor the need to pay over the odds for a more feature-rich app.
Pricing
I wasn't kidding around when I called AmaZone Dropshipper, a budget-friendly inventory management app for Walmart's marketplace. The Shopify app comes with a free plan which allows you to sync 10 products between Amazon, Amazon Affiliates Program, Shopify and Walmart, as well import unlimited AliExpress reviews.
If you're working with more than 10 products, you'll need to upgrade to one of the three following affordable plans.
Pro – $4.99 p/m – Sync upto 15 products from Amazon and Walmart
Gold – $9.99 p/m – Sync upto 100 products
Ultimate – $25.99 p/m – Sync upto 500 products.
Pros
Connects with Amazon in 10 major countries
Allows for fast delivery in just three days
Allows for importing images from other websites (such as Alibaba) to your product listings.
Cons
Requires Shopify to work
Limited customer service
Only works with Amazon, Shopify, and Walmart Marketplace, other marketplaces such as eBay and Etsy are not supported.
EcomDash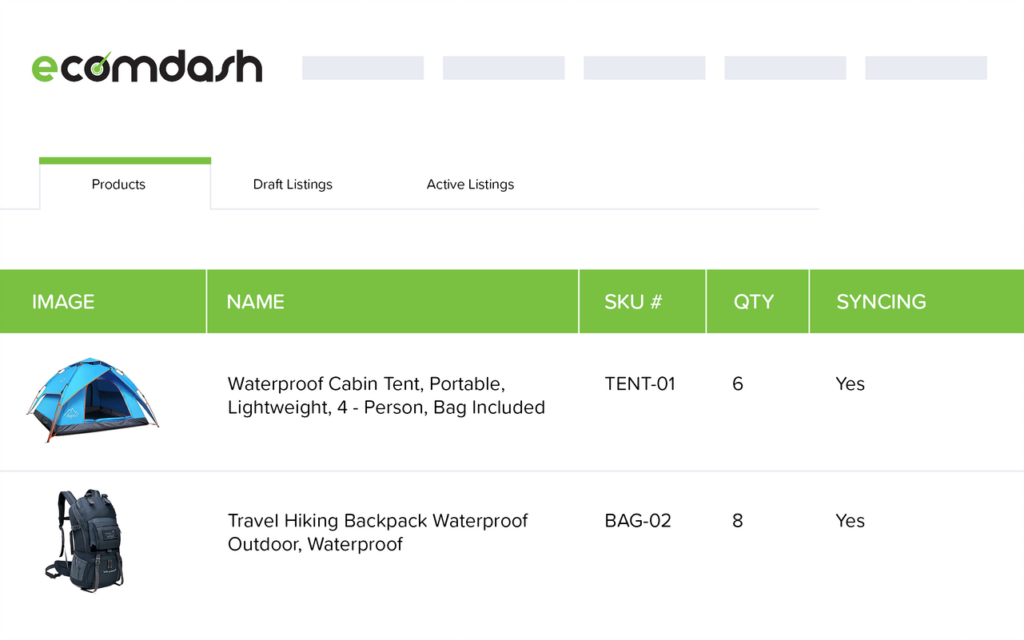 Earlier, I talked about how much I loved Veeqo's sleek design and intuitive interface. If you like the idea of an app that offers an attractive, easy-to-navigate visual approach to inventory management but found that Veeqo wasn't quite right for you, then you may find the Ecomdash Walmart Inventory Management Software a better alternative.
Indeed, the highlight of this one is the polished, well-considered layout that makes handling your inventory feel like child play. Still, that's not to say that this one is all style and no substance, as Ecomdash certainly has a lot to offer in the functionality department.
The way it handles variant groups is impressive and exceptionally intuitive, drastically reducing the time it takes to add products to the Walmart marketplace with different sizes, colors, and other variants.
While syncing products to other platforms isn't the smoothest process here (you have to download your Walmart listings, manually fill in any missing fields, and then import them to Amazon, eBay, or other retail platforms, the centralized inventory tracking system does prove to be efficient, effortless to manage, and accurate.
Elsewhere, I also really like the inclusion of specially designed Walmart dropshipping features which route orders from Walmart Marketplace directly to your fulfillment provider and automatically unlist items temporarily if your supplier runs out of stock.
Pricing
Though I certainly raved about how affordable the AmaZone app was earlier, I have to say that Ecomdash beats it to the proverbial punch when it comes to being the best app for those on a budget.
The tool comes with a completely free plan suitable for processing up to 30 orders per month which include all of the following features:
Integration with unlimited sales channels
Unlimited product listings
24/7 quantity product syncing
Online store builder
Email and chat support.
If you process over 30 orders per month, you'll pay anywhere between $25 and $350 per month for the Pro plan depending on the number of orders.
This Pro Plan comes with everything included in the free plan along with all of the following features:
Pick, pack, and ship features
Dropshipping features
Purchase order management
Amazon FBA integration
Barcode and shipping label generation and printing
Product reporting
Phone support.
Pros
Allows for inventory syncing across multiple warehouses
Ability to sync products in kits and bundles
Includes a free Pitney Bowes account to improve shipping processes.
Cons
Only available as a desktop app, no mobile apps available
It doesn't offer integration between Walmart and WooCommerce
Manual import/export of products is cumbersome.
Further Reading:
Walmart Integration for Shopify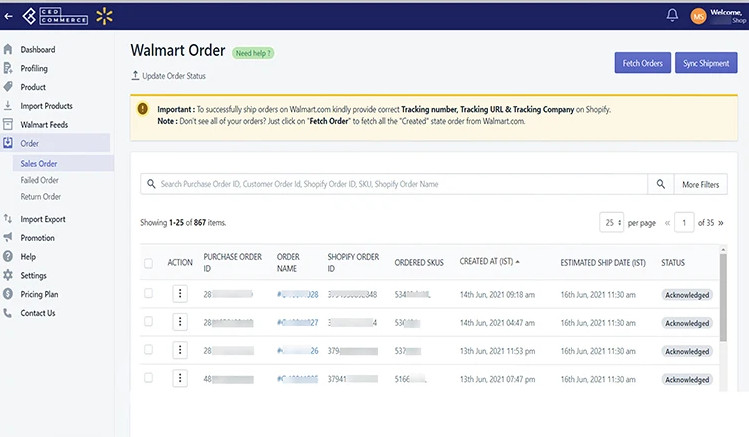 I've already shown you one Walmart/Shopify integrator in the form of AmaZone Dropshipper + Walmart, but if that wasn't quite right for you, then allow me to recommend the Walmart Integration Shopify app as a top alternative. Available in a range of pricing plans comparable to AmaZone, this one comes from developers CedCommerce, who can proudly claim to be an Official Channel Partner for Walmart.
That credibility alone is appealing, ensuring that you're working with a reputable company that isn't about to provide lackluster support or -worse- disappear off the face of the earth. Yet, that's not all that appeals to the Walmart Integration app.
Using this tool, you can quickly and easily add and update products on Walmart Marketplace while retaining complete control over which Shopify images are posted with your new product listings.
From there, the app automatically updates inventory levels when a product is purchased across either platform, as well as automating the process of generating shipping labels, ultimately allowing for a stress-free approach to inventory management.
Pricing
The Walmart Integration App does come with a free plan which offers all of the following:
30 SKU listings
Manage 10 orders at once
Complete inventory management features.
If that doesn't meet your needs, you can also choose from one of the following plans:
Basic – $49 p/m or $479 p/y
List up to 1,000 SKUs
Manage up to 100 orders per month
Get instant out-of-stock and other notifications
24×7 live chat support.
Standard – $60 p/m or $689 p/y
List up to 5,000 SKUs
Manage up to 500 orders per month
Swatch image support
Listing optimization and SEO features.
Premium – $99 p/m or $899 p/y
List up to 10,000 SKUs
Manage up to 1,000 orders per month
Dedicated account manager.
Pros
Offers bulk uploads
Ability to process refunds and cancellations from within the app
Doesn't take a commission on order processing.
Cons
Only integrates Walmart with Shopify, excluding many other popular marketplace platforms
No phone or email support
The user interface is not as intuitive as other apps.
FAQs
Question: Does Walmart Integrate with Shopify?
Answer: Yes. If you have a Walmart seller account, you can sync products across both Marketplace and Shopify while using third-party apps like the ones in this guide to keep track of your inventory.
Question: What is Walmart API?
Answer: The Walmart API allows Marketplace sellers to integrate their Marketplace account with third-party tools such as inventory management apps to better manage their business and serve customers.
Question: What's the best app for managing inventory in Walmart Marketplace?
Answer: Eseller is currently the best app for managing inventory on Walmart, thanks to the way it provides an extensive array of valuable features at an affordable price.
Final Verdict: What is the Best Walmart Inventory Management App of 2022?
So, there you have it, the top five best Walmart inventory management apps currently on the market in 2022. By now, you've seen the good, and the not so good of each of my picks, which means there's only one more question left to answer:
Which of these inventory management apps should you buy to help you manage your Walmart Marketplace listings? Honestly, that all depends on what's most important to you.
If keeping your expenditure as low as possible is important to you, then both AmaZone DropShipper + Walmart app and the Ecomdash Walmart Inventory Management Software are worthy options, with the former proving best for those who only integrate between Amazon, Walmart, and Shopify, and the latter for those who need to connect their Walmart store to other platforms.
If ease of use is your primary priority, then I recommend Veeqo as the best beginner-friendly app for managing Walmart inventory.
However, if your top concern is simply enhancing your business with the all-round best app money can buy right now, then look no further than the Walmart Inventory Management system from Eseller, which offers an impressive number of integrations, a wealth of invaluable features, and tailor-made solutions to ensure you're never paying over the odds for something you don't need.
Bottom Line Summary: I tried out dozens of inventory management apps, and I'd recommend Veeqo for an initial user-friendly experience, then graduatiing to Eseller Inventory Management if you need something more custom.
Further Reading: