Last Updated on April 22, 2023 by Ewen Finser
Quickbooks vs Tally, find out which accounting software is right for your business with our in-depth comparison.
If you're a small business owner, you're probably handling lots of tasks yourself. If so, are you looking for a way to cut down your workload? Or do you operate a medium or larger company and want to streamline your finance team?
Either way, accounting software could be the answer.
With the right platform, companies of any size can benefit from being able to see and manage their budgets and cash-flows.
Luckily, there are plenty of nifty SaaS providers that make accounting much easier for you and/or your bookkeeper. So, we've compiled a review of Quickbooks and Tally – two accounting software giants. Compared side by side, hopefully, you'll get a feel for which is best for your business.
Let's dive in!
Bottom Line Up Front: I personally prefer the more flexible, scalable, less dated and commonly used Quickbooks suite here. It's just the safer option for most businesses, particularly small to mid size enterprises. That said, Tally is still worth considering for inventory based large-enterprise system.
Main Differences Between Quickbooks vs Tally
The main differences between Quickbooks vs Tally are:
Quickbooks is aimed at freelancers and small businesses, whereas Tally better suits enterprise-level organizations.
Quickbooks are focused on bookkeeping, whereas Tally is focused on more advanced inventory and project management features.
Quickbooks only offers a subscription-based payment model, whereas Tally allows you to purchase Tally as a one-off license.
Quickbooks allows registering a maximum of 25 users, whereas Tally allows registering as many people as you like.
Quickbooks has a mobile app, whereas Tally doesn't.

Why go with Quickbooks?

More integrations with service providors and software solutions make Quickbooks an easy pick as our preffered accounting tool here. Put simply, more CPAs use Quickbooks. It's highly customizable and has the most market share (and thought share).

Buy Now

We earn a commission if you click this link and make a purchase at no additional cost to you.
Quickbooks vs Tally: About Quickbooks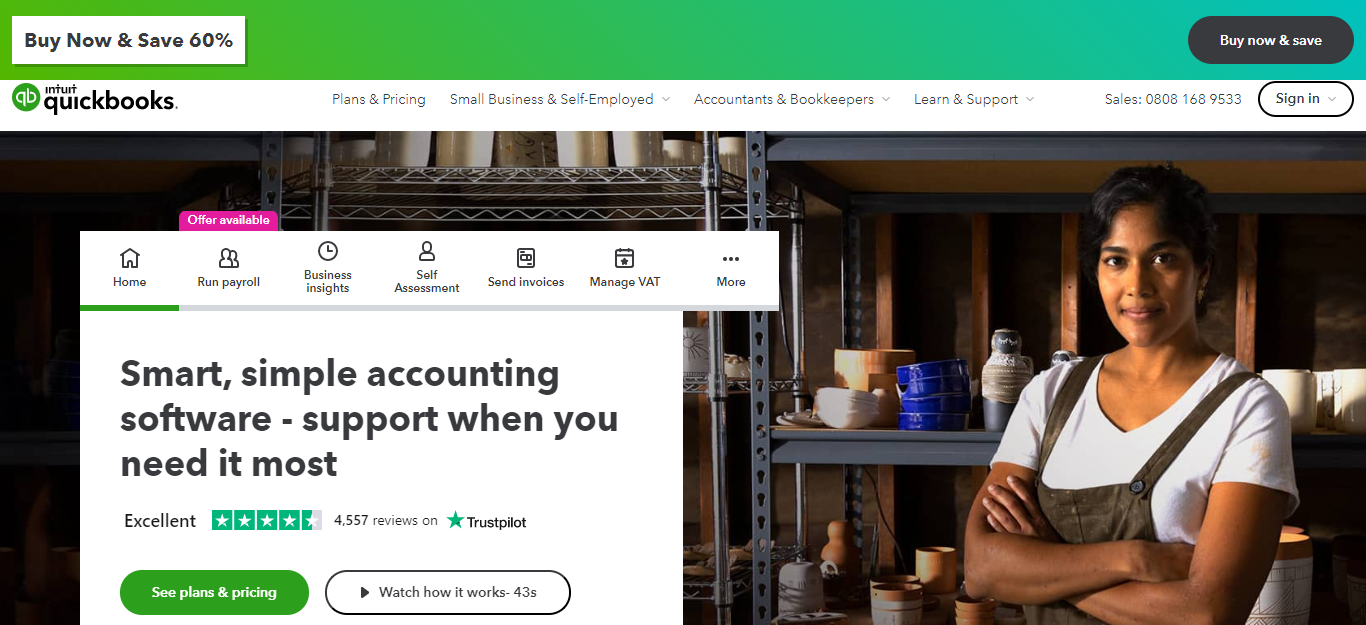 Developed by Intuit, Quickbooks is no doubt one of the best-known brands for helping entrepreneurs streamline accountancy-related tasks.
Thousands of industry pros use this software – it's popular for small business owners, individual bookkeepers, and larger companies alike. Despite that, it's primarily geared towards the needs of freelancers and small to medium-sized businesses.
Founded in 1983, Quickbooks has steadily climbed up the ladder to become the giant it is today. The first version of Quickbooks was released in 2002. Since then, the software has evolved, adding more features and functionality. Quickbooks is available on an international scale, with offices all around the world.
Quickbooks vs Tally: About Tally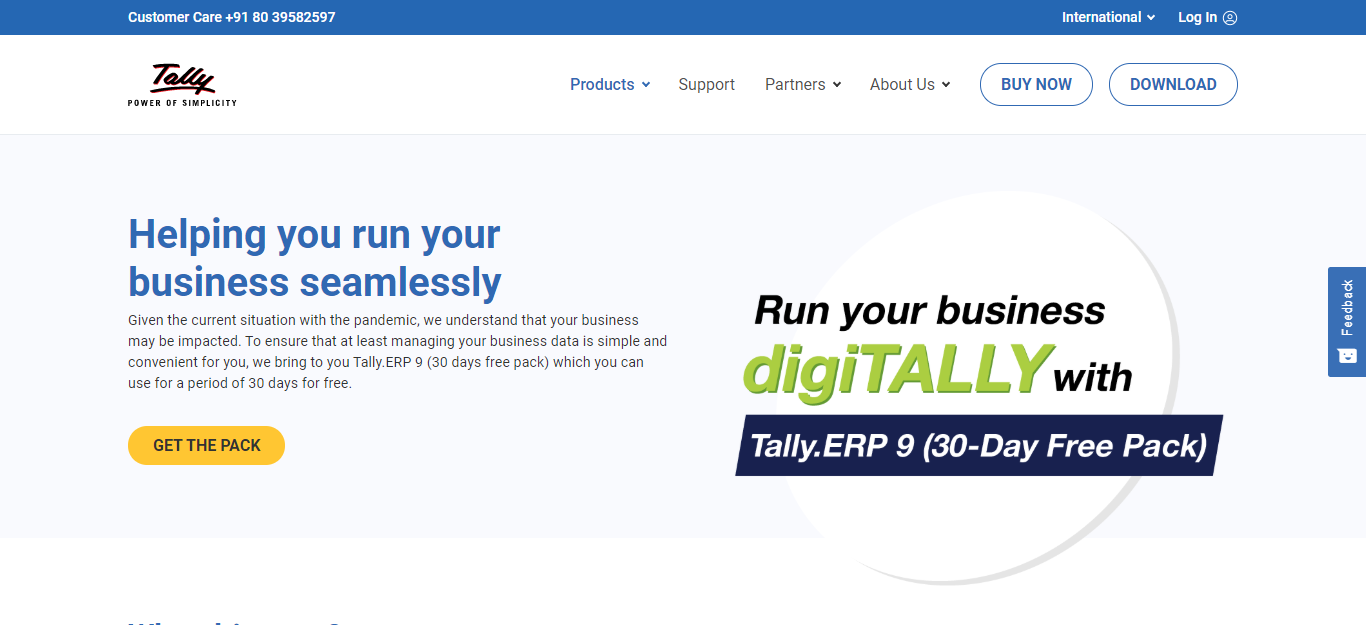 Tally believes tech empowers business owners to be more efficient. The company has innovated its systems over the last 30 years and prides itself on its simple-to-use software and intuitive set of features.
Over 2 million businesses use Tally – so, they can't all be wrong, right?
The company offers two accounting products:
Tally.ERP 9, which is intended for small to medium-size companies
Tally.Server 9, an enterprise-level product, ideal for growing businesses.
Quickbooks vs Tally: A Comparison of Their Features
Quickbooks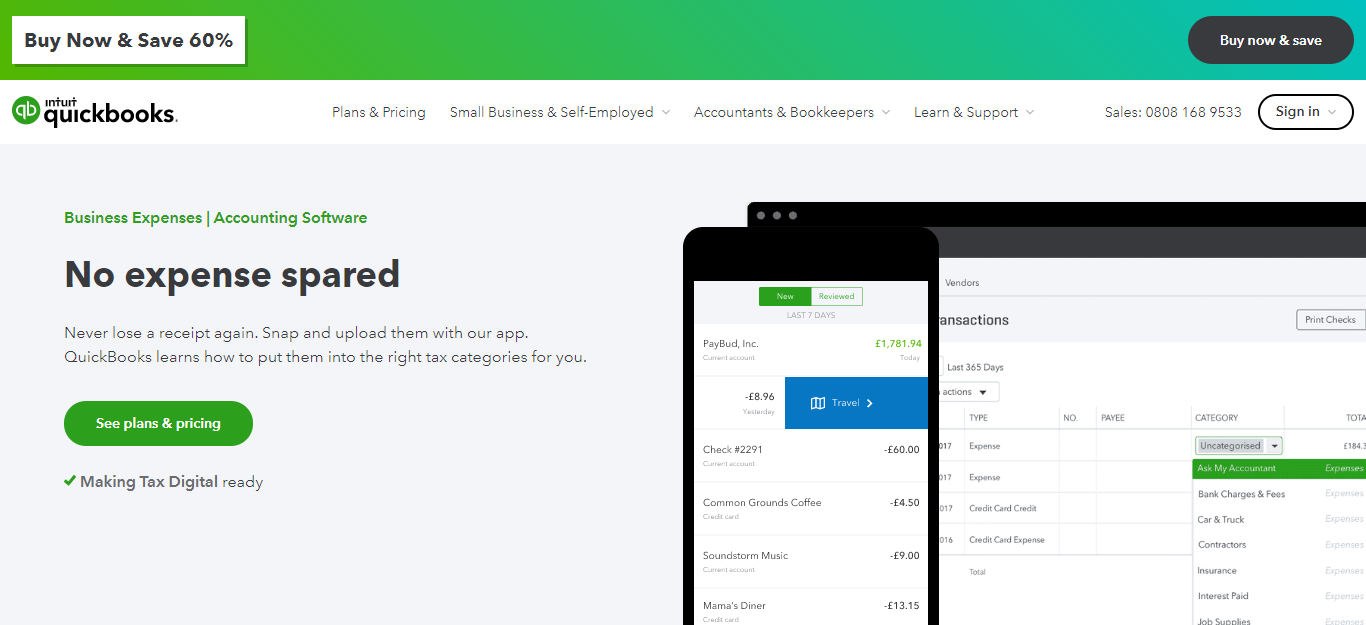 Quickbooks help you run your business with its clear and easy-to-use dashboard. Here you can view your expenses, projects, employees, income, and receipts from one centralized place. This visibility empowers business owners to predict their future bills and expenses better and keep their finances balanced.
If you want a sneak peek at the software, you can view a demo online. You can see Quickbooks' dashboard and take it for a test-spin, using an example company with existing customers, expenses, and employees. You can click around and familiarize yourself with its sleek and intuitive interface to see whether it's a good fit for your business.
With all that in mind, here are some of Quickbooks' main features:
Income and Expense Tracking
It's easy to track important transactions from your bank, credit cards, Paypal or Square account, amongst many others. This makes it simple to keep an eye on how much you're earning/losing each month.
Transactions are automatically sorted into tax categories. You can also photograph your business receipts, and Quickbooks will match them to your existing expenses. Handy, right?
Invoicing and Payments
You can easily create and send full or partial invoices, track their progress, and demand payment. You can also accept credit cards, debit cards, or bank transfers directly from your invoices. Needless to say, this makes it much easier for clients to pay you.
With Quickbooks' more advanced plans, you can send batch invoices and settle outstanding debts even more efficiently. You can even design and send professional estimates which easily convert into binding invoices.
Tax Deductions
Through Quickbooks' receipt tracking feature, you can efficiently monitor expenses and apply every tax deduction you're eligible for. This includes mile tracking functionality, which works using your smartphone's GPS. With just a swipe, you can say whether you're taking a business or personal trip. This enables you to calculate any and all mileage you can claim as business expenses.
You can also instruct Quickbooks to automatically sort your expenses into the right tax categories and share your books with your accountant. Rest assured, you can even export essential documents and send them to the necessary parties when tax time comes around.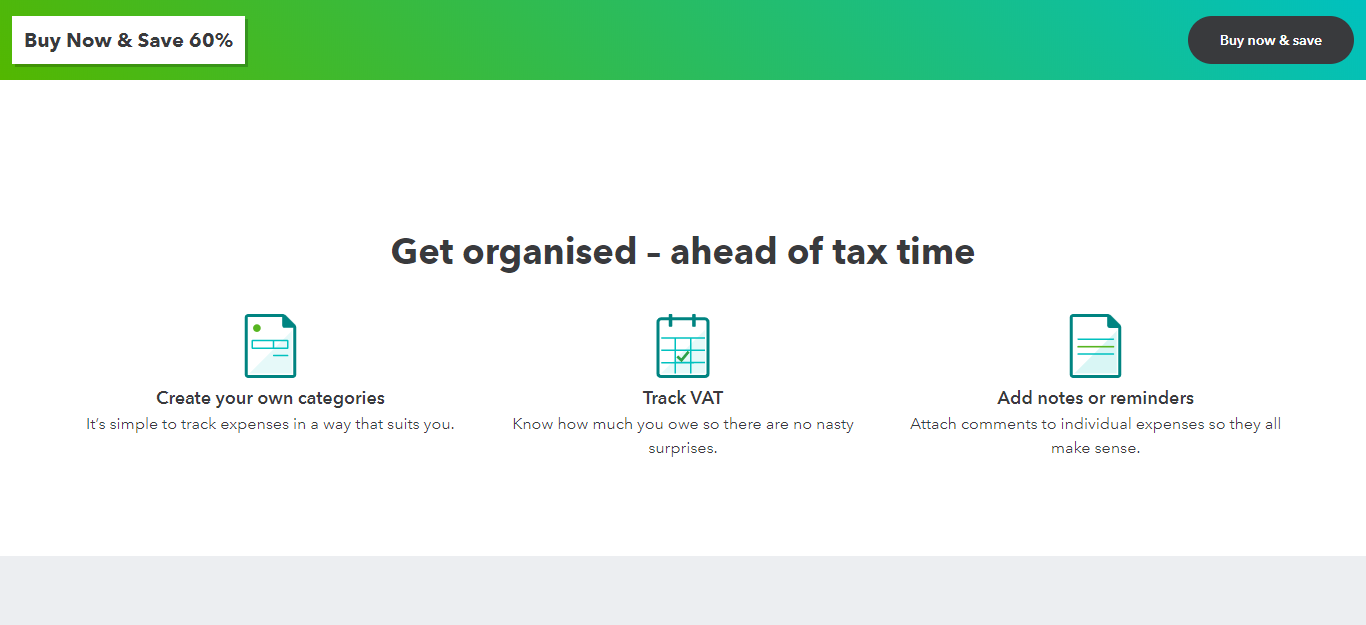 Reporting and Cash Flow
You can generate and export reports that provide actionable insights into your business- including profit and loss, expenses, and balance sheets. You can even run customized reports. With the advanced plan, you can also track custom KPIs.
Quickbooks' reporting and cash flow features provide data-driven financial insights that can help you forecast your spendings and income over the next 30 or 90 days.
You can also create custom tags to label expenses and payments. These make it much easier to search, track and run custom reports on transactions.
Streamline In-Person and eCommerce Stores
Advanced QuickBooks makes it easy to calculate sales tax by integrating with your chosen Commerce platform. Quickbooks also comes with inventory management tools that ping over a notification when products run low.
Tally
Now, let's look at Tally's core features. As we've already said, Tally offers two accounting solutions that cater to different size businesses. Below, we look at each one in turn…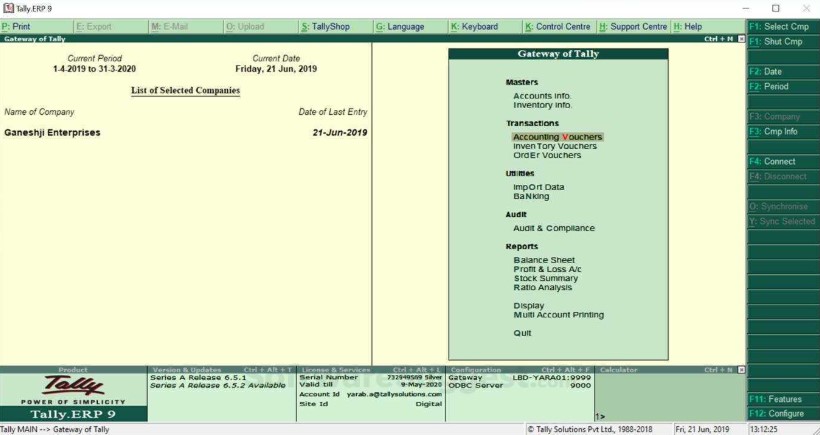 This business management software is intended for smaller businesses. It helps business owners manage their accounting, inventory, statutory regulations, compliance, banking, payroll – just to name a few!
As such, Tally.ERP 9 is a more comprehensive solution than many of its competitors.
Its key features include:
Invoicing and accounting: Create professional-looking invoices with flexible customization features. Manage your purchases and sales with your own processes within the software. Tally.ERP9 supports multiple billing formats, price levels, and currencies.
Reports and analytics: You can run a whole host of reports relating to accounting, inventory, finance, management control reports (MIS), and tax. With this data to hand, you can make confident business decisions and better forecast your cash flow.
Inventory management: It's easy to track, forecast, and manage stock movements and optimize inventory levels. You can group and categorize items to better organize product lines. Plus, you can record the entire manufacturing cycle in your manufacturing journal.
The 'bill of material' feature: This allows you to define the raw materials, assemblies, parts, components, and quantities for each of your items. The tool also enables you to track expiry dates to monitor the durability of your products.
Cash flow and credit management: Track receivables and payables as invoices get accepted and paid. Monitor aging bills, follow up with them, and quickly calculate any interest incurred on lines of credit. Multiple bills can be settled through bulk payments, and the cash flow projection feature provides full visibility of your funds. You can even set a maximum credit limit based on customer credibility.
Payroll management: Use automated processes to handle employee payroll. You can view and manage any exceptions and group employees into various categories—for instance, their job title, location, department, etc. You can also create multiple attendance types to account for sick leave, paid time off, and unpaid time off.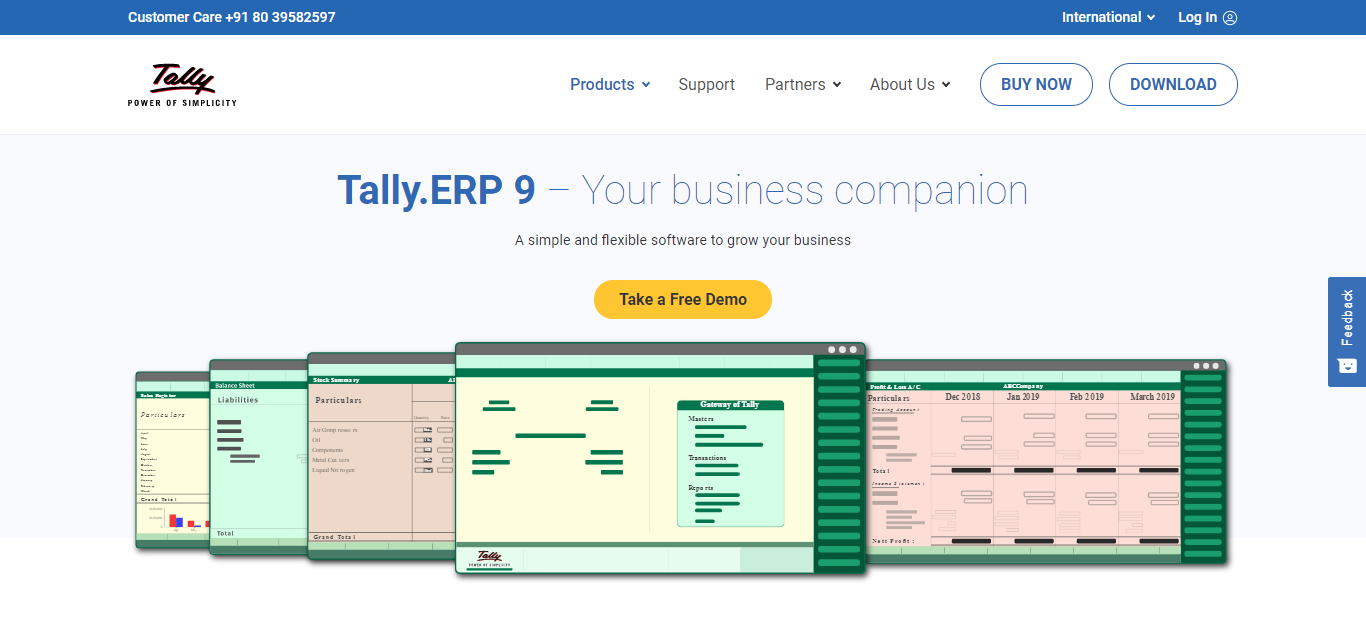 Tally.Server 9
Enterprises can unleash the power of Tally.ERP 9 with its client-server architecture. With the gold license, this server provides more secure data access and improved monitoring capabilities.
In other words, you'll enjoy all the benefits listed above, with increased customer support and security. This enables larger enterprises with multiple-users to keep their sensitive data safe and secure at all times.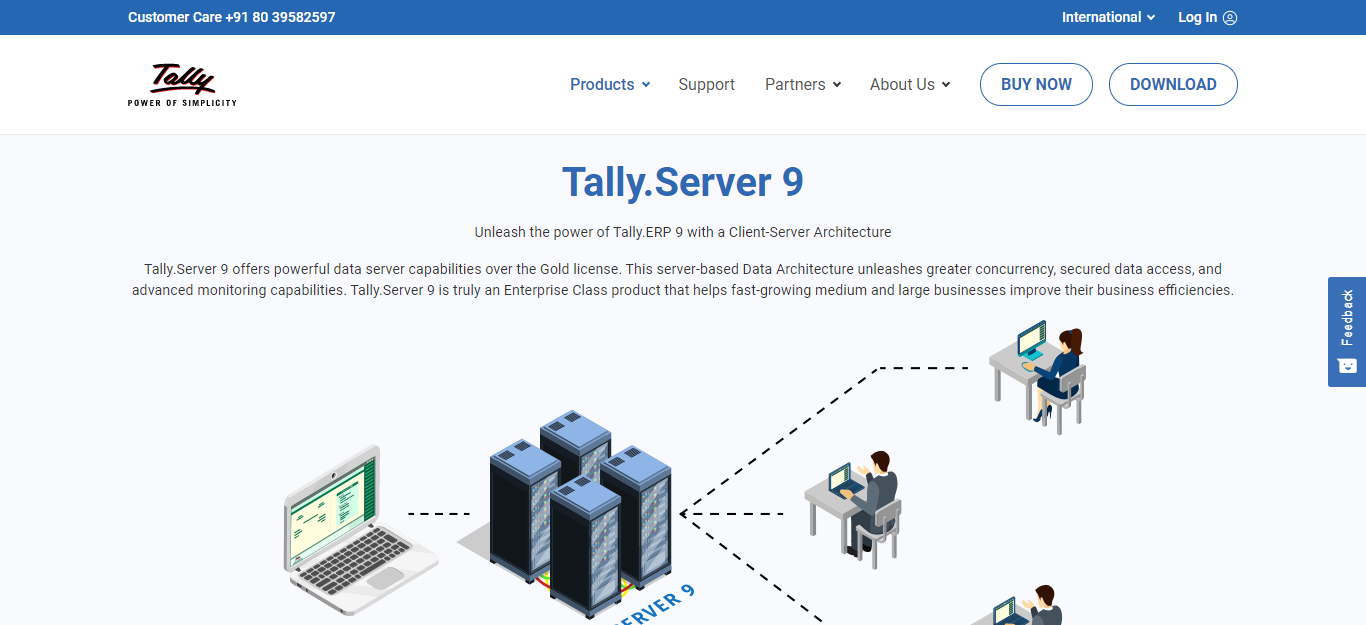 Tally Software Service (TSS)
TSS is an additional software subscription you can purchase on top of Tally.ERP 9.
Benefits include:
Business reports. Gain real-time access to essential business reports from any internet browser – including bill, receivable and payable funds, stock summaries, sales and purchases, profit and loss reports, and balance sheets.
Product updates. As Tally is available as a lifetime license that you install onto your computer, you don't receive any software updates unless you sign up for the TSS subscription. This ensures access to Tally's latest technology upgrades and security compliance measures.
Banking and payment services. Automatically reconcile your books with your bank statements.
Remote access. Get remote access to your Tally account from anywhere in the world.
Online data synchronization. Exchange and consolidate data between branches, and enjoy greater control over how your data's synchronized.
Tally's Integrations
Tally comes with its own development environment where web programmers can add functionality and integrate with other software. This platform uses Tally Definition Language (TDL) to enable you to build faster. On Tally's website, you can also get in touch with their partners to request specific features and extensions.
Quickbooks vs Tally: Pricing
Quickbooks offers four different pricing plans for business accounting. It also features a program explicitly for freelancers.
Quickbooks offers a 30-day free trial and regularly discounts their services, so if you're considering Quickbooks, it's worth periodically checking their website to see if they're running any deals.
This plan provides everything you need to start organizing your books more efficiently.
The main features include:
Tools for tracking income and expenses.
Being able to capture and organize business receipts
Maximizing tax deductions
You can send invoices and accept payments.
Track miles using your smartphone's GPS
Run general reports
Send branded estimates and accept mobile signatures. These calculations can easily be converted into invoices.
Manage 1099 contractors
Track sales and sales tax by connecting with your eCommerce platform.
Automatic tax calculation on your invoices.
In addition to all the features in the Simple Start plan, you'll also unlock the ability to:
Manage Bills. You can pay multiple vendors and bills at the same time.
Track time. Track billable hours and automatically add them to invoices. You can also integrate with TSheets by Quickbooks for even simpler time tracking.
Access for three users. Invite your accountant to collaborate with you, or give employees access to your Quickbooks account.
The Plus Plan is Quickbooks' most popular package. With this tier, you can better integrate with your eCommerce and brick and mortar stores and unlock clearer visibility over your finances, with the following features:
Track Project Profitability. Track labor costs, payroll, and expenses with job costs. Get access to an intuitive dashboard and reports that allow you to see project profitability at a glance.
Track Inventory. See what's popular, create purchase orders, and manage your vendors. You can import data from Excel or sync with your Amazon, Shopify, Etsy stores, and many others. You'll be notified when your inventory runs low.
You can register up to five users.
Need Quickbooks to pack even more of a punch? The Advanced plan does that for you. Get in touch with Intuit for a demo of this product.
The Advanced program builds on the previous packages by unlocking the following:
Access for up to 25 users
Business analytics and insights. Get actionable insights through KPI tracking, and easily create presentation-ready reports with easy-to-read visuals.
Batch invoices and expenses. Streamline repetitive payments, checks, and invoicing tasks.
Customize access by role. Create custom permissions and assign work to particular users to increase your team's productivity.
Access to a dedicated account manager
On-demand online training
Restore company data. Quickbooks will continuously and automatically back up any changes to your account. You can restore this data based on specific dates and times.
Automated workflows. You can configure reminders and triggers based on the rules you've set. For instance, you can create computerized prompts to help you improve cash flow.
The self-employed plan is available for $15 a month. With this efficient but straightforward package, a sole trader can easily:
Track income and expenses
Capture and organize receipts
Estimate quarterly taxes
Accept payments and send invoices
Track miles
Run basic reports
Tally
Unlike Quickbooks, you can purchase Tally outright without recurring monthly costs. The software is available as a single-user license to install onto a standalone PC, or for unlimited users for PCs in a LAN environment.
The single-user Silver license costs $630.
The Gold multi-user edition costs $1,890.
You can request a free demo online to get a better idea of Tally's features.
However, Tally Software Services (TSS) is an annual subscription. TSS costs $126 a year with a single user license or $378 a year with a multi-user license.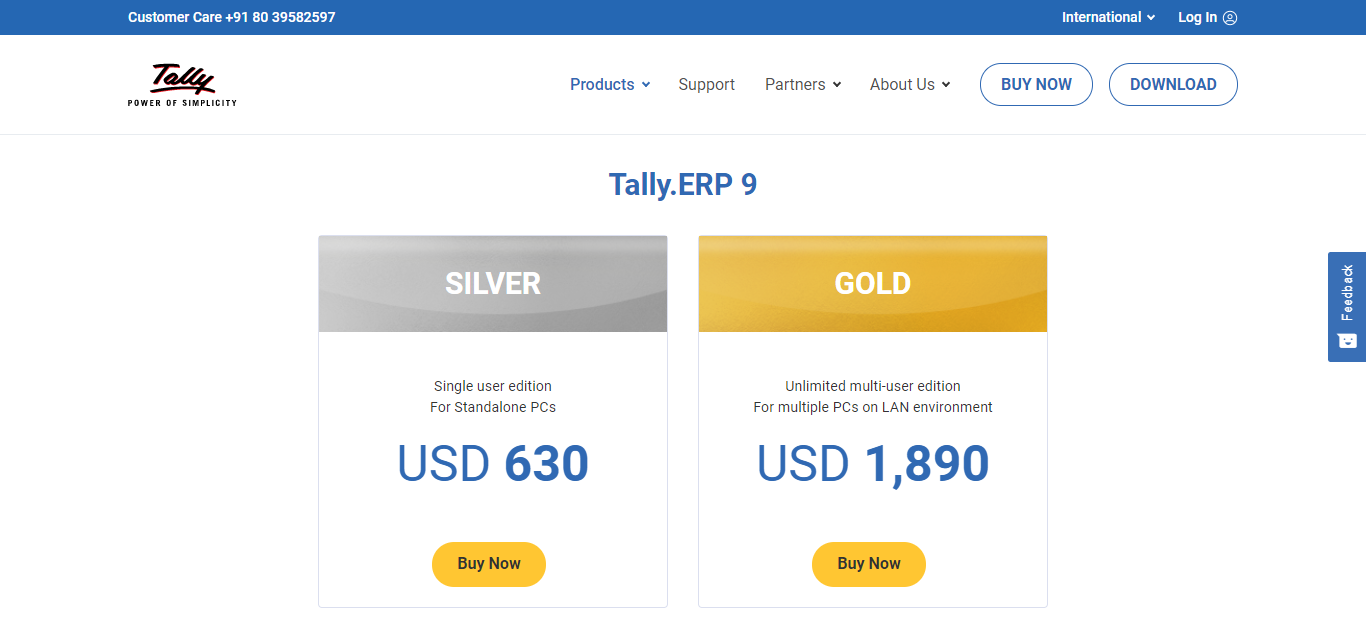 Customer Service
Quickbooks provides an extensive library of online resources. From the free test-dashboard, you can access via their website, to video and written tutorials, to self-help materials that make it easy to navigate the software. Quickbooks offers loads of materials!
There's also a QuickBooks community where you can interact with other business owners and veteran Quickbooks users. You can also sign up for webinars and online training classes.
On top of that, you can access support from your Quickbooks dashboard by clicking on the help symbol. From there, you'll be directed to relevant resources, or you can get in touch with a customer care agent.
With Tally, you can contact their customer service team via online messaging. You'll be prompted to fill out a form with your name, email, and phone number, and Tally will get back to you. You can also email them directly. International phone numbers are provided online, and there's also a help center that covers all sorts of relevant topics. All in all, Tally offers first-rate customer service.
Quickbooks vs Tally: The Pros and Cons
Quickbooks
The Pros:
Quickbooks provides comprehensive support documents for new and experienced users alike.
Quickbooks offers affordable monthly pricing plans and an even cheaper option for freelancers with more basic needs.
Their dashboard is sleek and easy-to-use
It's easy to collaborate with your accountant and/or finance department.
Tax management and expense tracking are made simple.
There are plenty of flexible 3rd party integrations that allow you to integrate QuickBooks into your current workflows.
Quickbooks' reporting and analytics tools provide valuable insights into your finances, project profitability, and cash flow.
There's a free-to-download mobile app, so you can access Quickbooks while you're on the run.
The Cons:
QuickBooks doesn't offer any industry-specific features- so if you're operating in a sector with niche accountancy needs, for instance, non-profits and educational organizations, Quickbooks probably isn't the best solution for you.
The number of users you can register is restricting; to collaborate with 25 users, you have to shell out for Quickbooks' most expensive pricing tier.
There's a learning curve to understanding Quickbooks' extensive toolkit.
Standard QuickBooks doesn't come with payroll or project management features, so business owners will have to purchase separate software for that.
QuickBooks isn't suited for large companies.
Users report a lack of direct professional support, as getting in touch with a real-life team member is difficult.
QuickBooks is an online tool, so it might be slow or unstable if you have a poor internet connection.
Tally
Pros:
Tally is a more holistic tool that provides industry-specific features. It includes inventory management and tools to manage your manufacturing processes. This work wonders for helping you evaluate entire workflows.
Tally comes with payroll features that enable you to pay employees automatically each month.
Tally requires a one-time payment, making it a more cost-effective solution in the long term.
Tally offers a multi-user license that doesn't restrict how many individuals can access the software.
You can download Tally.ERP 9 from their website in educational mode to get a feel for it without having to buy a license.
Cons:
Tally's interface is dated. It's not anywhere as sleek or intuitive as Quickbooks.
To unlock remote access and up-to-date functionality, you need to purchase an annual TSS subscription.
While a one-off license is cheaper in the long-term, you'll have to wait a few years to feel the benefit – especially if you purchase TSS too.
Tally is a PC application that doesn't allow for easy online-access from different devices. It's intended for LAN environments, putting it 'behind the times; for some companies.
Not every company requires payroll and inventory management features. Small businesses with less specific needs might find Tally overwhelming and not worth the extra cost.
Tally doesn't offer a mobile app.
The multi-user license is considerably more expensive. If you only want access for a few other team members, you might pay much more than you would with one of Tally's competitors.
FAQs About Quickbooks vs Tally
Can I Try Tally Before Buying the Full License?
On the website, you can download Tally.ERP 9 and install it in 'educational mode.' This allows you to learn how to use the software without buying the full license. You can also register for a product demo online, and one of Tally's representatives will help you install the product using the right settings.
How Many Users Can Tally and QuickBooks Support?
Quickbooks expands its user access with its higher-tier pricing plans. You can register up to a maximum of 25 users with its advanced program.
Tally is available either as a single-user license for one standalone PC, or a multi-user license with unlimited access to as many people as you want.
Who Do Tally and Quickbooks Integrate with?
Quickbooks integrates with almost all of your favorite eCommerce platforms, including Shopify, BigCommerce, WooCommerce, Etsy, and many more.
Tally is more complicated where integrations are concerned – there are no existing integrations. You can, however, add any functionality you like with the help of your own developers. Or you can get in touch with one of Tally's partners to develop custom functionalities for you.
Do These Providers Offer a Mobile App?
Tally grants remote access to your data when you sign up for Tally Software Services. However, mobile-access is limited to viewing your business insights. The software isn't designed to be used online.
Whereas, Quickbooks comes with a free-to-download mobile app that allows you to manage your books on the go.
Quickbooks vs Tally: Which Solution is Right for You?

Bottom Line Up Front: I personally prefer the more flexible, scalable, less dated and commonly used Quickbooks suite here. It's just the safer option for most businesses, particularly small to mid size enterprises. That said, Tally is still worth considering for inventory based large-enterprise system.
Although Quickbooks and Tally are both accounting solutions at heart, they vary quite a lot. Depending on whether you're a small business or enterprise, the choice is like night and day. So, Quickbooks vs. Tally – which businesses benefit from these solutions?
Quickbooks is best for small businesses and freelancers. Its features focus on core accounting and cash flow management tools. The pricing is affordable and scales with your needs. However, payroll comes at an additional price, and Quickbooks doesn't provide any industry-specific features. Its functionality where inventory management, project management, and manufacturing are concerned are somewhat limited.
Tally is a very different solution. It's best for enterprises that still handle their data on-premise and are involved in large manufacturing or construction operations. With payroll features included and the option of expanding Tally's functionality with TSS, Tally covers way more than just basic accounting.
Tally's feature set is too advanced for small businesses and freelancers. Not only that, but Tally isn't the best choice for operating while you're on the go as it doesn't come with a mobile app.
Tally is a dated piece of software that, while still functional and robust, doesn't lend itself to more modern and flexible businesses that rely on the cloud and third-party online apps.
Both tools can be tested at your leisure. Quickbooks offers a nifty online demo to play around with, so you can quickly check if you like its interface. Dive right in with its 30-day trial. Whereas, Tally allows you to install an educational version of its software to test out its features.
So, what are you waiting for?
If you're on the fence, you may as well test them both out! Or if you are in need of other variants, check our comparisons which include Aplos vs Quickbooks, Sage vs Quickbooks, and Wave vs Quickbooks.
Have you got experience with either Quickbooks or Tally? Let us know below which one you prefer and how accounting software changed your business practices. Speak soon!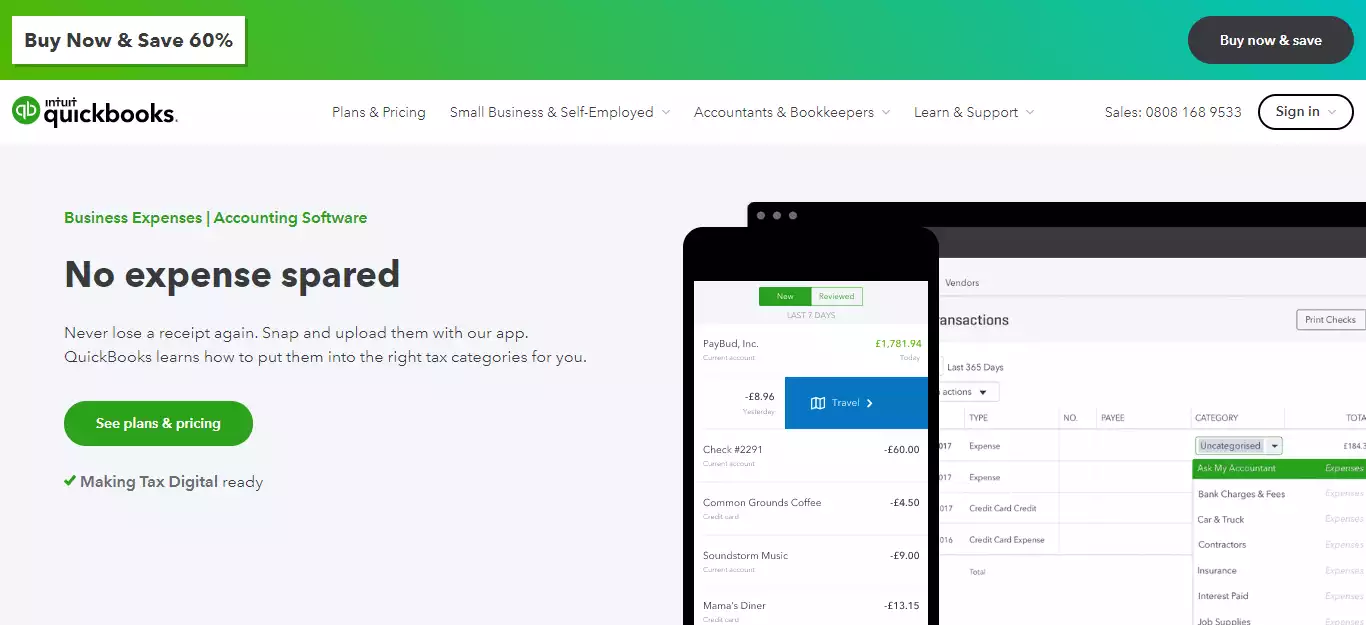 Why go with Quickbooks?
More integrations with service providors and software solutions make Quickbooks an easy pick as our preffered accounting tool here. Put simply, more CPAs use Quickbooks. It's highly customizable and has the most market share (and thought share).
Buy Now
We earn a commission if you click this link and make a purchase at no additional cost to you.
Further Reading on Accounting Tools: