Last Updated on April 22, 2023 by Ewen Finser
Are you experiencing an increase in Shopify sales?
Congrats! This is excellent news.
But, as you've probably noticed already, as demand increases, so does your workload. As such, it's imperative to find a better way of managing your eCommerce store – more specifically, your inventory.
Over on Shopify's app marketplace, there are tons of plugins that could help with this. From quashing issues with out of stock products to handling order fulfillment, there are plenty of tools that will relieve your inventory-related burdens from your shoulders.

So, in this review, we'll explore the best Shopify inventory management apps on the market to help you make the best choice for your business.
Let's dive in!
Why Inventory Management Matters
You don't need us to tell you that managing your inventory is essential for running a successful eCommerce business. That's a given. That's why picking the right inventory management system is crucial to successfully scaling your online store.
So, what does a high-quality inventory management plugin actually do?
In short, it will:
Provide useful insights so you can restock items whenever you're running low—being prudent pays. In fact, 72% of online shoppers will turn to a competitor if the product they wanted to buy is out of stock.
Better enable you to spot trends in your inventory turnover to more accurately calculate how much stock to order. This helps to prevent over-ordering stock that becomes dead weight in your warehouses.
Automates tasks like product tracking and updating your inventory. So, you and your team can focus your time and energy on other money-generating activities that fuel the growth of your brand.
Offer inventory tracking. You should be able to track (in detail) all your orders, stock purchases, and fulfillment.
Integrate with other Shopify apps you're using already.
Forecast sales. You should get access to ballpark estimations regarding your sales trends and growth rate.
Offer actionable reports and analysis. A good inventory management app enables you to customize and generate reports to help you evaluate whether your inventory management strategy is working…and if there any points of improvement to make.
Integrate with your POS. A point of sale integration is crucial if you're also selling from a brick and mortar store. This empowers you to consolidate and sync your inventory across your in-person shopfloor and online sales channels.
These functionalities have the following knock-on effects:
You're less likely to run out of stock or over-order
You're able to minimize cashflow issues by optimizing your warehouse usage and order fulfillment.
You're better positioned to inform customers about your stock levels so they can decide whether to purchase now or later.
With fewer stock-related issues occurring, you'll reduce the strain on your customer support team.
Sounds good, right?
Is an Inventory Management App Right for Your Business?
All that's great, but do you really need to invest in inventory management software right now? You might not need to worry about inventory management…yet.
…Instead, as your business grows, this might be something you're better off bearing in mind for the future.
So, how do you know when you need help managing your inventory?
In short, if you're answering yes to any of the following, there's a good chance you'll benefit from one of the plugins listed below:
Are you spending loads of time on inventory-related tasks?
Are you regularly running out of stock?
Are you finding it challenging to track and update stock levels across your different sales channels?
Are you running into regular inventory-related issues?
Are your inventory management needs becoming increasingly complex?
If you can relate to these issues, make a note of them. Because as you go about picking the right inventory management software for you, you'll want to double-check it has all the features you need to overcome the hurdles you're currently facing.
The Best Shopify Inventory Management Software
Now we've taken a look at why inventory management matters and what to expect from a premium solution, let's jump right into our list of the best apps on the market…
If you're utilizing multiple sales channels, TradeGecko has you covered. This multichannel inventory management software empowers you to keep track of inventory and sales across various sales channels. Overall, TradeGecko's well suited to businesses operating across multiple locations, wholesalers, and larger multichannel enterprises.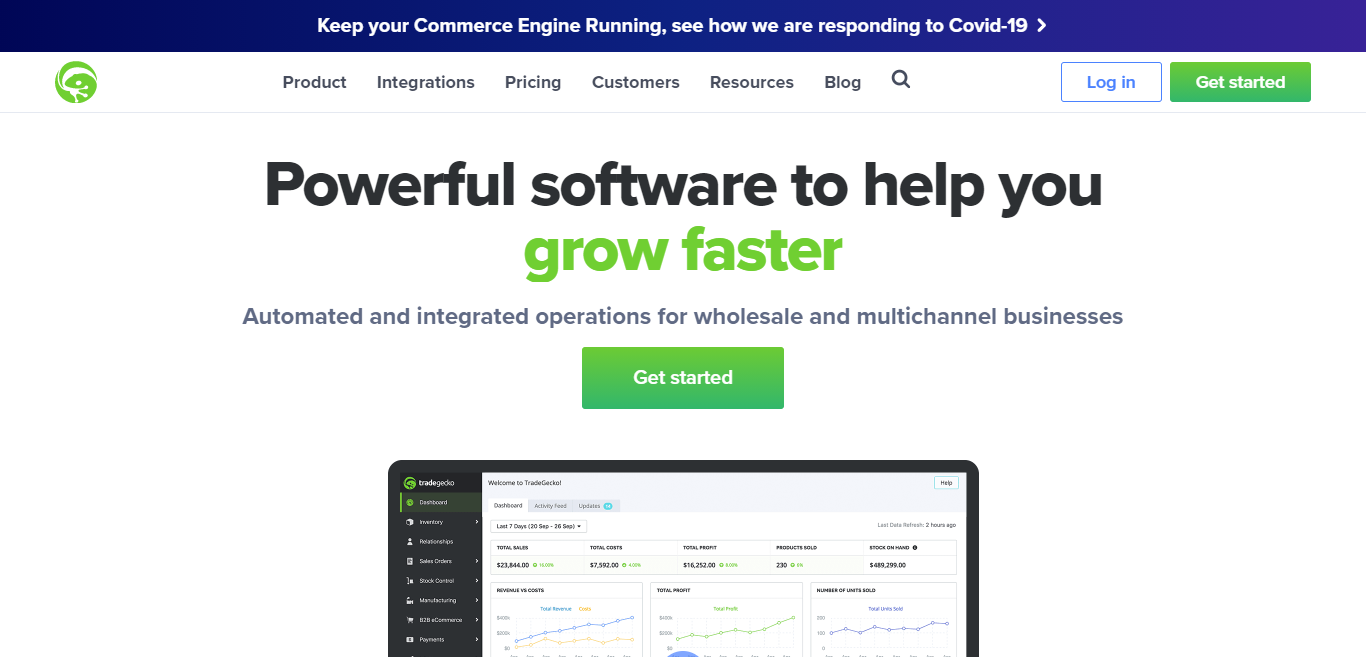 TradeGecko's Core Features
TradeGecko offers complete inventory management. You can track products as you sell, manufacture, and restock them across multiple warehouses and sales channels. You can also manage customer orders across various sales channels, allowing you to purchase and ship seamlessly.
TradeGecko offers a B2B eCommerce platform. You can create your own B2B store, where you can invite customers to buy online.
TradeGecko's payment gateway allows for speedy payouts. You can even send digital invoices with credit card payments built-in for quicker B2B payment.
You can optimize and customize shipping workflows and benefit from supply chain automation. This saves loads of time and ensures a more streamlined and efficient process. For example, you could automatically route orders based on your customer's location – or on your warehouse's stock levels nearest the customer.
Reporting with smart insights. You can create and save customized inventory and sales reports to better track your business performance and forecast growth—customer insights also better position you to build better relationships with consumers, suppliers, and distributors.
Integrations with eCommerce, shipping, and accounting platforms. This includes Shopify, QuickBooks, Amazon, eBay, WooCommerce, Zapier, and Shipstation, amongst many others.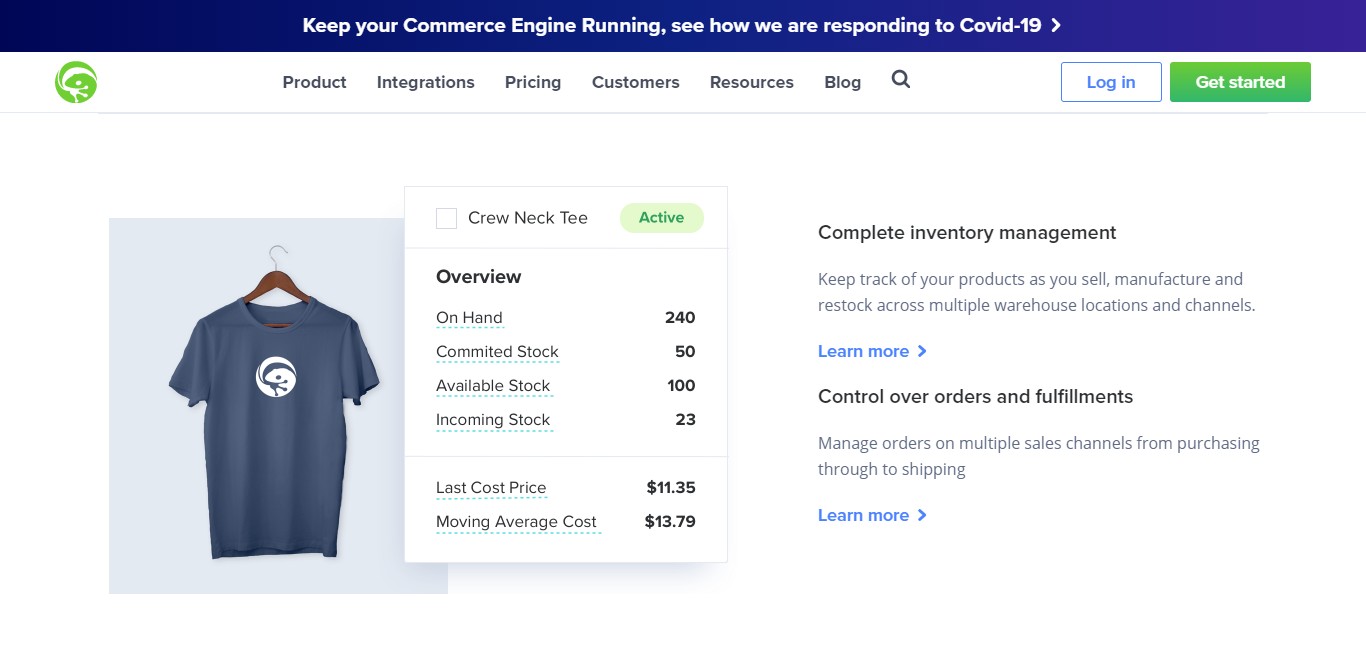 Pricing
TradeGecko offers a 14-day free trial. Beyond this, you can pay for an annual (at a 20% discount) or monthly subscription. There are four payment tiers available. The more you spend, the more sales orders, users, and sales channels you unlock.
Here are the available tiers:
Founder for $39 a month
Lite for $79 a month
Small Business for $199 a month
Business for $599 a month
Larger businesses can also contact TradeGecko to find out more about their Premium and Pro Plans. These suit enterprise-level stores and offer better support, more users, and sales per month.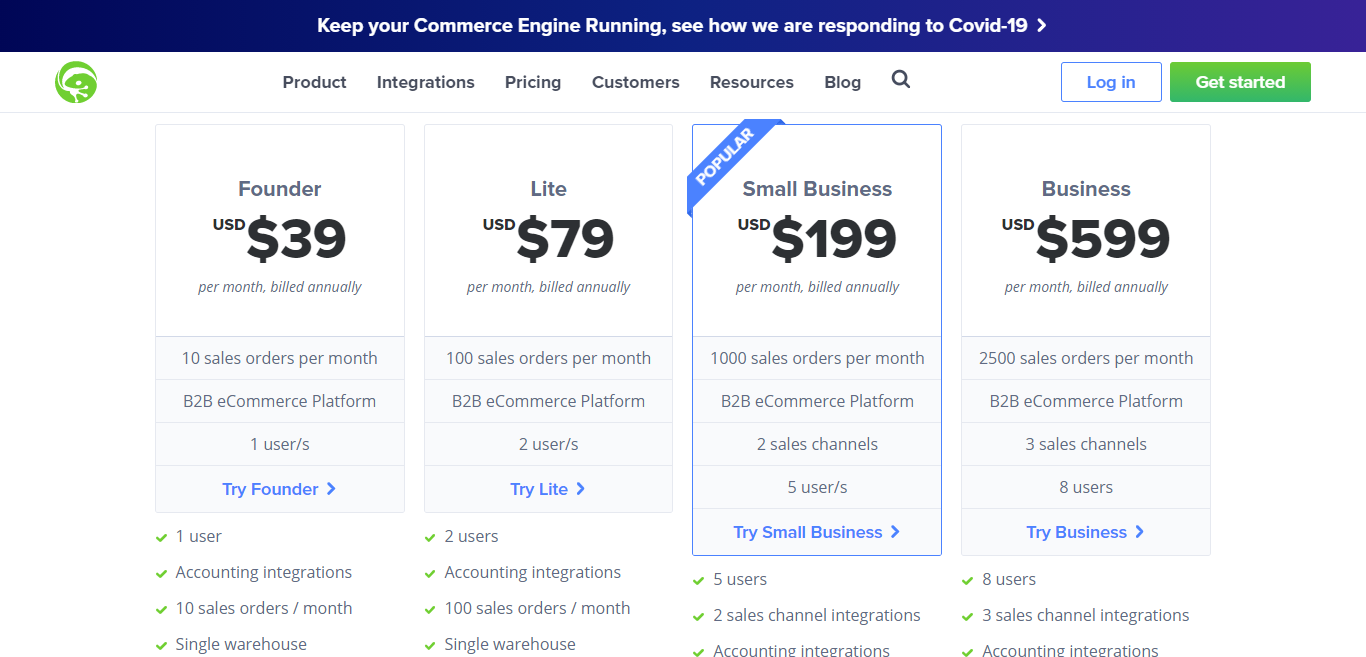 TradeGecko's Pros and Cons
The Pros:
TradeGecko provides full inventory control.
You can view inventory statistics in real-time.
It integrates with all major sales channels to enhance multichannel sales management.
It's suitable for both B2B and wholesale businesses.
Automation and reporting features are available on TreadeGecko's cheapest plan.
The Cons:
TradeGecko's user interface is a little complicated – so there's a bit of a learning curve for new customers.
Cheaper plans severely limit the number of orders you can handle per month.
To integrate with Shopify, you have to subscribe to TradeGecko's Small Business plan (at the very least)
With SellBrite, Shopify store owners can sell their products on the largest online marketplaces, like Amazon, eBay, Etsy, etc.
Sellbrite automatically syncs your inventory across all your sales channels, so you know exactly what you have (and where) at any moment using SellBrite's centralized dashboard.
This app supports multiple warehouses and also integrates with fulfillment by Amazon. But, best of all, Sellbrite prides itself in helping its merchants grow by 300% after just one year of partnering with them. It's also amongst the top-rated multichannel solutions for Shopify, BigCommerce, Capterra, and Web Retailer.
Sellbrite's Core Features
List your inventory on all major marketplaces with one-click integrations and smart listing technologies. This includes Amazon, eBay, Etsy, Walmart, Google Shopping, and Jet, which works wonders for extending your reach. You can quickly upload your inventory in bulk and utilize product variation management and catalog features.
Easily sync your inventory across all sales channels. Sellbrite provides centralized inventory management with an easy-to-use interface. You can quickly view and manage your available and reserved stock across all your warehouses.
Ship orders more efficiently. You can print USPS, UPS, and FedEx shipping labels.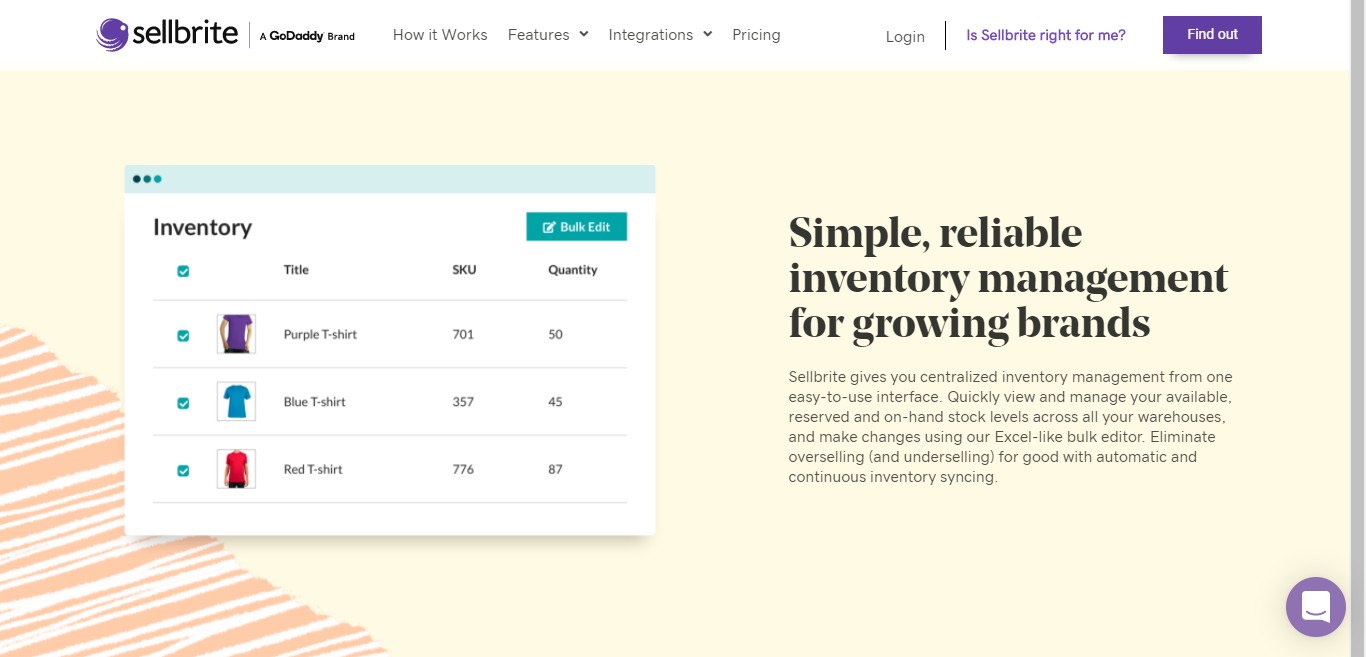 Pricing
Sellbrite offers a freemium plan, which allows you to process up to 30 orders a month. However, if you're publishing eBay listings, Sellbrite's branding will be plastered all over them.
The maximum number of orders you can manage increases when you invest in one of SellBrite's three pricing plans for Shopify:
Pro 100 for $19 a month
Pro 500 for $59 a month
Pro 2K for $99 a month
The name of the payment package indicates how many orders you can process a month. But, the more expensive the subscription, the more frequently your inventory syncs.
All plans come with unlimited sales channel integrations. But, with the cheapest plan, you don't get access to phone support – this feature is reserved for the more expensive packages.
The Pros and Cons
The Pros:
There's a free plan available.
You can access all features (other than telephone support) even with the most affordable payment tiers.
SellBrite integrates with all significant marketplaces.
The one-click listing feature makes publishing your products fast and easy.
SellBrite provides shipping label assistance
You can manage multiple warehouses using this app
You get access to an easy-to-use, centralized management interface
The Cons:
There isn't a POS integration available
SellBrite's features are a little limited compared to its more expensive alternatives.
Stocky is another Shopify inventory management app boasting high ratings. It offers advanced features such as demand forecasting and automatic stock updates.
All in all, this software focuses solely on inventory management. As such, it doesn't offer much in the way of additional support across your business operations.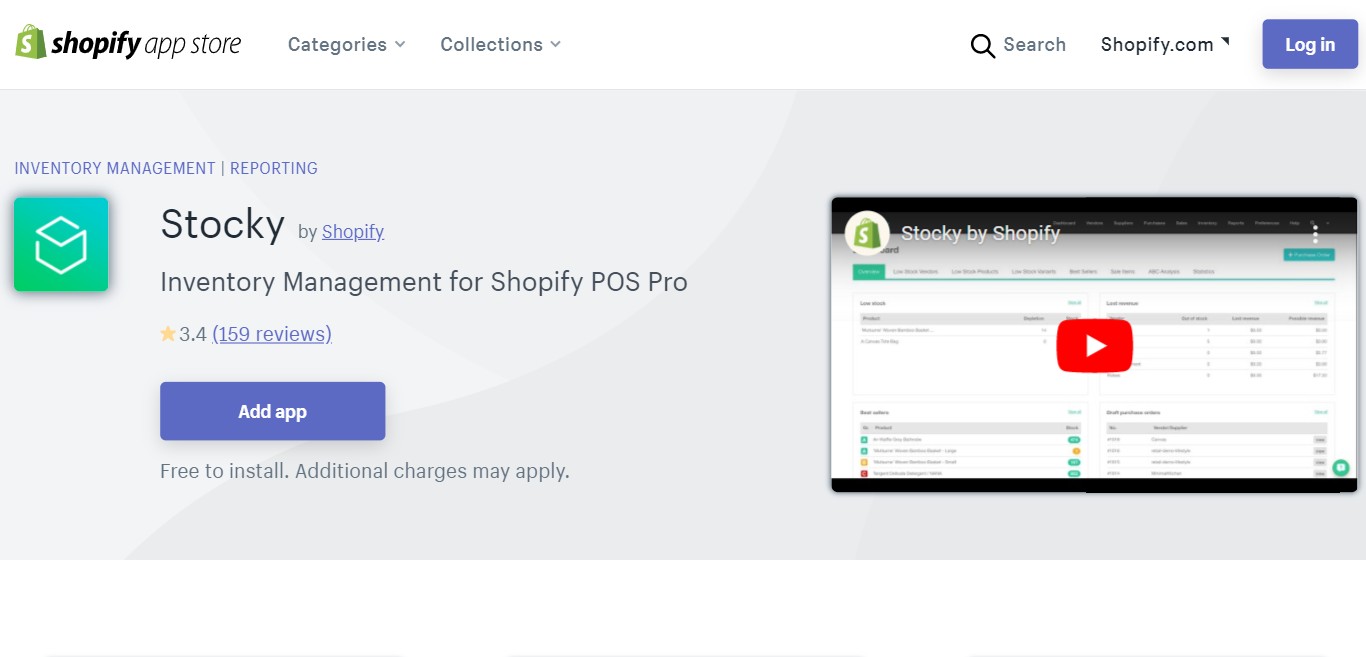 Stocky's Core Features
Demand forecasting. This feature suggests how best to manage a product(s) based on sales rates.
You can quickly transfer stock to meet customer demands. You can move products from location to location via Shopify POS or Shopify Admin.
Help staff to receive products across physical stores and warehouses. Enable your team to quickly scan and place your inventory as it comes in using Stocky.
You can create and manage purchase orders from one place. Stocky facilitates effective communication with your suppliers and vendors, so you'll know exactly what's coming and when.
You can generate in-depth reports. Make data-fuelled inventory decisions based on low stock and best seller reports. You can also compile reports to get an insight into your stock on hand, ABC analysis, SKU/variant reports, and many more.
Stocky integrates with Shopify POS Pro. This allows you to connect your brick and mortar store's inventory with your online business.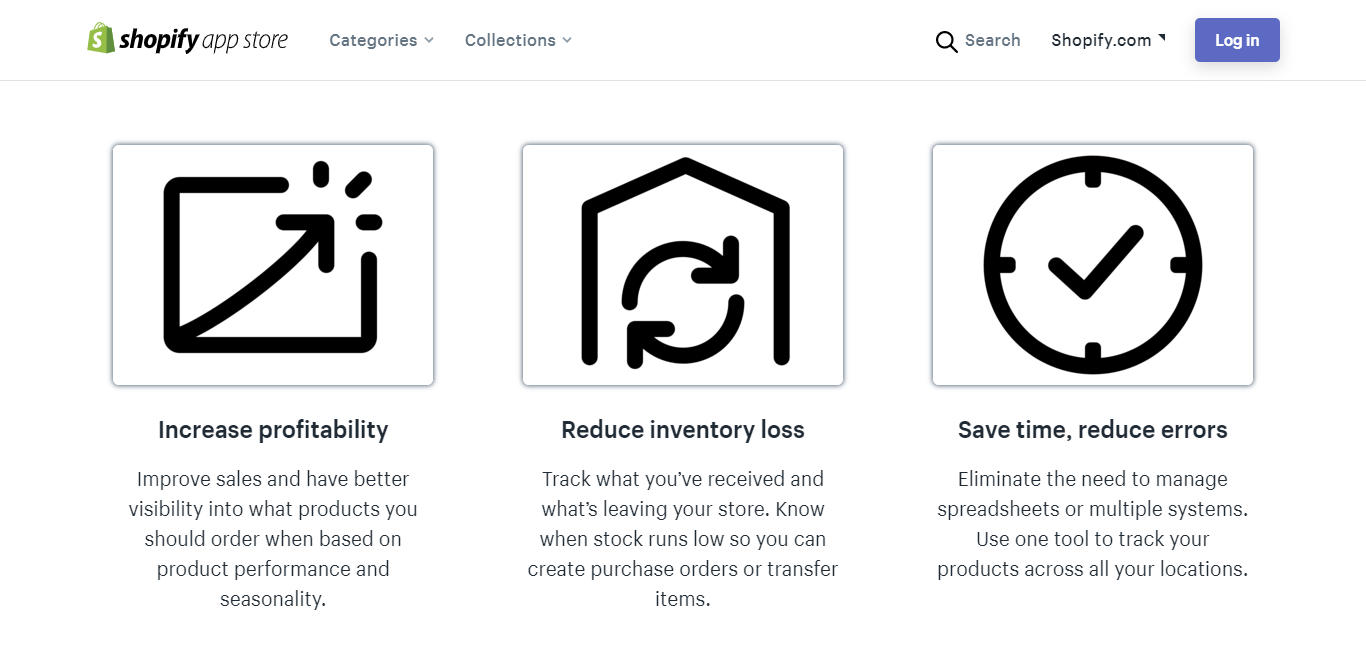 Pricing
Stocky is free to use! It's included with Shopify POS Pro, making it an affordable choice for merchants already managing their offline and online inventory using Shopify.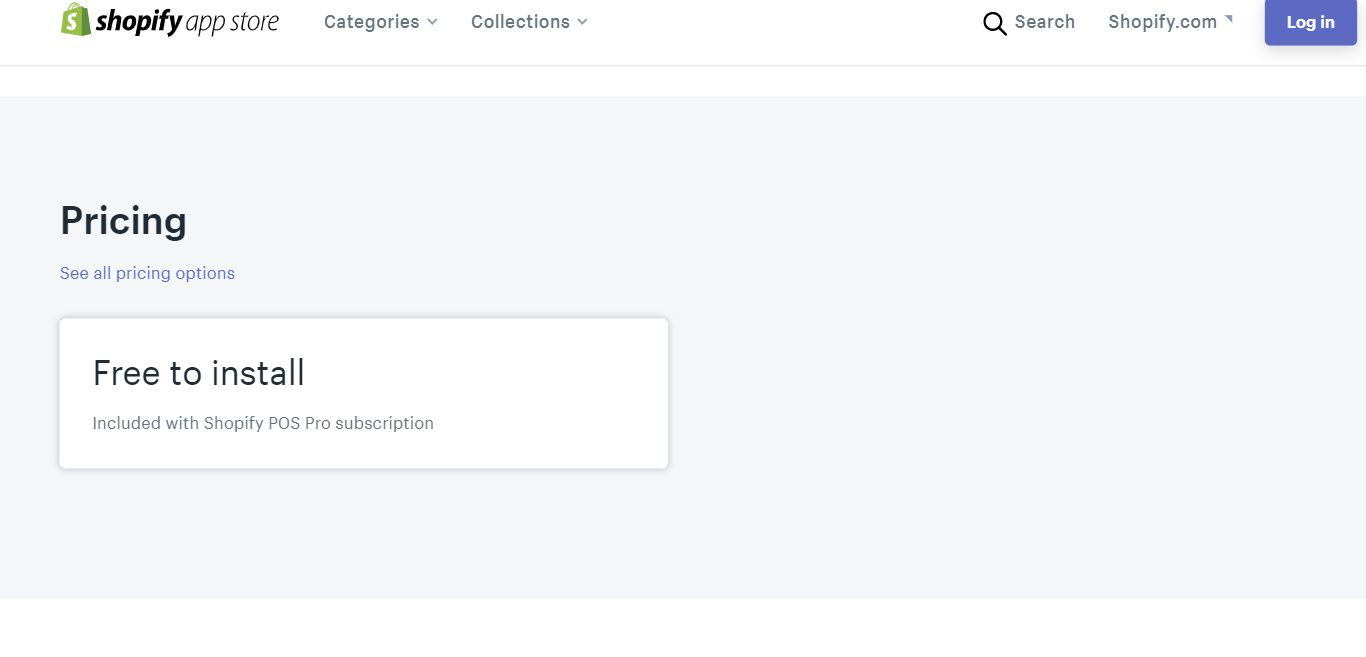 Stocky's Pros and Cons
The Pros:
You can easily order stock from suppliers and vendors.
You get access to insightful order suggestions based on your brand's prior and recent sales performance.
Stocky grades items according to the revenue they generate so you can see at a glance which of your products bring in the most money.
Stocky automatically makes you aware of low stock levels.
The Cons:
Stocky is only an inventory management app. Consequently, its functionality is somewhat limited, as it primarily focuses on measuring inventory levels. As such, you'll need to address other areas of business management with other software.
Stocky is only available for Shopify POS Pro users.
Over 400 five-star reviews make Stock Sync one of the most reliable Shopify inventory management plugins on the marketplace. It's used by thousands of Shopify merchants to update their inventory automatically, manage their product pricing, and export or sync inventory to other sales channels. Not to mention, you can also use this app to sync inventory with physical stores.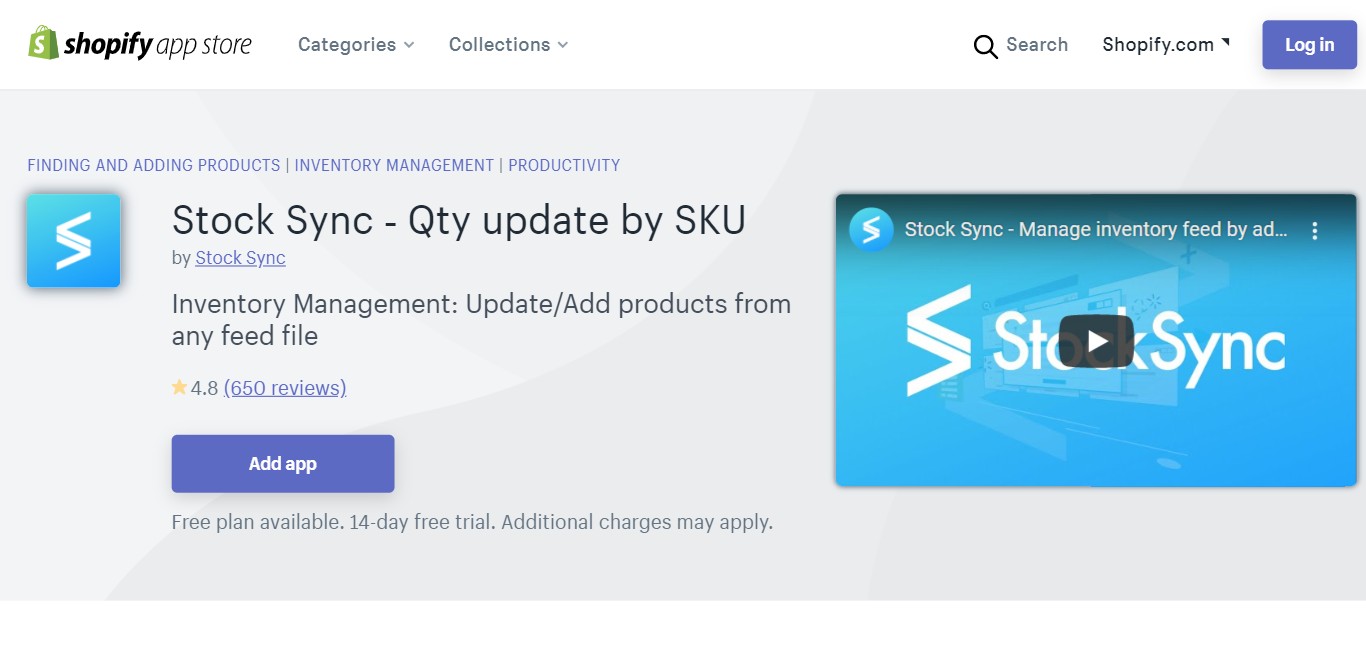 Stock Sync's Core Features
You can set quantity rules. For the uninitiated, this means you can pre-set when Stock Sync alerts you as to your low levels of inventory. Say, for example, you wanted to know when there were only ten products left of a particular item, you could program Stock Sync to notify you when only ten were left. Simple, right?
You can set product pricing across sales channels. Keep pricing consistent across the board with formulas that allow you to manage your pricing strategy best.
Automatically schedule when your inventory's updated.
Easily add and remove products and/or set up new feeds.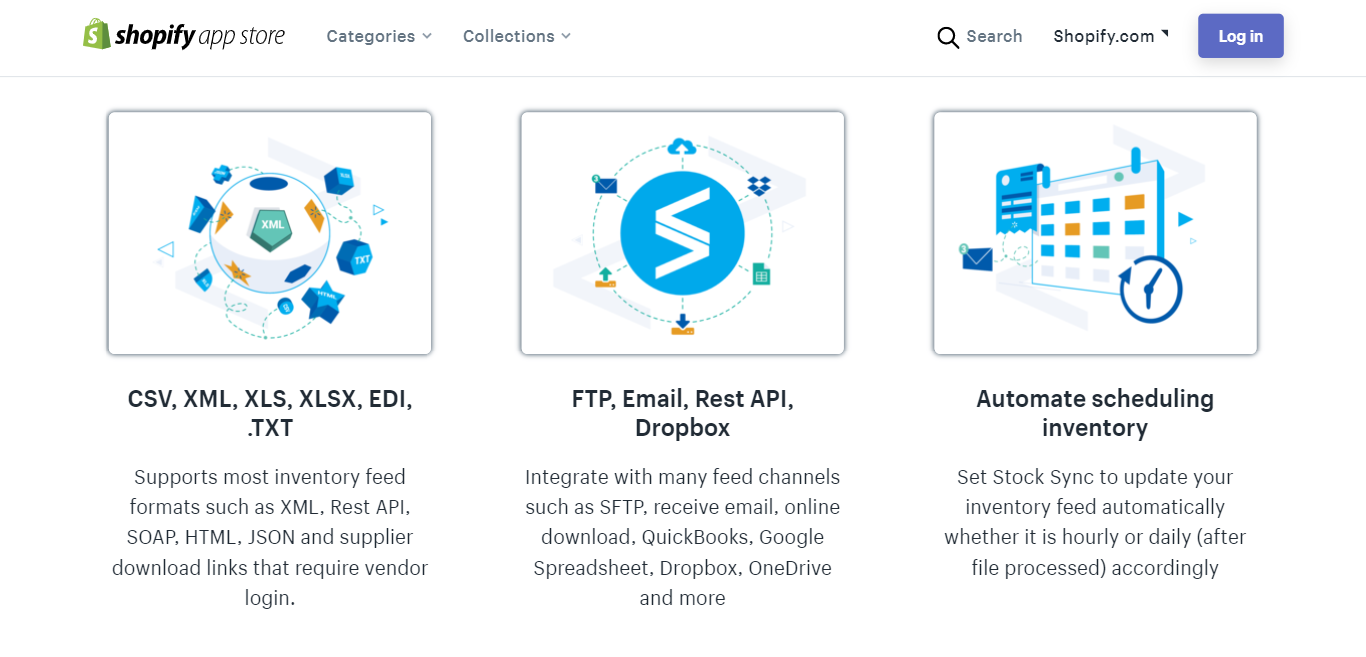 Pricing
With Stock Sync, you pay for 'feeds' you can add or remove as necessary, using your Stock Sync credit. You can top this up as you grow, so there's no need to take out a subscription. On average, you're looking at a monthly cost of $5 to use Stock Sync.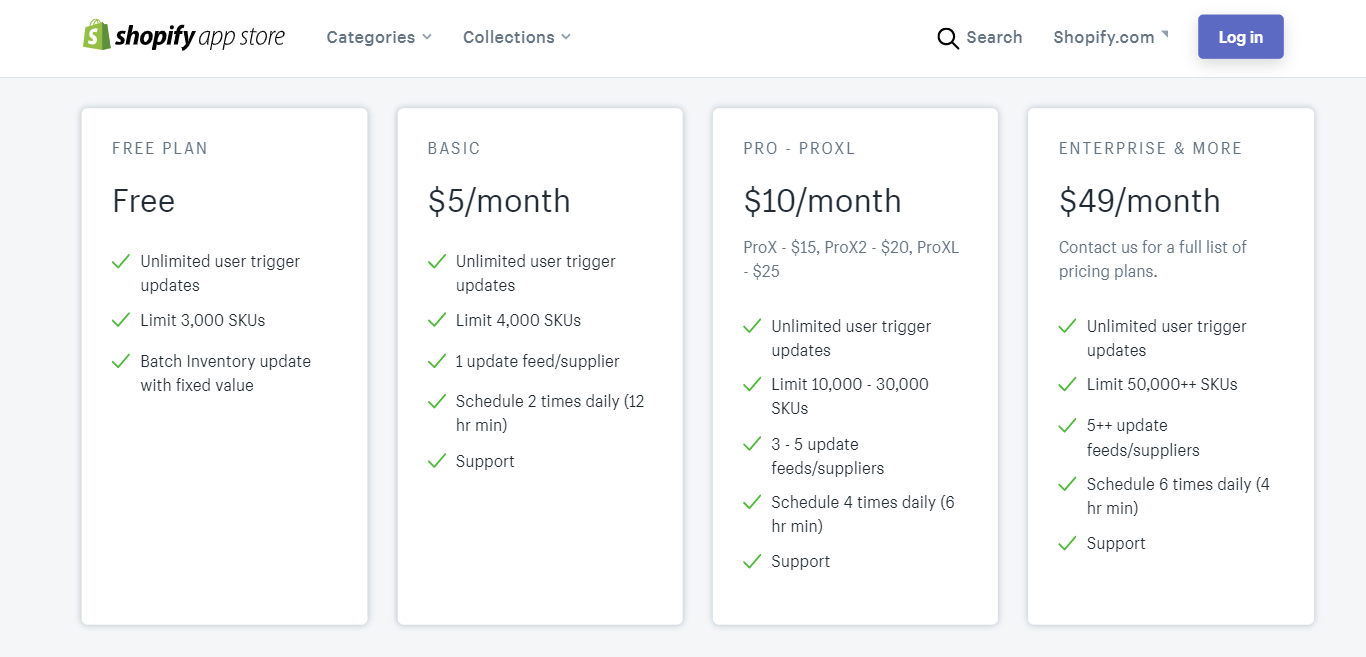 Stock Sync's Pros and Cons
The Pros:
It's affordable and boasts a flexible pricing structure, so you only pay for what you need.
It provides all the tools you need to keep track of your inventory.
You can set custom pricing rules.
You can automize your workflow by setting 'triggers' that launch your desired automation.
The Cons:
Stock Sync doesn't offer analytics or reporting tools.
This app's only suited to inventory management and syncing; it doesn't offer much else.
There aren't many in-built integrations that connect Stock Sync with other tools.
Skubana is an advanced Shopify inventory management software that calls itself the 'operating system of commerce.'This isn't an underestimation.
Skubana offers multichannel inventory management, advanced multi-warehouse demand forecasting, and you can automate your purchase orders. Also, thanks to dynamic analytics, you'll get an insight into your seasonal trends and profitability.
This app's best suited to larger companies with established customer bases, handling many complex operations each month.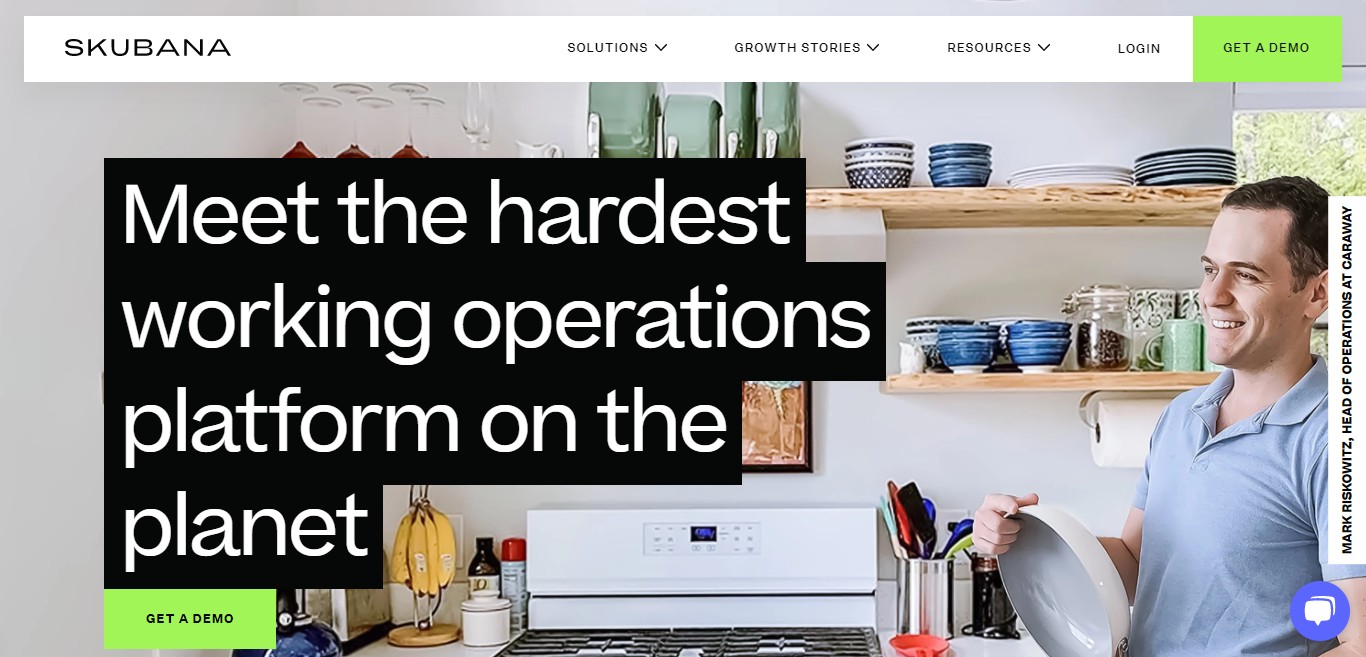 Skubana's Core Features
You can manage, track, and optimize inventory across sales channels, warehouses, drop shippers, and FBA distribution centers. Skubana synchronizes your stock everywhere. Merchandise can quickly be restocked through one-click purchase orders.
You can customize workflows with Skubana's fully open API. If you have some coding know-how on your team, you can modify Skubana's platform to meet your specific needs.
Access to professional analytics and reporting. With this data to hand, you can make educated business decisions. Skubana offers a large variety of reports on trackable overhead expenses, predictive analytics, best and worst selling products, profitability, performance, critical levels, sales overviews, shipments, lifetime value, and many more.
Manage returns. From issuing receipts to monitoring the status of return – Skubana handles it all. You can mark returns as received or void, create and automate shipment confirmation emails, and walk customers through your returns procedure.
Access loads of one-click integrations. These include integrations with all the biggest online marketplaces, shipment and fulfillment providers, Shopify Plus and POS, Zapier, and many more.
Calculate shipping rates across a variety of couriers to pick the best one. You can also purchase Amazon postage and print shipping labels from all major couriers.
Automate, manage, and process orders. Besides automatically integrating and syncing your inventory, Skubana does the same regarding your orders (across all your sales channels). This includes online shopping carts, marketplaces, and your POS. However, you retain complete control over individual orders, so if you want, you can assign them to specific warehouses, or route a particular product based on stock levels, etc.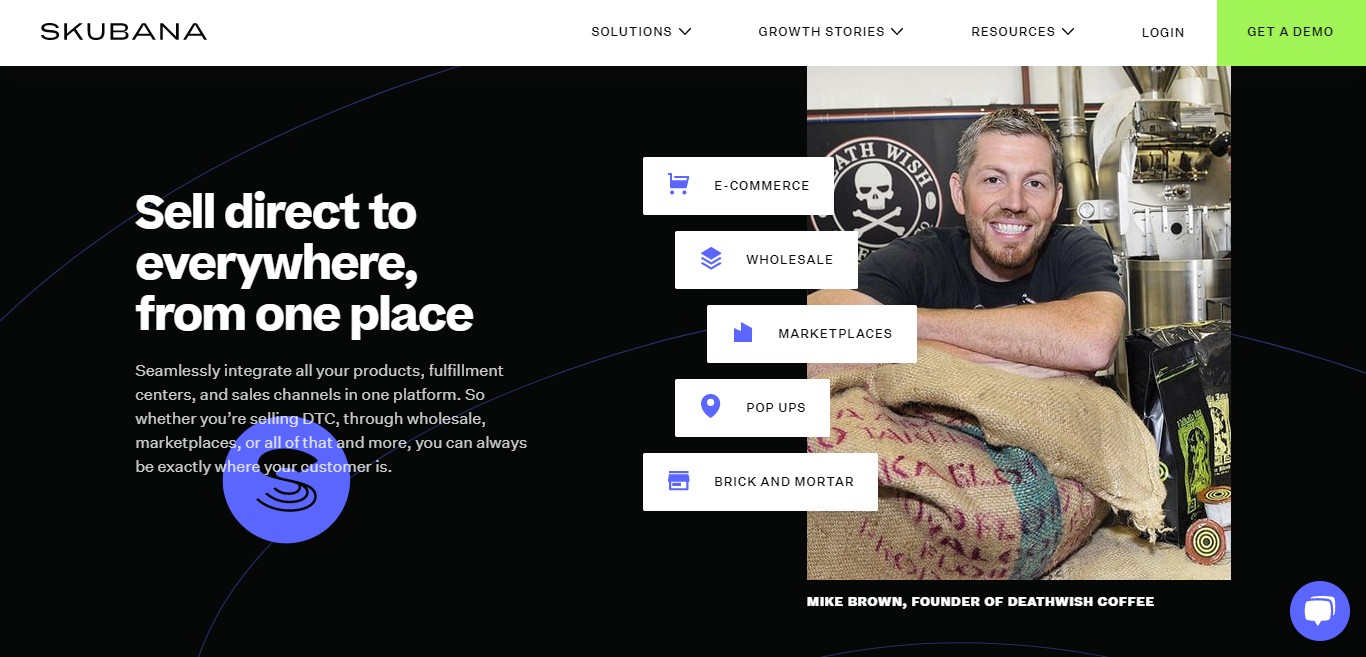 Pricing
Skubana doesn't specify pricing on its website. To get a quote, you have to fill out a short form detailing your business needs. Then Skubana's sales team will get in touch with a customized quote for you.
The minimum fee, however, starts at $999 a month, which entitles you to unlimited users and sales channels and access to all of Skubana's features.
A demo is available on request.
Skubana's Pros and Cons
The Pros:
Skubana provides users with an intuitive dashboard.
Skubana's customer service is excellent.
Skubana's designed with direct-to-consumer brands in mind.
The Cons:
Compared to some of its competitors, Skubana's pricing is pretty steep. This is a better option if you already have an established business. It's not ideal for startups with limited funds.
Skubana's pricing isn't immediately transparent, making a comparison a little tricky.
Some users would like to see more content management features added to Skubana.
Allegedly, manual orders take a while to process.
FAQs
Last but not least, we'll answer some of the most commonly asked questions we hear about inventory management software:
How expensive is inventory management software?
Prices for inventory management software vary depending on the features and integrations on offer. Usually, each tool comes with different payment tiers that grow with your business and become gradually more expensive as the scope of its functionality increases.
On average, the cost of inventory management software ranges from $0 for simple inventory synchronization to as much as $999 a month for a full suite of inventory management and fulfillment features.
What features are included in Shopify inventory management Software?
At its most basic functionality, inventory management software keeps track of all your inventory. It synchronizes stock levels across your different sales channels so that you can act (i.e., order more product) when stock runs low.
More advanced features allow you to analyze sales trends, intelligently allocate inventory across your warehouses, and even publish products with rules for pricing and shipments.
What inventory management features are included with Shopify?
Shopify allows you to track your inventory manually. You can view your inventory and adjust product counts. Shopify also permits you to view a history of all changes to your inventory.
When you invest in Shopify inventory management software, many of these processes can be automated. As such, you don't need to manually update and synchronize inventory across all your different sales channels.
Can I get Shopify inventory management software for free?
If you're using Shopify POS, Stocky is a free inventory management tool available to you. Other software offers free versions that are limited to a smaller number of products. For example, Stock Sync and Sellbrite offer free-forever versions. However, their features are limited, and you can only manage a small number of products.
Have You Found the Best Shopify Inventory Software for Your Business?
We hope you've enjoyed our look at the best Shopify inventory management software. Of course, the 'best' is only that which suits your business and its specific requirements.
If you're a brick and mortar store, syncing with your POS will be of great significance to you. As such, a Shopify Pro POS app like Stocky might be the most suitable option. Whereas, if you're only looking for inventory management and syncing, a cheaper app like StockSync might suffice.
However, Skubana and TrackGecko offer more holistic solutions to help your business grow. So, if you're a larger enterprise looking to take things to the next level, either of these two plugins could be the perfect fit.
So, which will you go for? Or are you considering an alternative app? Either way, let us know in the comments box below how you get on!
Further read: