Last Updated on January 16, 2023 by Ewen Finser
Shopify isn't just big. It's insanely popular among sellers across the entire hosted e-commerce business space. By 2018, the platform was hosting over 600,000 digital merchants, and the number has since grown quite exponentially- spanning more than 175 countries.
Then guess what? Cumulatively, the merchants have consequently processed sales exceeding $63 billion in value.
Now that's one heck of a success record, to say the least. And admittedly, it didn't come overnight. There are a number of solid reasons why Shopify has managed to attract such a huge following over the years.
For starters, it's incredibly user-friendly. You can build an online store from the ground up without necessarily hiring a developer. All you need is a basic understanding of its plug-and-play framework to set up or scale any e-commerce website component.
And speaking of scaling, another outstanding feature is Shopify's extensive array of integration options. With over 2400 different apps, its App Store is nothing like the typical marketplaces we've seen on other e-commerce store platforms.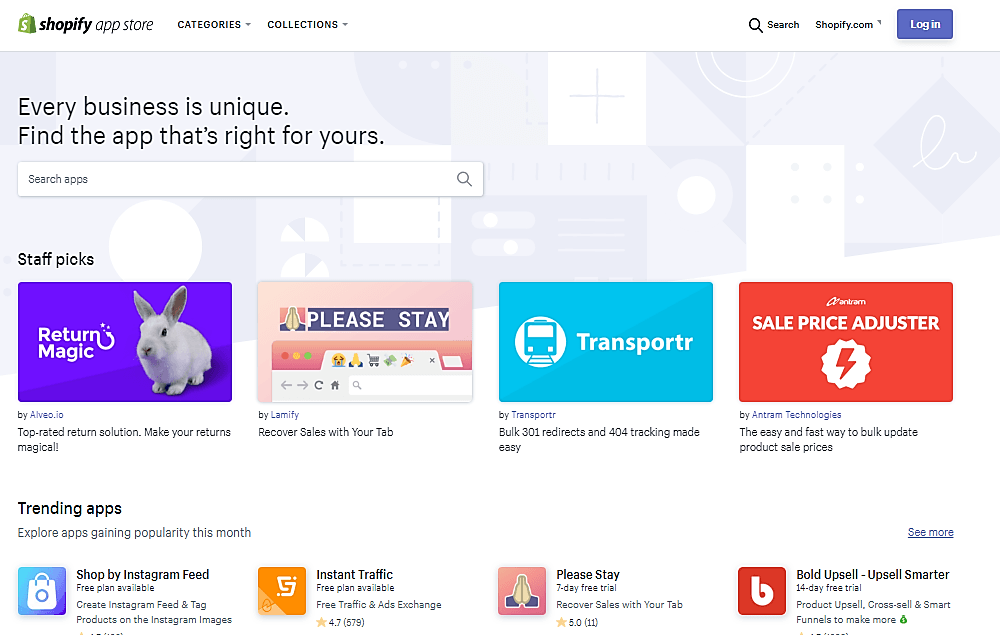 Users have taken advantage of this to customize their stores accordingly. You can embed pretty much any functionality in mind without even the tiniest bit of coding. So, of course, it makes sense why the volume of the App Store downloads had hit 7 million by 2017.
Well, apart from that, Shopify is also renowned for its wide range of attractive website themes. They come in all shapes and sizes, plus customizable layouts to suit different types of online stores.
If you've tried out Shopify, you've probably noticed that it's also well-optimized for performance. The whole e-commerce platform has been structured to offer uninterrupted web uptime plus fast page loading speeds. And in case of any issue, there's always a reliable support team that will attend to you.
The best Shopify alternatives are:
If the thought of handling the downloadable Magento code scares you out of your wits, you might want to consider a much simpler option of adopting 3dcart instead. Just like the name suggests, 3dcart is a shopping cart solution that offers online selling functionalities at a cost. And in contrast to Magento, 3dcart is a completely cloud-based platform just like Shopify.


One of the principal features you can look forward to is unlimited product storage. By hosting as many products as possible, 3dcart allows you to scale your business quite extensively.
And to achieve that smoothly, it goes ahead to facilitate integrations with over 100 different payment processors. Therefore, you should be able to expand beyond your comfort zone and, consequently, conduct business conveniently across the globe.
In addition to that, you get tons of free site templates to style your webpages. And while you're at it, you can also take advantage of the platform's in-house web design services to create a perfect online store layout.
When visitors start streaming in, you'll notice that 3dcart is also well-optimized for fast page loading speeds. This is further supplemented with powerful SEO tools to help your site rank favorably on search engines.
Then when it comes to managing visitors, this platform offers impressive CRM features plus functionalities like gift registries, discounts, waitlists, back orders, etc.
From that alone, I guess you can see the overall trend. It's fairly certain that 3dcart's default app comes with more features than Shopify. Things like real-time calculation of shipping rates plus single-page checkout are standard on 3dcart, but only achievable through add-ons when we shift to Shopify.
The most outstanding advantage, however, has got to be a policy on zero transaction fees. You'll gladly keep your money over the long haul because 3dcart is evidently not as greedy as Shopify.
The Magento community is also relatively extensive, making it a great resource for support and advice.
Don't get me wrong though. You won't retain every single cent since you have to pay the corresponding subscription fees. They range from $19 per month for small startups with one staff user, to $229 per month for growing businesses with 15 staff users.
Well, on the bright side, that's still cheaper than Shopify. But then again, the latter is superior in dropshipping, provides enhanced mobile user experience, avails better themes, and is usually more reliable when it comes to customer support.
BigCommerce is a robust ecommerce platform renowned for its full-stack approach. You can leverage its versatile drag-and-drop editor to design your unique ecommerce site, then subsequently, use the platform's functionalities to run and coordinate your entire online selling strategy.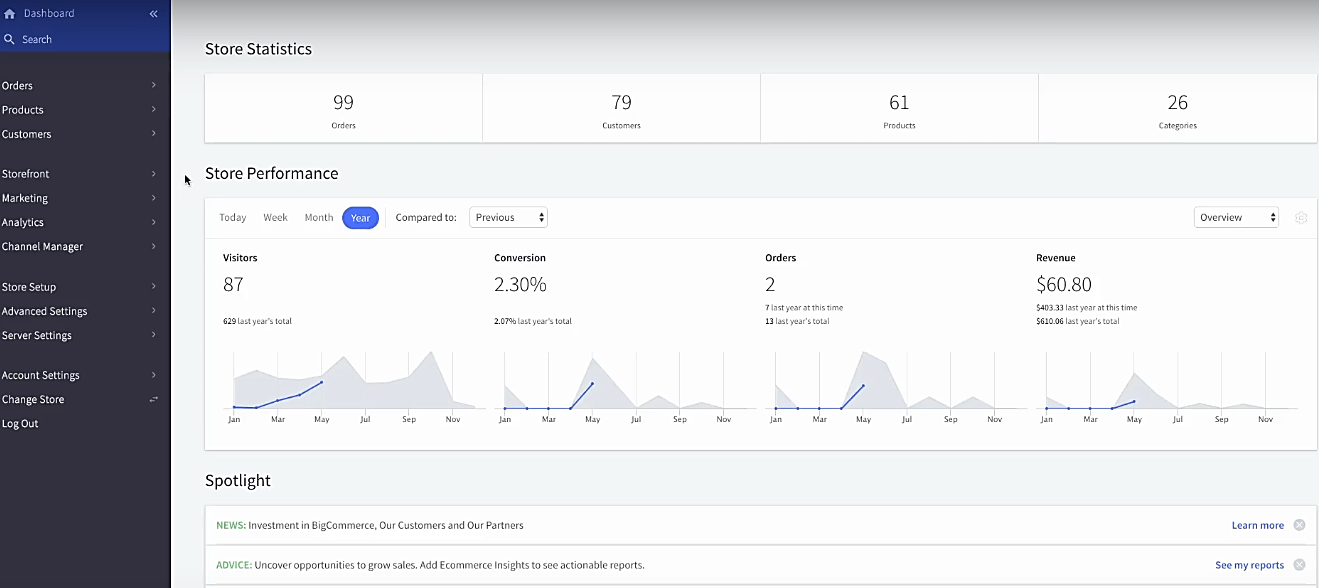 The templates here are admirably attractive. And yes- you can get some for free. But, here's the kicker- the free options are very limited. So, of course, you might be forced to pay if you need an exceptionally unique website outlook.
Thankfully, you might be able to recover such costs by saving money which would otherwise have been spent on third-party extensions.
But how?
OK, here's the thing. Although BigCommerce supports a decent share of integrations, chances are that you'll only adopt a handful. It turns out that the default platform comes with many robust features- substantially much more than the Shopify app.
Well, don't start celebrating yet. Because, unfortunately, part of your savings will be diluted by BigCommerce's subscription charges. The most basic package, Standard, costs $29.95 per month, while Plus is priced at $79.95 per month, then Pro is unlocked for a fee of $249.95 per month.
Now that sums up everything you should expect to pay for on BigCommerce. If you haven't noticed already, there's something critical we've left out. Remarkably, the platform does not apply the all-too-common transaction fees (Shopify fees). That consequently means that you can sell as much as you like without worrying about incurring additional charges.
Other than that, you also get to enjoy streamlined selling across multiple channels. You can expand your store to sell directly on Pinterest, Facebook, eBay, plus Amazon. Meanwhile, BigCommerce will handle the underlying network in a way that keeps your entire stock well-synced across all the stores in real-time.
And in case you're concerned about possible traffic size limitations, the fact is- the platform is super generous when it comes to handling the primary store elements. In essence, BigCommerce does not restrict the number of products you can sell, the storage space you use, plus the amount of site bandwidth supporting your traffic flow.
Instead, it caps the sales volume for each plan. If you happen to exceed your plan's stipulated volume, the system automatically upgrades you to the next tier.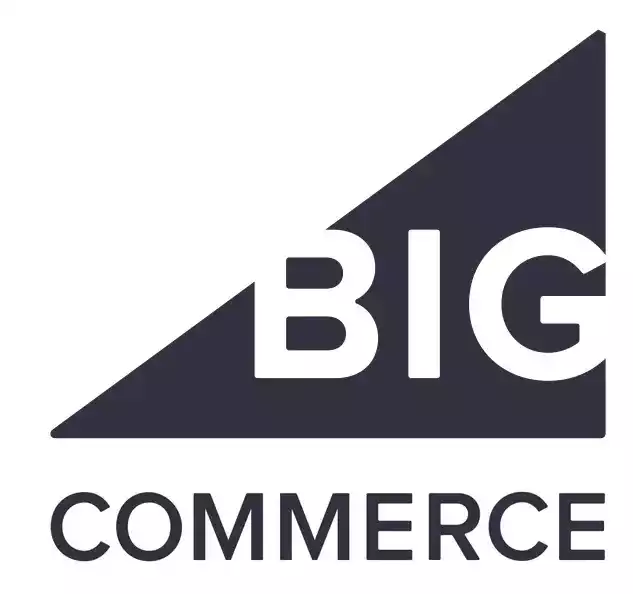 Why do I prefer BigCommerce?
Seamlessly list, optimize, advertise, sell and fulfill products across 100+ channels. All the capabilities of enterprise ecommerce—without the cost or complexity.
Request your Demo
We earn a commission if you click this link and make a purchase at no additional cost to you.
Volusion is another cloud-based ecommerce platform renowned for its user-friendliness and ecommerce provisions tailored for small and mid-sized businesses.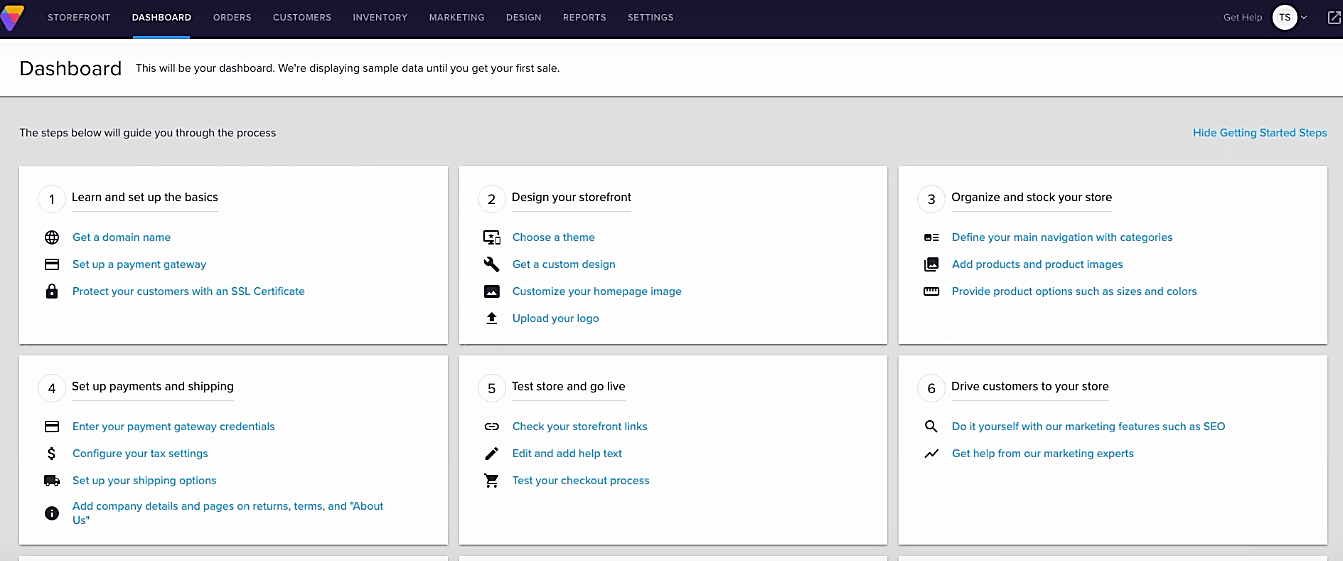 Going by its subscription plans priced at $29, $79, and $299 per month, you might conclude that Volusion's pricing strategy is similar to Shopify's. But guess what? I can tell you without a doubt that the former is significantly cheaper.
The thing is- while Shopify obsesses about making a killing from each transaction, Volusion facilitates payments without deducting even a dime. Its users enjoy zero transaction fees on all plans, regardless of their corresponding sales volumes.
That said, Volusion comes with e-commerce tools for supporting the full ecommerce stack. When you're starting off, for instance, it provides a drag-and-drop website builder with powerful site editing features for creating a distinctively customized site. And yes, you also get a collection of free complementary themes to make your work much easier.
Then as you progressively proceed through the pipeline, one of the things you'll appreciate is Volusion's ability to host an unlimited number of products. Sadly though, there's a caveat. It just so happens that this feature is only open to users on its Business and Custom plans. Conversely, the Personal plan is allocated a limit of 100 products while Professional users get 5,000.
That notwithstanding, things brighten up when we switch over to the allowable bandwidth. Volusion is generous enough to grant all users unlimited site bandwidth. Therefore, you can host as many visitors as you want.
Now, although there are some observable differences here and there, customization is the primary discerning factor between Volusion and Shopify. While you can tweak your site on both, the actual procedure is quite different.
Shopify is all about straightforward theme editing options. Then Volusion, on the other hand, provides more customization freedom through its CSS plus HTML coding. And this, of course, means one thing- that you might be forced to hire a developer.
But, interestingly, that might not be necessary at all. It turns out that Volusion's coding is pretty basic and doesn't require a lot of technical expertise. You can handle everything with entry-level skills.
Check Out the Volusion Plans Here
If you're thinking about selling from your self-hosted WordPress site, you should consider WooCommerce a worthy Shopify alternative with a similarly large WooCommerce plugin universe.
Although it's a simple plugin that's available for free, it does come with a host of premium e-commerce features. Overall, it's an open-source e-commerce solution for WordPress that has been built to facilitate selling and online store management.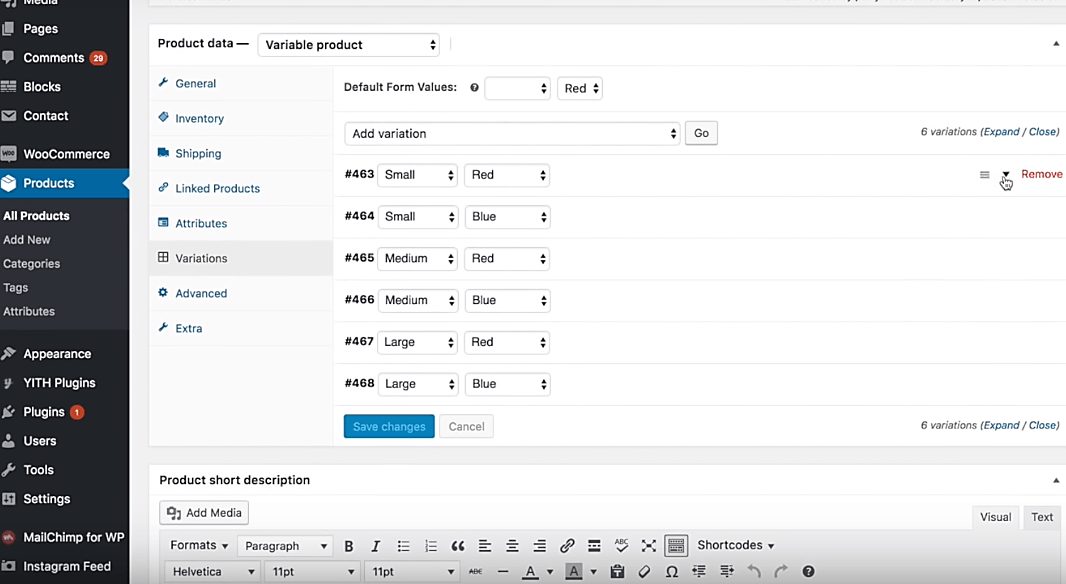 Well, unlike a Shopify store, it doesn't cost anything to acquire WooCommerce (there's no free Shopify version). Plus, it goes ahead to save you the trouble of paying for monthly platform subscriptions.
But, don't get me wrong. It's not entirely free. After paying your hosting provider (WooCommerce hosting), you'll cough up money to purchase some of the platform's premium themes or extensions. Each additional functionality essentially translates to additional costs.
And that's not all. You should also factor in credit card processing fees, which you'll pay persistently over the long haul based on each transaction volume.
Now, one thing you'll realize about WooCommerce is that it's extensively customizable. Non-programmers, for instance, can always take advantage of its simple and straightforward extensions. There are numerous paid and free customizable options on WooCommerce's app market plus other sites on the web.
The freedom that comes with all that is immense, to say the least. But, it turns out there's more. You see, developers, unlike regular users, can achieve much more. They have the option of making adjustments to the open-source code to holistically tweak their online store projects.
From WooCommerce's support documentation, you can always learn how the entire platform is structured. After that, you'll be able to easily personalize any element to fit your specific needs and preferences.
The platform even goes ahead to support the selling of both physical and digital products, all of which can be broken down further based on user-defined variables. What's more interesting, however, is the fact that WooCommerce has no limit on the number of items you can host on your site.
Magento
Magento is another open-source solution that can effectively serve ecommerce merchants with a range of powerful shopping cart features. While Shopify is fully cloud-hosted, Magento is usually downloaded and subsequently built on a separate hosting solution.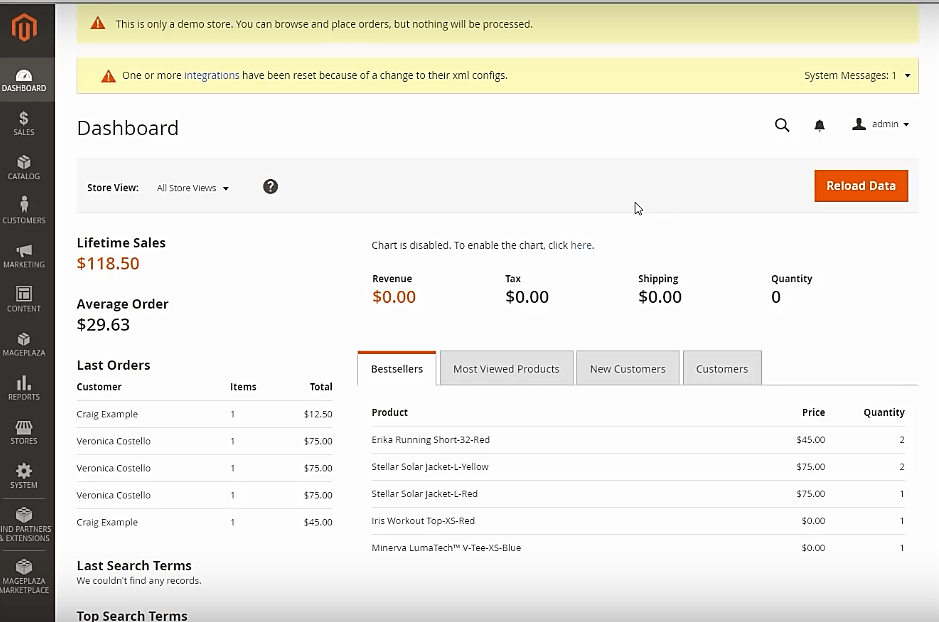 As we've already established with WooCommerce, an open source structure means unlimited customization capabilities via WooCommerce extensions. You can extensively tweak even the smallest components to align them with your business framework.
And you know what? Up to this level, everything is completely free. Magento will not compel you to pay even a dime to download the setup package or customize the underlying structure. Bills basically start rolling in when you get to the hosting part.
Now, ironically, the biggest problem with Magento is seemingly the same thing that makes it exceptionally effective. Although its dynamically flexible open source code is precisely what you need for advanced scalability and optimization, working on it is not that simple. You'll be forced to hire experienced developers to handle the entire job, from building to publishing and maintaining your online store.
And that, you can bet, doesn't come cheap at all. Having Magento's developers supporting an Enterprise Edition setup, for example, could cost you a whopping $15,000 to $50,000 on an annual basis.
But get this. It doesn't have to be that expensive. You can scout the large online community of Magento developers to find friendlier rates. In the end, you'll benefit from the platform's responsive designs, a wide array of powerful extensions, versatile API for web applications, numerous payment processor options, extensive SEO capabilities, multi-lingual support, unlimited product attributes, and much more.
All things considered, Magento is, in fact, more powerful than Shopify. But, considering its complex coding, plus the fact that you have to cater for hosting, system security, and possible add-ons, this platform wouldn't be ideal for small businesses. Only medium-sized and large enterprises can afford to comfortably leverage it as a Shopify alternative.
Further Reading: Top Magento Hosting Providers
BigCartel
BigCartel is for solopreneurs and small businesses that deal with art. It saves you the trouble of extensively readjusting platforms like Shopify to suit your art business needs.
More specifically, think of it as a simple shopping cart developed with just the right features to support and coordinate small-scale selling of artistic items like paintings, sculptures, music, books, clothing, plus much more.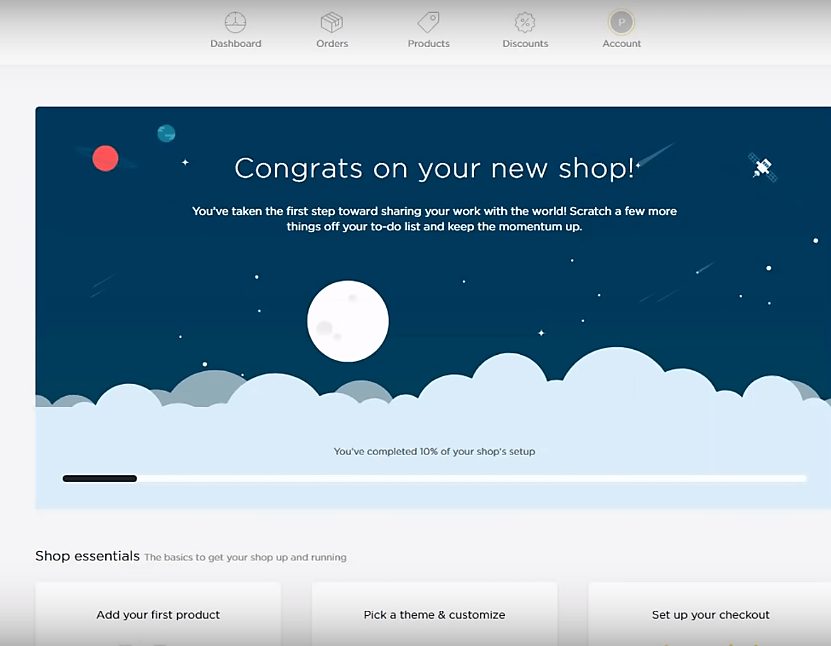 From that alone, you can tell right off the bat that BigCartel is remarkably user-friendly. It doesn't take long to learn the ropes here. As a matter of fact, even novices can comfortably adopt the platform for online selling.
But, make no mistake. That doesn't mean extremely limited capabilities. On the contrary, BigCartel offers all the critical ecommerce features like HTML and CSS customization in their website builder, inventory tracking, plus unlimited bandwidth. And to make things much easier, the default platform is embedded with PayPal, Facebook, and Google Analytics. Consequently, you should be able to conveniently kick-start your business in no time.
Now, I know what you might be wondering at this point. Should you be concerned about HTML and CSS coding?
Well, the truth of the matter is yes and no. If you have basic tech skills, then yes- you can use HTML and CSS to tweak your website. However, that's the exception rather than the rule here. So no- you can also proceed without coding knowledge. Just get yourself an ideal theme from the platform's array of free options, edit a couple of straightforward elements, and voila!
You'll subsequently be able to leverage BigCartel for both online and in-person selling. Then to boost the corresponding conversion rate, you can capitalize on the platform's discounts and promotions functionalities. Finally, when customers start buying, it's possible to monitor progress at any time, thanks to BigCartel's real-time stats.
Using BigCartel instead of Shopify will also help you save quite a substantial amount of money on a monthly basis. Interestingly, while $29 is the cheapest monthly pricing for a Shopify plan, it turns out to be the exact opposite on BigCartel.
In a nutshell, Titanium is the costliest package at a price of $29.99 per month for 300 products. Then Diamond follows at a price of $19.99 a month for 100 products. Then the most basic plan is Platinum, which costs $9.99 a month for 25 products. From the look of things, therefore, I'd say BigCartel was built to be affordable to typical solopreneur artists.
Thankfully, it protects them from additional transaction charges. The platform itself does not charge any fees when you sell your items. But, you might not be able to completely escape the burden of card processing fees, considering Stripe and PayPal are the only payment options here. They normally charge more than your typical payment gateway.
Apart from that, another notable weakness is the limited range of functions you find on this platform. While it's fairly understandable that this is the secret behind BigCartel's overall user-friendliness, the fact is, it also hinders extensive selling. In other words, you'll be forced to migrate to a different platform when your art business grows beyond 300 product sales a month.
Now, that's not all. There are many more significant benefits that come with Shopify. But then again, it's only fair to consider the other side too- the major weaknesses you might find on Shopify.
Further Reading: Top BigCartel Competitors
Other Honorable Mentions
There are some other Shopify alternatives that may be suitable in specific situations. They are:
PrestaShop: Like the name suggests, a good platform for getting a store up very quickly and for an affordable price.
CoreCommerce: Not the cheapest, but plenty of integrations with specific expertise in international multi-channel selling markets and selling to multi-lingual audiences.
Weebly: If you are looking for something incredibly EASY to use and get started with, and don't need extensive functionality to start, Weebly is a great option.
Squarespace: Squarespace is another website builder that has evolved with specific ecommerce capabilities for selling unlimited products. If you weren't thinking of Squarespace as an ecommerce platform, think again!
Sellfy: An extremely flexible, mobile-first platform, ideal for selling digital products specifically. Read our full Sellfy Review for further details.
ThriveCart: This a similar platform to Sellfy in that it's great for digital products (or single product physical goods), BUT it's unique in that it offers a ONE-TIME fee, without the need for recurring payments. This brings down your monthly costs over time (unlike monthly Shopify charges that Shopify offers). No strings attached. Read our full ThriveCart Review for the complete picture.
Shopify Weaknesses
Although Shopify has been developed to provide SEO editing capabilities compared to other website builder tools, let's be honest for a minute. The framework you find here is far from being the most holistic in the market.
I find it too rigid to achieve a comprehensively optimized site right off the bat. In fact, things get even more complicated when you're trying to customize a relatively large website with a dynamic architecture.
Another common weakness lies within the custom template markup language. Compared to other platforms, Shopify's syntax is not adequately simple and straightforward.
That said, there's also the issue with money. Ok, I get it. Shopify's subscription plans might seem to be reasonably priced at first. $29 per month for Basic Shopify sounds considerably fair when you come to think of it.
However, after closer scrutiny of the fine print, you should be able to notice a substantial caveat with what Shopify offers. Apparently, Shopify will charge you up to 2% for each transaction if you choose to proceed with an alternative payment processor. The platform heavily favors its default payment service which, to be honest, cannot match up to the likes of PayPal.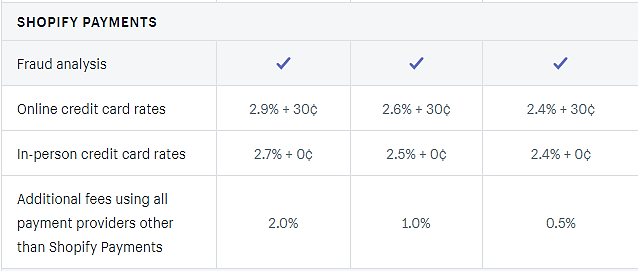 Fortunately, however, it's not that bad. Unless you start expanding, you might be able to survive on Shopify Payments and, subsequently, avoid the extra costs.
But, make no mistake. That doesn't get you out of the woods. What you won't be able to run from are the costs of acquiring third-party apps. While some of them are available for free, most of the advanced functionalities are accessible for a fee. Ultimately, you might find yourself paying a pretty penny each month just to leverage Shopify.
So, is it all worth it? Well, I don't know what you think about Shopify's weaknesses. But, it's always a good idea to check out what else might be out there because you never know- you might stumble upon a much more effective solution for your business.
Summary of the Top Alternatives to Shopify
Shopify
Overview

Shopify is a renowned ecommerce platform that serves more than 600,000 online sellers across 175 countries. So far, it has facilitated sales valued at $63 billion.



Benefits

Its user-friendly structure can be tweaked by novice programmers. You don't need coding skills to build an ecommerce site.


Its market hosts thousands of third-party apps that are easily integrated into sites to customize functionalities.


It offers a wide array of professionally designed ecommerce site themes.


In addition to fast page loading speeds, Shopify provides consistent uptime.



Weaknesses

The default site SEO structure is a bit too rigid.


The Shopify custom template markup language is seemingly complicated.


Shopify levies transaction fees of up to 2% for each payment processed through an external payment processor.


Most of the advanced functionalities can only be acquired from paid apps.



WooCommerce
Overview

WooCommerce is a WordPress-based open-source ecommerce platform for selling products and managing ecommerce sites.



Benefits

WooCommerce is acquired for free.


There's a wide range of free and paid website themes.


WooCommerce is fully customizable. Developers can adjust its underlying code to suit their site needs.


Non-coders can customize their site functionalities by embedding extensions.



Weaknesses

You end up paying for hosting, site templates, plus premium third-party integrations.


Credit card processing fees apply.


WooCommerce is limited to WordPress-based sites.



BigCommerce
Overview

BigCommerce is an all-round ecommerce platform that offers a comprehensive set of solutions- from hosting and suite building to online store management.



Benefits

It offers templates for site building, plus integrations for customizing ecommerce functionalities.


The platform offers many powerful ecommerce features by default. Consequently, you can comfortably run your site with a minimal number of third-party integrations.


There are no transaction fees.


The platform supports synced multi-channel ecommerce.


Apart from unrestricted bandwidth, you get unlimited items plus storage.



Weaknesses

There are limited free site templates for each ecommerce category.


BigCommerce will charge you monthly subscription fees based on your sales volume.


Big-Commerce is not entirely user-friendly.


The whole platform is a bit expensive when you're handling high-volume sales.



Magento
Overview

Magento a free open-source platform with multiple customizable shopping cart functionalities. After downloading, it's uploaded to a hosting server



Benefits

It offers unrestricted platform customization.


There are no monthly subscription charges. It's acquired free of charge.


It provides extremely powerful ecommerce capabilities and extensions.


Unlimited product attributes.


Multi-lingual support.


Many payment processor options.


Flexible API


There's a huge online community of developers



Weaknesses

Its underlying code is complex, often forcing users to hire developers.


Managing, provisioning and maintaining a Magento-based store can be expensive.



3dcart
Overview

3dcart is a simple shopping cart platform that offers ecommerce business features through the cloud.



Benefits

Its unlimited item storage favors progressive scaling.


It can be embedded with over 100 payment processors.


It offers a range of site templates for free.


You can go for in-house web design to achieve an attractive site outlook.


The platform minimizes page loading times.


You get enhanced SEO capabilities.


Comes with CRM plus online store management functions.


Its default features surpass Shopify's.


There are no transaction fees.



Weaknesses

Poor customer support.


The site themes are not as attractive as Shopify's.


The platform cannot match up to Shopify when it comes to dropshipping.


Its mobile user experience is comparatively poor compared to Shopify's.



Volusion
Overview

Volusion is an online selling solution built on the cloud to facilitate small and mid-sized businesses with user-friendly ecommerce features.



Benefits

It does not charge transaction fees.


It combines a drag-and-drop site builder with enhanced customization controls.


There are free site templates.


You get to sell an unrestricted number of items.


Unlimited bandwidth comes with each plan.


Its CSS and HTML coding facilitate extensive customization.



Weaknesses

Only Business and Custom users get unlimited product support.


You might need a developer to tweak the code.


It's comparatively slow compared to Shopify.



BigCartel
Overview

BigCartel is an ecommerce platform that specifically supports small-scale artists with user-friendly online selling features.



Benefits

Its interface is simple and user-friendly.


Apart from unlimited bandwidth, it provides essential features like inventory tracking, plus HTML and CSS tweaking.


It comes linked with PayPal, Facebook, and Google Analytics by default.


You can personalize the site without coding.


You can use BigCartel for both in-person and online selling.


It offers promotions and discounts.


It provides continuous analytics.


The user packages are cheaper than Shopify's.


BigCartel doesn't charge transaction fees.



Weaknesses

Its Stripe and PayPal integrations have higher processing fees than standard payment gateways.


You only get basic ecommerce functions.


You cannot sell more than 300 products.


If you haven't noticed already, LemonStand is notably missing from this list. And the reason is rather sad. Despite its impressive run in the e-commerce software space over the past couple of years, it turns out the platform will be shutting down in June 2019.
Bottom Line: I still think you can't "go wrong" with Shopify here, but there are some specific reasons one of the alternatives above is a better choice.
Now, as you let that sink in, can you think of other outstanding ecommerce platforms that are capable of being adopted as Shopify alternatives? Any specific reasons why?
Here are some other related articles you may be interested in: