Last Updated on April 22, 2023 by Ewen Finser
Finding a good eCommerce platform can be difficult. Knowing where to start is hard, especially if you're a beginner. My Webflow vs Shopify comparison may be able to narrow things down a little. Both Webflow vs Shopify are great platforms. They allow you to build a storefront, sell products, and give incentives to customers (like discounts or certain content locked behind memberships).
Plus, they have some amazing templates to choose from. So the question is, which one is better for eCommerce?
I've built many websites using different platforms, so I know what works (and what doesn't!). I'll give you my honest opinions on which one is better for eCommerce, looking at their key features, so you can see how they compare to each other.
The Bottom Line Up Front
This is a tricky one because both platforms are very different. However, I'd go for Shopify if I had to pick one for eCommerce. It's much easier to manage your inventory, run campaigns, and offer discounts to your customers with Shopify.
Webflow is great, especially if you have just a few products to choose from or you want to run a membership site or publish a lot of content.
Webflow vs Shopify – The Key Differences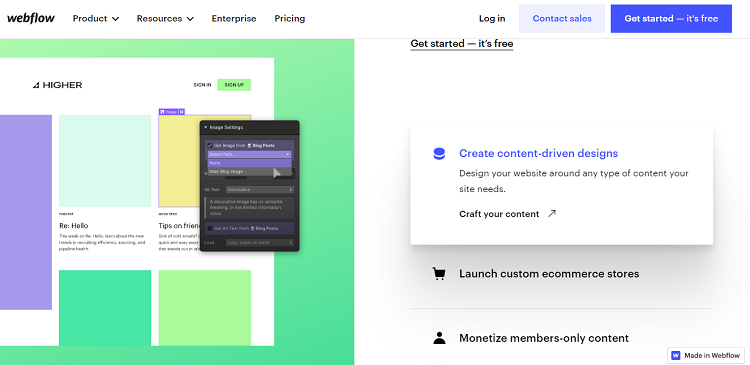 Here are the key things that set Webflow and Shopify apart:
Webflow uses a drag-and-drop builder, whereas Shopify's storefront building process is a little different
Webflow is better for content management and membership sites, whereas Shopify is better if you have a large inventory to manage.
Webflow doesn't have as many eCommerce marketing features, whereas Shopify has plenty to choose from
Webflow has slightly easier customer support, whereas Shopify's customer support isn't as easy to find
What is Webflow?
Webflow is a website builder with an easy-to-use drag-and-drop builder. It allows you to build websites, blogs, eCommerce stores, and membership sites, with some interesting extra features like the ability to build custom animations.
I'd recommend Webflow for anyone new to building a website or eCommerce store, particularly those wanting to develop a content-driven website or a membership site.
What is Shopify?
Shopify is a popular platform designed to create eCommerce stores. It's easy to use and has many templates to choose from. In addition, users can create a customized website by using apps.
I'd recommend Shopify for anyone wanting to build an eCommerce store, especially if you have a lot of products you need to keep track of.
The Main Features of Webflow
Here's what I thought about the main features of Webflow.
UX
Let's start with the all-important user experience.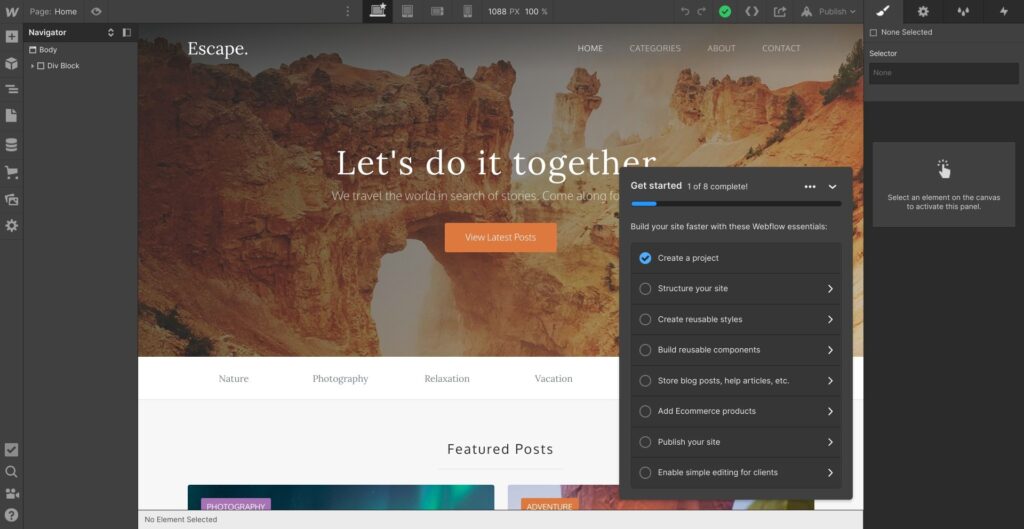 Webflow feels pretty easy to use. It's simple to navigate, and the web builder itself is intuitive. There are tutorials available when first get to grips with the platform, which is very useful.
Overall, I like the 'feel' of Webflow from a user perspective.
Web Builder
There are many templates to choose from in Webflow, some free, some paid. Categories include: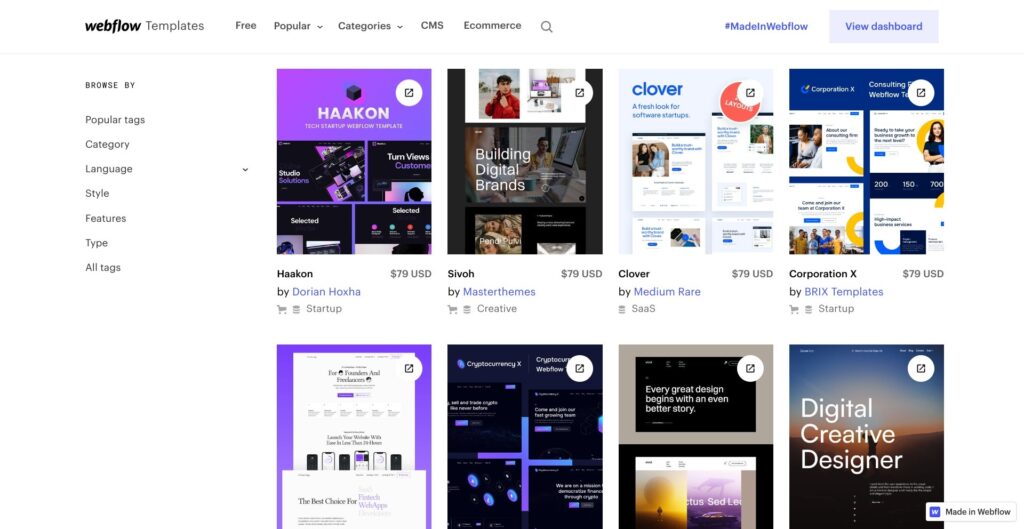 Design
Business
Technology
Blog
Marketing
Photography & Video
Entertainment
Food & Drink
Travel
Education
Sports
Medical
Nonprofit
Beauty & Wellness
Fashion
The templates are good, and they're adaptable: you can find one that looks good and tweak it to your heart's content.
Moving onto the web builder itself.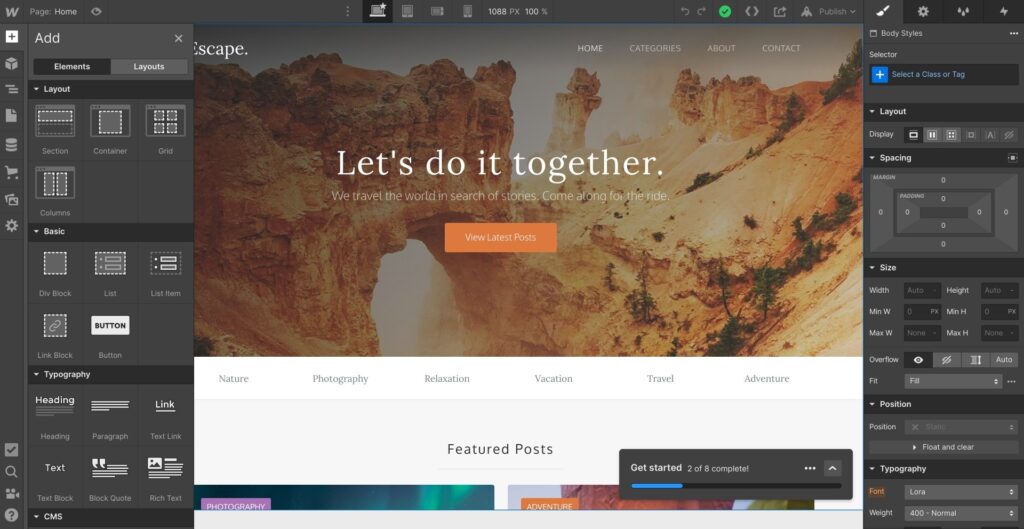 If you've ever used a website builder before, chances are this will feel familiar. It's easy to use: first, you create a structure using layout blocks (grids, columns, sections, and containers), then you fill those blocks with content. Content can include text, images, headings, video, eCommerce elements, and social media integrations.
It's very easy to use, and each section can be customized. I like that you can easily view what your website will look like at any stage, too. You can have a website up and running quickly and easily.
As a bonus, you can create custom animations in Webflow. This is an interesting design feature and may involve a little more legwork if you want to learn to use it well. If you do decide to use it, you can create interesting custom animations, like a locking grid effect or progress bars.
eCommerce
The eCommerce features in Webflow are pretty good. Customers can pay using Stripe, Apple Pay, Google Pay, and PayPal. You can set up transactional emails that send out automatically at certain points (for example, when an order is made, or when an account is set up) and create custom checkout flows.
It's pretty easy to make product variants, too. I'd say that Webflow is perhaps better suited for those selling just a few products (for example, digital products), whereas Shopify is more suited to those with a lot of different products in stock.
You can also create membership sites with Webflow, locking certain content behind different tiers. This is useful and pretty easy to do. These tools, combined with Webflow's web builder, make it easy to build a website that suits your particular business.
CMS Tools
If you run a website that will be providing a lot of content, you'll like the CMS tools available here. You can create blog posts, invite guest writers or freelancers to create posts, give some members of staff editing privileges, and so on. It also makes it easy to make site-wide changes (for example, changing the name of an article or blog post).
Analytics
Webflow relies on Google Analytics to provide data. It's not as in-depth as the reporting offered by Shopify. However, it's pretty easy to set up Google Analytics, even for beginners.
The Main Features of Shopify
Shopify is pretty popular, but how does it actually work? Let's take a look:
UX
Shopify is pretty user-friendly. It has a clean interface, and it's simple to navigate. I also like how easy they make it for new users to get going: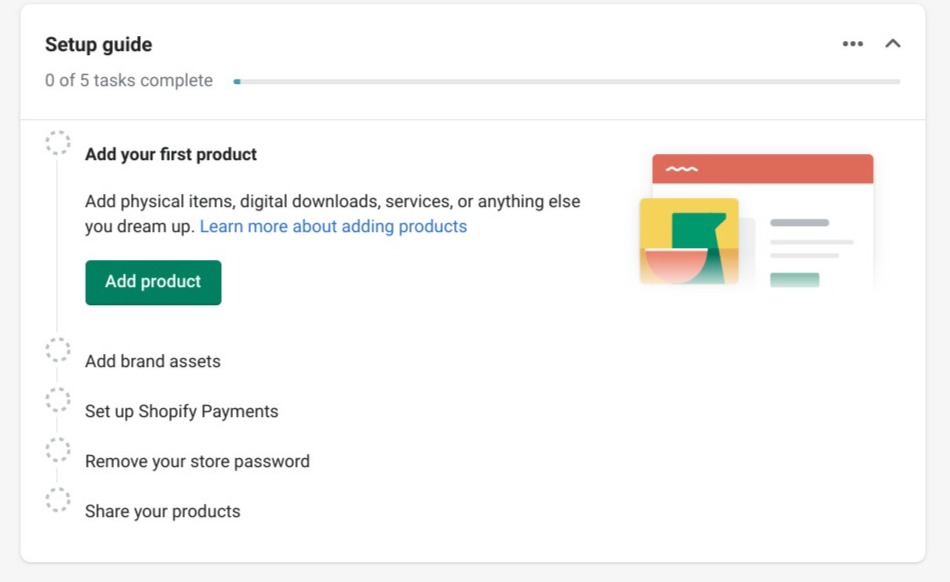 I'd say the actual storefront building side of the platform isn't as intuitive as Webflow. However, the product management side is very simple.
Storefront
The process of building a storefront is different in Shopify than in Webflow. In Shopify, you can manage your branding, which applies to all pages: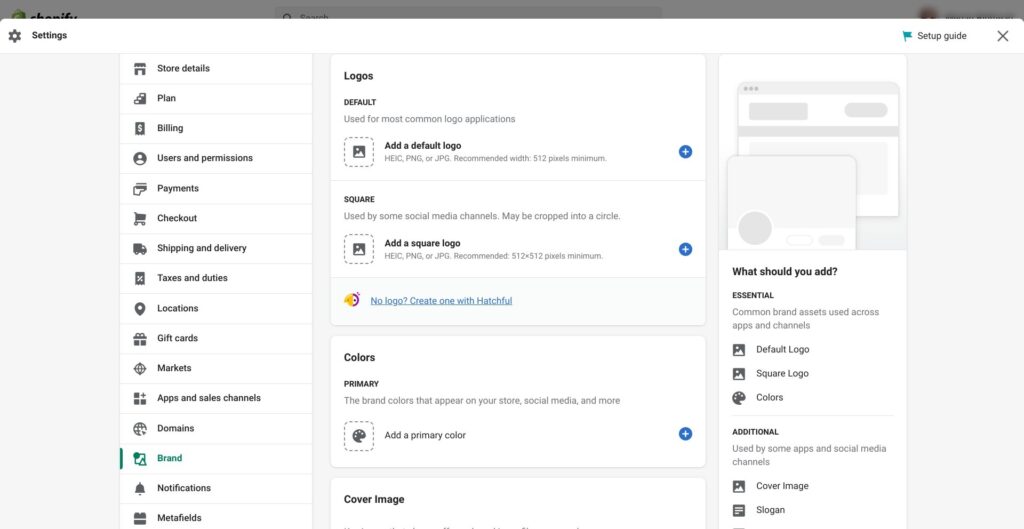 This is straightforward and makes it easy to keep your branding consistent.
There are many themes to choose from, varying in price and style: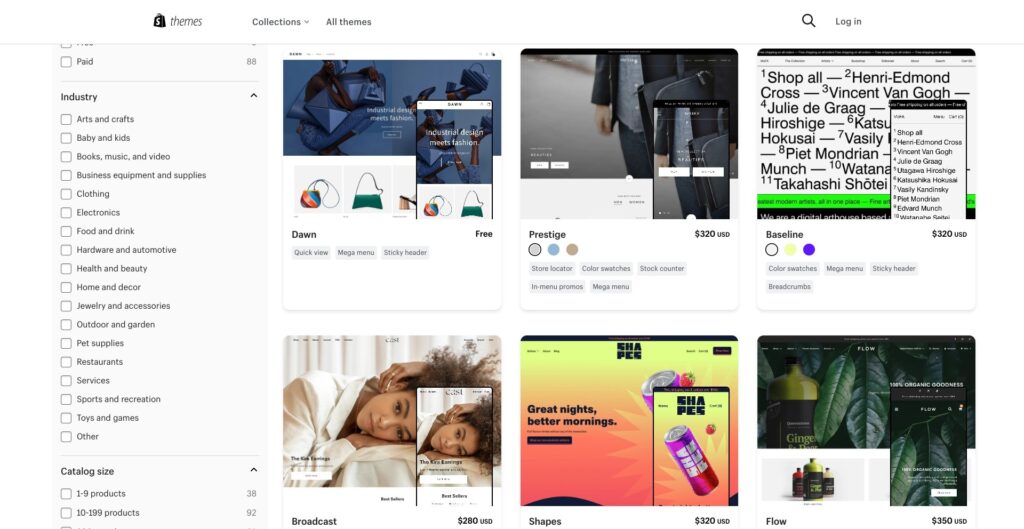 You can then edit the theme by inserting your images and text. However, this is less customizable than Webflow. You won't be able to just drag and drop whatever you want into the page, for example, and it's generally a little more restrictive.
However, with patience, if you're willing to learn the platform, you will be able to build a great-looking store. The themes themselves are great (even the free ones).
Products and Shopping Cart
What I like about Shopify is how easy it is to manage your inventory. If you're running a large store with a lot of different product variants, this is very useful.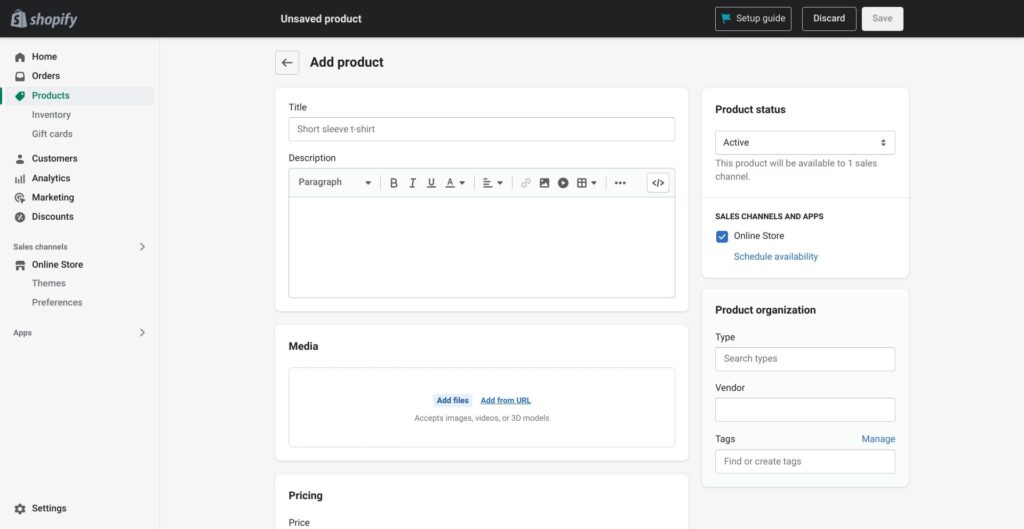 You can add images and product descriptions, set pricing, add variants, set shipping rates, edit the search engine listing, and set an SKU (stock keeping unit) to more easily keep track of everything.
I like how Shopify has several options for customers in terms of payment. They can pay using Visa, MasterCard, American Express, Google Pay, Apple Pay, Meta Pay, and PayPal. Plus, I like the marketing features on offer. You can set discounts for certain products, or use a site-wide offer: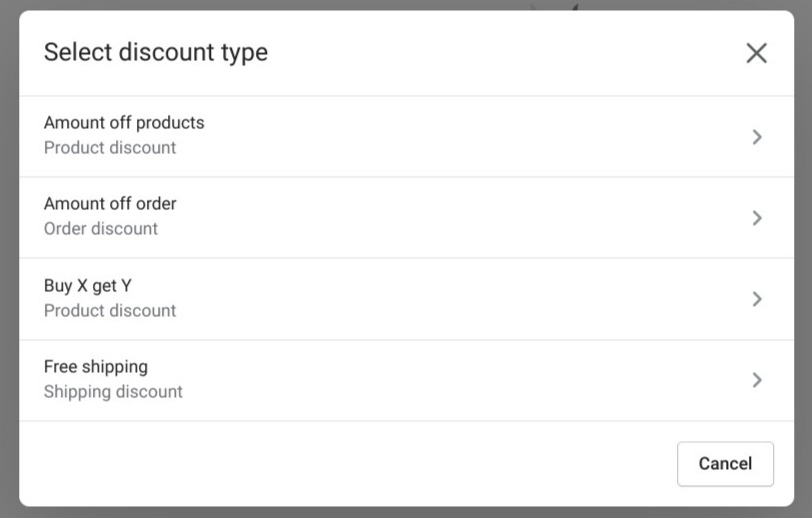 You can also build email campaigns using Shopify. This makes it easier than having to use a separate email marketing platform, which is a definite bonus. Plus, you can use their automation feature to make this process easier: for example, you can trigger an email if a customer abandons their cart.
Analytics
I like Shopify's analytics: it gives you a clear, easy-to-see breakdown of how your products are performing. It even shows you how many sales are a result of your marketing campaigns, which is very useful in terms of tweaking existing campaigns or planning new ones.
The higher you go with Shopify's price plan, the more in-depth the reporting becomes. On the highest tier, you can get custom reports, which is useful for larger businesses.
Webflow vs Shopify – Integrations
Let's take a look at the integrations on offer from both platforms.
Webflow
Webflow's notable integrations include:
Zapier
Shopify
Twitter
Instagram
Facebook
Gmail
Shopify
Shopify has a huge range of integrations using its catalog of apps. Notable integrations include:
Facebook
Google Channel
Klaviyo
Oberlo
Omnisend
Webflow vs Shopify – Customer Support
If something goes wrong with your website, you'll need decent customer support. If you're new, you'll also need good tutorials and videos on how to set up an eCommerce store. Let's see how Webflow and Shopify stack up in terms of support:
Webflow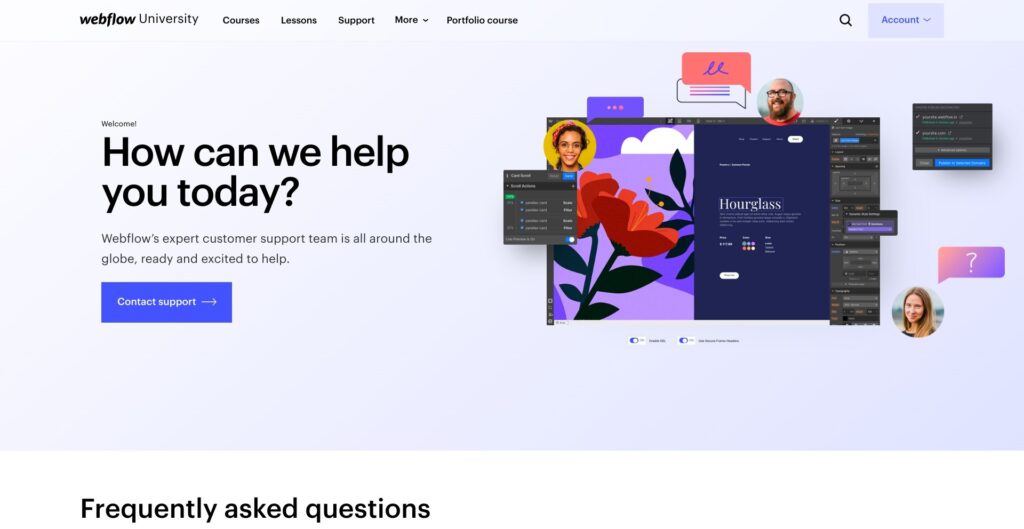 The customer support on Webflow is pretty good. You can reach their support team via email, and they're prompt and helpful. You can also reach out to other Webflow users in the forum if you're stuck.
They also have Webflow University, which is designed to teach new users how to make the most of the platform.
Shopify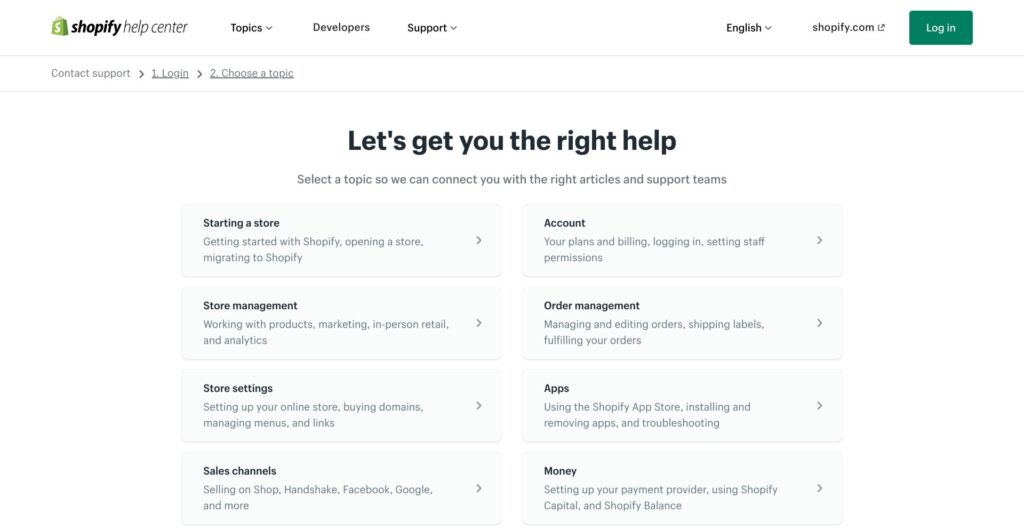 Shopify's support is pretty good. You can submit a query, and they're pretty responsive. However, it can be a bit of a pain to click through several screens to find support in the first place.
They have a wide range of articles to help you get going, and the Shopify community is good if you need some pointers.
Webflow vs Shopify – Pricing
Let's take a look at the pricing.
Webflow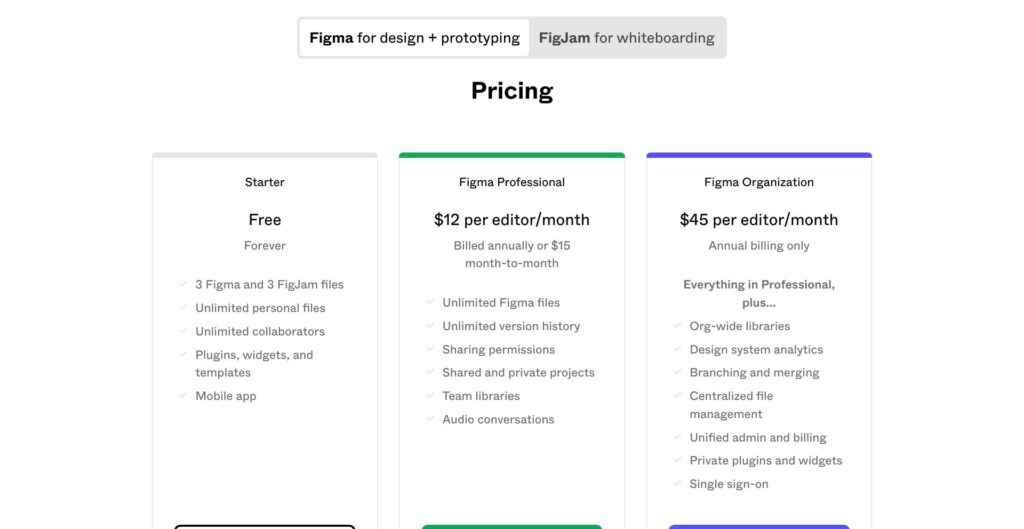 There are five price plans on Webflow:
Starter – $0 per Month
Webflow.io domain
50 CMS items
50 form submissions
Basic – from $14 per Month
Custom domain
0 CMS items
500 monthly form submissions
CMS – from $23 per Month
Custom domain
2,000 CMS items
1,000 monthly form submissions
3 guest editors
Business – from $39 per Month
Custom domain
10,000 CMS items
2,500 monthly form submissions
10 guest editors
Enterprise – Price on Request
Custom domain
10,000+ CMS items
Custom monthly form submissions
Custom guest editors
Uptime SLAs
I like that there are a few different options. You can probably tell from the pricing tiers that Webflow skews heavily towards content-driven websites. However, I still think it's a strong platform for eCommerce too. You can read more on their pricing page.
Shopify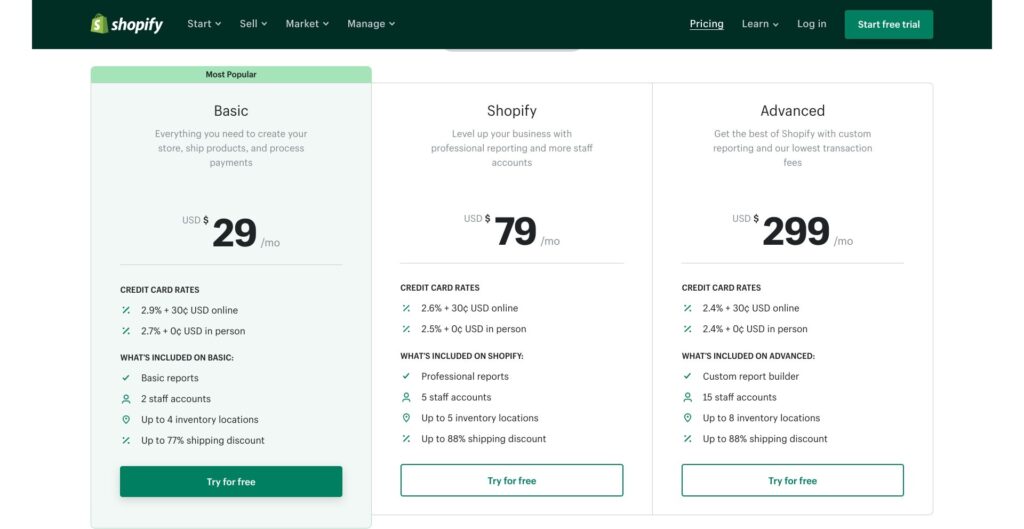 There are three pricing plans available on Shopify:
Basic – from $29 per Month
Basic reports
2 staff accounts
Up to 4 inventory locations
Up to 77% shipping discount
Shopify – from $79 per Month
Professional reports
5 staff accounts
Up to 5 inventory locations
Up to 88% shipping discount
Advanced – from $299 per Month
Custom report builder
15 staff accounts
Up to 8 inventory locations
Up to 88% shipping discount
It's worth noting that payment rates differ depending on which price plan you go for. You can find out more on their pricing page.
Webflow vs Shopify – Alternatives to Try
Don't like the look of Webflow or Shopify? Let's take a look at a few alternatives:
FAQs
Question: Does Webflow or Shopify Have a Mobile App?
Answer: Yes. Webflow and Shopify both have mobile apps available for iOS and Android, allowing you to see orders and design pages on the go. Both are free to download but may require you to be on a paid plan to use them.
Question: Can I Have a Free Trial of Webflow or Shopify?
Answer: Shopify offers a free trial for new users, allowing them 14 days to test out the platform before committing to a plan. Webflow has a free plan, which gives you a good idea of how everything works without having to commit to a higher price tier.
Question: How Can I Cancel My Webflow or Shopify Accounts?
Answer: You can easily cancel Shopify or Webflow by going to the 'Account' page. It's fairly easy to do, however, terms and conditions may vary if you have chosen to pay for a year's subscription.
Question: Can I Sell in Multiple Currencies at Once on Webflow or Shopify?
Answer: At the time of writing, Webflow and Shopify only support one currency at a time per store.
To Sum Up …
When it comes to running an eCommerce store, I don't think you can go wrong with Shopify. If you have a large or complex inventory to work with, Shopify makes it easy to manage. I like the marketing tools, and the ability to easily apply themes across the whole storefront.
It does have downsides – it's not as flexible in terms of design as Webflow, and some of the templates are pretty costly – but overall, I think Shopify is worth a try. However, I do think that Webflow has the superior web builder. It allows you to drag and drop elements wherever you want them, and I love the ability to make custom animations.
I think Webflow works better if you sell a few products, if you plan to create a lot of content, or if you want to run a membership site. You can take advantage of Shopify's free trial and Webflow's free plan and see for yourself which one works best for you!