Last Updated on April 22, 2023 by Ewen Finser
If you want to start an online business, finding a good eCommerce platform is important. Zyro vs Wix are two great platforms in terms of building a website, but when it comes to eCommerce, they offer slightly different features, with one being a little stronger than the other.
Having tried many website builders before, I know what to look for! I've tested both platforms, so you can have a look at how they work, and I'll give you my honest opinions on their performance. We'll look at the web-building side of each platform, the eCommerce functionality, and their extra features. Plus, I'll give you a rundown of their pricing and give you some alternatives to check out, too.

The Bottom Line Up Front
If I had to pick one platform to build an eCommerce store, I'd go for Wix. It's the stronger platform for eCommerce, with some great features including marketing, communication, and task management tools. I also prefer the inventory management side of Wix.
Having said that, I do prefer the interface of Zyro. It's less cluttered, and I preferred using their website builder. If you're building a website or blog, rather than an eCommerce store, I'd recommend having a look at Zyro.
Main Differences Between Zyro vs Wix
The main differences between Zyro vs Wix are:
Zyro's interface is a little easier to navigate, whereas Wix's interface is slightly more cluttered
Zyro has a lot of AI features, whereas Wix doesn't
Zyro lacks some marketing and communication features, whereas Wix has some powerful tools to work with
Zyro doesn't offer task management tools, whereas Wix offers a to-do list and workflows to help you manage your business
Zyro relies on Google Analytics, whereas Wix has great reporting built into the platform
Zyro has cheaper pricing options, but with extra costs, whereas Wix's pricing is more expensive, but with more features included
What Is Zyro?
Zyro is an easy-to-use website builder. It has fully customizable website templates and can be used to build blogs, eCommerce stores, portfolios, landing pages, and more. I'd recommend Zyro to anyone looking to build a website, even if you have little to no experience.
What Is Wix?
Wix is a website builder that allows users to build blogs, eCommerce stores, portfolios, landing pages, and more. It's easy to use, and the templates are good. I'd recommend Wix to anyone, from beginners to experts.
The Main Features of Zyro
Let's check out the main features of Zyro!
UX
It's really easy to sign up for Zyro. In the onboarding process, they'll give you a wide range of categories to choose from: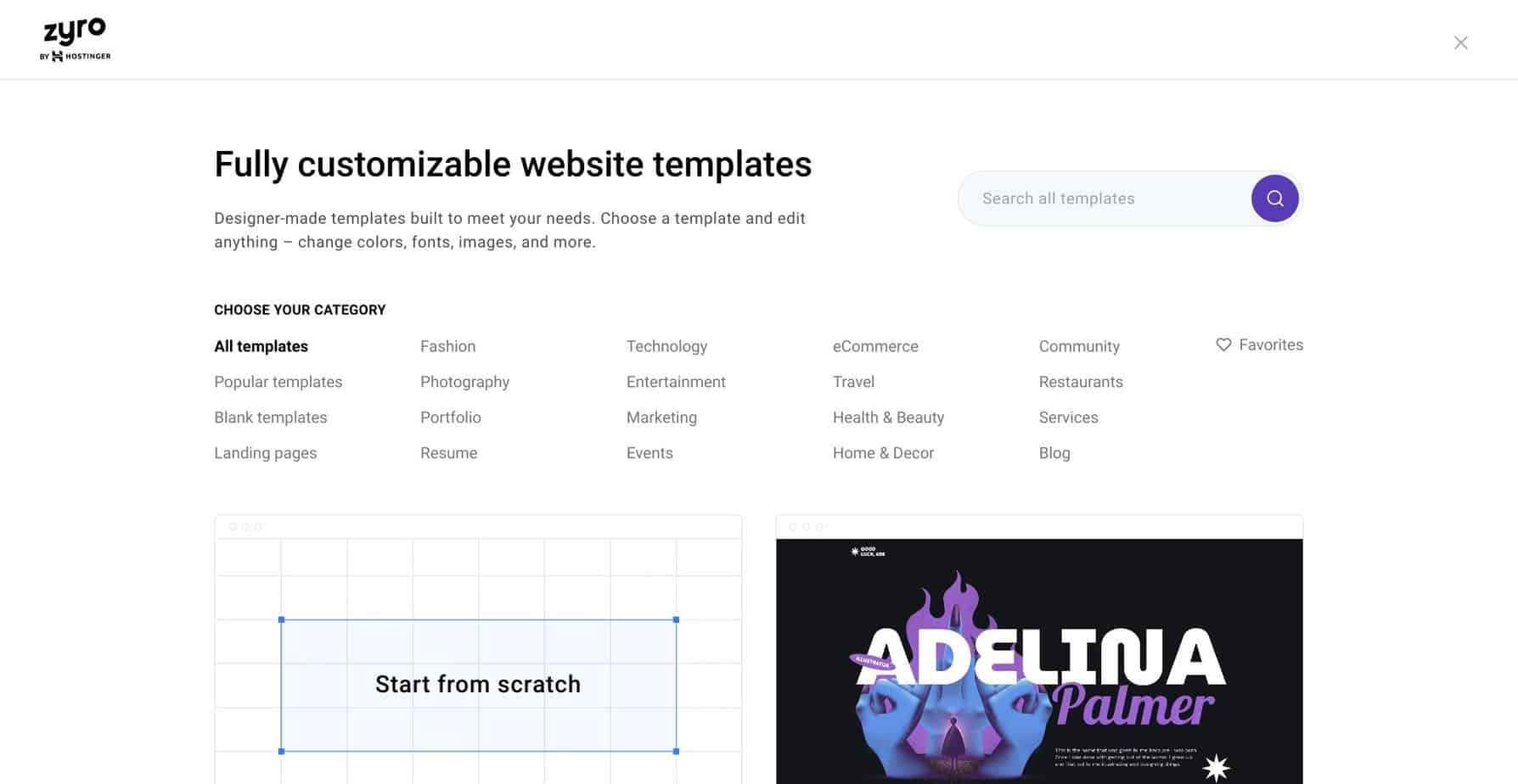 I like the interface of Zyro – it's really easy to navigate, and it's clear and bright. Overall, I think it's a good platform for beginners as well as more experienced users of website-building services.
Website Builder
The templates offered by Zyro are pretty good. Even if you want to completely change the fonts/images/colors, you can still use the basic building blocks to design your website.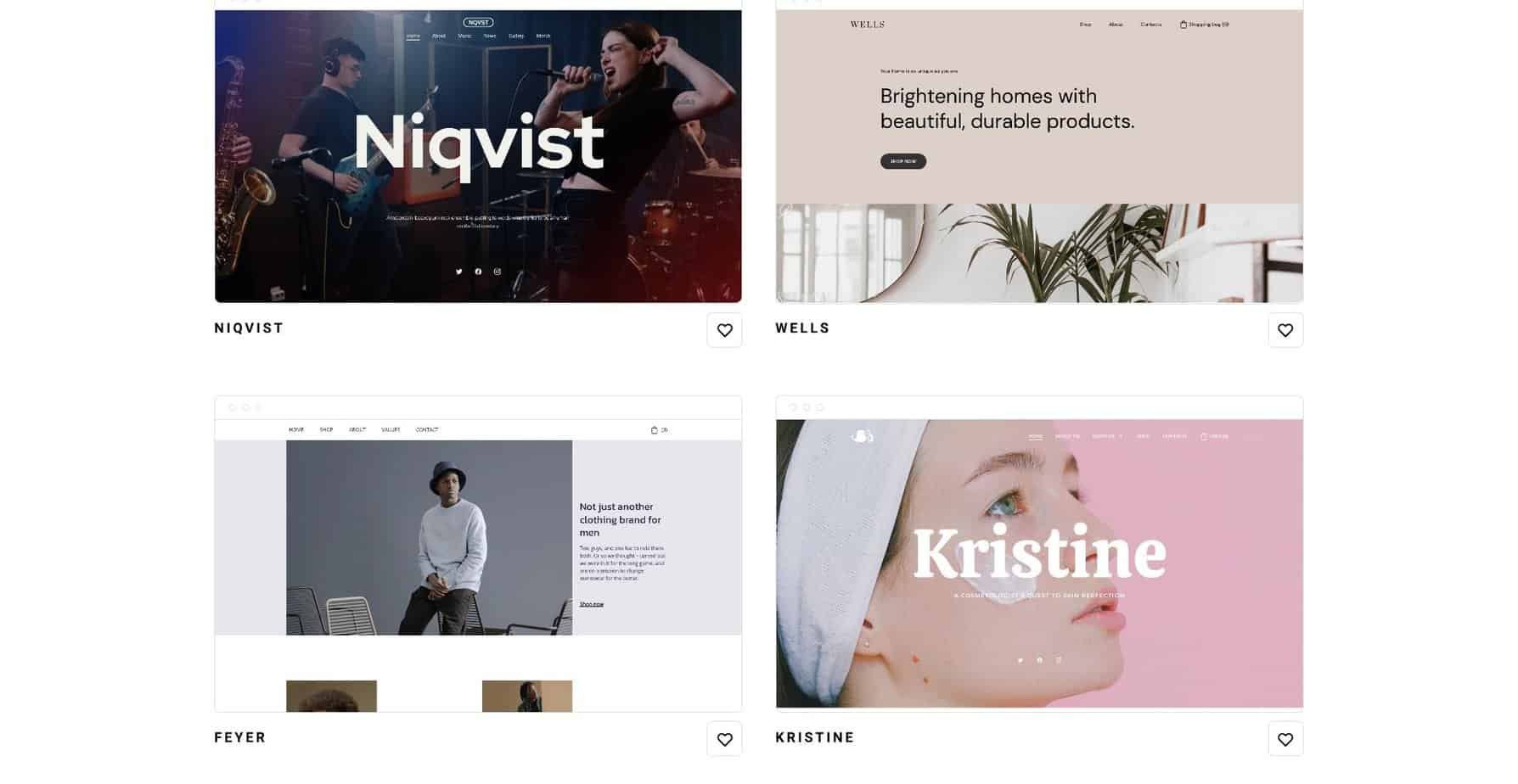 If you don't want to use a template, you can start from scratch. This takes more effort, but it's still fairly straightforward (if time-consuming). You can drag and drop content straight onto the page, including text, buttons, 'add to bag' buttons, images, image galleries, videos, shapes, social media feeds, and more.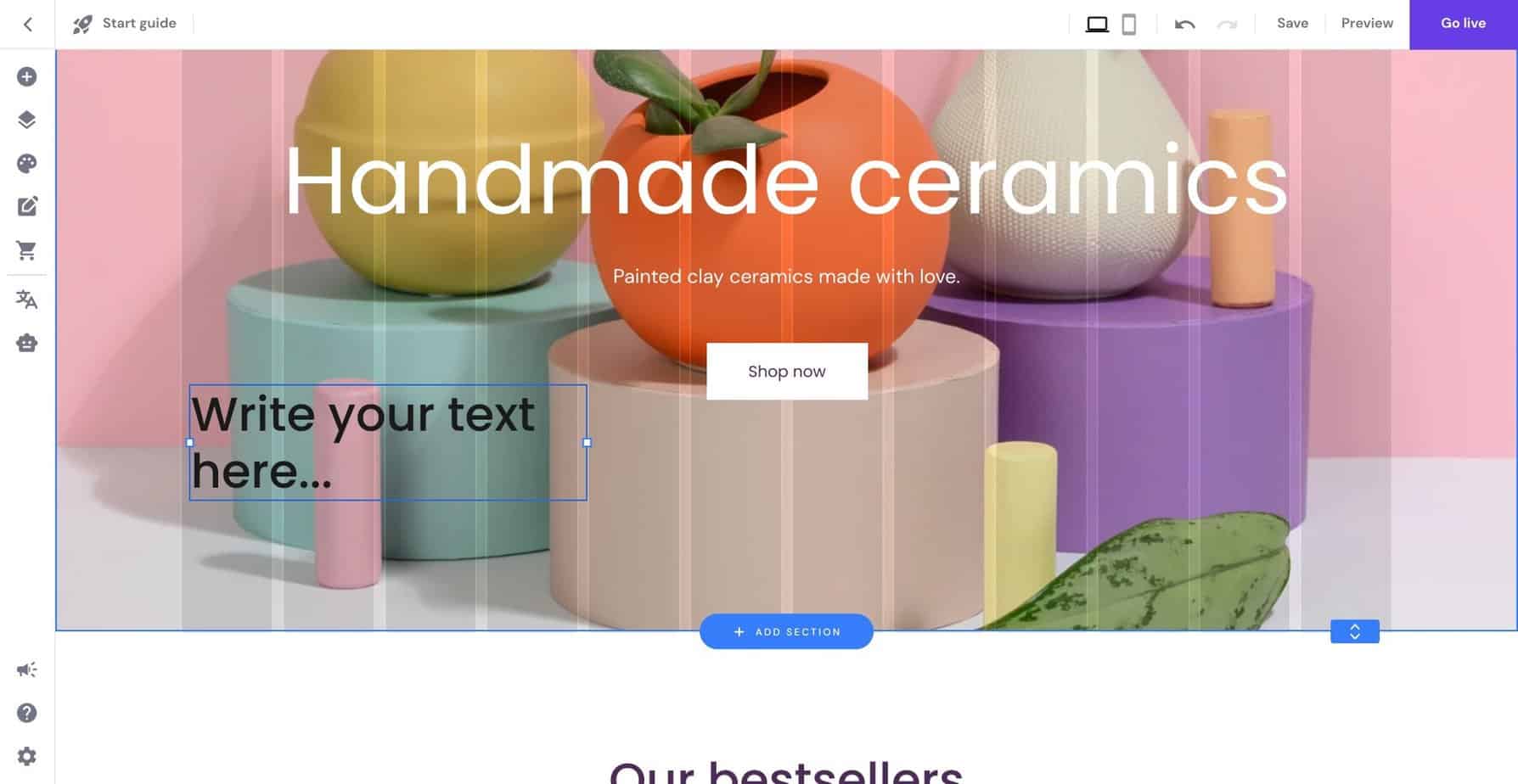 You can also adjust other elements too, including background colors or images (and setting the opacity for those images), adjust colors and fonts, and add new pages.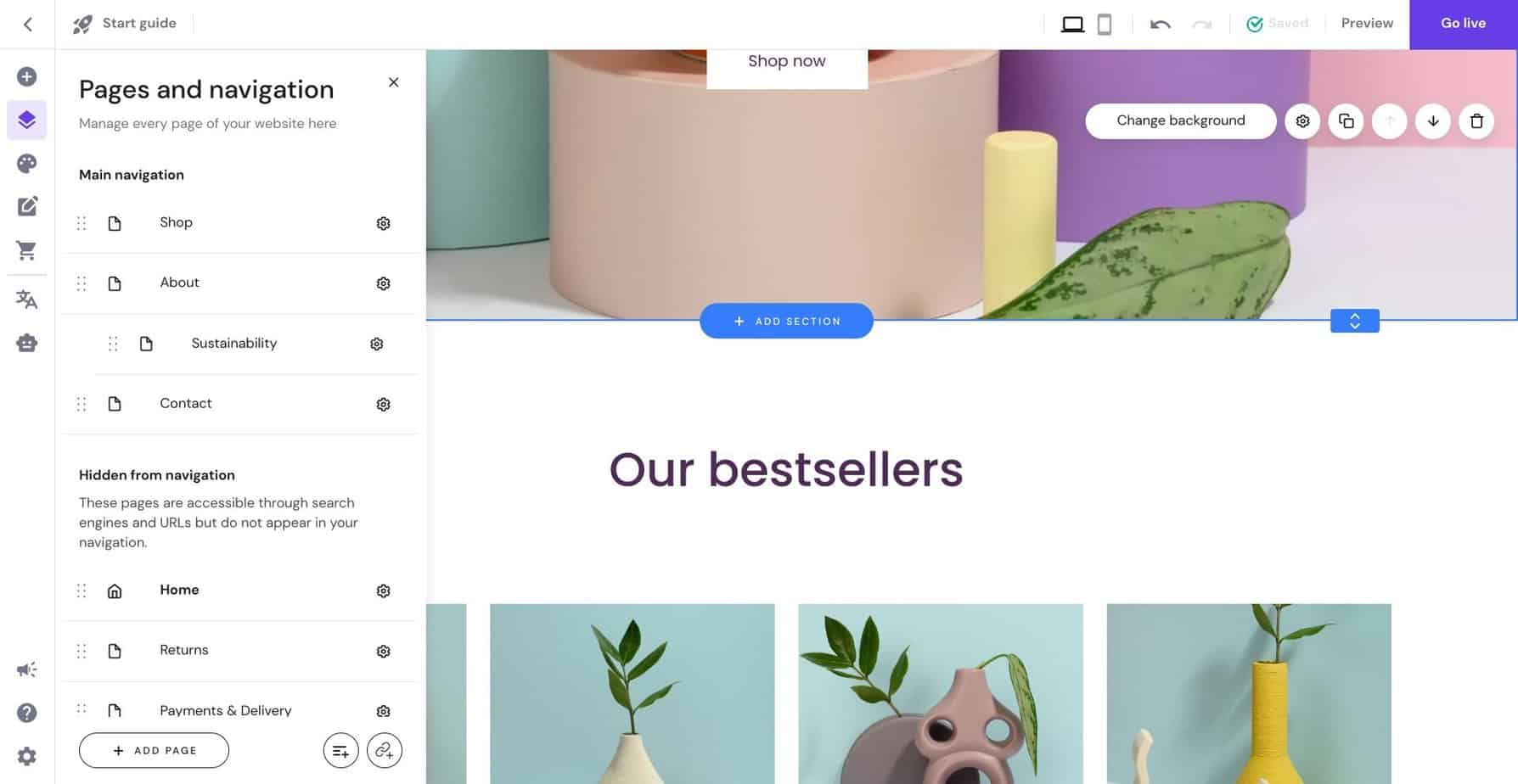 I like how easy it is to use Zyro. It's also fairly customizable, especially if you know a little HTML, as you can insert sections of code. You can also add a blog to your website using just a couple of clicks. This is very useful, and it's a great way to increase engagement and show off products if you're running an eCommerce store.
You can also set up different languages very easily, which is great. You can add multiple languages to your site, making it easier for international visitors to browse your content. Plus, you can view your website (as it will be seen by your customers) at any time on desktop and mobile.
eCommerce Functionality
Alright, let's talk about eCommerce.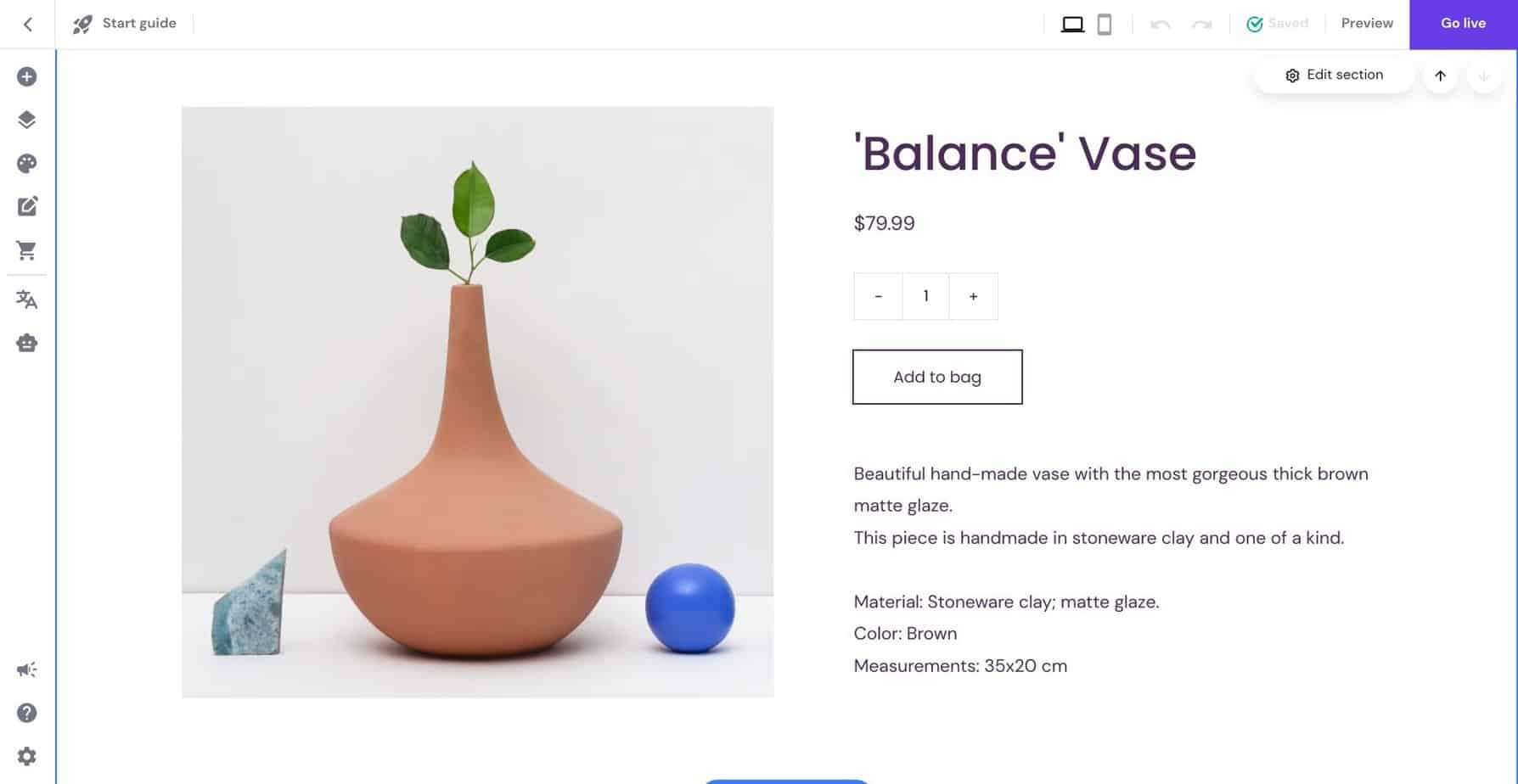 You can add product pages, or use the pages already included in the template. The Store Manager is a separate area of Zyro, and it works well.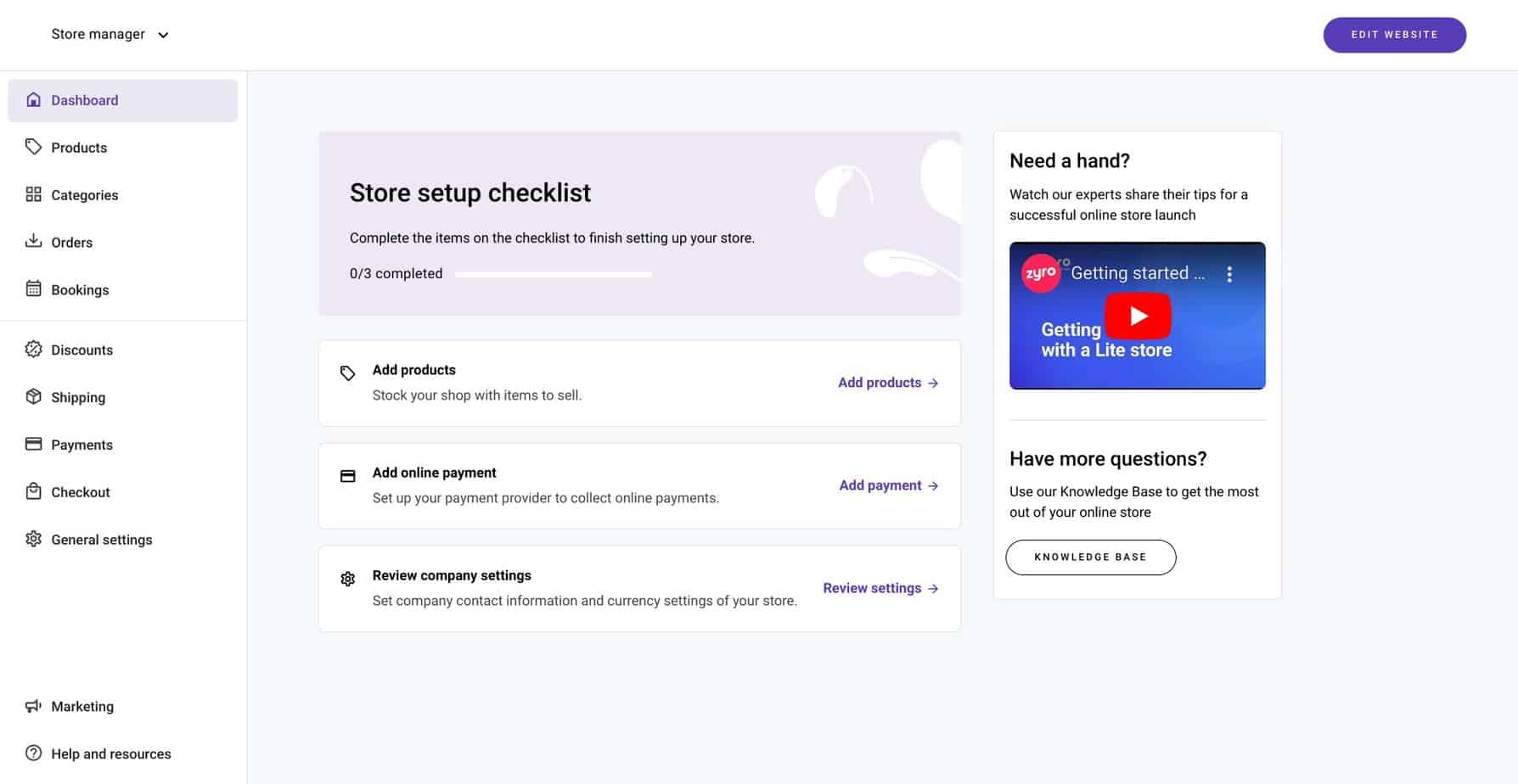 I like that it has a store setup checklist, making it easier for new users to complete all the necessary steps required to get their store up and running. The left-hand menu has everything you need to get going. You can manage products, add new products, view your orders or bookings, set discounts, and decide on the payment options you want to offer to your customers.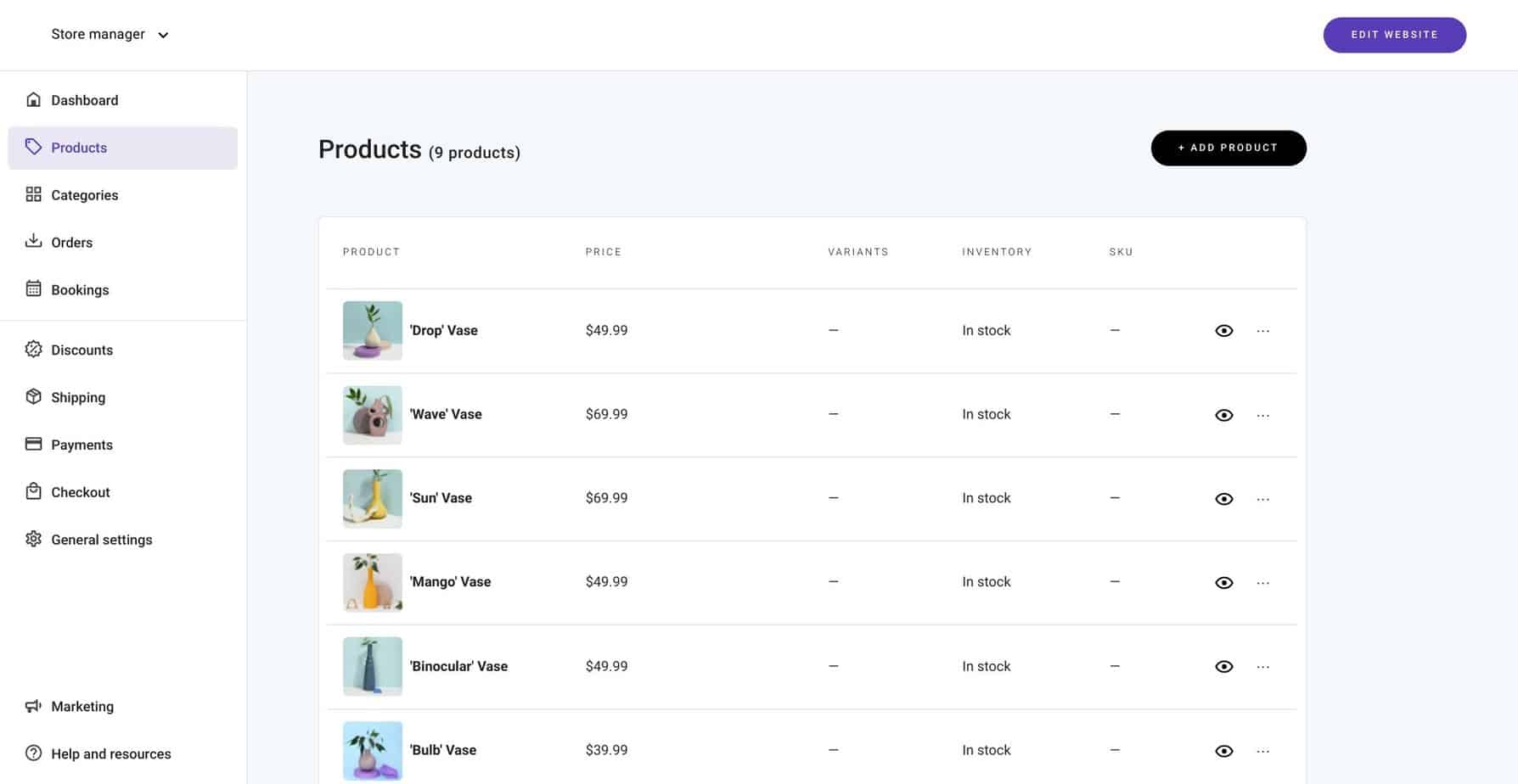 Product management is super easy with Zyro, and I feel this is a strong advantage of the platform. I like how simple it is to add new products: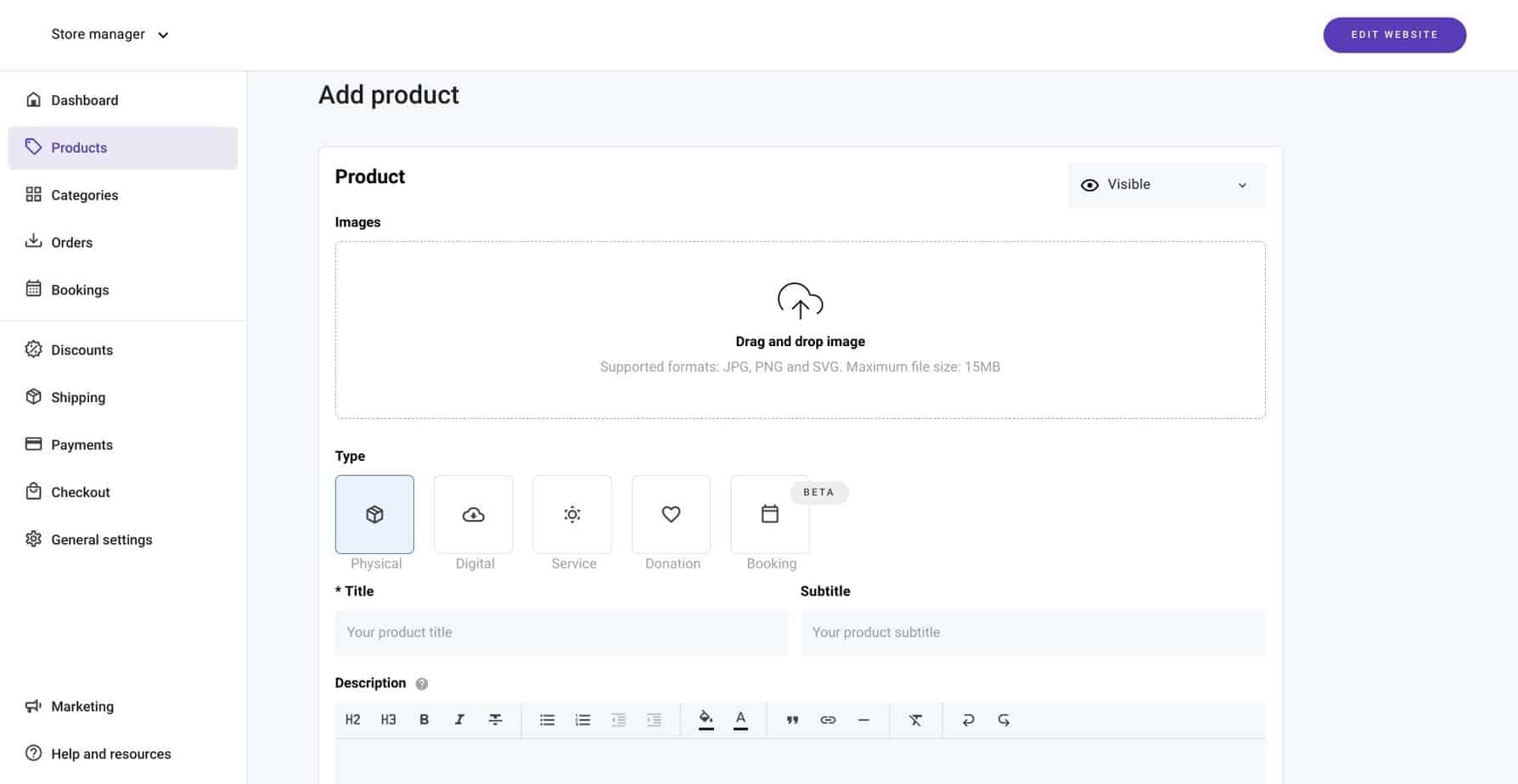 You can choose the type of product (physical, digital, service, donation, or booking) which I think is a neat touch, and makes it easier if you're not just offering a straightforward physical product. You can also offer discounts to your customers, too. You can set the discount type and discount code, add conditions, and set the start and end times for the promotion. I like how easy this is to do, and it's a great way to boost sales during a slow period.
Customers can check out using credit or debit cards, Stripe, Apple Pay, Google Pay, and a few other methods (like Klarna). The checkout process is secure, and it works well on mobile as well as desktop. Overall, I think Zyro is a strong platform for eCommerce. However, it's worth noting that this is only available on the Business plan (more on pricing a little later).
AI Features
Zyro has some neat AI features to make your life a little easier. For example, they can automatically resize images, remove backgrounds in images, and upscale images. They also have an automatic policy generator, a refund policy generator, and a terms and conditions generator.
They can also automate some other processes, too. For example, they have an AI content generator. I don't love this idea – AI-written content doesn't seem to work the way it should. However, some users may prefer to give it a try. Just make sure to proofread it afterward!
If you're creating a brand new business, you might like their AI business name generator, which works pretty well. Their AI blog name generator also works well.
These are small features, and if I'm being honest, I think most users could live without them. However, the AI heat map is an interesting tool. You can upload an image of your website, and the heat map generator will highlight the features your customers are most likely to click on. From a design perspective, this can help you to make better decisions, putting important information in the space that customers are naturally drawn to.
Extra Tools
There are a few extra tools available with Zyro. For example, they offer business email addresses, allowing you to manage your work email separately from your email.
They also have a logo maker. This is a neat little tool, and you can create one using AI, or make one from scratch.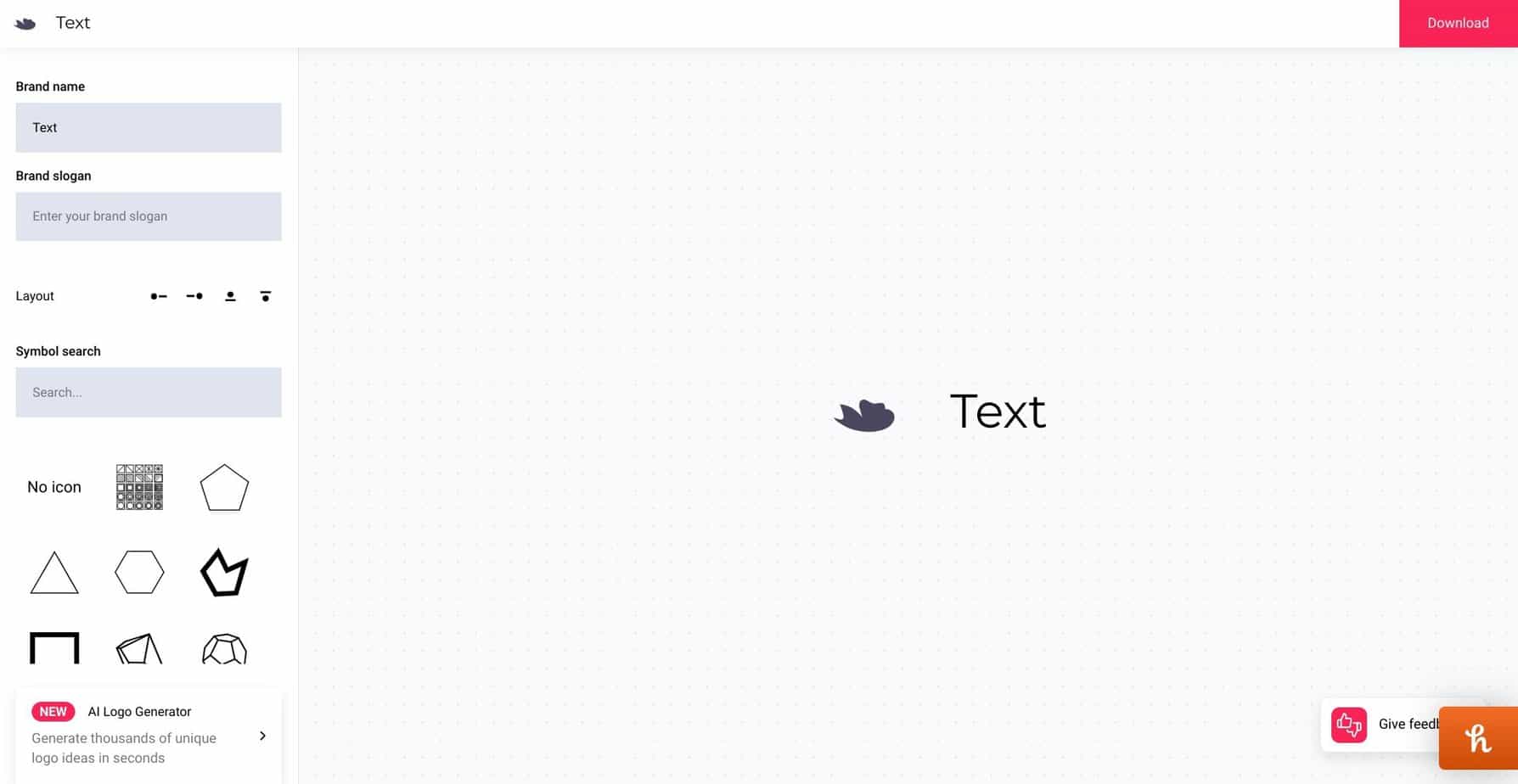 The Main Features of Wix
Okay, let's take a look at Wix!
UX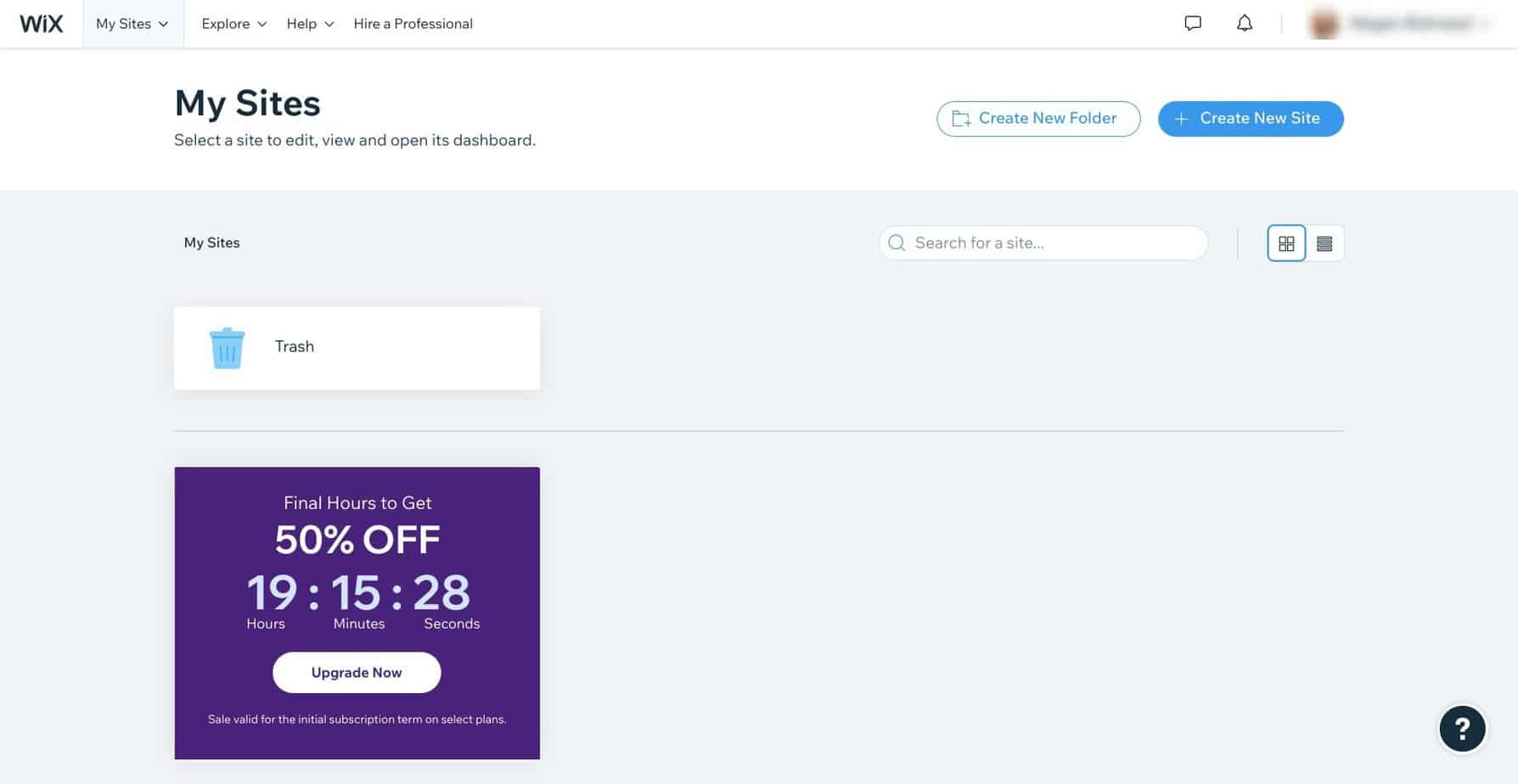 I'd say overall, I prefer the interface of Zyro to Wix. Wix feels a little more cluttered, whereas Zyro is more straightforward. Having said that, the onboarding process is easy.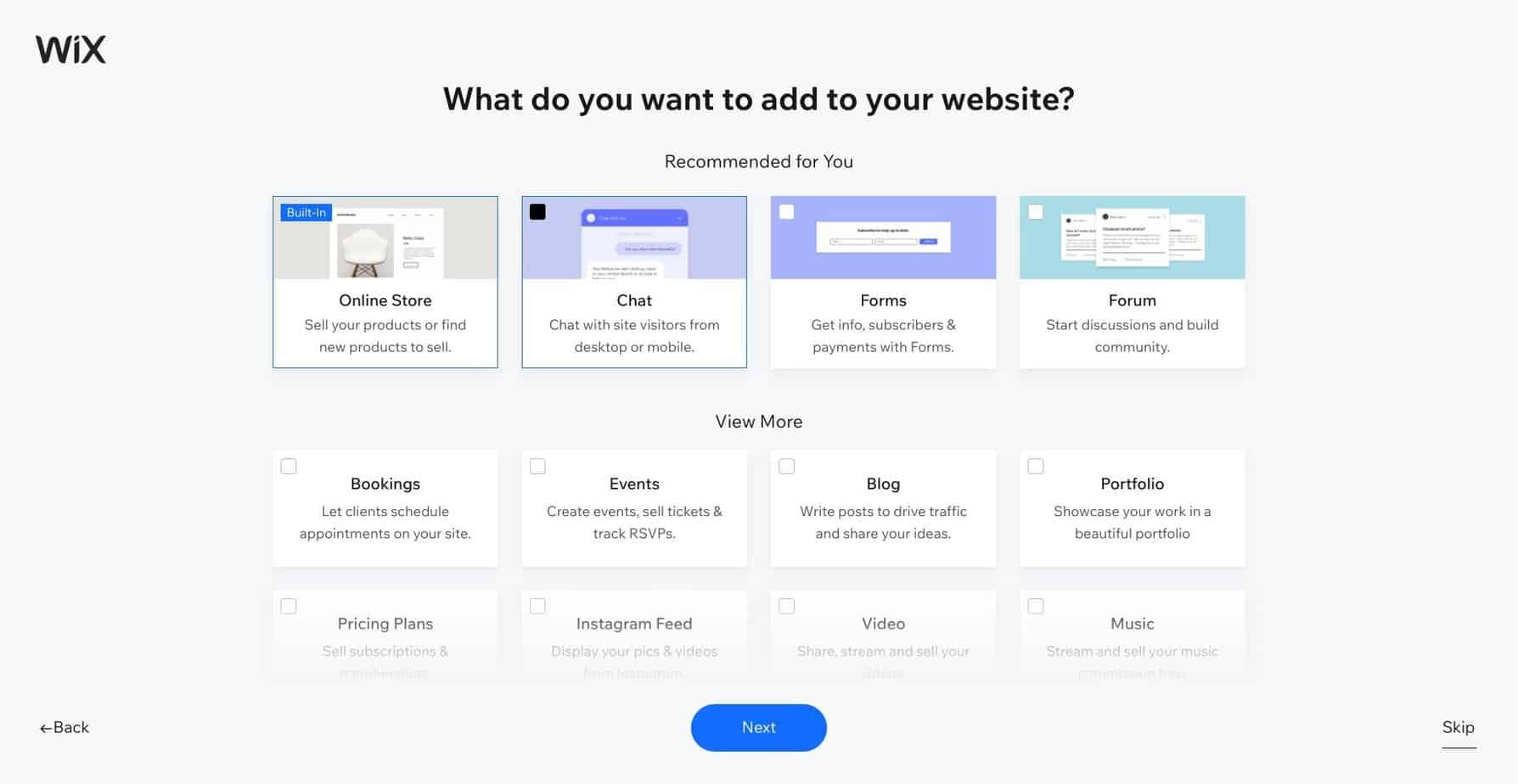 Straight away, you can choose the key features you'd like to add to your site. For example, the Online Store part is built in, but you can add events, bookings, a blog, an Instagram feed, and more. This makes it so much easier to get the basic building blocks of your site in place right from the start.
As you can see though, the dashboard is a little more overwhelming: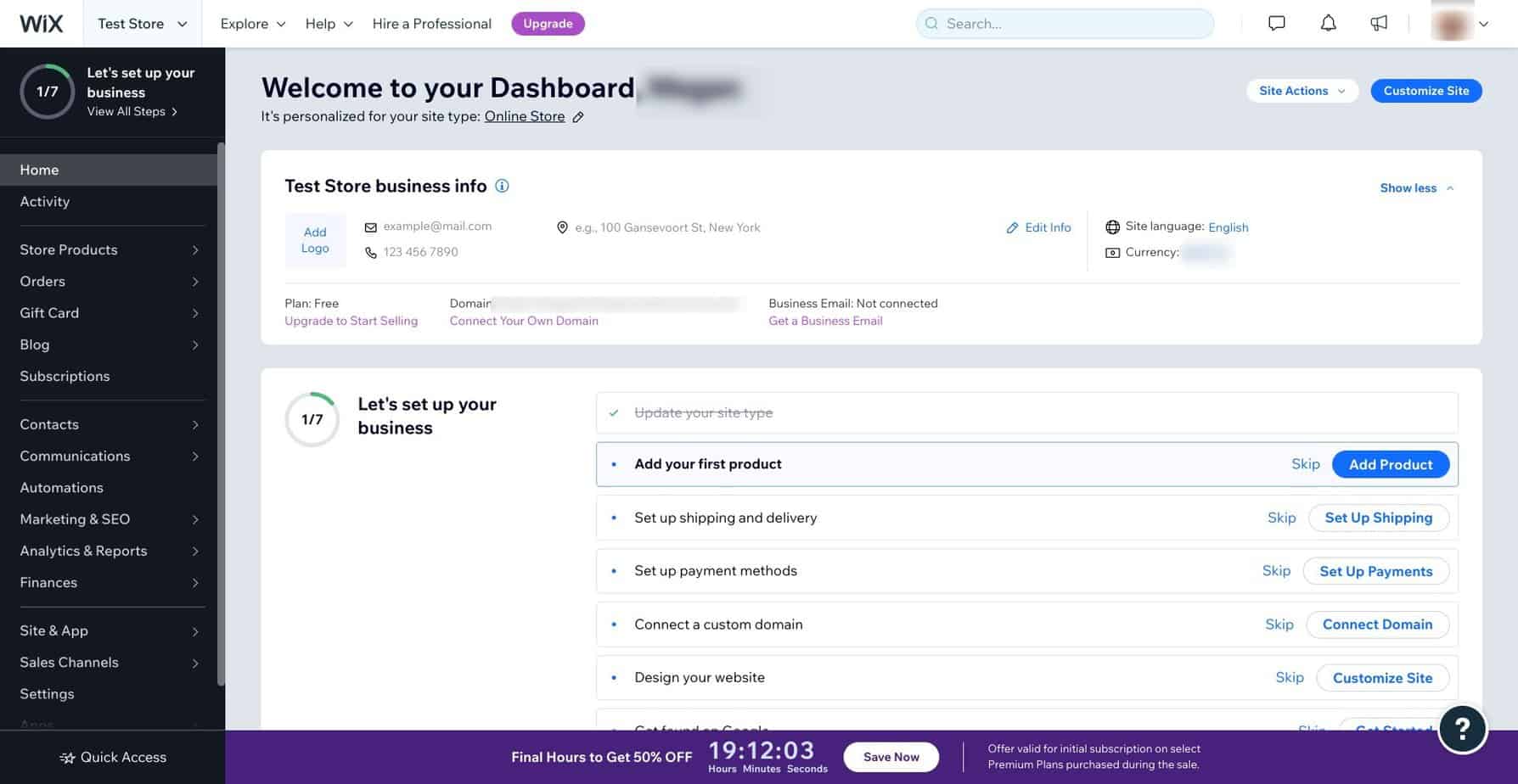 I do like the checklist, which guides new users through the process of starting up an eCommerce store (or blog, portfolio, etc).
Website Builder
How does the website builder work? Firstly, you'll pick a color theme, then a template. The templates are modern and stylish: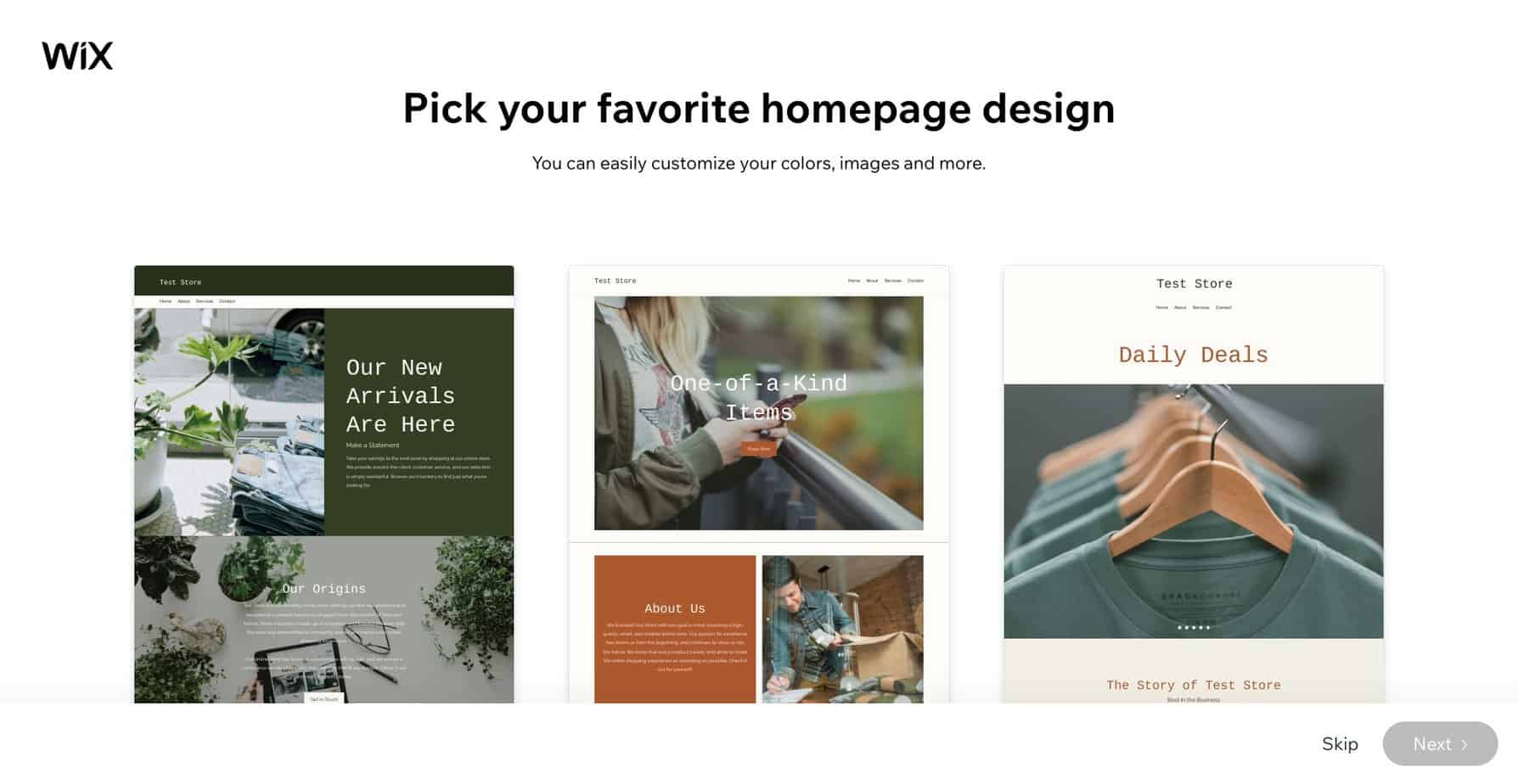 You can then choose the pages you'd like to include, and then you will have access to the editor: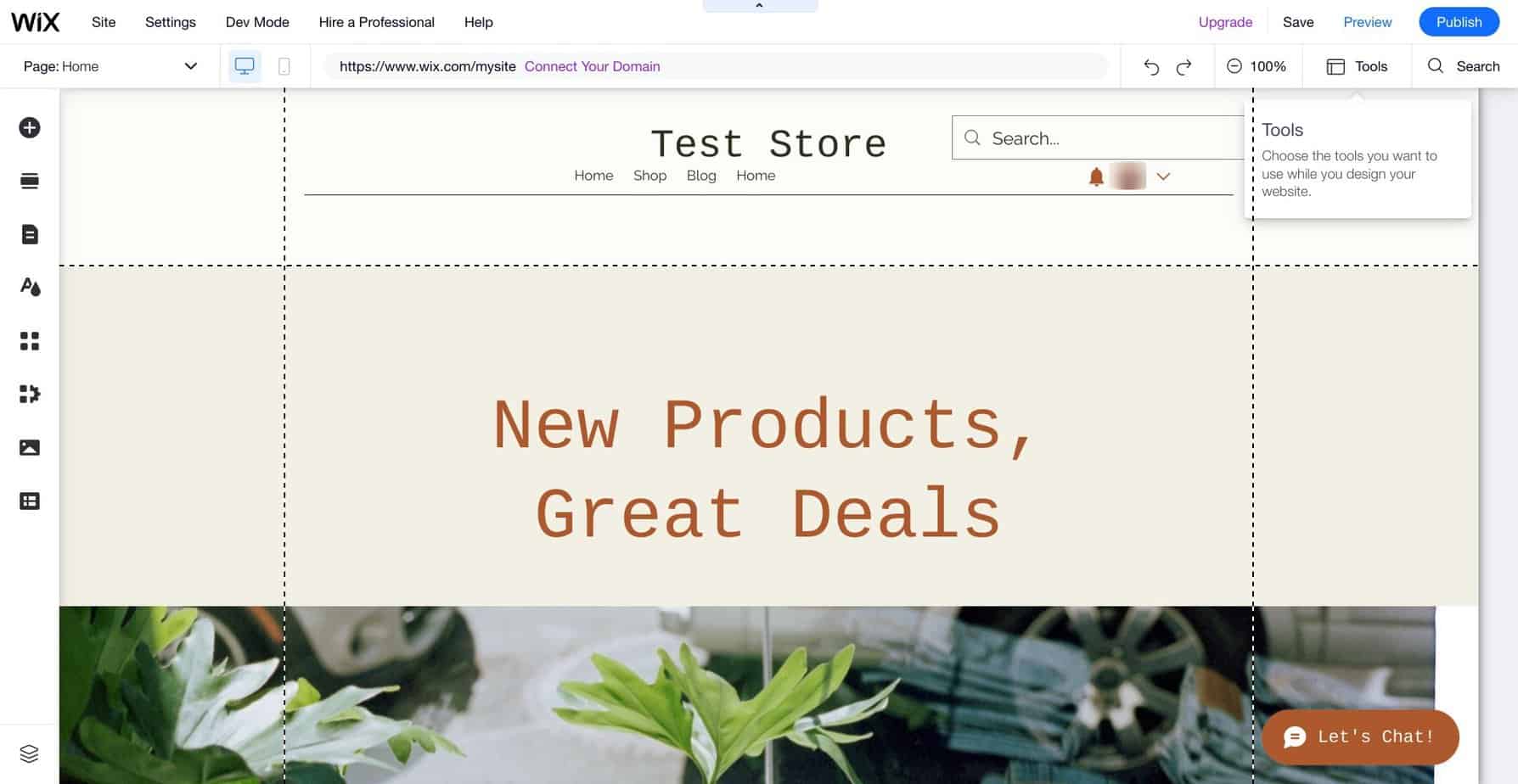 You can add new sections, edit existing sections, and customize the theme. You can add elements like text, images, buttons, videos, menus, lists, blog posts, and eCommerce features (more on that in a moment).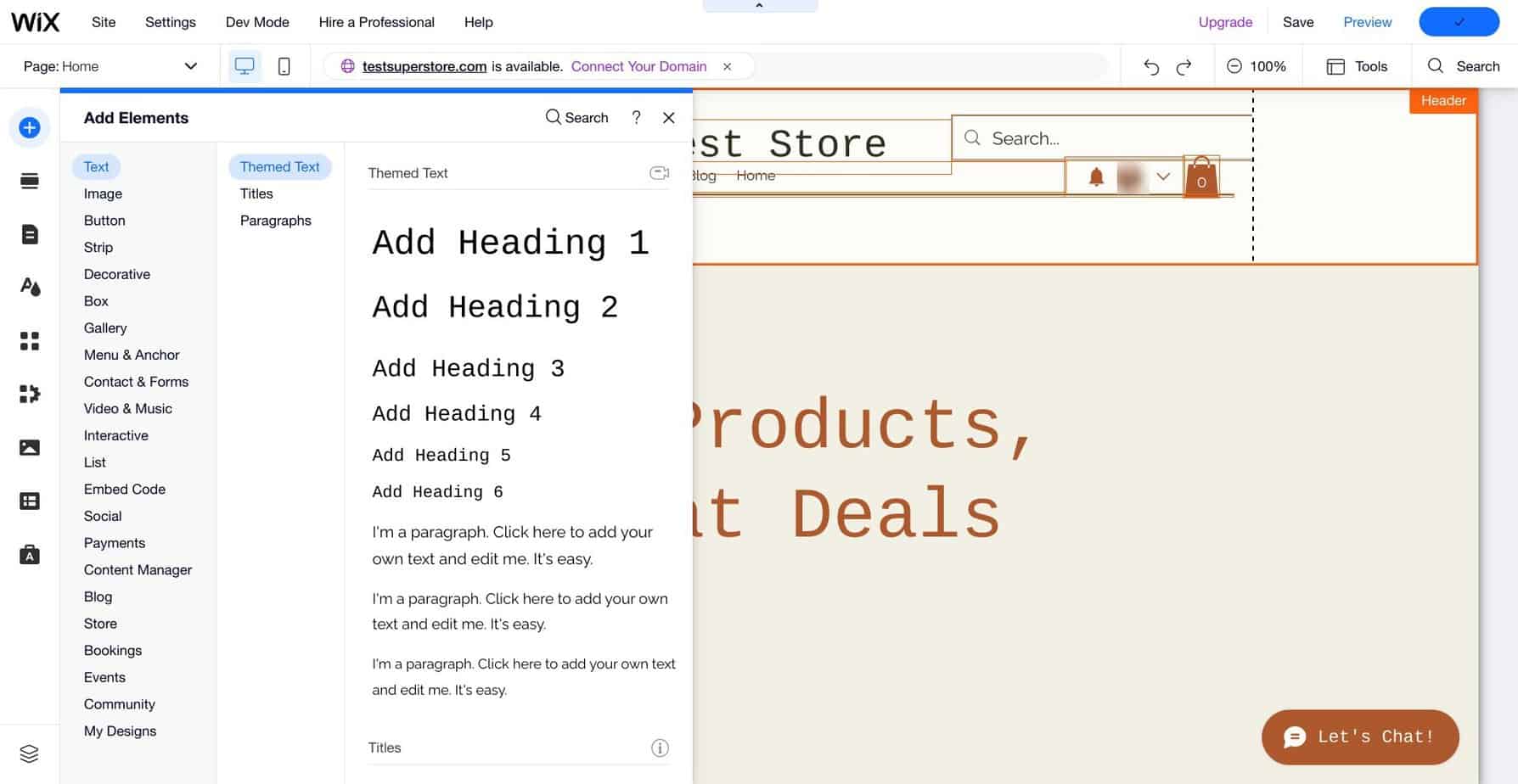 I'd say the interface is, again, slightly less appealing than Zyro's interface. There are a lot of options to choose from, but it's less instinctive to use. Adding a new product, for example, brings up menus-within-menus, and it feels a little cluttered: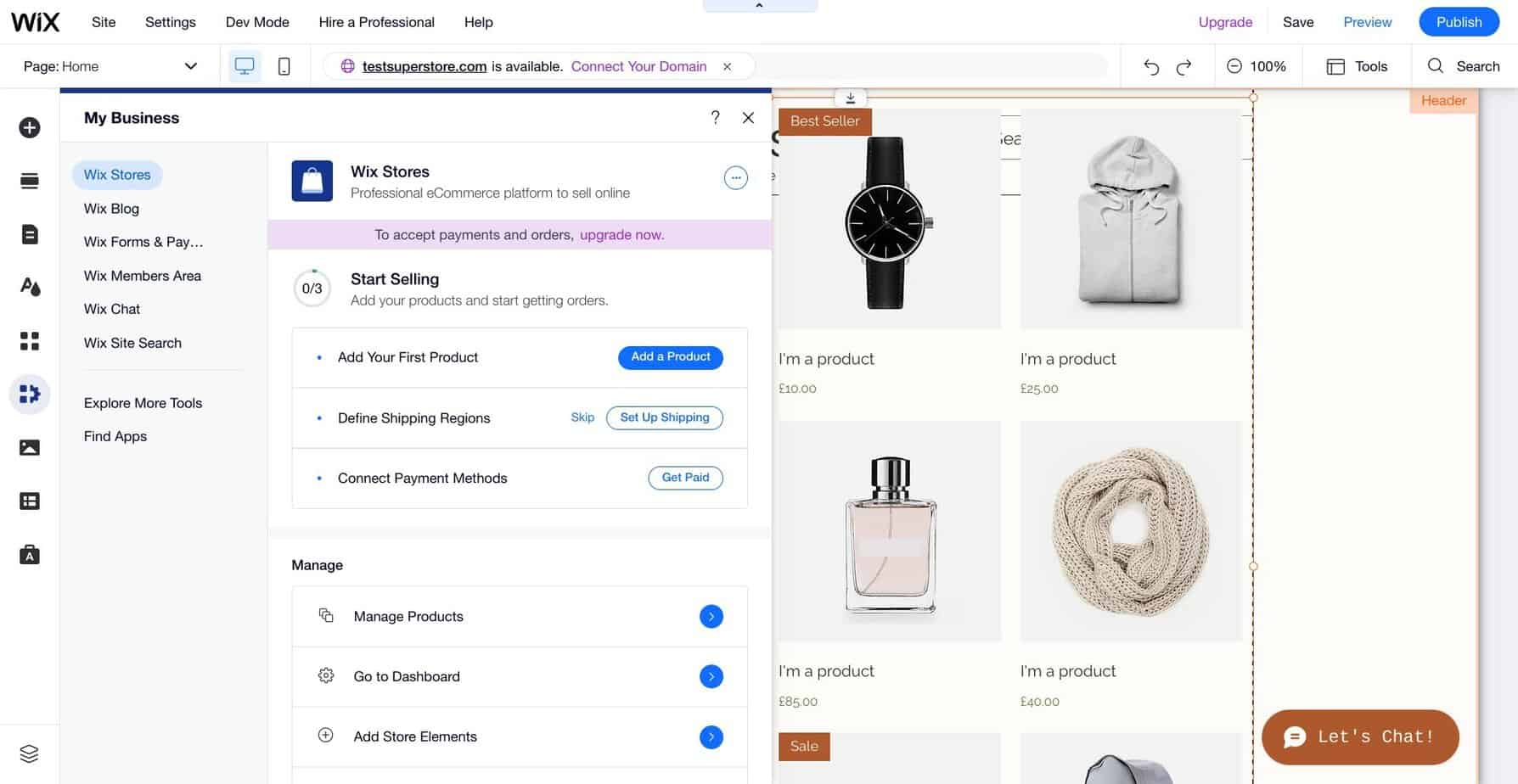 It's pretty customizable though, and you can easily switch between layers, allowing you to build a website that works exactly the way you want it to. You can preview your website (on desktop or mobile) at any time.
eCommerce Functionality
Let's check out how the eCommerce works. You can drag a drop a product onto your website at any time: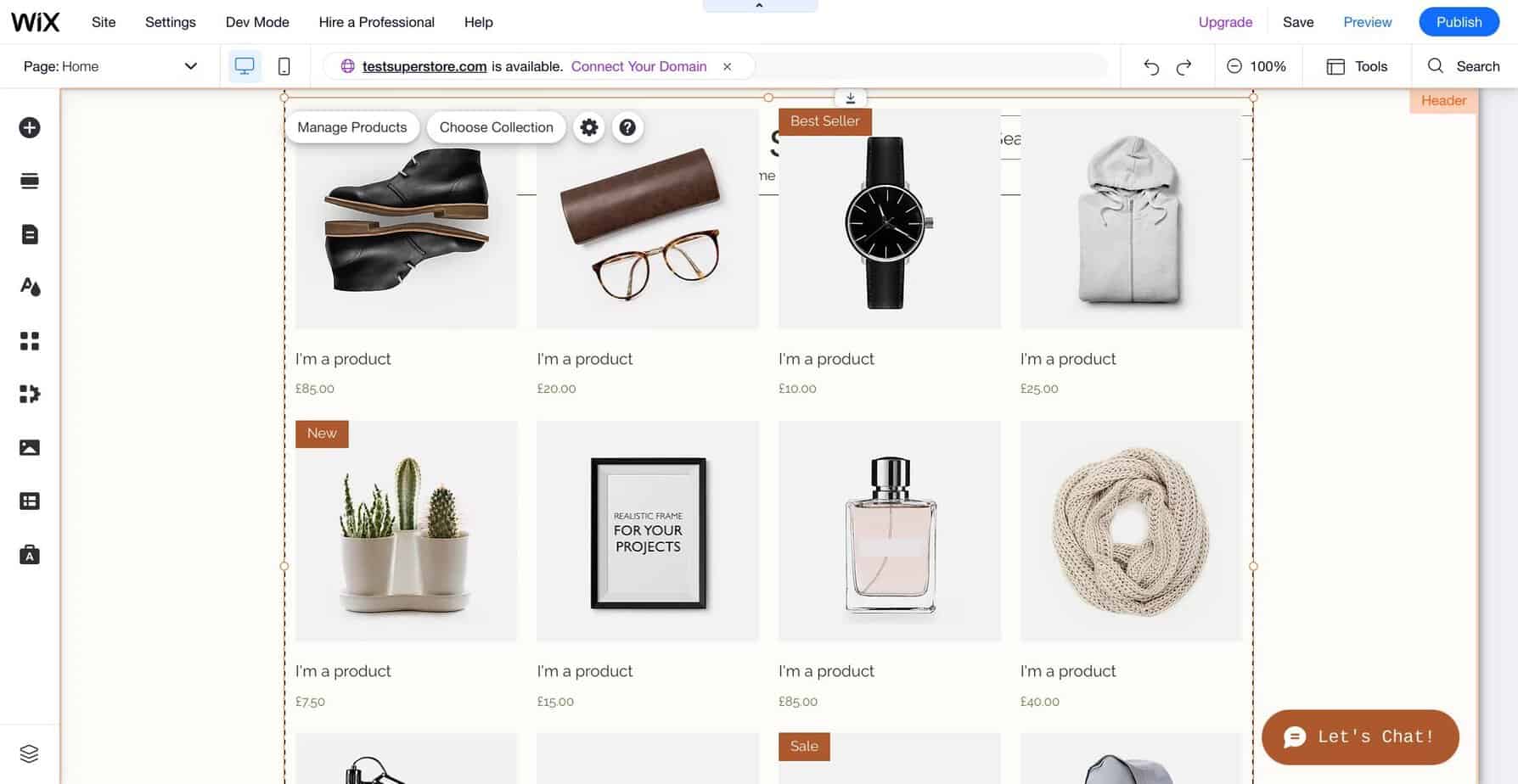 The eCommerce area works in a very similar way to Zyro. You can add new products (choosing from a physical or digital product, add images and videos, add descriptions, create coupons and amend the SEO settings, and so on). I actually prefer the product creation on Wix to Zyro's product creation. It just feels a little nicer to use.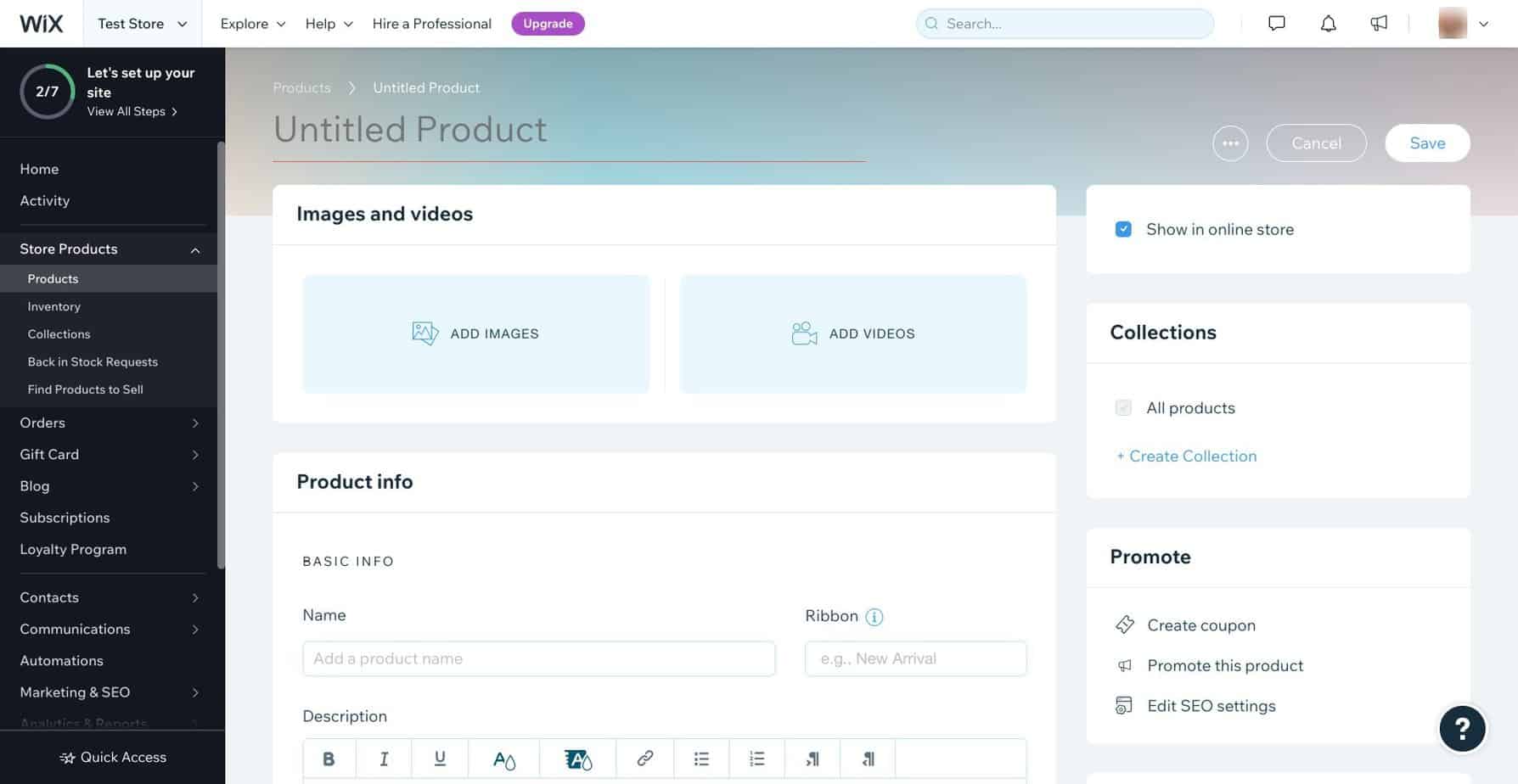 You can also manage your inventory, including keeping an eye on Back In Stock requests. This is a neat feature, and will give you a clue about which products you should look to restock asap. Managing orders is very simple, as well as creating gift cards, and setting up loyalty programs for customers. This is great in terms of increasing repeat orders. Plus, you can mange a subscription service: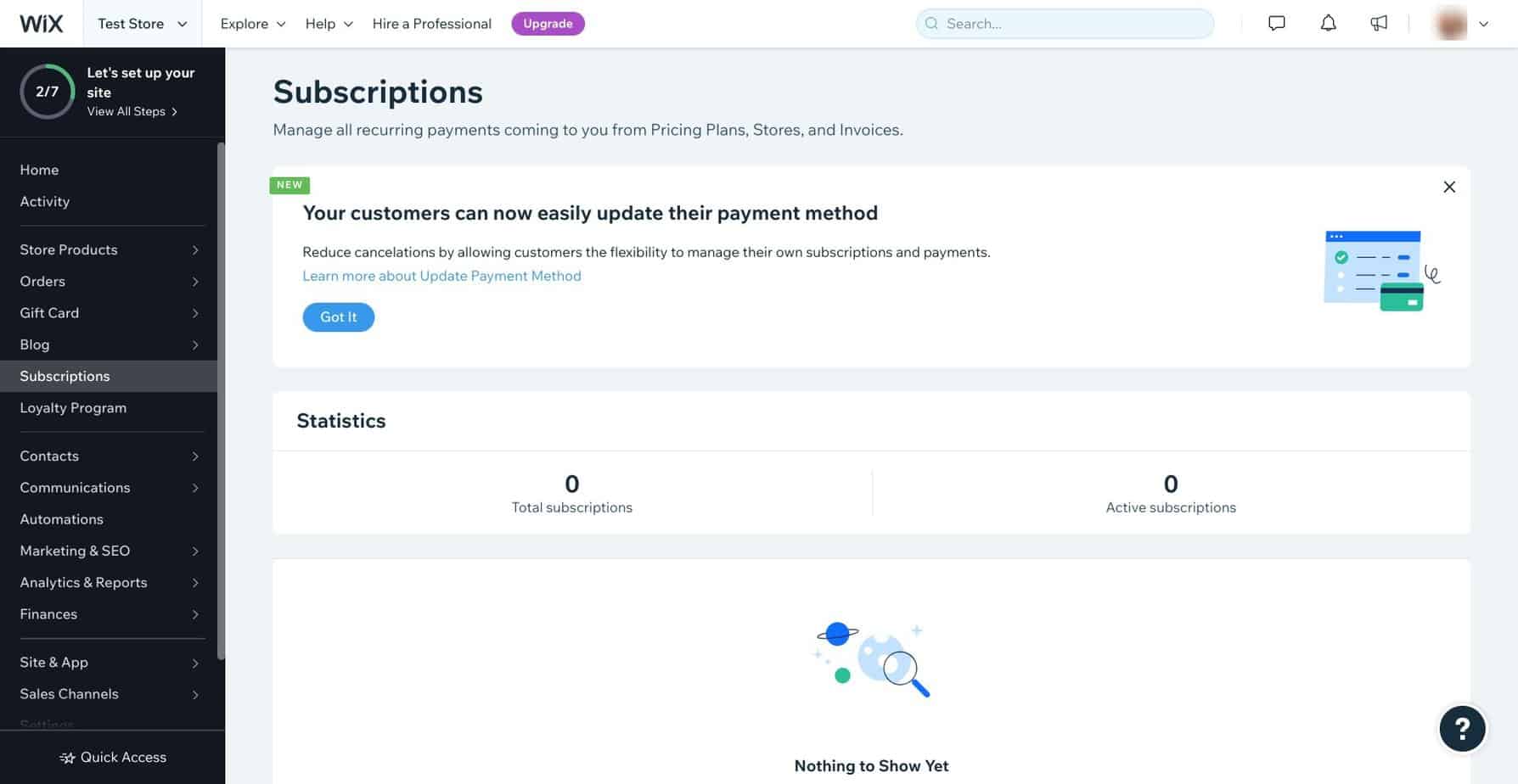 For subscription-based businesses, this is very easy to do. I also like that you can manage your contacts within Wix. This is a potentially powerful tool, as it will allow you to segment your customers, targeting them with specific marketing campaigns. Wix has the edge in this regard: there are some great features here.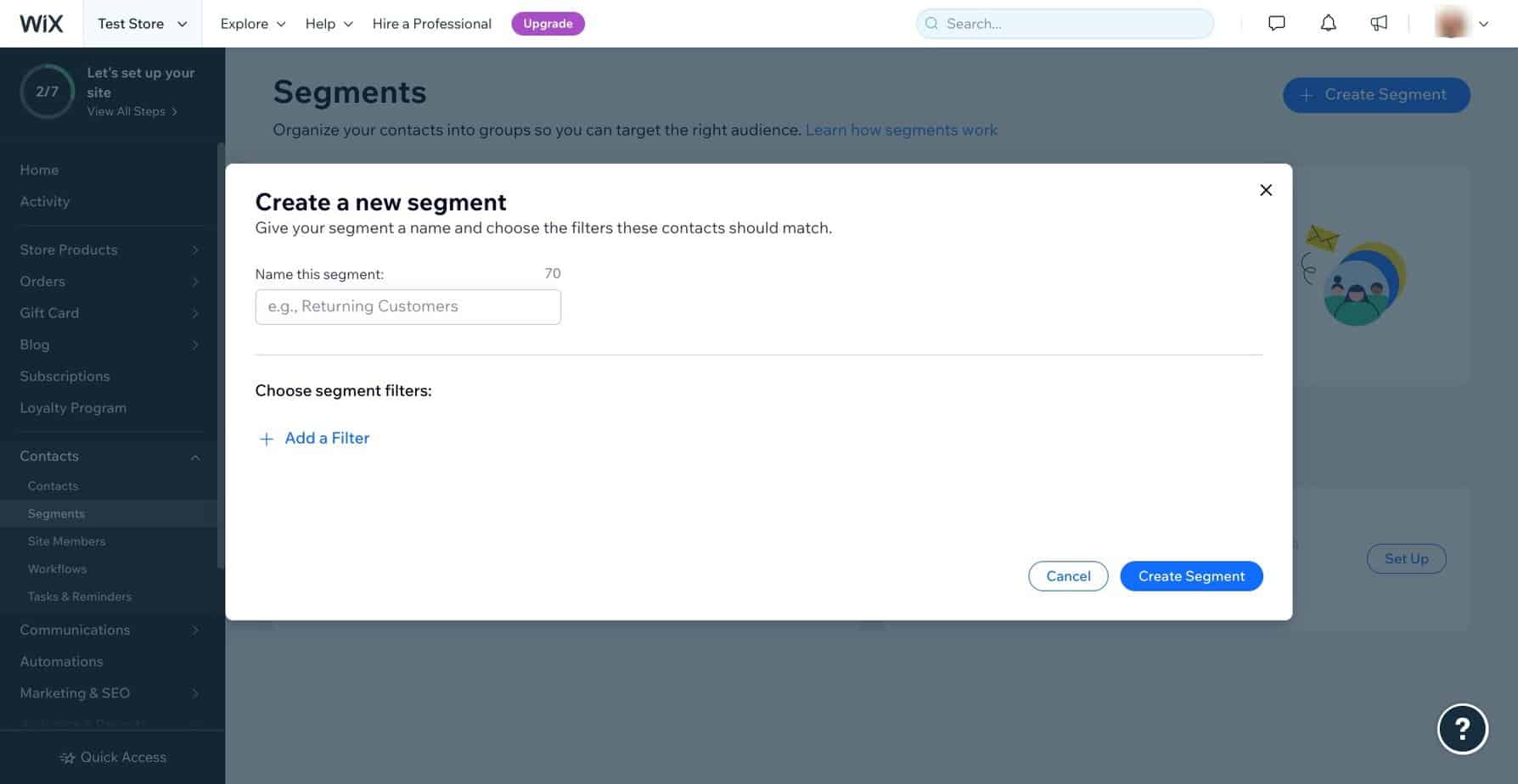 Customers can pay using credit or debit card, as well as PayPal and SEPA (depending on where you live). There are less options for your customers than Zyro, which is worth pointing out. I think the more options you can offer in terms of payment for your customers, the better. Having access to PayPal is pretty useful though.
Task Management/Workflows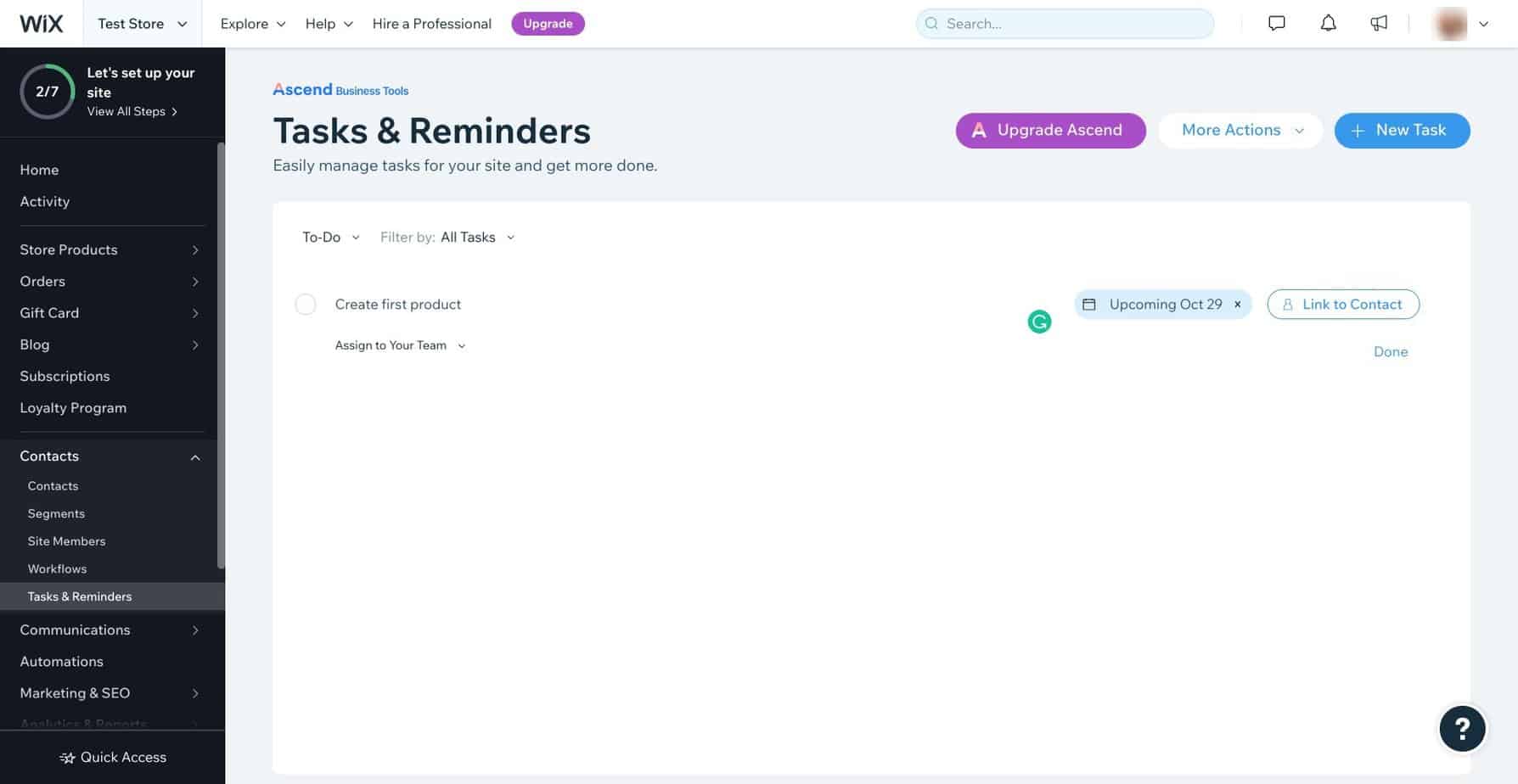 I like that Wix has useful features in terms of managing tasks. For example, you can use their Tasks & Reminders section, which is essentially a simple to-do list with deadlines. This will stop small tasks from being forgotten (and saves you the step of signing up for a separate to-do list app or service, like Todoist. You can find out more about this in our Notion vs Todoist comparison).
The other key area to talk about is the Workflow feature. This allows you to manage some processes, like hiring new staff members, designing your website, or running a business meeting.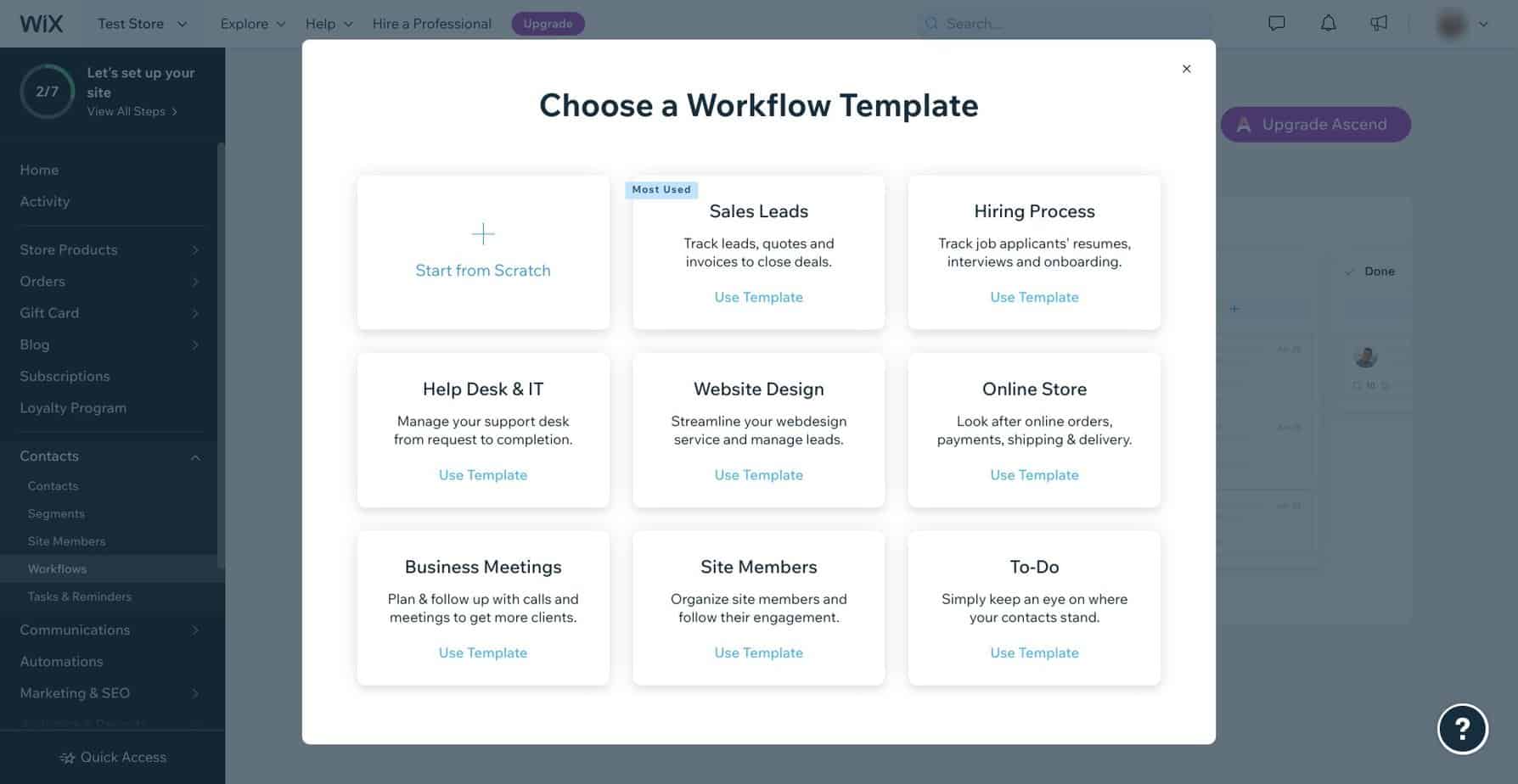 This is a simple way to manage tasks, and may be useful, especially if you're new to running a business and you don't want to forget anything.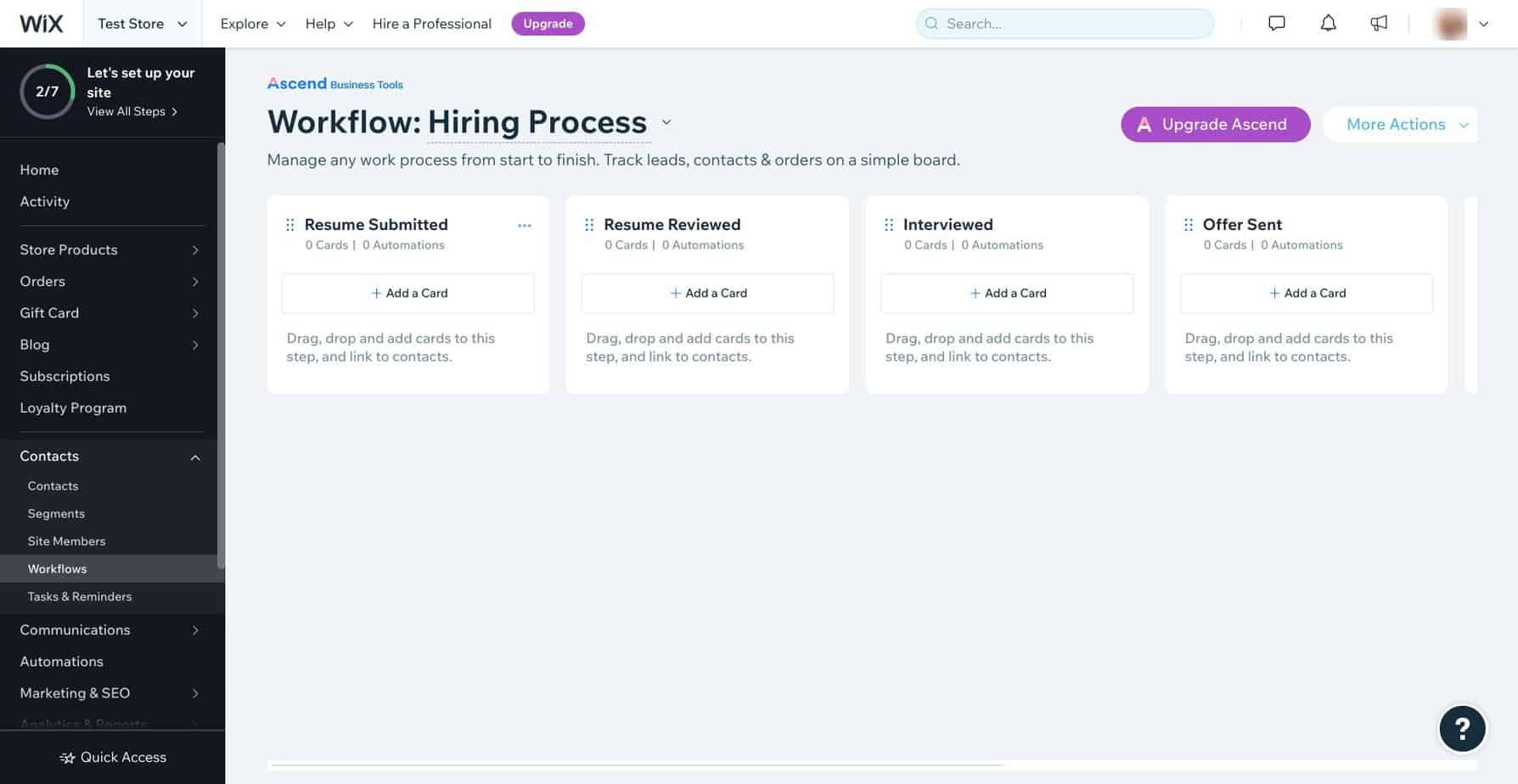 Automations
You can use automations to communicate with your customers. For example, you can send emails welcoming them when they create an account, or automatically update them on the progress of their order.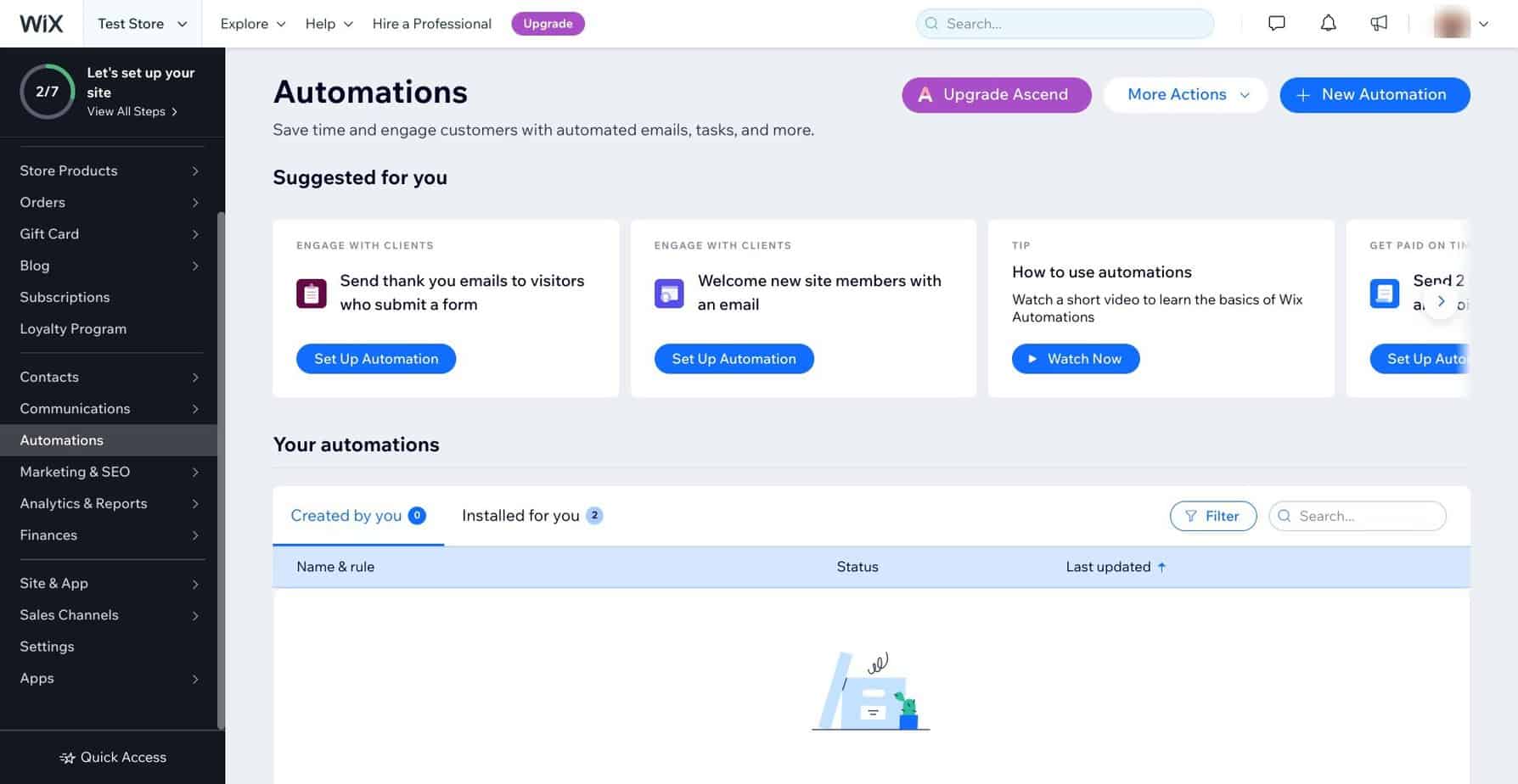 This saves you from having to set up a separate account with an email marketing service, and if you can spend some time setting it up, you can save a lot of effort later on.
Extra Tools
Wix gives you access to a business email account, as well as setting up a chat service for your customers to use. This is good if you want your customers to be able to easily contact you.
You can also create forms for your website to capture data, and even link up a business phone number.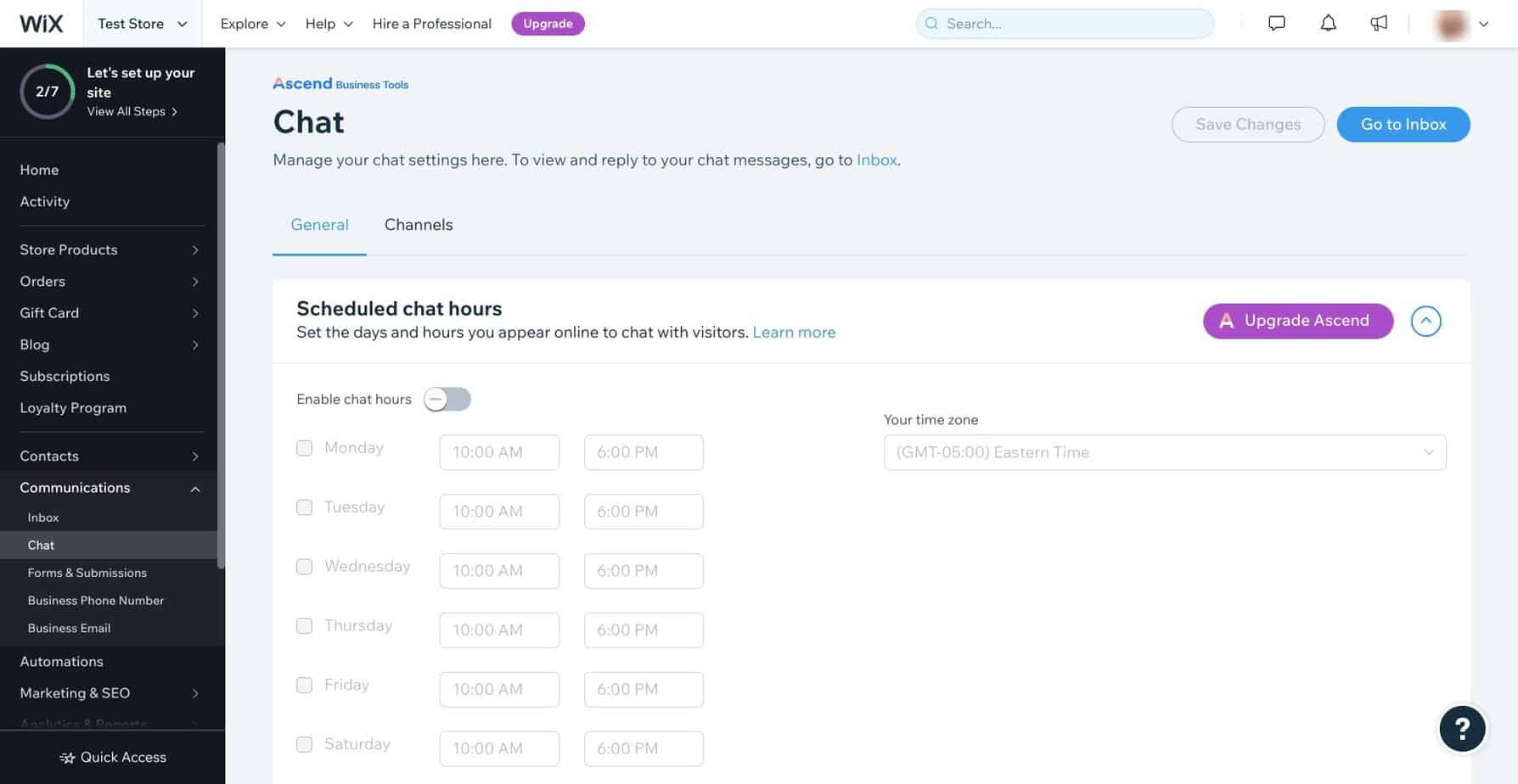 Zyro vs Wix – Analytics
It's important to get a clear picture on how your business is performing. Let's check out how Zyro and Wix compare in terms of reporting and analytics.
Zyro
Zyro requires you to connect with Google Analytics. It's simple to do this, but it definitely has less to offer than Wix when it comes to reporting.
Wix
Wix allows you to run reports on several metrics including traffic, sales, customer behavior, and more. You can get pretty specific with this. For example, you can run a report on how many people viewed your blog within a certain time period, or how one particular product has performed.
These reports are super easy to run, and they'll give you a genuinely useful look at how your business is performing.
Zyro vs Wix – Customer Support
How do Zyro and Wix compare in terms of customer support?
Zyro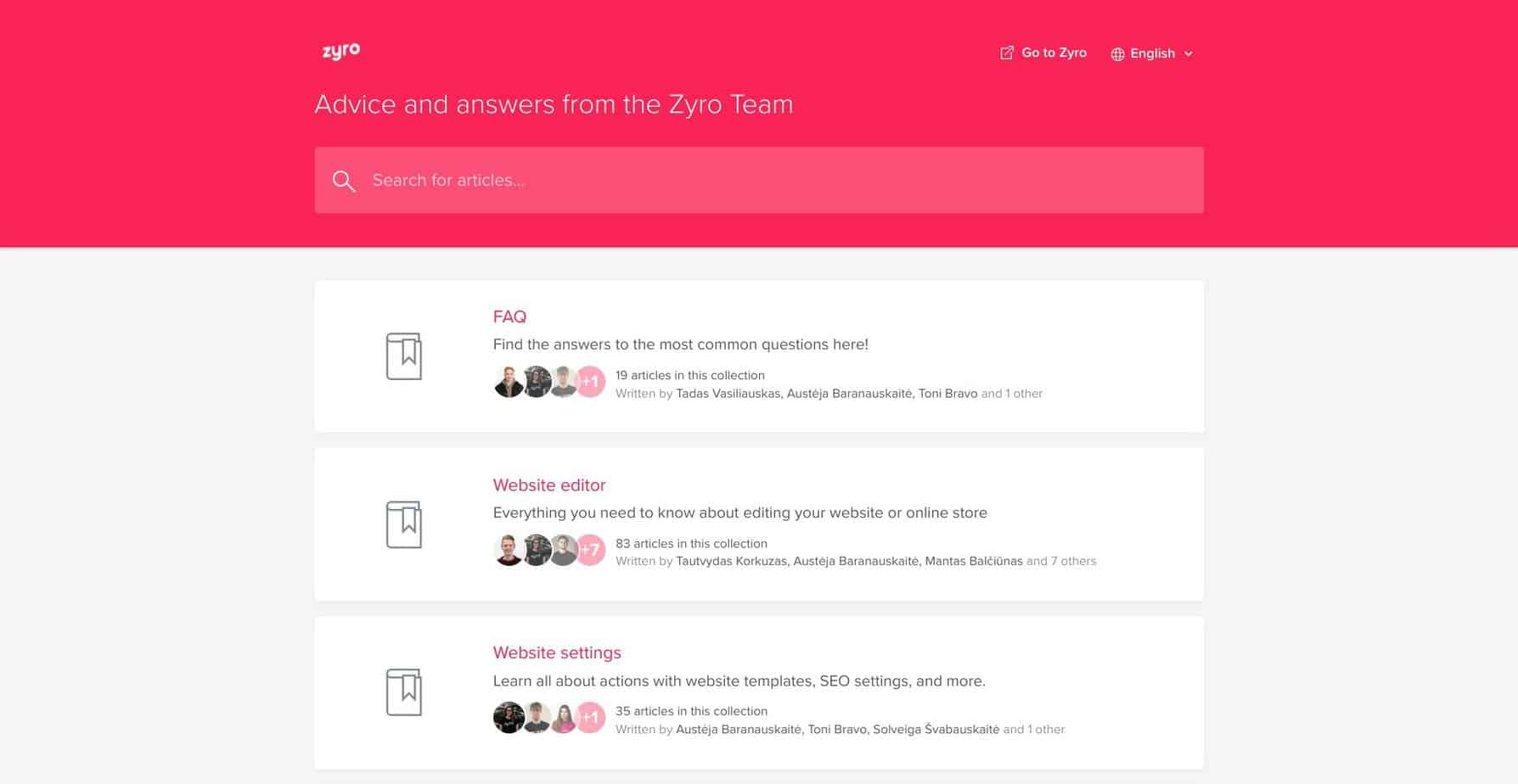 Zyro's knowledge base is not particularly interesting to look at, but it does contain some very useful information on how to get started with the platform. You can also contact their customer service team via email, a ticketing system, or live chat. The live chat is available on any price tier, which is great.
Wix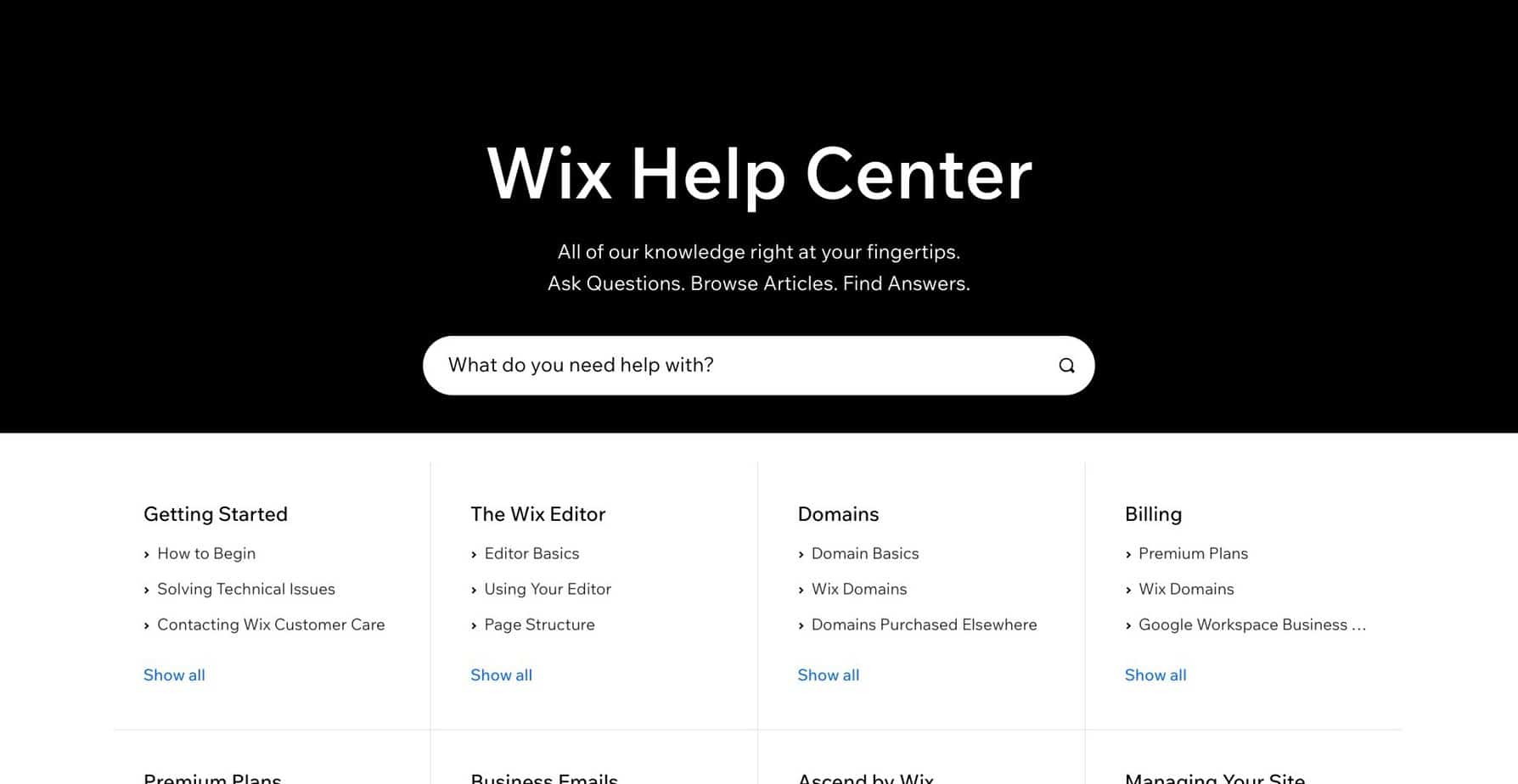 The Wix help center is pretty basic to look at, but it does offer some great guides, especially in the Getting Started section. The tutorials are very useful. You can contact their support team via a ticketing system or using their live chat.
Zyro vs Wix – Pricing
Let's check out how much Zyro and Wix will cost you to run.
Zyro
At the time of writing, Zyro had a promotion. I'll give you both the promotion price and the regular price for each tier.
Website – promotion price $2.99/month, regular price $11.99 per month
Free domain for 1 year
Free email for 3 months
24/7 customer support
Marketing integrations
Business – promotion price $3.99/month, regular price $14.99 per month
Free domain for 1 year
Free email for 3 months
24/7 customer support
Marketing integrations
Sell up to 500 products
It's worth pointing out that Zyro has some extra costs (for example, you'll need to pay separate for a business email, and after a year, you'll need to pay for your domain). They have a free trial, and you can find out more on their pricing page.
Wix
Wix's pricing plan is slightly more complex, with several price tiers depending on what you're looking for. I'll outline the eCommerce/business pricing here.
Business Basic – $27 per month
Unlimited bandwidth
20GB storage space
5 video hours
24/7 customer care
Business Unlimited – $32 per month
Unlimited bandwidth
35GB storage space
10 video hours
24/7 customer care
Business VIP – $29 per month
Unlimited bandwidth
50GB storage space
Unlimited video hours
Customized reports
Priority customer care
You can find out more about their pricing tiers, and their free trial, on their pricing page.
Zyro vs Wix – Pros and Cons
Let's check out the pros and cons of Zyro and Wix.
Zyro
Pros
Nice interface
Very simple to use
Easy to customize templates or create a site from scratch
Interesting tools, including the logo maker
Inventory management is very simple
Cons
Less marketing/communication tools than Wix
Knowledge base isn't as strong as Wix
Some extra costs involved (for example for business email)
Wix
Pros
Easy to use
Simple onboarding process
Great inventory management system
Website builder is simple to use
Strong marketing and communication tools
Cons
Interface is a little cluttered
Fewer payment options than Zyro

Zyro vs Wix – Alternatives to Try
If you don't think Zyro or Wix are for you, you might want to check out these alternatives:
To Sum Up …
For eCommerce, I feel that Wix is the stronger platform. I prefer the inventory management with Wix, and I like that it allows you to manage certain tasks within the platform (like the to-do list and the workflows). I think the website builder is good, although it could be less cluttered, and the templates are excellent.
I do think that Zyro is the better platform in terms of the interface. It's easier to navigate, and you can get pretty creative with the amount of customization available. It's definitely worth trying them both out using their free trials to see which one works best for you.
FAQs
Question: Do Zyro and Wix have a mobile app?
Answer: At the time of writing, Zyro does not have a mobile app. Wix, however, has a few apps that allow you to manage your website on the go. These are available for Android and iOS.
Question: How can I cancel my Zyro or Wix accounts?
Answer: You can easily cancel your Zyro or Wix accounts by going to the 'accounts' page. However, you may not be able to get a refund if you chose a full year's subscription and you want to cancel early: it's best to check the terms and conditions before you sign up for a year in one go.
Question: Are Zyro and Wix's shopping carts secure?
Answer: Yes, both have very secure shopping carts, with features like SSL certificates and reliable, secure cloud hosting.