Last Updated on June 19, 2022 by Ewen Finser
If you want to see Duda vs WordPress compared, you're in the right place.
These are both online platforms that allow you to build and update your own website. These platforms are often called Content Management Systems (CMS). Read on to discover the key differences between Duda vs WordPress, plus our verdict on which platform is superior.
[mv_video doNotAutoplayNorOptimizePlacement="false" doNotOptimizePlacement="false" jsonLd="true" key="civh2io3ct4ttkwd9nys" ratio="16:9″ thumbnail="https://mediavine-res.cloudinary.com/v1636510863/anocr72psvvcpmousnvo.jpg" title="Duda vs WordPress Compared" volume="70″]
Duda vs WordPress: How to Choose A Platform To Build Your Website
Here are some of the key factors to consider when choosing a platform to build your website.
Cost.

You'll face a monthly fee, which typically covers the cost of hosting your website, plus customer service. On top of that, you may face extra fees to add certain features to your website, although these go to the creators of these features rather than the platform itself.
Ease of use.

Needless to say, you'll want to be able to make a beautiful functional website as quickly and easily as possible.
Website themes.

Most likely, you'll want your website to look as uniquely attractive as possible. With website themes, it's possible to do this at the click of a button. The more themes included, the more likely you'll be to find your perfect design.
Website features.

Want to sell items on your website? Have blog readers subscribe to your email newsletter? Host of a collage of images? Or perhaps you need your website to do something incredibly unique and wacky? Whatever you want to do, you'll want to consider how easy and affordable your platform makes it.
Website speed.

What does your platform do to optimize (or drag down) the loading speed of your website?
Website reliability.

How likely is that your website stays online and working properly?
Customer service.

What type of customer service is offered? How quick and efficient is it?
Mobile websites.

How do websites from that platform tend to look on mobile devices? Is it a hassle to get them looking great on tablets and smartphones?
WordPress: Key features
WordPress launched way back in 2003 and is the most popular content management system on the web. At the time of writing, more than one in three websites was created using WordPress. That's over a billion websites.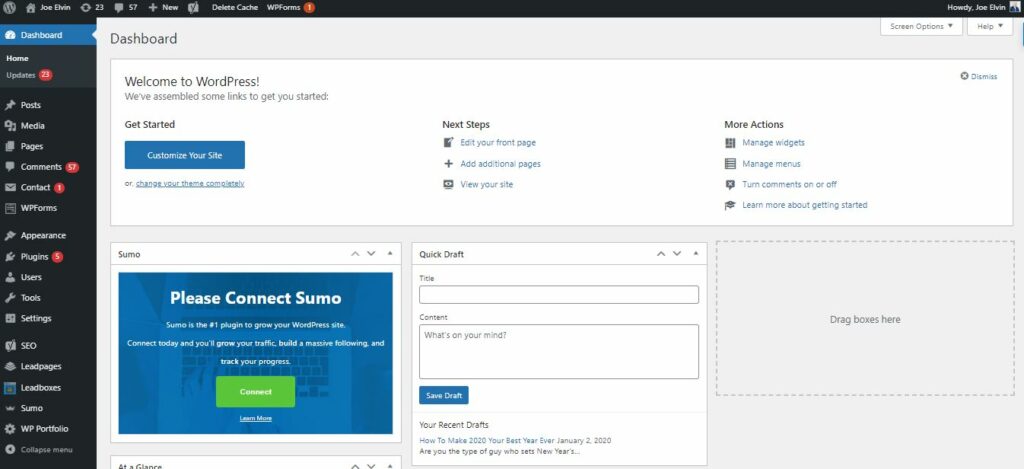 So, it might not surprise you to hear that WordPress is a great platform.
You should think of WordPress as the veteran heavyweight champion of the CMS world. It has seen it all. It knows everything. It can do everything.
Price
There is a free edition of WordPress at WordPress.org, although this is only likely to be suitable for casual bloggers, who don't want any bells or whistles on their websites.
The paid version of WordPress is at WordPress.com. It has four pricing plans. With each of them, you'll receive hosting, unlimited email support, and a free domain for a whole year. You'll be billed annually.
There four pricing plans are:
Personal ($48/year).
Premium ($96/year).

Live chat support. Earn ad revenue. Access premium website themes.

Business ($300/year).

Access more than 50,000 plugins. Automated site backups.

eCommerce ($540/year).

Accept payments in more than 60 countries.
It's also possible to host your WordPress website on a third-party host and pay hosting fees to that website instead.
Design Flexibility
WordPress is an open-source CMS. That means anyone can create a design theme or a plug-in to be installed on WordPress. As such, there is a wealth of choice for what you can make your website do or look like.
There are over 10,000 themes to choose from, including around 8,000 that are free of charge. You can change the basics of these themes, such as font and colors with relative ease.
If you want your website to do any unique or cool thing, WordPress can handle it. There are more than 50,000 plug-ins to download, which essentially means there are over 50,000 unique features you can add to your WordPress website.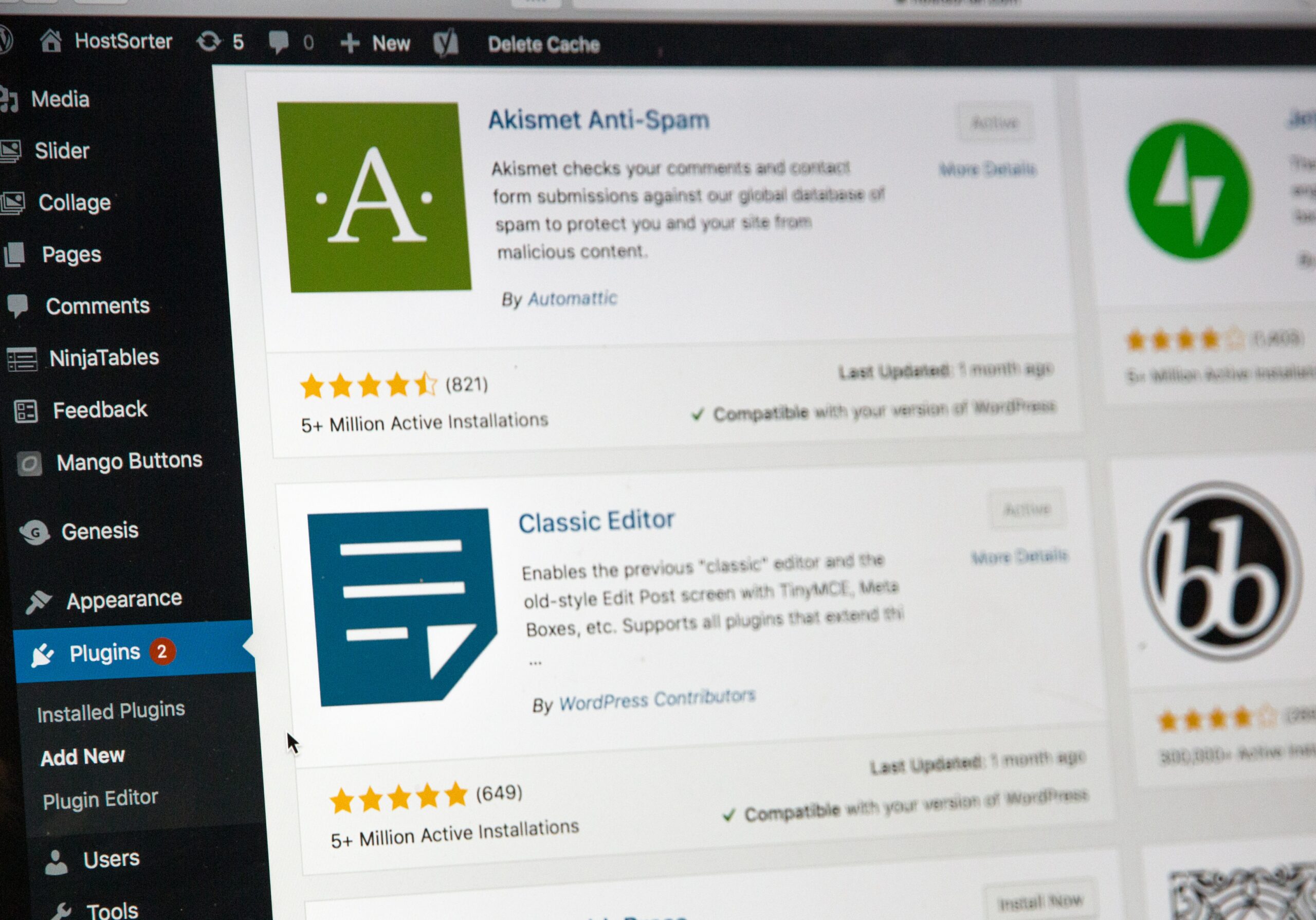 Ease Of Use
A lot of plugins have a steep learning curve. Some have little-to-no instructions. Some don't work with certain themes. Some don't work at all. In many cases, you'll need to update them regularly or risk them breaking. What's more, if you have too many plug-ins activated, it can slow down your website.
With that said, WordPress has a review system so you can see which plug-ins are most highly rated for the job you want to do.
WordPress itself also has a steep learning curve. If you're not particularly tech-savvy, it could frustrate you to the point you give up on your half-finished website. But it's difficult to be too harsh on a platform that literally lets you create anything your mind can imagine.
Compatibility
As WordPress is the most popular content management system, you can expect it to be compatible with all major third-party platforms.
In all likelihood, your email marketing provider, online payment processor, landing page generator, and anything else will be compatible with WordPress.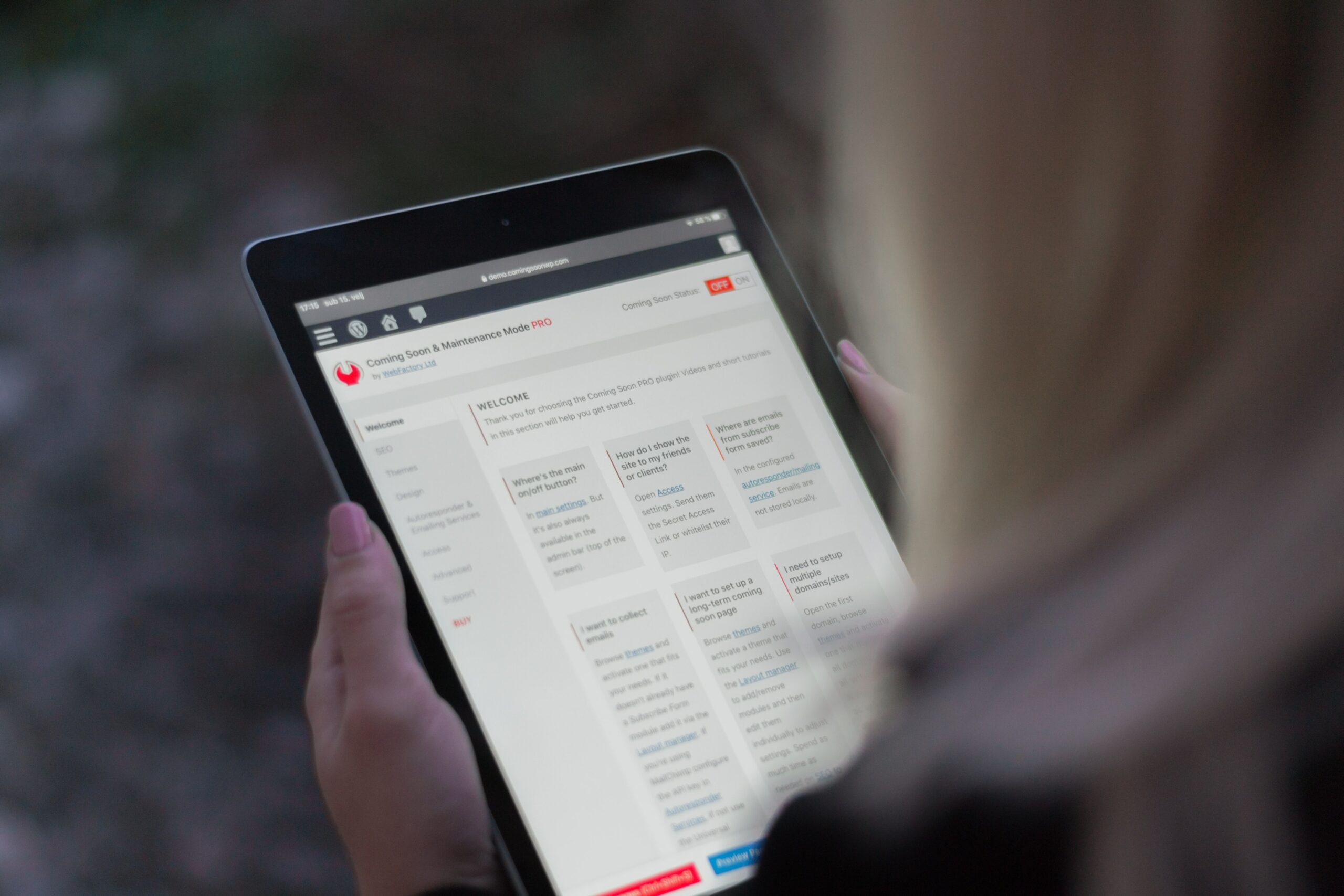 Customer support
All paid customers have access to unlimited email customer support. Live chat and telephone support is available to higher-tier customers.
Because WordPress is open-source, its customer support team won't be able to assist you with third-party plug-ins. In this case, you'll need to seek help from the plug-in creators, and this isn't always easy or even possible.
With that said, WordPress does have forums where you can post questions to the general public and get their support. Also, because WordPress is the most popular, you're more likely to find third-party blogs or YouTube videos addressing whatever problem you have.
Pros and Cons
Pros
Highly affordable

Create anything your mind can imagine

Over 10,000 attractive themes

More than 50,000 plug-ins allow you to add unique features to your website
Cons
WordPress is far from easy to use

Plug-ins don't always work, will need to be updated, and can slow down your website
Duda: Key Features
Duda launched as DudaMobile in 2011. Initially, the service only existed to convert existing websites into beautiful responsive mobile websites. However, you can now use it to create websites from scratch.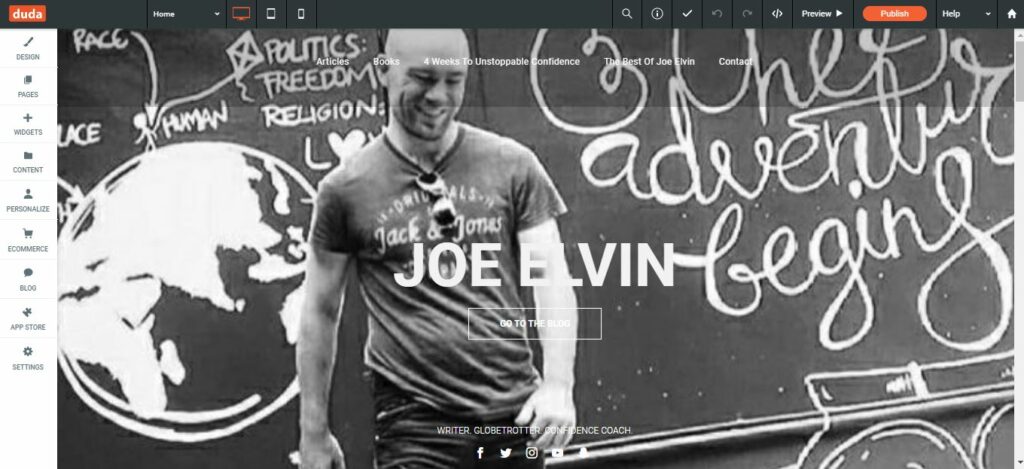 If WordPress is the experienced heavyweight champion, Duda is the exciting young underdog hoping to steal the crown.
Price
With Duda, you can choose to be billed monthly or pay annually with a 25% discount. With all plans, you're granted hosting and email support.
The three pricing plans are:
Basic ($14/month).

One website only

Team ($22/month).

One website only.

Access to team and client management features. Phone and live chat support.

Agency ($44/month).

Host up to four websites. Access dynamic pages connected to customer data.
It is possible to negotiate the price of a custom plan if you want to host more than four websites.
Design Flexibility
Duda isn't as comprehensive as WordPress when it comes to customizing your website, but there are still over 100 themes and templates to choose from.
Ease Of Use
The main advantage of Duda is its simplicity. If you're new to the world of building websites – or even if you're an intermediate, you're going to have a much easier time building a professional-looking website with Duda.
The back end is very easy to understand. You can build and edit your website very easily with its drag and drop function.
There are far less menus to navigate in the back-end, meaning all of the crucial elements of building a website are easy to find.
When you see how easy it is to add a favicon, create a 404 page or change the meta description of your home page in Duda, you'll wonder why WordPress makes these things so difficult.
Editing the pre-made themes to your exact taste is far less of a headache too.
Duda automatically optimizes your website to be as fast as possible. Plus, you can expect your website to always look amazing on mobile devices. If you're not happy with how it looks on a mobile device, Duda's back-end couldn't make it easier to amend.
Without reliance on third-party plug-ins, Duda websites are less likely to break. But, if you do something to mess your website up, there's no reason to panic, because Duda backs up previous editions of your website automatically.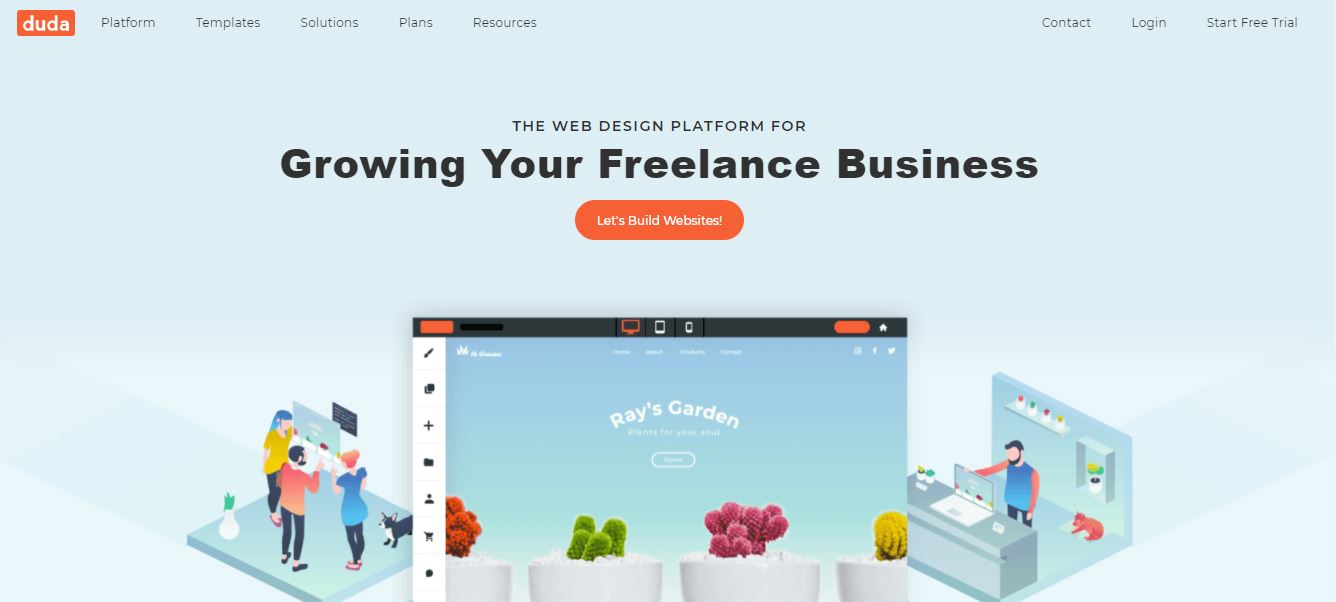 Compatibility
Duda can't compete with WordPress yet, as far as compatibility with third-party websites, although you can still expect to connect it to a lot of your other online services.
Customer support
An advantage of choosing a less popular CMS is that you can expect a faster reply from the email support team. That would appear to be the case with Duda, anyway.
You'll also have access to live chat and telephone support with higher-tier plans. Also, because Duda is closed-source, its customer service team should be able to help you with whatever problem you have.
Pros and cons
Pros
Affordable

Brilliantly simple to use

Create a beautiful website in minutes

You can expect a fast mobile-friendly website automatically
Cons
Not as much customization

Only around 100 themes available

Not as compatible with other websites

Recommended Alternatives To Duda vs WordPress
Here are three suggestions for content management systems that are also highly rated.
Wix.

Similar to Duda, Wix is a lot easier to use than WordPress, although it sacrifices the choice of design to be this way. Wix has a free plan, which is advanced enough for you to build a great website. What's more, its paid plans are a lot cheaper than Duda vs WordPress. Wix has hundreds of templates, most of which are very unique, allowing your website to stand out from the crowd. A major drawback is that these templates aren't mobile-responsive, so you'll have to do a lot of manual work to make your website look incredible on mobile devices.

Weebly.

Weebly is regarded by many as the simplest CMS on the internet. Even as it adds new features, it remains so easy to understand. It's also the cheapest CMS mentioned in this review. However, it is far less flexible in what you can do with your website. There are also several online services that Weebly isn't compatible with, including a range of incredibly popular email marketing software. It has about 70 website themes to choose from, which is less than its immediate competitors.

SquareSpace.

Similar to Wix and Weebly, Squarespace is simple to use but more limited in what types of websites you can create. There are around 70 themes to choose from. These all follow the same structure, so it's possible to switch from one theme to the other effortlessly. SquareSpace is particularly easy to use if you're creating an e-commerce store. Its pricing structure is similar to Duda, but there's no free plan nor a free trial available.
Duda vs WordPress:Bottom Line
A head-to-head duel between WordPress and Duda is too close to call. The best choice for you will surely depend on your level of experience with building websites and what type of project you are trying to create.
If you're already an experienced WordPress user who knows their way around its back-end, there may be little reason to switch to Duda's simpler CMS. If you are planning on launching and running an unconventional website, you'll most likely be attracted to WordPress's added flexibility, especially if you find a cheaper host.
However, if you're inexperienced with creating websites, you'll most likely be excited by the simplicity of Duda. You can still do a lot with this CMS, so those creating all but the most complex websites are likely to be satisfied.
The price of Duda could be a stumbling block. It costs a lot more than WordPress and other competitors like Wix and Weebly too. There isn't that much to justify the extra costs in comparison with these websites, especially when you consider that the basic plans only allow you to host one website.
To summarise:
WordPress:

Complicated to learn, but you create

anything

while keeping costs down.

Duda:

Simple to learn and you're still given plenty of space for creativity, yet it's a lot more expensive.
If you enjoyed this review, please consider sharing it with someone who you think would find it useful.
[interact id="61950894e81e4200184210da" type="quiz" mobile="false"]