Last Updated on April 22, 2023 by Ewen Finser
If you're looking to build a blog with Webflow but are unsure where to begin, you're probably looking for some inspiration. Our 12 best Webflow blog examples can give you some ideas.
Building an attractive, functional, helpful blog is hard work. I know this from experience, having built a few myself on various platforms over the years! I like Webflow as a web-building platform: it's pretty easy to use while offering flexibility. But sometimes, that flexibility can be a bit of a downside if you're overwhelmed by choice!
Keep reading to see some beautiful examples of blogs built by Webflow. It might just spark some inspiration for your blog.
The Bottom Line Up Front
I like Tea With Tami. It has a good balance of visual appeal and high-quality content, and it exists for a purpose: to encourage new listeners to subscribe to Tami's podcast and provide related content for listeners.
I'm also intrigued by Pagebooks. It's a fun, vibrant, eye-catching blog that feels more like an interactive magazine than a standard blog. I think it showcases the flexibility of Webflow while providing high-quality, interesting content for the reader.
12 Top Webflow Blog Examples
A quick note on why I chose these blog posts: they're lovely to look at, packed with good content, and easy to navigate. These are essential factors from a reader's perspective when it comes to reading blogs, so I've made sure the following blogs tick all those boxes.
I'll also explain how some blogs are designed to prompt a response from the reader: signing up for a newsletter, making a purchase, or checking out the parent company's services. Each blog is designed to appeal to the reader while encouraging them to take another step, which is helpful if you're running an online business.
Overall, I think the following blogs show the flexibility of Webflow's platform. So, here are my top 12 Webflow blogs in no particular order!
1. Tea With Tami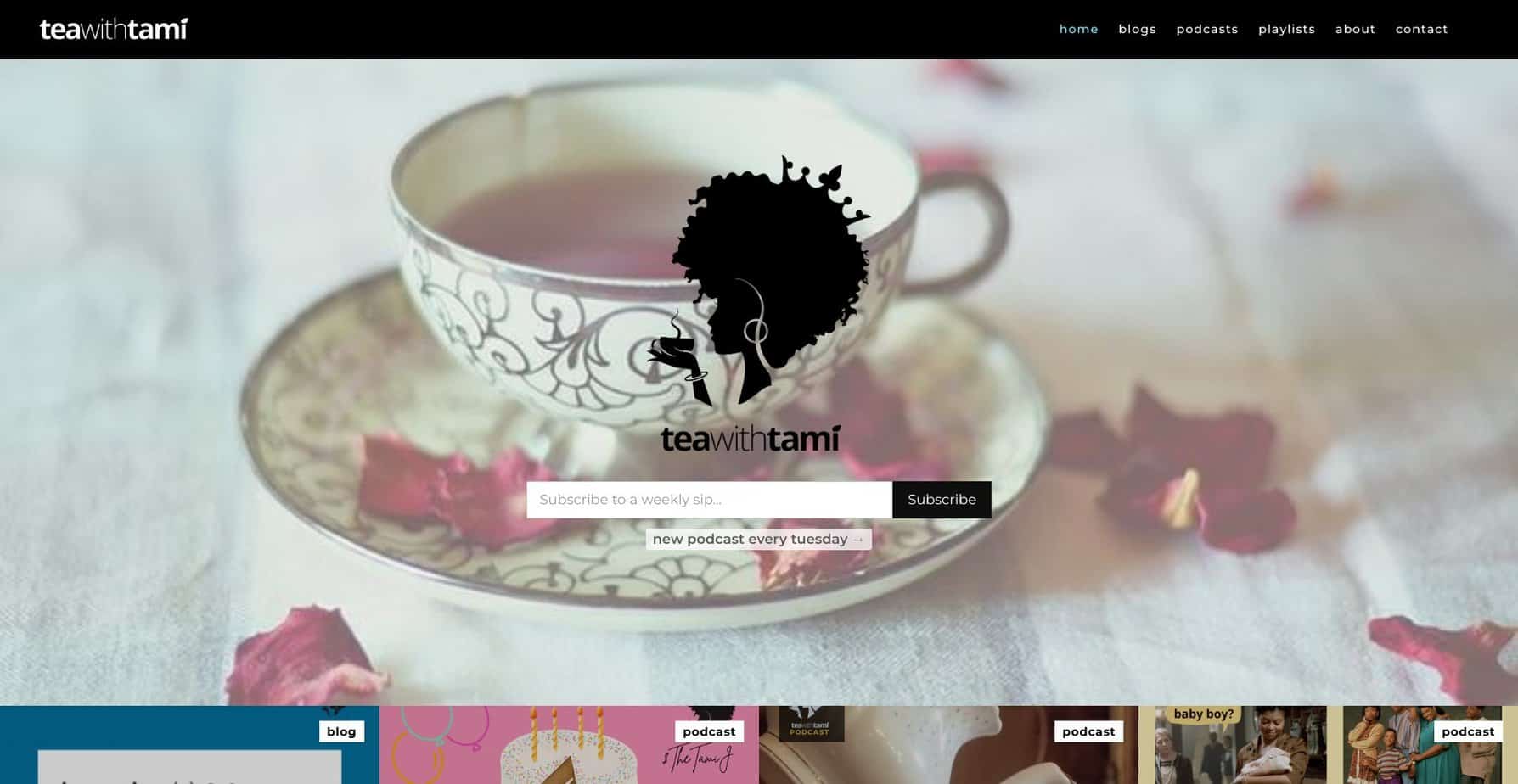 A beautiful blog, Tea With Tami, accompanies a podcast of the same name. Exploring African American social issues, culture, and music, there's much to enjoy here. It's a visually appealing blog, with colorful thumbnails for each blog post and catchy, well-written titles that make you want to click and find out more.
What I like about this blog is that it makes it easy for users to subscribe: it's one of the first things you see. This is an excellent example of making it as simple as possible for users to respond to a call to action. It's also easy to navigate from a user perspective, with a simple menu at the top organizing blog posts, podcasts, playlists, and the all-important about page. It's also easy to access Tami's social media accounts, which is excellent.
2. Drunk By James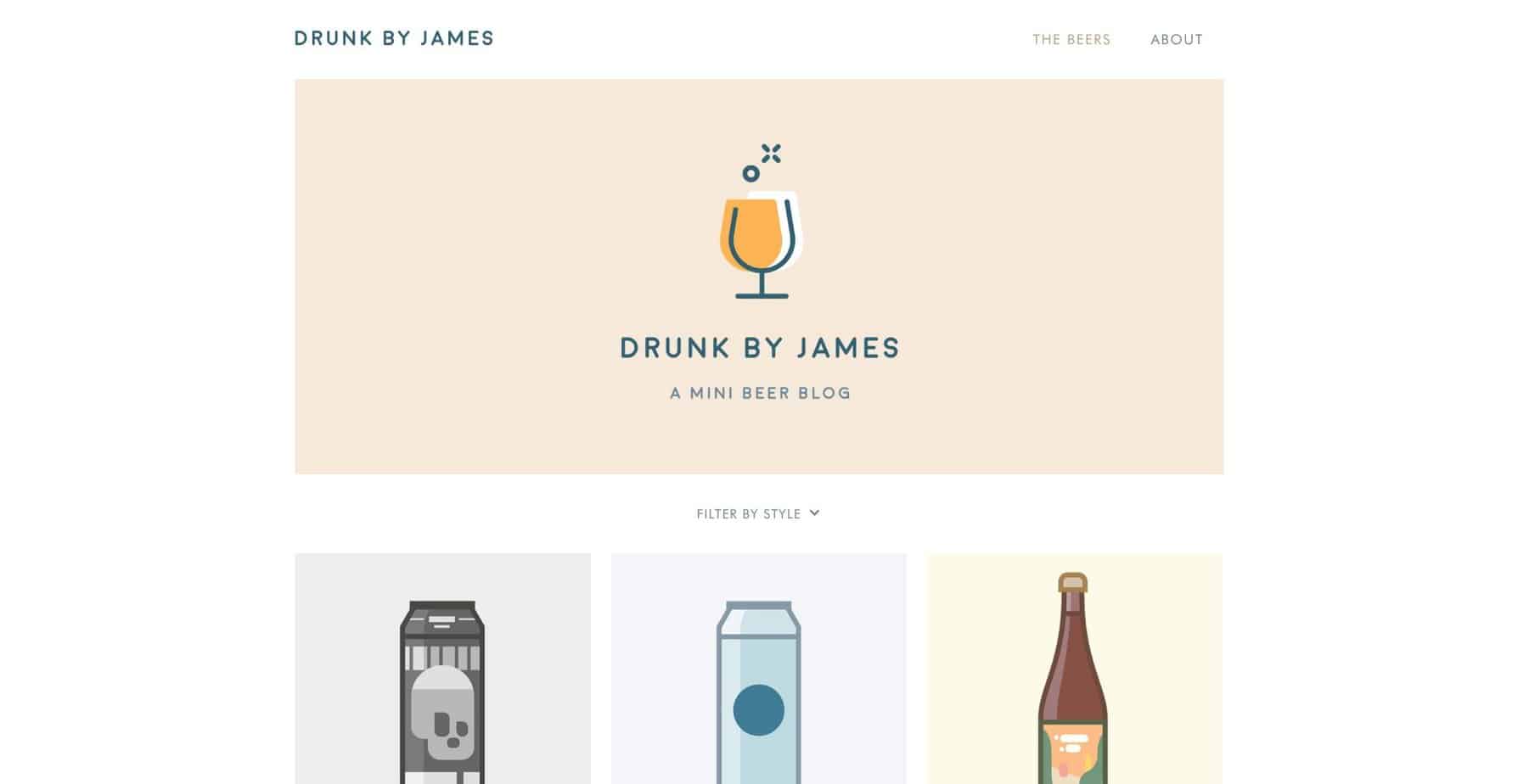 Drunk By James is another example of a design-focused blog. It's gorgeous to look at! A mini-beer blog, it takes readers on a journey to discover new, exciting beers. Each blog post has an accompanying illustration. This consistency makes it a joy to browse from the reader's perspective.
The blog posts themselves are short but sweet: they're descriptive without being particularly personal, and they contain all the information craft beer enthusiasts would want to find. However, this is a blog designed with a specific audience in mind, and James creates content that has niche appeal.
3. Bravedog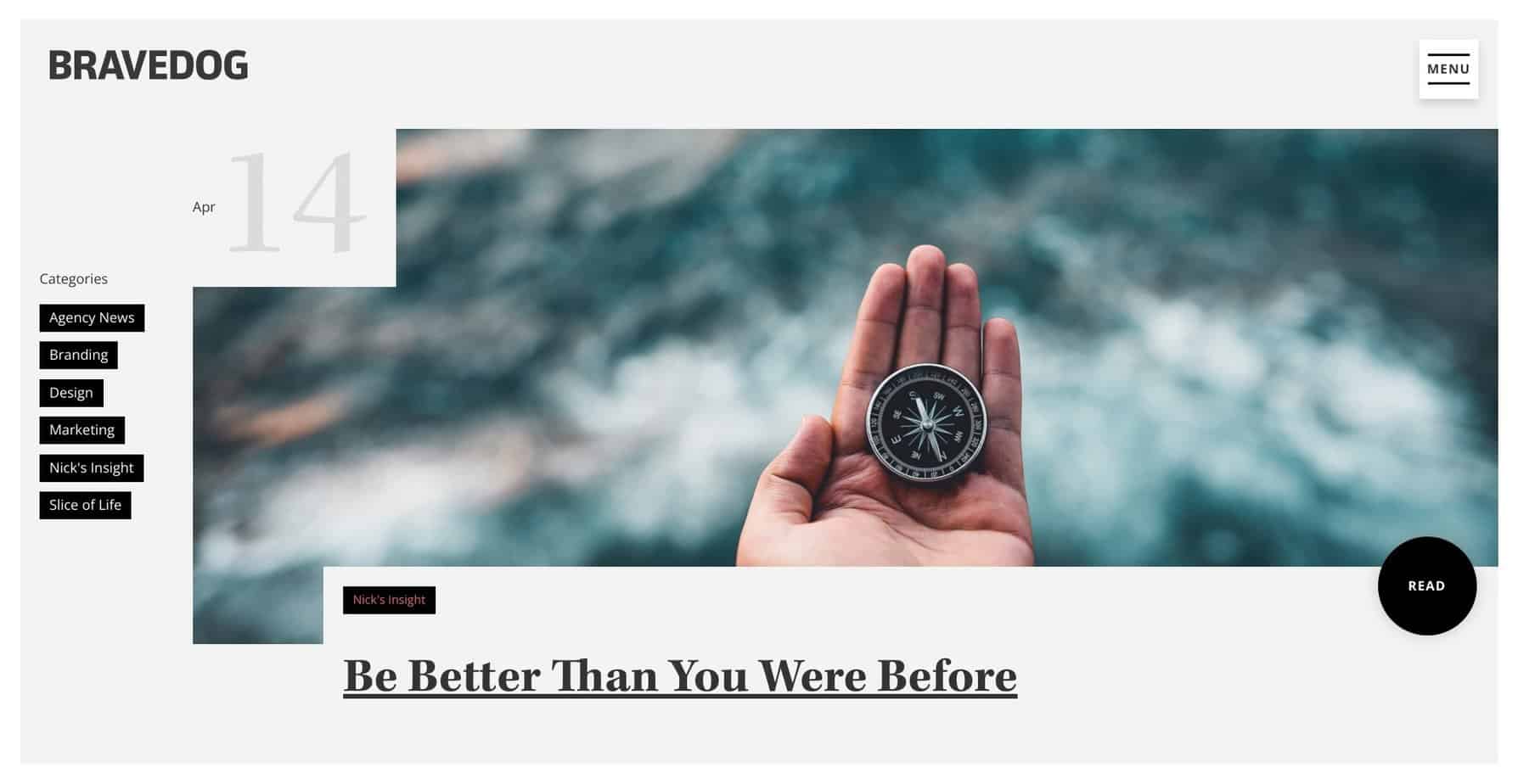 Bravedog is a blog for a Swindon-based marketing and design agency. Making a company blog interesting is a difficult task, but the Bravedog blog is excellent. It's sharply witty, with excellent writing, gorgeous photography, and a bold design.
Bravedog's core audience is very niche, but the content is perfectly tailored to them: it gives specific tips, inspiration, and advice, as well as updates on the company as they grow. From a client's perspective, this is perfect. It gives potential future clients an introduction to the team, and that familiarity can sway a client if they're trying to decide who to choose for their next marketing project.
4. Ashley Janelle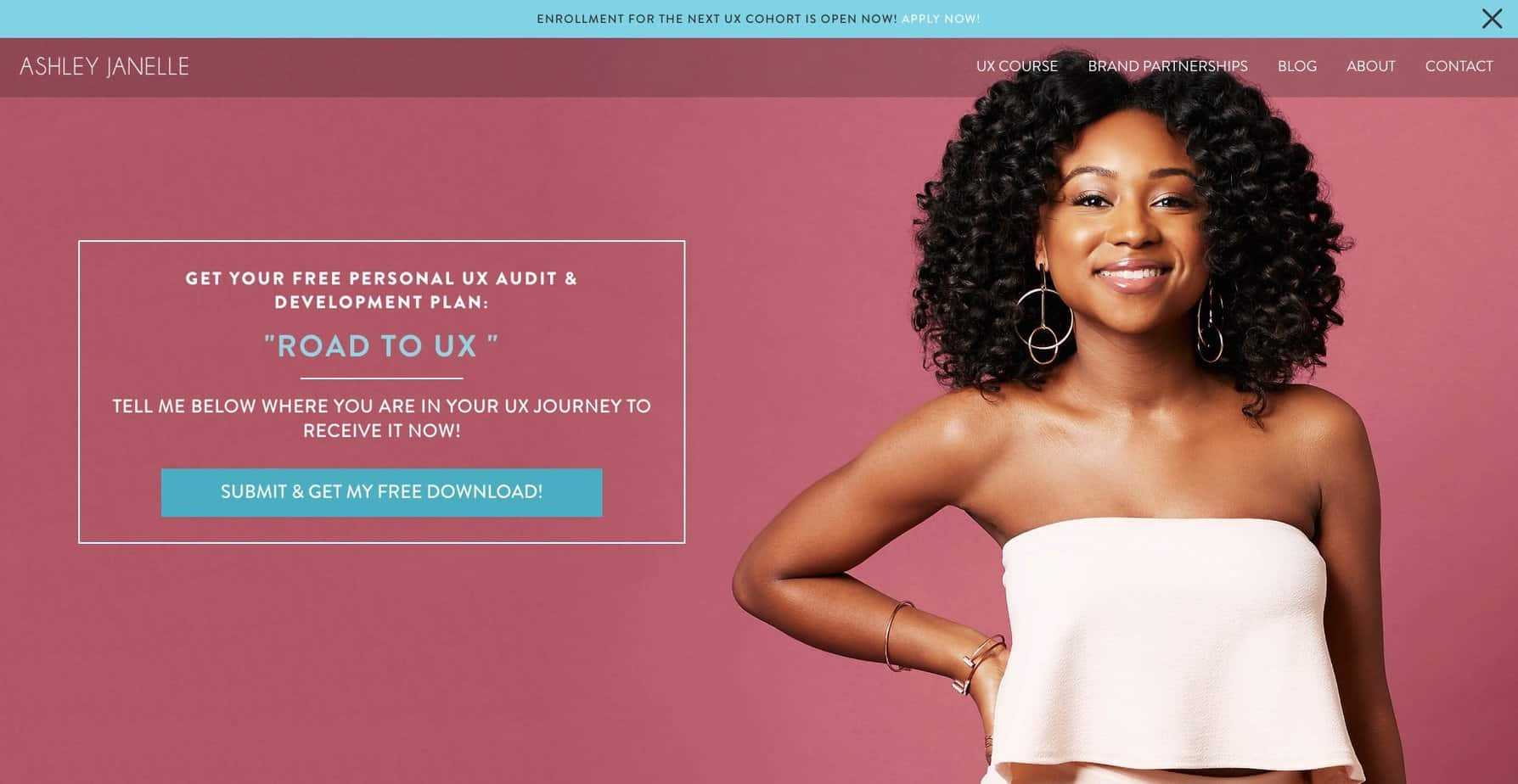 Ashley Janelle's blog is an excellent example of how a blog can generate views by offering specific, useful information to readers. Ashley is a UI/UX designer, and her blog is packed with tips on how to stay motivated during the creative process, how to build a PDF portfolio, and more. It's also a great way for Ashley to explore her passions, with blog posts on tech, travel, and beauty.
The blog is easy to navigate and offers a great incentive right at the start (users can subscribe to get a free download). It's easy from a reader's perspective to find advice as well as how to contact Ashley. It's a perfect example of how creative entrepreneurs can show off their skills and expertise while offering something useful to the reader.
5. Patlid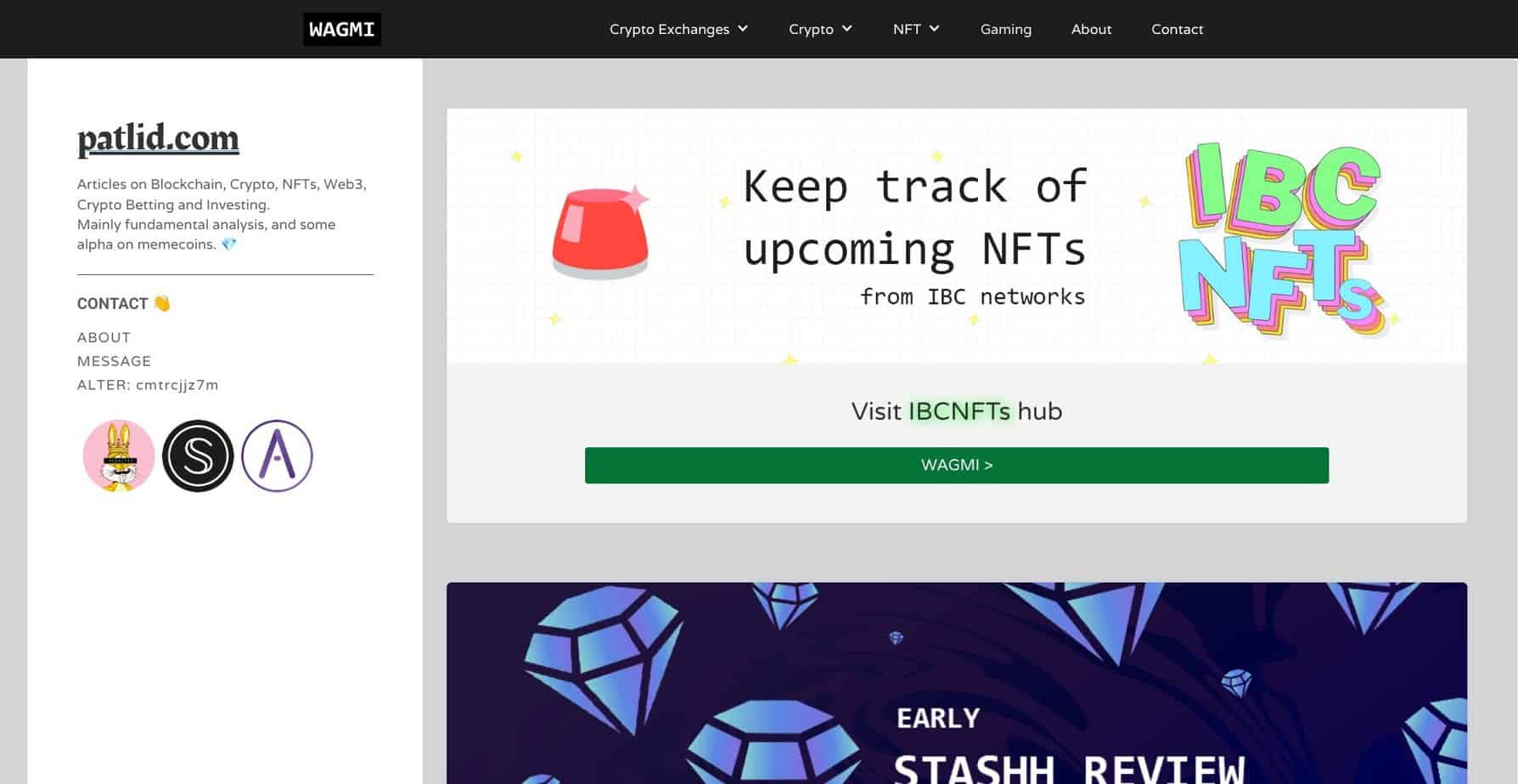 Patlid belongs to Patrick Lidin, and it's a way for him to explore the world of cryptocurrency and NFTs while giving users advice. In terms of design, it's pretty simple. I like the bold colors and the contact information on the left-hand side, which makes it incredibly easy to contact Patrick.
The blog posts themselves are light and informative. They're easy to read, and each blog post breaks down everything readers might want to know about a new NFT collection, including FAQs, which is a great way to get new readers – anyone Googling a specific question about NFTs may come across Patrick's blog.
6. Observations by Atelier and Avenue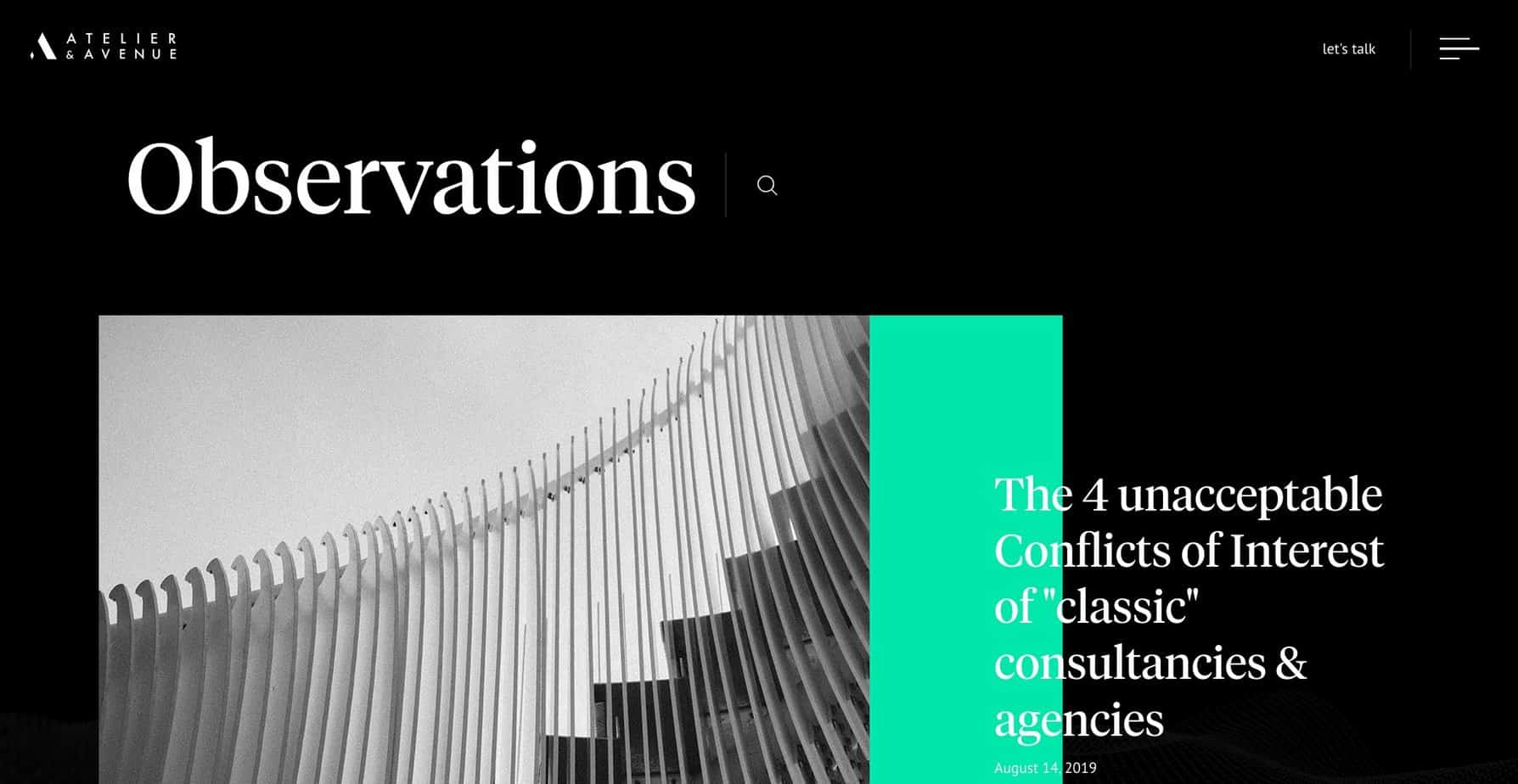 The Observations blog feels more like a magazine than a blog. It's a gorgeously designed website by design agency Atelier and Avenue, and given that they tend to work with high-profile luxury brands (like Marc Jacobs, Givenchy, and Aspinal of London), this is a strategic choice. The blog itself contains information on marketing techniques, with high-quality writing and bold photography.
I like the Observations blog because it feels professional: the blog writers are displaying their expertise, and the whole blog is a brilliant advertisement for the agency. If you want to attract high-end clients, I'd recommend observing (pun not intended!) this blog.
7. Dropbox Sign Blog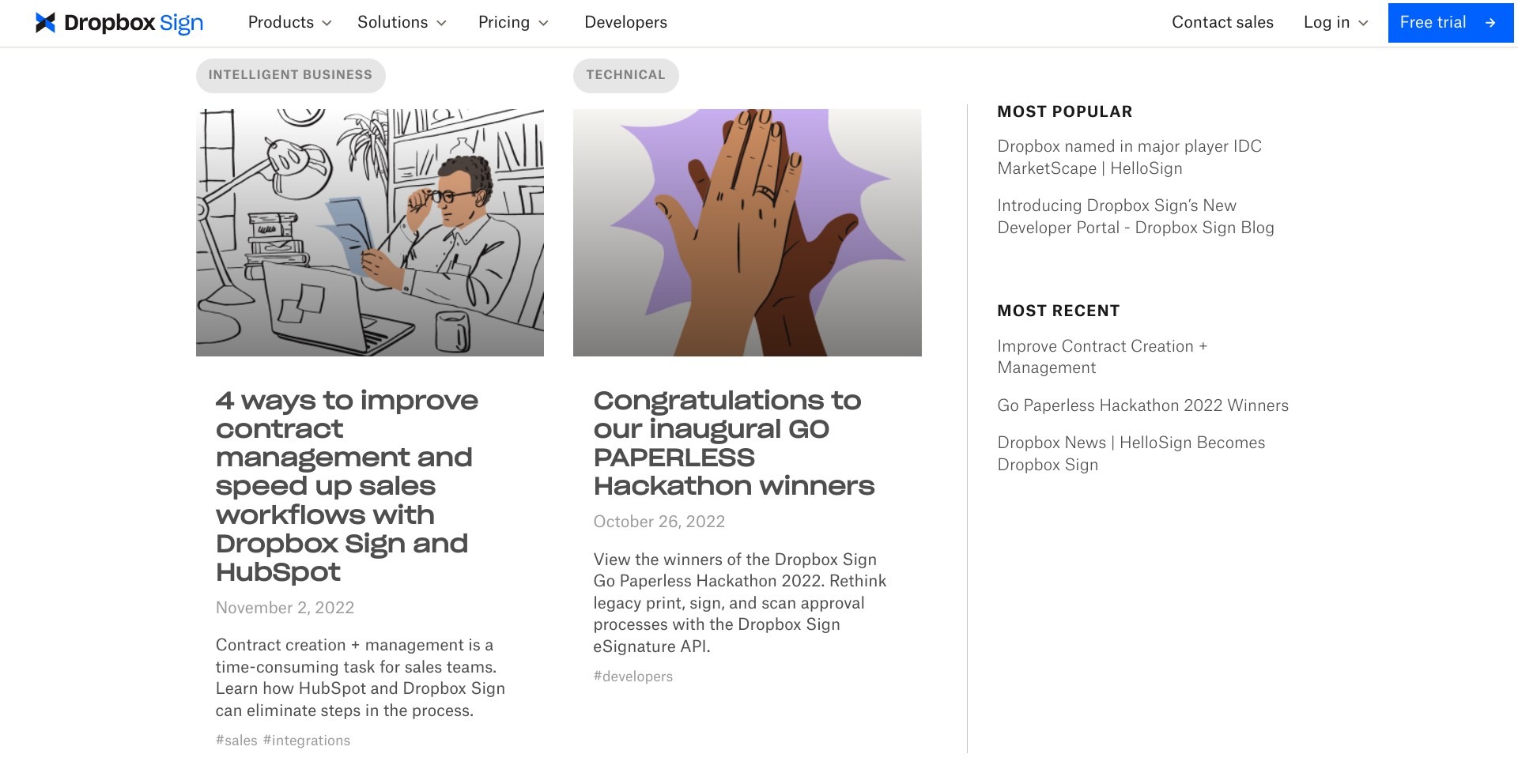 The blog for the electronic signature platform Dropbox Sign is an excellent example of creating engaging, user-focused content specific to your niche. The blog is full of tips and tricks for business owners, all around similar themes (how to go paperless, speed up repetitive admin processes, calculate the cost of a new hire, and so on). They combine helpful information with bold illustrations, making it an excellent blog to look at.
Plus, I like that users can quickly navigate to Dropbox Sign products and that each blog post has a call to action at the bottom. It feels like a natural way to increase engagement with Dropbox Sign.
8. I Ate Oklahoma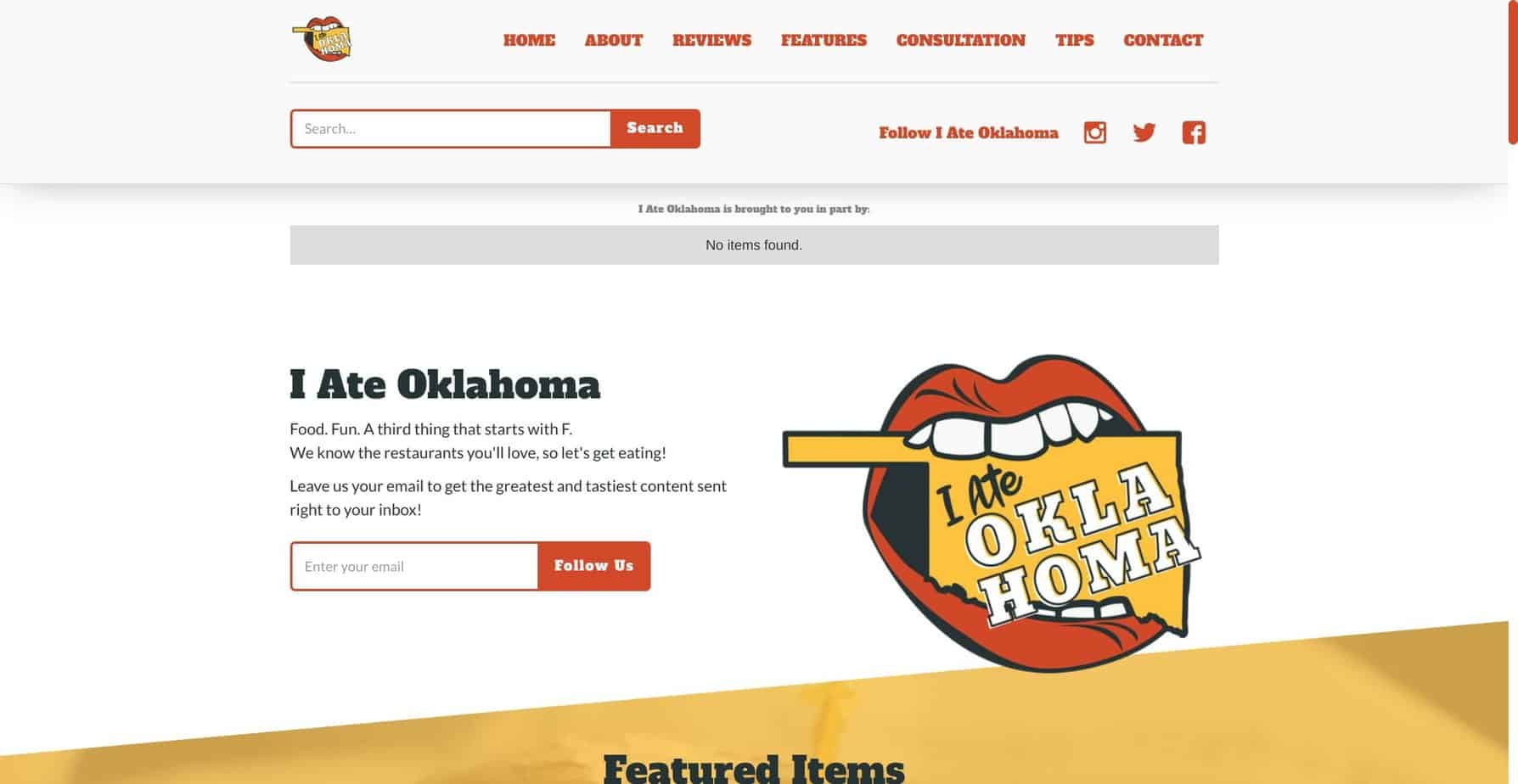 I Ate Oklahoma is a fun, bold blog about the best places to eat in the state. It's bursting with interesting, fun restaurant reviews. I like how in-depth the reviews are: they have photographs and detailed descriptions. It's the ideal blog for Oklahoma-based foodies!
I like the design. From a reader's perspective, it's easy to navigate. Plus, it's a clever advertisement. They offer consultation services for restaurants, including dish evaluations, price assessments, menu streamlining, and marketing ideas. The blog is a great way to show the skills and expertise of the writers.
9. The Lattice Blog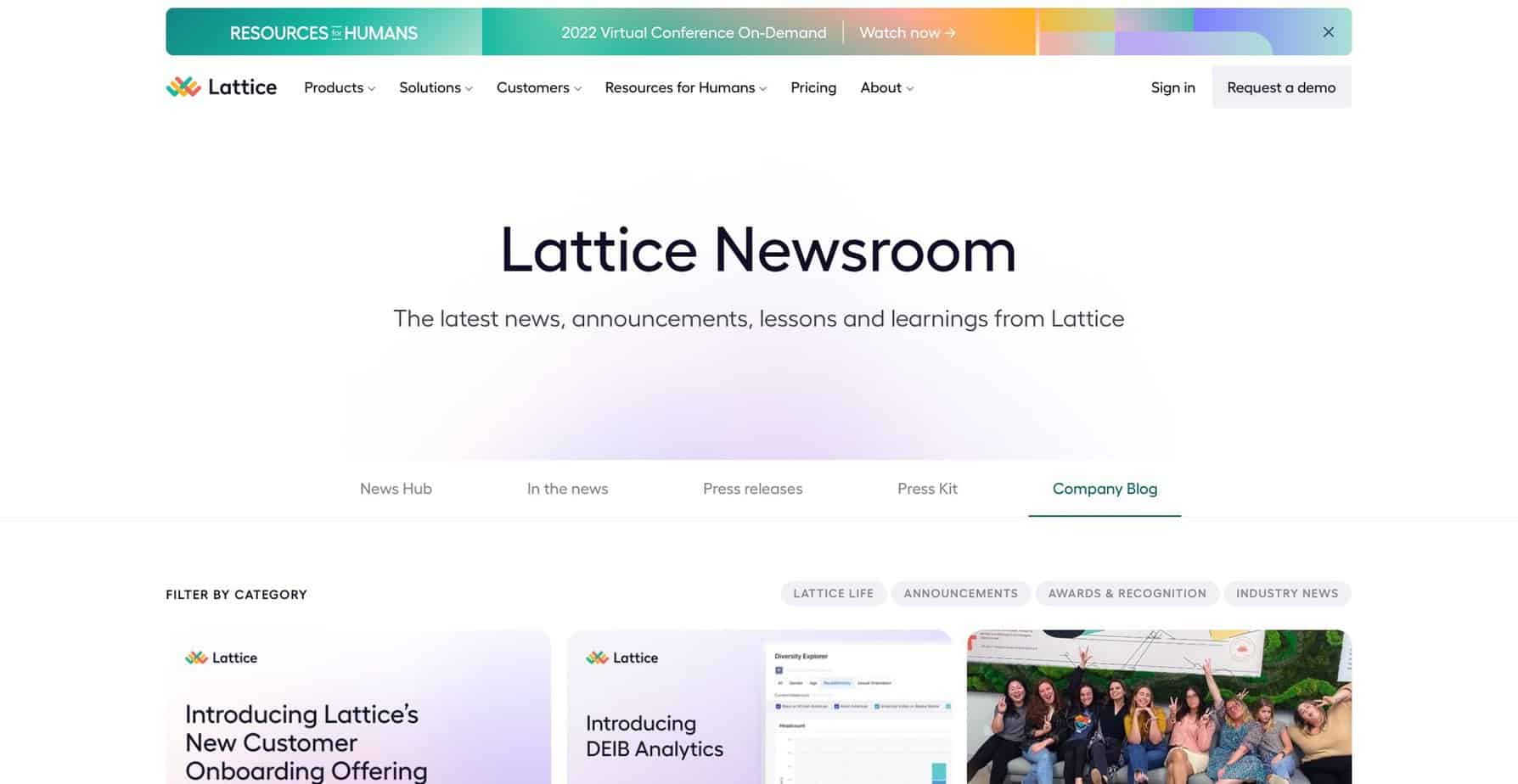 The Lattice Blog is the blog for Lattice, a people management platform. Their audience is comprised of managers and leaders, and their blog content reflects this. They have tips on specific processes like employee life cycle surveys, as well as inspiring interviews with leaders and managers.
It's also a great advertisement for the Lattice platform: the blog is full of updates on awards the company has won, new features they're introducing, and so on. It's a well-designed, easy-to-navigate blog that will appeal to Lattice users.
10. Pagebooks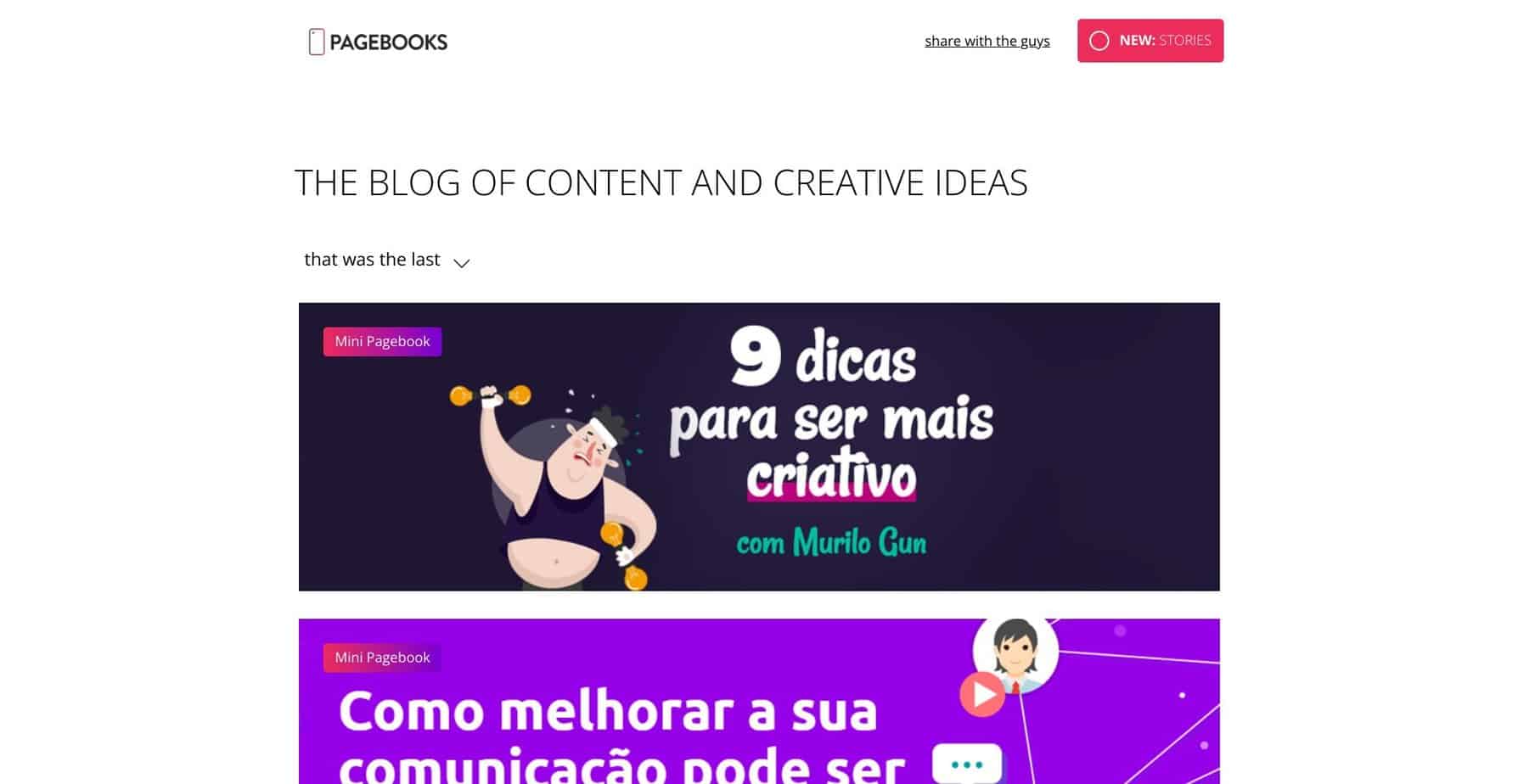 Pagebooks is a fun, vibrant blog! It's great to get some creative inspiration. Based in Brazil, the writers have created useful content with a twist. Each blog post has custom-made graphics, making it a total joy to explore. For example, in a blog post on how to increase creativity, as you scroll down, new content pops up for you to explore.
Content includes how to think slowly, how to live with purpose, how to be environmentally conscious in a tech-driven world, and more. Each post is beautifully designed and packed with information. It's a great example of how to create an online experience, something memorable for readers to keep coming back to.
11. Coworking Resources
Coworking Resources is a blog designed to give advice for coworking spaces. With the rise of flexible working over the past few years, running a coworking space is a good idea, but working out the logistics can be difficult. There aren't many resources out there yet, but Coworking Resources is a good place to go.
I like how straightforward this blog is: it's super easy to navigate, and it's packed with useful information, split into categories to make it even easier to find. It's a user-focused blog, and I think it's a great example of how Webflow can work as a blogging platform.
12. Trusted Health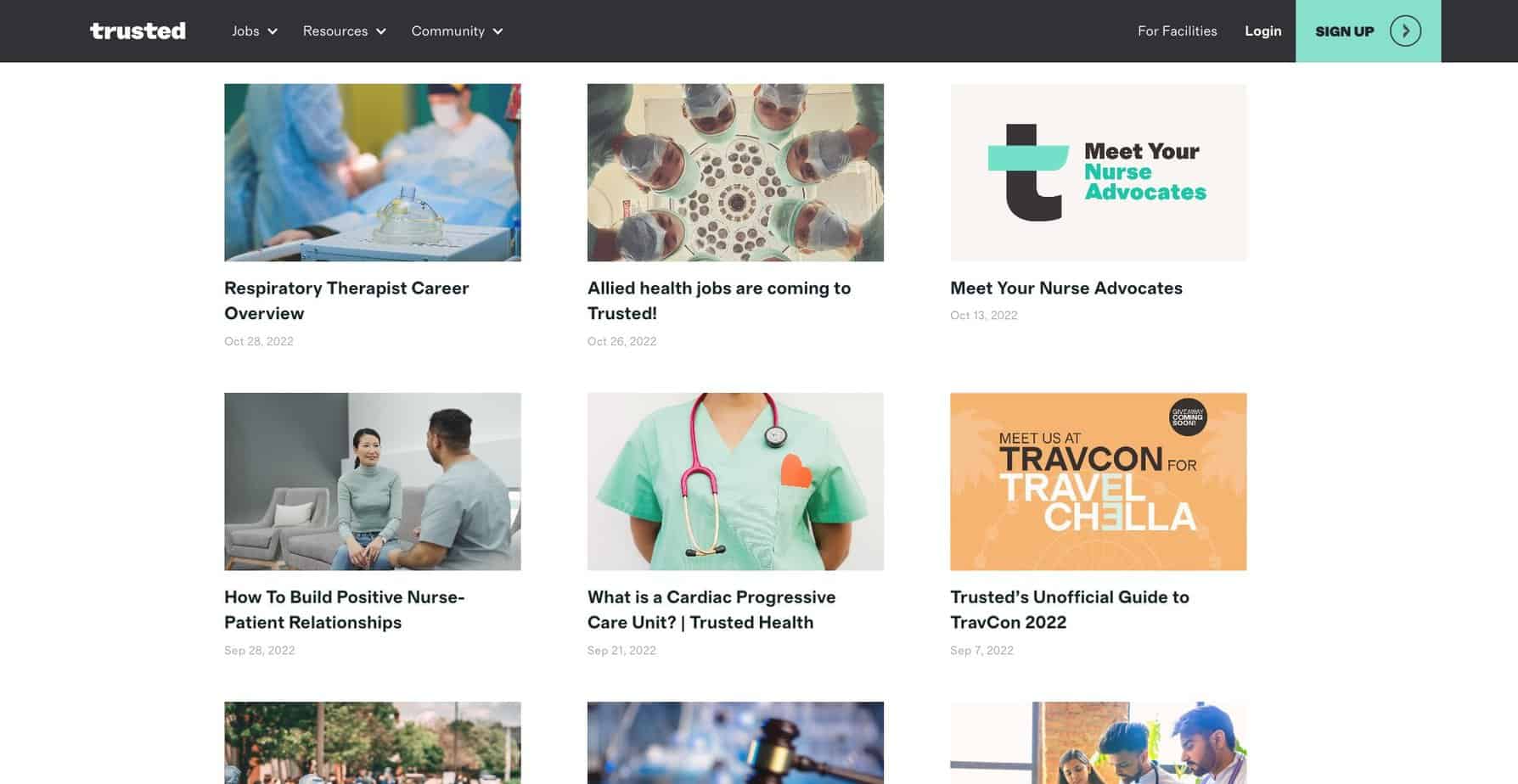 Trusted Health is a simple, easy-to-navigate blog for nurses. The main platform (Trusted Health) connects nurses with new jobs via an online portal, the blog is designed to appeal to that market. It includes posts on important topics like how to navigate the monkeypox crisis, how to build positive relationships with patients, and so on.
I like the small thumbnails with simple, clear titles. It makes it easy to browse, and you can look through posts by category, making it easier to navigate. There is a search bar at the top, so you can quickly find a specific topic.
What Makes a Good Webflow Blog?
If you're designing a Webflow blog, you might be wondering what fundamental features you should include. Here are a few ideas:
Design/Templates
You don't have to know how to code to build a Webflow blog. They have several blog templates available, which will make your life much easier! Each one is customizable.
I particularly like the following templates:
Many Webflow templates come at an extra cost, but it's worth it to take the hassle out of designing a blog yourself.
Branding
A good blog will have the same tone as your business website. It's also important to build familiarity with your customes or clients. Using your company logo, color palette, and slogans prominently on your blog will help customers to connect your blog to your business, and will keep everything consistent, which looks professional.
Navigation
From a reader perspective, your blog should be as easy as possible to navigate. You should be able to quickly find what you're looking for! A search box, topics, your about page, and social media links should be easy and quick to find.
Call to Action
Think about what you want from your blog. Do you want clients to subscribe? Do you want to sell a product (physical or digital)? Do you want to increase followers for your podcast or YouTube channel? Make sure to have a call to action at the bottom of your blog posts, as well as in a prominent place (like the home page or the about page). If you're writing content your audience will enjoy, this should feel natural and not obtrusive.
Useful Information
Readers will keep coming back if you have something useful to offer them. What practical advice can you give them? Think about the niche you're working in: what kind of people use your services? What kind of content are they looking for? What would they type into Google if they had a problem?
Writing blog posts that answer some of these questions, or blog posts that give specific, practical advice, is an almost guaranteed way to get readers to keep coming back again and again. Readers don't just want to see updates about your company – they want to gain something from reading your blog.
Plus, don't be afraid to give your readers a behind-the-scenes glimpse of your company. This will build familiarity and help your customers to get to know you.
Quality Content
High-quality content is key. Readers want sharp, interesting photos or illustrations, and good quality writing. Stock photography is a good call if you're not into taking photos yourself, and if you're struggling with the writing side, see if you can offer guest blogging spots for other writers. You can also look at services like Fiverr to hire a freelance writer.
FAQs
Question: Is Webflow particularly good for blogging?
Answer: Yes, I think so! As you can see from the above examples, Webflow is a flexible platform for eCommerce as well as blogging. You can create the kind of blog that suits you: whether you're starting up a blog as a hobby, or you need to drum up business for your eCommerce store.
Question: Does it cost a lot of money to set up a Webflow account?
Answer: It doesn't have to. Webflow has a free plan, which is great if you're running a blog for a hobby. Their cheapest plan starts at $14 a month (billed yearly), which gives you plenty of bandwidth to get started. I think that's pretty competitive with other platforms (like WordPress or Squarespace).
Question: Is it easy to set up a Webflow blog?
Answer: Yes, I think it's pretty straightforward. You can read more about how it works in our Webflow review. The web builder is pretty easy to navigate, although of course, it will have a learning curve for complete beginners. Using a decent blog template is much easier than trying to build a blog from scratch.
You can also check out our guide to the Best Webflow Integrations, as well as the best Webflow Plugins, for more advice and guidance.
Question: Can I have a blog on my Webflow eCommerce store?
Answer: Yes, you can have a blog on your Webflow eCommerce store! Once you've set up your store, you can insert blog posts from there.
My Final Thoughts
I like all the blogs on this list. If I had to pick a favorite, I'd lean towards Tea With Tami. It's a great way to encourage new subscribers to Tami's podcast, and it also provides related content that her current subscribers might enjoy.
I also recommend checking out Pagebooks, not only for blog inspiration but as an interesting website to read for a while. It's super creative and has tons of content for anyone wanting to make something online.