Last Updated on April 22, 2023 by Ewen Finser
If you want to use Webflow as your chosen eCommerce platform but web design is proving to be more difficult than you thought, you might find my guide to the best Webflow designers and agencies helpful! Designing a smooth, user-friendly website that effectively communicates your brand image is difficult. (I know this from my experience running eCommerce businesses – brand image is essential, and it's hard to get it right.)
Handing this task over to an individual designer or an agency may take a massive weight off your shoulders. However, there are tons of talented, creative agencies out there with Webflow experience: in this guide, I'll give you 10 of my favorites and a guide on what you should look for.
The Bottom Line Up Front
Many creative, clever, and useful agencies and designers are on this list. MHowever, y favorite agency is The Alchemists – their designs are beautiful, and I like that they'll help you craft a strong brand identity.
However, if you'd rather work with an individual designer, I'd recommend checking out Rory Braatvedt. He has over 10 years of marketing experience, so he understands the importance of considering business goals alongside web design.
What are Webflow Designers and Agencies?
Webflow designers and agencies are individuals or companies that can create bespoke, beautiful websites on Webflow. This means you won't have to worry about the design process at all: instead, you can sit back, relax, and allow someone else to craft a website for you.
If you have no experience in web design or you just want to work with experts, it could be an excellent investment. Many designers and agencies have marketing experience, too. This means they'll be able to work with you to increase conversion rates or reach other business goals.
How Does the Process Work?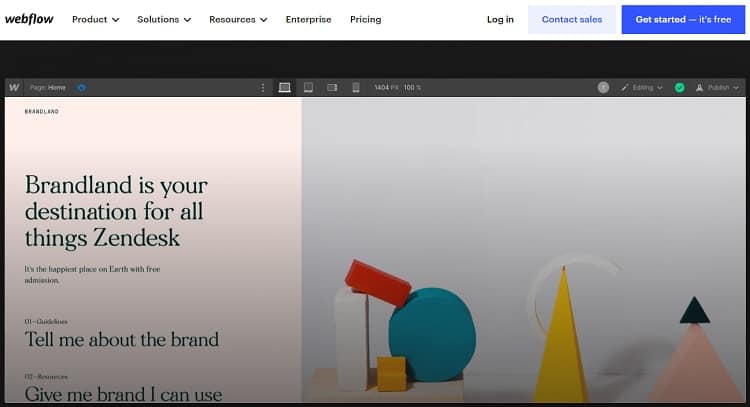 Usually, you have to reach out via a contact form or email. Once you've done this, the designer or agency will arrange an initial meeting to hear your thoughts on your needs. If they feel they are the right fit, they'll get back to you with a quote.
There may be one or several meetings during which the designer or agency will work with you. This may take longer if you're crafting a brand identity from scratch. They should give you a rough idea of what you can expect from them, and if you're happy, the work will go ahead.
Once your Webflow website is finished, they'll present it to you, tweaking the design if necessary (this may come at an extra cost: it's a good idea to find out exactly what your final fee includes before you start). They'll also give you instructions on how you can add content yourself.
What Should You Look for in a Webflow Designer or Agency?
There are a few key things you should look for:
Webflow Expertise
If you've chosen Webflow as your platform, you'll want to find a designer or agency with experience. Not only will they be able to create a website using Webflow if they already have experience using it, but they'll also be able to iron out any problems that may crop up later on.
You can choose a Webflow Expert: these are Webflow-endorsed designers or agencies with expertise using the platform. Every designer or agency on this list is a Webflow Expert.
Design/Style
Looking at portfolios will give you the best idea of the designer or agency's style. It's worth browsing through their completed projects to see how well they work from a user perspective. Are their designs memorable? Do they make it easy to navigate? Does it make sense from a customer perspective?
You can also get a good idea of their style by browsing the designer or agency's website. Their brand identity should be strong: at a glance, you should get an idea of their style. They will be in charge of your company's online identity, so this is a good test!
Marketing Experience
Web design for online businesses goes beyond building a pretty website. Your designer or agency must have marketing experience, too.
Whether you're an eCommerce store looking to improve conversion rates, an event organizer trying to make it easier for your customers to book tickets, or an already established business looking to strengthen its online presence, they should be able to help you.
Many designers will ask for your business goals. For example, you might want to encourage people to sign up for your newsletter or reach better conversion rates. They'll keep this in mind during the design process, making the customer's journey 'flow' smoothly to the desired result.
User Experience
Again, user experience is critical. Think about what your customers or clients want from you: how can you offer that to them via your online presence? This should be talked about at the consultation stage. User experience has to be taken into account.
Reviews and Recommendations
Another useful idea is to see if anyone has left a review or recommendation for a designer/agency you're interested in. They should have recommendations marked on their website so that you can hear from previous clients.
Extra Features
Other features offered by designers and agencies may include:
Custom illustrations
Mobile app design and implementation
Guidance and implementation of NFTs
Complex Webflow problem solving
Website management
Content creation, including content writing and social media posts
Logo design
Not all designers or agencies will offer these features, so which one you choose will depend on what you're looking for.
My Top 10 Webflow Designers and Agencies
Our top 10 Webflow designers and agencies are in no particular order. They're all Webflow Experts, but they're all slightly different in terms of what they can offer you.
1. The Alchemists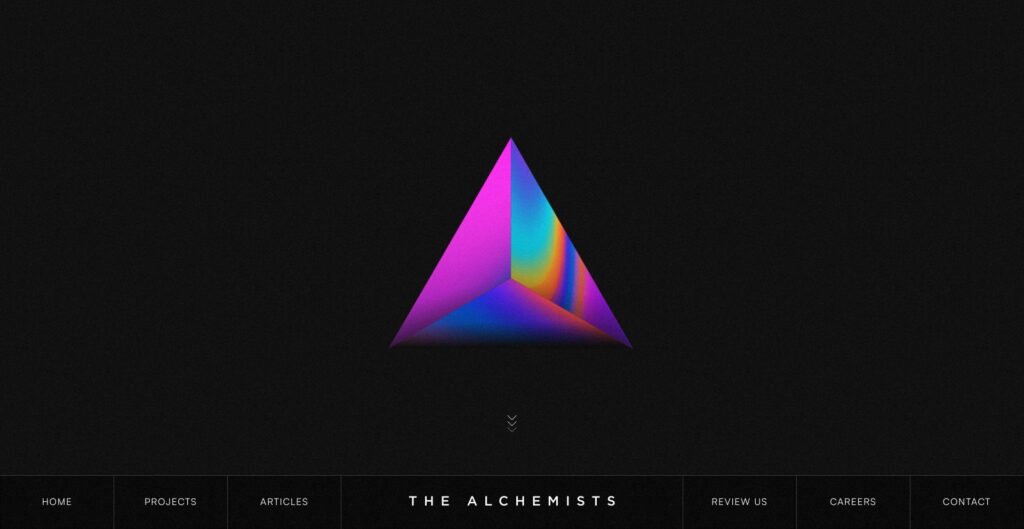 A design agency based in Detroit, USA, The Alchemists wants to create emotional and engaging online experiences. If you want to create a website that your visitors will remember, The Alchemists are an excellent choice. They offer web design, UX/UI design, brand-boosting, and content creation. If you want to build a brand identity but you're not sure where to start, they can help.
They're flexible and easy to work with. Whether you've got a firm idea of your brand identity or you're a brand-new business and you need guidance, they'll be able to help you to craft an image that will stick in your client's minds. Their portfolio is worth a look: they've made some stunning websites, and I like their design style.
2. LE4F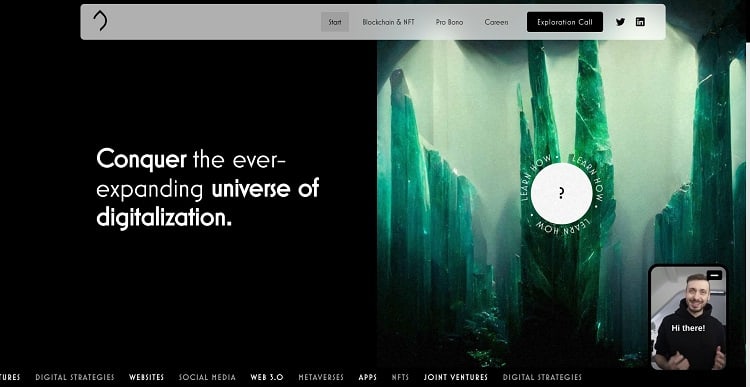 LE4F is an agency focusing on digitalization. This means helping both established offline companies to create a digital presence, as well as crafting a brand identity for new startups. They've helped to create marketing campaigns for art projects, awards ceremonies, and more.
You can see the kind of modern, user-focused approach they take to web design in their portfolio. I like their design aesthetic and the fact that their websites are easy to navigate from a user perspective. They also offer product development, education, and implementing NFTs and blockchain services. If this is something that could suit your business model, LE4F could help you out.
They also offer pro-bono services for non-profit organizations, including web design, digital strategies, and acquisition, which is good to know.
3. Big Rocket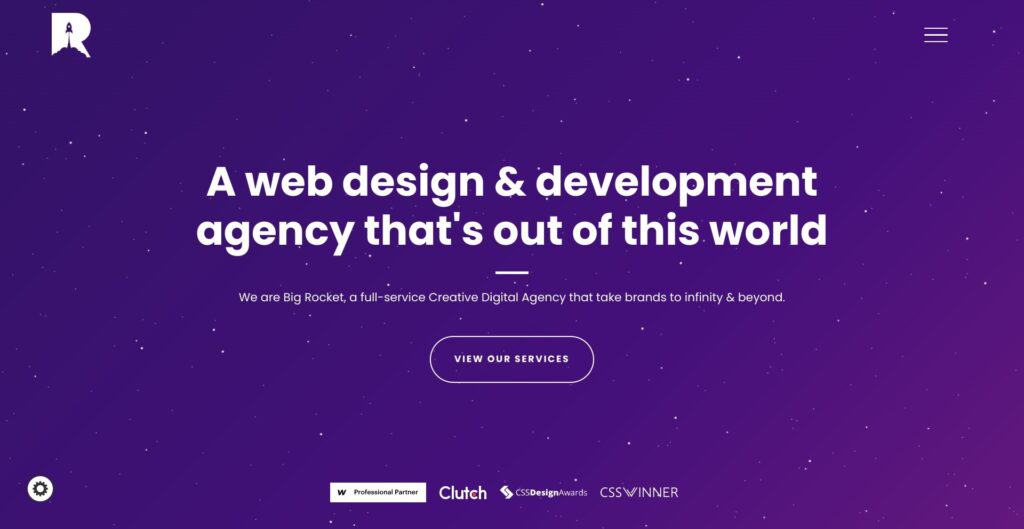 Based in London, England, Big Rocket is a design agency with expertise in building Webflow websites and dealing with branding, digital marketing, and SEO. They can create a beautiful, user-friendly storefront for your eCommerce business, keeping in mind your goals for the growth of your business.
They create bespoke websites, taking the time to get to know your team personally, so they can understand what you're looking for.
They have worked with some great brands: for example, they worked with the lifestyle brand NORSK to create a web presence to accompany their brick-and-mortar store. They managed the branding, web design, and implementation in 2 months, which is a good sign if you need a fast turnaround time.
Whether you're building something new from scratch or you want to improve your brand presence online, they can help.
4. Alex Hartan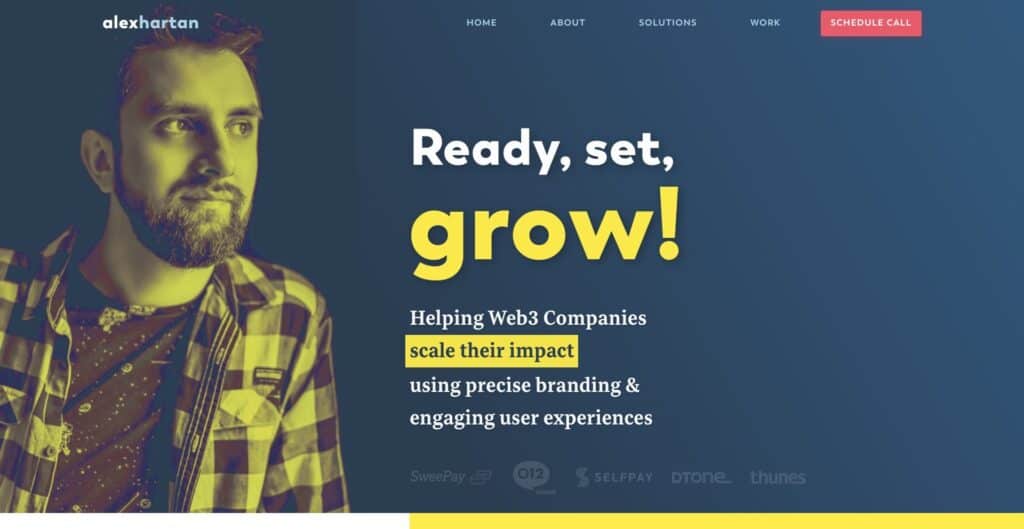 Alex Hartan is a brand strategist and UX designer based in Craiova, Romania. He focuses on creating memorable digital experiences, increasing visitor retention, and helping you present your brand's story in a split-second.
He can build a branding system from scratch to improve your online presence, and create consistency for your customers. From a marketing perspective, this is great. It's not just about creating a beautiful website; it's about clearly communicating your brand message, which I think Hartan does well.
You can see from his portfolio that he has helped to create brand identities for some great companies: for example, he made a complete brand identity for the Bitcoin company Start2Coin.
If you'd instead work with an individual instead of a company, it's worth checking out Hartan's work.
5. Braatvedt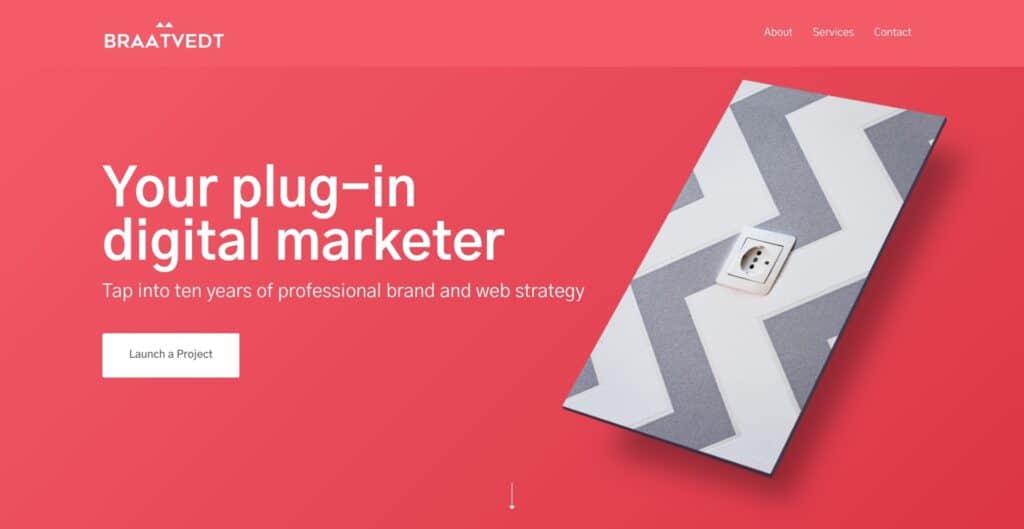 Based in Vancouver, Canada, Braatvedt is run by web designer Rory Braatvedt and is focused on storytelling and communicating brand identity through web design and copywriting. He creates beautiful, user-friendly websites designed to increase conversion rates and encourage customers to come back again and again.
Braatvedt has over 10 years of marketing experience, so if you're looking to build an eCommerce business using Webflow, he's an excellent person to contact.
He's excellent at pinpointing what you're trying to express, then crafting a brand identity around those values.
He also offers advertising management, including writing scripts if you want to get into video marketing and crafting social media posts, which may save you from hiring a freelancer (you can read more about this in our Upwork vs. Fiverr comparison).
6. The Carrot Cake Studio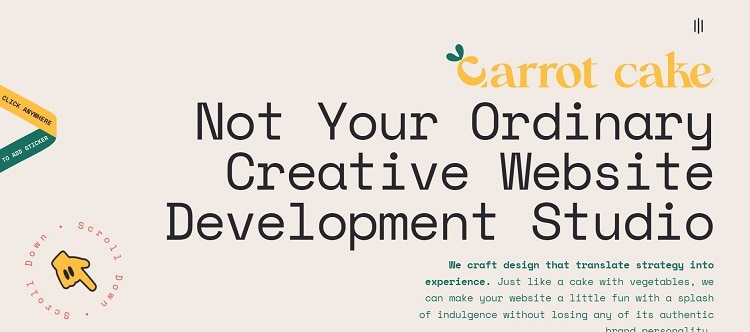 The ethos behind The Carrot Cake Studio is to create fun web experiences infused with personality while maintaining a solid brand identity. They create unique websites with catchy copy, allowing you to express your brand's character quickly.
You can get a good feel for the kind of studio they are by visiting their website, which is full of life! While they can't build large, complex eCommerce businesses, they can create simple eCommerce sites on Webflow and create an online presence for already established businesses.
The Carrot Cake Studio offers brand design for smaller businesses: think dentistry, coaching, events planning, and so on.
If you run a business but are unsure how to get started with an online presence, it may be worth getting in touch with them to see if they can help.
7. Belka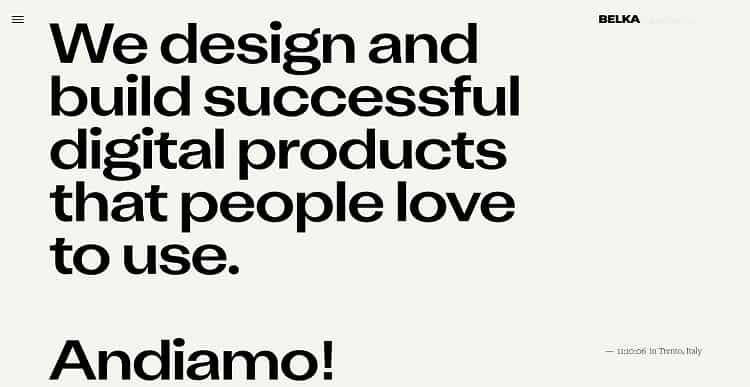 Belka is an agency based in Trento, Italy. They are a digital product studio that creates digital products for businesses, from websites to apps to games. They're a studio of 17 people, including designers, developers, producers, and strategists, and they can work with you to create a digital presence for your brand from scratch.
They're used to working with tight deadlines, even creating a new design system and homepage for a brand in just 2 weeks.
Whether you want to create a digital presence for an offline brand, an app or game for an event, or you want to craft a brand new business from scratch, Belka is a great agency to get in touch with, and they can work well in Webflow to create a fun, interactive website for your customers.
8. Firebean
Firebean is a Webflow-exclusive studio: I like that they're focused on using Webflow alone, as this means they have a lot of expertise in using the platform. As a result, they can help startups and tech companies improve their digital presence or create a new brand from scratch.
They use the no-code tools for fast turnaround times, which is great. If you've got a tight deadline to meet, I think it's a good idea to check them out.
I like that they can increase conversion rates. In addition, they'll work with you to create goals, using Webflow's tools to create the best possible experience for your customers.
They can create or improve landing pages, create illustrations for your website, and more.
9. Derrick.dk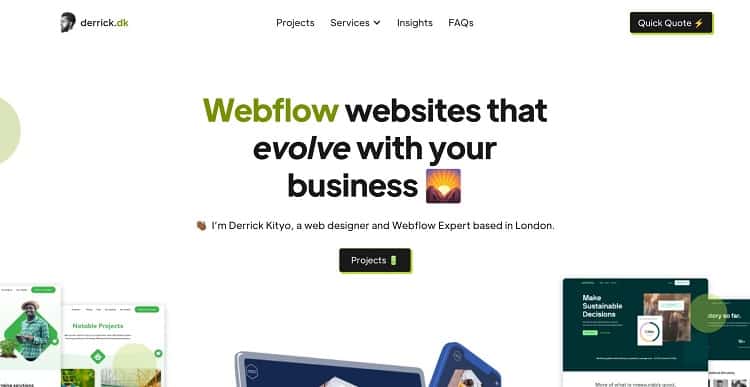 Derrick.dk is a designer based in London, England. He can work with you to create a strong brand identity, creating user-focused websites. He's perfect if you have a complicated problem that needs solving or a particular task on Webflow that you can't work out.
He also offers services to turn your Figma creations into a fully working Webflow website. So if you've got some good ideas but don't know how to implement them, he can help.
I like that he works explicitly in Webflow. He can also offer Webflow maintenance: he'll check your website for you and create a bespoke maintenance package. You can see from his portfolio that he creates websites that are easy to use from your customers' perspective, which is excellent.
10. Aurelie Brebant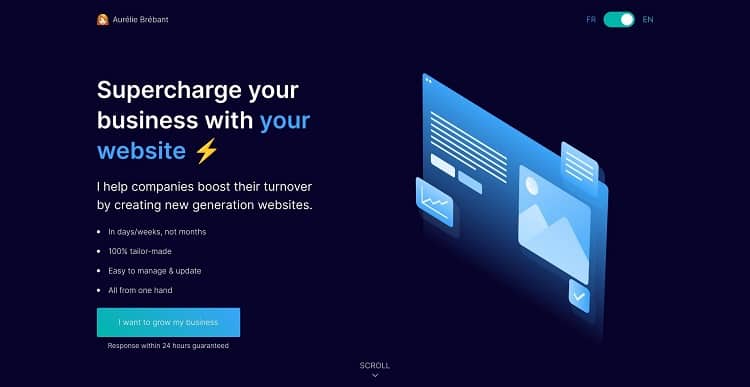 With over 5 years of experience in Webflow development, Aurelie Brebant is based in Nantes, France. She can create websites for new startups or help existing sites to create a more user-friendly experience. She can create a beautiful landing page in a few days, for example (depending on how complex you want it to be).
They can also give you a hand in developing your current website. If you're stuck midway through the Webflow design process, Brebant can help you to get back on track.
She will help you with the implementation process and can help you to reach your conversion rate goals. Her designs are created with this in mind, so if you're struggling to attract new customers, it could be a good idea to get in touch with her.
FAQs
Question: How much does it Cost to have a Custom Webflow Website Designed for me?
Answer: This can vary depending on your level of expertise and the features you want your website to have. I'd say at the very lowest; you should expect to pay $1000. However, if you're going for a complex eCommerce store, for example, with branding designed by an agency, you will be looking at paying upwards of $10,000.
Question: Can I Learn to Create a Webflow Site Myself?
Answer: Yes, you can learn to create a Webflow site yourself, although you'll need to be prepared to spend some time learning how to use the platform. Webflow University is a beneficial service with many tutorials and guides on designing a website.
I'd also recommend checking out Webflow plugins and Webflow integrations, which may help you create the website you've envisioned.
Question: Is Webflow a Good Platform for eCommerce?
Answer: I would say yes, Webflow is a good platform for eCommerce. It's very customizable (more customizable than Shopify, for example – you can read more about this in our Webflow vs. Shopify comparison), and it's pretty user-friendly. However, there is a learning curve involved.
To Sum Up …
I hope this has helped you connect with a designer or agency to help you reach your business goals. If I had to pick one agency as my favorite, I'd probably go for The Alchemists. From a style perspective, they're excellent. They can create a brand identity that works for you. Plus, they understand the importance of considering the customer's journey as they interact with you online.
As far as individual designers go, I'd recommend Rory Braatvedt. With over a decade of marketing experience, he's a good choice if you want advice on increasing conversion rates on your Webflow site.