Last Updated on April 22, 2023 by Ewen Finser
Do you plan to build an online store? Etsy vs Squarespace are two of the best platforms to do this, but which one should you choose? Let's explore what they are and how they can help you with your eCommerce business.
Etsy is an online marketplace which started specifically created for handmade and vintage items, and craft supplies. Etsy is a platform that encourages creative and skilled artists to sell their products to customers who value handmade items.
Now, you'll find more than handcrafted items, but that's still the main thing people think about when they hear the name "Etsy." On the other hand, Squarespace is a website-building platform. Squarespace is popular due to its vast range of impressive design templates.
Etsy also offers a website-building software called Pattern by Etsy, but is it good enough to surpass the integrations and overall features provided by Squarespace? Well, let us take a closer look.
Main Differences Between Etsy vs Squarespace
The main differences between Etsy vs Squarespace are:
Etsy is marketed to the crafty person, whereas Squarespace is marketed for the "cool kids" in the eCommerce space.

Etsy allows you to promote your store items quickly and easily, whereas Squarespace only allows promotion on their top plan.

Etsy charges you by the listings you have on your store, whereas Squarespace allows you to have unlimited products.

Etsy has a massive library of tutorials to help sellers, whereas Squarespace doesn't have as much to help sellers be successful.
Etsy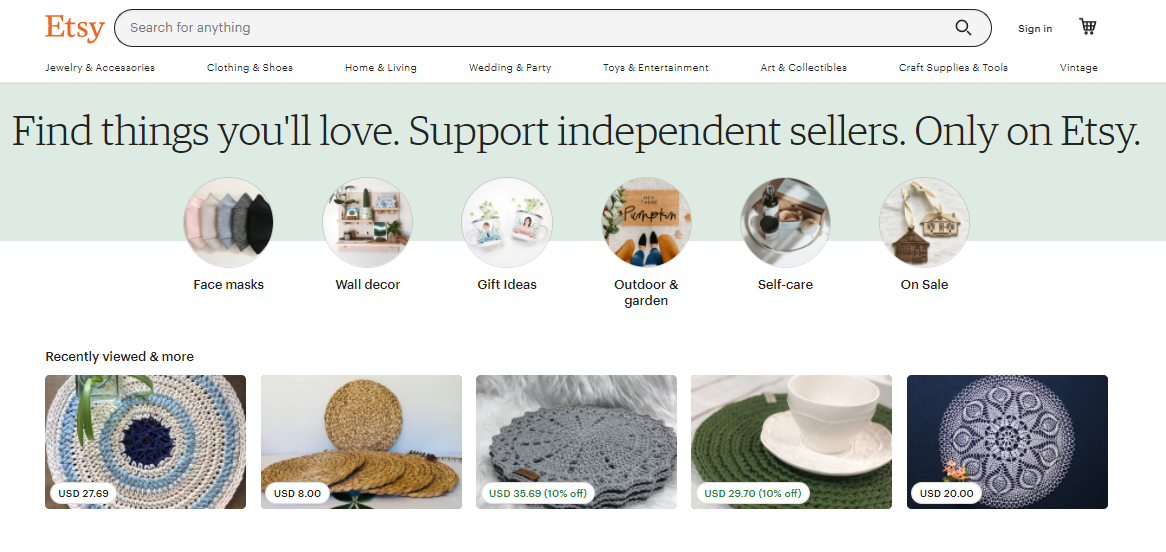 As mentioned earlier, Etsy is a unique marketplace that started out for artists. People come here from all over the world looking for exclusive handmade products. Products that are more than 20 years old, sell as vintage products. Craft supplies, for example, beads and buttons are also sold on the Etsy platform.
Etsy charges a $0.2 fee per product. These listings last for 3 months. If the product sells, the listing fees renews. Etsy also charges 5% as commission and 3% + $0.25 processing fees. You can also upgrade to Etsy Plus subscription which charges $10 per month and in return gives you 15 free listings and $5 Etsy ad credit. Etsy Plus also allows you to add more graphics to your shop.
Pattern by Etsy was launched in 2016, which allows you to build your website outside its marketplace. Pattern does not have the product restrictions Etsy has, so you can sell more items when you build your business through Pattern.
As for Pattern by Etsy, it is free for a month and then they will charge you $15 monthly as a hosting fee. For individuals and small businesses that make Etsy-friendly products and want them to sell fast on a global marketplace, Etsy is the right platform.
You can think of Etsy as a shopping mall. If you open a shop here then you own one of the stores in this mall, so you get access to all the customers who are already present. You can then run through different campaigns to boost your sales and get your product to the right customer.
By creating a shop on Etsy, you do not have to deal with the hassle of starting a store from scratch. Etsy is designed specifically to launch a store right away. At Etsy, you can create a store within minutes and have your product selling right away as long as it is a product people want.
The process of setting up a shop is quick and simple, which makes it great for starting a business.
However, in long term, it is better to have your independent store and brand. Etsy has some limitations which restrict you from reaching your true business potential.
On the other hand, it is a ready-to-go solution. Businesses with a high product turnover or a variety of inventory will need advanced platforms which provide better features. Squarespace provides that as do other more feature-rich platforms like Shopify.
Accessibility
Etsy is very easy to use. But this is mainly due to the lack of customization features. All Etsy shops look the same. They have one banner, one shop icon, and product listings with one fixed pattern.
Since they don't have much customization, shop management is very easy. There isn't too much to think about. You can add, pause, or delete products with the click of a button. You can also run ads and discount sales as per your plan to help get you more revenue.
If you are comfortable with the shop layout, great! If not, you can only make cosmetic changes like changing the photo, font, and color theme of your store. With Etsy Plus, you get a few additional features, such as adding scrollable banners to your store and highlighting featured products. Other than that, it all remains the same, generally.
Support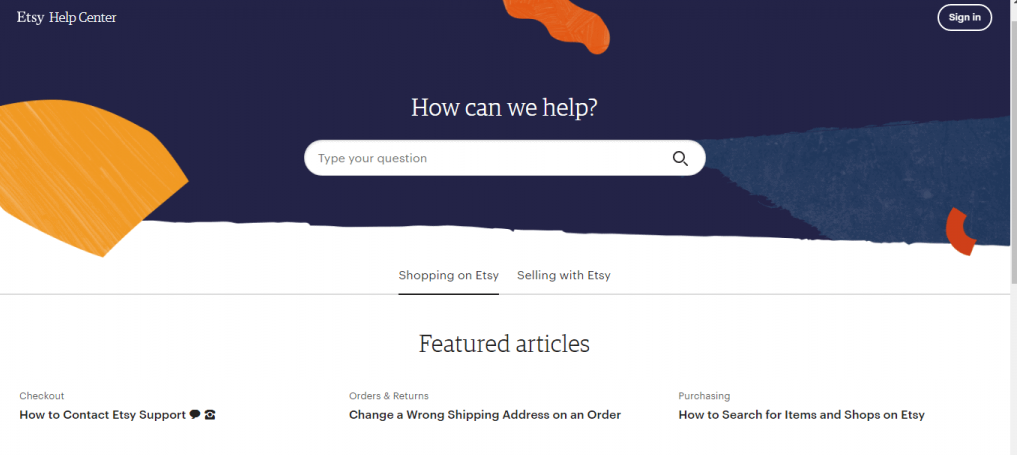 Etsy provides support to sellers via live chat, email, and phone service. It also has an Etsy seller community where you can mention your concerns and you'll get an answer shortly. This is available even on the free plan so you can get assistance whenever you need it.
Cost-efficiency
Etsy seems to be the best e-commerce platform in terms of value for money. Etsy gives you free shop creation with the regular plan and only ten dollars per month if you want to upgrade to Etsy Plus. If you set up an independent store using Pattern by Etsy, you only pay fifteen dollars per month. But if you look closely at the different fees Etsy charges, you will see that Etsy is charging almost 10% of the listing price.
They charge $0.2 for every listing, with a 5% transaction fee and 3% processing charges. Moreover, when Etsy brings you a sale from its offsite ads, it charges 15% of the total value, sadly this feature cannot be turned off.
So it might seem that you are paying Etsy a small amount, but when you sell more and calculate the overall charges, you'll see that Etsy is making a lot of money from your sales, so it is important to keep an account of how much you actually earn.
Pros
Easy to set up, manage and run a store

Pocket-friendly

Great for artists and small businesses

Exposure to existing customers
Cons
High fees

Heavy competition

No retailing allowed (except for craft supplies)

Limited design and sales features
Squarespace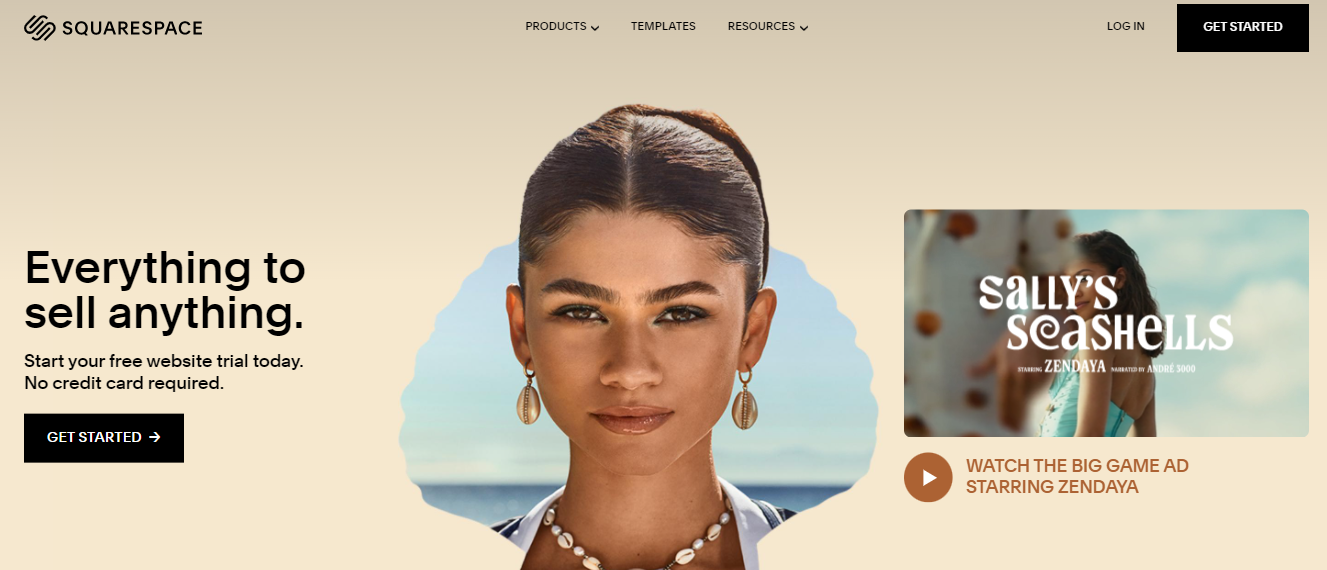 Squarespace Commerce is an online platform that builds and hosts an independent website for you. It is intended for retailers who want to design and manage their stores from scratch. You can customize it almost any way you can imagine.
It is a tool used to create and run websites, with numerous integrated customization features. Squarespace, therefore, is not a marketplace, which is one way it is different from Etsy. Squarespace allows greater freedom and control in styling and customizing your shop, which also means it gets slightly complicated when compared to setting up a shop on a marketplace like Etsy.
Granted it can get a bit tricky when designing a website on Squarespace, but the number of features and business freedom you get outweighs the complexity you face.
There is one more thing to worry about. Since Squarespace is not a marketplace, you do not get customers for free. You have to drive in traffic externally through different marketing strategies which include advertising, search engine optimization, and social media. So count this as extra effort and extra expenditure.
On the bright side, Squarespace does not charge any transaction fees when you sign up for one of its commerce plans, that is because it simply hosts your website rather than owns it. If you sell several products, Squarespace will ultimately turn out to be the more affordable choice since it only charges a monthly fee.
Squarespace as a fully-hosted, website-building platform has enough potential to help you build a very beautiful and interactive website. Some of its great features include marketing tools, a huge library of impressive template designs, analytics, a point of sale system, and unlimited storage and bandwidth.
Accessibility
Squarespace is not as easy to use as Etsy, but once you get familiar with it, store management becomes very simple. Apart from making advanced customizations, store building via Squarespace is intuitive and its shop management dashboard makes navigation a piece of cake. You may have a little trouble getting things sorted at the start, but with practice, you will eventually master it.
Besides tons of free professional design templates, you also have access to premium templates (paid of course) which you can use to develop your website exactly as you imagine. If you aren't a technical person, you might find this hard to do, but you can always outsource this work so you don't have to deal with it.
If you think about it, it is a great way to start your online business. Building a website requires programming skills that only professionals have, yet here you are doing it by yourself.
Squarespace has taken the imagination of the customer and coupled it with the skills of a programmer, in other words, Squarespace has removed the programmer from the equation by automating the process. If you think you should give Squarespace a try, then sign up for its free trial which will give you hands-on experience of running your business there.
Support

Squarespace provides quality customer and seller services. Customer support is available 24/7 via Twitter and email while live chat is available from 4 am till 8 pm on weekdays. Moreover, since Squarespace is a popular website builder, you can also get help from a large community of users present on Facebook groups and forums.
Cost efficiency
Considering the number of options Squarespace offers, you get great value for money. When you sign up for the Squarespace Commerce plan, the subscription gives you point of sale, unlimited products, multi-channel management, customer accounts, abandoned cart emails, and much more.
Secondly, you even have the option to sell subscription services or digital products. However, they require you sign up for the "Advanced" Commerce plan to use all the features. Nonetheless, the "Basic" Commerce plan is also enough for small retailers.
A "Business plan" is also available as a cheaper monthly option on which Squarespace will charge a 3% transaction fee, so this is only efficient when you are selling a few products.
Pros
Unlimited product inventory.

Impressive design templates.

Intuitive and engaging dashboard management.

SEO and marketing tools.

Freedom and control.

Independent store and brand.
Cons
Tricky and time-consuming.

No existing audience.

Needs extra effort to bring in traffic.
Squarespace or Etsy?
Now you know just how different Etsy and Squarespace are.
Squarespace is a very popular, intensive website-building platform that is precisely made for e-commerce websites. It is very convenient to operate and manage when you are considering building a complete website, and much more powerful and comprehensive than Etsy, though getting it done is complicated.
On the other hand, Etsy brings you an existing customer reach and a fairly simple, easy-to-use dashboard. For people new to opening an online store, Etsy is a great option. Squarespace is the recommended platform for people who are already selling online and want to expand their business beyond the limits of Etsy.
Etsy, on the other hand, is great for getting your feet wet and experimenting with your products with an already-existing audience. If you are still confused regarding which one to start with, why don't you give both of them a try?
Signing up on Etsy hardly takes 10 minutes, which means you can start selling today. You can then review how much interest you get through the Etsy dashboard. Initially, you can utilize the existing traffic on the Etsy platform and generate enough sales to later direct the audience to your independent store on Squarespace to expand your business.
In the end, it is better to have your own personal, stand-alone site where you are the sole controller, rather than depending on Etsy for sales.
I don't recommend building your business around a marketplace that, if it shuts down tomorrow, will also bring your business down along with it. Additionally, having a dedicated website makes people think about your business as if it is a serious business and brand.
FAQs
Question: Can I integrate Squarespace with Etsy?
Answer: Once you have created your online store on Squarespace, you can import your Etsy products to sell on your website. Additionally, you can also add your Etsy reviews on your website to showcase your credibility.
Question: Is Squarespace good for selling?
Answer: Squarespace as a website building and a hosting platform offers competitive design templates and e-commerce features combined with affordable payment plans making it an excellent choice for starting your business online.
Question: Is there a monthly fee for Etsy?
Answer: Etsy's regular plan does not charge any monthly fees, however, if you upgrade your shop to Etsy Plus, you will then pay $10 per month.
Verdict
In my opinion, if you plan on starting a new business, I would suggest you head for Etsy. Starting a business, especially for a person who has never done it before, is one of life's greatest decisions. Even with a tight budget, you can give your luck a try at Etsy.
The nominal listing fees, easy setup, and existing audience provide a great opportunity for you to test your business and generate enough sales to help you jump on Squarespace.
However, if you already have an existing business, and just want to scale it up, then Squarespace is ultimately your place to be. You can also initiate your business on Etsy and later connect it to Squarespace, so you will be running both stores. What's not recommended? Well, I would not suggest just sticking to Etsy for the rest of your life.
If Etsy crashes tomorrow, what would you do? So it is better to have a website where you can build your store as a brand and exponentially grow your business. I hope this post has clarified the main difference between these two platforms, has given you a broad perspective of how business works on them, and will help you start your store at the platform which suits you the best.