Last Updated on April 22, 2023 by Ewen Finser
Cratejoy vs WooCommerce are some of the better-known niche ecommerce platforms on the market. If you've ever wondered how these two compare and which one will best suit you, read on to see my experience with the two platforms, and which one I think is better.
My Bottom Line Up Front
Cratejoy and WooCommerce have vastly different functionalities, so I found it difficult to pick one over the other. Cratejoy truly offers an all-in-one solution to online selling and is more affordable compared to WooCommerce. It is for this reason that I think it comes out on top.
WooCommerce is a good choice for anyone who has a WordPress site. However, the number of integrations I had to do before the platform became truly useful to me makes me wary of recommending it to most businesses.
Main Differences Between Cratejoy vs WooCommerce
The main differences between Cratejoy vs WooCommerce are:
Cratejoy is a box subscription platform, whereas WooCommerce is a storefront plugin for WordPress.
Cratejoy works independently, whereas WooCommerce has to be integrated with WordPress.
Cratejoy has a 2-week free trial, whereas WooCommerce is a free plugin.
Cratejoy is a self-hosted platform, whereas WooCommerce needs to be hosted on a WordPress site
What is Cratejoy?
Cratejoy is a box subscription platform that gives sellers who offer a wide range of products the chance to reach a large customer base. Rather than sell one product at a time, shop owners provide a box of related products to customers.
The platform works on both a subscription and gift basis. In just 7 years, Cratejoy has over 40,000 subscribers and thousands of sellers who create unique merchandise experiences for each client.
What is WooCommerce?
WooCommerce is an open-source platform that allows you to build and customize your e-commerce store. It is a plugin that transforms the average WordPress site into a store.
If you have a WordPress website, you don't need to go to a separate platform to create a shop where your visitors can access your products. WooCommerce lets you automate shopping, shipping, and sales tax calculations on the same site.
Cratejoy – Main Features
Ease of Use
Cratejoy is beginner-friendly because you can set up a store from scratch. First, to create a Seller account, I was asked to provide a name for my listing, a phone number, and an address.
Part of the signup process involves answering basic questions about your business, whether it's already running or not.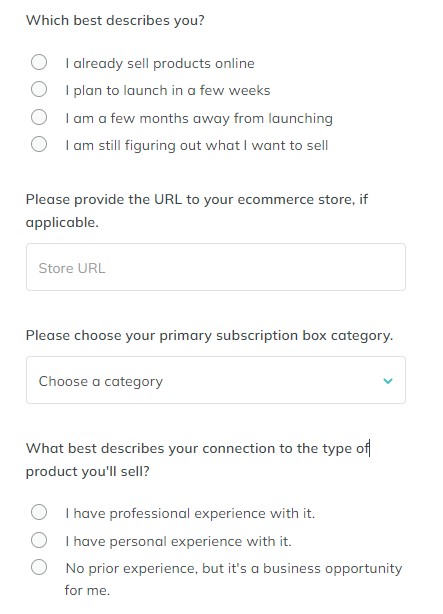 Once that was done, I was redirected to the dashboard to customize and set up the store before launching it.
Store Design
The first thing you should do is create a storefront that's appealing to your customer base. You can build an attractive Cratejoy store without having to code. With the drag-and-drop feature, you can create a professional website in no time.
As you build your site, you should select a theme that reflects your products. Cratejoy provides a lot of inbuilt themes that are designed to inspire subscriptions and revenues.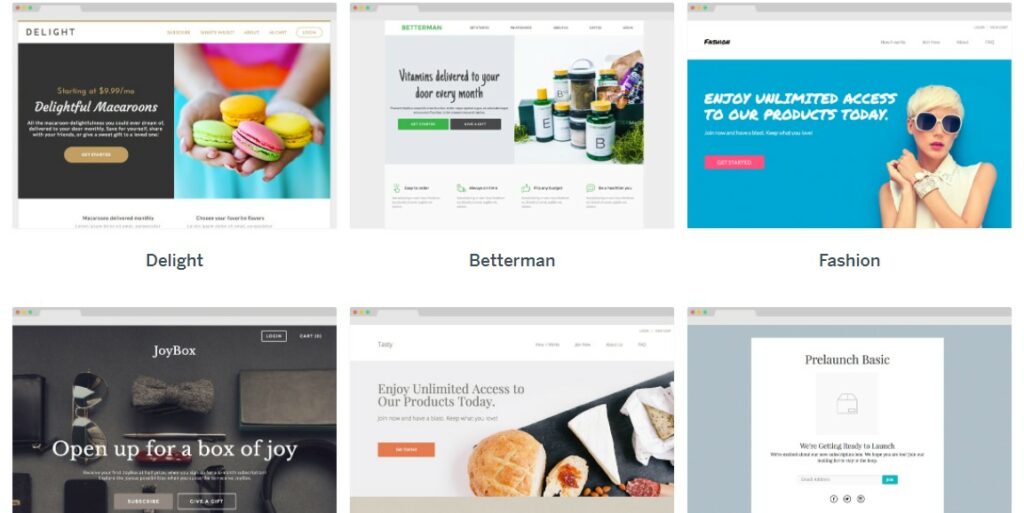 The beauty of Cratejoy is that once you launch your store, subscribers can shop on it from any device. The site and themes are designed to be mobile-ready so that you don't have to pay extra to optimize it for phone browsers.
Product Management
To arrange your products in a box, you first need to add products to your store. Cratejoy will guide you through the whole process. In addition to the name of the box and a description of the products, you can add images, decide on pricing, and include shipping details.
You will also have to decide how often customers can renew product subscriptions, and add information on available stock. Ensure you have all your product information and media nearby to make registering products faster.
I liked the product dashboard because it makes it easy to keep track of all the product boxes listed in your store. A drag and drop feature lets you change the order in which they appear to customers so you can put the products you're promoting at the forefront.
Another product management feature is One-time Products. Whenever you have extra inventory, you can include it for free in subscribers' boxes, or allow them to be purchased beyond the subscription terms.
Subscription Management
Cratejoy's Subscription Management tools are designed to make it simple for you to deal with more clients as your boxes become more popular. You get a streamlined dashboard that lets you see a subscribers' history and interact with active subscribers. This means you can provide instant customer support as clients browse your store.
You have total control over customer retention. You can cancel subscriptions, refund orders, and change subscription terms for subscribers any time you want.
To help in ease your workload, the platform also gives customers some control over Subscription Management. Shoppers can edit their billing details whenever needed, change the type of boxes they receive, and decide on the frequency of box delivery.
I liked Cratejoy's Subscription Management service because it is designed to lessen the burden on both the store owner and the shopper. Both parties are sure to be happy campers on the platform.
Marketing Management
While Cratejoy has millions of monthly shoppers, getting them interested in your store is the only way to ensure you make revenue. The platform provides various free marketing features to make this process easier. One of these is the organic search results. More than 96% of results provided when subscribers look for products are generic. This gives store owners a fair chance of being discovered by shoppers.
The platform does not charge you for the discounts or free products you offer to shoppers as part of marketing. Sellers often include checkout coupons for customers in exchange for referrals. Another marketing feature is the inbuilt newsletter capability. The feature that lets you end automatic receipts and shipment notices to clients' emails can be modified to also send monthly marketing newsletters.
Shipping Management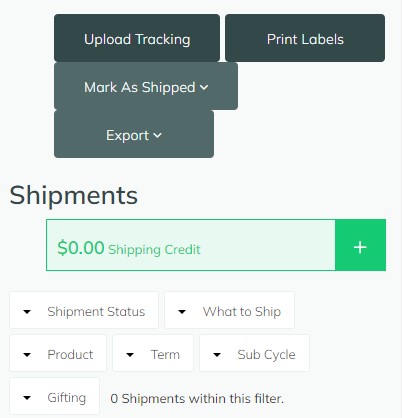 Cratejoy has longstanding relationships with a wide array of shippers, providing store owners with access to great shipping discounts. And if you already have a preferred shipper, you can seamlessly integrate their platform with Cratejoy.
You can track boxes as they are shipped from the Shipments dashboard. You can see the customer's orders, specifications, as well as shipping status. Once the boxes arrive, you can mark the order as complete.
Customizing and printing shipping labels is free on Cratejoy. These help your subscribers build a psychological connection to your store, and with every successful delivery, induce loyalty to your brand.
WooCommerce – Main Features
Ease of Use
WooCommerce is a WordPress plugin, so you need to have a WordPress site to use the platform. If you already have a WordPress site, then you can install WooCommerce with just one click.
If you don't, then creating a WordPress site is easy and, if you don't need a custom domain name, completely free. You can also choose one of the paid hosting providers WooCommerce recommends to set up the store for you.
I think setting up a WooCommerce store is very easy as long as you already have a WordPress site. If you don't, then be prepared to pay $300 to upgrade to WordPress Business since that's the only way you can install the WooCommerce plugin.
To set up the plugin, you will fill in some information as to the type of industry you're in, the types of products you deal in, and how customers will pay for those products. Then you will be allowed access to your new store's dashboard.
Product Management
Once on the dashboard, you can customize your store. The Theme Store provides a range of prebuilt templates that you can customize to your liking.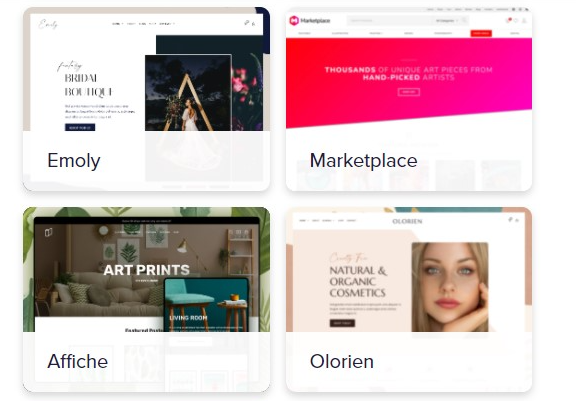 WooCommerce has a Blocks feature that helps you arrange various elements of your store. You have the option of creating a front page for your shop, as well as landing pages for each category of products. WooCommerce Blocks gives you total control over how customers interact with your store. You can make it easy for customers to find items by creating Product Categories List, Featured Category, and Product Search blocks.
Blocks simplifies the process of adding new products to the store and modifying features to make items stand out. You can easily switch out product images and change prices without having to relist the product again. I played around with product category filters like Featured Products, Newest Products, On Sale Products, and Top Rated Products. These blocks make it easier for you to market specific products to clients.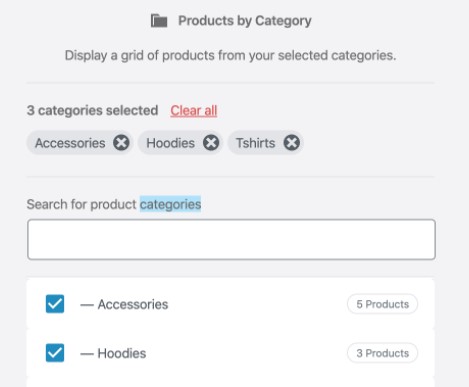 Marketing Management
In addition to subscribers to your WordPress site, WooCommerce has a Marketing Hub that assists in your store's marketing efforts. You can access the Hub on the Marketing tab of your WooCommerce dashboard. You can manage all your marketing extensions from the Hub. You can keep track of your email marketing efforts, live ads, and social media campaigns.
The Marketing Hub also lets you create attractive offers for your clients. You can add discount coupons and track how they're used from the dashboard. The sheer amount of coupon possibilities ensures both you and your customers benefit.
Another benefit of the WooCommerce Hub is the Knowledge Base. I explored tons of articles and other content designed to equip store owners with up-to-date marketing information.
Shipping Management
The WooCommerce Shipping tab can be found right on your dashboard, making it easy for you to fulfill and manage your orders. You can easily ship locally and internationally with WooCommerce's trusted shipping partners like USPS and DHL.
With WooCommerce shipping, you don't have to individually fill out your clients' addresses. Every purchase is recorded and addresses stored. This also helps you keep track of the sales tax you're owed for each location. You can print each shipping label on WooCommerce before sending orders off to the shipper. Printing labels can be done even on your phone, making it easy to fulfill orders wherever you are.
Transaction Management
You can integrate the platform with payment methods like Visa, Mastercard, PayPal, and Apple Pay. If you have a physical store, the M2 card reader will accept card payments and square them up with your store's online transactions.
WooCommerce accepts over 135 currencies, which means you can use it in almost any country without customers having to convert to a different currency.
The Payments tab on your dashboard lets you see all your store's transactions. You can see all incoming revenue and monitor taxes and other expenses. This way, you're never in the dark about your store's financial health.
Cratejoy vs WooCommerce – Analytics
Cratejoy
Cratejoy offers an array of analytics features so you always know how your store is doing. Subscription KPIs show you statistics like where you get the most traffic from, your long-term subscribers, cancellations, and the conversion funnel.
Google Analytics reports tell you how many people visit your store, how long they spend on it, and the bounce rate. These important metrics can help you optimize and improve the attractiveness of your store.
Cash Flow reports make it easy for you to track your finances. You can see how much money you're making from subscriptions, how much you're owed in taxes, and other store expenses so you can determine the health of your business.
Woocommerce
To access reports for your WooCommerce store, you will have to install the WooCommerce Admin plugin. Among the reports the plugin gives you access to is Orders, Revenue, Products, Taxes, Stock, and Customers.
The plugin also has a separate dashboard that you can set up to show you key performance indicators. The visual way in which the indicators are presented makes it possible for you to see all important factors at a glance.
Cratejoy vs WooCommerce – Integrations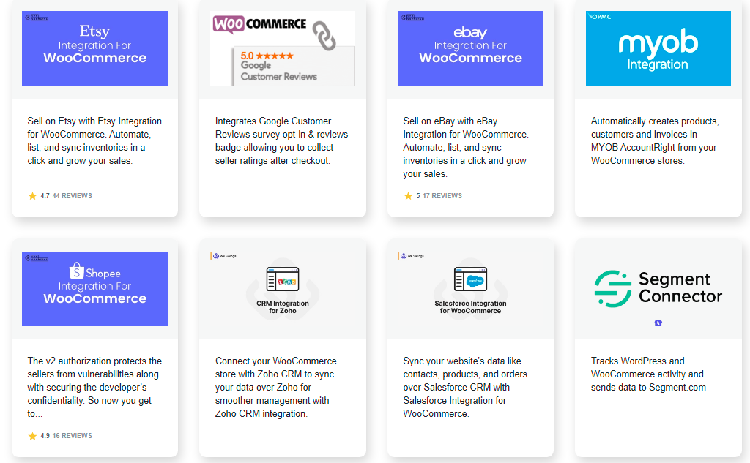 Cratejoy
Cratejoy can be integrated with a lot of e-commerce tools that help improve store management. You can install apps that help you increase store subscriptions, manage the rollouts of your marketing strategies, and improve subscriber loyalty.
You can also add a number of payment methods and billing plugins so you never inconvenience a client. The store's Shipping integrations will make it easier for you to keep a handle on outgoing orders.
You can find a full list of Cratejoy's integrations here.
Woocommerce
WooCommerce is a platform of plugins. The platform itself allows little customization without extensions. The most necessary ones are the WooCommerce plugins like Admin, Features, Pre-Orders, Payments, and Shipping.
You can access the full list of WooCommerce extensions in the Extensions Store.
Cratejoy vs WooCommerce – Customer Support
Cratejoy
Cratejoy has a Subscription School that contains dozens of articles that will guide you through the process of running a box subscription business. You can get marketing guides and relevant tips for improving your sales throughout the year.
For more immediate help, you can contact Cratejoy's customer support. A bot will send your contact details to the support team. However, your issue will be dealt with on a first-come, first-served basis.
WooCommerce
WooCommerce customer support comes in 3 forms: direct support, forums, or documentation. Documentation contains guides that will help you through the most basic setup process to the more complicated store management procedures.
If you have extensions from the WooCoomerce Marketplace, you can get help through live chat. Concerns about other aspects of the platform will only be addressed via email.
The platform's community forums have store experts and experienced store owners who can help troubleshoot problems. This is the main method of support for owners who only have the basic WooCommerce plugins, or those who have extensions not sold on the Extensions Store.
Cratejoy vs. WooCommerce – Pricing
Cratejoy
Cratejoy has 2 paid plans, the Marketplace Only plan and the All-in-One plan. You also get a 14-day free trial to set up your store before paying for the All-in-One plan.
Marketplace Only: This plan is free. However, you will be charged 11.25% plus $0.10 for each transaction your store completes.
It offers the following benefits:
Over 30k daily unique views
Cratejoy Marketplace access
Affiliate marketing
138 currencies
Fraud protection
All-in-One: This plan costs $39 and charges a reduced fee of 1.25% plus $0.10 for each transaction. In addition to all the benefits of Marketplace Only, this plan offers:
Custom website
Web templates
App integrations
Advanced subscription renewal
Advanced shipping features
Cratejoy API
Customer management tools
Secure checkout
Backend support
WooCommerce
Downloading and installing WooCommerce is free as long as you have a WordPress site. If you create a free WordPress account, you will have to upgrade to the $300 Business plan to be able to install plugins.
Many of the extensions required to make WooCommerce fully operational are free. However, you will have to pay $199 annually to create a subscribers list.
Multiple other integrations have to be paid for, and those bought from the Extensions Store have a 30-day money-back guarantee.
Cratejoy vs WooCommerce – Alternatives
Adobe Commerce

Adobe Commerce, formerly Magento, is an end-to-end platform that allows the creation and complete management of an online store. It can be integrated with WordPress to fully manage your store without having to sacrifice the functionality of one for the other. Pitting OpenCart vs Magento will help you determine if this is the alternative you should go with.
OpenCart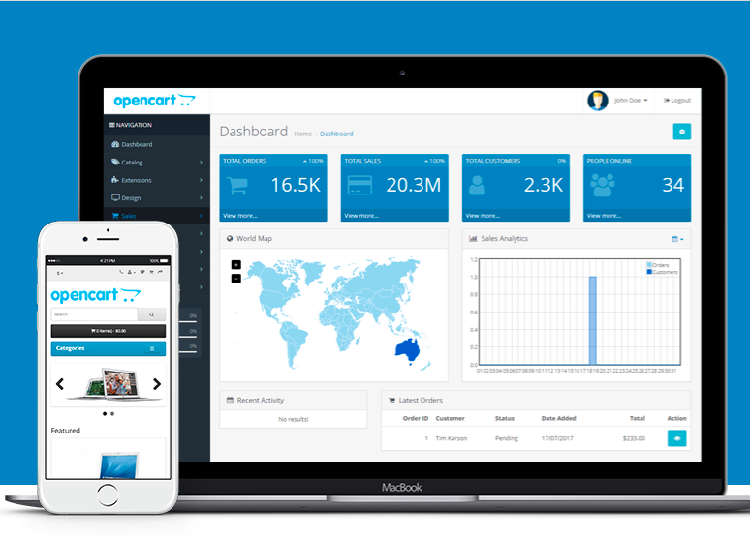 OpenCart is an open-source platform that currently serves over 400k store owners. The platform is entirely free and allows the user to add as many plugins as possible to improve the functionality of their store. See the OpenCart vs. WooCommerce comparison to see which platform is best for you.
Shopify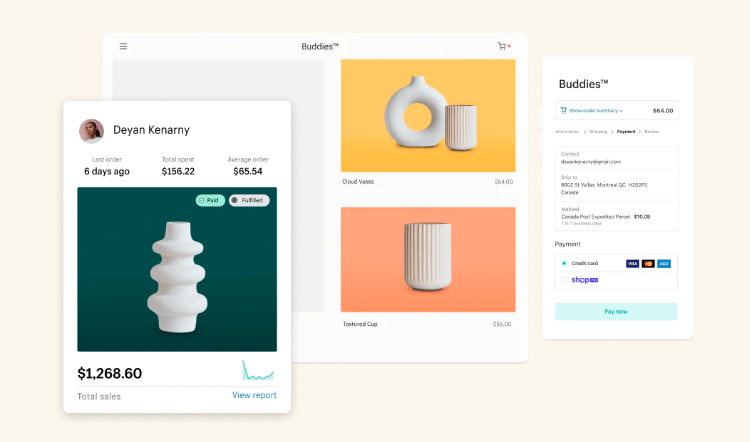 Shopify is a popular digital store platform that gives sellers a lot of options when creating their online shops. See how it fares when it comes to box subscription functionalities in this Cratejoy vs Shopify comparison.
FAQs
Question: Can I add Multiple Users to one Cratejoy or Woocommerce Account?
Answer: Yes, you can.
Only administrators can add team members to a Cratejoy account. They can add roles and permissions, which can be edited even after the user accepts the invitation. A list of user roles and privileges is available.
Additional users on WooCommerce are called Collaborators. Each invited user has to have a WooCommerce email address. You can also give permissions as needed and view their activities on the account on the Activity Log.
Question: Is There a Mobile App for Cratejoy or WooCommerce?
Answer: WooCommerce has a mobile app that can be used by both Android and iOS users. You can update products, keep track of your store's statistics, and manage shipping from the app.
Cratejoy does not currently have a mobile app for sellers to manage their stores.
Question: Do Cratejoy or WooCommerce have an API?
Answer: Yes, both platforms have APIs. Cratejoy's Merchant API allows sellers to customize their store and integrate the platform with third-party extensions, not in the list of supported integrations. You can generate an API from the Platform Settings tab on your Cratejoy dashboard.
The WooCommerce API also allows a WordPress store to have more features and functionalities.
Conclusion
Cratejoy and WooCommerce are great platforms as long as they are used for what they are intended. I think Cratejoy is the best e-commerce platform for artists or sellers who offer products that work best in batches, e.g., skincare or makeup products.
And if you already have a WordPress site, especially if you have an established blog, then I think WooCommerce is your best bet for selling products with no extra fuss.