Last Updated on April 22, 2023 by Ewen Finser
If you've ever wondered how difficult building your own online store is, you might be surprised to hear that with the right eCommerce platform, it's incredibly easy. So, picking the right solution for your business is imperative.
Enter, BigCommerce, and WooCommerce.
They're two of the biggest names in the online store building game – and for a good reason! Both of these platforms handle the majority of the heavy lifting when it comes to setting up your e-store, and both offer an impressive suite of features.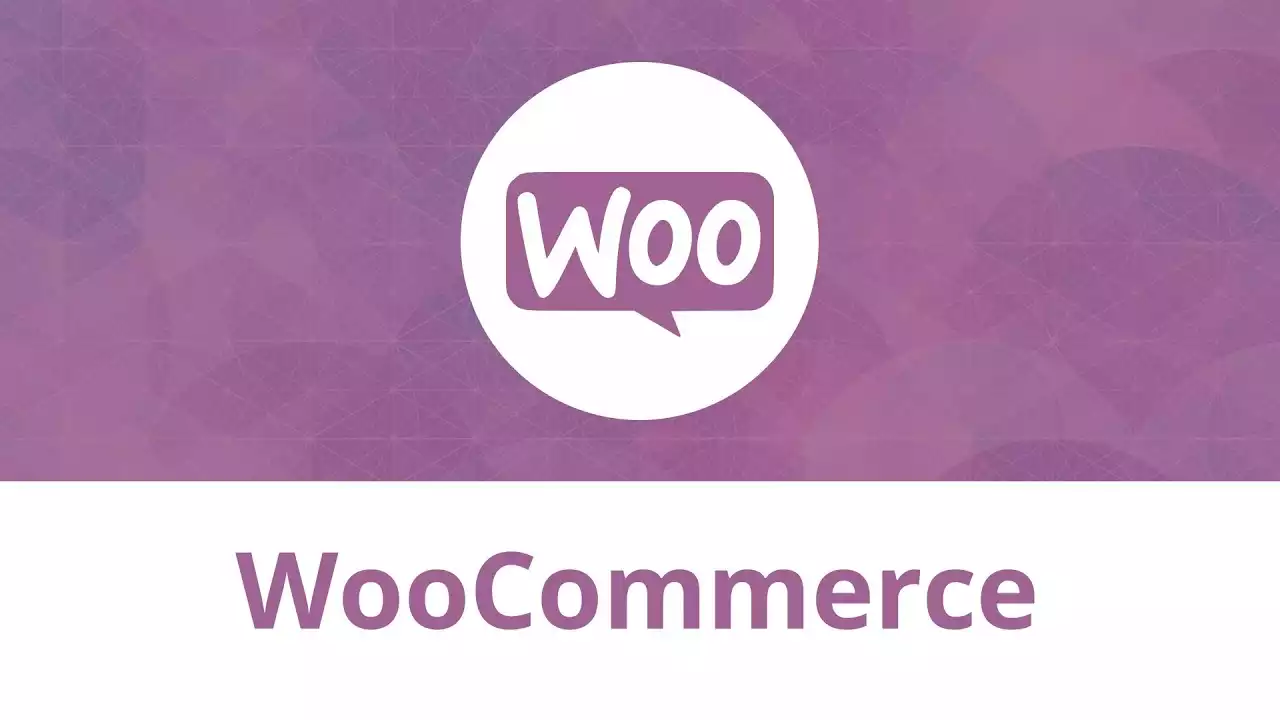 I Personally Prefer WooCommerce
WooCommerce starts off free (and can be forever) BUT, it's MUCH easier to use, has a wider ecosystem of plugins and functionality, AND has advanced paid features (if you need them). In short, WooCommerce has more approachable optionality.
Try WooCommerce First
We earn a commission if you click this link and make a purchase at no additional cost to you.
So, which is better? We're about to take a look…
If you're after a quick comparison, look no further. Below we've listed the main differences and similarities between BigCommerce and WooCommerce:
Main Differences Between BigCommerce vs WooCommerce
BigCommerce empowers you to create a website from scratch without relying on any other software, whereas WooCommerce isn't a standalone solution; instead, it's a WordPress plugin you can download and use as an extension to your WordPress website;
BigCommerce is a SaaS and, as such, charges a monthly fee, whereas WooCommerce is free. However, extra features and themes come at an additional cost;

BigCommerce is more limited, whereas WooCommerce ultimately offers more freedom and flexibility thanks to the open-source nature of WordPress, but, you do need some coding smarts to make the most out of it;

BigCommerce has many more in-built features, whereas WooCommerce doesn't have as many.
Similarities BetweenBigCommerce vs WooCommerce:
WooCommerce and BigCommerce both offer in-built blogging features.

You can purchase professional themes with both providers.

Both tools allow you to create a storefront within minutes using their intuitive web page editors.

Both BigCommerce and WooCommerce permit you to sell on Google Shopping and social media platforms.

Both services are widely used across the world and power millions of stores.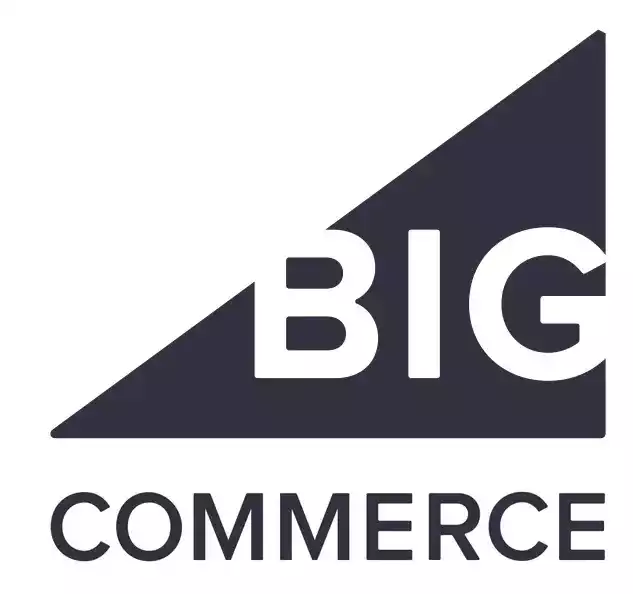 Why do I prefer BigCommerce?
Seamlessly list, optimize, advertise, sell and fulfill products across 100+ channels. All the capabilities of enterprise ecommerce—without the cost or complexity.
Request your Demo
We earn a commission if you click this link and make a purchase at no additional cost to you.
BigCommerce certainly lives up to its name – it's genuinely one of the 'biggest' eCommerce platforms on the market, offering the largest suite of features of any eCommerce platform.
So, no matter your ambitions for your online store, the chances are, BigCommerce has you covered. BigCommerce caters to enterprises as well as small to medium-sized businesses. From building your website within minutes to outperforming your competition, BigCommerce holds your hand every step of the way to ensure you launch, manage, and scale the e-store of your dreams.
Since its founding in 2009, it's amassed 200M in funding, served over 120 countries, and facilitates more than $25 billion in merchant sales.
Not bad, huh?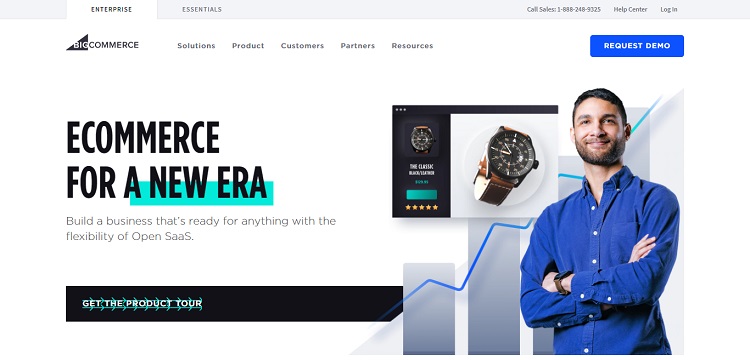 About WooCommerce
WooCommerce first started life in 2008 as a company that designed WordPress then. Back then, they were called WooThemes, until, in 2017, the team decided to focus solely on eCommerce.
They quickly established a strong and loyal audience for themselves and now boast over 39 million downloads and fuels over three million websites for both small and colossal-sized businesses alike.
As we've already said, WooCommerce functions as a plugin for WordPress, permitting its users to build upon WordPress's editor to create their perfect storefront.
Curious? Let's start taking a look at some detailed comparisons…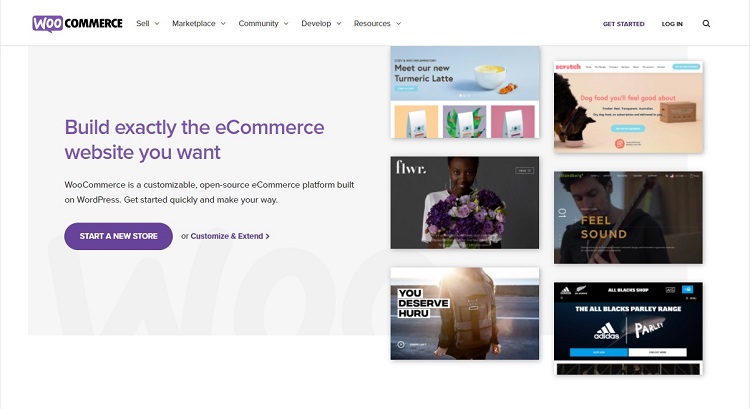 BigCommerce vs WooCommerce: Features
There's no point sinking your precious time, effort, and money into software that doesn't come with the features you're looking for. So, now we're honing in on the core features both BigCommerce and WooCommerce offer.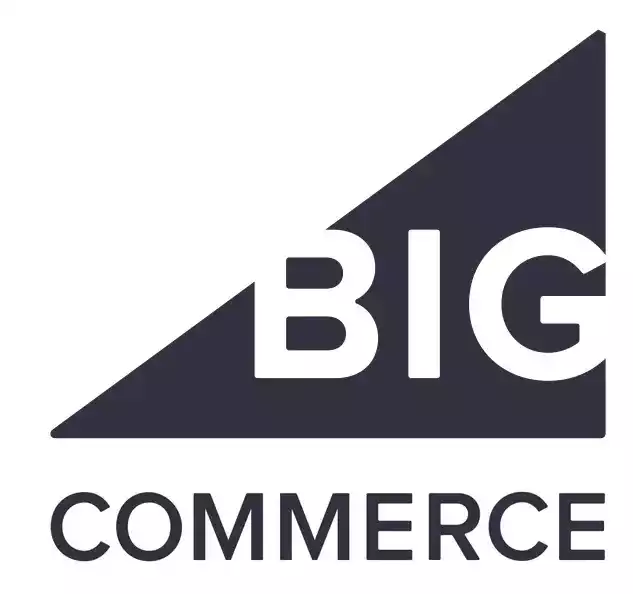 Why do I prefer BigCommerce?
Seamlessly list, optimize, advertise, sell and fulfill products across 100+ channels. All the capabilities of enterprise ecommerce—without the cost or complexity.
Request your Demo
We earn a commission if you click this link and make a purchase at no additional cost to you.
Building Your Website
BigCommerce comes with 12 free themes for you to choose from. However, if you have the budget, there are a further 50 paid-for themes that come at a one-off cost ($150-$300).
Your chosen template lays the foundations for your web design. Then, from there, you can use BigCommerce's intuitive drag and drop editor to customize your selected theme to reflect your brand's aesthetic.
Rest assured, all of BigCommerce's templates are professional-looking, and its interface is easy-to-use. In theory, you could certainly design a good-looking site within minutes.
Marketing Features
Once you've launched your eCommerce store, marketing yourself becomes a major priority – which is why BigCommerce provides tons of in-built features for doing just that.
Here are just some of the things on offer to help you market your store:
BigCommerce does lots to help your SEO: All of its templates are search-friendly, and you get access to sitewide HTTPS, automatic sitemaps, and more. On top of that, you also have full control over your URLs, title tags, header tags, and metadata.
BigCommerce supports omnichannel marketing and selling. For instance, you can sell via Facebook, Instagram, eBay, Amazon, and Google. All these channels seamlessly link back to your BigCommerce store so you can manage your inventory from one centralized dashboard.
BigCommerce comes with in-built blogging features. This is worth its weight in gold if you're taking content marketing seriously.
BigCommerce boasts sophisticated email marketing tools. Most notably, you're able to design and run automated abandoned cart campaigns. You're also able to segment your email list with BigCommerce's higher-tiered plans.
At this point, it's also worth noting that all of BigCommerce's plans come with discounting, coupon, and gift card tools, all of which come in handy for promoting your products.
Streamlined Checkout and Payment Options
BigCommerce's streamlined checkout pages make it easy for customers to enjoy a swift shopping process. You can guide customers through account creation in one step and ensure safety and security along the way.
BigCommerce doesn't charge transaction fees, and you have access to 65 different payment gateways, including the likes of PayPal, Stripe, and Authorize.net. There are also options for using digital and mobile wallets too.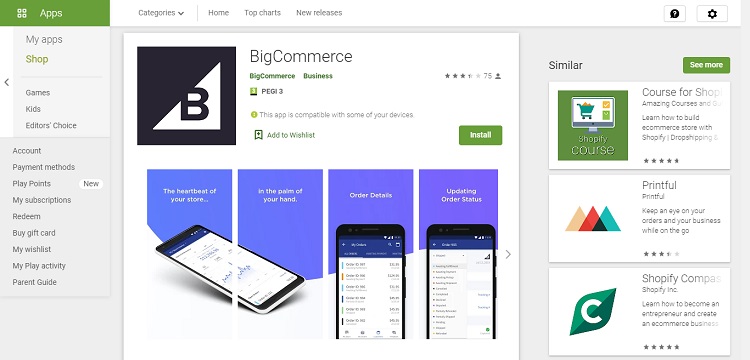 Managing Your Store
BigCommerce comes with a range of features that make shop management a breeze. Its inventory management tools make it simple to:
Manage stock levels across all your online and offline sales channels

Spot trends

Predict demand
The BigCommerce Mobile App
Finally, BigCommerce comes with a mobile app, so you can manage your eCommerce store while you're on the run. Whether that's keeping tabs on your store's performance or staying in touch with customers, you can do it all from your mobile device.
WooCommerce's Core Features
Unlike BigCommerce, Woocommerce doesn't have too many in-built features. However, it provides everything you need to set up your store and start selling online with WordPress.
Basics aside, you can expand its functionality by installing and using third-party plugins. WooCommerce offers lots of flexibility in this regard.
Building Your Website
WooCommerce comes with 20 themes in total, of which 14 are storefront templates. But, only three of these are free. The others cost between $39 and $129.
These themes are generally more customizable than BigCommerce's. However, editing is a little more complicated, as WooCommerce doesn't come with a simple drag and drop interface. To enjoy that sort of functionality, you'll have to use a third-party app.
If you're familiar with how WordPress allows you to edit sites, you'll quickly adapt to WooCommerce's process. Ultimately, WooCommerce offers lots of design freedom as long as you have some coding knowledge.
Sell Anything on WooCommerce
WooCommerce allows you to sell both physical and digital products and members-only content, making it a flexible platform for any merchant. What's more, you can offer subscription packages with endless product variations and sell either single items or bundles of products.
Marketing
WooCommerce makes it easy to list products on Google Shopping and promote them on Facebook. If email marketing is your thing, then you can also integrate with MailChimp. Alternatively, you can use WooCommerce's native email marketing tools. This allows you to launch abandoned cart emails, send newsletters, and set automated campaigns.
WooCommerce comes with 'Coupons' and 'Gifting' tools, and you can also set up 'Points' and 'Rewards,' which can later be redeemed for coupons to incentivize customers to stay loyal to your store!
WooCommerce also comes with an in-built blog. This is primarily a WordPress feature, but since WordPress is an industry leader for blogging, this is undoubtedly a perk!
You can also use WooCommerce's 'Product Blocks' to help you up- and cross-sell items.
Please note: Most of WooCommerce's marketing features are outsourced to third parties, so expect to budget additional costs for many of these functionalities.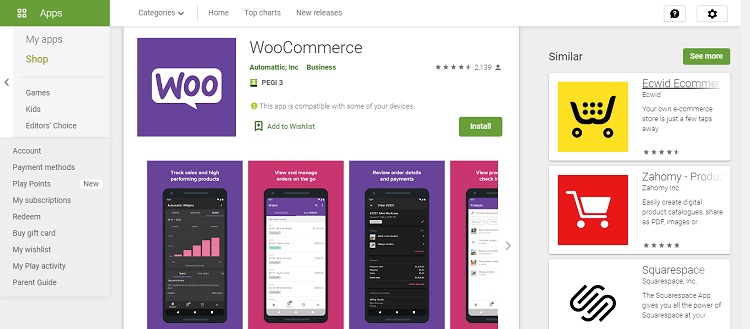 Flexible and Secure Payments
WooCommerce allows you to accept customer payments using major credit cards, bank transfers, checks, and cash on delivery.
Credit card payments come with a small transaction fee. You can opt to use WooCommerce's own payment gateway. Or, there are over 140 region-specific gateways you can integrate with. These include Stripe, Paypal, Square, and Amazon Pay.
Order Management
WooCommerce comes with the familiar WordPress dashboard. Store owners can manage and update products and fulfill orders from there. You also benefit from automated tax calculations, live shipping rates from top carriers, and you print your own shipping labels.
Similar to BigCommerce, WooCommerce also boasts a mobile app for iOS and Android, which enables you to manage your store on the go.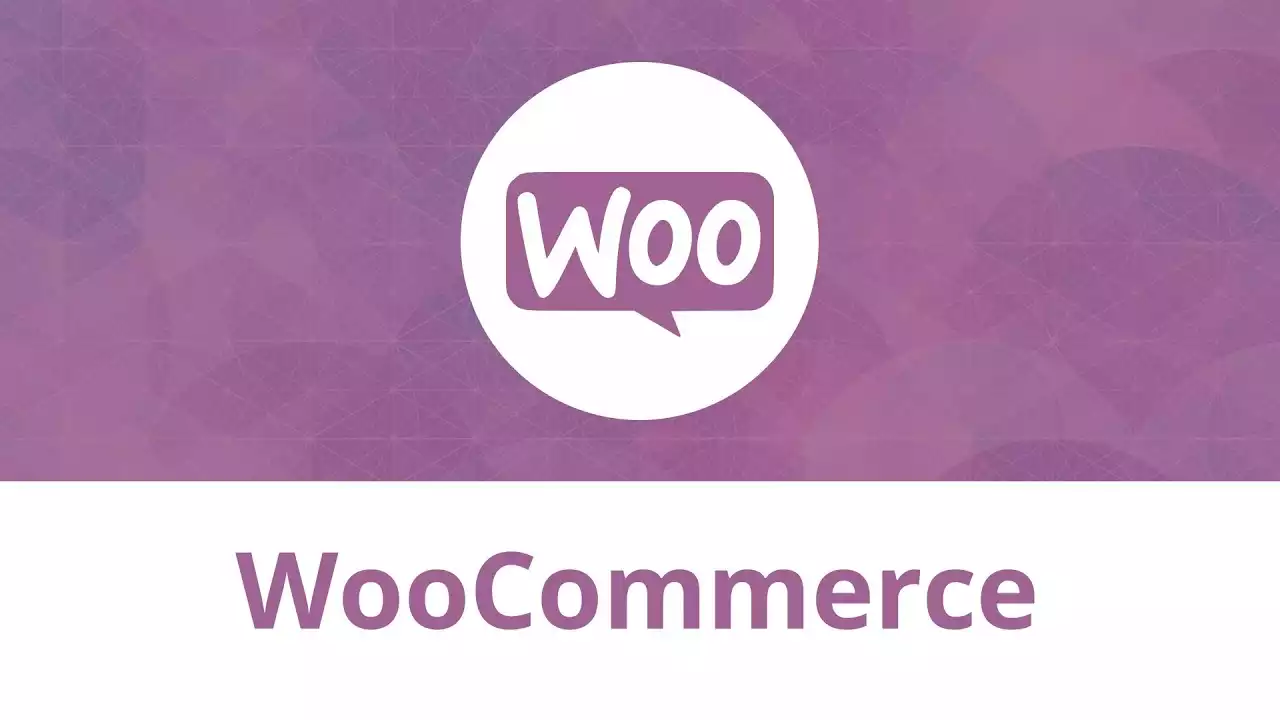 I Personally Prefer WooCommerce
WooCommerce starts off free (and can be forever) BUT, it's MUCH easier to use, has a wider ecosystem of plugins and functionality, AND has advanced paid features (if you need them). In short, WooCommerce has more approachable optionality.
Try WooCommerce First
We earn a commission if you click this link and make a purchase at no additional cost to you.
WooCommerce vs BigCommerce: Customer Support
Even when you're using the most intuitive systems, there's a good chance that you'll have a query or question that needs answering somewhere along the road.
This is where knowing you can rely on first-rate customer service is worth its weight in gold. So, let's see how these two eCommerce platforms compare where customer support is concerned…
BigCommerce
BigCommerce users have access to customer support via online live chat 24/7, so advice and guidance are never far away. Alternatively, you can contact them via email or their US-based phone number.
If you want to ramp things up a notch, it's possible to enlist coaching for your store launch (as an additional service). Or have their experts perform an SEO audit for your website (starting from $600).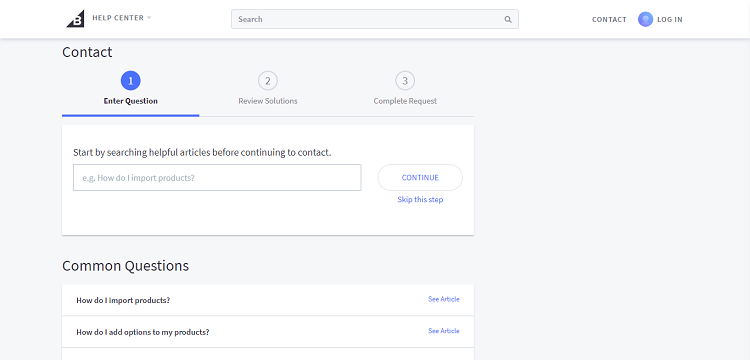 WooCommerce
WooCommerce provides users with extensive self-help documentation, so there's a good chance if you have a problem, you'll find the solution for it somewhere amidst these pages.
The public support forum is also an excellent place to start if you require help. Alternatively, WooCommerece account holders can chat with WooCommerce's dedicated support team for additional assistance. Or, you can hire a developer to optimize everything from design tweaks to full website builds.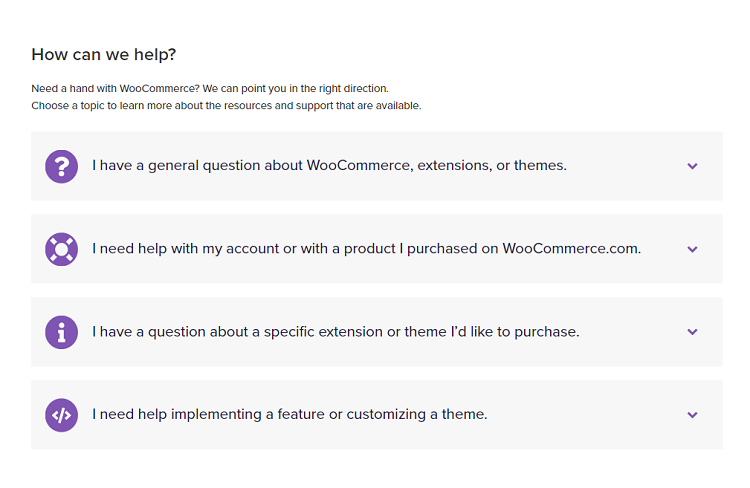 BigCommerce vs WooCommerce: Pricing
The section you've all been waiting for – Pricing.
So between BigCommerce and WooCommerce, which offers better value for money?
We've briefly touched on it already – BigCommerce has both 'Enterprise' and 'Essential' solutions. We'll discuss the Essential plans in this review. There are three paid plans to choose from, which you can pay for either monthly or annually. If you opt for the latter, you'll save up to 10% on the Plus and Pro plans.
At this point, it's worth noting that you can try BigCommerce for free for 15 days.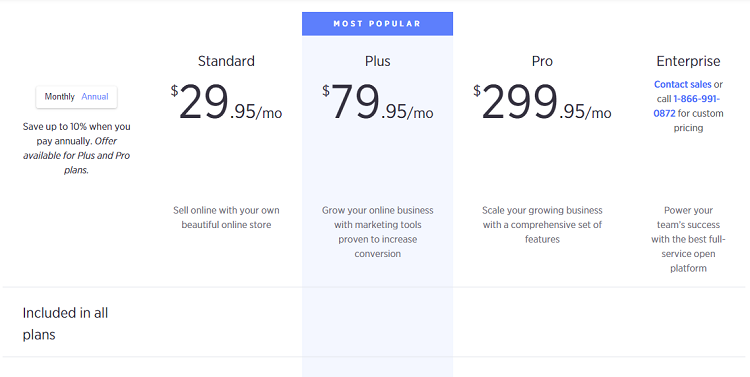 The Standard Plan
This will set you back $29.95 a month. All WooCommerce plans include zero transaction fees and unlimited bandwidth, products, and storage. You can also create as many staff accounts as you want. However, with the Standard plan, your sales per year are capped at $50k.
You also get (as is included with the two higher tiers):
To be able to create a branded online store

Link to your eBay and Amazon listings

Integrate a POS

Sell via Facebook, Instagram, and Google Shopping

Use professional reporting tools

Utilize coupons, discounts, and gift cards

An in-built blog

24/7 live chat support
The Plus Plan
For $79.95 a month, this plan adds marketing tools into the mix. Most importantly, this package unlocks customer segmentation, abandoned cart savers, and you can save customer information like stored credit cards and persistent carts.
When used to the fullest, these features go a long way to improving the customer experience and enable you to create and enhance one smooth shopping funnel.
This plan also pushes your yearly sales limit up to $180k.
The Pro Plan
Here we see the price hike up to $299.95 a month. But in exchange, this plan allows you to scale your business with a fully comprehensive set of features.
With the Pro Plan, you gain access to Google customer reviews, product filtering for your customers, and a custom SSL. Your online sales limit is also raised to $400k.
WooCommerce
Now for a very different arrangement. WooCommerce, just like WordPress, is open-source software and, as such, is free to run. This means that if you boast a certain level of know-how, you could potentially save yourself lots of money.
But, of course, there are still costs associated with running a WooCommerce store that you'll need to consider—for instance, web hosting and domain fees. If you're using one of WordPress's hosted services, you won't have to worry about this. A WordPress plan will set you back between $8 and $45 a month, depending on the tier you choose.
Whereas, if you use WordPress's open-source framework, your setup would include hosting and domain costs. The average web domain name costs between $10-15 a year, and shared web hosting can set you back anywhere between $36 to $120 a year.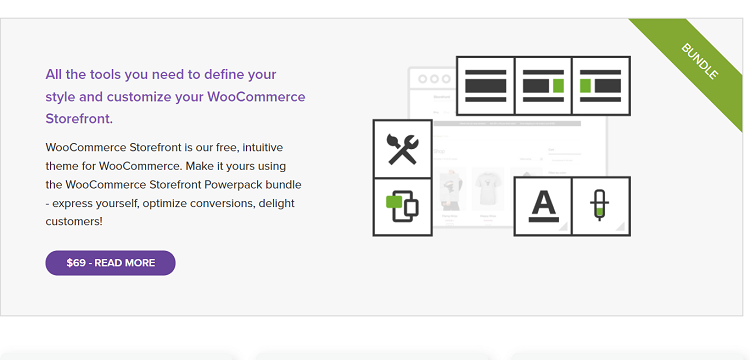 Note that your bandwidth, security, and uptime all hinge on the quality of your hosting, so if you're running a large-scale operation, it often pays to shell out a bit more.
Where the real cost comes in for WooCommerce, however, is its themes and plugins. These are optional, but often, you'll need to pay extra to gain access to tools that allow you to design and market your store in a professional manner.
A WooCommerce theme can easily average $60. Plugins and extensions often start at $25 each. Some of these are one-off fees, while others come with recurring monthly costs.
Basically, WooCommerce has the potential to be cheap. After all, you can prioritize your spending to ensure you only dish out what your budget allows. With developer know-how, you can easily adapt this open-source framework to meet your business's specific needs.
However, if you're not technically inclined, you might soon come to rely on plugins to kit WooCommerce out with some of the features it drastically lacks.
As such, it's a good idea to plan and determine which plugins you'll need to buy beforehand. This enables you to work out whether WooCommerce is still the cheaper option or if a platform like BigCommerce that offers more features could be more cost-effective.
FAQs
We're now going to wrap up this review by answering some of the most frequently asked questions we hear about BigCommerce and WooCommerce.
Will I be charged transaction fees when I sell with BigCommerce or WooCommerce?
Neither WooCommerce nor BigCommerce charge transaction fees when you use their own payment gateways.
However, generally speaking, major credit cards usually charge a standard transaction fee of 2.9% + 30 cents for each transaction (if you use an alternative payment gateway).
If you integrate with gateways like PayPal or stripe, they also have their own transaction fees you'll need to consider. Note: BigCommerce provides you with special PayPal credit card rates powered by Braintree. On the Pro plan, your transaction fees are lowered to 2.2% + 30 cents. Unfortunately, this isn't something WooCommerce currently offers.
BigCommerce versus WooCommerce, which one is cheaper?
As WooCommerce is open source and free to install, it's difficult to predict which platform will be more expensive in the long run. BigCommerce carries a hefty monthly price tag with its higher-tiered plans, but it offers an extensive set of features.
WooCommerce could be the cheaper option, providing you don't need advanced tools. However, you'll need to plan out which gateways, integrations, and extensions you'll need to use to be able to do a like for like price comparison.
Are BigCommerce and WooCommerce sites secure?
BigCommerce is a hosted service, so your store is protected by its security features, including encryption and SSL certificates, as well as secure checkout.
WooCommerce's security depends on the hosting provider you choose. If you don't host your site with one of WordPress's plans, another hosting provider might provide SSL as well as automatic backups and malware protection. In short, you'll need to do your own research into security measures before making your final choice.
BigCommerce vs WooCommerce: Which is Best for You?
We hope you've enjoyed our look at two of the biggest eCommerce platforms on the market. The number of online stores each of these platforms powers is enough to prove there's plenty of reason to go with either tool. But which is best for your situation?
In summary, BigCommerce doesn't cut it short on its features (even on its Standard plan), making it a great choice if you want a comprehensive, all-inclusive solution. Not only that, but it also sorts out hosting and security for you and comes with plenty of native social media and payment gateway integrations.
However, the pricing grows with your store, so as you start to make big money, your costs will go up.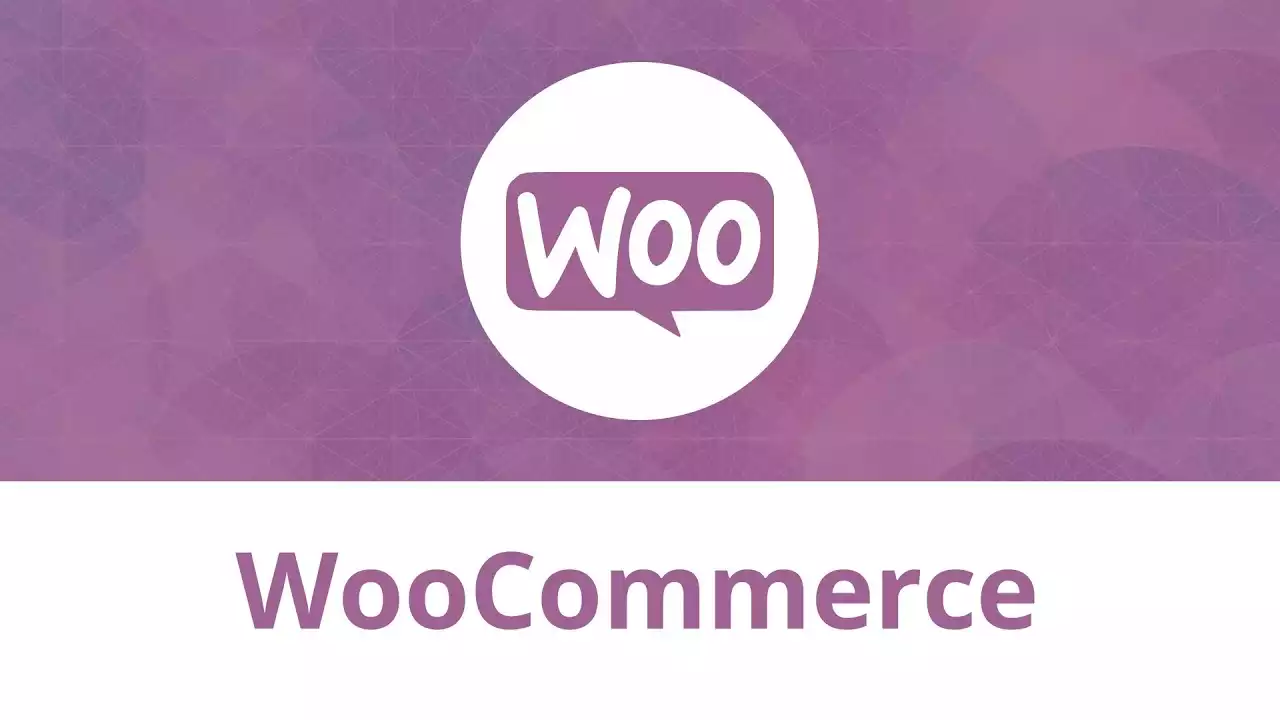 I Personally Prefer WooCommerce
WooCommerce starts off free (and can be forever) BUT, it's MUCH easier to use, has a wider ecosystem of plugins and functionality, AND has advanced paid features (if you need them). In short, WooCommerce has more approachable optionality.
Try WooCommerce First
We earn a commission if you click this link and make a purchase at no additional cost to you.
Whereas, WooCommerce has the potential to be cheaper so you can scale your business while keeping to a shoestring budget. However, its initial set of features is much more limiting, and there are many 'hidden' costs that you might not expect at first.
All in all, WooCommerce is a great option, but you'll need to do a bit more research before you get going. That way, you can make sure you go in with your eyes wide open.
Have you tried either one of these tools? Let us know about your experience in the comments below. Speak soon!
Further read: