Last Updated on November 23, 2021 by DMEditor
If you're a WordPress user looking for fast page loading times and great security, you may be wondering how to find the best hosting service provider – which is where our Kinsta vs HostGator comparison may come in handy.
On the face of it, Kinsta vs HostGator are quite similar. So how can you tell the difference, and which one is best?
The bottom line up front: We like Kinsta the best, and we think it's worth investing a bit of extra money into each month for having everything under one platform. Plus, we like their user-friendly interface.
Keep reading to find out more about both Kinsta vs HostGator! Let's start by looking at what sets them apart.
Main Differences Between Kinsta vs HostGator
The main differences between Kinsta vs HostGator are:
Kinsta's transfer process is a little easier, whereas HostGator's transfer process has a few more steps involved
Kinsta offers a staging area for WordPress sites, whereas HostGator relies on other platforms/plugins for staging
Kinsta offers some analytics, whereas HostGator relies on Google Analytics
Kinsta offers a free demo, whereas HostGator doesn't
Kinsta's pricing is steeper, whereas HostGator's pricing is more affordable
Kinsta is a little easier to use than HostGator, and it offers a free demo, so you can have a good look for yourself to see how it works. It may offer slightly faster loading times, but this depends on a few factors. Kinsta also has the advantage of having more features – like staging and analytics – under one platform.
However, the downside to Kinsta is that it costs more, as you might expect. The price jump between Kinsta vs HostGator's basic plan is pretty big, which may sway your decision one way or another – very small websites and businesses may want to stick to something a little cheaper in terms of monthly costs.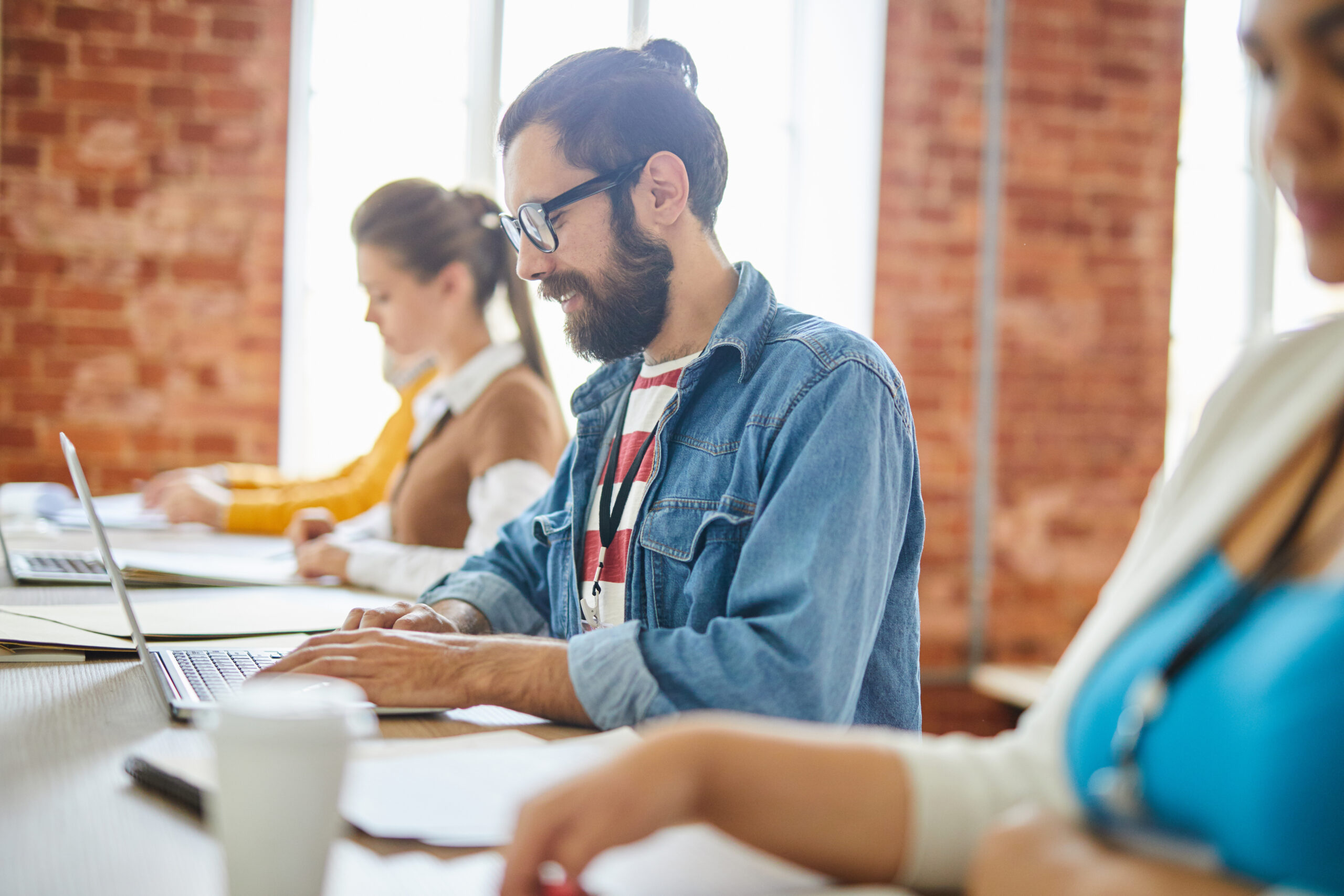 Kinsta vs HostGator – the Similarities
There are some big similarities, too:
They both have friendly, responsive customer service teams
They both have great security features
They both offer good uptime and fast page loading times
They both have a decent knowledge base with some basic information about getting started
Let's look at them both in more detail.
What is Kinsta?
Kinsta is a hosting service. They specialize in WordPress hosting and migrations, with an experienced team taking care of transfers. It offers a staging area, allowing you to test out new features for your website before pushing them to live.
It's an easy-to-navigate platform, with great security and fast loading times.
What is HostGator?
HostGator is a hosting service. They offer WordPress hosting and migrations, as well as shared hosting. They also have a website builder if you need to build a site from scratch.
HostGator offers fast loading times and good security features.
The Main Features of Kinsta
Let's start by looking at Kinsta.
Dashboard/UX
Kinsta offers a demo account for potential new users, so you can easily have a nose around the platform without committing to a plan.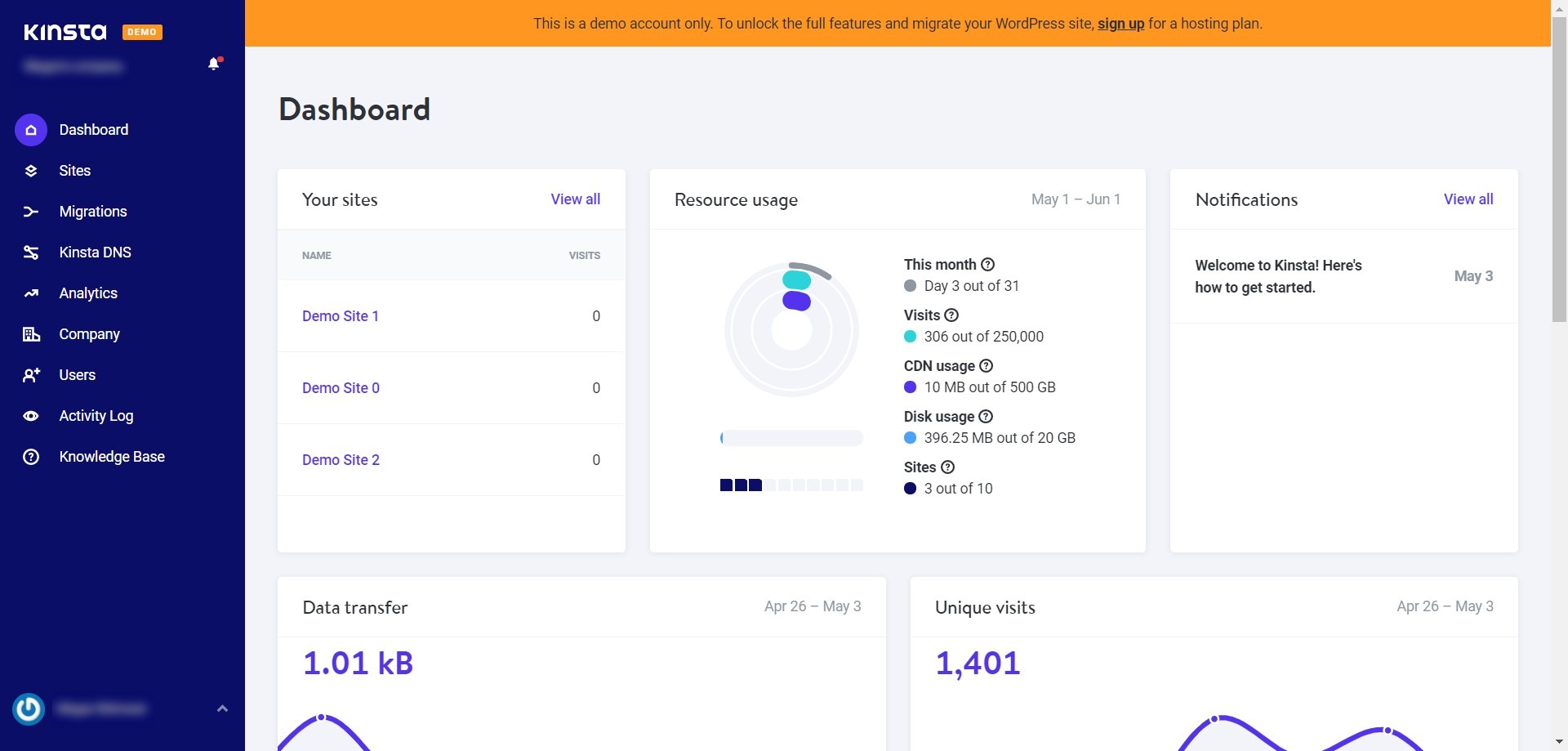 It has a clean, simple, easy-to-navigate interface, with all the key information you need on the main dashboard page.
Uptime/Loading Speeds
Kinsta has pretty fast loading speeds. It uses Nginx, PHP 8.0, LXD software containers, and MariaDB. Essentially, it uses stable and fast technology that means you won't have to worry about downtime, or your site crashing unexpectedly. If you want to use an older version of PHP, you can switch from 8.0 to 7.4 and 7.3.
Kinsta uses 25 Google Cloud Platform data centers, allowing you to choose a server that is the closest to the bulk of your visitors, making it a little faster from their perspective. The servers are located in:
The US
Australia
Taiwan
The UK
Germany
Singapore
Japan
India
Canada
The Netherlands
Finland
Switzerland
Hong Kong
South Korea
Indonesia
Poland
Security
Kinsta uses Cloudflare to provide a secure firewall. It also offers continuous monitoring to stop any security threats in their tracks without you having to do anything yourself. It offers DDoS protection, which protects you from attacks, like denial-of-service attacks which can overwhelm a server with a flood of traffic, causing your site to go down.
You'll also get an SSL certificate, which safeguards customer data. This is really important for eCommerce sites or any websites that involve taking sensitive information from visitors.
Staging and Migrations
Kinsta is great in terms of taking care of migrations. There will be no downtime, so you won't have to worry about visitors running into an error notice during transfer. Kinsta assigns a temporary domain to your migrated site so it can check things over before going live.
You are entitled to free basic migration if you use one of the following services:
A2 Hosting
Bluehost
Cloudways
DreamHost
Flywheel
GoDaddy
HostGator
Pagely
Pantheon
Savvii
SiteGround
tsoHost
WP Engine
WPX Hosting
They provide Premium Migration Credits, which allows you to move one WordPress website to Kinsta. You can get the ball rolling here by filling out a migration request form. Kinsta makes this process easy, giving you clear instructions from their WordPress experts.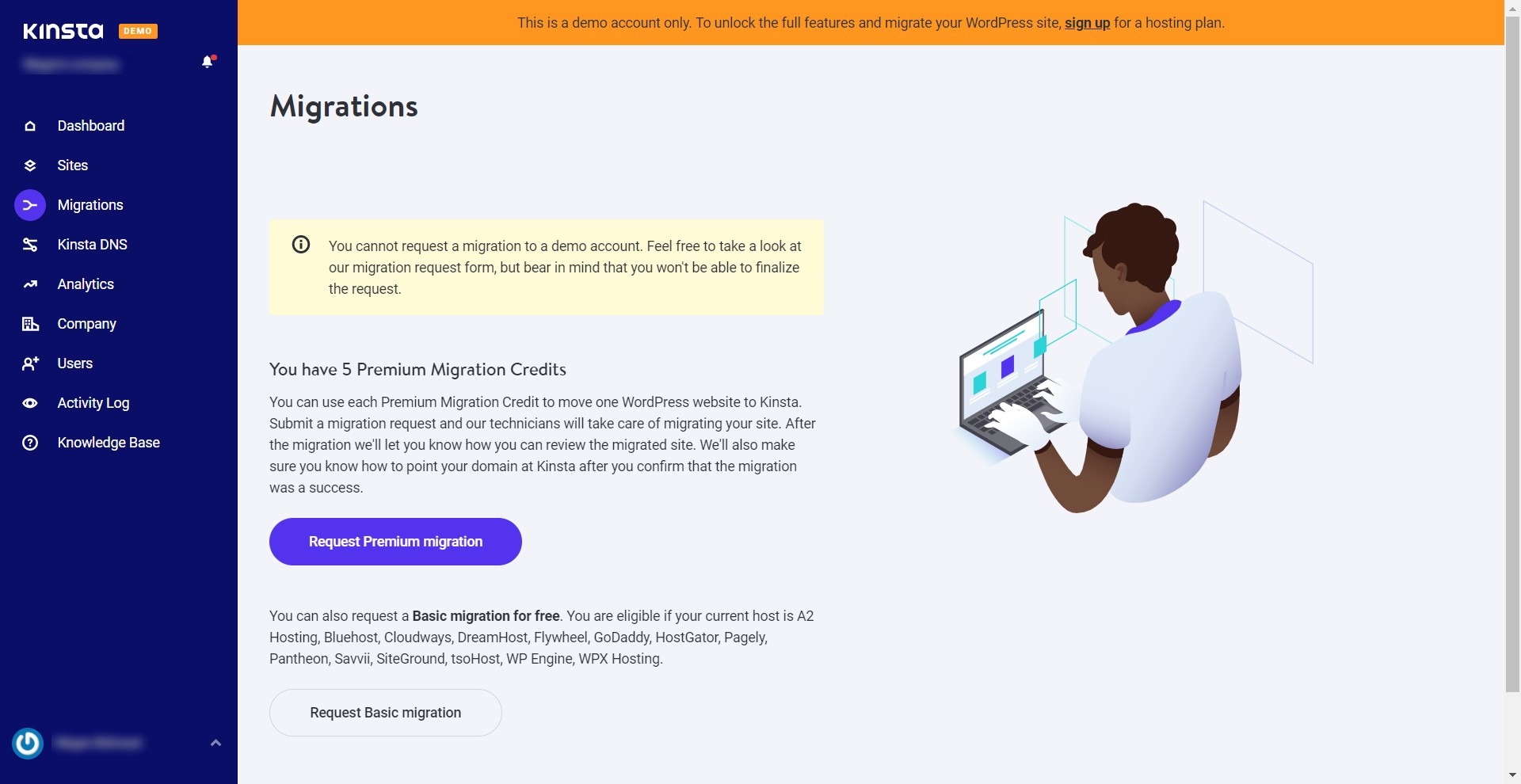 Kinsta's staging environment is really useful. It allows you to mess around with your layout, plugins, and code, without worrying about something going wrong with your live site. Once you're happy, you can make the changes go live with one click.
Each website has its own section on Kinsta, and it's easy to navigate to each one.
Analytics
Kinsta has an activity log with a breakdown of all actions taken each day for every site. These can be filtered by action, site, and user, so if you want to focus on one site, for example, you can gain all the information you need to know quickly.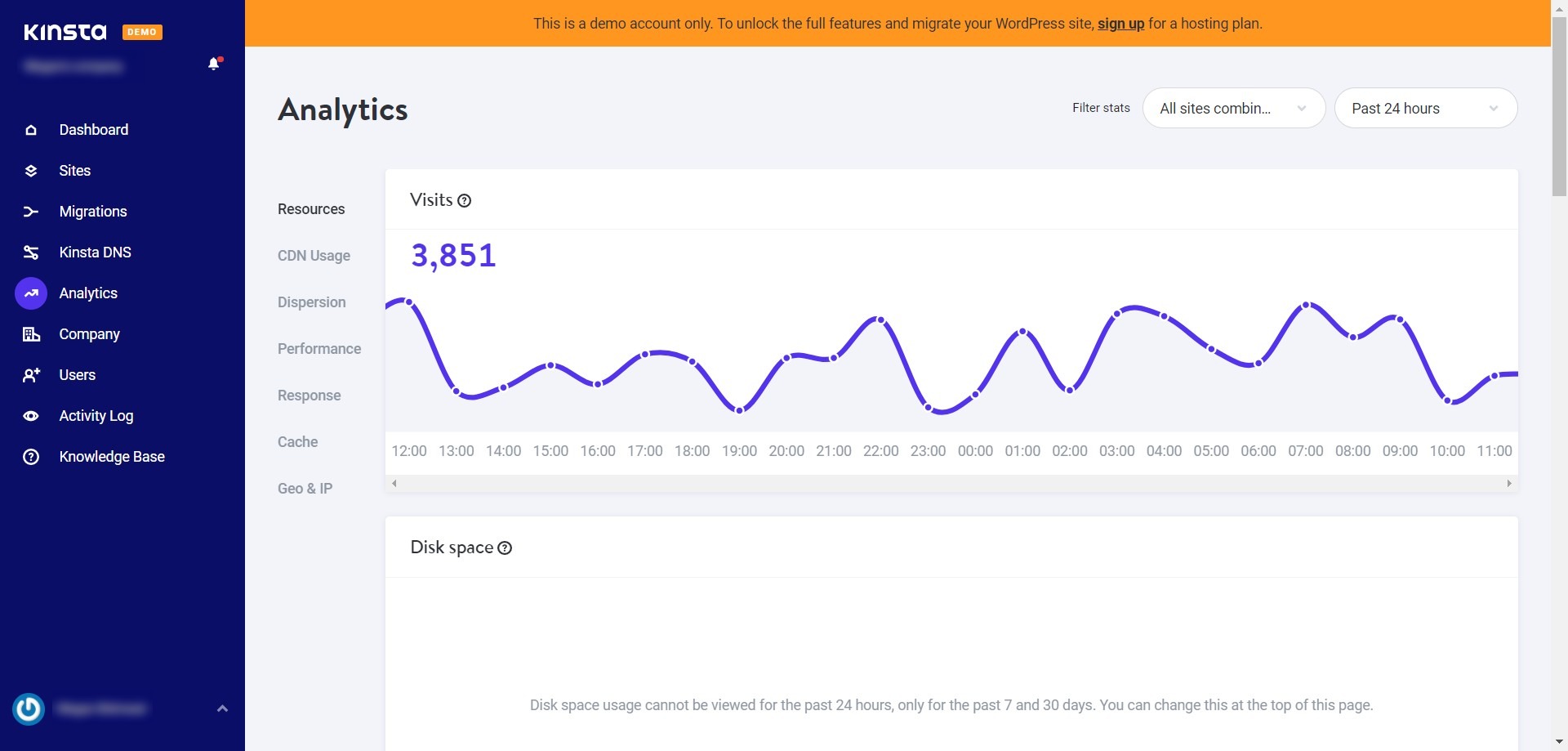 Kinsta's analytics are pretty good. You can view information on:
Resources
CDN usage
Dispersion
Performance
Response
Cache
Geo & IP
The Main Features of HostGator
Let's take a look at the main features of HostGator.
Dashboard/UX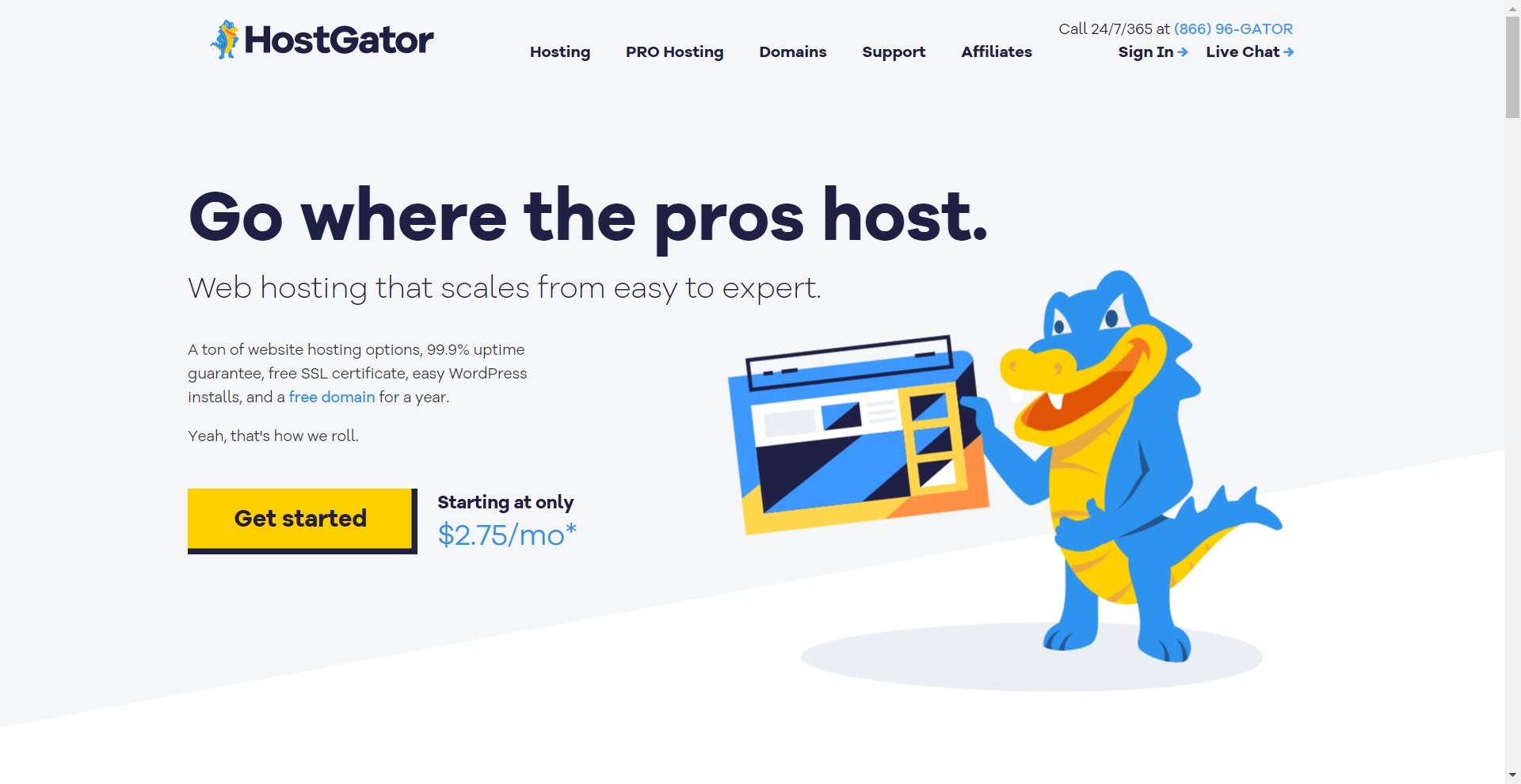 HostGator doesn't offer a free trial, which means you can't have a good look around before you commit to a plan. They use cPanel, which is a fairly easy interface to navigate. The signup process is easy too, and it only takes a few moments to get going.
Uptime/Loading Speeds
HostGator advertises a 99% uptime guarantee, meaning you can trust your website will stay up, even during most server and system updates.
Their data centers are located in Provo, Utah, and Houston, Texas, but you have the option of activating CloudFlare, which opens up servers in North America, Europe, Asia, and Australia. However, you can't choose which data center houses your server.
As of February 2021, HostGator uses PHP 7.4, with any PHP versions older than 7.3 no longer able to be supported.
Security
HostGator has some great security measures in place. With your HostGator account, you'll get a free SSL certificate, which has a few benefits. It protects your customers' data from certain types of attacks during data transfer to or from your website, which is hugely important if you need to take personal information from visitors. It also reassures new visitors that your website is safe.
HostGator has a partnership with SiteLock, which you can take advantage of for free if you're a WordPress user. This unlocks automated malware removal and protection against attacks. It also gives you the SiteLock badge to display on your site, which according to a study by SiteLock, can increase conversions by approximately 15%.
If you use WordPress, your hosting purchase includes daily backups and some site security too.
Staging and Migrations
Moving your domain over to HostGator requires a little bit of work on your part. First, you have to unlock your domain name and get a transfer authorization code, as well as a few other bits and pieces. Then, they start the transfer process for you. It takes around 5-7 days to complete. That's just for your domain, however.
To transfer a whole website is a bit more complex, depending on if you're coming from WordPress or not, as well as some other factors. You will be entitled to a limited number of free transfers as a new user within 30 days of signing up to the platform, and you can kick start the process by filling out a transfer form.
HostGator doesn't offer staging by itself – it relies on a partnership with Softaculous to create staging areas, which means signing up for another service. Otherwise, it suggests using a staging plugin.
Extra Features
HostGator offers professional SEO advice, including keyword research, content creation, on-page optimization, and more. This comes at an extra cost, but it's worth looking into if you're willing to pay extra to have someone take care of this for you.
Analytics
HostGator has some tools for measuring web traffic, but it suggests signing up with Google Analytics for more in-depth reporting, and you have to leave the HostGator platform to do this, which may be a little annoying if you'd rather have everything under one roof.
Kinsta vs HostGator – Support
What happens if something goes wrong? Here's how Kinsta vs HostGator compare in terms of customer support.
Kinsta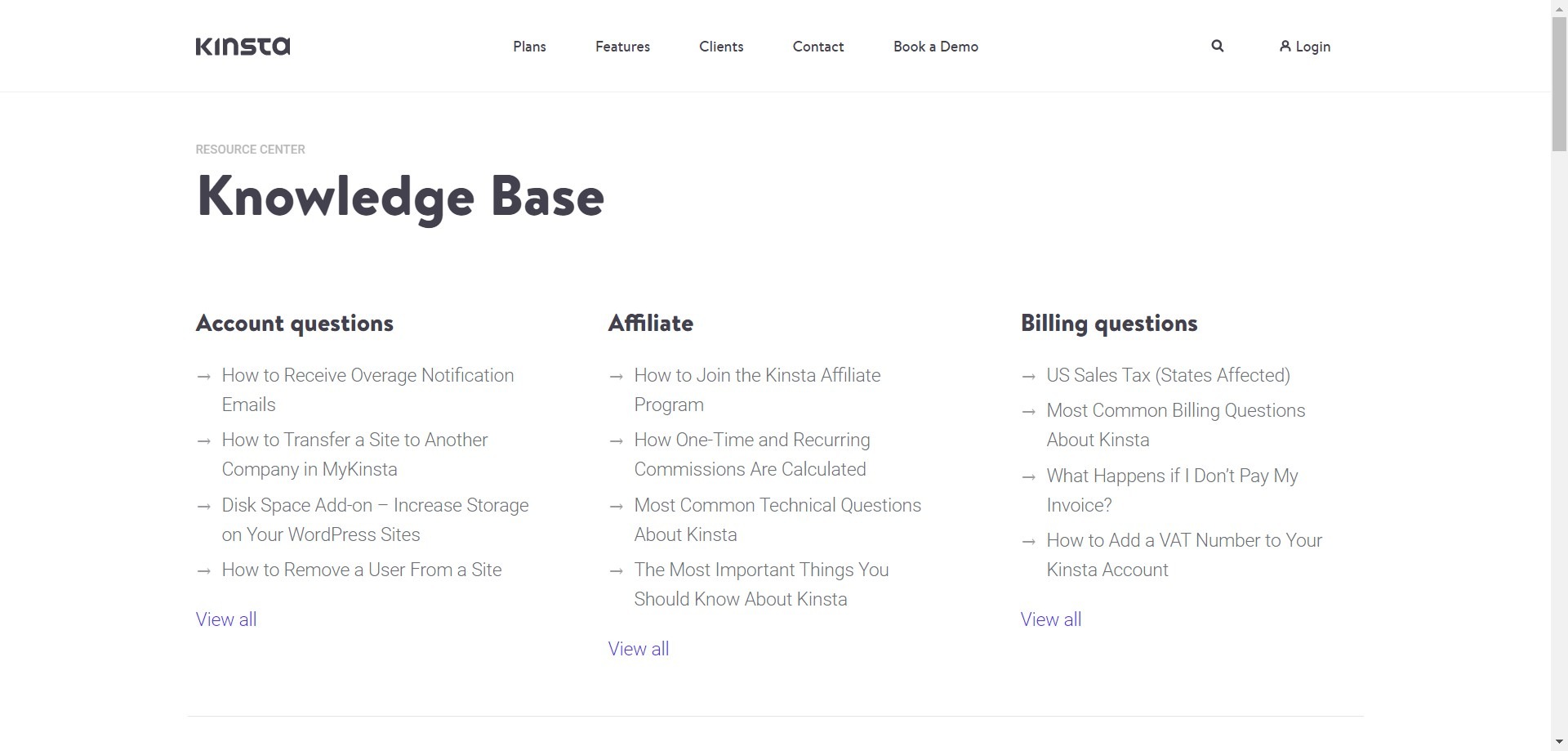 Kinsta has a knowledge base to guide you through certain processes and to answer basic questions.
They use an online messaging system for support. The customer service team is really fast to respond and is helpful and friendly. So you won't have to worry about waiting around for a long time if you need extra support.
The downside is that they don't offer phone support, which means you'll have to hope for fast response if there is an emergency. However, as they're so quick to respond, this isn't too much of a problem.
HostGator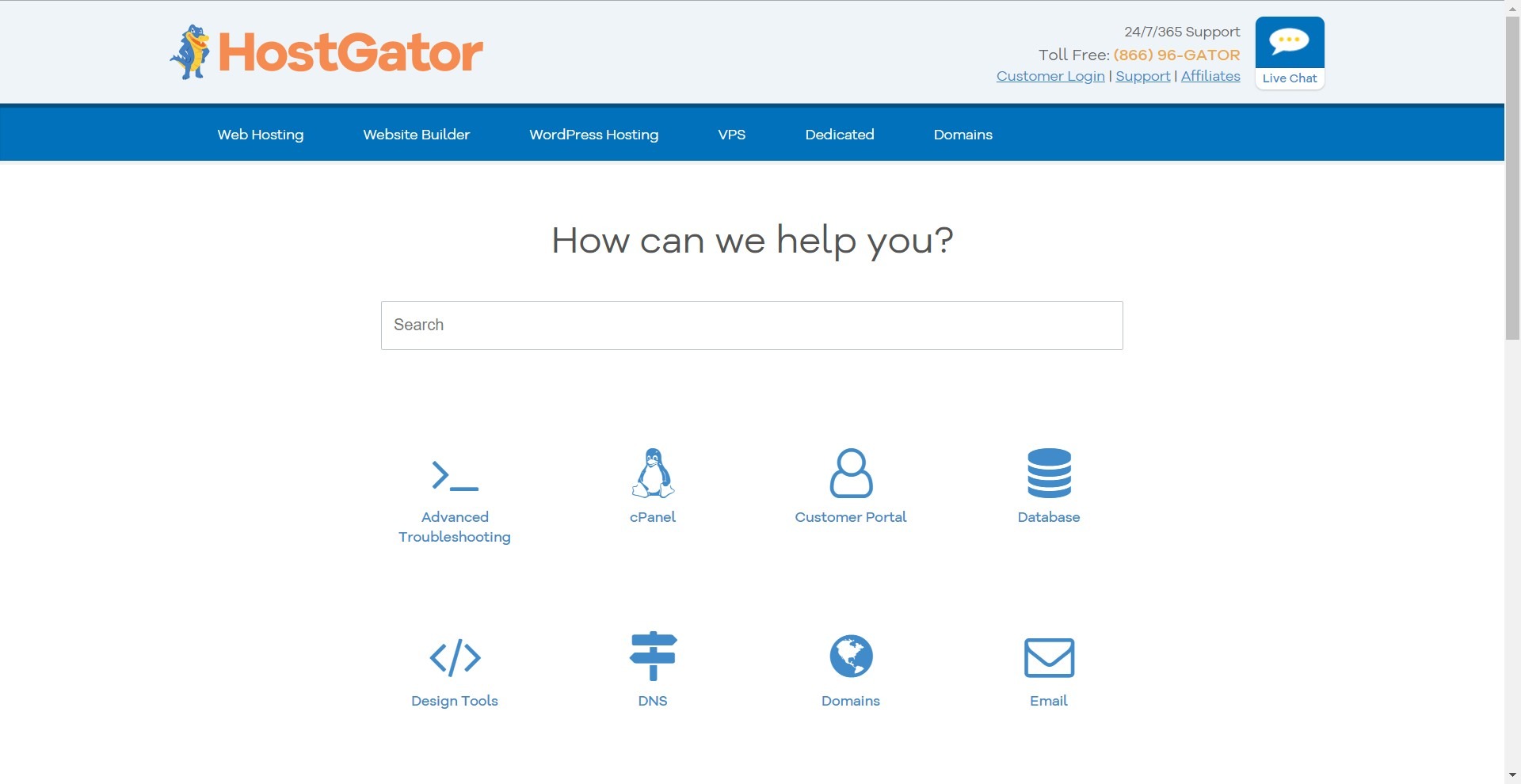 HostGator has a knowledge base with troubleshooting articles, as well as video tutorials. Their step-by-step guides are useful, particularly the ones relating to domain/website transfer.
You can contact HostGator on their toll-free number or using their live chat services. The customer service team is responsive and helpful.
Kinsta vs HostGator – Pricing
Now let's see how they compare in terms of pricing.
Kinsta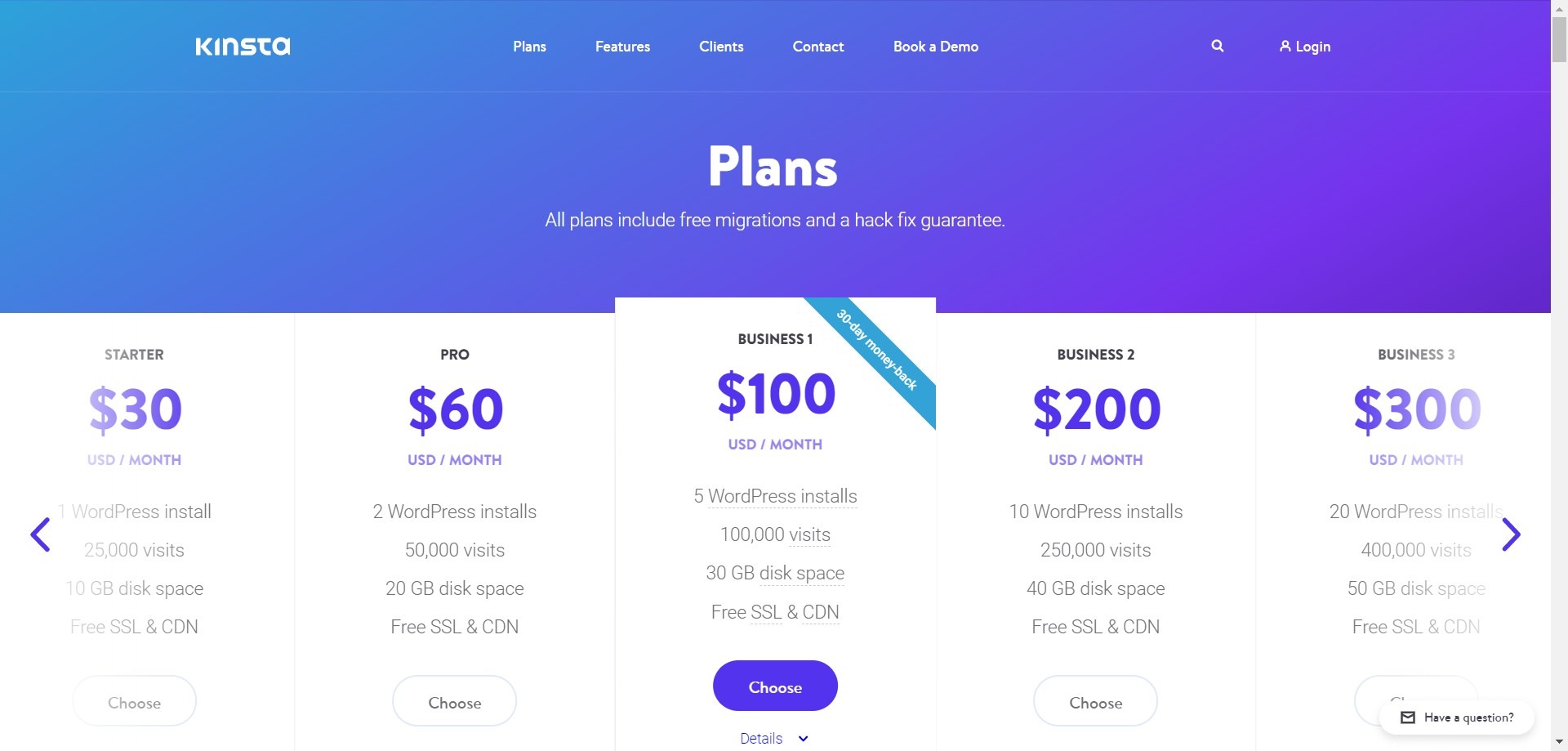 Kinsta has several pricing plans to choose from:
Starter – $30/month
1 WordPress install
25,000 visits
10 GB disk space
Free SSL and CDN
Pro – $60/month
2 WordPress installs
50,000 visits
20 GB disk space
Free SSL and CDN
Business 1 – $100/month
5 WordPress installs
100,000 visits
30 GB disk space
Free SSL and CDN
Business 2 – $200/month
10 WordPress installs
250,000 visits
40 GB disk space
Free SSL and CDN
Business 3 – $300/month
20 WordPress installs
400,000 visits
50 GB disk space
Free SSL and CDN
Business 4 – $400/month
40 WordPress installs
600,000 visits
60 GB disk space
Free SSL and CDN
Enterprise 1 – $600/month
60 WordPress installs
1,000,000 visits
100 GB disk space
Free SSL and CDN
Enterprise 2 – $900/month
80 WordPress installs
1,500,000 visits
150 GB disk space
Free SSL and CDN
Enterprise 3 – $1,200/month
120 WordPress installs
2,000,000 visits
200 GB disk space
Free SSL and CDN
Enterprise 4 – $1,500/month
150 WordPress installs
3,000,000 visits
250 GB disk space
Free SSL and CDN
You can sign up for a free demo if you want to test it out before you commit to a plan.
HostGator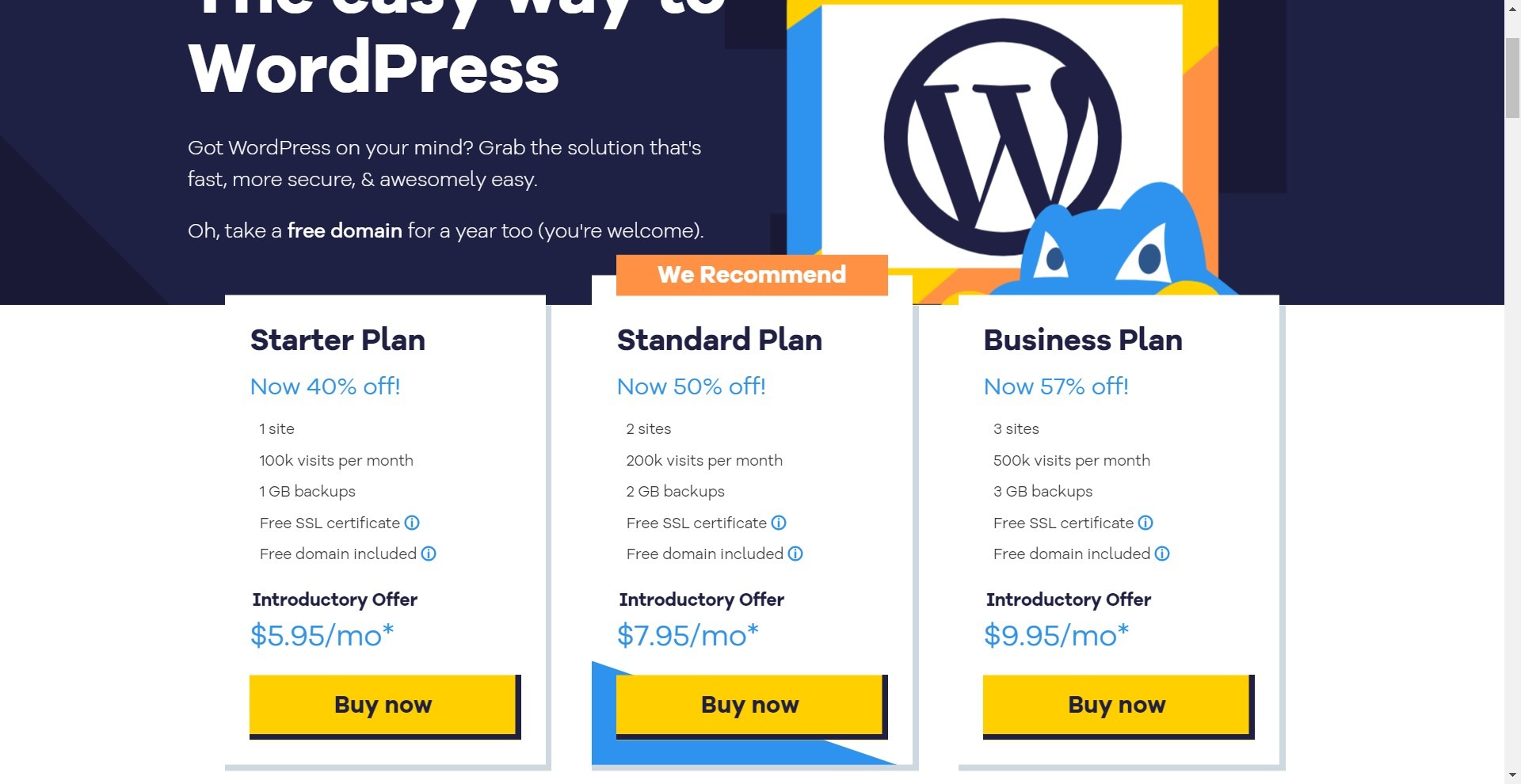 HostGator offers three price plans for WordPress users:
Starter Plan – $5.95/month (introductory offer)
This includes:
1 site
100k visits per month
1GB backups
Free SSL certificate
Free domain included
Standard Plan – $7.95/month (introductory offer)
This includes:
2 site
200k visits per month
2 GB backups
Free SSL certificate
Free domain included
Business Plan – $9.95/month (introductory offer)
This includes:
3 sites
500k visits per month
3GB backups
Free SSL certificate
Free domain included
Non-WordPress users have separate pricing plans to choose from. We won't go into those in too much detail, but the prices start from $2.75/month.
You can find out more about their WordPress plans on their pricing page.
Kinsta vs HostGator – Pros and Cons
Here's a summary of our favorite parts of each platform, as well as the parts we feel could be improved:
Kinsta
Pros
User-friendly platform
Clean layout
Fast loading times
Excellent security
Staging and migration is super easy
Cons
No phone support available
Steeper monthly costs than HostGator
HostGator
Pros
Good support
Clear pricing plans
Fast loading times
Excellent security
Cons
Relies on Google Analytics for in-depth reporting
Migration takes a few extra steps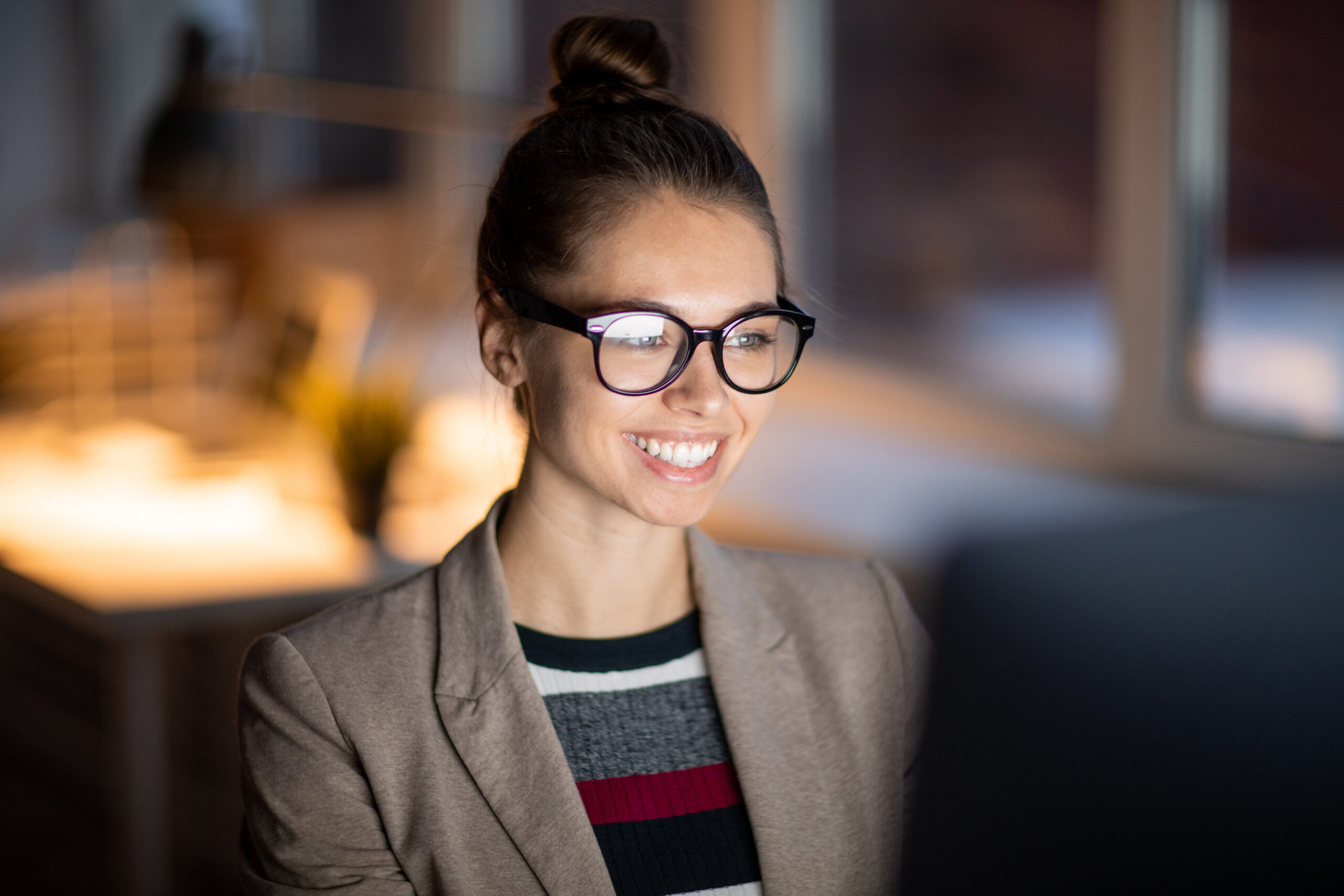 FAQs
Question: Are there any alternatives I can try instead of Kinsta or HostGator?
Answer: Yes, we've reviewed a few alternatives if you want to keep looking:
• WP Engine – WP Engine is a hosting service specializing in WordPress. It offers some excellent tools and features, and you can find out more in our WP Engine vs Flywheel comparison.
• NameCheap is a web hosting service. It's fairly affordable, and it offers free migrations. You can find out more about it in our NameCheap vs BlueHost comparison.
• CloudWays – CloudWays is a web hosting service with affordable pricing. It uses over 65 data centers for fast loading speeds worldwide. You can read more about it in our Cloudways vs WP Engine comparison.
• BlueHost – BlueHost is a web hosting service offering great security and fast page loading speeds. You can find out more in our Cloudways vs BlueHost comparison.
Question: Can I easily cancel my plans with Kinsta or HostGator?
Answer: Yes – you can cancel it online by going to your 'account' page, and you can cancel at any time without being locked in.
Question: Do Kinsta or HostGator have mobile apps?
Answer: No – neither Kinsta nor HostGator has mobile apps at the time of writing.
Question: When were Kinsta vs HostGator launched?
Kinsta was launched in 2013, whereas HostGator was launched in 2002. So HostGator has more experience in web hosting.
Our Final Thoughts – Which is Better, Kinsta or HostGator?
If we had to pick, we'd go with Kinsta. We think that the services they offer are worth the extra money – including the staging area and analytics, which are helpfully built into the platform. This saves you from having to sign up for other plugins and services if you want these features in one place.
However, HostGator has some advantages. It's much more affordable, meaning smaller websites and businesses can take advantage of good security and fast page loading speeds, too.
We hope this has helped you to figure out which one is best for you. If you've used either platform, we'd love to hear your thoughts in the comments – what do you like about your hosting service provider? What do you think could be improved?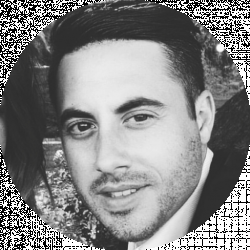 Latest posts by David Borgogni
(see all)
Get 40% OFF for 3 Months