Last Updated on August 17, 2023 by Ewen Finser
Members-only products are becoming a popular way to generate revenue from your hobby. I've dabbled in membership-only platforms, and I am interested in using this function for my website. I have a WordPress website, so I was looking for a membership plugin.
That's when I came across MemberPress. MemberPress supports nearly every digital business model, from online courses to blogs. But the high prices and unnecessary features made me shy away from MemberPress. Fortunately, MemberPress has different competitors that are a better option for me. I want to share some of these companies in my best MemberPress alternatives guide.
Bottom Line Upfront
If you want your membership platform to offer course creation features, I suggest choosing Teachable. If you want a general membership platform, I recommend Mighty Networks. If you prefer a WordPress plugin, I suggest looking at these alternatives and choosing the best one.
My Top Picks at a Glance
What Is MemberPress?
First, let's learn a little more about MemberPress. MemberPress is a WordPress plugin that makes certain areas of your website available to paid subscribers. You can create different content for paying visitors–digital downloads, content, and even courses. If you already have a WordPress website, sign up for a MemberPress account and add it to the backend of your WP account. MemberPress can integrate with numerous other WordPress plugins, such as the payment processing system Stripe.
Is MemberPress Right for You?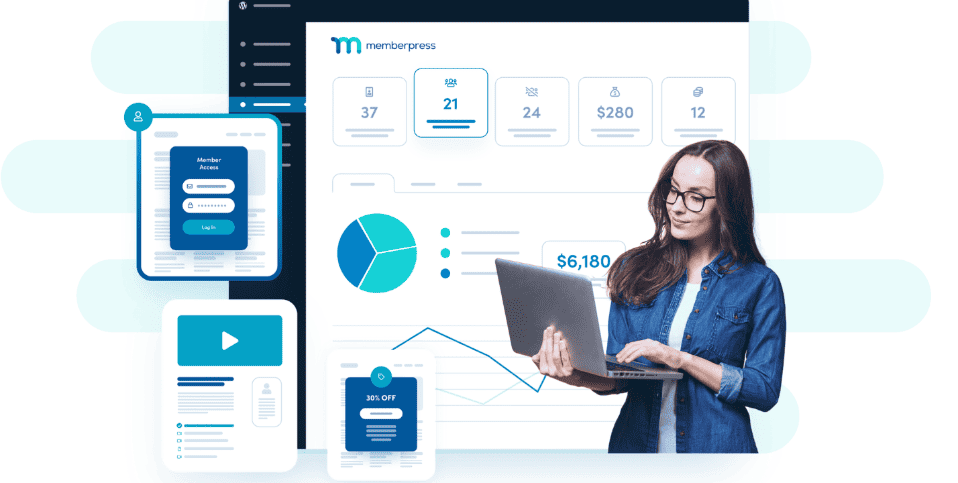 I realized MemberPress wasn't right for me when I looked at the price–the basic plan costs around $180/year. You can only use MemberPress for one website (I have two).
I want to make a new course, and MemberPress' course features don't start until the second tier (which costs $300/year). I would also get some unnecessary features, such as email marketing automation. Overall, I think MemberPress is limiting for its price.
If you agree with any of this, I suggest considering any of the alternatives I will cover. I also suggest looking through my alternatives if you want a solution that's not on WordPress, has more community-based features, offers easier development tools, platforms that are optimized for mobile, and is more affordable.
Tips When Finding MemberPress Alternatives
I'm going to be listing quite a few alternatives. How do you know which one is right for you?
Features
When I look for alternatives, I first look at the features. Even though WordPress has limitless plugin options, you should get most of your features from this one plugin alone. And if you're using a third-party platform, it should include every feature you need to run your members-only business.
You may also not know which features you'll need. In this case, I suggest exploring solutions for your craft. Members-only businesses typically create courses, content, downloads, and more. I blog for my websites, so I need a customizable solution. And since I want to create a course, I would look for tools to help my students, such as quizzes and certificates.
No matter your business type, there are general features you should prioritize. I like to discover how a platform can benefit my sales; for example, maybe they offer landing page creation, sales analytics, and payment processing.
WordPress or All-in-One
MemberPress is a WordPress plugin, so you should know whether you plan on creating a WordPress website or if you want an all-in-one solution. I suggest choosing a WordPress website if you want more capabilities and customizations for your business platform. I've been a WordPress user for 10 years and have used this platform alone for blogging, video, courses, and even e-commerce.
However, WordPress can be complicated to learn–especially if you're not experienced with website creation, hosting, or CMS platforms. If this sounds like you, you may benefit from an all-in-one platform. These platforms vary in features and capabilities, so it's worth knowing the tools you need before signing up.
App and Mobile
Some business platforms extend to an app or other mobile/responsive benefits. MemberPress doesn't offer an app creation feature, which is a shame since many users prefer apps.
If you want to give your members an app experience, I suggest choosing a platform that offers a built-in app. Remember that some apps may be limited in functionality compared to browser view, so always research the app features before signing up. It's also important to note that not all of these alternatives have an app, but I'm mentioning the ones that do.
Customizations
The nice aspect of WordPress is you have limitless theme, design, and plugin options. You can customize your website and add branding elements, such as a color scheme and a logo. You can also hire a WordPress developer/designer to create a high-quality website.
If you would rather use an all-in-one platform, research the theme and design capabilities. Make sure you can customize and brand your website. You would be shocked at how many platforms limited my design options.
How I Chose These Alternatives
I took all of the previously mentioned tips into consideration when I chose these alternatives, as well as other buying factors that I look at when finding a business platform. These factors will ensure you'll be pleased with these membership platforms.
Goals
While every business has different goals, most want to achieve the same outcome. You want more growth to your membership website and can better connect to your audience. I researched these companies and ensured that these membership platforms achieved these goals and more.
Strengths
Every membership platform has its strengths and benefits. I tried to not only find platforms with several advantages but also offered some unique strengths. These strengths may include integrations, affordability, consistent updates, excellent support, customizable, feature-rich, and more. I will also discuss these strengths in depth.
Support
When using a membership platform, there are times when you'll need a helping hand. You may also have questions or may even run into a tech issue. That's why excellent support is paramount when choosing a membership platform. To gauge a platform's support, I researched ones that offered different support options, responded in a short amount of time, and opened these options up to all customers–no matter what plan they have.
Marketing Capabilities
Membership platforms offer marketing tools so users can grow their following and make more money. I not only gauged whether or not a platform offered its marketing tools but ensured they offered a whole suite of promotion capabilities. If a platform doesn't offer a specific marketing function, I also ensured there was an integration for it.
Price and Scalability
Membership platforms can be expensive if you're not smart about your budget. That's why I tried to find the best membership platforms at affordable prices. But a cheaper subscription price doesn't always mean a platform is better, which is also why I judged this by weighing out the subscription price versus the earning capabilities that a platform offers. Not only that, but I also ensured these platforms were scalable, so you can access better features and tools when you grow your membership business.
User-Friendliness
Finally, I factored in user-friendliness. Even though most of these platforms (including WordPress) come with a learning curve, it should be fairly easy to figure out the backend. I also researched whether these platforms improve their backend to make it more intuitive.
The Best MemberPress Alternatives
Are you ready to look at these MemberPress competitors? Here are my favorite MemberPress alternatives.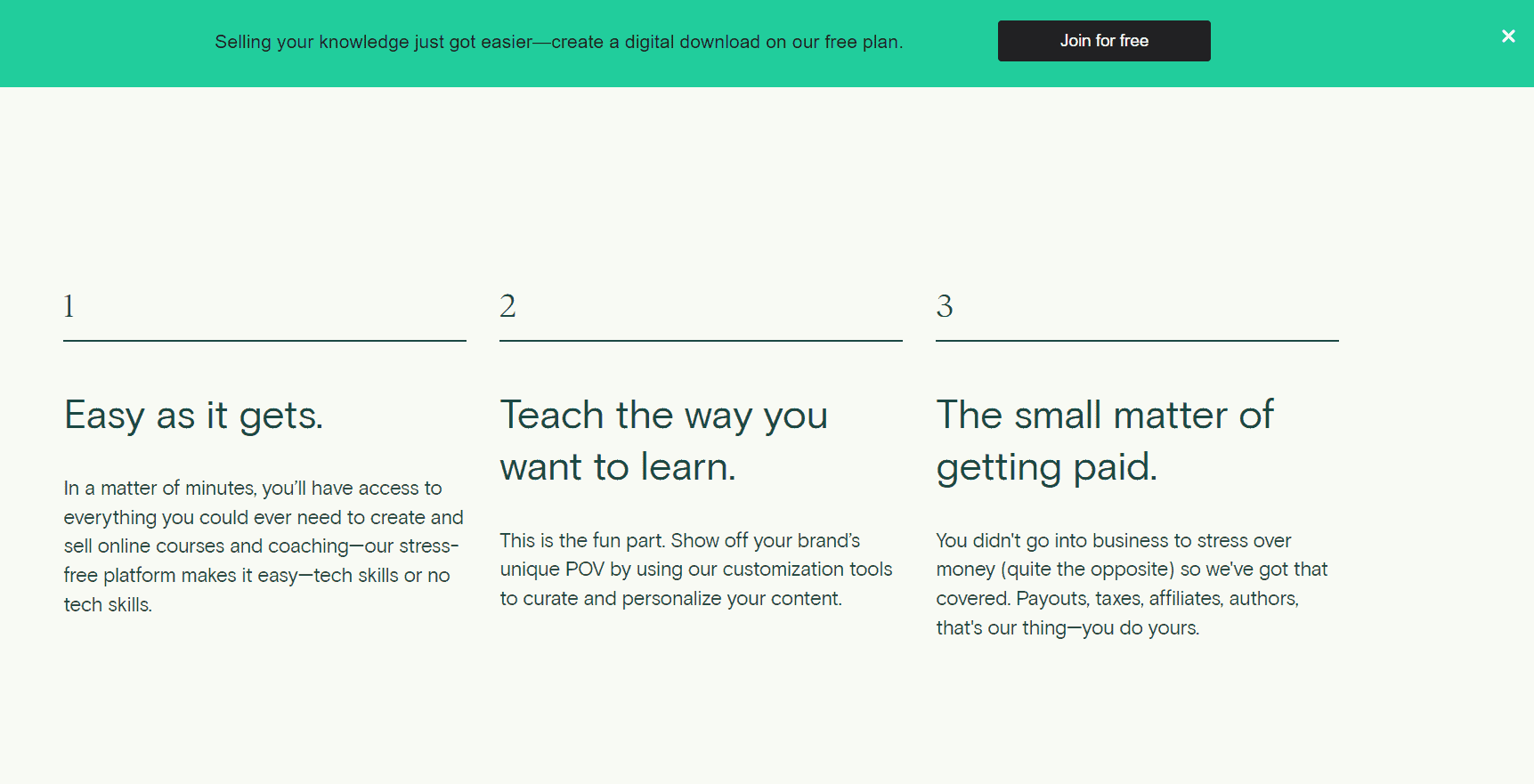 Teachable is the main MemberPress alternative I recommend if you want to create a membership course. There are many ways that you can generate revenue from your courses, and one of them is by offering a membership section.
I also recommend Teachable as an LMS over MemberPress because Teachable offers everything you need to create a high-quality course. You can create lessons using text and multimedia and create interactive quizzes. Teachable also offers solutions to coaches who want a more customizable solution. No matter what you're creating, Teachable offers a powerful and user-friendly course editor so you can create your courses with ease.
I also love Teachable's marketing tools. For example, their platform supports affiliate marketing, which many competitors don't offer. Teachable also offers impressive integrations if they don't offer the marketing tools you need. I especially love their integrations with Zapier, MailChimp, and Google Analytics.
If you're looking for another type of membership platform, I suggest looking at the other alternatives. I also recommend Teachable to website owners in the USA; they handle all accounting internally, and I'm unsure how they handle taxes in different countries. Teachable offers email support as well as a knowledge base and support guides.
Pros
Powerful tools for instructors and coaches
User-friendly course creation platform
Offer a free plan
Affordable prices for higher-tiered plans
Affiliate marketing capabilities
Cons
Lack of direct customer support options
Only a good option for those who want an LMS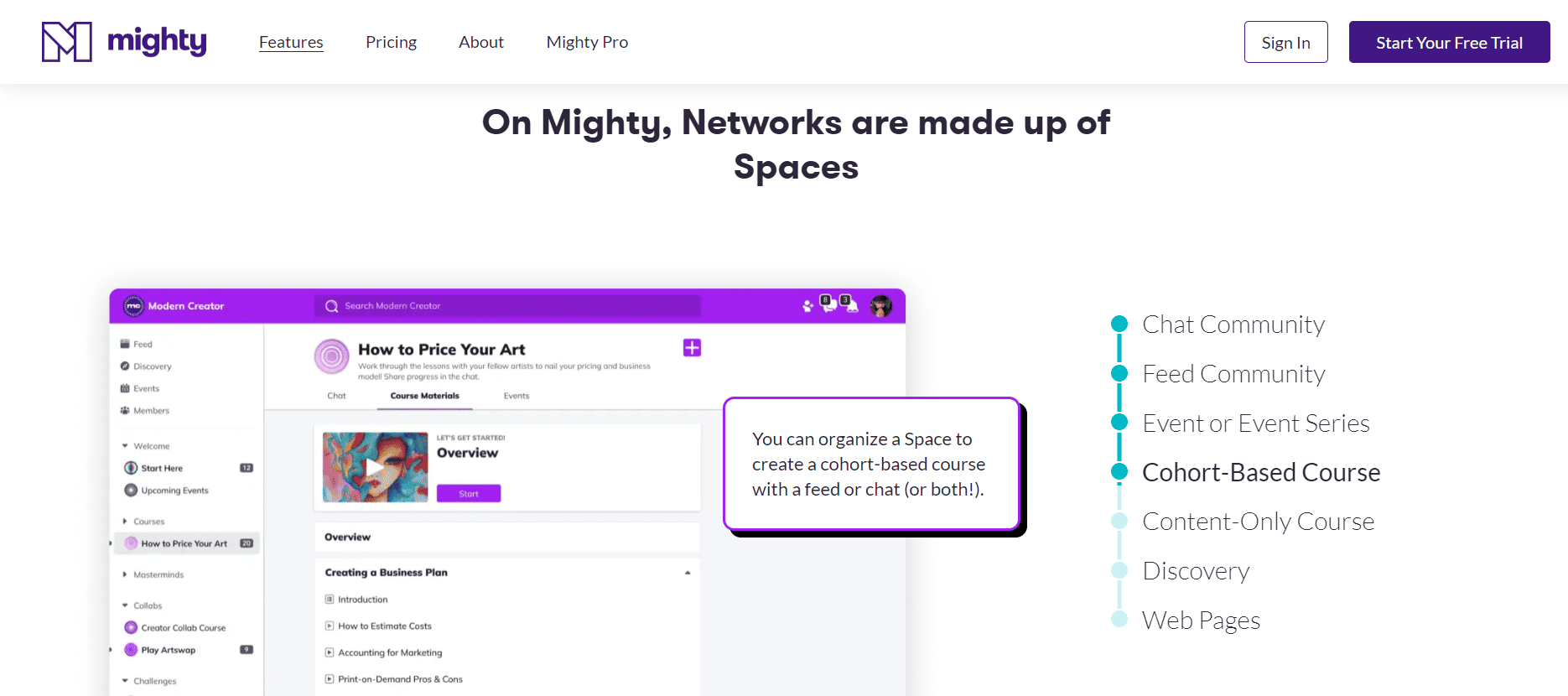 If you want a general membership platform recommendation, I suggest Mighty Networks. Mighty Networks can support nearly every membership business–courses, e-commerce, and content. Because of that, Mighty Networks offers features you won't find anywhere else, such as event integration.
Mighty Networks also offers more ways for creators can connect to their audience. Some of my favorite features include the chat and feed communities that will bring your audience closer together. You can add a live stream to your network, plus a chat feature.
Mighty Networks also has cool Q&A features, so your audience can learn more about you. I love how Mighty Networks can also connect to your app. I also love Mighty Networks for its global capabilities. They support 10 different currencies, and they offer a full payment gateway.
Mighty Networks is a standalone platform, though they do have a WordPress integration. I find Mighty Networks is lacking in its marketing capabilities, though they have integrations to MailChimp and HubSpot. The only downside is Mighty Networks isn't the most user-friendly platform, and they only offer an FAQ page for support.
Pros
Wide range of features
Communication and messaging capabilities
Are always adding new features
Perfect for membership companies that want to host a community
Livestreaming features
10 different currencies
Cons
Not user-friendly
Lack of support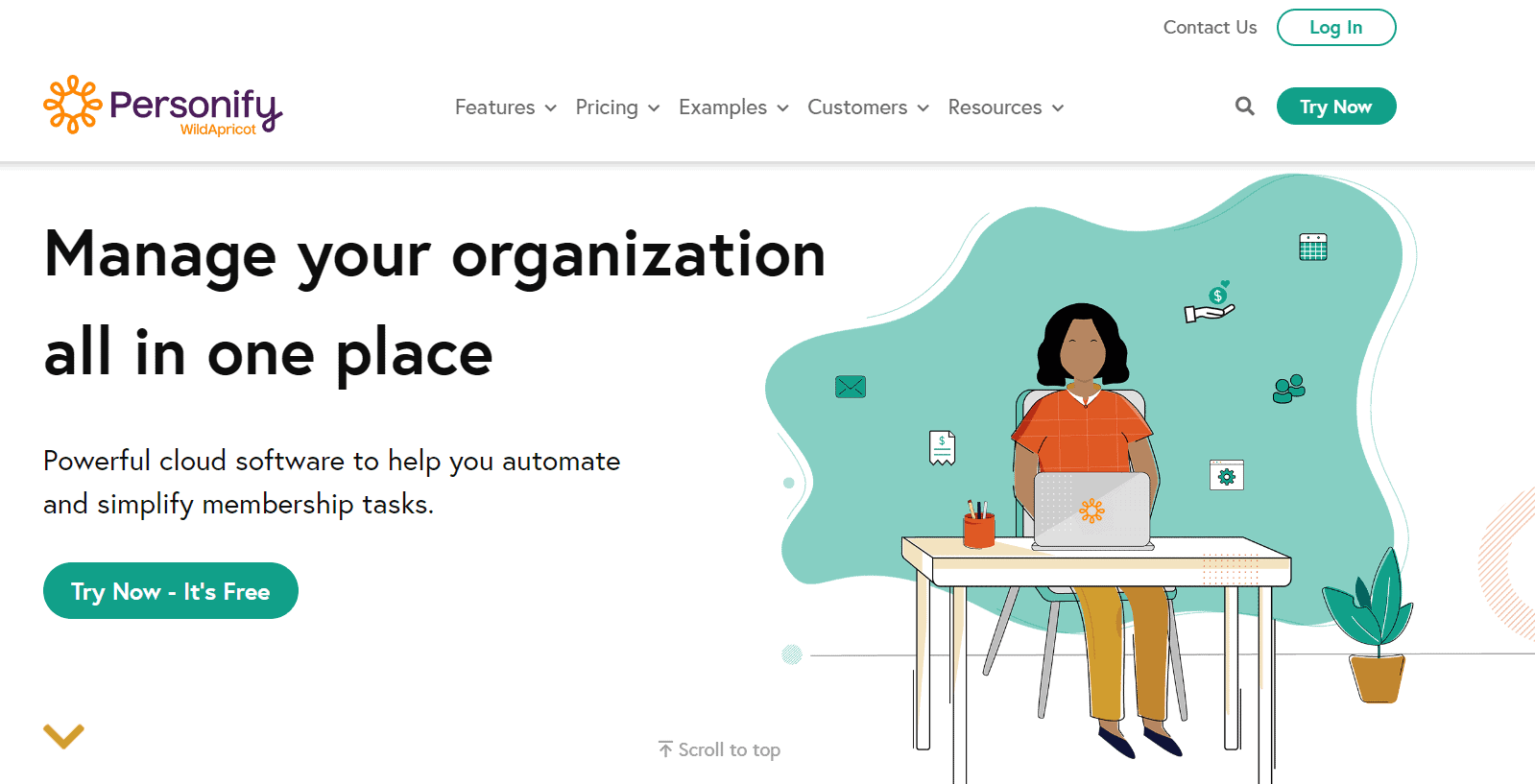 Wild Apricot is a membership platform for nonprofits. Their platform is on cloud software, but they can also integrate with WordPress. Organizations can create and manage nonprofit membership and can also build communities.
One of the ways they do this is by offering email software and text message capabilities, keeping members engaged. If you host online events, Wild Apricot also offers an event management platform where you can create events, accept payments, and even promote your event.
Your members can apply directly on this platform, and Wild Apricot even offers automated renewals. You can create membership-only parts of your website and even create content tailored to members. They even offer a platform to manage multiple chapters.
I love how this platform offers an easy-to-use drag-and-drop builder with plenty of customization and branding options. If you still have any questions or are stuck, Wild Apricot offers a great help center, and you can easily send tech support requests online.
Wild Apricot is only a solution for nonprofits. If you own another type of business, I suggest looking at other alternatives.
Pros
Offers a free plan
Affordable pricing
Multi-chapter management features
Drag-and-drop builder
Cons
Only ideal for nonprofits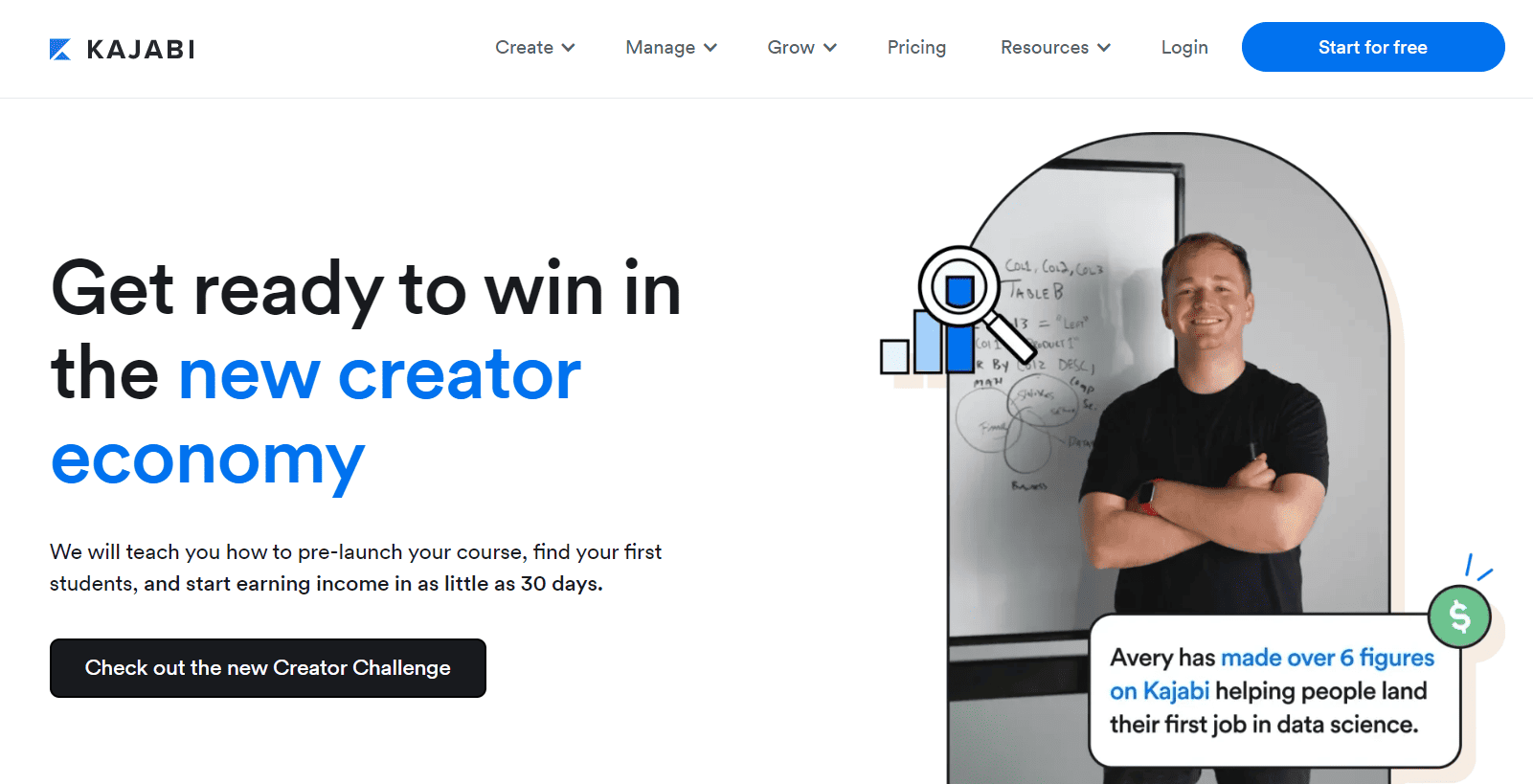 I used Kajabi recently. While it wasn't for me, I know this platform works for various knowledge businesses. Kajabi offers course creation, tools for podcast owners, capabilities to create newsletters, and more. Just know that Kajabi doesn't offer a way to bundle or categorize these products.
I was impressed by their course creation tools. There are many customization options, you can add different media types, and it's easy to learn. Kajabi has a clean interface, so it's easy to learn their backend. The only area you can't customize is the checkout area, which is a shame if you're selling a membership.
Their management software is also very simple but powerful, so you can easily sell memberships. You can also build your membership website to your liking, or you can use one of their pre-made templates. I don't like how Kajabi doesn't offer community features, so it will be difficult to interact with your audience.
Kajabi is a standalone platform that has no WordPress integrations. This comes with some setbacks; for example, their marketing tools are lacking. Kajabi does offer great ways to sell your memberships and includes all of the reports needed to track revenue and growth. On the plus side, Kajabi offers an app for you and your members.
I didn't have to use or contact support when I used Kajabi, but they do offer an impressive help center. They also offer live chat (business hours for basic plan members and 24/7 for all other plans).
I don't suggest Kajabi unless your business already drives revenue. This platform is probably the most expensive on this list–the basic plan is $120/month for the current promotion (usually $150/month), and Kajabi doesn't offer a free plan option.
Pros
Great support
Lots of product options
Easy to create a course
Clean interface
Cons
Expensive
You can't customize certain areas of your platform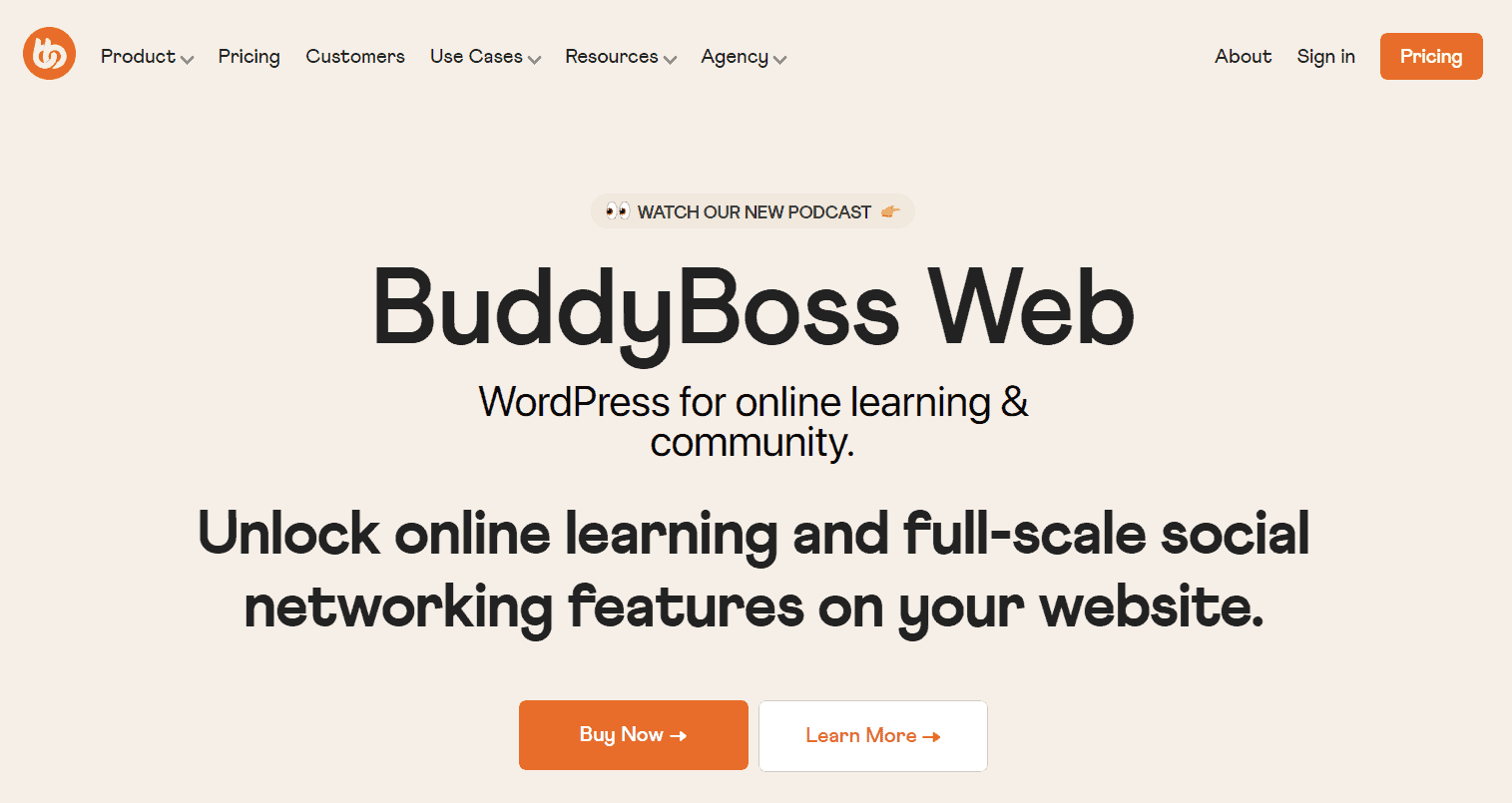 If you're looking for a community plugin for WordPress, I suggest choosing BuddyBoss. BuddyBoss is more than just a membership and community platform–this plugin also hosts a course creator.
For the community features, you can create a news feed, forum, private messaging, and your members can have their profiles. I find BuddyBoss goes further than the competition; you can even assign admin roles and moderators. Your forum can also have subgroups.
While it doesn't offer the features of another LMS, such as Teachable, it is a good course platform if you need something simple. BuddyBoss also integrates with LearnDash if you need more functionality from your course creator. BuddyBoss also integrates with Elementor if you want a convenient drag-and-drop builder for your website.
I don't recommend BuddyBoss if you need an all-in-one platform–this is a better option if you already host a WordPress website and want community features. I also don't think BuddyBoss has the best backend. Everything feels so unorganized, and it comes with a learning curve.
On the plus side, it's affordable. If you only have one website, this platform costs $228 annually. This is more affordable than many competitors.
Pros
Great community features
Excellent support
Affordable
Integration with various WordPress plugins
App
Cons
Unorganized backend
A little buggy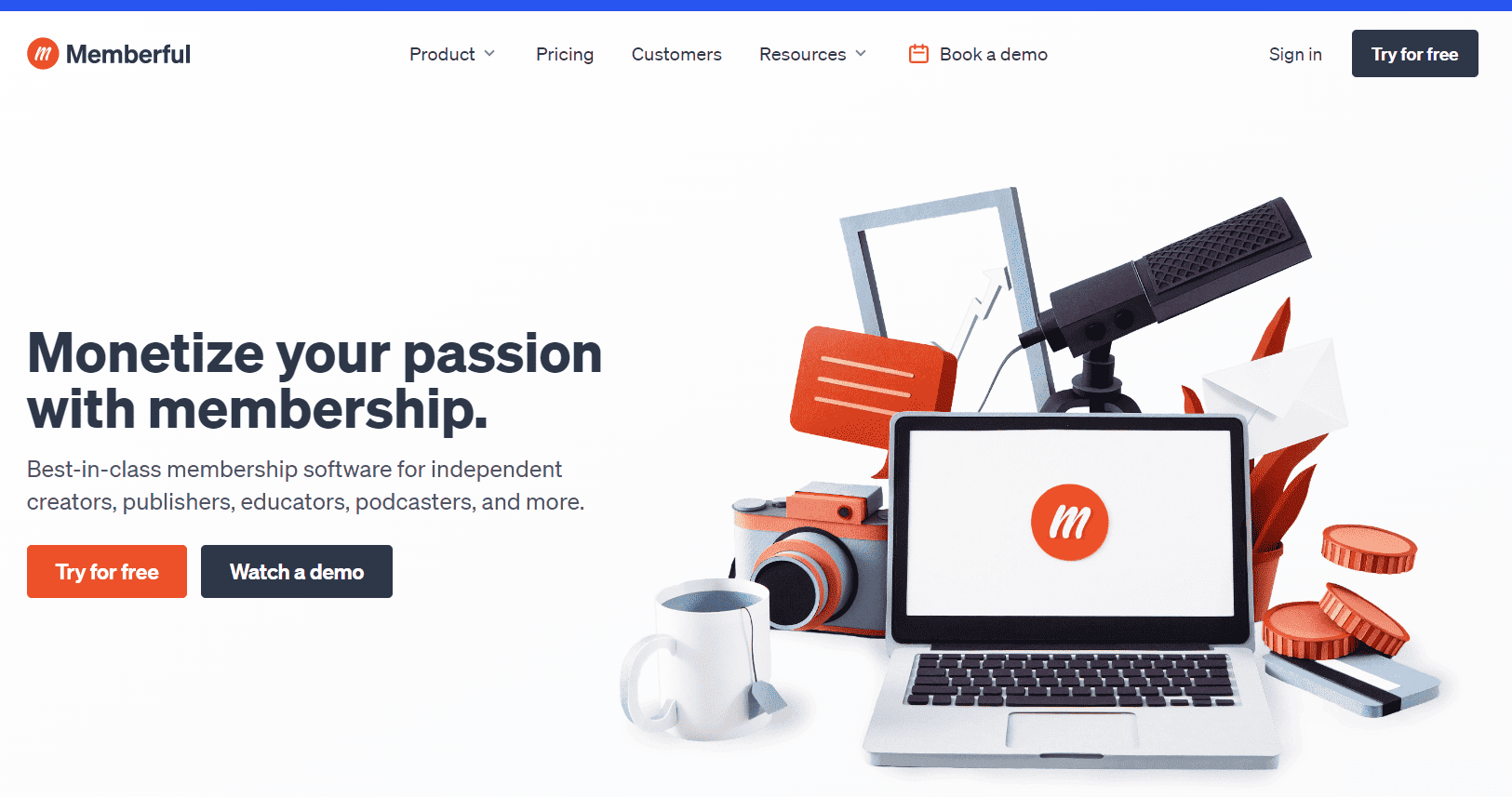 Memberful is another membership WordPress plugin. This is the one I recommend to blogs since you can gate your content to paid subscribers. As a WordPress plugin, you can still customize your website and CMS. Memberful integrates with Stripe for payment processing, which is convenient if you already use that platform.
Memberful also offers some revenue-boosting functions, such as sales emails. If there's a function you need that Memberful won't provide, there's a WordPress plugin for everything. I also recommend Memberful for global businesses since they accept various currencies.
I love how Memberful offers a free plan. The free plan is powerful; you can host unlimited members, sell private podcasts, access complete metrics, and more. If you find the free plan is lacking, the second-tier plan only costs $25/month and includes many advanced features, such as coupon codes and a members-only newsletter.
Pros
Lots of integrations and plugins
Free plan
Affordable
Integrates with Stripe for payment processing
Excellent support
Perfect solution for gated content
Seamless setup
Cons
It doesn't work across different domains if you own more than one website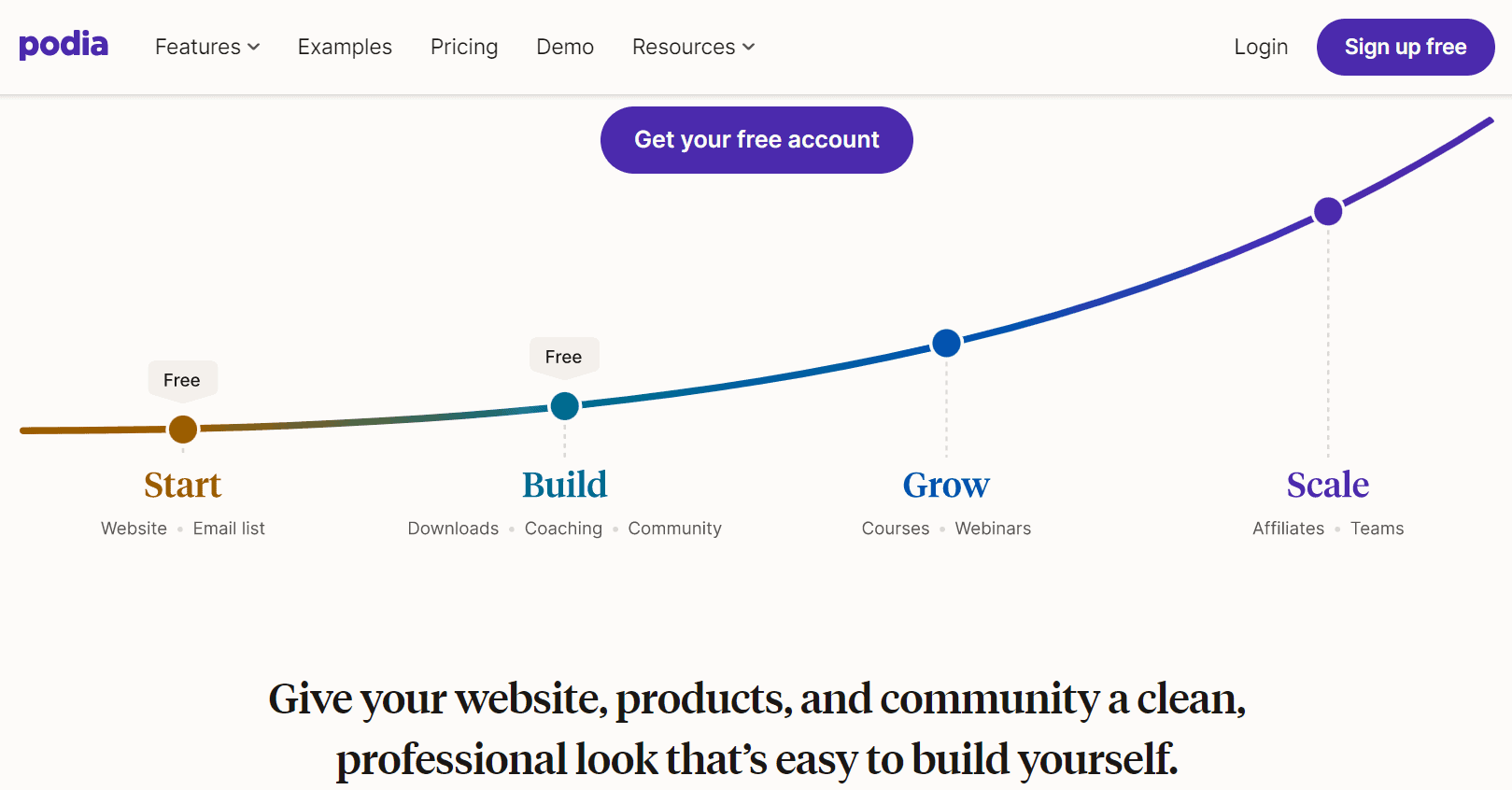 If you want a cheaper alternative to Kajabi, I suggest Podia. Like Kajabi and other knowledge platforms, you can sell various products to your members, such as courses, digital downloads, webinars, and coaching services.
However, Podia offers a free plan with a full website, marketing functions, a community, and more. If the free plan isn't enough, the second-tier plan costs $33/month. The only additional feature this plan offers is chat support, but Podia's customer service is phenomenal.
Podia's platform also packs a punch for the price you pay. They offer various tools to build your website and create your products. While I wish there was an app, Podia is a great affordable, all-in-one membership platform.
Pros
Powerful page builder tools
Lots of features
Various membership products
Includes marketing and affiliate tools
Exceptional customer service for higher-tiered plans
Don't take a percentage of your sales
Free plan
Affordable subscription price
Cons
While LearnDash is an LMS, they do offer a membership option. I love LearnDash, but I don't like their membership function at all, which is why LearnDash is last on my list.
First, let's cover the basics of LearnDash. LearnDash is an LMS plugin for WordPress. If you already have a WordPress website, you will find it easy to add LearnDash to your backend. If you use the Elementor integration, you'll love using the drag-and-drop editor for your course. The best part about LearnDash is they can support nearly any course type.
LearnDash doesn't call their membership function a "membership." Rather, they call it a "group." I included a video on creating a membership with LearnDash using the group function, but it's not user-friendly, and it took me a while to figure it out. I also wish LearnDash offered more community features.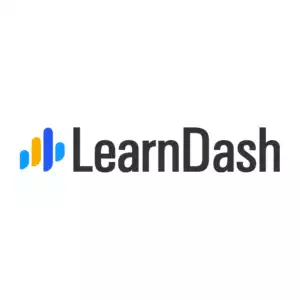 WordPress LMS Plugin by LearnDash
The most trusted WordPress LMS plugin, created by learning industry professionals with Fortune 500 experience. Transform your site in less than 5 minutes.
Get LearnDash
We earn a commission if you click this link and make a purchase at no additional cost to you.
Pros
Integration with Elementor
Updates in real-time
Wide range of teaching tools
Affordable price
Cons
The memberships function isn't user-friendly
It doesn't have a community function
FAQs
Question: Is There a Free MemberPress Plan?
Answer: No. MemberPress doesn't even offer a free trial. However, they do offer a 14-day money-back guarantee.
Question: Is MemberPress Easy to Use?
Answer: I think so. Their interface is very intuitive. And if you have any questions, their support is really helpful.
Question: Does MemberPress Include Any e-commerce Functions?
Answer: Not on its own. It can integrate with other e-commerce WordPress plugins, such as WooCommerce.
Best MemberPress Alternatives: Bottom Line
The MemberPress alternative I recommend depends on your business. If you host a members-only course, I recommend Teachable. But if you want a general membership platform, I suggest Mighty Networks. While MemberPress may be a good solution for your business, I don't like how the basic plan offers limited features, and they don't even offer a free trial. That's why I suggest considering all of these alternatives.