Last Updated on June 1, 2023 by Ewen Finser
Whether you've never heard of Learnworlds before, or you've spent ages scouring the internet for a trustworthy review, you're in the right place.
Below we've written an in-depth evaluation of what Learnworlds offers, its interface, and the quality of its customer service. Hopefully, with all this info at your disposal, you'll be in a better position to judge whether Learnworlds is the right course creator solution for you.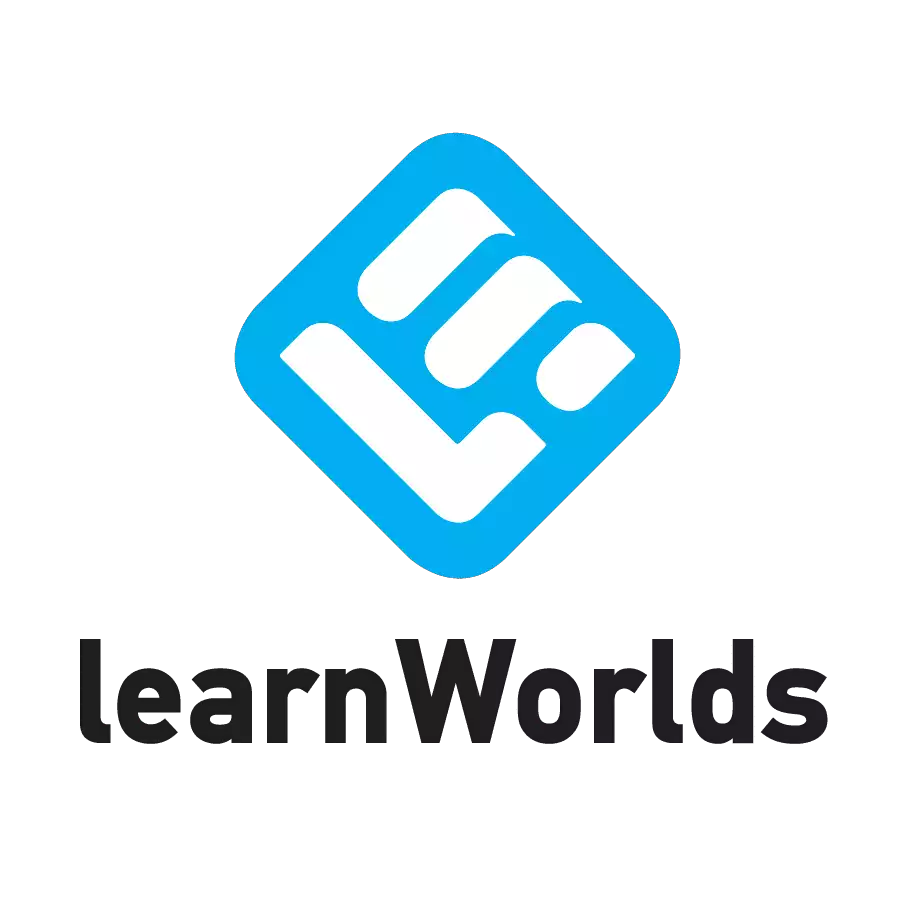 Let's dive in…
Learnworlds Review: Who's LearnWorlds?
In short, LearnWorlds is a platform that enables solopreneurs, educators, and companies to create and sell online courses.
And before we delve into the nitty-gritty, It's safe to say, LearnWorlds is one of the best course platforms on the market.
Why?
LearnWorlds offers you a powerful suite of sales tools, robust analytics, and tons of integrations for third-party marketing tools.
BUT, best of all…
Its main selling point is that it offers tons of ways for you to interact and engage with your students. So, if you want to create a holistic learning experience, this is the course platform for you. This is hands down what sets LearnWorlds apart from its competitors.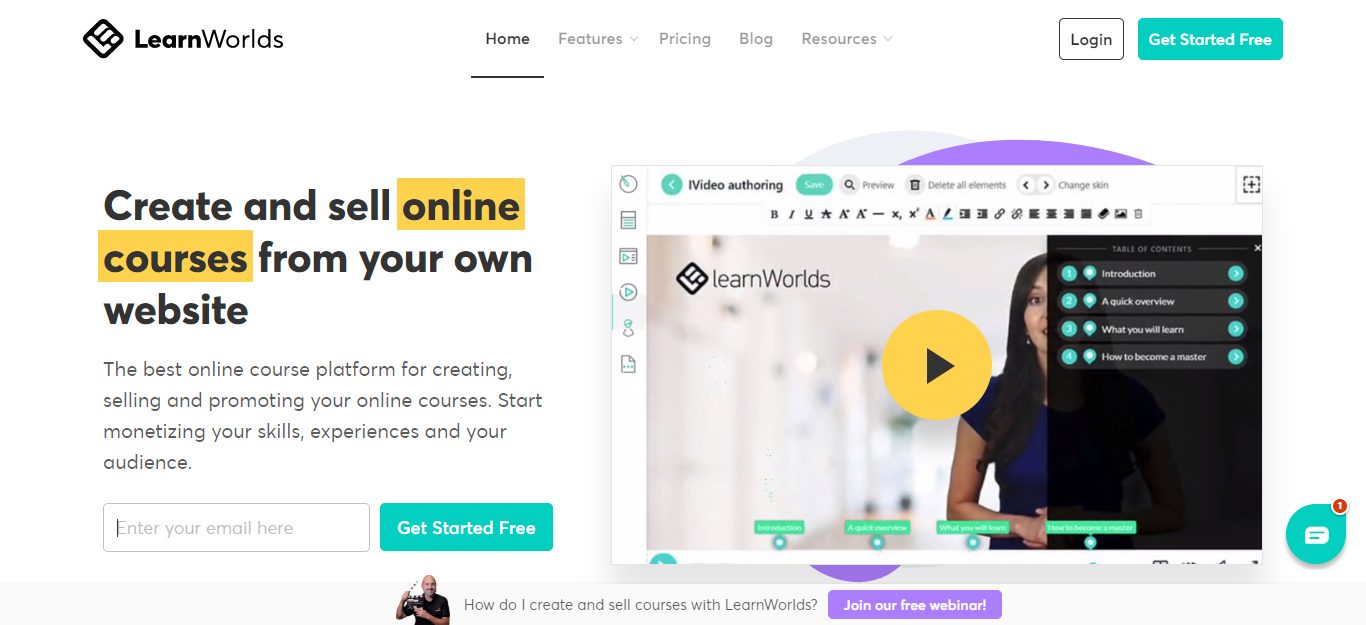 LearnWorlds' Most Notable Features
For ease, we've compiled a quick platform list for you:
You can create a seemingly infinite number of courses
You can design and publish landing and sales pages
You get access to an easy-to-use course builder
You can upload videos
You can offer students digital downloads
Access to online testing and interactive engagement tools
A built-in social network
A custom web domain
Custom native mobile apps
It's fully white-labeled
Around the clock customer support team
These are just a few of the features LearnWorlds platform has to offer. The full list is much more extensive. However, what you're entitled to mostly depends on the pricing tier you opt for (more on that later).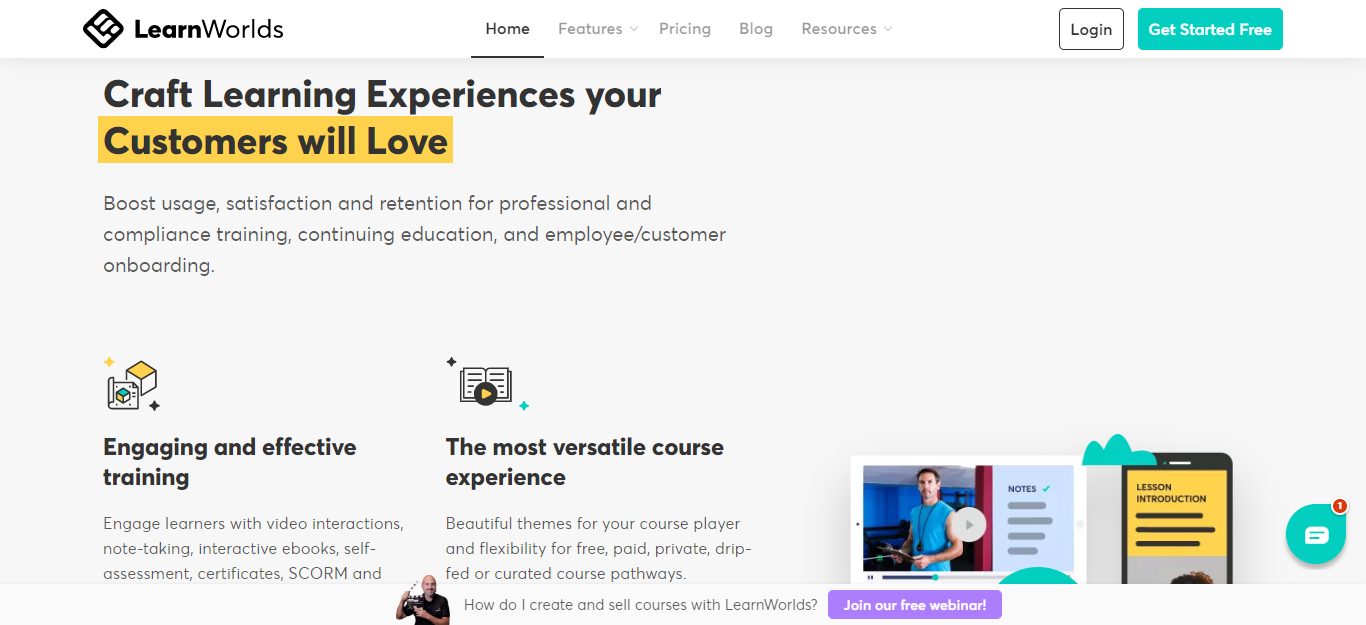 LearnWorlds's Interface
When you first load LearnWorlds' dashboard, you might feel a tad overwhelmed. The interface certainly isn't what you'd call minimalist. But stick with it.
Focus on the top and left-hand side margins (this is the easiest way to go about it). These are where all the essential tools are located, so use these as your base. For instance, you'll discover critical functions like "Create course" and "Preview page" from here.
As you work your way through LearnWorlds' dashboard, you'll see that every step is accompanied by visual and textual clues. This provides easy access to the extra support you need to make the most out of LearnWorlds.
Under the "Active Learners" tab, you'll see which of your students have logged in real-time. This enables you to engage with your students there and then, while they're going through your course.
From this same dashboard, you can also track your revenue and sales figures. You can filter reports to show results over the last seven, 30, or 60 days. This makes it pretty easy to identify sales trends and patterns. So, with this data at your fingertips, you can then refine your marketing strategy. Again, the analytics section is a tad overwhelming (at first) but stick with it, once you get to grips with it, it's a robust reporting tool.
Creating a School
At the top of the dashboard, you'll find the "School wizard." Be sure to check this out before attempting to create your own course. This takes you through everything you need to know step-by-step.
All in all, designing your school is relatively straightforward; it's just a two-step process. First, you name your course, and then you specify your language, time zone, and currency.
Once you've set up your online school, you can then start creating your digital courses. Through the 'Creation Wizard' you'll be prompted to:
Give your course a name
Customize your course's URL
Select the 'type' of course you want to create (free, paid, upcoming, invisible draft, etc.)
Select a price (if paid)
Upload an image
Set a description of the course
This may sound like a lot, but don't worry – all of this is incredibly easy. Learnworlds assumes you don't have any prior knowledge, so they try to make it as simple as possible for you to bring your online course to life.
Learnworlds describes the course editing process as 'effortless.' And from a quick scan of some of the user reviews online, they confirm that it is. The drag and drop course builder and content import tool makes creating your e-course incredibly simple.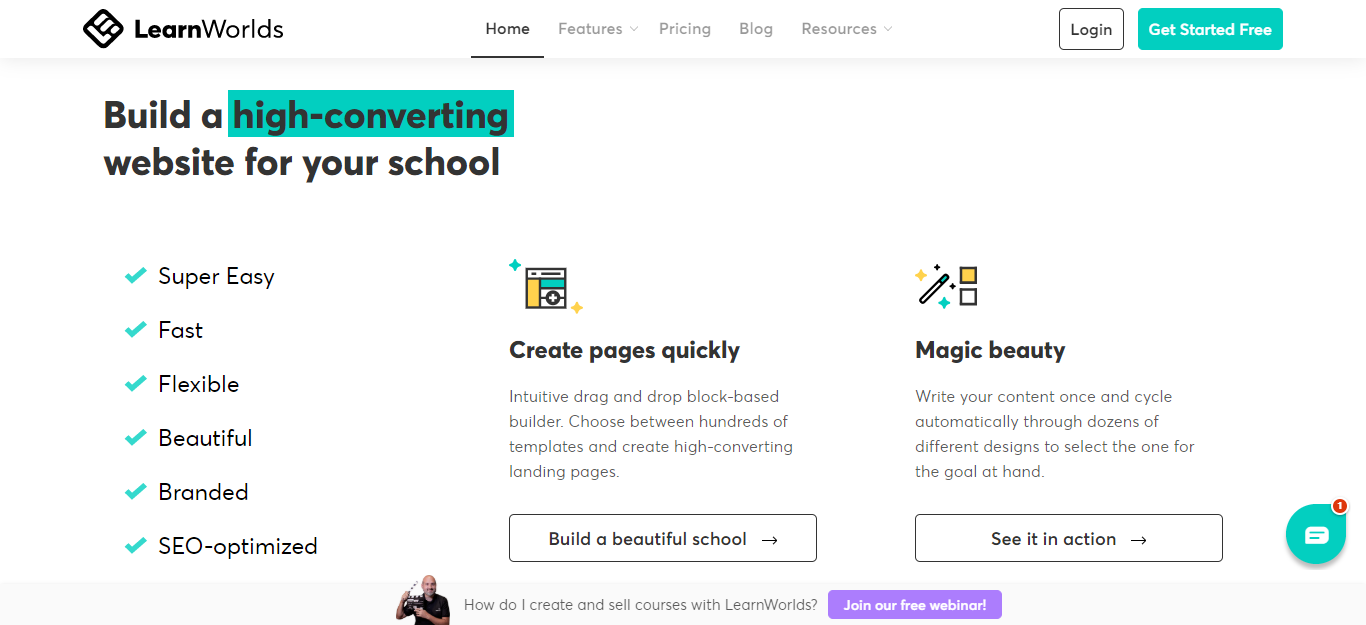 The Text Editor
So, now you've got the basics sorted, it's time to move onto the text editor, which like everything else is incredibly easy to use. To the left of the editor, you'll find the "Layout" option. When you click this, you can scroll through tons of sleek-looking templates and modify the background color.
To add text, just double-click the text fields. To see more info about your font and text options, hover over them, and an explanation will appear.
To the right of the editor, there's an option to embed code and upload video files.
*At this point, it's worth noting, all of LearnWorlds' plans include unlimited video hosting. If you already store videos elsewhere, never fear, LearnWorlds seamlessly works alongside all cloud-based video providers.
How to Create a Learning Experience Using LearnWorlds
As we've already alluded to, this is where LearnWorlds' learning management system (LMS) comes into its own. Here you'll find the majority of its student interactivity and engagement tools, including:
An interactive video player
Interactive eBooks
Online testing engines
Let's take a look at the interactive video player in more detail. If you're an educator wanting to cater to every learning style, this tool is the one to use. You can use interactive videos to engage students visually, auditorially, verbally, and kinesthetically – how neat is that?!
How?
By including any (or all) of these in your videos:
Text
Pop-ups
Navigation buttons
Embedded questionnaires and assessments
Feedback to the above-mentioned questionnaires and assessments
Hyperlinks to external URLs
Just to name a few.
Not only that, but you can program videos to pause at specific points to draw the student's attention to something. Or, to give them a sec to ponder a question you've just asked them.
Likewise, LearnWorlds' interactive eBook tool also empowers you to cater content to suit a variety of learning styles.
How?
Well, your students can highlight the text and make annotations as they read through your ebook. Also, just like the interactive video, you can embed questionnaires and assessments within your eBooks.
These interactive features are somewhat unique to LearnWorld; not many other online course platforms offer such tools.
On the subject of assessments, you additionally have the option of hosting them as stand-alone tests. It's up to you whether you examine students at the end of a module, lesson, upon course completion, or, if at all. You can store hundreds of questions in 'question banks,' and then use this resource to create secure, randomized tests. How handy is that?!
With Learnworlds' online testing engine, you can customize the digital certificates you use to award students. For instance, you can insert your: logo, course name, as well as date of issue.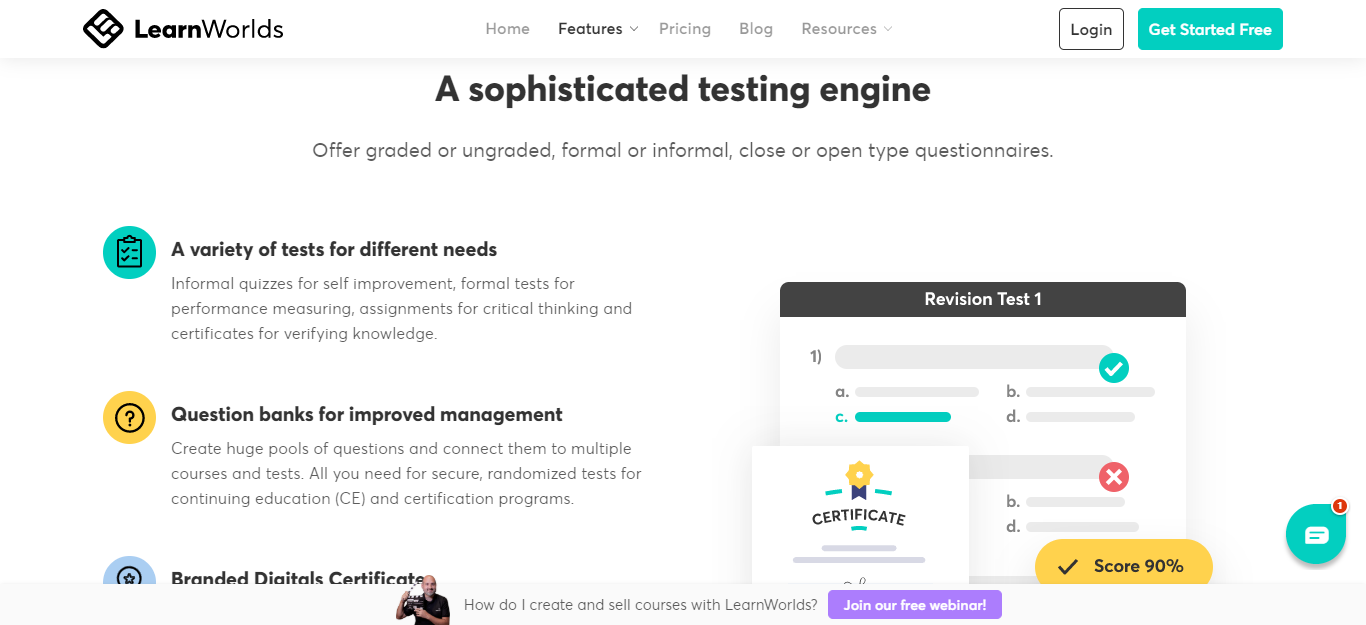 In addition to the content formats already discussed, you can also upload and use the following to engage your students:
PDFs
Text
Audio files
Embedded Google forms
Concept maps
Image sliders
Links to external web pages
So, as you can see, you can harness whatever media you think your students will enjoy the most.
Create Sleek-Looking Sales Pages
Learnworlds makes the creation of stunning-looking sales pages an absolute breeze. There are loads of eye-catching templates for you to choose from explicitly designed for sales pages. They're so easy to use that next-to-no (if any) design or coding skills are needed to create something truly noteworthy. In theory, you can have a beautiful looking page designed and live within minutes.
Like all of Learnworlds' pre-made templates, their sales pages are also fully responsive, so it doesn't matter what device you're using to view it, it'll look flawless. This is a relief for anyone who isn't familiar with HTML and CSS – LearnWorlds' responsive designs do all the heavy lifting for you.
With over 400 pre-made templates and Learneworlds' extensive suite of great design tools, you'll have everything you need to customize your online school fully.
It's not just sales pages you can create within LearnWorlds. You can build all your info pages – About us, contact, pricing, etc., using their Pages Builder. This negates the need for you to design and launch a separate website to host your sales funnel. So, you can enjoy the convenience of handling both your course creation and marketing from one centralized place.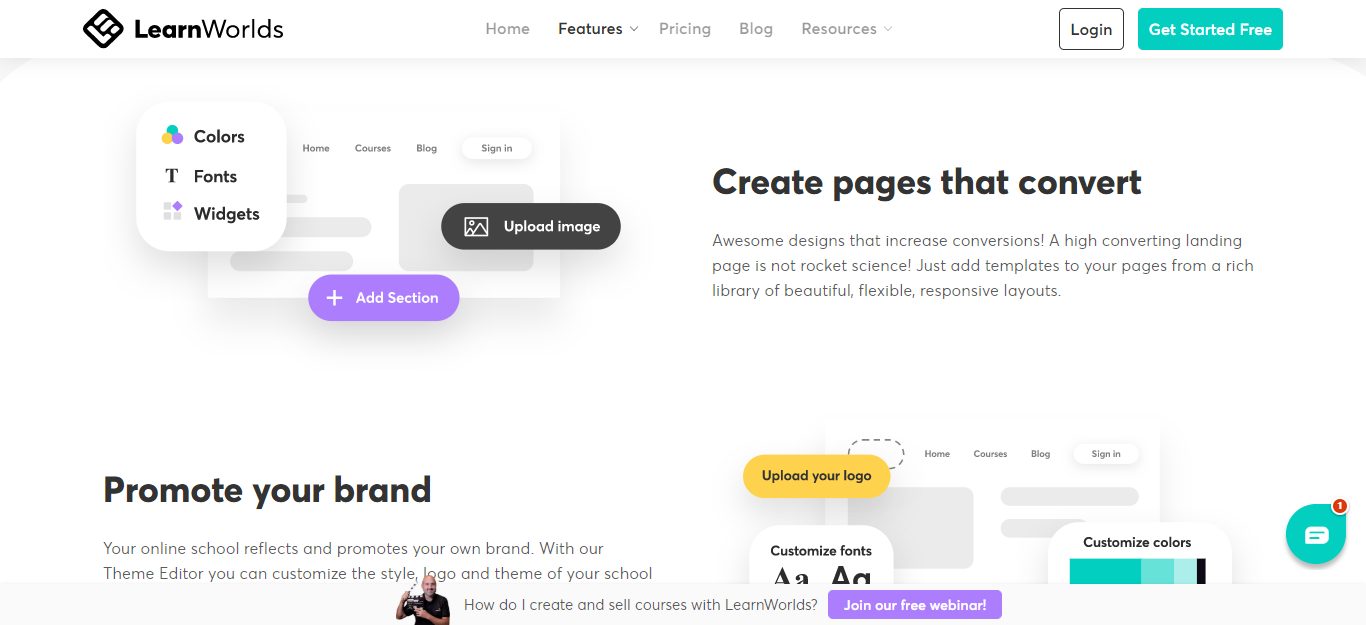 Social Media
LearnWorlds provides built-in social learning tools. You don't need to download third-party plugins or additional software. This means you won't have to worry about technical hiccups or privacy scares. LearnWorld provides a networking hub, where each student can customize their profile and display their activity, achievements, and all the courses they're taking.
The Technical Stuff
Now for the techy stuff, if you find this sort of thing intimidating, fear not – it's relatively simple.
You can use your own custom domain, which is just a fancy way of saying that you get your own URL. This works wonders for building a stronger brand. After all, the free learnworlds.com subdomain is okay – but it doesn't look anywhere near as professional as your own web domain name.
Learnworlds also grants full white-label access to your school, pages, and content. By this, we mean, Learnworlds removes its branding from your site, so you can make it 100% your own.
LearnWorlds is SCORM compliant, which again is a distinguishing hallmark because not all online course platforms are. SCORM compliance indicates your course has been developed according to the most popularly adopted e-learning industry standard.
Last but not least, Learnworlds will also create for you your own native app (suitable for iOS and Android). So, if you want to list your school on the Google Play and Apple App Store, you have the option of doing so.
Advanced Analytics
Learnworlds provides native integrations with Google Analytics and Mixpanel. These apps generate the info you need to better optimize your entire sales funnel. For instance, you should be able to garner who your students are, where they come from, and what their interests are. As such, this data is imperative for getting a better understanding of who your audience is. This then enables you to enhance your sales and marketing strategies.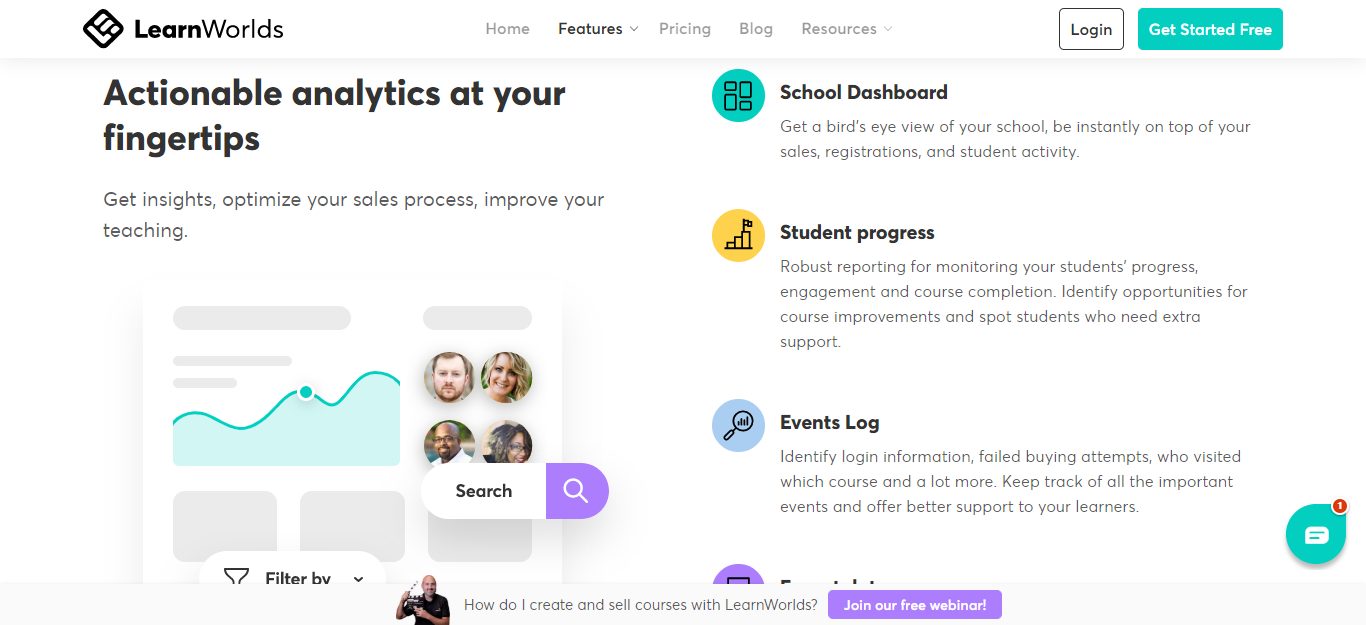 Branding Your Online Course
Branding is imperative when it comes to standing out from the crowd, and luckily, LearnWorlds provides tons of tools to facilitate that- both for web design and newbies alike!
Learnworlds' theme editor makes the design and branding process straightforward. To start editing, head to the dashboard and click "Appearance." You'll see this in the left margin. Then select "Logo & Colors." As this tab suggests, this is where you can upload your logo. This will sit at the top of your shool's pages, the footer, and your email headers.
From this same tab, you can also customize your school's colors to fully reflect the aesthetic of your brand. For instance, you can modify the primary color, the background color of the top bar, and the shade of the navigation bar.
Top Tip: Make use of the "see what you are changing" feature to visualize your edits. This allows you to see what your changes look like before leaving the theme editor. So, you can be confident about the look of every aspect of your online school before publishing anything.
Advanced CSS and Javascript Editing
If you boast a bit of coding know-how, you can easily modify any aspect of your course, and integrate with third-party marketing and analytics tools.
Learnworlds Review: Marketing and Selling Your Online Course
Like many of its competitors, LearnWorlds supports robust search engine optimization (SEO).
How?
Clean HTML code for its software
SEO-friendly metatags
SEO-friendly URLs
Keyword tools
All of these features play a part in enhancing the quality of your online school's SEO. So, if you want to improve your organic reach (which we assume you do), Learnworlds has you fully covered.
Other key selling and marketing features include:
Subscription management: Offering customers a subscription-based product is an excellent way of generating residual income.
Sales promotions: Hosting limited-time discounts has proven again and again to boost sales. There's something about generating a sense of urgency and scarcity surrounding your course that can nudge students who are on the fence about purchasing into taking action
Coupon codes: Learnworlds makes it easy for you to generate coupon codes and share them with prospects. It's up to you whether you offer discounts by % or $ amounts.
Top Tip: If you want to heighten the sense of urgency to purchase using your coupon code, you can set an expiry date and/or a redemption limit.
You can offer free courses: As we've already mentioned, you can provide students with a 'free' course. Now, why would you do that? The simple answer is that it attracts more leads. After all, everyone loves a freebie. A free mini-course is a fantastic way of engaging potential customers in enjoying a risk-free taste of the value your paid-for course provides.
Free chapters: This is similar to offering a free course. But, instead, you provide potential students with a small chunk of your class for free. Again this is a fabulous teaser for attracting potential customers.
Drip content: This works wonders for capturing and keeping students engaged with your content. When you drip feed your lessons or modules, you gradually release them to your audience with the aim of increasing retention. You can also simultaneously run automated email reminders to help prompt students who are a little less on the ball.
Customized emails: You can personalize your welcome and course completion emails, as well as send other targeted emails to students. You can tailor the content based on filters like enrollment, completion, coupon redemption, etc. There are plenty of others, but we're not going to list them all here.
Conversion Pixels: LearnWorlds makes it simple for you to insert and use tracking pixels. This comes in handy if you're using platforms like Facebook and Google Adwords to create custom audiences to run remarketing and/or retargeting campaigns
Built-in Affiliate Management: If you want to boost sales by having affiliates market and sell your course, use LearnWorlds' affiliate and commission tracking solution. Here you'll find all the tools you need to track clicks, leads, and affiliate sales. You can even set custom commission rates to reward your higher-performing partners, and access data to evaluate the success of your affiliate program.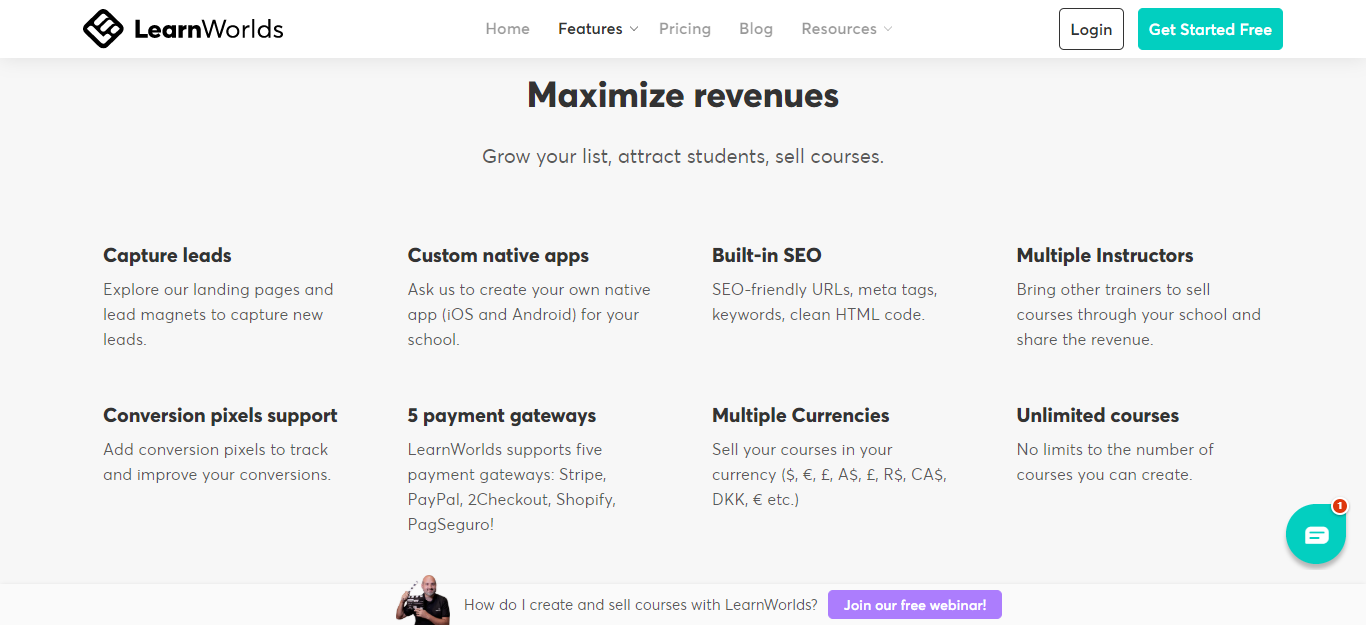 Integrations
If you want to extend the overall functionality of LearnWorlds, you'll be pleased to hear they have tons of plugins for you to install and use. So, if there's a specific marketing feature you're after that LearnWorlds doesn't provide, chances are there's a third-party integration you can utilize.
Here's just a taste of what's on offer:
Zapier
ReferralCandy
MailChimp
Google AdWords
Sumo
Intercom.io
Hubspot
FOMO
MixPanel
Ambassador
Norton
Shopping Guarantee
ZenDesk
Just to name a few!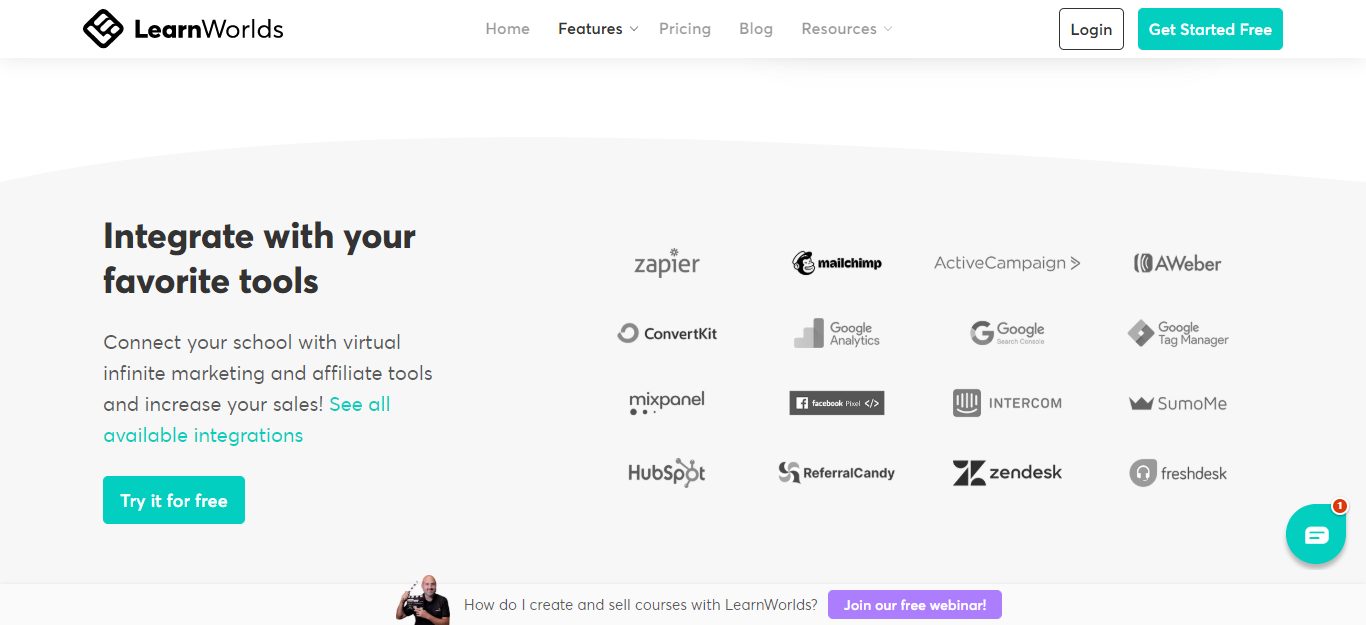 Other Great Platform Features Worth Noting
LearnWorlds is Multilingual
You can pick from a variety of languages to center your course on (keep your eyes peeled because more languages are being added all the time). Or, you can create your very own translation!
Private Courses
You can even create and launch invitation-only courses. By this we mean, content that's hidden from public view. This gives you the freedom to share with just your select customers – perhaps as a reward for loyal students? Or, as an upsell?
Multiple Instructors
Want to collaborate with other online educators or entrepreneurs? Great! That's no problem. You can invite other trainers to sell courses through your school (pro trainer plan), and then you can share the revenue. If maths isn't your thing, utilize LearnWorlds' analytics, and reporting tools to help calculate the revenue-share.
Magic Authoring
It doesn't matter where you are in your online school you can start making edits. You don't have to launch the official 'editor.' Instead, just press the magic wand to start making changes. How simple is that?
Student Progress
It's simple to keep an eye on your student's progress all the way through to course completion. This makes it more manageable to spot students who might require a little extra support and encouragement.
Also, as more and more customers take your course, you'll start to notice areas where students are more likely to struggle. With this brought to your attention, you're in a better position to make necessary improvements.
Resume Learning Button
Most of your students probably live busy lives and may chop and change between devices. This is why a 'resume learning' function is imperative.
This empowers students to continue their education from where they left off (continuing education), so they don't have to waste time scouring through your lessons and modules. It doesn't matter whether they last used their tablet and pick things back up from their desktop, they can pinpoint the lesson they were on, and continue plowing through the content.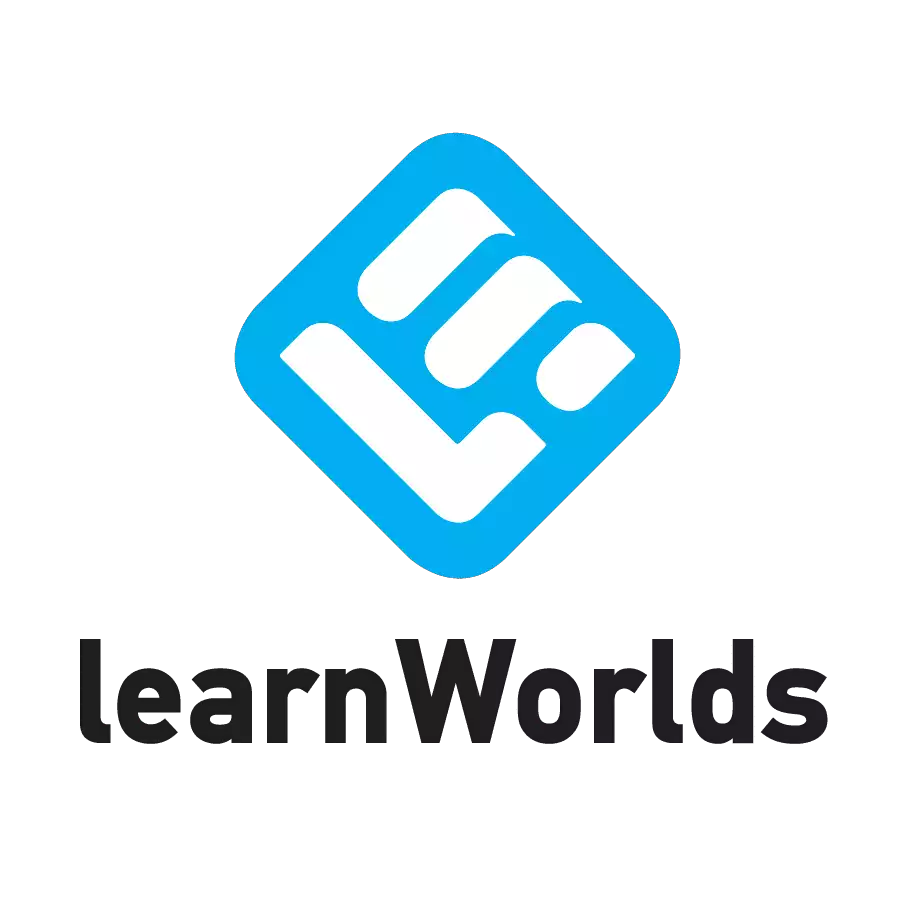 Learnworlds Pricing: How Much Will LearnWorlds Set You Back?
LearnWorlds' online learning cheaper packages are comparable to most other online course platforms of a similar caliber.
Below we'll break down their paid-for elearning plans in a little more detail, but firstly, we have to point out that ALL packages come with the following features:
Unlimited courses (you can create as many as you want)
You can upload videos to your own video library
Access to over 400 responsive templates
Multilanguage language customization
Magic authoring
The branding and theme editor
Full creative freedom for promoting your brand
Pre-built disclaimers
Font customizations
Lead capturing tools
You can generate course coupons, bundles, and upsells
A built-in social network
Learner profiles where students can display their activity, basic info, and achievements
Your own Daily Newspaper where you can select articles and tweets to feature
Access to interactive Ebooks, the question bank, quizzes assignments, exams, and a powerful Assessment Engine where you can manage all your Certification needs.
Learner analytics that monitors student behavior, course progress, and completion
Conversion tracking to observe the success of your Facebook and AdWords campaigns.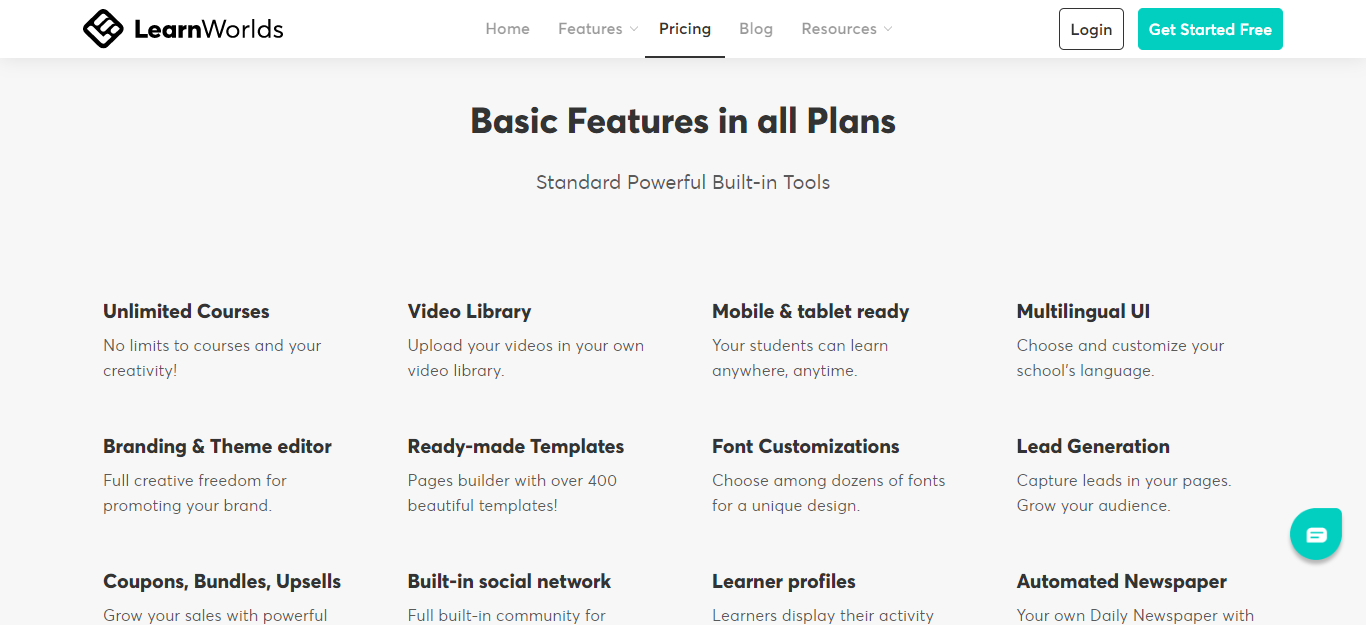 This is $29 per month or $24 a month if you pay annually (plus an extra $5 every time you sell a course). You'll get all the basic features we've just mentioned, as well as:
One admin account
A custom domain
Pages Builder (3 pages)
Four payment gateways
Basic integrations
A free SSL certificate
You can drip feed courses
24/7 email support team
This eradicates the $5 course sale fee but jumps up to $99 per month or $79 a month if paid annually.
You'll get everything in the starter plan, as well as:
No transaction fees
Five admin accounts/instructors
Unlimited landing pages
A complete website builder with blog
Subscription and memberships
Customers can pay in installments
A fully customizable e-learning course player
A customizable checkout page
Custom certificates
SCORM / multimedia files
Affiliate management tools
Zapier and premium integrations
LW Academy
An onboarding call
24/7 priority email support from their support team
If you want to enjoy everything LearnWorlds has to offer, then LearnWorlds most popular plan, the "Learning Center" package is the one for you.
This costs $299 a month, or $249 if you pay for a year's subscription upfront (a saving of $600). This is pricier than most other platforms, but you'll have all the features you need to ensure your online course stands out from the crowd.
You'll get everything in the previous two plans, as well as:
20 admin accounts/instructors
A bulk student upload tool
Full white-label options
Integrations with API
Auto customer insights
Advanced affiliate management
Webhooks integrations
Single sign-on (SSO)
Custom iOS & Android App (extra fee)
2 hours of premium onboarding
24/7 Premium Support
Alternatively, if you're dealing with incredibly high volumes of students on a corporate level, call LearnWorlds directly to get a customized quote.
You'll get everything in the Learning Center package as well as: features plus:
Additional e-learning admins
Custom bulk enrollments
A branded corporate academy
99.95% server Uptime
Premium cloud servers
A dedicated account manager
Optional SLA
Flexible invoicing
Custom reports and services
Premium support options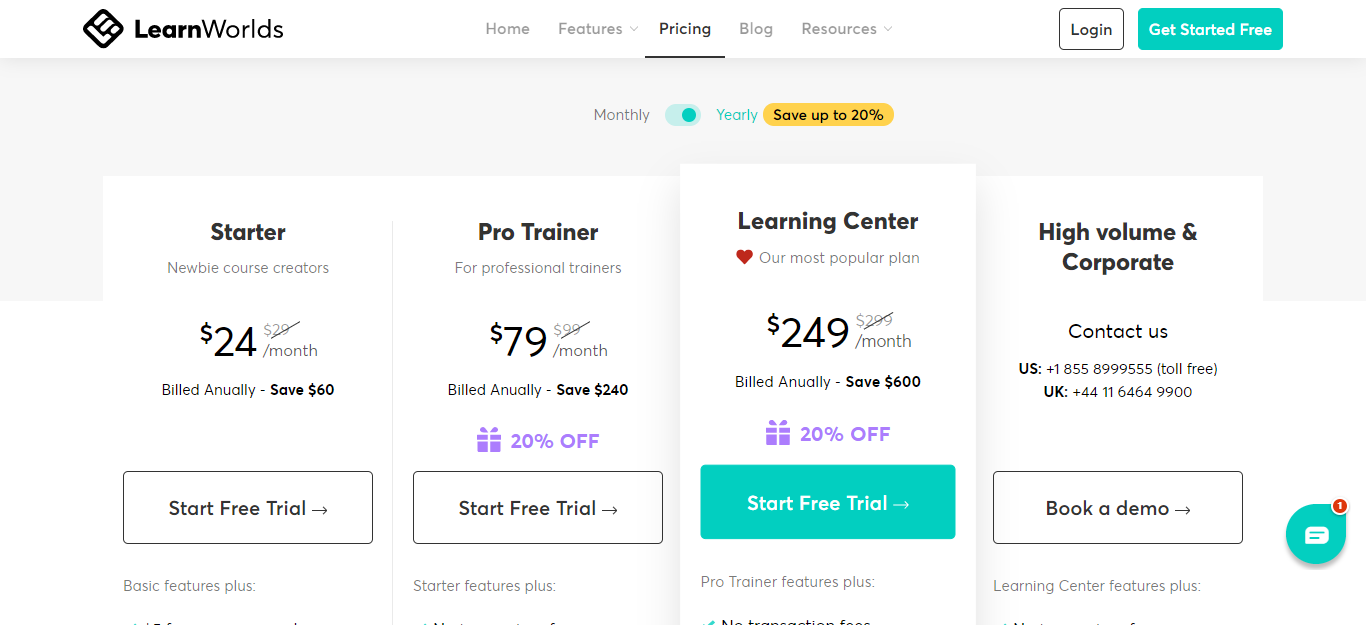 LearnWorlds: The Pros and Cons
Let's start with the perks:
The sheer array of features
Excellent customer support
Learnworlds regularly updates and upgrades its features
An affordable platform
The interactive content is very impressive
Access to a video library
The ready-made templates are mobile and tablet ready
Language customization options
Robust branding and theme editor
You can create an infinite number of courses
There's a 30-day free trial available
The main drawbacks:
If you're on a cheaper package without access to 24/7 customer support, you might not get the instant help you need.
Some users report a few glitches in the typing feature inside of the website builder.
What Users Have to Say About LearnWorlds
A quick surf of the internet indicates that the majority of users LOVE LearnWorlds. Most notably, customers comment on how much they like the vast number of integrations available to them, and the fact they're always launching new features.
Users also mention they like that you don't need any coding experience to create a stunning online school. Plus, there are tons of articles explaining how to make the most of LearnWorlds' features.
In fact, one customer said they love that you don't need an eye for design to craft something extraordinary. Their page templates are 'clean, modern, and professional-looking.' But most importantly, they're easy to edit. You just click the design element you want to change and then make the necessary modifications.
The majority of the grumbles surround the expense of LearnWorlds' more comprehensive plans. But, in our opinion, we think this platform is incredibly reasonable (considering how much you get for your money!).
One user also complained that although LearnWorlds offers gamification, it isn't fully developed, so they didn't find this feature very useful. However, since this complaint was made, the LearnWorld developers have been notified, and they're currently doing what they can to improve it. So, watch out for more info on that!
Lastly, another LearnWorld customer said they'd like to access an uploading system that gives you the option of organizing your files into folders. This would be especially useful for course creators using a lot of imagery.
LearnWorlds Review Frequently Asked Questions:
Does LearnWorld charge a setup fee?
There are absolutely no set up fees of any kind if you sign up to any of our plans.
Are there any course sale fees or hidden fees?
The Pro Trainer and Learning Center plans have 0% sales fees (you only pay the flat monthly or yearly subscription of your choice, regardless of the number of sales you make). If you choose the lowest Starter plan then you will have to pay a one-time fee of $5 per course enrollment.
Is there a Money Back Guarantee?
LearnWorlds offers a 30-day money-back guarantee. If you decide to cancel your account during the first 30 days, you can contact them and request your refund, no questions asked.
LearnWorlds: The Bottom Line
Okay, that was a lot to digest.
But all in all, it's clear to see that LearnWorlds has a LOT to offer! If you're looking for an online course solution that gives you an incredibly impressive list of tools, then LearnWorld is the one for you.
LearnWorlds goes above and beyond to provide course creators with everything they need to provide students with a truly immersive and interactive learning experience.
There are so many ways your customers can engage with you. From interactive videos and eBooks, quizzes, certifications, and social learning tools, LearnWorld sets the bar for creating a top-notch e-learning experience.
If you're on the fence about LearnWorlds, then why not take advantage of their free 30-day trial? No credit cards or commitments are required, so you have nothing to lose by giving it a go!
Have you ever used LearnWorlds before? If so, do you think it's good value for money? Or, are you using or considering a different online course platform? Either way, tell us in the comments box below, we'd love to hear from you. Speak soon!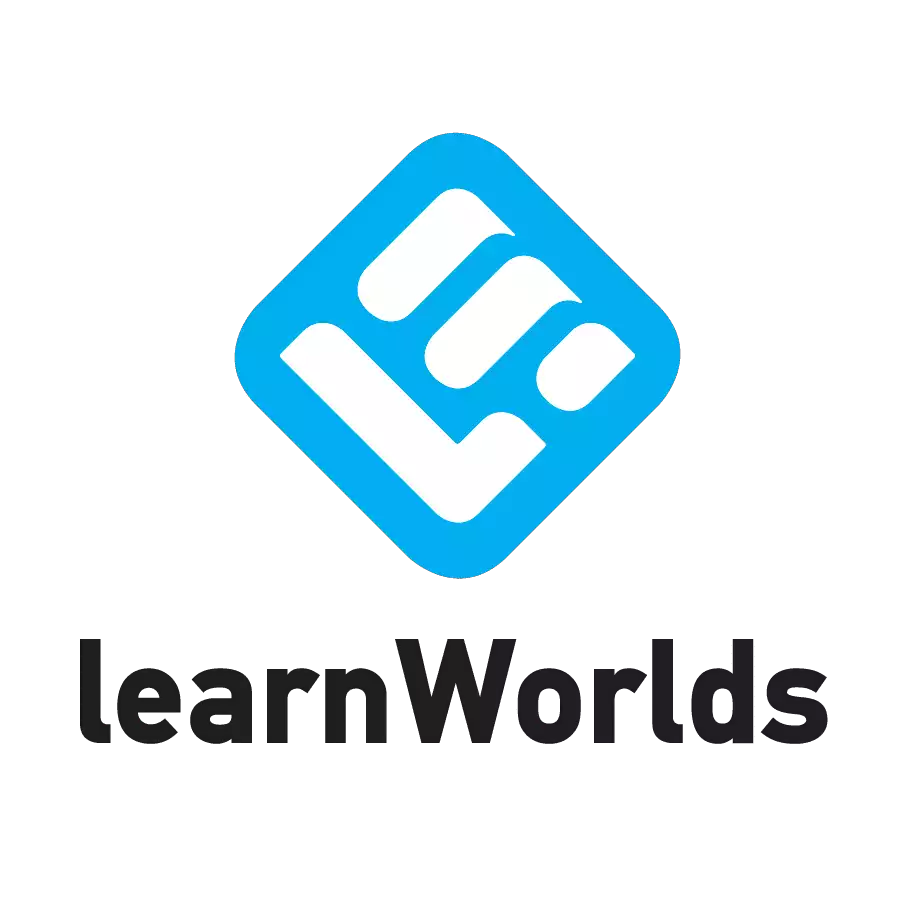 Further Learning Platform Reading for Course Creation and Course Content: