Last Updated on June 1, 2023 by Ewen Finser
If you have knowledge you want to share, you might be wondering if it's the right time to create an online course – in which case our LearnDash Review may be just the thing you're looking for.
Finding the best course building platform can be tricky. There are a lot of providers out there that can help you to create interesting, visually appealing courses. But is LearnDash any good?
LearnDash is designed to integrate with WordPress, so you can turn your new or existing website into a portal for your online course. We think it's definitely worth looking into if that applies to you. Keep reading to find out the main features of LearnDash, the pricing, the pros and cons, if the support is any good, and our final verdict!
LearnDash was launched in 2013. It allows you to turn your WordPress website into an LMS (Learning Management System), allowing you to create and run online courses. It's a popular platform with a lot of users. But what do you get for your money?
Here's a quick overview of what LearnDash has to offer:
Drag-and-drop course builder
Branded learning portals
Advanced quiz creation
Dynamic course content
Forums, leaderboards, awards, and certificates for learners
Marketing and sales features
Integrations with popular services like PayPal, MailChimp, and WooCommerce
The Main Features of LearnDash
Let's take a look at the main features of LearnDash.
Courses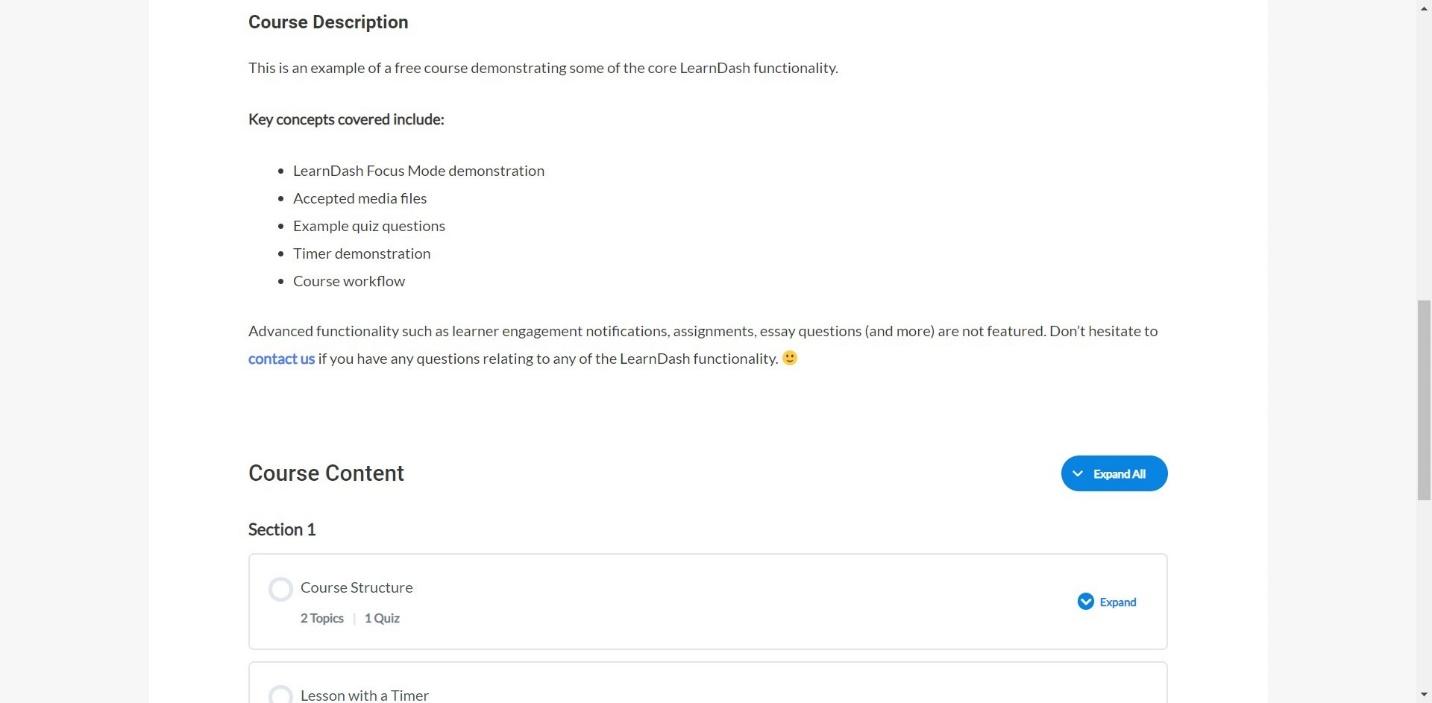 Courses on LearnDash are built using this basic structure:
Courses – the overall course itself
Lessons – each course is made up of a series of lessons
Sections – lessons can be grouped into sections for easier organization
Topics – topics are assigned to lessons
Quizzes – these can help to consolidate your students' knowledge
These can be personalized, so 'lessons' can become 'modules' and so on.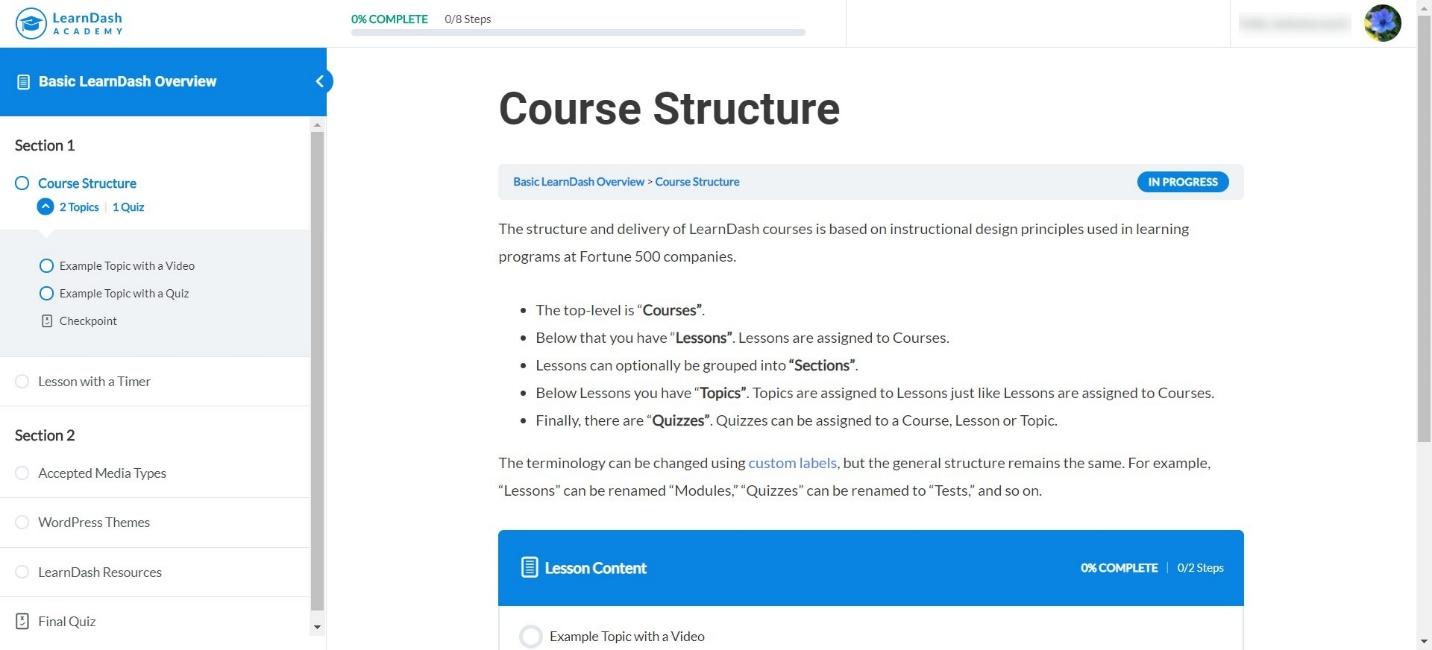 The courses are pretty easy to navigate using the section on the left. Lessons can include videos (using Vimeo, YouTube, Wistia, Amazon S3, and local videos uploaded to WordPress). You can include checkpoints on your courses – this means a student has to complete something before they can move onto the next section (for example, you can require them to complete a quiz).
You can also add timers to lessons – this means a student has to spend a certain amount of time on one page before moving on.
We'll go into the actual creation of a course shortly, but you can customize your course using WordPress Themes. There are a lot of accepted themes that work with LearnDash. You can see how varied the end results can be on their Case Studies page.
You can also adjust the availability of your courses. You can create:
Open courses – these are courses that can be accessed by anyone, anytime, without requiring them to register with you
Free courses – these are free of charge but require the student to enroll first
Buy Now courses – these are available for a one-off cost, paid by PayPal or Stripe
Recurring payment courses – these can be paid for as a monthly subscription cost, using PayPal or Stripe
Closed courses – these are invite-only courses that can't be accessed via a user enrolling
You can also set start dates for your courses, as well as setting time limits for completion.
Course Creation
The drag-and-drop course builder is very simple to use. You can create a new course, give it a name and a description, and add section headings, before creating individual lessons.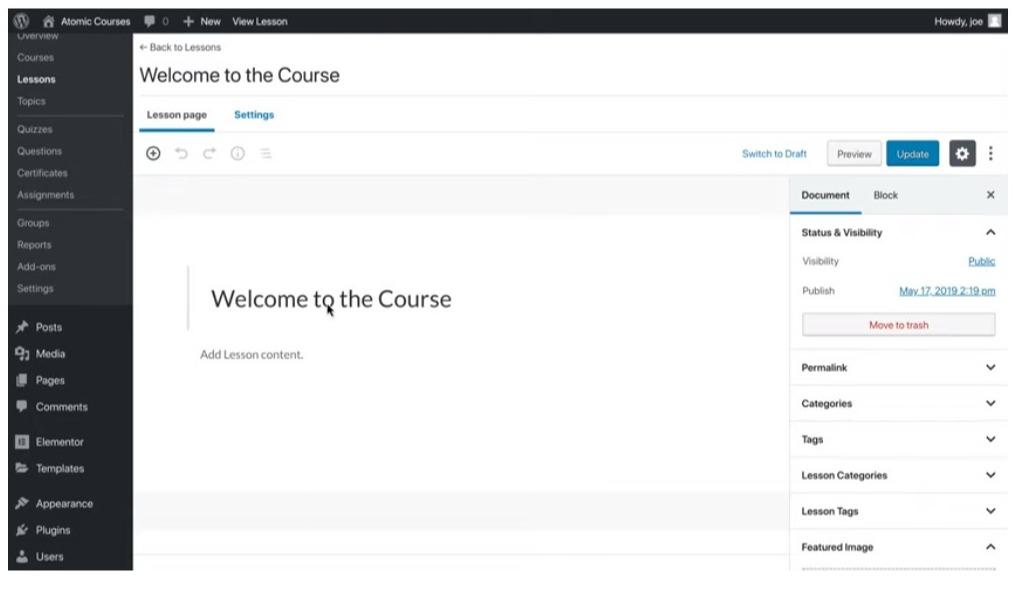 Lessons are arranged using blocks, which you can drag and drop onto the page where you want them. Blocks include text, images, videos, and quizzes. You can play around with font sizes and positioning and add links, too.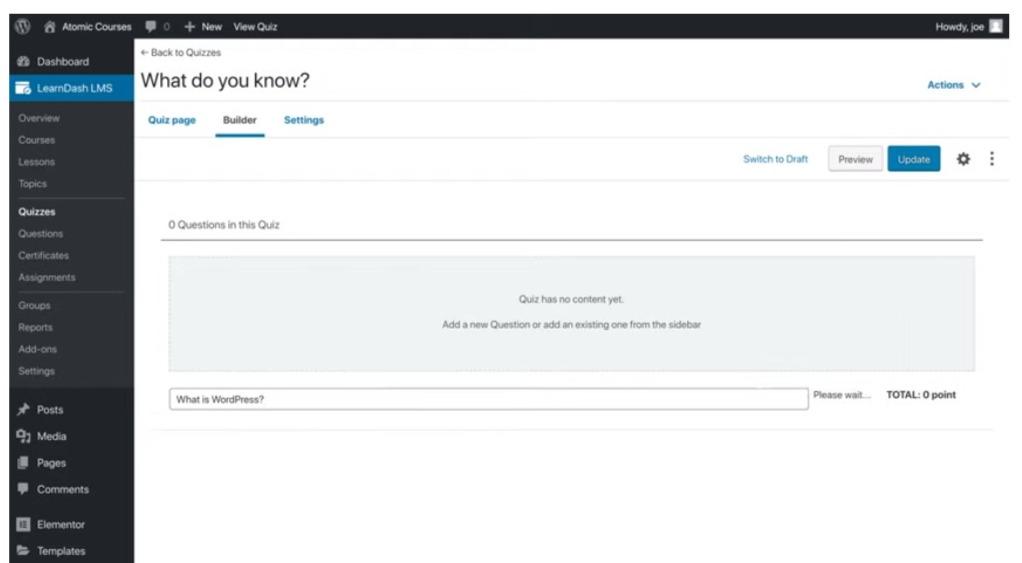 The Quiz Builder works similarly to the Course Builder. It's very straightforward to add questions, and you can drag and drop them in the order you want them to be.
You can also add progression and restriction settings – you can require students to reach a certain percentage of correct answers before moving on, for example. You can even restrict the number of retries a student will have for each quiz.
You can also choose to show all the questions at once or reveal them one at a time. Students can immediately see if they got the answer right, or you can restrict them from seeing their score until the end of a quiz.
To make creating multiple quizzes easier, you can create quiz templates. This allows you to save certain types of quiz questions, so you can use them again and again.
You can create custom login pages. This creates a cohesive experience for students, and the login pages can be customized to suit your branding.
Payment settings are easily accessed for each course, and you can play around with the amount you want to charge, what you want your potential students to see as they arrive at your landing page, and so on. There are lots of settings to play around with here, so you can make adjustments over time as you figure out what works best.
The downside from a creator's perspective is that, while the interface is easy to navigate, it's not that nice to look at. A small thing, but if you are creating a lot of courses and you like a platform that looks great, it's something to consider.
Student Features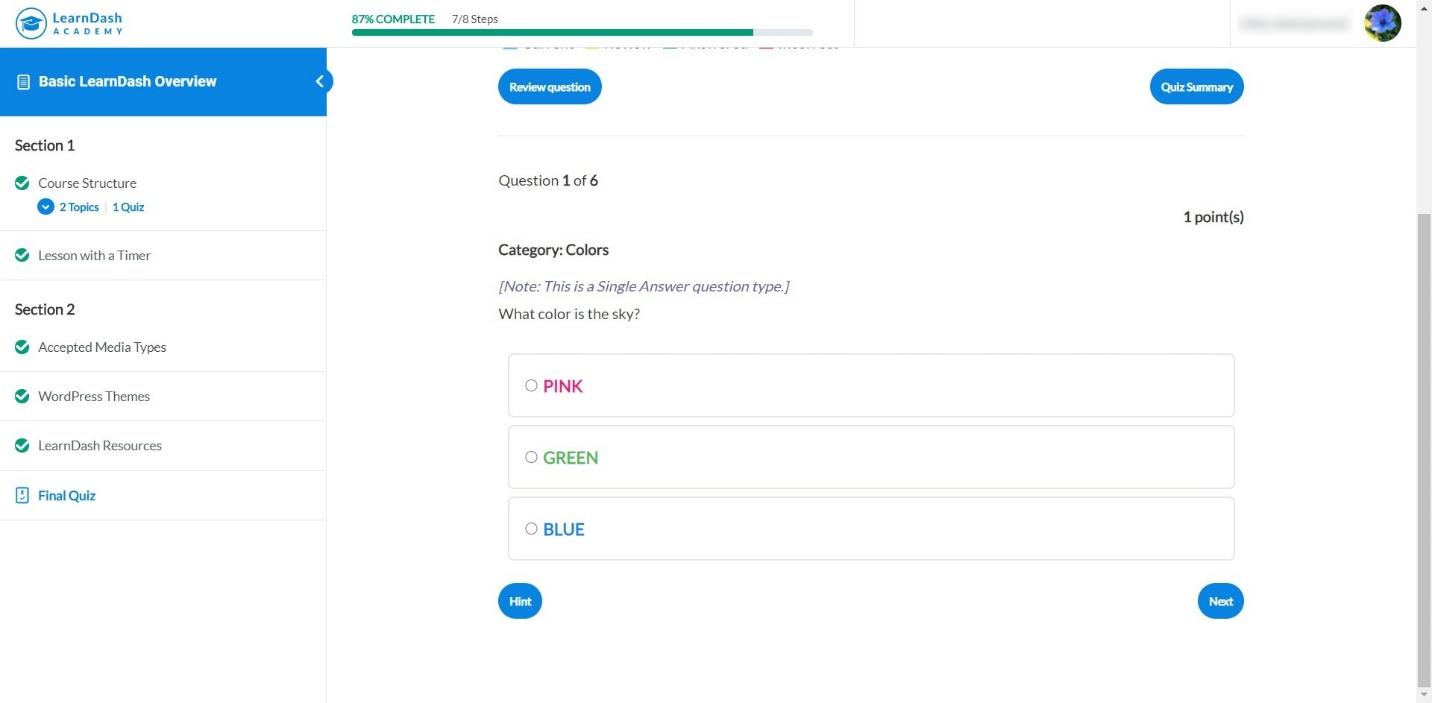 Quizzes can help to consolidate knowledge before moving onto the next topic, and there are a few options for different quiz types.
For example, you can include multiple-choice questions, drag-and-drop questions, and questions where students can just type the answer directly into the box. This helps to keep things interesting from your student's perspective.
You can also ask your students for feedback at the end of the quiz, which is great for understanding your students' needs – you can always adjust the course to reflect the results of the feedback.
You can choose to show a leaderboard ranking the top-scoring students, and you can show quiz statistics (for example, the percentage of students who got a certain answer right). This is useful as it gives your students an idea of how well they are progressing compared to other students.

There are other features for students too, including automated email notifications for courses, badges and certificates, discussion forums, and course points. You can also set assignments for them – which you can assess yourself, giving them specific feedback.
The downside is that sometimes, it can be confusing to navigate between topics and sections – but you do have the option to leave sections out altogether or to rename them to make it clearer.
Marketing
Once you've created your course, what options do you have in terms of marketing?
To give your potential students a taster, you can offer free samples of your courses. You can choose how much access to give them. Many people prefer to have an idea of what they're signing up for before they pay, so this is a great way to ensure that people get to see what you're offering them.
You can create a shopping cart experience for your customers using a free integration (like the WooCommerce integration). This allows you to use more payment gateways, as well as adding extra features like discounts, bundles, custom receipts, and sales.
You can offer memberships, too. If you offer several similar courses, a membership can give a student access to all those courses for either a one-off payment or a monthly cost. You can also sell bundles of courses, which is a great way to upsell an individual course, especially if you offer your students a tempting discount. Or you can run a flash sale, with customizable time frames.
You can also offer bulk access, for example, if you want a business to be able to run your courses for their employees.
Integrations
LearnDash has a lot of support for different integrations, including:
PayPal
Stripe
MailChimp
SamCart
Slack
ConvertKit
Zapier
Their WooCommerce integration is particularly useful, as it opens up payment options for your customers and allows you to create more of a customizable checkout experience.
LearnDash Support
There is a lot of support available for LearnDash users.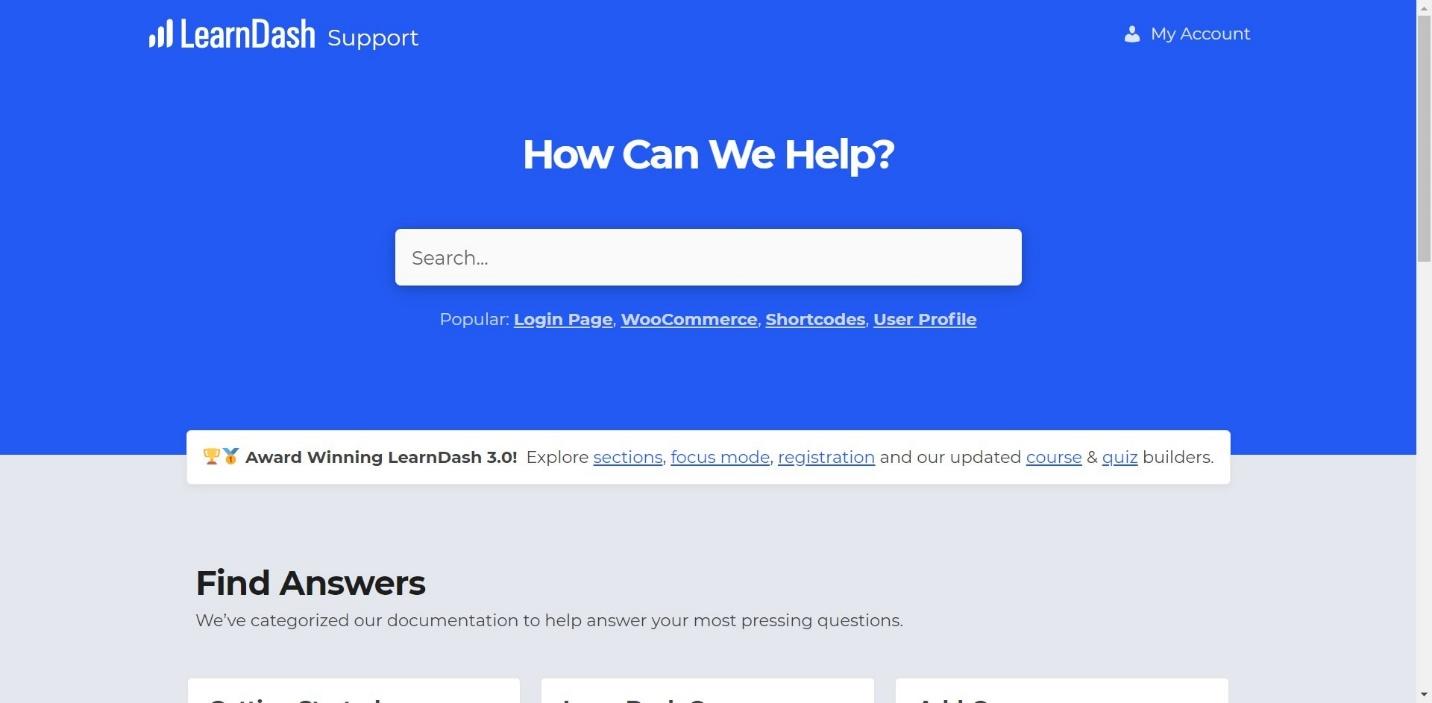 Their Knowledge Base is pretty easy to navigate and has tutorials covering everything from installation through to integrations. They also have a Facebook community, YouTube tutorials, and regularly updated blog posts about marketing your online courses.
If you have a specific issue, you can contact customer support online, leaving a query for them to respond to. Depending on the volume of queries they're dealing with, this can sometimes be instant or can take a little longer. The support team is helpful and friendly.
LearnDash Pricing
Let's take a look at the pricing.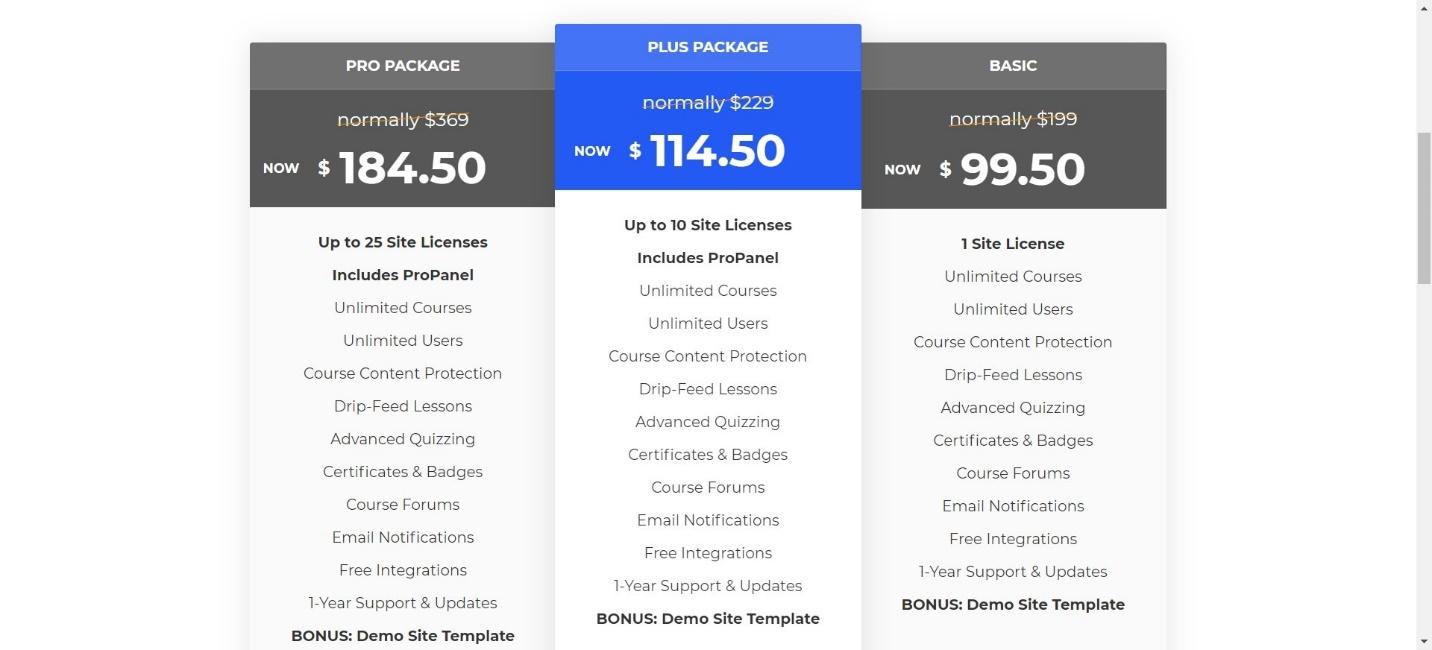 LearnDash has frequent sales, so it's worth keeping an eye out to see if there are any special price offers. At the time of writing, they were offering a discount, so we've included both the sale price and the original price.
There are three main packages, priced annually:
Basic – $99.50 (normally $199)
This includes:
1 site license
Unlimited courses
Unlimited users
Course content protection
Drip-feed lessons
Advanced quizzing
Certificates and badges
Course forums
Email notifications
1-year support and updates
Plus Package – $114.50 (normally $229)
This includes everything in the Basic package, plus:
10 site licenses
Pro panel
Pro Package – $184.50 (normally $369)
This includes everything in the Basic and Plus packages, as well as up to 25 site licenses.
You can find out more about their pricing here.
LearnDash Pros and Cons
So, what are the pros and cons of LearnDash?
Pros
Easy to use
Customizable and compatible with multiple WordPress themes
Lots of features for students
Good marketing features available
Lots of resources to learn how to use the platform properly
Cons
The interface isn't the nicest looking
It can be hard to differentiate between topics and sections
No option for a monthly subscription – so you'll have to pay a lump sum upfront
LearnDash is limited to WordPress users. However, we think it's a great platform if you do have a WordPress site already. Overall, we think the pros outweigh the cons.
LearnDash – Alternatives to Try
There are a few alternative platforms you can try if you don't like the look of LearnDash:
Thinkific is a popular platform with plenty of users. It has a huge range of features and is suitable for beginners as well as those who already have their website set up for their courses. You can see more about it in our in-depth Thinkific review.
Podia is a very visually appealing platform and is great for beginners and experienced course creators alike. We looked at it in-depth in our Podia review.
Udemy is another popular platform, with a smaller learning curve but not as much flexibility as Thinkific or Podia. If you want to create a short course with less hassle, it's worth looking at. You can see more in our Thinkific vs Udemy vs Teachable comparison.
FAQs
To Sum Up …
We think LearnDash is a great choice for WordPress users.
Yes, there are a few downsides. The lack of a free trial is a little annoying, and the fact that you can't pay for a monthly subscription may be a barrier for some people. The platform itself doesn't look the most visually inspiring, and there are a couple of other small issues.
However, if you already have a WordPress site and you want to create a course – it's a no-brainer. You can use a variety of WordPress themes with LearnDash, and the actual course creation process is very simple.
The fact that you can be quite flexible with your course availability and pricing options is also great, and it has some strong integrations with some big platforms too.
From a student's perspective, there is plenty to keep them occupied, with dynamic course content and quizzes. You can reward their progress with certificates and course points, and if you want interactivity, you can get up a group forum for students to discuss the content.
Plus, you have the option of including essays and assignments – meaning you'll get to interact with your students directly and see what they've learned. The Pro Panel is a handy tool for Plus and Pro package users, too.
All in all, we think it's worth checking out. Their demo will be able to give you a good idea of how it works – so why not give it a go to see for yourself?