Last Updated on June 1, 2023 by Ewen Finser
Podia is an online platform that enables entrepreneurs to sell their products and services to their customers without having to invest much time, effort, or money. The Podia team promises a fully functional sales page in minutes with direct payment integration.
However, if you already know Podia isn't right for you, there are many other alternatives. If you don't know anything about Podia, it may help to learn a little bit more about it before choosing which competitor you think is best.
Bottom Line Up Front
If you're looking for a Podia alternative, there are many great options. All of the credible competitors offer several features that Podia does not, but there are trade-offs. Not all platforms will be a good fit for every business. It's important to understand your needs and what you value most in a sales platform before committing to a new provider. One of the top alternatives to Podia is Shopify.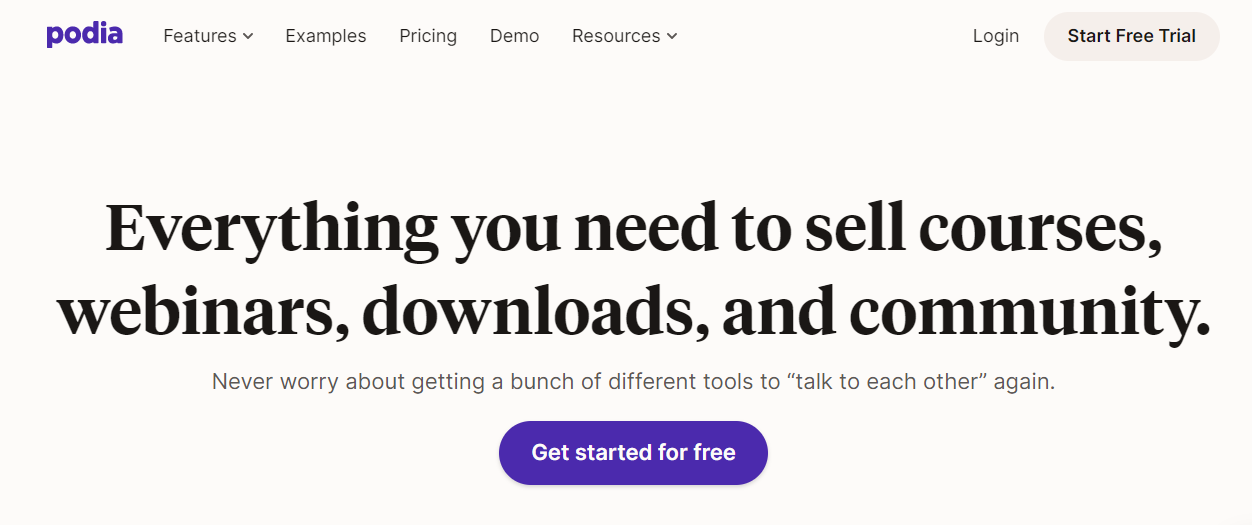 Podia provides an opportunity for people who are creative by nature to make their brand seen among other brands for less money. It claims to help entrepreneurs build brand awareness and sell more products.
Podia Main Features
Sell digital, physical, or downloadable products
Integrate with Stripe to collect payments online (except for subscriptions)
Create an email list to stay connected with customers through your Podia account
Podia Pricing Plans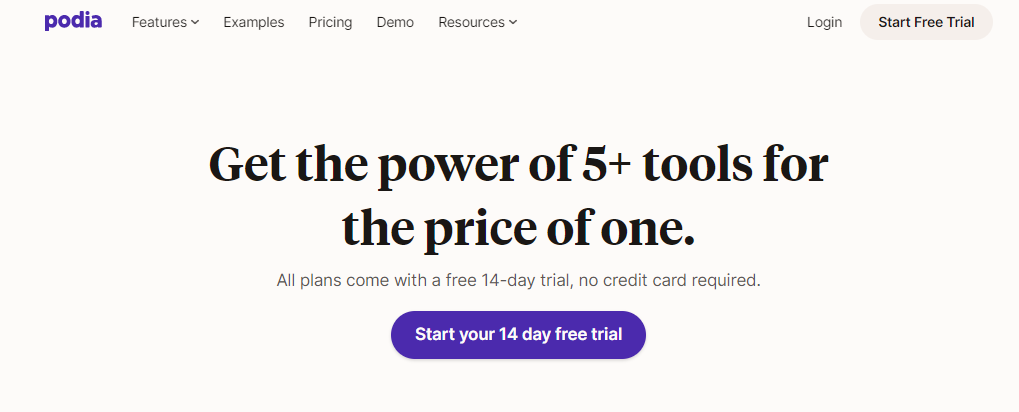 Custom – $49/month – Startups and companies with a great product but low revenue
Pro – $99/month – Established businesses and organizations that have high revenue and need more features than Custom plan offers
Unlimited – $249/month – Award-winning, high-growth, and scale-up companies that need unlimited features
Podia uses PodiaCMS which has 3 components: Builder, Commerce, and Insight. If you subscribe to the Custom plan, you will only get access to Podia Builder where you can edit your site's layout and content. The Pro and Unlimited plans come with all three components.
The ability to integrate with Stripe is one of the features that make Podia different from other online sales platforms. However, it's important to note that you need a Swipe file to do so. The Swipe file contains all the required information for you to set up your payment method on Podia.
A paid membership is also supported on Podia. This enables you to create sales pages specifically for your members. You can set up usage limits which are useful if you want to sell your courses on a monthly or yearly basis.
Podia has a free 14-day trial period upon sign-up, no credit card information is needed. After the trial period expires, there's an option to upgrade to a paid plan. If you decide not to subscribe, your page will be disabled and all of its content will be deleted.
Podia Alternatives
Podia competes with several other online sales platforms but the main ones are Thinkific, Teachable, Kajabi, LearnDash, Kartra, Udemy, and Skillshare.
Since you're probably trying to figure out which one of these is best for you to start using right away, I'm going to get right into it by showing you the features, pros and cons, and what I think about each of the Podia alternatives.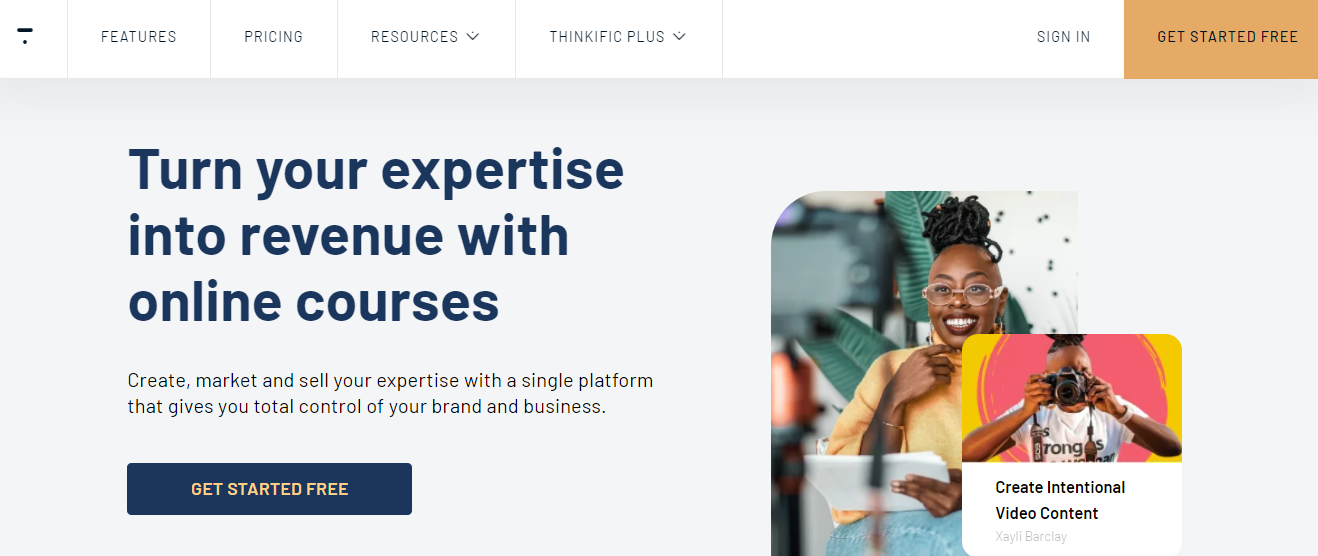 Podia points out that you can save money if you use their services instead of Thinkific. Podia also says Thinkific isn't as appealing to users and hints that their sites look better and are more modern. Let's look at Thinkific more and see how this all boils down.
Thinkific's line to grab customers is, "Create, market, and sell your expertise with a single platform that gives you total control of your brand and business."
Features
Flexible Content—Including live lessons

Unlimited video

Ability to build communities (memberships that bring in more revenue)

Assessments & certifications

Progress tracking

Drag & drop website builder

Ecommerce included—0 fees

Ability to give coupons, monthly payments, or subscriptions

Import existing content

Ability to embed 3rd party tools

Offer free trials for your course
These are just some of the great features of Thinkific. Now that you've gone through the features list, I'm sure it's easy to see why I chose Thinkific as the top alternative.
Keep in mind that there is a free option for Thinkific and the other pricing is as follows:
Basic – $49

Pro – $99

Pro + Growth $149

Premier $499

Plus – Contact the team
Our Pick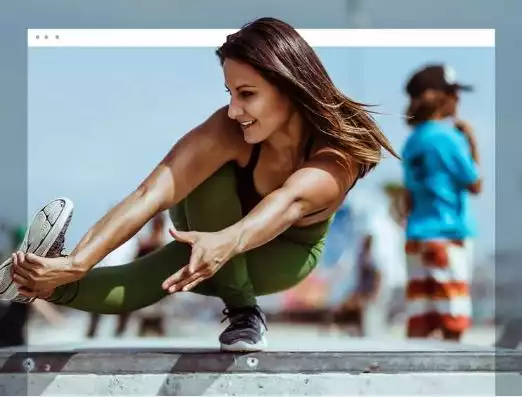 Why Go With Thinkific?
Thinkific is the best platform if you are looking to replicate a CLASSROOM experience ONLINE. Of all the options, it's the most SCALABLE for multiple instructors, admins, and support staff. In short, ideal for building an education empire!
Get 30 Days FREE Here
See Black Friday / Cyber Monday Deal!
We earn a commission if you click this link and make a purchase at no additional cost to you.
Thinkific Pros & Cons
Here are some of the most important pros and cons of Thinkific
Pros
All-in-one solution

Professional platform

No extra hidden fees tacked onto the pricing

Strong team backing the company
Cons
Pricier than some of the other popular options

Some difficulty building landing pages

Online community feature not as up to date as it could be
Overall Thinkific is a strong contender that can be a great partner as you work to build up your digital product base so you can sell your own products and make money online.
Teachable

Podia says they save you from Teachable's technical headaches, waiting for customer support, and putting out a bunch of extra cash. Let's look at Teachable more and see if that's really the case. Teachable's line to grab customers is, "Create online courses and coaching services. Transform your experience and know-how into a thriving knowledge business."
Features
Customize your online school

Easy link to Teachable under a custom domain

Supports many integrations

Easy to track sales & student insights

Flexible sales page editor

Simple to bring on your team members—authors, contributors, etc.

Everything is unlimited—video bandwidth, courses, coaching, and as many students as you can bring

Talk to your students live

Schedule & host classes

Flexible pricing options for your students such as coupons, subscriptions, bundles, one-time payments, and other options

Offer incentives to current students to refer their friends

Conversion pixel support
Teachable is definitely a solid contender. It can be a little pricier than some of the other options out there, though, so prepare for that. Keep in mind that there is a Teachable free plan that will allow you to put unlimited courses on the platform with unlimited videos and unlimited hosting. The biggest limitation is that you are only able to bring on 10 students.
After the Teachable free plan, here are the other prices:
Pro – $119 monthly or $99 a month if paid annually

Basic – $39 monthly or $29 a month if paid annually

Business – $299 monthly or $249 a month if paid annually
Unless you sell a lot of courses and need extra features, most people opt to go with the Pro plan for Teachable. It's not too bad for the benefits you get.
Teachable Pros & Cons
Here are some of the most important pros and cons of Teachable
Teachable Pros
Easy to get started

A pricing model that allows for growth

Easy to integrate various services with Teachable

Nice looking landing pages
Teachable Cons
A support team that often does not respond

Doesn't support file uploads from older laptops in some cases
Many people use Teachable and love their platform, but there are quite a few users that have strong feelings of being misled on pricing and changes that come out of the blue.
Kajabi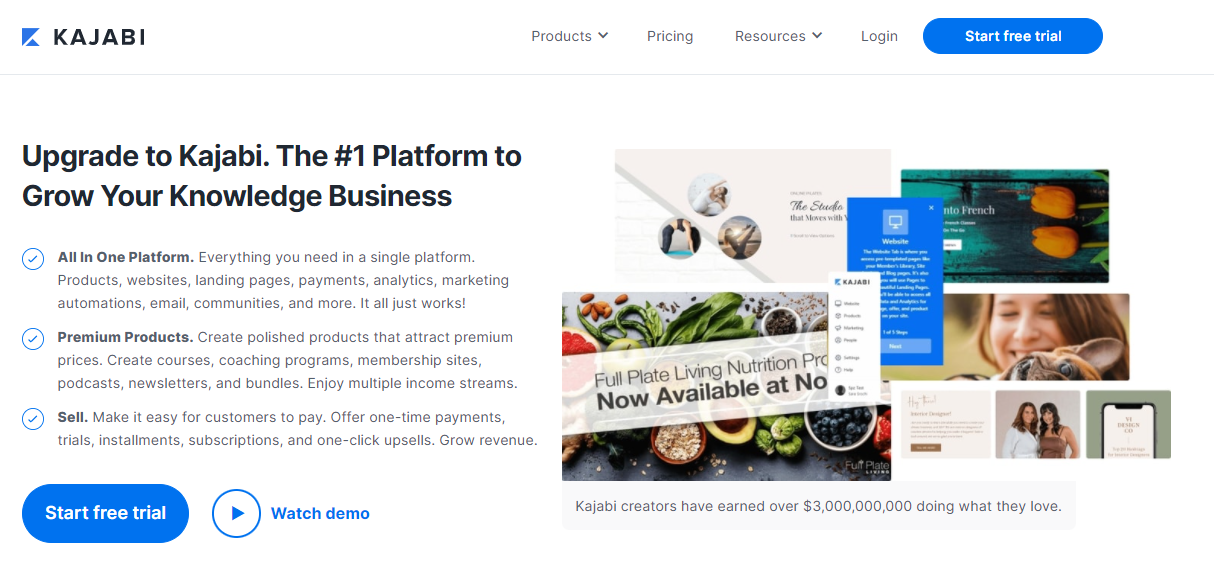 Podia claims they can save you a lot of money if you choose them over Kajabi. They also point out that Podia gives you unlimited, whereas Kajabi sets a lot of limits in their plans. Another thing they mention is no need for a set-up consultant. Let's take a closer look at Kajabi and see what's really happening.
Kajabi's line to impress potential customers is, "Join over 50,000 entrepreneurs, coaches, and influencers like you."
Features
Website builder

One-click marketing sequences

Unlimited hosting

SEO-optimized

Custom domain

Easy to publish quickly

Simple to capture emails and build your list

High-converting page templates

Integrate checkout

1-click upsells

Coupons

Free trials

Subscriptions

Abandoned cart recovery

Drip content

Quizzes

Email broadcasts

Add a personalized touch to your email marketing

14-day free trial
I've used Kajabi before. It's definitely a lot to learn, but it's a good user experience.
Keep in mind that once you finish the 14-day free trial, there is no freemium addition like some of the other platforms. You have to pay or your account won't work to help you sell anything. The pricing after the Kajabi free trial is as follows:
Basic $149 per month

Growth $199 per month

Pro $399 per month
If you want to save some money and plan on staying with Kajabi, you can do annual billing which gives you 20% off the price.
If you have a budget for it and you already have a pretty good following, Kajabi could be a solid option for you. However, some people don't like the pricing and opt for less expensive options.
Kajabi Pros & Cons
Here are some of the most important pros and cons of Kajabi
Kajabi Pros
Easy to connect pipelines, email sequences, and landing pages

Reliable without a lot of bugs and outages

End-to-end course content creation

Amazing customer support
Kajabi Cons
Limitations when it comes to email sequences

Higher price than some other good options

The website timeout is too short and requires logging in too often
There are some basic pros and cons but there is nothing that makes me afraid of using Kajabi.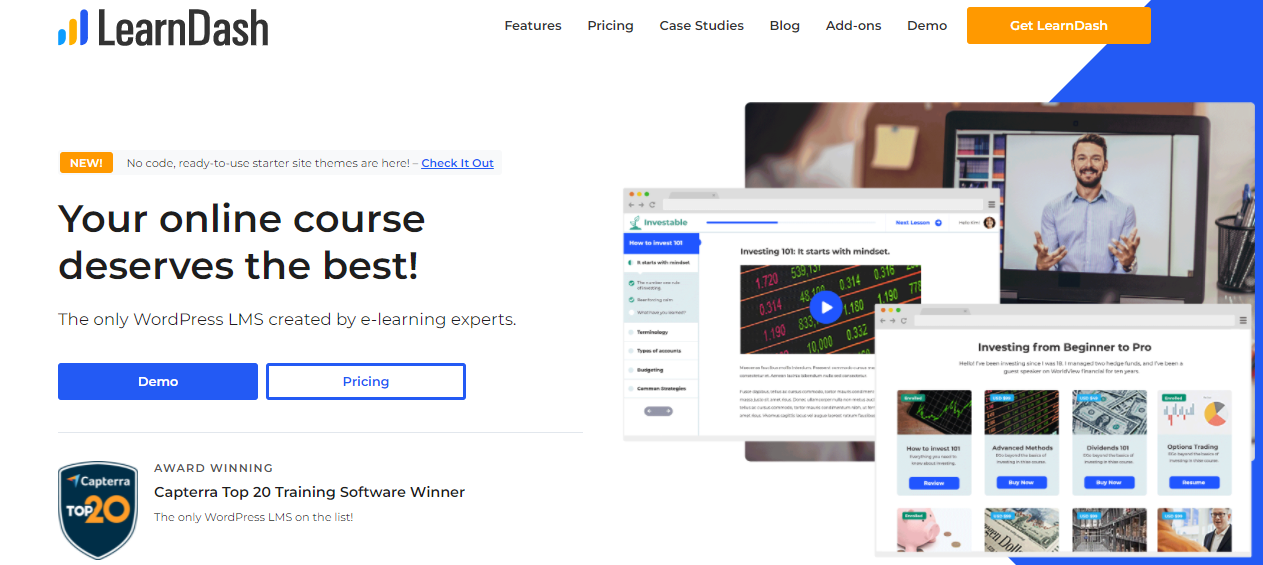 Podia says they make selling online easier than LearnDash does. They claim their out-of-the-box solution is better than LearnDash. Let's get into it to see what LearnDash really provides.
LearnDash's line to impress potential customers is, "Your online course deserves the best!"
Features
Distraction-free environment for learners (LearnDash Focus Mode)

Drag and drop course builder

Quizzing with multiple question types and custom messages

Dynamic content delivery—Drig-feed lessons, require video viewing, linear as well as open progression

Set access to courses, lessons, and quizzes based on criteria you set

Automated notifications

Badges and certificates

Forums

Course points

Leaderboards

Assignments

Many available integrations

Group management

Detailed reporting

Use any theme

Use page builders
I actually like a lot of these features and LearnDash seems like a solid option. However, there is no free trial, there is no freemium. You have to buy it and then if you don't like it, you can use their 15-day money-back guarantee.
LearnDash pricing is as follows:
Basic – $199

Plus – $229

Pro – $369
Keep in mind that all of these prices are for annual billing and they don't allow you to choose monthly billing. Honestly, if you plan on having a course, you don't want to take the risk of accidentally forgetting to pay and going offline, so it's not that big of a deal in my book.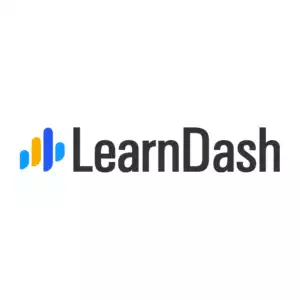 WordPress LMS Plugin by LearnDash
The most trusted WordPress LMS plugin, created by learning industry professionals with Fortune 500 experience. Transform your site in less than 5 minutes.
Get LearnDash
We earn a commission if you click this link and make a purchase at no additional cost to you.
LearnDash Pros & Cons
Here are some of the most important pros and cons of LearnDash
LearnDash Pros
Allows you to add course functionality to WordPress websites

Drag and drop builder works great

Easy to get it to work with other WordPress plugins and themes

Simple to create and manage lessons and courses

Easy to install
LearnDash Cons
Some places are hard to style

If you need to break down a module deeper than modules and lessons, this becomes a problem.
A pretty solid option that is best for WordPress users.
Kartra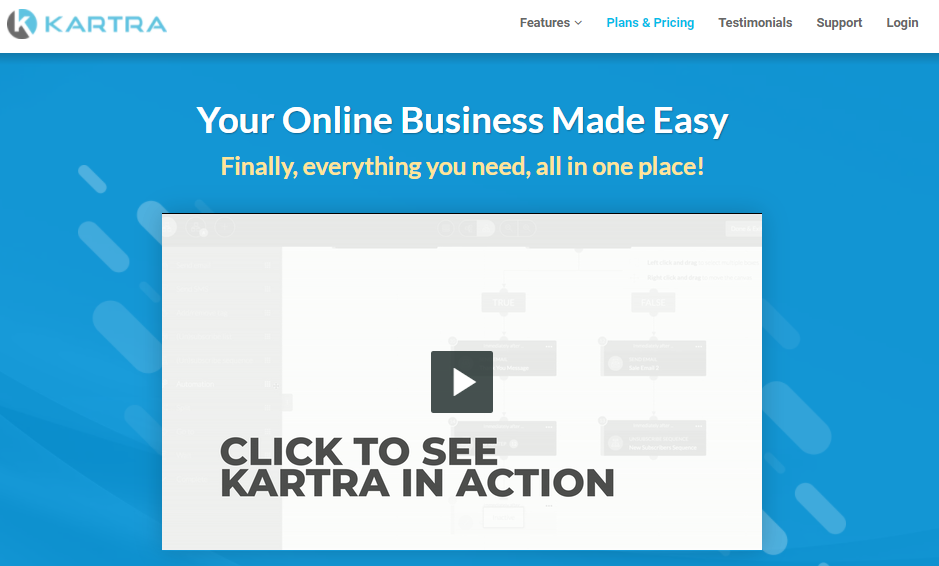 Podia says they're better than Karta because there is no learning curve with Podia and that they have a better customer service experience. Let's see what Kartra has to offer.
Kartra's line to impress would-be buyers is, "Your online business made easy. Finally, everything you need, all in one place!"
Features
Beautiful checkout pages

Leads

Pages

Email

Funnels & campaigns

Helpdesks

Forms

Affiliates

Agency

Marketplace

Calendars

Videos

Surveys & quizzes

Sell unlimited products

Multiple price points

Automatically tag your buyers
Kartra makes it a little more difficult to find all of the information on the features. You have to go into each feature you want to see and read over them individually. However, it does seem like a pretty good Podia alternative.
As with some of the other options, there is no free trial nor a freemium option. However, they do offer a 30-day money-back guarantee if you're not satisfied for whatever reason. Also, if you get ready to click away, they'll sometimes offer a 14-day $1 trial.
Kartra pricing is as follows:
Starter – $99 per month

Silver – $199 per month

Gold – $299 per month

Platinum $499 per month
All of these prices are for montly billing, but if you want to save some money, you can by switching to annual billing. Getting billed annually saves you 25% on all plans.
Kartra Pros & Cons
Here are some of the most important pros and cons of Kartra
Kartra Pros
Allows you to integrate your website, sales, marketing & communications systems all into one

Reduce costs

Branding sites across all funnels

Telling how much money an email made you

Easy webpage creation

Great help desk
Kartra Cons
Some desired customizations are not available yet

Some emails get blacklisted for quality when they shouldn't
Kartra has some good features that might make it worth your while to use them. This would really be a personal preference kind of thing.
Udemy

Podia says they put you in control of your platform, unlike Udemy. Podia also points out that creators keep every dollar they make.
Udemy's line to get people interested is, "Become an instructor and change lives — including your own."
Features
Publish the course you want

Publish the way you want

Have control over your content

Instructor support team

Teaching center

Online community
There isn't much to say about Udemy since you put your course on the site and either way for the platform to sell your course or market your course to sell it. It's free to put your course on Udemy, but you only get 97% of the sales you drive and even lower—37% if Udemy generates the sale.
Udemy Pros & Cons
Here are some important pros and cons of Udemy
Udemy Pros
Easy to get on the platform

They already have a market they can advertise to
Udemy Cons
Could be less profitable than other platforms
Skillshare

Podia says they give you more control over your courses as well as allowing you to keep every dollar you make. Let's look at Skillshare a little closer to see what it's all about.
Features
Publish courses on creative topics

Get in front of their many customers

Nice user experience
It's free to put your class on the platform but you don't charge for the course. Everyone that has a Skillshare membership has free access to all courses but the creator gets paid per minute someone watches their course which can really add up quickly.
Skillshare Pros & Cons
Here are some of the most important pros and cons of Skillshare
Skillshare Pros
Get access to the many customers that visit Skillshare regularly

Earn passive income after uploading your courses because of the customer base and marketing Skillshare does

Teacher support and training
Skillshare Cons
You can only sell or promote yourself in the first and last video of your course
I think Skillshare is a great place to be if you don't have a big list and want to get in front of a new audience of creatives.
FAQs
Question: Is Podia better than Teachable?
Answer: Teachable offers plans that start at $49/month and include courses, student management, and analytics. Teachable gives you the ability to create coupon codes and membership levels for adding advanced payment options.
It also has a built-in shopping cart and lets users pay with credit cards or PayPal. It works well as a Podia alternative if you want a simpler solution for hosting courses online.
Question: Is it worth hosting your course or coaching on a site like Podia or one of its competitors?
Answer: There are many people that make thousands of dollars—or more—off these platforms. If you put the work in and don't give up, it can definitely be worth it.
Question: What is the difference between Podia and Podio?
Answer: Podia allows you to sell courses and coaching online, where Podia helps with your company's workflow.
Top Podia Alternatives & Competitors: Final Thoughts
With so many choices available, it can be difficult to find the Podia alternative that's right for your business. The options above are some of the best services in the world, but they have different features and pricing plans.
I believe thank Thinkific offers the most value, ease of use and there are people I know and trust that use it and love it. Thinkific is my top recommendation across the board.
Our Pick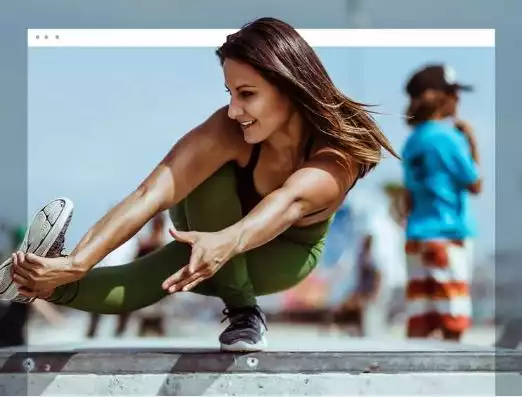 Why Go With Thinkific?
Thinkific is the best platform if you are looking to replicate a CLASSROOM experience ONLINE. Of all the options, it's the most SCALABLE for multiple instructors, admins, and support staff. In short, ideal for building an education empire!
Get 30 Days FREE Here
See Black Friday / Cyber Monday Deal!
We earn a commission if you click this link and make a purchase at no additional cost to you.