Last Updated on June 1, 2023 by Ewen Finser
If you create courses, you've probably heard of LearnDash. This is a WordPress plugin that can combine the best of course and content creation. I always liked LearnDash, but I learned very quickly that this plugin comes with some limitations. But I've also been a WordPress user for over 10 years, and I know you can always add more plugins to your website if you need more functionality.
As I'm creating a new course, I was curious about the different plugins I can add to LearnDash. Read my best LearnDash plugins guide to discover the ones that you should be using.
Bottom Line Up Front
Out of all of these plugins, the Elementor drag-and-drop builder is the one that I recommend the most. You can create a great course without any technical website experience. I've used other web drag-and-drop builders before, and none of them are as customizable as Elementor. I also suggest you look at these plugins to build the best course and to keep your students engaged.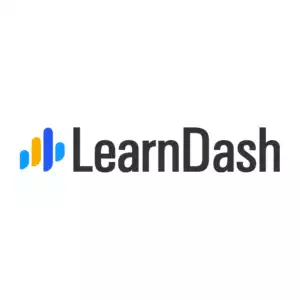 WordPress LMS Plugin by LearnDash
The most trusted WordPress LMS plugin, created by learning industry professionals with Fortune 500 experience. Transform your site in less than 5 minutes.
Get LearnDash
We earn a commission if you click this link and make a purchase at no additional cost to you.
My Top Picks at a Glance
Tips When Choosing the Best LearnDash Plugins
I will be mentioning a lot of plugins here, but you may not need all of this functionality. Before reading my plugin recommendations, here are some tips that help me choose the best LearnDash plugins.
Pricing
The first tip I consider is the price. Many plugins are available for free, but some come with a price. On the LearnDash add-ons section, the plugins that cost money have the Premium label. You'll have to go to the plugin's website to see pricing.
When you look at pricing, look at what the cost entails. Does the plugin have a one-time fee, or do they have subscription pricing? I prefer plugins with one-time pricing since subscriptions eat away at my budget.
While there are also plenty of plugins available for free, many of these have a freemium pricing model. This means there is a free version, but you'll need to pay for extra features.
Read Reviews
Did you find a great plugin but aren't sure if it's right for you? Maybe you are wondering if the plugin crashes or suffers other tech issues. These are all things that I think about before installing a plugin. I always read reviews of plugins before downloading them–even free ones.
I also find it helpful to ask any web development or design friends what they think of specific plugins. I'm only a writer and course creator–not a tech person. Web developers know the nuanced details of a plugin to know whether or not it will run into tech issues down the line.
Support
Even if reviewers and your tech friends say that the plugin works well, I always consider my support options before downloading a plugin. Tech issues are inevitable, even if the plugin is high-quality. That's why you should first know how to contact customer service or send a support ticket. Plus, you'll want to read reviews to discover how long it takes for support to respond–especially if there's a tech issue.
Every plugin also comes with a learning curve. While most people search for YouTube tutorials when stuck, I appreciate it when brands have an exceptional learning center. It's also helpful if a plugin offers tutorials, blogs, forums, and other ways to discover more information about a plugin and its uses.
How I Chose These Plugins
When I chose these LearnDash plugins, I considered the previous tips and some other factors that prove trust and reliability. Here are some other points that I considered.
Popularity
I have to be honest–I tend to be a hipster when it comes to over-hyped tech. But if there's one thing I learned is that certain plugins are popular for a reason. They're the most trustworthy, reliable, and highest-quality plugins. All of these plugins are popular, but for a good reason. Numerous course creators trust them because they're packed with features taking any course to the next level.
And if more course creators use these plugins, you can use these plugins in all types of courses. These plugins also have better performance, and I ran into fewer issues.
Updates
I only install plugins that come with frequent updates. Ideally, I find ones that allow auto-update. Plugin updates not only enhance their functionality and quality but also heighten security.
At the same time, you don't want to download a plugin with too many updates. If a plugin has too many updates, this may be a sign that the plugin suffers frequent crashes and other issues. Plus, I find frequent updates to be annoying and cut into my productivity.
How do I know information about a plugin's updates before downloading it? Most plugins will list their recent updates on their website. You can also find this information on a plugin's WordPress page.
User Friendliness
If you're new to WordPress, I understand this platform may take time to learn–especially when you're working with multiple plugins. That's why I prioritized user-friendly plugins. I also mentioned plugins with wonderful support options, such as a knowledge center and tutorials. Even the intricate automation tools on here are simple to install and implement.
There is one exception here–I find Stripe difficult to use and implement. However, I suggest all instructors use this plugin for paid courses since Stripe offers more payment processing capabilities than PayPal.
The Best LearnDash Plugins
Are you ready to add more functionality and features to your LearnDash course? Here are the plugins that I recommend.
If you've read more of my LMS guides, you've probably seen me rave about Elementor. This is a free drag-and-drop builder to not only improve the design of your course, but Elementor can also build beautiful websites. If the free Elementor program doesn't offer everything you need, they offer a paid plugin.
Honestly, I think the free option is powerful enough. It includes fantastic features and a simple drag-and-drop builder, so you can design an exceptional course with no web design knowledge. Elementor can work with nearly all WordPress themes, and they have an integration with LearnDash. This means that anyone can use Elementor, no matter what type of website you have or what course you're creating.
Some features are locked behind Elementor Pro, such as inserting a forum. But LearnDash also offers other plugins for these functions, which I will explain later.
Pros
Easy drag-and-drop builder
Works with all WordPress themes
There's an Elementor integration with WordPress
Free
Cons
You may need Elementor Pro for some features
Some formatting errors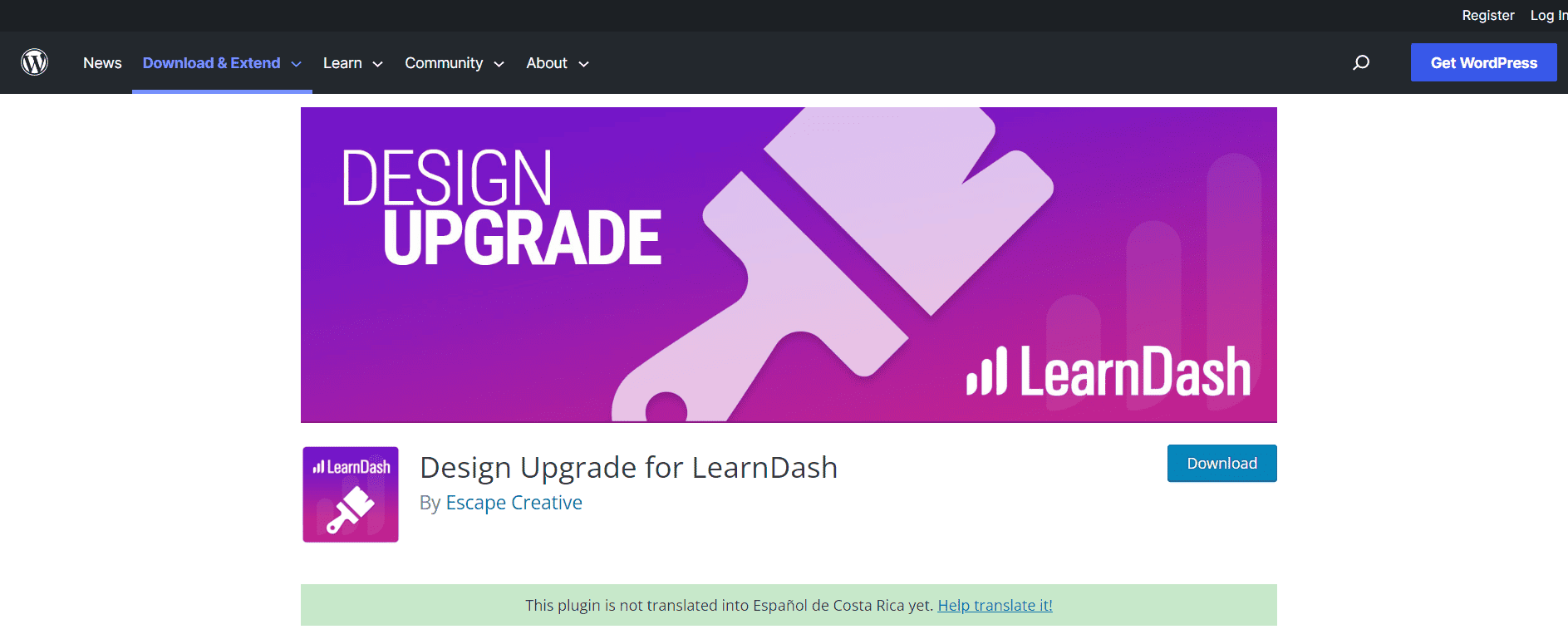 Elementor is a powerful course builder, but it doesn't include all the design features you need for your course. That's why I also suggest downloading Design Upgrade for LearnDash.
This plugin includes several features to create a beautiful and customized course, such as different button designs, fonts, animations, and login setups. Design Upgrade is not only optimized for LearnDash but can also integrate with nearly any theme.
Even if you switch LMS platforms in the future, Design Upgrade can integrate with different competitors, such as WisdmLabs. There is a free plan, but the pro plan only costs $29/per year. It's worth buying the pro version if you need more design options.
Pros
Many design features
Can integrate with different themes
It also works with different LMS platforms
Free plan
Exceptional customer service
Cons
Some features are only available in the pro plan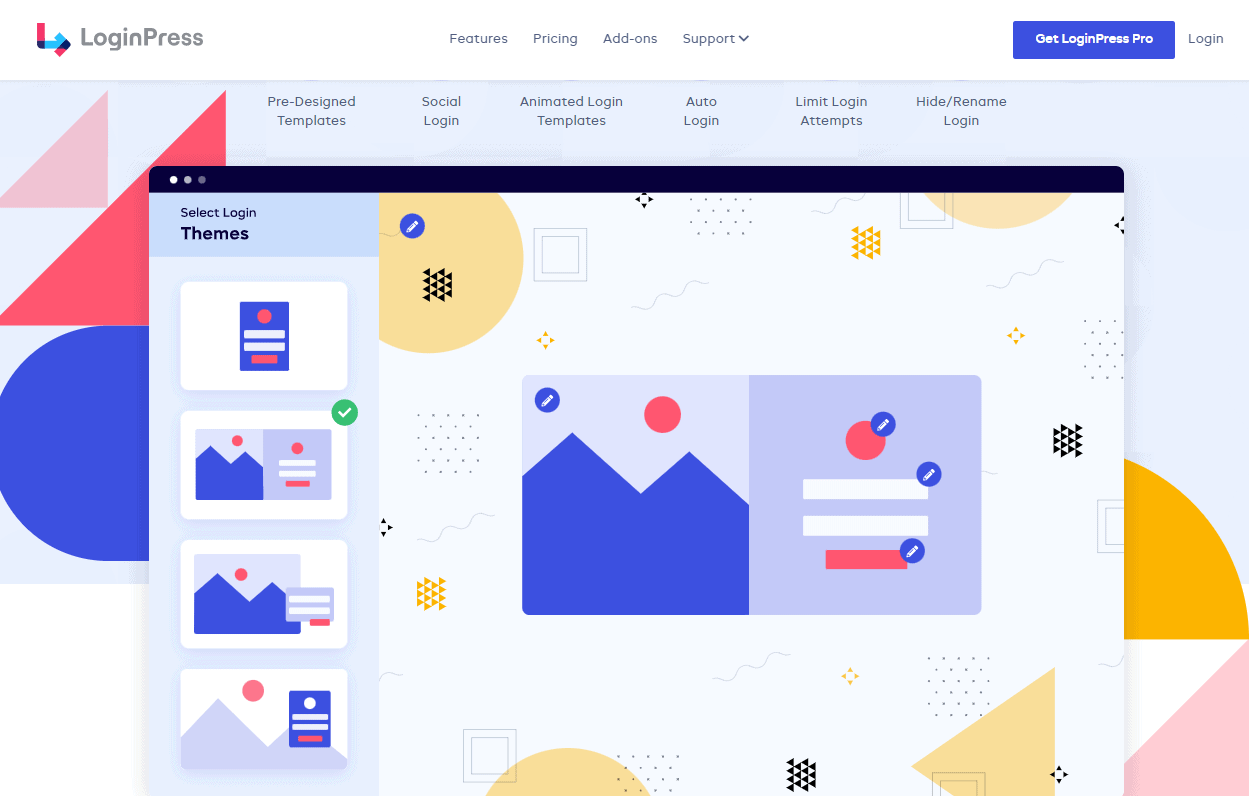 One thing I learned as an instructor is you'll want to control who has access to your courses. You'll also want to give your students a secure and convenient way to log into your platform. That's why I like LoginPress. This plugin offers a login page to your classroom.
I love LoginPress because you can customize nearly every aspect of your login page, such as the font, colors, messages, and other designs. You can also brand your login page by adding your company logo. If you're unsure about your login page customizations, you can always choose one of their pre-made templates. Plus, LoginPress is free! They offer a paid plan for only $39/year, but you get all the customization features with the free plan.
Pros
You can customize your login page
Pre-built templates
Free plan
Cons
Some features are hidden behind the paywall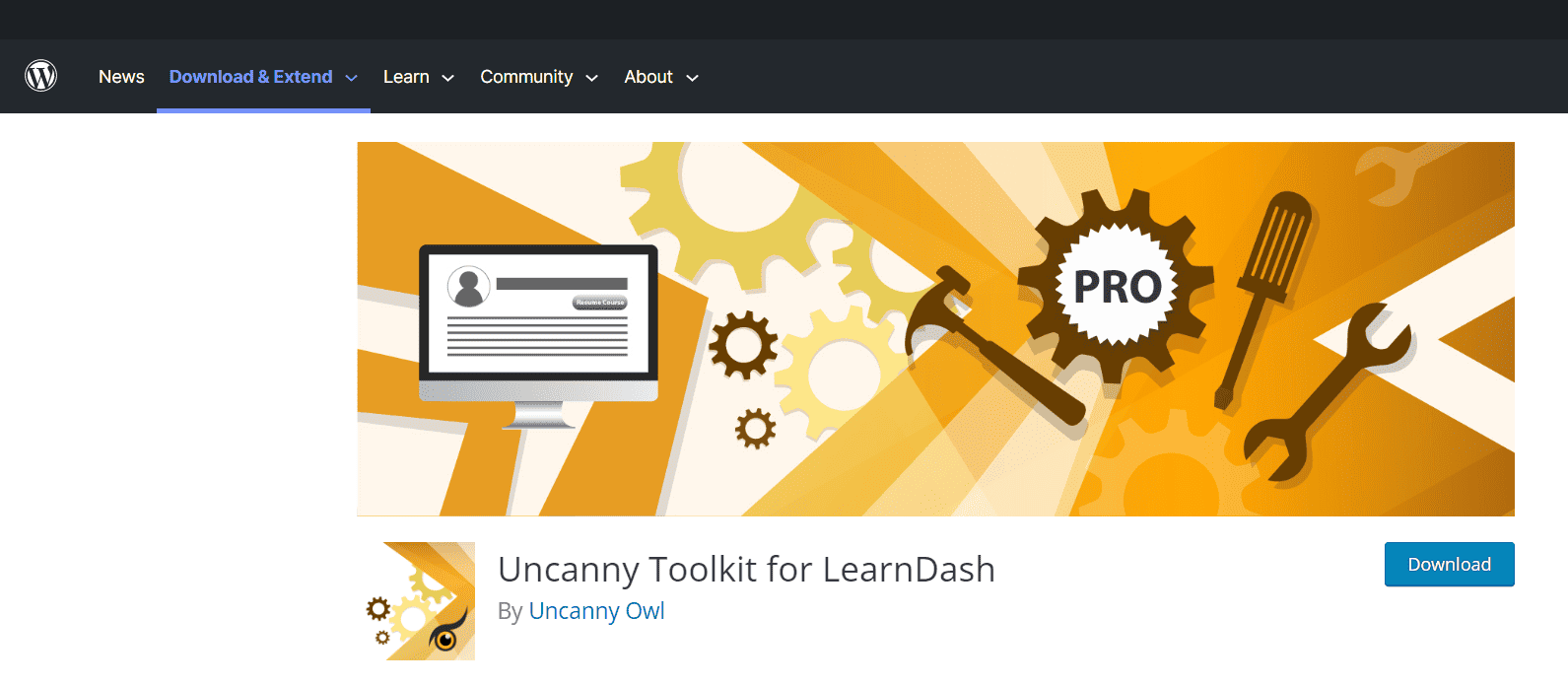 Would you rather choose an all-in-one LearnDash plugin? If so, I suggest choosing the Uncanny LearnDash Toolkit. This plugin includes general-purpose tools for your course or e-learning site. The plugin includes a login form, a redirect page, show/hide content buttons, certificate management, user switching, and resume capabilities.
I was a little intimidated by this plugin at first, but it's pretty simple to use. They also have outstanding support if you're ever stuck. I was also surprised to see a free plan that includes some pretty impressive features, or you can pay for the pro plan for $149/year.
Pros
Includes tools you need for your course
Simple to use
Outstanding support
Free plan
Cons
Some features are only available in the paid plan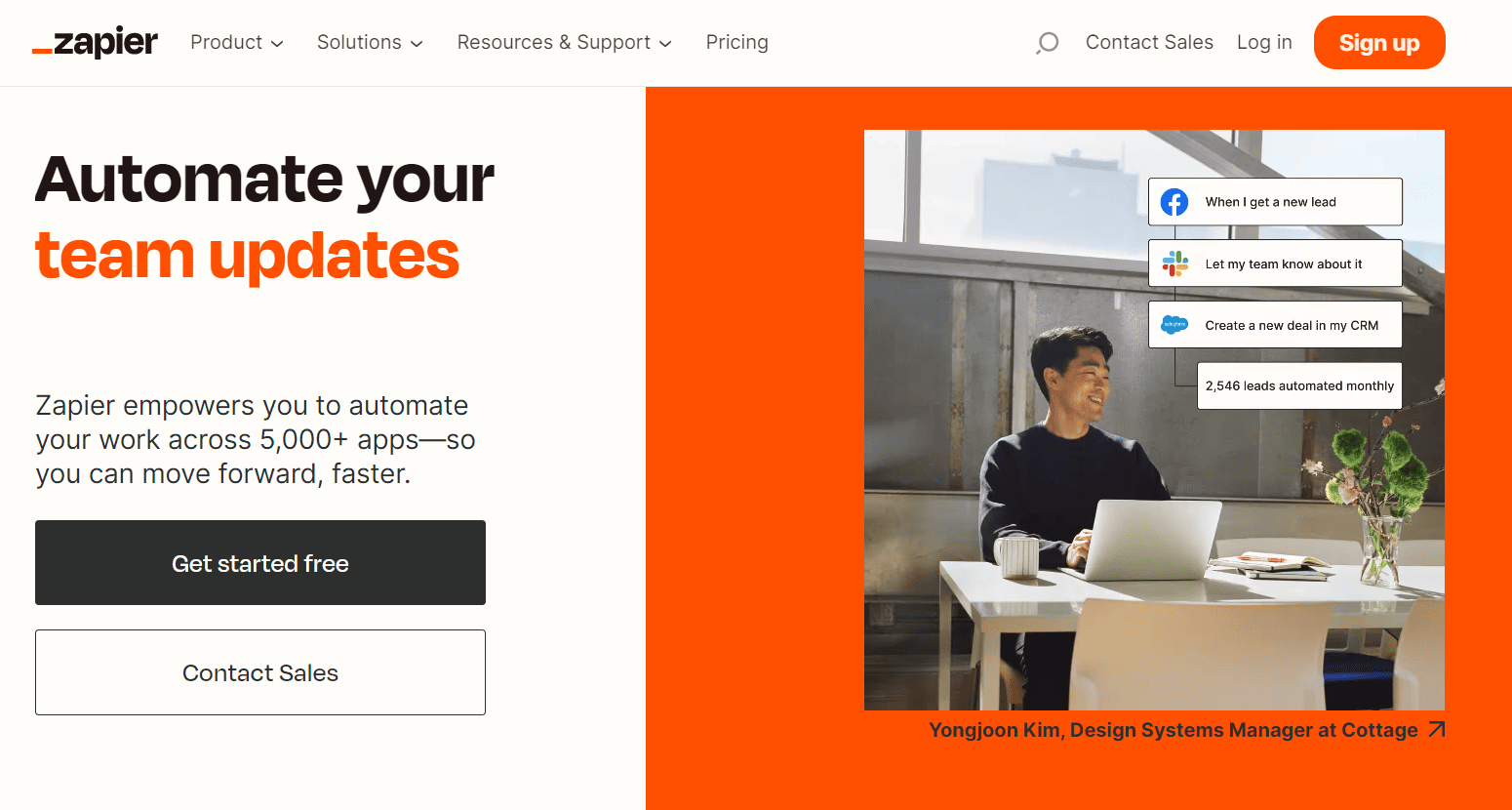 If you're an experienced WordPress user, you have likely heard of Zapier. This is a robust automation plugin to expedite any aspect of your WordPress website, including your course. I think Zapier excels at data entry, so you can eliminate time and errors from your workflow.
Zapier offers a LearnDash integration, so you can automate even more areas of your course. You can automate every function of your course, such as triggers and actions. Zapier can also automate other plugins, such as Slack and Shopify. You can also customize "Zaps" to fit your needs.
Even though Zapier is an advanced automator, it does come with a free plan. It is pretty basic, but it's a good place to start if you have never used automation tools. However, you may need to upgrade your plan down the line. While I'm the type to always consider a free plan first, I think a paid Zapier plan is worth the investment, especially if you need advanced features and integrations to automate different functions of your course.
If you also never used automation software, the whole process may initially sound intimidating. I thought the same thing when I first started using Zapier, but I found the installation process easy. The integration process is also seamless. Zapier may need a bit of tweaking to fully customize it.
Pros
Easy to use
Automate various tasks for LearnDash courses
Integrates with other apps
Free plan
Cons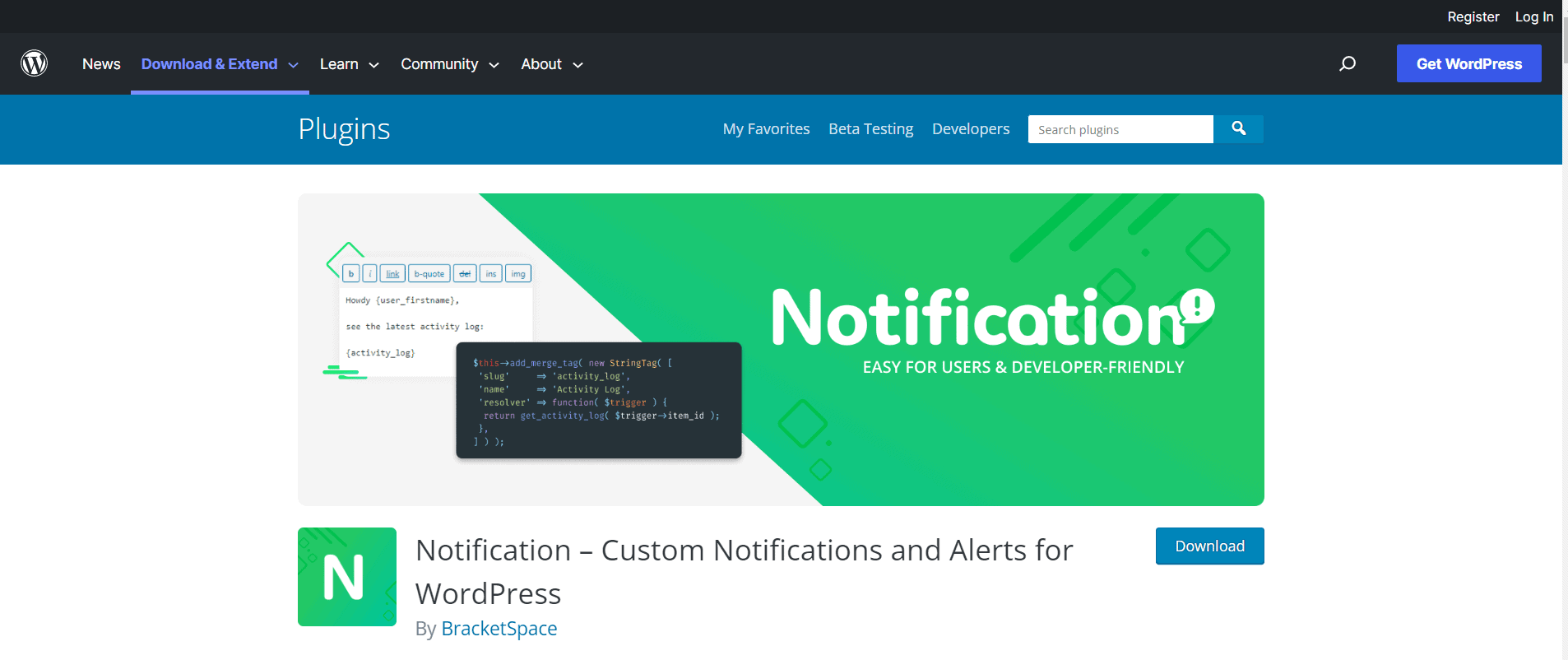 Notifications are a great way to keep your students motivated and engaged. That's why all course creators will want to add the Notification plugin to their course.
Notification also offers an add-on for LearnDash, so your students can receive notifications when they pass a quiz, complete a lesson, receive their grades, and more.
You can also customize your notifications. As with all these plugins, Notification is easy to add to your course, and I find this plugin to be more user-friendly than competitors. The only downside is its customer support. I can't find many support options besides a form, and there's no knowledge base. On the plus side, there's a free plan!
Pros
Easy to use
You can customize your notifications
Flexible LearnDash integration
Cons
Many features are hidden behind a paywall
Poor customer support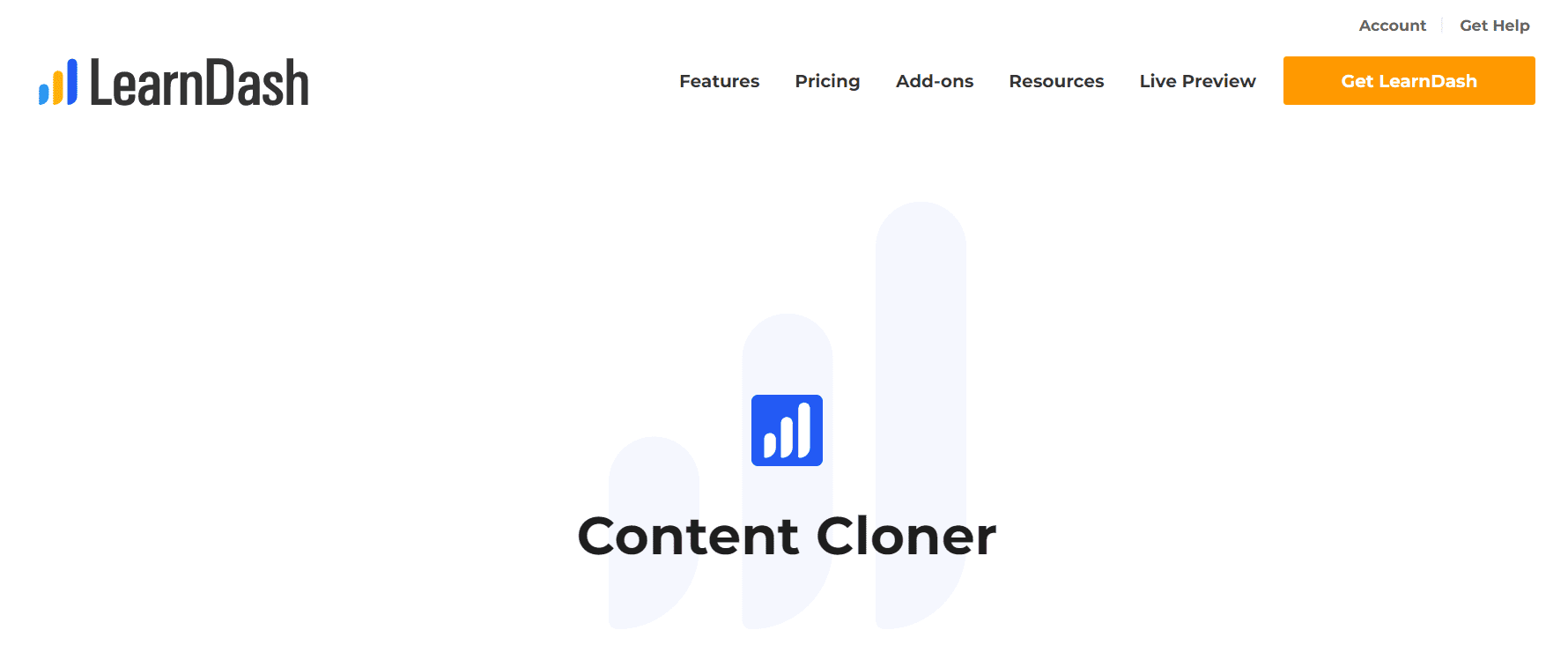 Since LearnDash is a WordPress LMS, there's a lot of emphasis on content creation. This comes with powerful benefits, but it can be tedious to make a course this way–especially if you have many subsets of the same course. That's why LearnDash offers Content Cloner as an add-on.
With Content Cloner, you can copy entire courses, which include all topics, lessons, and quizzes. This way, you don't have to create the same content when adding another part to a course, such as an advanced version of the same course. There's a free and paid option for the add-on. The free add-on comes with ads, so understand that you will have to put up with this.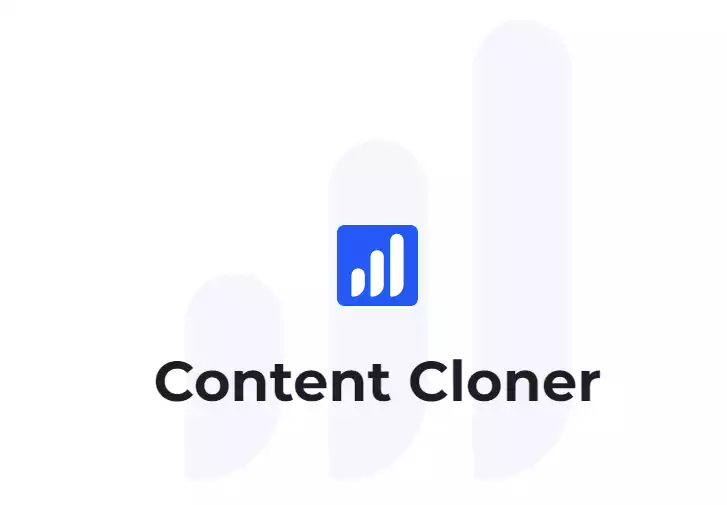 Content Cloner | LearnDash
The Content Cloner add-on makes it possible to clone entire courses with the click of a button, including all associated lessons, topics, and quizzes. Using this add-on, it's also possible to mass-update the titles of the cloned course and associated content.
Get Started
We earn a commission if you click this link and make a purchase at no additional cost to you.
Pros
Copies entire courses, which can be a huge time-saver
Consistent
Copies all course features, including topics, lessons, and quizzes
Easy to use
Cons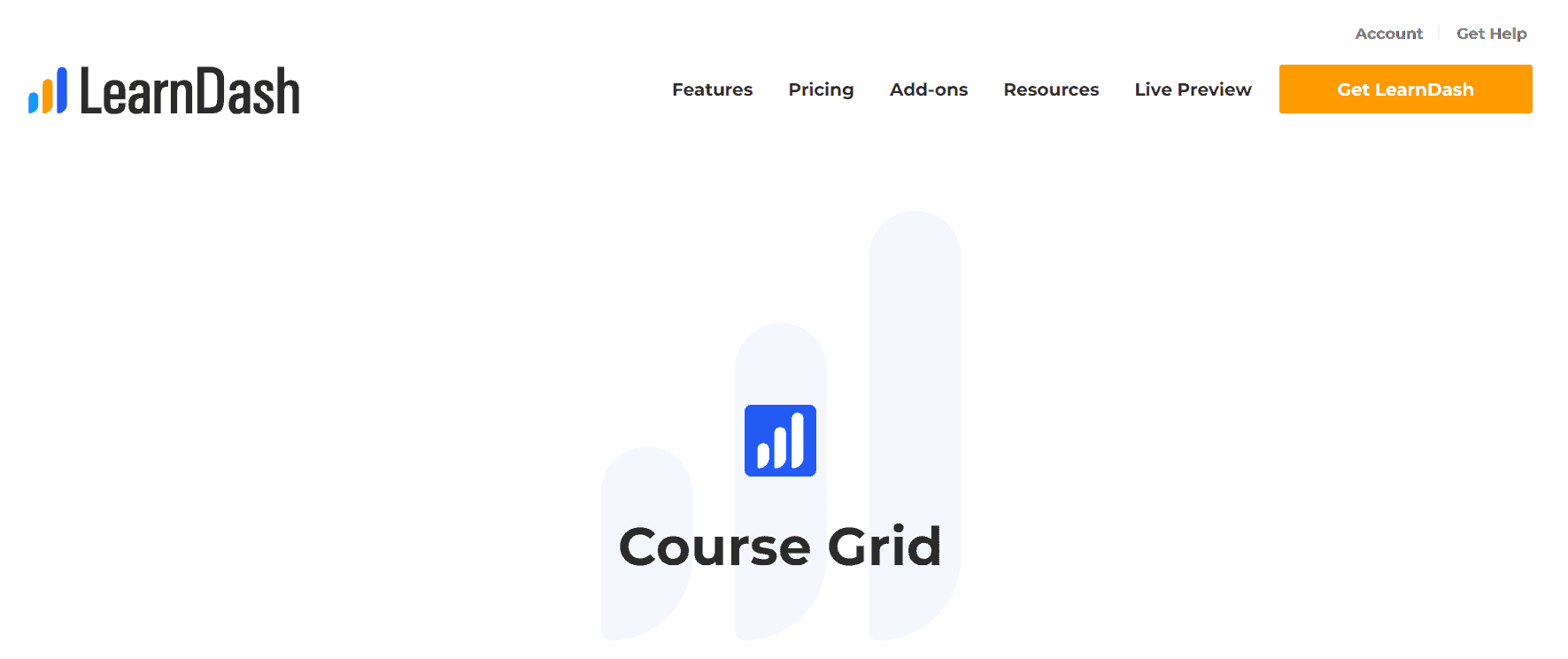 I appreciate it when any platform gives me different viewing options, and I'm sure your students feel the same way. That's why I suggest the Course Grid add-on. It's free and gives your students the option to view your course as a grid. I find the grid format is more organized.
Students can filter your courses by price, category, and more, so they find the course that's right for them. I recommend Course Grid if you have many courses or a very complex course. It's simple to integrate this add-on, and they have different customization options. For example, you can add a video to your course thumbnail instead of an image.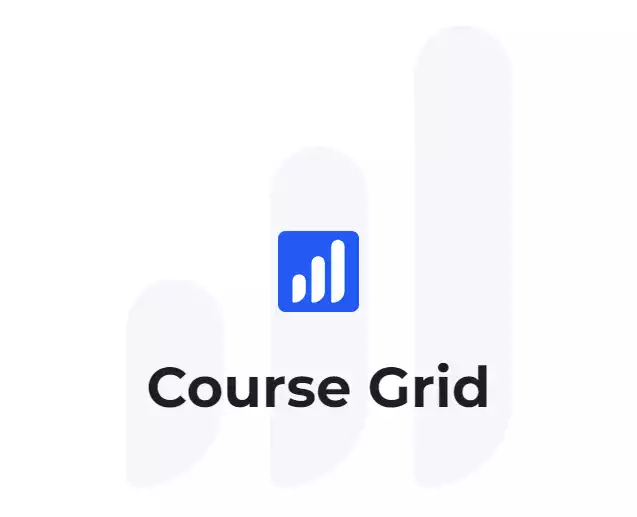 Course Grid | LearnDash
The Course Grid add-on gives you the ability to create a responsive course library that can be inserted on any page or post of your site. This is a perfect feature if you have a variety of course offerings and want to give users the ability to filter through them by category.
Get Started
We earn a commission if you click this link and make a purchase at no additional cost to you.
Pros
Organizes your courses
Free
Simple to integrate
Customization options
Cons
It may not be necessary for instructors with a simple course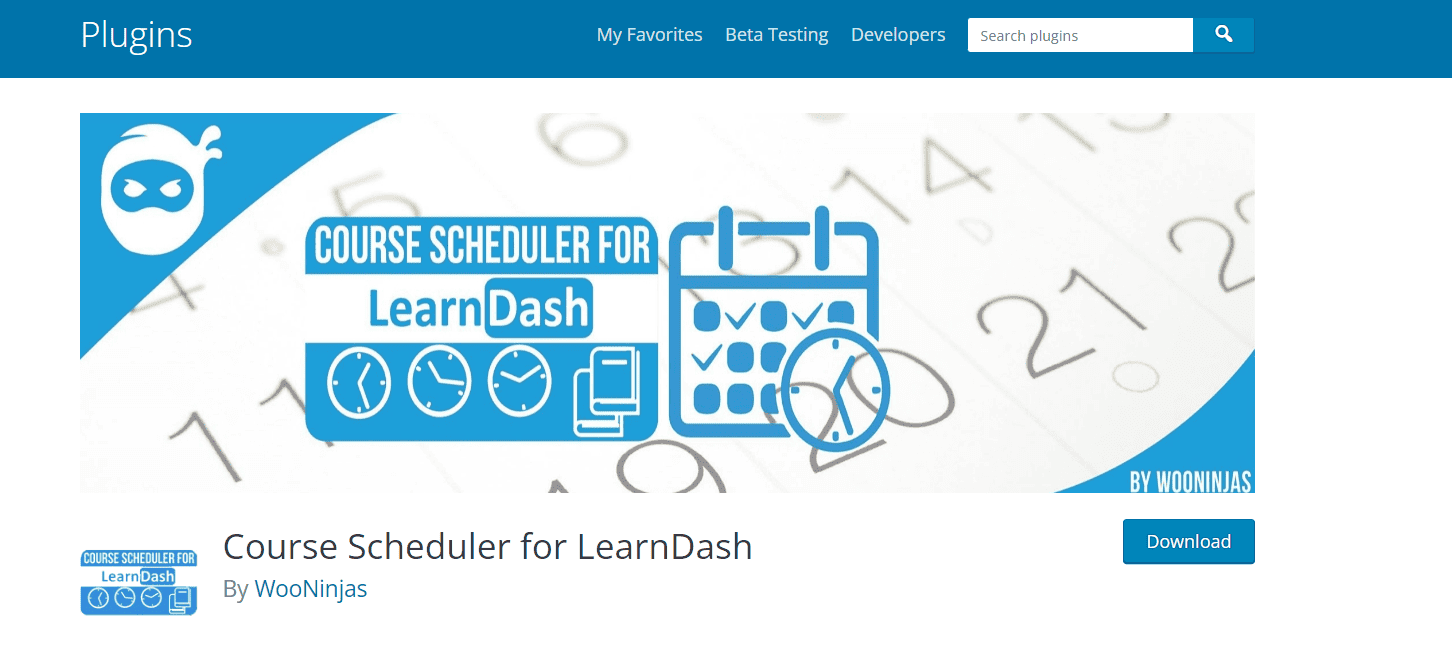 All instructors should have a schedule for assigning courses, lessons, and quizzes. It will also be beneficial if students can see that same calendar. You can do this with Course Scheduler.
Course Scheduler is a drag-and-drop calendar that you can add to your website, so instructors can organize lesson plans and reschedule anything with the quick drag-and-drop editor. The system is super easy to use and intuitive for instructors and students.
You can also customize it with messages and text reminders. I also love how you can change the organization and structure of the calendar. This plugin is free, but there are still limitations. For example, it doesn't function outside of a course calendar.
Pros
Can schedule any aspect of your course
Customized messages
Students can also view the calendar
Drag-and-drop editor
You can change the structure and organization of your calendar
Free
Cons
It only functions as a course calendar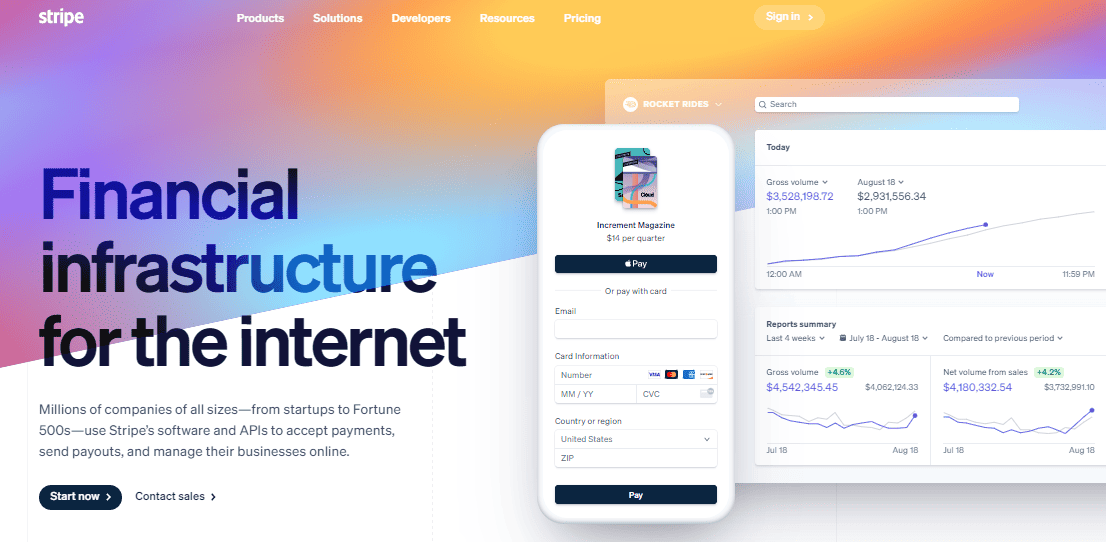 If you're selling your course, you'll want the best payment processing software. I added PayPal to my course since that's the platform I always use for my payments.
However, I regret not using Stripe. Stripe not only accepts payments readily but is a universal solution, something that PayPal can't boast about. Stripe is an all-in-one payment platform that supports all major credit cards and even PayPal.
Customers can purchase directly on your website, preventing users from going to PayPal or another third-party website. Plus, they include some pretty impressive reporting features. While Stripe is free to install, they take a percentage of your sales. I like this setup better since you don't have to worry about hidden fees. Stripe comes with a bit of a learning curve–but once you figure it out, you'll be glad you chose Stripe over PayPal.
Pros
Checkout flow on your website
Customizable
Supports various payments, such as all credit cards and PayPal
Accepts nearly every currency
24/7 customer support
No hidden fees
Cons
It can be difficult to learn
Takes a percentage of your sales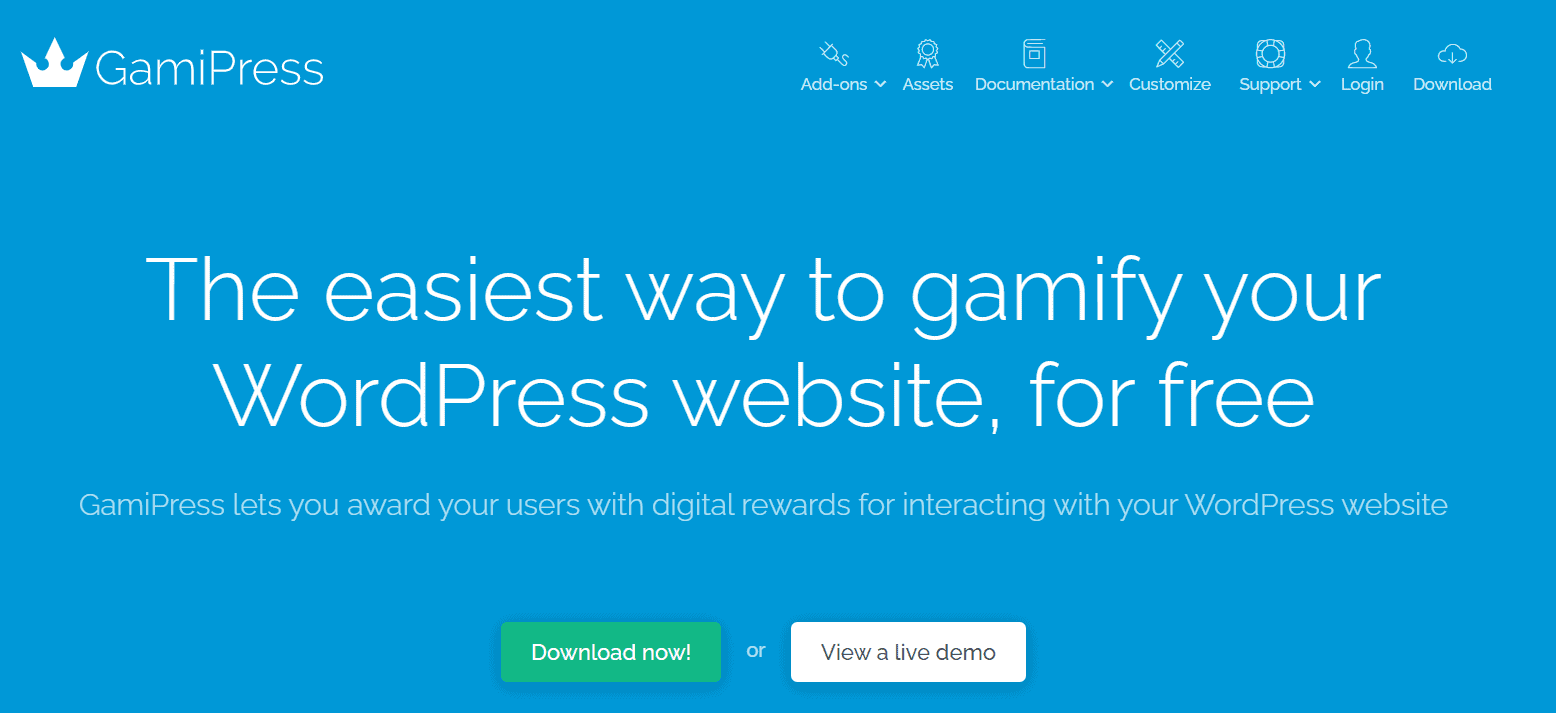 If you struggle to keep your students engaged, I suggest adding GamiPress to your course. This plugin makes your course into a game! This is especially effective if you have younger students. With GamiPress, you can award badges, scores, and other achievements to your students. I love how they have a leaderboard, so your students stay connected.
On top of all of this, GamiPress is free! There is a pro version if you need support and more features. However, I think the free version is powerful enough for most users.
Pros
Easy to use
Intuitive
It makes learning fun for younger students
Cons
It may conflict with your other plugins
FAQs
Question: Do These Plugins Require a Subscription?
Answer: Some do. Most of these plugins are freemium services, meaning they have free and paid options. If you choose the paid option, most will operate as a subscription. Make sure you research these terms before signing up for a plugin.
Question: I'm Switching to LearnDash From a Competitor, and I Have a Lot of Students. How Many Students can LearnDash Handle?
Answer: There are no limits to the number of students who sign up for your course, and this goes for all plans.
Question: I Don't Want to Renew LearnDash. Can I Still Keep my Course?
Answer: When you close your LearnDash account, you restrict access to your course. I suggest backing up your entire course or undergoing a transfer first before canceling your LearnDash account.
Bottom Line
I recommend all of these plugins, but I love Elementor the most. It's a convenient drag-and-drop editor that's intuitive and easy to use. This way, you can create your course without the help of a web developer. I love this since I'm not good at web design–and WordPress web design can especially be a pain. Unlike other drag-and-drop builders, Elementor gives you plenty of customization options to design your course to your liking.
Plus, it's free! There is a paid version, which I suggest using if the free plan doesn't include all the features you need. I use Elementor with my LearnDash course, and it's always consistent and reliable. Since Elementor is only one plugin in your course toolkit, I suggest looking at all these plugins and using the ones that will benefit you the most.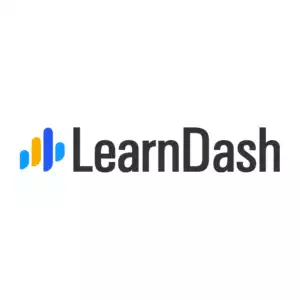 WordPress LMS Plugin by LearnDash
The most trusted WordPress LMS plugin, created by learning industry professionals with Fortune 500 experience. Transform your site in less than 5 minutes.
Get LearnDash
We earn a commission if you click this link and make a purchase at no additional cost to you.